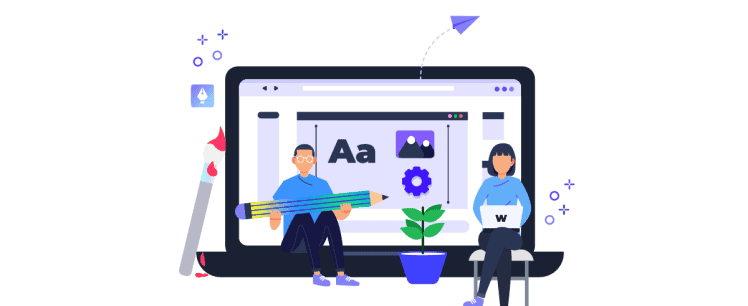 Any ecommerce website instantly becomes 10x times appealing & eye-catching when users find it easier to navigate. Currently if you are anticipating playing big in the competitive market, adding variations of almost all products along with the color, pricing, size and photos is important.There will be approximately more than 2.05 billion worldwide digital buyers in the year of 2020. So we hope you can understand how many potential buyers you can get hands on. It is highly recommended for ecommerce owners to install WooCommerce color swatch plugins as these help in projecting product qualities in a way that will tempt people to make more number of purchases. For more information on WooCommerce swatch plugin, revert to this informative blog post.
Enhance e-shopping experience of consumers with swatch plugins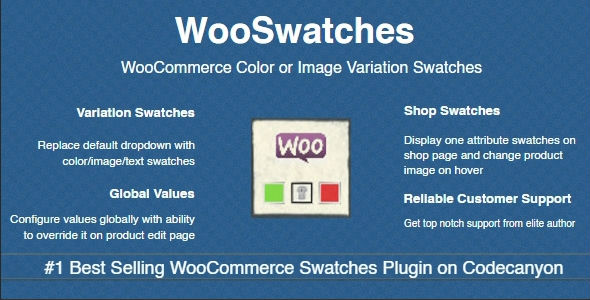 Looking for the bestselling WooCommerce variation swatches plugin? Your search ends with WooSwatches. Instantly those default dull looking color selections become attractive as you use this plugin.
Features:
Filtering depends on colors
Users get options for crafting worldwide attributes & can override those on a particular product page during editing
Noteworthy customer support
There are options to display a single color attribute on a specific shopping page. While hovering, user can alter the color attributes or image
Plugin pricing starts at $19

With this amazing WooCommerce variation swatches free plugin, you can easily showcase a color, button, image and text variation swatches for all your products. In fact you will receive the option of displaying variation swatches for archives page & product page as well.
Features:
Text and image tooltip options
Customizing swatches & tooltip is possible
Mobile-friendly and completely responsive
Speedy view pop ups available for variations
Control over swatch size
In case a product is not in stock, it is possible to blur out specific variations
Plugin pricing is as follows:
Single domain – $29
5 domains – $99
Unrestricted domain licenses – $199
Opt for this fantastic WooCommerce color and image swatches plugin free download today & get amazing results. With this plugin, you can actually decide the kind of swatch you need for showcasing those as text labels, colors, or images. Though the plugin is a simple one, its features are amazing. You can actually transform the look of your ecommerce website largely with this.
Features:
The plugin can completely integrate with the CMS, WooCommerce
Managing attributes on a worldwide basis is possible
Functions easily on variable products
Swatch customization
Color, text & image swatch kinds
Plugin comes for free
The best WooCommerce color plugin definitely has to be WooCommerce variation master as it is an all-in-one plugin. This customizer plugin lets you exhibit image, text and color swatches of your choice and for all the variable products. Taking a look at the features is a must.
Features:
Bulk import of worldwide attributes is possible
Universal attribute swatches
Completely responsive
Color, text & image swatch support
On cart page variation swatch can be updated
Variation gallery available with slider
Plugin pricing starts at $35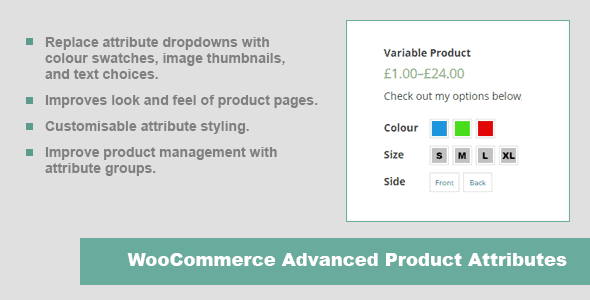 If you want to improve the look of your ecommerce product pages & also the shopping experience of customers to a large extent, you need to install the best WooCommerce color plugin. JC WooCommerce advanced product attributes is the one for you that lets you customize swatch styles with contemporary attributes. With just one click, you can load a multitude of attributes in the products. You can even craft attribute groups on various products for saving effort & time. Otherwise for updating every product, it would have taken a lot of time.
Features:
Attribute styling is customizable
Substitute attributes dropdowns with image thumbnails, text choices & color swatches
Enhancing product management is possible with attribute groups
User can largely enhance the feel & look of product pages with this plugin
Plugin pricing starts at $16

Are you seeking for an effective WooCommerce color swatches free plugin? If yes, then we have Image & color swatches for variable product attributes exclusively for you. You can transform the style of the swatch shape between a square & circle with this plugin. Fabricating unrestricted image & color swatches feature is also something that makes this plugin highly noteworthy.
Features:
Mobile friendly
Easy to utilize
Craft unrestricted swatches
Image & color swatches only
Alter swatch style between square and circle
The plugin is free. However, there is a pro version as well with which you can select the various swatch kinds, customize styling and show tooltips.
If you are choosing Premmerce variation swatches for WooCommerce as your very first WooCommerce size and color plugin, you won't ever regret your decision. There are numerous swatch types available like image, a label, radio button and color. The most exclusive feature of this plugin is that you can add descriptions to attributes. In most WooCommerce color swatch plugins, this amazing feature is always missing.
Features:
User has the liberty of adding product variation to cart in a straightforward manner
The plugin enables the user to highlight all the main attributes easily
In WordPress repository, this plugin comes for free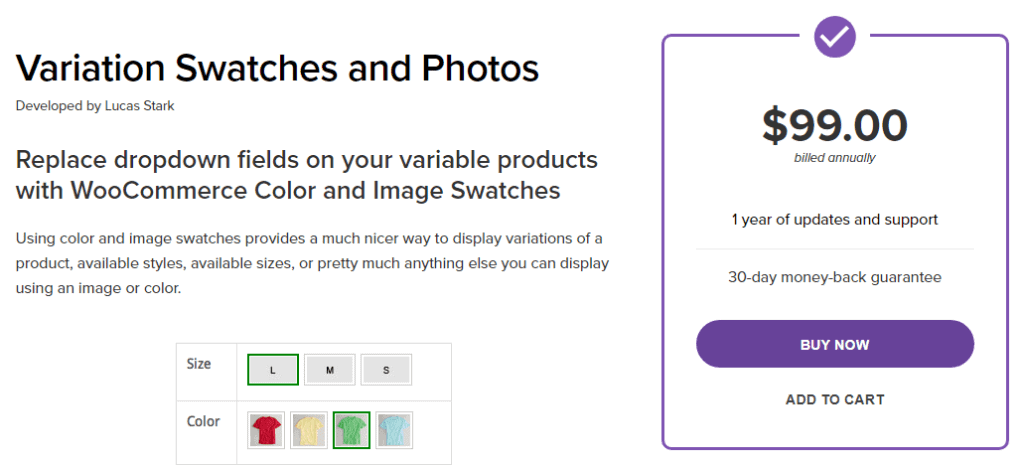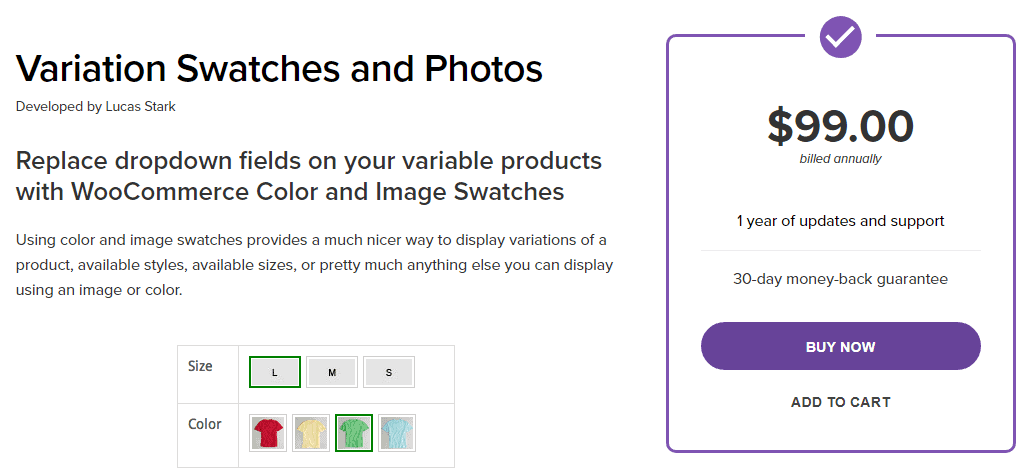 This WooCommerce attribute swatches plugin will always benefit you as this is the official plugin by CMS, WooCommerce. The plugin easily permits you in adding variation swatches to all the WooCommerce products. Also you can showcase text, color variation, image variation swatches on the products.
Features:
Configure attributes
Complete support offered to text, color and image swatch kinds
Completely responsive
Pricing of the plugin starts at $99 for one site license. The plugin also comes with a full one year of support & updates.
This WooCommerce size and color plugin is a highly sought-after one. WooSwatches – WooCommerce image or color variation swatches is a plugin that comes with an amazing user-friendly interface. Due to this you can customize & create swatches in a hassle-free manner. In the context of functionality, this plugin is a very decent one. WooSwatches is striking for its cost-effective rates as well.
Features:
Shortcode support
Supports text, image and color swatches
Entirely responsive
There is slider available for all shop swatches
Support offered by the plugin to circle and square shape
Inbuilt image and color product filter available
User has the option of displaying option name beneath the swatch
Worldwide image or color value for attributes
Straightforward variation links
Pricing of the plugin starts at $19. This is for a single website license. Also, the plugin comes with 6 months of support & updates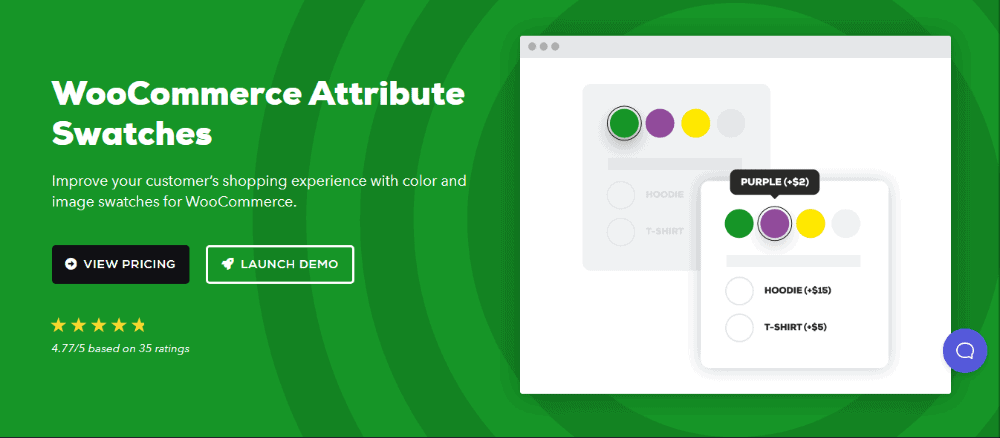 In the realm of WooCommerce product color plugin, the plugin that is turning heads is certainly WooCommerce attribute swatches. You can actually select the swatch style of your preference with this particular plugin. There are options to select between text-based, radio button, color and image swatch for the product variations. As a matter of fact, you can exhibit all the variation swatches on archive pages & product catalogs. There is one exceptional attribute of this plugin that makes it stand out from the rest. Adding custom price points is possible with this plugin for specific attribute variations.
Features:
Customizing the size and shape of swatches is possible
Grouping and categorizing swatches is also possible
Viewer can view the availability of each swatch
Assigning swatches globally is not a problem with this plugin
There is tooltip available for swatches
Taking a quick look at all the swatches is doable
Contemporary swatch designs available
Massive preview available for image swatches
The annual license pricing of the plugin starts at $79
The lifetime license pricing of the plugin starts at $239
In the former one, support and updates is available for 6 months
In the latter one, support and updates offered for a lifetime with lifetime plan
Each of the plans comes with a 14 day free trial. You can easily decide on your own whether you want to install this plugin or not.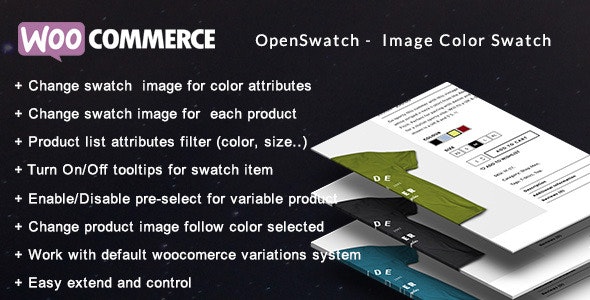 This amazing WooCommerce color swatches plugin found its inception in 2015. This is by far the most effective WooCommerce swatch plugin. The plugin is a desired one by most ecommerce merchants these days as the plugin lets you facilitate or disable color swatches on the product lists. Also, the plugin comes with options like changing images depending on color filters for each & every image.
Features:
Controlling and extending is easier
Alter the swatch image for every product
Turn off or on the tooltips for every swatch item
Pricing of the plugin starts at $20
Summing it up
Here is the list of few of the finest WooCommerce color swatch plugins. It is important to pick the WooCommerce swatch plugin as per your requisite of your cherished WooCommerce store. You have the liberty of selecting a simple plugin along with basic variation swatches functionalities or you can opt for a plugin that comes with full-fledged attributes. The plugins help you get hands on a well-structured website. To know more, give us a call.