How to Generate Translated Product Feed with CTX Feed Pro & WPML 4.0 or higher>
CTX Feed is the most optimized WooCommerce product feed manager that can generate your products feed in multiple languages with the help of WPML.
This documentation will explain the process of translating a product page and generating feed for those translated products.
Note: This feature is only available in the premium version of CTX Feed.
Prerequisites
Besides starting the translation process, ensure that your website meets WPML's minimum requirements. Then install the following plugins –
WooCommerce
WPML Multilingual CMS (the core plugin)
WPML String Translation &
WPML Media Translation
Check the image below to get the full list of required plugins for this process.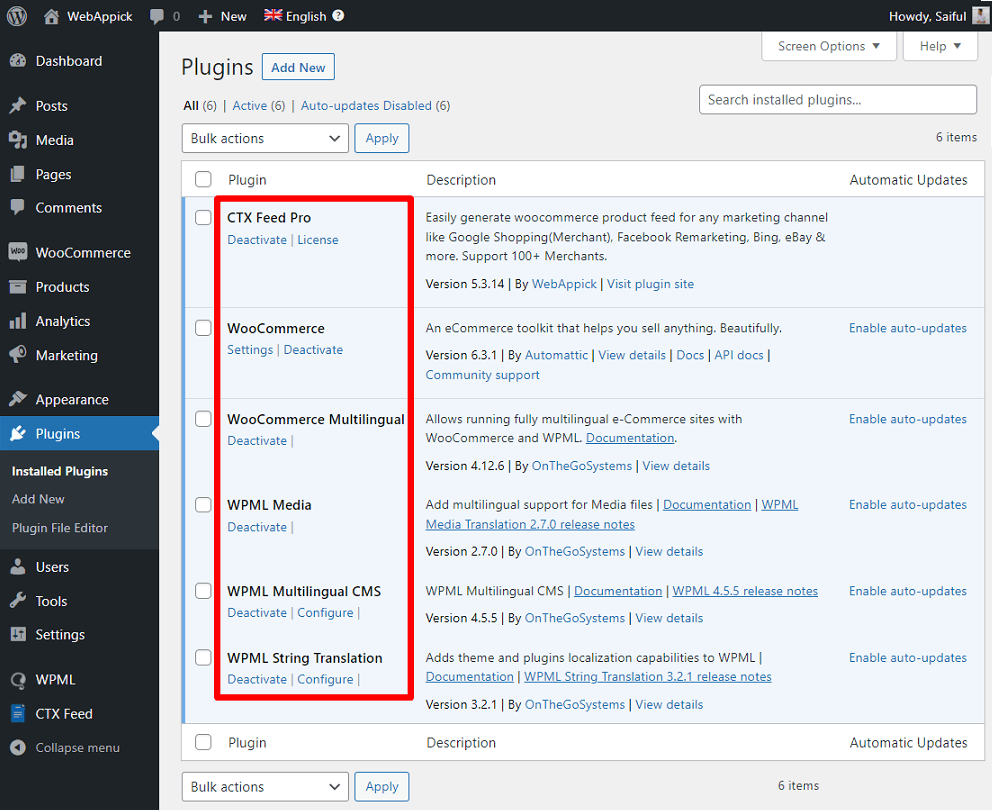 Install these plugins and set up WPML by following the WPML's getting started guide.
Generating Translated Product Feed with CTX Feed Pro
There are basically two different steps of translating Product Feed with CTX Feed Pro. By the way, you have to translate the product
Adding languages
Enabling Advanced Translation Editor
Translating product information
Adding Language Switcher Widget &
Generating translated product feed with CTX Feed Pro
Let's start the process –
Step #1: Adding Languages
Look for the WPML menu on the admin panel sidebar and navigate to –
WPML -> Languages -> Site Languages
You can change your default language or add/remove other languages from this section.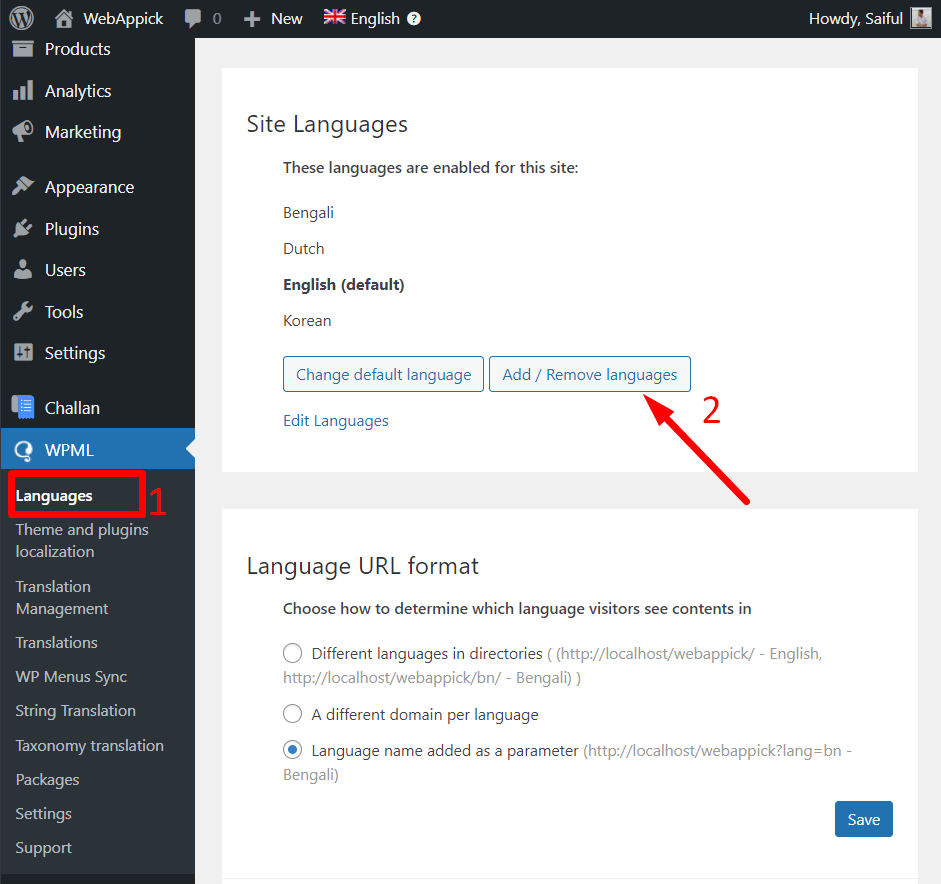 WPML supports almost all major languages. Choose whichever you prefer for your website. We have chosen the Korean language in this tutorial. Here are the supported languages by WPML –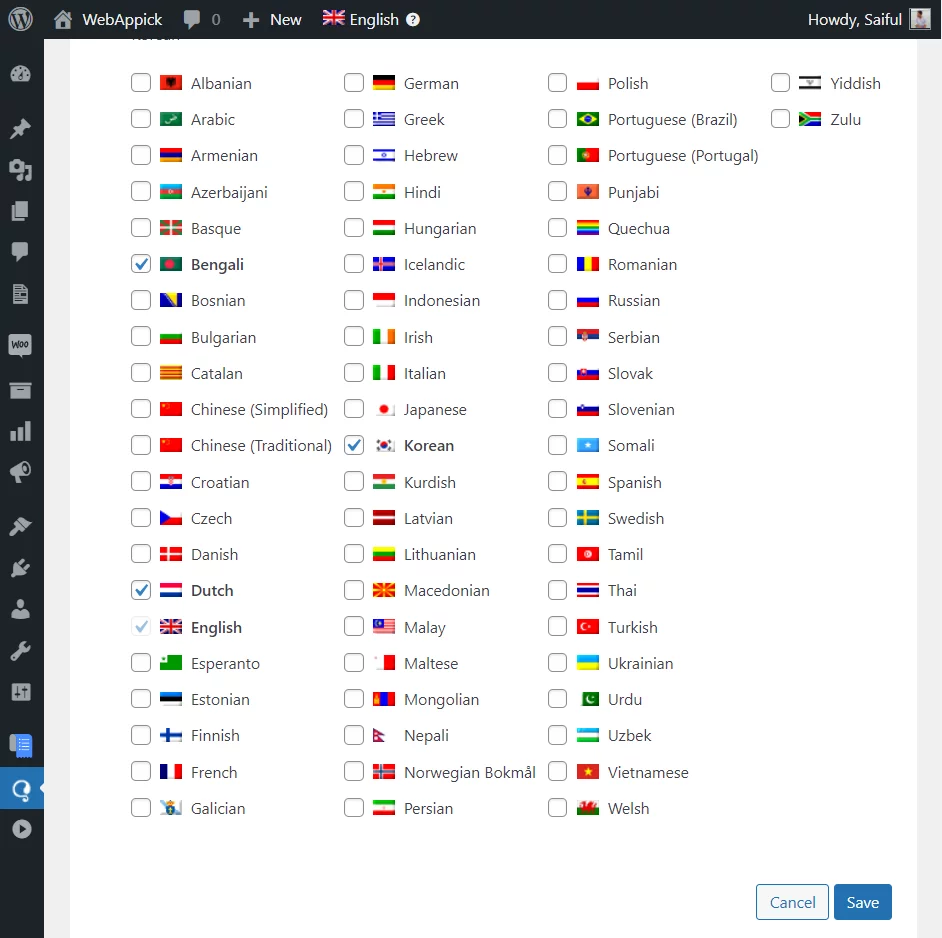 However, the latest version of WPML supports automatic translation for most of the world's languages. Here's the list of WPML supported languages for Automatic translation.
Step #2: Enabling Advanced Translation Editor
While setting up WPML, there will be two different translation methods. You can also change it by navigating to WPML -> Settings.
Translate everything &
Translate some
As the name suggests, the first option will automatically translate the whole website and the second option will translate whichever part you want to translate.

However, WPML offers a reviewing option before publishing the translated version online.
Now, you have to enable the advanced translation editor for further translation.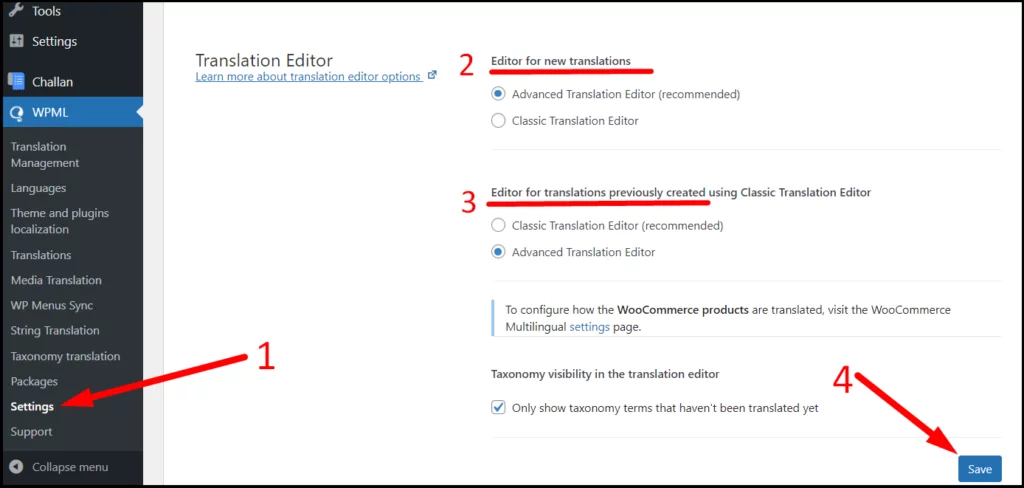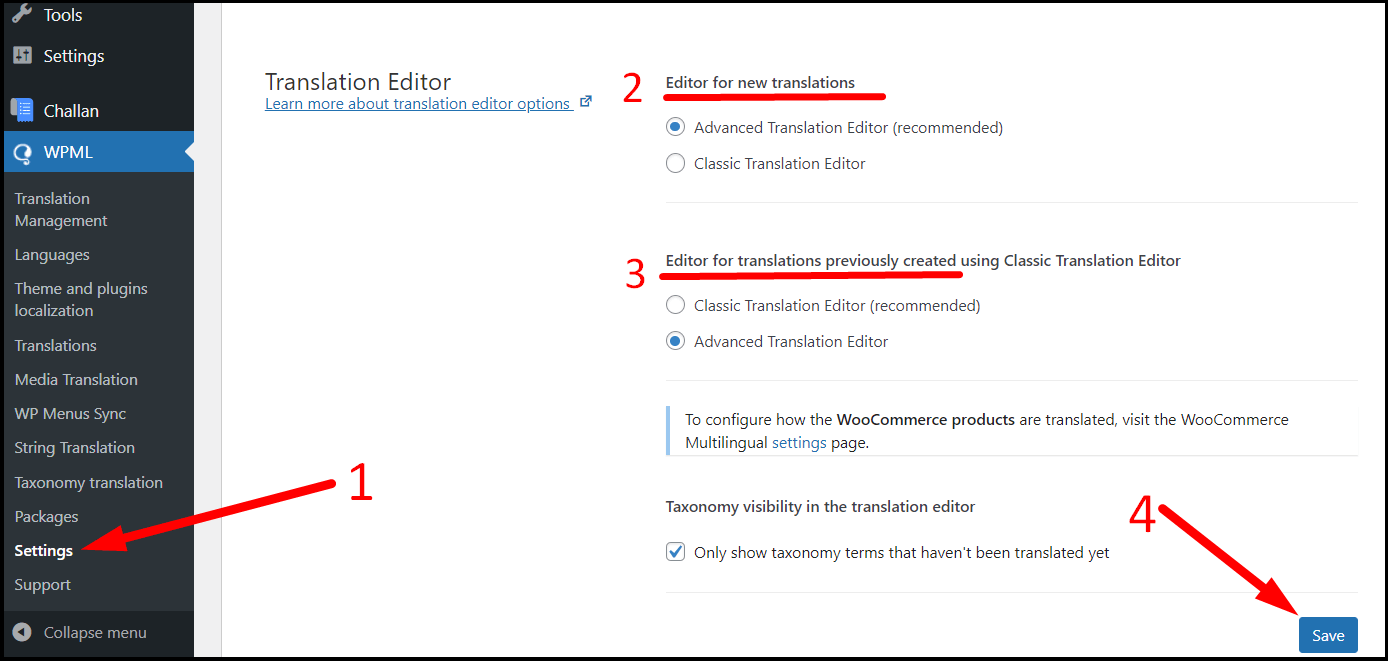 Step #3: Translating Product Information
Now we have to translate the product description into our preferred language. To do this, you have to navigate – Products -> All Products. Then check the rightmost column of the product page to access the translation panel.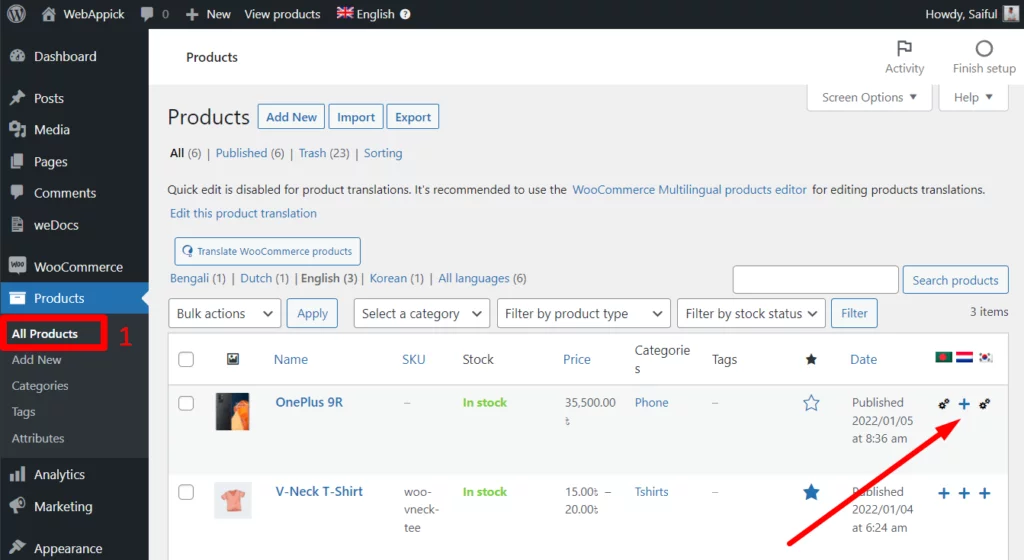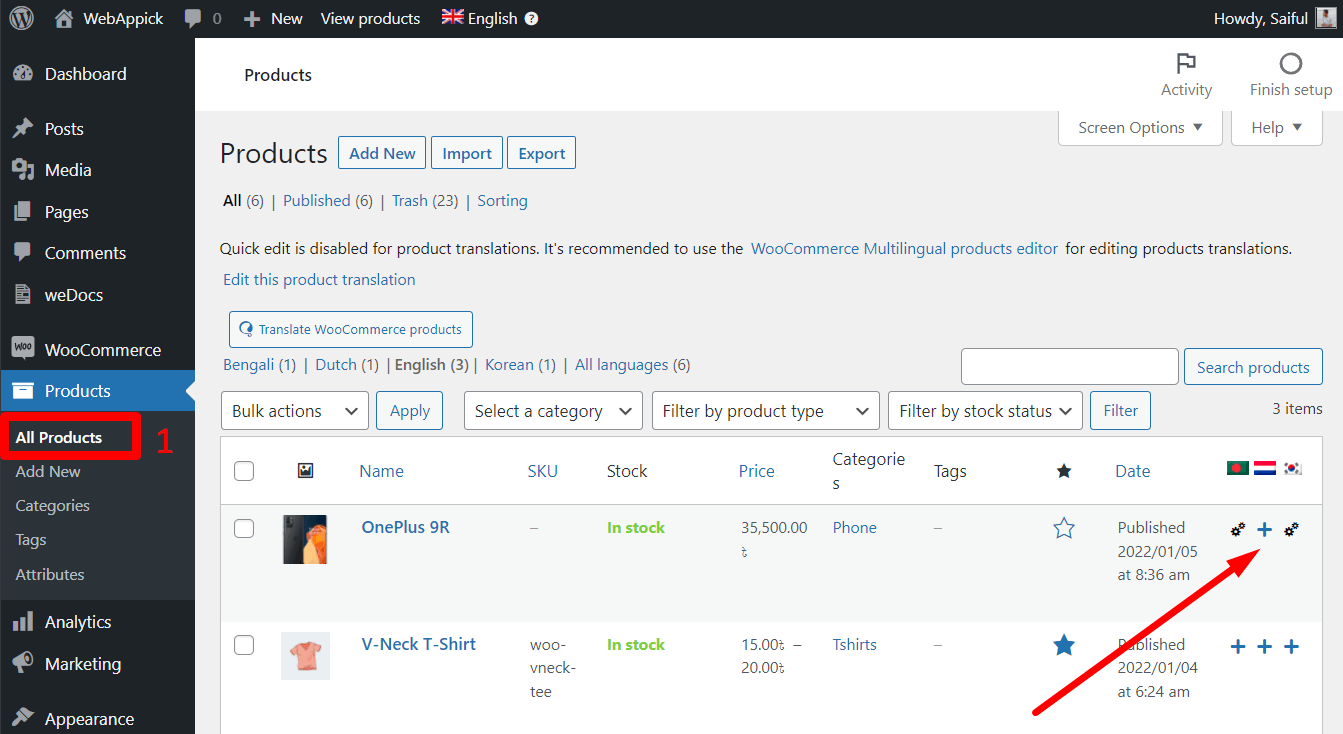 Click on the plus (➕) sign under your desired language to translate the products. However, after translating for the first time, the plus sign will be changed into the settings (⚙) icon. You have to click on that settings icon for further modification.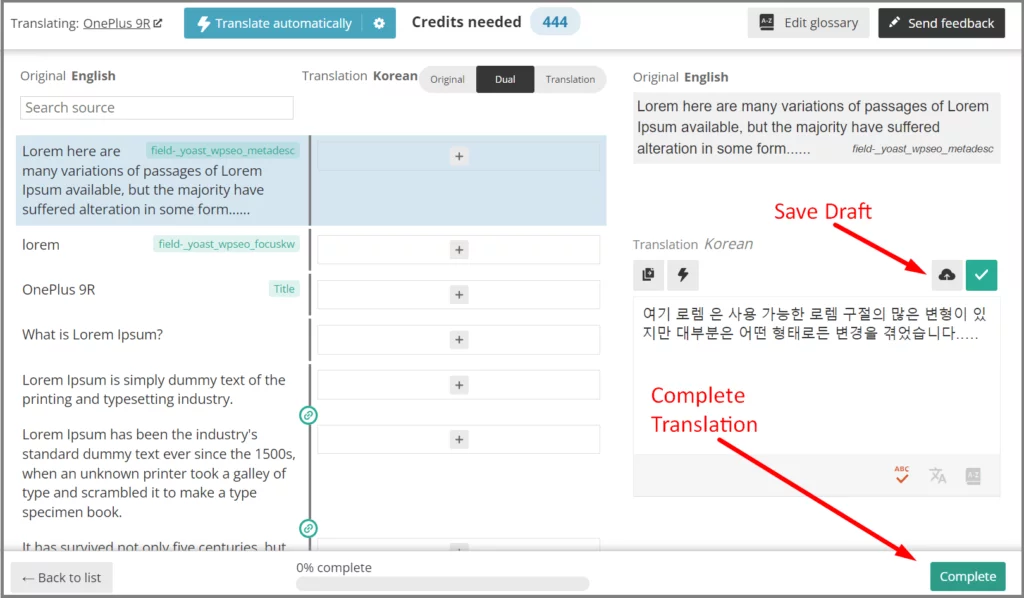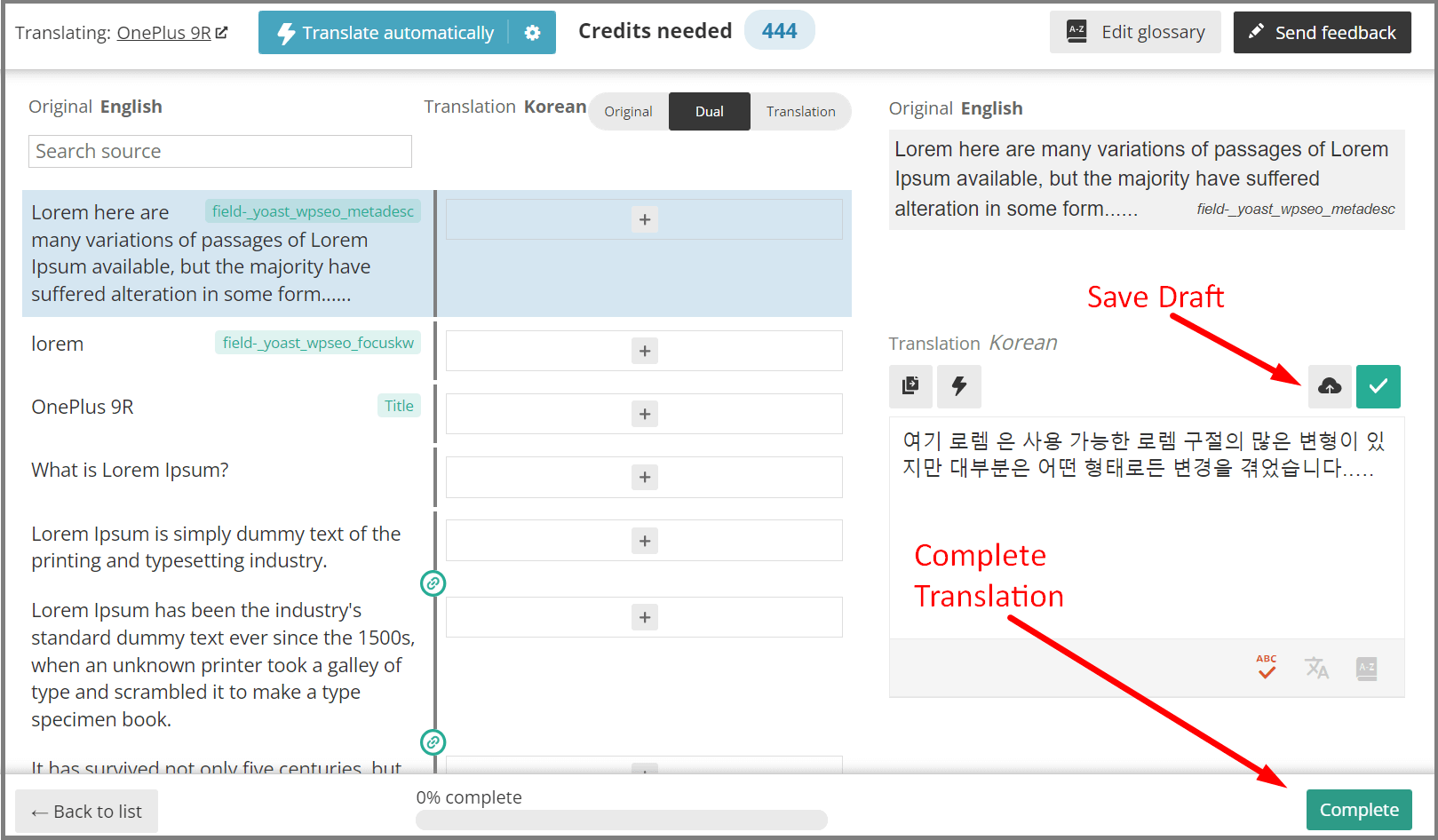 Note: This advanced translator will redirect you to WPML's own translation domain. There's nothing to worry about.
Step #4: Adding Language Switcher Widget
To add the language switcher widget, navigate to
WPML -> Languages -> Language switcher options
Now change the website language from the user-end. The language will be automatically changed into your desired language. You can add the language changing option from the "Widget language switcher" option.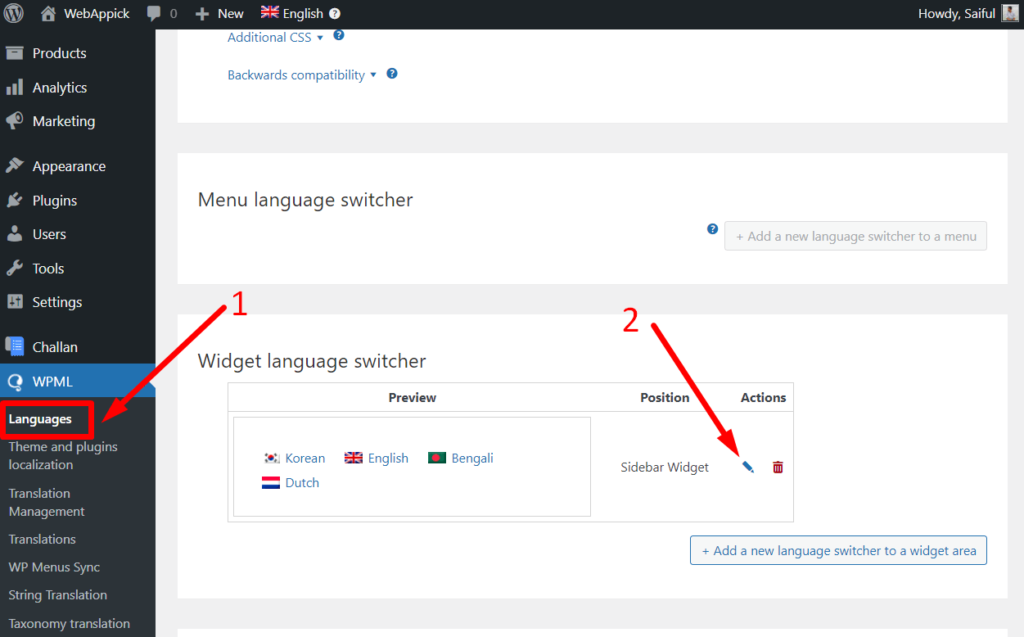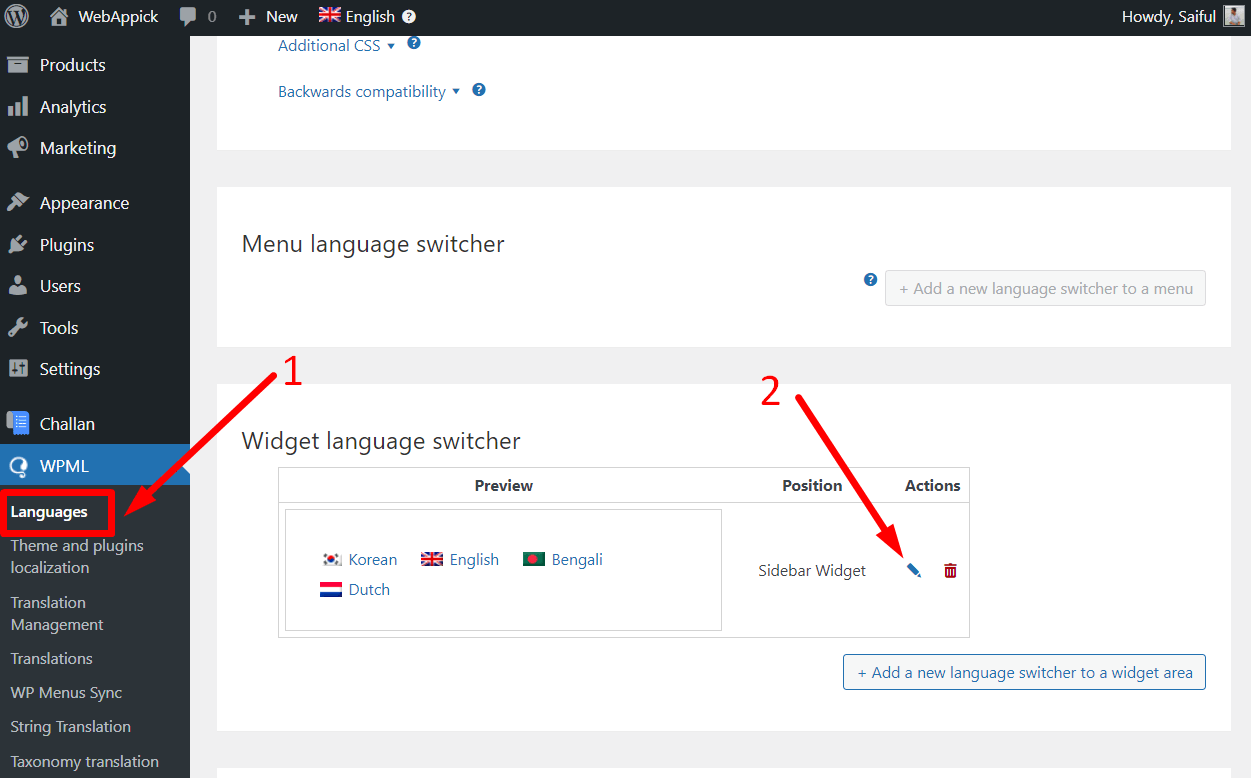 From here, you can change the following options –
Widget location
Language presentation style
Flag size etc.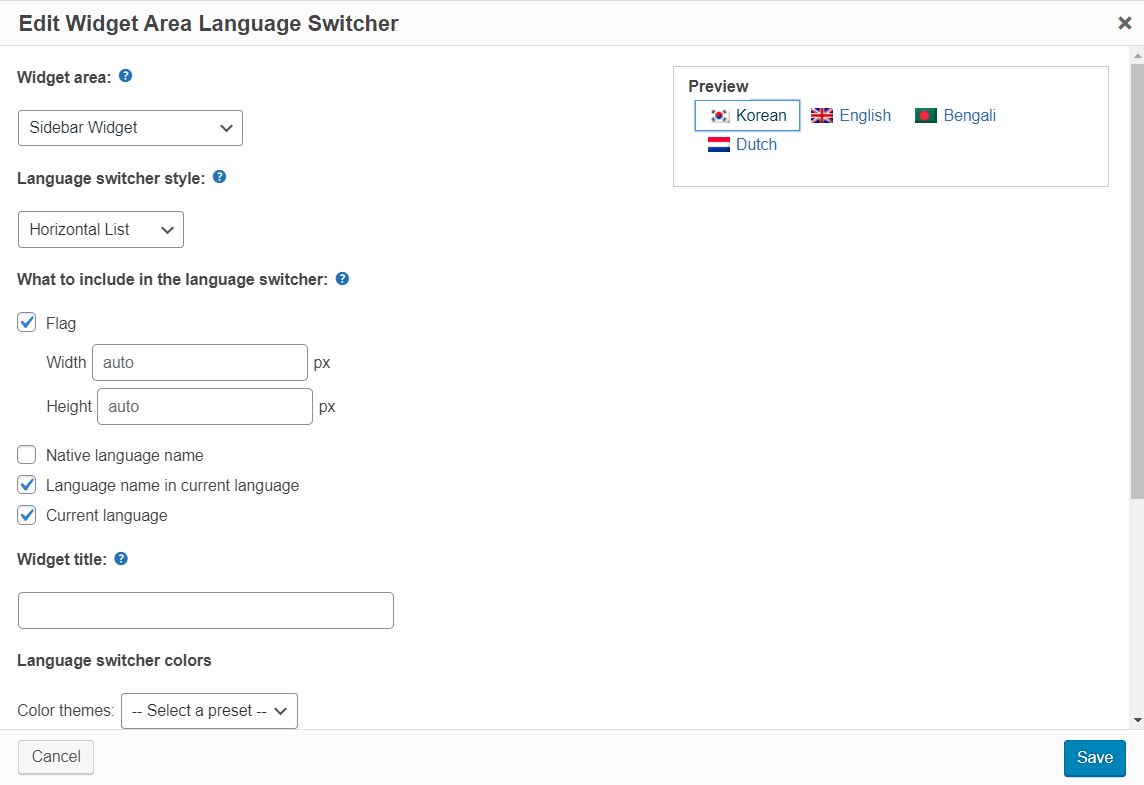 You can preview the changes from the Preview box on the right-side pane. Once you are done with the settings, click the Save button. You can change the language switcher widget into multiple formats such as horizontally, vertically, or in a dropdown style.
Let's have a look at whether our product description changes or not. Here's our default product description page –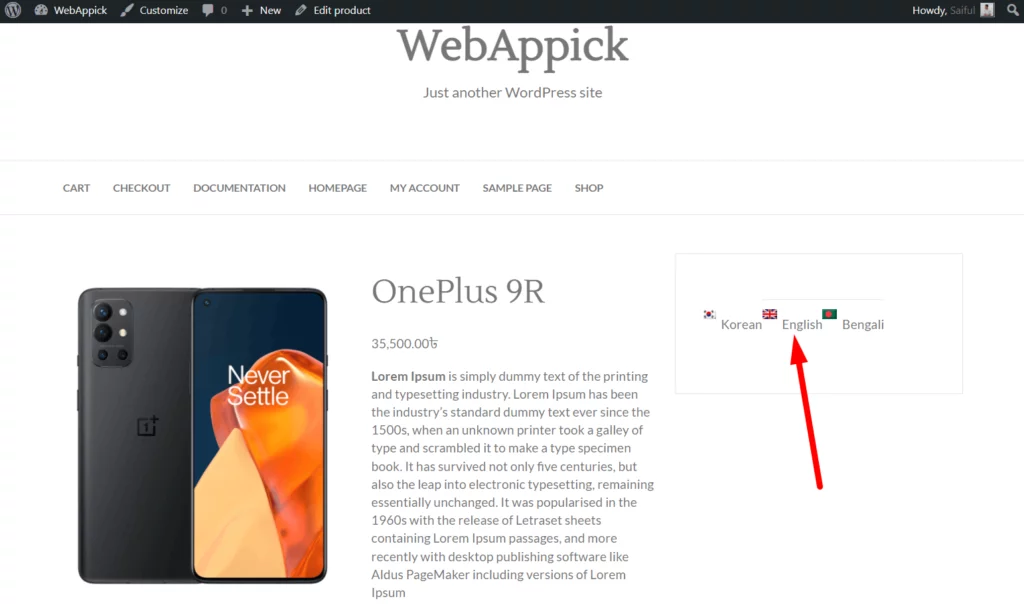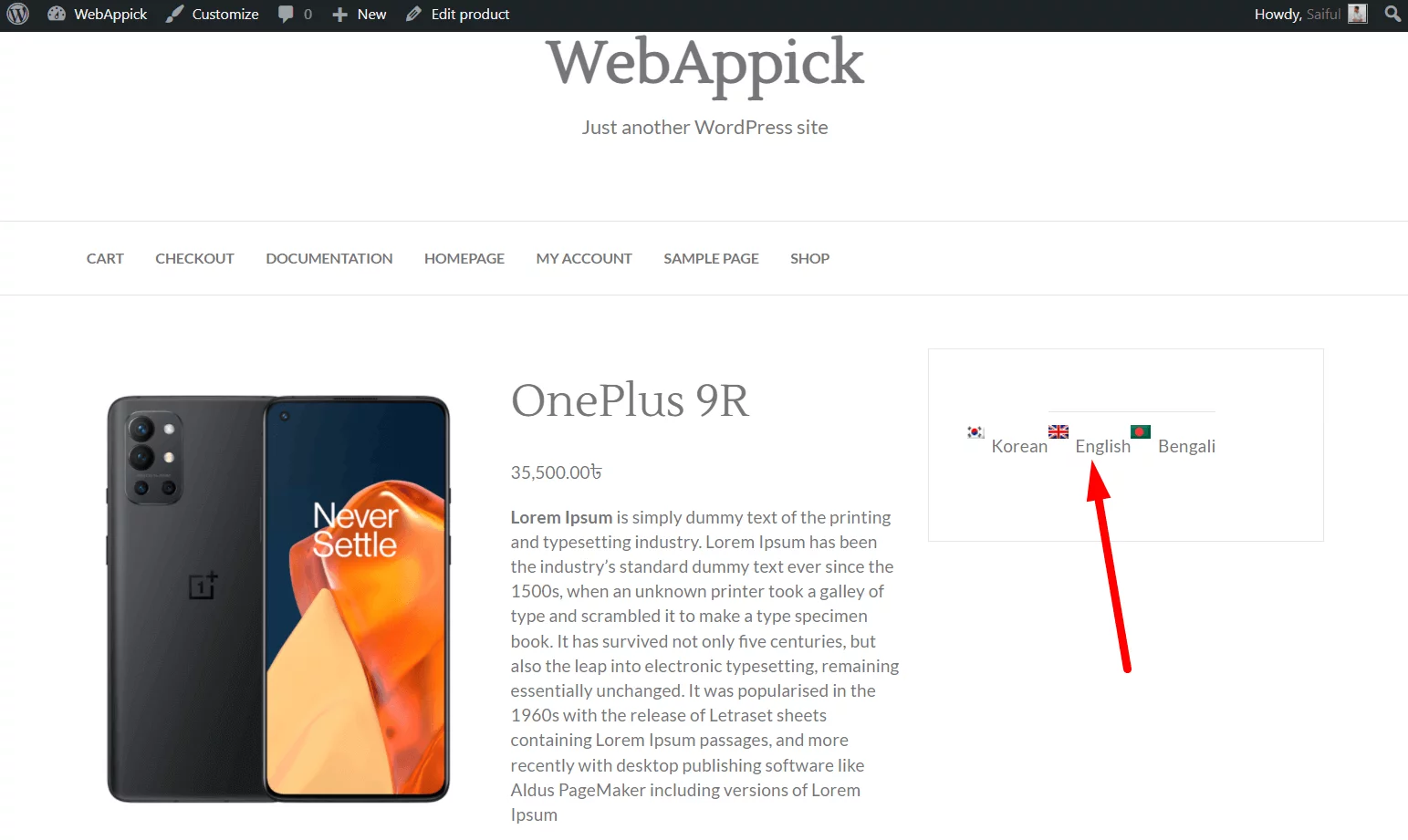 Now, click on your desired language to check whether the product language changes or not. Let's click on the Korean language.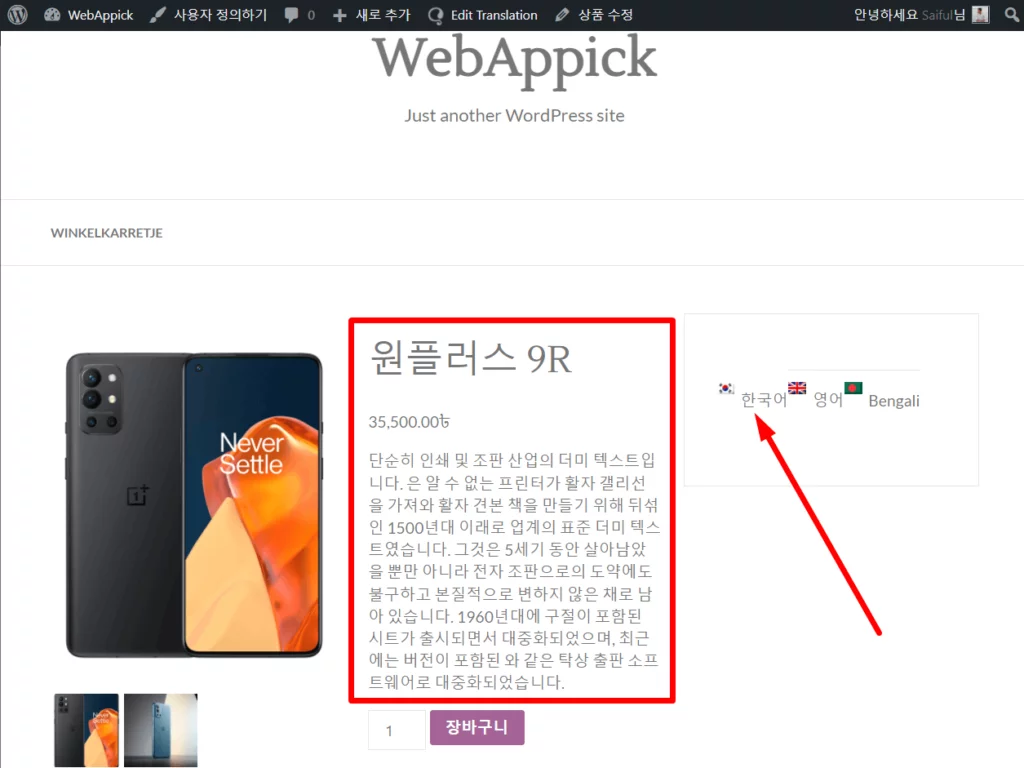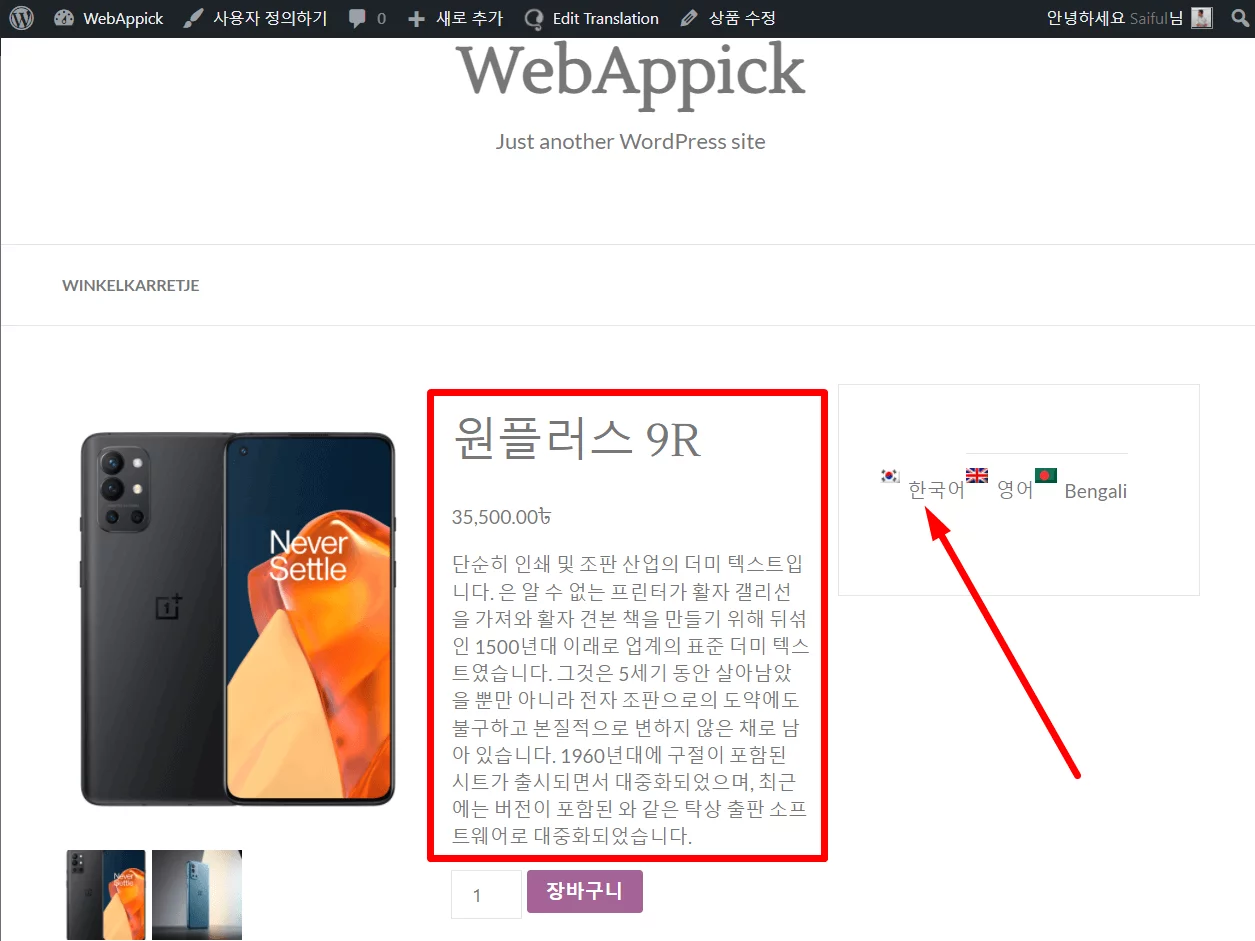 So, our product has been successfully translated into the Korean language. Now, it's time to generate an invoice for this product with Challan.
Step #5: Generating Translated Product Feed with CTX Feed Pro
Navigate to CTX Feed -> Make Feed and enter the following information –
Country name
Choosing feed template
File name
File type
Variation include
Choosing Language
Note: The Language selection option will be available only if you have WPML and CTX Feed Pro installed on your WordPress website.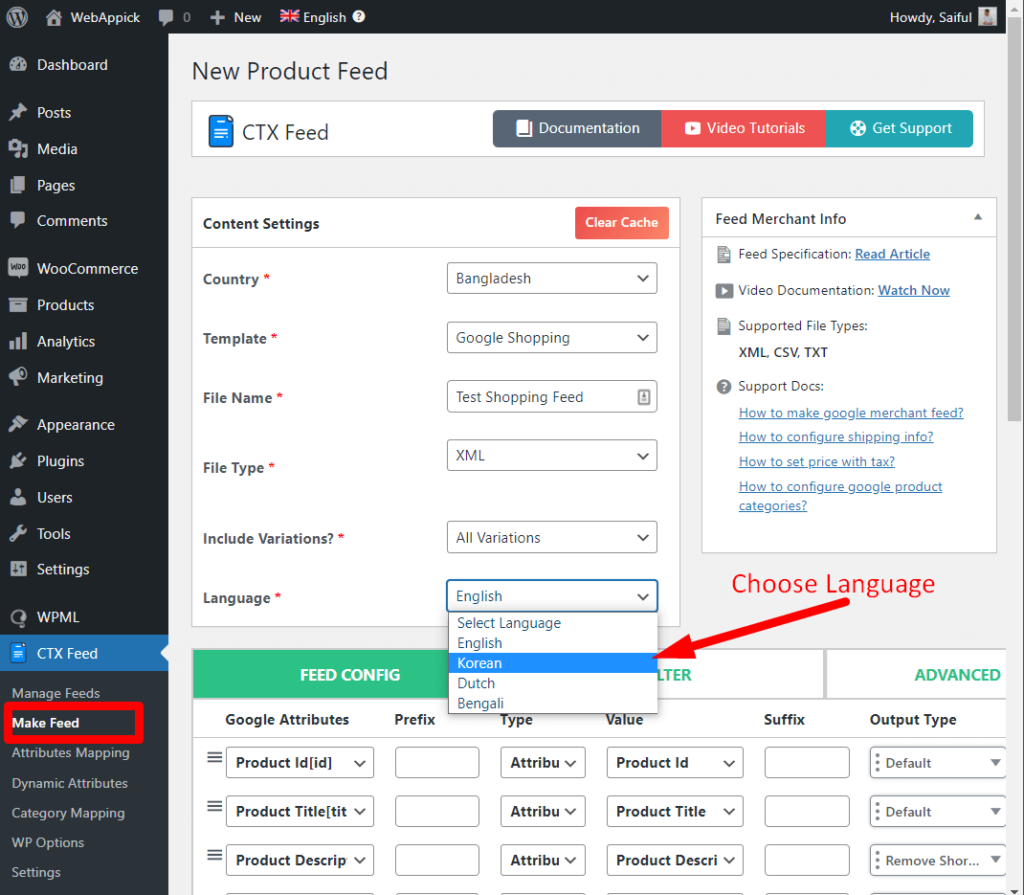 Then scroll all the way down to the page and click on the "Update and Generate Feed" button.

CTX Feed will take a few seconds to generate that feed. Then you will get a message and access that feed from CTX Feed -> Manage Feeds.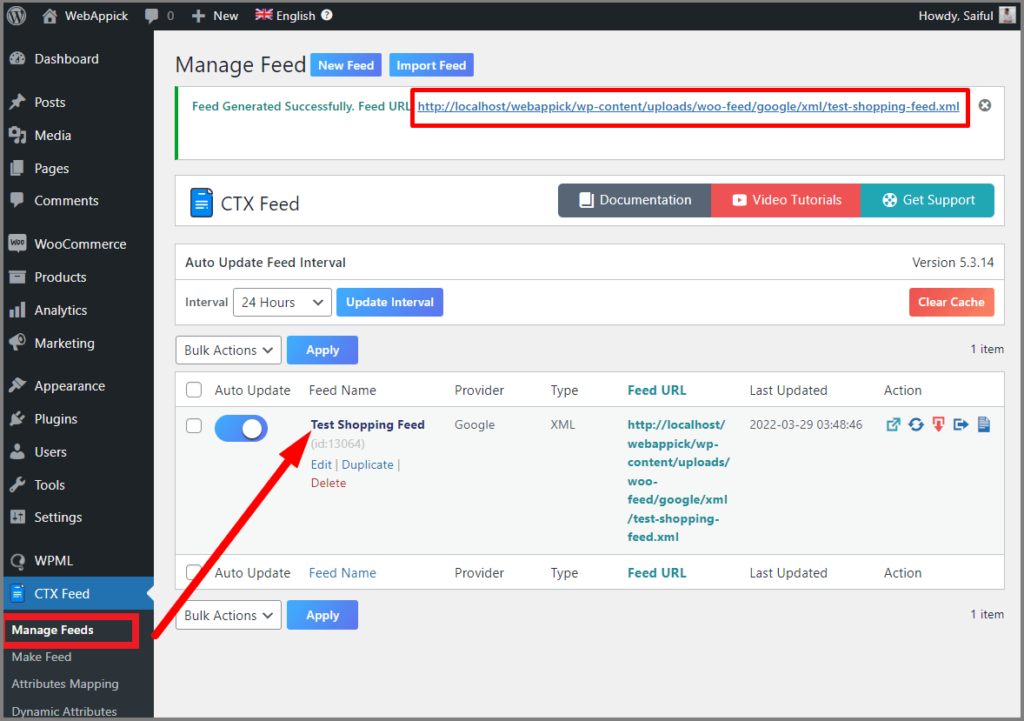 Now, open that XML product feed by clicking on that XML file link.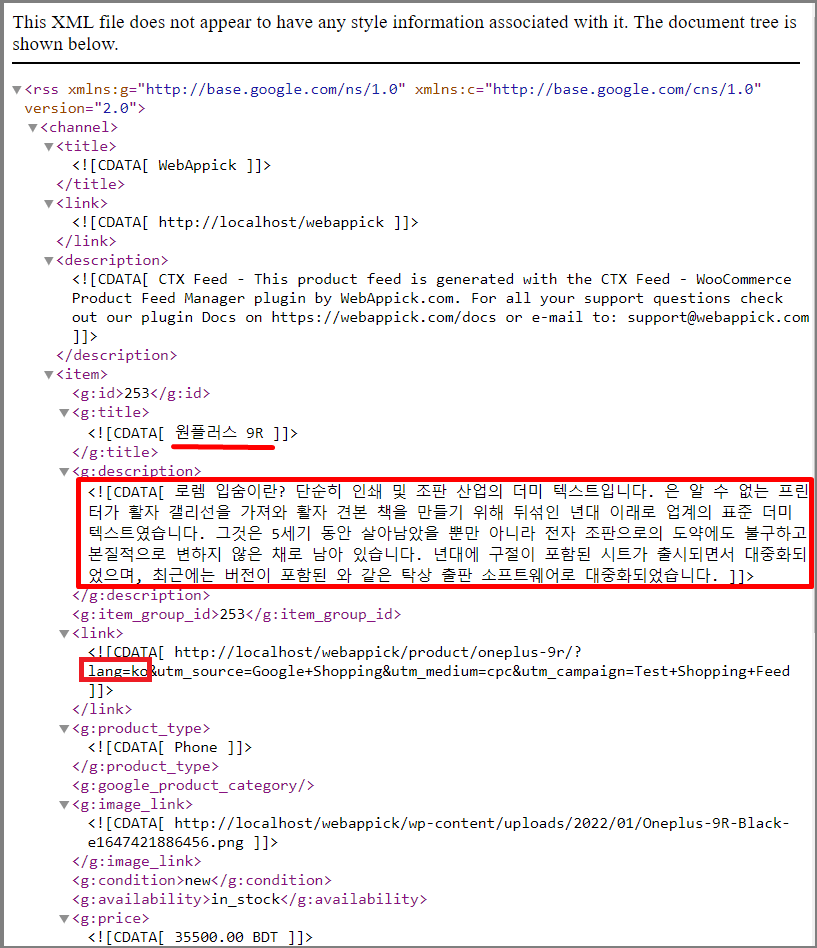 As you can see, the product name and description is generated in Korean language.
You can also change your currency and other information by using WPML and CTX Feed Pro.