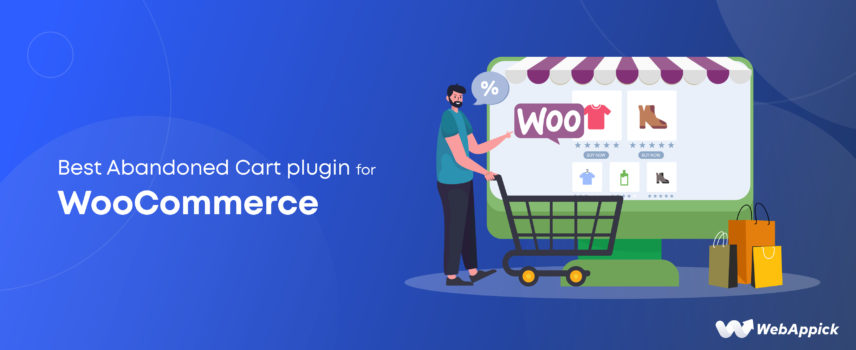 Best Abandoned Cart plugins for WooCommerce
The impact of the abandoned cart is enormous when you look at the statistics. Cart abandonment is one of the significant troubles of eCommerce store across all sectors. While achieving desired results regarding conversion, WooCommerce store owners may still face cart abandonment as a barrier.
Various reasons for the WooCommerce abandoned the cart, how it affects your store and ways to retrieve it and also the usefulness of some of the best WooCommerce abandoned cart plugins will be discussed in this article.
Reasons for WooCommerce abandoned cart
Let's have a detailed look at few significant reasons for Woocommerce abandoned cart below:
Complicated checkout process: this is one of the primary cause in an online store for cart abandonment. Chances of conversion can be affected by a broken checkout process. Customers abandon because many stores fail to motivate enough.
Hidden charges at checkout: one of the significant factors that demotivate users from completing their purchase is hidden transaction fees or shipping charges. Customers may continue with the checkout if they are clear about shipping cost or hidden fee from the beginning.
No option for guest checkout: customers who shop online generally looks for quick fulfillment. It can become quite disappointing when there is a lengthy registration process during checkout. Customers expect a guest or quick checkout on some store like clothing or shoe shop.
Not finding a preferred payment option: when it comes to payment options, customers have their own choice. It might be a significant reason for them to abandon their cart for not finding their favorite payment options.
Security concerns: customers might merely abandon the cart if they do not trust your site to make transaction safely. They always prefer to purchase from a reputed store.
Not sure about the product: usually, while shopping for clothes or accessories, customers are not always convinced. For example, many customers prefer a trial room assurance.
Protecting privacy: customers may not choose to continue if they feel that their privacy is not assured. For store owners, it is vital to creating trust in customers' mind regarding confidentiality.
Solutions to reclaim abandoned cart
Try to figure out the possible reasons for cart abandonment on your online store. You can do it by customer research, studying analytical data or comparing your checkout with high performing competitors. Some of the popular solutions are given below:
Simplify checkout flow: complicated checkout is the primary reason for cart abandonment in many cases. Try to make it simple and pretty quick. Your store checkout is required to be responsive and smooth.
Improve the trust factor on your site: try out several ways to improve the security of your website, if you find out that users hesitate to make a transaction on your store. Refund policy, customer reviews, and testimonials would help to improve the opinion.
Let customers find out information directly: to reduce the cart abandonment, make sure your customers find information quickly on your site. One of the primary things you need to do is, present your product information in a clean and organized way.
Send email reminders to recover: the abandoned cart can be a concern that can be addressed well with email strategy. Several plugins are available to help you send automatic emails on time.
Let's have a look at some of the best Abandoned Cart plugins:
1.Abandoned Cart Lite for WooCommerce

The average shopping cart abandonment rate is approx 70 %. This plugin helps you recover those carts from your WooCommerce shop. Abandoned cart lite plugin works in the background and sends email notifications to your logged in customers & guests customers. It reminds them of their abandoned orders.
Features:
Your customers can recover their abandoned carts in a single click
Including the products, it also identifies the Abandoned Orders information
When an order is recovered, admin is notified by email.
Comes with one default email template
Allows you to create automatic and well-timed email reminders
Create unlimited email templates
Add custom variables in the email template, like- Customer First Name, Customer Last Name, Customer Full Name, Cart Information, etc.
Track abandoned orders value
Create a template using the powerful Rich Text Editor
Automatically stops email notifications
You can download this plugin from the WordPress plugin repository for free of cost. This plugin has a premium version that is being discussed below.
2.WooCommerce Cart Reports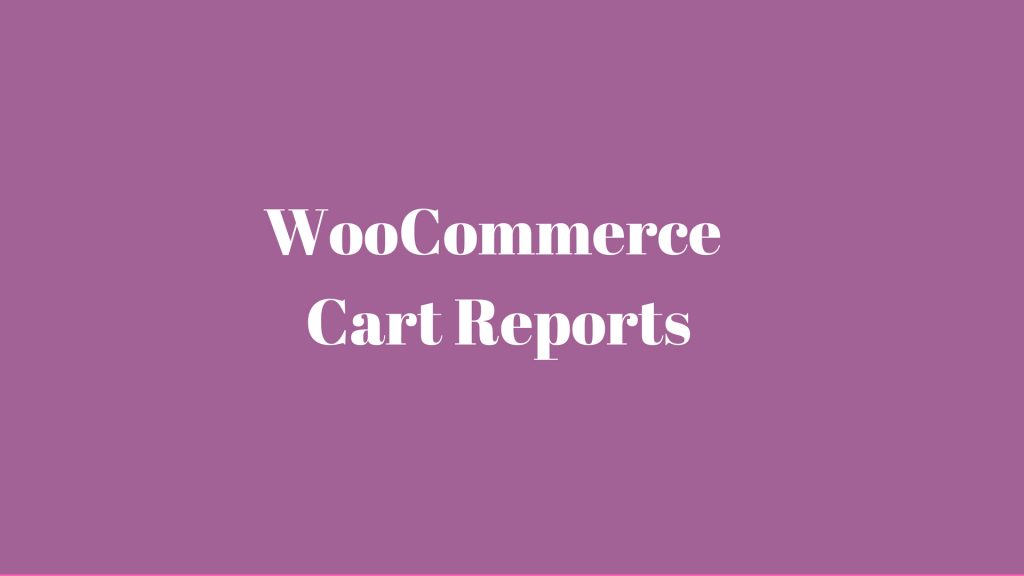 WooCommerce Cart Reports extension reports on everything from open to abandoned carts. It provides real-time metrics on your customer's carts. It helps to manage your online store more efficiently.
Features:
Provides a list view to analyze open, abandoned and converted carts
Able to filter by cart status, cart date or customer from the list
Easy to manage and install
At-A-Glance Dashboard Widgets
Cart Detail view showing cart products, time-last-updated and many more
Contact customers when they have logged in
Offers two dashboard widgets
A single site subscription will cost you $79 that entitles 1-year updates and support.
3.YITH WooCommerce Recover Abandoned Cart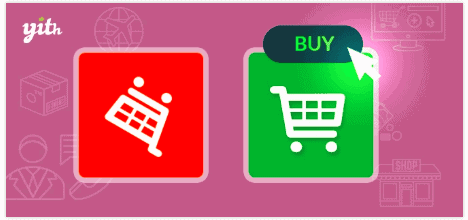 YITH WooCommerce Recover Abandoned Cart is another useful plugin to recover abandoned cart. This plugin helps to create abandoned carts in purchased orders. It helps to encourage customers to retrieve their abandoned cart. This plugin is easy to set up.
Features:
Help to send gentle reminders to customers regarding items in their cart
Help to send gentle reminders to guest users regarding items in their cart
Allows to schedule the frequency of sending emails
Create a strategy based on specific user roles
Allows to include a discount coupon in an email template
Shows detailed reports on your abandoned cart and recovered cart
Able to communicate to customers in their language
Highly customizable email template available
The premium subscription of this plugin will cost you €65 for a single site. A subscription license entitles 1-year support and updates.
4.WooCommerce Recover Abandoned Cart
This WooCommerce extension plugin will recover the abandoned carts, and your sell will be increased. WooCommerce Recover Abandoned Carts monitors carts that are abandoned by guest and members to capture Abandoned Carts.
Features:
Monitor and record Abandoned Carts
Works for Simple and Variable Products
Multiple mail templates for follow up
Manual mailing option
Captures phone number for manual follow up
WooCommerce mail templates can be used
Email Admin when the cart is recovered
Activate or Deactivate Mail Templates
The regular license of WooCommerce Recover Abandoned Cart will cost you $49 with 6-month support from the Author.
5.Abandoned Cart Pro for WooCommerce

This plugin is the premium version of Abandoned Cart Lite with many features included. The pro version works in the background and sends multiple reminders about your customers abandoned orders to them. It assists in recovering lost sales by sending discount and coupons to motivate your customers.
Features:
A super-powerful feature like Add to Cart popup modal
Comes with three default email templates
Motivates customers sending different offers like discounts and coupons
Embed WooCommerce coupons as well as generate unique coupons
Able to track expired coupons to check whether they are causing cart abandonment
Allows to check product status
Enables to send email template within minutes of a cart being abandonment
'Send Custom Email' feature for admin
Allows admin to Print Abandoned Orders to CSV format
Admin allowed to restrict Email, IP and Domain name
Abandoned Cart Pro for WooCommerce is WPML compatible. This plugin will cost you $119 for a single store.
6.Optimonk

Optimonk, One of the best choice to reduce the disassembly and set lost sales in your WooCommerce store, is Optimonk. There are a few effective ways of how visitors can be encouraged to complete their purchase. Optimonk has some retargeting feature.
Features:
Uses exit intent technology
Recover up to 15% of carts that get abandoned
Display a targeted offer to a visitor to increase engagement
Allows excellent scope in A/B testing of your site
Perfectly integrates with WooCommerce and other marketing tools
Different content, designs, layout, and structure
Decide on the timing of a pop-up to maximize the results
The premium pricing plan will cost you $29 per month for a single domain. It offers a 14-day free trial.
For an eCommerce site, cart abandonment is somewhat of a natural phenomenon. All visitors do not come with the intent to purchase from your website. However, still, it is an excellent opportunity for real-time promotional strategies. You can use a useful tool to improve the conversion rate and cart abandonment.
From the blog, you have already come across the plugins that help you revive your abandoned products. That's just one part of the game. Your cart has to be customizable and need a lot of reformation. For that, you need the plugins to make your eCommerce shopping pleasant and joyful. Check out our blog on the best WooCommerce shopping cart plugins to get the best possible cart suited according to your needs.
There are plenty of plugin options into the WooCommerce community and you might be confused about which one to choose. Here are some must-have WooCommerce plugins that may be useful for your online store.