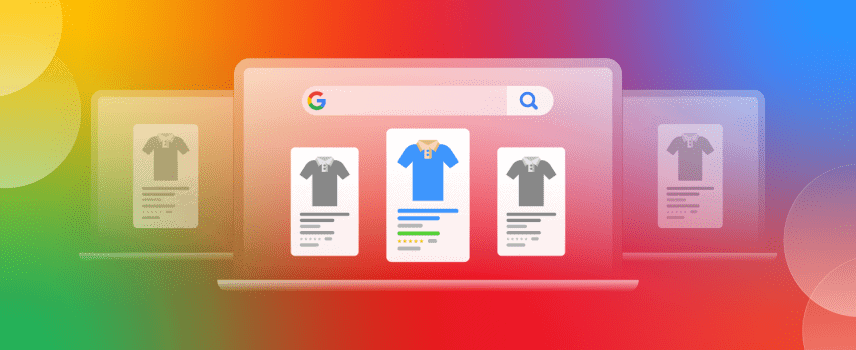 The Evolution of Google Product Feed
Every day, a huge volume of Shipping intended searches are made on the Google Search engine. Google Shopping action is introduced by Google, which was initially known as Froogle. It has opened a huge doorway for the merchants to reimagine their business opportunities.
Google gathers customers who have pure buying intentions compared to any other platform. WIth Google product feed, it evolved to make the process of shopping and selling flawless than ever.
Shopping Ads and Google Product Feeds are getting more importance on SERPs. Ads by Google are capable of getting better traffic rather than text ads. We have focused on them to get the full potential of the Google Product Feed.
You must understand the functionalities of the Google product feed while setting up the campaign. The evolution of Google Product Feed moved along with the Google shopping campaign. 
In this article, we will provide you detailed information on the evolution of the Google product Feed.
What statistics say
Google has a growing opportunity for eCommerce business owners by getting 68% newer customers. Around 31% of people search Google without any intention to buy a specific product. After getting a basic idea about the product they need, almost 30-32% of people start purchasing.
Undoubtedly Google has the highest rating in shopping research among other platforms. From these stats, one can clearly understand the importance of this channel in eCommerce.
Moving forward, We are going to walk you through different stages of Google Shopping's evolution. Then we will gradually introduce you to Google product Feed and its necessity.
History of Google Shopping
With continuous updates, Google Shopping evolved into a seamless and flawless tool. It serves both customers and sellers without any friction. Here, we are mentioning the evolution of Google Shopping along with the Google Product Feed.
Froogle
It was launched back in 2002 and became a widely accepted platform due to its popularity. Customers were allowed to compare the prices of products listed on numerous platforms. They could do all the actions on this single platform. It was the beginning ground of Google Shopping.
The concept of Google Shopping came into the picture eventually from that point and onward. The idea was executed by observing the vast number of product-related searches on Google.
A recent stat indicates that 35-45% of shopping-related searches are done in Google. The search results are shown in google and, after clicking, redirected to a landing page via Google Shopping.
Froogle was convenient to its user for comparison features. It helped customers to explore their preferred brands without switching to another channel.
Product Listing on Froogle was utterly free, and it worked according to its design. It reached the audience with buying intention at the lowest cost. Additional costs were applied for displaying links with sponsors only.
Comparison Shopping
Comparison shopping is based on general customer behavior, such as comparing products and prices. Via comparison shopping, customers can make the best buying decision.
Comparison search engines return product listings from numerous vendors, stores, or marketplaces. Froogle initially started working as a comparison search engine. A common feature of this search engine is to redirect buyers to the original website of the product listing.
At this stage, Froogle was a doorway for customers to buy products from the original website retailers. But it evolved as well and improved into something greater soon enough.
Google Product and Google Product Searches
Froogle maintained its popularity and evolved into a greater platform for customers and retailers. In 2007 the name Froogle was changed to Google Product searches. Soon, Google Product Searches was named Google Products as well.
The function of comparison shopping was similar, except the name was only changed. So, it did not act as a price comparison platform; the products were shown besides other SERPs.
Product attributes such as name, price, description, etc., were displayed in customer search queries. It benefited the customers greatly by providing enough information to create buying intentions.
One valuable piece of information that was attached with the product is the link to the original website. The website linked with the product takes the customer to the website where products are listed.
So Google products became a marketplace with so many vendors and store owners. Google products then became one of the most reliable places for online shoppers. Google Product was soon evolved to a newer version with more changes.
Google Shopping (earlier stage)
Google shopping was introduced in 2012 by renaming Google Product Search. It came with some significant changes in the payment model. To display products on google via product listing, sellers had to pay google.
Google Shopping is a service that creates an opportunity to display products on search queries. No matter where a retailer wants to sell the products, this platform offers a flawless price comparison experience.
In this platform, users could get all the products in one place without switching to multiple websites. Back then, Google Shopping was also known as Google Shopping Express, available for a few US states.
Google Express
Google Shopping was reshaped into Google Express with more customer-friendly features. This time customers were able to make a purchase focusing on brands and stores. Customers were allowed to add products from giant retailer brands such as Target and Costco.
Customers could also checkout from Google after purchasing products from giant brands. Products from different marketplaces could be delivered within the same package via Google Express.
Google Express was well known for grocery products and delivery services. The product price listed on Google Express was similar to the store price. The only additional cost occurred while selling online.
Though Google Express started in a few states, it kept growing, and the number of the states increased.
Google Express was later integrated with Google Shopping and wrapped by Google Shopping Action. The latest Google Shopping provides the benefits that were available on Google Express. This means Product Feed remained in Google Shopping but with added features.
Google Shopping Actions
Google Shopping action is a very reliable Google platform for customers and retailers. It allows you to project the product feed in different platforms such as Google Assistant, Google search, etc.
Sellers were allowed to upload the product information as Google Product Feed. Google Merchant center was the platform to upload the product feed, and it still is. Customers were able to get the benefits of Google Shopping actions by paying upon sales.
The sales increased due to the tremendous features of Google Shopping Actions. Features such as Universal Cart, One-step checkout, and buy while browsing satisfied both ends. With Google Shopping action, tracking the customer details as possible made the follow-up easier.
Google Shopping in the Present era
Google Shopping utilizes the Google Product feed and displays products via Google Ads efficiently. Product information is also displayed if website owners provide structural data to Google Merchant Center. Using the surface across google programs allows the same privilege to the sellers.
Product Listing is displayed to Google Shopping and search query via Google Product Feed. Customer preference and previous search queries are focused while displaying the products. The campaign structure, keywords, search queries, and product performance also affect it.
Sellers have to be registered on Google Shopping Action to sell products on Google Shopping. The customer's product searching process is easier due to Google Product Feed on this platform. Google named this renewed search experience – "Product Discovery Experience."
Another major benefit of this platform is advertising your products through Product listing ads. With the help of Google product feed, you can promote products on different google platforms. It uses the pay-per-click model and shows the product description based on Google Product Feed.
Google Merchant Center
Google Merchant is a centralized platform where sellers can upload and manage the product feed. Product Feeds can be accessed by Google Search, Google Shopping, Google Product Ads, and other Google Services.
The product feed is surfaced by Google in search queries and displayed to the customers. One must have a Google Merchant center account to display the products on the search query or Google Shopping Ads.
Google Product Feed
Product Level Shopping campaigns by Google have become a great source of revenue since 2014. The click-through rates on this campaign saw a huge spike of 22%. It continued in 2015 as well as product feed-related advertising evolved seamlessly in Google.
Google Product Feed added liberty for the customers to explore an inventory with rich media. Product feed includes crucial information such as name, price, image, description. The campaign also allowed sellers to create ad groups and bid according to customer preference.
With the help of product feed, google provides freedom to the customers to get their desired product. On the other hand, retailers can observe their incoming traffic and their behavior on the Ads.
Google Ads may look similar to other ads, but these ads are displayed via Google product feed. It drives the content according to Google Merchant Center. Google product Feed makes the Ads understandable and optimizes the Ads for customers.
After getting all this crucial information, optimizing the product feed becomes a necessity for retailers. Retailers can now focus on the products that are making more revenue. Google Merchant center provides a proper insight to the retailers to focus on profiting products.
So Google products have evolved the classic customer journey. It allowed them to make quick decisions while choosing their brands.
Google Shop provides the right product to the right customers at the right time via search queries. Today, retailers have understood the importance of Google Shopping Ads for this reason.
Significant Growth in Google Shopping and Google product Feed
In 2015, retailers became a lot familiar with google product feeds and feed management tools. WooCommerce store owners can easily create Google Product Feed via plugins such as CTX Feed. We will provide you with details about the plugin shortly in this article.
In April 2020, Google introduced the free product listing on Google Shopping in the USA. Google wanted to make Shopping features accessible for online merchants. Currently, via Google product feed, Google took the shopping campaign further.
In 2019, Google became a serious eCommerce platform by going through huge improvements. The new updates always focus on Google Product Feed marketing due to its success.
The latest Google Shopping trend focuses on customer personalization and an easier checkout process. Google Product Feed based marketing now focuses on new features :
Currently, Google offers product recommendations based on the user's action or the products they viewed.
Users are also allowed to get a personalized homepage to manage Google product Feed.
Users are allowed to track the price changes because the product feed can be updated.
Users can search and get local products because retailers can upload local product information via Google product Feed.
Customers can purchase products directly via google shop even if the product is available on a different website. This is possible because the product information of a website is transferred to Google as Google Product Feed. The availability and updates of the product feed are possible on Google Merchant Center.
It indicates that Google Product Feed made Google Shopping more reliable to the customers. Google Product Feed made the buying process easier for the customers. Google boosted the buying process, sales generation process, and impulse buying criteria.
Google Shopping was further evolved along with the Google Product Feed. It was named Google Express, which became popular soon enough due to its services. Google took the initiative to work more and deliver the product.
Google Product Feed Marketing and WooCommerce
As a retailer, you must promote your product and spread it everywhere to be noticed in the market. Google allowed online shop owners to promote their products easily.
Google Product Feed became the most effective way to provide product information to Google Merchant Center. Currently, it is evolving as Google evolves, and it is not the future. It is the latest trend of product feed marketing.
Even the biggest eCommerce platform named WooCommerce considers google as a first priority. Transferring the product feed from WooCommerce to Google Merchant has become crucial. WooCommerce store owners can now easily import their product information to Google.
Combining WooCommerce and Google Merchant Center creates magic for online store owners. You can sell any digital and physical products via WooCommerce websites. Making Google Product Feed from WooCommerce product information has become easy due to plugins.
CTX Feed – Easiest way to create Google product Feed from WooCommerce store.


There are many plugins to create a google product feed, but we will discuss the best. CTX Feed is one of the best product feed plugins in WooCommerce to create Google Product feed.
In CTX Feed, you will get a built-in Google Shopping template that includes all the necessary settings. The template collects the WooCommerce product information and turns it into Google Product Feed.
To create the most optimized google product feed, you can learn about the plugin from this link. Without delaying anymore, install CTX Feed on your WooCommerce store to create a Google product feed.
Final Words
In 2002, Google Shopping was the most convenient product comparison service. Currently, in 2021, it has grown into a massive e-commerce platform in association with Google Product Feed. The latest Google Shopping allows free product listing that impacts the eCommerce realm widely. Each new evolution of Google Shopping is becoming more connected with Google Product Feed.
Marketers are now able to improve their SEO campaigns seamlessly. The latest update emphasizes the importance of Google Product Feed due to its detailed structure of product information. This evolution reflects Google's competitiveness and the reason why it is the best merchant. To become successful in your eCommerce journey, you must learn about Google product Feed.
We hope this article helped you to learn the evolution and necessity of Google product Feed. It is recommended for WooCommerce store owners to try the CTX Feed plugin. It will allow them to efficiently utilize the Google Product Feed and boost their business via Google Merchant Center.