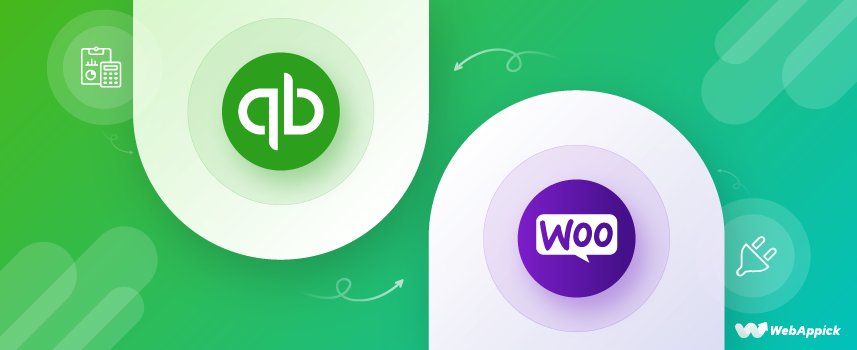 4 Easy Steps to Setup WooCommerce QuickBooks Integration
Do you know why 8 out of 10 businesses fail?
Cash flow management!
Yes, a U.S. Bank study by Jessie Hagan found that 82% of businesses fail just because of negative or poor cash flow management.
But, is it really tough to manage the cash flow?
No, it's not any convoluted task that requires an experienced business person. You can easily do it only by using a professional accounting solution. And, among all of those, we prefer to use the QuickBooks accounting software.
Why?
QuickBooks is the most beautifully built, well-developed, and comes with almost everything you need to manage your online store. Because of the functionality of QuickBooks, it is already leading the market with 80% of the market share only in the US.
In this article, we are going to cover the WooCommerce QuickBooks integration process along with the benefits of this Integration.
Let's start.
Types of QuickBooks Integration
There are two different methods of the QuickBooks data integration process.
1. One-Way Data Synchronization
As the name suggests, this sync method transfers data only in one direction. For example, if you want to send a WooCommerce order to QuickBooks, it will use the one-way sync method.
This synchronization method is suitable for simplified tasks like order management or sales receipt processing. It will not only save time but also be cost-effective too!
2. Two-Way Data Synchronization
The two-way sync method is a little bit more complicated than the one-way method. It updates both systems simultaneously while making the transactions like taxation, inventory or order management, updating customer information, etc.
This method is comparatively more expensive than one-way transactions. It is basically used on larger businesses to handle large amount of sales volume.
How to Integrate WooCommerce with QuickBooks Online Account?
There are two different methods of integrating QuickBooks and WooCommerce. These are –
QuickBooks Online &
QuickBooks Desktop
You can use whichever seems the best WooCommerce QuickBooks integration method to you. In this section, we will discuss the step-by-step process of integrating WooCommerce and QuickBooks online.
System requirements
Before starting the integration process, let's take a quick look at the system requirements for this integration process –
WordPress version 4.4 or above
WooCommerce version 3.5 or above
Pretty permalinks &
Domain and URL
You might already understand the domain, WordPress, and WooCommerce requirements. However, you have to set up the pretty permalinks from the WordPress dashboard.

Navigate to WordPress dashboard -> Settings -> Permalinks and select the custom structure.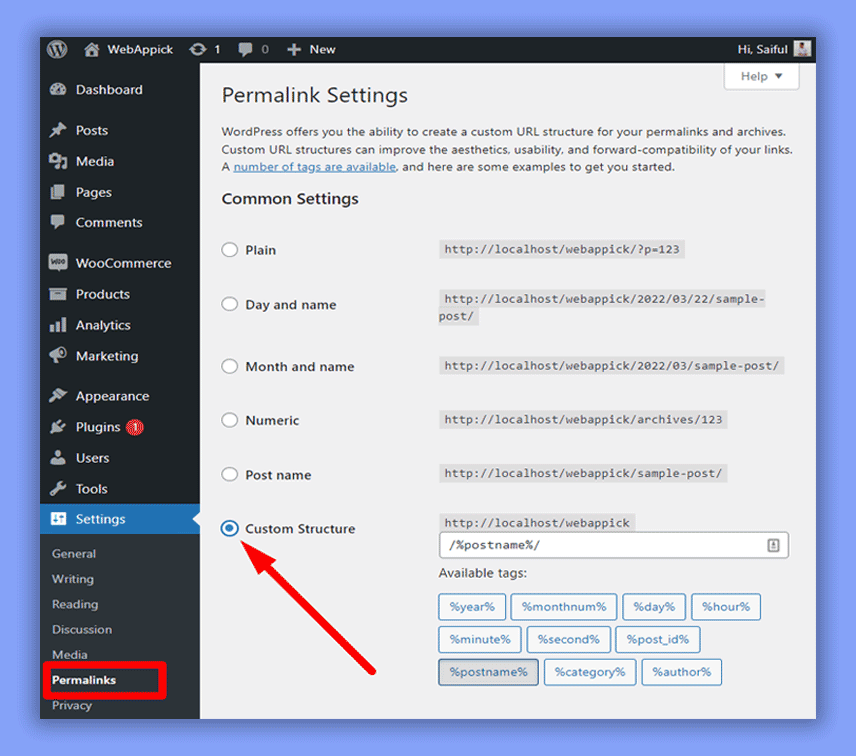 Note: You can choose any option from here other than the 'Plain' one. The rest of the options are considered pretty links. However, we will suggest you to choose the custom structure.
Step-by-step Process of Connecting WooCommerce and QuickBooks Online
As you might already know, QuickBooks seamlessly integrates with WooCommerce. You can complete the integration process only in 4 steps. Here are the steps –
Login or create a QuickBooks account
Connect WooCommerce and QuickBooks
Configure the integration process and
Sync QuickBooks with WooCommerce
That's all!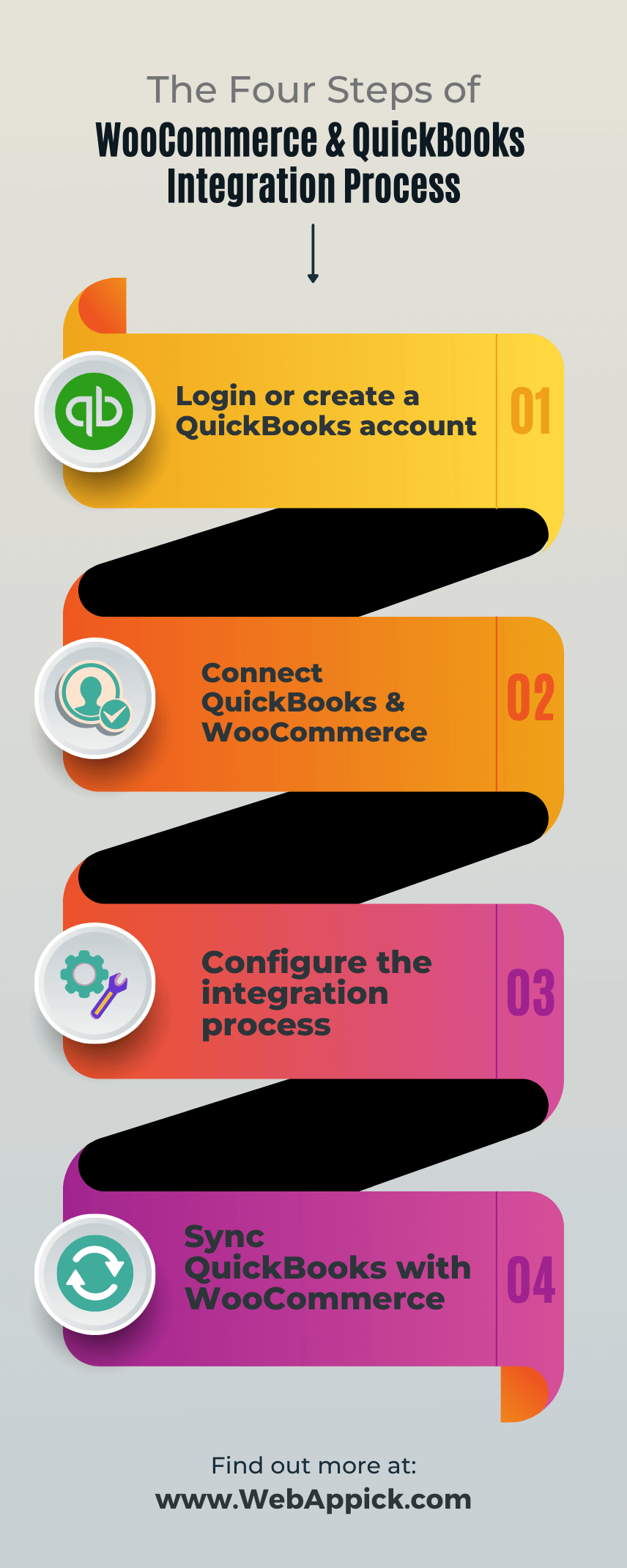 Let's describe all of these steps briefly.
Step #1: Login or create a QuickBooks account
If you already have a QuickBooks official account, visit the QuickBook Sign In page and proceed to step #2. Otherwise, let's create an account for QuickBooks altogether.
Visit the QuickBooks pricing page and choose a package first. You can either purchase that package or start your 30-day free trial.
Every package of QuickBooks online comes with a 30-day free trial. We will create a trial account for the "QuickBooks Essentials" package.
After that, choose your country and provide the required information to sign up for the trial account. Here's the list of the required information –
After signing up, you have to share your business details with QuickBooks. Always provide the legal information here to avoid any kind of inconvenience with QuickBooks accounts in the future.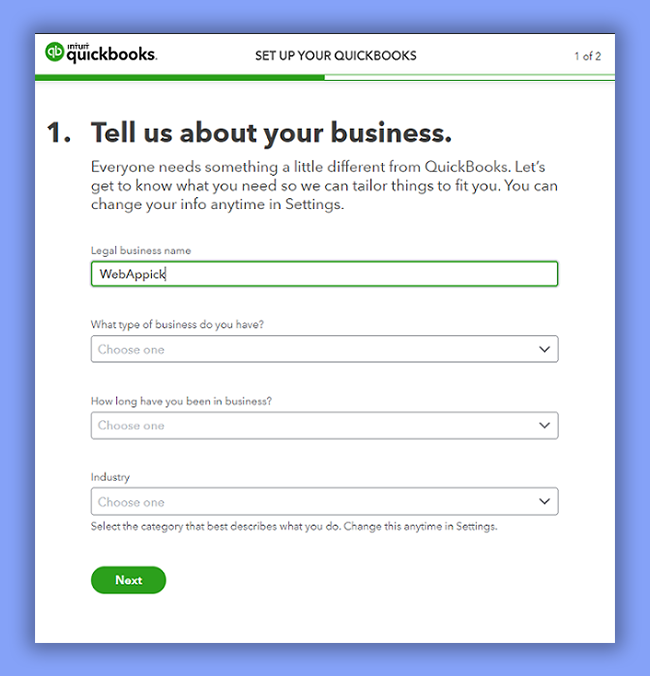 Provide all of this information and click on that green Next button. It will forward you to the page where you have to choose the tasks you want to accomplish with QuickBooks. These are –
Send and track invoices
Pay your employees
Manage your inventory
Track your retail sales
Track the sales taxes
Organize the expenses and
Track your other bills.
Click on all of the tasks you want to do with QuickBooks.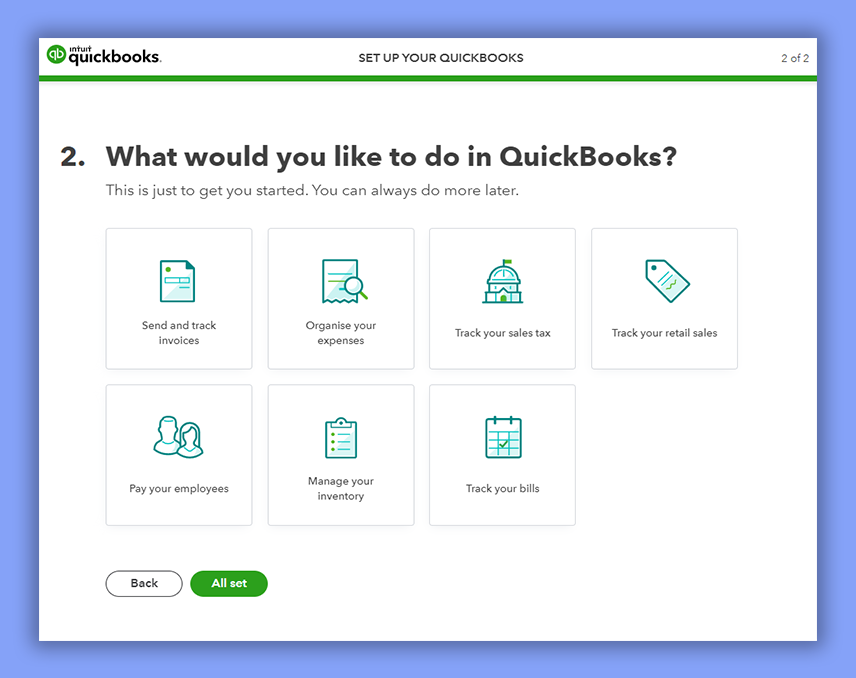 Note: Choose only the basic functions here. You can always add more later.
After choosing your preferred options, click on the All set button, and your account creation is done here.
By the way, you can't send invoices to the customers when a customer places an order on your online store. In that case, you may choose the Challan PDF generator plugin. It's well-designed, easy-to-use, and does its job with full functionality.

Step #2: Connect WooCommerce and QuickBooks
In this step, we will show you the process of connecting WooCommerce and QuickBooks altogether. To do that, log in to your QuickBooks customer account and navigate to the Apps option.

Then search for WooCommerce Connector by Intuit app and install it by clicking on the Get app now button.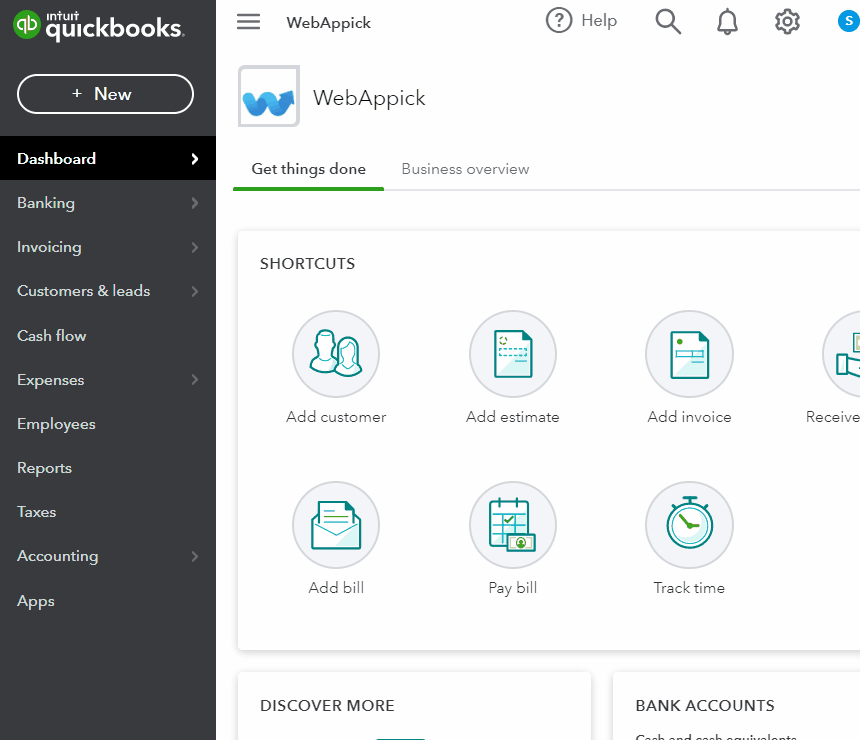 After installing this WooCommerce plugin, you have to accept the terms and conditions of QuickBooks. It basically asks for the following information –
Your company information
Data about your suppliers, employees, and/or customers
Phone Number
Profile Information
Email Address
Address etc.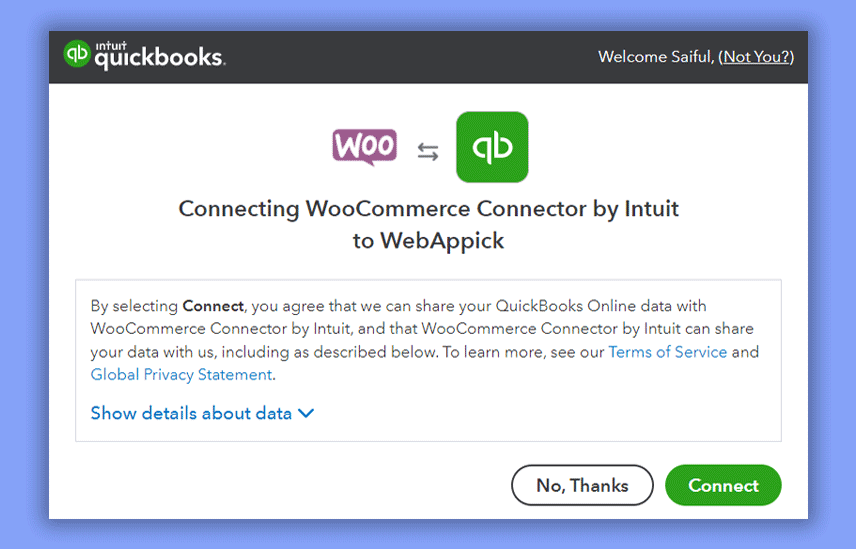 If you are okay with sharing data with QuickBooks, click on the Connect button. After clicking on that, you will be redirected to the Connections tab like below –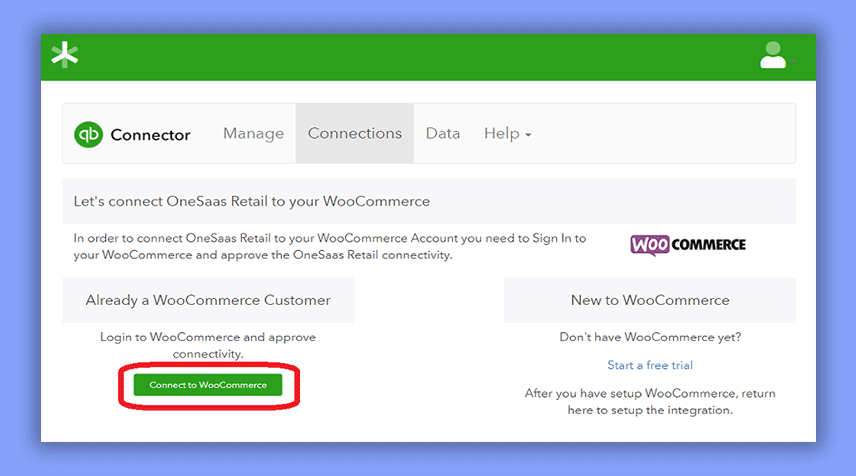 In this WooCommerce account area, there are two different options. One is for the existing users, and the other one is for the new users.
If you don't have a WooCommerce store account, create one first. Then click on the Connect to WooCommerce button for WooCommerce & QuickBooks sync.
It will trigger a new window where you have to enter your valid website URL. By the way, don't input the admin panel URL, which includes the "wp-admin" part. Enter the plain URL of your online store.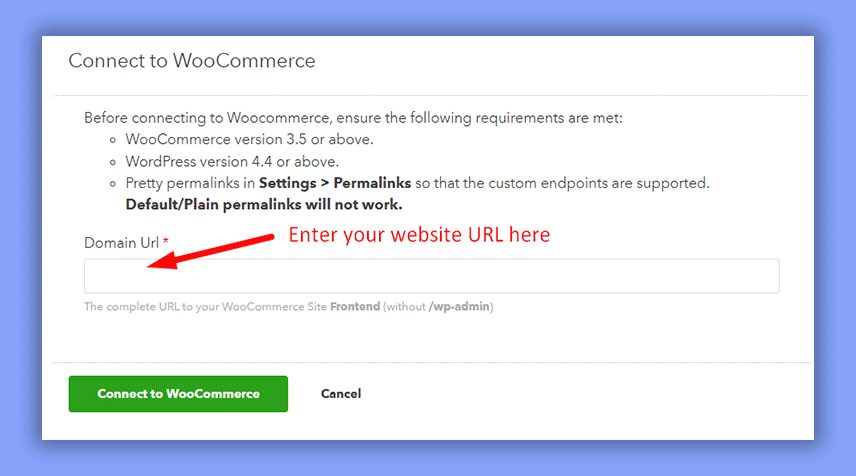 If you have done everything right, your WooCommerce store will be connected with QuickBooks by now.
By the way, you can connect multiple stores with QuickBooks. So, connect every store and automatically sync WooCommerce and QuickBooks data from a single dashboard.
Step #3: Configure the WooCommerce and QuickBooks Integration Process
So, you have already connected your WooCommerce store with QuickBooks. It's time to configure these. There are multiple steps of this configuration process. Let's start with the management process.
1. Manage WooCommerce and QuickBooks
Click on the very first tab which is the Manage tab. The manage tab will be shown as below –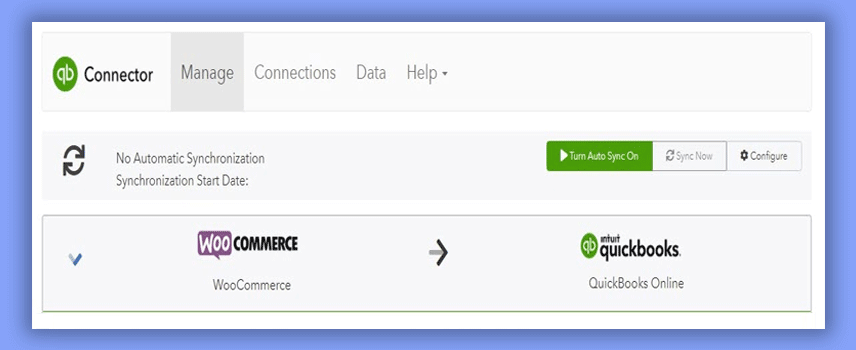 2. QuickBooks Online Sync Options
To sync data between QuickBooks and your eCommerce store, you must provide timezone-related information. For instance, it will ask for the following information –
Account Timezone
Integrations Starting Date
Sending sync reported email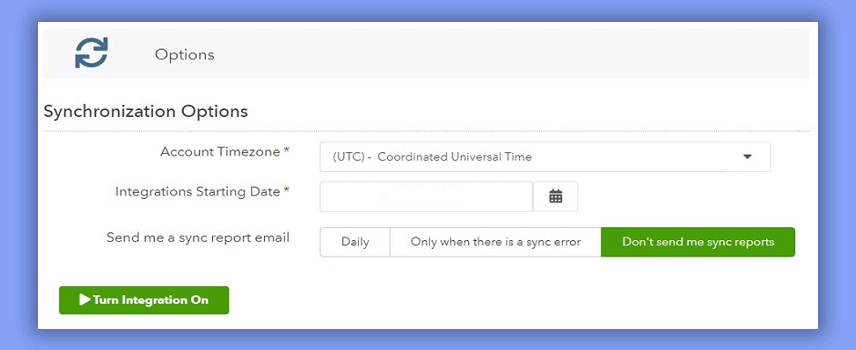 From here, the date and timezone are the mandatory fields. You must add those. Rather than that, the customized email report is an optional field. Use it only if you want automatic sync data directly into your inbox.
3. Sync Workflows for WooCommerce and QuickBooks Orders
Now, it's time to set up WooCommerce Orders sync. We have to set up the workflows to retrieve orders from WooCommerce. Check the image below to get the available orders to retrieve.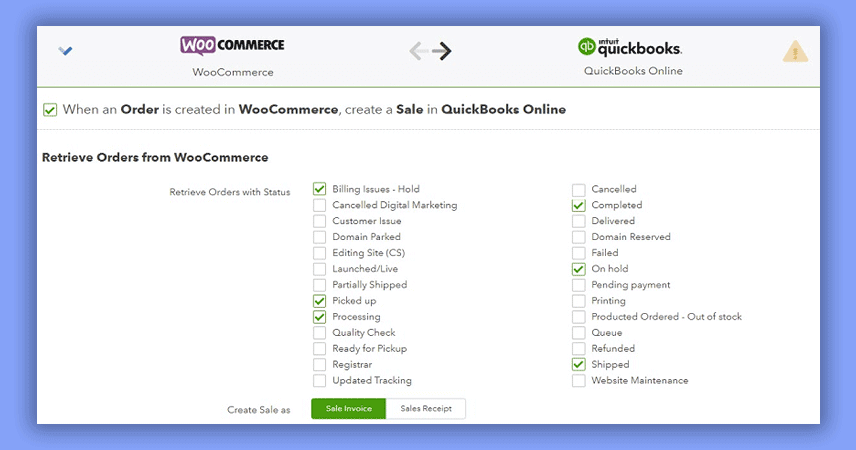 You have to manually select which orders you want to send to QuickBooks online as Sales Receipt or Invoices.
Just a gentle reminder, this invoice will be sent to your account. If you want to send email invoices to the consumers, you must use an invoice generator. We recommend you to use Challan, a full-fledged PDF invoice and packing slip generator for WooCommerce stores.
4. Manage the Canceled WooCommerce Orders
Thousands of online-bought products are returned for several reasons. A report of Shopify says that the product return rate becomes 20%. So, it's pretty common that your customers will also return products for several reasons.

So, if your products are returned, you have to adjust those with QuickBooks sales orders. To do that, you should use Create Credit Notes in QBO.

As you can see in the picture, you have to input three different pieces of information here. These are –
Fallback account information
Full/partial refund information and
A prefix of refund order numbers
There are mainly two different issues (refund or canceled order) that trigger the refunds. So, it will be better to use two different prefixes for these. It is recommended to use "R" for refunded orders and "C" for canceled orders.
5. Setting up WooCommerce Tax
Now, you can set up automated sales tax with QBO. Simply log in to your QuickBooks account, and find out the Tax option from the left panel.
Please follow the official QuickBooks video about setting up sales tax from your QBO account.
By the way, this is a totally automated process. Once you are done with the setup process, you don't need to opt for manual data entry. It will easily sync taxes for your online shop.
6. Sending the Online Payment to QuickBooks
The QuickBooks app also allows sending payments from WooCommerce to QuickBooks. To do so, you have to select the 'Send Payments from WooCommerce to QuickBooks Online' option.

However, you can also add another online payment method via Advanced Settings. QuickBooks will automatically sync order notes and payments data with your online business store.
7. Automatic Sync of Stock Levels
As a QuickBooks user, you can enjoy the real-time sync of the stocks between WooCommerce and QuickBooks software. To do so, you will need the product Name or SKU information.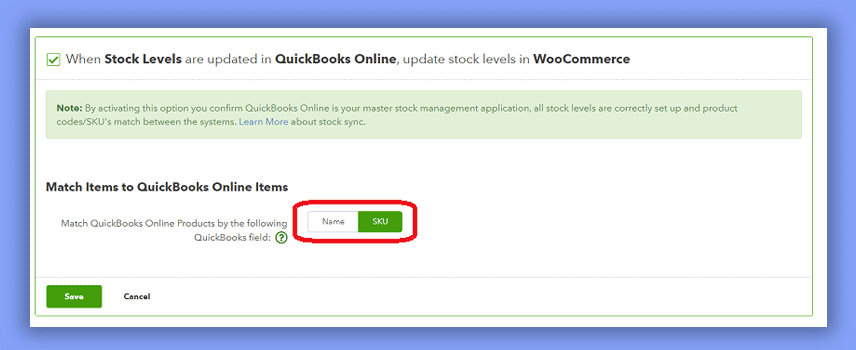 If you choose the SKU option, the WooCommerce SKU field will match the SKU field of QuickBooks. On the other hand, the product name field will also match both places.
That's how you can configure the QuickBooks account for your WooCommerce store. Now, it's time to sync QuickBooks data with WooCommerce.
Step #4: Sync QuickBooks with WooCommerce
Data sync between QuickBooks and WooCommerce isn't a big deal if you configure QuickBooks properly. After the configuration is done, simply Turn Auto Sync On, and your integration process is done.
And, that's the end of our journey of integrating QuickBooks with WooCommerce. Now, let us introduce you to some integration plugins.
Top 5 Plugins for WooCommerce & QuickBooks Integration
Here is a list of the top 5 most common and popular WooCommerce and QuickBooks WordPress Integration plugins.
1. Zapier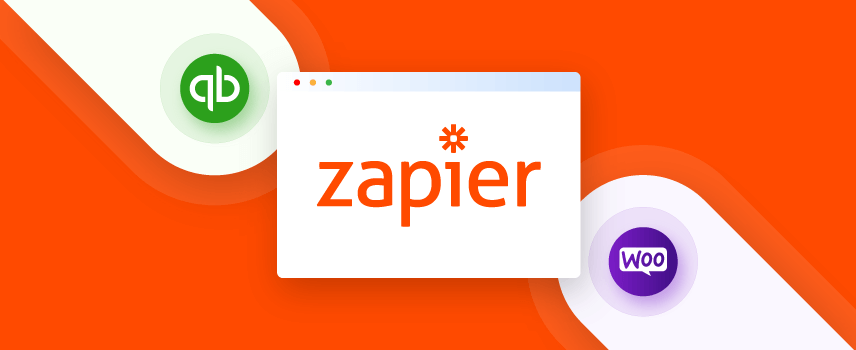 Zapier is a free plugin that works in a one-way data sync method. It works by using Zaps. Zaps are basically used to automate the task between QuickBooks and WooCommerce.
Every Zap contains two different tasks. The first one is called Trigger, and the second one is called Action. Suppose someone places a WooCommerce order in your shop. So, the trigger will be the order, and the action will be a sales report with that order including inventory counts.
A point to remember, Zapier supports only the online version of QuickBooks. If you purchase the QuickBooks desktop pro, you have to check the other integration plugins.
Key features of Zapier
Automatic real-time sync between WooCommerce and QBO
Supports online version of QuickBooks
Automatically sync detailed order data
Supports multiple sales channels etc.
By the way, the Zapier free version offers 5 single-step zaps with 15 minutes update time. If you need more zaps, you have to go for the premium plans.
2. OneSaaS by QuickBooks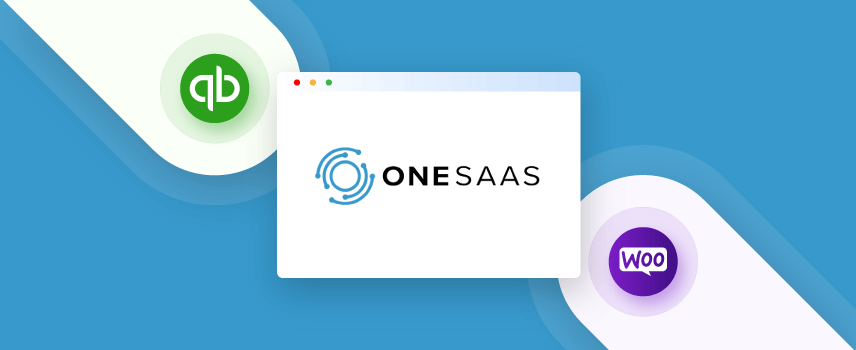 If you need two-way support with real-time QuickBooks sync for WooCommerce websites, the OneSaas app will be your perfect choice.
When you connect OneSaaS with your WooCommerce store, you can control almost all business actions from here. This QuickBooks plugin for WooCommerce stores comes with lots of functionalities such as –
Automatically create connections for QuickBooks POS platforms
Connect to popular sales and marketing channels
Supports popular accounting and billing software etc.
To get all of these features from a single plugin, you just need to purchase, install and set up the OneSaaS app. Check the image below which presents the Manage tab of OneSaaS.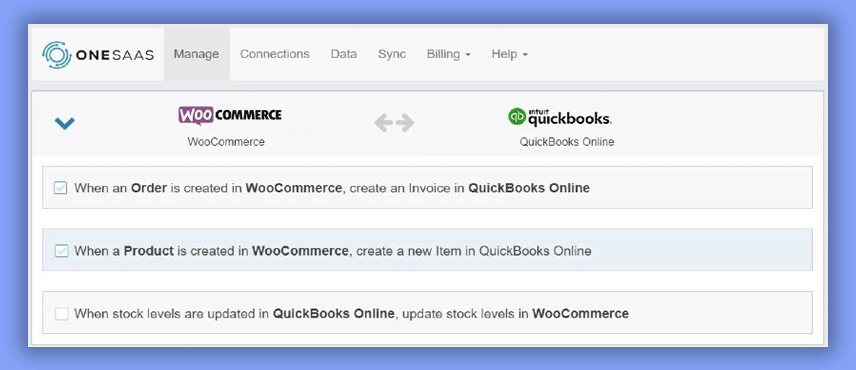 Key benefits of OneSaaS by QuickBooks
Track inventory in real-time
Supports both one and two-way data types
Easily sync stock levels
QuickBooks sync in real-time etc.
Above all of this, this OneSaaS plugin isn't free. You have to purchase a package before using it. The price starts from $29 per month.
3. MyWorks QuickBooks Sync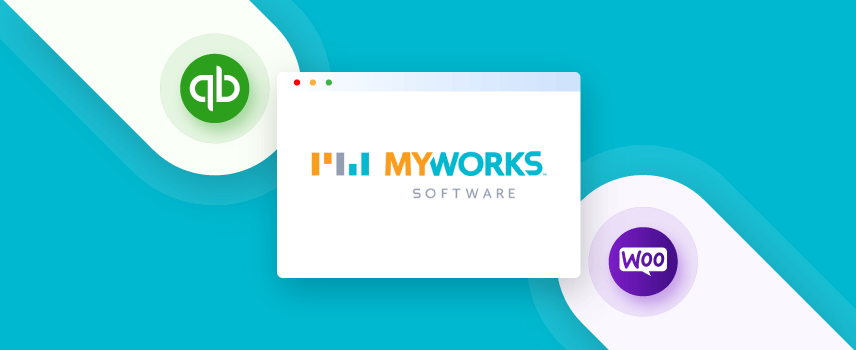 If you want to save time and money on your accounting section, the MyWorks sync can do that for you. This plugin is packed with lots of potential features. Let's talk about some of those.
First of all, it supports Smart Bank Deposit. It accurately groups the transaction fees and WooCommerce order charges altogether and matches the final price with your bank accounts. Even it calculates the taxes for multiple currencies.
You can collect tax either manually or via automated services. MyWorks sync supports most of the automated tax services like TaxJar, Avalara, WooCommerce Tax, etc.
While managing the accounts, you can also add some custom fields to ease the management process. These custom fields support field mapping for line item metadata, delivery dates, tracking numbers, PO numbers, etc.
Above all of these, the MyWorks software store a large amount of historical data. So, you can catch up with every WooCommerce customer, old orders, and products too.
And, all of these features of MyWorks Sync are backed up by the support team of MyWorks software. Their documentation is very user-friendly and allows the 24/7 free setup call with unlimited support responses.
Key features of MyWorks Sync
2-way realtime support
Multi-currency support
Automated tax calculation
Historical data storage
Supports quick setup
This plugin is completely free to use if you have less than 20 orders per month. If you have more orders, you have to update their paid plans. It costs $69 per month for unlimited orders.
4. SureTriggers

SureTriggers offers a robust automation platform that bridges the gap between WooCommerce and QuickBooks, enhancing operational efficiency. When it comes to WooCommerce and QuickBooks integration, SureTriggers can automate numerous tasks, ensuring seamless data flow between the e-commerce platform and accounting software.
For instance, when a new order is placed in WooCommerce, SureTriggers can trigger an action to automatically create a corresponding sales receipt in QuickBooks, eliminating manual entry. Additionally, as products are updated in WooCommerce, the integration can keep inventory levels accurate in QuickBooks in real time, preventing stock issues.
SureTriggers can also help in customer management. When a new customer is added in WooCommerce, the integration can initiate the creation of a customer profile in QuickBooks. Furthermore, as payments are received in WooCommerce, SureTriggers can generate corresponding transactions in QuickBooks, ensuring financial records are up-to-date.
With SureTriggers, businesses can synchronize customer data, sales, and financial information seamlessly between WooCommerce and QuickBooks, minimizing errors and saving valuable time. This integration enables companies to focus on growth strategies while maintaining accurate and efficient financial operations.
5. Webgility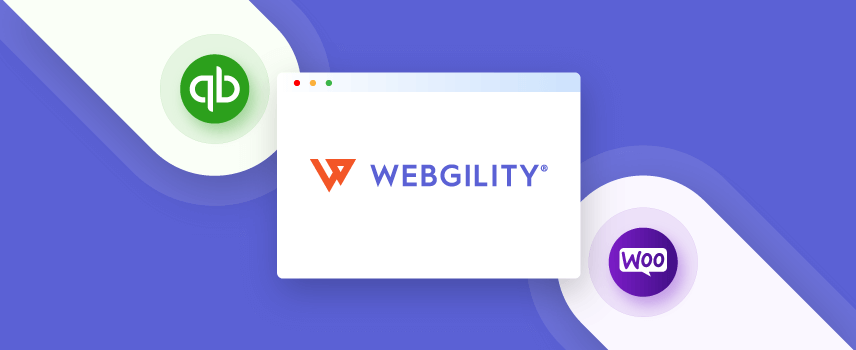 The Webgility accounting management software is made by the eCommerce specialists for the eCommerce owners.
Webgility comes with two different applications. These are –
Webgility online and
Webgility desktop
The online version is suitable for the QuickBooks cloud, and the desktop version is built for the desktop version of QuickBooks.
This accounting application tracks every order individually and creates a summary on a daily, weekly, monthly, or custom date based. Even you will get the list of all the invoices with the transaction details.
You can monitor the total sales, regional sales, margin, liability, top products, etc with rich visuals from the dashboard panel.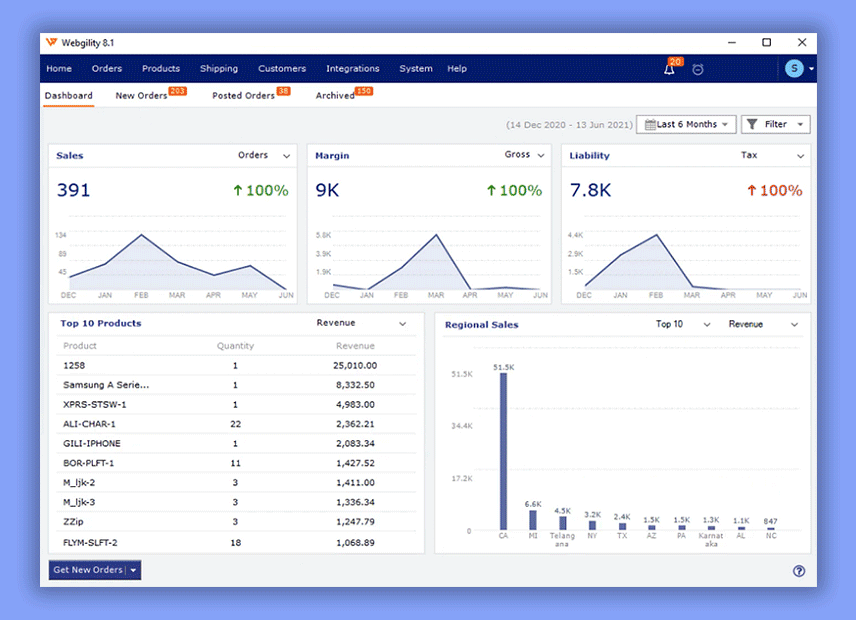 Even the mobile version of Webgility is truly optimized for a proper WooCommerce sync. It supports instant sync between the cloud, phone, and desktop versions.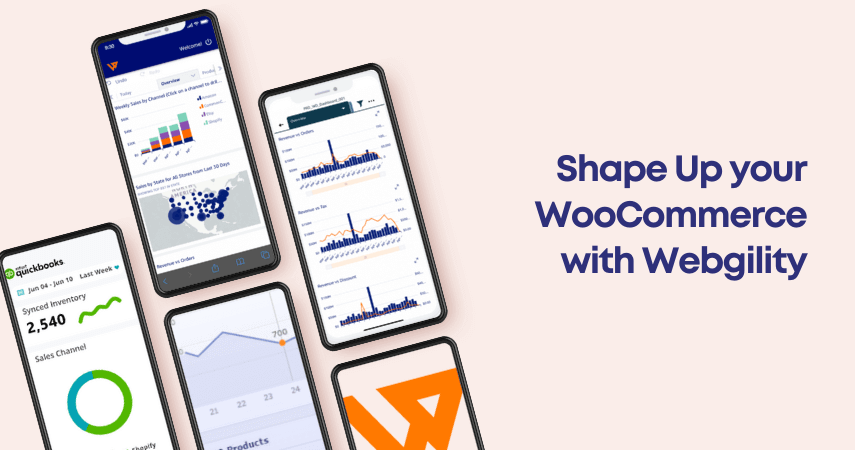 Above all of these functionalities, the most unique one is probably the forecasting feature. Yes, this plugin can forecast your sales by 3 months in advance by analyzing the historical data.
Thus you can manage your inventory wisely to improve the seasonal sales and cash flow. So, you can completely customize your planning for your products like how, when, and how many products you should stock for the upcoming months!
Cool, isn't it?
Key features of Webgility
Forecast and track multiple inventories
Supports automatic real-time sync
Automated tax filling with Avalara
Record all of the transaction fees
Support multiple currencies
The price for Webgility Online starts from $39/month (billed annually), and Webgility Online starts from $99/month (billed annually). But, you can customize the pricing based on your monthly orders, sales channels, and the number of users.
6. QuickBooks Integration for WooCommerce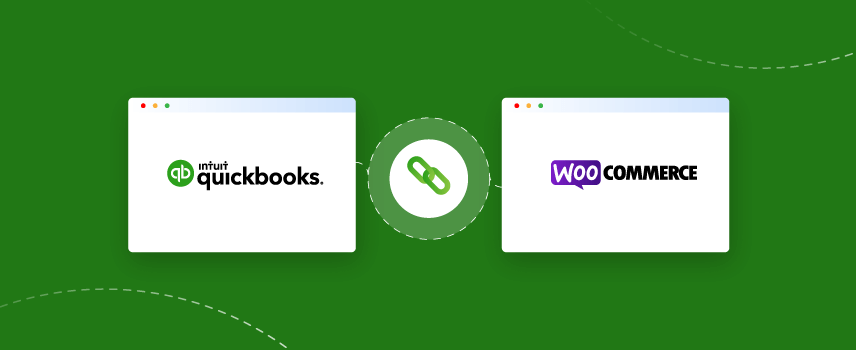 If you want an all-in-one type software to manage your WooCommerce accounting, the WP Swings QuickBooks Integration software is for you.
It comes will all of the handy accounting management features like expense tracking, bulk data sync, revenue management, manually created custom field management, asset, deposit management, etc.
Most importantly, we must mention the user interface of this plugin. Its interface is probably the most user-friendly interface ever. Even eCommerce owners with no technical skills can integrate this software to boost up their online sales.
Further, the facility of instantly syncing bulk data and WooCommerce object data with feeds management differentiates it from other plugins. Even you can configure feeds for three different objects, which are customers, invoices, and products. However, if you want to upload all of your online products on the sales platforms, you can use the CTX feed WooCommerce feed manager plugin.

Key features of WP Swings QuickBooks Integration plugin
Custom field mapping
Detailed synchronization log
Historical data sync
Automatic real-time sync
Storing logged data
This plugin costs $99 (billed annually)
Which Integration Plugin Should You Choose?
All of these plugins reviewed above support QuickBooks sync for WooCommerce stores. So, if you are confused about choosing the right one, check the comparison table below to make a proper decision.
| | | | | |
| --- | --- | --- | --- | --- |
| | OneSaaS | Zapier | Webgility | MyWorks |
| Supported QuickBooks product | Online only | Online only | QuickBooks Desktop and Online | QuickBooks Desktop and Online |
| Synchronization method | Two way | One way | Two way | Two way |
| Free trial support | No free trial available | No free trial available | 15 days | 14 days |
| Startup Cost | $0 | $0 | $39 | $0 |
| Ease of use | Medium | Easy | Easy | Medium |
Hopefully, now we can differentiate the features of these plugins and choose the best plugin for QuickBooks sync for WooCommerce stores.
Benefits of WooCommerce and QuickBooks Integration
The global accounting software market is 11,400 million USD now. It is expected to reach approximately 19,700 million USD at the end of 2025.
Why such massive growth?
Because of the extensive features and eCommerce integration that make the accounting effortless.
As we've already described how to integrate QuickBooks with WooCommerce, let's briefly overview some of the core benefits of QuickBooks WooCommerce integration.
Accurate inventory management – QuickBooks can manage the product stocks accurately. So, the inventory always stays up-to-date and accurate.
Automated accounting tasks – After integrating QuickBooks with the eCommerce platforms, it automatically collects the sales order data and stock updates. Thus the accounts remain updated all the time. After the integration process, it will save hours of manual entry.
Detailed report – QuickBooks analyze the eCommerce data in an advanced way and prepare a detailed report based on that analysis. It helps to make better business decisions.
Error-free calculations – There is almost no possibility of getting an error if you can connect and configure QuickBooks properly with your eCommerce store. As all of the information gets updated automatically, so there's no room for errors.
Supports global business – QuickBooks supports multi-currency transactions and multichannel selling. It helps to grow businesses globally.
These are the most common benefits of using QuickBooks for WooCommerce stores.
FAQ:
In this section, we have listed the most frequently asked questions about QuickBooks integration with WooCommerce.
1. Does WooCommerce integrate with QuickBooks?

Yes!
WooCommerce seamlessly integrates with QuickBooks. Besides WooCommerce, QuickBooks also supports other eCommerce platforms like Magento, BigCommerce, Shopify, Squarespace, etc. 
2. How do I integrate QuickBooks into my eCommerce website?

QuickBooks properly integrates with most the eCommerce solutions like WooCommerce, Shopify, BigCommerce, etc. Users can integrate these applications by using the online version of QuickBooks or supported plugins.
3. Does QuickBooks for WooCommerce offers data reporting?

Totally!

QuickBooks is popular for its well-structured data presentation. QuickBooks automatically prepare almost all reports you may need to run an eCommerce business.
Conclusion
Managing business accounts is a really tough job, there's no doubt about that!
But, the good news is you don't need to invest manual labor in handling the accounts. Implement a robust software like QuickBooks on your WooCommerce store and manage everything automatically.
This article covers all of the aspects of the WooCommerce and QuickBooks integration process along with the tools to ease this integration process.
Integrate QuickBooks today and grow your business!