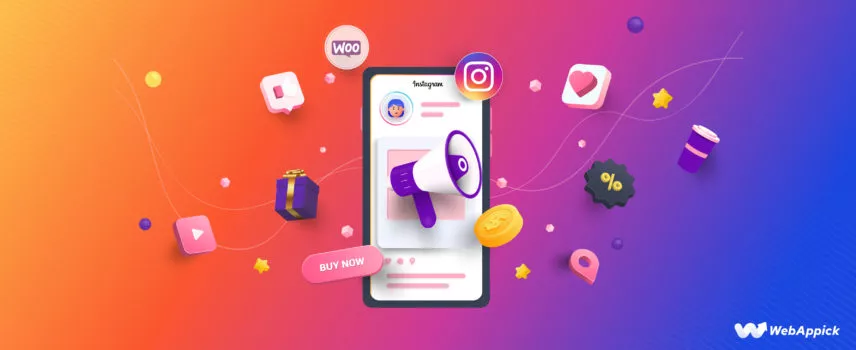 Instagram Marketing Strategy for WooCommerce Store: A Step-by-Step Guide
Do not share your eCommerce/WooCommerce products on Instagram!
Yes, don't share if you don't want to expand your reach and grow your business manifold. Because when you share, 35% of the people who see your post will buy your products.
For social media users, Instagram is their favorite channel to share photos. People from all over the world collectively share an astounding 1.3 billion photos on Instagram every single day.
But that's not just it; people also follow other profiles or pages and interact through the photos and other features of this platform. That's where businesses can take advantage of this mighty, powerful social platform. And for a WooCommerce retailer like you, Instagram is a goldmine of a marketing channel.
If you're not yet familiar with Instagram marketing, here are some eye-opening statistics to get you up to speed.
A staggering 1.38 billion people use Instagram every single day.
This is the number one social media platform to connect eCommerce sellers like you with your customers.
90% of Instagram users follow at least one business or eCommerce brand.
Each month, over 130 million Instagram users click on links to products or shopping posts.
70% of Instagrammers say they look for a product on the app before making a purchase decision.
In 2023, one-third of Instagrammers expect to make an in-app purchase.
Instagram users are 54% more likely to buy a product they saw advertised on the platform.
If you are not convinced yet to promote your WooCommerce store on Instagram, you probably don't want to succeed! We hope that's not the case.
Let's check out how you can promote your Woo store on Instagram and what the best Instagram marketing strategy is.
How you can promote your products on Instagram
As was mentioned above, Instagram is a service for sharing both still images and short videos. Users can also add tags to photos on the platform.
In addition, Instagram now allows eCommerce businesses to upload and tag product photos so that they can be discovered by users and purchased in-app. In addition to that, you can also redirect them to your WooCommerce store.
Instagram calls this Instagram Shopping. With Instagram Shopping, eCommerce brands like yours can turn their Instagram pages into engaging and shareable digital catalogs. You can give your Instagram followers an engaging and hassle-free shopping experience by showcasing products right on your profile.
With this addition, Instagram users can look into a product's specifics, see its price, and even buy it without ever leaving the app. Instagram's shopping feature allows you to tag up to five products per image and twenty per carousel.
Consumers are most influenced by social influencers on Instagram, making it the platform where brands should focus their marketing efforts.
In 87% of cases, consumers say influencers swayed their decision to buy. 72 percent of Instagrammers say that the platform's visual content has influenced their purchasing decisions.
If you want to make money selling stuff on Instagram, you need to know the ins and outs of the following.
Instagram Shop
You can create your own storefront on Instagram now. It works like a fully functioning eCommerce website.
Your customers or visitors can search your Instagram Shop for the products they need and filter their search by different conditions and categories. You can also display best-sellers, featured products, or on-sale products just like you do on a WooCommerce Shop page.
Users can also check out some important details of the page, and you can choose to redirect them to your WooCommerce product page or let them checkout on Instagram to complete the purchase.
Collections
Like any other store, you offer different collections on your Woo store, such as winter collection, summer collection, etc., right? You also divide your products into different categories so that your consumers can find them easily.
You can do the same on Instagram with Collections. If you already have your products categorized on your Woo store, you can directly upload them according to your categories with the help of a product feed.
Product detail page
The product detail page of Instagram is like a shorter version of your WooCommerce product pages. You can display necessary details about the products such as title, price, description, image gallery, videos, shipping details, product color, and sizes.
Product Detail Pages let WooCommerce stores use Instagram to boost sales by showcasing their wares in an appealing manner. You can improve conversion rates and make more sales with well-designed Product Detail Pages that feature clear pricing, comprehensive product descriptions, and high-quality images.
Shoppable tags
Tags are what make anything on Instagram an eCommerce-friendly feature. Whether you want to promote your products through a photo, post content, reel, or story, you can do so by tagging the product from your catalog.
Your followers can tap on the tag to visit your product detail page and take purchasing actions. But first, you need to upload a WooCommerce product feed to the catalog manager and then begin tagging posts in order to make them shoppable.
Shop Discovery tab
The Shop Discovery tab is a section on Instagram where users can browse and discover new products and brands. It is personalized to each user, with product recommendations based on their interests, past engagement with businesses on the platform, and shopping activity.
The Shop Discovery tab is located in the bottom navigation bar of the Instagram app. It features a variety of product categories, such as clothing, beauty, and home goods. Users can also search for specific products or brands within the Shop Discovery tab.
Businesses can use the Shop Discovery tab to increase their visibility and reach a wider audience on Instagram. By optimizing their Instagram profiles, product listings, and engagement with users, businesses can increase their chances of being featured in the Shop discovery tab. This can help them attract new followers and customers.
Run Instagram ads
Running ads on the platform is one effective Instagram marketing strategy to earn you quick traffic and conversions. There are several different types of Instagram ads available, including:
Image ads: These are the most common type of Instagram ad. They consist of a single image with a call to action, such as "Learn More" or "Shop Now."
Video ads: These ads consist of a short video clip, which can be more engaging than a static image.
Carousel ads: These ads consist of a series of images or videos that can be swiped through. They are a good way to showcase a variety of products or services.
Story ads: These ads appear in users' Stories. They can be images, videos, or even interactive polls or quizzes.
Collection ads: These ads allow businesses to showcase a collection of products or services. They can be found in the Shop tab on Instagram.
Influencer marketing
Instagram is the leading channel for businesses to use influencers to promote their products or services. 72% of businesses say that Instagram is their first choice when it comes to influencer marketing.
Influencers are people who have a larger number of followers on Instagram or any other channel. They can influence their followers to make a purchase by promoting products on their content.
This is one mighty effective Instagram growth hacking tactic for eCommerce businesses to reach a wider audience and generate more sales. You need to pay the influencer a commission or fee to promote your products on their posts.
Setting up Instagram Shopping for your WooCommerce store
The most essential element you will need for WooCommerce Instagram shop integration is a product feed. Besides that, here's the checklist of things you must do to display your products on Instagram.
Convert your Instagram private account into a business account.
Connect your Insta business account to a Facebook page.
Create a product catalog on Commerce Manager.
On your catalog, add your products (product feed).
Submit your Insta account for a preview.
But first, you need to be eligible as a WooCommerce business to take part or promote your goods on Instagram. Let's check out the requirements first.
Eligibility requirements for Instagram Shopping
Here are the eligibility requirements for Instagram Shopping for an eCommerce store:
Your business must be located in a supported market. Currently, Instagram Shopping is available in the following markets:

Australia
Austria
Belgium
Brazil
Canada
Denmark
France
Germany
India
Indonesia
Ireland
Italy
Japan
Mexico
Netherlands
New Zealand
Philippines
Poland
Portugal
Singapore
Spain
Sweden
Switzerland
Thailand
Turkey
United Kingdom
United States


Your business must have a physical address. This is so that Instagram can verify that you are a legitimate business.
Your business must have a website where people can purchase your products. This website must be accessible to people in the supported markets.
Your products must be eligible for sale on Instagram. This means that they must be legal, authentic, and in good condition.
Your business must have a business or creator account on Instagram.
Your business must have a product catalog. This is a list of your products that is uploaded to Instagram. You can create a product catalog by going to Commerce Manager.
Your business must be verified by Instagram. This means that Instagram has confirmed that you are a legitimate business.
You must comply with Instagram's policies. Your Instagram business account must abide by Instagram's Terms of Use and Community Guidelines, and your Facebook account and Page must comply with Facebook's Terms of Service, Commercial Terms, and Community Standards.
Convert your Instagram private account into a business account
Instagram is a mobile-focused platform. Therefore, you will have to use the mobile app to make the necessary changes. Not all settings are available on the desktop site.
So here's how it goes.
Login to your Instagram personal account from the app. Go to your profile and tap on the 3 small horizontal lines from the top right corner.
Tap on Settings and Privacy.
Scroll down to the For Professionals section and click on Account Type and tools.
Finally, click the Switch to Professional Account option.
Select the option that best describes your business type.
Confirm you are a business.
You can agree to receive newsletters.
Review and confirm your business details.
You need to connect to a Facebook account. You can also do this later.
That's pretty much it; now your account is a professional or business account. Now, you'll be able to promote your business on Instagram and use tools like Instagram Insights to analyze your account's performance.
Note that you can make a separate Instagram account for your company to run an Instagram marketing campaign by clicking "Sign up with email or phone number" on the Instagram homepage and entering your contact information.
Connect your Insta business account to a Facebook page
Instagram is part of Meta (Facebook). Facebook and Instagram are interconnected and operate from the same platform (Meta/Facebook commerce manager).
Before you can perform any Instagram marketing strategy, you need to connect your Instagram to your brand's official Facebook page. Here's how you do this –
Go back to your profile, and then jump into Settings and Privacy settings. From the For Professional section, tap on Business Tools and Controls.
Tap on Connect or Create.
Log in to your Facebook and connect to the official Facebook page of your WooCommerce store.
Now, you can create a catalog and upload your product feed to promote your products on Instagram.
What is an Instagram product feed
A product feed is a file that contains all your product information and categories. It includes information such as your product titles, prices, descriptions, etc.
You need this feed file to connect WooCommerce to Instagram shop. The product feed is the main element for Instagram marketing WooCommerce.
Your eCommerce platform (like WooCommerce) and Instagram's shop features can communicate with one another through the product feed. Customers can find and buy your goods without ever leaving the Instagram app when you link your product feed to your Instagram account and start tagging them in posts, stories, and ads.
Whenever you make a change to the products listed on your website, the feed will automatically update Instagram to reflect the new information. Therefore, your customers on Instagram will always see the most accurate data and enjoy a seamless shopping experience.
Customers don't even need to leave your app to check out and buy what you're selling. This makes it easier for companies like yours to get found and for customers to buy the products they need.
Necessary attributes for WooCommerce and Instagram shopping product feed
Attributes in a product feed are the pieces of data that describe the product in greater depth. These characteristics are vital in assembling a well-structured product catalog for advertising on platforms like Instagram Shopping.
The following features are required for a successful Instagram shopping feed:
Product ID: Each item in the feed is given a special number called a "Product ID." This allows for more precise product identification and management.
Title: The title of your product should be descriptive of what it is and how it is used.
Description: A product's description should be succinct and informative, giving readers all the information they need to make a buying decision.
Product URL: The Universal Resource Locator (URL) for a product is the web address of that product on your site.
Image URL: The address of the image file on your server or website that represents the product. The picture stands in for the actual product and is crucial for getting people interested in buying it.
Price: Value and cost are communicated to consumers through the product's price.
Availability: Whether or not the item is currently in stock or temporarily unavailable is displayed here. This aids in customer expectation management and prevents product-related disappointment.
Condition: Indicates whether the item is brand new, gently used, or refurbished. When making a purchase decision, customers must have this data.
Brand: The product's recognizable and reliable source, as indicated by the brand or manufacturer's name.
Businesses can guarantee a smooth and user-friendly shopping experience for their followers by including these crucial elements in a shoppable Instagram feed. Instagram users will be able to discover new products and interact with existing ones without leaving the app, making the shopping experience more convenient for both retailers and consumers.
How to generate a WooCommerce product feed for Instagram
You can create a feed file in a spreadsheet program like Google Sheets or Microsoft Excel if you are familiar with the channel's characteristics/attributes and guidelines.
However, it's a laborious manual process with room for mistakes.
A product feed is primarily used to upload and promote products in bulk across multiple channels. You can't accomplish that if you make them by hand/manually.
Adding more products to your Woo store will make it more challenging to copy and paste them into a feed file. If you sell on multiple channels, it will be a nightmare to update all of those feed files every time you make a change to your Woo product pages.
It is never a good idea to manually copy and paste a large amount of data into a spreadsheet. So many details can be overlooked or repeated. This means that channels like Instagram may reject your feed if you generate it manually.
The best option is to use a product feed plugin. Choose a plugin that can fully automate the procedure. And CTX Feed is the best there is currently.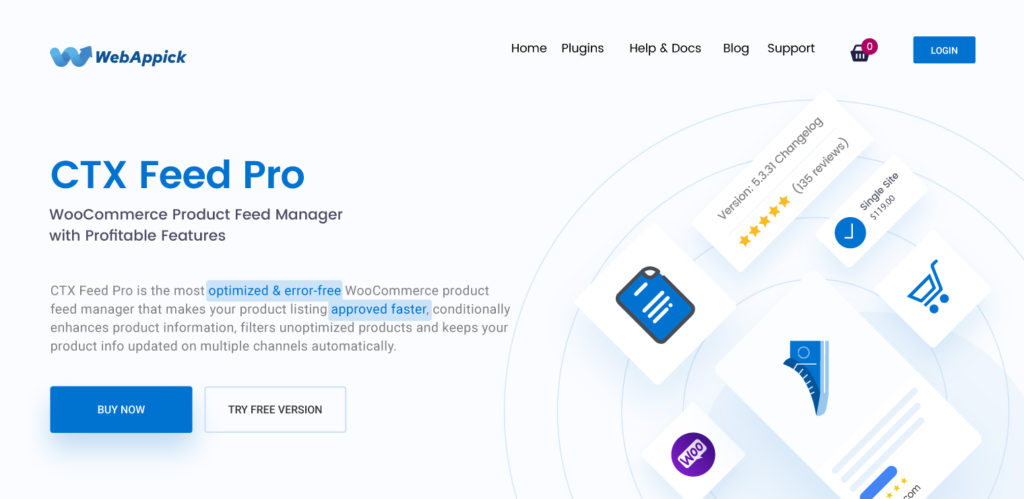 It is a freemium and viral product feed plugin, and with just two clicks, a user can generate a product feed for Instagram Shopping. It has built-in Instagram templates along with those for over 130 other channels.
Choose the template, and the plugin will handle the rest. The most important feature of this plugin is its ability to update your feed at regular intervals on its own. Our favorite function is the variety of available URL connections.
You can forget about saving and reloading your Instagram feed. A URL can be used to establish a link. Once that's done, the catalog manager and the plugin will coordinate to upload and update products automatically.
Generating an Instagram product feed using CTX Feed
Log in to your WordPress site and go to the Plugins panel to add a new plugin. Search and find the CTX Feed free version and install it.
After you activate, click on Make Feed from the CTX Feed menu.
Select your template from the channel list.
The plugin will automatically generate the necessary attributes for Instagram.
Click on generate to create the product feed. CTX Feed will collect your Woo store's product data and include them in a feed file automatically.
Go to the Manage Feeds page to find your feed file. This page also has options to set automatic update features.
From the feed settings, you can download the feed or copy the feed URL.
Now, it's time to upload the feed to the Facebook Catalog manager.
Upload Instagram product feed to Instagram
Facebook or Meta Commerce Manager is the platform that handles Facebook and Instagram marketing and promotions for your Woo store. If you are new to this, follow these steps.
Log in to your Commerce Manager with your Facebook details. Click the Get Started button.
The shop option is for a Facebook shop. We need to create a catalog for Instagram, so select the second option.
As you have an eCommerce store, select that option.
If you are only selling from your WooCommerce store, select the first option.
Select the Upload Product Info option and click Create to create your catalog.
The commerce manager will create an empty catalog, and you will need to add your Woo products here now.
Uploading product feed to catalog
Select Catalog>>Data sources on the left side of the window. You can connect Facebook Pixel or manually add products, but importing a feed file is the most efficient method. That's why we will go with the Data Feed option.
Select Yes and click Next.
There are three different ways to submit your feed file to the platform. You can download and upload the feed file from your computer.
Another way to do this is by creating a product feed on Google Sheets manually and connecting it.
The best option, though, is to connect your Woo product feed URL. Click the Use a URL tab and paste your product feed file URL.
On the Data Feed Schedule tab, you can set automatic feed update fetching schedules.
This option is the best because it streamlines the process of updating product pages and Instagram feed effortlessly. With the CTX Feed plugin in action, it will automatically gather and update the Instagram feed file whenever you make changes to your product pages.
When you link through the URL, the catalog manager will promptly fetch these alterations and update the listings. This automated approach ensures you don't have to stress about keeping all your channels up to date.
To complete the process, click on the "Save Feed and Upload" button. Easy and efficient!
Account verification and enabling Instagram shopping features
Instagram needs to verify your account before you can avail of the eCommerce features of the platform. Here's the process for verification.
Open your Instagram profile and tap on the three lines in the top right corner.
Select "Settings" at the bottom of the menu.
Tap on "Business."
Choose "Instagram Shopping."
Follow the prompts to submit your account for review.
Instagram will review your account, which may take a few days to a few weeks. Ensure your Instagram profile complies with Instagram's commerce policies and verify that your product catalog is correctly set up during this waiting period.
To activate Instagram Shopping, follow these steps:
Access your Instagram profile and tap on "Business."
Choose "Instagram Shopping."
Tap on "Continue."
Pick the product catalog you wish to utilize for Instagram Shopping.
Follow the provided instructions to complete the setup process.
Congratulations! Your Instagram Shopping feature is now turned on, allowing your products to be visible on Instagram. Start tagging your products in your Instagram posts and stories, simplifying the purchasing process for your followers.
You can now apply Instagram marketing strategy or Instagram marketing tactics to boost your reach and sales.
Best Tips for a winning Instagram marketing strategy for WooCommerce
Here are the best tips for a winning Instagram marketing strategy tailored for WooCommerce:
Set clear goals
The first step to creating a winning Instagram marketing strategy is to set clear goals.
What do you want to achieve with your Instagram marketing?
Do you want to increase brand awareness, generate leads, or drive sales?
Once you know your goals, you can tailor your strategy accordingly.
For example, if your goal is to increase brand awareness, you might focus on posting high-quality images and videos that showcase your products and services. If your goal is to generate leads, you might run contests and giveaways or partner with influencers.
And if your goal is to drive sales, you might use Instagram Shopping to tag your products in posts and Stories.
Optimize your profile for maximum impact
The next Instagram marketing strategy is to optimize your WooCommerce store for Instagram. This means making sure that your product pages are optimized for Instagram by adding high-quality images and videos and clear and concise descriptions.
You can also add social media sharing buttons to your product pages so that customers can easily share your products on Instagram. Your Instagram profile is also important.
Make sure your bio is clear and concise and that you use relevant hashtags. You can also add a link to your WooCommerce store in your bio.
Enhance visual appeal with captivating graphics
Instagram is a visual platform, so it's important to create high-quality visual content for your posts. This could include photos, videos, or even infographics. When creating visual content, make sure it's relevant to your brand and that it will appeal to your target audience.
You can also use graphic templates to help you create consistent and visually appealing content. There are many free and paid graphic templates available, so you can find one that fits your brand's style.
Empower your community through user-generated content
User-generated content (UGC) is a great way to add authenticity and credibility to your Instagram feed. When your followers share photos and videos of your products, it shows that they're genuinely interested in your brand.
You can encourage UGC by asking your followers to tag you in their photos or use a specific hashtag. You can also offer prizes or discounts for users who submit UGC.
Craft a cohesive brand aesthetic
Your Instagram feed should have a consistent look and feel. This means using the same filters, editing style, and color scheme throughout your posts. When your feed looks cohesive, it will be more visually appealing to your followers.
You can also use a branded hashtag to help create a consistent brand aesthetic. This will help your followers easily identify your content and make it more likely that they'll engage with it.
Prioritize authenticity while maintaining brand aesthetics
It's important to diversify your content on Instagram. This means posting different types of content, such as photos, videos, Stories, and Reels. When you diversify your content, you'll keep your followers engaged and coming back for more.
You can also use different types of content to promote different aspects of your WooCommerce store. For example, you might use photos to showcase your products, videos to demonstrate how to use your products, and Stories to share behind-the-scenes content.
Establish a recognizable brand voice
Your brand voice is the way you communicate with your customers on Instagram. It should be consistent with your brand's overall personality and tone.
When developing your brand voice, consider the following factors:
Your target audience: Who are you trying to reach with your Instagram marketing?
Your brand values: What are the core values of your brand?
Your industry: What is the tone of voice that is commonly used in your industry?
Once you've considered these factors, you can start to develop a distinctive brand voice for your Instagram account.
Leverage Instagram reels for enhanced engagement
Instagram Reels are short, looping videos that are perfect for showcasing your products, sharing behind-the-scenes content, or running contests and giveaways. Reels are a great way to get creative and have fun with your marketing, and they can be a very effective way to reach a new audience.
Here are some tips for using Instagram Reels for WooCommerce marketing:
Use high-quality video and audio. Your Reels should be visually appealing and easy to watch.
Keep your Reels short and sweet. Reels should be no longer than 60 seconds.
Use relevant hashtags. Hashtags will help people find your Reels when they're searching for content related to your products or industry.
Run contests and giveaways. Contests and giveaways are a great way to get people engaged with your Reels and your brand.
Promote your Reels on other social media platforms. Share your Reels on your Facebook, Twitter, and Pinterest pages to reach a wider audience.
Harness the potential of Instagram stories
Instagram Stories are temporary posts that disappear after 24 hours. They're a great way to share behind-the-scenes content, interact with your customers, and drive traffic to your WooCommerce store.
Here are some tips for using Instagram Stories for WooCommerce marketing
Share behind-the-scenes content. Give your customers a peek into your business and how your products are made.
Run polls and Q&As. Polls and Q&As are a great way to get to know your customers and learn what they're interested in.
Tag your products. When you tag your products in Stories, people can easily click on the tag to learn more about them and purchase them.
Promote your Stories on other social media platforms. Share your Stories on your Facebook, Twitter (known as Moments), and Pinterest pages to reach a wider audience.
Create useful and informative Stories Highlights
Stories Highlights are a great way to organize your Stories content so that it is easy for your audience to find and consume. You can create Highlights for different topics, such as "New Products," "Behind-the-Scenes," or "Customer Testimonials."
When creating Highlights, be sure to use clear and concise titles that accurately reflect the content. You can also use images and videos to make your Highlights more visually appealing.
Stay updated and strategic with hashtags
Hashtags are a great way to help people find your content on Instagram. When choosing hashtags, be sure to use relevant hashtags that are related to your products or services.
You can also use a combination of popular and niche hashtags to reach a wider audience. It is also important to update your hashtags regularly to keep up with the latest trends.
Engage actively with your audience
One of the best Instagram marketing strategies is to build relationships with your audience. The best way to do this is to engage with them actively.
This means responding to comments and messages, participating in conversations, and liking and commenting on other people's content.
When you engage with your audience, you show them that you care about them and their opinions. This can help you build trust and loyalty with your followers.
Harness the power of Instagram Live
Instagram Live is a great way to connect with your audience in real time. You can use Live to host Q&A sessions, give product demonstrations, or share behind-the-scenes content.
Live is also a great way to build excitement and anticipation around your brand. When hosting a Live session, be sure to promote it in advance and encourage your audience to participate.
Partner with influencers
Partnering with influencers is a great Instagram marketing strategy to reach a wider audience and gain credibility. When choosing influencers to partner with, be sure to find people who have a following that is relevant to your target audience.
You should also make sure that the influencers you partner with align with your brand values. When working with influencers, be sure to set clear expectations and goals.
Drive engagement and brand awareness through contests and giveaways
Contests and giveaways are a great Instagram marketing strategy to boost engagement and excitement around your brand. When running a contest or giveaway, be sure to make the rules clear and easy to understand.
You should also make sure that the prizes are relevant to your target audience. Contests and giveaways can be a great way to generate leads and increase sales.
Measure and analyze your ROI
It is important to measure and analyze the results of your Instagram marketing efforts to see what's working and what's not. You can use Instagram's analytics tools to track metrics such as engagement rates, reach, impressions, and website visits.
You can also use third-party analytics tools to get more comprehensive insights into your performance.
Embrace a culture of continuous experimentation
The best Instagram marketing strategy to find what works for your business is to experiment and try new things. Don't be afraid to test different approaches, content types, and posting times.
The more you experiment, the more you will learn about what works for your audience.
Wrap up
By using an effective Instagram marketing strategy, you can reach a wider audience, engage with your customers, and drive sales for your WooCommerce store.
Experiment with different marketing strategies on Instagram and see what works best for you. The most important thing is to be consistent and to keep creating great content.
Let us know if you have any suggestions or questions for us on the topic.