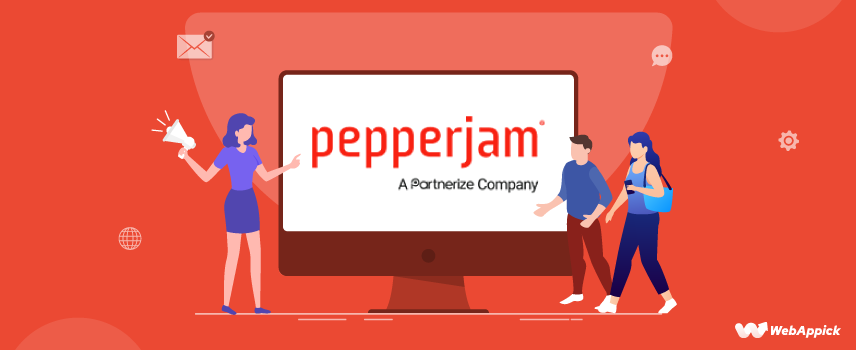 Pepperjam – Affiliate Network Platform: A Complete Review
Right now, affiliate marketing has become one of the efficient ways of marketing.
Through this marketing, marketers and owners get crystal clear output from their entire efforts of the marketing campaigns.
As it's a performance-based marketing, if the customers purchase anything through the affiliate links, then business owners and marketers share revenue from that purchase. Otherwise, the owner won't have to pay anything.
But for a proper marketing campaign, you must select an appropriate platform. For this purpose, you can choose the Pepperjam Affiliate Network platform.
This platform has multiple opportunities for brands, marketers, and agencies.
In this article, we are going to provide you with a complete overview of Pepperjam.
Now let's jump on that.
Why Should You Go for Affiliate Marketing?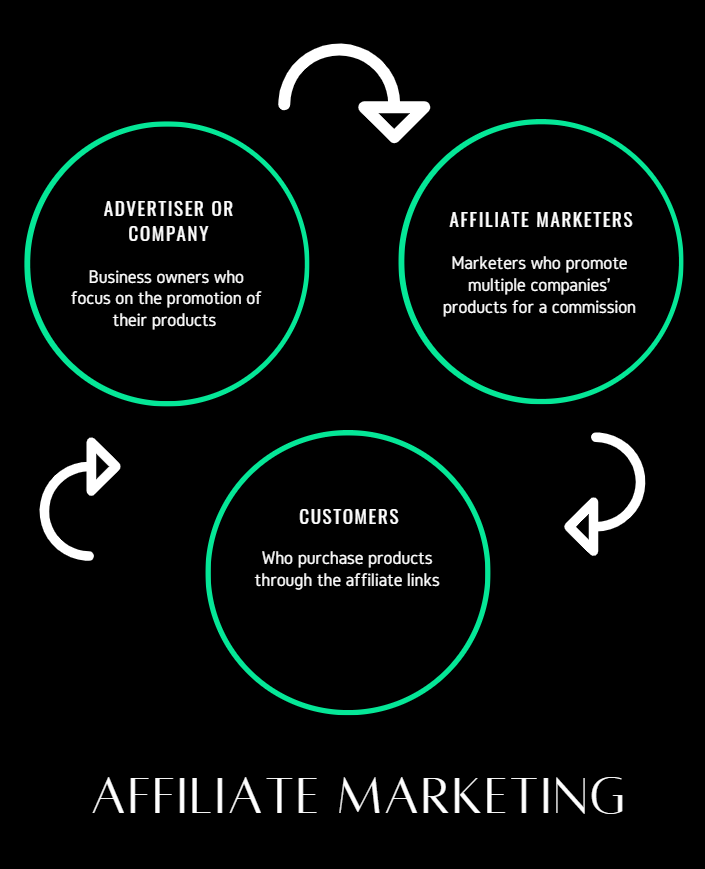 Well, affiliate marketing is a process where a company or marketers promote other products. Through promotions, they can earn a good amount of commission from every purchase.
The business model of affiliate marketing is actually revenue sharing. If you promote someone's product, they can offer you a percentage of the revenue they generate from the sales.
For this reason, affiliate marketing is highly beneficial for marketers and business owners.
You will be surprised to hear that affiliate marketing spending is going to reach 8.2 billion U.S dollars by 2022 in the United States.
Four Reasons to Go for Affiliate Marketing
In this part, we will talk about why you should choose affiliate marketing for the promotion of your products and services.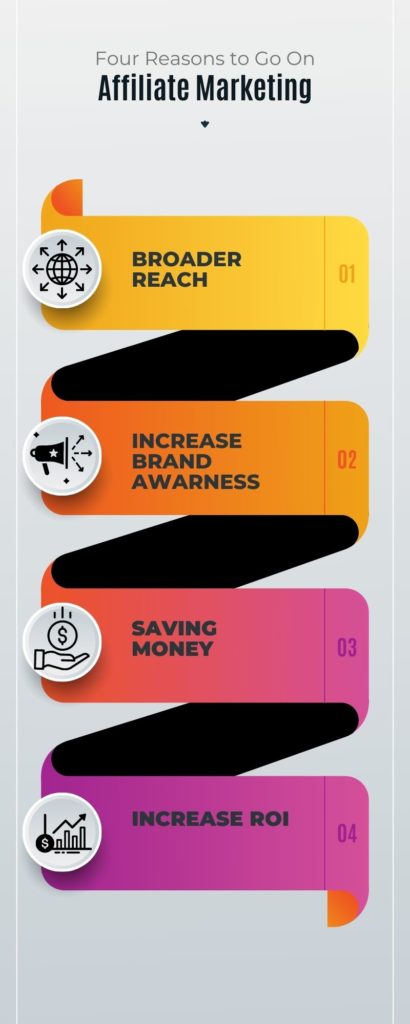 Broader Reach
For the growth of your business, you must reach the maximum number of customers. So that you can generate more revenue in your business.
Through affiliate marketing, you can connect with multiple affiliates. It will help you to reach those affiliate marketers' followers and creates a huge opportunity to turn them into your own customers.
It will also increase the traffic to your website. Because through the affiliate links, multiple audiences will come to your website. So it will increase the revenue of your entire business.
With the other ways of marketing, you can't reach those target customers so easily.
Increase Brand Awareness
The focused intent of any type of business is to increase its brand recognition by as much as its target customers.
As you already know, affiliate marketing increases the traffic to your website and the visibility of your products and services.
In this marketing, you are creating partnerships with affiliates for revenue sharing, so they will do their best to build a trustworthy group of customers of your products.
Saving Money
One of the biggest advantages of affiliate marketing is it is cost efficient than the other type of marketing. Because this is a process of performance-based marketing.
If someone purchases your product through the affiliate links, then you have to share your revenue with the marketers. Otherwise, you don't have to pay any amount of money to the marketers.
As a result, it becomes one of the fruitful ways of marketing your products and services.
Increase ROI
Achieving a better ratio of ROI(return-on-investment) is very difficult for any type of marketing campaign.
Because most of the marketing tactics are based on the improvements in website traffic, clicks, and engagement of the customers. So you can't predict the exact ratio of ROI of your content.
But affiliate marketing is a performance-based marketing. So you can locate every sale which has been sold through the affiliate links. It will help you to determine the ROI ratio.
What is Pepperjam Affiliate Network?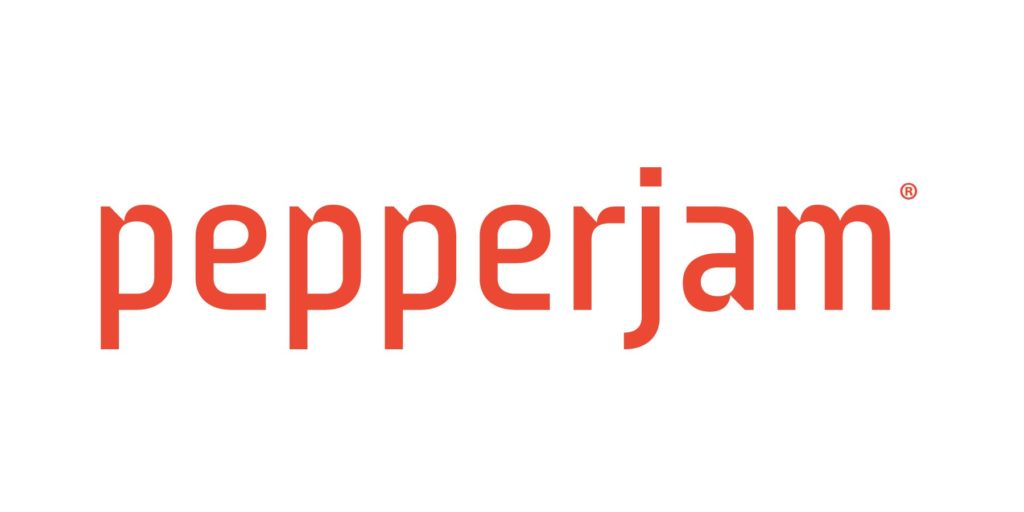 Regularizing the internet with its efficient network and channels to provide the best of content, publishing, e-commerce, technology, web designing, etc,. Pepperjam Networks is one of the known names in the publishing industry.
Pepperjam started its journey to create a powerful relationship between multiple eCommerce creators. As a result, it creates a powerful community for the marketing of various products and services. This company started its journey in 2003.
In the present time, affiliate marketing has become one of the fruitful ways of marketing. Various youtube stars, social media influencers, and bloggers earn money through affiliate marketing. For this reason, Pepperjam is one of the easiest platforms to earn money through marketing and creating partnerships with various famous companies.
They have been providing their services for a long period of time, so they know how digital marketing and eCommerce work and also the obstacles of online marketing platforms.
Why Should You Choose Pepperjam?
Giving expert technological and communicative assistance to clients all over the world, Pepperjam networks is the affiliate place to get the most of the services related to websites. It can help with technological updates, the fixing of the issues, providing content for the websites, or even designing apps.
It leverages exclusive technology development, content, and even publisher distribution to help the clients deliver better service and presence on their platform.
The strategies are diverted towards creating the maximum influence on the clients and consumers through different modes to educate them about the concerned products or services that the clients want to display.
Mark-ups are always beneficial, along with popularity and website traffic that generates money. Being a top-notch marketing master, Pepperjam Networks reaches the consumer irrespective of their presence i.e., online or offline.
Also, with the help of the internet, this becomes a more interesting move to influence with the help of social media, commercial advertisements, videos, posters, etc.
As a well-established affiliate marketing network, they follow some major principles such as:
Integrity
Transparency
Customer Centricity
Accountability
Bias for Action
So Pepperjam focuses on creating honest and crystal clear goal-based partnerships.
Benefits of Pepperjam Affiliate Platform
Well, let's see some major advantages of using this affiliate platform.
Pepperjam helps to connect all types of clients in their affiliate program. Multiple famous companies can easily collaborate with various publishers and influencers and can improve their marketing strategies.
Also, through Pepperjam, publishers will benefit. They can easily monetize their content and earn a good amount of money through product promotion. So this will help in building strong relationships between publishers and companies.
Provide Powerful Insights
Multiple companies and publishers are the clients of the Pepperjam platform. So, Pepperjam can provide strong analytical data about the marketplace. With the help of those analytical data, brands can easily create the appropriate ads for their campaign.
It contains all the important data such as average order value, CTR, CMS conversion rates, etc.
Multiple Networking Channels
With the help of networking channels, Pepperjam Networks brings a complete solution for displaying content worldwide and provides not just a digital presence but also a relevant footprint.
Offering the clients and dealers a package and sometimes deals with the cheapest of prices and comprehensive service, the dedication goes towards achieving the best customer feedback, attention, and acknowledgment.
Devising strategies to the clients with its presence in countries like the US, Canada, and Australia, the e-commerce owner gains deals and contracts which are directed towards doing their service known worldwide.
What Brands Can You Promote?
As an affiliate marketer, you need to collaborate with multiple types of brands and promote their products.
If you can build partnerships with famous brands, it will increase the opportunity to get more money. When someone purchases through your affiliate link, you will get a good amount of sales percentage.
Pepperjam will allow you to work with multiple famous brands such as:

PUMA
Bonobos
Everlane
Cole Haan
Ace Hardware
Nordstrom Rack
Also, there are other famous brands available on Pepperjam for affiliate marketing.
How to Sign Up on Pepperjam Affiliate Network
As you already know that Pepperjam is one of the biggest marketing platforms for the promotion of your products and services. You can reach high-value customers for your products.
Pepperjam will offer its users three different types of accounts such as:

Advertisers or Brands: It's especially for those who want to sell their products and services on their eCommerce website.
Publisher Partners and Influencers: Through this affiliate, marketers can work for multiple companies' products and earn commissions.
Agencies: Multiple agencies can join the affiliate network and run affiliate campaigns for their brands.
So with this successful platform, anyone can grow their affiliate marketing opportunity based on their category.
Now, we will discuss these accounts and show the process of signing up on Pepperjam.
Advertisers And Brands:
In the Pepperjam platform, you can optimize your digital marketing approach. You can easily reach high-value customers and partner with multiple famous brands.
This platform will recommend multiple new partners so that you can build new connections.
To open an account as a brand or advertiser, go to Pepperjam.com > Services >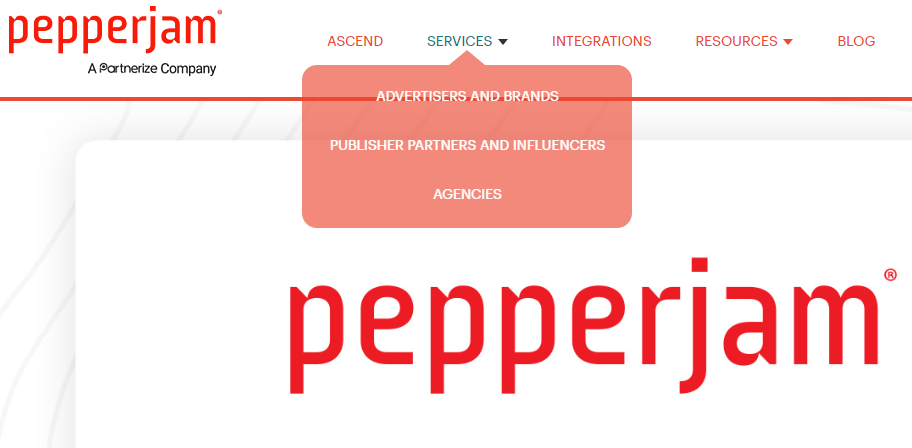 Now go to the bottom of the page.
In this section, you have to fill up some significant information to finally sign up. Such as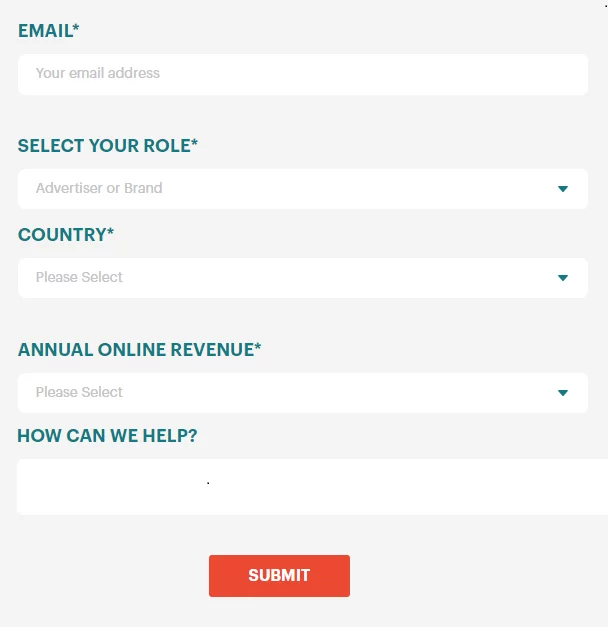 Email
Select Your Role
Country
Annual Online Revenue
How Can We Help(if you have any queries)
After successfully filling in all this information, now click on submit.
Congratulations, you have successfully created an Advertiser account in Pepperjam. Now you can access some different beneficial tools to optimize your performance. Such as:

Partner Management: This platform has the most effective partner management system. It has an automated partner recommendation function. So it will help the advertiser to find and work with the right partners.
Dynamic Commissioning: It is one of the most effective tools to control the commission values. It determines values to partner based on multiple attributes such as transaction, device type, customer type, average order value, etc.
Actionable Attribution: Allocate value based on multiple important metrics such as clickstream, position, time, etc.
Campaign Creatives: Brands can host various creative assets, such as product code, banners, text, etc. So it helps to improve the conversion rates as well.
Communication: You must interact with partners. Because it will help you to build a strong business relationship. This tool will help you to communicate through multiple mail and newsletter.
Brand Monitoring: To lookup at every task is highly important to grow a successful brand. It will help you to properly monitor code and content.
You can access all these features as a brand or advertiser. It will especially help them sell their products and services through multiple affiliates. So it increases the growth of their business. As a successful merchant, you should join the Pepperjam platform without any hesitation.
2. Publisher Partners and Influencers
If you are an affiliate marketer, you should join Pepperjam. Because they have hundreds and thousands of affiliate programs, you can collaborate with these programs and can earn a good amount of commission.
Along with that, if you are a new affiliate marketer, Pepperjam will help you in this condition. This platform has a full-fledged guided article about affiliate marketing. So you don't have to be worried about that.
To open an affiliate account, Go to > Services > Publisher Partners and Influencers.
In this section, you need to provide your personal information, such as:
First Name
Last Name
Email
Password
Password Confirmation

After that, you have to fill up your company/business information. Choose the place where your business is located and insert your business contact numbers, etc.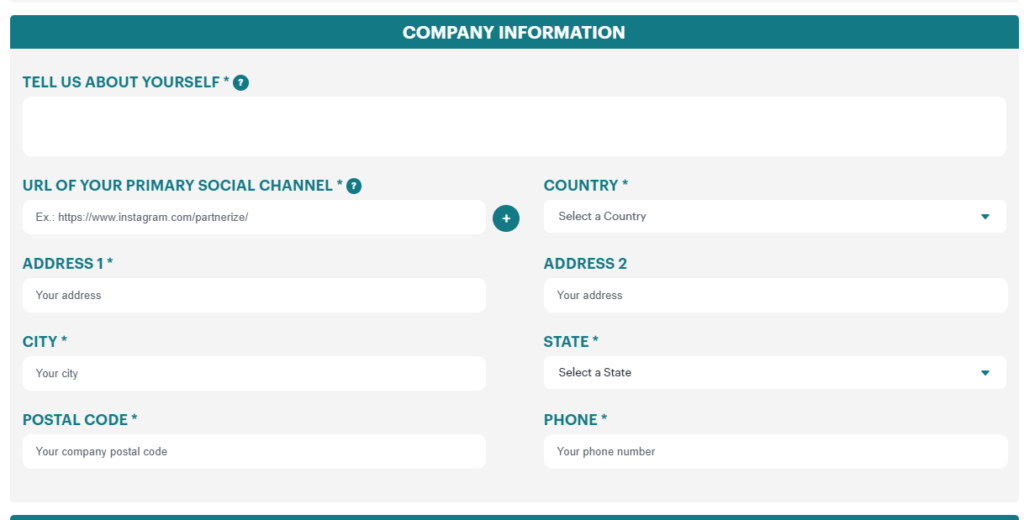 Well, now you need to provide a clear idea about the publishing channel-related information that you want to work with.

In this section, you have to provide three different types of information such as
Which categories do you promote? – Your favorite categories of products and services which you feel comfortable promoting through your website.
Where are most of your followers located? – You need to select the location where the majority of your followers are located. They are the target customers of your affiliate products.
Do you have additional social media profiles? – You can add your additional social media platform links in this section.

This is the final and important step of your sign-up process. You need to give your payment details in this section.
After successfully providing all this information, click on the submit option. Now you will be notified that your account is activated.
After the activation of your account, you can find the new advertisers from the Pepperjam dashboard.
Along with that, you can analyze each company's performance, such as the number of people clicking on your links, and measure the impressions.
Pepperjam created multiple tools, especially for the publisher's account, such as:
Monetization Features: To earn a good amount of money, you must monetize your campaigns. This platform will give you access to use multiple creative assets for monetization, such as banners, coupons, text links, generic links, products, etc.
Communication: As you already know that communication is the most important factor in any type of marketing. This tool will allow you to connect with the advertisers through mail and profile info.
Actionable Attribution: You can use multiple attributes, such as code, path, etc, based on time and position. So it creates a better opportunity to earn more commission.
3. Agencies
Pepperjam allows multiple affiliate marketing agencies to join as a partner. This platform provides the agencies with multiple industry-related insights, partner recommendations, etc.
Along with that, Pepperjam will participate in the marketing of the agencies. It will feature agencies' blog posts, whitepapers, case studies, etc.
Multiple famous agencies have already joined the Pepperjam platform as Agency partner such as:

Now let's see how you can easily sign up as an agency on the Pepperjam affiliate platform.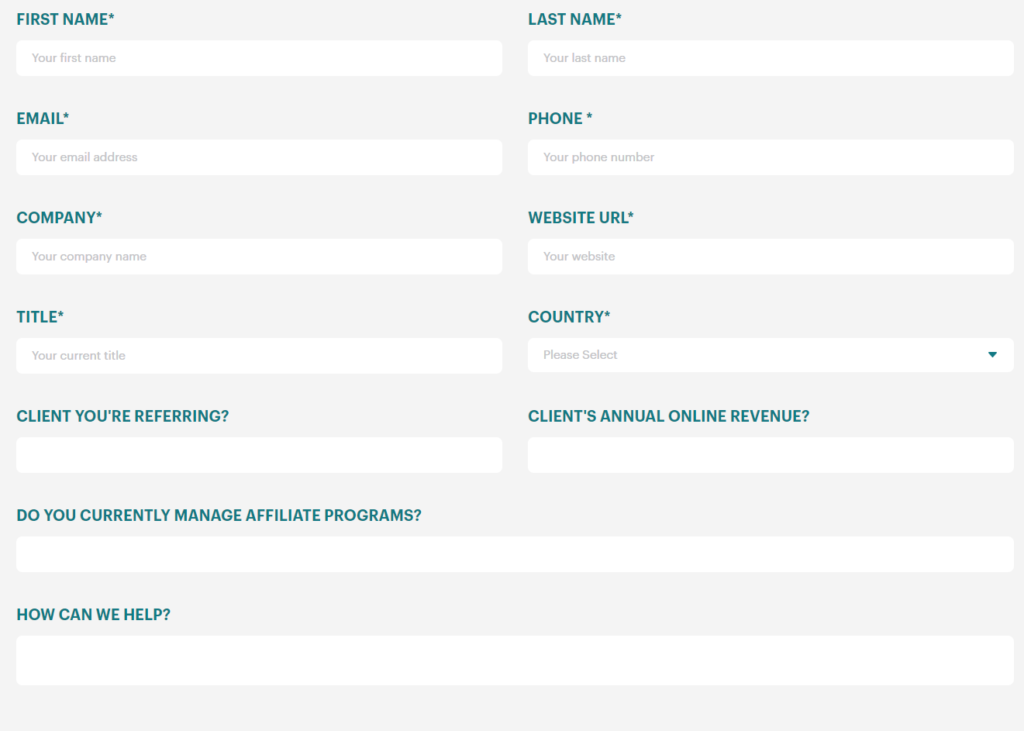 In this section, you have to fill up all the necessary information. Pepperjam will review all this information and allow you to join the platform.
Final Words
As you already know, how affiliate marketing can maximize the growth of any business and marketers.
But for effective marketing, you must choose a better platform where you can connect with various marketers and brands. There is no doubt that the Pepperjam affiliate network platform is the most appropriate place for you.
In this article, we have discussed this platform very elaborately. We hope it will help you boost your marketing strategies.