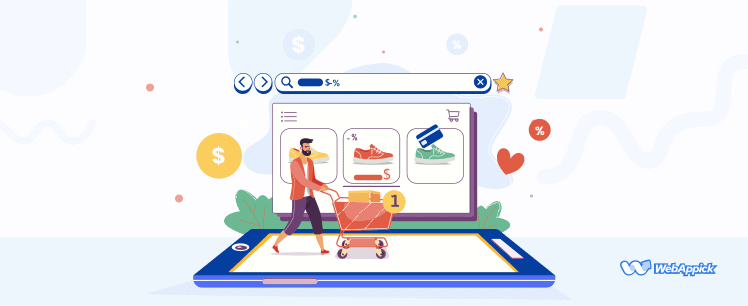 Must Have WooCommerce Plugins of 2023
WooCommerce is the largest eCommerce platform worldwide. That is why any online business seeking success can trust a WooCommerce store for the flexibility and convenience it offers. By adding to it the right mix of distinct privileges that plugins provide, you can build yourself a winner.
WooCommerce has made it easier than ever to turn your website into a commercial one. Some stats may make us understand the power and authority of woocommerce in the field of ecommerce. As of 2019- 3,317,205 live websites are currently using WooCommerce. That is the 5% of all websites! Almost 30% of all online stores are powered by WooCommerce, which includes 22% of the top 1 million ecommerce sites 94% of all WordPress ecommerce stores.
Having a thriving online store is a lot easier when you're using the right tools. In this article, we'll share the best WooCommerce plugins that tons of successful eCommerce store owners use and love.
As our primary purpose is to boost our sales from our online store and make money out of it, product feed tops the list of must-have woocommerce plugins in 2023. It boosts your sale up to 700% by showing your products on various merchant sites like Google Shopping.

You can create product feeds for different marketplaces and advertising platforms using this plugin. These include Google Shopping, Bing ads, Facebook ads, Amazon, etc. In fact this plugin supports over 100 different merchant websites. The plugin helps you to generate a product feed and update the feed in regular intervals. You can manage the regular updates of product feed via HTTP or FTP. This plugin has endless features and variety of options. Here are few flagship features that you will get by using the plugin.
Having access to 100+ merchant sites and very responsive for a user command
10+ pre-configured template for Google Shopping, Facebook, and Google Adwords, etc.
You can post your products manually or automatically
Different supported file formats like CSV, XML, and TXT
Feed updates can be made through FTP automatically
Feeds are accessible via HTTP and HTTPS
Compatible with WPML WooCommerce plugin
Option to create a feed for specific categories
Opportunity to generate a feed for by product type
Supports automatic feed generation at a scheduled time
Marketing and promo text, descriptions, product codes and prices can be easily added
2. Yoast SEO
Yoast SEO plugin has more than millions of download and great overall rating and considered one of the most inclusive plugins for SEO. When it comes to SEO, the features of Yoast ensure the best success for your site. You can assign keywords to a blog post to focus on using it all through the content by using this plugin.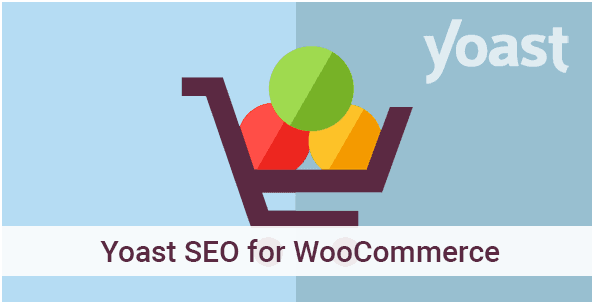 Features:
Snippet view shows how the post appears in search results
Page Analysis makes sure all focus keywords are in place
Advanced XML sitemaps enable to fight against other websites
Enables to link up a site with Google Webmaster console
Enables to link up a site with Bing Webmaster console
Offers users complete SEO page analysis
Scores the page, based on the focused keywords
Allows to set preferred URL, page titles, sitemap and Meta description
Helps to optimize content for media sharing
Yoast SEO plugin is free, but there is site Yoast premium version costs $89 for 1 site available on the Yoast official site.
3. Dokan: WooCommerce Multivendor Marketplace Solution
WooCommerce lets you build your very own single store. You can turn it into a multivendor marketplace like eBay, Amazon or other popular marketplaces. Don't worry, it's easy to take your online store to the next level! You just need to install a plugin that enables you to add vendors with an individual shop for each of them. There are lots of marketplace builder plugins in the industry, Dokan is at the top of the list with 20,000+ live marketplaces. And you can start your dream journey for Free!
You can make thousands as commission when you have a customized marketplace without any extra effort. Hire vendors to add & sell their products through your marketplace and set a certain commission. Yes, things are such easy with a powerful marketplace builder solution. Have a look
Beeketing automatically creates upsells and cross-sells based on your visitor's preferences and behavior. E-commerce marketing involves a lot of work, so we like plugins that enable you to manage a variety of tasks. Beeketing for WooCommerce, for example, is an all-in-one marketing platform that can automate product sales, add stock indicators, offer coupons, optimize your store for mobile, and more. The plugin is free, but you can purchase extensions for added functionality.

That's why Beeketing is such a useful plugin. It allows you to create upsells and cross-sells based on the behaviors of your customers. Here are some of the useful features of this plugin:
Show how many people have viewed and bought products to build social proof
Show a coupon to encourage new visitors to make the first purchase
Show Best Sellers, Best Sellers, etc.
Suggest more related product cart page before checkout
Offer free-shipping, cart-level discount or a gift when completes customer order
5. WooCommerce PDF Invoice
WooCommerce PDF Invoice is another must have plugin for your woocommerce store. It automatically generate invoice when orders are created and also sends immediately to the customer when order status changed. There are hundreds of different features in this plugin that can make your store's checkout experience amazing to your customers.
Let's see some key features that the plugin has to offer to you:
You can efficiently manage the process of creating and printing invoices automatically.
Add your company logo and insert both the buyer and seller information in it.
Select from different Paid Stamp designs from the plugin's library.
Upload the image of your signature and incorporate it with the invoice.
Include woocommerce multiple tax classes (rates) such as Total Excluding Tax, net amount, tax rate and tax amount etc.
Print packing slip for a single order, as well as print multiple packing slips as a batch for multiple orders by date range.
Allows you to generate a shipping label list by order date range and print it.
Include a product image on invoices using this woocommerce invoice plugin which makes customers understand the invoice even faster!
The plugin is WPML compatible.
Allows you to include the Proforma Invoices for all new orders and any changes made to the orders.
6. WooCommerce Multilingual
WooCommerce Multilingual is a dedicated plugin for WooCommerce product translation management created by WPML developers. WooCommerce Multilingual lets you create multilingual versions of your store. The top 11 languages in the world have a combined 90 million speakers. If you're only offering English on your ecommerce store, you could be losing a ton of sales. This plugin makes your WordPress site completely multilingual, your product page translations even get unique URLs.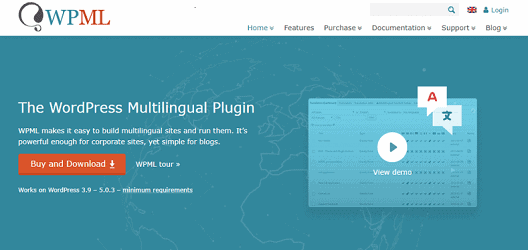 Advantages of creating a multilingual store can serve you in many ways. Check some core benefits of a WooCommerce multilingual store.
A Door to Becoming Global
A Door to Becoming Global
Better User Experience
Trust & Credibility
Easy way to differentiate you from the competition
A multilingual store is one of the most effective ways to skyrocket your sale.
WooCommerce Currency Switcher allows your store customers to switch currencies on your WooCommerce site and in real-time, gets their rate converted. Based on the location of the customer that is identified from the IP address, this plugin helps to update automatically.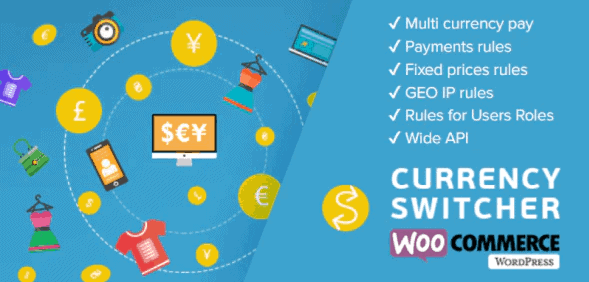 The main features of this plugin are:
Compatible with WooCommerce and PayPal plugin
For each product, there are individual GeoIP rules
For each product, there are different fixed prices
Easy to use for store customers as well as administrators
Included 3 Widgets: currencies converter, currencies rates, currencies switcher
WooCommerce PDF invoices and Packing Slips compatible
Allowed to set new order currency
Possibility to set a flag for each currency
Currency switcher as drop-downs, side switcher, flags
You can find WooCommerce Currency Switcher in the WordPress plugins directory. In the free version, you can operate only two currencies, to manage unlimited currencies buy the premium version, which will cost $30.
If you're an eCommerce store owner using Mailchimp, you'll want to make sure you're using Mailchimp for WooCommerce.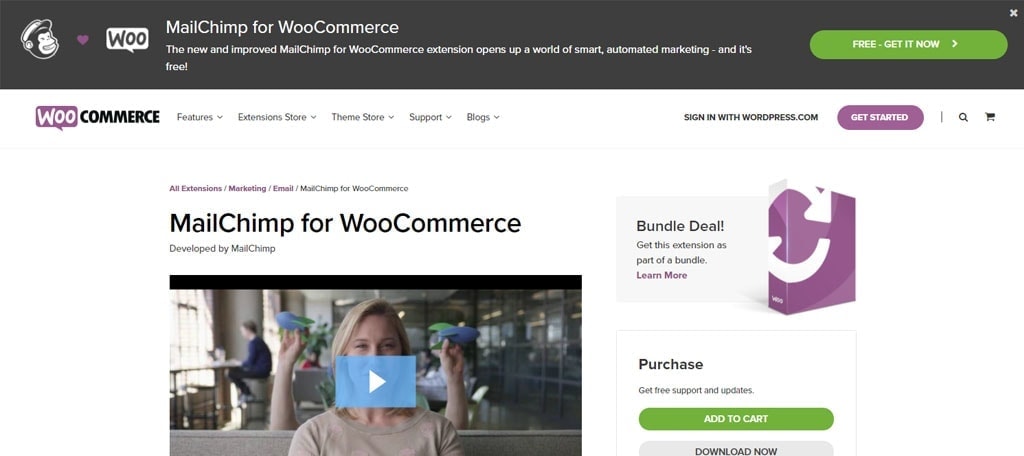 You can sync your WooCommerce customer's purchase data with your Mailchimp account and use it for sending targeted campaigns.
On top of that, you can also send post-purchase follow-up emails, recommend products, and even recover abandoned carts emails.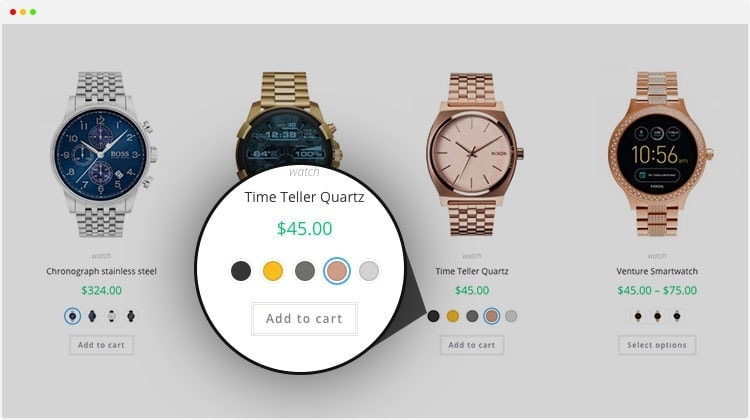 WooCommerce Variation Swatches is a simple plugin but does a wonderful job. It turns product attribute select dropdown into beautiful swatches. It means you can turn product variation selection dropdown into color, button, radio, and image swatches.
Consequently, the plugin enhances the plugin experience extensively. users don't need to reveal the dropdown select field and see what variations are available for the variable product. Without pressing extra clicks and spending extra time, they can quickly select their desired variation.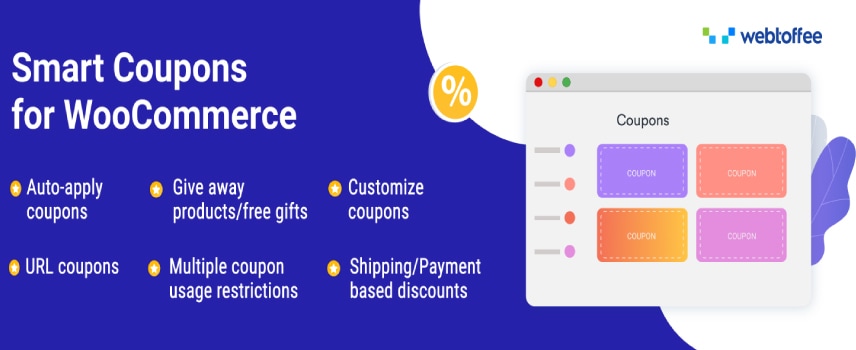 Coupons are powerful marketing tools to boost your store's sales. This WooCommerce coupon plugin helps you create attractive coupons or offers that your customers can't resist. With the plugin, you can create different combinations of coupons that appeal to a wide variety of customers.
You can create coupons for specific user roles, payment methods, and shipping methods. Enable auto-apply of coupons to save your customers the effort of copy-pasting the coupon code. With the plugin, you can also offer product quantity and subtotal based coupons.
Its premium version offers advanced features including purchase history based discounts, country-based coupon restrictions, free product discounts, customizable count-down discount sales banner, sign-up coupons, abandoned cart coupons, and more.
Major Features
Auto-apply coupons
Schedule coupon campaigns by configuring start and end date of coupons/deals
Offer shipping method based coupons
Offer payment method based coupons
Offer user role-based coupons
Supports product quantity based coupons
Supports subtotal based coupon
Conclusion:
WooCommerce plugins will help you can tackle everything. Know that there is a plugin for any customization you would probably want. When you combine your woocommerce store with some of the other amazing plugins people have built to extend its functionality, you can create an all-rounder online store. Hopefully this article helps you setup your online store and build a great customer experience!