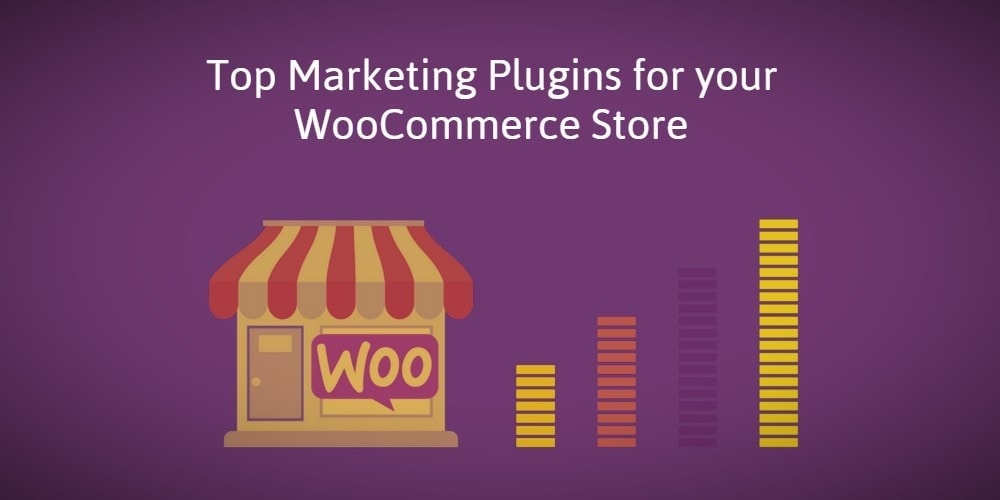 Top Marketing Plugins for Your WooCommerce Store
WooCommerce is one of the most popular eCommerce platforms that offer affordable and free plans for small store owners. Many WooCommerce users underestimate the power of the plugins or extensions and often ask which plugins are the best.
Consistent marketing efforts help to ensure that your WooCommerce store is creating a continuous buzz among your potential customers. You can apply various strategies you know about improving sales. You may need to use a variety of plugins to consistently keep on top of your marketing goals.
These plugins or tools would ensure that your marketing efforts are effective. They ensure your marketing efforts go on as planned even if your focus is shifted to some other aspects of store management. This article will help you provide a list of top marketing plugins for WooCommerce that will help you to get your job done.
In this article, we have listed a few plugins for WooCommerce that can be helpful for your store in several marketing activities.
WooCommerce Product Feed (CTX Feed)
The target of the WooCommerce Product Feed plugin is to generate product feed for your WooCommerce store products. This plugin has endless features and variety of options. The most significant advantage of this plugin is, it connects you to multiple different online stores automatically. It supports automatic feed generation at a scheduled time.
CTX Feed has access to 100+ merchant sites and very responsive for user command and 10+ pre-configured template for Google Shopping, Facebook, and GoogleAdword, etc. Any products and product descriptions that you upload will be updated to a variety of online stores in seconds. Different file formats like CSV, XML, and TXT are supported.
There is a massive variety of merchant websites you can synchronize with. The variety of options ensures you that, there is a higher probability of your products being sold. The variety of features of this plugin ensure that all of your needs are accommodated comfortably. With the help of CTX Feed plugin, you can easily add marketing and promo text, descriptions, product codes and prices.
The plugin is available for free, and there is a pro version with a high number of benefits and more functionalities. The pro version will cost $119 a year.
WebToffee WooCommerce Gift Cards
Selling gift cards on your WooCommerce store is an effective way to increase conversions. The WooCommerce Gift cards plugin by WebToffee will enable you to create and sell gift cards on your store site. It lets you provide your customers with the option to purchase gift cards and send them to their loved ones.The plugin offers 20+ free templates for WooCommerce gift cards. Apart from these available templates, you can upload custom templates from your local storage. You can allow your customers to choose a specific amount for the gift cards, or you can set a fixed gift card amount.
Additionally, you have different usage restrictions to control and manage the gift card usage on your store.With the email gift card option within the plugin, you will be able to send free gift cards to your customers on special occasions like birthdays, anniversaries, etc. This will definitely increase customer loyalty towards your business. The plugin also allows you to manage user credit balances on your store site and offer store credits for instant refunds.You can purchase this premium plugin for $99 for an annual subscription for a single site license.
Beeketing for WooCommerce
This plugin is one of the leading marketing plugins currently available in the store. Beeketing for WooCommerce includes 10+ marketing tools designed to optimize marketing conversion, support loyal customers, increase average loyal value, etc. in this single plugin.
This plugin will follow your visitors right from the time they land at your store. You can change the style and color of every app to suit your theme. You can send a welcome email to customers from the store's staff email address or founder. The plugin Suggest more related product cart page before checkout
With the help of this plugin, you can see how many people have viewed and bought products to build social proof. It helps to chat with the customer via FB Messenger right on the store. It's easy to send cart & browse abandonment emails. The plugin is Responsive and has many mobile-friendly features
Beeketing for WooCommerce provides both free and premium based services. For paid features, it will cost ranging from $8 to $49 (you will get the pricing range before confirming to subscribe).
Smart Coupons for WooCommerce
Coupons are the most powerful and easy way to boost your store's sales. When default coupon features are not enough to create coupons you will have to add a coupon extension to your store. Smart Coupons for WooCommerce is a user-friendly and feature-rich WooCommerce coupons plugin that can help increase your store's sales.
The plugin lets you offer discounts on a product or cart basis. You can restrict coupons on user role, shipping and payment method basis. There are also options for offering discounts on product subtotal and product quality basis.
With the plugin, you can enable auto-apply thereby giving your customers a great checkout experience. Coupon URLs, free product coupons, are also supported by the free version of the plugin.
With the Smart Coupons premium version, you can have access to advanced features such as purchase history-based discount types, store credits, gift coupons, country-based coupon restrictions and more.
WooCommerce Google Analytics
One of the fundamental aspects that will help you devise a more effective marketing strategy is to analyze the traffic on your website. You can connect your WooCommerce store with Google by using this plugin. Basic tracking options are provided with this plugin to understand users, sessions, and events on your website.
This tool is great to track and gather data from your website's visitors. The plugin enables you to take actions to improve your business. In this plugin, you'll get options to exclude site administers from tracking and support for display advertising.
You can understand what channels are driving traffic to your site and what products customers are interested in, etc. This tool will also help you to figure out if there are any patterns where customers are dropping out inside your sales funnel.
WooCommerce Google Analytics is free, but for advanced eCommerce tracking, try Google Analytics Pro at $79 a year for a single site.
Automate Woo
Automate woo plugin improve your eCommerce workflow from day one. It offers automated marketing that will help you to convert and retain customers in a powerful way. It can be used for various online marketing needs of your WooCommerce store.
Automate Woo integrates smoothly with the WooCommerce Membership and WooCommerce Subscription plugins. Most of the automation tools are third-party tools but Automate Woo is a self-hosted plugin. For all these reasons, this plugin is from other automation tools.
The plugin integrates with Stripe, Mailchimp, ActiveCampaign, and others. A referral upgrade feature of this plugin can help you to boost your organic sales. Moreover, it's a comprehensive marketing plugin that offers enough worth for the price.
Single site subscription of Automate Woo will cost you $99 a year.
In this article, we have shown you several plugins and how they can benefit your WooCommerce store. We hope, this article has helped you to identify some of the best marketing plugins for your WooCommerce store. Read the linked article to know more about WooCommerce marketing techniques.