Fruugo: The Global Marketplace 2018 | How to Make Feed?
Fruugo is a U.K. based global marketplace. This marketplace gives you a platform where you can shop from many retailers across the world with one single checkout. Fruugo calculates exchange rates, shipping costs, taxes and offers a safe, simple and reliable shopping experience from trusted retailers.
Fruugo is like the super shop across the road.
They have all the items you will possibly need, and products from multiple vendors. You can compare the price and pick the best one. The difference is Fruugo is not a shop itself and they don't sell anything.
Everything you will see at Fruugo is sold by independent retailers. Fruugo provides a place for you to shop from a huge range of international retailers in one place by connecting hundreds of retailers from different corners of the world.
Why Users Like Shopping from Fruugo?
There is a number of advantages of using Fruugo for shopping. The most favorite Fruugo features of users are:
Safety: Fruugo ensures the safety of any kind of transactions made on their website. That means you don't have to worry about sharing personal details such as an address, contact number on the checkout page.
All in one place: The main purpose of price comparison sites is to compare the prices and details of a product from different vendors. Since Fruugo is a price comparison site it shows you a wide variety of products where you can compare and choose the best deal.
Own language: 72.4% of shoppers are more likely to buy in their native language. Fruugo supports 17 different languages. The 17 languages supported on Fruugo are: English; French; German; Spanish; Portuguese; Dutch; Polish; Italian; Danish; Swedish; Finnish; Norwegian; Russian; Chinese; Japanese; Hindi and Arabic.
Countries: Fruugo's global cross-border marketplace currently lives in 32 countries around the world. The countries supported on Fruugo are:
United Kingdom, Ireland, France, Germany, Spain, Portugal, Belgium, Netherlands, Luxembourg, Poland, Austria, Italy, Denmark, Sweden, Finland, Norway, Switzerland, Russia, South Africa, United States, Canada, Australia, New Zealand, China, Japan, India, Saudi Arabia, Qatar, Bahrain, United Arab Emirates, Egypt & Kuwait.
Currency: Fruugo supports 22 currencies across the world. The supported currencies are:
GBP – Great British Pound; EUR – Euro; PLN – Polish Zloty; DKK – Danish Krona; SEK – Swedish Krona; NOK – Norwegian Krona; CHF – Swiss Franc; RUB – Russian Ruble; ZAR – South African Rand; USD – United States Dollar; CAD – Candian Dollar; AUD – Australian Dollar; NZD – New Zealand Dollar; CNY – Chinese Yuan; JPY – Japanese Yen; INR – Indian Rupee; SAR – Saudi Riyal; QAR – Qatari Rial; BHD – Bahraini Dinar; AED – United Arab Emirates Dirham; EGP – Egyptian Pound; and KWD – Kuwaiti Dinar.

Why Should I Upload Products on Fruugo?
Fruugo simplifies buying products from around the world. It provides great choice and the freedom to shop from anywhere through one global marketplace
Fruugo UK sees over 370,000 visitors monthly on their site which is considered a big amount. This huge traffic is just here to buy necessary things from various retailers. Should you upload your products on Fruugo? By all means!
Fruugo enables you to sell your products to customers who use alternative country-specific payment methods and it supports 14 different payment options for the customers.
The accepted payment methods are:
How Do I upload products on Fruugo?
WooCommerce Product Feed: Are you using WooCommerce for your online shop? If you are, you're in luck! The best plugin for feed generating is available for woocommerce users. It is a simple yet extremely effective plugin to generate a product feed for your site and it comes with a whole lot of different features!
Using Woocommerce Product Feed, feed generating for Fruugo becomes as easy as clicking your mouse button. WooCommerce Product Feed Pro plugin has a specialized feature to generate the feed for Fruugo.

Under the Content Settings, there is a specialized template for Fruugo that takes care of all the fields that are required by Fruugo. All you have to do is just generate the feed of your products and upload it to Fruugo.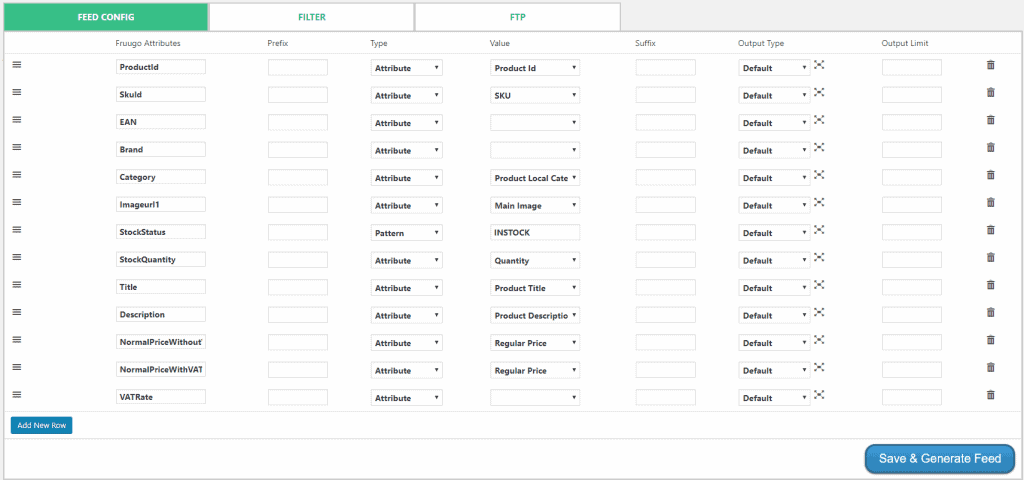 You can also create a new row and expand the details of your product to further tune it up on Fruugo. Using WooCommerce Product Feed Pro you can configure your feed for Fruugo in a blink of an eye and upload on Fruugo to increase your sale instantly.
It's just too simple and amazing to use!
Looking for more channels to upload your products? Give it a read to know your ideal marketplace to boost your sale!