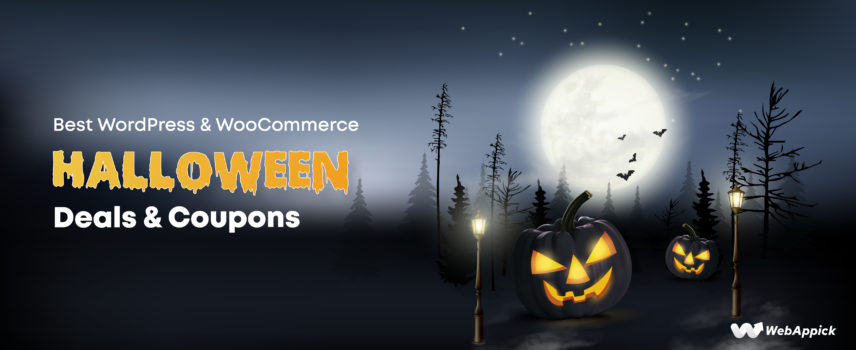 Best WordPress & WooCommerce Halloween Deals & Coupons – 2023 (Themes & Plugins)
Hunting season for online shoppers is almost at the doors. 🎃
Online customers spent a whopping $211.7 billion last year during the holiday season.
Winter is the peak time when shoppers gear up to spend the most. Though all hell breaks loose during events like Black Friday, Cyber Monday, and Christmas, it all kicks off with Halloween.
Halloween is a great time to boost sales for your Woo store. It is a popular holiday with a lot of spending potential.
While costumes and candies are big in neighborhoods, online, it's all about getting great deals. Just like spooky creatures hunting for treats, online shoppers are all excited for their own hunt – finding the best products and offers.
Here are some statistics to back this up:
31% of consumers prefer to shop online for Halloween.
Last year, Americans spent $10.3 billion on Halloween shopping, with $8.4 billion of that spending happening online.
45% of shoppers start their Halloween shopping in September, so you should start your promotions early.
Americans spend an average of $100 on Halloween.
If you are a WordPress WooCommerce store owner, then it's not just about you offering your customers special offers. You can also shine up your hunting arrows to hunt down the biggest WordPress Halloween deals to elevate your store's growth.
During this spooky holiday, plugin and theme developers offer wickedly thrilling discounts and special deals for you to grab. In this article, we will cover the best Halloween deals that can boost your WordPress store.
Let's get started.
Best WordPress & WooCommerce Halloween Deals & Coupons Deals 2022 is live.

Please bookmark this page for the most recent WordPress & WooCommerce Halloween Deals & Coupons since we will be updating this page constantly.

Do you have any deals/discounts/offers on your WordPress Themes/Plugins for Halloween?

Contact us: (mark [@] webappick [.] com) to add your deal on this page.
Best WordPress & WooCommerce Halloween deals in 2023
Almost every WordPress plugin and theme developer company offers discounts on Halloween, be it SaaP or SaaS. We have gone through a wide range of Halloween WordPress deals and mentioned the best ones below.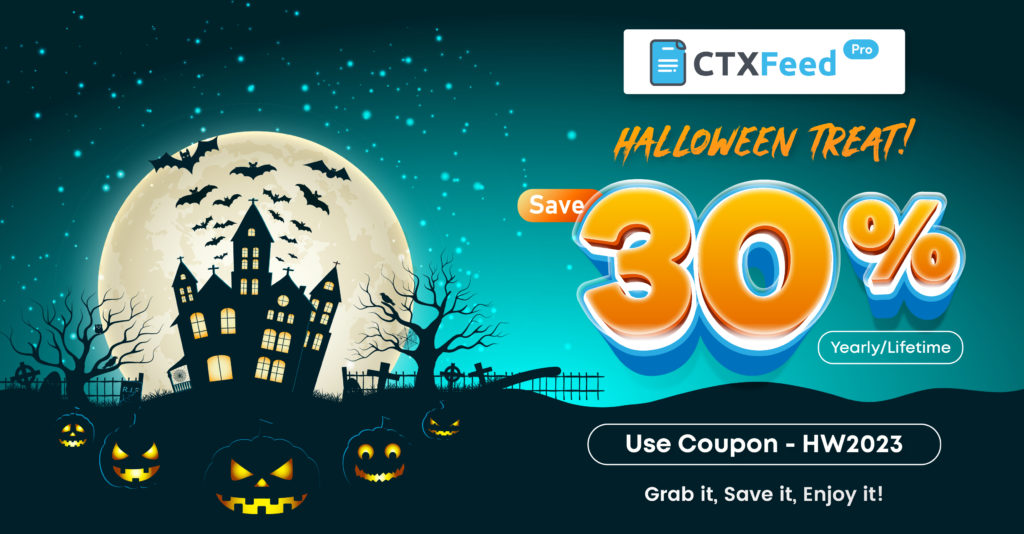 CTX Feed Pro is a potent plugin that can help you list and display your WooCommerce store products on multiple channels, including marketplaces, social media sites, and price comparison engines, effortlessly. This WooCommerce product feed plugin supports 130+ marketing channels, including Google Shopping, Facebook, Snapchat, Instagram, Bing Smart Shopping, PriceGrabber, Walmart, Target, etc.
CTX Feed has dedicated templates for all the channels and automates almost the entire feed generation process. Along with feed generation, the plugin has a URL connection and automatic update features, which lets you promote your products across multiple platforms without any manual labor.
Moreover, you can create complete custom feed files for any existing or new channels. Along with that, the pro version has advanced features such as category mapping, multi-language and currency support, attribute mapping, etc.
The CTX Feed alone boasts an impressive track record with over 70,000+ active installations and an outstanding rating of 500+ five-star reviews, affirming its popularity and effectiveness.
Overall, CTX Feed can help you seamlessly manage your product feeds and boost your store's
Key features of CTX Feed Pro
130+ channels supported for extensive product promotion.
Over 100 built-in templates for easy feed creation.
Create feeds in XML, CSV, TSV, XLS, TXT, and JSON formats.
Intuitive interface for easy product feed creation and customization.
Compatible with various WooCommerce product types, including bundles, composites, and more.
Automatically update product information at specified intervals.
Create feeds in different languages and currencies for global outreach.
Support for generating feeds for multiple vendors in multi-vendor setups.
Easily integrate custom attributes and fields into your product feeds.
Access to a dedicated customer support team for assistance and guidance.
Benefits of Using CTX Feed
Reach a wider audience: CTX Feed allows you to generate product feeds for a wide variety of marketing channels, which can help you reach a wider audience and increase your conversions.
Increase your sales: This plugin can help you increase your sales by making it easy to create and display accurate product data on multiple channels through feed files.
Save time: CTX Feed can help you save time by automating the process of creating and managing product feeds.
Improve your SEO: The feed plugin can also help you improve your SEO by making it easy to submit your product feeds to search engines.
Get more traffic: CTX Feed can help you get more traffic to your website by making it easy to list your products on popular marketplaces and shopping channels.
🎃 Hurry, the CTX Feed Halloween deal won't last forever! Grab your 30% discount now and start scaring up some serious sales. Your WooCommerce success story awaits, so don't be haunted by missed opportunities – get CTX Feed today!
CTX Feed Pro Halloween 2023 special offer –
Discount: Save Flat 30%
Coupon: HW2023
Offer Validity: 20 Oct, 3023 – 01 Nov, 2023
WPManageNinja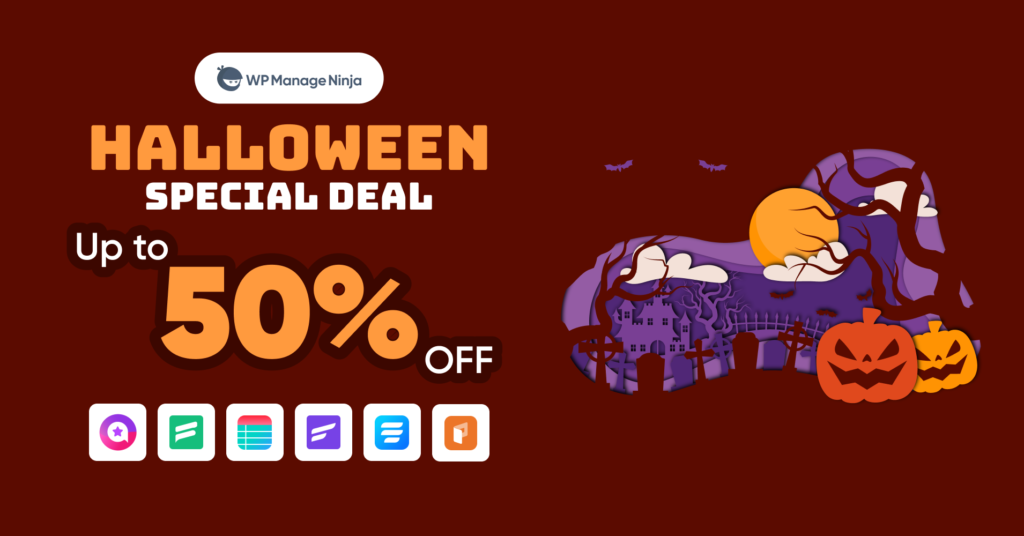 WPManageNinja is offering up to a 50% discount on all of its premium WordPress plugins and themes this Halloween. The deal includes their top-rated products:
Fluent Forms – The fastest form builder plugin.
FluentCRM – The complete email marketing automation plugin for WordPress.
FluentSuport – The best customer support plugin in WordPress.
Ninja Tables – The most popular WordPress table plugin.
WP Social Ninja – The best social reviews, feed, and chat plugin.
Paymattic – The perfect lightweight WordPress payment and donation plugin.
Discount: Up to 50% off
Coupon Code: Auto-applied
Offer Validity: 17th October, 2023 – 2nd November, 2023
SKT Themes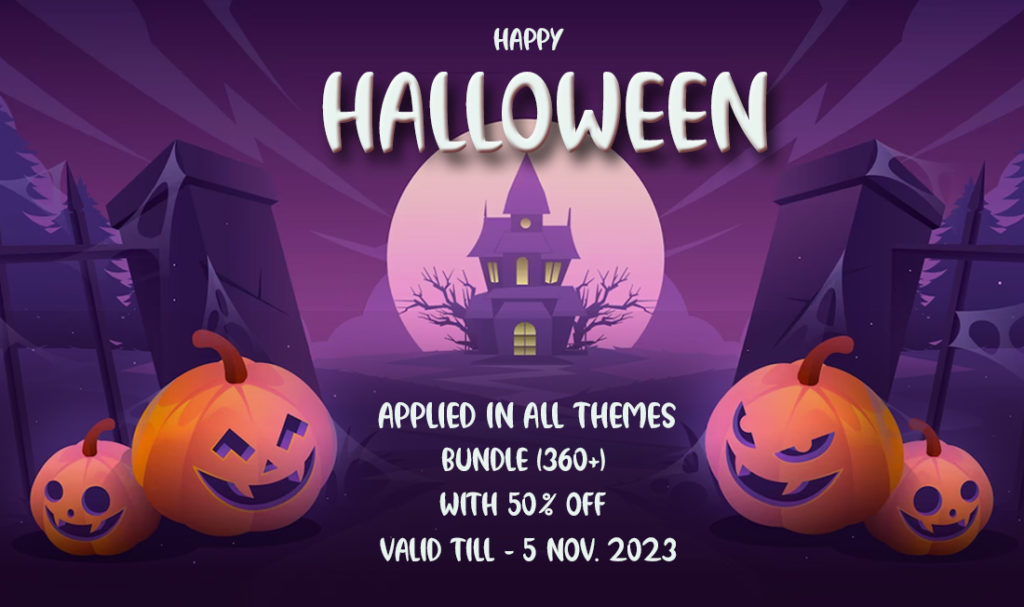 Are you ready to give your website a spooky makeover this Halloween? We've got a special treat for you! For a limited time, enjoy a spine-tingling 50% discount on our premium Halloween WordPress themes. SKT Themes is a major WordPress themes retailer that operates the website sktthemes.org. As of today, we have no active coupons with an average discount of 50% off.
We offer the All Themes lifetime package, which contains 365+ of the best beautiful WordPress themes for only $199.
Discount: Flat 50% off on Lifetime and All Themes Bundle.
Coupon: Auto-applied
Offer Validity: Starts From 25th October 2023 and ends on 5th November 2023
Wbcom Designs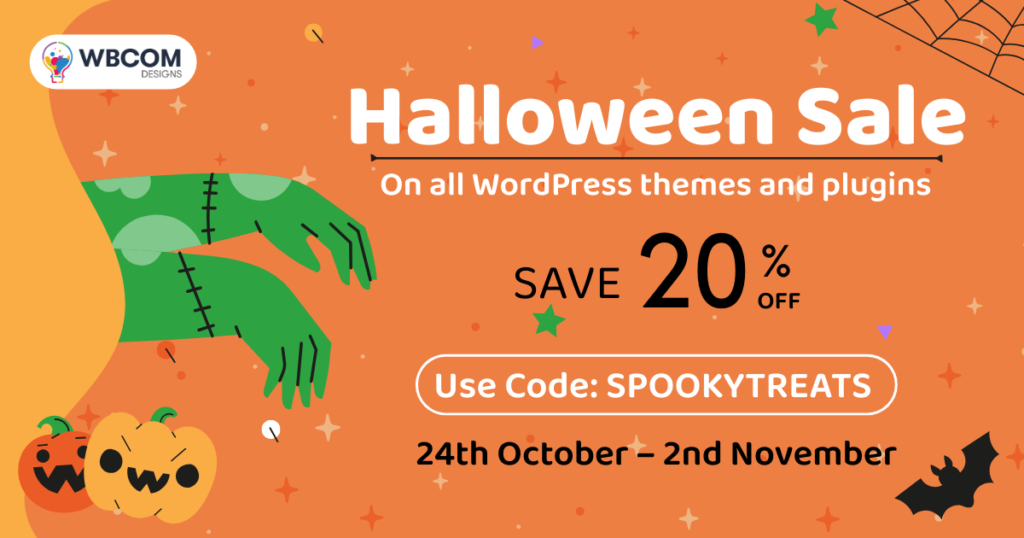 Wbcom Designs is one of the Leading WordPress Themes and Plugins Development Agency. They provide WordPress themes and plugins to build a social media following for your business. Additionally, the team offers development and customization services for LMS, multi-vendor, and social networks based on WordPress.
Offered Deal: 20% off All WordPress Themes and Plugins
Coupon Code: SPOOKYTREATS
Deal Duration: 24th October – 2nd November
Free Gifts for WooCommerce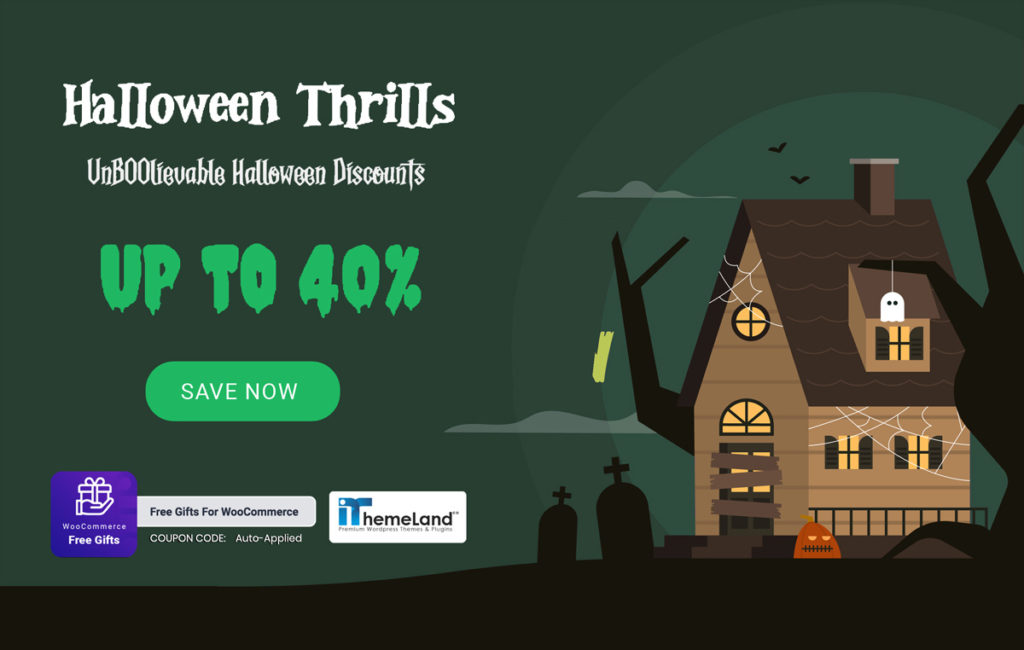 The free Gifts for WooCommerce plugin comes with several options to help you offer free gift products to the customers of your WooCommerce store during the purchase process. As an applicable and professional extension, the free gifts for WooCommerce plugin lets you adjust different rules and techniques such as BOGO, buy x get y, buy x get x, subtotal, bulk pricing, bulk quantity, etc. Also, set unlimited restricted conditions for offering gift products on special products, users, card items, sales dates, etc.
Deal: 40% OFF
Coupon code: Auto-Applied
Deal starts and end date: 25th Oct 2023 – 03rd Nov 2023
HashThemes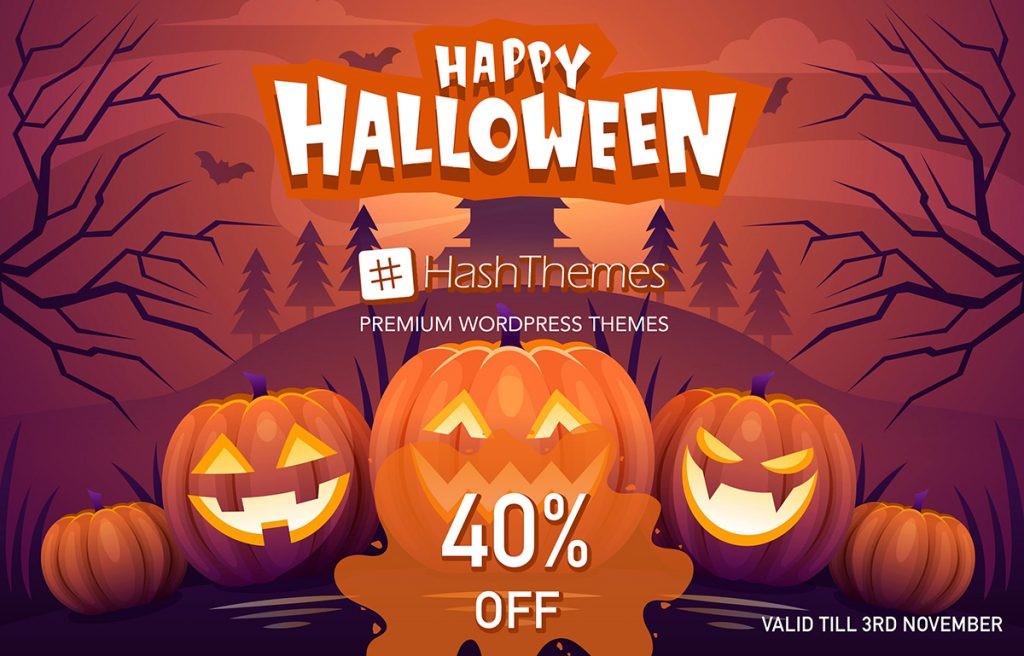 At HashThemes, you can find a variety of WordPress themes and plugins, some for free and some for premium. They make sure to stay updated with the latest web development trends to provide you with stylish and user-friendly designs. This makes it effortless for you to create the website you've been imagining.
Some of the popular WordPress themes created by HashThemes are Total, Square Plus, and Viral Pro.
This Halloween, they are offering a discount of 40% on all their premium WordPress themes.
Offered Deal: 40% off All Premium WordPress Themes
Coupon Code: Halloween2023
Deal Duration: 3rd November
WPXPO – Up to 65% Off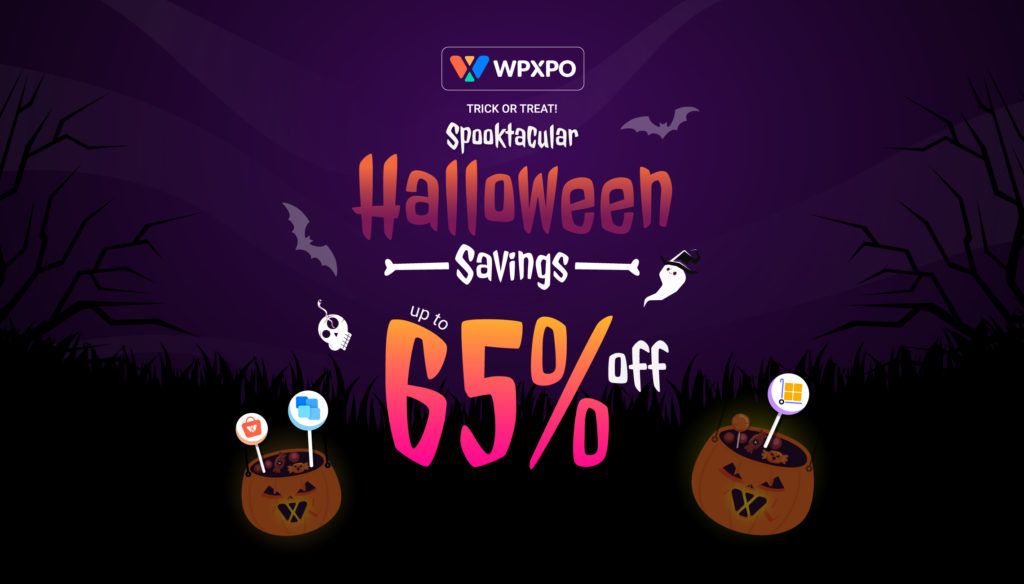 WPXPO, the company that created PostX, ProductX, and WholesaleX, is also giving a treat this Halloween season. Spooky, isn't it? Not really; you can get all the 3 plugins with a whooping 65% discount (up to).
If you're a team of developers or agencies, getting this deal is a MUST!
WPXPO plugins Halloween deals –
Discount: Up to 65%
Coupon: Auto-applied
Offer Validity: 18th October to 2nd November, 2023
PostX – Up to 45% Off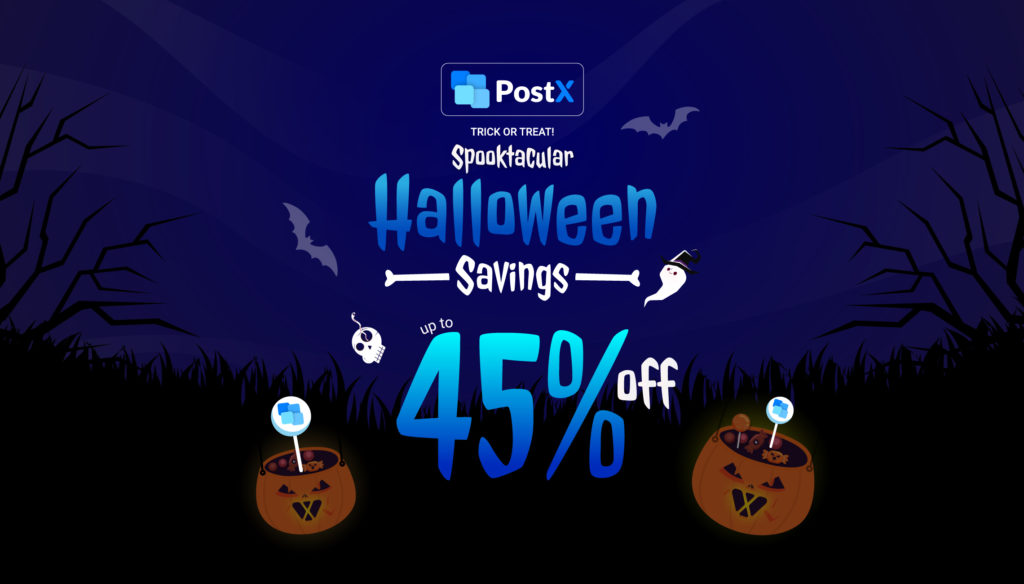 PostX, the #1 Dynamic Site Builder from the developers of WPXPO is back again with another Halloween deal. It's giving up to 45% off this Halloween season. With PostX you can create amazing news/magazine websites in minutes. It's more powerful than ever with its complete dynamic site builder, huge customization options, more premade templates and patterns, and more integration with other page builders.
This deal, along with all PostX features, makes this deal the best combination in our opinion.
Discount: Up to 65%
Coupon: Auto-applied
Offer Validity: 18th October to 2nd November, 2023
ProductX – Up to 50% Off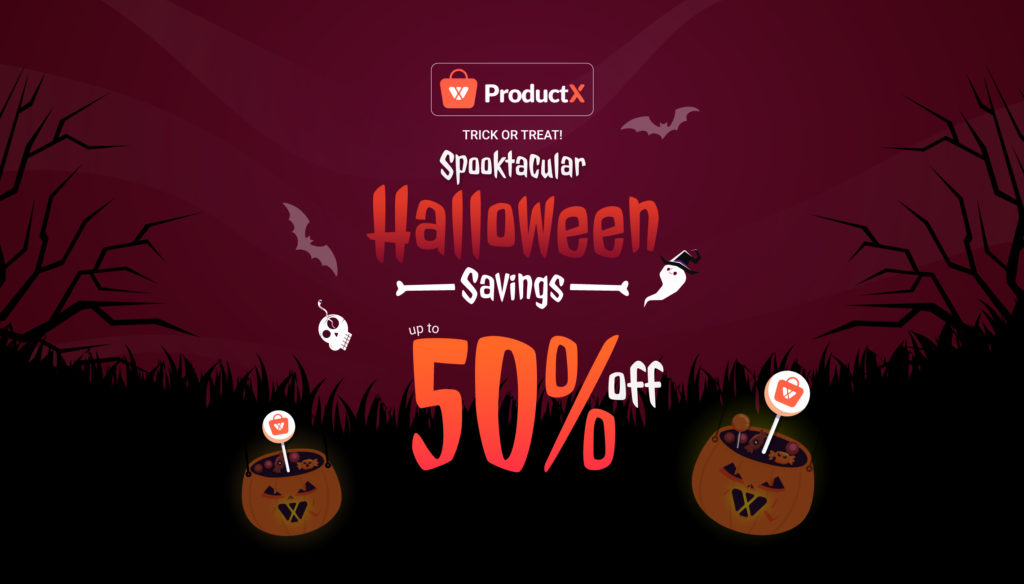 ProductX, the #1 Gutenberg WooCommerce builder, another plugin by WPXPO, to create amazing store pages for WooCommerce, is not behind. Recently, it released ProductX 3.0 to give its users the ultimate control to build WooCommerce store pages just the way they want. We suggest not to overlook this amazing upgrade and get ProductX this Halloween.
ProductX is the best choice if you're looking to create WooCommerce stores that match your styles.
Discount: Up to 50%
Coupon: Auto-applied
Offer Validity: 18th October to 2nd November, 2023
ShopLentor: WooCommerce Builder For Elementor and Gutenberg
ShopLentor is a game-changing WooCommerce Addons plugin that integrates seamlessly with Elementor and Gutenberg, providing you with an impressive toolkit. With over 100 WooCommerce Elementor Widgets and 54+ Gutenberg Blocks, you can craft captivating and conversion-focused WooCommerce pages.
Elevate your online store using 24 specialized WooCommerce Modules, unlocking limitless possibilities for your e-commerce venture. Break free from the constraints of default WooCommerce layouts with ShopLentor's dedicated WooCommerce page builder, allowing you to fully customize your pages to align with your brand identity and creative vision.
Offered Deal: Flat 30% discount
Coupon Code: No coupon is required (Auto-applied)
Deal Duration: 23 Oct- 1st Nov
HT Mega: Absolute Addons For Elementor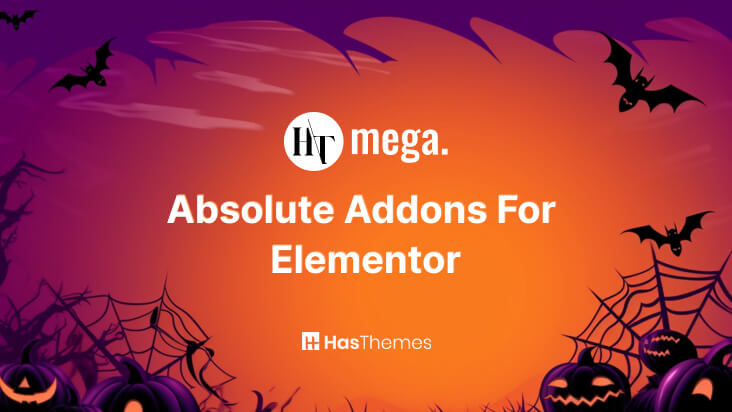 HT Mega is a comprehensive Elementor add-ons package designed for WordPress. This all-inclusive toolkit encompasses widgets, pre-designed templates, forms, tables, and more. It enables effortless website development using Elementor. With a vast selection of 110+ widgets, 760+ pre-designed blocks, and a variety of templates, HT Mega covers everything from blog elements to dynamic sliders.
This plugin guarantees responsive design striking portfolios and offers four distinct blog layouts to cater to all platforms. HT Mega empowers you to create professional, visually captivating websites, making it the ultimate choice for limitless creativity and web design efficiency.
Offered Deal: Flat 30% discount
Coupon Code: No coupon is required (Auto-applied)
Deal Duration: 23 Oct- 1st Nov
Support Genix: WordPress Support Ticket Plugin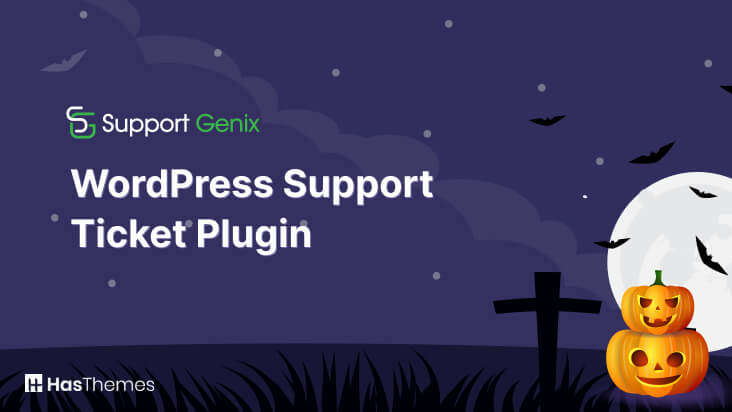 Support Genix, a potent WordPress plugin, seamlessly integrates a robust support ticket system into your website. It simplifies support ticket creation within WordPress, streamlining assistance processes. This plugin converts your site into an efficient Customer Support Ticketing and Helpdesk system suitable for businesses and individuals.
With user-friendly features and efficient ticket management, it ensures accessibility. Benefit from unlimited ticket creation, agent support, and user management, granting complete control over support operations. Support Genix enhances your site's customer service capabilities effortlessly, offering a seamless experience for your team and users.
Offered Deal: Flat 30% discount
Coupon Code: No coupon is required (Auto-applied)
Deal Duration: 23 Oct- 1st Nov
Whols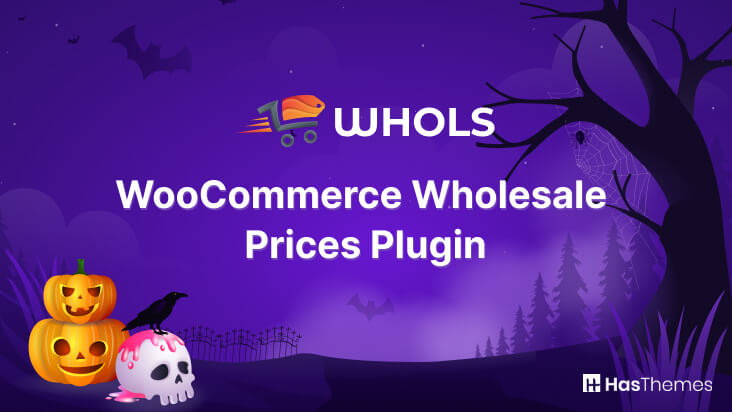 Whols is a top-notch WooCommerce Wholesale Prices Plugin that empowers online store owners to establish wholesale pricing for their product catalog. This remarkable WordPress plugin for WooCommerce enables the display of exclusive wholesale prices to wholesalers. It facilitates a streamlined process for users to apply for wholesale customer status through a straightforward online registration form.
Upon completion, store owners can conveniently review and approve these requests, either manually or automatically. With features like Category-Based Product Pricing, Wholesale Store Access Restriction, and free shipping for wholesalers, Whols offers comprehensive functionality for managing wholesale operations.
Offered Deal: Flat 30% discount
Coupon Code: No coupon is required (Auto-applied)
Deal Duration: 23 Oct- 1st Nov
HT Easy GA4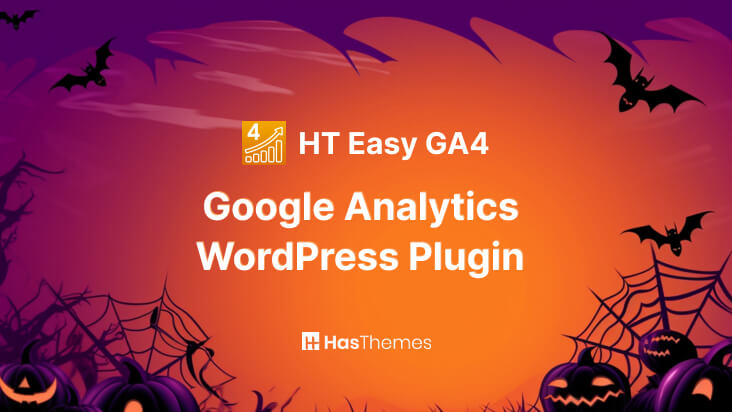 HT Easy GA4 is a WordPress Analytics Plugin that seamlessly integrates Google Analytics 4 into your website. This powerful tool offers a unified view of app and web analytics, providing comprehensive insights into user interactions. Its user-friendly interface empowers you with advanced reporting capabilities while prioritizing intelligent privacy features.
With the help of this plugin, you can now easily keep track of your eCommerce operations, which enables you to check on sales progress and improve your online business for higher profits. Experience actionable website insights directly on your WordPress dashboard with HT Easy GA4, complete with customized reports tailored to your business's essential growth metrics.
Offered Deal: Flat 30% discount
Coupon Code: No coupon is required (Auto-applied)
Deal Duration: 23 Oct- 1st Nov
Pixelavo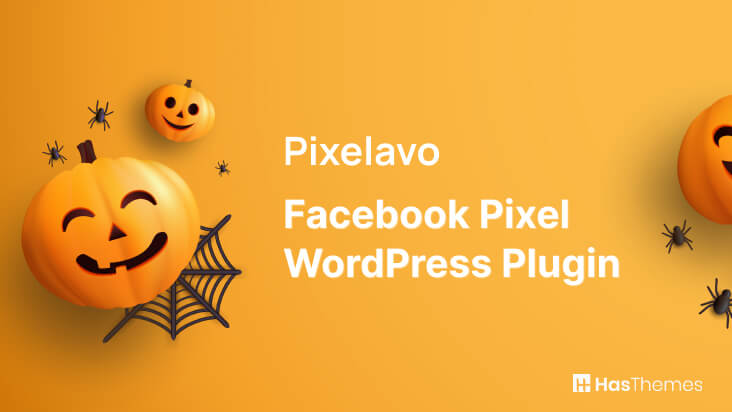 Pixelavo Pro is the ultimate plugin for WooCommerce users, providing seamless integration between your online store and the Facebook pixel. With the power of the Facebook Pixel, this plugin allows you to gather essential data about your website visitors, enabling highly personalized and targeted Facebook advertising campaigns.
Pixelavo also boasts an impressive range of advanced features to enhance your marketing efforts. From advanced tracking capabilities to custom audience creation, this plugin equips you with the tools you need to optimize your campaigns and drive conversions.
Offered Deal: Flat 30% discount
Coupon Code: No coupon is required (Auto-applied)
Deal Duration: 23 Oct- 1st Nov
JustTables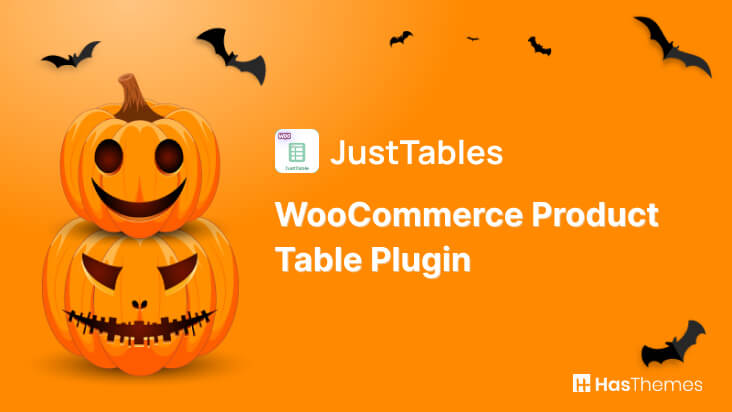 JustTables is a standout WordPress plugin designed to enhance your WooCommerce product showcase. It simplifies online store management by providing a sortable and filterable table view, allowing customers to explore product attributes and make side-by-side comparisons effortlessly. Offering 28 pre-built columns, users can enable/disable them and add personalized fields or taxonomies, ensuring versatility.
With an intuitive drag-and-drop feature, the customization of table columns is seamless, ensuring tailored product presentations. Perfect for online businesses aiming to save time and customers seeking convenience, JustTables transforms the WooCommerce shopping experience, enhancing both usability and efficiency.
Offered Deal: Flat 30% discount
Coupon Code: No coupon is required (Auto-applied)
Deal Duration: 23 Oct- 1st Nov
Swatchly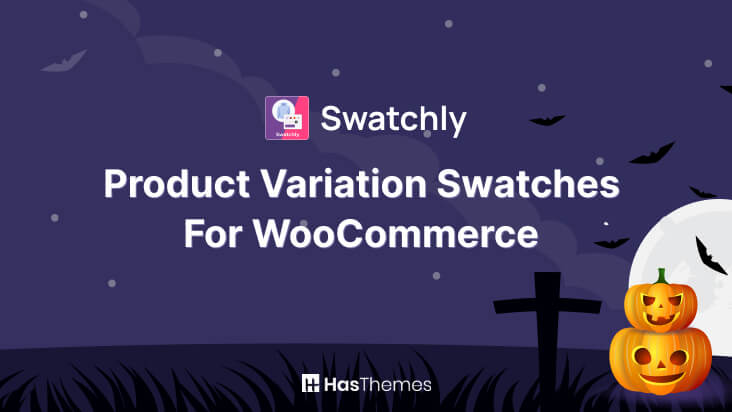 Swatchly, a dynamic WooCommerce plugin, revolutionizes product variation selection. Customers can effortlessly choose colors, sizes, and more, boosting engagement and conversions. It offers versatile features, enabling swatch control, custom hooks, and add-to-cart text customization. With options like Variation Swatches, individual product variations, and button swatches replacing dropdowns, Swatchly enhances product visibility. From enabling/disabling swatches to popup notices, Swatchly transforms the shopping journey, making it interactive, efficient, and visually appealing for WooCommerce stores.
Offered Deal: Flat 30% discount
Coupon Code: No coupon is required (Auto-applied)
Deal Duration: 23 Oct- 1st Nov
WP Adminify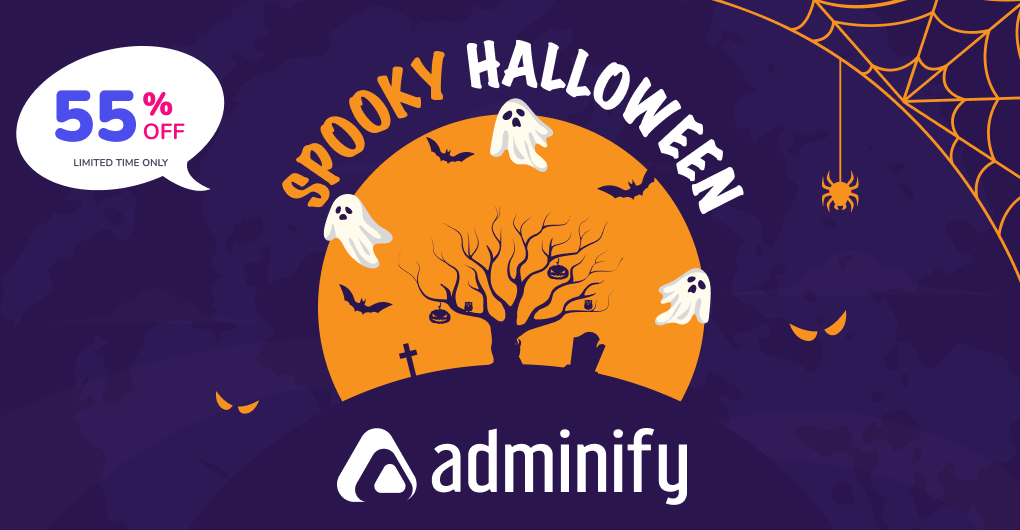 WP Adminify is the ultimate solution for WordPress users who are seeking a highly customizable WordPress Dashboard experience. With its exceptional range of modules and features, this plugin helps you to take your Dashboard to a new height.
Feel free to enable or disable any Module that seems less important to you in the WP Adminify Plugin. It not only ensures top-notch design standards but also enhances the interactivity of your Admin Panel.
The plugin is not only affordable but also offers a free version for users. Moreover, it boasts a large number of active installations, indicating its popularity and widespread usage.
Offered Deal: Up to 55%
Coupon Code: No coupon is required (Auto-applied)
Deal Duration: 25 Oct, 2023 – 2 Nov, 2023
Master Addons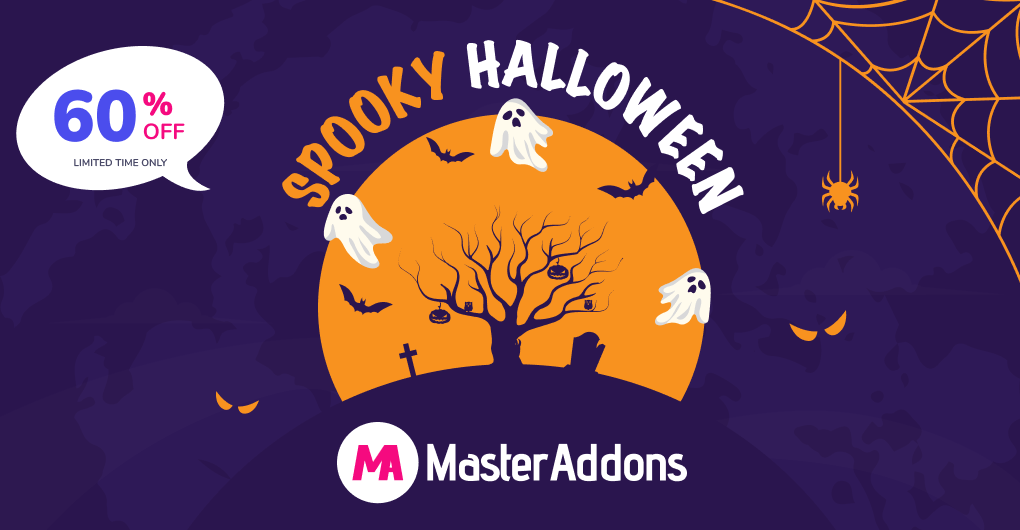 Master Addons is a powerful plugin that can enhance the functionality and look of web pages with the help of the Elementor page builder. It comes with 70+ of advanced features, extensions, widgets, and elements to provide users with everything they need to make webpages incredibly animated and productive. The plugin is popular around the world and has a huge number of active users.
The plugin provides optimal comfort to users when embellishing pages for dynamic websites. It offers both free and premium versions. It has the ability to open up huge possibilities for website customization.
Offered Deal: 60%
Coupon Code: SPOOKY60
Deal Duration: 25 Oct, 2023 – 2 Nov, 2023
Master Blocks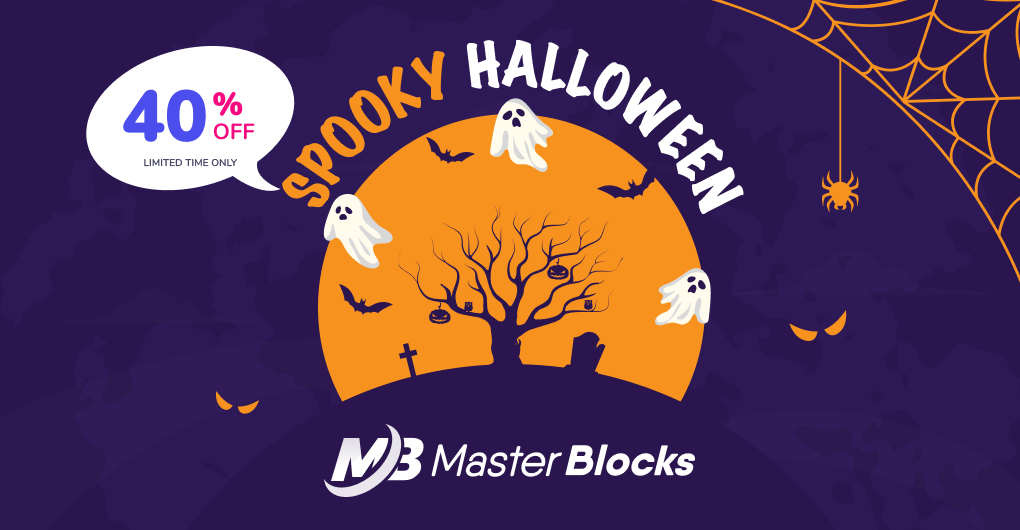 Master Blocks for Gutenberg editor enhances your content creation experience in the default WordPress Editor. It offers rich features, from advanced blocks to customizable layouts, making it effortless to design stunning web pages. Whether you're a seasoned Marketer or a novice blogger, Master Blocks empowers you with an intuitive interface and a wide range of custom blocks, enabling you to create visually captivating and responsive content with ease.
Offered Deal: 40%
Coupon Code: SPOOKY60
Deal Duration: 25 Oct, 2023 – 2 Nov, 2023
GetGenie AI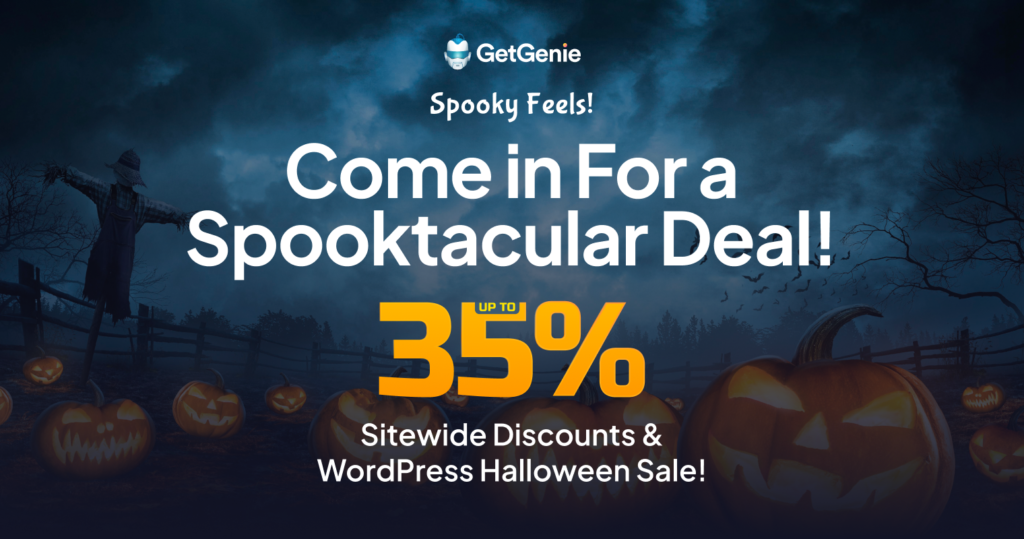 GetGenie AI — the most advanced WordPress AI tool for SEO-optimised content & copywriting. It has 30+ ready-made templates and amazing use cases like SEO Keyword Analysis, SERP Competitor Analysis, Page Optimization, Meta Description, Content Scoring, Blog Outline Creator, Blog Title writing, Blog Article Assistant, Product Descriptions, Sales Copywriter, and many more.
Enjoy up to 35% discount on GetGenie AI this Halloween and increase your efficiency in writing SEO-optimized content on your WordPress website. Halloween won't last forever; get your license before the offer runs out!
Offered Deal: 35%
Coupon Code:
No coupon is required (Auto-applied)
Deal Duration: 25th October 2023 – 8th November 2023
ElementsKit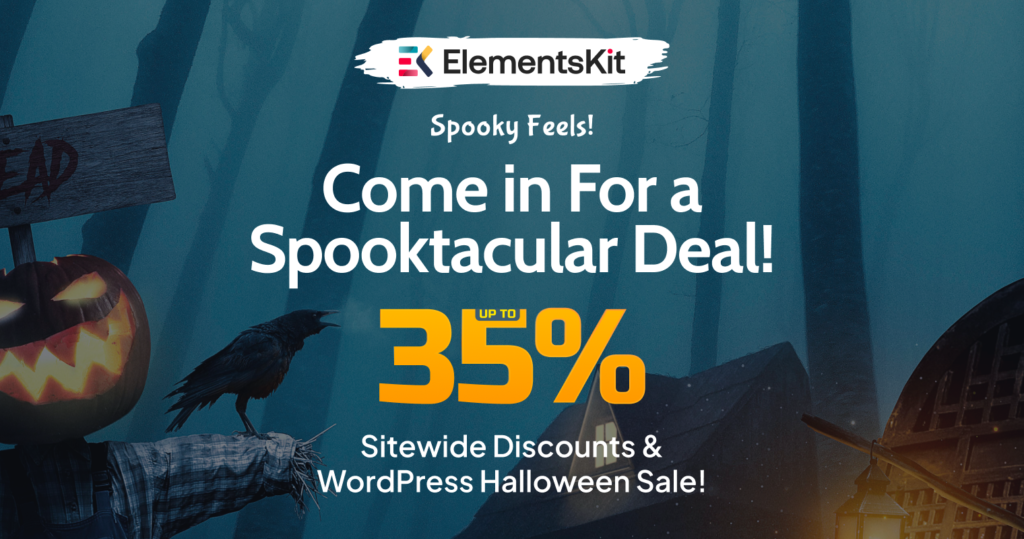 Serving over 800,000 satisfied users, ElementsKit is the all-in-one Elementor addon for flexible & handy page-building features. Enjoy up to 35% discount on ElementsKit this Halloween and avail of 85+ powerful widgets and extensions, 14+ exclusive modules, 79+ Premade Homepages, 500+ Premade Section Layouts & more! Get all these PRO features before the offer runs out!
Offered Deal: 35%
Coupon Code: No coupon is required (Auto-applied)
Deal Duration: 25th October 2023 – 8th November 2023
ShopEngine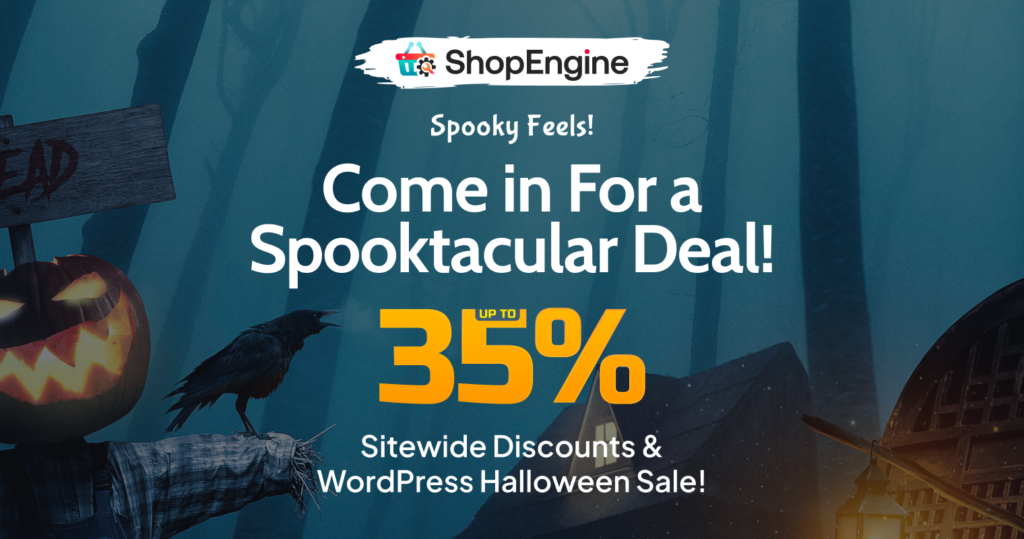 ShopEngine — the all-in-all, feature-heavy WooCommerce builder with 20+ modules, 70+ widgets, 15+ templates & more features to empower your capabilities to customize your WooCommerce website. With this plugin, you can fully revamp your shop page, cart page, checkout page, my account page, and more.
This Halloween, get all the PRO features and enjoy up to 35% discount on ShopEngine Pro before the offer runs out — hurry up!
Offered Deal: 35%
Coupon Code: No coupon is required (Auto-applied)
Deal Duration: 25th October 2023 – 8th November 2023
Elextensions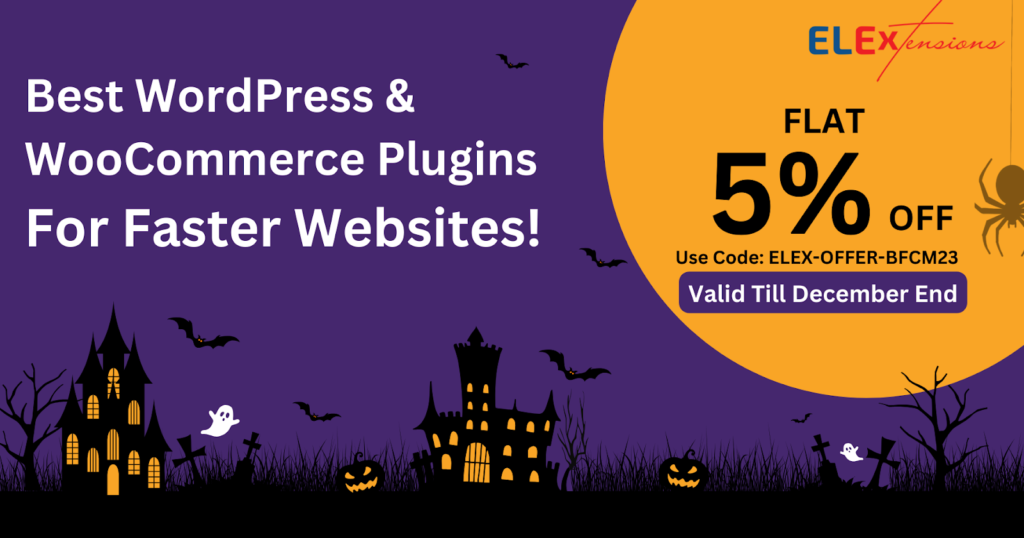 ELExtensions develops best-in-class WordPress & WooCommerce Plugins utilized by tens of thousands of e-commerce stores worldwide. They offer a wide range of products that are designed to help businesses of all sizes improve their online sales. Further, they are committed to providing their customers with the best possible support.
Offered Deal: 5% off on all our WordPress and Woocommerce Plugins
Coupon Code: ELEX-OFFER-BFCM23
Deal Duration: Valid Till December End
Ays-Pro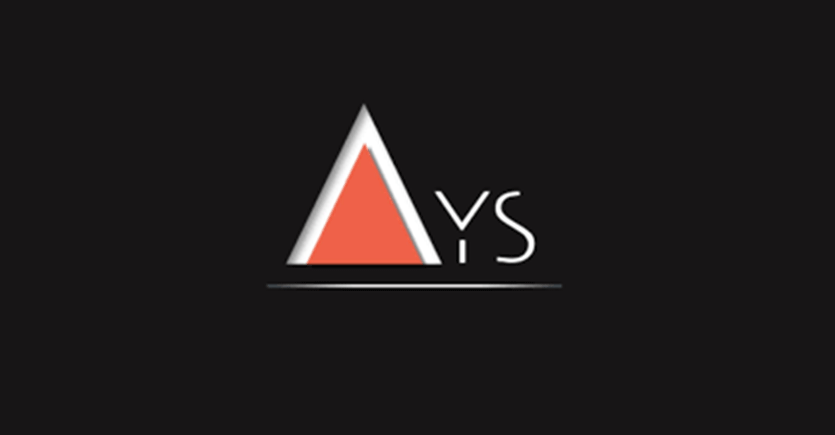 The Ays-Pro team has a special Halloween deal. It comes with four useful plugins. You get a scary 50% discount if you buy all four plugins. This package lets you use the best Survey Plugin, which has 16 different question styles – one of its best features. The WordPress Copy Protection plugin has strong features like blocking certain IP addresses, restricting access by location, setting passwords, locking content, and using PayPal to charge for your stuff. With the WordPress Popup Box Plugin, you can make any pop-up you want, including ones with cookies, timers, videos, special codes, coupons, and more. Lastly, there's the WordPress Poll Maker plugin, which has more than 5 types of polls.
Offered Deal: 50% OFF
Coupon Code: Auto Applied
WholesaleX- Up to 55% Discount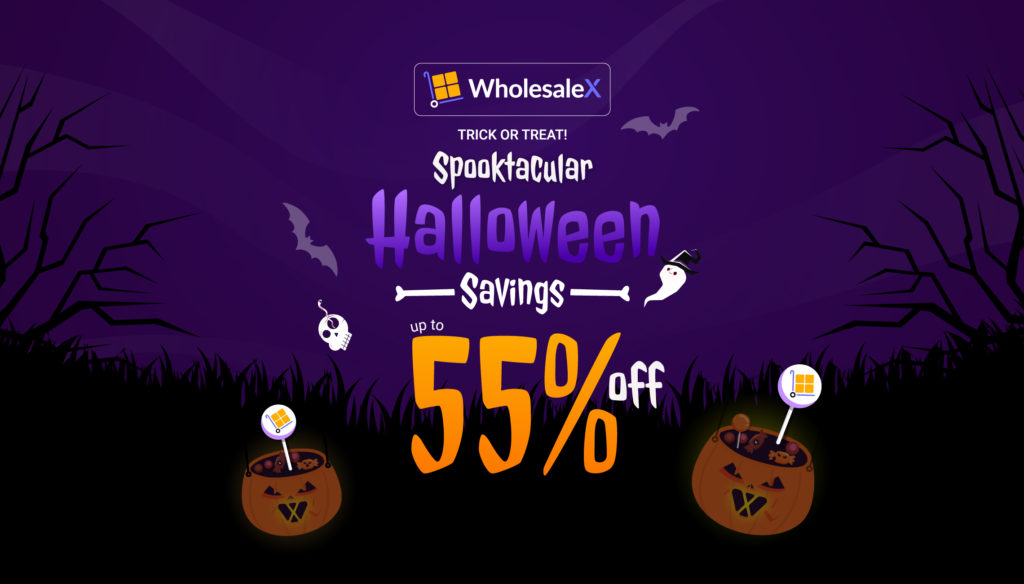 WholesaleX is a simple, easy-to-use WooCommerce B2B plugin – that allows you to create a custom experience for your wholesale customers.
Using the dynamic rules and user roles feature, you can easily customize product discounts for wholesale customers. Furthermore, by using features like the bulk order form, customizable registration form, and more to offer a proper experience to your registered customers.
If you wish to be successful in your WooCommerce endeavor, be sure to check out WholesaleX and its features!
Discount: Up to 55%
Coupon code: Auto-applied
Validity: 18th October to 2nd November, 2023
Mystery Theme's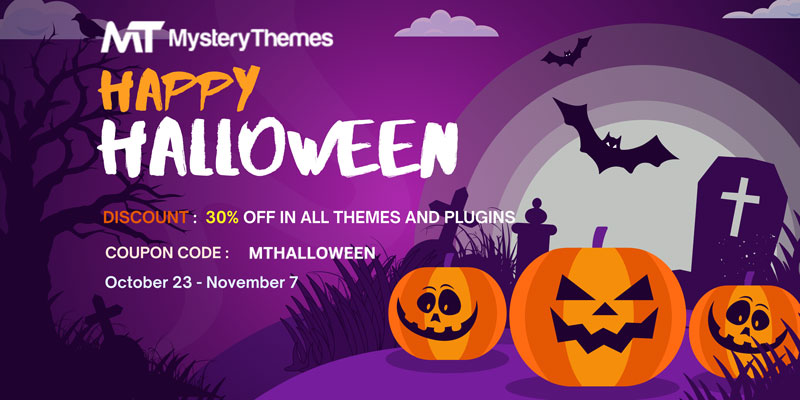 Mystery Themes is one of the leading theme-developing companies in WordPress. They are giving out 30%(Annual) and 15%(Lifetime) discounts on all of their theme purchases starting from October 23 till November 7 for the occasion of Halloween 2023. Grab this deal using the coupon code:"MTHALLOWEEN"
Discount: 30% off in Annual Deals and 15% off in Lifetime Deals in All the themes and Plugins
Coupon Code: MTHALLOWEEN
Validity: 23 October – 7 November
Next3 Offload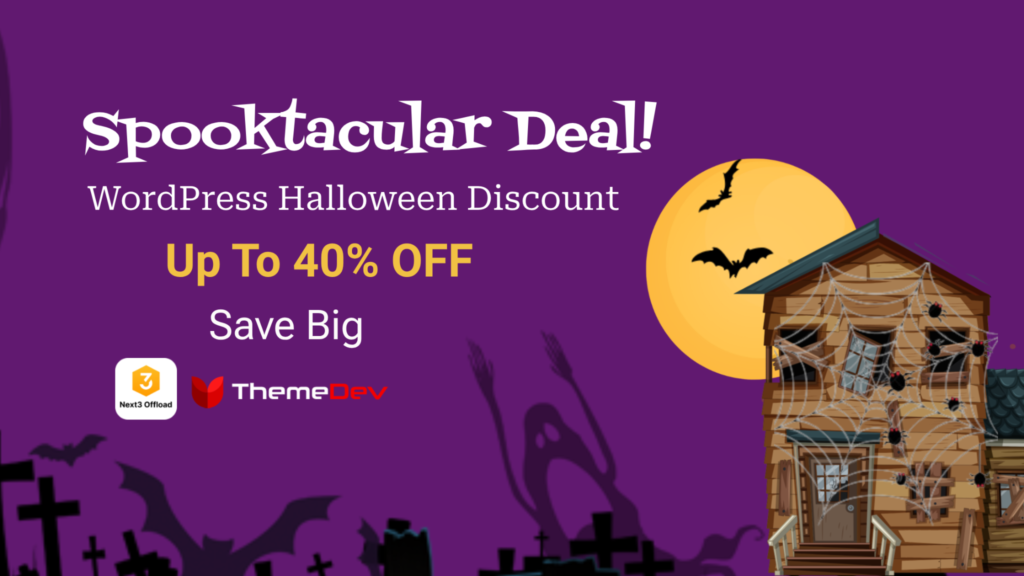 Next3 Offload is a user-friendly WordPress speed optimization plugin. It automatically Offload WordPress media library files to Cloud (Amazon S3, DigitalOcean Spaces, Bunny CDN, Wasabi Cloud). It automatically rewrites Media URLs.
Are slow loading times haunting your website's performance this Halloween season? Don't let your visitors be spooked away! Get into the spirit of a faster, more efficient website with our exclusive Halloween offer for the Next3 Offload Speed Optimization Plugin.
Discount code: HALL23
Discount offer: Up to40% OFF
Valid date: October 25 – November 03, 2023
Enter Addons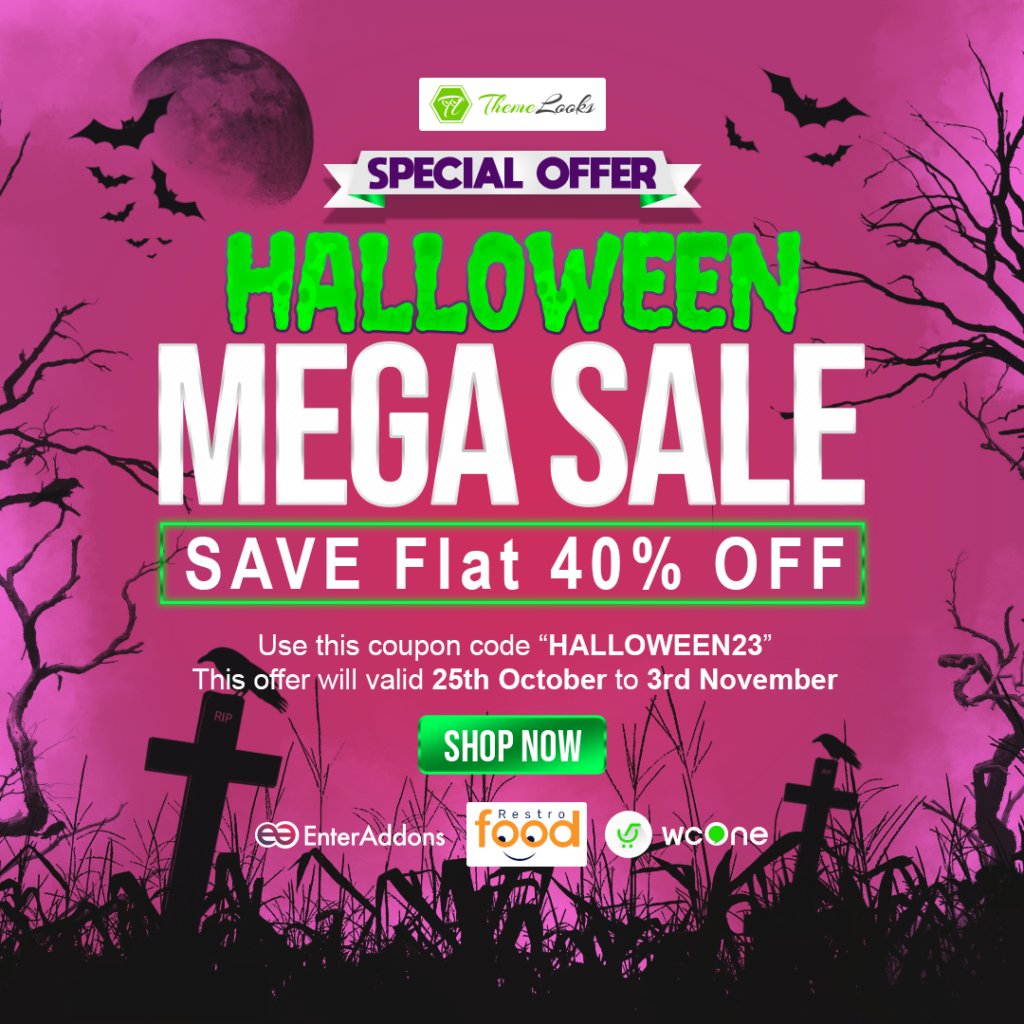 Enter Addons is a powerful plugin that can be very useful for individuals or businesses looking to create a professional-looking website without the need for extensive technical skills.One of the standout features of Enter Addons is its 8+ modules that can replace seven or more third-party plugins, streamlining the website-building process. These modules include Header & Footer Builder, Header Footer Snippets, Website Speed Up, Maintenance Mode, Image Compressor, Webp Converter, Url Shortener, Accessibilities, Section Nesting, and Cross Domain Copy Paste. These modules are designed to improve website performance, reduce compatibility issues, and provide greater flexibility for developers and designers.
Deal: 40% OFF
Coupon code: HALLOWEEN23
Deal starts and end date: 25th Oct 2023 – 03rd Nov 2023
Ltheme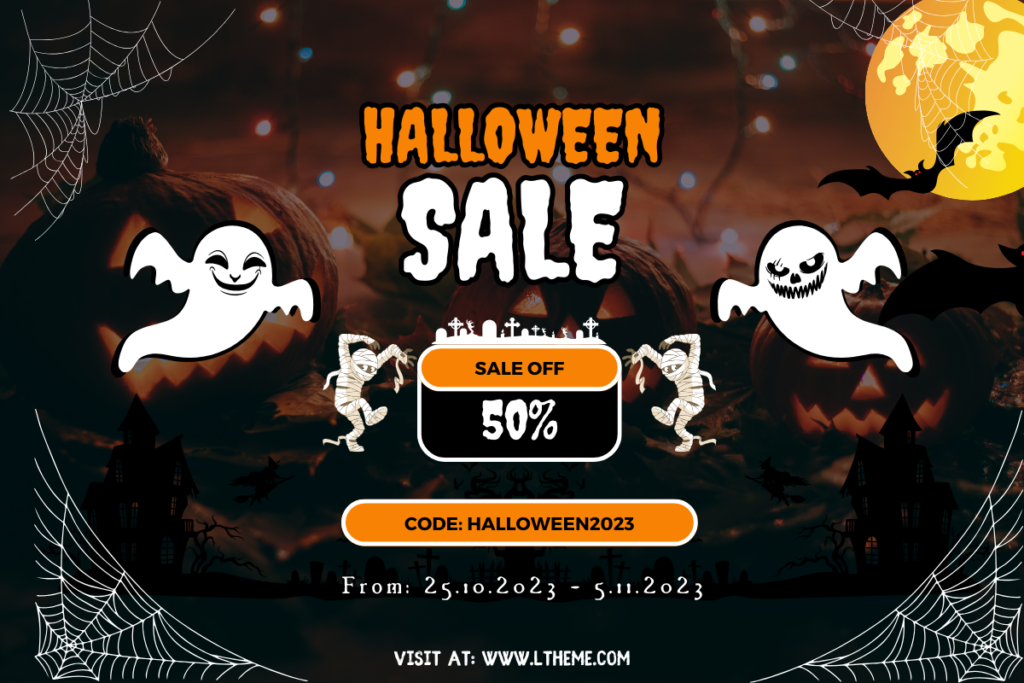 Ltheme is the go-to choice for web design; they have the goods to prove it. With a huge selection of free and premium WordPress & Joomla templates that are always up to date with the latest trends, you can count on a modern design and a well-organized structure.
And right now, they're having a major sale this year – 50% off all their products! Don't miss out on this incredible opportunity to get your hands on the perfect theme at an inexpensive price.
Discount: 50% OFF
Coupon Code: HALLOWEEN2023
Validity: 25th October, 2023 to 5th November, 2023
Galussothemes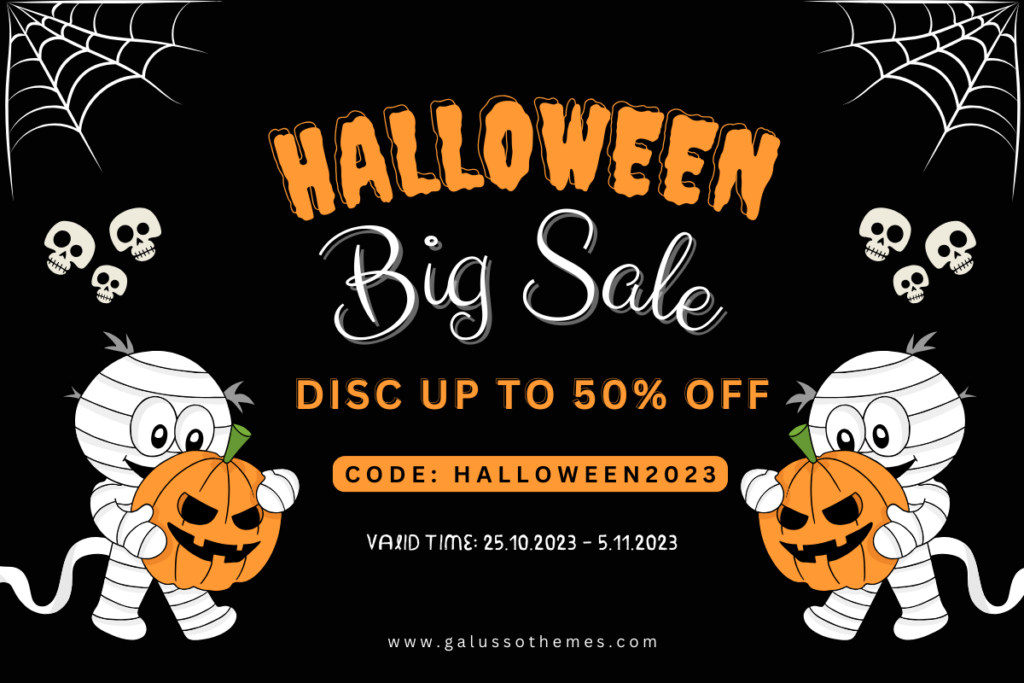 Galussothemes is also one of the leading WordPress Theme agencies. They are well-known for their beautiful and well-designed templates. Moreover, all their themes have a user-friendly interface, so you can easily customize them to fit your website's requirements without touching any line code.
It is great news that Galussothemes is offering an amazing discount of 50% applied to their products. So, why don't you grab this good deal?
Discount: 50% OFF
Coupon Code: HALLOWEEN2023
Validity: 25th October, 2023 to 5th November, 2023
Enginetemplates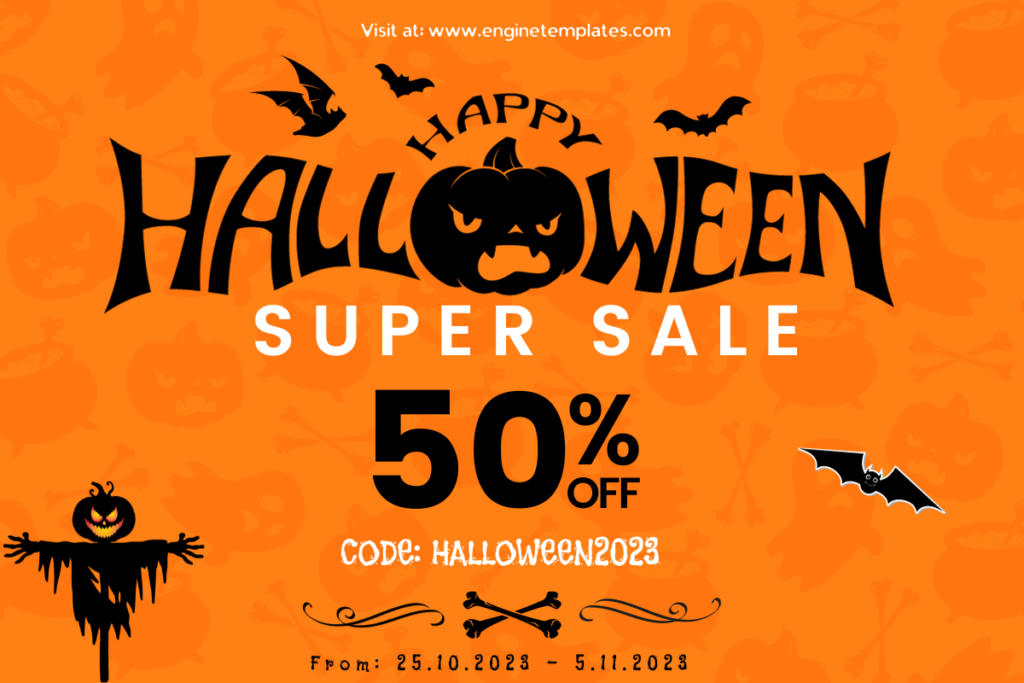 If you will make a new appearance for your website for the upcoming Halloween season, don't ignore an attractive deal from the Enginetemplates provider. Enginetemplates is famous for its stunning template collection. Most of their products are highly customizable and responsive. They are having a big Halloween sale on all their WordPress and Joomla products.
Thus, you should be able to buy many eye-catching, high-quality templates at affordable prices. Now, it's time to discover all WordPress & Joomla themes of Enginetemplates and choose the best one for your website.
Discount: 50% OFF
Coupon Code: HALLOWEEN2023
Validity: 25th October, 2023 to 5th November, 2023
Agethemes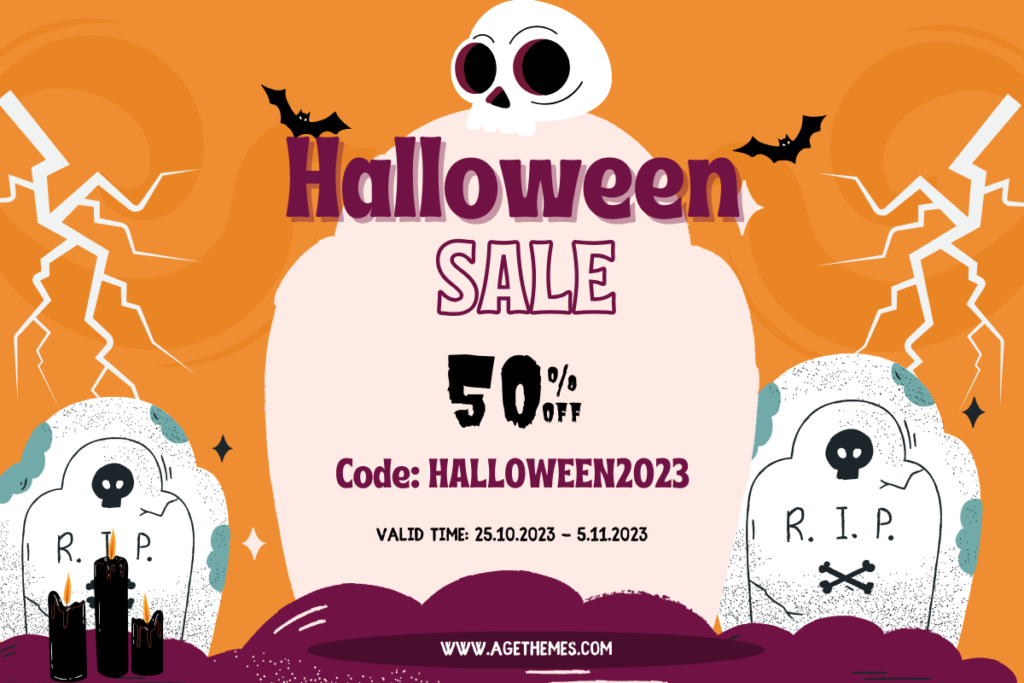 Agethemes is excited to bring you the best quality of featured WordPress themes. Not only do they look professional, but they also focus on delivering the ultimate user experience with all the necessary features and utilities each theme requires.
In order to display a grateful attitude with their customers over the years, Agethemes has just offered a big deal of 50% off their products this Halloween season.
Therefore, don't let this precious chance pass you by – grab it before it disappears!
Discount: 50% OFF
Coupon Code: HALLOWEEN2023
Validity: 25th October, 2023 to 5th November, 2023
WP ERP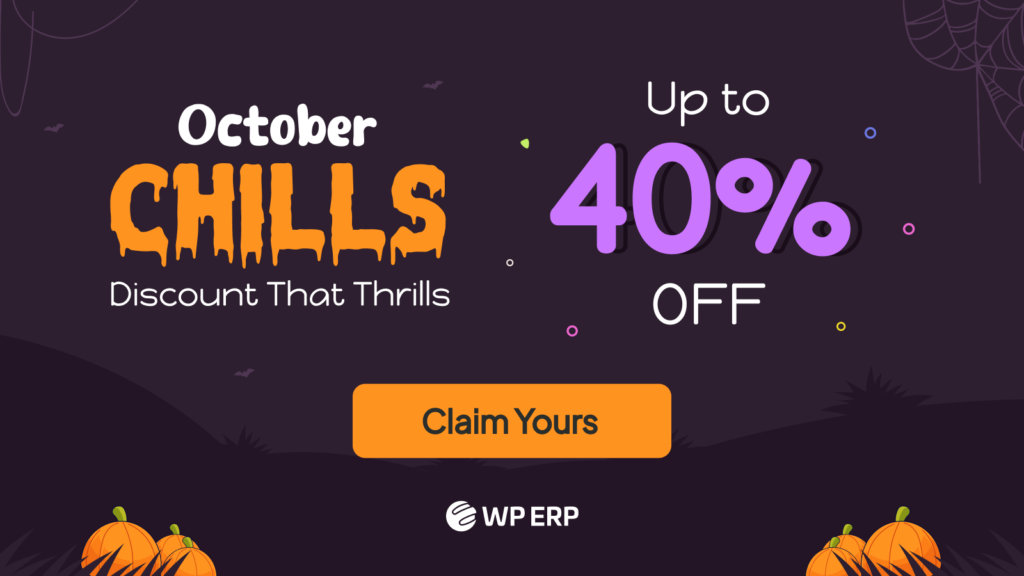 WP ERP is a leading WordPress ERP solution for SMEs. It streamlines HR, CRM, and accounting for 10,000+ global businesses. From HR assistance, and attendance tracking, to real-time financial control, it's your go-to solution for managing business processes. WPERP is designed to manage your growth directly from the WordPress dashboard.
Discount: Up to 40%
Coupon Code: Auto Applied
Validity: 23 October 2023 – 2nd November 2023
Brndle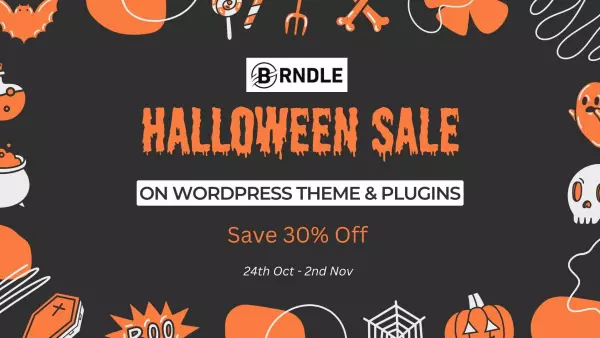 🎃 Trick or Treat? How about a treat! Enjoy a spine-tingling 30% off on all Brndle WordPress themes this Halloween season. Elevate your website's design and performance with top-notch themes at a shocking discount. Don't miss out – this deal is a real treat for your online presence! Hurry, the offer expires soon.
Discount: Flat 30% Off On All WordPress Themes
Coupon Code: Auto Applied
Validity: 24th October 2023 and ends on 2nd November 2023
Darklup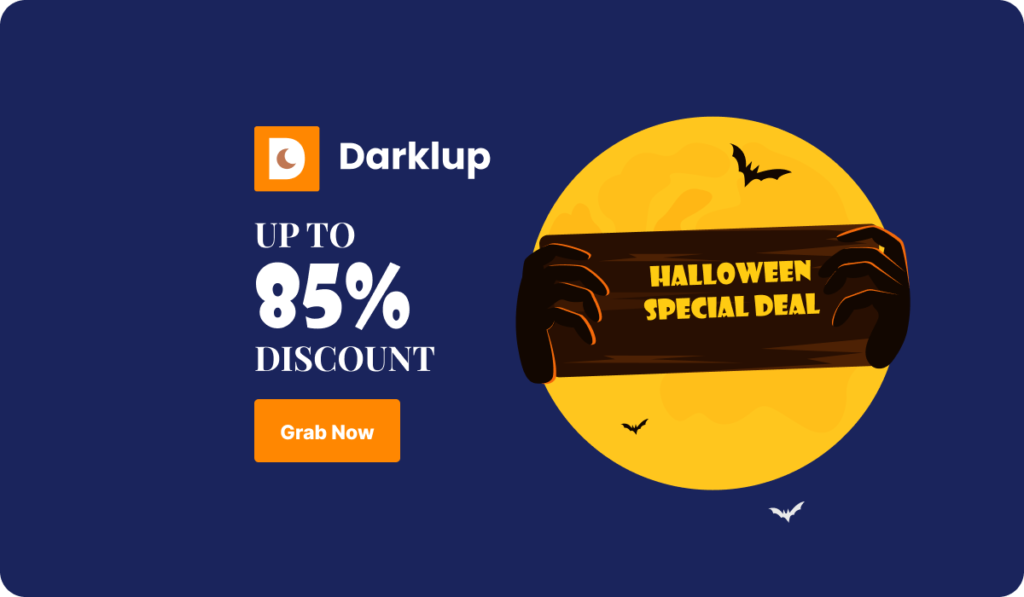 Turning on the dark mode has become the new trend in the current digital world. We are going to introduce you to the best dark mode plugin called Darklup, especially for the WordPress lovers. Just grab the Darklup & enjoy all the special features of it.
Discount: 80% OFF
Coupon Code: Auto applied
Validity: 23 oct to 30 nov
WP Guidant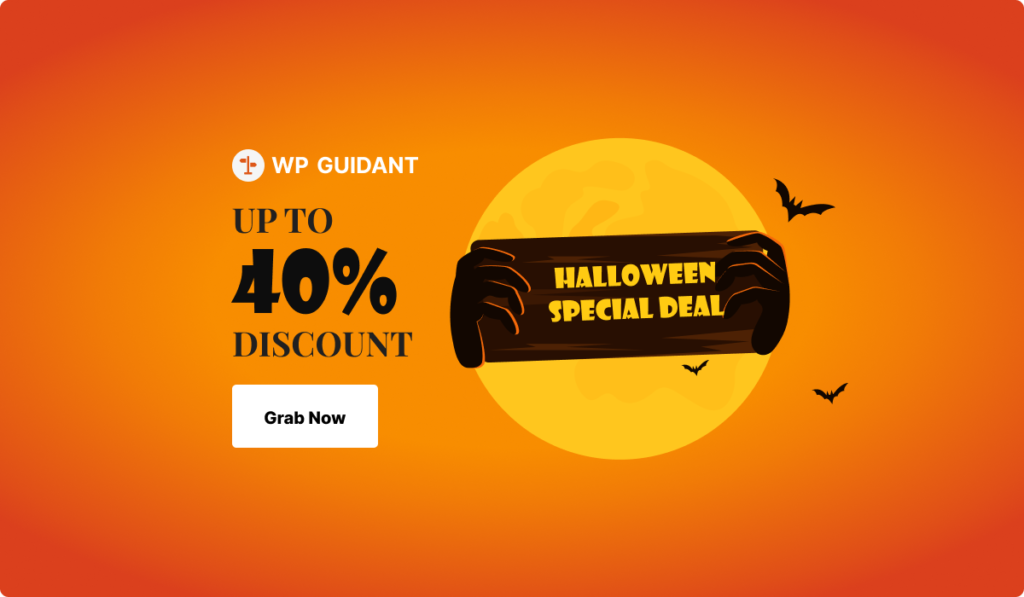 Better purchasing experience always matters for the growth of your WooCommerce sales. Purchasing experience means how your customers feel while buying products from your online shop. Choose the WP Guidant to make your store's shopping journey more interesting and user-friendly.
Discount: 60% OFF
Coupon Code:
Auto applied
Validity: 23 oct to 30 nov
Wrap up
This was our pick of the best WordPress Halloween deals for 2023. We hope this list will come in handy for you to avail yourself of the best offers and tools for your WordPress site.
Please update us with more attractive Halloween WordPress deals if you come across any.