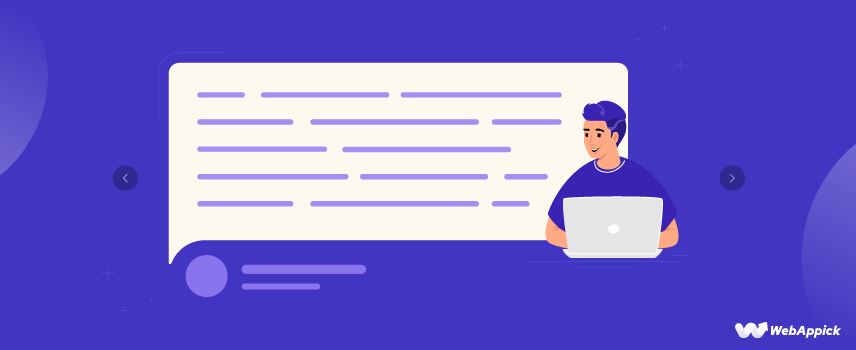 Testimonial Plugins every Ecommerce Owner should Use
Testimonials on your e-commerce website are a beautiful way to establish your credibility as a business. Testimonials help you widen your audience, tells you where you stand in the global scheme of things as a business owner, and also come to know what people talk and think about you.
Here is my choice of the 10 best WordPress testimonial plugins for your e-commerce portal
If you want to build an awesome testimonial showcase on your website, then Excited is the plugin for you. This plugin is loaded with a fully flexible testimonial builder, design layouts, styling options and a rating submission form.
The Testimonial Widget allows you to casually present selected testimonials, portfolios, quotes, etc. in the form of a slideshow on your e-commerce website. It also gives you multiple display options.
Display your most attractive and attention-grabbing testimonials with the Handsome Testimonials plugin. This plugin allows you to create the most appealing testimonials for your site. It includes an easy shortcode generator that enables you to change colors, fonts, alignment, etc.
Kudobuzz gets a hold of all the nice things that people say about your website on social media platforms and lets you showcase them on your website. It has a clean widget and you can also collect business and product reviews with this.
Testimonial Rotator is a simple way to manage your testimonials. It creates a testimonial and assigns them to rotators for display on your website. It comes complete with WordPress admin fields.
This testimonial plugin is typically for those e-commerce businesses where the number of testimonials is a few hundred and are categorized into groups. The Strong Testimonials plugin then lets you display these testimonials either as a full-pager or as a slideshow. It also provides a blank form for new testimonials.
The Easy Testimonials allows the user to add the testimonials to the sidebar. Testimonials can also be added as a widget or can be embedded into a page. The plugin also allows you to insert a list of testimonials or pull out a random testimonial of your choice. The plugin also has the option of attaching an image of the testimonial author.
This plugin enables you to add testimonials on your website as easily as you would add posts from the dashboard. You can also categorize your testimonials into different groups. Additionally, you can display the testimonials as a list on a page using a shortcode.
The WP Customer Reviews plugin allows the visitors on your website to leave both business and product reviews. The testimonials are in Microformat and having the option of showcasing star ratings in search results.