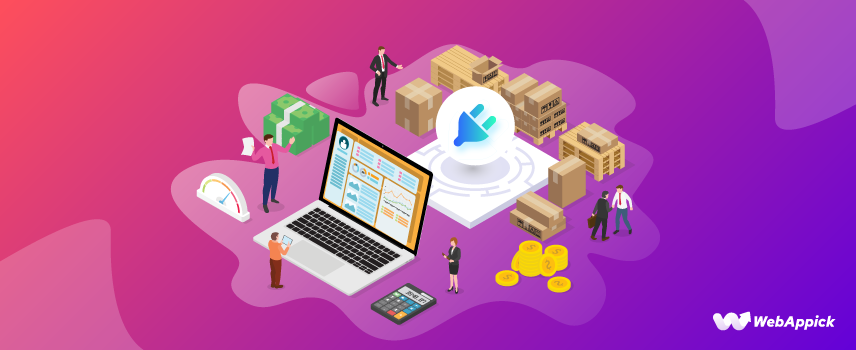 All You Must Know About Woocommerce Stock Manager Plugins in 2023
Overview
If you own a WooCommerce store, you probably know already that stock/inventory management can be challenging from time to time. It gets even more difficult, especially when you're selling built-to-order or customized items or face stock issues due to COVID-19, Brexit, or something else. Fortunately for us, with the help of WooCommerce Stock Manager plugins and using some tips & tricks, you can make these tasks a lot easier and more efficient.
Keeping all that in mind, in this blog, we will have a thorough discussion on WooCommerce stock management, why it's so important, how you can control and manage stock status for both simple and variable products. Last but not least, we'll give you a comprehensive overview of some of the best and most effective WooCommerce stock manager plugins, their key features, and pricing.
So without any further ado, let's get started!
Stock Management – What is it?
Stock/Inventory management covers every aspect of your business inventory, such as ordering, storing, tracking, controlling, stocking, etc. The term applies to everything a company uses to manufacture its products or services, from raw materials to finished goods.
Inventory management is all about keeping track of what your company intends to sell. It also entails managing how your stock evolves.
Why is Stock Management so Essential?
As a business owner, you already know that inventory is a significant asset that represents locked-up capital. Businesses can liberate up cash by successfully managing stock.
Efficient stock control requires store managers to understand the mix of different types of goods and recognize the demands on that stock. This contributes to maintaining a sustainable stock level, balancing the requirement for surplus supply with the need to minimize tied-up capital.
Stock/inventory management also allows you to deliver the most satisfactory customer service possible by ensuring you have the things your consumers desire. In other words, it enables supply and demand to be balanced. It also aids in the reduction of losses caused by an excess inventory of products that do not sell effectively.
Proper inventory management also assists in product forecasting and ordering precise amounts of items. On the other hand, poor inventory management might have some severe consequences for your business.
For example, you might easily lose sales if clients are unable to purchase the products they need due to low stock levels. You'll also need a practical approach to managing stock as well as an effective way to communicate stock information to customers.
Stock Management in WooCommerce
The following scenario represents where store managers need to show WooCommerce Stock Status on the front-end:
If your products go out of stock.
For products that come on limited batches or have a time-bound.
To show the lead time between order and delivery.
The WooCommerce plugin includes several stock/inventory management features by default. You must activate the Manage stock option to access these features. To do this, you have to head over to WooCommerce → Settings → Products → Inventory from the admin panel.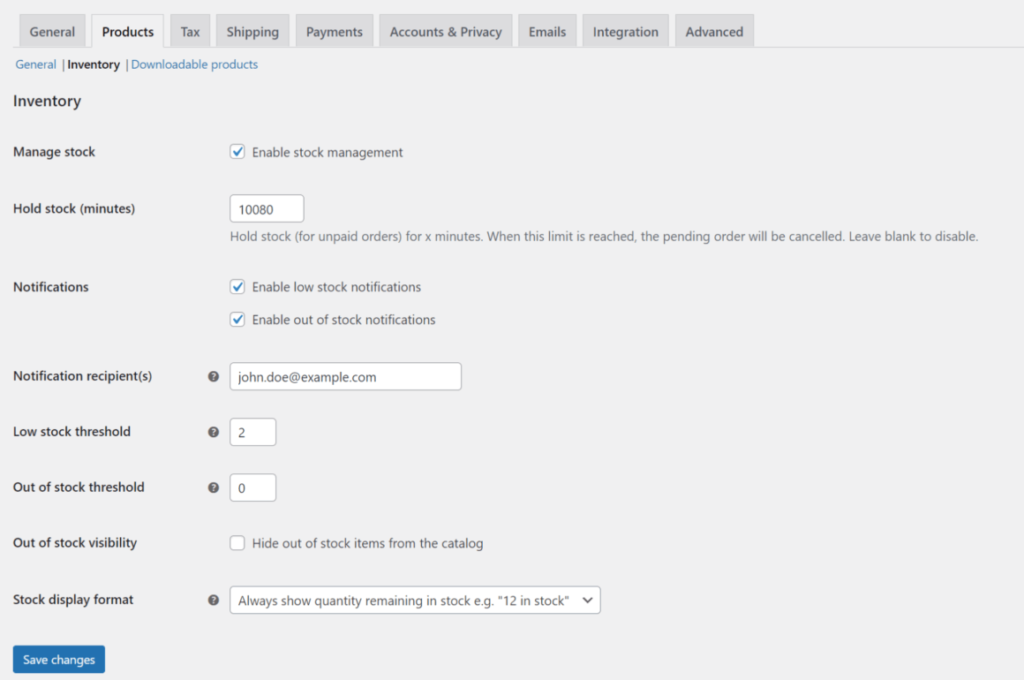 You may also activate notifications and set thresholds for low stock and out-of-stock items from the same interface. It also provides you the option to select a Stock display format.
Once stock management is enabled, you may perform the following for each product or variation:
Select an In Stock, Out of Stock, or On Backorder WooCommerce stock status (with or without an option to notify the customer of the backorder status).
Set the precise amount of items in stock. When a consumer purchases a product, WooCommerce immediately reduces the number of units in stock. It will then send you an email to notify you of low stock levels. When the product is depleted, it will be marked as Out of Stock.
This section explains how to manage stock using the default stock statuses. On the other hand, WooCommerce's inventory management options are somewhat restricted, particularly when it comes to communicating stock information to customers. You may also need to add custom stock statuses to WooCommerce, such as a status for Discontinued items.
How You Can Control Stock Status for Every Product and Variant
Let's take a look at how you can assign stock status to simple or variable products.
Stock Status Management for Simple Products
A product with no alternative options for the consumers is known as a simple product. (i.e., A single version of a book or collectible) Majority of the item you sell on your WooCommerce store probably fall under this category.
In this segment, we'll go through two essential elements: calibrating your stock and leveraging the advanced features. To begin, open the simple product you wish to modify and navigate to the Inventory tab in the Product data box: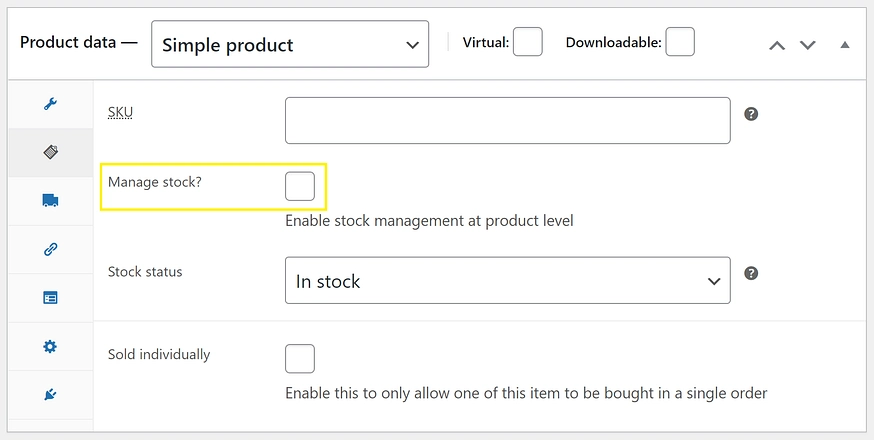 As shown above, there is a box entitled "Manage stock?" Before you begin, make sure you check that box. This is essential in order to activate the choices you'll require. After that, you may proceed to the fundamentals of WooCommerce inventory management for simple products.
Stock Calibration
Now your screen should take you to the following window: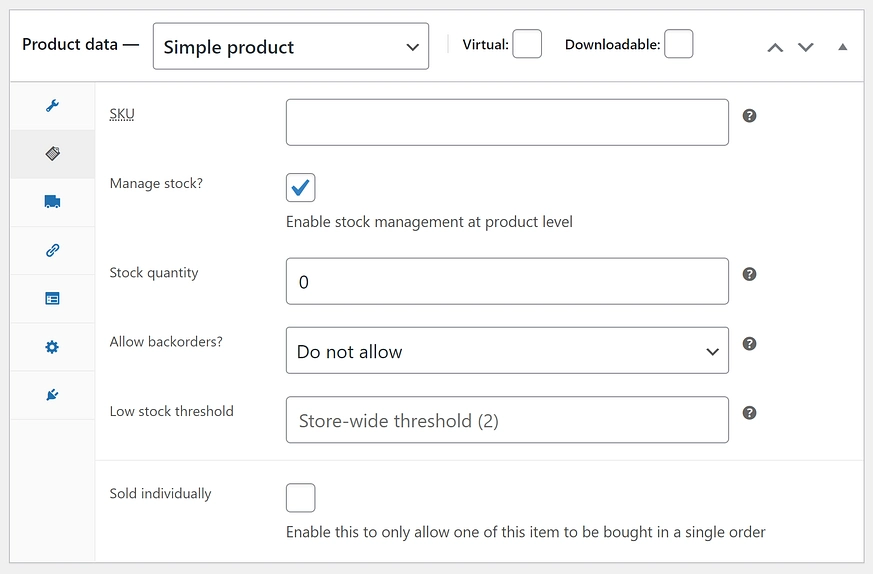 The first option you'll see on the list is the SKU – Stock Keeping Unit. The SKU represents a unique key for each product. The SKU option will allow you to take total control over your stock. However, it's not mandatory to put an SKU value for every product. So, you might just skip it entirely if you don't feel like using the SKU feature.
Next, you need to enter the number of products you presently have available in the Stock quantity section. However, The good news is that you will only have to do this if your stock value goes up. Later on, we'll also provide some tools to assist you in managing your inventory.
When someone buys this product, WooCommerce will deduct the quantity in their order from the stock status. For instance, if you set the stock status to 15 and a customer orders 2 of the item, the stock status will immediately drop to 13.
This makes it easier to maintain your site up to date. Nonetheless, we urge that you keep an eye on your stock more frequently. It's a simple method to remain up to date on your store.
These are the fundamentals of simple product management. You need to add identification and understand how the stock system works. However, you'll also have access to some extra features to help you organize your shop even more efficiently.
Leveraging Advanced WooCommerce Inventory Management Features
If you go further down on your screen, you'll see the option called 'Low Stock Threshold'. Here, you'll have to enter a number that'll work as a trigger. As soon as your stock reaches that number, you'll receive an alert automatically.
It's a great option if you don't want to miss out on a sale. This could be an effective solution for staying in the loop avoiding a great deal of manual work. If you leave this box blank, you'll get notifications based on the default schedule of your WooCommerce store.
In case you don't want too many notifications, consider modifying your default settings to make them less frequent. You can also set up triggers only for the best-selling products. This can reduce warnings while also ensuring that your profitable stock remains full.
Moving on, you'll see an option to accept backorders. Customers will be allowed to place orders even if the items are out of stock. You may even enable this option while informing consumers about the problem to keep them updated.
Finally, you'll have the option of selecting 'sold individually'. It means the users will be able to purchase only one of those items per order. If you want to create a buzz around a specific product, this can be an excellent way to make it appear more exclusive.
Once you've finished filling out all the fields, you'll see the following window: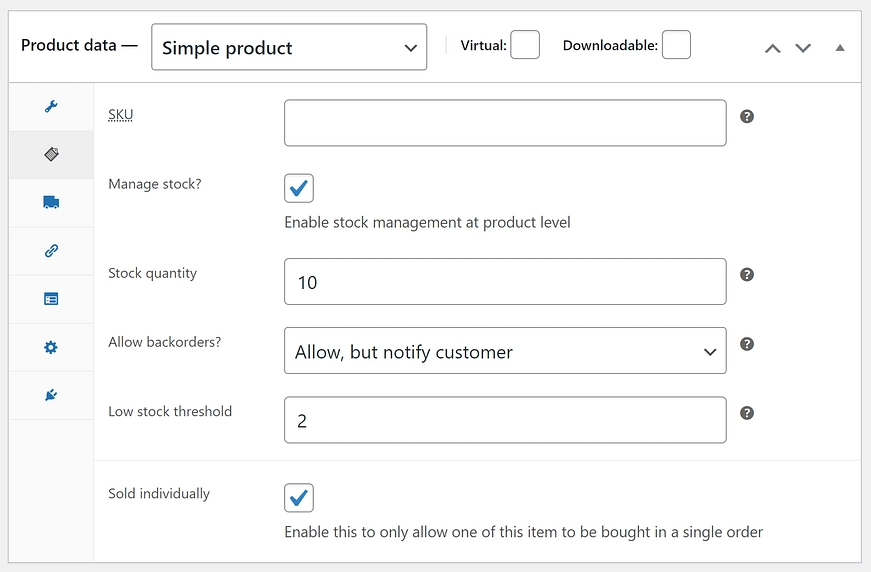 These fields are interchangeable. So don't be concerned if yours differs from our example. All you need to do is make sure you fill out all the necessary fields to your liking.
Stock Status Management for Variable Products
While a simple product may not offer much versatility, variable products do. Each iteration of a variable product can have unique characteristics, stock, and pricing.
With variable products, you'll have the flexibility of inventory management at two different levels:
Product level.
Variation level
For example, let's assume you're selling t-shirts in five different sizes – S, M, L, XL, XXL. And you have a total number of 5 shirts in stock. Hence, 25 shirts in total.
Product Level Management
Here, you have to set the stock value to 25. If anyone purchases a shirt with the size M, the stock value for the product t-shirt will drop down to 24. But you wouldn't be able to tell your customers that you only have four t-shirts in stock with the size M.
Variation Level Management
In this case, you have to set the stock value for each variation to 5. If anyone purchases a t-shirt with the size L, the stock value for the M variation of the product will drop down from 5 to 4. And that ensures precisely how many of the products are left for each variation.
You should generally handle stock at the variation level for most variable products. The only exception is if you offer variable products that share a similar base product. In that case, you should manage variable products at the product level.
For example, suppose you offer a water bottle to apply a sticker depending on your customer's variation choice. Since the base water bottle is the same for all variations, it might be more efficient to handle supply at the product level.
To manage stock status at the product level, you need to open the Product data box and navigate the Inventory tab, exactly like simple products. Check-mark the box that says Enable stock management at the product level, and you'll be able to enter the same information as below: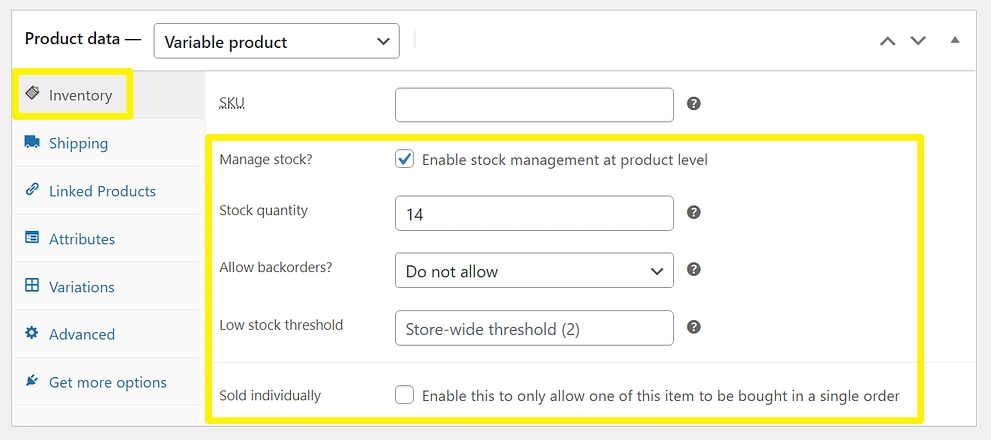 You need to to the Variations tab in the Product data box to manage stock at the variation level. Then, choose one of the variations. After that, you can choose the Manage stock checkbox. This will provide you with some additional choices for managing the stock status for just that exact variation: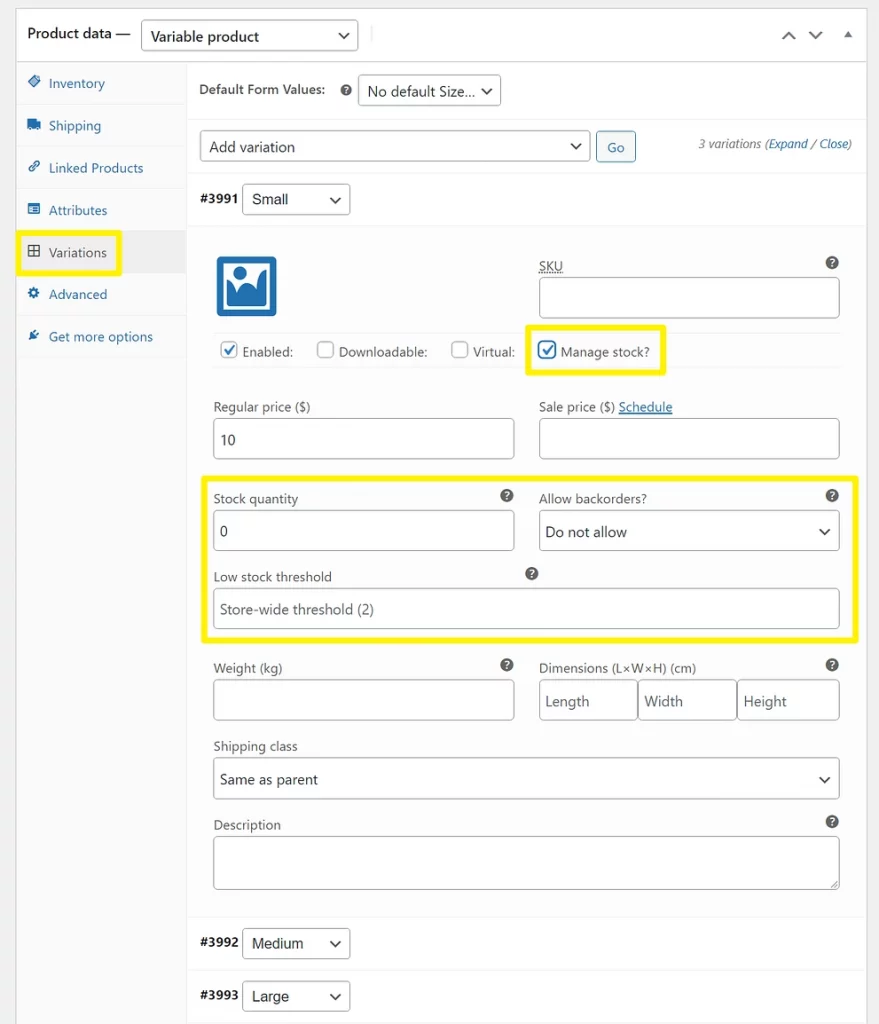 Repeat the same procedure to regulate the stock statuses of additional variants.
How You Can Watch Stock Status Report
Previously we've shown you how to set up stock notifications for products on WooCommerce. However, there's another way you can keep track of your store's inventory. And that is through WooCommerce's built-in stock report.
To get access to this feature, you need to go to WooCommerce → Reports → Stock:
In this section, you'll see three different categories of product reports. They are:
Low in stock
Out of stock
Most stocked
This is comparatively a faster and much easier way to visualize your store's performance and see which products need your attention!
How are WooCommerce Stock/Inventory Management Plugins Helpful?
Inventory management is a challenging task. Manual inventory management can be time-consuming and error-prone. Modern technology solves this difficulty by providing wonderful solutions to cope with the inventory management dilemma. The challenge is reduced to picking the best tool for your company.
If you're searching for the best inventory management plugins for WooCommerce, you will be astounded by a large number of alternatives. Choosing the best one from this list might be like searching for a needle in a haystack.
The list of some of the finest inventory management plugins for WooCommerce is about to be introduced. These plugins can help you manage your inventory more effectively and efficiently.
Here are some of the benefits of a third-party WooCommerce Inventory Management plugin:
Enhanced Efficiency
The ability to bulk update product inventory can significantly reduce the time spent updating stock amounts. As a result, if you handle hundreds of goods, this can result in significant time savings.
Takes Lesser Time on Repetitive Task
Editing stock values one at a time is not just a waste of time – it's mind-numbing. In other words, a more efficient approach will allow you to update your inventory and return to other essential responsibilities swiftly.
A Better Understanding of Your Inventory
Many third-party plugins include comprehensive reporting features that may provide you with a clear image of what you have in stock. For example, this means you can see at a glance what you need to order so you can take proper action. (i.e., offer a clearance sale or promotion).
Limited Error
Errors are unavoidable, especially when you are entering thousands of digits manually. In other words, this may be expensive. Hence, a good inventory management plugin can helo you reduce these errors – saving you time, money, and frustration.
Whatever system you choose, make sure to take full advantage of features like analytics and bulk edits so that you can enjoy the benefits of a well-managed inventory.
Best 11 WooCommerce Stock Manager Plugins
Here is the list of the 11 best WooCommerce Stock Manager Plugins, along with their detailed specifications, key features, and price point.
Smart Manager For WooCommerce
Smart Manager for WooCommerce, developed by StoreApps, is one of the most popular WooCommerce stock management plugins. It allows you to manage your WooCommerce store from a single screen using a spreadsheet that works ten times faster.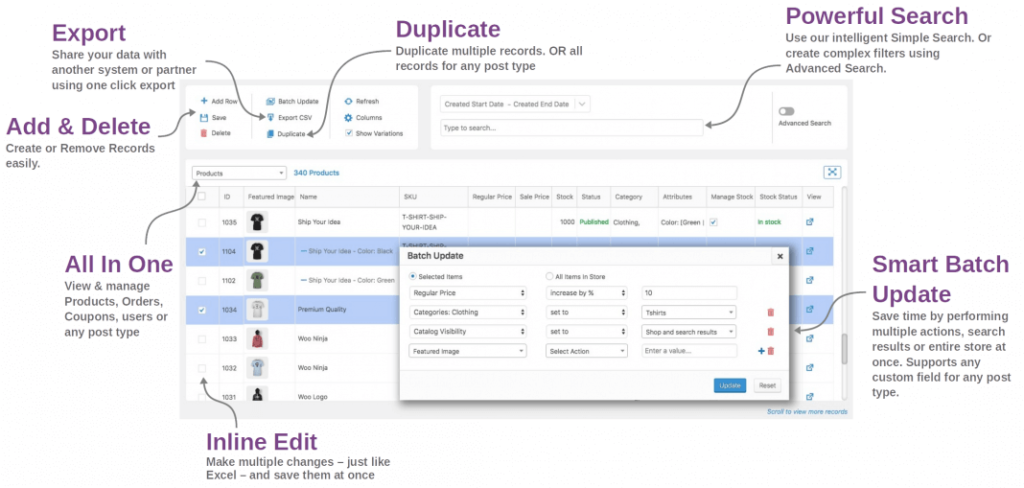 Key Features
Bulk Edit / Batch Update: The plugin allows you to bulk edit products, orders, coupons, posts, any WordPress custom post type in seconds. No matter your product quantity, it will be handled just fine.
Inline Edit: This feature is also known as direct edit. It can record, make changes and save directly from the grid. The plugin can perform three inline edits at one go without saving changes.
Advanced Search: The feature lets you find the exact product you want from thousands of other items in seconds. Using the advanced search feature, you can search by keywords, categories, attributes, or other fields.
Admin Columns: The plugin can show/hide data columns. It also sorts data to personalize the dashboard view.
Export CSV: Works for every type of post. The feature export data based on search, date, and column filters.
The plugin is compatible with all the top WordPress and WooCommerce plugins such as Bookings, WooCommerce Memberships, WooCommerce Subscriptions, Yoast SEO, and many more.
Price
The plugin comes in both free and premium versions. You can download the free version from WordPress.org and purchase the premium version from StoreApps's official website.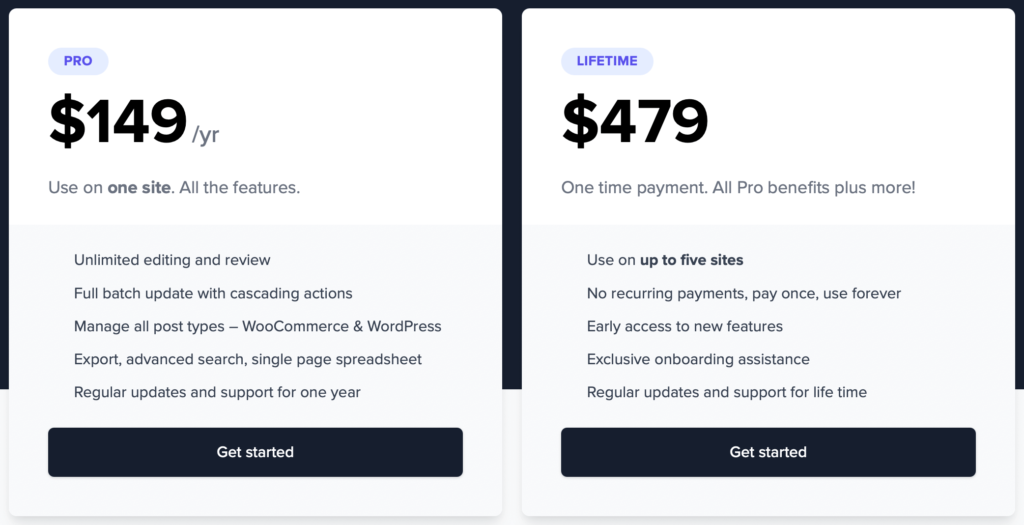 The pricing of the pro version starts from $149 billed annually for a single site with all the premium features. Or you can make a one-time payment of $479, where you'll get all the premium features plus more benefits for a lifetime.
ATUM Inventory Management for WooCommerce
ATUM Inventory Management for WooCommerce is a free inventory management plugin developed by Stock Management Labs™. The plugin keeps track of the changes happening in your store regarding plenty of items, their pricing, and other factors.
It has over 10,000 active installations on WordPress.org and a user rating of 5 out of 5, making it one of the top inventory management plugins available.

ATUM Inventory Management plugin comes with a dashboard that displays all of the essential information you need to manage your shop properly. It provides you complete control over your WooCommerce store's inventory, allowing you to manage it from a single dashboard.
Key Features
WPML compatible
Advanced search with auto-filled feature
Support for WooCommerce variable products
Bulk product actions
Inventory PDF export
Price
ATUM Inventory Management for WooCommerce is a free plugin. So downloading and installing the plugin won't cost you any money. However, to further extend the plugin's capability, you can always go to the official website of Stock Management Labs™ and purchase their offered Add-Ons to meet your requirements.
Stock Manager for WooCommerce
Stock Manager for WooCommerce by StoreApps is a popular WooCommerce stock manager plugin. It allows you to manage your product's stock and variables from a single screen. Using this plugin, you can easily manage your product inventory and variations.
Key Features
With the help of this plugin, you can manage product fields such as SKU, product name, tax status, tax class, shipping class, Price, Sale price, Weight, Manage stock, Stock status, Backorders, Stock.
Display product thumbnail image
Filter products by type, category, stock manage or stock status
Sort products by name
Search products by name or SKU
Show/hide columns for better usability
Edit the variations for variable products after clicking on the "Show variables" button
Save each product or variation separately, or save all displayed data.
Price
Stock Manager for WooCommerce is a plugin that's completely free to use. There is no premium or paid version of this plugin.
TradeGecko
TradeGecko offers a comprehensive solution for your inventory management system. This popular integration synchronizes sales on your WooCommerce store with stock levels, fulfillment, and invoices.
The integration automates inventory management by generating purchase orders and keeping track of stock changes and modifications. It also allows you to set up a separate B2B store with personalized client pricing and offers.
Furthermore, it gives comprehensive statistics to understand better your various sales channels, client base, and product line.

TradeGecko's integration with your WooCommerce store is pretty much smooth and seamless. It manages many facets of your shop with ease while keeping the focus on growth.
One of the key benefits of using TradeGecko is that you will easily handle different sales channels. All the different stores you manage will come under a single inventory management system.
You can maintain track of your inventory at all times to ensure that any necessary modifications are completed on time. You also get a flawless connection with top-tier accounting systems.
Price
The price point of TradeGecko starts from $39/month when billed annually for the Founder's plan with comparatively lesser features. But the pricing goes up to $599/month when billed annually when you upgrade your business plan with more powerful and premium features. And the price rises slightly higher if you choose to pay the bill monthly instead of annually.

However, the good news is you'll get a 14-day free trial to know the tool better and see if it's worth it or not before buying it!
Stock Sync for WooCommerce with Google Sheet
Stock Sync for WooCommerce with Google Sheet syncs WooCommerce products stock from Google Sheets. This stock sync plugin by WPPOOL has a two-directional stock sync feature between WooCommerce and Google Sheets. In addition to bidirectional stock sync, it can update product info including name, SKU, stock status, etc from the convenience of Google Sheets.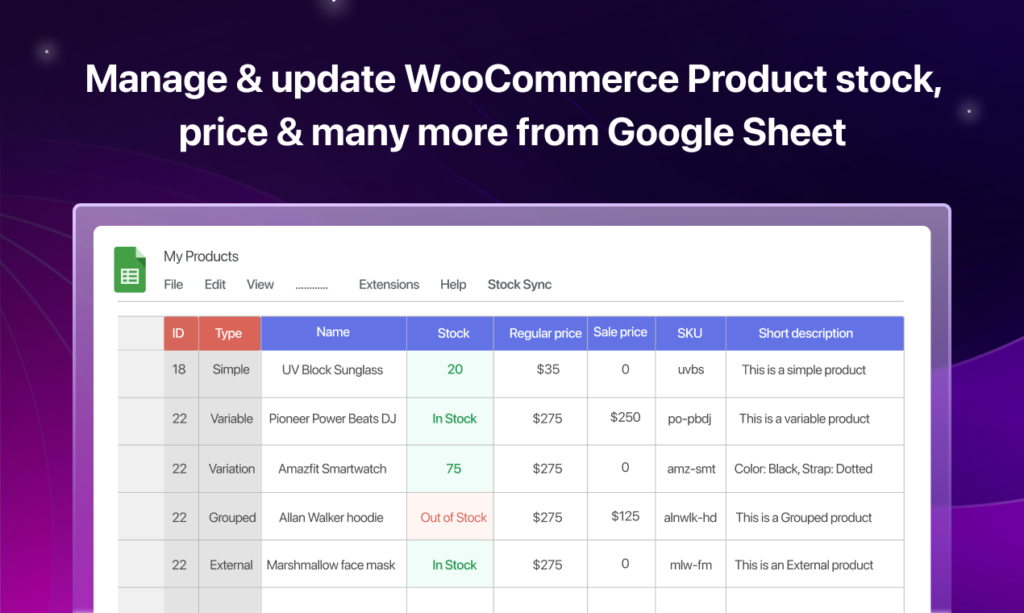 Key Features
Easy two-directional products sync from Google Sheet
Edit every product info: name, details, SKU, pricing, on-sale updates, product type, stock status, etc.
Variable product support
New product addition to WooCommerce store from Google Sheets
One-click manual sync button
Price
Stock Sync for WooCommerce with Google Sheet comes with a both free and paid versions. The free version is available on the WordPress plugin repository. And the paid version pricing starts at $47.20 for 3 sites
WooPOS
WooPOS is another powerful inventory management system that you can use on your WooCommerce store. It assists you in gathering all of the necessary information for inventory management in a very organized manner. And therefore, it makes a significant contribution to your growth plan.
The purchase order management of this plugin gives you complete control over stock modifications. You have the option to set a minimum threshold for stock value. It will create a purchase order automatically. So you won't lose out on a sale due to an out-of-stock product.
Moreover, WooPOS also helps you manage multiple sales channels and facilitate easy stock movement from one store to another.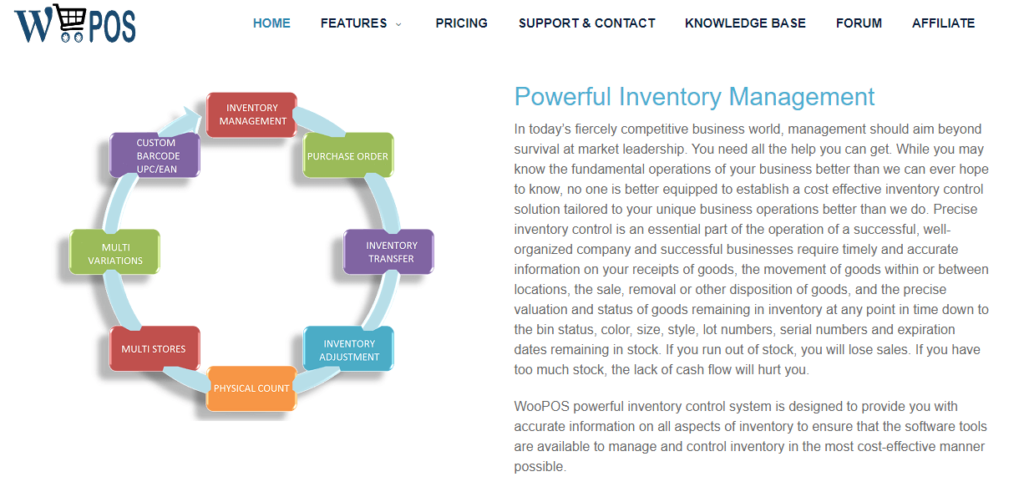 WooPOS also has a custom barcode label generator, which can assist you greatly in product identification, logistics, and procurement, among other things. It also allows you to account for the actual physical stock value when periodic stock evaluation.
WooPOS assists you with stock adjustment demands that may arise from time to time when items get expired or damaged.
Price
The pricing plan of WooPOS is given below.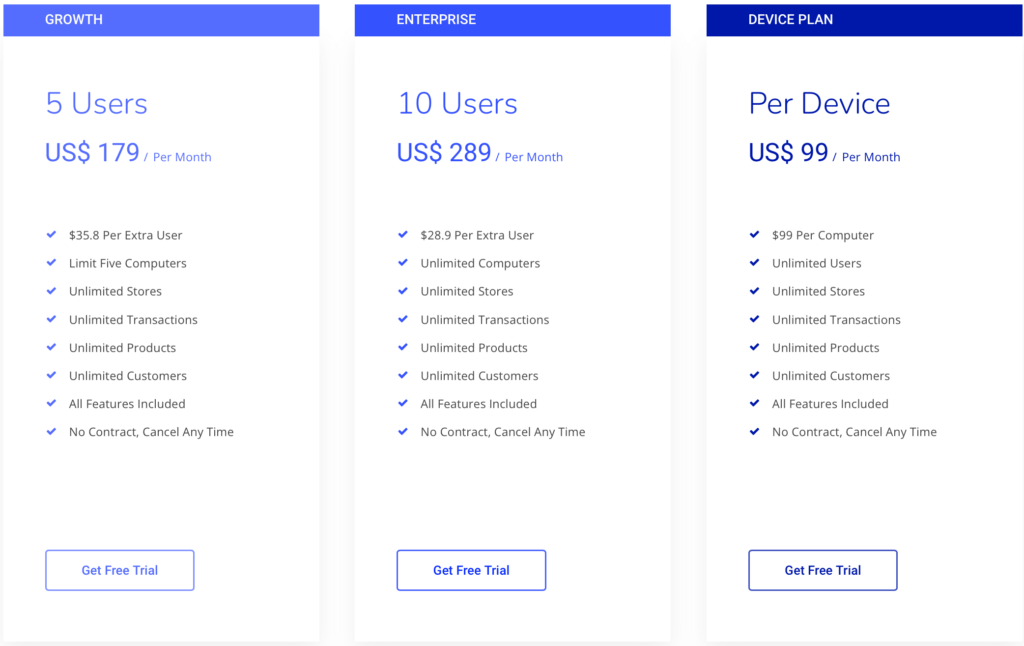 Stock Synchronization for WooCommerce
Stock Synchronization for WooCommerce, developed by maxman1850, is a straightforward yet powerful WooCommerce inventory management plugin. It allows you to synchronize your stock inventory with an external inventory file. Thus, you can use the external file to update your stock levels automatically.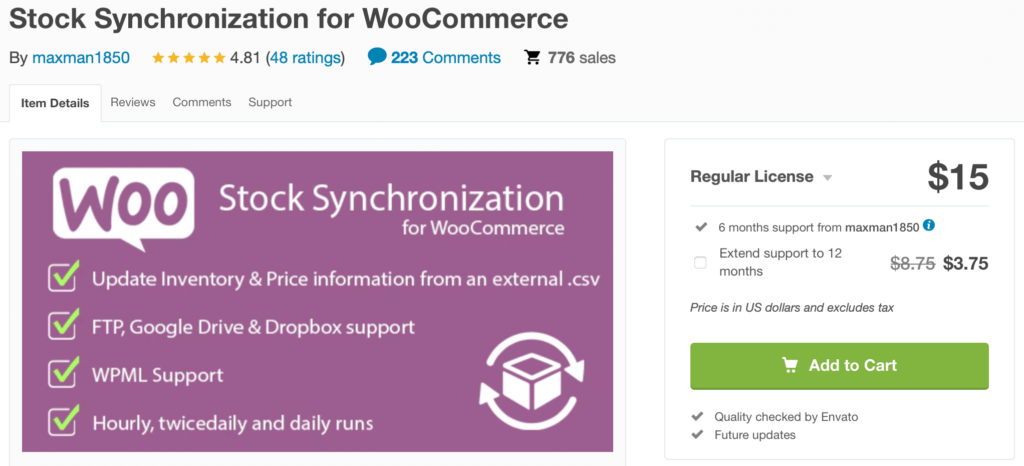 Along with syncing inventory levels, you may also synchronize and adjust product pricing through an external file, making the entire process extremely fast and straightforward.
Key Features
FTP Support
Google drive and spreadsheet support
Hourly and daily updates on stock levels
Import product information
Dropbox support
Price
The plugin will cost you $15. However, this $15 package also comes with 6-month support from the plugin developers.
Zoho Inventory
Zoho Inventory focuses on your sales while giving you complete control over inventory management and order fulfillment. It does provide multi-channel inventory management. You may connect all sites where you sell your items, such as Amazon, eBay, etc.
It also aids in the management of purchase orders, backorders, and drop shipping. Furthermore, it provides serial number monitoring, allowing you to keep a better track of the movement of a particular item.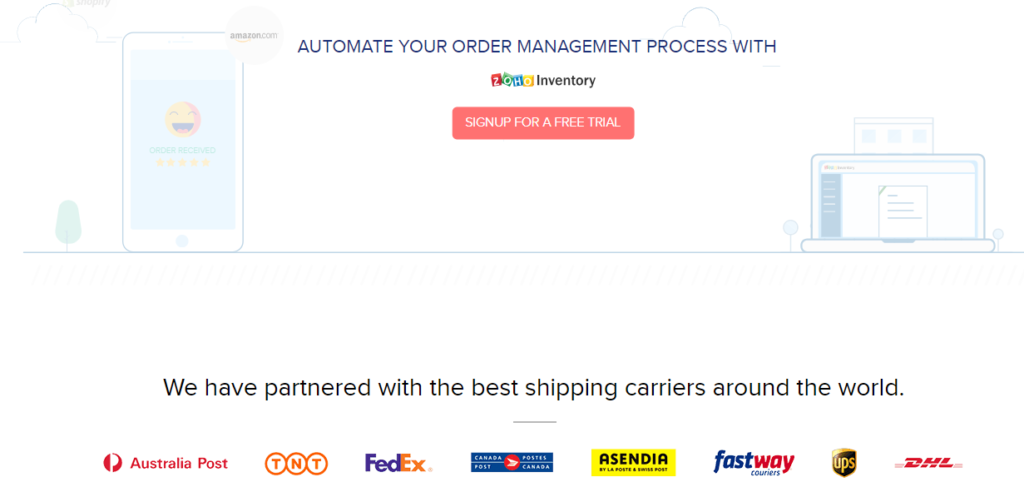 Moreover, Zoho provides interfaces with leading shipping companies, allowing you to give real-time prices and tracking information. If you want to combine your stock data with accounting or CRM software, Zoho can also help you with that.
Furthermore, numerous warehouses allow you to compare inventories and streamline product transfer and reporting between them. A cloud integration platform named Kloud Connector made the WooCommerce integration for Zoho possible.
Price
Here is the detailed pricing plan for Zoho Inventory. We would like to advise you to take your requirement into final consideration, evaluate them, watch the costs of each plan, see the features that come with each plan, and choose a plan that suits you best for your business.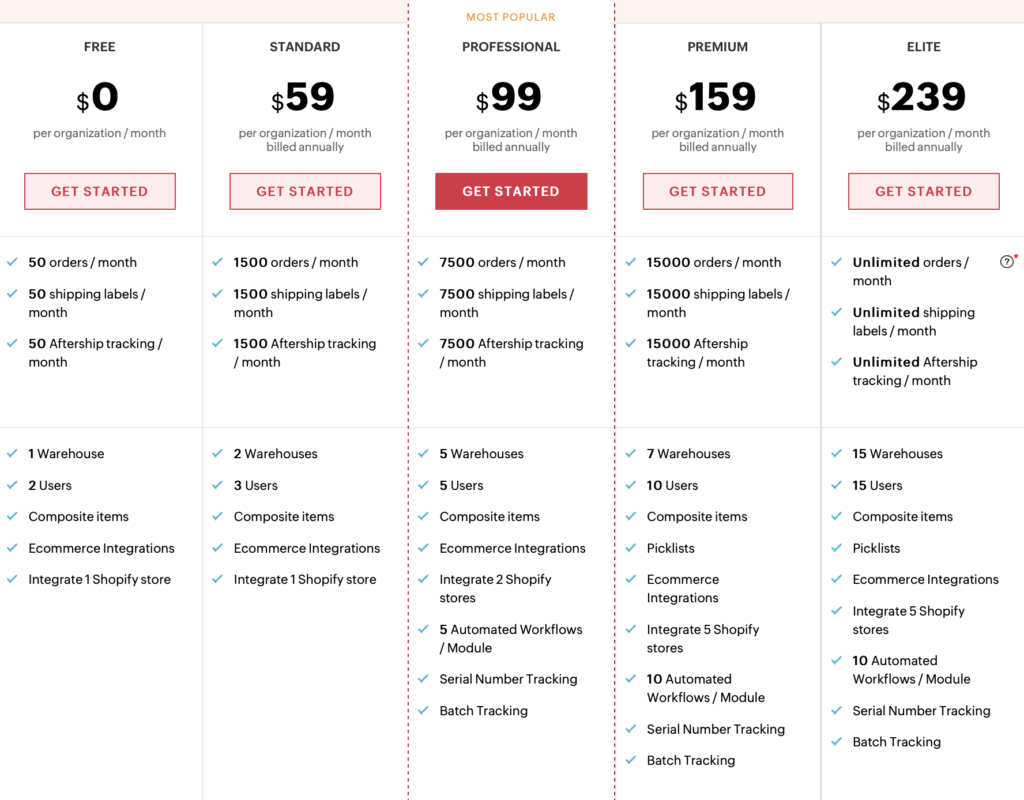 WooCommerce Attribute Stock – Share Stock Between Products
WooCommerce Attribute Stock plugin allows you to manage stock based on product attributes. With the help of this plugin, you can easily track and manage shared stock, variable stock, linked stock, product add-ons, product combos, parts, measurements, ingredients, etc.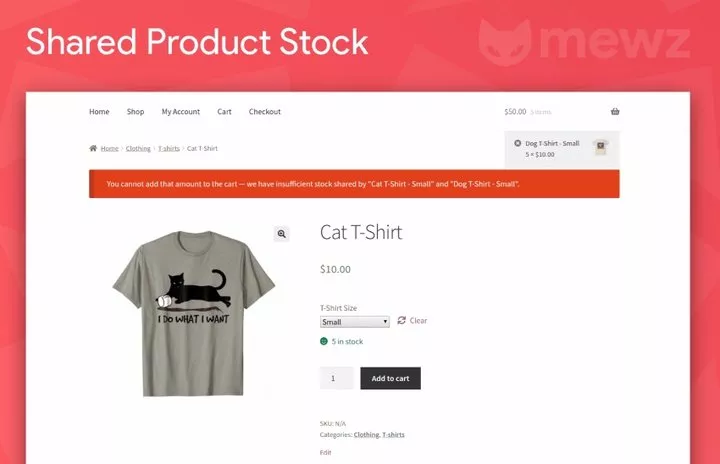 You can manage stock item properties from the admin page, including SKUs, internal remarks, low stock thresholds, product filters, and more. When inventories with specific characteristics are running low or depleted, a notification will arise. WooCommerce stock reports can also help you keep track of your attribute stock.
WooCommerce Attribute Stock is compatible with 99% of the other third-party plugins such as variation swatches, POS systems, subscriptions, product bundles, cart stock reducer, WP-Lister, WPML, and many more.
Price
The plugin will cost you $29. Within this price, you'll also get 6-month support from MewzPlugins – the plugin developer.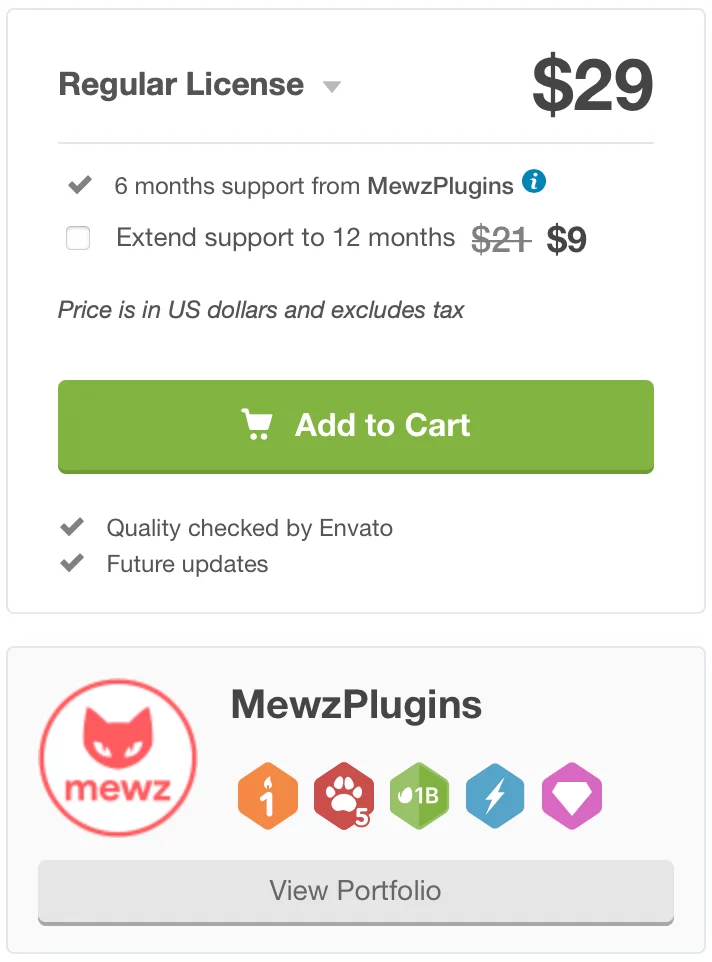 WooCommerce Multi Locations Inventory Management
WooCommerce Multi Locations Inventory Management plugin works best when it comes to managing products from multiple locations. The plugin is compatible and integrates flawlessly with plenty of third-party inventory tools, applications, and Google Maps with the WooCommerce Rest API.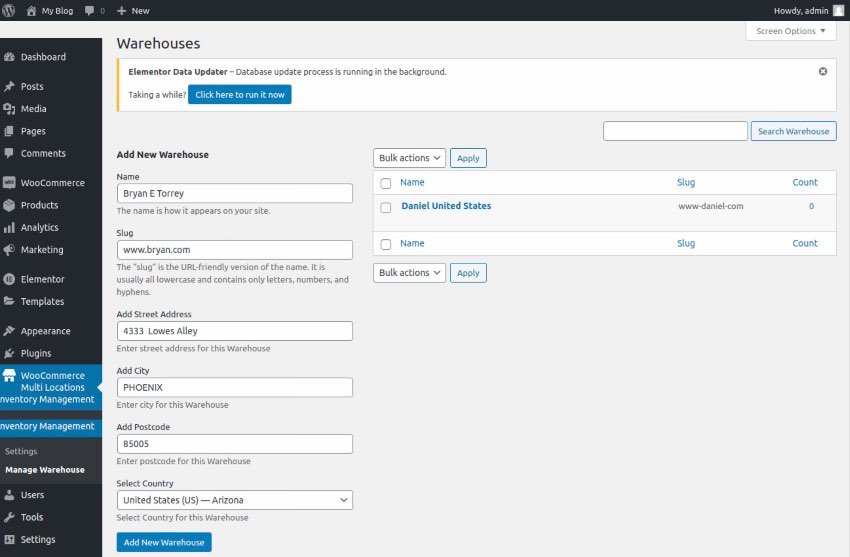 Key Features
detects the nearest product location
shows the availability and pricing of products based on the location of a product
allows visitors to choose their preferred location based on the street address
supports multiple locations for simple as well as variable product types
adds each location's inventory to your default WooCommerce inventory
assigns a delivery area for locations with a WooCommerce shipping zone
visitors can see the selected warehouse location on the checkout and cart page
Price
The price of the WooCommerce Multi Locations Inventory Management plugin is $79. Techspawn – the developer company of this plugin will provide 6-month support along with the purchase.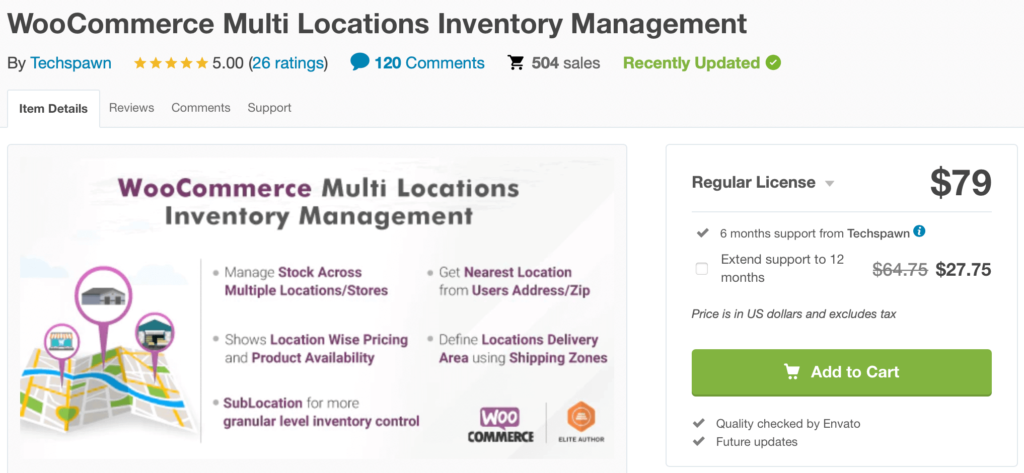 Veeqo for WooCommerce
Veeqo for WooCoommerce is a multi-channel inventory management powerhouse. This software can sync and monitor inventory levels across multiple online platforms. Furthermore, it includes warehouse management tools. Veeqo provides almost everything you'll need for WooCommerce inventory management.
Key Features
Multi-platform – use the same system across WooCommerce, Amazon, eBay, and more.
Sync inventory levels across platforms.
Warehouse management for larger businesses.
It has some handy features like bulk edit and POS integration to increase productivity.
Invoice customization is another cool feature.
You'll have complete control over price and inventory history.
Extremely powerful reporting tools.
Price
Veeqo for WooCommerce has both free and paid versions. You can get the free version of the plugin from WordPress.org. However, the cost of the premium version is slightly on the higher side.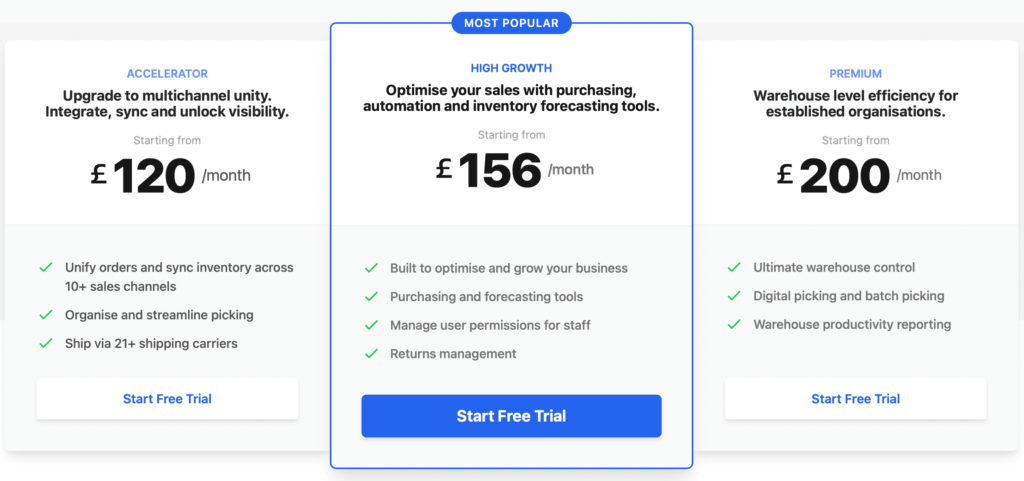 They have three different plans for their premium version of Veeqo. Their entry-level plan costs £120/month. And the price goes up to £200/month for their most premium plan with the most premium features.
WooCommerce Out of Stock! Manager
'WooCommerce Out of Stock! Manager' approaches inventory management in a somewhat different way. This plugin is laser-focused on performing one thing outstandingly. And that is, providing custom notifications for low inventory levels.
Custom levels can be configured for each product. If one or more of the goods hit the defined custom warning level, an email is sent to the shop administrator.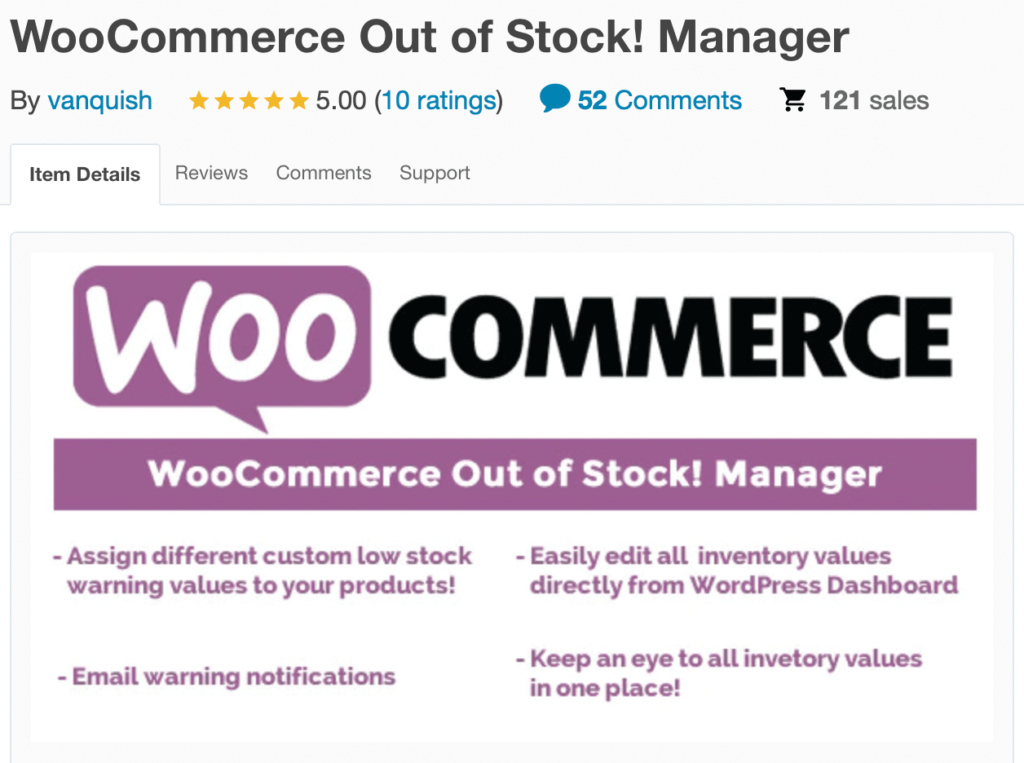 You can also personalize each product page to include messages such as "in stock," "out of stock," "above custom stock level," or "below custom stock level."
Key Features
The plugin enables multiple low stock values for products.
Sends out email notifications when a product crosses the low-stock threshold.
It offers a handy widget for your WordPress dashboard to easily monitor stock levels.
It supports the WPML WordPress multilingual plugin.
Price
The purchase of the plugin will cost you $19. On top of that, vanquish – the developer of this plugin, will provide 6-month support along with the purchase.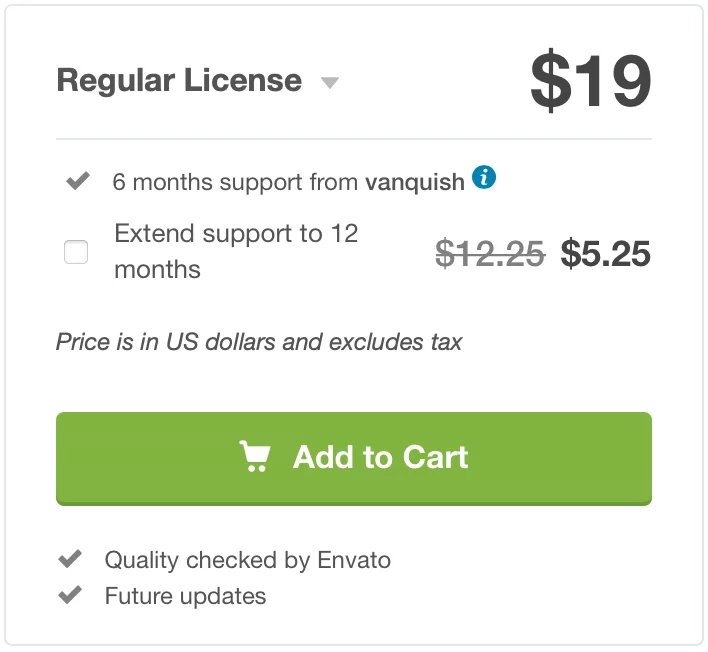 Let's Kickstart Your Journey With WooCommerce Stock Manager Plugins Today!
WooCommerce Inventory management might sometimes feel like a difficult task to handle. Understanding all of the methods to organize your stock might be a challenging feat, but it is also a crucial one. But fortunately for you, by understanding the interface, you can have complete control over your stock!
In this article, we covered all the essential parts of WooCommerce inventory management and WooCommerce stock manager plugins, including:
WooCommerce stock management.
Importance of WooCommerce stock management.
How to control and manage stock status for both simple and variable products.
How to use WooCommerce's built-in reports to view inventory status.
Improve stock management using WooCommerce stock manager plugins.
A list of some best and most effective WooCommerce stock manager plugins, their key features, and pricing.
However, if you still have any queries regarding WooCommerce inventory management or WooCommerce stock manager plugins, feel free to let us know in the comment section below. We promise we'll reply with all of our expertise as soon as we possibly can!