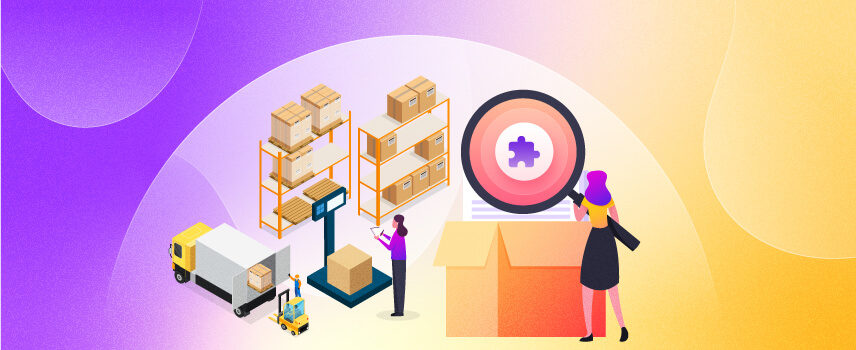 The Best WooCommerce Inventory Management Plugins in 2023
Inventory management can be a daunting task. While the eCommerce industry keeps getting more complicated, WooCommerce inventory integration isn't necessarily getting more accessible either. And so, you would ideally want all the help you can get when it comes to WooCommerce Inventory Management.
However, the good news is there are a ton of WordPress WooCommerce Inventory Management plugins available. And this article is going to help you choose the best.
While WooCommerce has many inventory management capabilities, the inventory management plugins offer even more flexibility and efficiency for your stock control operations.
But first, let's talk a little more about Inventory Management.
What is WooCommerce Inventory Management?
As you would be aware by now, WooCommerce helps manufacturers and online store owners better manage stock and thus get more control over their store, design, and scalability.
WooCommerce Inventory Management allows you to manage your stock and track inventory. However, the function needs to be enabled for this to work correctly. You will need to Enable Stock Management in the Product Inventory Settings. If you do not select this feature, you will only see the stock status in the Product Data Inventory box.
WooCommerce inventory control is relatively straightforward if you're handling finished products.
After you have installed WooCommerce on your WordPress, you select WooCommerce and start your inventory management process.
Adding products will fall into one of four categories:
Simple Product
Grouped Product
External/Affiliate Products and
Variable Product

Let's talk through each one of these in a little more detail.

Simple Product
You would select this when you're selling a product that isn't sold in any other WooCommerce inventory product variations. For instance, if you're a fashion designer and you sell a salsa dress in only one color and size in your fashion store, you'll need your product information and marketing materials to upload the dress individually as a simple product.
Grouped Product
If you sell products in a bundle, you can display your products in the grouped product feature. But grouped or not, your customers will still have the option to buy your products individually.
Affiliate/ External Product
If you are taking a commission for displaying certain products on your website, those are your Affiliate or External products.
You can choose to have affiliate products to support local businesses, artists or increase the existing range of products.
Variable Product
When you decide to sell different variations/designs/styles/colors or sizes of the same product in your inventor, you will be using the Variable product feature in your store's inventory. Using this feature saves you the time and effort of entering each product variant separately.
During setting up your products, or after you have finished, you can go ahead and set your reorder point. Your Reorder Point is your 'low stock threshold,' which is an indication that your stock levels are low. In the WooCommerce inventory management system, it's referred to as "Low Product Threshold."
During this stage, you can also set the product's stock levels and SKU's, which will help you navigate your WooCommerce inventory and help you efficiently manage products.
Why do you need to manage inventory?
Managing inventory levels is crucial for managing an eCommerce store effectively. With your store inventory up to date, you can take your store to the next level. It gives you complete control over your store.
Let's look at some benefits of inventory management.
It ensures that you have the products and the correct stock levels of your best-selling products.
It helps minimize losses by ensuring that you don't have your money blocked products that don't sell, resulting in excessive stock levels.
Proper inventory management aids in forecasting product needs and only ordering quantities you need.
In a nutshell, robust inventory management results in more profits and a better-managed store.
How to Manage WooCommerce Inventory?
The basic WooCommerce plugin comes with straightforward inventory management tools.
Let's take a look at the capability available in a standard installation. In this feature, you can set stock levels for products on their respective pages.
Go to your WordPress dashboard and navigate to Products > All Products in the sidebar.

Click into the product you want to adjust stock for, scroll down to the Product Data section, and select inventory from the menu. This will show the available options for the product.
To manage inventory for a product, you'll then need to tick the Manage stock? Checkbox. This will reveal new fields for stock quantity and a low stock threshold, among other things.

Also, enter the quantity you have in the current stock in the Stock quantity field and update the page. When an item is sold, this number will adjust automatically. If you have a variable product (such as dresses in different colors), you can specify stock quantities for each variation by ticking the Manage stock? checkbox under Variations.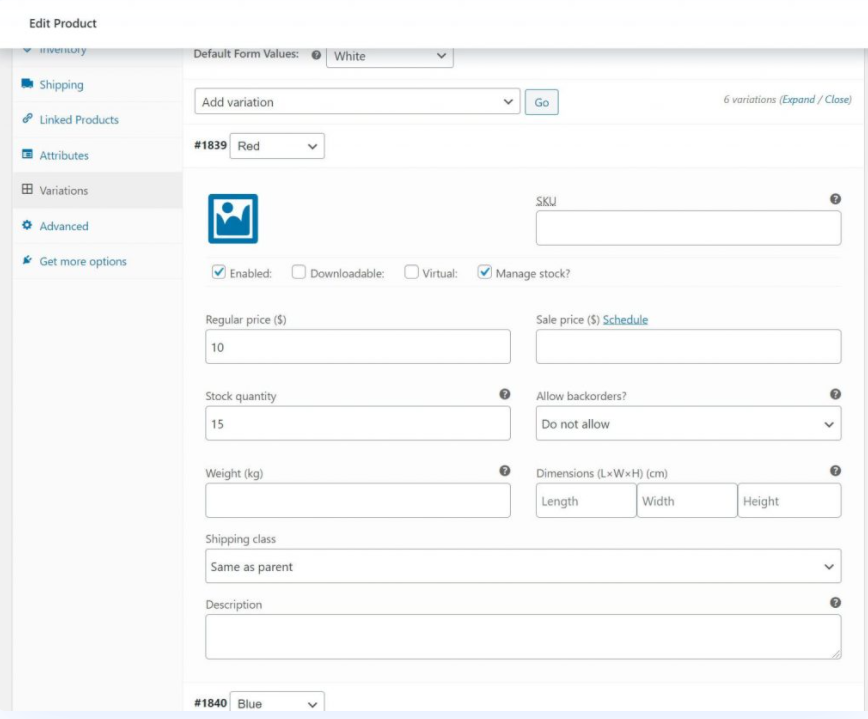 Finally, you will be able to view the current stock status for all your products by navigating to Analytics > Stock in the WordPress dashboard.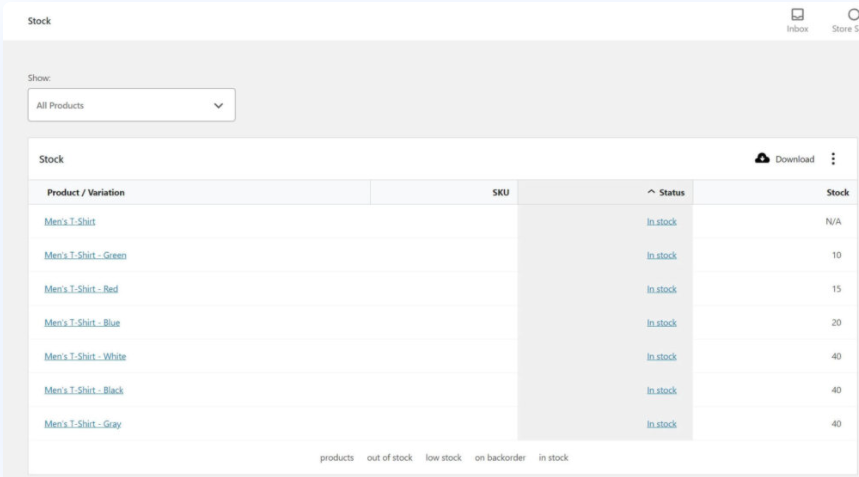 However, the WooCommerce Inventory management does have its shortcomings.
1. It's not very intuitive and much more complicated than it seems
You are required to visit several pages and play around with many individual settings just to make some simple changes. If you manage a large inventory, this can take up a lot of your time.
2. It poses a challenge for a large database
Though WooCommerce works well for smaller inventories, it is not capable of handling large databases very well.
3. There is a chance of missing sales opportunities
Since WooCommerce relies on you to manually update stock, it can't track inventory in real-time. If you set up WooCommerce to stop accepting sales when a product is out-of-stock and then forget to update it when you receive new stock, you will miss valuable sales because WooCommerce will not know that the stock is back up.
4. It can't communicate with other sales channels
Since it doesn't have a centralized inventory database, your WooCommerce inventory must be kept separate from other channels like eBay and Etsy. In other words, you won't be able to add another sales channel.
5. Lacks multi-location support
If you operate with multiple warehouses, then the basic version of the WooCommerce inventory management is not for you. You may be required to track some of your inventory manually, which is both time-wasting and gives more room for errors.
How do plugins help you overcome WooCommerce inventory management challenges?
Although WooCommerce Inventory Management will get you started managing stock levels and take an essential grip on your stock data, there may be features you would still like to have to have a clearer and better inventory control.
A WooCommerce Inventory Management Plugin will give you that power. Some of the advantages that a WooCommerce inventory management plugin can offer are:
Bulk Stock Inventory Management
The capability to edit bulk product inventory can help you enormously save time and effort updating stock quantities. Therefore, if you have a couple of hundreds of products to manage, this can translate into substantial time savings.
Lesser repetitive tasks
Editing stock quantities is something you would need to do a lot when you manage a store. It is repetitive and can be monotonous. An efficient WooCommerce inventory management plugin can let you quickly update your inventory and get back to tasks that need your attention.
A better understanding of the stock
The robust reporting tools offered by these plugins can give you a clearer picture of what you have in stock and manage your store accountings for better and proper stock adjustments.
Fewer errors
When you're inputting hundreds and thousands of products manually, there is always a possibility of errors. And this can be expensive. Therefore, a proper inventory management plugin can help cut down on these errors.
Real-time updates
When you get stock or inventory notifications about your store in real-time, you can always be prepared. Timely actions can prevent you from "out of stock" situations or delays in deliveries.

Bestselling Inventory Management Plugins for WooCommerce
There are some high-quality WooCommerce Inventory Management Plugins available at affordable prices, which can help streamline your inventory management and keep your inventory levels accurate.
1. Stock Synchronization for WooCommerce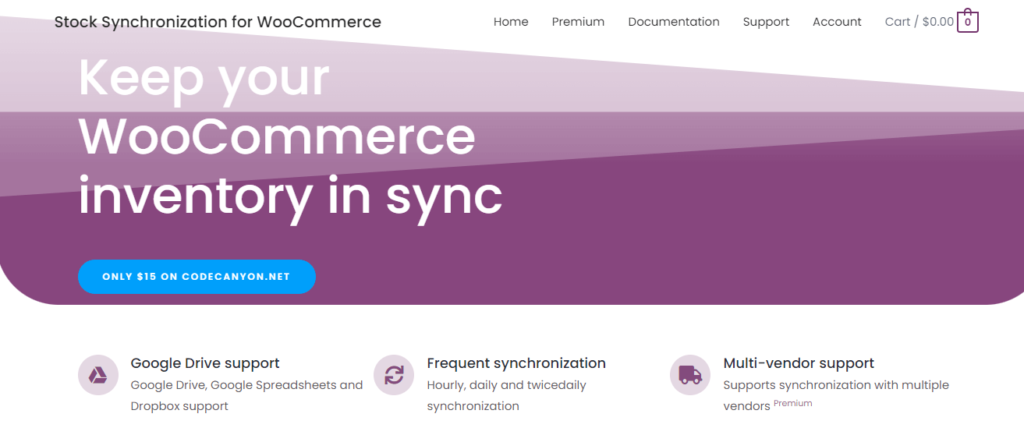 With Stock Synchronization Plugin for WooCommerce, you can synchronize your stock quantities perfectly from an external source, such as a CSV file, Google Dropbox, Google Spreadsheet, Google Drive, or FTP. You can also synchronize your product prices by simply updating your product prices from the same CSV file.
Some other features:
Multi-vendor support
Multiple periodical stock update option
Compatible with variable products
2. WooCommerce Product Stock Manager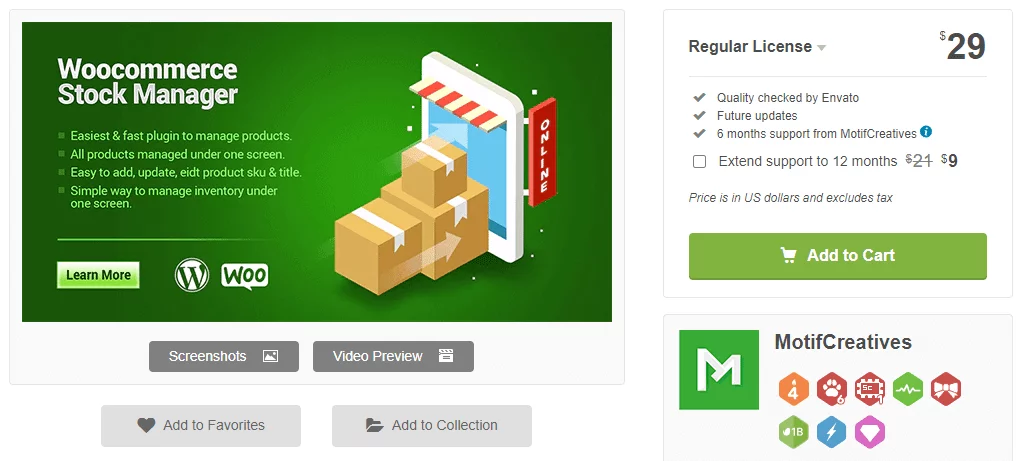 The WooCommerce Product Stock Manager enables you to manage products' stock and variations from a single screen. You can add products by product name and ID, status, weight, SKU, and more on the plugin's admin interface. You can also search for products by name on the same page and even edit and update information.
With this plugin, you can manage the sale price of all your products in the same window. Variable product updates and bulk edits are also included in its features.
3. WooCommerce Multi Locations Inventory Management
WooCommerce Multi Locations Inventory Management plugin provides options to manage product stock from multiple retail locations for your WooCommerce store. This plugin automatically detects the nearest product location. It also shows the availability and pricing of the product based on the location. This is an ideal plugin for multiple warehouse inventory management.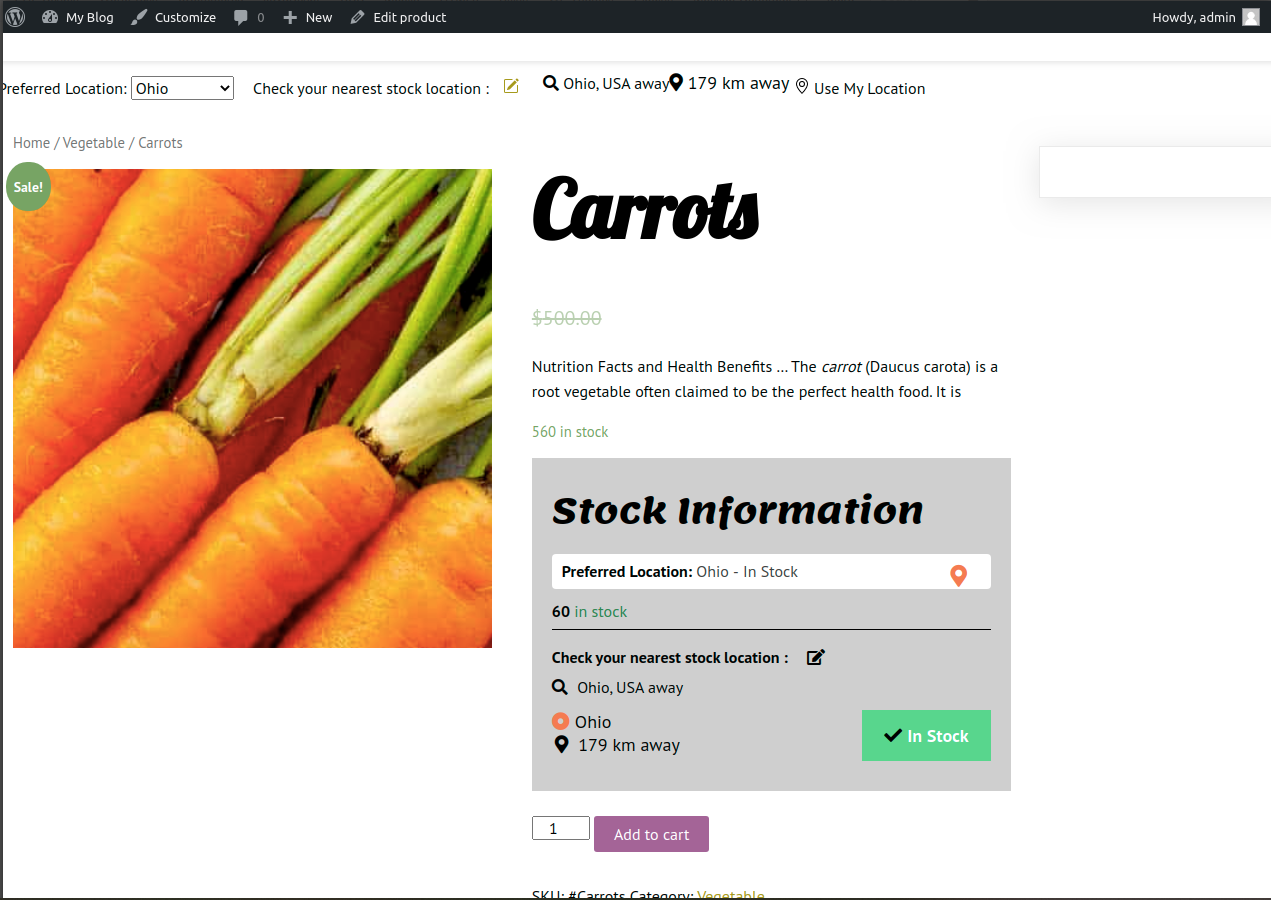 Some other Features
Manage Products stock across multiple physical locations, warehouses, or stores.
Allow customers to choose a preferred location on the product page or globally.
Automatically selects the nearest product location based on a user's address. (Requires Google Map API key)
Warehouse management feature
Displays product Quantity/availability based on the location.
Supports Multi Locations for Simple and Variable product types.
Option to add location-wise price.
Manage multiple warehouses
Lists only selected location's products.
Manage multiple storefronts.
The sublocation feature allows for a more granular level of inventory control. Sublocations can be rack, shelf number, sub-area of a warehouse, floor, building, etc.
Option to assign shop managers to locations.
Emails orders to the location's email ID and WooCommerce locations managers.
Assigns specific payment methods to locations.
Automatically detect user's geolocation from browser and allocates Woocommerce location based on it.
Adds each location's inventory to your default WooCommerce inventory.
Visitors can see the selected warehouse/location on the checkout and cart page and much more.
4. WooCommerce Stock Manager
WooCommerce Stock Manager is a free plugin that allows you to manage your stock from a single page. Additionally, this plugin can:
Display product thumbnail image
Filter products by category, type, or stock status
Search products by name or SKU
Sort products by name
Set the product variations for the variable products with the "Show variables" button
Show/hide columns for better usability
Save each product or variation separately, or save all displayed data.
5. ATUM Inventory Management Plugin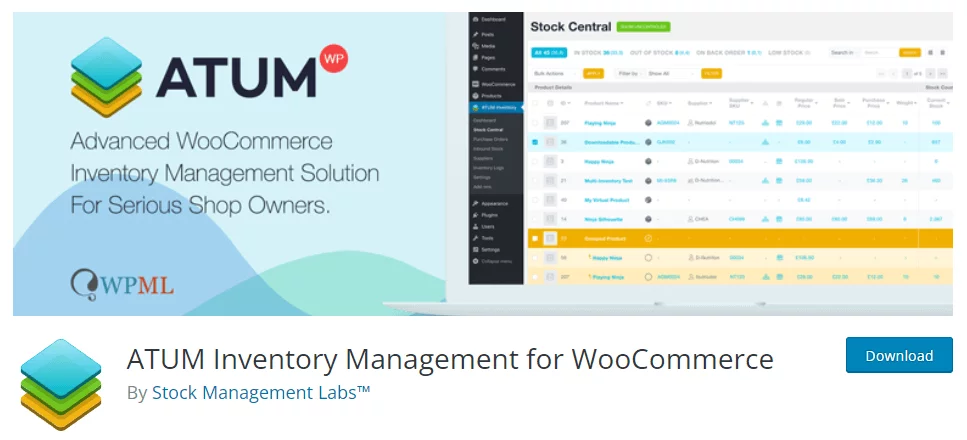 ATUM is presently one of the best WooCommerce inventory management tools in the WordPress collection and the most advanced FREE WooCommerce inventory management tool. Sound WooCommerce inventory solution is an absolute necessity for every online store owner.
The Stock Central is the heart of ATUM and gives you complete control of your WooCommerce inventory. With this plugin, you can edit every aspect of your WooCommerce inventory, SKUs, suppliers, locations, weight, or even prices. Beautifully synchronizing with WordPress, the system is convenient and user-friendly.
The ATUM Dashboard has a quick link to support, documentation, and business stats. They have also developed a brand new widget section that can be personalized end to end. The plugin has an intuitive layout and helps manage inventory better and faster.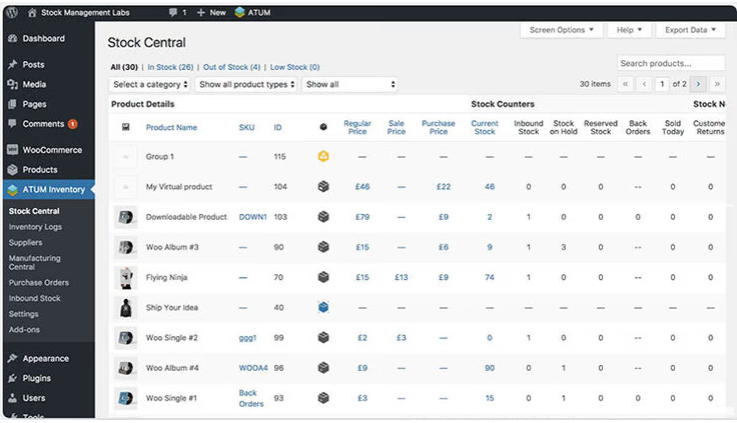 6. Orderhive Inventory Management
Orderhive is an inventory management system with various inbuilt functionalities to track orders across multiple sales channels, manage sales and create purchase orders, shipping, and overall stock control.
Suppose you want to fine-tune your stock management process and create an inventory catalog using barcode readers while avoiding duplicate SKUs and configuring product bundles. In that case, this is the plugin for you. In a nutshell, it acts as your order management software.
With Orderhive, you can avoid stockouts, automatically update inventory across channels and warehouses, determine to reorder points, and reduce the overall inventory cost. Orderhive's order management solution automates your entire order handling and fulfillment process flow.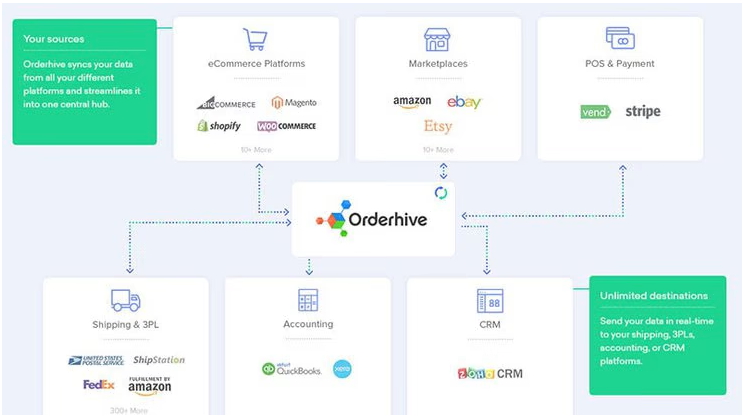 7. Veeqo
Packed with a range of valuable and advanced features for WooCcommerce retailers who want to stabilize and streamline their inventory management, Veeqo helps to manage everything from one platform.
By managing multiple inventories, Veeqo helps you gain multichannel inventory visibility across sales channels and enables you to expand your business. You can push your products up to eBay and Amazon with the click of a button and increase sales instantly.
It also helps streamline warehouse processes, wherein you can pick, pack, and ship orders by using the Veeqo scanner or the mobile app.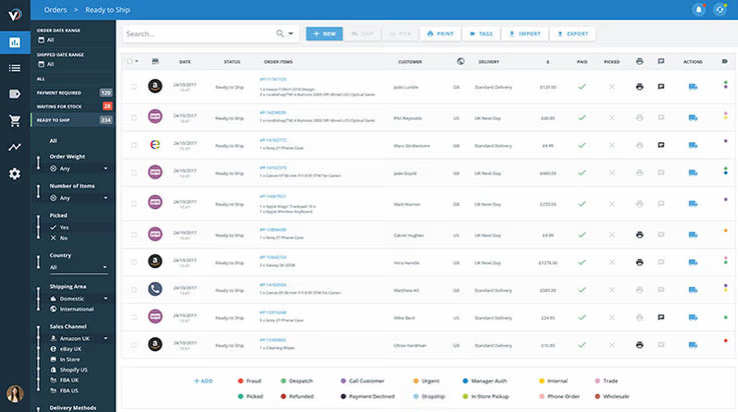 8. Smart Manager
Smart Manager is one WooCommerce inventory management plugin that provides speed and ease to manage your inventory. It uses spreadsheets similar to Excel to manage all your inventory from a single screen. Smart Manager is one of the most unique and top-rated WooCommerce inventory management systems that you can find on the app market.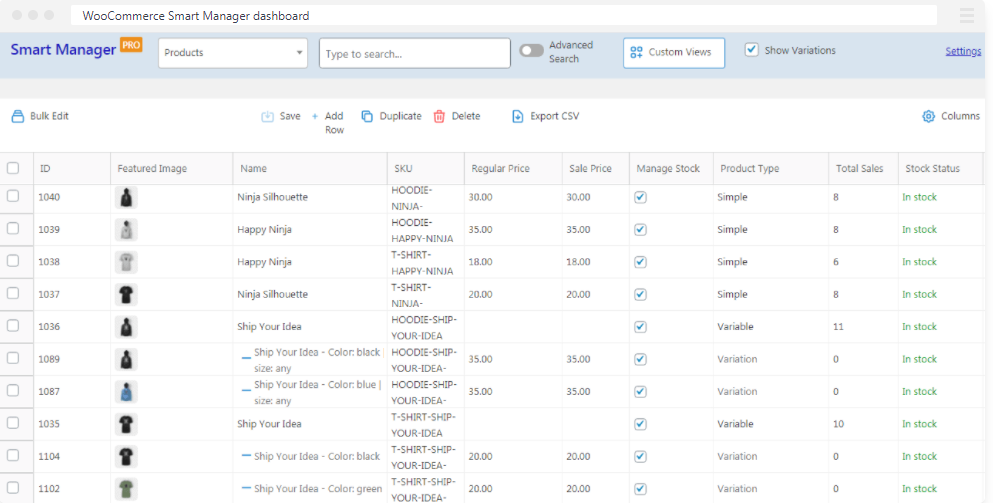 Some more features
Inventory batch tracking
Reporting functionality
Automatic calculations
Quick spreadsheet-like browsing capability
In-line edits
The free version of this inventory management tool can be found in the WordPress repository, and the Single site license comes for $149/year.
9. Finale Inventory
The Finale inventory management plugin automatically syncs your orders, makes the proper inventory adjustments, and streamlines your entire business operations by keeping your inventory up-to-date.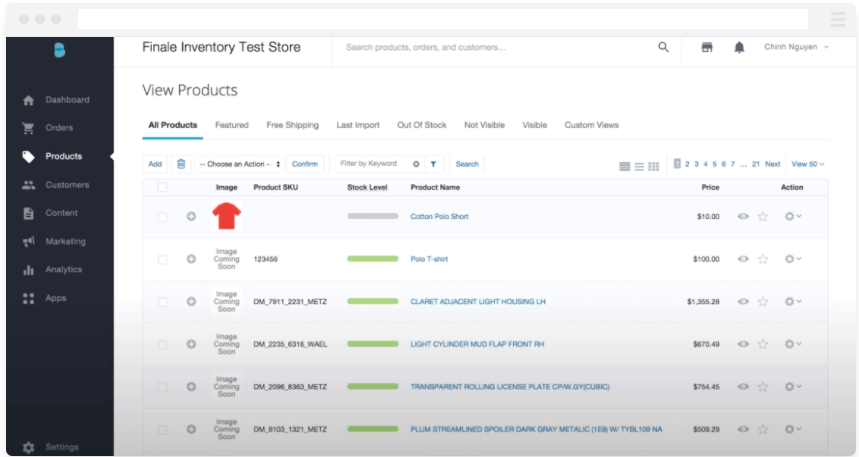 It is a cloud-based inventory manager powered with a powerful cloud database feature that is secure and updates in real-time, accessible from any device connected to the internet.
With this plugin, you can keep track of your entire inventory from one centralized inventory management platform. It provides multi-warehouse support and can also track the movement of stock from one warehouse to another. Thus you can track the product stock and it improves the customer experience.
10. WooPOS
WooPos also comes with a powerful cloud-based database feature allowing you to access databases from anywhere and at all times. With this inventory management plugin, you can easily customize your WooCommerce store with physical retail locations and add automation and new functionalities to your current WooCommerce setup.
Product identification, logistics, procurement, etc., are simplified with the help of a custom barcode label generator. You can also track and maintain inventory levels across multiple locations and stores in real-time with this plugin. You can move stock between stores or warehouses with stock transfers and quickly perform inventory checkups across different sales channels.
FAQs
Does WooCommerce have inventory management?

Yes, WooCommerce has inventory management. However, the feature has its limitations, and a store that wants to grow or wants to include a large database of products won't be able to perform effective stock management with this.
How to manage inventory in WooCommerce?

You can manage inventory in a WooCommerce store with the help of different powerful WooCommerce inventory management plugins.
How to make inventory sold out on WooCommerce?

Go to WooCommerce → Settings → Products→ Inventory. Tick' Enable Stock Management. Disable the low and out-of-stock notification emails. Do NOT enable the 'Hide out of stock items from the catalog' option.
How do I add inventory in WooCommerce?

You have multiple options for adding inventory to WooCommerce. You can either create individual product pages or set up category pages that group related products. However, it can be done more effectively with a WooCommerce inventory management plugin to manage the store operations.
Can WooCommerce handle 5000 products?

Yes. WooCommerce is a scalable platform and can easily accommodate 5000 (and more) products. The only challenge is that the website performance may falter because of the number of products. It would help to ensure that the page load speed, database query execution, and server performance are maximum.
How do I organize my products in WooCommerce?

Products on WooCommerce stores can be organized into product pages and category pages. Additionally, you can also sort product listings in the search results through several filters. Any feature-rich WooCommerce inventory management plugin can help you organize products in different ways.

Wrap Up
An inventory management system allows you to manage the inventory of your WooCommerce store effectively and allows you to get an idea of the value and the specific number of items that you have in stock.
Managing your inventory is helpful for different reasons, such as tax purposes, accounting, and gaining specific business insights.
We have talked about some of the best WooCommerce inventory management plugins in this article here. These plugins will help you to manage your inventory seamlessly. These can be a powerful addition to a WooCommerce store.
Your WooCommerce store needs to integrate and coordinate everything in one place to make it easier to manage store operations. A coordinated inventory system helps to streamline the overall supply chain management of your store. It can manage your inventory spread across different locations, provide you with order status in real-time, give you a snapshot of your store's total sales, and do much more.
The solutions mentioned in this article should help you streamline your inventory management process. If you have any other alternate solution or plugin to recommend, don't hesitate to leave a comment.
You May Also Read