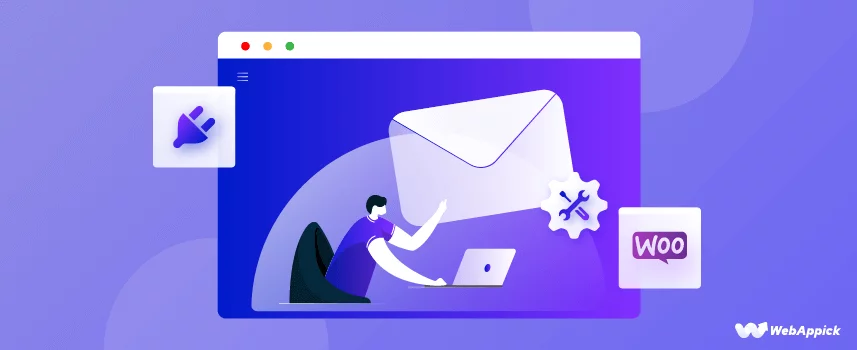 13 Best Free & Paid Email Customizer for WooCommerce Website
What's the sweetest word you've ever heard?
Your name, right?
Yeah! A person's name is the most important and sweetest word for anyone in any language.
Even the chemistry also supports that! It literally runs a chemical reaction on our brain whenever we hear our name. It releases dopamine and serotonin hormones that evoke good feelings!
And, that's the secret weapon to draw a consumer into your shop!
Look, everyone loves personalized approaches. If you present something with a personalized text, there's 60% more possibility of getting a response.
That's how sending customized email also returns a much greater ROI, 760% to be exact!
So, we are going to introduce the 12 best email customizer for WooCommerce websites to send personalized emails and get instant attention!
Let's start the journey.
Why Should You Send Customized Email to Your Audiences?
Well, that's a good question!
Sending a general email to all subscribers is a lot more easier task than sending a customized email. So, why should you go the extra mile only for customizing your emails?
In short, it generates more revenue for your WooCommerce store. But, there are lots of other benefits of customizing emails by email customizer for WooCommerce.
For example –
A personalized Call-to-Action button converts 202% better than a generic CTA button. Still, only 19% of marketers use this engagement technique.
90% of USA citizens find the customized emails 'very' or 'somewhat' appealing.
78% of marketing experts believe that customized emails increase customer engagement.
Check the infographics below to get more interesting benefits of the WooCommerce email customizer –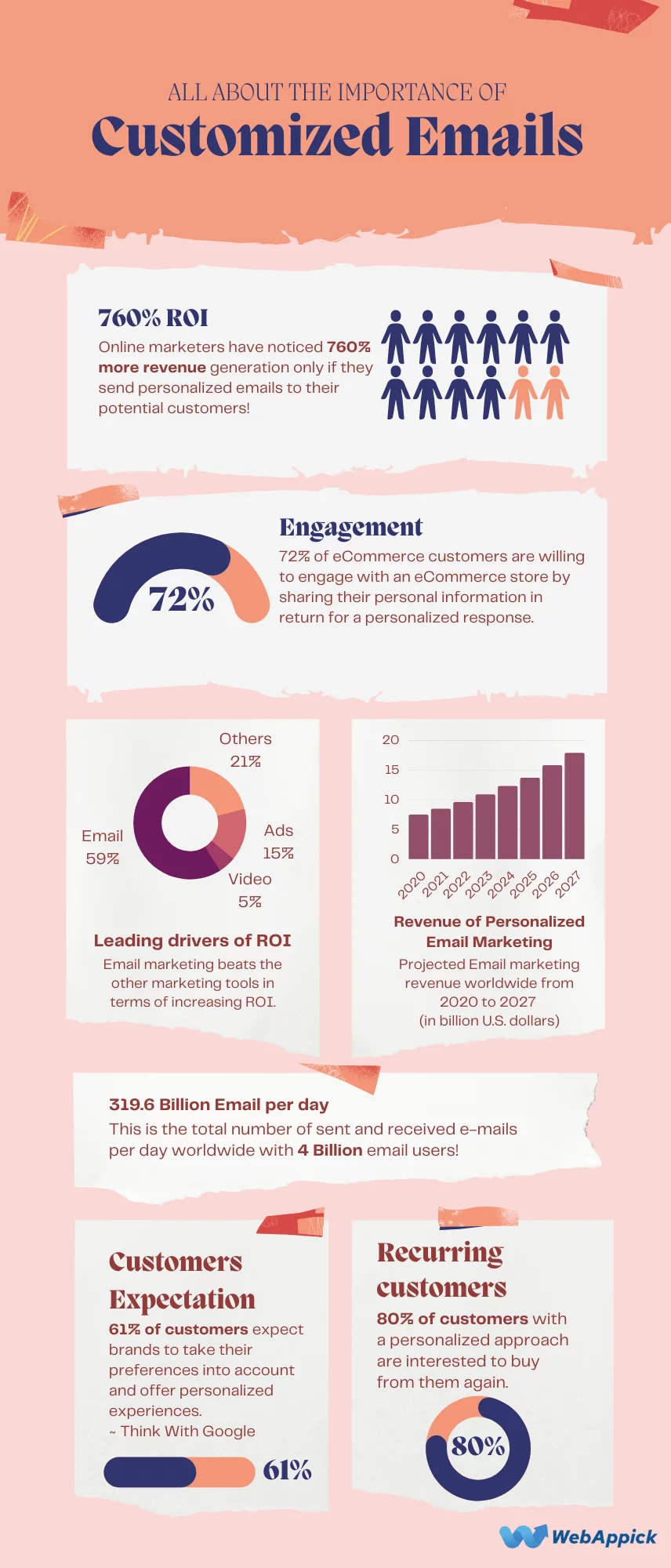 These are the core reasons behind using these customized WooCommerce emails to greet your customers.
13 Best WooCommerce Email Customizer plugins for Your WooCommerce Store
People get bored pretty easily nowadays. A report from Time magazine says that our average attention span has already dropped to eight seconds. So, you really have a very tiny timeframe to hook the customers into your email.
Are you planning to do it with a generic email? Trust me, you can't!
You must approach them with personalized texts to grab their attention. And, you will need the best WooCommerce email customizer plugin for this. In this section, I've listed the 12 best WooCommerce email customizer to create a stunning custom email template.
Let's start with MailPoet.
1. MailPoet

Since 2011, MailPoet has been recognized as the most reliable email solution for WordPress themes. As time went by, they also started their WooCommerce email customizer (free) service.
This free plugin offers a great visual email designer to design the default WooCommerce order emails. Besides designing, you can also send those custom email templates in an automated process.
For instance, you can send an email in three different situations.
A welcome email after making the first purchase from your online store.
Reaching out to the customers who abandoned their carted products.
Sending email with custom text to whoever purchased a specific product.
After installing the free version, click on the MailPoet option from the WordPress dashboard left side menu. It will show you to create 9 different email templates. The available email templates are –
| | | |
| --- | --- | --- |
| Newsletter email | Welcome email | Latest post notifications email |
| Re-engagement emails | Thank you email after the first purchase | Abandoned shopping cart email templates |
| Email after purchasing a product from a specific category | Email after purchasing a specific product | WooCommerce Email Customizer |
Most importantly, you don't have to configure anything to create templates by its drag & drop email template builder. You can build lots of email templates for your store by using its visual template editor.
Prominent features of MailPoet
Send emails automatically
Comes with a built-in newsletter builder
No configuration required
Engagement statistics
GDPR compliant etc.
WordPress Active Installations: 600,000+
WordPress Users Ratings: 4.5 out of 5 stars
2. YayMail – WooCommerce Email Customizer by YayCommerce

If you are a fan of designing emails with HTML elements and custom blocks, YayMail is the perfect solution for you. This email template customizer doesn't lack a single feature that you might need to design an email template.
YayMail comes with a user-friendly WooCommerce email editor that supports drag-and-drop customization. Just like designing WooCommerce themes with Gutenberg or Elementor page builder, YayMail also follows the block editor facility.
You can use the elements on the email body and customize it to design your desired email. If you purchase the premium version of YayMail, you can use 80+ extra add-ons to design your email. 
There are 11 pre-designed email templates on this WooCommerce plugin. Besides creating the order status emails, YayMail can also create password reset mail with valuable resources and required information.
Key features of YayMail
YayMail Conditional Logic
Send custom emails per product/category.
Customize order details table columns.
Undo/Redo, import/export full templates
Multi-languages supported
WordPress Active Installations: 30,000+
WordPress Users Ratings: 4.7 out of 5 stars
3. WooCommerce Email Customizer by WooCommerce Team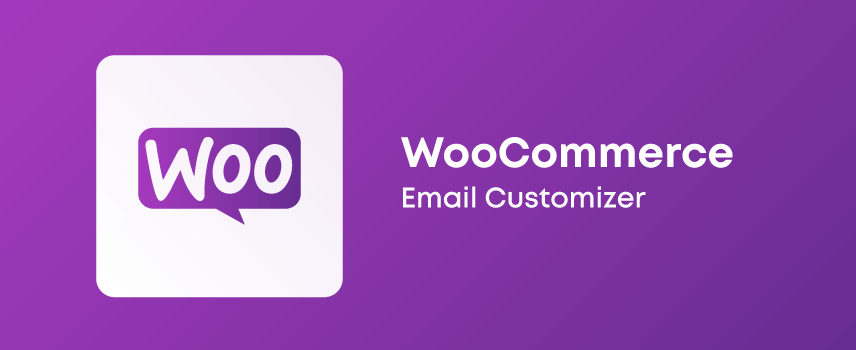 The WooCommerce Email Customizer is a perfect WooCommerce email plugin in the sense of design. You can generate visually stunning emails by using this plugin.
This email customizer plugin uses the built-in WordPress customizer to design the email templates. The most interesting fact is that you don't need to write a single line of code to design it.
Though it doesn't support the drag and drop interface for designing email templates, you can still call it a visual email designer. Because, you can change almost every template from the customizer menu on the left.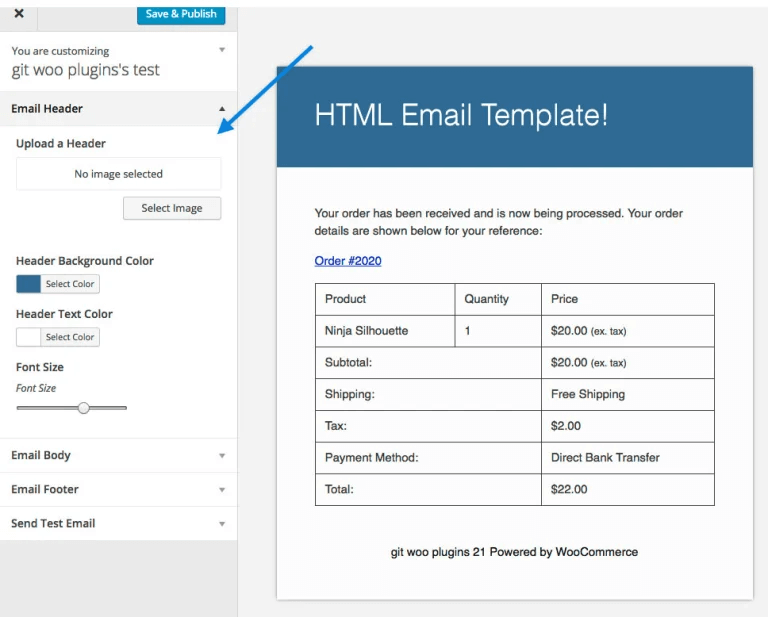 By the way, it has a severe drawback too. You cannot change the texts or contents by using this plugin. You can only configure the designs of your already created template.
And, there's no free version of this plugin. You have to purchase the premium version to use this.
Important features of WooCommerce Email Customizer
Supports visual modification
Sending test emails
No coding required
Easy to use interface
Uses WordPress customizer
Price: $79.00 (Billed annually)
4. Kadence WooCommerce Email Designer by Kadence WP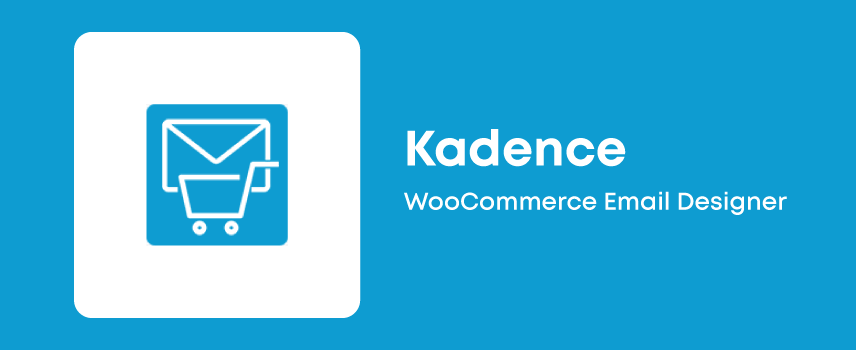 Kadence WP is a renowned name in the WordPress plugin industry. Just like their other product add-ons, they have built an email customizer too. Their email customizer is capable of customizing the default WooCommerce transactional emails.
Unlike the previous WooCommerce email customizer plugins, it supports customizing both texts and design of your transactional email. Kadence WooCommerce email designer includes three predesigned templates on their plugin.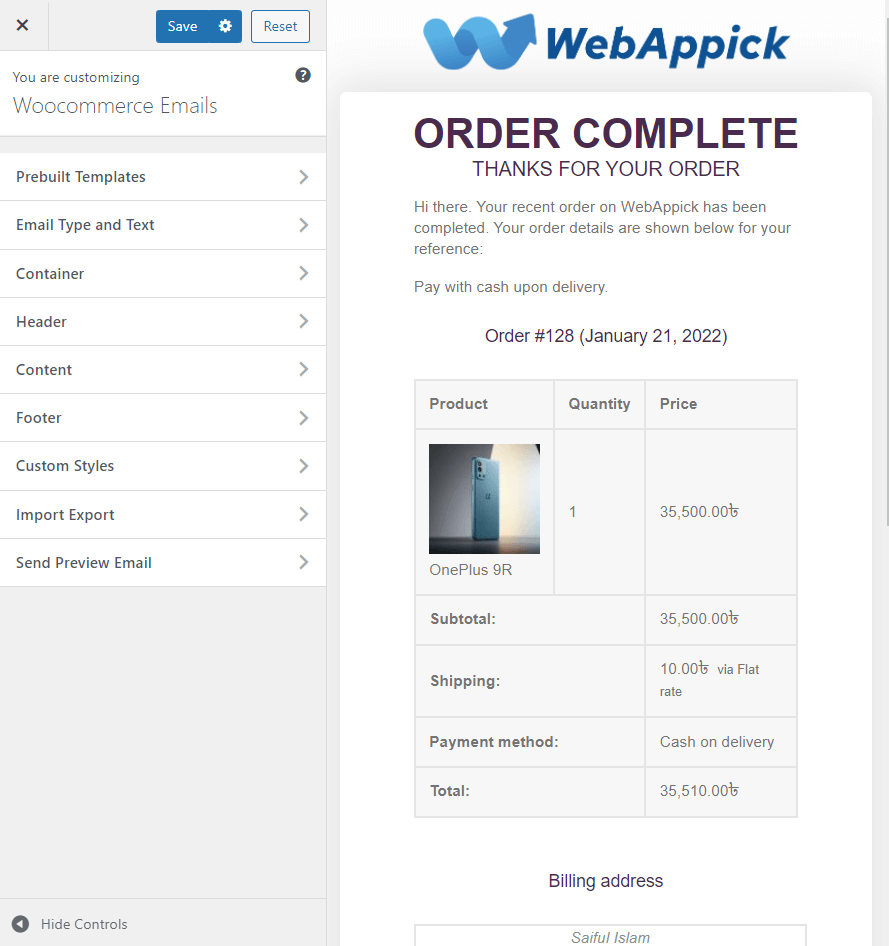 By the way, you can also upload your own template there and customize it further by this Kadence WooCommerce email designer. After the customization is complete, send a test email and preview how the email will look at your customer's inbox!
Check this video to learn more about the customization techniques of Kadence WooCommerce Email Designer.
Key features of Kadence WooCommerce Email Designer
Offers live preview
Heading & body text customization facility
Pre-designed email templates
Test email sending facility
Settings export option etc.
WordPress Active Installations: 100,000+
WordPress Users Ratings: 4.6 out of 5 stars
5. Email PDF order invoices with Challan

Challan is comparatively a newer addition to this email customization section. But, it clearly surpasses the others by its extended features and functionality.
This WooCommerce plugin lets you design an invoice and attach that with the order status email to the customers. This plugin lets you customize the following features –
Invoice number
Date format
Product information
Customer address
Logo
Localization info
Background image etc
In terms of designing an email, Challan offers you the highest level of customization than the other WooCommerce plugins. From the text and design formatting to adding custom content to your email, everything is possible by using this WooCommerce email editor.

This plugin works for all the WordPress themes, so you don't have to worry about your website's environment. Simply install the free or premium version of Challan and start customizing the customer's emails.
Notable features of Challan
Customizing contents
Improved plugin UI
Predesigned templates
Notification for order statuses
Download bulk invoices etc
WordPress Active Installations: 1,000+
WordPress Users Ratings: 4.3 out of 5 stars
6. WordPress Email Template Designer – WP HTML Mail

WP HTML Mail is a good choice for novice users. It offers almost all the basic features someone may need to create a WooCommerce custom email. Besides the WooCommerce transactional emails, it also supports the Easy Digital Download (EDD) transactional email, BuddyPress, contact forms, and others.
This plugin offers several predesigned WooCommerce templates and you can edit those. It allows adding custom email headlines with text and color, subtitle, order details, company logo, or a branded banner to use for email marketing purposes.
You can also check the live preview of your emails or test them by sending test emails on your desired email id. By the way, all of their emails are responsive for major browsers and common devices.
Most importantly, they added inline CSS to this plugin. So, if there's no possibility of overriding your custom styles by the web clients.
Key features of WP HTML Mail
Live preview with a test email
Customized texts and designs
All CSS codes are inlined
Email template library
Responsive design etc.
WordPress Active Installations: 20,000+
WordPress Users Ratings: 4.8 out of 5 stars
7. Decorator – WooCommerce Email Customizer By WebToffee


Decorator WooCommerce Email Customizer is just another popular WooCommerce plugin from WebToffee. This email customizer plugin is intensely popular for its easier customization facility and convenient design.
WebToffee uses the default customizer for WordPress emails as their email builder. Thus it actually eases the process of customizing every element of your email template. Furthermore, you can edit the email body, text, or banner sizes only by using a slider.
In terms of coloring your WordPress emails, you can either use default colors or custom colors by using its color picker tool. You don't need to touch the coding section for that.
Here's a sample email designed by the Decorator officials.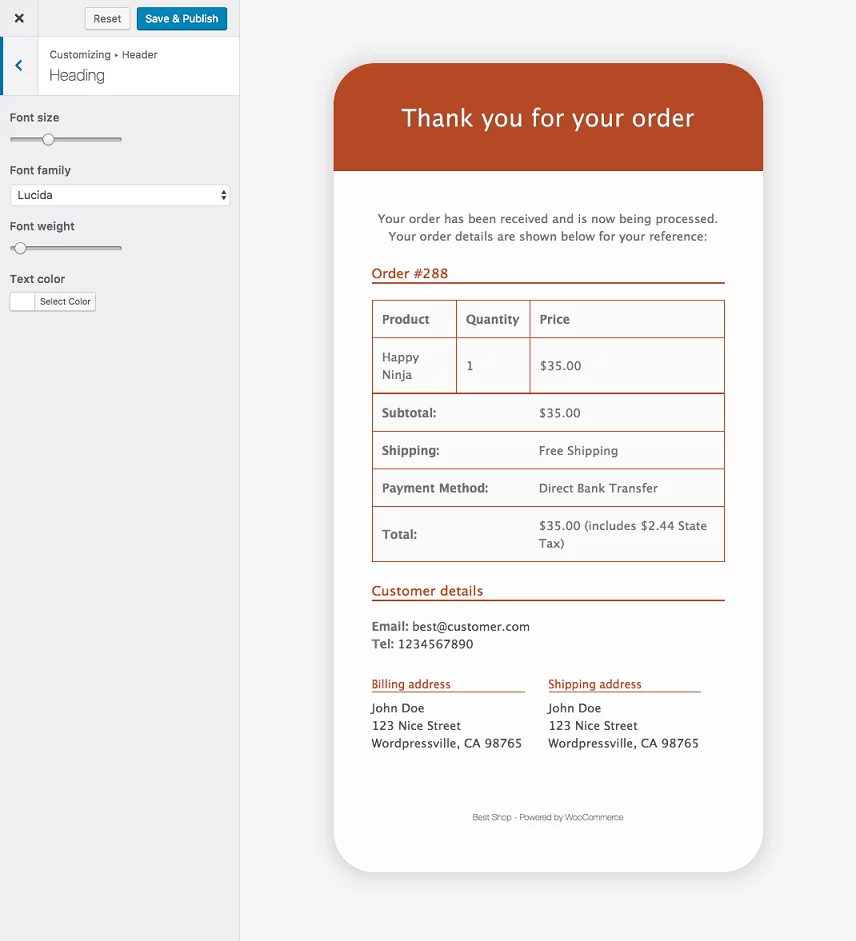 However, you can customize your email even more by writing some custom CSS. But, it's completely optional!
Notable features of Decorator WooCommerce Email Customizer plugin
Live email preview feature
Detailed setup guide for beginners
Easy customization
Custom CSS field
Color picker tool etc.
WordPress Active Installations: 9,000+
WordPress Users Ratings: 4.8 out of 5 stars
8. Email Template Customizer for WooCommerce by VillaTheme

The VillaTheme WooCommerce email templates customization plugin is another drag and drop builder for the WooCommerce websites. It comes with enough elements to design a complete email using WooCommerce elements.
The most unique feature of this plugin is its direction choosing facility. This plugin lets you switch between languages while changing direction from RTL or LTR.
Further, it's a completely versatile plugin. You can import-export your email templates on another website. But, there is one condition. This plugin must be installed on both websites.
Besides these unique features, this email template customizer also offers basic facilities like text and design customization, changing font family, adding order details, customer note, etc.
Key features of VillaTheme Email Customizer
Drag and drop customization facility
Changing language direction
Template import-export facility
Adding social media icons
Responsive design etc.
WordPress Active Installations: 10,000+
WordPress Users Ratings: 4.7 out of 5 stars
9. Email Customizer for WooCommerce by ThemeHigh

Who doesn't want a customized order invoice that matches your brand style?
Well, ThemeHigh makes this process easier with their email customizer plugin. This plugin allows the users to add custom texts, images, spacers, order details, customer details, and many more.
Another amazing benefit of using this plugin is its 11 default WooCommerce email templates. But, you can also update these templates via using dynamic data or placeholders. It supports 11 placeholders to make the email even more personalized. These are –
site_name
customer_name
customer_note
account_area_url
order_created_date
customer_full_name
order_id
set_password_url
reset_password_url
user_login
user_pass
You can use all of these while designing your custom email using ThemeHigh's drag and drop customizer. While editing those emails, you can check the live preview of your customized template.
Another mesmerizing facility of this customizer is GIF adding facility. Now, you can add gifs to your email body by using the GIF element. Besides these outstanding facilities, you are definitely getting the common customizing elements as well.
Special features of ThemeHigh Email Customizer
Adding WooCommerce custom hooks
Lots of dynamic placeholders
Unlimited row adding facility
User-friendly email builder
11 pre-designed templates etc.
WordPress Active Installations: 9,000+
WordPress Users Ratings: 3.8 out of 5 stars
10. WooMail – WooCommerce Email Customizer By CidCode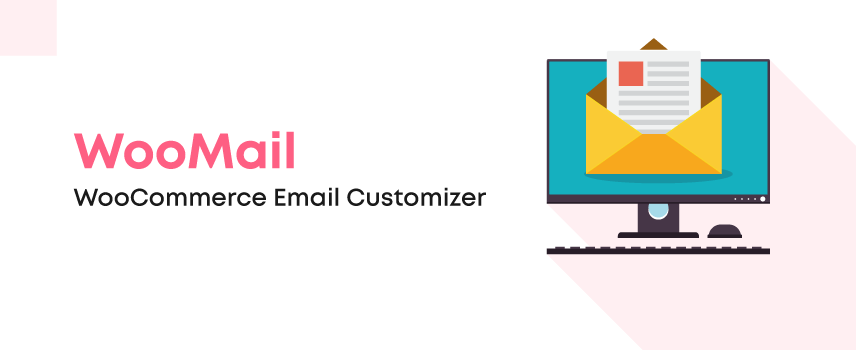 Do you want to create an email template within the shortest period of time? Okay, the WooMail might be a good fit for you.
WooMail – WooCommerce Email Customizer offers the fastest email customization facility with 50+ shortcodes. Besides, you will also get 10+ predesigned templates and 5+ pre-designed blocks there.
You can add product images, modify image sizes, show SKU, and many more options by using this woo email customizer. You can even translate an email template for the customers living abroad. Being RTL supported, you can use it for the multilingual supported stores.
Even after preparing the emails, you can preview your email template using a test email. Replace it with your official email after the testing phase.
However, there's no free version of this plugin. You have to purchase the premium version to use this email customizer for WooCommerce websites.
Special features of Woomail Email Customizer
Lots of pre-designed blocks and templates
RTL & multilingual supported
Unlimited custom shortcodes
Compatible with other popular plugins
Able to add dynamic data etc.
CodeCanyon Price: $39
CodeCanyon Users Ratings: 4.15 out of 5 stars
11. YITH WooCommerce Email Templates by YITH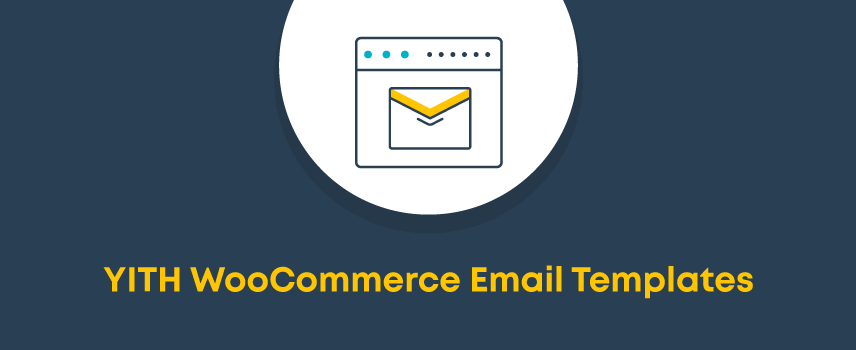 If you want to design a professional-looking email template for your store, YITH WooCommerce Email Templates are a good shot for you.
Just like the other WooCommerce email customizer plugins, it also supports stylizing the header, footer, typography, colors, social media links, and other WooCommerce elements.
By the way, you can also use additional add-ons offered by YITH. But, you have to use their premium version for that.
By default, YITH offers 4 additional template layouts to ease your design process. These are –
Default
Informal
Casual &
Elegant
Here's the official sample of the Elegant template.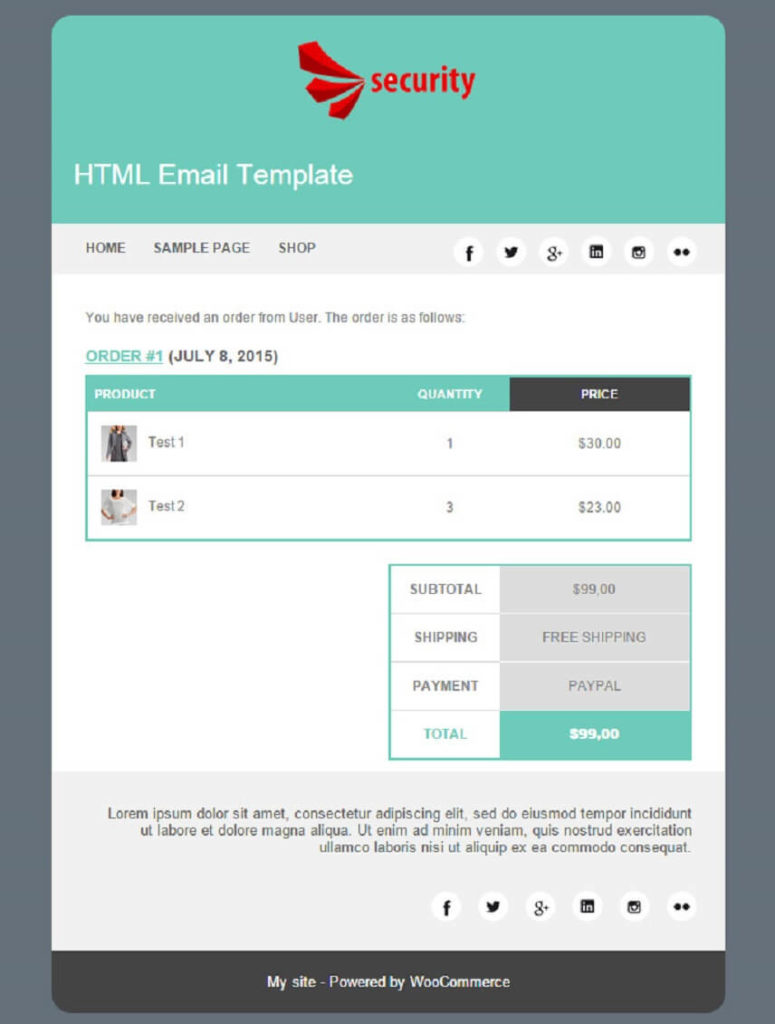 The YITH WooCommerce email templates look so good that you can also use those for email marketing purposes. These aren't just some gimmicky templates, these are designed by professionals.
So, why don't you extract the full potentiality from this email customizer for WooCommerce?
Prominent features of YITH WooCommerce Email Templates
Can customize every WooCommerce email element
4 professionally designed template layout
Customized link on header & social media sites
Different footers for different templates etc.
Official price: €79.99 per year
12. Email Candy Pro – Email customizer for WooCommerce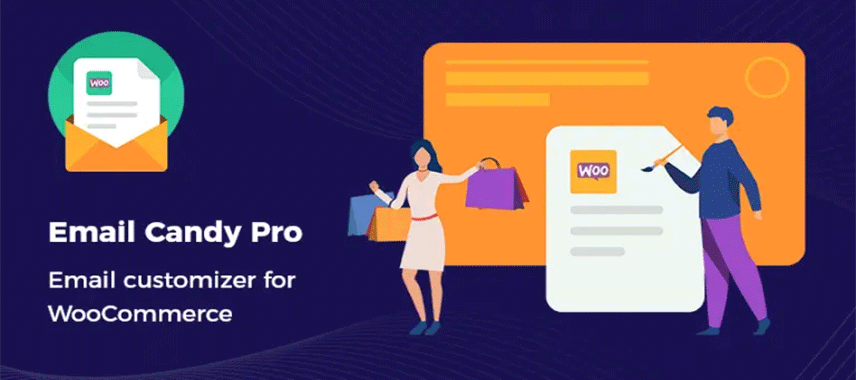 Email Candy Pro is developed by Has Themes. It's a renowned company in the WordPress and WooCommerce industry. Just like their other premium WooCommerce themes, plugins, or templates, they also developed a premium email customizer for WooCommerce.
This customizer offers an email template for every WooCommerce order status. You can even add some additional blocks like customer notes, shipping & billing address, account creation & password-related mail, etc by using this Email Candy plugin.
This WooCommerce extension supports customizing the total template, including the header, footer, and body part separately. Even after designing the blocks, you also have total control over the background image, color selection, margin, padding, social icon listing, and many more.
Key features of Email Candy Pro
Drag & Drop builder
Global email customization
Order status email customization
Live preview facility etc.
Pricing:
One website yearly subscription – $32
One website with lifetime license – $82
Unlimited websites with lifetime license – $165
Choose a suitable package for your business.
13. WooCommerce Email Customizer Plus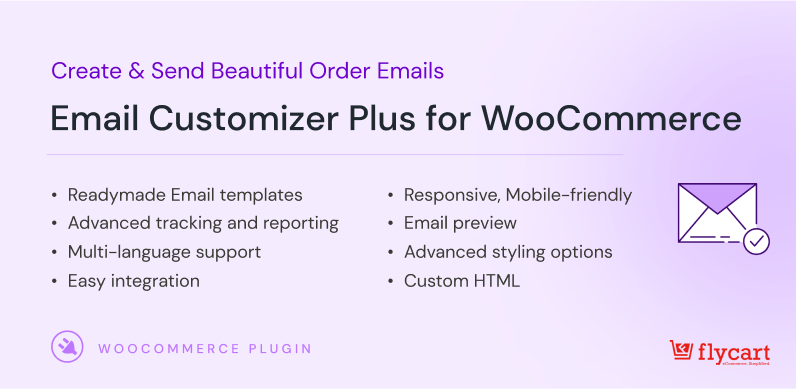 WooCommerce Email Customizer is a powerful tool that allows you to customize the emails sent to customers from your WooCommerce online store. With this tool, you can create unique and personalized emails that match the branding and messaging of your store.
The customization options include changing the layout, colors, and fonts and adding images and logos. You can also edit the content of the emails, including the subject line, header, footer, and body text.
Overall, WooCommerce Email Customizer is a powerful tool for improving the customer experience and building a stronger brand identity for your online store.
Features:
Customizable email templates
Live preview of email design,
Drag-and-drop email builder
Personalized email content based on customer data
Support for multiple languages
Email testing and preview functionality
Integration with popular email marketing services
Mobile-responsive email design
Custom CSS support for advanced styling.
Price: $49/Year
Whoo!
That's our list of the 13 best WooCommerce email customizer plugins to design an email template.
Frequently Asked Questions about the WooCommerce Email Customizer Plugin
Here are the most frequently asked questions about the WooCommerce email customizer plugins.
1. How do I customize my email in WooCommerce?

There are two different options for customizing WooCommerce emails.

1. Using the default WooCommerce email settings &
2. Using a third-party WooCommerce email template customizer

To use the default WooCommerce emails, proceed to WooCommerce -> Settings -> Emails -> Email Options.

You will get the following features in the Email Options section.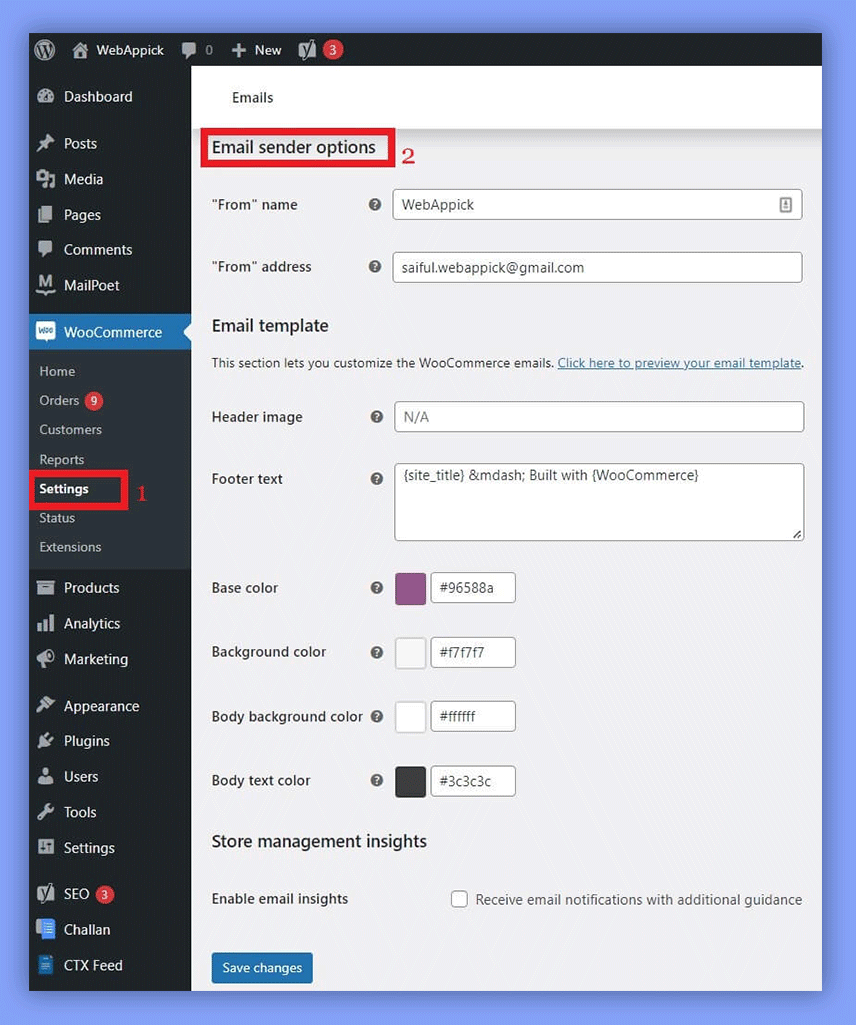 You can change the body text color, background color, header image, base color, footer text, etc from this page. However, if you have a little bit of coding knowledge, you can even customize email templates too!

By the way, you can also use a third-party WooCommerce email editor to customize your emails. In the previous section, we have already covered the 12 best email customizers for WooCommerce.

Choose your favorite one and download it from the WordPress repository. But, if the selected plugin isn't available on that repository, feel free to check the plugin's homepage.

2. How do I change the default WooCommerce email templates?

There are some default WooCommerce email templates on your website. You can access those templates from the WooCommerce email settings page. The path of this page is WooCommerce -> Settings -> Emails -> Email Options.

You can edit WooCommerce emails either from this settings page or via a third-party drag-and-drop email body editor. 

However, the default editor allows you to modify the email header, body text, body color, background color, footer texts, etc. But, a third-party drag-and-drop email builder offers more customization opportunities. 

Most importantly, you can use your personal logo, personalized texts, add social media sites along with social media icons, and many more. So, choose the right one based on your requirements.

3. Can WooCommerce send emails?

By default, WooCommerce offers seven different order statuses just after starting your WooCommerce store.

Whenever the status changes for an order, the customer will get an automatic email notification from the shop.

To set up the automated email sending process, you have to enable email notifications first. Check the steps below to initiate these steps –

Step #1: Check email settings

To ensure the automatic email sending process, the very first thing to do is check the email settings. Proceed to WooCommerce -> Settings to get the settings page.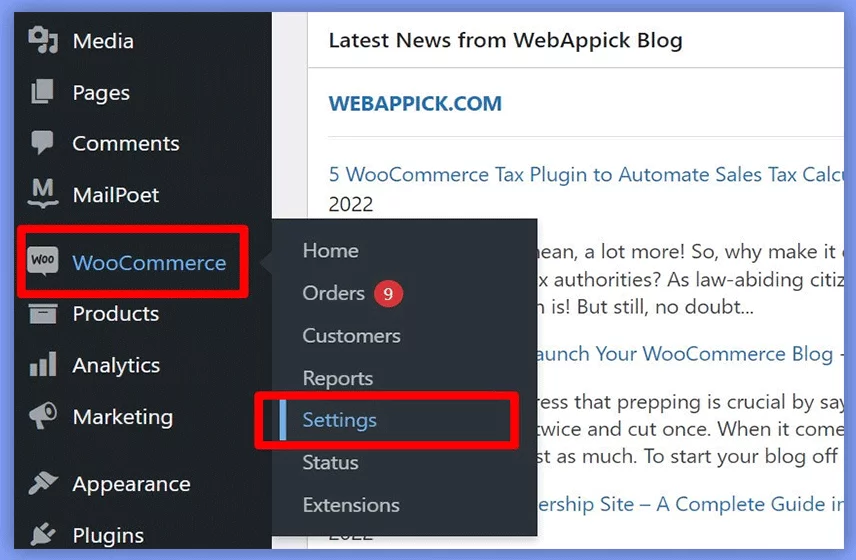 Click on the Emails tab after proceeding to the settings tab.

Step #2: Manage email for orders

You can manage the email settings for every delivery status from this page.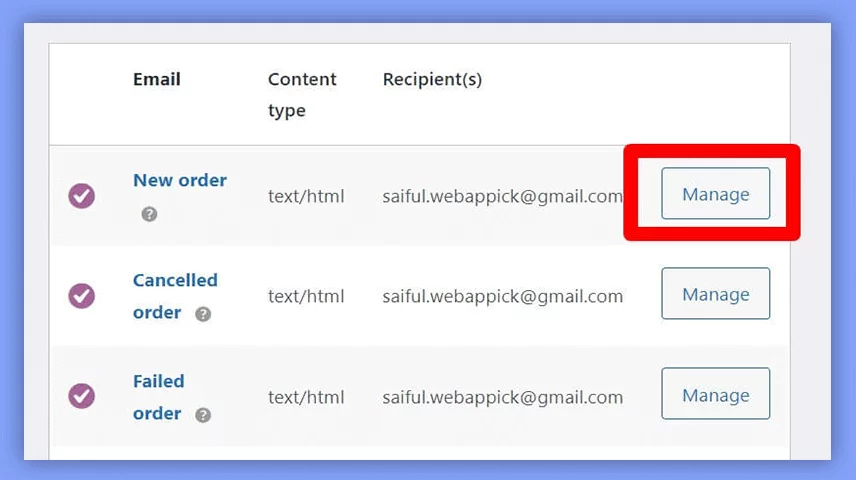 For example, we want to manage the email settings for the newly ordered items. In that case, choose the manage button beside the 'New order' status. Then you will get available management settings on the following page.

Step#3: Enable email notification

On the 'new order' page, you will get the options for enabling/disabling the email sending options, recipient's email address, subject, heading, additional notes, WP HTML mail, etc.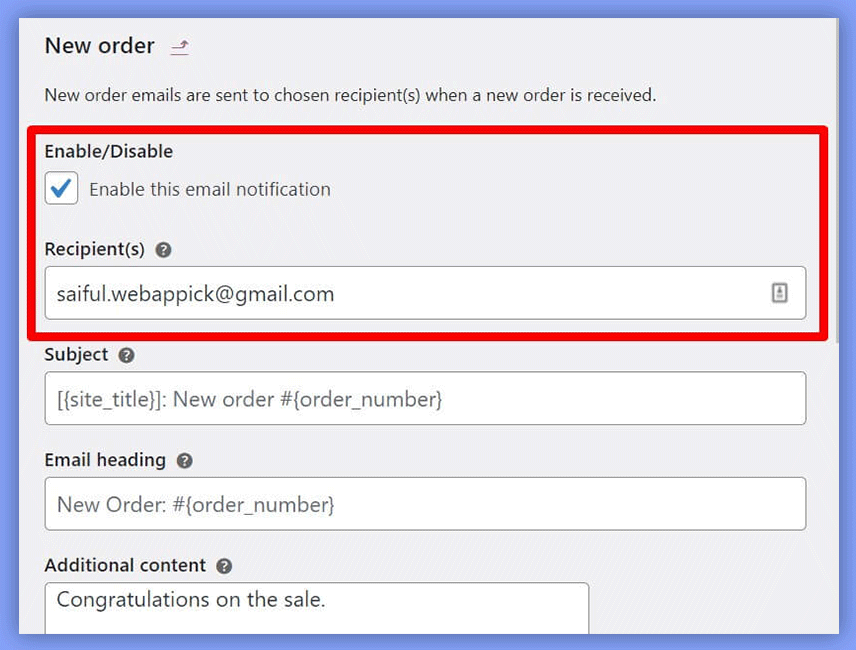 Please make sure that you have ticked the 'Enable this email notification' option and the recipient's email address is correct. You can keep the rest of the following options untouched. 

But, if you want to customize WooCommerce email templates, you can update the heading, content, and subject line from this page. 

If everything remains correct on this page, WooCommerce will start sending emails to the recipients about their status update.

4. How do I view email templates in WooCommerce?

Though WooCommerce by default doesn't offer a live preview feature, you can still preview the complete email structure. To preview the emails, navigate to WooCommerce -> Settings -> Emails. Then scroll down and find the Email template section. In that section, you will get an option called 'Click here to preview your email template'. Click on that.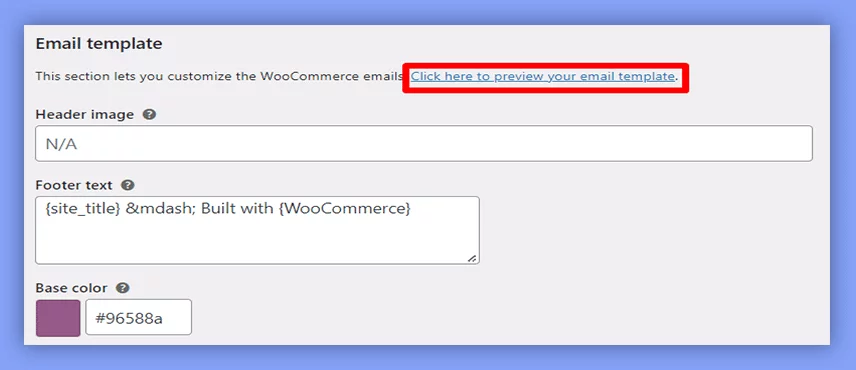 After clicking on there, you will proceed to a new tab where you will get a preview of your template. Here's the default preview of your HTML template –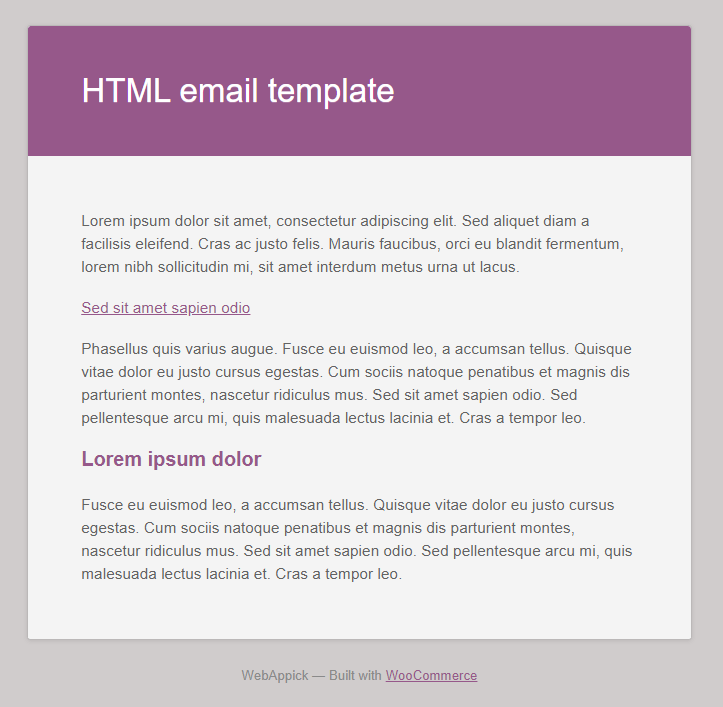 By the way, this is just a default overview. You can customize these templates however you want.
5. Why WooCommerce isn't sending emails?

Whenever the order status changes, the recipients get an automatic notification on their email. If a customer doesn't get those notifications, it means something goes wrong while setting up WordPress or WooCommerce. 

The possible reasons are – 

1. Faulty SMTP configuration
2. Email notification is not enabled yet
3. Typo on the Email address
4. Your website is flagged as spammer etc.

Troubleshoot these issues and hopefully, you can resolve the problems with the WooCommerce email delivery issues.

Last Words
That's all for today about our list of the 12 best free & paid email customizer for WooCommerce Websites. I hope you'll find a good customizer for your online store.
Let's design our emails!
You May Also Read