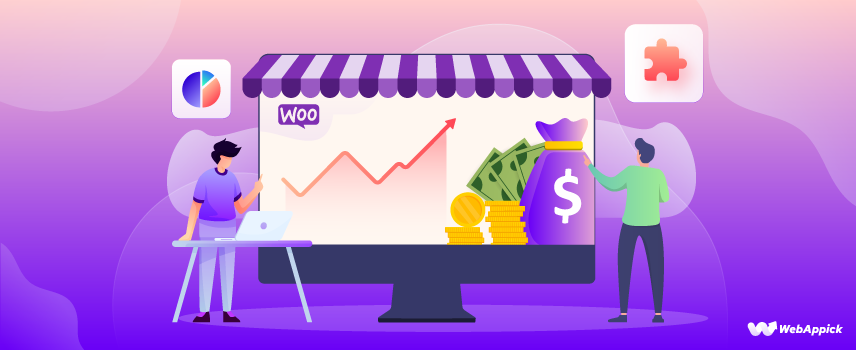 WooCommerce Revenue – Grow Your Business (Trends+Stats+Infographic)
WooCommerce is a free WordPress plugin that allows you to create an online store by adding eCommerce functionality to your WordPress website. The WooCommerce plugin can transform your WordPress website into a fully functional and customizable eCommerce platform with only a few clicks.
As WooCommerce is one of the open-source platforms, a question automatically arises in the back of our minds; how is this company generating revenue by establishing a free plugin? This blog will primarily discuss WooCommerce revenue and some other necessary statistics and analytics that you must know.
We all know that downloading, installing, and using the WooCommerce platform is free of charge. So how does WooCommerce generate revenue and run its business?
WooCommerce generates money by selling hundreds of useful plugin extensions, or add-ons to its platform. It's a terrific business model for them since they both own and control the platform. It allows them to make a profit from the extensions that are being used by the business owners.
Some Exciting WooCommerce Stats and Facts
Let's have a look at some of the fantastic WooCommerce statistics and undeniable facts. We believe it will help you better understand what this company has done over the years.
The lifetime downloads of the official WooCommerce Plugin are over 160 Million from WordPress.org when I'm writing this blog. (November 2021)
BuiltWith report on WooCommerce usage statistics states that in 2021, 4,414,537 live websites use WooCommerce; 8.6% of all websites and 28.19% among all the eCommerce websites.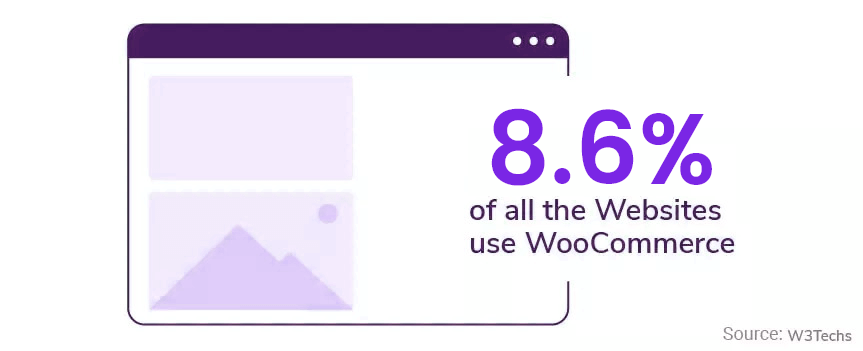 People are downloading WooCommerce at least 30,000+ times every day.
According to the latest report of Statista (April 2021), the WooCommerce market share is 23.43% worldwide; making it the leading shareholder among all eCommerce platforms.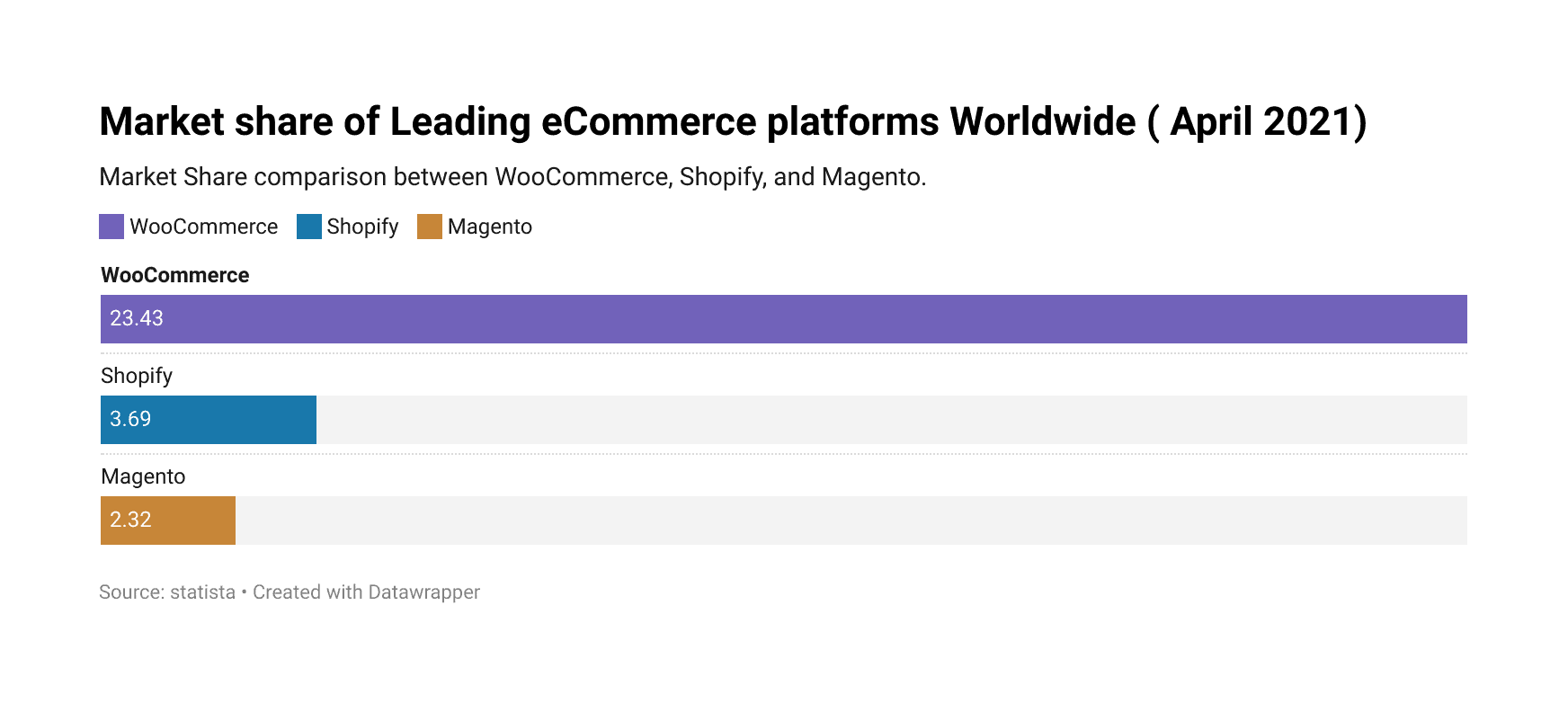 93.7% of all eCommerce-based WordPress websites use the WooCommerce plugin.
WooCommerce is the most popular plugin/module on the entire internet – with 68% usage distribution.
The latest usage statistics of W3 Tech states that the WooCommerce plugin is used by 20% of All WordPress Websites. (28 September 2021)

The WooCommerce plugin available on WordPress supports 66 different languages.
At least 3.8M+ live sites are using WooCommerce.
There are 1,453 WooCommerce plugins available on WordPress.org and counting.
Another popular marketplace CodeCanyon has a total number of 1221 WooCommerce Plugins.
According to the data of the Official WooCommerce Store, WooCommerce.com currently has more than 730 official plugin extensions and themes.
WooCommerce Plugin from WordPress.org supports a total of 66 languages.
Some More Inspiring WooCommerce Statistics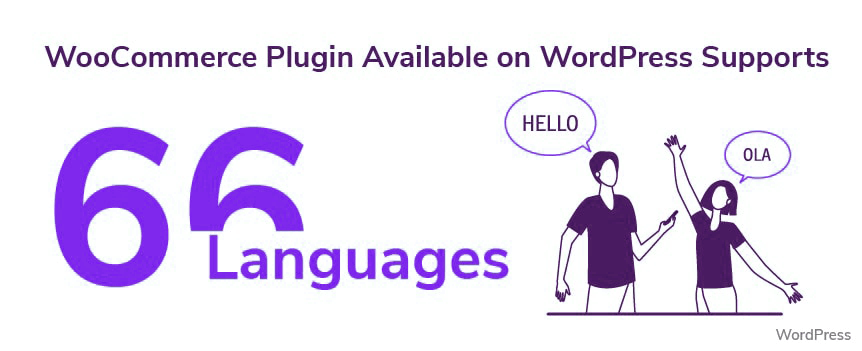 According to Wikipedia, the current market share (2021) of WooCommerce is an impressive indication, making it 22% of the top 1 Million eCommerce sites.
WooCommerce themes have over 1,321 themes on ThemeForest.
The theme directory of WordPress.org has 1224 WooCommerce compatible themes.
The most popular WooCommerce theme, Astra, has over 1 Million active installations.

In 2020, Matt Mullenweg stated that WooCommerce facilitated over $20 Billion worth of sales — more than double the year before.

According to the stats of 2019, The GMV- Gross Merchandise Volume of WooCommerce stores had estimated an enormous $11.8B.
In the open-source category, WooCommerce is the second most popular platform on the internet, right after WordPress.
One in every four online shops is powered by WooCommerce, including some top-rated websites like Chaka Khan, AeroPress, New Zealand All Blacks Official Store, etc.
WooCommerce's repository on GitHub has a total number of 1048 contributors and counting.
WooCommerce Stats Infographic
WooCommerce Statistics on Sale
According to the research of SaaS Scout, WooCommerce alone is responsible for about 24% of the total eCommerce sales.
This statistic solidifies WooCommerce's position as a leading platform in the market, with a sale volume of 24% of overall eCommerce volume.
Research of SaaS Scout also stated that WooCommerce is growing faster than any other eCommerce platform, with a rate of 13% to 15% increment every quarter.
There must be a reason for WooCommerce's meteoric rise to prominence in the eCommerce business since 2011. The most delicate illustration of this is the company's growth in comparison to its competitors.
WooCommerce's community builder website Do The Woo announced that in 2020, they had surpassed $20 Billion in sales.
eCommerce growth has accelerated in recent years, transforming the fortunes of practically every internet-based business company. With all of this in mind, it's no wonder that WooCommerce's sales surpassed $20 billion in 2020.
According to Matt Mullenweg, co-founder of WordPress, this was more than double the previous year's total in a speech at State of the Word.

Increase Your WooCommerce Store's Revenue (Tips & Tricks)
Building an eCommerce store can be an incredibly pleasing experience if you're aware of what you're doing. From launching your eCommerce store to making your first sale and beyond, it can be a roller coaster ride for you. And the best part is, the WooCommerce plugin can be the best tool for making your website shopping heaven.
But what happens when your online shop meets the sticking point? When your sales are no longer increasing, and your store's growth comes to a halt. Even if you haven't seen it yet, there are several quite effective ways to increase your WooCommerce store's sales.
Now we'll share our well-thought-out and practically proven tips and tricks that will help your WooCommerce store's revenue to skyrocket. So, without further ado, let's get started.
Focus On Selling Your Product's Benefits, Not The Features!!!
It's essential to promote your products based on how they can assist the end-user while creating product descriptions, sales pages, or marketing in general.
Many business owners fall into the habit of merely describing the products. But they overlook that any identical product may be described similarly. Instead, if you describe how the product may benefit the consumers, you can be more likely to persuade them to purchase.
The self-cleaning oven by Bosch can be a fantastic example of this. Due to the way they've portrayed it, what would typically be a mundane and perhaps technical product becomes a sought-after must-have.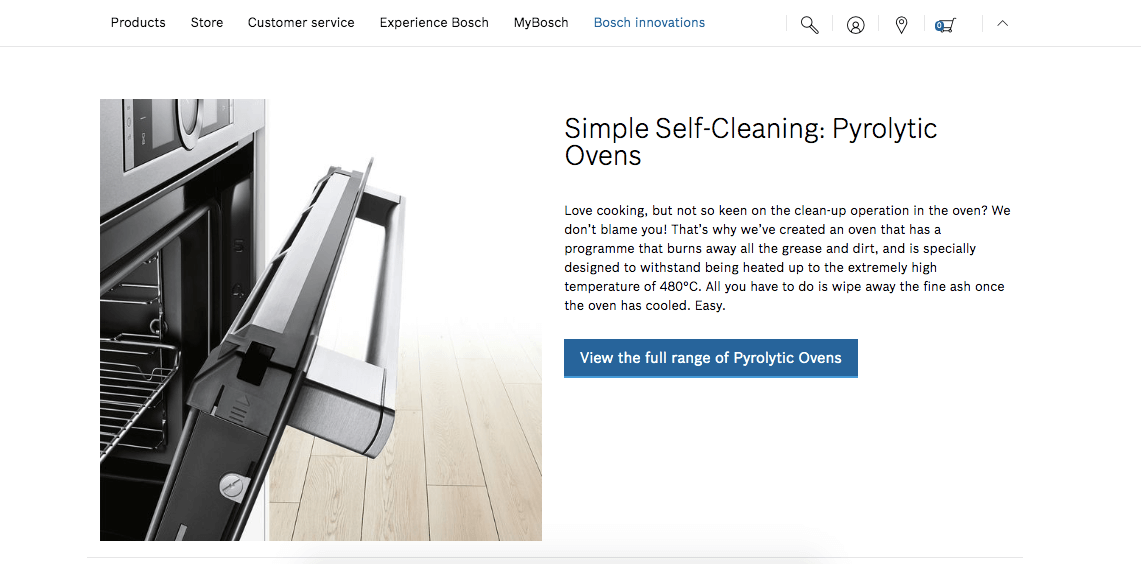 Keep in mind that the goal of any product or service is to solve a problem or satisfy the needs of the consumers.
Write down your customer's requirements, desires, and problems that they are struggling with.
Take a note of how your product can solve their problems.
Make changes to your product descriptions and sales pages, according to that.
Fine-tune the outcomes after testing them for a certain period.
Proper Application of Multichannel selling Techniques
Multichannel selling is a great strategy to boost your average order value and generate more income from your WooCommerce store.
Cross-selling is a sales technique that encourages consumers to buy a related or complementary product or service to what they've previously purchased. For example, you may advise that a consumer purchase shoe polish with a new pair of shoes or some replacement batteries for a new toy.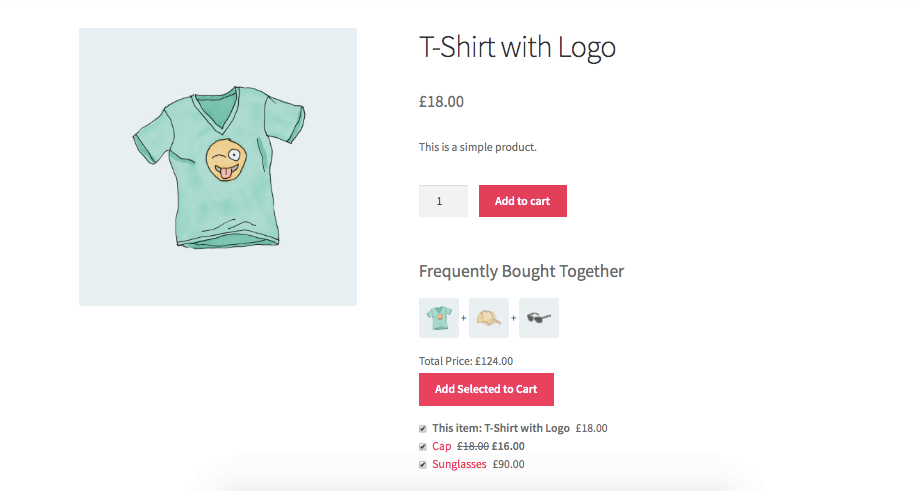 Utilizing the products you already have in your business is one of the most efficient strategies to increase your average order value. Here are some of the most effective techniques by which you can increase your revenue from your WooCommerce store.
People usually tend to purchase products as a set!
You can display what other users purchased alongside the thing they're looking at by leveraging social proof.
For example, if a consumer seeks to buy a trowel, the system will suggest additional items typically bought alongside a trowel.
You may also offer your consumers a package discount. When they purchase the entire package of related items altogether, they will get it at a discounted price.
Order Bump During Checkout
You can optimize the checkout pages in such a way so that an offer only surfaces during checkout when your consumer is ready to make a transaction. This is often a one-time offer that the buyer will not get again.
One-click Cross-sell After Checkout
This technique works almost like an order bump during checkout. This strategy shows a one-time offer to the consumers to encourage them to add to their orders.
The only difference is that the consumers aren't just adding the product to their cart; in fact, they're instantly purchasing the item.
Raise The Price Ever So Slightly!
This may seem a little too obvious, but a slight price hike can be very impactful for your store's revenue.
Often, online business owners fix their product's prices and completely forget about them later on. But effective pricing management can undoubtedly make the difference between a mediocre WooCommerce store and a prospering one.
This technique might get a little tricky to master. So, here are some tips and tricks to help you get along with the process.
Review Your Existing Product Price
Examine your profit margins, product manufacturing cost, the time you spend acquiring them, and other factors to ensure that everything is in order.
Examine Your Competitor's Product
If your competitors charge more for a similar product, there's a high possibility you can raise yours little as well.
Prepare a Strategy to Inform Your Consumers
Most consumers should be alright with a slight price increase as long as you are transparent about it. At first, they probably wouldn't want to pay for the increased amount. But if it means they'll receive a better product or service, most of them will let it slide.
If all the strategies above fail and you can't justify raising your prices, or you're afraid of losing consumers in the process, then improving the quality of your product might be a viable option for you.
The upgraded product might come with new packaging, have a different design, or a couple of newly added features. The adjustments don't need to be significant to raise your prices in this manner.
Pippins Plugins can be an excellent example in this context. They increased their product price by 250% following this exact strategy.
Making Good Use of Social Proof
When used correctly, social proof may be a certain method to boost the revenue of your WooCommerce business.
Studies show, approximately 70% of internet shoppers read product reviews before making a purchase. As a result, if you don't have product reviews and testimonials, you're most likely losing a significant portion of sales. You must handle the negative reviews as well as get more positive reviews from your customers.
However, reviews aren't the only method to use social proof. Using other people's purchases, such as live sales alerts or recent sales popups, is an excellent approach to building trust.
When potential buyers see that other people are purchasing from your site, they'll feel more comfortable about their initial purchase.
Offering Bundle Product With Discount
Since you already have the products in your catalog, bundling them is a simple approach to increasing revenue.
This strategy works best when products are grouped at a discounted price to improve the probability of purchasing. Bundles are a terrific approach to boost your store's average order value. But they also work great to shift or decrease older inventory.
Bundling products also benefits your business since you can offer one package at a higher price than 20 individual items separately.
At the same time, this strategy also benefits the customer by reducing fractional prices. The cost of the bundled product is clearly stated with a generous discount. It ensures that the consumer is getting the best value for their money.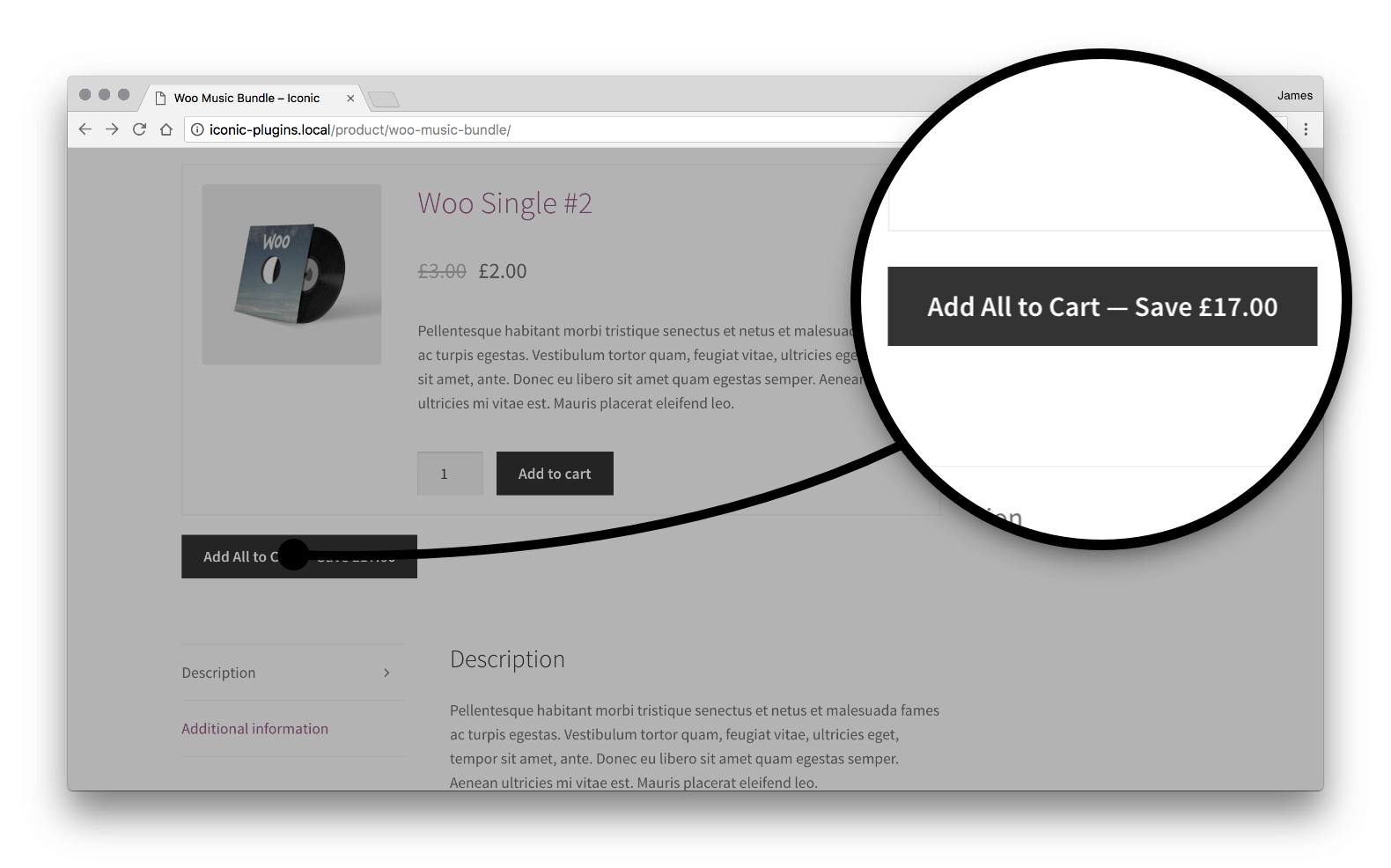 Implementing the techniques above to enhance your store's revenue is a guaranteed approach to give your business a tremendous boost. Many of the techniques listed above are pretty straightforward to implement. But it requires some fine-tuning to match your store and customer experience too.

Value of a WooCommerce Store Outside of Revenue
You must be thinking revenue or profit is the only thing that matters for running a successful eCommerce business. Well, if you think that way, trust us, you're not alone!
We are delighted to let you know that we will be discussing five things apart from revenue that could create real value for your eCommerce business in this segment. As we are writing the entire blog based on WooCommerce, we'll be emphasizing the WooCommerce store here as well.
There is more to the value of your company than how much money you make each week. As an entrepreneur, it's understandable that the number of sales you're producing is the most important factor.
Keeping your business viable is about how much money is coming in and going out to keep things operating and bring in new customers.
But is your goal to run this business forever? Or would you consider selling it to another entrepreneur at some point in the future?
It's essential to have an exit plan when you start a business. But more than that, it's crucial to establish a business with a high potential value. So that when the day will come you'll finally be able to sell it.
Now let's talk about some of our handpicked most essential unquantifiable values of your WooCommerce store outside of revenue.
Organic Traffic
Organic traffic is often the most crucial factor, especially when evaluating eCommerce stores that sell sites like Flippa. Perhaps it's even more valuable than sales or profit in some instances. It's because organic traffic is one of the most challenging parts of a website to develop. And this is where the WooCommerce store steals the show.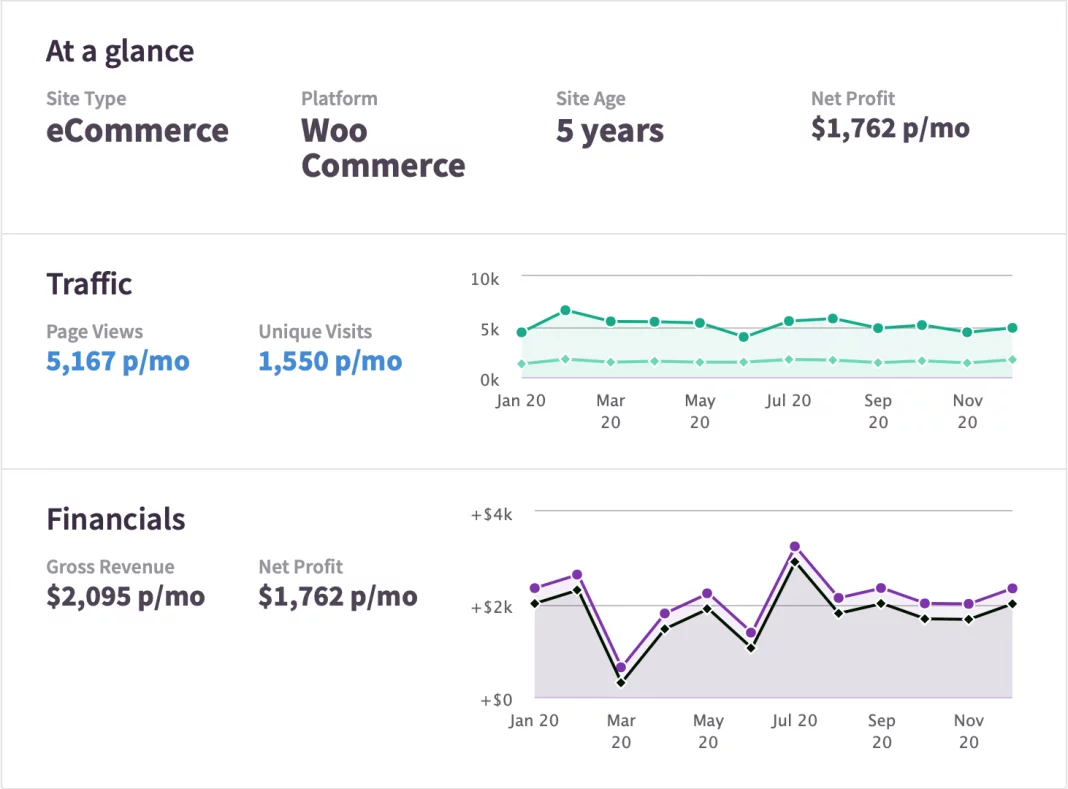 Getting paid traffic is pretty simple; all you need is money and a little marketing knowledge. It isn't easy to drive traffic via organic search. But, fortunately for you, WordPress is one of the most SEO-friendly platforms that you'll ever get in the market.
It enables you to create an appealing blog, keyword-rich product listings, and an overall aesthetic website that Google algorithms appreciate. Organic traffic has a demonstrable ROI, and while the calculations may grow pretty complicated, consider it this way:
If you spend on Facebook advertising, it will bring about 4x more revenue. Or you can also generate free search traffic with optimized SEO and make the same $20 sale.
Assume it takes you 40 hours to create some high-quality content over a month. If you make an extra $5 per sale from organic traffic, after 1,000 sales, you've earned $5,000 for that time invested. And within a couple of years and, say, 10,000 sales, you've earned $50,000 extra money from that 40 hours of effort.
An entrepreneur looking to buy an eCommerce website understands the value of organic traffic pretty well. And he will always be ready to pay a premium for it.
They can immediately make changes to paid traffic or onsite conversions. Still, organic traffic requires quite some time. And an enthusiastic investor would want to pay to get ahead of the queue and acquire a website already ranked well on Google.
Higher Conversion Rate
As we've said earlier, traffic is a highly crucial aspect of optimizing your WooCommerce website. However, traffic is meaningless if visitors aren't making any purchases.
It may appear counterintuitive, but a website with 100,000 unique visitors and 500 purchases is typically not worth as much as 50,000 unique visitors and 400 purchases.
A potential buyer for your website is likely to be well-versed in marketing. They know how to generate more traffic to your website. Or maybe they have a large pocket and are prepared to put a little extra money into your advertising budget to attract the crowd.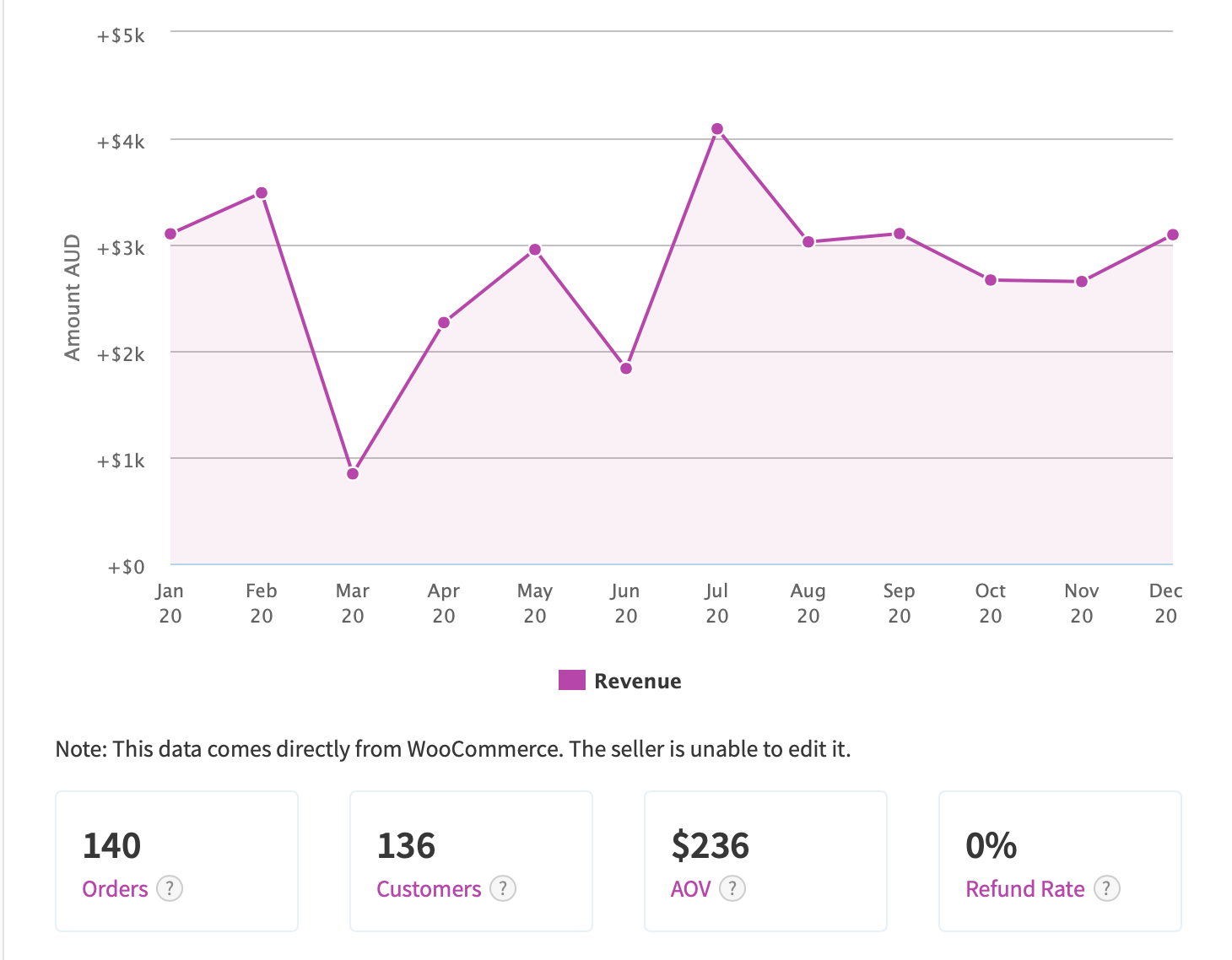 If you can demonstrate through statistics that you have a high-converting store, they will be more inclined to value your company over one with a comparatively lower conversion rate.
There are some fantastic methods to up the conversion on WooCommerce, and it is worthwhile to experiment with them. But you have to make sure that you have a high-quality image with a professionally written copy. Always remember, you must do everything possible to convert your visitors into buyers to maximize the value of your website.
WooCommerce Store's Value Grows With Time
A company that has lasted the test of time is significantly more valuable than a startup that may be a flash in the pan.
Many entrepreneurs experience early success with their eCommerce businesses. Then they decide rather than putting in the time and effort to keep things operating, they'd sell it quickly.
But that's a pretty average strategy. Eventually, by doing so, you won't get the maximum value with your business. It doesn't matter whether it is a WooCommerce store, a SaaS product, or a primary-level content site.
Acquisition entrepreneurs will pay a much greater price for an online company that has proved its ability to operate at a high level over a more extended period.
In fact, during the fourth quarter of 2020, Flippa reported that eCommerce websites selling for more than $50,000 on their platform were more than six years old on average. On the other hand, websites selling for less than $50,000 were less than four years old on average.
There is no actual secret to increasing the value of your WooCommerce store. It's simply a matter of timing your proper exit plan. Everyone has their demands, and it is often difficult to maintain a company long enough to achieve the optimum results.
Tracking Customers And Make Them Return to Your Business
The very first question from a prospective buyer or investor might be about your return on ad spend. If you rely entirely on Google or Facebook ads, operating an eCommerce store can be pretty expensive. So the question is, how much are you willing to pay to make a sale?
If you can demonstrate that your ads are generating multiple sales, the value of your eCommerce business will grow instantly.
Several WooCommerce plugins can assist you in developing a membership program. You might consider using these to entice people to sign up for a new version of your product every month or quarter. Make sure you have automated email campaigns in place to bring back old consumers after a certain period.
Moreover, you can run retargeting campaigns for those who have previously purchased from your website. You might also get an elevated ROAS from those who have faith in your business and enjoy your product.
Do whatever it takes to increase your site value by converting a $20 customer into a $40 or $400 customer. This will surely increase the value of your business.
Emphasize On Growing Your Email List
The final technique that we'll discuss today is growing your email list to optimize the value of WooCommerce powered sites.
You may think email is somewhat an outdated procedure. And yet, we're using it on a day-to-day basis. And we 100% recommend you enlarge your email list to generate more sales. Hence, improve the valuation of your business.
It's not necessary to use email addresses just for email marketing. It can also be posted on social media platforms like Facebook, Instagram, Twitter, etc., to generate identical audiences and beyond. Usually, investors love this kind of opportunity.
It doesn't matter whether you're using email marketing techniques for your WooCommerce business or not. If you have a relevant and more extensive email list to go along with the sale of your business, it will eventually pay off in the end.
FAQ – Frequently Asked Question
How much revenue can you make using WooCommerce – The WordPress plugin?

It's tough to say how much you can earn using a WooCommerce website as it varies from site to site. Indeed WooCommerce is a fantastic platform to make money as the operating cost is much lower than other platforms.

But the actual profit/revenue of eCommerce websites depends on the company's business plan, marketing strategy, relevant product collections, proper site optimization, Search Engine Optimization (SEO), determination, product pricing, and many other factors.

So you see, making revenue using WooCommerce plugins is totally up to how you're managing your business. But the revenue can certainly be higher than the competitor's platform due to its lower operational costs.

How does WooCommerce make money?

WooCommerce is an open-source WordPress plugin that turns your website into a fully functional eCommerce platform. WooCommerce generates money by selling loads and loads of useful paid add-ons and additional plugins for their platform.

It's a fantastic business model for them since they have complete control over the platform. It allows them to make a profit from the extensions that are being used by the business owners.

Is WooCommerce really that good when it comes to selling services?

WooCommerce can be the best possible choice for you in terms of selling services. One of the main reasons WooCommerce outperforms its competitors when selling your services online is its flexibility. Thanks to the extension library and expert database, you can construct nearly any design and add limitless functionality to your website.
What is the actual cost of operating a WooCommerce business website?

The starting cost of WooCommerce is meager compared to other platforms. As we all know, WooCommerce is a free plugin. But to create a live eCommerce website with WooCommerce, you need to pay for the domain, hosting, SSL certificate, server costings, and additional paid plugins if necessary.

If you're still struggling to get a proper idea of the actual operating cost of the WooCommerce platform, let's say you can set up your business with WooCommerce for less than a hundred bucks. However, the cost will eventually begin to go up along with the growth of your business.

Who are the primary competitors of WooCommerce?

The primary competitors of WooCommerce platforms are going to be Shopify, Squarespace, Magento, and WixStores. Check our comparison of WooCommerce and Shopify to understand the differences.
Final Thoughts
After what we've discussed so far, there's no arguing that WooCommerce is the best possible option for you in terms of revenue and business growth. We have also given some impressive statistics, facts, and infographics about WooCommerce to support our statement.
Then we've talked about some of the recent trends on WooCommerce revenue. After several months of research, we tried to provide you with some of our handpicked and most effective tips and tricks to grow your business revenue with WooCommerce. We also tried our best to answer most of the frequently asked questions (FAQs) searched over the internet.
Hopefully, we cover everything you need to know about WooCommerce revenue and how you can grow your business by generating more revenue from your WooCommerce store.
However, if you still have any queries, feel free to reach out to us by commenting below. We promise that we will reply as soon as we can.
It will be a great pleasure for us if this blog was helpful for your journey with WooCommerce or helped you any other way. If you liked or even disliked this blog, don't forget to let us know in the comment section. We'll appreciate it either way.
You May Also Read