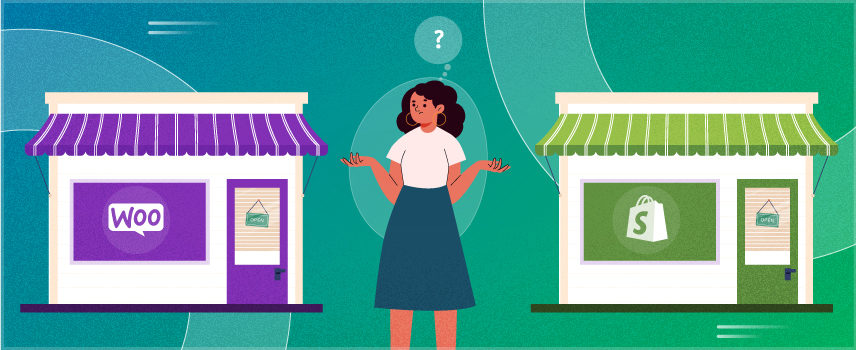 Shopify vs. WooCommerce – Which is the best eCommerce platform for your store?
If you are an eCommerce store owner, then you are well aware that choosing an eCommerce platform is always the very first step in setting up online stores – and in all likelihood, you will find yourself asking the question "WooCommerce vs Shopify – which one should I choose?"
WooCommerce and Shopify are by far two of the most popular eCommerce platforms globally, and more often than not, online store owners are found battling with this decision of which one to choose from among these two.
Both these eCommerce platforms have their own set of merits and challenges, and the objective of this article is to bring those forward so you can choose the best eCommerce platform for you.
But first, let's look at a few qualities of a good platform you need to run a successful eCommerce business.
What to Look for in Your eCommerce Platform?
The starting point should be whether the platform you are considering is a dedicated eCommerce platform or not.
Once you have done that, there are a few things that you will need to consider before choosing a platform.
The following factors will help you decide which platform is better suited for your needs.
Budget – The initial cost of starting a fully functional eCommerce store.
Ease of use – It should be easy to use, even for absolute beginners.
Payment Methods and Payment Gateway – It should support multiple payment methods.
Integrations – The number of services and third-party tools and integrations available to grow your eCommerce business.
Scalability – The platform should be scalable as your business grows.
WooCommerce – An Overview
For those who didn't know, WooCommerce is a WordPress plugin. This WooCommerce plugin powers at least 40% of all websites you see on the internet and most popular way to build a WordPress site.
Like WordPress, WooCommerce is also an open-source project. All you need to do is either download this WordPress plugin and edit it or copy its code. You can choose a free WooCommerce theme from hundreds of themes available online, and as soon as you add this WooCommerce plugin to your WordPress website, your site is transformed into a fully operational eCommerce store.
There are thousands of other official and third-party WooCommerce plugins, including options related to micro saas ideas, which you can use to extend your core WooCommerce platform further. These plugins can be used to improve your customers' shopping experience, market your store better, and get better control over your store. Thousands of free and premium themes for a wide range of niches and domains help your site's aesthetics and overall appeal.
WooCommerce is known for its flexibility and adaptability.
Shopify – An Overview
Unlike WooCommerce, Shopify takes a very different approach to creating an eCommerce store. Shopify is a closed-source hosted tool. What it simply means is it's a web-based eCommerce platform, which also includes hosting. Shopify's App Store contains thousands of Shopify apps which you can use to extend the functionality of your Shopify store.
Shopify was launched in 2006, and since then, it claims to have an impressive 1M+ businesses in 175 countries.
A closed-source hosted tool doesn't require you to install any software to create a Shopify store. Being a cloud-based SaaS solution, it provides rudimentary eCommerce tools and manages the technical and back-end aspects of a website like hosting, speed, and security.
This also means that you do not have access to all the codes that a WooCommerce store owner would have. With Shopify, you also don't need to worry about hosting any software yourself. You just need to register for an account and start adding products.
The flip side (for those who consider it one) is that Shopify users lose the affordability and flexibility that an open-source tool like WooCommerce offers. Instead, you will just have control over some of the Shopify features.
And although there are opportunities to customize your Shopify store with the help of the Shopify app store and the Shopify theme store, you won't be able to edit your store's code directly.
Also, since the company doesn't have a free version, it may seem expensive for some, although there are a lot of factors that determine how much your Shopify store will cost.
In a nutshell, Shopify is a managed, subscription-based, all-in-one, hosted, and managed eCommerce platform. Shopify was built specifically for eCommerce. It's more like Plug and Play, where you pay Shopify a flat fee and start selling right away.
Shopify vs WooCommerce – A detailed comparison
Let's dig a little deeper, trying to compare Shopify and WooCommerce in 12 key areas.
1. Pricing – Shopify vs WooCommerce
WooCommerce will seem cheaper to most people: WooCommerce sites need:
Domain name – They usually come for free, or they cost about $10 per year.
A WooCommerce-supported hosting – This is a variable core cost. Small Woocommerce stores may be comfortable with a $10 per month hosting fee, but larger stores with lots of products will need more expensive hosting.
WooCommerce software – The WooCommerce software itself is free.
Of course, there is the cost of third-party WordPress plugins, which might cost money.
Shopify isn't free. You will need to pay a recurring monthly fee.
The Shopify pricing plan is given below.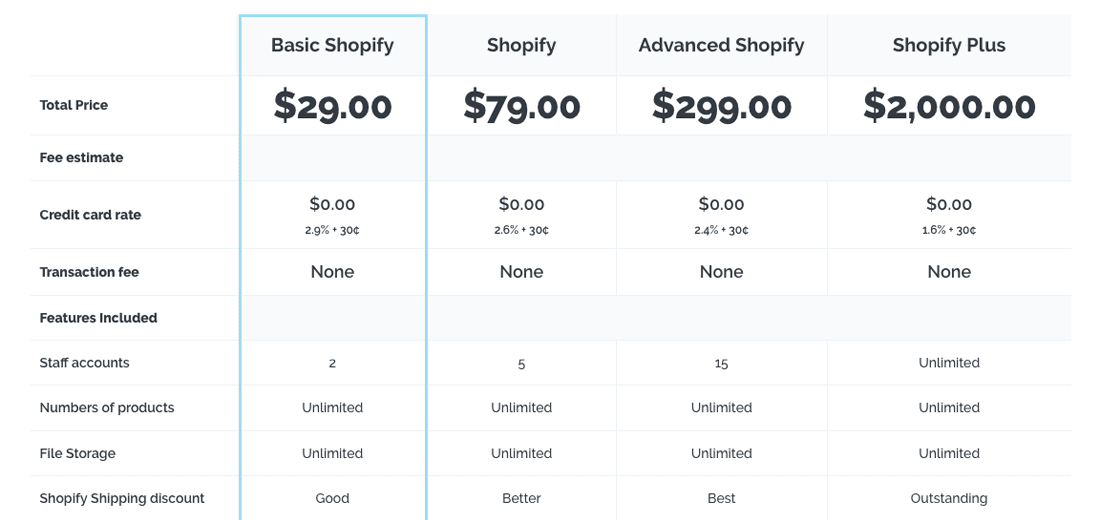 Shopify premium apps can cost anywhere between a few dollars per month to a lot more. These prices are, however, for the core Shopify software. However, Shopify apps are recurring monthly charges, which can add up over time. Also, WooCommerce plugins are usually one-time payments, with optional renewals.
A premium Shopify theme would typically cost approximately $180 for official themes, about three times as much as most WooCommerce themes cost.
🏆 WINNER: Pricing – WooCommerce vs Shopify: WooCommerce
2. Ease of Installation – Shopify vs WooCommerce
Shopify is one of the most straightforward solutions available for a complete online store regarding its installation and use. From the very moment you create your Shopify account, they will guide you through the complete setup. The team will also give you some time to "play around" with your Shopify store before publishing it, and you don't need to be a technical whiz to get started with Shopify.
For a Shopify store, all you need to do is register for a Shopify account and follow a simple setup wizard. In a matter of minutes, you can manage your store through a dashboard that looks like this: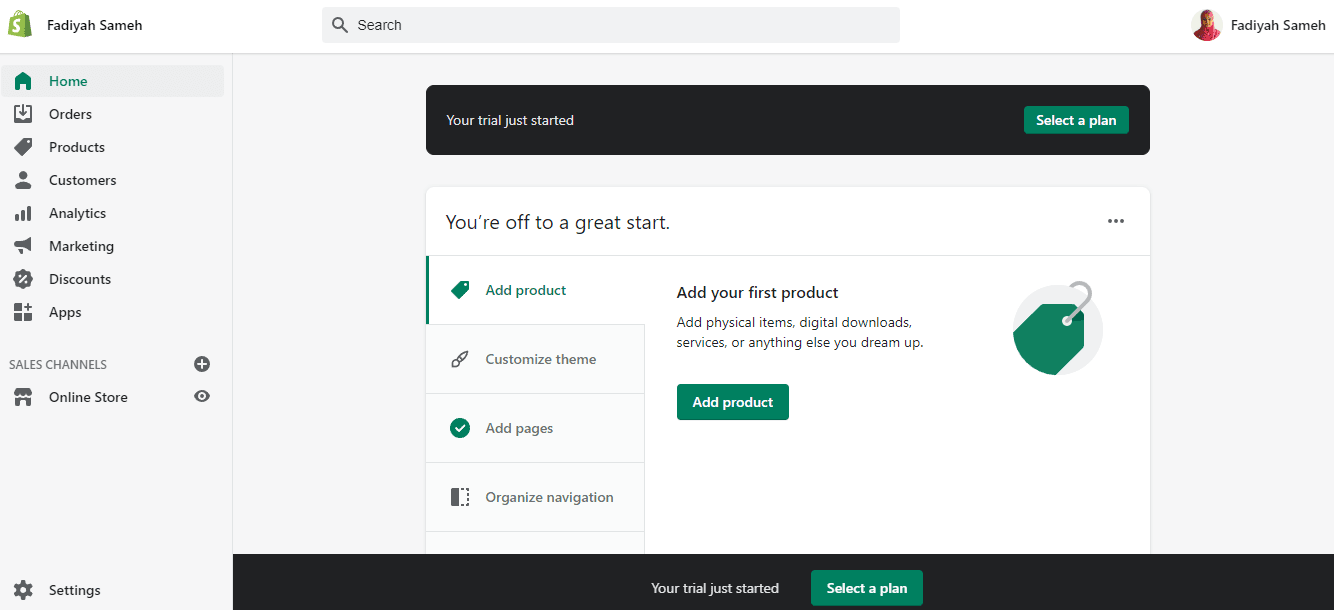 WooCommerce is also pretty easy to set up and start using. However, the only thing to consider is that there are a few steps you will need to follow ahead of the installation. These include installation or updating WordPress on your website, installing the plugin, etc.
WooCommerce can be a little overwhelming if you are not tech-savvy or have never done this before.
To create a WooCommerce store, you'll need to:
Buy web hosting.
Install WordPress software.
Install the WooCommerce plugin to WordPress.
Go through WooCommerce's setup wizard to configure your store.
Once done, you will be able to manage your store via a user-friendly dashboard that looks like this:
🏆 WINNER: Ease of Installation – WooCommerce vs Shopify: Shopify
3. Features and Plugins – Shopify vs WooCommerce
With respect to core eCommerce features, both WooCommerce and Shopify offer pretty much everything that you expect to achieve from running your eCommerce store. The basic features that both these platforms have are:
Where they differ, however, is in adding features beyond the core functionality, which you'll typically do via third-party extensions:
WooCommerce calls these "plugins."
Shopify calls these "apps."
For WordPress and WooCommerce, there are 58,000+ free plugins at WordPress.org and thousands of premium plugins at other marketplaces like CodeCanyon. Although not all of those plugins are aligned to eCommerce, you do have a lot of flexibility.
For Shopify, you'll find 5,700+ apps, which also gives you a lot of flexibility. The number of these apps is well below what WordPress and WooCommerce offer.
🏆 WINNER: Features and Plugins – WooCommerce vs Shopify: WooCommerce
4. Payments – Shopify vs WooCommerce
WooCommerce gives you a lot of ways to with payments. It offers its own official WooCommerce Payments service that's powered by Stripe. However, this is only available to US-based eCommerce store owners at present.
Additionally, WooCommerce also allows you to integrate payment gateways using WooCommerce plugins. You'll quickly find official integration plugins for big brands such as Authorize.net, Stripe, and PayPal. At the same time, lots of third-party extensions for smaller payment gateways, including local providers, are also available.
In addition to debit and credit card payments, WooCommerce also makes it easy to accept alternative payment options, such as cryptocurrency, cash on delivery, checks, and much more.
Shopify handles payments a little differently than WooCommerce. Shopify offers a payment service that is available by default. And Shopify "encourages" the user to use this default option. You can use a different payment gateway, but you will be charged extra on top of the regular processing fee from your provider. This fee can start at 2% and can go down to 0.50% on the highest-tier plan.
If you're willing to pay that fee for a third-party payment gateway, Shopify supports hundreds of additional payment gateways.
Shopify payments can also be manual payments such as cash or check with no transaction fee. You can also access other options, like cryptocurrency, through third-party gateways (such as Coinbase Commerce).
🏆 WINNER: Payments – WooCommerce vs Shopify: WooCommerce
5. Design and Customizability – Shopify vs WooCommerce
There are two main ways in which you can customize the design of your WooCommerce store:
WooCommerce Themes
Plugins
Your starting point would be Woo's default online store theme called Storefront (free). It's an efficient collection that puts the focus on all the essential elements of an eCommerce store. It's intuitive, flexible, and offers free WordPress themes with deep integration with WooCommerce.
Once you have installed a WooCommerce theme, you'll be able to customize it using a code-free real-time editor that looks like this: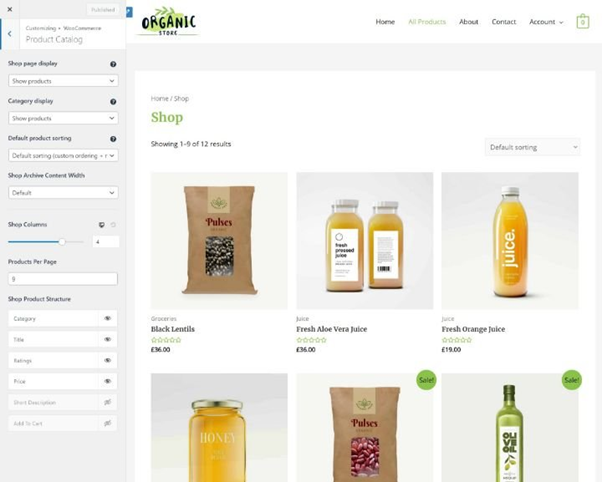 You can also install a design plugin if you want to go beyond the standard WooCommerce theme. WooCommerce also offers a range of free themes.
Shopify also offers the same fundamental approach to design customization – but with lesser flexibility. Shopify doesn't create its designs in-house.
They're outsourced to a group of professional web designers who then create these very engaging designs. Hence, Shopify is ideal for stores that want to go out of the way in terms of aesthetics.
Unfortunately, it's expensive; the price tags on the premium Shopify themes are going as high as $180. But you do get a great design in exchange – which is an excellent bargain for some.
Luckily, there are also some free options available.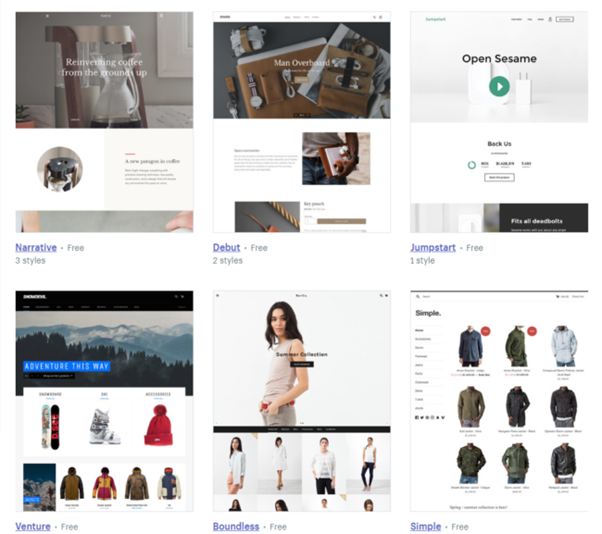 You can start with basic Shopify themes and customize them using Shopify's design editor. You can also find some of the Shopify builder apps that allow you to customize your product pages or create popups for better flexibility.
🏆 WINNER: Design and Customizability – WooCommerce vs Shopify: WooCommerce
6. Operational issues and cost – Shopify vs WooCommerce
In WooCommerce, you'll be responsible for maintaining your store, which consists of updating the WooCommerce core software and its extensions. While updating is simple involving clicking a few buttons. But there can be compatibility issues sometimes.
You'll also need to ensure that you're making regular backups, which you can do with plugins such as BlogVault or Jetpack Backup.
Alternatively, you can pay for a type of hosting called managed WordPress hosting, typically starting at $30 per month, or you can pay for a WordPress maintenance service (WooCommerce-focused services usually cost $100-$150 per month) if you don't want to be involved in this yourself.
With Shopify, you don't need to worry about maintenance, as Shopify manages this for you.
You, however, may want to pay for a Shopify app like Rewind Backups to make sure you always have a copy of your online store's data. This costs anywhere between $3 to $99 per month, depending on your store.
Hence, Shopify maintenance costs can also add up even though Shopify handles updates for you.
🏆 WINNER: Operational issues and cost – WooCommerce vs Shopify: Shopify
7. Scalability – Shopify vs WooCommerce
Scalability is the ability of your eCommerce platform to handle large numbers of products and high-traffic conditions.
When you compare WooCommerce to Shopify, both platforms can scale to handle large stores, although WooCommerce might require a little more technical expertise to scale.
🏆 WINNER: It's a TIE.
8. Support – Shopify vs WooCommerce
Since WooCommerce is a free, open-source platform, you don't get direct access to dedicated support. There are paid options. With WooCommerce, you'll need to rely a lot on community support. Thankfully, WooCommerce and WordPress are so popular; it's pretty easy to find help. WordPress blog is an excellent support to its users.
However, if you purchase premium extensions, you'll be able to get support directly from the developer.
Comparing Shopify, your Shopify subscription, on the other hand, gives you access to direct support from the Shopify staff. Things like live chat is a nice perk to have. For third-party Shopify apps, you'd need to get support directly from the app developer.
🏆 WINNER: Scalability – WooCommerce vs Shopify: Shopify
9. Multilingual Capabilities – Shopify vs WooCommerce
WooCommerce offers a huge multilingual capability. WooCommerce users can find several popular plugins to translate your store into different languages to cater to your audiences spread across geographical regions, including full localization and currency switchers. Some good options for WooCommerce are:
TranslatePress
WPML
Weglot
Shopify offers a feature that allows you to create your store in up to five languages. Either you can manually add your translations or use a third-party translation app to help you generate the translations for you.
🏆 Winner: Multilingual Capabilities – WooCommerce vs Shopify: WooCommerce
10. Performance and Page Speed – Shopify vs WooCommerce
Both WooCommerce and Shopify provide you with the tools to create a fast-loading eCommerce store.
With WooCommerce, since you'll be responsible for optimizing your store, you should be mindful of choosing a good hosting, setting up a content delivery network (CDN), etc. As long as you invest in optimal hosting, you can make your online store load very quickly.
Since Shopify handles your hosting for you, you'll need to trust its performance optimization. It also builds in a CDN to improve global load times.
🏆 WINNER: It's a TIE.
11. SEO – Shopify vs WooCommerce
It's needless to say that SEO is essential for the success of eCommerce stores because organic traffic will play a significant role in the success of your online store.
With both Shopify and WooCommerce, you'll most likely end up depending on third-party apps to give you more control over the SEO for your online store.
WordPress/WooCommerce has several popular free and paid SEO plugins like:
Yoast SEO
Rank Math
All-In-One SEO
The SEO Framework
SEOPress
Both free and paid plugins are available for SEO, and even the latter are pretty affordable.
With Shopify, you'll want a third-party SEO app if you're conscious about your store's optimization. Unfortunately, you don't get as many options like WooCommerce, and the apps can be pretty expensive.
Also, Shopify doesn't offer as much control over URLs. For instance, you will need to use the default URL structure for your blog on Shopify, which may not be how many people would prefer. This is an aspect where WooCommerce beats Shopify.
🏆 Winner: SEO – WooCommerce vs Shopify: WooCommerce
12. Security – Shopify vs WooCommerce
Both Shopify and WooCommerce are secure platforms.
WooCommerce is built on WordPress, which is by far the most trusted platform globally. The core software is robust and taps into a large open-source community in addition to the team of developers.
Read more: 15 Advanced WooCommerce Security Tips You Might Don't Know Yet!
Shopify has also been doing very well in terms of security. There have been no significant breaches in Shopify's history, which makes it a trusted platform too.
Overall, both platforms are secure, though WooCommerce requires a little more vigilance, such as ensuring prompt software updates and things like that.
🏆 WINNER: It's a TIE.
13. Ease of use – Shopify vs WooCommerce
A WooCommerce site is pretty easy to use. But there's a catch!
Since the WooCommerce website is a WordPress plugin and not a subscription-based solution like Shopify, you will need to manage a couple of things before you ever get to work with WooCommerce itself, as discussed earlier.
Unfortunately, those steps that you need to take require some comfort around web-related knowledge and expertise. After all, it involves setting up your web server, redirecting your domain to the specific server, and subsequently getting WordPress adequately installed and made operational.
The moment you get the plugin installed and activated, you'll see the on-screen setup wizard. It consists of about five odd steps and holds your hand through every crucial element.
Once the installation is done, you can start using your store and begin adding products.
A typical WooCommerce "add product" page will look like this: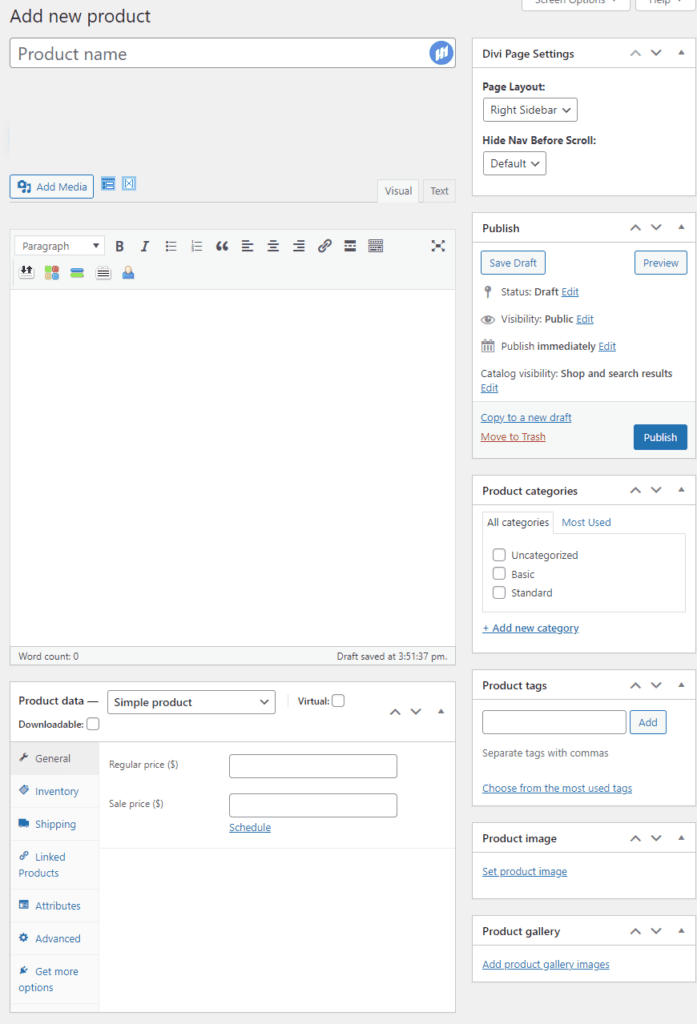 The main advantage of a Shopify store is that it's a subscription-based online tool. So, to use it, all you need to do is visit Shopify.com, click the signup button, go through a basic setup wizard, and you're done.
Shopify will assist you along the way, asking about the nature and purpose of your store (what you're planning to sell, etc.), and giving you some general tips and tricks in terms of which design/structure to choose and how to set everything up.
Once you get through that initial wizard, you will get access to the main dashboard. Then you can create your new eCommerce store, add new products, and start selling.

🏆 WINNER: It depends on certain factors such as how comfortable you are with giving away control of your store, your technical know-how, etc.
Reasons To Use WooCommerce Over Shopify
One big reason to choose WooCommerce over Shopify is control and flexibility. But if you're planning to sell simple products with minimal or no variations on your eCommerce site, you probably won't need that kind of flexibility and may choose to opt for Shopify sites.
But if you're planning to sell things that have a lot of product variations, complex checkout processes, or a not so straightforward pricing structure – you'll probably appreciate a WordPress site.
Another reason is that some products are bluntly banned from Shopify, and simply because Shopify is a hosted solution, you're pretty much at the whims and fancies of Shopify as to which products you can sell and which you can't.
Finally, if you like using an eCommerce website by WordPress and value the WordPress ecosystem for its plugins and support, that might be another reason to go with a WordPress eCommerce website.
Reasons To Use Shopify Over WooCommerce
If you want the simplest and most beginner-friendly way to launch your eCommerce site, Shopify is your best bet. As long as you aren't planning to sell products "banned" by Shopify, or other complicated products with lots of variations, you should be okay with a basic Shopify store.
Also, if you don't want to get involved in spending your time maintaining your store and have the money to invest in letting Shopify do that for you, then that's another reason to consider Shopify's ecosystem.
Shopify vs WooCommerce comparison – Dropshipping
Dropshipping refers to an online business where an eCommerce store doesn't need to manage a physical stock inventory. Instead, it fulfills orders by buying products from vendors and then shipping them directly to the customers.
Due to low overhead expenses, dropshipping has become hugely popular around the world. Many of our users were keen to know which platform among WooCommerce and Shopify is ideal for dropshipping and which one of them is better for a dropshipping business.
Dropshipping with Shopify
In a dropshipping business, the front end of your website will look just like an eCommerce store. Your users will be able to browse products, add them to the cart, and make payments, just like they would do on any other eCommerce store.
Shopify's features support integration for several popular dropshipping marketplaces like AliExpress, Oberlo, Printify, and more through its apps. However, each of these product marketplaces has its membership fees, shipping charges, and other allied expenses that you need to keep in mind and keep up with when building your dropshipping business with a Shopify website.
Dropshipping with WooCommerce
WooCommerce is a very popular choice among dropshippers primarily because of the flexible WooCommerce dropshipping plugins that make the whole process quite simple, both to set up and use.
You will easily find extensions that allow you to instantly import products and fulfill orders from your website. You can also create an eBay-like eCommerce marketplace allowing other vendors to sell on your website.
So, this gives WooCommerce an edge over Shopify when it comes to dropshipping.
WooCommerce or Shopify – Which one helps you sell better?
Both Shopify and WooCommerce provide the features you need to build an effective and scalable online store. However, where they differ is in the features which come included as standard.
Abandoned Cart Recovery
One feature that Shopify includes as a standard and WooCommerce doesn't is the abandoned cart recovery feature. When choosing between these two, it may be helpful to keep this in mind, as this feature allows customers to complete an abandoned order without filling out their details all over again.
It also sends a gentle reminder with a personalized email inviting them to finish the incomplete sale.
Multichannel Selling
Both these platforms support multichannel selling which allows you to sell on big names such as Amazon, eBay, Instagram, and Facebook. The only difference with WooCommerce is you'll need to pay $79 to install all of them apart from Facebook, which is free.
With Shopify, however, it won't cost you to integrate your store with these channels. Simply use a multichannel selling plugin and start selling.
Shipping
Offering a seamless shipping experience is a plus for any eCommerce store and can give you an edge over your competitors. Both Shopify and WooCommerce allow you to offer free shipping and sell internationally.
However, Shopify takes the extra effort with its partnerships with USPS, DHL Express, UPS, and Canada Post, saving you the time and effort of sourcing your courier and logistics.
Signing up with Basic Shopify will get you some impressive features to help you sell. Some of Shopify Basic features include:
Discount codes
Unlimited products
Website and blog
Over 100 payment options
Some key WooCommerce features we like include:
Built-in blogging capability
"Unrestricted customization" – you can edit pretty much anything from the homepage layout to the 'Buy' button.
Capability to embed products and checkout onto a broader range of store pages
One-click refund
WooCommerce or Shopify – Marketing Tools
Social Media Integrations
Since Shopify supports multichannel selling, it opens up your online business to a whole new online audience at no cost to you.
With WooCommerce, however, you can integrate your store with Amazon, eBay, and Instagram for $79, but you can advertise on Facebook for free.
Email Marketing
Shopify allows you to run numerous email campaigns using apps like Seguno and Constant Contact. WooCommerce similarly depends on plugins for its email campaign capabilities, allowing integration with MailChimp.
WooCommerce or Shopify – Which is more secure?
Shopify takes care of security for you, and since it takes care of its own web hosting, Shopify is in charge of handling any security breaches and safeguards your site from hackers. Shopify comes with a built-in SSL.
WooCommerce, on the other hand, is self-hosted. The actual plugin doesn't come with built-in security, so any security will need to be managed either by yourself or your hosting provider. WooCommerce doesn't have its own SSL. Since it is an open-source platform – you're responsible for sourcing your own SSL certificate.
Inventory Management – WooCommerce or Shopify?
WooCommerce Inventory Management
WooCommerce offers a considerable degree of flexibility in terms of inventory management. It allows its users to create inventory reports and make changes to any product attributes. Although, you will need the help of third-party apps to optimize your WooCommerce store performance.
Shopify Inventory Management
Like WooCommerce, Shopify empowers its users and merchants with total control over the inventory tracking system. You can track stock, stock alerts, automated purchase orders, in-house revenue reports, and much more. Additionally, you can also add single or bulk items and customers, orders, and other pieces of data manually or with the help of CSV files. You can also choose from a vast selection of inventory apps available to run your online business seamlessly.
FAQs
Can you use WooCommerce without WordPress?

No, you can't run it without WordPress. WooCommerce is a WordPress plugin.
What is WooCommerce good for?

Being an open-source platform, WooCommerce allows you to customize every aspect of your store and quickly add custom extensions. It also allows you to leverage the most powerful content management system (CMS) to run an online store.
What does Shopify do?

Shopify helps you create an online store. This is a hosted eCommerce platform, and every aspect is included in the Shopify plan, such as hosting, security, domain, etc.
Shopify vs WooCommerce: which one is better for SEO?

In terms of SEO, it is a tough one to call. Both are robust eCommerce platforms, and they'll help ensure that your products appear in front of the right people.

WooCommerce is built using code optimized for SEO, and it's integrated with WordPress and its impressive range of SEO plugins. Shopify has a range of SEO plugins in its App Store.
Can I use Shopify with WordPress?

You can use Shopify Lite with WordPress by installing Shopify's Buy Now button. This integration will take users to the Shopify cart to complete the checkout.

However, the implementation can be tricky and may not offer the best user experience. In WordPress sites, there are plugins like WPForms, which allow you to accept payments online without installing a shopping cart plugin like WooCommerce.
How is WooCommerce different than Shopify?

Shopify provides the platform as a service. They provide the software and hosting for your online store and manage backups, security, and maintenance.

On the other hand, WooCommerce is a self-hosted eCommerce platform. You will need a WooCommerce hosting account and a domain name for a WooCommerce site, and you'll need to manage your online store by yourself.

Both platforms allow you to quickly sell products online, receive payments via party payment gateways, and credit card payments and manage inventory.
Can I import products from Shopify to WooCommerce?

If you're currently using Shopify and are looking for an easy way to migrate to WordPress (WooCommerce), here are a couple of plugins we recommend checking out.

➜ Cart2Cart: Shopify to WooCommerce Migration
➜ LitExtension Shopify to WooCommerce
What is a WooCommerce PoS?

A WooCommerce Point of Sale (PoS) is an advanced toolkit for placing in-store orders through a WooCommerce-based Point of Sale (POS) interface. It allows WooCommerce store owners to sell their online products in a brick-and-mortar store seamlessly. It turns a browser into a cash register, allowing you to holistically manage your products, orders, and customers – all in one place.
What is a Shopify PoS?

The Shopify POS app is a simple and easy-to-use point-of-sale system in the form of an app that allows you to sell your products in person. You can track your orders and inventory across your different retail locations, online stores, and other active sales channels.
What is Advanced Shopify

Shopify Plus and Advanced Shopify are two different Shopify eCommerce platforms for growing online stores and brands. While Shopify Plus is a hosted platform customized, staffed, and priced for big brands ideal for enterprise application, the Advanced Shopify plan is a smaller and less complicated store.
What are Shopify Payments?

Shopify Payments is the new way to pay in the dynamic and swiftly changing competition of payment gateways. Shopify Payments sets up your store to accept payments through all the popular payment methods. Some Shopify payments will include credit cards, debit cards, gift cards, Amazon Pay, Apple Pay, and even cryptocurrency. US businesses can accept these credit and debit cards through Shopify Payments.
How do I add free themes to Shopify?

You can add a free theme from your Shopify admin panel.
What are premium WordPress themes?

WordPress premium themes cost money. If it isn't free, it is premium.
What is the difference between free and premium WordPress themes?

A Free WordPress theme is indeed totally free. The lack of features in a WordPress theme makes it lean, and therefore typically faster to load. Premium themes will come with far more features out of the box. Ongoing support and updates make premium themes more secure in the long run.
So, Which one will you choose?
Every eCommerce platform has advantages for specific situations and your requirements. If you want flexibility and ownership – WooCommerce is your best bet. If you value simplicity – Shopify is probably the one for you.
So, when it comes down to WooCommerce vs Shopify, which do you prefer and why? Let us know in the comment section.
So, these were all the essential information about our comparison between WooCommerce vs Shopify. If you enjoy reading this article we would like to recommend you another comparative Blog between WooCommerce vs BigCommerce. We're sure you'll enjoy that one as well.