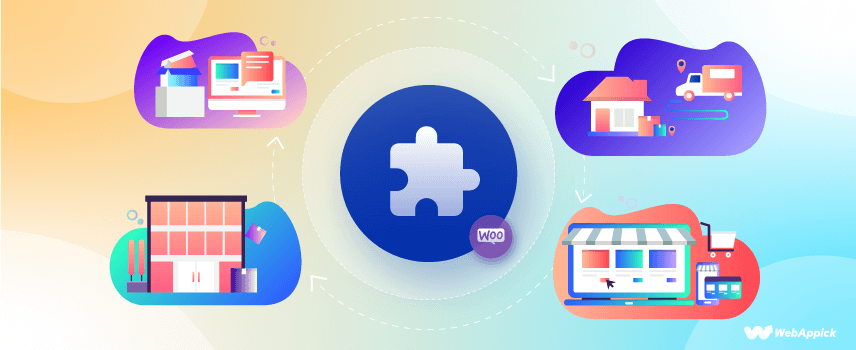 The Woocommerce Dropshipping Guide – Including the ten best Dropshipping Plugins
WooCommerce Dropshipping has gained tremendous popularity in recent years simply because dropshipping suppliers are not required to maintain an inventory – and that is a huge plus when it comes to online retailing and simplifies the entire process of running a digital store.
The dropshipping business model can be explained very simply in the following process:
As a retailer, you identify a niche in which you wish to sell your products and identify the products you want to sell. (These don't necessarily have to be from your own country or region)
Locate and partner with one or multiple dropshipping suppliers who can supply you those products. You and your supplier mutually agree on the price, payment terms, branding, packaging, etc.
You list the products in your eCommerce store or on Amazon, eBay, etc.
A customer places an order for the item in your store, and you receive the payment. (The price will be the price you pay to your supplier plus your profit and overheads)
You transfer the order to your supplier and pay them the agreed price.
The supplier then packs the item and ships it directly to your customer.
The Dropshipping business model eliminates the requirements of storing and shipping and is instead based on an agreement that you form with a supplier and depend on the latter for order fulfillment.
And then there are the best WooCommerce dropshipping plugins that make your life simpler.
Sounds impressive, right?
Let's look at some of the benefits of dropshipping.
Benefits of having a Dropshipping Business
1. Low investment and overhead
Since Dropshipping doesn't require you to purchase inventory upfront or find a place to store it, your investment and ongoing overhead costs come down significantly – apart from investing in your WordPress website, which is your own website.
2. Easy to get started
It is simple to start your dropshipping services. You don't need to score for shipping providers, manage inventory, or get buried under paperwork.
3. Need not be location-specific
A Dropshipper can be anywhere and run his dropshipping store and sell products from anywhere on the planet. Since the entire logistics is managed by the dropshipping suppliers, all you need to be concerned about having an eCommerce platform that successfully runs your online store. And you're free to move around as much as you want.
4. Scalability
When you own your dropshipping store, it eliminates many of the complications involved with scalability. There will never be a need to hire warehouse staff, find a "bigger" warehouse, or any of those overheads. The only thing you'll need to scale is your ability to offer exceptional customer support.
Why Should You Use a WordPress Dropshipping Store?
A lot of guides would recommend another eCommerce platform for building your own dropshipping store.
But we won't do that. This guide is all about WordPress and WooCommerce. We are going to talk about how you can transform your WordPress site into a WooCommerce dropshipping store.
So, why use WooCommerce Dropshipping? What are the benefits of having a WooCommerce dropshipping store?
To be fair, and if you look at data, WooCommerce is the most admired one for eCommerce platforms. eCommerce stores globally totally depend on WooCommerce when it comes to setting up and building an eCommerce business.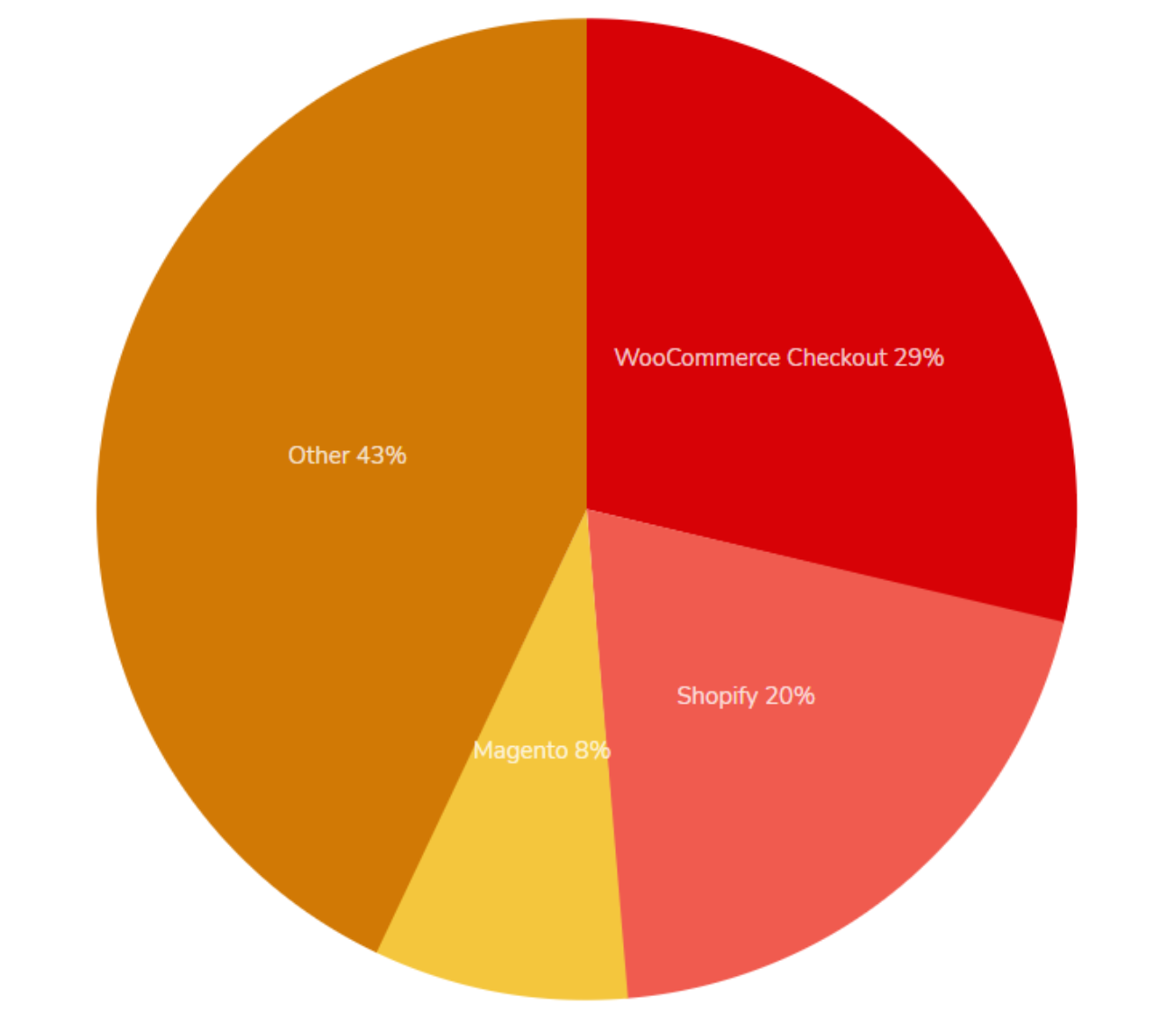 Looking at the above chart, WooCommerce is the most preferred platform to build an eCommerce store.
Why We Love WooCommerce Dropshipping above everything else?
There are three main reasons.
1. No restrictions on Products
WooCommerce plugin is free on WordPress. That's because WordPress and WooCommerce come hand in hand. Being an open-source platform, you have complete control over your WordPress site. The discretion of what you sell on your website won't be impacted by WooCommerce terms or policies. All you need to make sure is that it's legal to sell the products in both your current country and customers' location. But, you can also change currency if needed.
2. Price
Being an open-source eCommerce platform, WooCommerce is free. However, you will need to pay for hosting. And the lowest cost for that is approximately $12/month, including a free SSL certificate. You will also be required to buy a domain name, starting from $12/year.
3. Flexibility
There are more than 56,000 free WordPress plugins to work with; With some WooCommerce dropshipping plugins, you can automatically import products from AliExpress, or manage different dropshipping suppliers from one place.
These WordPress dropshipping plugins make your life relatively simple when it comes to managing your dropshipping business. Plugins come in both free and premium versions. A premium plugin will automatically enable you to "plugin" better functionalities than its free counterparts. But that's something you already know.
Things you need for a WooCommerce dropshipping store
Now that you are convinced that a WooCommerce dropshipping store is a way forward, let's look at some of the things that you will need to build your WooCommerce store for dropshipping:
1. Domain Name and Hosting
Your domain name is the online address of your dropshipping store. Keeping that in mind, you need to pick one that is:
Relatable
Easy and memorable
Apart from your domain, you will also need hosting. The hosting is what powers your WooCommerce dropshipping store. This is also where you will install WordPress. When selecting a hosting, you need to be mindful about:
Affordability
Performance
Security (whether it comes with an SSL certificate)
WordPress Compatibility (whether it will enable you to automatically install WordPress)
Phone and Online Support
2. WooCommerce and WordPress Dropshipping Plugin
After the domain and hosting are sorted, you will need to explore WooCommerce dropshipping plugins that will provide your eCommerce store with all the functionalities of dropshipping stores in a jiffy. There are hundreds of WooCommerce dropshipping plugins to choose from. A WooCommerce dropshipping plugin will determine what kind of relationship you want with your WooCommerce dropshipping suppliers.
Suppose you're only going to sell a few targeted/niche or trending products from a single supplier. In that case, you can just use the normal WooCommerce functionality to manage your eCommerce store and its products.
However, if you want your WooCommerce store to have a more extensive catalog of unlimited products, you will need WooCommerce dropshipping plugins that allow you to connect directly to AliExpress suppliers.
(We will talk about Aliexpress Marketplace and Aliexpress dropshipping a bit later).
3. Payment Gateway
A great thing about WooCommerce is that it includes an outstanding setup guide to ensure that you fill in all the required information.
The Payment tab in the initial setup has two primary payment gateway options to choose from – Stripe and PayPal. You can either choose one or have both of them in your online store. It also allows you to opt for offline payment options like checks and cash.
WooCommerce accepts a wide range of other payment gateways that you can simply use the WordPress dashboard to install. For instance, Stripe payment gateway, Amazon Pay, Square, etc.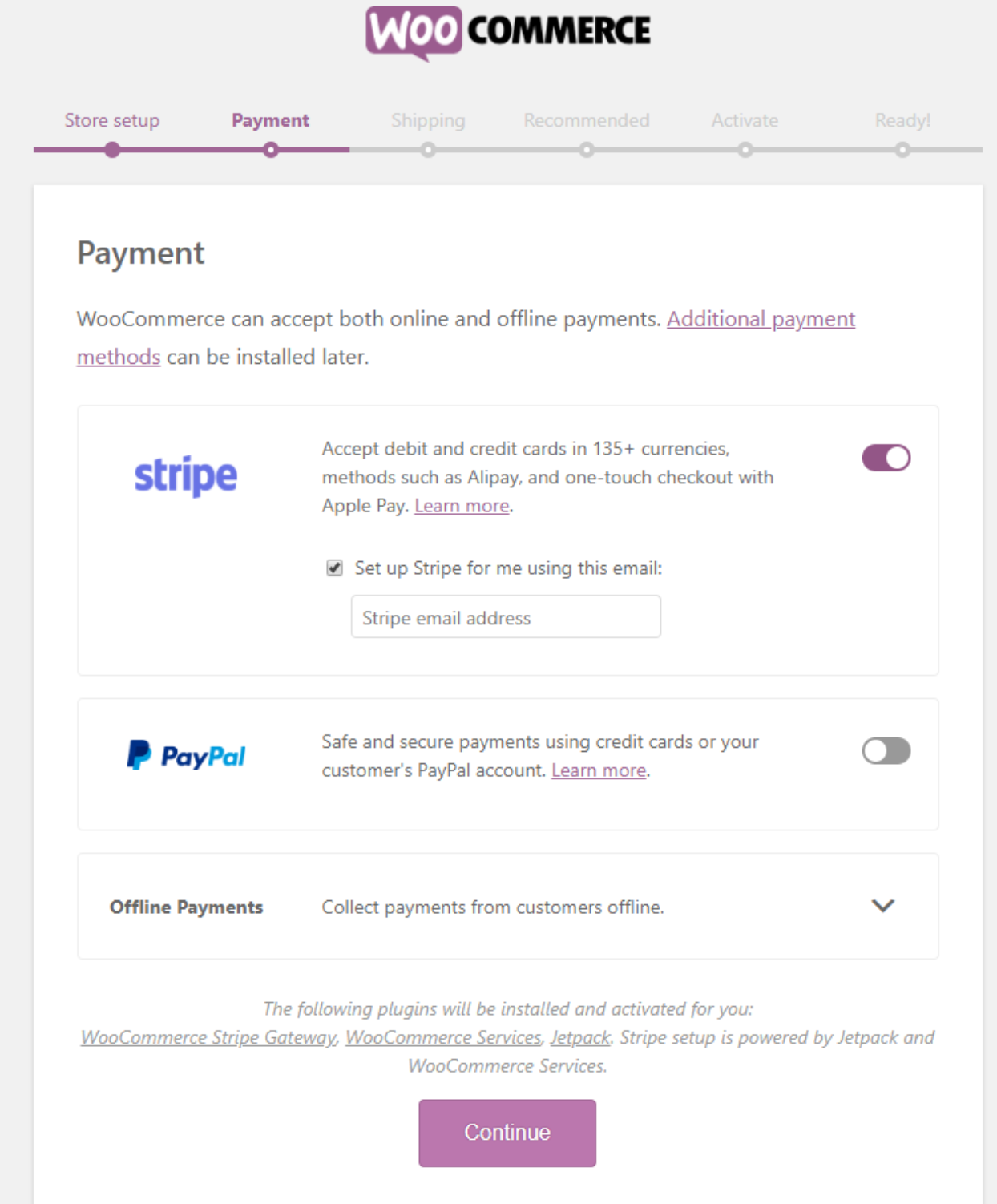 How to Set up your Dropshipping Store With WooCommerce?
Starting your WooCommerce store for dropshipping is a straightforward process. The simple steps for that are as below:
Set up a WordPress site with a domain name and hosting.
After that Install WooCommerce compatible WordPress theme.
Install the WooCommerce plugin into your WordPress installation and configure it
Install the best WooCommerce dropshipping plugins, configure and link them to WooCommerce.
Find a supplier or multiple suppliers.
Add dropshipping products that your supplier can provide. You can also use AliExpress products for your dropshipping store or import products from other stores.
Set up your payments.
Start Dropshipping.
How to choose quality products for your WooCommerce Dropshipping store?
Deciding which products to sell in your WooCommerce dropshipping store is the backbone of the success of your WooCommerce dropshipping store. You need to find and source quality products – something that your customers will love and come back to you for.
So, what makes for good dropshipping products?
You should be looking for:
Products that are popular/niche (but again not so popular that you have too much competition)
Products that are competitively priced to give you a reasonable profit margin.
And while this might sound simple, selecting products for your WooCommerce dropshipping store might need some thorough research before you start off. Whether you would like to export or import products from AliExpress or source them from a local supplier, need to be considered.
We can give you some tips which will help you take the first step in selecting and selling products that might be profitable for your WooCommerce dropshipping store.
1. Price within $200
Selling products within $200 is considered as the "sweet spot." This range falls within a customer's 'impulse buying.' Besides, it has been seen that refunding for products is easier if the price is higher.
2. Reasonable product dimensions
Many WooCommerce dropshipping stores prefer Chinese suppliers (like AliExpress) for their products because they are cheaper. But having said that, it may be worthwhile to keep in mind that shipping can often take a long time, and costs can go up with more oversized products. So, to keep your life more uncomplicated and costs lower, keep your product dimensions within a reasonable limit.
Places to start your dropshipping product search
Look on Amazon for product ideas.
Consider shopping websites like Fab, Massdrop, Wish, etc., for trending products.
Dropshipping Supplier and how to find one?
Once you have zeroed in on the product, the following essential and crucial part of WooCommerce Dropshipping is to find Dropshipping Suppliers.
Many WooCommerce Dropshipping stores prefer a single supplier, which is simply a matter of personal choice.
So, how and where to find suppliers for your WooCommerce store?
Let's look at some of the places where you can find dropshipping suppliers:
1. AliExpress Website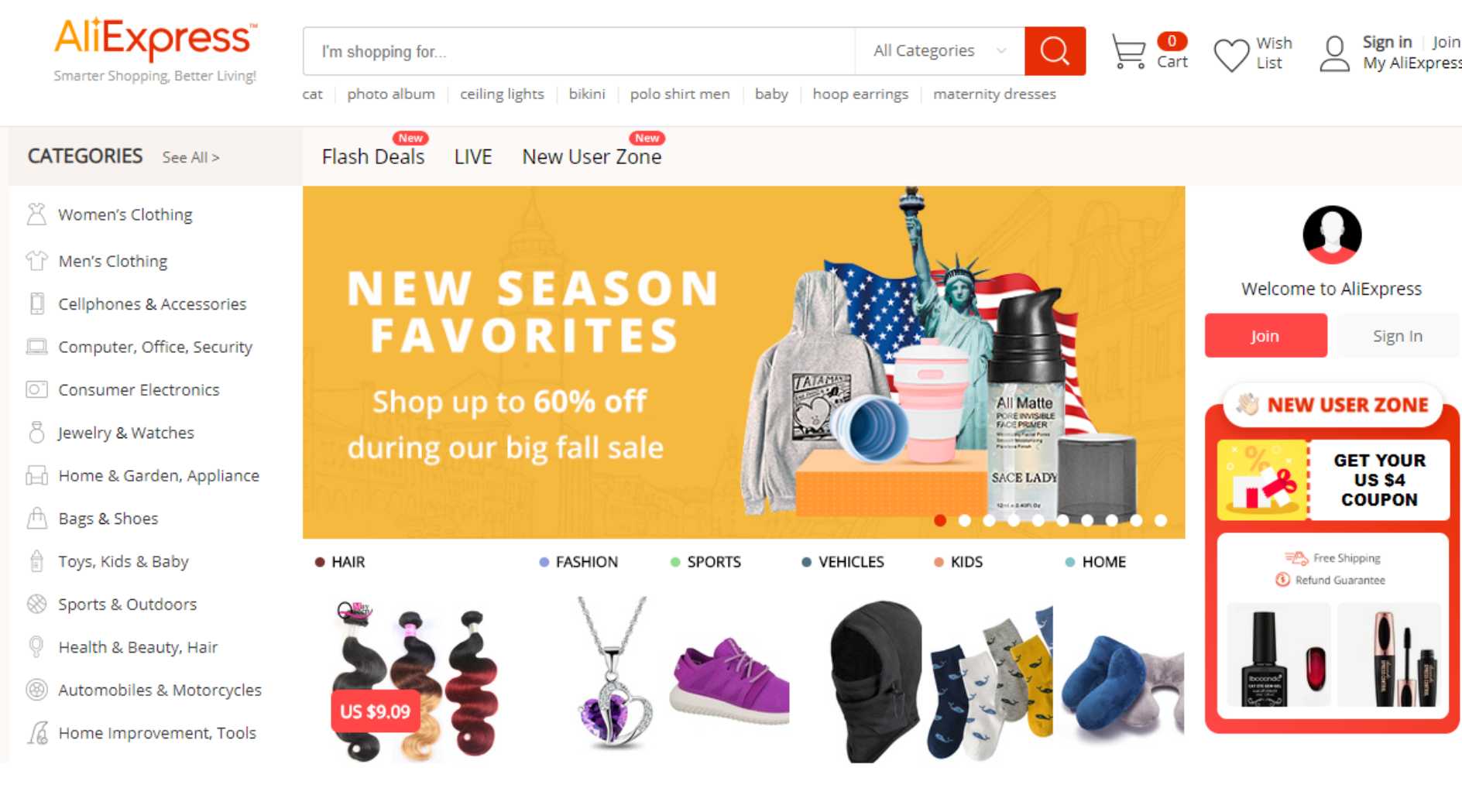 The online marketplace AliExpress is probably the most well-known source for suppliers. AliExpress dropshipping connects you to a range of Chinese suppliers for easy order fulfillment. Some of the best WooCommerce dropshipping plugins enable you to manage fulfillment through AliExpress.
2. SaleHoo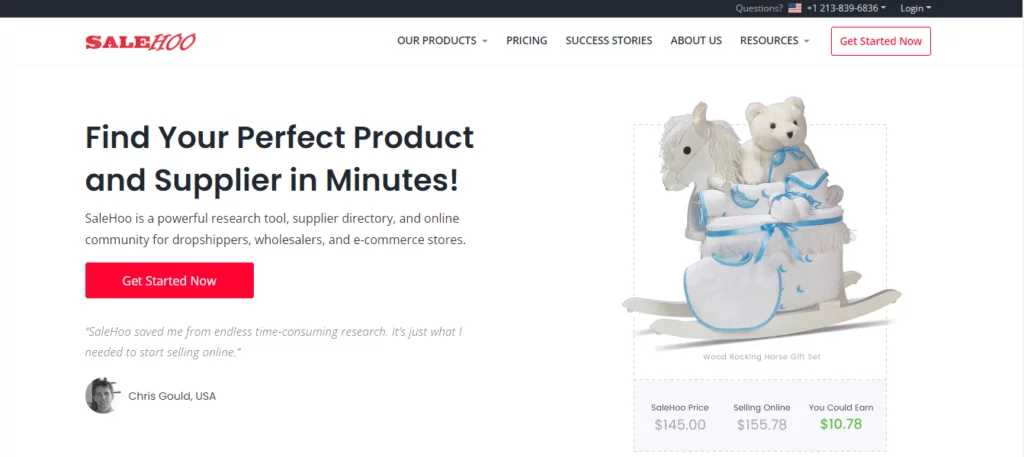 SaleHoo is a tool that can help you research products. Additionally, it also has a vast supplier repository to help you find pre-verified suppliers.
3. Google
You can find your WooCommerce dropshipping suppliers via Google too. Although, many small suppliers may not be on Google. However, if you can find a hidden supplier, you might have a competitive advantage because they may be a niche in their domain.
4. Worldwide Brands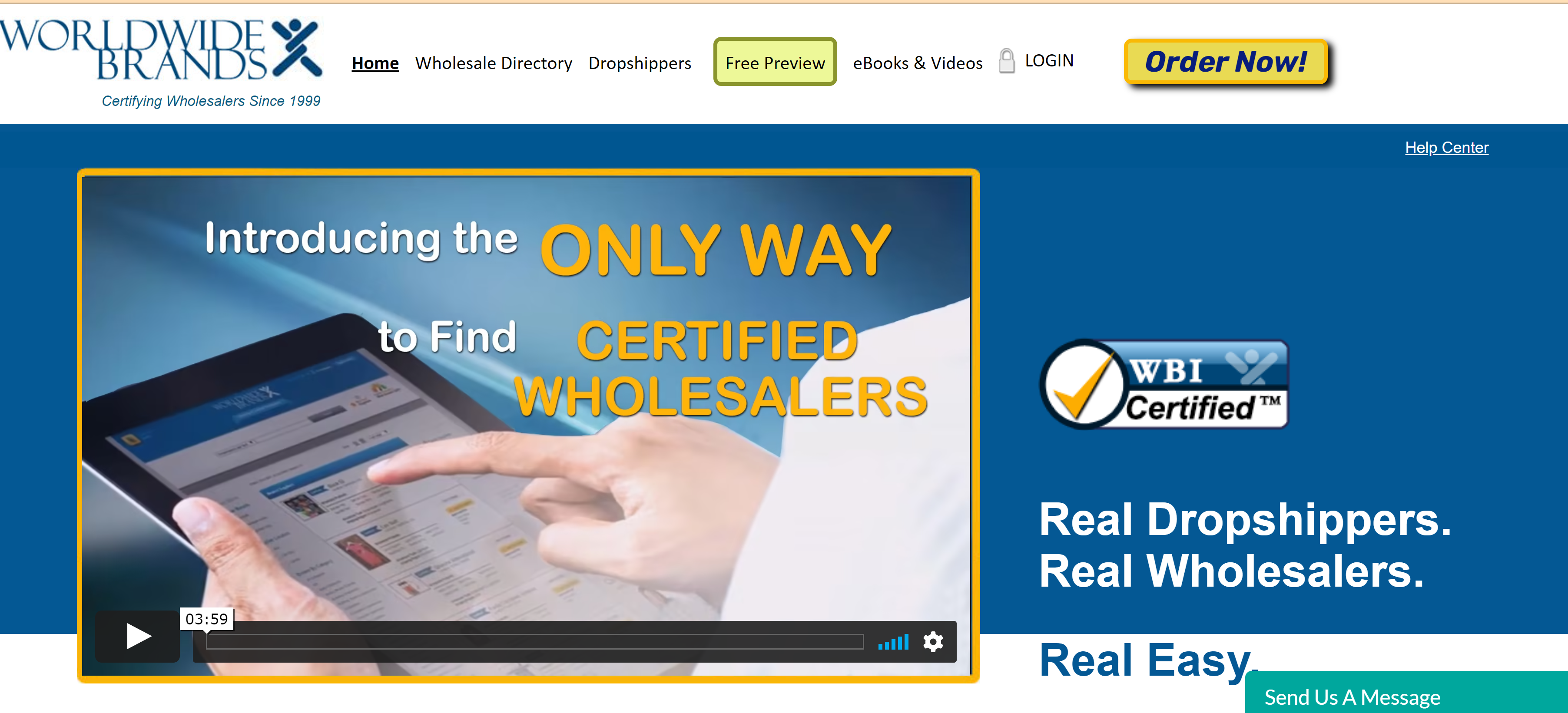 Worldwide Brands is a well-known directory of wholesale suppliers. However, you'll need to pay $299 to access it.
What to look for in a WooCommerce Dropshipping Supplier?
Last but not least, there are specific attributes of a great supplier which you need to remember simply because a great supplier can take your business to greater heights by providing master class services.
Let's go over a few things you should look for in a good supplier for your WooCommerce store.
Product and Industry expertise
Your suppliers' knowledge about the product and the industry is paramount. A top-notch supplier needs to be knowledgeable about the industry you operate in and their product lines. They should be aware of trends and demands and challenges and hurdles that may arise along the way.
Exceptional customer support
Having excellent customer service is necessary for creating that seamless dropshipping WooCommerce experience for buyers. Some suppliers would have individual sales representatives to help you sort out any problems or iron out irregularities. Overall, empathizing with customers and delivering them the service they are looking for is one of the innate qualities of a good supplier.
Easy Ordering process
The supplier you decide to work with should offer a simple ordering process. Look for suppliers who can accept orders in an email, saving both time and effort and keeping the accountability intact.
Efficient and Organized
Remember, you will be counting on your supplier immensely to fulfill the orders on time and trust them not to miss orders. Therefore, your supplier should be is organized and efficient in managing and sending out large orders on time. This is critical for boosting sales and revenue for your online store and going a long way in establishing your credibility with your customers and in the market.
Shipping Options and cost
One of the most critical factors you need to consider when selecting your supplier is shipping options and cost. This will allow you to save on shipping expenses.
Our Top Ten most loved WooCommerce Dropshipping Plugins
We're now going to talk about the top ten of the best WooCommerce Dropshipping plugins to automate your WooCommerce store. WooCommerce plugins offer power-packed features and capabilities that can take your WooCommerce store to the next level.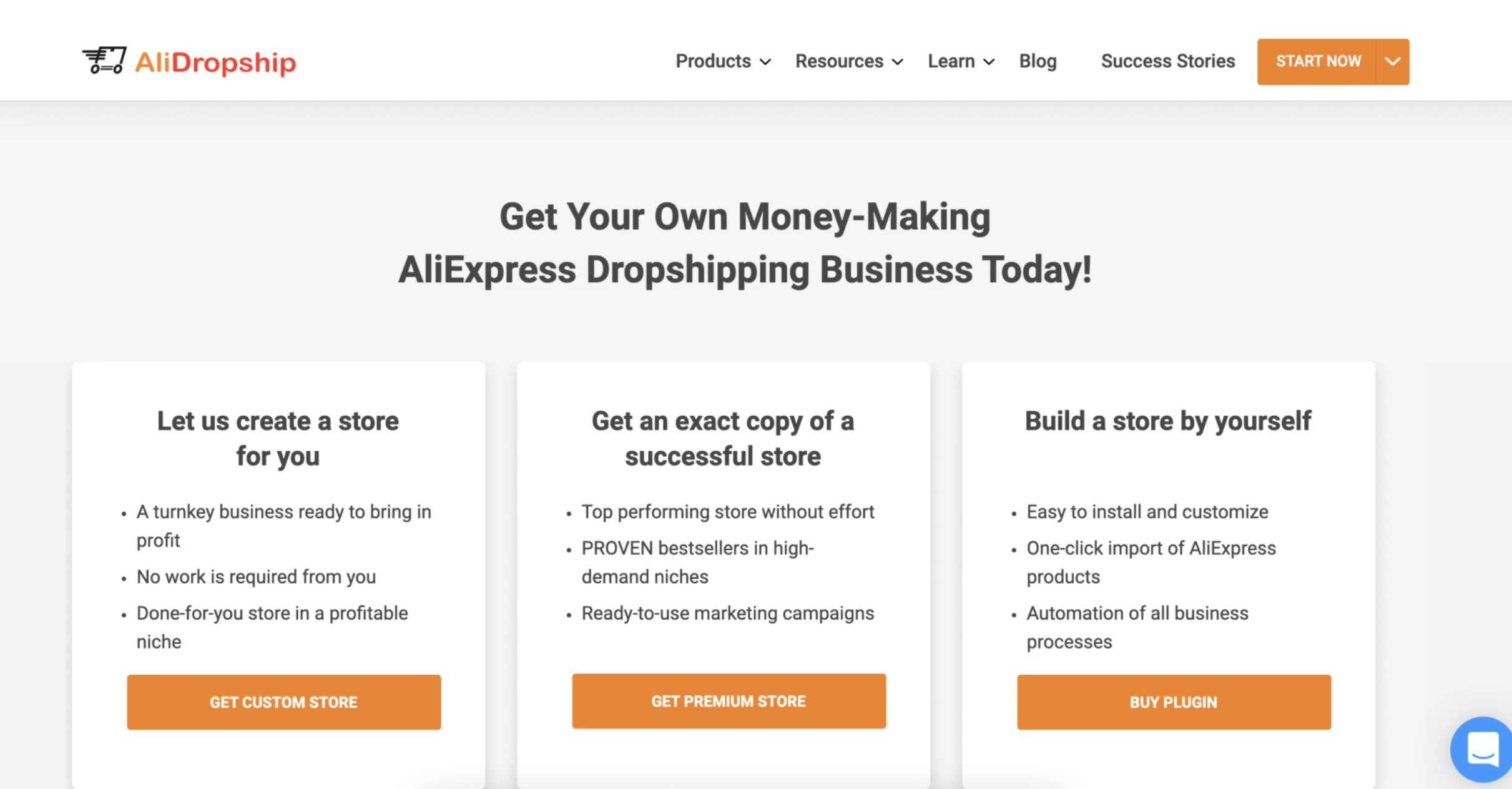 This WooCommerce dropshipping plugin is one of the best to source products from the AliExpress marketplace. The AliDropship plugin allows you to tap into the AliExpress product pool and automate much of the dropshipping process – all at once.
The plugin costs $89, and although you can use it with WordPress without adding WooCommerce, we strongly recommend WooCommerce because it converts WordPress into a proper dropshipping store. Some of its features include:
Automation tool support includes search and import, auto product information updates, auto-pricing, order fulfillment, and tracking.
Provision for an unlimited number of products (and variations).
Integrated image editor, payment gateways, and themes.
Discount coupons, product reviews, email list builder, and other marketing tools.
Inventory management.
Cashback scheme where sales earn commissions of up to 8%.
Updates and support
Dropified is a WooCommerce dropshipping plugin that integrates with many eCommerce platforms. Like AliDropship, it helps you automate many of the day-to-day tasks needed to run and manage a dropshipping store.
The free version of the plugin includes features like:
A Chrome extension to add products from supplier's websites to your store quickly.
Simple dashboard.
Access to a vast catalog of products from suppliers such as Alibaba, AliExpress, eBay, etc.
Automatic margin markup.
Integrated image editor.
One user.
Access to training resources.
There are two premium plans available. The 'Build' costs $228/year plus 3% of your transaction fees, while the 'Grow' plan costs $564/ year with no transaction fees. You can also opt for Monthly subscriptions. The "Grow" plan includes such features as:
Unlimited orders
Three stores and four user accounts
One-click product adding and saving up to 10,000 products.
One-click automatic order fulfillment.
Order management and tracking.
Product and inventory synchronization.
Product listing capability for Facebook and Google
Import reviews from AliExpress
Updates and support
14-day free trial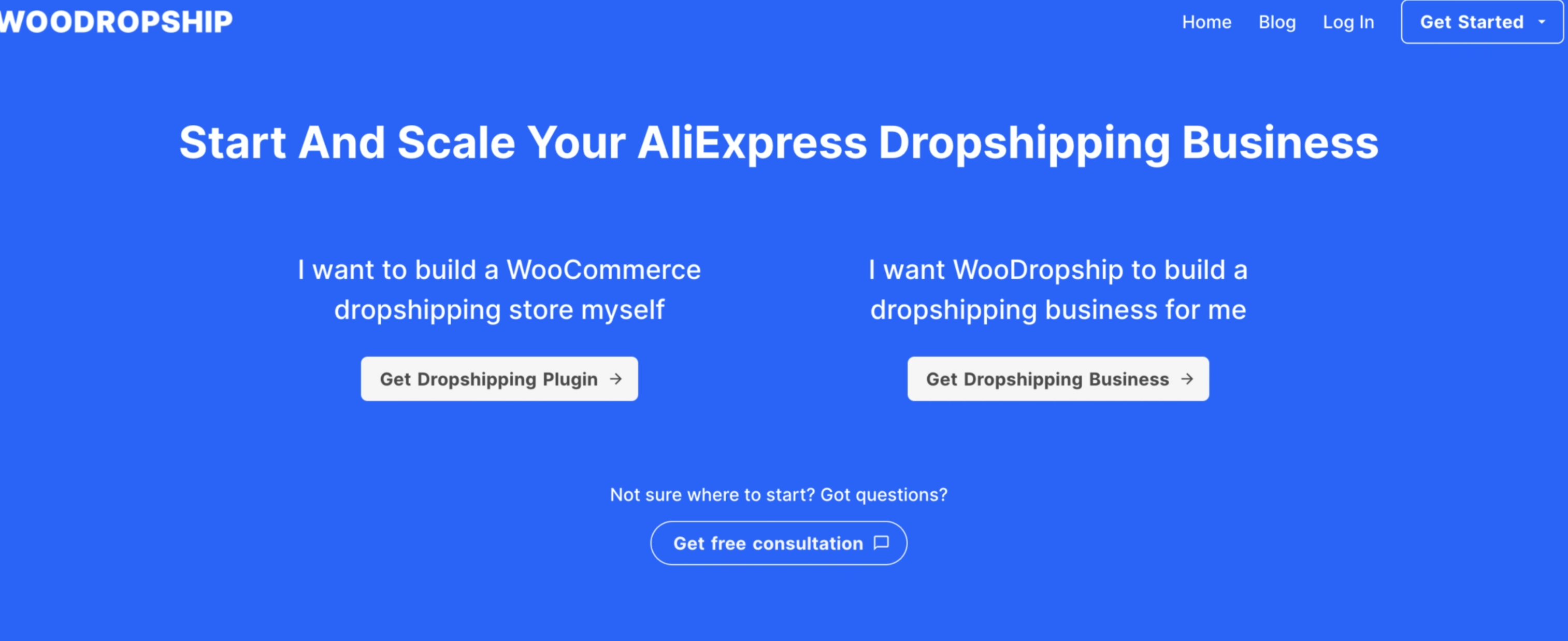 This WooCommerce dropshipping plugin is a cost-effective dropshipping plugin that allows you to add, edit, publish, and sell products from AliExpress in your WooCommerce store. It's hassle-free, supports unlimited orders, allowing an import of an unlimited number of products with automatic order fulfillment. This dropshipping plugin can also create a dropshipping store for you – with packages starting at a humble $199.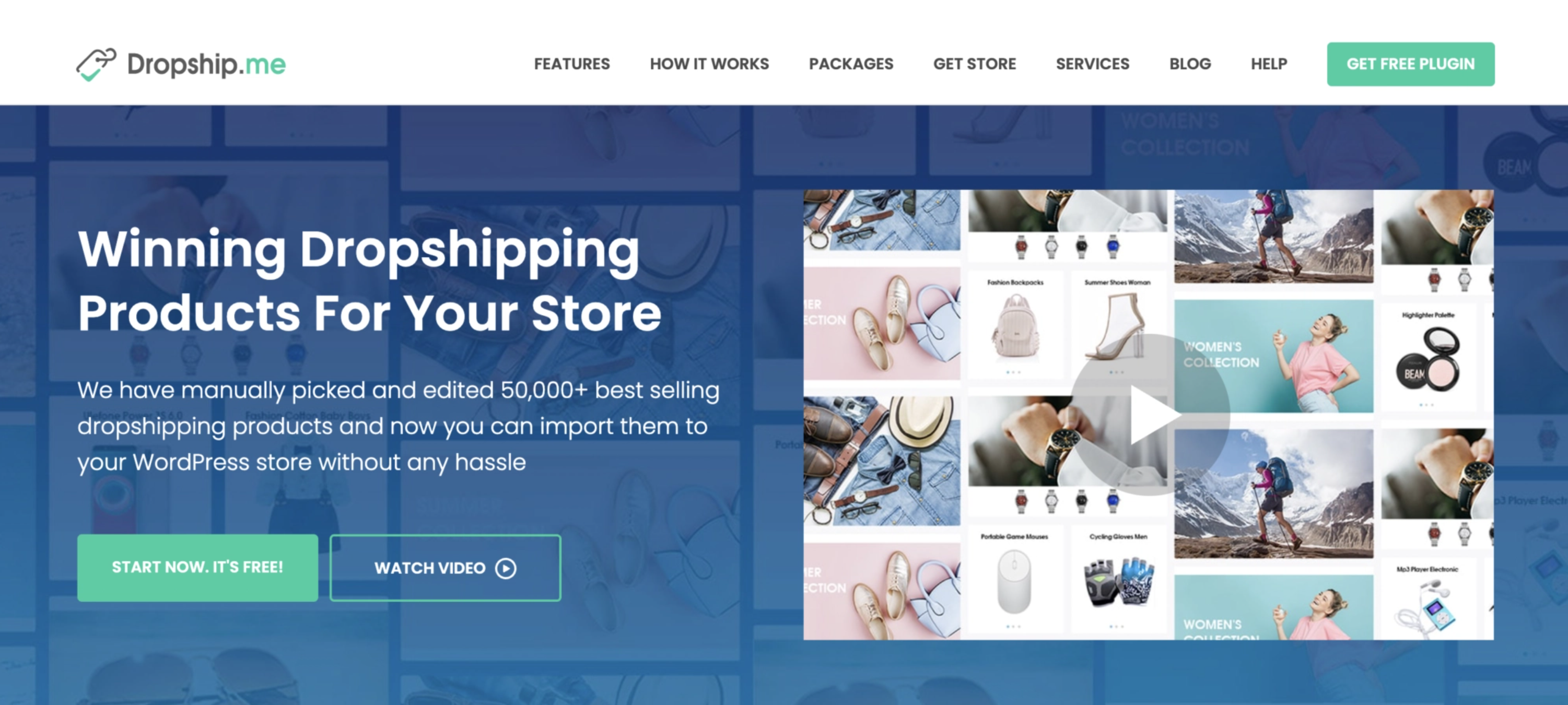 Although DropshipMe does not automate your dropshipping store, it does make it easier to find suitable products to sell in it and set up your store as a successful online business. This dropshipping plugin reduces product research to the minimum, enabling you to identify potential growth niches and locate the best products and suppliers. It also reduces the time needed for editing product details before pushing them onto the store.
You can import products for free (up to 50), after which you will need to pay between $29 and $199 depending on whether you want to import 100 or 1,000 products.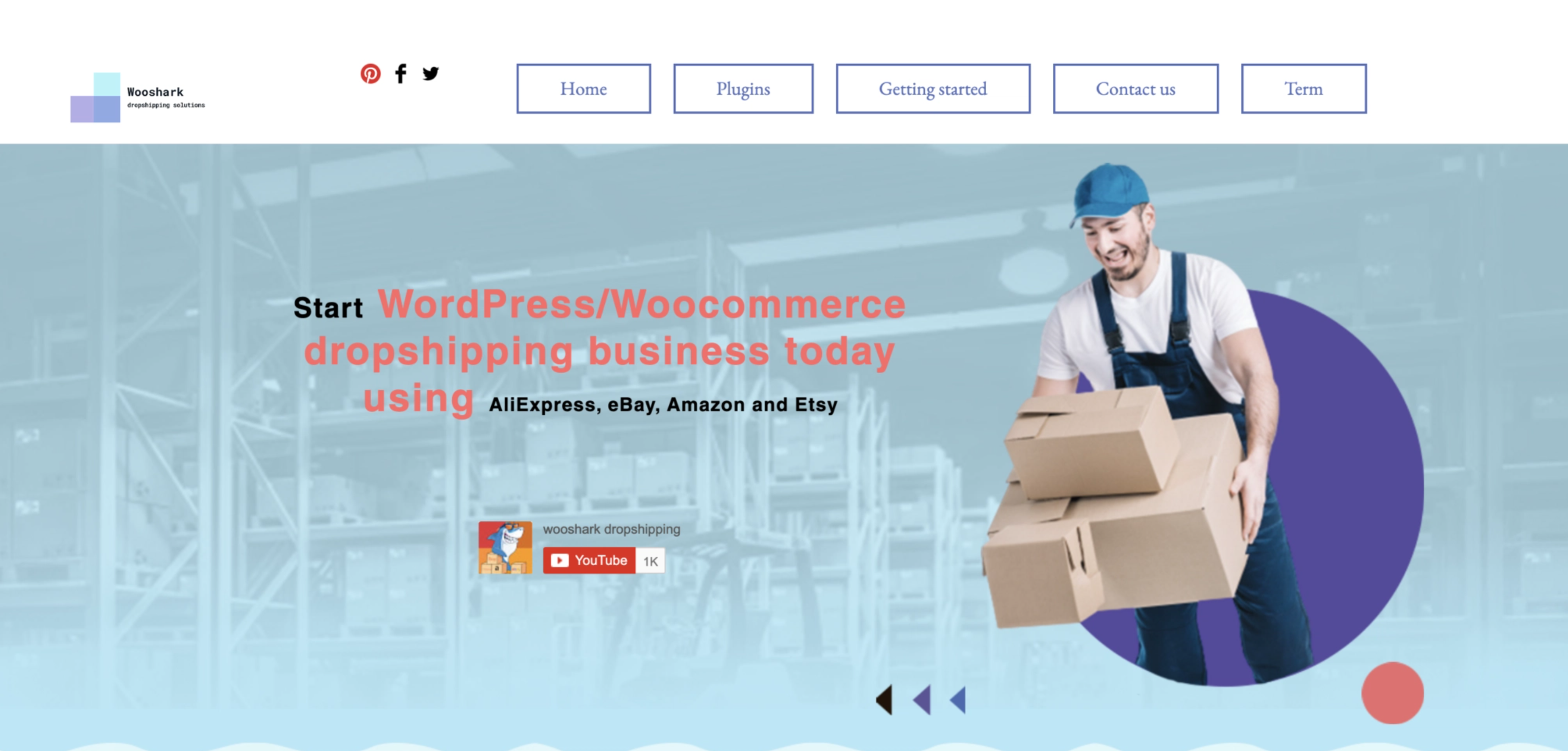 While most dropshipping plugins are more focused on products from AliExpress, WooShark also widens your product sourcing options by including Amazon, eBay, and Etsy.
This plugin is available in both free and paid versions, although it will allow you to import products and their corresponding details from AliExpress and eBay. The premium versions will allow:
Unlimited imports directly from AliExpress, eBay, Amazon, and Etsy.
Automatic support for more than 52 languages and currencies.
Importing products and customizing product specifications, descriptions, ratings, and reviews
Bulk import.
Image editor.
Customize product variations, including deletions and edits.
Automatic price calculation.
Stock and price synchronization for products on AliExpress and eBay
Chrome extension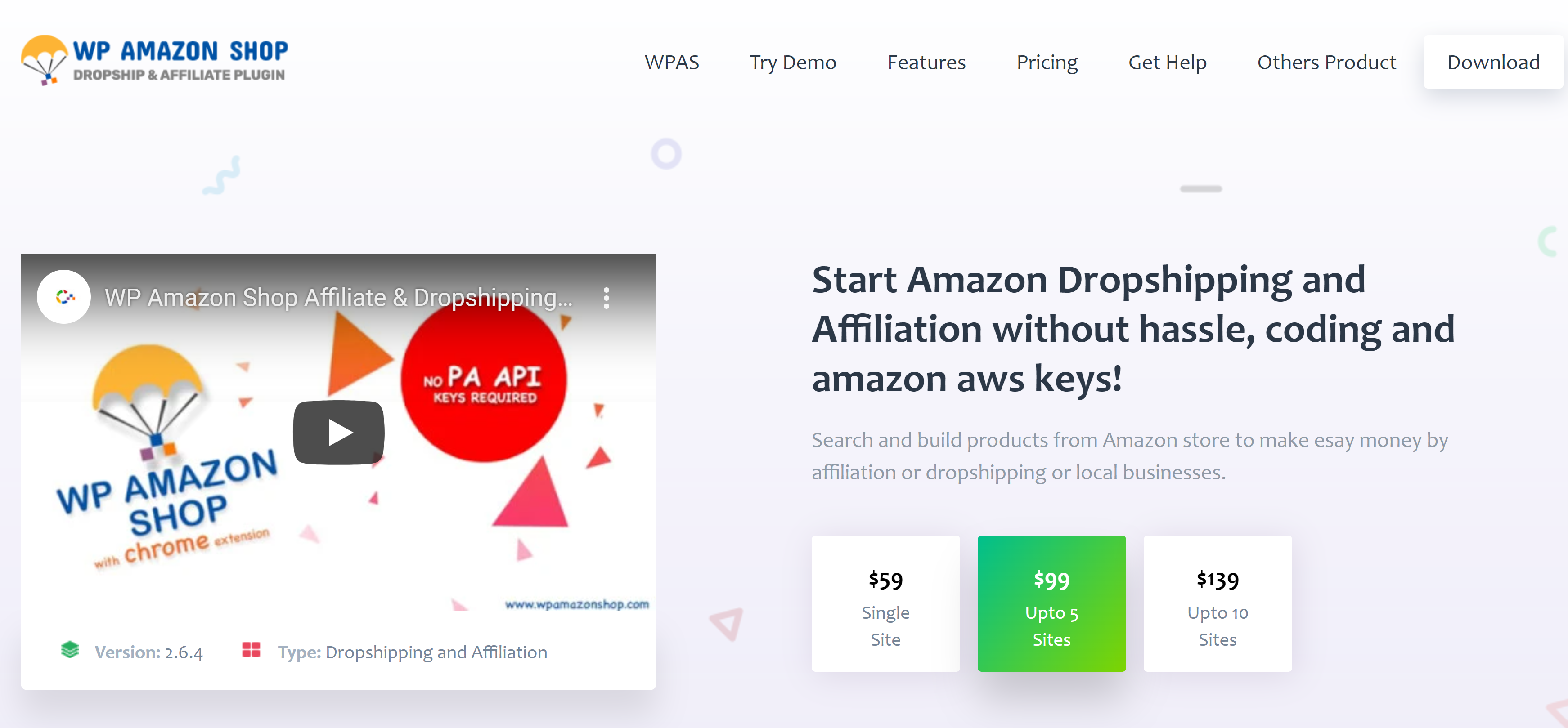 WP Amazon Shop is an affiliate and dropshipping plugin created exclusively for use with Amazon. This WordPress dropshipping plugin gives you instant access to search through millions of products on Amazon's product database using your WordPress dashboard, thus making this one of the best dropshipping plugins for WordPress sites.
It also allows you to select and import Amazon products into your WooCommerce store with a few quick and straightforward clicks. The pricing for this dropshipping plugin starts from $59 for a single site license.
7. WooCommerce Dropshipping
With this plugin, you can manage your entire dropshipping store from within WooCommerce. It includes both AliExpress integration and Amazon Affiliate support. This powerful store management tool is ideal for:
Start with your AliExpress Dropshipping with the free Google Chrome Extension.
Setting profit margins for AliExpress products (based on a percentage or fixed amount)
Local Suppliers Dropshipping & fulfillment
Quick import of inventory per supplier.
Custom emails, packing slips, and invoices for Suppliers and Customers.
Supplying tracking number to the client.

Spocket is a WooCommerce dropshipping plugin that uses dropshipping businesses in US and EU. You can sell globally, provided all products are fulfilled from the US or EU.
Spocket is a simple plugin to install and use. You can add dropshippers and products within the plugin, set your profit margin, and start dropshipping. Although it uses a select list of dropshippers, it enables you to add products quickly from the plugin.
Spocket offers decent wholesale rates. Hence, although the plugin isn't quite as powerful as some of these other WooCommerce dropship plugins we have mentioned here, your business could be more profitable with it.

This dropshipping plugin is ideal for websites that want to add a store as an extra rather than dedicated eCommerce sites. Hence, having an existing website is a prerequisite to installing this WordPress dropshipping plugin. Spreadr uses Amazon to fulfill orders by either requiring you to work as a standard Amazon Affiliate and earn the minimum or work using a traditional dropshipping arrangement and make more money. It can only list non-Amazon Prime products.
Printful is a highly specialized plugin that specializes in printed products. Products such as printed mugs, t-shirts, and other products can be printed and sent through dropshipped from locations in the US and EU.
Printful is an on-demand print service including a range of printed products you can resell in your online store. The setup can take a while but once done; you can leave the plugin to handle everything.
Frequently Asked Questions (FAQ):
What is dropshipping?

Dropshipping is a method of order fulfillment where a store doesn't need to keep the physical stock of products it sells. Instead, the store buys the products from a third-party supplier and gets them shipped to the customer.
What is WooCommerce drop shipping?

WooCommerce Dropshipping is a powerful store management tool for dropshipping businesses. WooCommerce Dropshipping enables you to start AliExpress Dropshipping with the free Google Chrome Extension.
How do I add dropshipping products to WooCommerce?

You can use dropshipping products to your WooCommerce store in different ways. The best way is to use a plugin.
Wrapping up
This guide has some of the best WooCommerce dropshipping plugins that convert your online business into a dropshipping business in just a few clicks. These plugins make purchasing products and dropship them anywhere in the world a simple task.
When starting drop shipping for the first time, you may come across many barriers. These WooCommerce plugins will help you cross those barriers easily and increase your profit by growing your business.