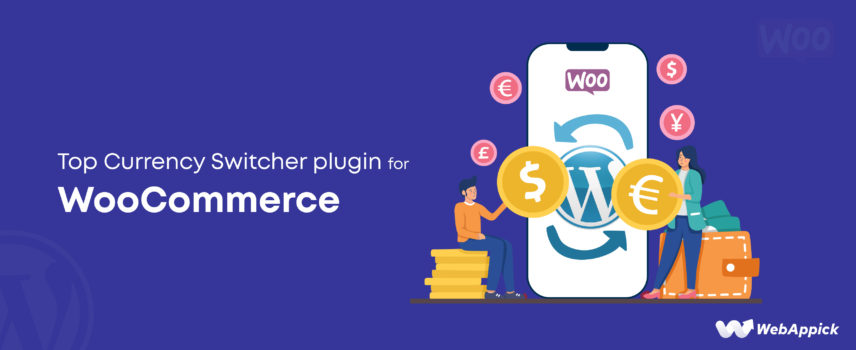 Top Currency Switcher plugin for WooCommerce
WooCommerce Currency Switcher plugins make an excellent opportunity for store owners. WooCommerce has made it quite easy to sell to customers all over the globe and to maintain an online store properly. Still, there are multiple pain points on selling internationally including regional commercial laws, shipping hassles, etc. While selling internationally, currency exchange is one such concerning aspect for a store owner.
If your store grows for international customers, then you may want to offer them the best possible experience. In such scenarios, somewhat it's necessary to show product prices in the local currency of your customers. There is no need to worry about this because there are lots of tools or plugins to help you with accurate currency conversion.
Imagine you are maintaining an online store from the USA, but most of your customers visit your store from different countries like Canada, UK, Japan or any other, then you need a plugin to convert currencies from USD to those countries' currencies.
Why you need a currency switcher plugin:
There are many different points on for which a WooCommerce Currency Switcher is required for a WooCommerce store. Some of them are discussed below:
Better scope to expand your online store: these plugins can offer great support if you want to grow your online store by selling to multiple countries. For a new currency, there is no need to develop a new site. With multiple currencies, your existing store can be compatible with using a currency switcher plugin.
Improve customer experience: these plugins can prove to be valuable assets to improve customer experience if you are selling to multiple countries already. It would enhance customer happiness by giving them the option to pay in their local currency.
Comfortable store management: a problematic aspect of your international store can be managed comfortably using a currency switch plugin. You can ensure the customer preferences, at the same time controlling a lot of options like payment options offered, currencies displayed, etc.

Classifications of Currency Switcher:
Currently, there are two different types of currency switcher plugin available.
Charges customers with your store's base currency, but displays the rate in the home currency. If your primary transactions are in your shop base currency and you want to keep your account consistent with your base currency, this option is helpful.
Display and charges in the home currency of your customers. You can choose this category if your primary revenue source comes from international selling.
In this article, the discussion is about some WooCommerce currency switcher plugins by which your customers can check the updated rates quickly without refreshing the page.
1. WooCommerce Currency Converter Widget
This widget displays a list of currencies on your Cart page, and your customers can choose dynamically. The widget converts the displayed price on the front-end and syncs with the latest exchange rates. Multiple currencies can be added in the widget settings.
Features:
Customize the model of the display according to your preference
Choose to display currency codes or symbols on the widget
Geolocation displays currency changes dynamically
Choose to enable or disable Geolocation feature
When widget locates a customer, his currency is highlighted
Shop's base currency is highlighted by default, in case the Geolocate feature fails.
Sales prices/regular prices/ shipping prices/ cart etc. can be converted to currency on choice
Allowed to convert as many currencies via the widget setting
The converted total is stored when users check out
You can purchase this widget from WooCommerce extension store. A single site subscription will cost you $29 with one-year dedicated support.
2. WooCommerce Currency Switcher
WooCommerce Currency Switcher allows your store customers to switch currencies on your WooCommerce site and in real-time, gets their rate converted. Based on the location of the customer that is identified from the IP address, this plugin helps to update automatically.
Features
Compatible with WooCommerce and PayPal plugin
For each product, there are individual GeoIP rules
For each product, there are individual fixed prices
Easy to use for store customers as well as administrators
Included 3 Widgets: currencies converter, currencies rates, currencies switcher
WooCommerce PDF invoices and Packing Slips compatible
Allowed to set new order currency
Possibility to set a flag for each currency
Currency switcher as drop-downs, side switcher, flags
You can find WooCommerce Currency Switcher in the WordPress plugin directory. In the free version, you can operate only 2 currency, to operate unlimited currencies buy the premium version which will cost $30
3. Woo Multi-Currency
Woo Multi-currency converter plugin another WooCommerce currency converter plugin that is loaded with different features. This plugin allows to create a current exchange rate without limit and quickly switch to different currencies. It accepts payments with one or multiple currencies.
Features:
Customers are allowed to play with different currencies
A widget is available in this plugin (switcher+ shortcode)
An exchange rate is saved when customers pay
Custom currency symbols can be added
WooCommerce Weight Based Shipping plugin compatible
Use the shortcode in any page or post or areas
Comes with different widgets: currency switcher/ calculator
The auto-update exchange rate at the real-time
Woo Multi-Currency has a free version of the plugin but if you need Pro version that will cost you $30 with 6-month free support.
4. WooCommerce Price Based on Country
This plugin is one of the popular plugin available in the WordPress plugin directory that allows selling the same product in multiple currencies depending on the country of the customer. This plugin automatically detects the country of the site visitor through Geolocation feature.
Features:
Reduces the cost of currency conversions
Exchange rates are updated automatically
Currency codes are displayed next to the code
Country switcher widget allows the customer to change the country from the frontend of your site
Enable to apply currency conversion to Flat and International Flat rate Shipping
Supports to WooCommerce subscriptions
Supports to WooCommerce Product Bundles and Composite Product
Supports for manual orders
Thousands of separators, number of decimals and decimals separator by pricing zone
WooCommerce Price Based on Country plugin has a simple user interface. The plugin offers a free version and a pro version. To get pro version features, a single site will cost you €39 with private ticket support.
5. Currency Switcher for WooCommerce
The currency of your customer based on country or languages are automatically updated and displayed by this plugin. The same process of Geolocate function that we have seen with other plugins is also applied to this plugin. During checkout, there is an option to switch back to the base currency.
Features:
Options to add currency switcher as shortcodes or widgets
Currency by Country (i.e., customers IP)
Currency by language (i.e., locale)
Various options for currency switcher and format
Updates currency exchange rates automatically
Prices on per product basis
In currency switchers, there is an option to add country flags
For each currency, there are price format options
The premium license of Currency Switcher for WooCommerce plugin will cost you $19.99 for a single site and license period is 1 year.

6. WooCommerce Ultimate Multi Currency Suite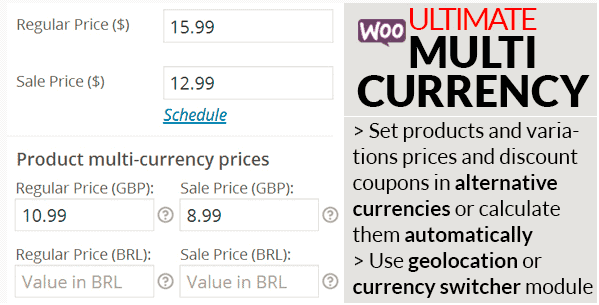 This plugin can be considered as a highly advanced multi-currency plugin for WooCommerce store. WooCommerce Ultimate Multi Suite plugin not only allows you to set custom prices for your products but also coupon amounts in multiple currencies.
Features:
100%compatible with all payment gateways
Allows you to set regular and sale prices in alternative currencies
Automatic conversion updated in every 24 hours or you can set it manually
Easy to use, reliable and most advanced multi-currency solution
Fully compatible with variations, discounts, price ranges, shopping costs, coupons, etc.
Compatible with product filter widget
Allows to customize each currency separately
Two methods of handling alternate currencies
To access the listed features of WooCommerce Ultimate Multi-Currency Suite plugin, you will have to buy the regular license, which will cost you $41 with 6-month support.
7. Easy Digital Download Currency Converter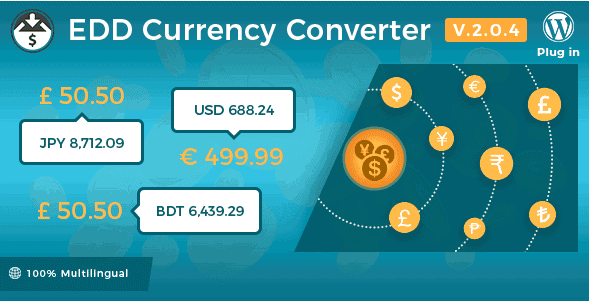 EDD extension allows your customers to convert product prices to a currency of their choice. It uses Open Exchange Rates to convert your product prices to a currency of your customers' choice. It features responsive design and currency detection.
Features:
Detect customers currency based on their location automatically
The design is responsive and will support all devices
Shortcode to display the customers saved currency in menu level
Full localization support
Allows the user to select a currency from the drop-down menu or frontend
Choose if a currency code is added to product prices
Clean and user-friendly admin UI
Choose if converted prices replace base price
The regular license of this plugin will cost you $30 with 6 months support.
8. WooCommerce All in One Currency Converter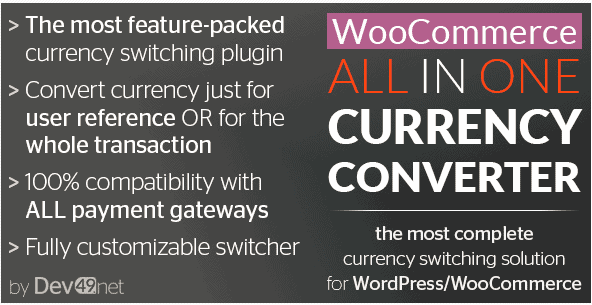 If you are selling to people all over the world, WooCommerce, All in One Currency Converter, is a must-have plugin for WooCommerce store. It will allow your customers to set Geolocation automatically on your WooCommerce site or will enable them to choose their preferred currency.
Features:
WooCommerce report compatible
Multiple free currency exchange rate API and translation ready
Compatible with price filter widgets and cache plugins
WordPress and WooCommerce coding standard
Automatic system update
Supports Multisite and 100% PayPal support
Compatible with cache plugins
Complete currency switching solution
The regular license of WooCommerce All in One Currency Converter will cost you $31, and you will get 6 months of support.
To expand and diversify your store, there are lots of possibilities when you install a currency switcher plugin on your WooCommerce online store. The plugins that we have mentioned above will help you to improve the customer satisfaction rate of your online store by displaying the base currency.
Optimizing your WooCommerce store for Google and another search engine is something that you should not take lightly. An incredible number of plugins are available in the store. Here are some must-have SEO plugins for WooCommerce store you may check.
You May Also Read