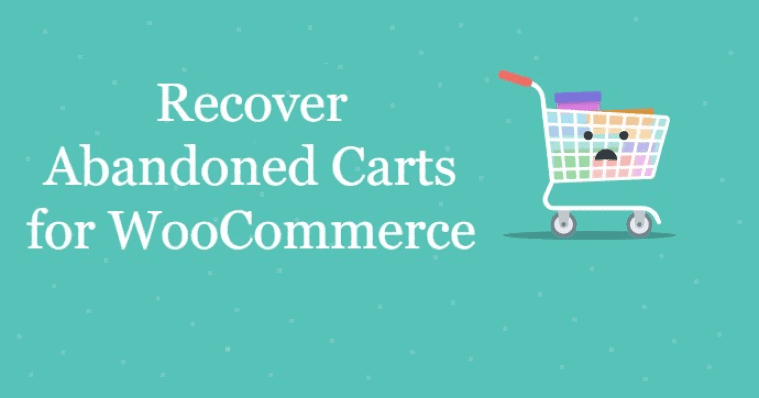 Best Ways to Recover Abandoned Carts in WooCommerce
Cart abandonment is one of the significant and common reasons behind the dropping sales of your eCommerce store. Due to abandoned carts, every year, your eCommerce store loses a vast number of sales.
On average more than 60% of site visitors who "add to cart" do not end up buying. The number of visitors who add items to an online store cart never actually completes their purchase. The question is, why consumers abandon carts? We are going to mention a few reasons below:
Why visitors abandon carts?
Forced account creation before checkout: some store owners make it mandatory for the customers to register before making any purchase. Many customers are not comfortable providing personal information.
Unexpected high shipping costs: many eCommerce stores shows a very high shipping cost for the products. Customers who are not interested in buying multiple products or making bulk product transactions will find this expensive. Therefore customers get diverted and search for other sites for a better deal or free shipping.
Lengthy and confusing checkout process: customers nowadays look for a simple checkout process that is short and concise. Many of the customers find it useless to fill out lengthy forms for a single purchase.
Payment security concern: some consumers feel that their personal information is at risk. Only a lesser percentage of consumers provide their payment details, and others have payment security doubts and turn to opt-out of the transaction.
Better price on competitor's sites: consumers are profoundly research-driven in today's era of online shopping. They like to compare prices on different websites before making a purchase. They look for a better price right till the last moment of their transaction.
Many other factors contribute to the reasons why consumers abandon shopping carts without completing their purchase. Some of the most effective ways to recover WooCommerce abandonment cart sales are –
Implement the exit-intent popup
When a user is about to leave a website, exit-intent popups appear. You may have noticed on many top sites. That's because these exit popups deliver results. Though, displaying a popup alone won't be enough to bring consumers back to your store's checkout page.
You'll have to do a lot more. The popup should be meaningful and attractive so that it wouldn't escape your visitors' attention. Once you get their attention means your half of the job is done. Try to give them a solid reason for completing their purchase.
There are many different ways you can attract them. It can be by giving discounts, free shipping, tempting offers, etc. There are several WooCommerce plugins available for this purpose, which may help to show popups on your store.
Send WooCommerce abandoned cart emails
This process involves continuously sending emails to consumers who abandoned their carts and left your store. It is one of the best opportunities for store owners to recover lost revenue. It'll help them to remember the cart to complete their purchase when they come across these emails.
Compare to other marketing emails; the cart recovery email has a higher number of open email rates. However, it doesn't work most of the time as expected. But still, you'll have to keep sending emails to take decisive actions on your emails.
The email should have content to give users' a concrete reason to make a comeback to your and to complete the purchase. It can be offers or discounts showing availability for a limited time.
Offer multiple payment methods
One of the main reasons that force consumers to cart abandonment is not numerous payment methods. Conversion experts always suggest having various payment methods on the online store.
It's easy to add multiple payment methods like a credit card, debit card, PayPal, etc. on WooCommerce. As a store owner, you need to review that each payment methods have different charges.
Many consumers like to have their preference for their payment method and do not want to change. If you limit them to one option that they are forced to use, it can increase the cart abandonment rate.
If you want to reduce the abandonment cart rate, then you need to address these factors on your WooCommerce store. You can recover a significant portion of sales by making a few small tweaks.
Make the card visible and noticeable
There are lots of consumers who abandon their shopping cart want to save their items for future consideration. It's essential to keep the cart prominent if you're going to have them back and complete purchasing. Else, it'll be out of sight and out of mind.
Consumers may forget that they have added items to their shopping cart. Displaying a noticeable icon reminds them of the issues they have saved. If you look at Amazon, you may notice a clean and simple shopping cart icon on every screen of their website. There are lots of ways to design your cart in terms of block, button, color, background color, and the cart button text. If you visit our best WordPress shopping cart plugins blog, you will discover all of the premium collections of plugin that will make your cart button absolutely worth it.
Provide product details, quantity, and image on the shopping cart. It'll allow customers to review their order before they purchase.
Make it easy to ask question and contact
Visitors and customers of your website have questions about your product or service. Lack of information is another big reason for cart abandonment. Customers may leave if they failed to find any answer to their queries.
Product FAQs is an easy way to answer user question. It improves customer service by answering common questions. When visitors read the FAQs on your website, they are most likely evaluating your company's products or services.
Having a Live chat option on your store is also great. Live chat plugins can help a lot in lead management and sales initiatives. Though, sometimes consumer doesn't want to wait for a live chat person. Consumers who would abandon their shopping cart must quickly find a way to contact you.
You should try your best to stop visitors to stop abandoning their carts. We hope this list will help you find some exciting ideas to recover WooCommerce's abandoned cart. Just remember, these abandoned carts are prospective customers. So, don't wait any longer to bring them back.