WooCommerce vs BigCommerce: A Complete Head-To-Head Comparison in 2023
Are you trying to launch your very first online store and get into the eCommerce business? Are you trying to figure out the perfect eCommerce platform between WooCommerce vs BigCommerce that will best suit your business? Or are you wondering whether it's worth it to switch your platform between BigCommerce and WooCommerce?
Whatever your queries are, a big congratulations to you! You've come to the right place!
In this article, we'll compare these two eCommerce giants in different criteria to help you have a better idea and make the best decision for your business.
So without further ado, let's get started!
WooCommerce vs BigCommerce: Overview
Both the platforms come with full-stack functionalities, making them two of the top eCommerce solutions in recent years.
WooCommerce is one of the best eCommerce platforms there is and the absolute best eCommerce plugin for WordPress. Although WooCommerce is a self-hosted platform, it's undoubtedly a very powerful one. It gives you the capability of creating top eCommerce websites from scratch.
Whereas, BigCommerce is a hosted platform and one of the top eCommerce platforms in the market. BigCommerce makes it super-easy for you to create and operate an eCommerce store much more quickly and efficiently.
There is no denying that BigCommerce vs WooCommerce is one of the most fierce competitions in the market. But both the competitors have their obvious ins and outs as well.
Therefore, in this blog, we're not only just trying to call out the winner between BigCommerce vs WooCommerce, but also we'll focus on which solution is going to be the most optimal and suit best to manage your eCommerce business.
What is WooCommerce?
In 2011, three of the early WooThemes developers' Mark Forrester, Magnus Jepson, and Adii Pienaar, co-founded WooCommerce. It's an open-source, free eCommerce plugin for any WordPress site.
WooCommerce is a powerful plugin that lets you turn your existing WordPress website into a fully functional eCommerce storefront. It is heavily regarded all around the world as a perfect solution for online businesses at all levels. From small-scale retailers to large enterprises, WooCommerce retained its domination in the market like a champ.
What is BigCommerce?
In 2009, Eddie Machaalani and Mitchell Harper co-founded BigCommerce, as a hosted solution and a 100% bootstrapped eCommerce platform. Since then, BigCommerce has grown so much that it has become a formidable competitor in the entire eCommerce industry.
You have to pay a monthly fee for maintenance and keep your online store operational. BigCommerce is regarded for its user-friendliness, built-in WooCommerce features, data tools, and many more functionalities.
WooCommerce vs. BigCommerce: The Basic Differences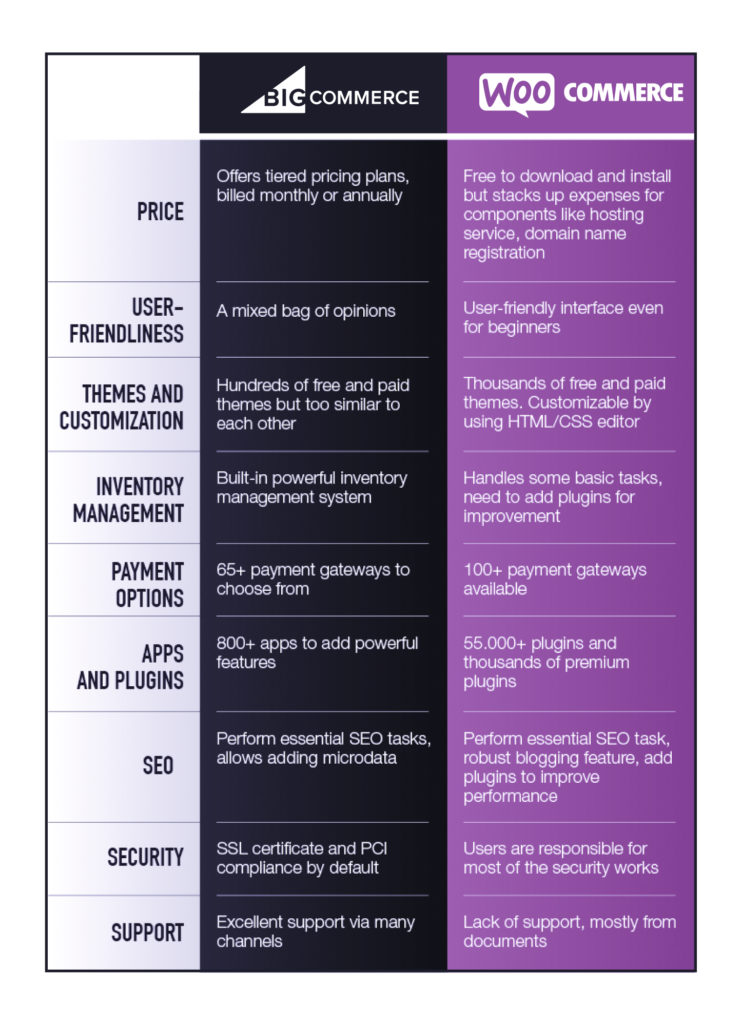 WooCommerce is an open-source WordPress plugin that allows users to transform their existing WordPress site into a fully functional eCommerce store to sell online. WooCommerce was initially built by Automattic, the same company that founded WordPress.
So, if you already own a WordPress website where you want to add the eCommerce functionality, WooCommerce can be the best choice for you. WooCommerce is a fully customizable platform. So you can keep your company branding throughout starting your online store consistently. It also helps you by boasting some technical know-how as well.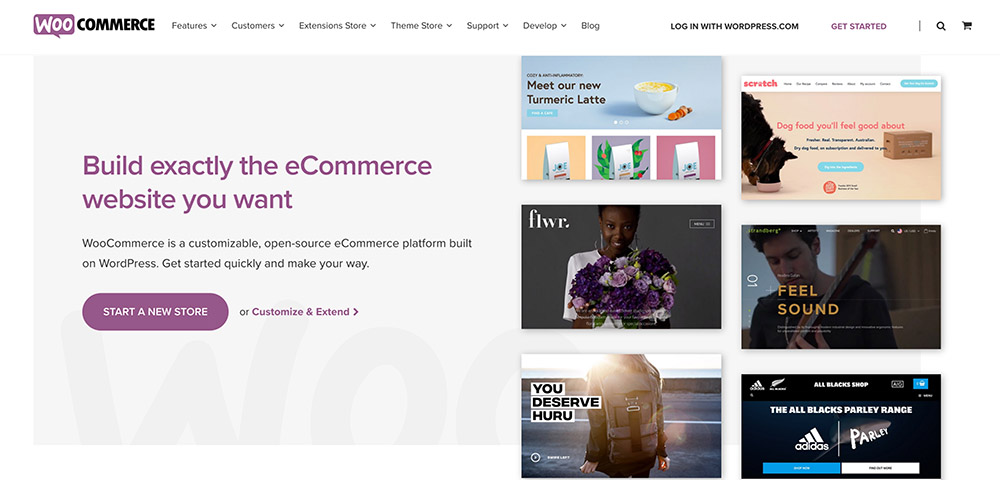 On the other hand, BigCommerce is a fully-hosted eCommerce website builder. If you're wondering what an eCommerce website builder is, it's software that helps you create and manage your online store.
BigCommerce has tons of built-in WooCommerce features for its users. They provide one of the most versatile toolkits on the market. From design to scalability, BigCommerce provides you with everything you need to grow your online business. BigCommerce claims that, on average, they help their users grow 28% year-over-year.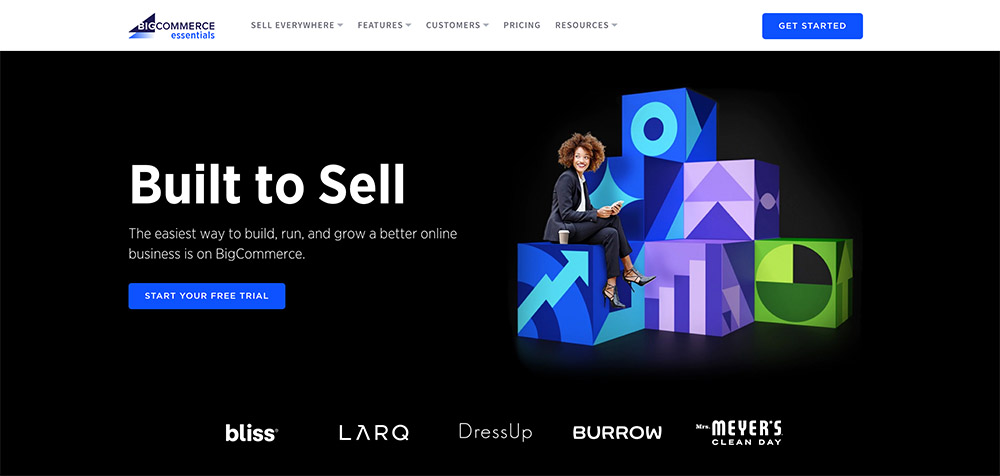 WooCommerce vs BigCommerce: Features Comparison
Let's look at some of the crucial eCommerce features and the feature differences between BigCommerce and WooCommerce.
Features of WooCommerce
Though as an open-source plugin, WooCommerce doesn't have as many features as BigCommerce. But certainly, WooCommerce is packed with some of the most innovative features worth mentioning.
A Built-in Blogging Functionality
WooCommerce has a built-in blogging functionality that allows you to create your blog by adding a post directly from the WordPress Admin dashboard. From writing, publishing to sharing, this feature makes the entire process much easier and faster.
Unlimited Customization
The usability of this feature depends on your depth of knowledge in coding. If you have the proper knowledge of coding, then for you, the sky is the limit. In this case, you are only restricted by your imagination and time. With limitless customization options, you'll enjoy editing almost every aspect of your online store.
WooCommerce Analytics
WooCommerce analytics gives you the ability to track your revenue, orders, products, categories, coupons, taxes, downloads, and stock. All in all, this is a pretty handy feature from WooCommerce, especially when it comes to tracking your business assets and revenue.
One-click Refund Capability
The feature allows your consumers to get their money back immediately if a return occurs. It also makes the refund procedure super easy just by a single click so that your customers don't have to go through any troublesome refund procedure and stay loyal and satisfied with your business.
WooCommerce-WordPress Relationship
As a WordPress plugin, WooCommerce comes with all the perks WordPress has to offer. For instance, unlike some other eCommerce platforms, WordPress provides an easy way of uploading and managing videos.
Assume you wanted to include a video on WooCommerce product pages. All you need to do is simply enter the URL into the product description, and it will appear there.
Not just for YouTube, the rule is the same for Vimeo, Viddler, Instagram, Flickr, Spotify, SlideShare, Blip. Tv, Imgur, Hulu, Twitter, etc.
Shortcodes
Shortcodes for the uninformed are text fragments that may be inserted into a web page to add content. Let's say you want to feature a product on your landing page. All you need to do is copy-paste a simple shortcode, and voila, it'll happen. WooCommerce comes with plenty of shortcodes that make inserting products, tracking info, user data, etc., super easy.
Loads of Plugin Extensions
WooCommerce comes with thousands of available product add-ons. So if you want to add any functionality to your WooCommerce website, installing an extension for that particular purpose should do the trick for you.
Moreover, creating a custom WooCommerce plugin is comparatively a much more straightforward process, thanks to the open-source nature of WordPress. And because of that, the scalability of a WooCommerce store is pretty much endless.
Access to The Largest eCommerce Community
With the WooCommerce store, users can enter the largest network of other WordPress and WooCommerce users and communicate with them via the WordPress forum. This is a perfect place for site owners to share their experiences, ask questions, and learn valuable tips and tricks.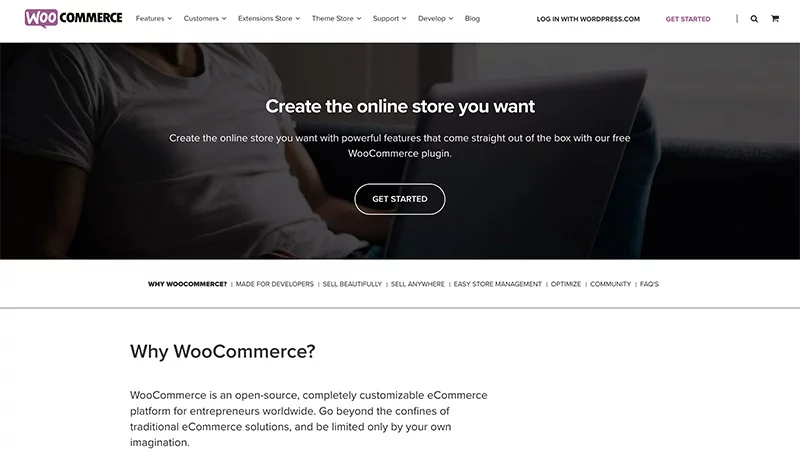 Features of BigCommerce
Unlike WooCommerce, BigCommerce offers an impressive array of features and functionalities, including marketing features. In the case of features and options, the range of BigCommerce simply outperforms WooCommerce. Let's have a look at some of the key features BigCommerce has to offer:
SSL Certificate
BigCommerce comes with SSL certificates by default. This shows a tiny padlock icon beside your URL, indicating that your website is safe and secure for receiving and processing online payments.
Tool for Multi-channel Integration
You'll be able to sell products directly on other platforms by performing cross-channel marketing, i.e., a digital marketplace like Amazon, eBay, and social media networks like Facebook, by linking your website.
Analytical Tracking and Reporting Tools
With the analytical tracking and reporting tools, you can monitor and optimize WooCommerce store performance by assessing sessions, sales, email campaigns, etc. It'll help you stay in a better position to pinpoint your area of improvement and enhance your marketing strategy.
Tools to Reduce Cart Abandonment
You can send a customized email reminder to your customer if they leave their selected items in their cart without checking out. This feature encourages your consumers to complete their transactions. BigCommerce claims this feature works so well that the store owners can recover, on average, 25% of online sales from the customers who abandoned their cart products.
Setting up Shipping Costs
You have total control over the shipping cost. That means you are free to set the shipping cost for the customers who will pay for the shipment of your product.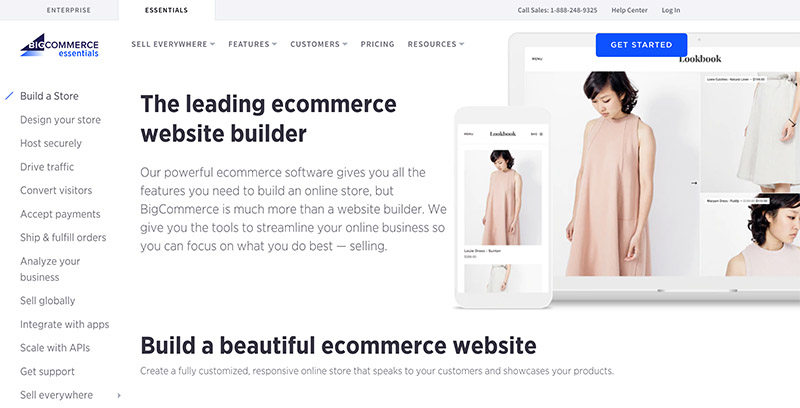 Some Other Additional Features
You can use marketing tools to create and manage promotional codes and discounts.
The categorization of the product is entirely your choice.
You can choose from 12 free templates.
Access to a drag-and-drop webpage builder and editor.
Paypal integration is available.
You can sell unlimited products on your site. (Both physical and digital goods)
Access to a comprehensive content management system.
You can register unlimited staff accounts.
With the tool Akamai Image Manager, you'll can optimize your store for SEO (Search Engine Optimization) features, including automated image optimization.
BigCommerce integrates seamlessly with plenty of email marketing solutions like Mailchimp, Constant Contact, iContact, and Interspire.
You can code and tweak your business website with the proper coding know-how, primarily HTML and CSS.
These are some of the key features BigCommerce has to offer.
After all the discussions above, it's pretty clear that BigCommerce is well ahead of WooCommerce, as far as features are concerned. BigCommerce handles everything necessary to design, manage, and grow your eCommerce store.
WooCommerce indeed offers some fantastic features, as we've already discussed above. But in a head-to-head comparison, WooCommerce just can't compete with the variety of toolsets BigCommerce features.
WooCommerce vs BigCommerce: Pros and Cons
Like everything in the world, both BigCommerce and WooCommerce have their fair share of positive and negative aspects. Here in this segment, we will be looking at the good side and not-so-good side of both companies.
Moreover, We will also be comparing these two website-building platforms based on their advantages and disadvantages. So without any ado, let's get started.
Pros of BigCommerce
Let's look at some of the positive aspects of the BigCommerce platform.
A Huge Range of Built-in Features
BigCommerce boasts beyond the standard and a wide range of features which we've already discussed in the previous segment. Their built-in features will help you grow your business successfully and quickly without any extra charges. With BigCommerce, the more premium plan you choose, the better and more advanced features you'll get.
Setup and Operational Procedures are Easy and Simple
As we already know, BigCommerce is a fully hosted platform. So, you don't need to worry about hosting and managing updates. That makes the setup and operating process of your BigCommerce store much easier and simpler.
Excellent Loading Speed
Usually, the loading speed of BigCommerce shops is pretty good. So you don't need to worry about installing any themes, caching applications, plugins, add-ons, or anything like that.
Excellent security and Compliance Measures
BigCommerce handles the entire host of security and compliance measures. So you don't have to worry about optimizing the security issues or compliance measures at all.
Amazing Templates Out-of-the-box
BigCommerce comes with 12 free templates which look gorgeous out-of-the-box. There are also plenty of responsive themes that are very straightforward to install and modify.
Moreover, if you know how to code (Primarily HTML & CSS knowledge), BigCommerce makes it easier for you to access the code so that you can tweak your website as much as you want.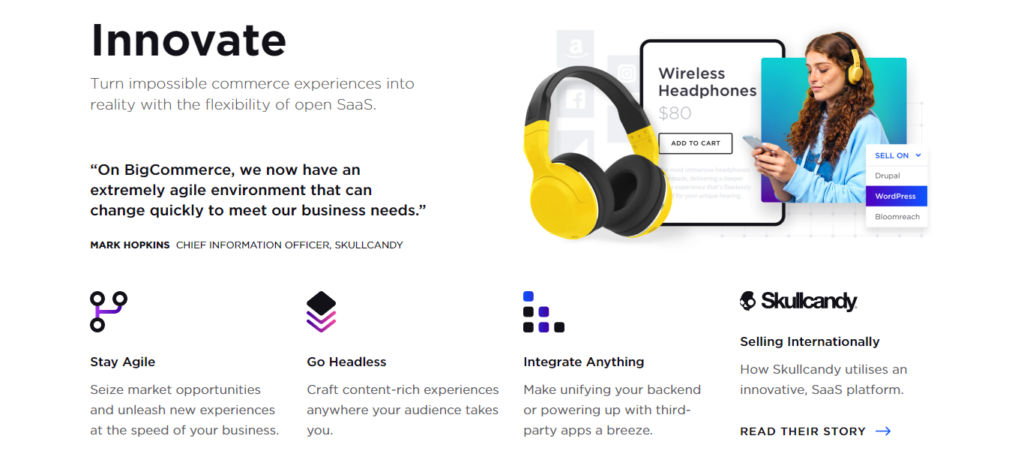 Cons of BigCommerce
Just like the positive sides BigCommerce have their fair share of cons as well. However, some cons may just be subjective. So it might be a con for us but not for you. These cons of BigCommerce are our picks after thorough research. So, without any ado, let's have a look at them.
Limited Annual Sales
BigCommerce sets up a limit on your total annual sales. So you won't be able to cross that figure of your yearly sales limited by BigCommerce. To exceed that margin, you need to upgrade to a higher monthly plan from them.
Lack of Design Flexibility
BigCommerce comes with a fair amount of free and paid themes. However, for some instances, their themes are pretty much identical to each other. And the sad part is that they don't allow you to customize themes using HTML or CSS editor.
No Mobile Apps
BigCommerce doesn't have any mobile app. So you don't have the privilege of managing the store via smartphone apps.
Comparatively Complex Editing Interface
The editing interface of BigCommerce is comparatively tricky to navigate. So the new users may need to go through somewhat of a learning curve.
Comparatively Smaller Marketplace for Apps
Compared to WooCommerce, BigCommerce's marketplace for applications is small. Unlike WooCommerce, BigCommerce simply doesn't have the same variety and selection of extensions or add-ons for you to use.
Pros of WooCommerce
Let's look at some of the positive aspects of the WooCommerce platform:
Top-notch Design Flexibility and Customization Options
In the WooCommerce platform, you can enjoy a great deal of customization and design flexibility compared to any other platform. They give you the option to customize your WooCommerce themes to a considerable extent.
However, you need some technical skills such as HTML/CSS know-how to get the most out of it. In case you're not tech-savvy, you can still build fantastic online stores on WooCommerce using WordPress page builders.
A Huge Collection of Third-Party Plugins
WooCommerce is supported by the most powerful content management system, WordPress. This implies the users of WooCommerce will get the privilege of having enormous plugin collections from both WordPress and WooCommerce stores and even from other plugin websites.
Powerful SEO Support
WooCommerce comes with powerful SEO tools from WordPress with plenty of SEO features. So, you'll get WordPress's premium SEO support for eCommerce websites out of the box.
Low-Cost Startup
WooCommerce is an open-source eCommerce platform. That means downloading and installing the WooCommerce plugin is absolutely free. All you need to take care of is the domain, hosting, and SSL certificate costs. So, here you get the chance to kickstart your online business with very little investment.
Infinite Product List With Various Category
In WooCommerce, you'll get the opportunity to add an infinite amount of products across various categories. Here, the choice is yours! You can sell all types of products (i.e., physical, virtual, or downloadable) from your WooCommerce site.
Almost Any Payment Method is Acceptable
WooCommerce stores accept almost every type of payment method, even transactions from somewhat popular payment gateways. So, you don't have to worry about the payment method at all.
Cons of WooCommerce
Alright, enough about the pros. Let's talk about the cons of WooCommerce. However, here also some of the cons may be subjective. So, not necessarily all the cons will apply to everyone in general.
Technical Knowledge is Necessary
To operate your WooCommerce Store efficiently, you need to have decent technical knowledge. To be precise, you must know how to code (HTML, CSS) to use the platform entirely. As a result, it makes the learning curve steeper.
Support is Limited
There's no doubt WooCommerce has the biggest community of users and developers. However, it doesn't mean you'll get instant support anytime you face an issue. Not from the company, at least. You need to look around for documentation sites, watch tutorial videos or search for similar topics from community sites, all by yourself.
Lack of Update Handler
WooCommerce doesn't handle updates of your online store automatically. So to run your WooCommerce website smoothly, you need to handle updates of your sites on your own.
Difficulties With Multi-Currency Website
By default, WooCommerce doesn't come with the feature to handle transactions on multiple currencies out-of-the-box. So, launching and maintaining a multi-currency website often gets tricky with WooCommerce. To add this feature to your online store, you need to install an external plugin extension.
Tricky Wishlist Functionality
This is entirely subjective and not a general con of WooCommerce. Some users experienced the complexity, and they found it somewhat tricky to use WooCommerce's wishlist functionality. Then again, the case is not the same for everyone in general.
WooCommerce vs BigCommerce: The Ultimate Battle Between Two eCommerce Giants
WooComnerce and BigCommerce are two of the most popular eCommerce platforms in the market. And both the competitors have their fair share of fanbase and users. But make no mistake, the competition is fierce!
In this segment of our article, we will compare BigCommerce vs WooCommerce, set them up for a head-to-head battle, and try to come up with a winner. We will also try to show the difference between them to choose the best-suited platform for your business.
Before starting our comparison battle between BigCommerce vs WooCommerce, let's talk about the battle rule. Shall we?
We will divide this comparison battle into six different segments. Each segment will have its own criteria. We will compare BigCommerce vs WooCommerce for each criterion and announce a winner for that particular segment.
By now, we hope you already guessed it. The company wins the highest number of segments — wins the battle! And not only do they win the showdown, but they'll also be declared as the better eCommerce platform of the two!
Now let's look at which of the six criteria we will make the comparison battle between BigCommerce vs WooCommmerce.
The Six Criteria Of The Ultimate Comparison Battle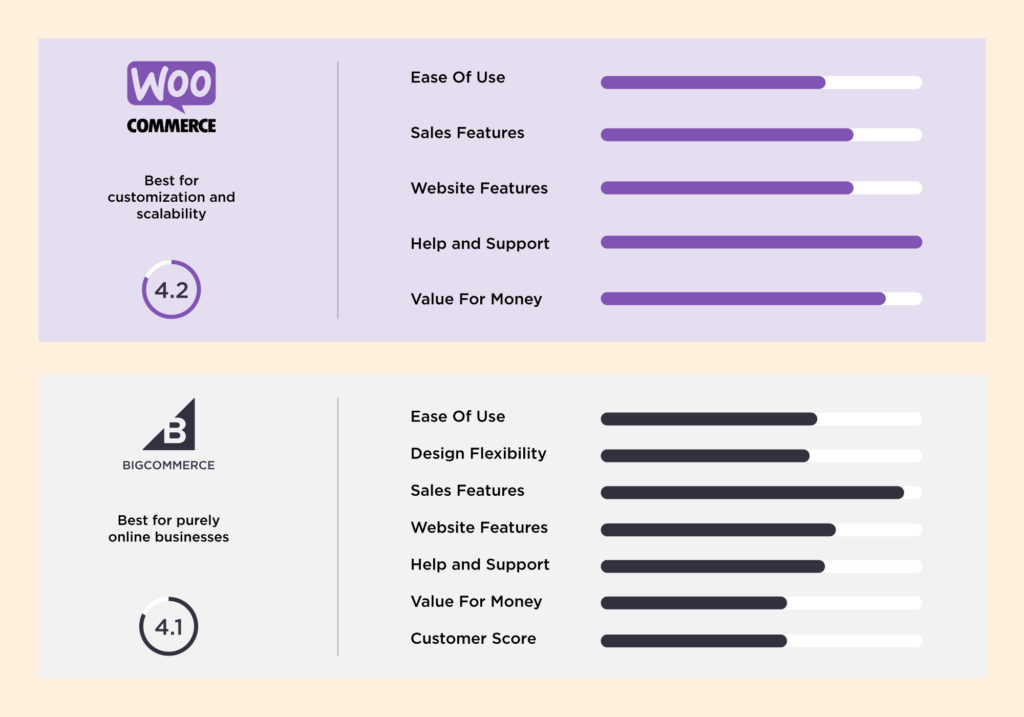 Budget-Friendliness: The first priority for most startup entrepreneurs is usually their budget. Surely you wouldn't want to spend a lot of money just on setting up your online store right from the get-go. So you must check the initial costs as well as the recurring expenses of your online store.
Ease-of-Use: Your eCommerce platform must be easy to use, user and beginner-friendly. Otherwise, you will lose a lot of customers even before your online sales start to boom.
Integrations and Add-ons: It doesn't matter how robust your eCommerce platform is. The core software will always be limited with its stock set of eCommerce features. This is when the integrations and add-ons come in handy.
Growth & Scalability: Growth and Scalability are two of the most vital area you need to look after for the long run of your eCommerce store. As time passes and your business starts aging, no platform can grow and skyrocket as dramatically as a scalable eCommerce platform.
Customer Support: Support is another critical factor you need to take care of while starting your online business. To keep your customers happy and satisfied and keep them within your business, instant and quality customer support are necessary.
Payment Methods: To attract and convert more consumers to your eCommerce store and make them purchase more, you need to look after this sector carefully. It's always better to select a platform that supports multiple payment gateways.
These six segments are not just criteria of the comparison battle, but they're also the fundamental requirements for a startup eCommerce business. Besides them, you'll probably also need additional features to manage invoices, taxes, inventory management, shipping, SEO, etc.
That being said, let's start the battle between BigCommerce vs WooCommerce and see how they stack up against these criteria!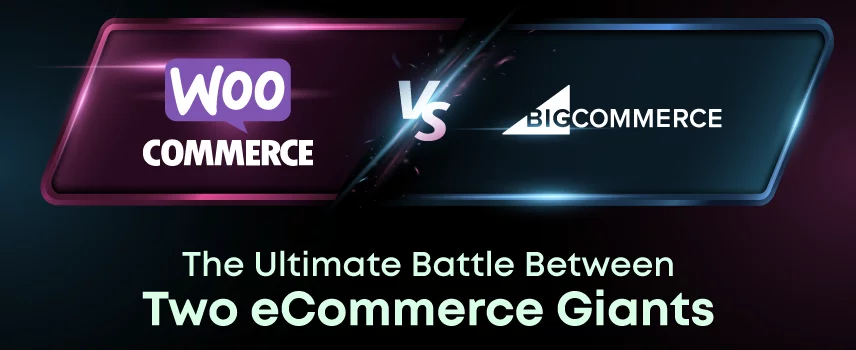 Budget-Friendliness — WooCommerce vs BigCommerce
If you're looking to enter the eCommerce world, the most critical factor you need to consider while choosing your eCommerce platform is whether it's pocket-friendly or not. Let's now compare the overall costs between BigCommerce vs WooCommerce and see which two platforms are more budget-friendly.
The Actual Cost of WooCommerce
By now, we all know that WooCommerce is one of the open-source WordPress plugins. You can download and utilize WooCommerce in your WordPress website completely free of cost. However, you'll need other paid services like domain name, SSL Certificate, and a WordPress web hosting account to get your journey with WooCommerce started.
Usually, a domain name costs about $15, SSL Certificate costs $70, and web hosting costs around $8 per month. Looking at those numbers, you can say that it's anything but cheap. But fortunately for us, there are multiple hosting companies offering specialized hosting plans for WooCommerce, which reduces the cost significantly.
Bluehost is one of the most popular and official WordPress & WooCommerce recommended web hosting providers. They have agreed to provide the WooCommerce users with a free domain name, SSL certificate, and discounted web hosting. By this, you can start your online store with only $2.75 per month. However, the price may vary from time to time.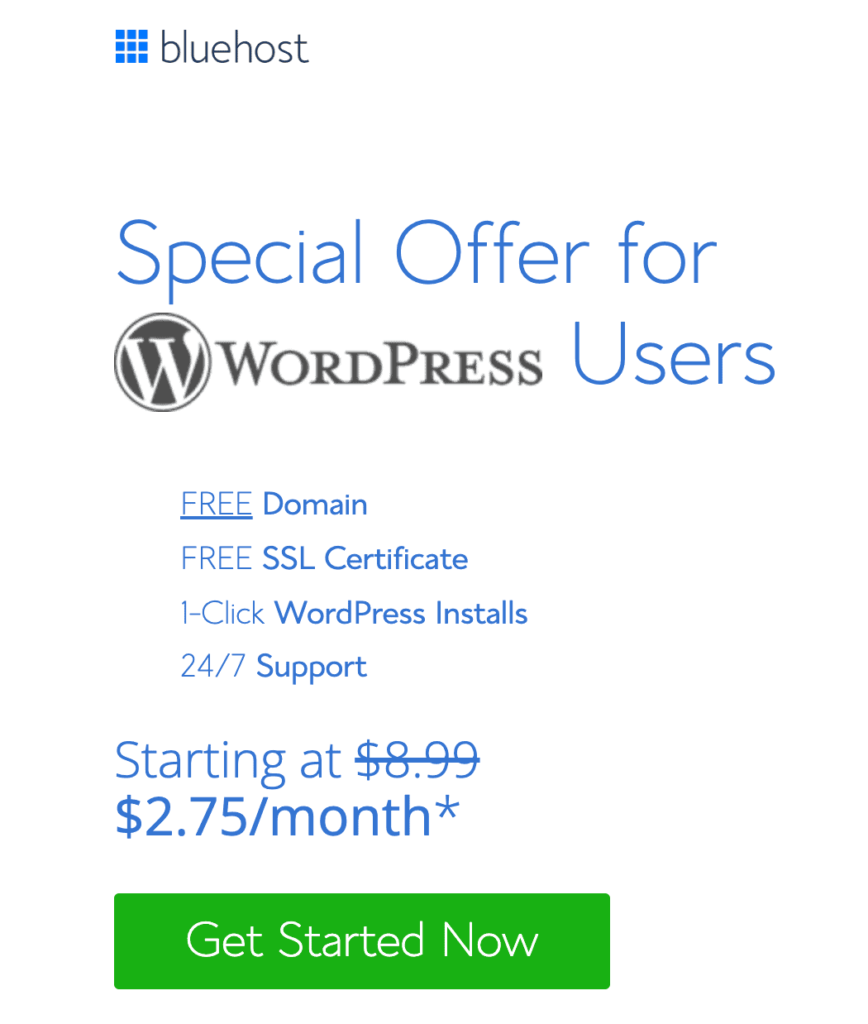 Another good thing about WooCommerce is that they don't charge you any percentage fee on the transaction, which is a nice touch. However, your expenses will increase if you want to use a premium WooCommerce theme or premium plugins. But fortunately for you, WooCommerce offers plenty of free themes and plugins you can use to reduce costs.
The Actual Cost of BigCommerce
BigCommerce is a subscription-based eCommerce platform with four different pricing plans. And out of the 4 BigCommerce plans, 3 are essential plans for small businesses, and one is an enterprise plan for large agencies.
The starter plan is the 'Standard' one, which costs $29.95 a month. This pricing includes everything you need to get your BigCommerce store up and running with a BigCommerce subdomain.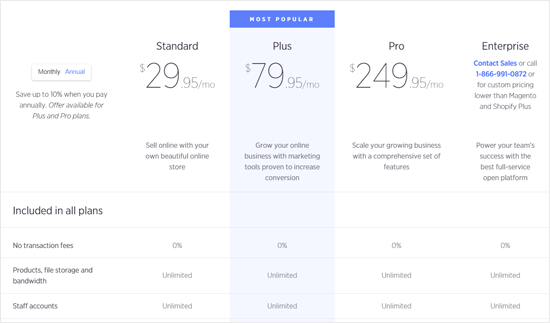 If you wish to create a custom domain name, then you need to purchase a domain name. You can purchase a domain name directly from BigCommerces for roughly $12 per year or any third-party domain registrar.
All the plans of BigCommerce include no transaction fees, unlimited products, unlimited file storage, unlimited bandwidth, and unlimited staff accounts. However, BigCommerce contains a threshold for your total sales.
For instance, the total sales limit for standard sales per year is $50k. If you're making more sales, your BigCommerce store will automatically upgrade your website to a bigger plan. If you're using their most extensive essential 'Pro' plan, they will charge BigCommerce users an additional $150 per month for each additional $200k worth of sales.
Moreover, you might need to extend your budget even further if you want to use a premium theme and app. The minimum cost of a paid theme from BigCommerce is $170.
Result: After all the discussions above, the WooCommerce platform is undoubtedly more budget-friendly and cost-effective than BigCommerce. With the number of free themes and plugins available for WooCommerce, it's the clear winner of this segment.
Winner: WooCommerce
Score After Round 1: WooCommerce – 1 & BigCommerce – 0
Ease of Use — WooCommerce vs BigCommerce
WooCommerce — Ease of Use
As we all know, WooCommerce is a self-hosted platform. It's a WordPress Plugin that you need to install on your WordPress website to work. You also need to manage updates, keep backups, and secure your website on your own
To start a new WooCommerce store, first, you need to buy a domain name and a hosting account. Then you need to install WordPress and the WooCommerce plugin.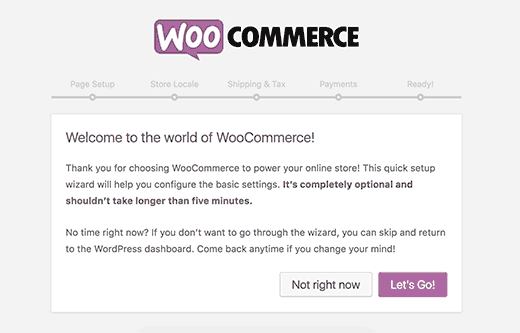 Once you complete the installation procedure, you can start adding products to your store.
The best thing about WooCommerce is it's an open-source plugin. That means it's super flexible when it comes to customizations. You have complete control over your website and can add any functionality you can imagine to your website.
However, one of the most significant downsides of flexibility is that it comes with a learning curve, which requires more hands-on management of your website. You'll also need to sign up for a merchant account or similar service like PayPal, Stripe, etc.
BigCommerce — Ease of Use
Starting and maintaining an eCommerce website is super easy with BigCommerce. Since it's a fully hosted platform, you don't need to rely on hosting providers or take hosting services. And you don't need to worry about security, backups, and performance issues either.
You can set up your BigCommerce store with a simple 3-step process. First, you need to sign up with their trial plan. Then all you need to do is enter your email id, contact address, store's name, and a few more details on your store.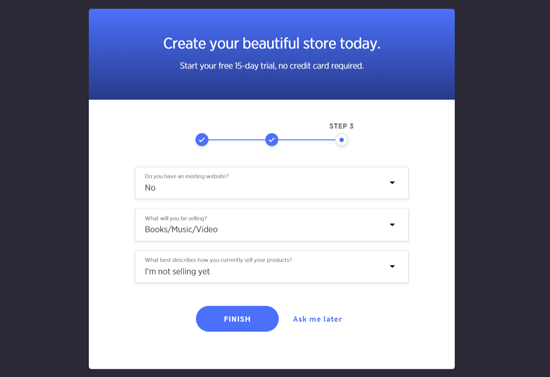 It takes only a few minutes to set up a store with BigCommerce. After that, you'll see your BigCommerce dashboard with the options to preview your store, add products, and customize. You'll find all the settings and options in the admin panel on the right-hand side.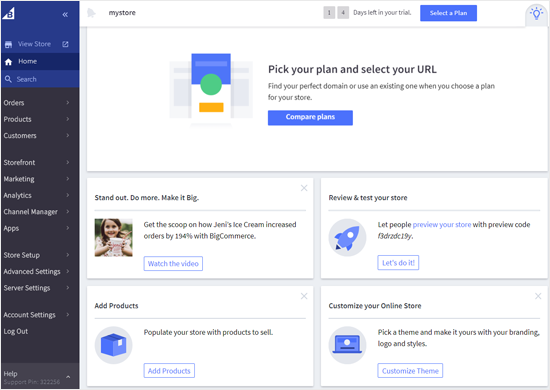 BigCommerce comes with a free subdomain. But if you want a custom domain name, you need to buy it directly from BigCommerce or any other domain name registrar.
If you already have existing WordPress websites, you can still install and use the BigCommerce WordPress Plugin. The plugin will allow you to run an eCommerce store along with WordPress.
Result: After the complete comparison between WooCommerce and BigCommerce regarding ease of use, we finally concluded with the result. Compared to BigCommerce, WooCommerce has a bit of a learning curve. Hence, BigCommerce is comparatively easy to use out of the two platforms. So, the winner is WooCommerce!
Winner: BigCommerce
Score After Round 2: WooCommerce – 1 & BigCommerce – 1
Integrations and Add-ons — WooCommerce vs BigCommerce
WooCommerce Add-ons and Integrations
WooCommerce is an open-source plugin built on top of WordPress, the most popular CMS (Content Management System) software.
It has access to more than 58000+ free WordPress plugins and many more paid ones. The official WooCommerce extension store, WooCommerce.com, contains more than 730 free and premium extensions to extend your eCommerce features.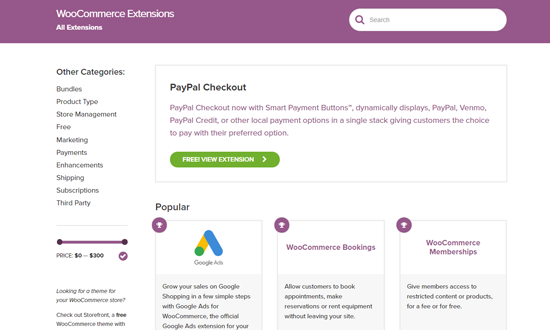 By using these Add-ons, you can add multiple payment gateways, lead generation, eCommerce SEO, performance optimization, social media integration, and many more.
Because of the lower barrier of entry, WooCommerce has a lot more integration and add-ons available than BigCommerce. Almost every third-party tools and plugins integrate seamlessly with your WooCommerce website.
BigCommerce Add-ons and Integrations
BigCommerce offers hundreds of third-party apps and integrations. It helps you add powerful features to your store.
BigCommerce App Marketplace offers both free and premium add-ons. It has six featured app collections categorized as must-haves, including shipping essentials, design, marketing, and payments. You can easily select apps from these collections for your store.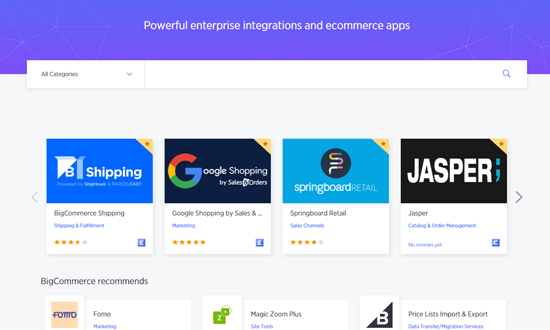 Moreover, there are many applications in categories such as accounting and tax, analytics and reporting, CRM and customer service, product sourcing, etc., available within BigCommerce.
Furthermore, there are dozens of marketing tools containing marketing features on BigCommerce. You'll find these marketing tools within BigCommerce App Marketplace.
Result: Considering the integration capability of WooCommerce and the vast availability of add-ons on WooCommerce platforms, we can say that WooCommerce performs better than BigCommerce in this sector.
Winner: WooCommerce
Score After Round 3: WooCommerce – 2 & BigCommerce – 1
Growth & Scalability — WooCommerce vs BigCommerce
Growth & Scalability on WooCommerce
As a self-hosted platform, maintaining updates, backups, and security of your website might get a little tricky for the users. Also, your initial hosting plan would run out of resources as you start getting more traffic in your store.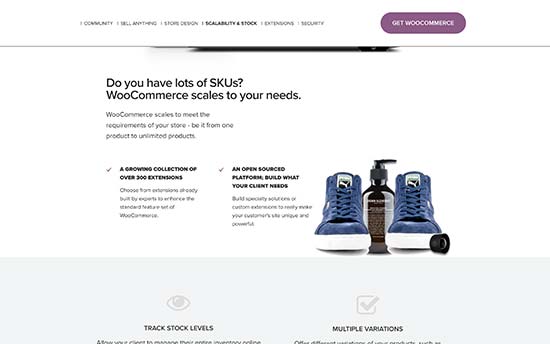 However, the good news is that you'll get plenty of options to manage your business growth as you have complete control over your store. Your hosting cost might increase, but you'll have better control over the specific resources you upgrade.
You can also use SiteGround or WP Engine to scale your WooCommerce store.
Growth & Scalability on BigCommerce
Being a fully-hosted platform, BigCommerce eliminates all the technical concerns like storage, backups, downtimes, updates, and security.
As your business expands, all you need to do is update your plan, and BigCommerce will take care of the rest. It's a pretty much hassle-free solution to grow and scale up your business.
Result: Both BigCommerce and WooCommerce have equal space to grow and scale up with unique benefits and drawbacks. You can make your business growthful and scalable regardless of any of the platforms you choose between the two. Hence, there's no specific winner for this round!
Winner: It's a Tie!
Score After Round 4: WooCommerce – 3 & BigCommerce – 2 [Both get 1 point due to a Tie!]
Customer Support — WooCommerce vs BigCommerce
Customer Support on WooCommerce
There are plenty of platforms where you can seek support for your WooCommerce store.
You can always visit the WooCommerce Support Forum on WordPress.org or the official WooCommerce website for plugin-related issues. WooCommerce support forum actively provides pre-solved problems as well as new issues.
The official website of WooCommerce has a support page containing highly extensive documentation, tutorials, and guides. Their materials will help you to find solutions all by yourself.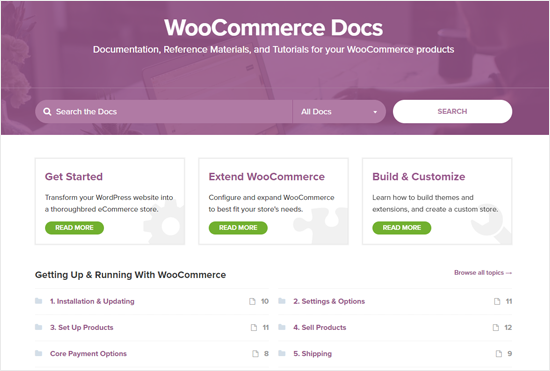 If you face any issues regarding your WooCommerce themes and extensions, you can always get support from their respective developers. Your web hosting provider is responsible for fixing your server-related issues.
Moreover, there are plenty of WooCommerce related Blogs from which you may find solutions to your problems. Due to the popularity of WordPress and WooCommerce, the support options are plenty.
Customer Support on BigCommerce
For being a fully hosted platform, BigCommerce provides fantastic customer support. You have direct access to their multiple support options right from your BigCommerce dashboard, including phone support, email support, live chat support, community support, and many more.
As soon as you find an issue regarding your BigCommerce website, you can simply click any of their support options and get instant support. BigCommerce offers 24/7 customer support.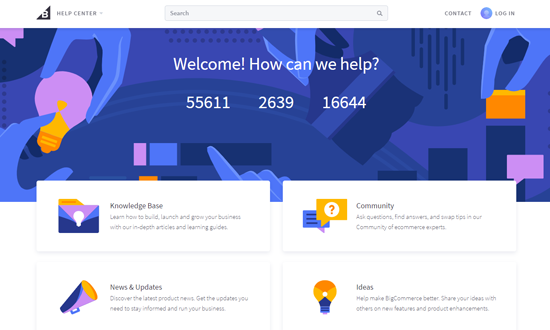 Moreover, if you have any queries related to BigCommerce, you can always approach their help center. It has very rich know-how to help you to get the most out of your BigCommerce store. BigCommerce help center also provides their very own QNA (Question & Answer) Community and plenty of blogs to help you out.
Result: There's no doubt that both BigCommerce and WooCommerce offer a great deal of customer support. However, because of the instant 24/7 support system, BigCommerce is ahead of WooCommerce in this sector. So, BigCommerce seals the victory for this round.
Winner: BigCommerce
Score After Round 5: WooCommerce – 3 & BigCommerce – 3
Payment Methods — WooCommerce vs BigCommerce
Payment Methods in WooCommerce
By default, WooCommerce offers PayPal and Stripe payments. It also has a WooCommerce Payments Solution powered by Stripe.
WooCommerce supports all other popular payment options like Authorize.net, Amazon Pay, Square, Alipay, and many more. It also supports less popular and regional payment services since it's an open-source plugin, and there's no barrier to entry.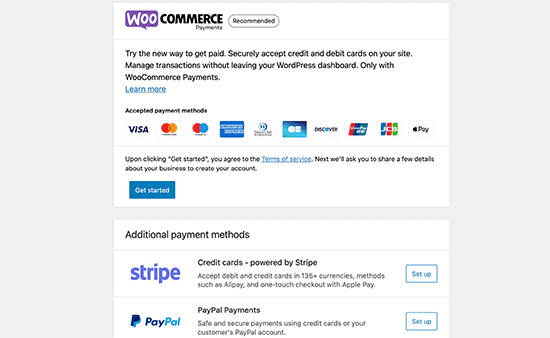 Being a self-hosted platform, you'll only be charged transaction fees by your payment gateway or bank. Unless you're using WooCommerce payments, they will never charge a penny on credit card payments, which is a significant plus point.
You can save a lot of money if you can manage to choose your merchant account using a third-party gateway.
Payment Methods in BigCommerce
BigCommerce also offers plenty of payment options for you. It includes built-in native integrations with the top payment platforms in the industry, including Paypal powered by Braintree, Square, Adyen, Stripe, Authorize.net, and CyberSource.
The transaction charge for both debit and credit cards starts at 2.9% + $0.30 per transaction. But the cost decreases as your business starts growing.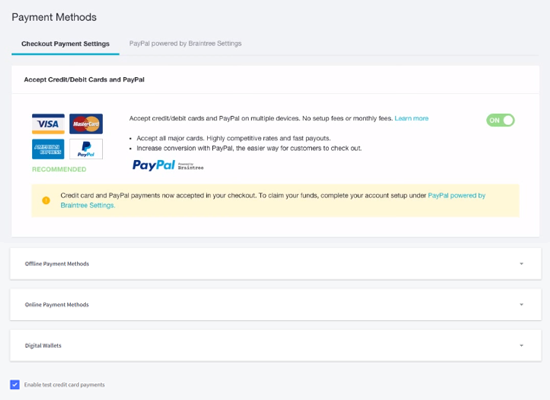 Furthermore, BigCommerce has built-in integration with popular digital wallets like PayPal, Amazon Pay, Masterpass, and Apple Pay. Digital wallet integration will further help your business significantly by improving your mobile conversion.
Result: WooCommerce supports almost every payment gateway option and charges less than BigCommerce's transaction process. So, WooCommerce is the winner for this segment.
Winner: WooCommerce
Score After Round 6: WooCommerce – 4 & BigCommerce – 3
Final Score Evaluation
Segments won by WooCommerce
Budget-Friendliness
Integrations and Add-ons
Payment Methods
Points earned by WooCommerce: 3
Segments won by BigCommerce
Ease-of-Use
Customer Support
Points earned by BigCommerce: 2
Segment Tied
Growth & Scalability [1 point goes to both the platforms]
Final points of WooCommerce: 3+1 = 4
Final points of BigCommerce: 2+1=3
And The Winning Trophy Goes To WooCommerce!
After the head-to-head comparison battle between BigCommerce vs WooCommerce, we came up with the final result – WooCommerce beats BigCommerce in this hard-fought battle by 4-3!
ShopRank Stats on WooCommerce vs BigCommerce
WooCommerce vs BigCommerce Details
Let's have a look at some of the detailed information on BigCommerce vs WooCommerce by ShopRank.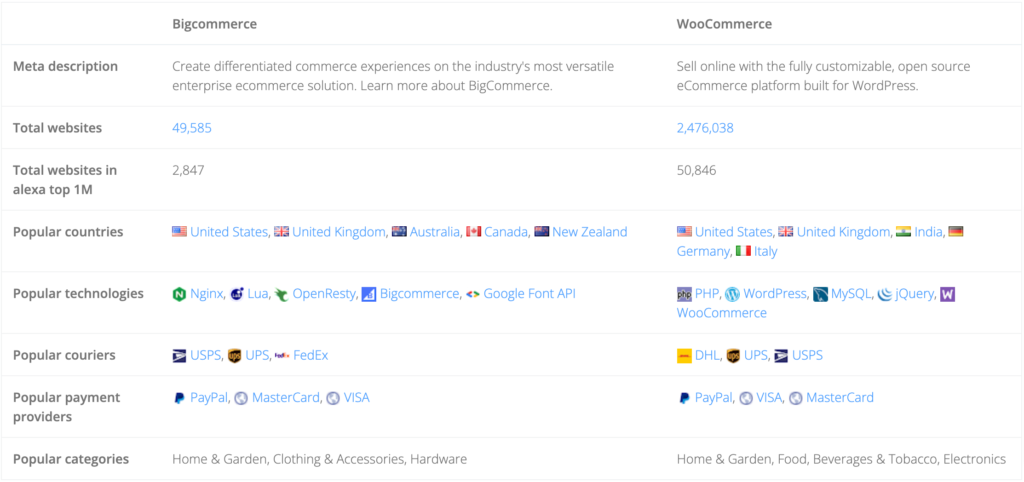 In the picture above, you can see some of the basic details of BigCommerce vs WooCommerce, including its total website count, total websites in Alexa (top 1 Million), popular countries, technologies, couriers, payment providers, and categories.
WooCommerce vs BigCommerce Trends

From the statistics above, you can see that WooCommerce is miles ahead of BigCommerce regarding the numbers. In the last six months, the number of newly added websites on WooCommerce has been far ahead of the numbers of BigCommerce.
Though the number of lost websites of WooCommerce is also higher than BigCommerce. Then again, the margins are considerably low. So the statistics from ShopRank also support my previous head-to-head battle result — The field of WooCommerce is much more advanced and extensive than BigCommerce.
WooCommerce vs BigCommerce Website Distribution in Top 3 Million Websites (Ranked by Alexa)

The above statistics by Alexa Rank show WooCommerce and BigCommerce websites count in the top 3 Million websites worldwide. Here, you can also see that the numbers of WooCommerce websites are way higher than that of BigCommerce.
That shows how dominating WooCommerce is in comparison with BigCommerce.
Let's Wrap Up
Many congratulations to you if you managed to come up to this point in our blog. We're pretty sure we covered everything necessary in our comparative article on BigCommerce vs WooCommerce.
Now let's wrap it up. Shall we?
Here in this blog, we tried to showcase a comparative head-to-head battle between BigCommerce vs WooCommerce. And that's not everything!
We also tried to provide plenty of vital information on the topic to give you a better and clear idea and help you make the best decision for your business.
We have already done our part by spreading whatever information we've managed to gather with you all. Now it's time to do yours. Comment below which platform you find best suited for your eCommerce business? And why? Is it WooCommerce? Or is it BigCommerce?
Hurry up, and do let us know. We will very much appreciate it. We hope you find the blog helpful. Still, if you find anything hard to understand or have any queries, feel free to get back to us with questions. We will be happy to reply with answers.