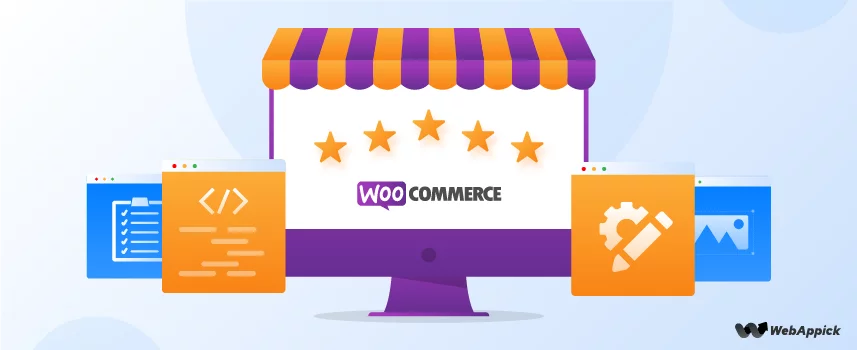 WooCommerce Storefront Theme Review: Best Themes List
If you are looking to start an eCommerce online store, WooCommerce is an obvious choice. A quick Google search will confirm that. But the theme choice is where the struggle begins. There are just too many themes along with the WooCommerce Storefront theme on the internet to choose from. Should you just pick any theme, add some products and start throwing your bucks in Ads?
According to Sweor, on average, people take 0.05seconds to form an opinion about your store, and 57% of people will leave your site immediately if they don't like your design. 85% of people want the same or better experience browsing your online store on their mobile devices. 88% of customers won't return to your store if they have bad experiences.
Therefore, your WooCommerce store should give your visitors the best user experience to outrun your competitors. In order to achieve that, you need a website that is lightweight, fast loading, and has a responsive modern design. WooCommerce Storefront is one such theme.
In this article, we will give you a complete review of the WooCommerce Storefront theme and some other top themes that you can consider for your WooCommerce store.
WooCommerce Storefront theme overview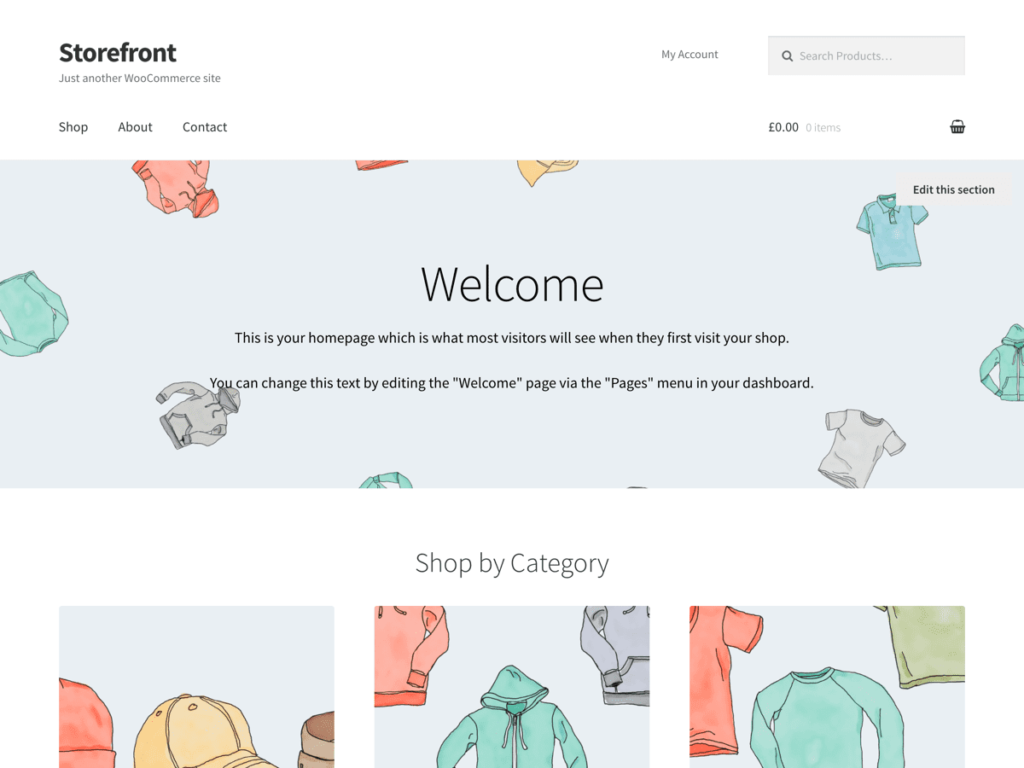 Storefront is the official WooCommerce theme offered by the WooCommerce marketplace. This means the core developers at WooCommerce developed this theme. This is a free theme, but paid extensions with advanced customization features are available to enhance your WooCommerce store.
Storefront WooCommerce is a lightweight and responsive theme and integrates seamlessly with WooCommerce and all its extensions. Hence, you can install any official WooCommerce extension without having to worry about your online store becoming unresponsive or breaking down.
Overall, WooCommerce Storefront is a free WordPress theme that is intuitive and flexible. It features deep integration with WooCommerce.
Why WooCommerce Storefront theme?
You can build any type of WooCommerce online store using the Storefront theme, including niche-specific stores or even membership stores. Let's take a closer look at Storefront's features to see why it's such a great WooCommerce theme.
Lightweight
The WooCommerce Storefront theme is built on top of the popular minimalistic Underscore starter theme, which makes it extremely lightweight. It uses the minimum resources possible, which allows the store to load faster.
As a result, Storefront improves user experience and increases the conversion rate. In addition, a faster loading WooCommerce store will rank high on Google's search engine results page (SERP).
Seamless integration
The WooCommerce Storefront was developed by the same people who created the WooCommerce platform. Who knows WooCommerce better than WooCommerce core developers! They made sure that the Storefront theme integrates smoothly with your WooCommerce store.
The theme is constantly updated along with WooCommerce version updates, so you don't have to worry about the frontend breaking when you update your WooCommerce version.
A prevalent issue with third-party themes is they break down on updates or on the installation of any WooCommerce extensions. That's not the case with the Storefront theme; you can install any WooCommerce extension without any concern.
Responsive
Do you know, 63% of traffic and 50% of sales come from mobile devices? Therefore, it is absolutely essential that your WooCommerce store looks and functions correctly on all screen sizes.
The WooCommerce Storefront is a responsive WordPress theme. Using the theme, you can display your store on any screen size without altering the design or functionality of your store. Moreover, responsive design is a required component of any online shop to achieve a higher ranking in search engine results.
Clean design
Woothemes Storefront has a simple design that allows visitors to concentrate on the most important elements, such as descriptions of the products, their pricing, and other store features. This eCommerce-focused theme has all the essential components on the homepage, such as product categories, on-sale discounted products, featured products, and top-rated popular products.
Moreover, the blog page has a similar design, which helps visitors focus on the content. This leads to a better average time on the page and a lower bounce rate.
Easy to setup & Customization
The WordPress WooCommerce storefront theme is one of the simplest to set up themes that you will find. You don't need to learn any coding, and customization is also straightforward. The theme supports all the popular builders such as Divi, Elementor, and Beaver builder.
If you are not a fan of or not familiar with page builders, you don't necessarily need one. You can still build a fully functioning shop with WooCommerce Storefront customizer settings.
You will notice the customization options after you install Storefront. These options will allow you to change the colors, typography, header & footer elements, widgets, navigation, and other related elements.
WooCommerce Storefront store setup
In this section, I am going to build a demo store using Storefront and WooCommerce. I have already installed WordPress and WooCommerce. Let's begin installing the theme.
Installing WooCommerce Storefront
WooCommerce themes Storefront is available for free in the WordPress repository. To install it, go to Appearance>>Themes and click on Add New button. Type 'Storefront' in the search box and install & activate the theme.

If you haven't already installed WooCommerce on your site, you will get a notification like this –

Alternatively, you can download the Storefront theme from the WooCommerce marketplace and upload it to your website.
Storefront page templates
Along with the standard WooCommerce pages, the storefront adds two new page templates: Homepage and Full width.
The Homepage template is an excellent way to showcase your products, as it immediately provides visitors with an overview of your products and product categories upon their arrival in your store.

Now let's assign the template to a page. I have created a page named home and assigned the Homepage template to it, as you can see in the image below.

Setting homepage
Now that we have created a page called home, we need to set it as the homepage of our WooCommerce website. To do so, go to Settings from the WordPress dashboard and click on Reading. From Reading settings, select the option 'A static page (select below)' and select your page.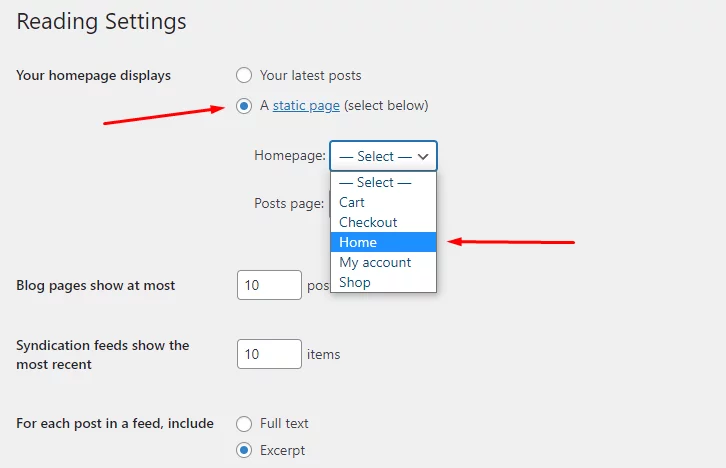 Click the Save Changes button and see the changes in your front end.
Adding Products
Even though we have installed storefront & WooCommerce and set a homepage, our store is still empty. We need to add some products. For this demo website, I have imported some demo products. WooCommerce has built-in import-export tools. You can find a detailed article on WooCommerce import-export here.
Now, let's take a look at some parts of the front page.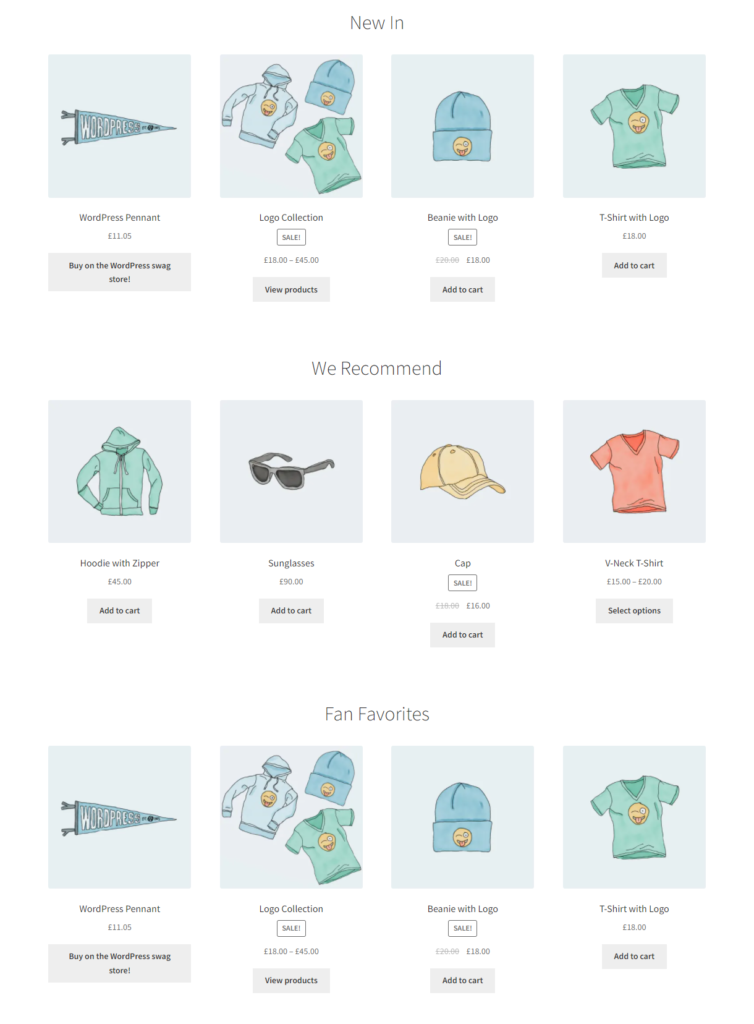 By default, the Storefront theme's homepage template display products by category, newcomers, favorites, on-sale products, recommended, and best sellers.
WooCommerce Storefront customizer
You can customize the total appearance of your WooCommerce Storefront website from the customizer. Go to Appearance>>Customize.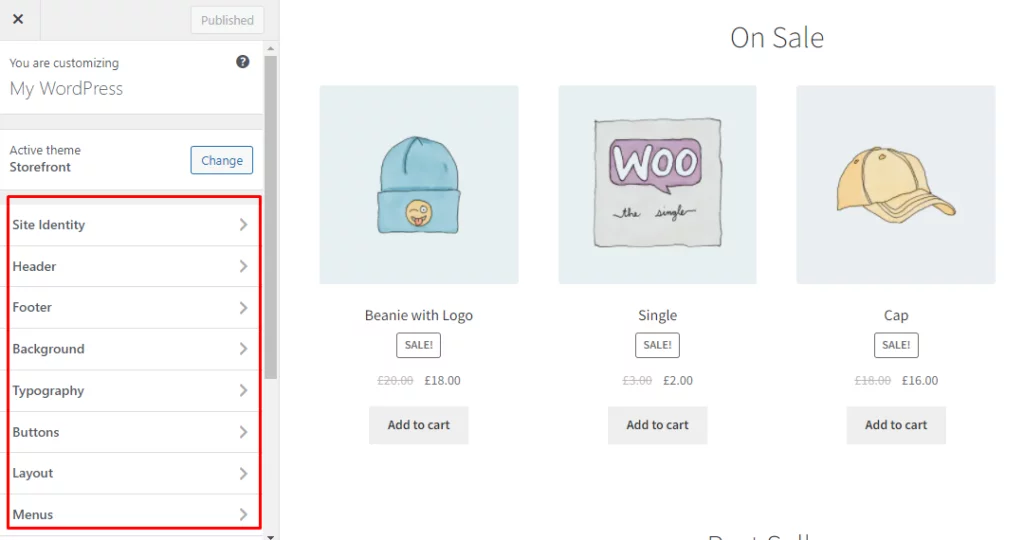 From the left panel, you can customize various settings and the appearance of your website. For example, you can change the color of your header-footer, fonts, links, or even change the full background color. You can create and set menu items and widgets.

WooCommerce Storefront extensions
WooCommerce Storefront has 11 WooCommerce extensions/plugins you can download and install along with the Storefront theme. These WordPress plugins were specifically designed only for the Storefront theme, and adding them will enhance the functionality of your store.
Four of them are free, and the rest are paid ones. Let's discuss them in detail.
WooCommerce Storefront Powerpack
WooCommerce Storefront Powerpack allows you to add styles and customize the look of your front page or store without writing any code. Powerpack lets you customize nearly anything on the WooCommerce shopfront, including the header, footer, the layout of any element, fonts, color, etc.
You can preview your changes instantly in the Storefront customizer. You can customize individual pages or make global changes to your store.
Price: $59/year
Storefront Homepage Contact Section
This simple and free plugin adds a contact section to your Storefront homepage.
Price: Free
Storefront Hamburger Menu
The Storefront Hamburger Menu replaces the standard handheld navigation with an off-screen sidebar menu that includes a hamburger toggle.
Price: Free
Storefront Product Sharing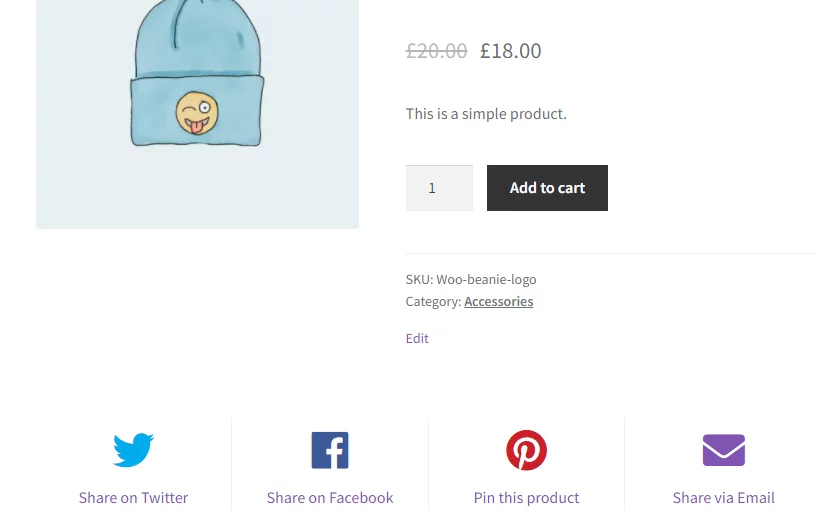 Encourage WooCommerce customers and visitors to spread the word about your products by adding the Storefront Product Sharing plugin in your online store. This plugin adds sharing icons in your product pages that your WooCommerce customers can share the products on Facebook, Twitter, Pinterest, or via email.
Price: Free
Storefront Footer Bar
In addition to the existing footer widgets, this plugin adds a full-width widget section above the default footer area. You can customize the section with a background image or tweak the color from Customizer.
Price: Free
WooCommerce Storefront Mega Menus
Mega menus are a great way to enhance the user experience and overall appearance of your WooCommerce site. Storefront Mega Menus allows you to add custom full-width dropdown menus in your Storefront store.
It has an easy-to-use drag and drop interface which allows you to add any number of widgets to your store's navigation menu. Moreover, the widgets can be rearranged and resized.
Price: $39/year
WooCommerce Storefront Reviews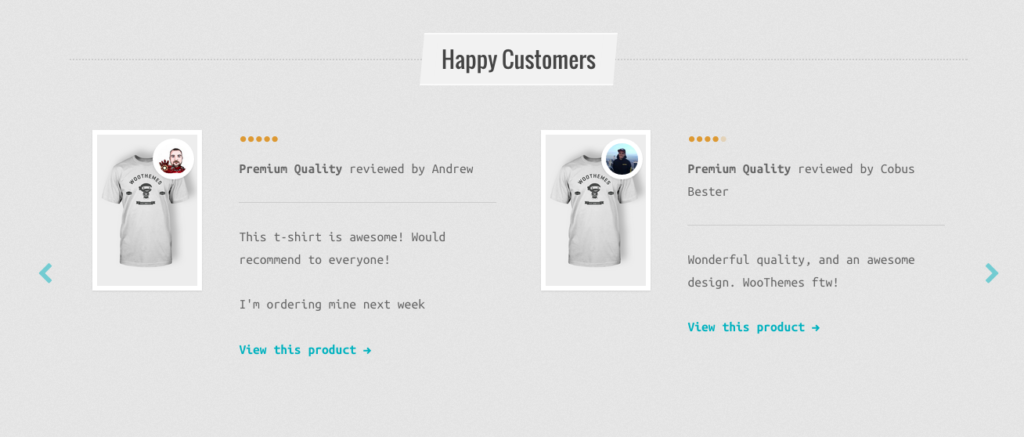 93% of online customers check product reviews before making a purchase. I am sure most of you do the same too.
Storefront Reviews plugin enables customer reviews on your homepage and all other pages. It allows you to display reviews in a variety of styles.
Price: $19/year
Storefront Pricing Tables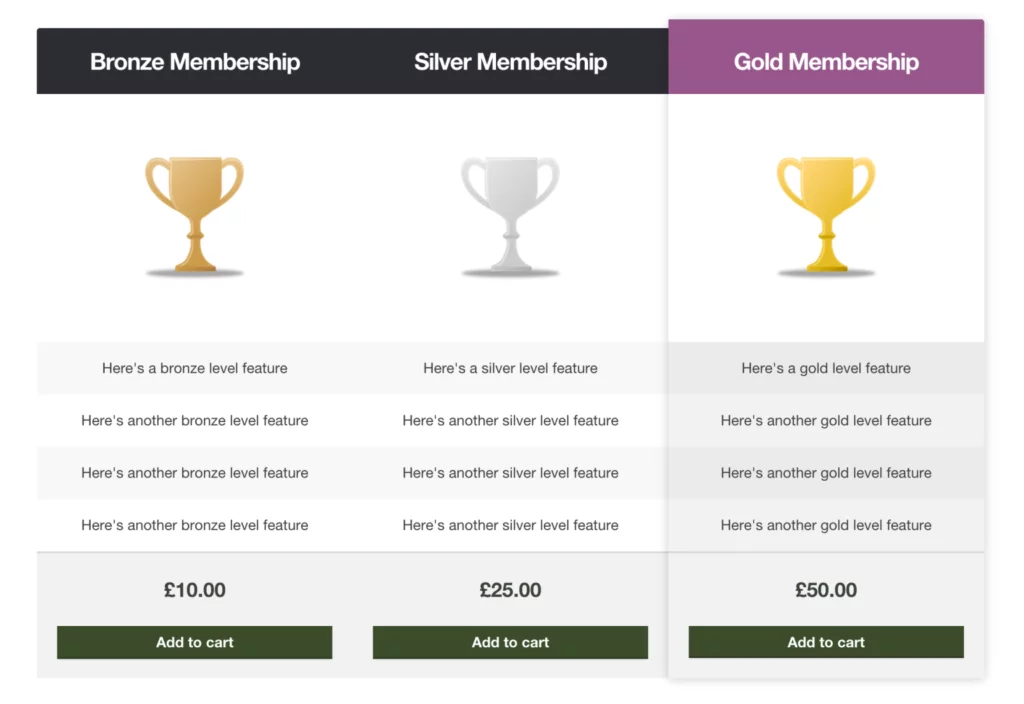 This plugin is best suited for WooCommerce membership sites. You can display comparison tables between different product bundles or membership plans for your customers to choose from.
Price: $19/year
Storefront Product Hero
You can use the Product Hero extension to highlight any product on any page of your website. With the right combination of imagery, you can create a powerful and effective conversion tool for your selected product.
Price: $19/year
Storefront Blog Customizer
The Storefront Blog Customizer add-on allows you to customize the look and feel of your blog to better match the content you publish, as well as display blog posts directly on your Woo Storefront homepage.
Price: $19/year
WooCommerce Storefront Parallax Hero
This extension adds customizable parallax hero features to your Storefront website. When installed, you will see a top-level section called Hero Component in your customizer. From there, you can change different aspects of the hero section.
Price: $19/year
Storefront Extensions Bundle
All the premium extensions mentioned above along with the free ones, are bundled in this package. Given the cost of these plugins, most Storefront store owners will find it cost-effective to purchase the bundle rather than buying the plugins individually.
Price: $69/year
Storefront Extensions Bundle
All the premium extensions mentioned above along with the free ones, are bundled in this package. Given the cost of these plugins, most Storefront store owners will find it cost-effective to purchase the bundle rather than buying the plugins individually.
Price: $69/year
WooCommerce Storefront child themes
WooCommerce marketplace offers 14 Storefront child themes. These designs will allow you to quickly change the appearance of your store and can be used as a starting point for creating your own custom website design from the ground up.
The Storefront child themes are all geared toward a specific niche, such as a boutique, bookshop, arcade, sportswear, pharmacy, etc. However, you can modify the designs to use them on any type of online store.
Here are the Storefront child themes:
Boutique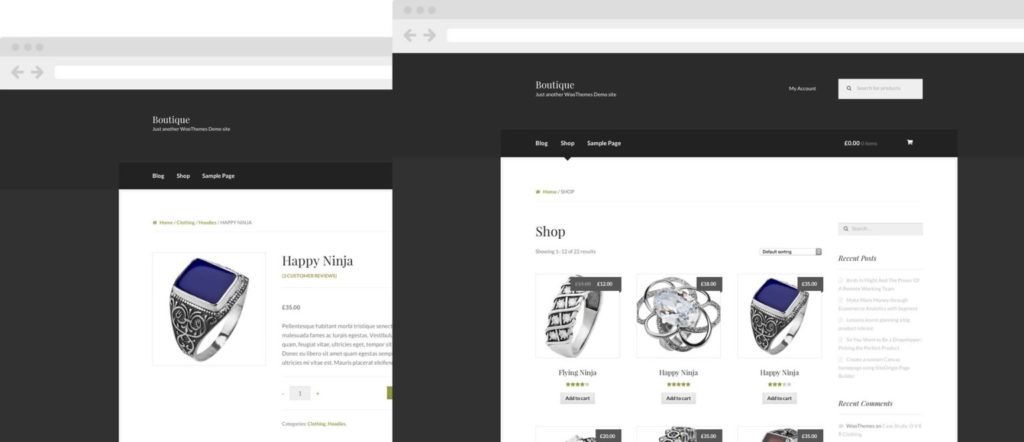 Storefront's Boutique child theme has a simple, traditional design that is perfect for small shops and boutiques. This WordPress theme is built upon the Storefront. Therefore, you will benefit from Storefront's rock-solid foundation and WooCommerce integration.
Price: Free
Deli
It is the ideal child theme for small businesses who want to convey their personality and visual identity on the internet through their website.
For a shop that sells earthy goods like handmade crafts, health foods, or even gardening supplies, Deli is a good fit because of its nature-inspired color scheme and textures.
Price: Free
Galleria
With a clean, minimal design, Galleria highlights your products to grab the attention of your visitors. You can build a dashing and unique-looking website with this Storefront child theme.
Price: $39/year
Bookshop
As the name suggests, this child theme is designed for bookstores and collectibles.
Bookshop features a one-of-a-kind homepage layout that prominently displays product categories and a diverse selection of products in a layout that is popular among bookstores.
Price: $39/year
Homestore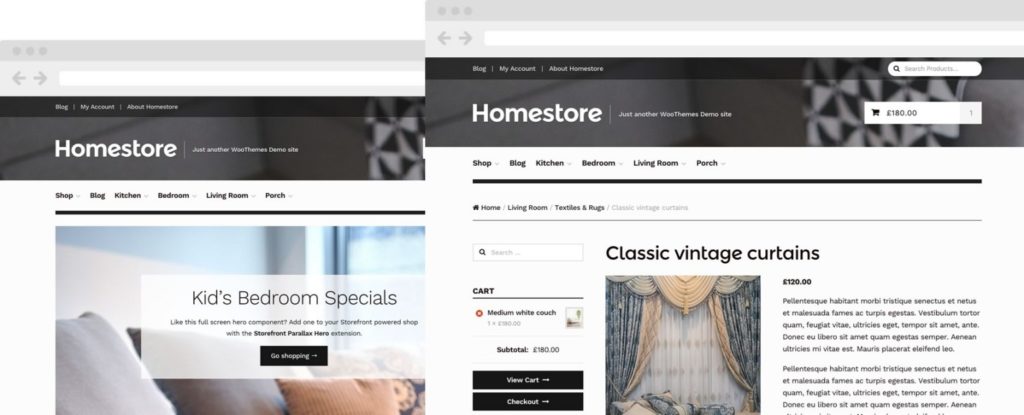 Homestore features a design that was inspired by popular department stores on the internet. Thanks to the simple page structure and visual hierarchy of Homestore, it provides a better shopping experience to the customers.
Price: $39/year
ProShop
ProShop was built for sportswear and equipment retailers. When combined with a header image of your choice and the urban, texturized design of this theme, it gives your store a unique personality and tons of character.
Price: $39/year
Bistro
Shops selling organic products and other consumables can use the Bistro child theme. Design-wise, it has a friendly and welcoming feel that is appropriate for this industry.
Price: $39/year
Outlet
The Outlet has been created specifically for technology retailers. It has a clean, minimalist design and features that suit the tech industry.
Price: $39/year
Hotel
Any idea which industry this theme is for! Yes, Storefront's "Hotel" child theme is geared toward businesses that sell time/services, such as hotels, B&Bs, and vacation rentals.
It features unique integration with the WooCommerce booking-related extensions: WooCommerce Bookings and WooCommerce Accommodation Bookings.
Price: $39/year
Stationary
This Storefront child theme is built for stores that sell office supply products, art& crafts, and cards. The design features subtle tactile decorations while remaining clean and elegant in its overall appearance.
Price: $39/year
Pharmacy
The Pharmacy theme is built for the healthcare industry. You can give your health store a professional and trustworthy appearance with this theme.
Price: $39/year
Arcade
It is a Storefront child theme with a design based on various game and technology stores found all over the internet. It has a bold and contemporary design. Arcade features a one-of-a-kind homepage layout that was created specifically to showcase a wide range of products in an easily digestible format.
Price: $39/year
ToyShop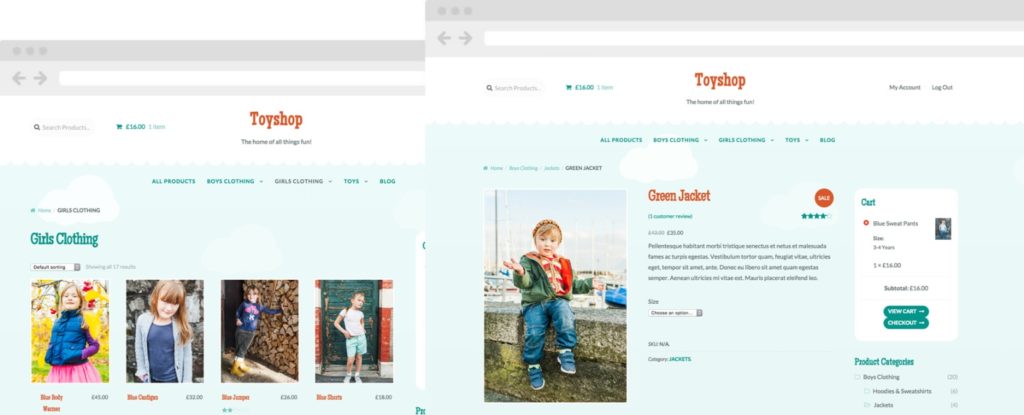 This is an excellent theme for a children's store or any store specializing in fun products. The store's backdrop is a brightly colored landscape complete with puffy white clouds inside a light blue sky.
Price: $39/year
Petshop
As you have guessed by now, this Storefront child theme is for the pet industry. It has an organic and friendly design and features complementing the pet niche.
Price: $39/year
WooCommerce Storefront examples
Great eCommerce store designs always inspire people who are planning to design their own websites. Here are some WooCommerce stores built with the Storefront theme.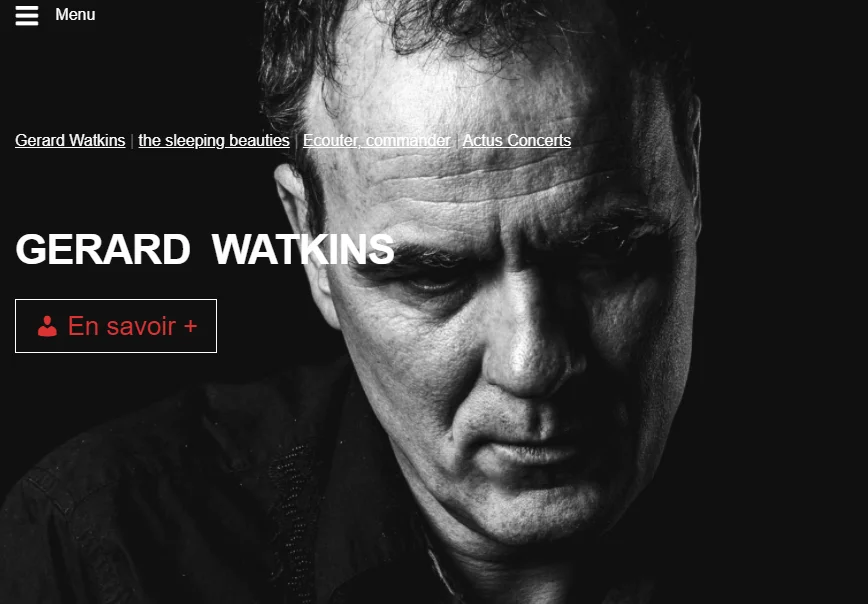 This is the website of Gérard Watkins, an actor, director, and songwriter. Built on Storefront, the website has a dark and minimalist design that complements the site's contents.
Floreria Encanto is a store built with Storefront and sells flower bouquets. The elegant store design perfectly resembles their products.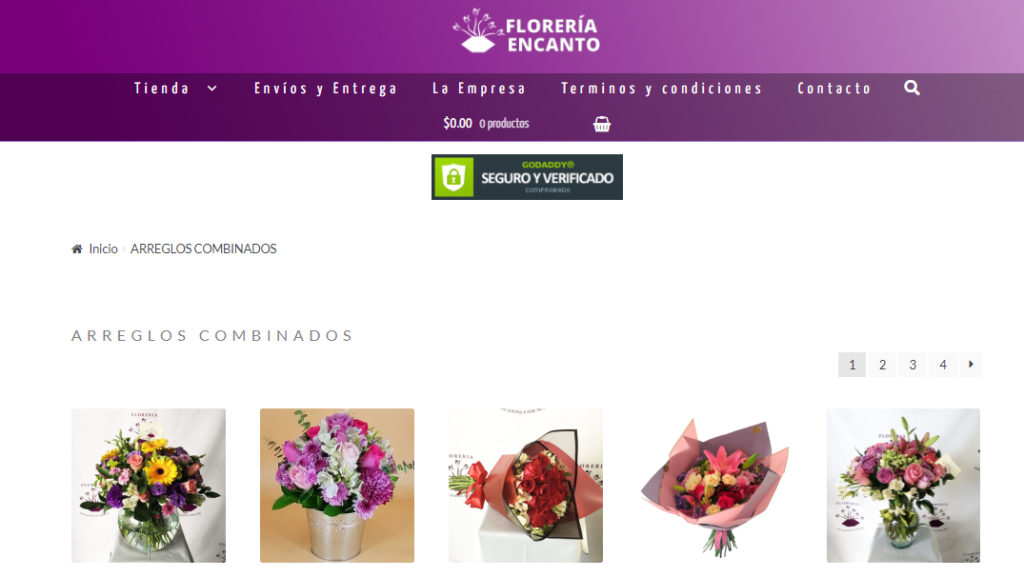 A very unique and clean Storefront design. They sell printed products. The paper textured backdrop and the overall color combination is very calm and refreshing.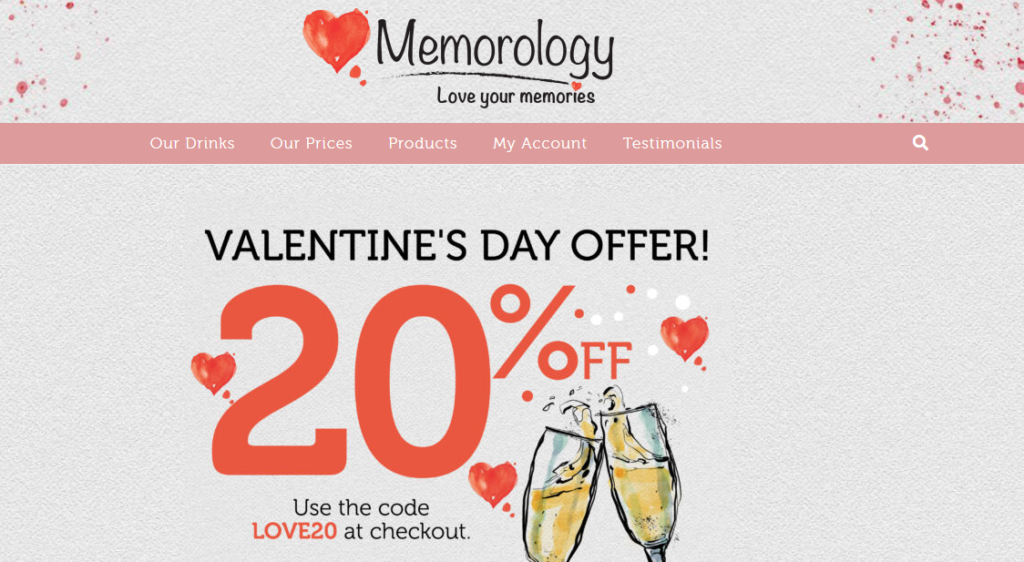 Best WooCommerce WordPress themes
I don't want to give you another randomly picked WordPress themes list. Instead, I will mention some of the best WooCommerce themes I have personally tested and used.
Divi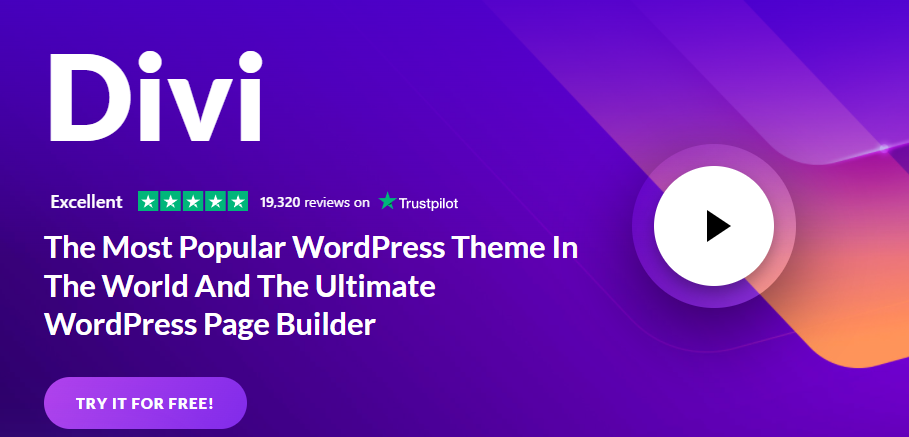 You can build any type of website with the Divi page builder and Divi theme. From novice to expert developers, Divi revolutionized the page builder experience for everyone. They have the most advanced yet easy-to-use page builder.
Founded by Elegant Themes, Divi has its own free layout library with 100+ WooCommerce friendly layouts. The page builder has dedicated WooCommerce modules that come built-in with the builder. They also have their own marketplace for third-party paid layouts, child themes, plugins, and extensions.
Over 2 million online business owners use divi. Elegant Theme has a very active live chat support for its members and visitors. In addition to that, they have a large community of followers and developers in their forum and Facebook group. You get the answer to your question one way or another.
Price
Elegant Theme yearly access costs $89/year and Lifetime access costs $249. You get access to all of their themes and plugins, including Divi, with all the packages.
Hello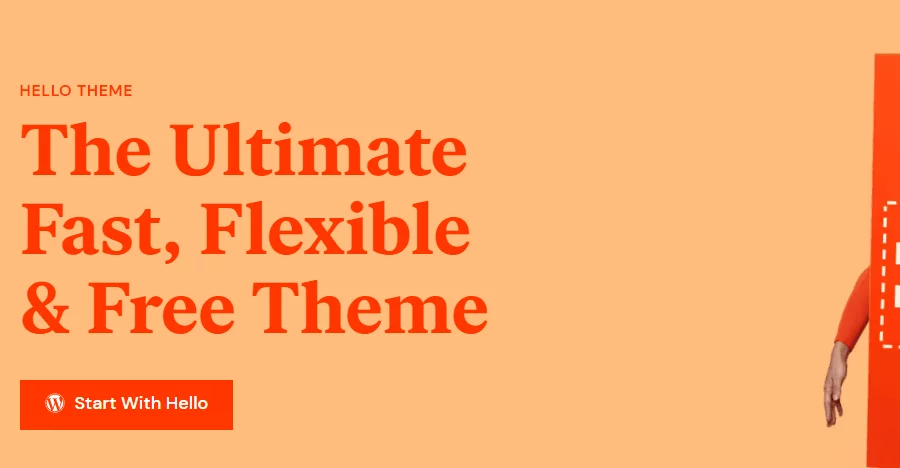 This is the official theme of Elementor, the number one free WordPress website builder. This is one of the fastest and most flexible themes out there. Elementor builder and Hello are perfect for you if your priority is design and speed.
Much like Divi, Hello Elementor comes with WooCommerce specific widgets and pre-made templates. You can customize any part of your store to attract your visitors. The best thing about Hello is that when combined with Elementor, you can build a fully functioning, stylish & modern WooCommerce store at no theme cost at all.
Price
Hello is a free theme. However, if you want advanced features and functionalities of Elementor, you need to purchase Elementor pro. Elementor pro plugin price starts from $49/year.
Astra

Astra is one of the most popular and lightweight themes on the web. They also has a template library that offers WooCommerce pre-made templates.
The best thing about Astra is you can use all the popular page builders with this theme. It smoothly integrates with Elementor, Divi Builder, WPBakery Page Builder, Beaver Builder, Thrive, Architect, Brizy, and WordPress's own Gutenberg.
Astra also has integrated WooCommerce features that enhance the functionality of your store.
Price
The basic theme is free, but it also has a pro version with added customization options. Yearly cost starts from $49, and lifetime license starts from $239.
Neve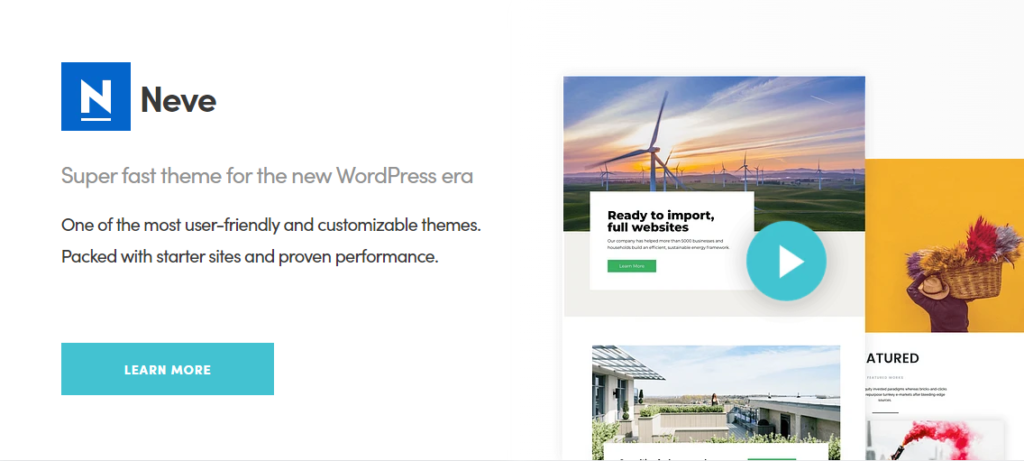 Neve is another popular, versatile, and classic free theme. It's a fast-loading and feature-rich theme to build your WooCommerce store.
With a large number of starter templates, Neve simplifies the process of setting up an eCommerce store. It also supports popular page builders such as Elementor, Gutenberg, and Beaver Builder.
Price
Neve is available for free, but they do have a paid version that starts from $59.
WooCommerce Storefront
I couldn't end the list without mentioning Woo Commerce's very own theme, Storefront. This theme is created explicitly for WooCommerce stores. Understandably, Storefront integrates with WooCommerce and all its extensions smoothly.
Even though the core theme is very lightweight and responsive, it's not feature-rich. You need to buy extensions to add advanced features. Luckily, Storefront supports popular page builders like Elementor, Divi, or Beaver builder that can add advanced features into your store design.
Combining Elementor with Storefront, you can build a modern, responsive, SEO-friendly, and fast-loading WooCommerce store.
Price
The basic theme is free. Extension bundle costs $69/year, and child themes cost around $39/year.

These are our top WooCommerce themes for your store. However, if you are looking for a broad list, check our list of top 17 WooCommerce themes that will supercharge your online store!

FAQ
What Is WooCommerce Storefront?

WooCommerce Storefront is the official theme of WooCommerce. Developed by WooCommerce core developers, it is a free, lightweight, flexible, and responsive theme.
Is WooCommerce storefront free?

WooCommerce Storefront is free to download and use. However, it offers paid child themes for niche-specific stores.
Is the WooCommerce storefront theme good?

Storefront integrates seamlessly with WooCommerce and all its extensions. It is a fast-loading and SEO-friendly theme, which makes it a good choice for WooCommerce shop owners.
How do I customize my WooCommerce storefront theme?

The Storefront's front page can be customized from WordPress theme customize settings. You can also use popular page builders to customize your Storefront store.
Final words
With over 4 million downloads, WooCommerce Storefront is undoubtedly one of the most popular themes for WooCommerce shops. Store owners all around the globe use this theme.
Although the core theme has minimal features, it is perfect for shop owners who want to start with a simple-looking responsive store.
So which theme are you planning to choose for your next WooCommerce project? Let me know in the comments.