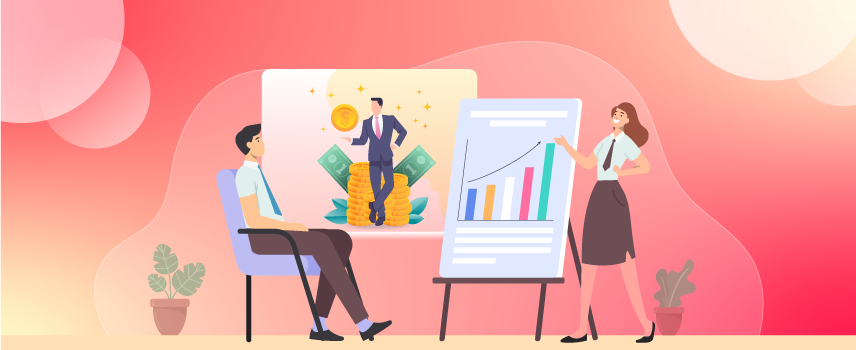 Growth in eCommerce – A Complete Analytics
eCommerce or electronic commerce is a virtual platform where you can buy or sell goods and services over the internet. It includes mobile shopping and online payment encryption, as well as a wide range of data, systems, and tools for online buyers and merchants.
Most eCommerce businesses use an online store or an eCommerce platform to manage their online marketing and sales and their logistics and fulfillment.
History of eCommerce
Before going to the part where we'll be talking about eCommerce growth in recent years with plenty of the latest statistics, let's go back in time and see the beginning of it. Yes, we are talking about the history of eCommerce.
eCommerce was introduced about 40 years ago in its earliest form. Since then, eCommerce has helped thousands of businesses to flourish with the help of new technology, improved internet access, more security with payment gateways, widespread consumer and corporate acceptance.
So you see eCommerce boom might be a recent thing for us, but the original concept of eCommerce is not so recent after all.
Historical Timeline of eCommerce Evolution
Let's look at some of the historical events of eCommerce evolution in the last 40 years.
| | | |
| --- | --- | --- |
| Year | Event Name | Event Description |
| 1969 | CompuServe was Founded. | Dr. John R. Goltz and Jeffrey Wilkins were the founders of CompuServe. In 1980, they introduced some of the earliest forms of internet and email and dominated the eCommerce industry till the mid-90s. |
| 1979 | The invention of Electronic Shopping. | Electronic shopping was invented by Michael Aldrich. Its introduction allowed closed information systems to be reopened and shared by third parties for secure data transmission. |
| 1982 | Boston Computer Exchange was launched. | Boston Computer Exchange was World's first eCommerce company. Primarily they used to serve as an online platform for people interested in selling their used computers. |
| 1992 | The launch of Book Stacks Unlimited | Book Stacks Unlimited was introduced by Charles M. Stack. It was the world's first online book marketplace. Initially, the company used the dial-up bulletin board format. But afterward, in 1994, they switched to the internet and operated from the Books.com domain. |
| 1994 | Netscape Navigator was launched. | Netscape Navigator was co-created by Marc Andreessen and Jim Clark as a web browser. Before Google, Netscape Navigator was the primary web browser on Microsoft Windows. |
| 1995 | Amazon came in to rule the industry. | Jeff Bezos initially introduced Amazon as an online platform for books. According to the statistics of eCommerce Market Share 2020, Amazon is leading the entire eCommerce industry with an outstanding 13.7% global Market Share of retail eCommerce worldwide. |
| 1998 | PayPal launched as a payment system for eCommerce. | Paypal made its appearance as a money transaction gateway for the eCommerce platform. The company was co-founded by Max Levchin, Peter Thiel, Luke Nosek, and Ken Howery. In 2000, they merged with Elon Musk's online banking company, and their fame and popularity skyrocketed. |
| 1999 | Introduction of another eCommerce giant Alibaba. | Alibaba launched as an online marketplace with more than $25 Million of funding. The company became profitable and gained popularity as an online marketplace within just a couple of years of launching. According to the 2020 stats, Alibaba is now one of the leading online marketplaces with an 8.4% global market share of retail eCommerce worldwide. |
| 2000 | Google launched its online advertising tool Google AdWords. | Google Adwords introduced targeting eCommerce businesses to create ads for the people using Google search engine. Online retailers started creating ads with Google Adwords in a pay-per-click (PPC) context using short-text ad copy and display URLs. |
| 2004 | Shopify started its journey. | Shopify was co-founded by Tobias Lütke and Scott Lake. It is now one of the top most popular eCommerce platforms for online businesses. |
| 2005 | Amazon introduced Amazon Prime. | Amazon Prime was introduced for customers to get free shipping within 48 hours for a fixed annual charge. Amazon Prime membership also has features like discounted 24 hours shipping, access to their streaming services like 'Amazon Video,' and members-only events like 'Prime Day.' |
| 2005 | Etsy started its journey. | Etsy was created to help the crafter and smaller sellers sell their regular and digital products online — enhancing their reach to 24/7 buying consumers. |
| 2011 | WooComerce Launched as a WordPress plugin. | Mark Forrester, Magnus Jepson, and Adii Pienaar were the founders of this open-source WordPress plugin. It enables users to transform their WordPress site into a professional eCommerce storefront. Statista report on the Market share of leading eCommerce software platforms and technologies worldwide (April 2021) states that WooCommerce is one of the leading eCommerce software platforms in 2021, with a market share of 23.43%. |
| 2011 | Google introduced Google Wallet as a digital payment method. | Google Wallet launched — a peer-to-peer payment method that allowed individuals to send and receive money via a mobile device or computer. In 2018, Google Wallet teamed up with Android Pay and got reintroduced as Google Pay. |
| 2011 | Stripe was launched | Stripe was founded by John and Patrick Collison. It's a payment processing company that was initially built for developers. But in recent years, it has become one of the most popular payment processing gateways worldwide. |
| 2014 | Apple Pay got introduced as a mobile payment system. | Apple introduced Apple Pay allowed its users to pay for products and services with an Apple Device. Because of the eCommerce boom, online shoppers started to use their mobile devices more frequently for payment transactions. So introducing Apple Pay to their ecosystem was a great move indeed. |
| 2014 | Jet.com started its journey. | Marc Lore, Mike Hanrahan, and Nate Faust were the co-founder of Jet.com. The company works for individuals looking for the lowest possible price for longer shipping time and orders in bulk. Their primary competitors are Costco and Sam's Club. |
| 2017 | Cyber Monday sales reached a new level. | eCommerce had broken all of its previous records on sales and built a new one with a staggering $6.5B+ worth of sales on Cyber Monday — a 17% increase from the previous year. |
| 2020 | eCommerce Growth skyrocketed due to COVID-19. | COVID-19 outbreaks across the globe drove consumers to shop online instead of purchasing products from physical stores. By May 2020, eCommerce transactions reached $82.5B — an enormous 77% increase from the previous year. Usually, it would've taken at least five years to reach that level looking at the conventional year-over-year growth. |
Global Growth in eCommerce
What is Global eCommerce?
Global eCommerce refers to selling products and services across geopolitical borders from a company's country of origin, traditionally the country where the company was founded or incorporated. Generally, in global eCommerce, products or services are sold into overseas markets via online sales and marketing all over the world.
Advantages of Global eCommerce
Let's have a look at some of the advantages of global or international eCommerce.
Easy accessibility to the foreign market.
Better expansion opportunities overseas.
Entry barriers are much lower.
Market-based best-fit products are easier to find.
B2B sales cycles are much shorter.
International presence can be built quickly.
Global eCommerce Growth in Recent Times
The eCommerce platform has certainly come a long way since the foundation of CompuServe in 1969. Technological advancements, global circumstances, and many other factors took eCommerce growth to another level. At the end of 2021, the global market of eCommerce is expected to reach a total of $4.89 trillion.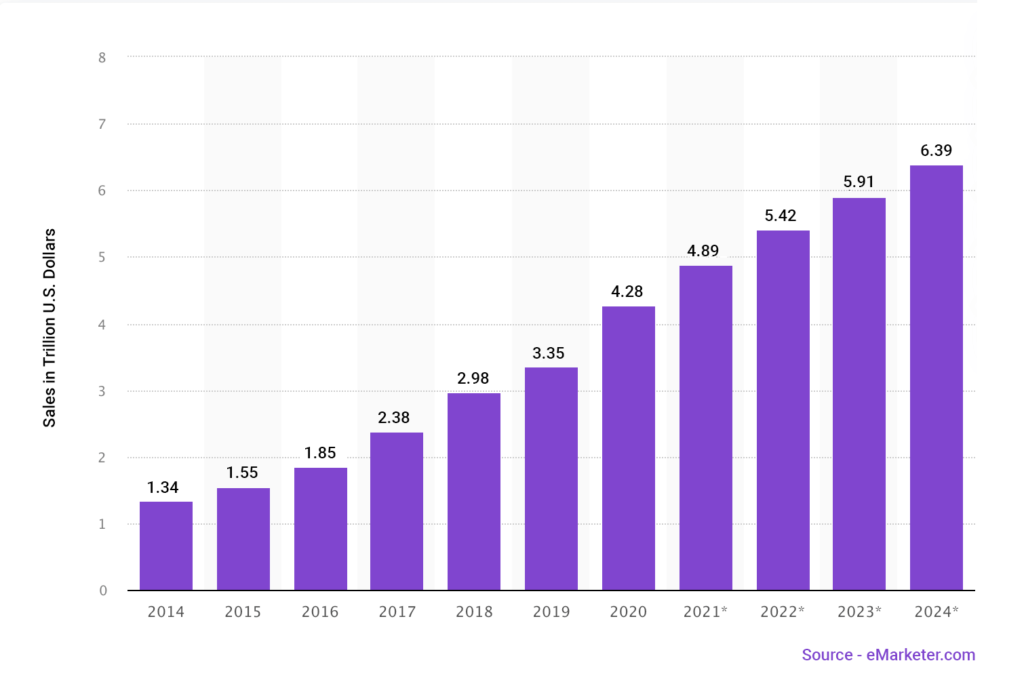 In the upcoming years, we presume this figure will rise even further. Let's take a look at the Statista Report on retail e-commerce sales worldwide from 2014 to 2021 shows how profitable and growthful this platform is for online retailers.
The graph above is the visual representation of the growth in the eCommerce platform. According to eMarketers retail online sales were only 13.6%, even a couple of years ago (2019). But today, in 2021, the number is expected to reach 19.5% by the end of this year, which is a 45.8% increase in eCommerce market share within two years.
Global Sale Growth in eCommerce
According to eMarketer, retail sales worldwide will continue to grow and take up more retail market share. The estimated online retail sales will reach $7.39 trillion, covering a 24.5% market share of total retail sales by 2025.
Sale Growth by Region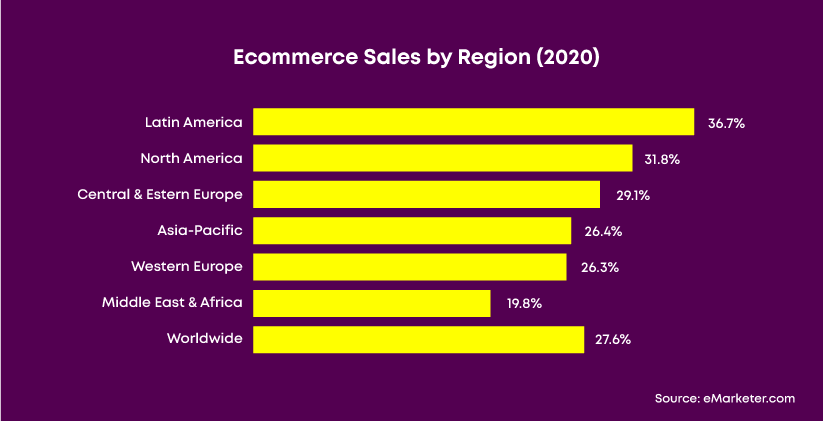 By looking at the sale growth from a global perspective, eCommerce sales recorded the highest growth in Latin America, with an overall sales increment of 36.7%. Even a year ago, from 2018 to 2019, the sales growth in Latin America was 23.2% — 13.5% lower than in 2020.
North America is also significantly higher than the rest of the region in the list. They have occupied second place in sales growth, with a 31.8% increase in eCommerce sales.
Following North America, Central & Eastern Europe sealed the third position, where eCommerce sales growth is 29.1%.
The rest of the three positions are taken by Asia-Pacific, Western Europe, and Middle East & Africa, with 26.4%, 26.3%, and 19.8%, respectively. And 27.6% of eCommerce sales grew worldwide.
Sale Growth by Country
According to eMarketers, China is the leading eCommerce market, with total online sales of just under $2.8 Trillion. The country also has the world's most digital buyers with 792.5 Million, making it 33.3% — one-third of the total global.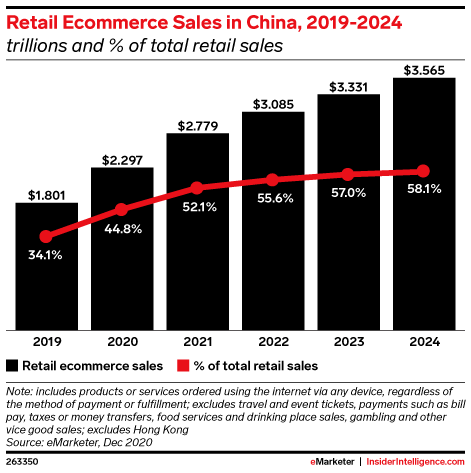 China is on track to become the first country in history to conduct more than half of its retail transactions online, with eCommerce accounting for 52.1 percent of total retail sales.
The United States eCommerce market reached over $843B in 2021, less than one-third of China's. The third position of the ranking is taken by the UK with just over $169B online sales, which is slightly lesser than their previous year's $180B in 2020.
Rest of the two countries that made it in the list of top 5; Japan and South Korea, with $144.08B and $120.56B, respectively. Three of the top five markets are part of the Asia-Pacific region, accounting for 62.6% of all online sales.
Mobile Commerce (M-commerce): A new trend?
The COVID-19 pandemic has made a massive impact on the eCommerce trend around the globe. As the general stores shut down overnight due to the pandemic, online shopping was the only option for the shoppers to buy their goodies. Researchers say the pandemic boosted the growth of online shopping by at least five years.
M-commerce or Mobile Commerce refers to the act of purchasing goods and services online using a mobile device, such as a smartphone or tablet. The trend of mobile shopping will continue to grow even more in the coming years. The latest technological advancements also made it easier for people to shop via mobile devices.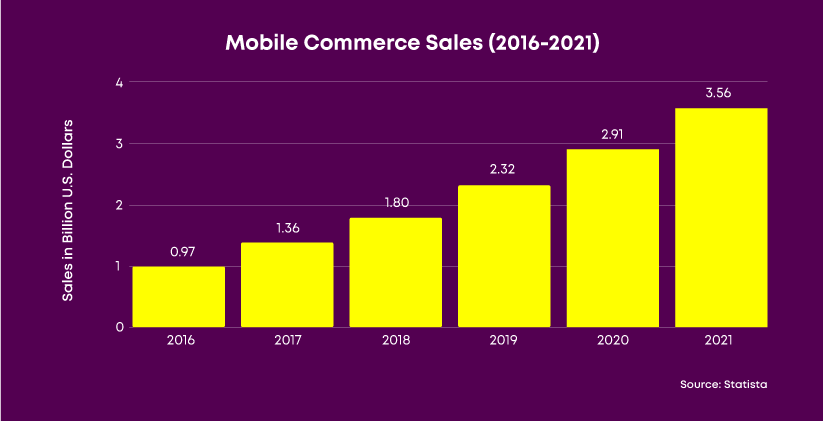 According to the latest stats of Statista, the worldwide retail sale of M-commerce platforms was less than a Billion dollars even five years ago. And within the last five years, the sales skyrocketed and grew more than three times, making it $3.56 Billion in 2021.
Three out of four consumers say they shop online from their mobile devices because it saves time. Insider Intelligence states that M-commerce volume will rise at a 25.5% Compound Annual Growth Rate (CAGR) until 2024, making it $488B total sales, which is apparently 44% of all eCommerce transactions.
Why is the eCommerce industry growing so fast?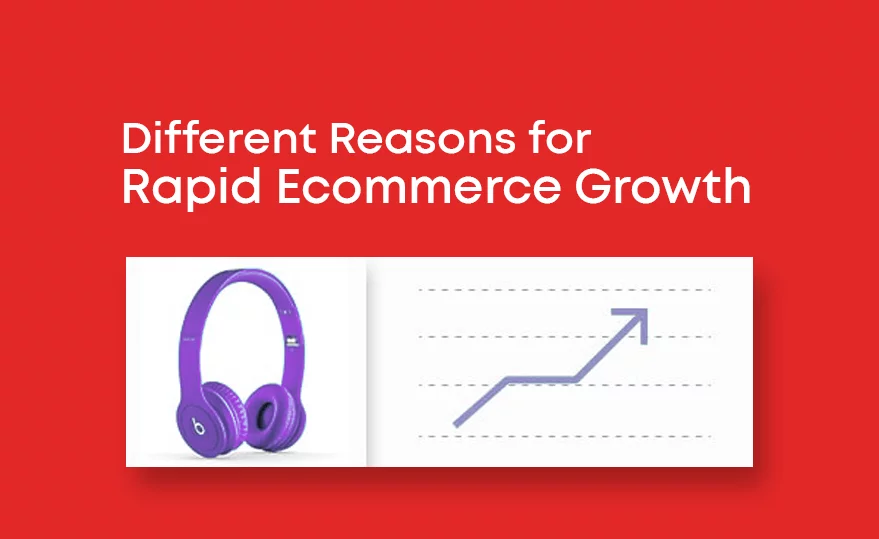 According to the 2018 Emerging Consumer Survey, today's emerging consumers are just as connected as their American or European counterparts. They are just as likely, if not more so, to use online retail services. Smartphones are one of the primary sources of internet access for them.
Emerging market consumers have become one of the major forces around the globe in a wide range of online activities, including online retail, gaming, and eSports, thanks to the fast adoption of smartphones and easy internet access. Survey says internet access within Emerging Consumers is now more than 80% in all countries apart from Indonesia and South Africa.
Let's have a look at some of the primary factors that fueled the eCommerce industry to skyrocket.
Online Shopping is More Likely to Increase with Urbanization
As urbanization spreads throughout emerging countries, it will influence the consumers to spend more online, fueling the industry to grow faster. The expanding urbanization and population growth make it easier for internet businesses to overcome logistical challenges while establishing their services.
Mobile Adaptivity
In recent times, smartphones and tablets are generating massive online traffic, pushing eCommerce sales to go up. Many big companies ensure that their websites are mobile-friendly, which enhances the consumer experience.
On top of that, they often offer native mobile applications to make online shopping even more straightforward. If your website is not mobile adaptive, you will more likely be losing the youth of Generation Z and millennial consumers.
Moreover, technological advancements such as better connectivity and voice-activated shopping have boosted mobile shopping revenue from $3 billion to $31 billion in the United States alone.
Multi-channel Retailing
The eCommerce industry has expanded beyond Search Engine Optimization (SEO) to multiple marketing channels to better connect with the consumers.
Nowadays, business companies connect with their customers via Websites, social media, email, and physical shops. This creates multiple channels of purchase, receipt, and exchange of products, with the pervasiveness of customer-friendly shipping and return policies.
By doing so, the consumers will have the options to shop online, pick up their purchases from a physical store, return any defective products online, and take the benefits of referral-based discounts. This blended physical and online experience of multi-channel retailing generates more sales.
Customer Convenience
eCommerce guarantees 24/7 accessibility, 365 days a year, with no downtime for public holidays, closing times, bad weather, or other factors. Customers can shop whenever they want and from wherever they feel comfortable, including their very own bed.
eCommerce offers an easier and faster shopping experience for their consumers, without any hassle of crowds, traffic, or awkward social interactions. Customers can compare offerings online and read reviews of other consumers to determine which offer has the best value for money.
In this fast-paced world eCommerce, today offers the value proposition of a complete shopping experience during the only real free time available to millennials — long commutes.
Supporting Growth with FMCG and Food Delivery
Nowadays, more price-elastic products such as books, electronic gadgets, and clothing are dominating online shopping. However, we're expecting a robust online retail growth will be generated by these so-called Fast Moving Consumer Goods (FMCG), such as beverages, foods, or toiletries, in the near future.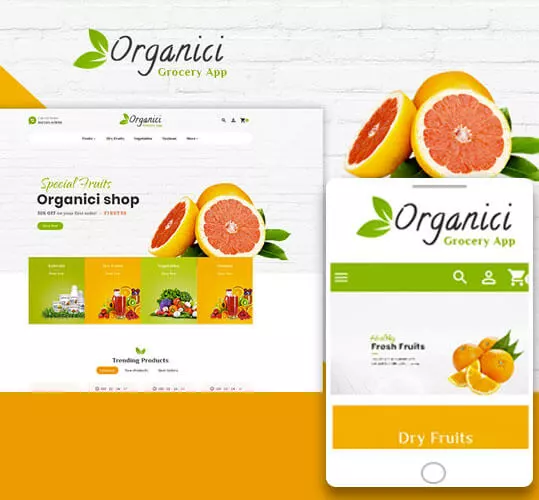 We emphasize that only 2.4% of grocery sales are conducted online in Europe, compared to nearly 12% of other retail sales, to illustrate the upside potential of FMCG. Except for China, the percentage of FMCG and grocery purchases made online is deficient, and growing urbanization should alleviate logistical problems.
Traditional Retailers are Working to Improve Their Online Capabilities
Given their market share domination, it appears that just a few companies have been quick to realize the demand potential for eCommerce services. As a result, companies like Amazon have been able to gain market share, putting conventional retailers under a lot of pressure because of their lack of online presence.
Nowadays, multi-channel strategies (e.g., offline retailers developing online capabilities) are becoming more and more popular.
Pure-play Online Companies are Diversifying Their Offline Offerings
Though connectivity and mobile access are the most essential factors for more conventional purchases, other aspects such as enhanced delivery logistics, purchase convenience, and retailer presence are also important, particularly in the online FMCG space.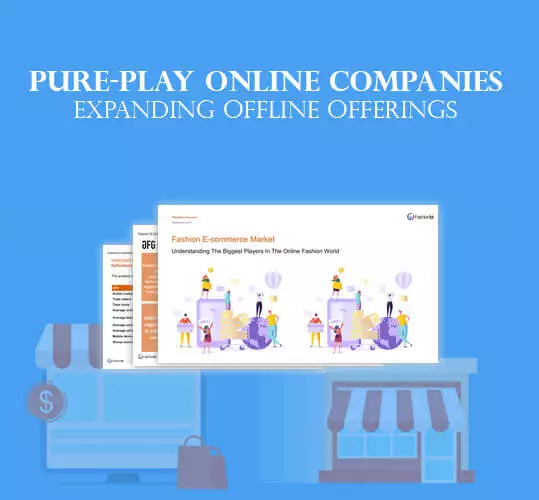 Cross-border eCommerce As an Additional Driver
With greater connectivity, consumers can get familiar with products and services that aren't produced locally. According to Nielsen's 2017 Online Shopper Trend Report, the share of Chinese consumers who buy products from overseas websites has doubled to 64 percent since 2014.
Although the share of Chinese consumers who shop on foreign websites is increasing, most of their purchases are still made domestically, giving plenty of opportunities for improvement.
Data Analytics Can Help Increasing Online Revenues
The expanding variety of online sales channels (e.g., desktop, mobile, tablets) requires a greater understanding of customer behavior while marketing on different channels by advertisers and retailers to maximize the advantages of online sales.
Data analytics, in particular, may help in this area since they allow for the optimization of consumer marketing, which should help push online commerce development even further.
Better Adoption of Mobile Payments in Emerging Markets Fuels Growth
Digital non-cash payment methods are now possible thanks to easy internet access and the availability of smartphones. At the same time, the willingness to make non-cash payments is related to the intensity of a country's e-commerce activities.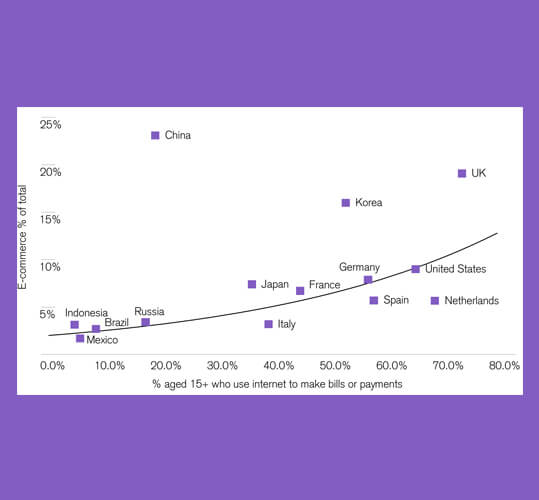 India is most likely to follow China, where cash payments in retail transactions have dropped from 61% in 2010 to 38% in 2016. On the other hand, China's mobile-based payment transactions have risen from zero to more than 11% in the last five years.
A Much Broader Range of Offerings
eCommerce substantially decreases operational costs by having minimal overheads such as negligible utility bills, skeletal staff, and the flexibility to deliver a product or service from any location to a worldwide customer base.
Because warehouses are no longer confined to certain geographic areas, companies may pass on the part of these savings to price-sensitive customers in the form of lower-cost items with automated replenishment.
Moreover, businesses can outsource their administrative backend operations to specialist providers located virtually from anywhere in the world using eCommerce.
Research Reports on The Unstoppable eCommerce Growth due to COVID-19
No previous occurrence has caused eCommerce growth as strongly as the COVID-19 crisis. Because of the pandemic, online shopping has become a safer option for consumers. And in some countries, it's the only option people have for shopping due to the total lockdown situation.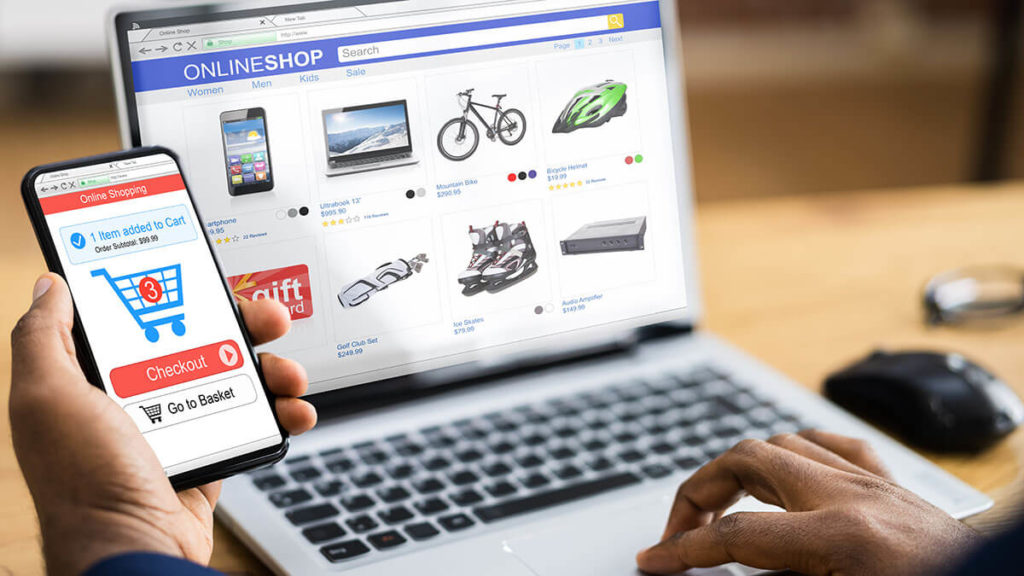 So, technically the pandemic situation caused by COVID-19 fueled the eCommerce industry to grow at an unstoppable rate. Now let's take a look and analyze some of the research reports to better understand how COVID influenced eCommerce growth and how much exactly.
UNCTAD Report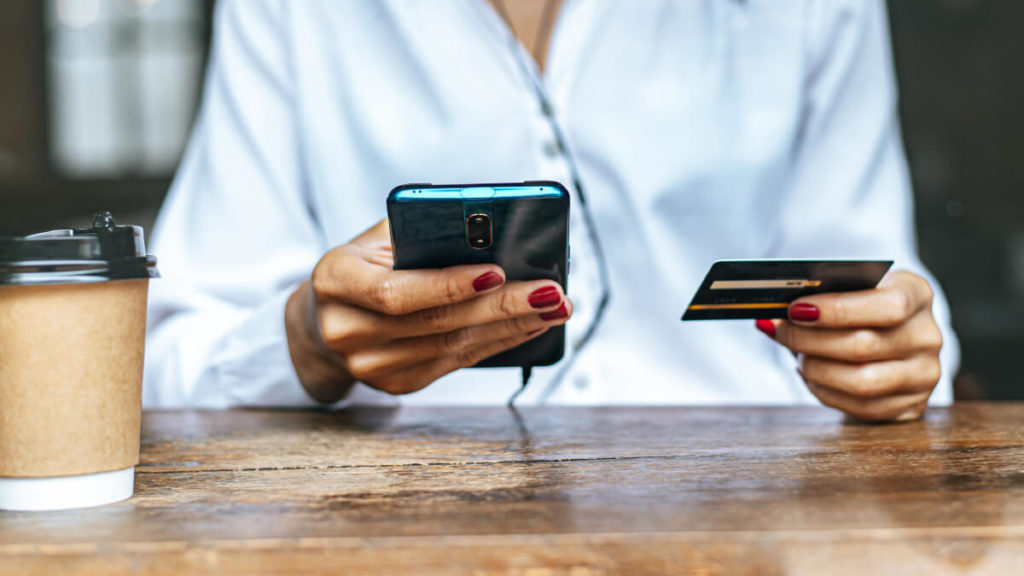 According to United Nations' trade and development expert UNCTAD the eCommerce industry reached a jaw-dropping $26.7 Trillion total online sales due to the COVID-19 pandemic. This includes both business-to-business (B2B) and business-to-consumer (B2C) sales and is equivalent to 30% of global Gross Domestic Product (GDP) this year.
The Director of UNCTAD's Technology and Logistics, Shamika Sirimanne, stated "These statistics show the growing importance of online activities. They also point to the need for countries, especially developing ones, to have such information as they rebuild their economies in the wake of the COVID-19 pandemic."
The Dramatic Rise in Sales in eCommerce Thanks to COVID-19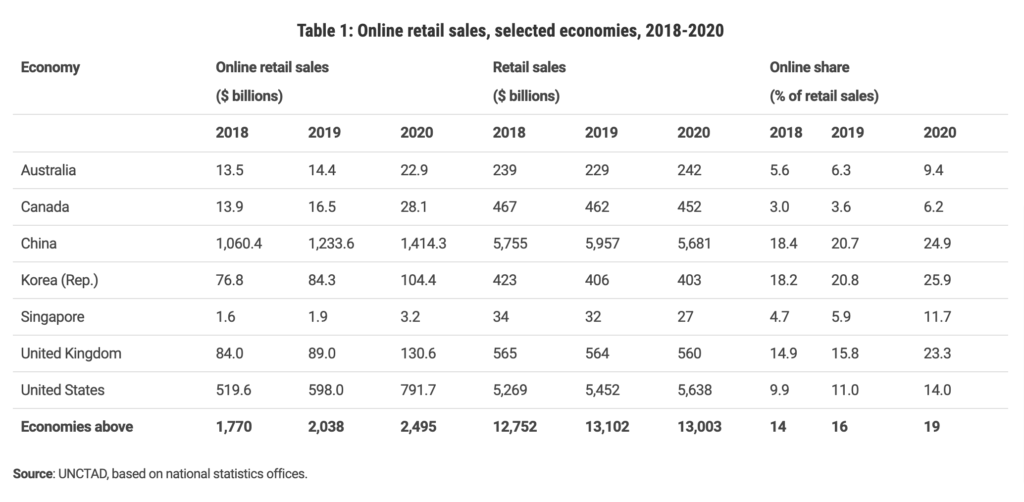 The UNCTAD report "ESTIMATES OF GLOBAL E-COMMERCE 2019 AND PRELIMINARY ASSESSMENT OF COVID-19 IMPACT ON ONLINE RETAIL 2020" estimated that due to the pandemic situation, online retail sales raised from 16% to 19% in 2020.
The UNCTAD report on measuring e-commerce and the digital economy states that, in 2020, online retail sales grew remarkably in many countries. The Republic of Korea reported the highest share at 25.9%, up from 20.8% the previous year.
Ups and Downs of Some eCommerce Companies
As per UNCTAD research, B2C e-commerce businesses have seen mixed results from the COVID-19 pandemic.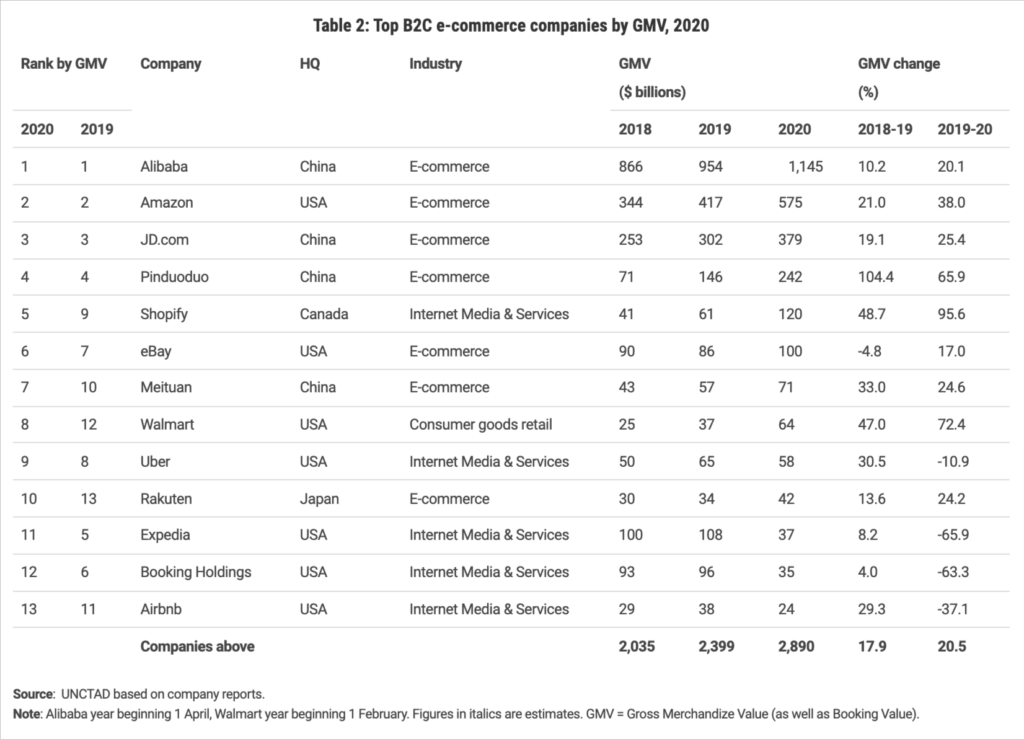 The top 13 e-commerce businesses, 11 of which are from China and the United States, demonstrate a significant turnaround in fortunes for platform companies that provide services like ride-hailing and travel. All of them saw significant decreases in Gross Merchandise Value (GMV) and, as a result, their ranking dropped.
In 2020, Expedia dropped from 5th to 11th place, Booking Holdings from 6th to 12th, and Airbnb, which made its initial public offering in 2020, dropped from 11th to 13th.
Despite the decrease in services companies' GMV, the top 13 B2C eCommerce companies' overall GMV increased by 20.5% in 2020, compared to 2019's 17.9%. Shopify (95.6%) and Walmart (72.4%) also saw significant increases in 2020. The top 13 businesses' B2C GMV was estimated to be $2.9 trillion in 2020.
B2B Sales are Dominating eCommerce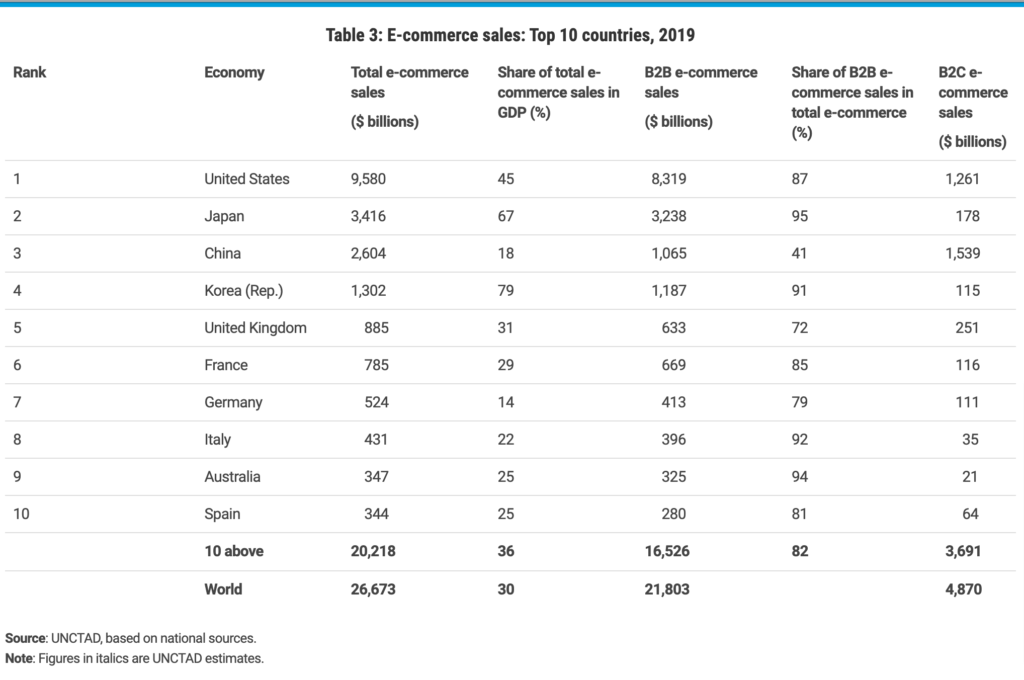 According to the research, B2B eCommerce is estimated at $21.8 trillion worldwide in 2019, representing 82% of all eCommerce, including online sales and Electronic Data Interchange (EDI) transactions.
B2B eCommerce market is dominated by The United States, ahead of Japan and China.
In 2019, B2C e-commerce sales were expected to be $4.9 trillion, up 11% from the previous year. China, the United States, and the United Kingdom remained the top three nations in B2C e-commerce sales.
In the same year, cross-border B2C e-commerce reached $440 billion, up 9% from the previous year. UNCTAD report states that the share of online customers making cross-border transactions increased from 20% to 25% in between the year 2017-19.
Statista Report on eCommerce Growth Due to the Pandemic
Let's take a look at the Statista report on "Share of respondents in selected European countries who shopped online more often due to the coronavirus pandemic in 2020."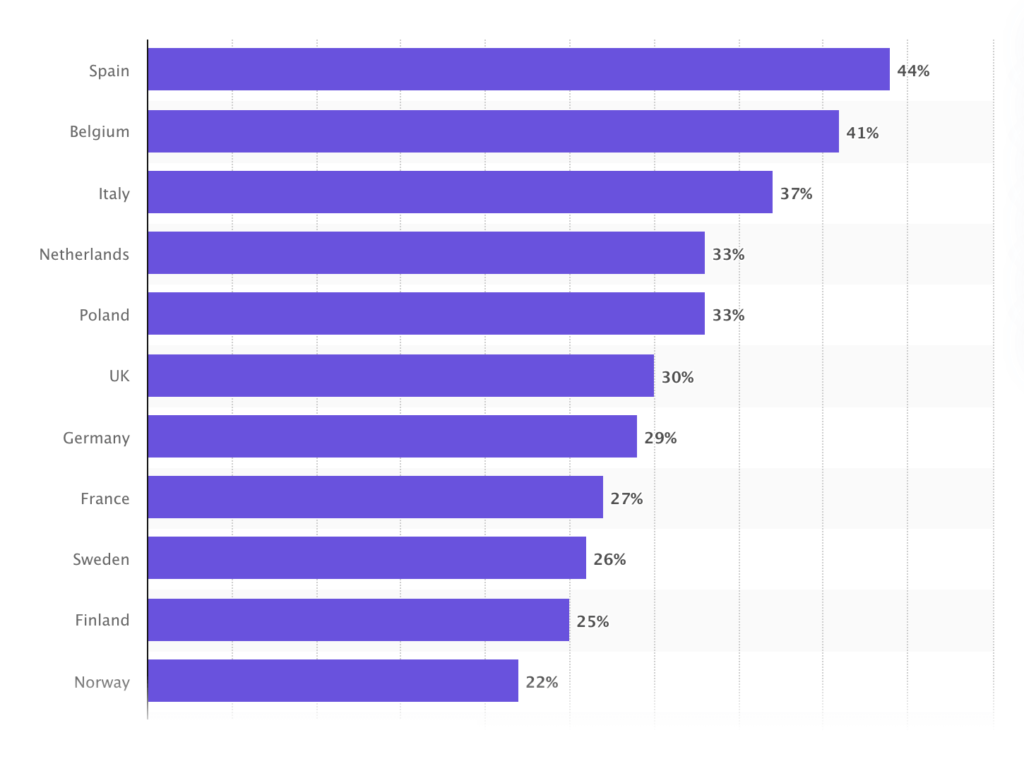 The Impact of the Tremendous Growth in eCommerce
The impact of eCommerce is far-reaching and has a ripple effect from small businesses to global corporations. We believe it's time for an in-depth discussion on the tremendous impact eCommerce has developed in the world of commercial platforms.
Big Companies are Forced to Go Online
The rise of eCommerce has extended the reach of many companies' brands while also enhancing their bottom lines. The impact has been different for companies that have been slow to embrace the digital marketplace.
The retailers who fall in between are the ones seeing the most significant changes in response to the impact of eCommerce.
For the first time in February 2019, online sales slightly topped general retail stores, comprising department stores, warehouse clubs, and supercenters. Because Amazon Prime eliminated the cost of shipping, more people are willing to purchase online.
eCommerce Allows Small Businesses to Sell Directly to Consumers
eCommerce adoption has been a slow and lengthy process for many small companies. Those that have accepted it soon realized that eCommerce just opened a new door of opportunities for them.
Small business owners are gradually creating eCommerce stores and expanding their offerings, reaching out to potential clients, and better facilitating customers who prefer purchasing online or through mobile devices.
Small companies were striving to expand their eCommerce presence before the pandemic. Today, roughly 23% of small company owners believe they will have to enhance their eCommerce capabilities to thrive in a post-pandemic environment. Since the COVID-19 lockdowns began, another 23% of small business owners have built or updated their websites at least by using free WooCommerce themes.
B2B Companies Start Offering B2C-like Ordering System
To keep up with B2C companies, B2B organizations are trying to improve their customer experiences online. This includes providing an omnichannel experience across multiple touchpoints and leveraging data to build personalized customer connections.
B2B brands can take the privilege of eCommerce solutions to enable self-service, more user-friendly platforms for price comparison, and keep in touch with customers. By 2026, the total value of B2B transactions is expected to reach $63,084 billion.
The Rise of eCommerce
eCommerce marketplaces have been on the rise worldwide since the launch of big eCommerce giants like Amazon, Alibaba, and others.
In the chart below, we can see that Amazon is standing on top of its competition in terms of market growth. Then again, if you look at Amazon's competitors, especially Google, you'll see they're not that far behind in the competition either.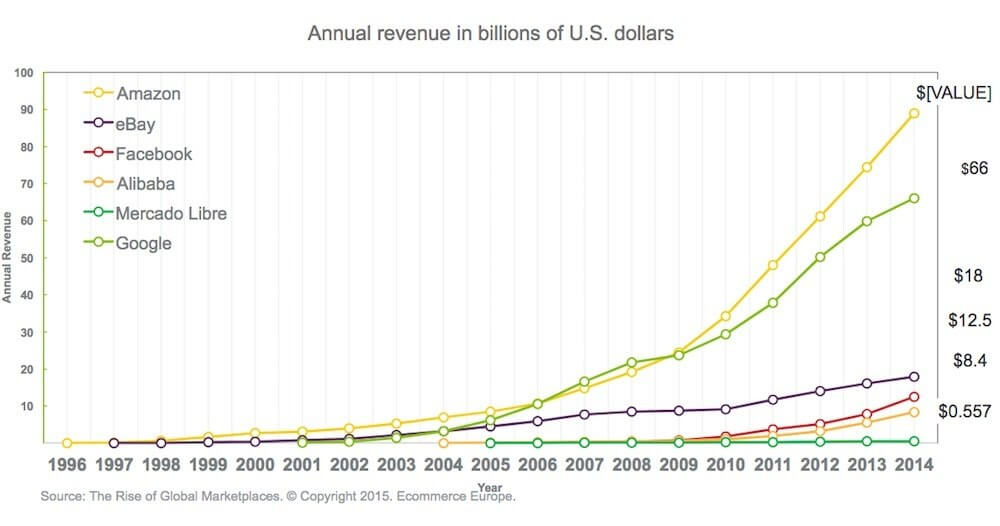 Amazon is particularly known for its innovative growth strategy, which has resulted in widespread adoption and record-breaking sales.
But Amazon isn't the only one with innovative strategies. By 2020, third-party retailers sold around 52% of Amazon's products with their unique selling capabilities.
Those retailers also made handsome profits from the sales on the marketplace, despite going under some strict rules and regulations enforced by Amazon.
Enhanced Supply Chain Management
According to the survey, one of the most significant impacts of eCommerce on supply chain management is that it shortens product life cycles. And because of that, producers are offering more profound and comprehensive assortments to protect against price erosion.
However, this implies that warehouses are seeing more products coming in and out of their premises. As a result, some warehouses are now providing value-added services to assist eCommerce, and retail businesses run more smoothly and efficiently.
The service includes:
Stock/storage separation for online vs. retail sales.
Unique and separate packaging services.
eCommerce Based Jobs Are Ruling Out Traditional Retail Jobs
Ecommerce-related jobs have doubled in the last five years, far surpassing traditional retail jobs in terms of growth. However, these jobs are only a tiny amount compared to the overall retail employees around the world.
Here are some quick stats on the impact of eCommerce in terms of employment:
Since 2002, eCommerce jobs have increased by 334%, adding up 178,000 new job positions.
The majority of eCommerce jobs are in medium to large cities.
But most of the companies have four or even fewer employees working for them.
However, improvements in efficiency combined with a shift away from conventional retail may result in some job losses or staff cutbacks. So you see there are both good and bad effects on employment, as with any large market upheaval.
Different Consumers Shop Differently
eCommerce has putten a tremendous impact on consumers. It's transforming the way people shop in today's modern world.
Stats show that around 96% of Americans with internet access have made an online purchase at some point in their lives, and around 80% have made an online purchase in the previous month.
The best part of it nowadays, customers not only make purchases from eCommerce sites often; 51% of Americans today prefer to shop online rather than in-store purchases.
Millennials are the most frequent online buyers (67%), while Gen X and baby boomers are close behind with 56% and 41%, respectively.
The Magic of Social Media Allows Consumers Easily Share Products To Purchase Online
According to the researchers, eCommerce has had an intriguing social impact, particularly in the context of social media.
Today on social media platforms like Facebook, Instagram, and Twitter, eCommerce consumers are influenced to purchase products or services based on recommendations from friends, colleagues, and trusted sources such as social media influencers.
Rapid Expansion of Global eCommerce
In 2018, an estimated 1.8 billion people made online purchases worldwide. Taobao, a Chinese platform, is the world's largest online marketplace, with a GMV of $484 billion. Tmall and Amazon sealed the second and third positions with $458 and $339 billion GMV, in terms of annual third-party global market value, respectively.
The Amazon Effect
Amazon is the eCommerce giant that the entire industry has been waiting for. In 2016, Amazon accounted for 70% of total sales, and service sales have also risen since then. To those still wondering whether eCommerce is profitable or not, your answer lies within Amazon's undeniable success.
Amazon — the ultimate Titan of the eCommerce industry, grew so much in recent years that the "Amazon Effect" has entered the lexicon of industry analysts. In terms of operating income, significant margins from service sales are growing at a tremendous rate. Revenue sources, AWS services, and Amazon Prime subscriptions have all been skyrocketing too.
Getting Into the Unicorn Circle
Getting into the unicorn circle isn't simply about following a model, whether it's through commissions, asset sales, subscription plans, advertisements, usage fees, licensing, and rent or lease. Amazon and other eCommerce companies do not follow a single business model. They take a hybrid approach to many, unlocking long-term value.
Here's what drives Amazon and companies like Amazon a money-making ventures:
Fixed Subscription Fees: Registered merchants can host products on the eCommerce site for a fixed subscription fee. Additionally, the eCommerce company can also be charged a fixed closing fee.
Company Commissions: The company charges registered sellers a percentage commission based on the product', depending on the product category. This commission usually ranges between 5% to 20%.
Logistics & Shipping: Logistics and shipping are additional sources of revenue for eCommerce companies. Delivery and shipping costs are earned by companies such as Flipkart, Amazon, Snapdeal, Myntra, Jabong, etc.
Introducing Deep Discounts: The reason for substantial discounts on items for online shops is that the registered seller offers discounts in return. Every online company, from Flipkart and Amazon to Snapdeal and Myntra, gets benefits from deep discounting.
The eCommerce companies have cutting-edge analytics capabilities and dedicated resources for evaluating product pricing across online stores and websites. Registered vendors can then set their prices based on price-linked research.
Furthermore, sellers get compensated for discounts provided by online retailers, resulting in a win-win situation for both parties, as well as a fair playing field for even the tiniest eCommerce store.
Niche Selection: Before building an online store, e-commerce businesses focus on what to sell and how to source it. Finding a lucrative niche is the key to dominating the markets.

Keeping a finger on the social media pulse can also help your eCommerce business stand out from the competition. You can find helpful information regarding niches by looking at suggested products, reviews, and YouTube videos.
Tapping Into Social Media: Once the store is up and running, all you have to do is promote it. And one of the best ways to do this is through social media.
Top eCommerce brands like Amazon and even niche sellers have their own Facebook business page.
Another key to success in eCommerce is leveraging Instagram influencers.
Target the Right Audience: The top eCommerce retailers always target the right consumers. For example, if the company sells fitness watches, the focus is on health-conscious people who regularly visit the gym. If diet formulas are being sold, your target is those trying to lose weight.
Reinvesting Company's Profits: As the company's scales and demand grows, the profits should be reinvested accordingly. After all, eCommerce businesses can only keep growing if they invest money back into the business to accommodate new consumers.
Using Marketing Collateral to Increase Traffic: The most challenging part of an eCommerce business is traffic generation. At the same time, most online retailers rely on exceptional marketing collateral to cut through the noise and build a powerful voice and brand narrative that resonated with customers.
An effective inbound marketing campaign drives growth. Content marketing by these eCommerce giants focuses on the customer research journey and addresses the client's pain points.
Generating Targeted Advertisements: Another way eCommerce companies make money is through targeted ads that aim for the consumers and profitable niches right from the beginning. Using product-based advertisements helped eCommerce companies to grow even further.
Using Multichannel Product Distribution Method: eCommerce businesses need to be in multiple locations online to get more growth. Growing eCommerce businesses commence with diversification, supported by defined distribution channels.
Whether it's Amazon, eBay, Walmart, or Rakuten, companies who focus on optimizing and listing items on multiple channels win convincingly.
Automation of Processes: The more automated eCommerce operations are, the faster and easier it is for the company to expand. Setting up systems can indeed be time-consuming sometimes, but it's definitely worth the effort.
Automation can improve any eCommerce company's productivity, bottom lines, and profit margins, from order fulfillment to accounting and marketing. For example, sales data is automatically sent from the eCommerce cart to accounting software.
Customer behavior and profiles are also used to automate email follow-ups. The more automated procedures and systems are, the more eCommerce entrepreneurs will focus on high-value growth initiatives.
Investing for SEO: Regardless of organic reach, platforms like Amazon rank products as well. As a result, online retailers must be explicit about their search marketing strategy for the store and industry keywords. Software tools, case studies, reports, metrics, and data are all very much necessary.
Amazon Statistics
Amazon's influence in the world of eCommerce is unmatched. The e-tailer accounts for almost 40% of all eCommerce sales in the United States. Its online sales in the US will increase by 15.3% this year (2021), reaching more than $3.6 billion.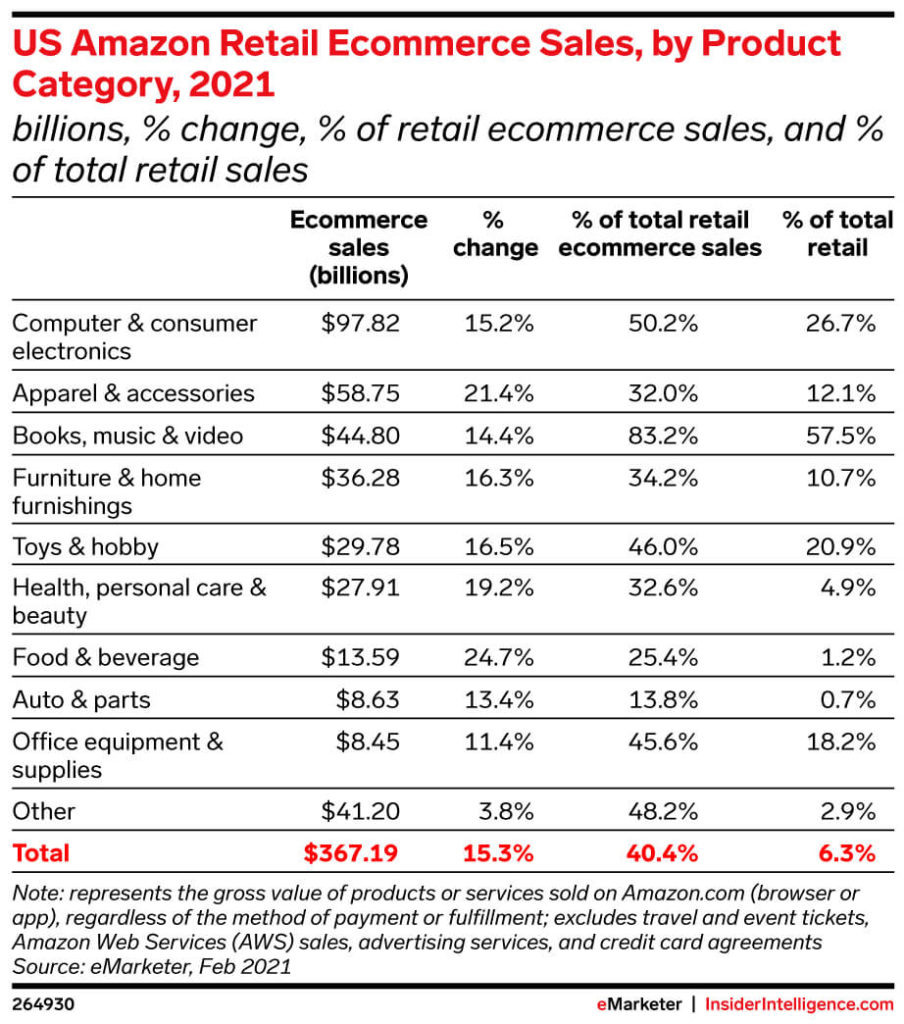 We anticipate Amazon's fastest-growing category will be food and beverage this year (2021), with a nearly 25% increased eCommerce sales year-over-year (YoY). Amazon's digital grocery footprint will continue to fuel them to move forward in the eCommerce sector as it dominates the online grocery space.
In 2021, e-tailers are dominating in the category of books, music, and video, where Amazon is expected to acquire 83.2% of all US eCommerce sales. This year, Amazon is estimated to account for more than half of all computer and consumer electronics sales in the United States.
Positives and Negatives of eCommerce
Like every other platform, the eCommerce platform also has a positive side and a negative side. Let's look at some of the positive and negative aspects of the eCommerce platform.
Positive Aspects of eCommerce
eCommerce offers plenty of advantages — from faster purchasing to the capacity to generate a large number of audiences 24/7. Let's take a closer look at some of our top-picked positive aspects of eCommerce in detail.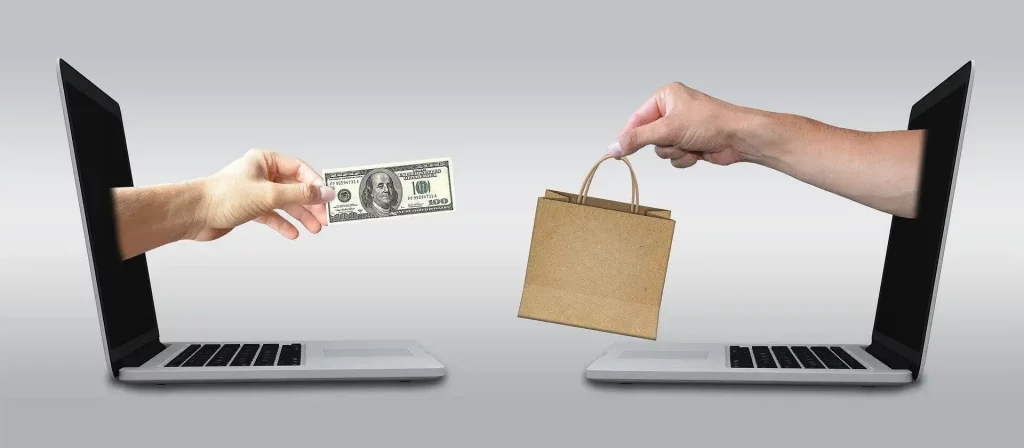 Consumers Can Purchase Easier and Faster
Ecommerce allows consumers to shop from anywhere and at any time they want, which indicates that customers can acquire their product much easier and faster than they could from a typical brick-and-mortar store.
Moreover, shipping upgrades like Amazon Prime allow customers to get their orders quickly; even the lag-time of order fulfillment can be reduced.
Companies Can Reach New Consumers Easily
eCommerce makes it easier for companies to reach out to new customers all around the world. An eCommerce store isn't restricted to a single geographic location — it's open and accessible to anyone who visits it online.
With the additional advantages of social media ads and email marketing, companies can reach out to plenty of targeted consumers with a ready-to-buy mindset.
Comparatively Lower Operational Costs
eCommerce retailers can open an e-store with comparatively lower operating expenses since they don't require a physical storefront and employees to operate it.
As sales grow, businesses may quickly expand their operations without spending extensively on property investment or hiring a sizable operating team.
Personalized Experiences
You can provide highly personalized online experiences for your customers using automation and extensive consumer profiles.
By showcasing relevant products based on a customer's previous purchase, you can raise the Average Order Value (AOV) higher and make the consumer feel like you genuinely understand their needs.
Negative Sides of eCommerce
Although modern eCommerce is becoming more and more versatile, it has its own set of drawbacks, just like every other platform. Let's take a look at some of the downsides of this platform.
Company's Interactions With Their Customers are Limited
Without being face-to-face with the consumers, It might get difficult for the companies to grasp a clients' interests, requirements, and problems.
There are still ways to get this information via surveys, customer support, etc., but it takes a little more effort than simply just talking with customers on a daily basis.
Technological Malfunctions Might Decrease Selling Ability
If your eCommerce website starts malfunctioning, slows down, gets broken, or becomes inaccessible to your customers, it means you won't be able to make any sales.
The company's relationship with their consumers might get harmed badly because of the site going down or technical malfunctioning, which can negatively impact your bottom line.
No Opportunity to Test or Trial
eCommerce might be limited to consumers who want hands-on experience with items, such as apparel, shoes, and beauty products, before adding them to their cart.
Global eCommerce Forecast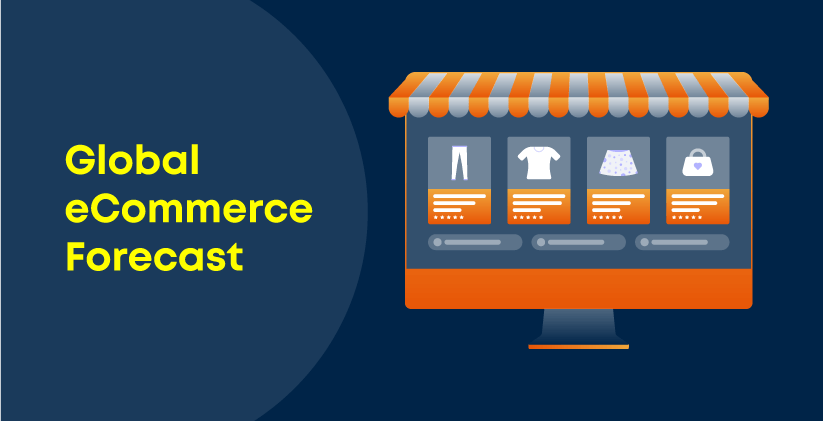 Online shopping is one of the most popular internet activities in the world. A lot has happened in the eCommerce sector in the past five years, and a lot will happen in the next five years as well.
Facts and Stats You Must Know
Future purchases from eCommerce platforms mostly depend on Millennials (born 1980-1994) and Generation Z (born 1995-2012). Because of their high purchasing power, spending capability, and brand loyalty, both generations have become a tremendous commerce opportunity.
Here are some intriguing facts on Generation Z's online shopping habits:
77% have taken some sort of action for a cause they believe is right.
65% have bought something after hearing about it from an influencer.
23% have even gone so far that they boycotted an entire brand.
In the United States alone, eCommerce sales will reach $479 billion by 2022, with the toys, hobby, and DIY vertical witnessing the most growth. And that's not even a passing trend either.
Additionally, Gary Hoover's data projects that at some point, eCommerce retail sales will equal that of brick-and-mortar retailers. That means, while the online sales trend will continue to go up, there will still be plenty of businesses to go around.
But trust me, that's not even half of it. Customers will soon be able to interact with the companies through an omnichannel system. It means they'll expect to be able to research, explore, browse, and purchase across multiple devices and platforms without any interruption.
Here are some other eCommerce trends you need to keep an eye on in the future:
Personalization and robust customer journeys.
AI-powered shopping.
Digital currencies.
Overall, we must keep in mind that eCommerce is still relatively young in the retail landscape. As the future unfolds, there will be endless opportunities, but their success and continuation will depend largely on customers' preferences.
A Top-notch Customer Experience is Essential
As the popularity of eCommerce rises, so do customer demands and expectations. From creating an online store to expanding it, you have to provide the best possible experience for your customers. You need to make your site adaptive for anything and everything that will come in the way.
If you want your eCommerce business to perform well in the future, you must offer your clients the best possible experience, which they can only hope for.
Global eCommerce Sale Growth [From Present to Near Future (2019-2025)]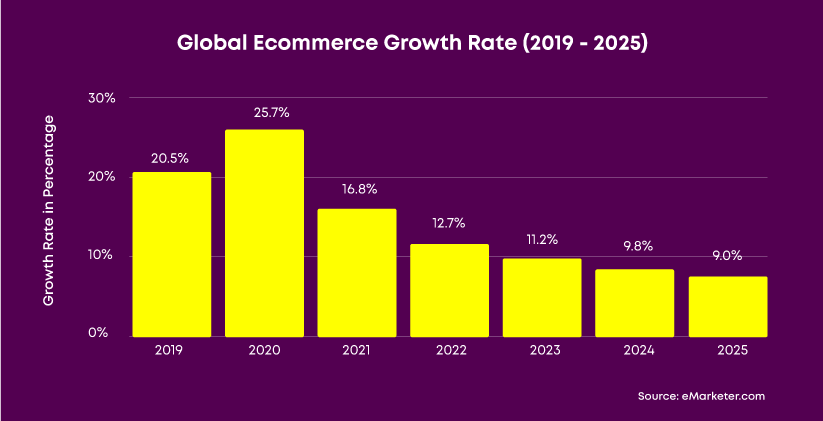 The growth rate of global eCommerce is estimated to be 16.8% in 2021, increasing global eCommerce sales to $4.921 trillion. However, this year's growth rate is slightly lower than the previous year.
In the year 2020, global eCommerce growth rates reached 25.7%. It was the most significant year-over-year increment between 2019 and 2025 — a result of the Coronavirus pandemic.
Governments all around the world were compelled to enforce total lockdown due to the COVID-19 outbreak. It implies that conventional stores were forced to stay closed, and consumers were obliged to stay at home. This promoted growth in eCommerce since more consumers went online to make their purchases.
With certain regions of the world still under complete lockdown (as of the third quarter of 2021), eCommerce sales are about to increase this year — albeit at a slower pace — and growth is expected to drop in the following years.
For example, global eCommerce sales growth will be 12.7% in 2022, dropping 4.1% from the previous year. The percentage will drop even more to 11.2% in 2023, 9.8% in 2024, and 9.0% in 2025.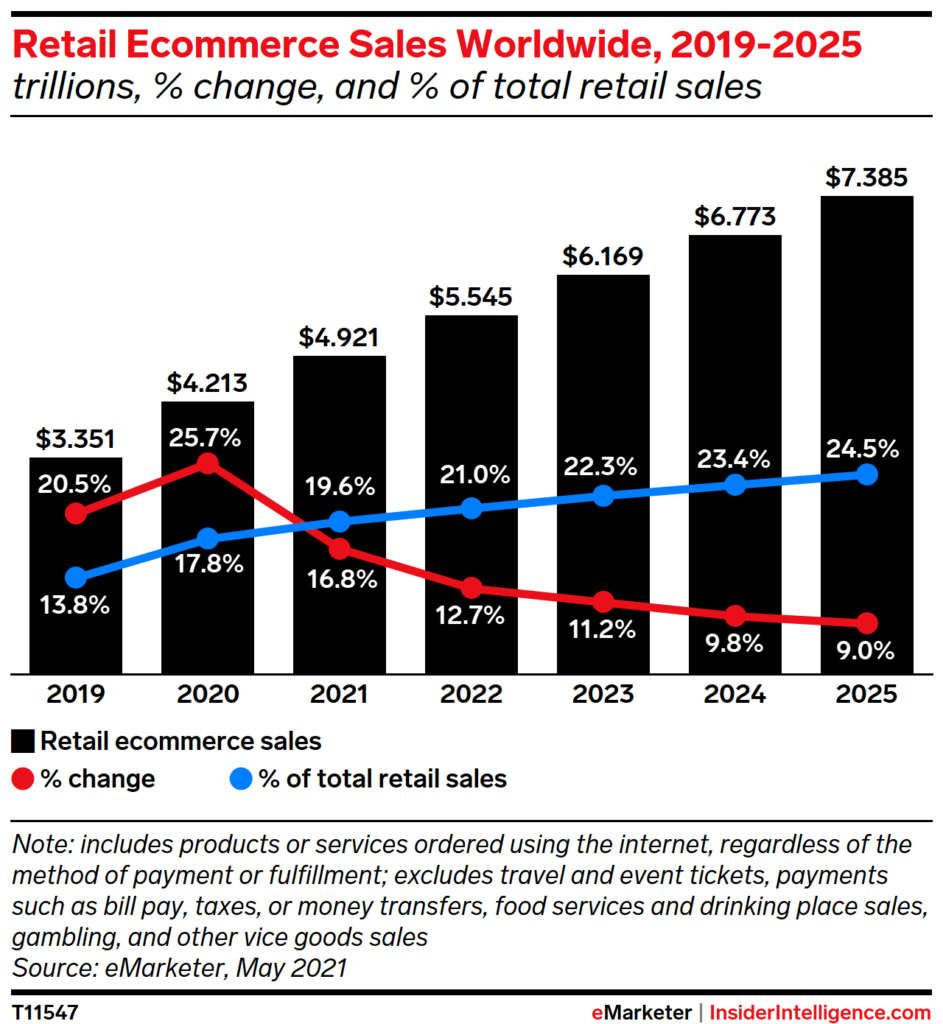 Despite the drop in growth rates, eCommerce's share of online sales is expected to grow. By 2025, this figure will increase to 24.5% from its earlier figure of 19.6% in 2021. And the research above from eMarketer also indicates the same.
Artificial Intelligence (AI) and Personalization is the Future
The combination of artificial intelligence, machine learning, and behavioral-driven algorithms allows online retailers to detect and respond to consumer trends in real-time. Stats says personalization contributes significantly to business profitability, according to 90% of leading marketers.
Artificial Intelligence (AI) and Machine Learning (ML) Implementation
A robust AI solution will improve your customer experience and help you significantly increase conversion, sales, and profit. ​
Online retailers can automate their labor and eliminate most of the heavy manual lifting by deploying AI for eCommerce websites. AI is capable of reacting faster than humans and catching both micro and macro trends.
AI learns from visitors' actions in real-time, anticipating their intentions, and changes the results to rank the most relevant products higher in the search results, increasing your sales.
Some Important Stats on eCommerce Personalization
Let's have a look at some of the vital statistics on eCommerce personalization.
A study of Accenture indicates consumers are more likely to purchase products from brands that can identify, recall, and deliver relevant offers and recommendations, according to 91% of respondents.
According to Google, 90% of the top marketers believe that personalization significantly contributes to business profitability.
Salesforce stated that 66% of consumers want brands to understand their requirements and expectations.
They also found out 52% of customers expect offers always to be personalized — up from 49% in 2019.
Ecommerce Website Search
Personalized site search shows online shoppers the most relevant products. AI-driven site search is a powerful tool for any eCommerce store, increasing revenue, conversion, and profits.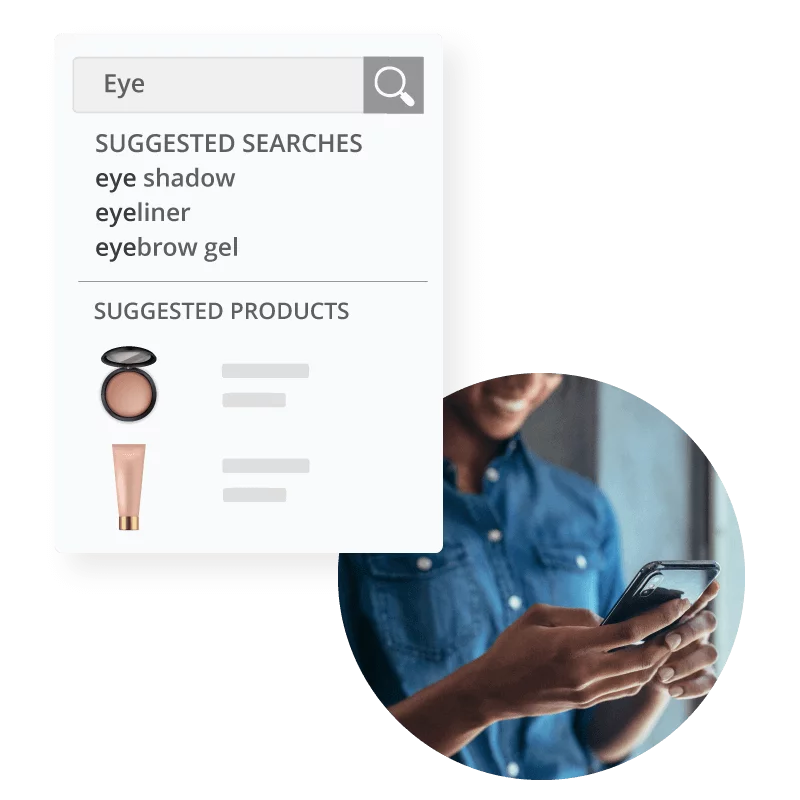 Artificial intelligence and machine learning can also drastically improve the shopping experience by improving different aspects of search functionality.
Website Navigation
Website navigation is used to sort and narrow down the products for the customers that best suit their needs. It allows users to choose from a variety of options before returning without altering previously selected refinements.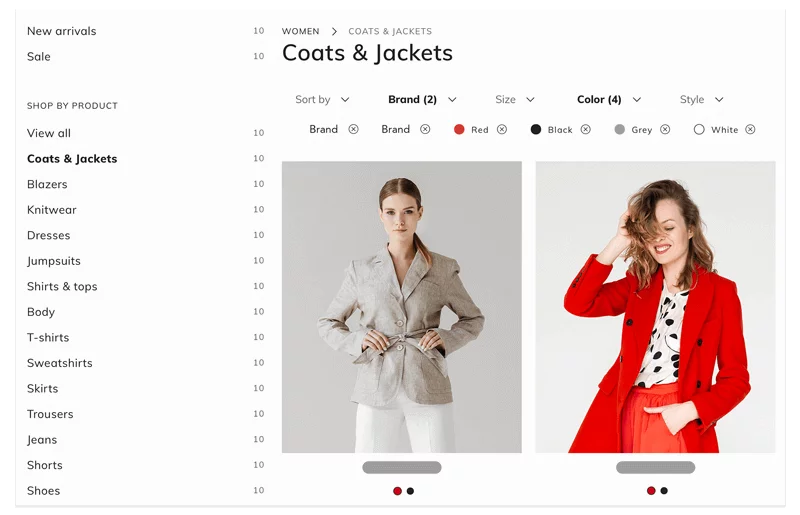 Personalized Product Recommendations
Product recommendations increase the likelihood of online shoppers completing their purchase and contribute to cross-sell and up-sell. Products are recommended based on the collective interests as well as visitors' search history.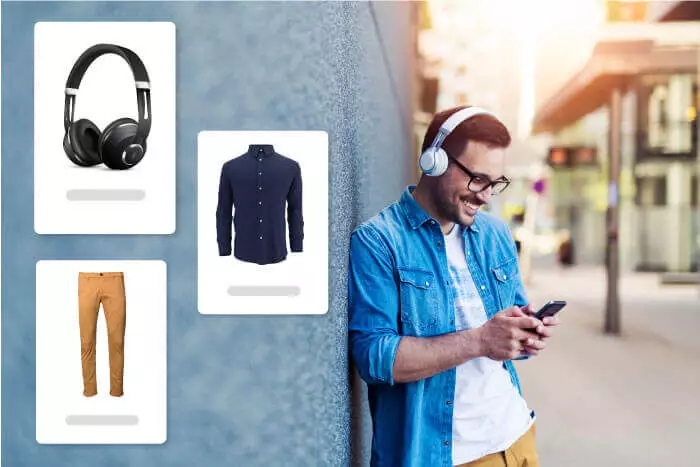 Machine learning and Artificial Intelligence (AI) work amazingly in order to ensure relevant products are recommended, as well as raising the average cart size, which leads to improved conversion and sales rate.
Personalized Email for Product Recommendations
You need to make full use of your customers' online behavior to give them more relevant email product recommendations, which will increase your conversion rate, CTR (Click Through Rate), and revenue.
Don't forget to send personalized emails to your customers by addressing them with their real names rather than sending random promotional emails to everyone. Study shows that sending personalized emails have a much higher CTR and open rate than some random promotional emails.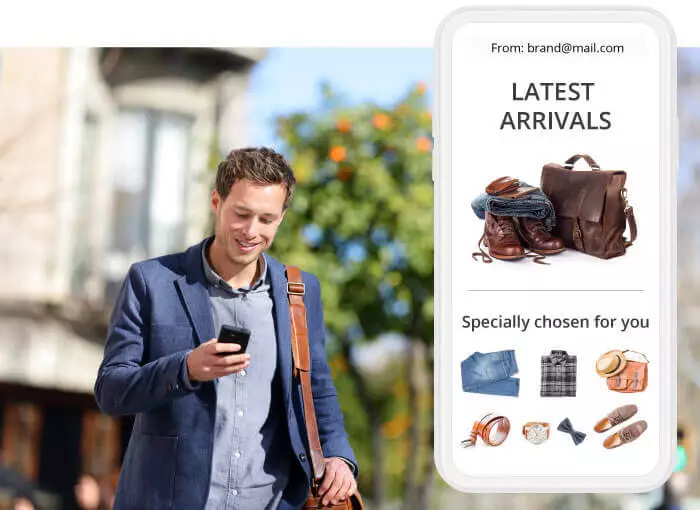 You can also add a block of compelling and attractive recommendations to your order confirmation and abandoned cart email notifications for further interactions.
Relevant Content and Advertisements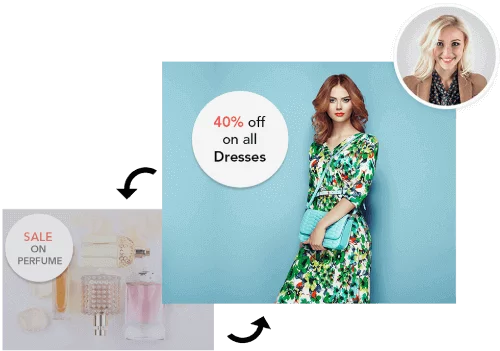 AI-powered web banners or display advertisements are designed to reduce website abandonment and increase conversions rate by focusing on relevance for the visitors. To create relevant content and Ads for your customers, you can look up the following points of our suggestions.
Use of live banners ads instead of regular banner ads.
Create relevant and targeted advertisements for the customers based on their online behavior.
Optimize site search results so that if a consumer searches for an ad, the search query will return the most relevant ad to the context.
Always display your top ads, performing highly regardless of visitor, product, or search context to your consumers.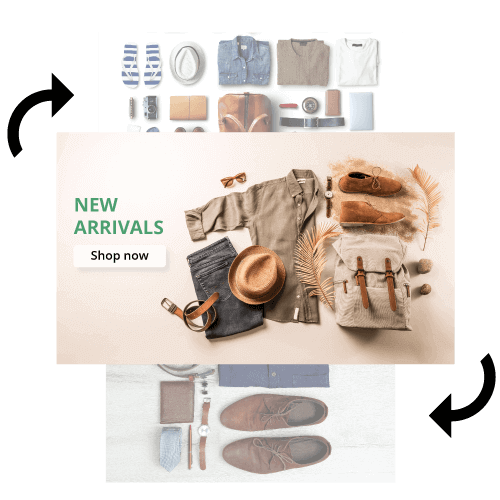 A Few Words To Conclude
The eCommerce sector is growing tremendously as the internet is becoming more and more accessible from different parts of the world. Traditional retailers are also migrating to the eCommerce sector because of its popularity, trendiness, low cost, and ease of getting more customers. Therefore, to stay in the competition, they have no other way but to go online.
Consumer experience in eCommerce stores is also improving every day. Easy internet accessibility, seamless transaction process, plenty of product and personalized offers, and the absence of physical presence and interaction make online shopping an appealing choice for consumers.
So whether you are a retailer or a consumer, eCommerce certainly has plenty of benefits for you.
We hope that now you know everything essential about eCommerce growth and how this platform is performing. This blog might be a little lengthier for you, but trust us, it was essential to make it this way to cover up the entire topic.
However, if you have any queries or need to know anything about the topic, feel free to reach out to us by commenting below. We promise that we will reply as soon as we can.
And if you think this blog was helpful for you to set off your journey in the eCommerce business or helped you in some other way, don't forget to let us know in the comment section. We will very much appreciate it.