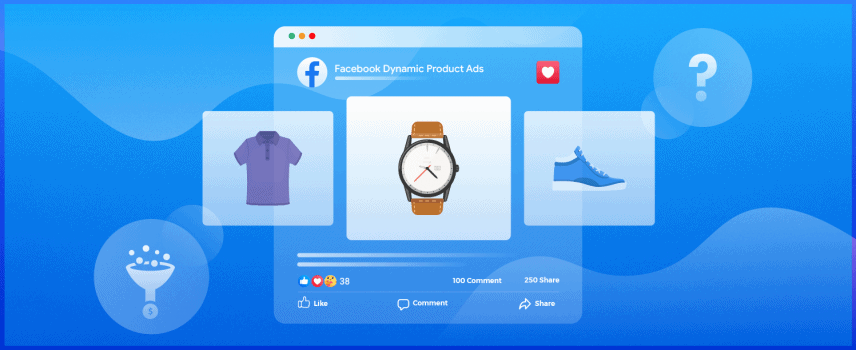 How to Drive Sales with Facebook Dynamic Product Ads
Facebook is the leading social media platform. We spend significant time on this platform regularly. As an eCommerce business owner, you must know how Facebook can also help your business.
Features like Facebook Dynamic Ads can help a business secure a better position in the competitive market. We will share the most effective tips and techniques to drive more sales with Facebook Dynamic Product Ads in this post.
Most social media platforms are no longer confined to social communications. The leading social media platforms like Facebook, Instagram, and Pinterest have developed many tools to help promote businesses like eCommerce sections. 
Facebook Catalogs, Instagram shopping, and Pinterest Catalogs are examples of such tools or services offered by social media platforms. With social media presence so familiar in our lives, the results of those features are excellent.
WooCommerce is a brilliant tool to create an online store. The simplicity and flexible customization options of WooCommerce make it a favorable choice for lots of store owners. Moreover, WooCommerce also offers easy-to-follow features for all users.
Most importantly, if you are a non-technical person, it will not be challenging for you to get started. You need to do everything for your WooCommerce store to succeed. Utilizing Facebook Dynamic Product Ads is one of the best strategies that you can adopt for your business.
Facebook, the social media giant, offers several options for online store owners to promote their products on their platform. Some of those advertising options offered by Facebook are amazing for your business.
Facebook Dynamic Ads is an exemplary service for online store owners. You must make the most of this service for your WooCommerce powered online store.
You will find that setting up the Facebook Dynamic Product Ads is very time-consuming. It comes with more requirements compared to the essential Facebook Ads. The output of Facebook Dynamic Ads is also significant.
You only have to deal with the hard work for the first time when you do the initial setup. Afterward, Facebook will do everything for you. Most importantly, it will be straightforward for you to create and run future campaigns with Facebook Dynamic Ads.
Facebook Dynamic Ads
We are discussing Facebook Dynamic Ads, and we are confident that you already have some idea about it. Let's clarify the Facebook Dynamic Product Ads for you here, so we are on the same page.
Facebook Dynamic Ad is a specific format of Ads designed by Facebook to distribute the Ads based on particular conditions. Facebook only displays the dynamic Ads to people who have already expressed interest in similar products that you are selling.
Additionally, Facebook displays those ads to people who have visited your website or app and showed interest in products that you are selling.
Artificial intelligence, or the machine learning technology used by Facebook, can track individual users and deliver relevant product recommendations to them.
Facebook can learn and show product recommendations based on the user's interest, intent, or action. Thus a brand does not need to create individual Ads for multiple products present in their product catalog.
Instead, you need to upload the product catalog, and Facebook will determine which product it should display to the person viewing the ads.
When You Should Use Facebook Dynamic Ads
There are multiple Facebook campaign objectives, and you must know when you should use dynamic Ads. In general, Facebook Dynamic Ads are most often used for selling product catalogs.
Additionally, you can also use this for App Installs and Lead Generation, and some other campaigns. Facebook Dynamic Ads offers two targeting options.
First of all, you can target a broad audience of users who have not made any purchases from your store. Though they have not made any purchase from your store, they have shown interest in similar products.
Secondly, it can be that they have visited your website and shown interest in your products. You can retarget customers to any specific products that you are selling in your store.
While you are using the catalog sales campaign objective on Facebook, it will automatically set up the campaigns and run your dynamic ads. If you correctly configure the catalog and set the Ads level, Facebook will rest for you.
For store owners who have more than ten products on their catalog, Facebook Dynamic Ads will produce more efficient results. If you do not have lots of products or are promoting less than ten products, you should try the other available options.
The most noteworthy feature of the Facebook Dynamic Product Ads is the automated ad displaying option powered by its artificial intelligence. Facebook will automatically display the most relevant products from your catalog to the audience. You do not have to run any manual tests to fine-tune your ads.
Setting Up Facebook Dynamic Ads
First of all, setting the Facebook Dynamic Ads for your business is a little time-consuming, and it also requires some technical knowledge. You will have to set up a Facebook catalog to run the dynamic product ads.
The good part is once you complete the process, things will be much more flexible from this point. You have to select the products you want to promote from your catalog, and Facebook will take care of the rest.
Setting up a product catalog can be tricky if you don't have any experience. With CTX Feed, you can manage your Facebook catalog like a pro. This state-of-the-art WooCommerce plugin simplifies your product feed creation and Facebook catalog management. Read more: product feed management with CTX Feed.
Let's get back to the setup process of Facebook Dynamic Ads. You will have to install Facebook Pixel on your site to enjoy the dynamic features offered by Facebook. Setting up Facebook Pixel is not very difficult. It gives Facebook the power to track user activity on your site. Without this, Facebook cannot dynamically display the products to the visitors.
Once the Facebook Pixel is installed on your site, you need to have the product catalog. Most importantly, the product catalog on Facebook will allow you to target lots of customers on multiple platforms. Apart from Facebook, you will also target customers on Instagram, Audience Network, and Messenger.
We have already shared a link to utilizing the CTX Feed to create and maintain your Facebook product catalog. The data feed for the Facebook catalog will have to be precise, and you will have to follow the requirements of Facebook.
Additionally, Facebook also offers an integration option for WooCommerce powered stores. You can learn more about the Facebook and WooCommerce integrations from here.
We are assuming that you already have your Facebook catalog setup by following this resource. Once you have the catalog ready, you need to have the required Facebook Pixel events and parameters for your dynamic ad campaign.
Moreover, you also need to ensure the Pixel is connected to your catalog so Facebook can show the most relevant products to your potential customers.
Now that you have everything in place, you will have to create your dynamic ad campaign. In Facebook Ads Manager, select the Catalog Sales option for your WooCommerce store products.
There are other options like Traffic, Engagement, App installs, Video views, Lead generation, Messages, Conversions, and Store traffic. As you want to sell your products the "Catalog sales" is the most appropriate option.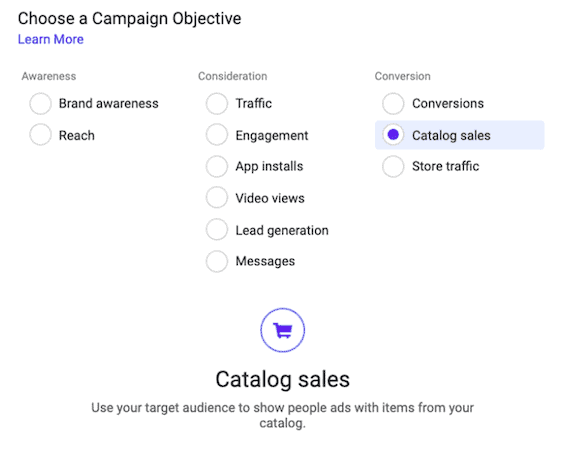 The Audience Targeting Options for Dynamic Ads
There is two primary audience targeting options offered by Facebook Dynamic Ads. You can either set the broad audience targeting option or the retargeting option. We have already discussed both methods in this post. Let's have a quick recap.

Broad Audience targeting: with broad audience targeting, you can target lots of audiences on Facebook. Facebook will display your products as suggestions to people interested in similar products that you are selling.
Retargeting: with this option, Facebook will only target people who have visited your site and shown interest in your products.
There are some additional features that you might be interested in too. Suppose you have products with up-selling or cross-selling products with Facebook Dynamic Ads. In that case, Facebook will automatically select the relevant items from the products that you have selected to display in the ads.
Facebook Dynamic Ads Best Practices
You need to ensure the best output from your dynamic ads. There are various things that you need to keep in mind. First and foremost, the product image that you are showcasing has to be precise. It also has to be from an angle that best describes your products.
The copy of your ads also needs to be brief, clear, and direct. Don't mess your ad with lots of details. People do not like unnecessary descriptions. Do not forget to mention the special promotions if you have any.
The call to action button also has to be stronger so that people click and visit your website. When you are retargeting people, the widely used "Shop Now" button will produce better results.
On the contrary, when targeting a broad audience with dynamic ads, a "Learn More" approach will produce better results. It has the potential to generate more clicks for you.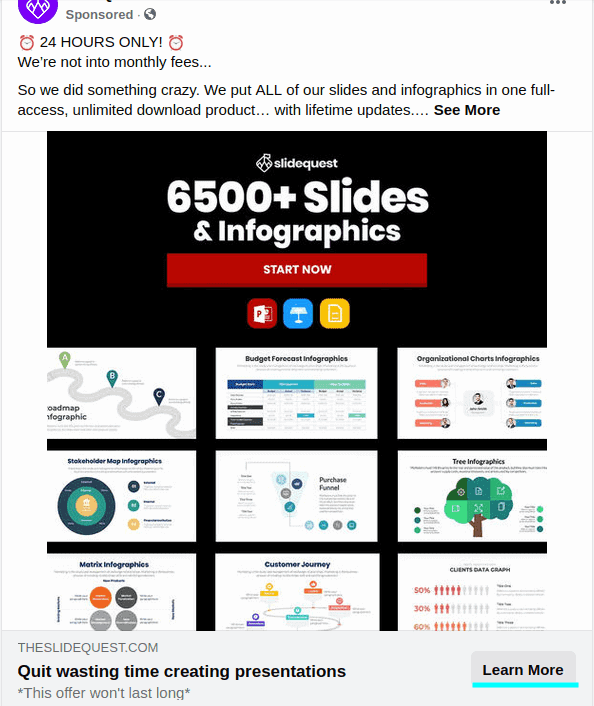 Moreover, reduce customer confusion by directly leading them to the product page. When the customers click on the call to action button, they are not going anywhere except the product page. This will reduce extra work from the customer and customer confusion.
CTX Feed simplifies your product catalog creation on Facebook. It's one of the best available product feed generation and management plugins for WooCommerce. With the help of CTX Feed, you can rest assured that your product feed follows the best practices and the guidelines offered by Facebook.
Additionally, it also comes with a built-in template for Facebook so you can enjoy instant product feed generation.
The premium version of CTX Feed offers more features compared to the basic version. If you have a WooCommerce store with multilingual and multi-vendor support, CTX Feed PRO is the best choice for your store.
You will love the ability to generate product feed in a specific language supported on your site. On top of that, easily include or exclude the vendors in your product feeds with CTX Feed PRO.
Regular updates for your product feed
Are you regularly updating your products and want those changes to reflect in your Facebook catalog? With CTX Feed, you can schedule regular updates for your product feed. So, your Facebook catalog will always have the latest product information.
Conclusion
Facebook has become one of the leading platforms for everyone who wants to sell products online. Facebook offers multiple options to promote your products on it, but the brilliance of Facebook Dynamic Ads is unmatched.
It can bring outstanding results. We have already discussed the setup process for Dynamic Ads and the best practices to get the desired output.
Make sure you understand the targeting option and adopt the best method applicable for your business. The campaign structure is vital to get desired results. Next comes the optimization options. With precise and vital product data, you can win customers more efficiently.
Once you are comfortable with Facebook Dynamic Ads, make sure to venture into A/B testing. You can learn more about A/B testing from here.