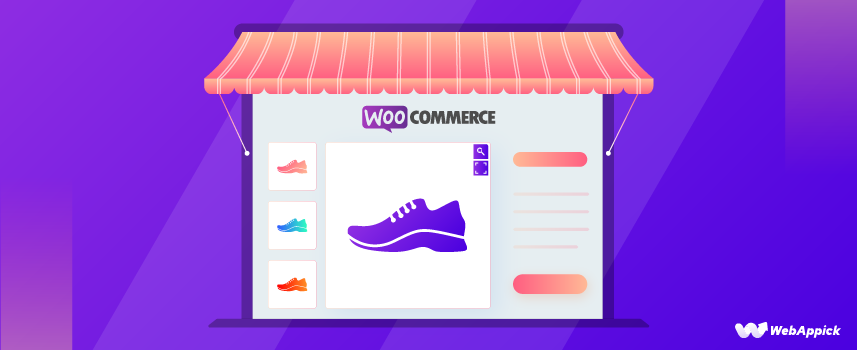 A Guide to Best WooCommerce Product Gallery Slider Plugins
Product images can make or break your customer's purchasing decision. Online buyers make an instant value judgment based on the product image you display on your product page. In most cases, product images are the deciding factor for your customers whether or not they want to see more information about your product. Adding a WooCommerce product gallery slider to your product pages can significantly enhance user experience and boost your sales.
WooCommerce product image gallery slider can improve your online store's visual appeal and make your product pages more aesthetically attractive. Furthermore, they alleviate the strain of scrolling through a highlighted product page. Therefore, your store visitors will get a more spontaneous experience.
In this article, we will talk about why you need a product gallery slider for WooCommerce product pages and review some of the best WooCommerce product gallery slider plugins.
Benefits of WooCommerce product gallery slider
In this section, We'll go over some of the benefits of using a product gallery slider on your WooCommerce product page.
Gallery slider makes an excellent first impression
According to statistics, 94% of people will judge your brand by the design of your page, and 46% of buying decisions are made based on the look and aesthetics of your page design.
WooCommerce product gallery slider can help you showcase your products in a decorated and user-friendly manner. As a result, your customers will have a better first impression and browsing experience, leading to sales.
WooCommerce product gallery slider saves space
You can input as many images and information on your product page as you like, but it can make your product page messy. Your visitors will then have to keep scrolling to find all images in between your information. This can lead to a bad user experience.
One of the advantages of using a product gallery slider is that it can fit multiple thumbnails without consuming too much space. Additional product images are hidden unless your visitors click on it or the slider arrow. They can see the thumbnail images beneath or beside the primary image.
Gallery slider for WooCommerce reduces overwhelm
As I have mentioned earlier, you can add as many images as you like inside your product description. But this will overwhelm your visitors as they have to scroll through your entire page to view all the images.
The use of a WooCommerce product gallery slider can assist you in overcoming this challenge. WooCommerce slider product gallery allows your visitors to scroll through the images one by one by clicking the slider arrows. Slider arrows are visible inside the image lightbox, so your visitors don't need to scroll down.
WooCommerce product gallery slider improves loading speed
39% of visitors will leave your website if your images are not loading properly or loading slowly. When you insert multiple images in the product description, it will ultimately slow down your product page because it will load every image one by one.
When you use the product page gallery slider, only your main image loads with the page. The rest of the images are loaded as small thumbnails and the full images only will load when visitors click on them. Therefore, your pages will load faster when you use the product gallery slider.

Product gallery slider enhances user experience
Most of the time, it's hard to convince your visitors with one single product image. They would want to check the product from different angles.

For example, when a visitor wants to buy a baby dress, they would want to take a closer look at the fabric and color of the cloth. If there are multiple colors available, they would want to see the dresses of all different colors.

Shoes are another example where people would want to see different images of the products such as sole structure, shoelace, heel height, etc.

With a product image gallery, you can showcase all variants and different details of your products. As a result, your visitors will enjoy a better user experience in your WooCommerce store.
Supports product video
Product videos influence 73% of visitors to make a purchasing decision, and 96% of customers find product videos helpful when buying a product.
Videos are an excellent tool for product marketing and help your consumers better understand your product. For instance, suppose you have a unique product, and your visitors aren't sure how to use it. A tutorial video will help them a great deal to understand your product and make buying decisions.
You can add videos to your image gallery using third-party WooCommerce product slider plugins. You can either upload your own video file or embed third-party links such as YouTube, Vimeo, etc.
Default WooCommerce product gallery slider
WooCommerce does provide a standard product gallery to display different variants and details of your products. You can add additional images from the Product Gallery meta box in your product editor.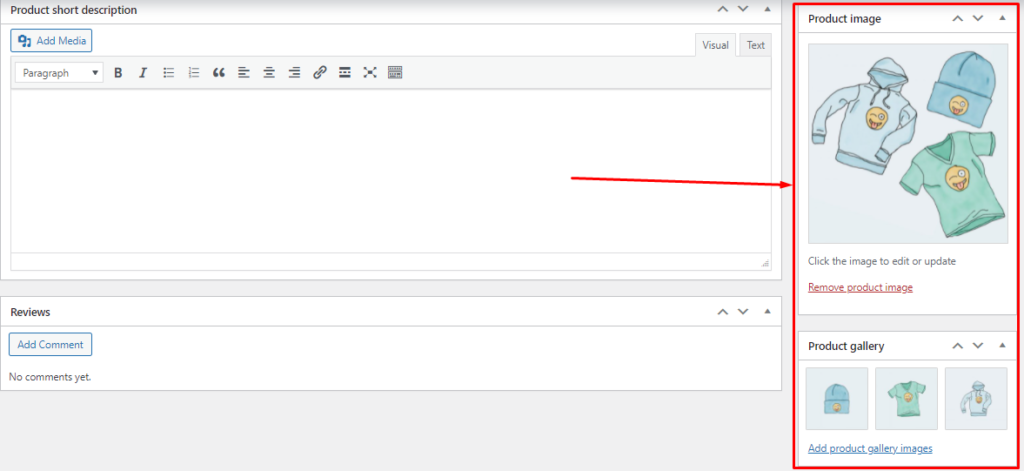 Your additional images will be displayed as thumbnails under the primary image section.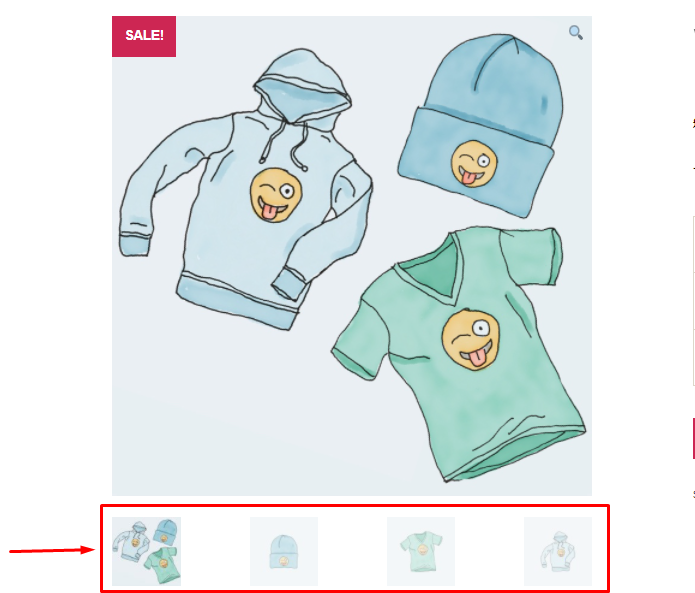 You can click on the zoom icon to open the images in a lightbox. From there, you will be able to zoom the image, make it full screen and slide through the images using the side arrows.
Although the standard WooCommerce product gallery slider has some good features, it has some limitations too. It limits the number of images you can add, and there's also a limitation on image adjustment. A major issue with the standard gallery is it slows down your page. Also, you cannot add any video, which is a real bummer.
The zooming option in the default product gallery is not very impressive as it doesn't really zoom that much. It also doesn't have any auto-play option for the slides.
In addition to the above disadvantages, the default system also doesn't have a thumbnail slider. So when you add multiple product images, they are displayed in new lines, as seen in the below image.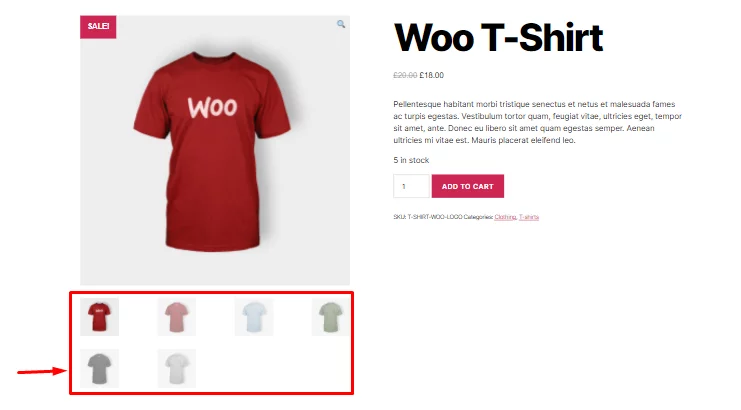 As a result, store owners look for a more flexible tool that can provide them with additional features and functionalities in order to create an attractive product gallery. That's where WooCommerce product gallery slider plugins come into play.
Add a product gallery slider using a plugin
The best gallery plugins will provide you with a plethora of options for customizing the gallery and displaying the maximum number of variable products possible. Later in the article, we will discuss the best WooCommerce product gallery slider plugins.
In this section, I will demonstrate how to add a product gallery slider to your product pages using a plugin called "TP Woocommerce Product Gallery."
Installing plugin
From the WordPress dashboard, go to Plugins>>Add New and then type in the plugin name, just like the below image.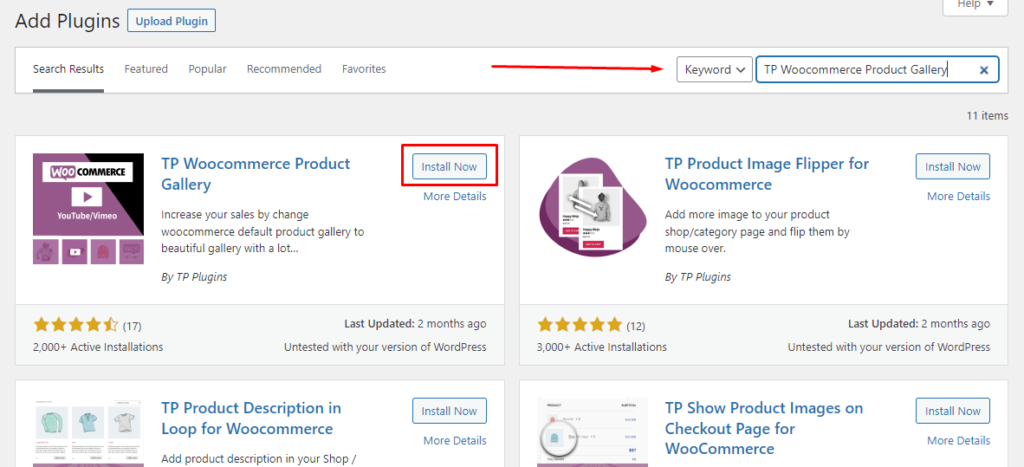 Right after you activate the plugin, you will see some immediate changes in your product page's image section.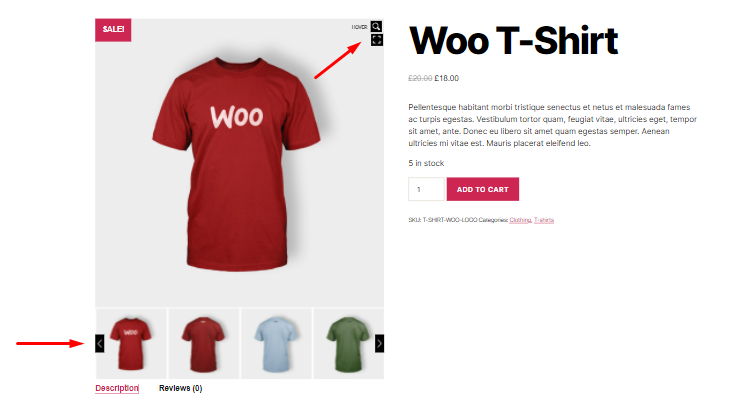 The primary image now will zoom in when you hover your mouse over it. You can also see a thumbnail slider with black arrows, which was not available in the standard WooCommerce product gallery. By default, the plugin activates an infinite loop in the thumbnail slider.
When you click on the full-screen icon, the image slider lightbox will open. One of the options your visitors will love is its zooming capability. This plugin lets users zoom really deep to check the product's details.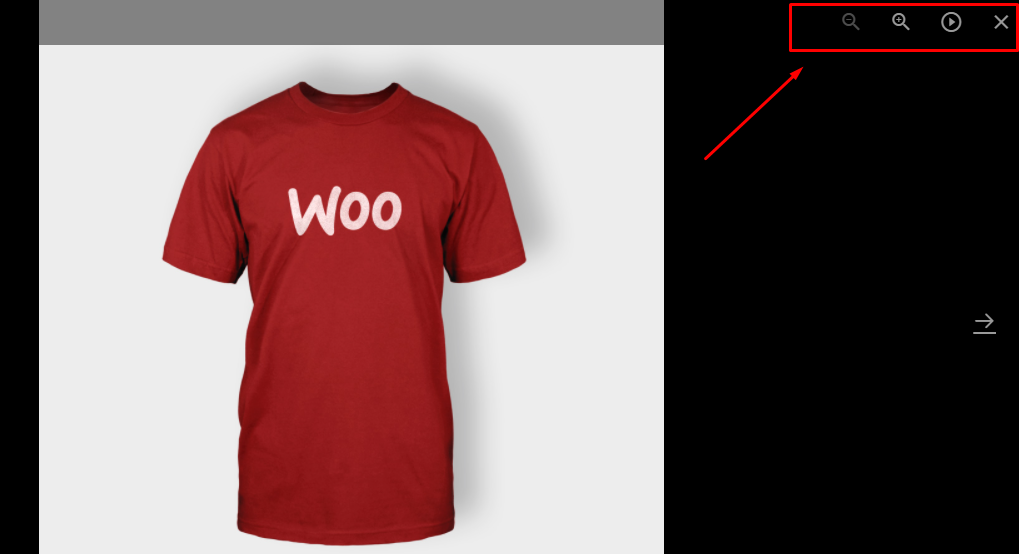 The plugin also enables users to play the sliders using the play button in the lightbox. Besides slider autoplay options, visitors can slide to the next image using the arrows, mouse scroller, or using touch and swipe.
TP Woocommerce Product Gallery makes your product gallery slider auto responsive, which means it fits any screen size.
Plugin settings
As you can see, by just installing the plugin, your WooCommerce product gallery slider looks awesome, and the user experience has improved significantly. Now let's check some of the available settings of this plugin.

From the WordPress admin panel, click on TP Woocommerce Product Gallery.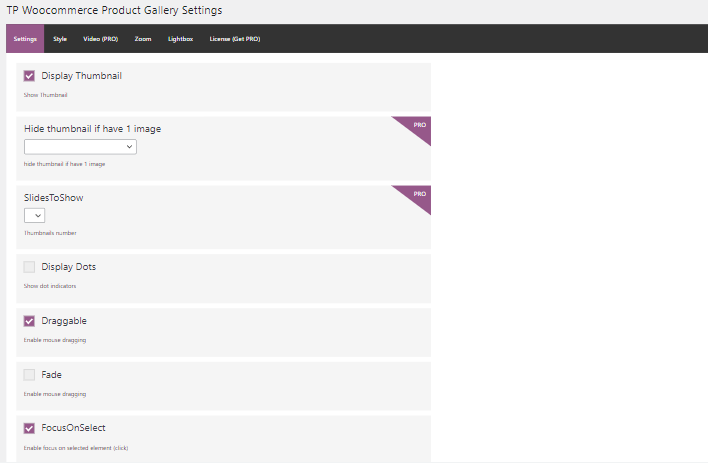 From here, you can play with different settings to enhance the user experience and make your product gallery slider more appealing. For example, if you enable Display Dots, your gallery will show dotted navigation beneath the thumbnails.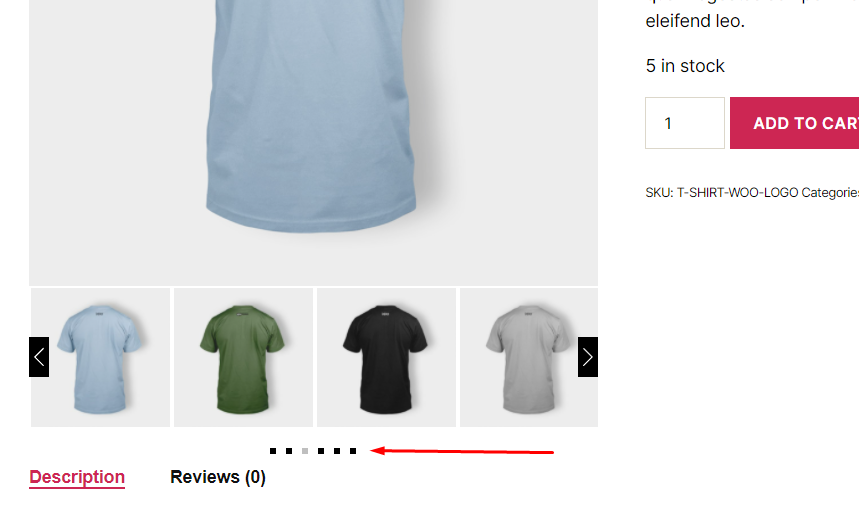 From style settings, you can change the button color settings such as button arrow background and icon background color, button arrow, and icons color. You can change the colors according to your website's color pallets.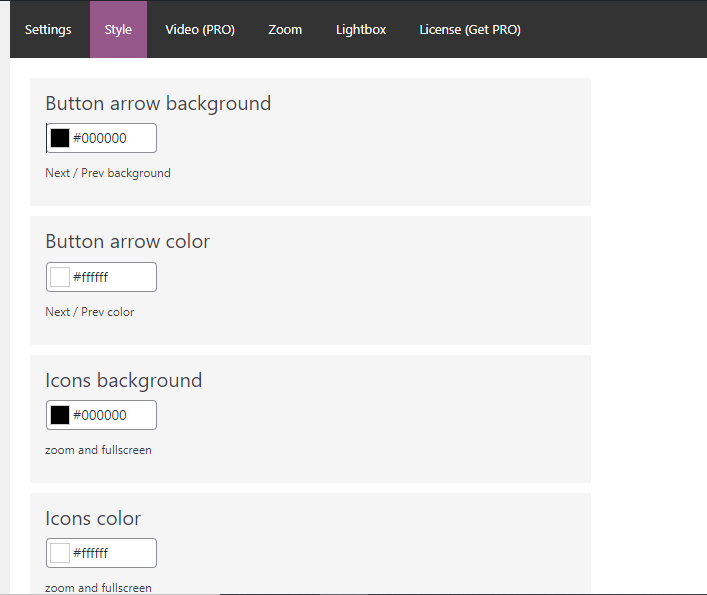 One option I liked is the sliding effects. You can change sliding effects from Lightbox>>Mode settings. This is an attractive option for any image slider.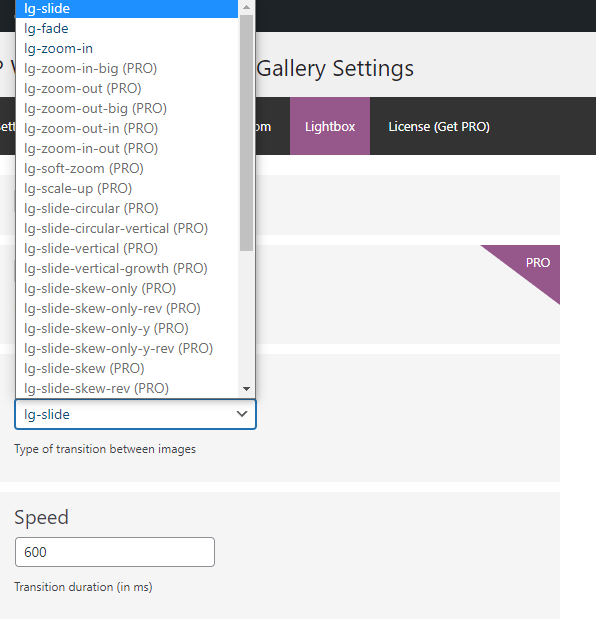 Pro version
In addition to these free options, the pro version packs more awesome features. The most notable premium features I would like to mention are the video support and vertical slider.
You can enable the vertical slider options to make the product gallery slider vertical, as seen in the below image.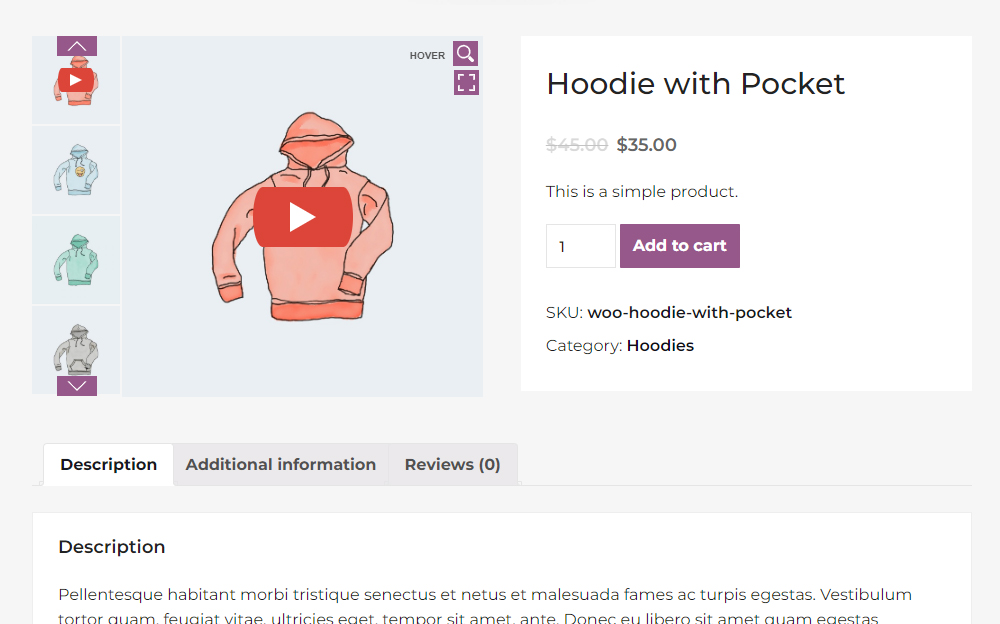 To add a video in your WooCommerce product gallery slider, first copy the URL from YouTube, Vimeo, or from your own server. Now go to your media library in WordPress and select the image you want to use as a product video thumbnail. You will find a new section called Video URL; paste your URL there.
You can now add that thumbnail image to your product gallery, and the video will be visible in the product gallery.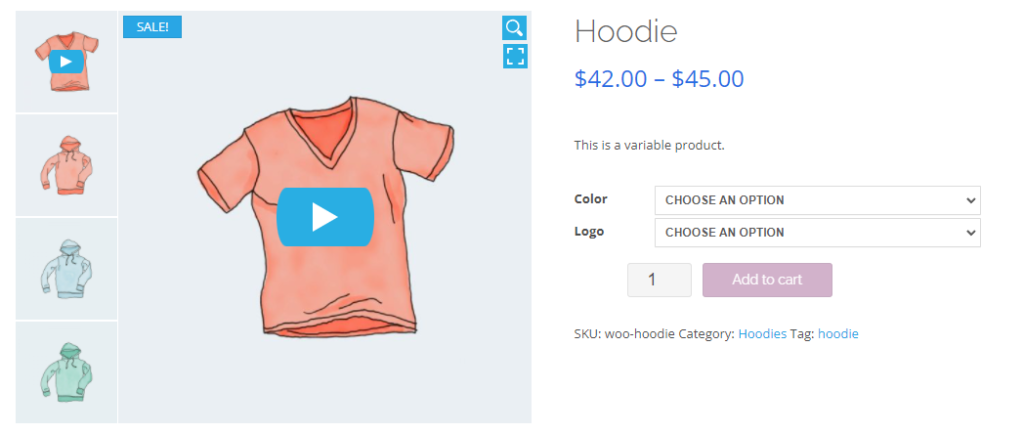 Note that the video URL option is only available and visible for pro users of this plugin.

Additionally, you can choose to play the video directly or open it in a pop-up window from the plugin's Video settings.

Features to Look for in a Product Gallery Plugin
Before introducing the best WooCommerce slider product gallery plugins, we'd like to highlight some of the exceptional features you should look for in a product gallery plugin.
Image carousel
The plugin should enable you to showcase products in a rotating gallery or slideshow format. Thus the customers can easily view the various gallery images associated with your products from the product page. It will make your product pages more attractive to your visitors.
Some plugins also have an infinite loop option to let users loop back to the first image after they finish scrolling all images.
Navigation
A product gallery slider navigation system that includes arrows, icons, and bullets will allow your customers to navigate through your product images. You need to make sure the plugin you choose has proper navigation features.
Variable products
You should select a product gallery WooCommerce plugin that can handle both simple and variable products.
Video support
You should be able to host product videos on your own server or on third-party sites like YouTube and Vimeo with your WooCommerce single product image slider plugin. Additionally, it should make it simple for customers to view product videos on the front end of the website.
Lightbox feature
Lightbox viewing should be supported, so customers don't have to wait for a page refresh when viewing larger images in your WooCommerce product gallery slider.
Responsive & fast loading
Your product gallery should be visible on any screen. Therefore, you need to choose a WooCommerce single product slider plugin that is auto responsive; fits any screen size.
There's no point in installing an extra plugin if it slows down your page or website. One of the biggest reasons for choosing a product slider plugin is to get away from the limited, slow-loading standard gallery tool. Your plugin should be flexible and fast loading.
Best WooCommerce product gallery slider plugins
A single product gallery plugin can perfectly showcase your product images and videos on your product pages. The rightly chosen plugin can significantly improve your customer's shopping experience and boost your store's sales.
Here's our pick of the best WooCommerce product image gallery slider plugins.
1. Product Gallery Slider for WooCommerce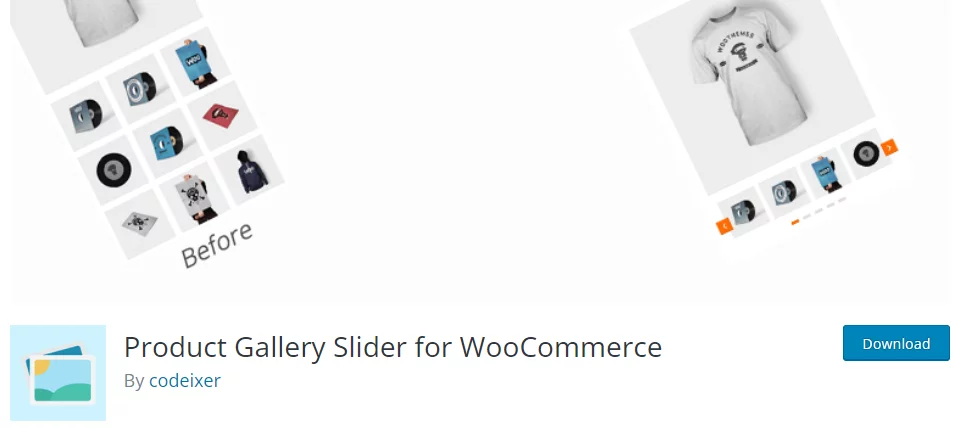 This plugin allows you to easily display WooCommerce product images in an attractive manner. It provides access to all of the features and functionalities you could possibly require in a product slider.
Using this fantastic plugin, you can include a carousel in the default Gallery section of your WooCommerce store. In addition, the WooCommerce plugin's product gallery slider has a beautiful design that attracts customers.
Furthermore, this plugin lets you choose between a horizontal or vertical layout for your product image gallery. In addition, it has an arrow key to provide a unique experience for the user.
It has an autoplay mode where videos will begin to play as soon as your visitor lands on your product page.The fact that it supports RTL means that you will be able to attract clients from all over the world. Additionally, you have the option to enable or disable Lightbox settings for thumbnail images. Above all, it is compatible with the majority of WordPress premium themes.
Key features
Deliver a responsive design with two options: a horizontal (free) layout and a vertical layout (pro)
Makes it possible to navigate through the product page
On/Off settings for Lightbox, zoom, and image captions
RTL support
Works with most premium themes
Supports all the popular page builders such as Divi, Elementor, WP Bakery, Beaver Builder, etc.
Supports videos in the gallery
Infinite loop and Slider autoplay options
Price
There's a free version available in the WordPress repository. The Pro version with advanced features costs $39.

2. WooThumbs for WooCommerce

WooThumbs enhances the WooCommerce product gallery by enabling you to customize nearly every aspect of it. You can easily create and edit photo and video galleries with this plugin's flexible customization options.
Key features
With WooThumbs, you can customize the image gallery layout, enable sliding thumbnails, and provide users with multiple zoom options when viewing your products.
WooThumbs gives you the ability to insert videos directly into your product gallery. You can either host your MP4 videos on your own server, or you can access them via YouTube and Vimeo.
There is no limit to the number of images you can include in your product variations, and only those images that are relevant to the variation you have selected will be shown.
The plugin is very user-friendly and fast loading.
WooThumbs is a mobile-ready plugin that comes with a pinch-and-zoom feature.
Price
This is a premium plugin that costs $79 per year for a single site.
3. WooCommerce Product Gallery Slider

WooCommerce product gallery slider plugin lets you show different product images in a slider. Customers can see all of the product images in the slider without pressing each image one by one.

This plugin has a wide range of features. It has the option to display gallery images in an auto-slider. You can add a gallery slider for specific WooCommerce products and categories as well as embed product videos. Besides that, you can also choose different styles and layouts such as horizontal, vertical left, and vertical right as per your site preference.

It has a responsive design and allows users to zoom in on the product images to have a better look at the product. Furthermore, it enables customers to preview the product images in a lightbox.
Key Features
Add Gallery Slider to specific products or categories
Allows you to add product videos to the gallery
Multiple navigation styles such as Bullet, Arrow, & Lightbox
Use a lightbox to exhibit images and videos
Autoplay product images in the gallery
Customers can zoom in on product images
Multiple layouts for the gallery slider
Price
This is a premium plugin that costs $49 with six months of support.

4. TP WooCommerce Product Gallery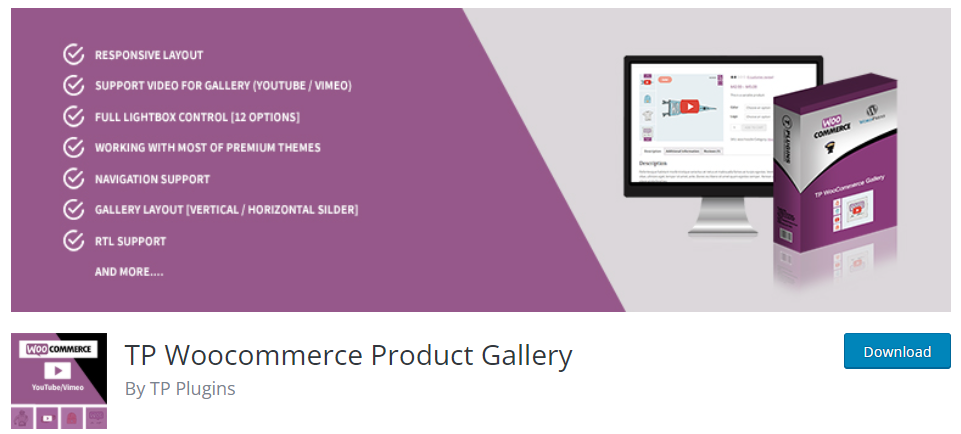 I have installed and used this plugin personally for this article. It packs with powerful features even in the free version. It turns your standard WooCommerce product gallery slider into an advanced, appealing image section with its lightbox and navigation features.
There are some impressive features included in TP WooCommerce Product Gallery's free version. For example, it has a responsive design, a horizontal slider, and a slider that auto-plays.
In addition, the lightbox offers three different transitions between images. Moreover, you can modify the slide height, arrow style, and background color using the horizontal slider.
Furthermore, the pro version supports advanced options such as video and vertical slider. Additionally, you can add a number of sliding effects in the pro version.
Key features
Deliver features such as a responsive layout, auto-playing sliders, an infinite loop, deep image zooming, and navigation support
Lets you add videos to your product gallery
Both horizontal and vertical gallery layout options
Attractive dot navigation for thumbnails
Draggable option for mouse
Touch and swipe enabled for mobile screens
Supports most premium themes
Price
As mentioned above, there's a pro version along with the free version. Pro version costs $20-$80 per year.
5. Advanced WooCommerce Product Gallery Slider
With Advanced WooCommerce Product Gallery Slider, you can show off your products in the most stylish way possible.
This plugin includes a wide range of features and settings that you would expect to find in a product slider plugin of this caliber. Furthermore, you can choose between two gallery layouts, which are the Horizontal and Vertical layouts, depending on your preference.
In addition, customers can enjoy a smooth scrolling experience on your product pages thanks to its responsive design.
The admin settings page streamlines the process of making changes and keeping track of everything. Moreover, it is lightweight, so your customers can freely navigate your website without any interruptions.
If you want to get the most out of this plugin, you should consider purchasing the Pro Version. The Pro version supports video links from streaming websites such as YouTube and Vimeo.
Key features
Supports both left and right alignment in vertical layout
Touch and swipe options
Slider arrow customizations
Attractive lightbox effects
RTL and center mode support
Zoom customization
Works with most premium themes
Price
In addition to the free one, it also has a premium version which costs only $15 with unlimited support.

6. Product Gallery Slider for Woocommerce – Twist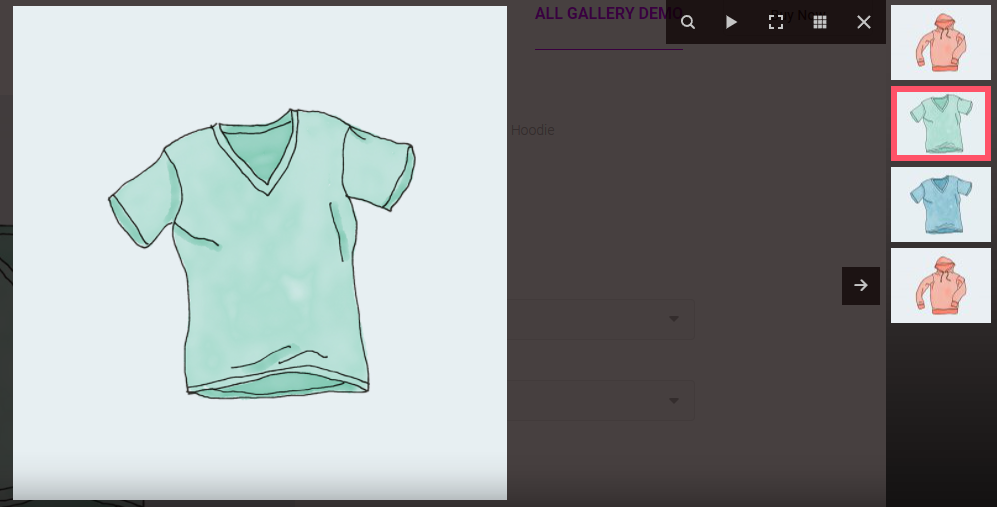 Another plugin that lets you choose between horizontal and vertical layouts. When using the Autoplay Mode, videos will begin to play automatically when a visitor navigates to the product page on your website.
Arabic languages are supported because it has RTL support. So you'll be able to reach a wider audience of potential customers around the world. It's also possible for customers or visitors to extensively zoom in on the product images, which gives them an up-close look at your product.
The pro version of this plugin supports all popular page builders such as Divi, WP Bakery, Elementor, etc. This implies that you have the freedom to design your own templates and layouts.
Key features
User-friendly arrow key navigation for better user experience
An engaging and attractive lightbox module called fancy box is included in this plugin.
Allows you to zoom images deeply, display thumbnails
Auto image slide effect
Using the autoplay feature, you can display product videos. Host your own videos or those from third-party sites like YouTube and Vimeo can be played.
Price
The plugin has a one-time price of $39 with six months of support.

FAQ
What is a WooCommerce product gallery slider?

WooCommerce provides a meta box in the product editor page to add additional product images. This meta box is called Product gallery. When different product images are added in this section, the front page will display a gallery with thumbnails and slider options.
How do I create a product gallery slider in WooCommerce?

Creating a product gallery in WooCommerce is very simple. Add multiple product images in the Product Gallery meta box located in your product page editor. This will create the gallery slider on the front page of that product.
What is the best product photo gallery plugin for WooCommerce?

There are several great plugins, both free and paid, available for showcasing your product images in the gallery slider. Some mentionable names are: "Product Gallery Slider for WooCommerce," "WooThumbs," "TP WooCommerce Product Gallery."
Wrap up
Our brain process images 60,000 times faster than texts. As much as ninety percent of the data sent to the brain is visual. That is why displaying attractive and detailed product images in an aesthetic manner is immensely important for your store.
Product gallery slider for WooCommerce can showcase your products in an engaging way, and with the help of the gallery extensions mentioned in this article, you can enhance the user experience for better conversions.
Thank you so much for spending your time reading our post. Let us know which WooCommerce product gallery slider plugin you use in the comments.
You May Also Read