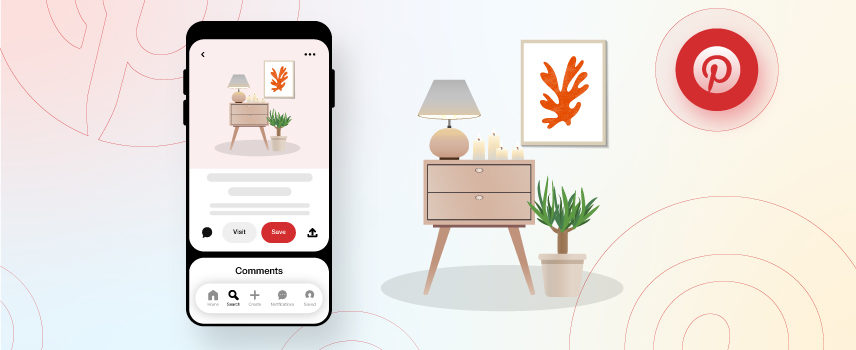 Pinterest For WooCommerce: A Complete Guide
When the giant and prominent social media platforms become mediocre, and you don't get the vibe or resources to generate the idea, Pinterest for WooCommerce is for you.
Pinterest, being one of the most modern platforms of social networking, you will be surprised to discover that most of its activities are pivoted on gathering ideas, inspirations, and securing the wellbeing of lifestyle.
The users who use Pinterest to get some sort of ideas to organize their plans, their future goals and sharpen their memories for future projects are called the Pinners. Pinterest has garnered widespread recognition for boosting its online marketers' shopping campaigns. For that, the WooCommerce Pinterest feed plugin is cardinal to generate Pinterest product feed.
Although the primary objective of Pinterest is to glean the information and idea from the images and apply them to the real world, in all likelihood, you can still benefit from its shopping features. Like Google and Facebook, Pinterest is also on the verge of competition while marketing the product through online websites. Hence, 28% of overall global marketers advertise their products via Pinterest.
Why? Because 8 out of 10 users, or more precisely, 82 percent of weekly active users made their purchase till the end of the buying process. The reason is simple; they discovered new products through Pinterest regardless of how ordinary the products were. Also, part of the reason is that the pinners were attracted to the products' unique brands' content.
However, the marketing campaign is not so easy; you have to follow some rules by the book to advertise your products to get more traffic. You need a Pinterest product feed.
To generate and upload your website's WooCommerce products into Pinterest, you need the help of the WooCommerce Pinterest Feed Plugin. There are lots of plugins available – by and large, not all of them are effective. You need a plugin that generates the feed and modifies and adds dimensions to your products to fit the customers' search perfectly. You need a catchy product title, fancy description, and aesthetic-cum-sublime images. All of them are possible if and only you use the proper plugin.
Let me take the courtesy of disclosing one such WooCommerce Pinterest Feed Plugin. But we will unfold that once you stay with me from top to toe of this article. There are many things you need to know before we give you the name of our patented plugin.
Why Is Pinterest So Popular?
The Pinners usually use Pinterest to gain ideas from the images – they could be home decoration, fashion & lifestyles, cooking, recipes, designing & animation, travel destinations, weddings, or any ceremonies, etc. According to the statistics surveyed by GlobalWebIndex, 2021, the most searched topic on Pinterest was home décor.
The second position was occupied by recipes/cooking, followed by fashion, health, travel, and event management as the third, fourth, fifth, and sixth, respectively.
With over 400 million active users, Pinterest has undoubtedly ranked 14th as one of the most used social networking platforms as of July 2021. Much to your surprise, it may seem trivial to you, given that Facebook still dominates the first rank with a whopping 2.8 billion active users. It is followed by YouTube (2.2 billion), WhatsApp (2 billion), Instagram (1.38 billion), and Facebook Messenger (1.3 billion).
That is to say, the ray of hope is ­– Pinterest is capable of bringing in 33% more referral traffic to your shopping sites than other social platforms, including Facebook. Therefore, Pinterest shopping comes in useful to the sellers who wish to use their Pinterest for the WooCommerce platform to readily reach out to the customers.
Do you know you can reach out to over 200 million users through Pinterest advertisements? As the quarter-to-quarter advertising has dramatically leveled up by 6.2% owing to more countries being added up, The Pinterest shopping experience has never been so easy as pie (Source: Hootsuite, 2021).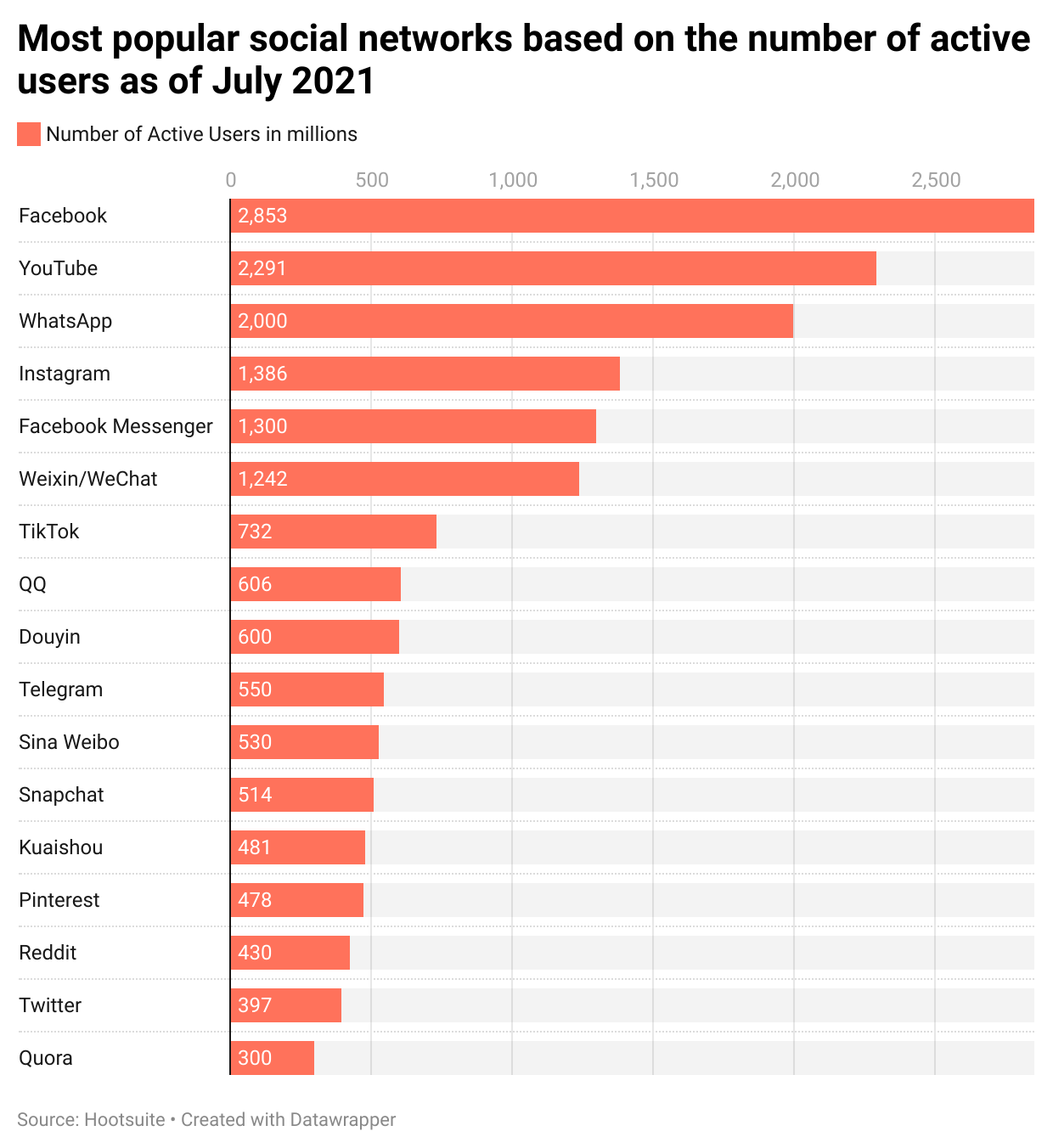 What is Pinterest?
The very first question twitching you is – "How does a social networking site generate inspiration for humans?" It's not impossible, though. For example, if someone wants to set up their kitchen or plan to fly off somewhere on vacation or needs to please their dearest ones with their succulent dishes, they don't have to watch tons of YouTube videos.
In fact, they don't have to pay for the tutorial courses worth hefty bucks. They just simply access Pinterest, click on the pins, bookmark their favorite images, and see them when they have time.
Therefore, Pinterest is all about images – an astonishing medium of curated images that generate ideas from billions of pins. These images, aka pins, make Pinterest the best visually enriched pinboard; thanks to Pinterest, it understands your query.
When the users are in the process of improving their fashion sense, glamouring their lifestyles, or putting extra effort to vault their health, Pinterest is always there at their service.
When a user searches for any specific items or inspirations, or ideas, Pinterest's algorithm is set to function in a way that it populates all the ideas based on their search. They will find those searched images appearing mostly throughout the news feed. You can also call it something like "picked for you."
For example, suppose you show interest in revamping or customizing your vehicles and searching for customized cars. In that case, Pinterest will try to gather those images relevant to the customization of cars in your home feed. The home page will look something like this from the desktop;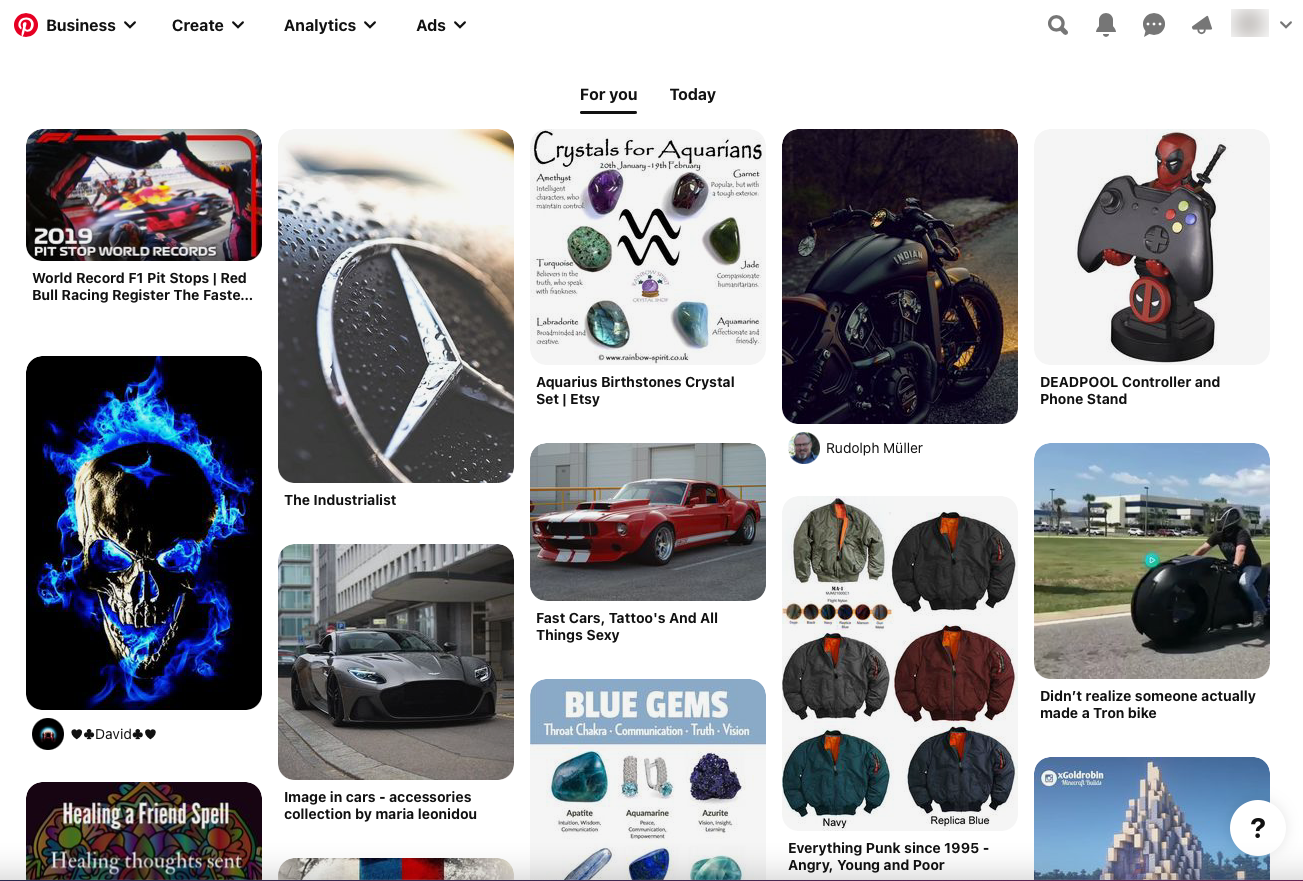 The mobile app view will show the pins as the following;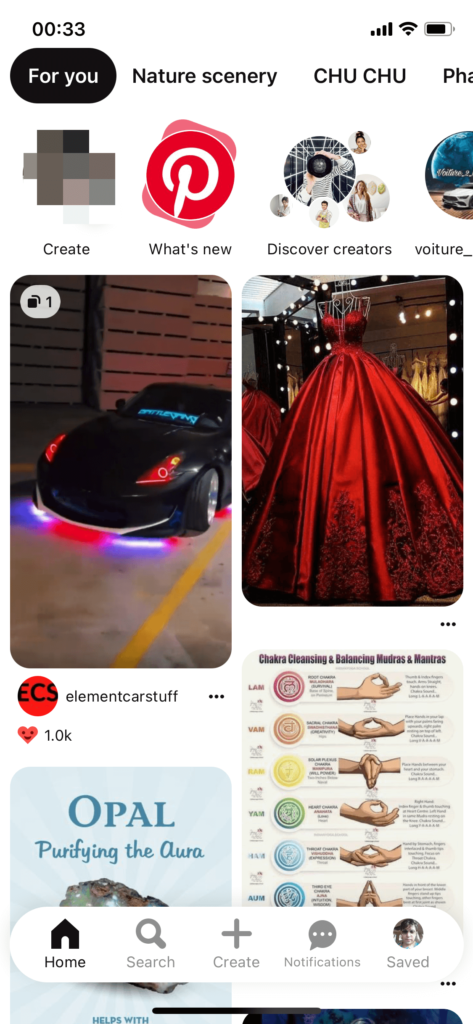 Remember, Pinterest is more often a reclusive platform for audiences who may search for specific innovations without apprising publicly, unlike Facebook and Instagram. The other social platform users may share their images or personal information to let others see what they are up to, whereas Pinterest sparks only the innovative thoughts and debriefs.
What Is a Pinterest Pin?
Pinterest pins are actually the images that anyone sees when they open their news feed. Your entire Pinterest for WooCommerce planning is dependent on it. While bookmarking them, you can revisit them whenever you can. It was formerly known as "Pin It" but later changed to "Save." To successfully create a pin, you need the following information;
Title
Description
Image
Destination link (a link that redirects to your online store or website)
You can do the basic pin creation using WooCommerce. Still, you need to alter all of the above 4 criteria for a better outcome. You must possess a high-caliber WooCommerce Pinterest plugin to do those alterations for creating Pinterest product feed successfully without burning the candle at both ends.
Pinterest has saved more than 240 billion pins since its emergence (Pinterest Newsroom). This number is quite fair compared to its massive audience base of 478 million. Hence, more engaging ideas and innovative explorations.
Any Pinterest users can click on any pins you have created; they usually see the small images alongside website links, snappy titles, save buttons, and price (in the case of Shopping). But as soon as they click on the image, it will enlarge it with more in-depth information, comment, and follow options. You should also know that you can create secret pins – which will be visible to you and the users with who you share.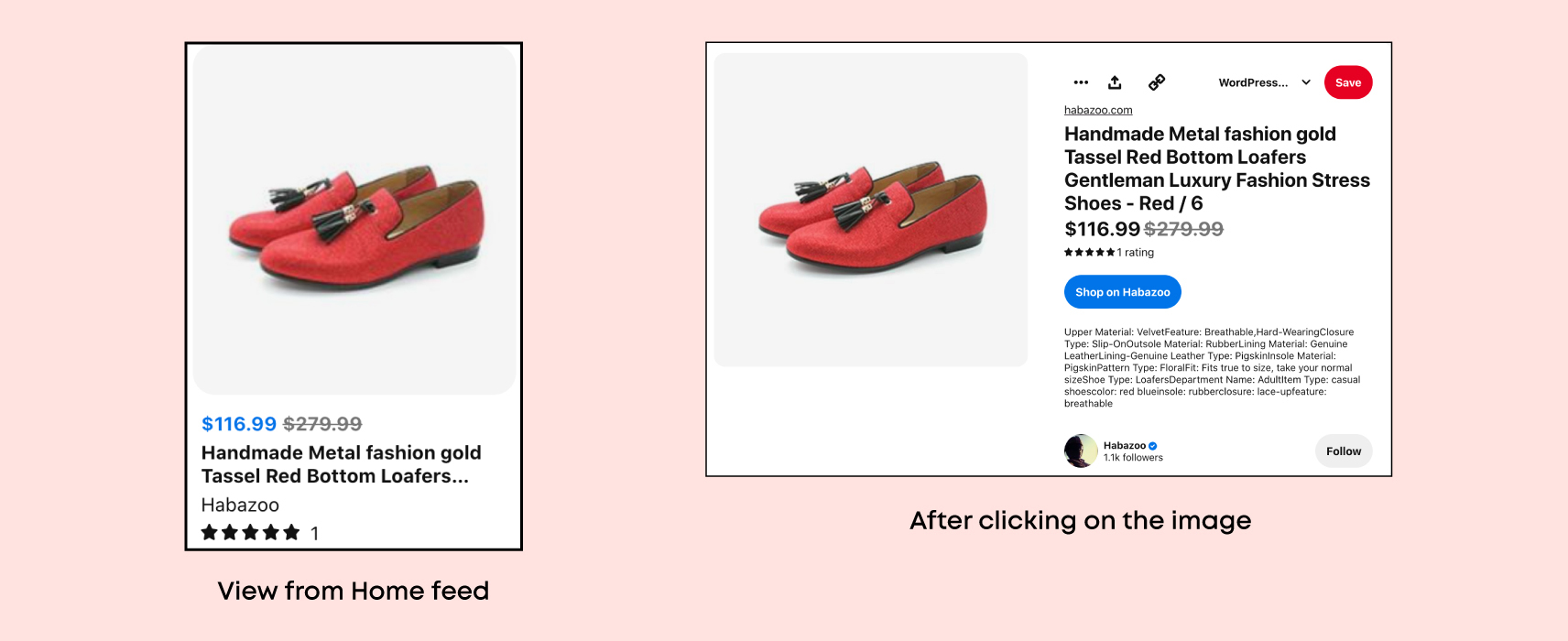 How Does a Pinterest Board Work?
A Pinterest board is a collection of pins, which you either save or bookmark. As you go downloading or bookmarking or creating the pins, you can save them to your profile, which you can access by clicking on your profile image at the top right. When you have hundreds of pins saved, you need to organize or reshuffle them. Your board may have various genres, but you don't want to get off-track at the time of rush.
For example, you have a board called furniture. You have curated several types of furniture, including sofas, lamps, artificial trees, drawing-room tables, etc. It will be too aggravating – if you are looking for sofas' pins, but in the first few columns, you have the pins for other furniture.
This is where you will apply the board. You can create sections within the specific board – sofa, lamp, tree, table; and then move the relevant pins into their designated sections. This is how a board can hold your pins.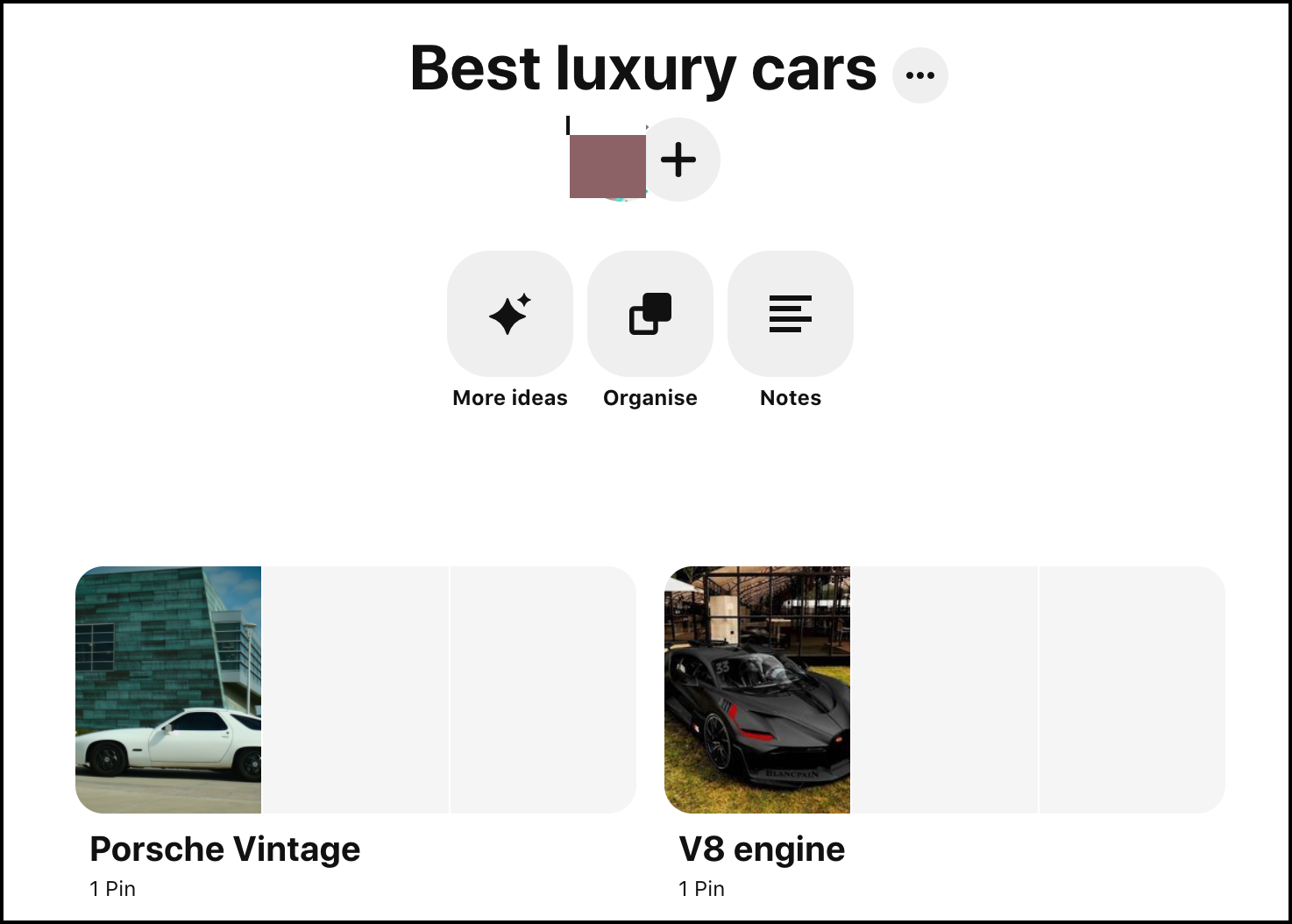 There will be one owner of the board; However, if you share this with multiple pinners, they can use your pins to bookmark, share, and add more pins to your board. While creating a pin, you can create a board and place that pin on that board. Amazing, huh!!!
8 Pinterest Statistics You Must Know for the sake of Pinterest for WooCommerce
Reason: It's not something that men don't like on Pinterest. Women feel a more mental and emotional connection towards Pinterest for taking ideas and implementing them into their lifestyles to become more ambitious.
Pinterest has seen a growth of male pinners by 40% in 2020 (eMarketer)
Reason: Men use Pinterest for their regular activities. It can be from gathering information on a specific topic to visualization, 3D graphics, corporate world, vehicle customization, and statistical purposes.
Reason: It suggests that pinners are no longer concerned about what their products' brands are. They just simply like to discover those products, which might be creative in nature and exceptional in service.
Therefore, when you create the WooCommerce Pinterest product feed using Pinterest for WooCommerce plugin, you need to adopt a proper marketing tactic to hold back the audiences in the process of buying before they change their minds.
The monthly active users soared dramatically from 247 million to 362 million in just a year from 4th quarter 2019 to 4th quarter 2020 (Pinterest, Q4 2020)
Reason: 46% of the overall pinners unfold new brands or products through Pinterest. These brands don't rely on the longstanding reputation, but instead, they hold on to their promise of giving something new to the audiences, which the users can use to motivate themselves, as well as the others.
Despite the US being the homeland of this acclaimed social platform, 50% of the pinners are residing outside the US (Pinterest Newsroom)
Reason: Unbelievably truth is that despite being founded in the US, Pinterest has transcended the border and boundaries to reach out to the millions, making Pinterest one of the most popular social platforms. Thanks to its image features that instigate thousands of new ideas every day.
60% of users initiate their initial research on Pinterest before purchasing any items, followed by Search Engines, family & friends, and other social platforms (Pinterest survey)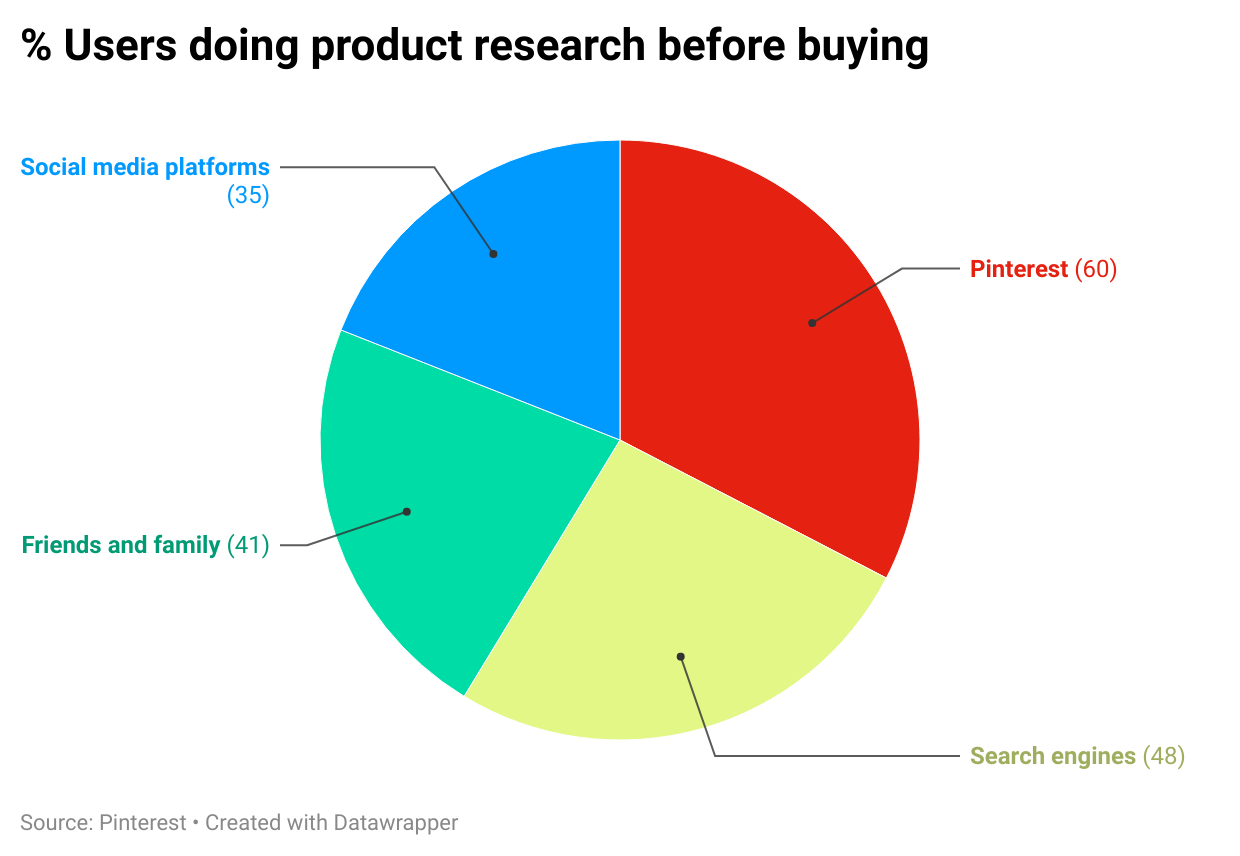 Reason: Thousands of online stores and the ample number of social platforms perplex the users. They can't build their trust with any platforms. Therefore, people are in badly need of carrying out thorough research.
Since Pinterest sparks thousands of creative ideas just in seconds at your screen with its authentic contents, the users can easily relate themselves with its user shopping experience. Hence, Pinterest is way ahead of its other competitors in terms of researching the buying process.
Also, take a look at the following image to get to know a few more astonishing stats of Pinterest;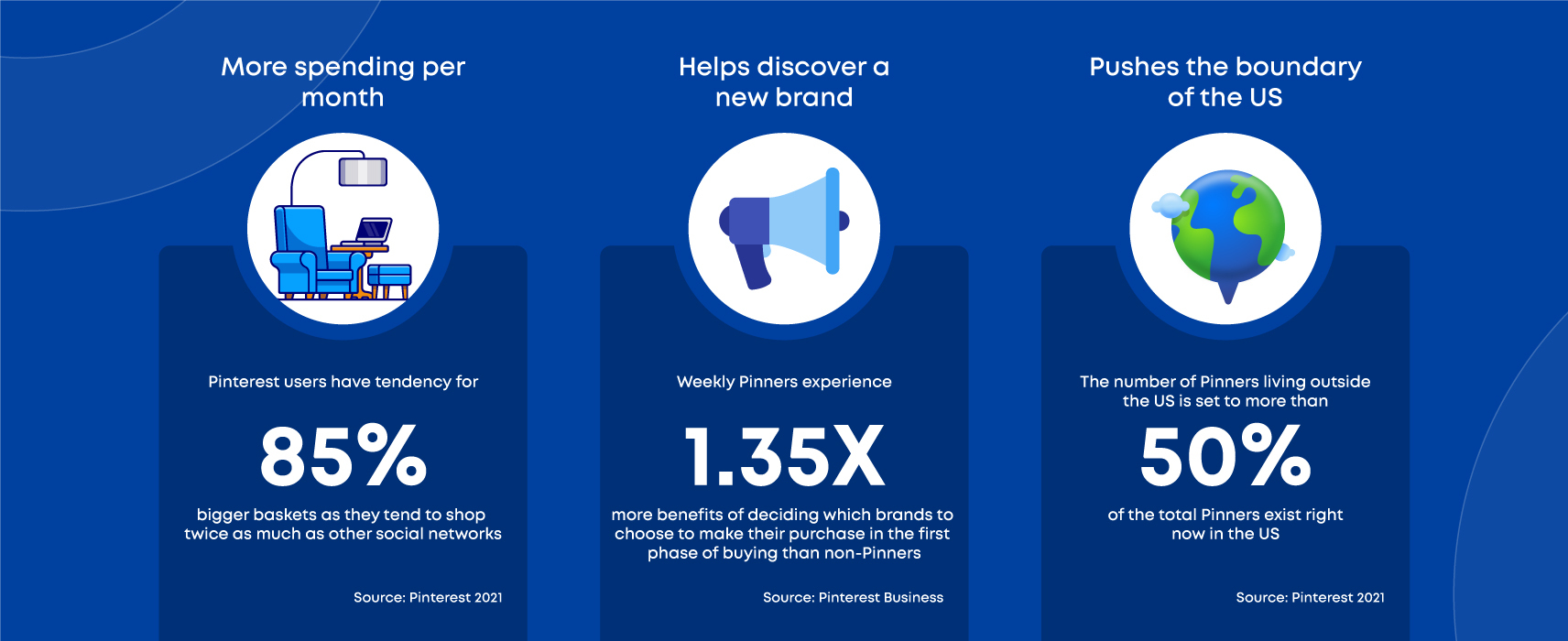 99% of all pins include images, with 0.3% containing videos (Buffer)
Reason: It is absolutely obvious that the images are the prime reasons why pinners use Pinterest to get a splendid visual environment. People decide and ingest the concept when they see something taken as a picture. Pictures are easy to digest and help the users decide whether they wish to go with the products, services, or anything else. Therefore, the click rates double and hence double the conversion.
Yet, you need a high-end WooCommerce Pinterest plugin to obtain the best possible images with the perfect image size mandated by Pinterest. Having defects in any image in terms of size may affect your overall Pinterest for WooCommerce journey.

What is The Size of the Pin of Pinterest?
Your Pinterest image is actually the pin. A pin will determine how successfully your online businesses will suit Pinterest for WooCommerce. From bookmarking to downloading images for sparking concepts – the images, aka pins, play a pivotal role. Therefore, perfect size is always imperative; In fact, Pinterest has recommended the ideal sizes for its various pins to avoid feed-related interruptions.
The interruption is most like to occur when the marketers don't get adequate conversion rates due to poor or fuzzy images uploaded in the shopping section of Pinterest. In fact, your images or pins can be deselected by Pinterest if it finds your image not abiding by the recommended dimension of images.
It is very common in the case of Pinterest product feed uploading. Some WooCommerce Pinterest Plugin comes with a built-in option to automatically convert the image size as per the Pinterest instruction.
The recommended Pinterest pin sizes (wide x tall) for standard pin, square pin, and long pin are 1000 x 1500 (2:3 aspect ratio), 1000 x 1000 (1:1 aspect ratio), and 1000 x 2100 (1: 2.6 aspect ratio), respectively.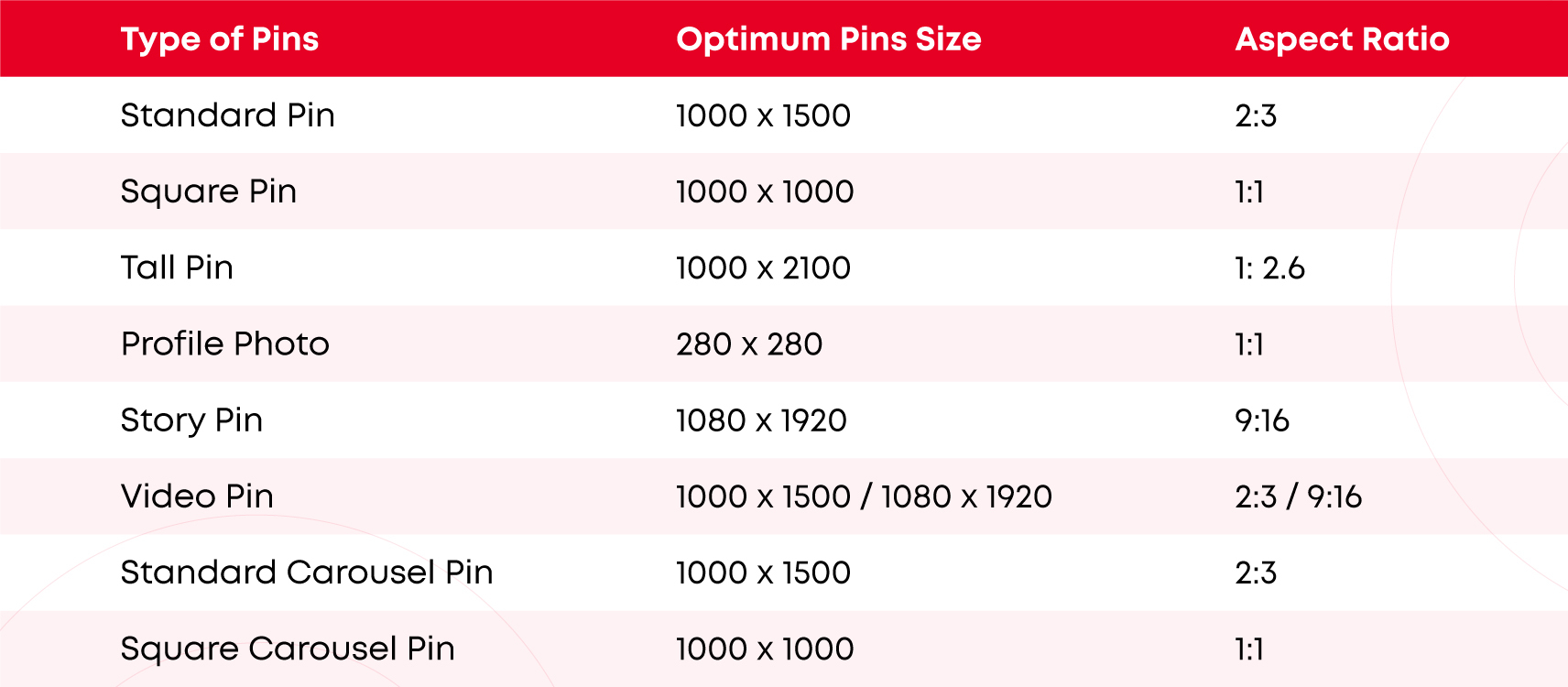 How Many Pins Can I post on Pinterest in A Day?
Look, the recommended number of pins you can post in a day is 50. But is this the number you should always aim for? To us, the answer is no! In fact, your desired pin posts per day should be way lower than the recommended limit. The ideal post of pins per day should lie anywhere between 4 and 12. However, it can be more than that, but the less, the better. Why?
Let's suppose you have gone on a trip with your best friend, knowing that he has a bad habit of talking about the same thing. You have still risked. When your handpicked best-buddy with a charming character with no less sense of humor starts talking about the same thing over and over again with different tones, how would you react?
You have taken your friends to utilize your leisure time aptly, but rather you are getting bored and incurious, filled with anger and infuriating mood. Is it worth taking him next time on your self-paid tour? Absolutely not.
Likewise, if you keep posting your pins with no innovative and artistic perspectives, posting similar pins will be of no use. It will divide your audiences, making them pay no heed to your idea no matter how organized and sleek your images are – as they don't trigger any new ideas and breakthrough details to fancy themselves. So, unless you can produce whole new content afresh within the pins, keep the posting limit as low as possible.
What Is the Maximum Number of Pins Permitted Per Board?
As reported by Pinterest,
You can save up to 200,000 pins, having both secret and grouped pins combined (grouped pins are the ones, which you or your followers share)
Pinterest lets you have 2,000 boards in possession, comprising of both secret and grouped boards
You can follow up to 50,000 users (there are no off-limits for how many followers can follow you, but you can only follow those who are already following you once your following number exceeds 50,000).
How Do I Use Pinterest with WooCommerce Using Pinterest Product Feed ?
You can avail yourself of Pinterest for WooCommerce if you have a Pinterest business account and constantly upload WooCommerce Pinterest product feed. Like any other online social media platform shopping system, you can create your own identity and brand your shopping through Pinterest.
Suppose you already have a shopping channel on Pinterest. In that case, you surely know how to upload the Pinterest product feed regularly – what you don't know is you can use a plugin to do the WooCommerce Pinterest feed uploading with all kinds of alterations to match Pinterest's requirements.
To upload the Pinterest product feed, you need to create the catalog on your business account. Pinterest will only upload the product into its shopping platform when it can ingest your data source, also known as product feed. Product feed generation requires a catalog as a tool to ingest. Therefore, for a successful Pinterest for WooCommerce integration, you need to meet the following eligibility for creating the catalog;
Signing Up a Pinterest Business Account
Apply for Website Claiming
Website Must adhere to the Merchant Guideline
Make A Proper Data Source
Data Source Hosting
Let's explore each of them bit by bit to show you how you can incorporate Pinterest shop for WooCommerce;
1. Pinterest Business Account Signing Up:
Go to the Pinterest website and navigate on the top right to click on Sign up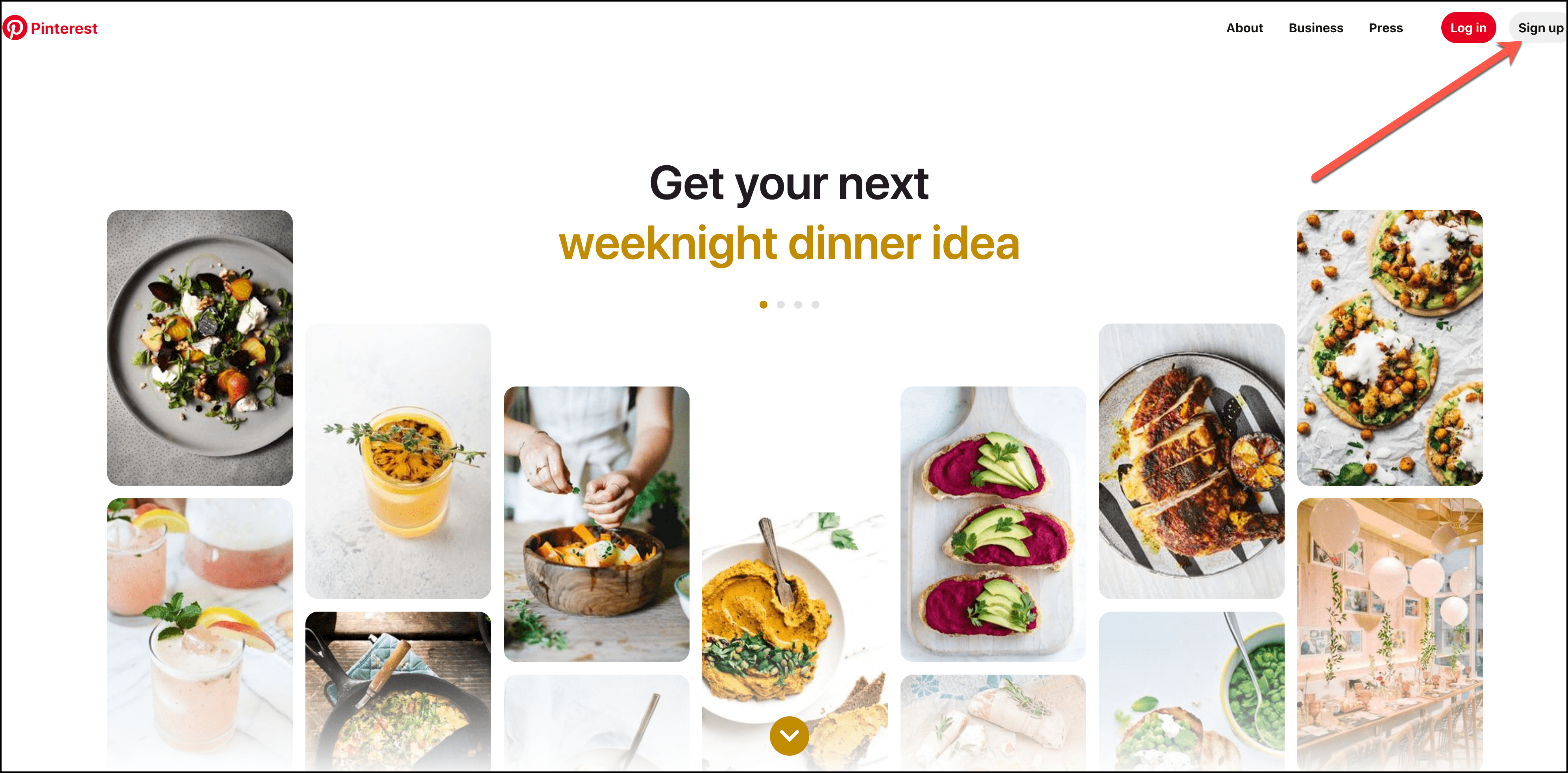 If you don't have any existing business account, click on "Create a free business account"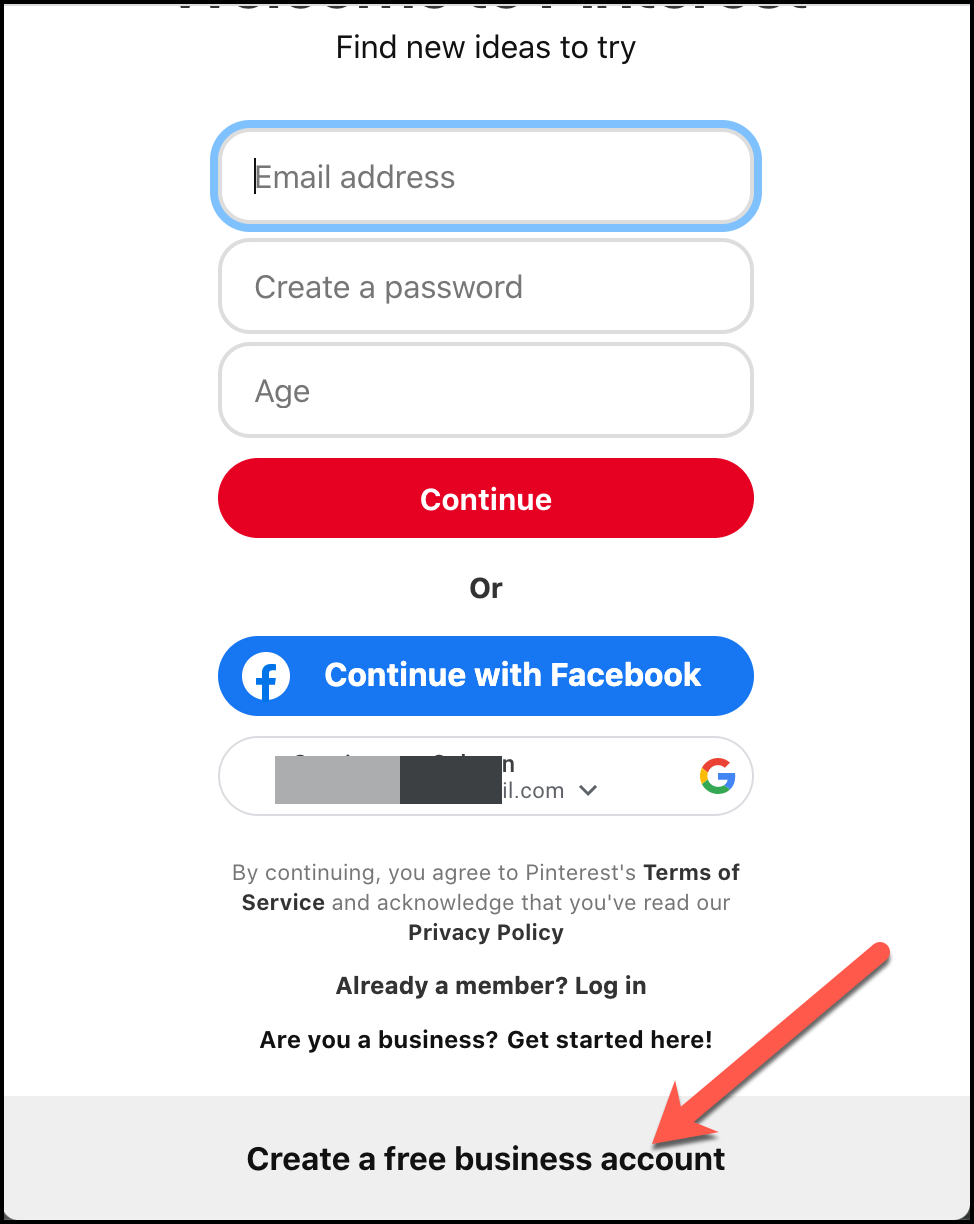 Type your credentials, such as email id, unique password, and age, and select Create account
Here, you begin by typing your business/organization name. If you have a website, click Yes and put your business link in the empty box, or otherwise, choose No. Don't forget to select your country and language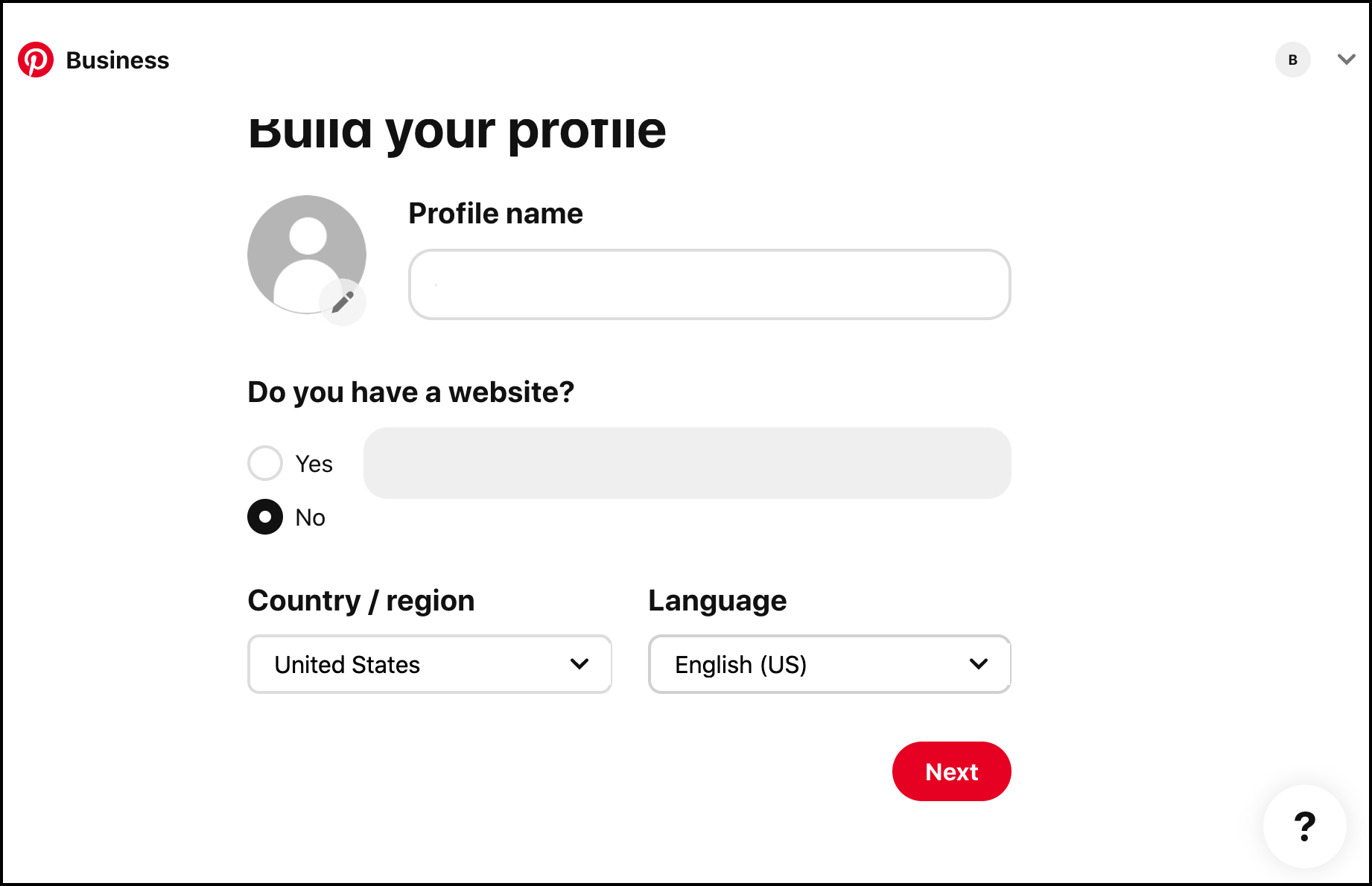 You have to choose the category for which you will be branding, and you need to tick the reasons why you wish to go for the Pinterest business account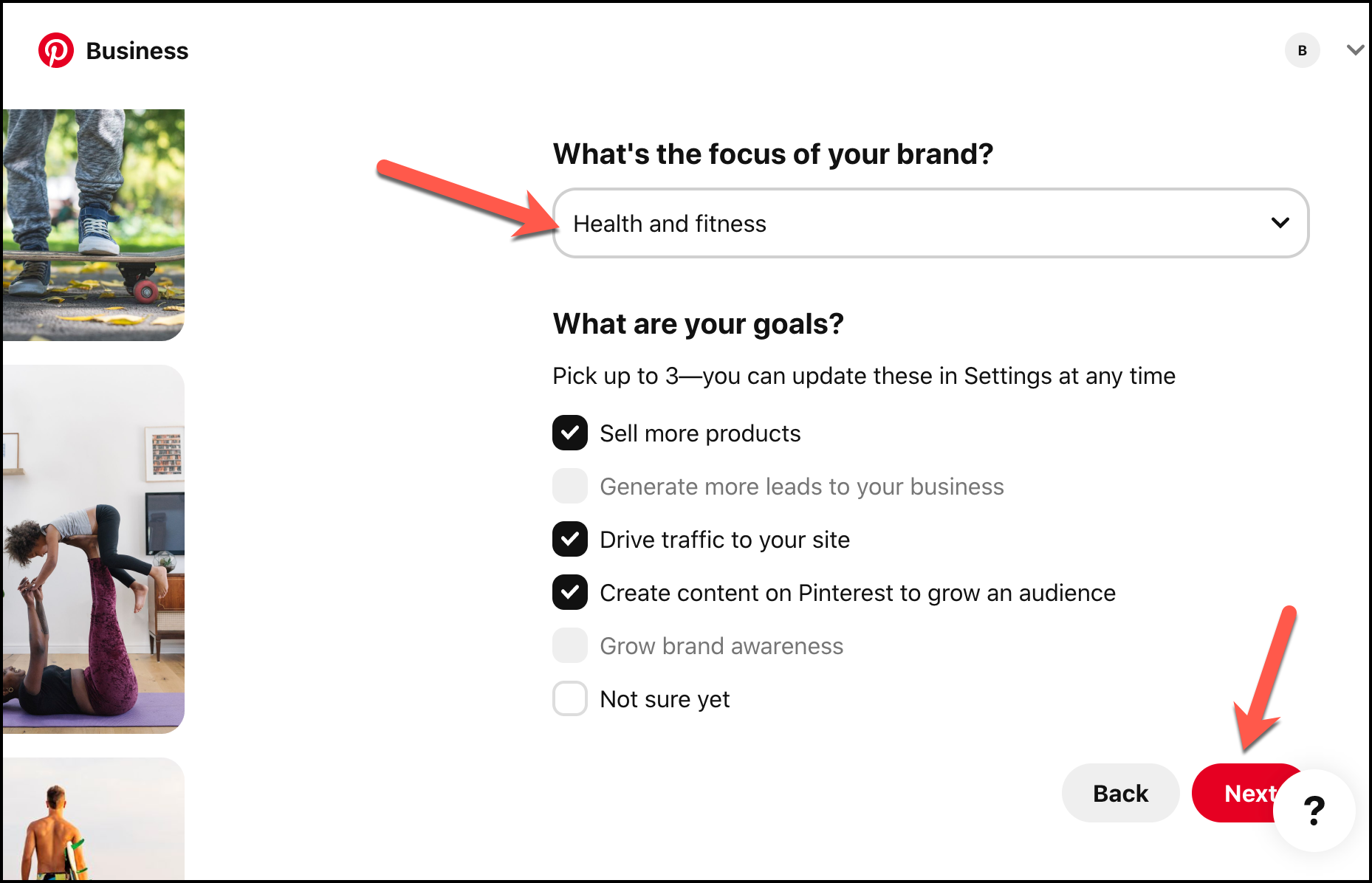 Based on your prior reason for branding, you will have to select what services go with your business profile. Click Next to proceed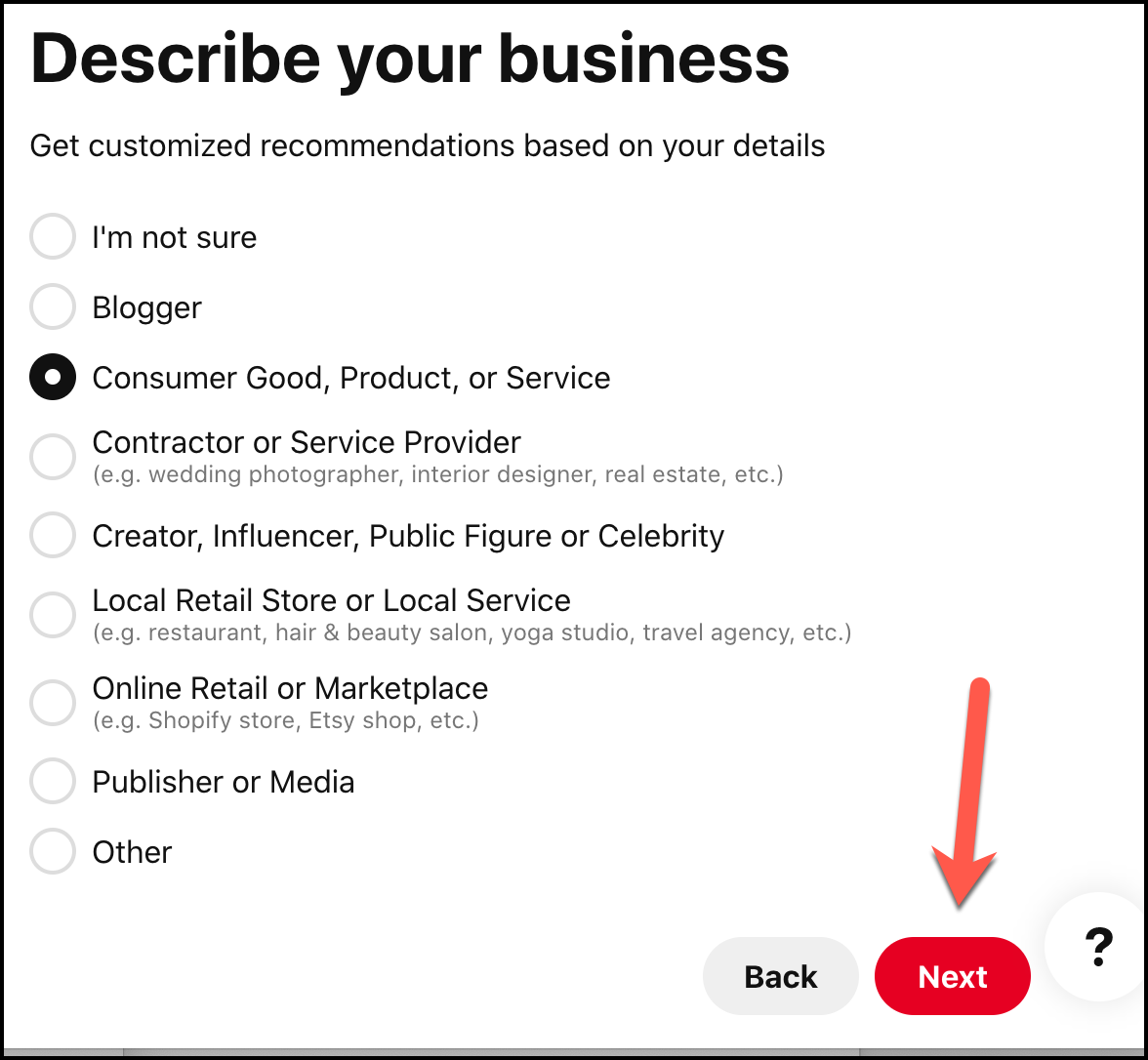 The next step will ask you whether or not you are partnering with any other third-party platforms. If yes, then select the given partnering platform, or otherwise choose Something else and click on the Next button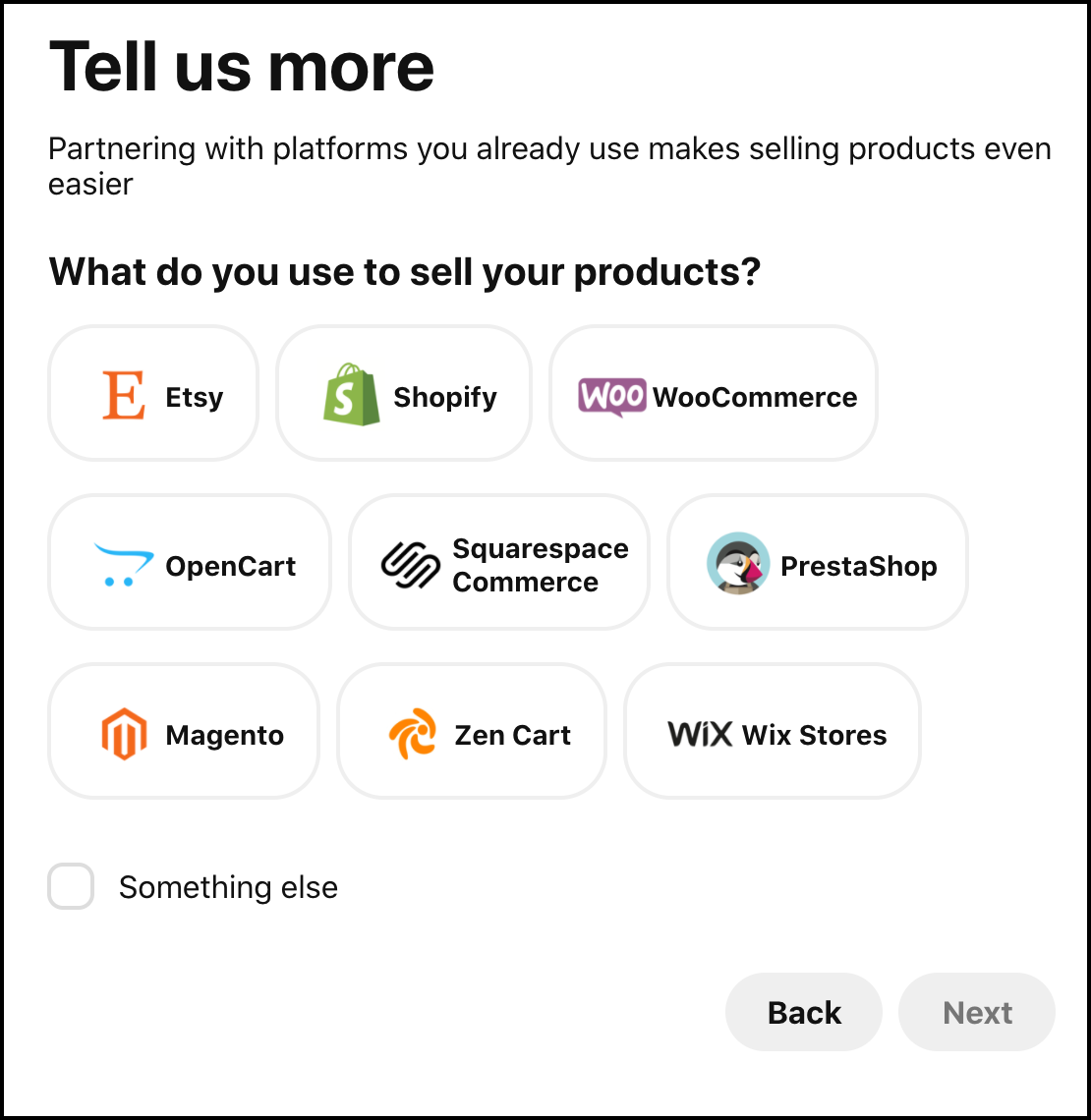 The next stage will give you an option whether or not you wish to reach out to your customers or brand your products through advertising. Select an option out of three and click Next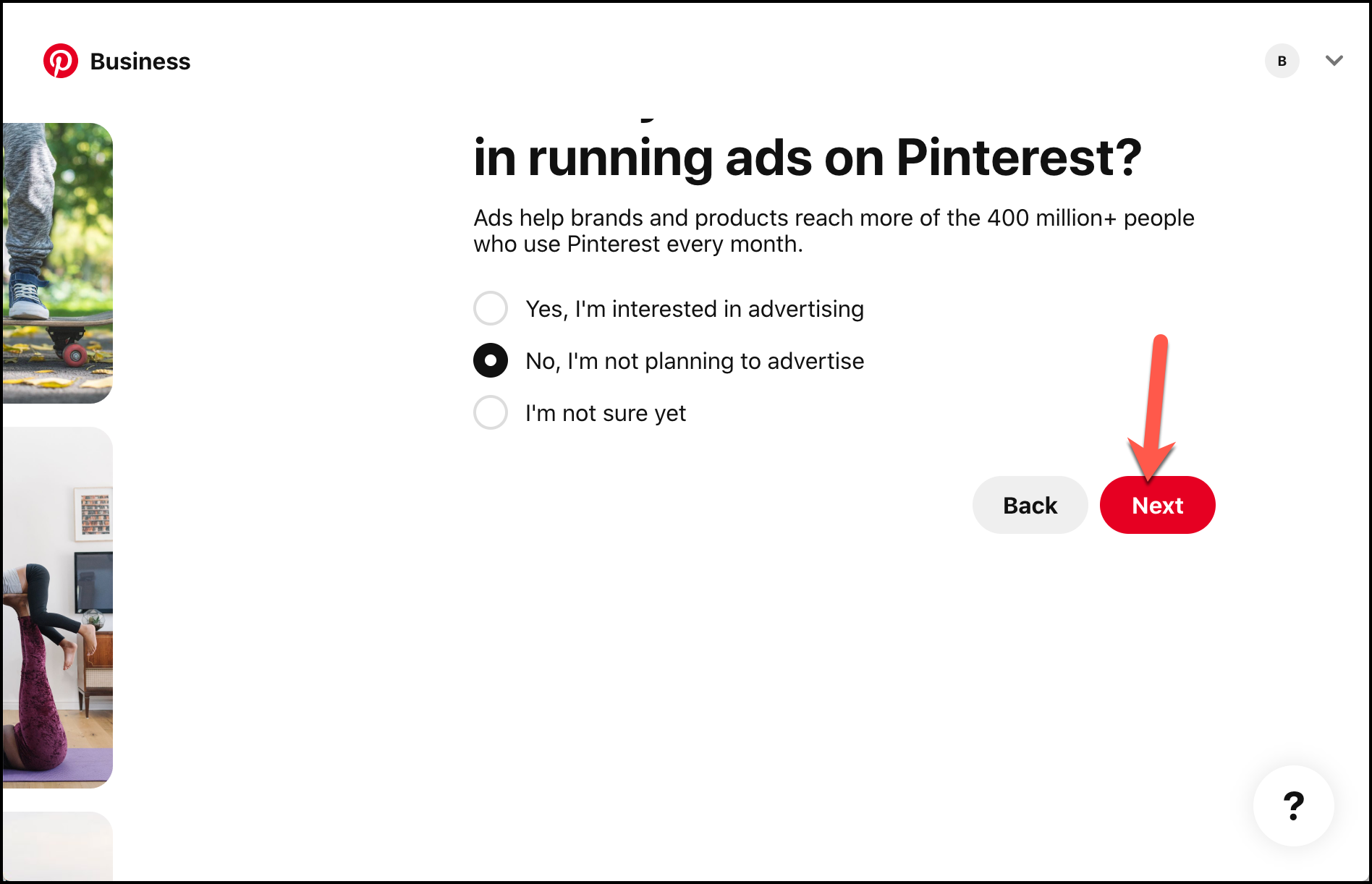 Finally, you will see the "Where would you like to start?" option. You simply click on the X sign

Finally, the homepage of your long-awaited Pinterest business account will appear as follows;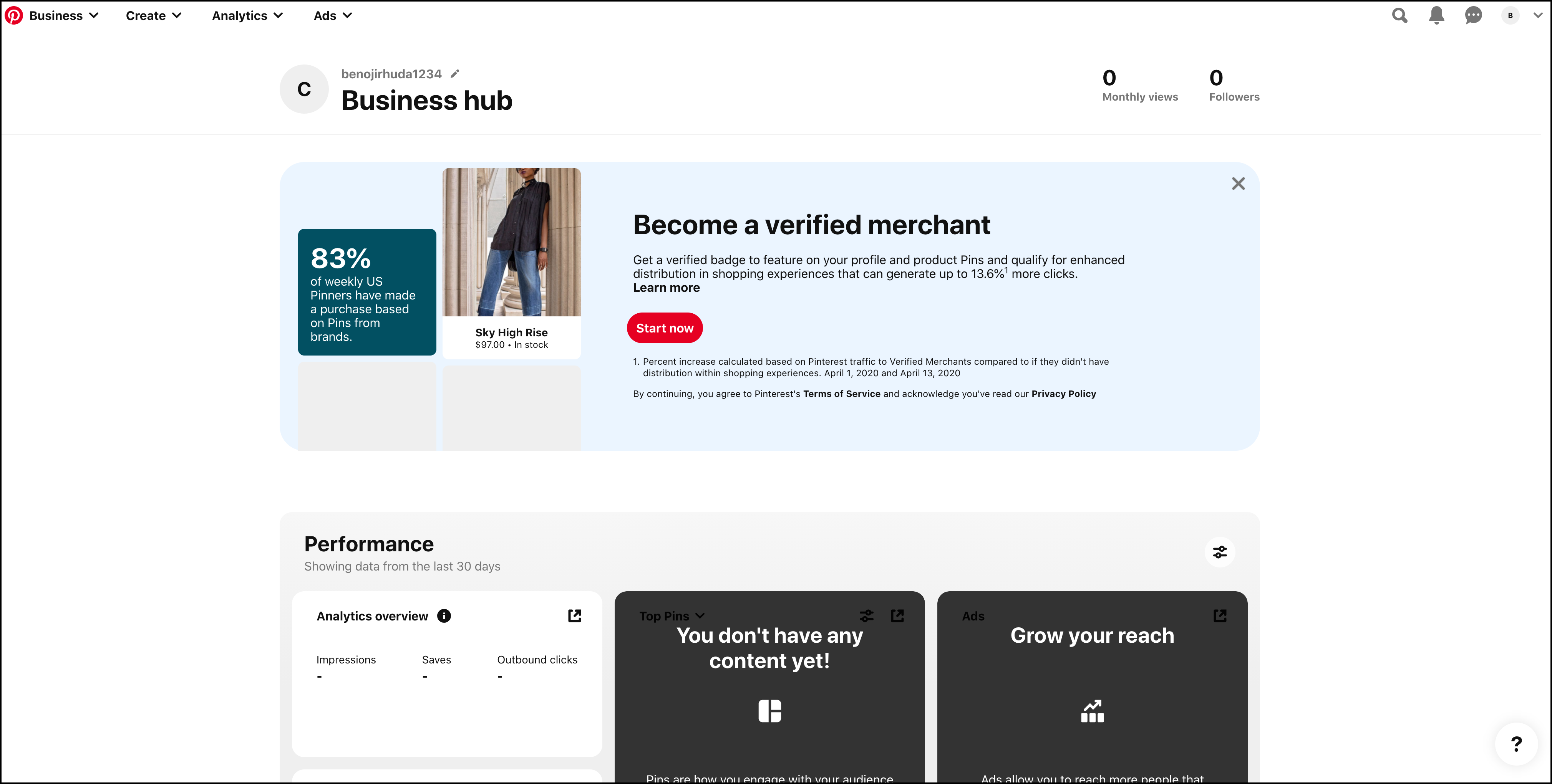 2. How Do I Claim My Website on Pinterest?
Your website needs to be authenticated before going for catalog creating completion process, as well as feed ingestion. Therefore, claiming your website is a must. The reason is straightforward – it lets you keep track of the pins you have published from your website; it also allows you to use the analytics to see the pins that others have created from your site.
It's not a surprise that people can also find your page and its contents. The pins shared from your site will contain your profile picture along with the "Follow" button. Your URL website will have next to it, guaranteeing the customers that your website is trustworthy, indeed.
There are three ways to claim a website;
Add HTML tag
Upload HTML file
Add TXT record
The most common one is the use of adding an HTML tag. You need to copy it and paste it to your website's meta to ensure Pinterest that the claimable website is genuinely yours. Let's take a look at how to claim a website for the sake of Pinterest for WooCommerce integration. The processes are as follows;
On your Pinterest home screen, navigate your mouse towards the right top on the sign to open it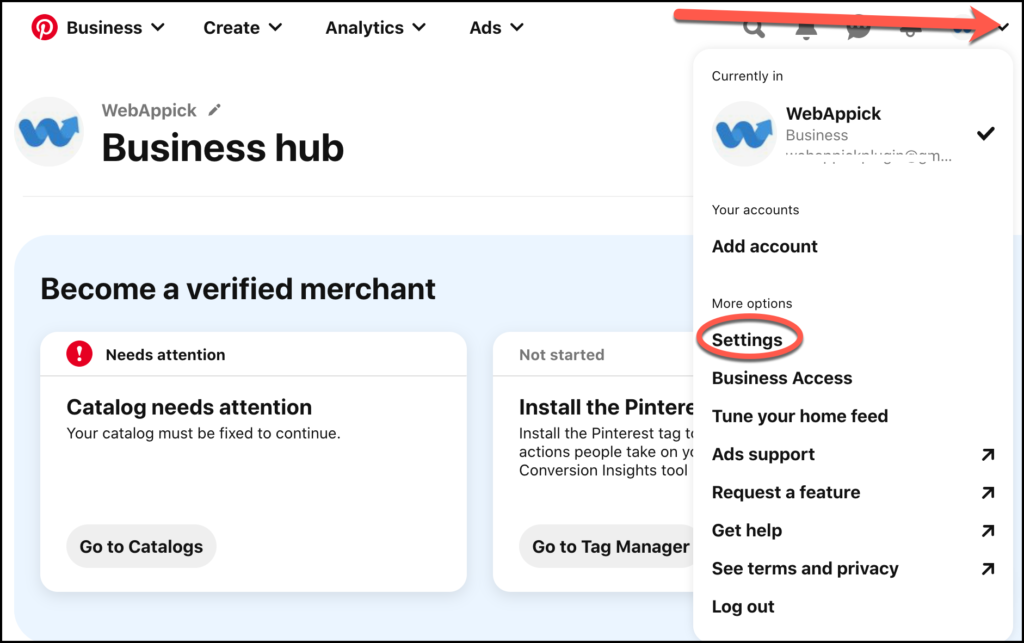 Click on the "Settings," and the next page will occur, showing you the Claim option on the left side. Click on it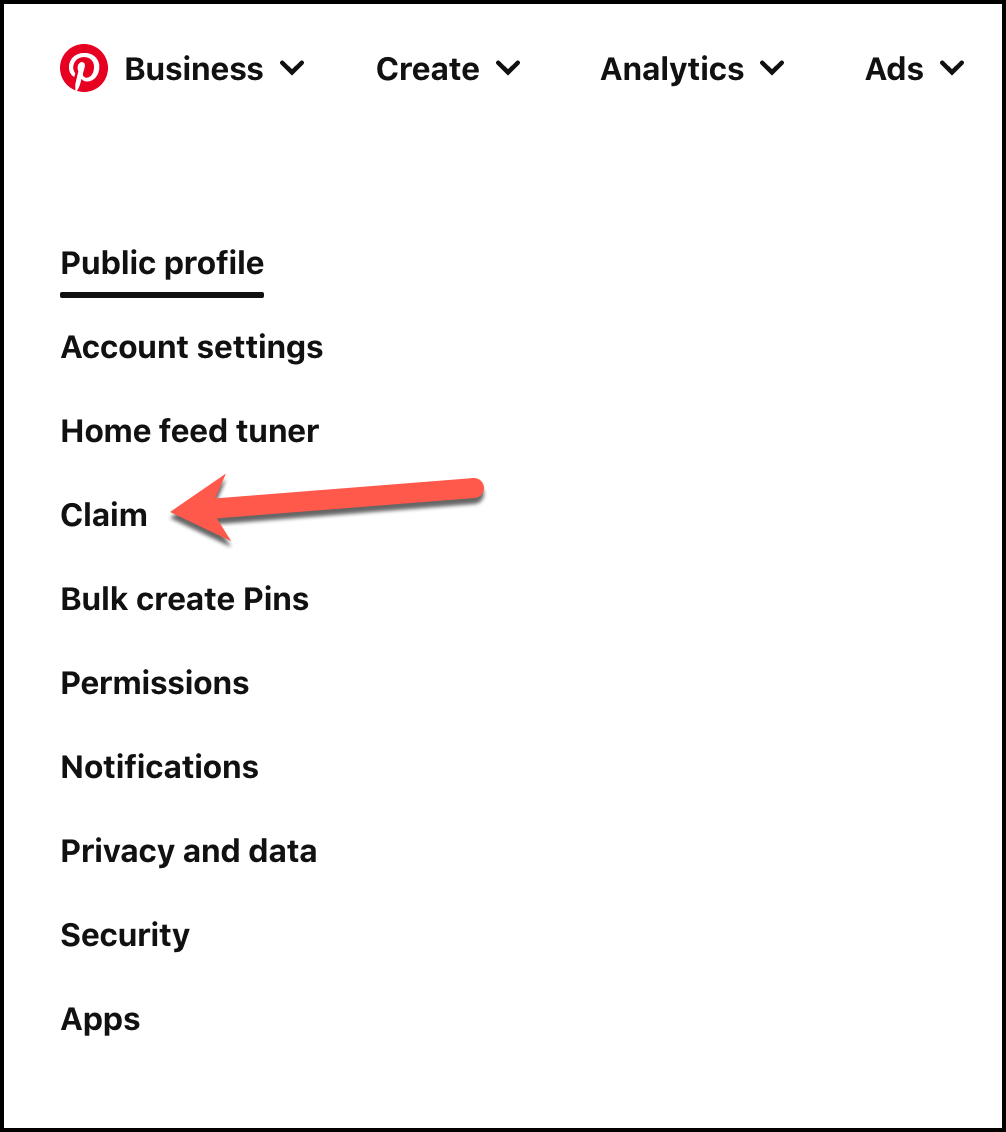 Here, you will see the Claim option next to the Website. Click on it to proceed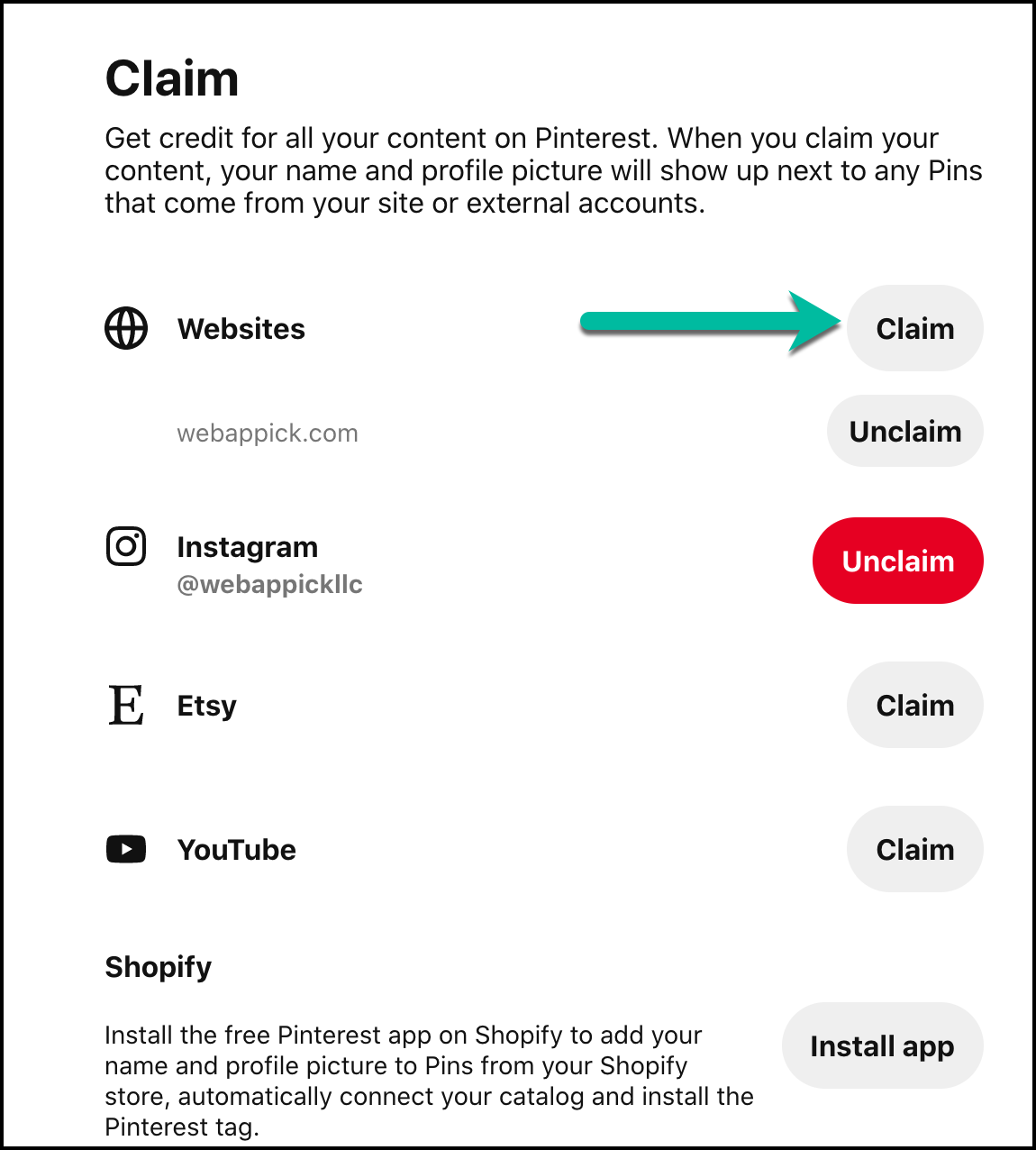 As aforementioned, you will have to select between the three options; however, the most common option is copying the HTML tag. Once you copy it, don't click on the Continue button straightway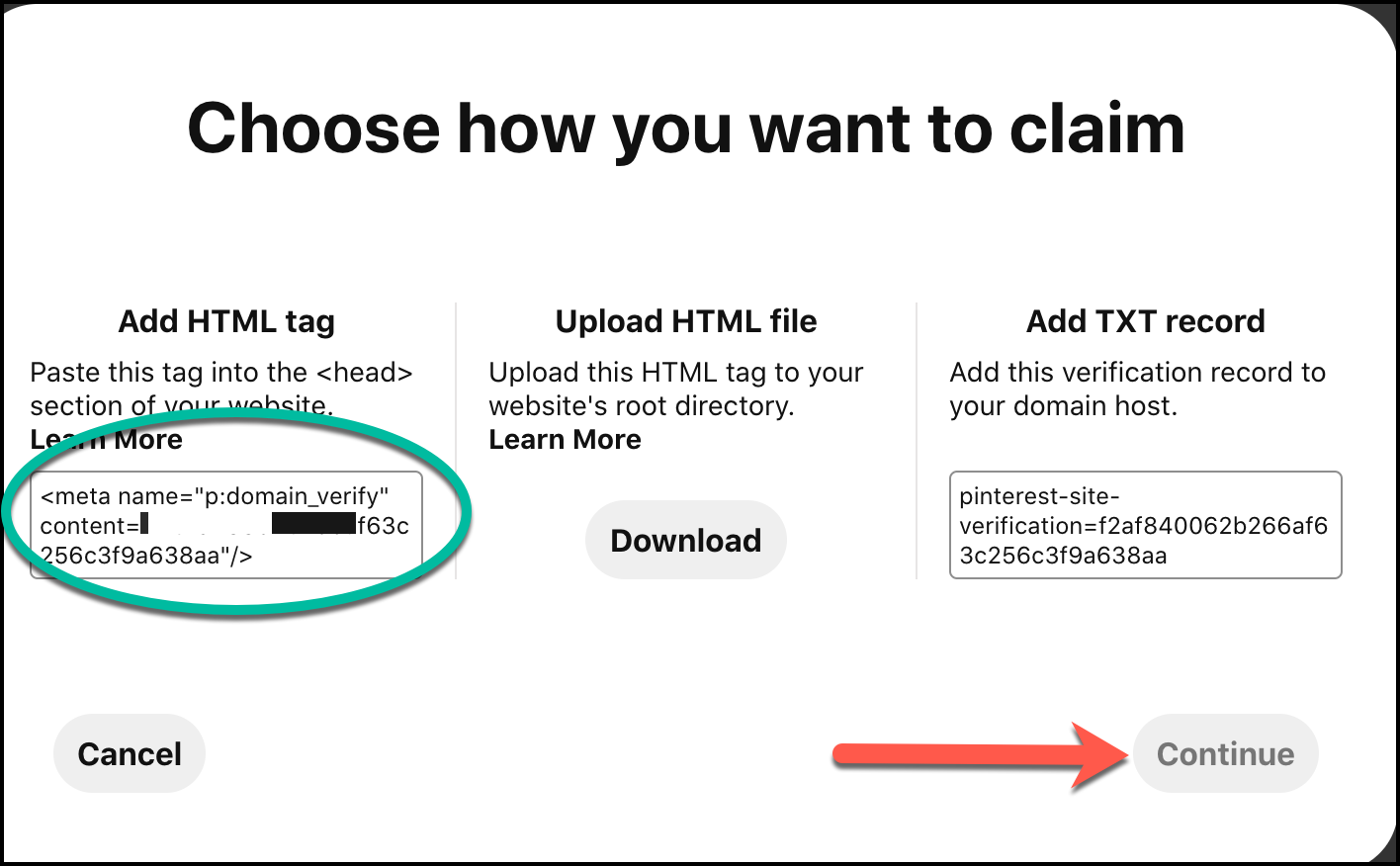 Access your website's index.html file and paste the tag in the <head> just right before <body>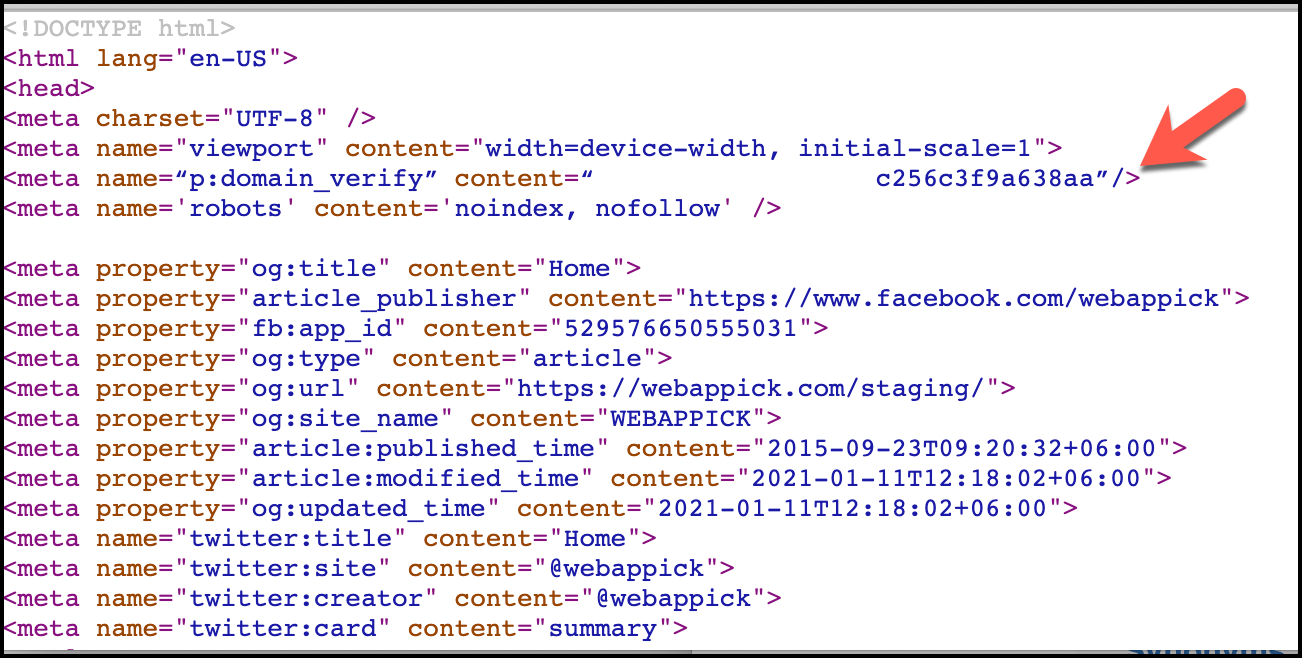 Now, let's go back to the section where you copied the tag. We told you not to click on the continue button, but now it's time to hit it, and you will be asked to enter your website's URL. Paste your website's URL and click on Verify. Remember, by doing this, you are letting Pinterest know that you are actually claiming your website. Done!!!

3. Join the Verified Merchant Program:
The verified Merchant program is so crucial that your products' pins will not be displayed without it. For a successful WooCommerce Pinterest integration, you need a viable Pinterest product feed. The WooCommerce Pinterest feed needs to contain all the required fields filled up to meet the Merchant center's eligibility.
Here comes the Verified Merchant Program – you need to add to this program. Remember, soon you connect your catalog to Pinterest; they will review your websites and products based on the Merchant Guidelines. Merchant Guidelines will tell you Pinterest's pin uploading requirements and which products you must refrain from uploading.
The reason is apparent; Pinterest raises the highest bar for its product uploading so that the shoppers can experience the most idyllic shopping when they wish to buy anything. If the catalog contains information that doesn't suit the eligibility of the guidelines, it may be suspended by Pinterest. It generally happens where encountering catalog uploads errors or malfunctioning tags. In either case, you will be given 30 days to fix it.
In case the issues are not fixed, your account will be suspended. However, once the issues are solved, they will automatically be reinstated to the program. Remember, 50% of all your products need to be ingested successfully; otherwise, neither can you upload the products nor promotion. Also, if the issues occur, which inhibits the ingestion, try to go to the Catalog sections under Ads and find out the issues and solve them one-by-one. Jobs done! Hurray.
Now, the impression is that you have to fulfill the three criteria to enroll in the Verified Merchant Program.
It is to ensure that the merchants working on uploading their Pinterest Shopping must comply with the rules, regulations, and set of codes – mandated by Pinterest – to give the customers the perfect uplift for uploading Pinterest WooCommerce product feed. Besides, Pinterest is not involved in patronizing any purchase, sales, or delivery of the products; it is, however, meant to let the customers find their desired products along with increasing buying ability.
Three things are;
Upload your Pinterest product feed catalog to make your products appear as pins
Install Pinterest Tag to utilize your ad measurement, ad campaign, and growth ROI
Hand over the Merchant review and obtain a blue checkmark while adhering to the Merchant Guidelines, including Customer service, Returns, and Acceptable products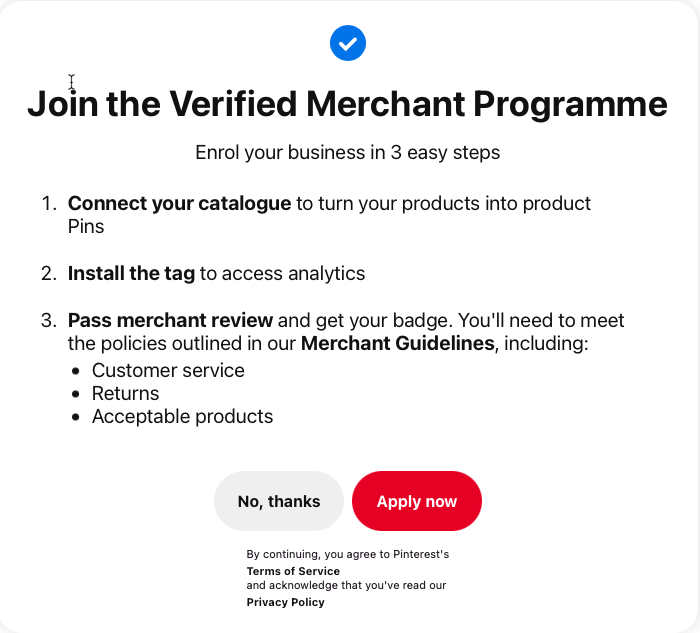 To allow successful product transformations into the pins, the following criteria must be followed by the merchants;
In the span of 24 hours, Pinterest must have the proper information, regarding pricing, and availability of the product with the help of data syncing or vast accessibility to the meta-tags (N.B. Pinterest only sync after every 24 hours. The interval time of sync can be set and scheduled but not anytime within hours after the first upload)
The image and description should accurately reflect upon your product
The pin should contain the image and information of the saleable product, other than the service
Return policy should clearly be highlighted whether or not the website accepts the return policy, including the return length and processing time along with the contact detail
Merchants should have top-quality websites and product pages in possession; otherwise, the websites can be discarded owing to poor or muzzy images, or grammatical or conspicuous spelling mistakes, etc
Contents that are not out of date and the products that are no longer available.
The following products are going to be clamped down for not following the product eligibility criteria. Hence, it will not qualify as the WooCommerce Pinterest feed. They are as follows;
Erotic products
Extinct animals and animate being products
Drug and drug-related items
Healthcare products, including medical equipment, OTC medicines, Prescription-only medicines, homeopathic medicines for weight loss, etc.
Tobacco, especially nicotine-based items
Weaponry and explosive products
These are the lists but not limited to – you better be visiting Merchant Guidelines to check out more prohibited items and requirements for enrolment for a successful WooCommerce Pinterest product feed generation. Don't forget to join the Verified Merchant Program.
How Does WooCommerce Integrate with Pinterest?
It's been a long time since we last talked about the plugin. We know it took us a tremendous amount of time to reveal the special name of the WooCommerce Pinterest feed plugin. But if we hadn't told you all of these, trust us; you would be struggling to find the answer to all of the above points.
You would have to scroll through many websites where the information is hidden and quite scattered, though. Therefore, we have curated all the answers in one place with our ample expertise and knowledge on this Pinterest product feed.
If you want to showcase your Pins to the customers for selling, especially to make a significant profit out of it through your WooCommerce Pinterest integration, you will get it hectic.
That's why you must need a plugin to solve at least a shitload of constant uploading of your products. That's why you are brought here to get acquainted with one of the best contemporary plugins called CTX Feed (Free). The premium version is also known as CTX Feed Pro, for which you gotta pay.
CTX Feed Plugin
CTX Feed currently has more than 40,000 active installations with nearly 2M downloads worldwide. Most of our clients are large e-commerce retailers, vendors, stakeholders of various large corporations that do online selling or share online business platforms.
Does this number come randomly, or were those people gullible enough to be fooled by us? Never. We are not claiming that we are the best, but after using our plugin, you will certainly say that we are one of the best, if not more so. Our plugin is the outcome of years of hard work.

Our group of experts ensures that your Pin feed generation of Pinterest for WooCommerce happens swiftly and without any hassle ranging from bulk uploading to individual product uploading. You can turn your back on the minor activities like uploading and scheduling interval and instead focus on other managerial activities.
The title, description to image, and URL are all taken care of by this spectacular plugin. Let alone the pro one; you will get a lot of amazing features even in the free version to take care of some of the smaller feeds.
However, the pro version will unfold all the mysterious characteristics of the plugin to make your Pinterest feed generation absolutely perfect. You can modify, elongate the title with more catchy words, attach the image – perfectly fit for Pinterest, etc.
In the feed file, you can use the Filter option to add those products, which are up-to-date in terms of stock availability and price. The cron setup ensures that the product uploading happens at the right time, provided that the interval can be set after 24 hours.
Benefits of CTX Feed:
A secure association between WooCommerce platform and Pinterest
Bulk uploading of the pins
Embedding the direct URL link of the product within the website for individual pin
Scheduled Pinning using Cron setup
Automatically generate the details, such as Title, Description, Price, availability, image, etc., for a better finding of the pins
Alteration of the title, description to increase the visibility
Filter option (Pro) includes or excludes the products or pins based on if they lack images, have no price, or are out of stock or backorder products.
For instance, you can also manipulate the numbering format, such as decimal separator, thousand separators, and the number of decimals.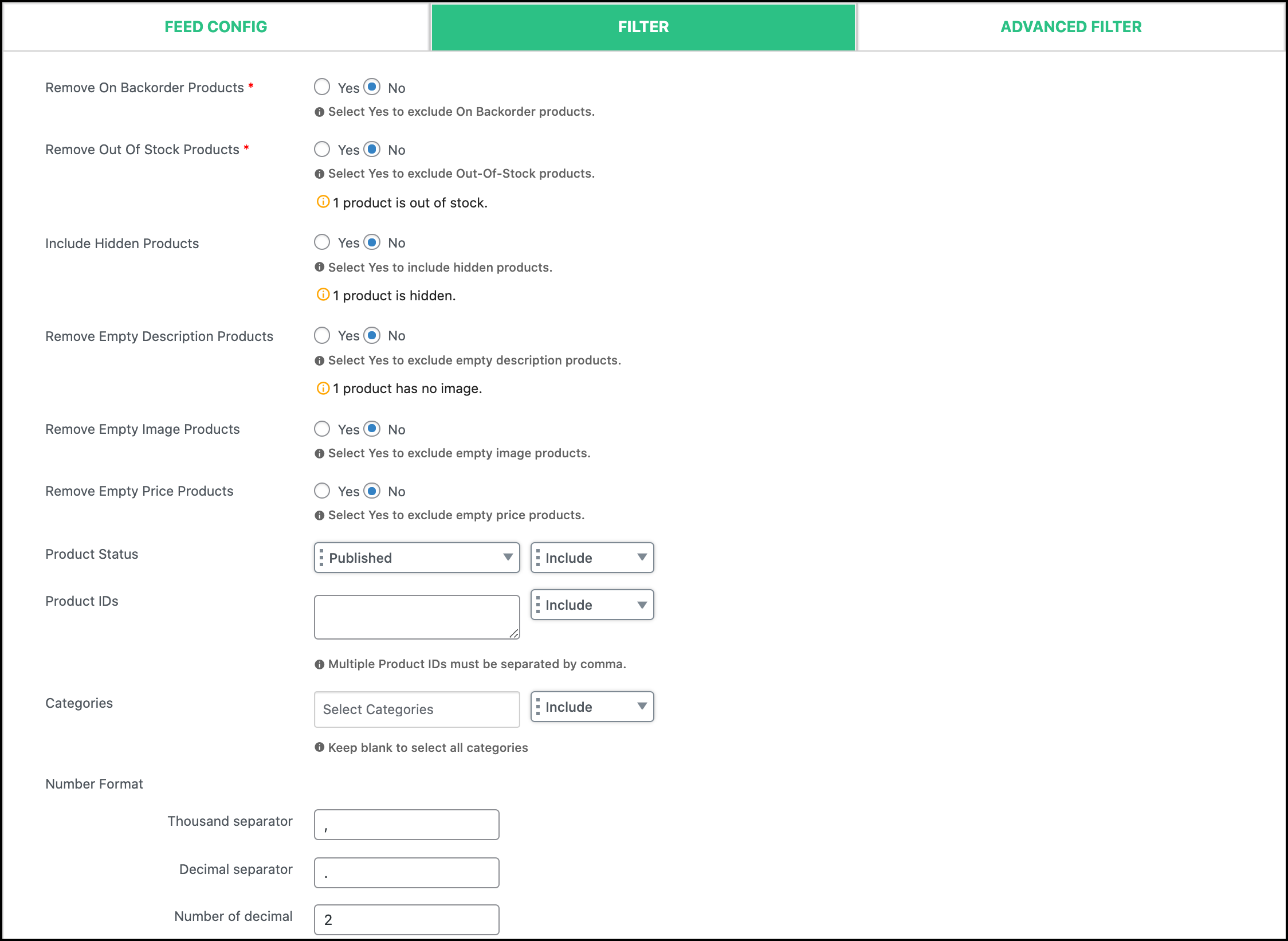 Showing the original price and discounted price
Multi-language and multi-currency features (pro) allow different foreign users to find their useful pins with their local currencies to avail various ideas
For example, our plugin supports multi-language plugins like WPML, Polylang, TranslatePress. Also, multi-currency plugins, such as Aelia, Currency Switcher, WPML, WOOCS, are also supported by the CTX Feed Pro.

Use the Advanced Filter (Pro) to use attributes like title, Id, description, category, price, and height to apply conditions on them
For example, the following conditions set in the image below indicate that the WooCommerce Pinterest feed should have those products which prices are $40 and along with either clothing category products or the products which are above 40 in quantities.

Category mapping allows you to fit your products in the correct categories. Hence, your pins get more clicks and more bookmarks
Dynamic attributes (Pro) help you set the conditions for your selected attributes.
For example, if the product is a V-neck t-shirt, all your product will be set to Summer, whereas the Polo shirt will be categorized as Winter. If none of the products fall into it, it will turn into non-seasonal.

Attribute Mapping – one of the most unique features of the pro – helps you bring your attributes to the limelight by making them more reading-friendly, searchable, catchy, and elaborated. The purpose of it is to draw the pinners' attentions
For example, we wanted to change the ordinary title to something eye-opening and enticing in our example. That's why we changed the title of our products to these 6 attributes mentioned in the image. The reason is to keep the pinners retained on the page and lure them into bookmarking or purchasing the pins.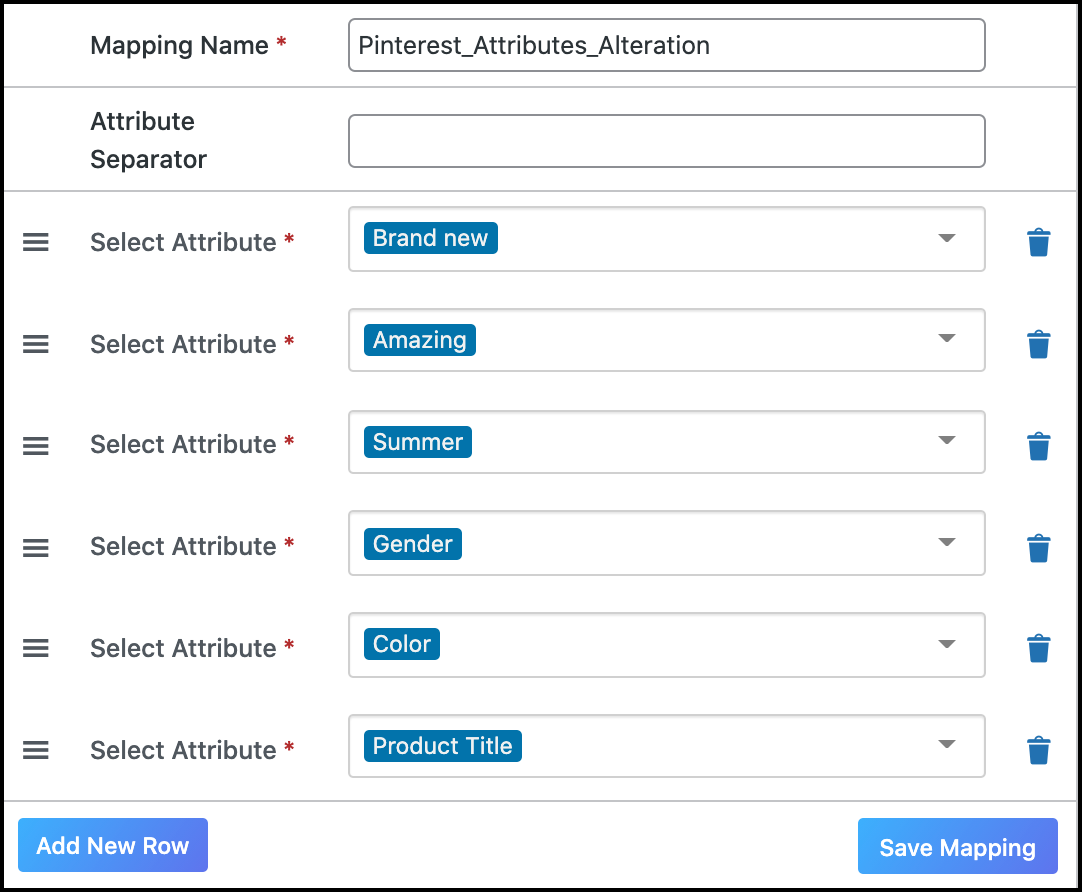 The Cron setup of the free CTX Feed version offers you to update your product feed after every 1 hour, 6 hours, 12 hours, 24 hours, and 1 week. Upgrading to the CTX Pro will provide you with three more intervals, such as 5, 15, and 30 minutes. However, for Pinterest, you don't have to update your feed after every few minutes or hours as Pinterest generally takes updates once in 24 hours.
All of these atypical and typical features of our most modern CTX Feed for WooCommerce Pinterest integration surely prove that there is no alternative but relying heavily on the WooCommerce Pinterest Feed Plugin to spark unprecedented ideas and creative thoughts.
Let's take you to the core points of this article, which is how to add catalogs for Pinterest for the WooCommerce shopping journey.
How Do I Add WooComemrce Pinterest Product Feed to Pinterest?
Data ingestion failure can be daunting and amiss, especially if you have thousands of pins to publish. However, the disruptive ingestion may delay the process. To merge both WooCommerce and Pinterest, you should focus on seven mandatory fields of Pinterest for WooCommerce integration. Missing anyone out of seven fields will lead to unsuccessful data ingestion. The seven required attributes are –
Id
Title
Description
Link
Image_link
Price
Availability
You will be smitten with our CTX Feed plugin for rolling out these 7 essentials, or should I say, all the required fields that you need to generate a successful Pinterest product feed. We may also add that you will get other additional attributes to funnel the pinners' searches even more precisely.
Therefore, anyone searching any specific pins will be navigated to your pins as they may cover most of the information that a Pinner should know before extracting the ideas.
However, it's not only confined to filling the required and optional attributes; it is something more. Pinterest has outlined the guideline on how you have to fill the fields to match the Pinterest feed generation process. Anything other than that will not be granted.
If you are manually entering the information for the fields, you are more likely to make mistakes, which, in turn, will cease the successful feed generation rate. Besides, for each field, Pinterest has mentioned how the description has to be written, how to syntax the value, and what their preferred examples are.
It is not so easy, especially if you own a large Pinterest shopping database. Hence, you need a WooCommerce Pinterest product Feed Plugin to execute the entire feed process generation in just a blink of an eye. Is it possible? Yes, with the help of both CTX Feed and CTX Feed Pro, anything related to feed creation is feasible. Shall we look at how to use the CTX Feed plugin?
Feed Creation Process of Pinterest for WooCommerce:
Go to Plugins of your WordPress, and under Add New section, type CTX Feed. You have to download followed by activating this Woocommerce Pinterest product feed plugin. Remember, this is the free plugin. Therefore, altering or customizing the feed generation process is limited, but this notable WooCommerce Pinterest plugin suffices to get your feed uploaded to Pinterest successfully. Once it is activated, follow the following processes step-by-step;
On your WordPress Dashboard, go to CTX Feed > Make Feed. Select your online Pinterest shopping's country. Select your template, which is Pinterest Catalog. Keep your file type as XML as this is the desired type between the application-to-application feed generation process

Once you select Pinterest Catalog as your template, attributes for the WooCommerce Pinterest feed will appear, including the seven required attributes under the FEED CONFIG section underneath. Here you can use the additional attributes if you want or remove them. You then need to use Prefix, type, the relevant value corresponding to your attributes, Suffix, and Output Type.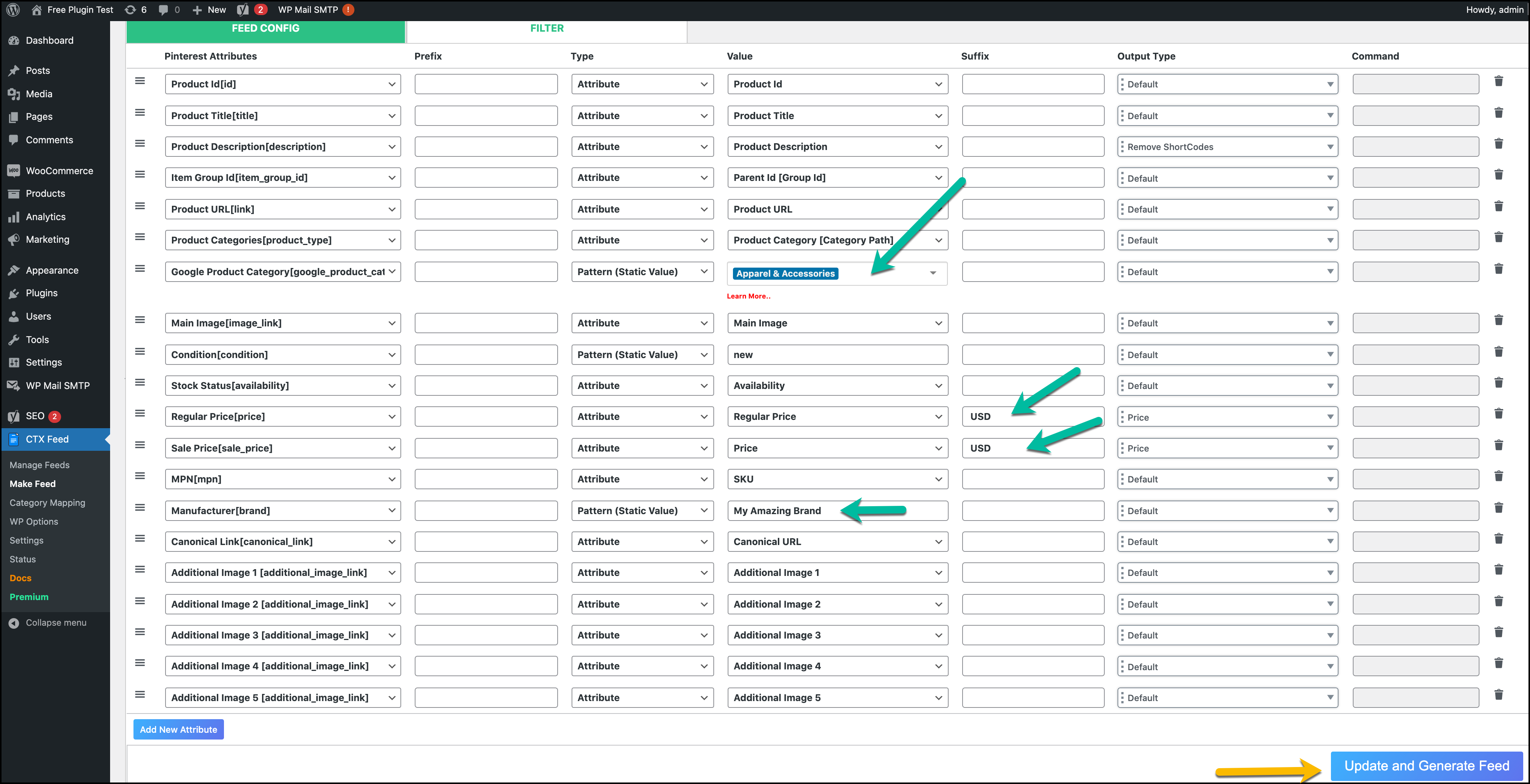 Choose the category from the selected drop-down menu. For example, we have added Apparel & Accessories for our products as it goes perfectly with our products or pins.
You can choose Pattern type, which will take the same value for all of your products, or Attribute type that will determine individual values for individual products. Click on the Update and Generate Feed button to create the feed.
It may take a while, depending on the size of your feed. If you don't know what they are and how you can use them, check out the following documentation: How to Make a WooCommerce Product Feed? This will tell you all the things you need to know regarding this noble CTX Woocommerce Pinterest product feed plugin.
Once the feed is processed, go to CTX Feed > Manage Feeds, where all of your saved feeds are listed, including the one you have just produced. Here, you can set the interval as mentioned above in the CTX Feed benefit section. You can also view the feed file, regenerate the file, download it and lastly, export the feed config. Click on the URL link, as it will automatically copy your link.
So far, easy peasy!!! You have finally created the feed file. Now, it's time to head toward integrating your WooCommerce Pinterest product feed into Pinterest Shopping.
Catalogue Upload for Pinterest for WooCommerce: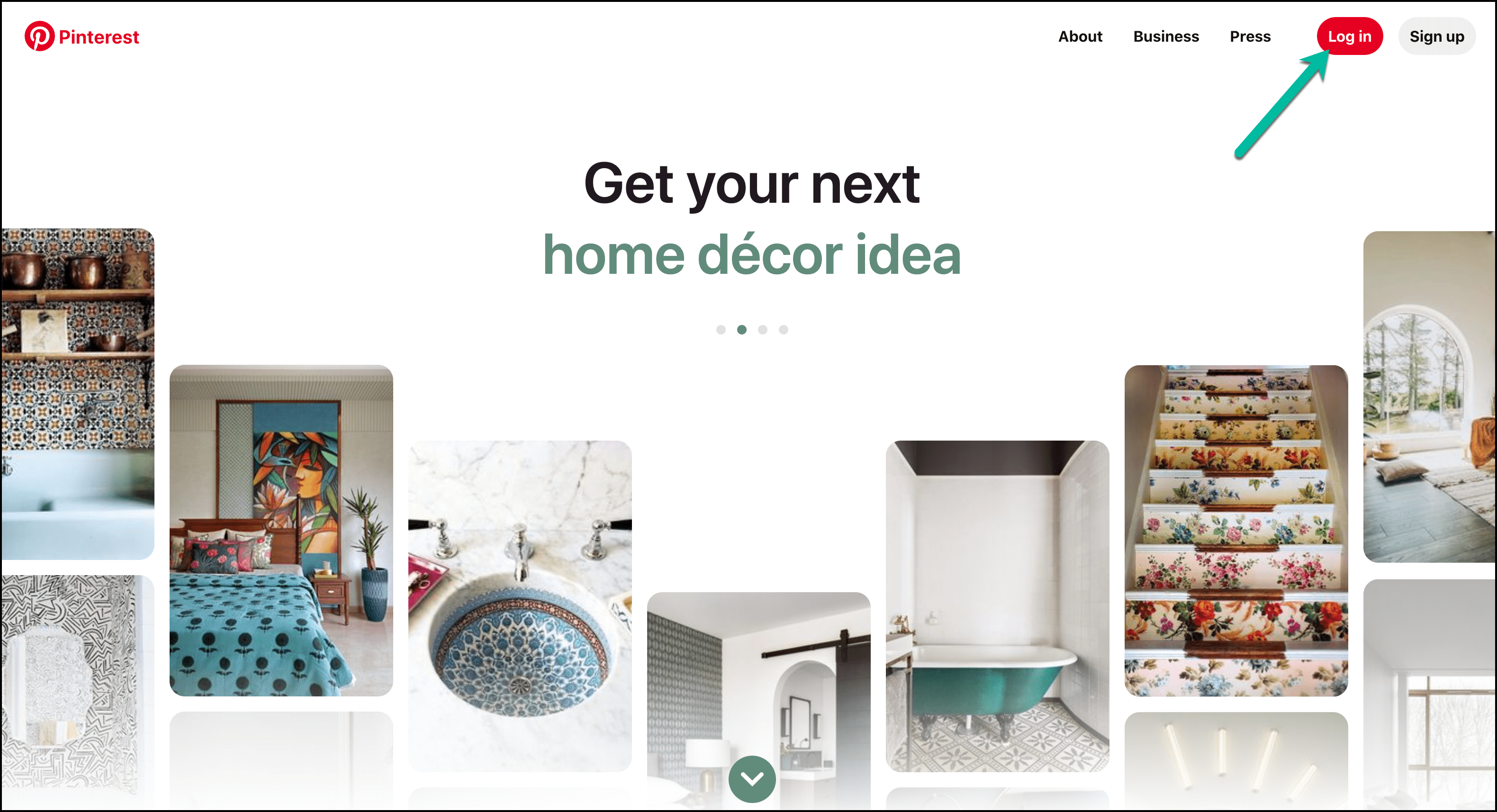 Provide your email Id and password. However, if you wish to directly login to Pinterest using your Gmail or Facebook credentials, you can click on them individually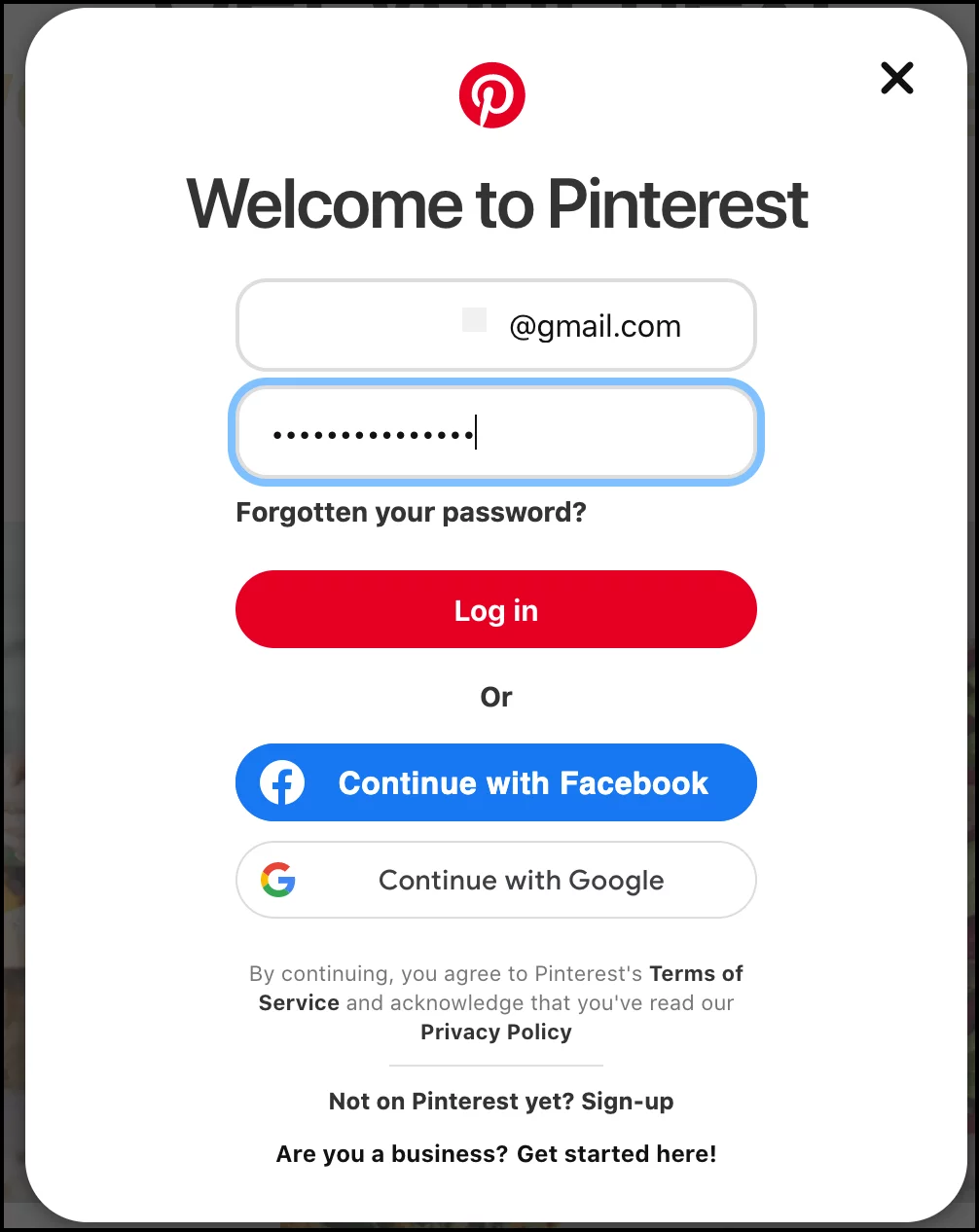 You will have two options; one is the home feed, and another is the Business hub. Click on the Business hub, and you will see the following home screen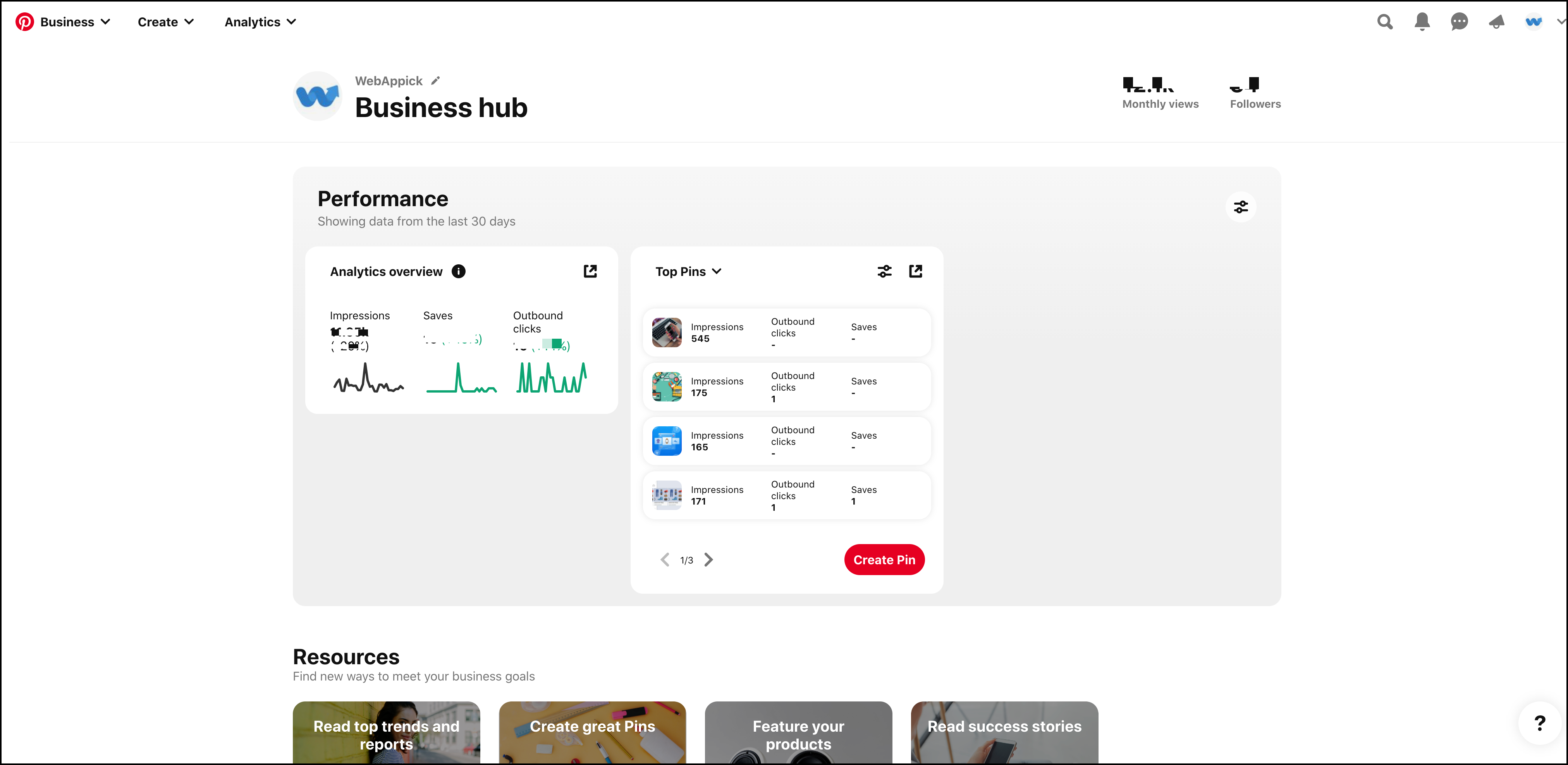 Look at the top-left of the page, and you will see no Ads option. The recent Pinterest interface doesn't show Catalog options straightway for some of the countries. We will mention the countries' name that shows the Ads. But for the time being, if you manage to get the Catalog option anywhere, and if you click it, you will see a message like the following;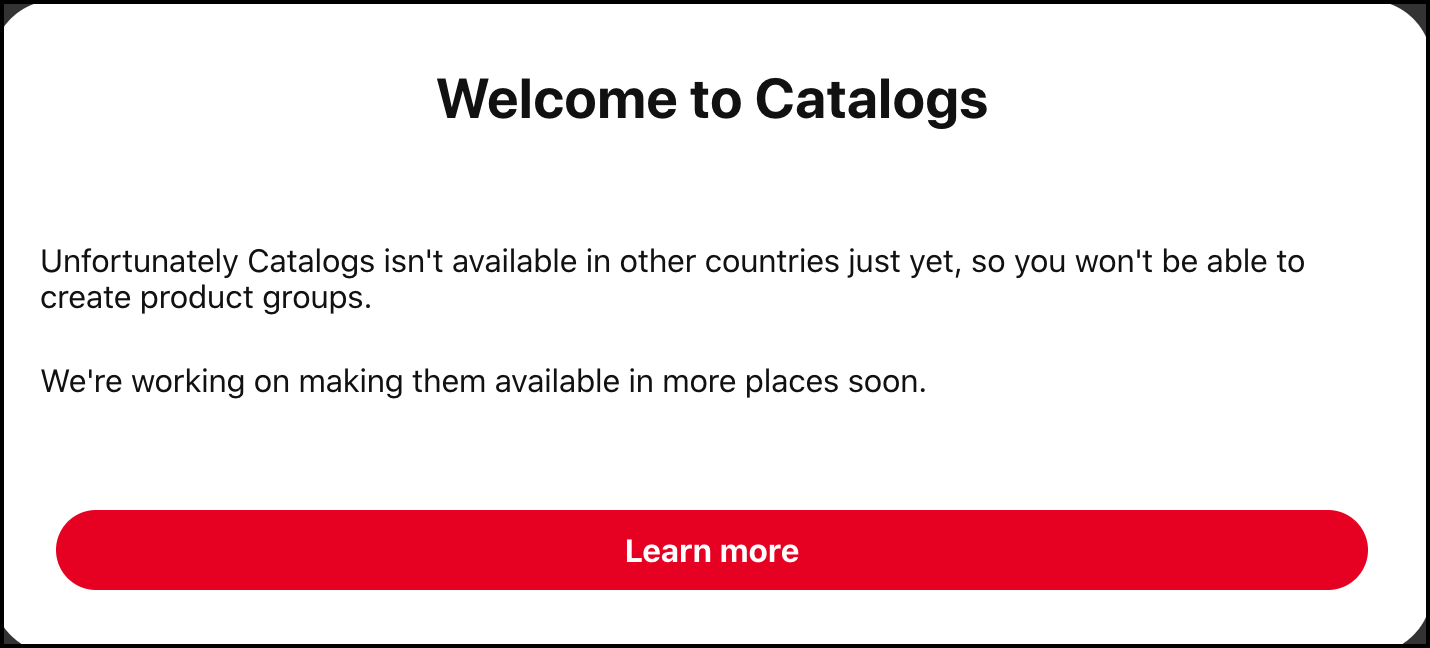 Therefore, our primary aim is to unveil the Ads option. To do this, hover your mouse straight on the top right to click on and select Settings
Now click on the Account settings option and scroll down to Country/Region. Here, you will select the countries allowed to see the Ads option (we will mention the eligible countries in a bit). Change your language and contact name. After filling in all the essential information, click on Save.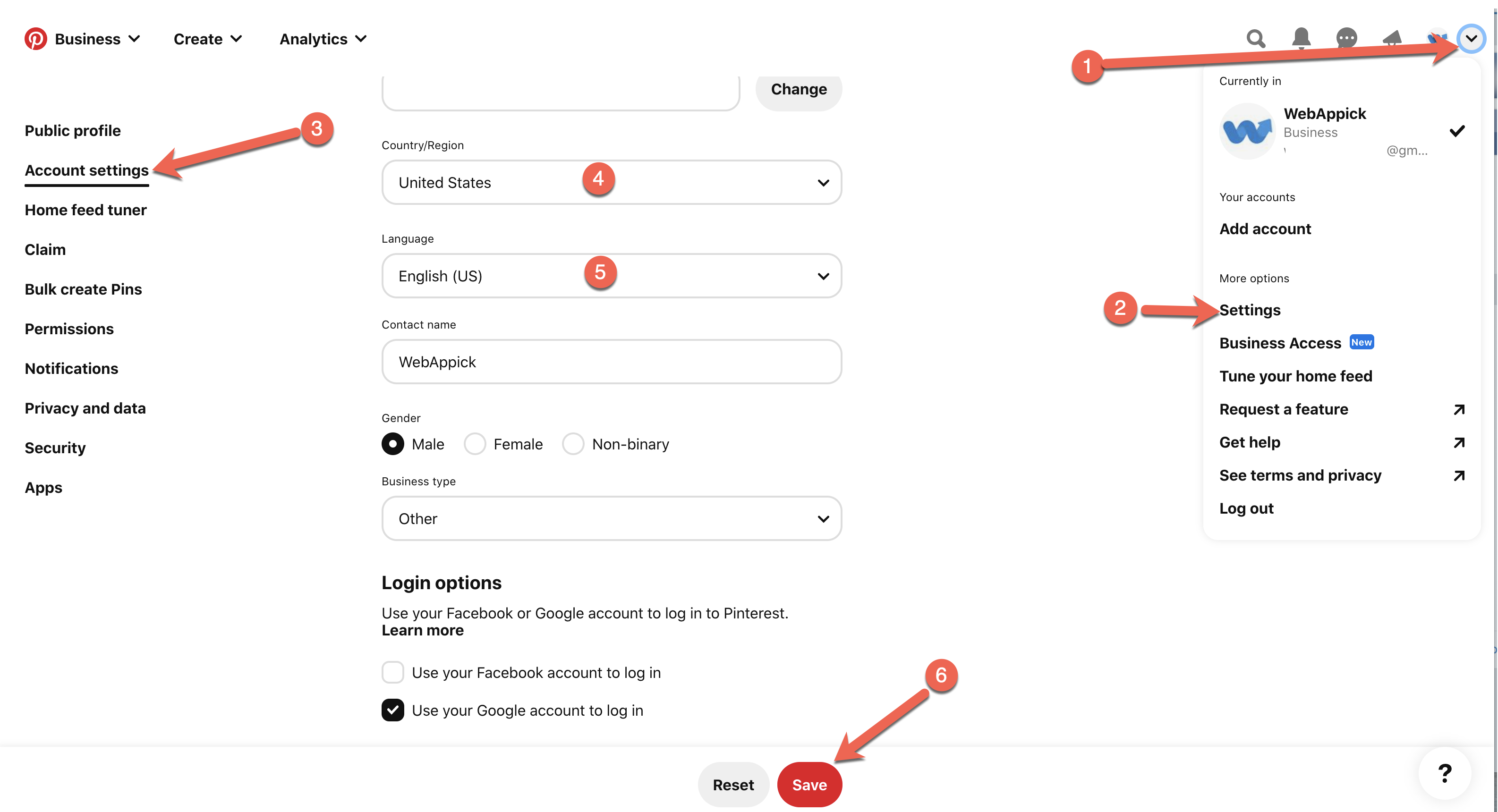 Now, if you go back to your Business hub menu, you will discover the Ads option right next to Analytics. Click on it to select Create ad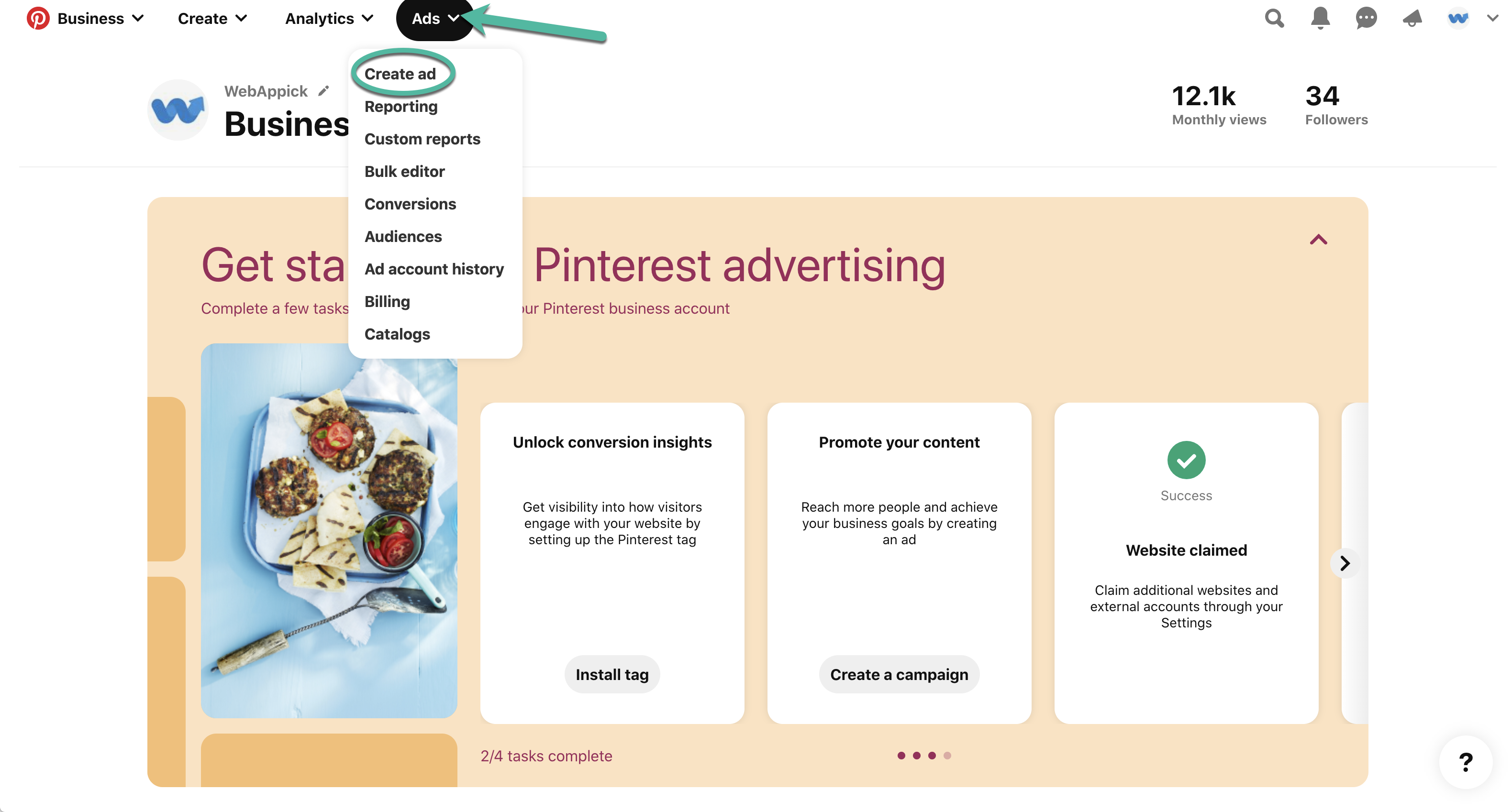 On this Create campaign page, you have a list of options to choose from; However, select Catalog sales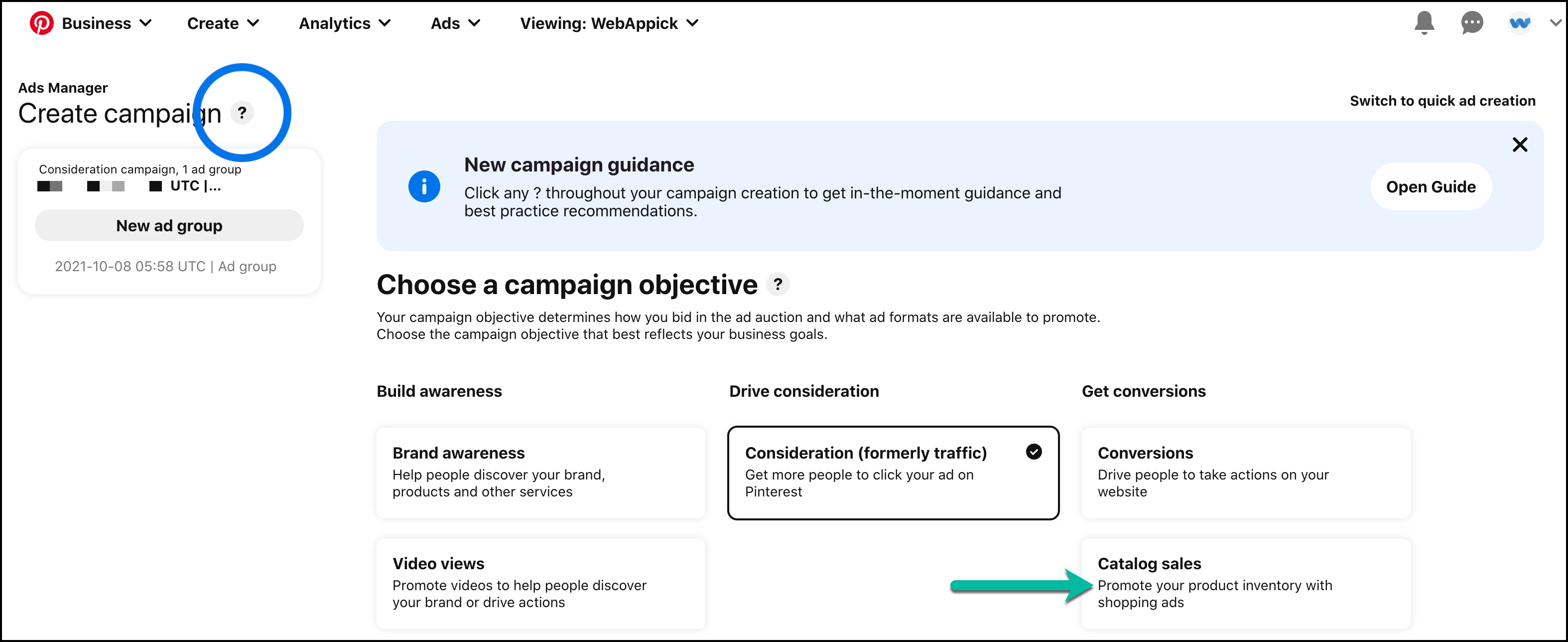 You will receive a message giving you two options; one for a new user to acknowledge what the catalog does, whereas another option allows you to view catalogs. You must go with the View Catalogs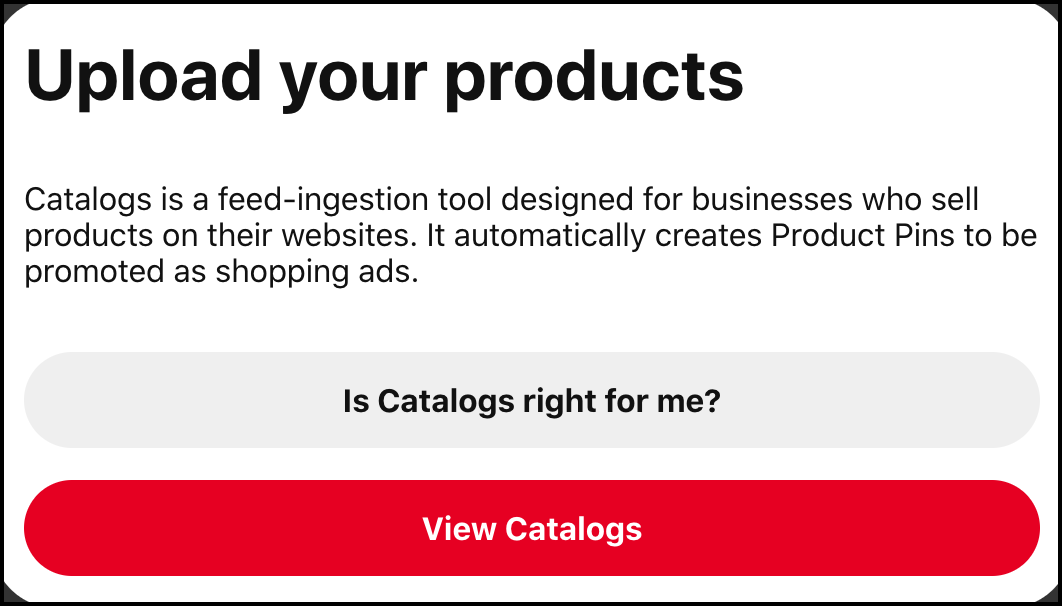 As soon you click the View Catalogs, you will see a page containing all the previously created catalogs if there are any. To generate Pinterest for WooCommerce feed, you will click on Add new data source

In the new data source page, you must fill all the fields, including the feed file name, the feed file format, country where your shop is based, currency, language, time zone, and most importantly, product feed URL (the one you copied from the Manage Feeds section of CTX Feed). Click on Create Pins to upload the catalog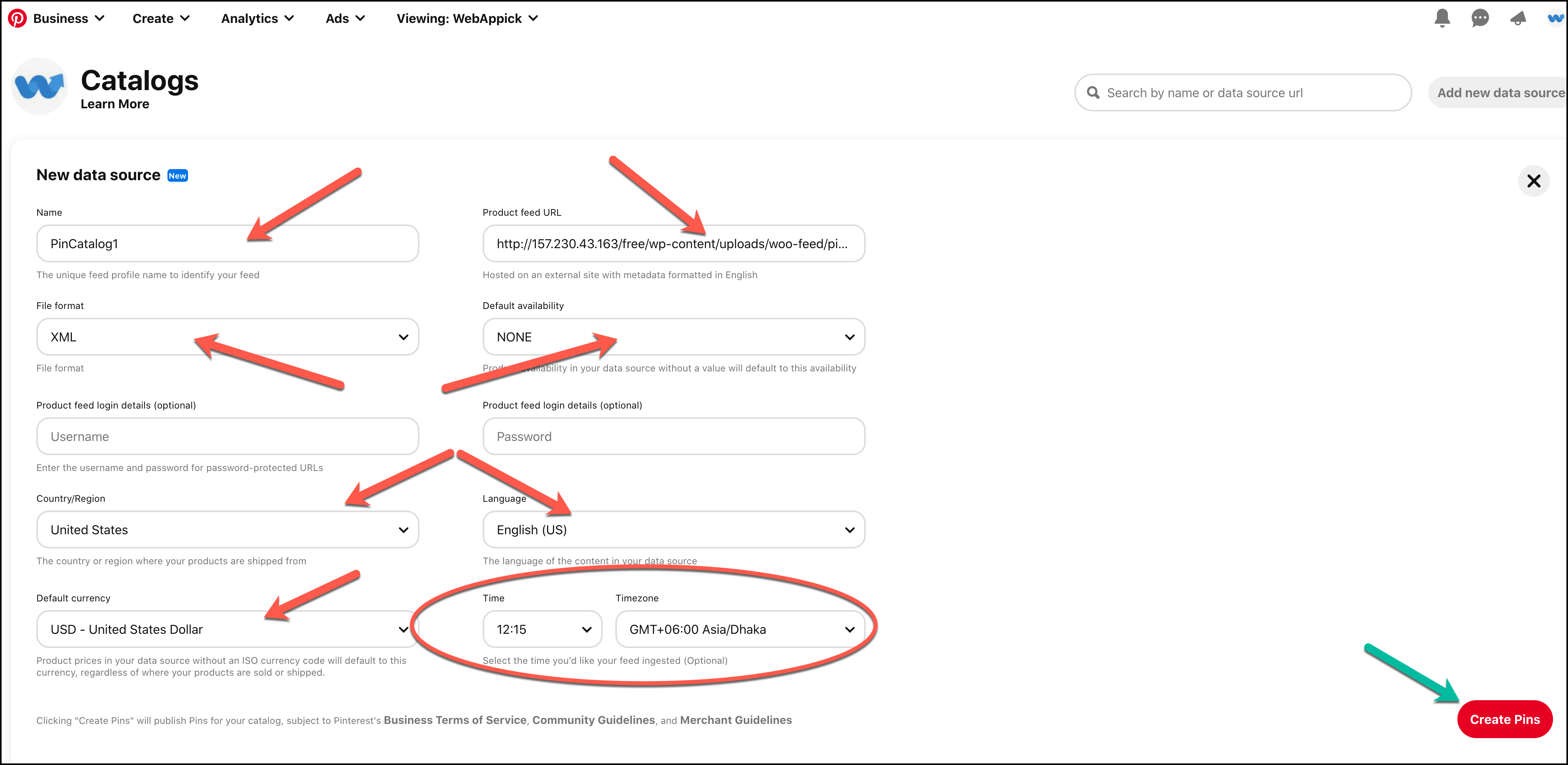 You will receive a verification message stating that the verification will take 24 hours to complete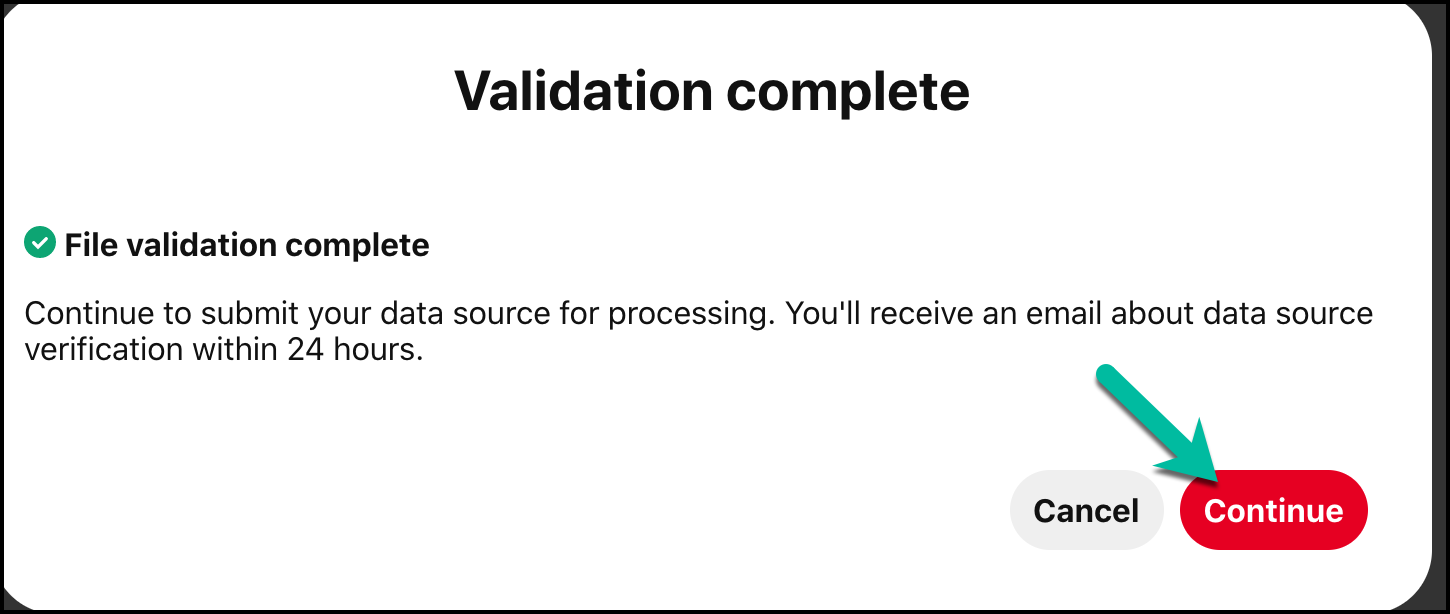 Now, you will see your newly created catalog is in processing mode. It means it is still working on your Pinterest product feed generation

Refresh the page, and you will see the status has changed from Processing to Pending

After some time, if you refresh the page again, you will see its status finally switched to Inactive mode – means the feed is finally uploaded

Click on the to see whether the feed ingestion is successful or not. Having clicked, we can see that the ingestion is unsuccessful or Failed, as mentioned under the Report status

If you want to see where your issues are and how they need to be solved, click View Issues. You will see the item numbers, the description of the issues, and their solve method. Follow the instruction, and sort each of the issues out. Once all the issues are solved, you will regenerate your feed file back in the CTX Feed.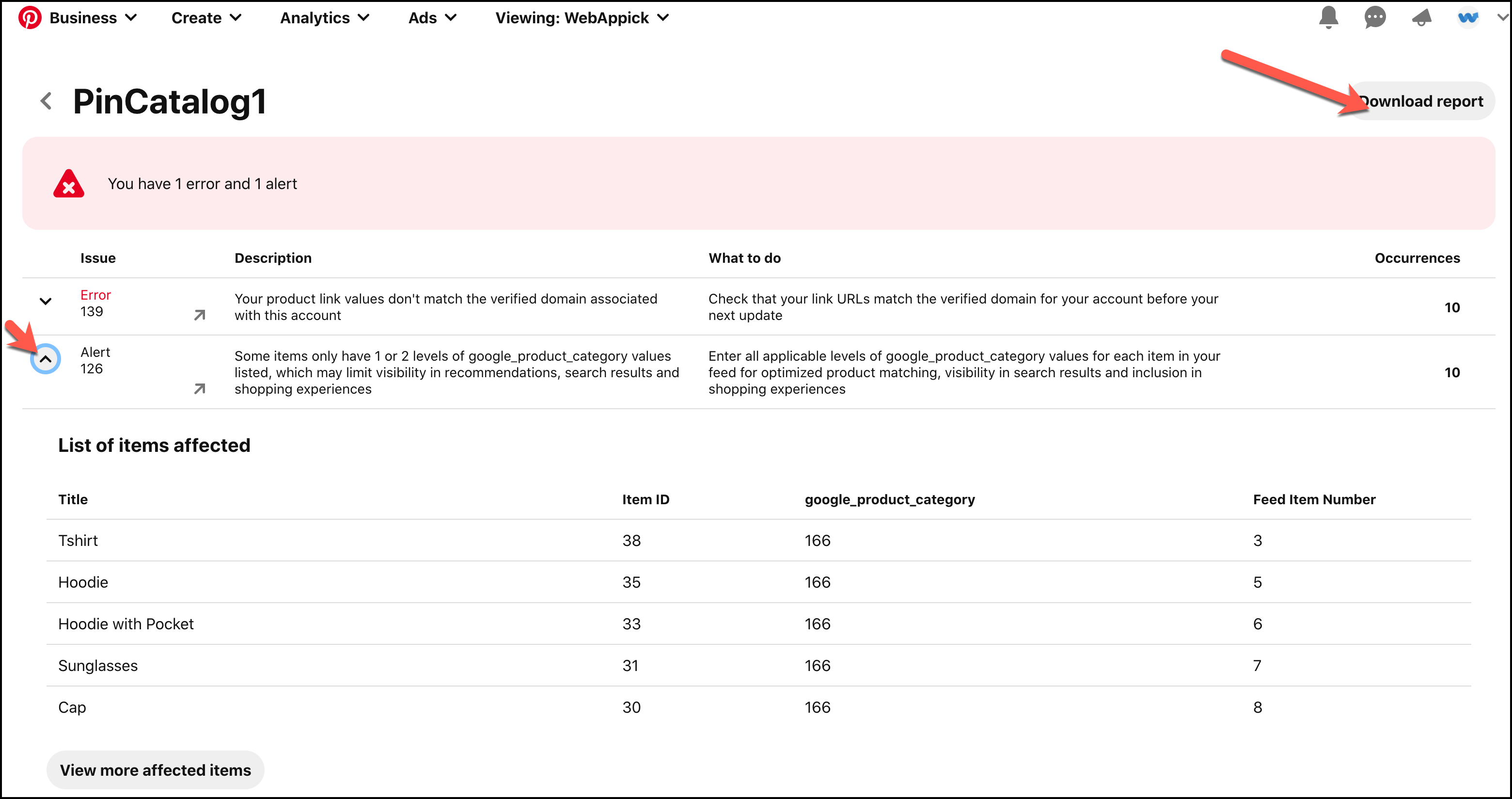 You can set the schedule feed upload on Pinterest 24 hours earlier to generate the feed file with the most up-to-date catalog. Your catalog with feed file is finally ready to serve! Congrats.
Check out the video to get an even clearer idea about how the Pinterest product feed generation works;
Tutorial on Pinterest for WooCommerce Feed Generation
There are hundreds of Woocommerce Pinterest feed plugins out there. You will be confused in every single step to use them. Reading thousands of blogs or tutorials won't accompany in easing this feed process journey. Hence, you need to see a live video on how to use the Woocommerce Pinterest product feed plugin.
This will help you understand the process way quicker than you would by reading this blog. We have made this video tutorial to make the CTX Feed Woocommerce Pinterest product feed plugin installation process way easier.

FAQs On Pinterest for WooCommerce
1. In Which Countries Are Pinterest Ads Available?

Ans: Ads are critical to analyzing Pinterest for WooCommerce shopping. Ads, also known as a Pinterest tag, helps you identify the ROI your shopping products bring and how much traffic your Pinterest feed transforms into conversion. Besides, Ads play a crucial role in uploading the catalog to boost your sales. Without the ads option, you will no longer be able to upload the catalog. Thus, no WooCommerce Pinterest product feed generation. 
Unfortunately, Ads are not available in most countries, but Pinterest has guaranteed that they will be available sooner. Now, it's available only in 29 countries. By selecting any of the countries below, you can easily take advantage of the ads option to monitor your ads performance, as well as the WooCommerce Pinterest feed integration success rate.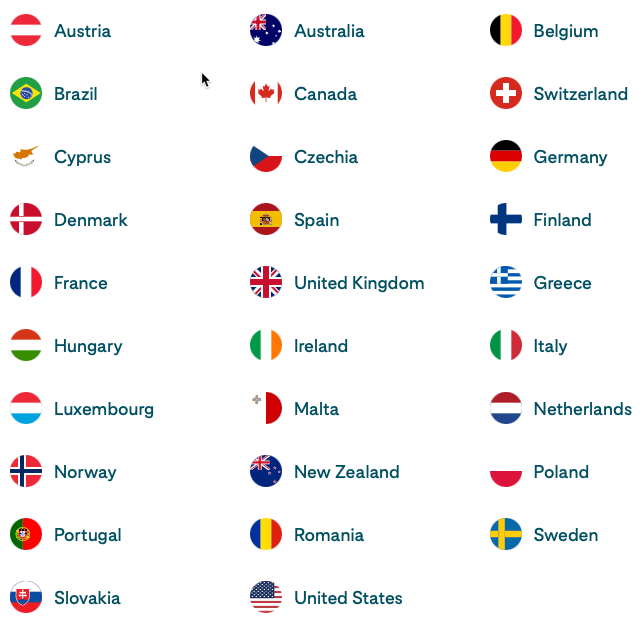 2. Where Is Pinterest Shopping Available? 

Ans: Without Pinterest Shopping, your generated Pinterest product feed file containing products' information will not appear in your Pinterest Shopping. Your whole purpose of selling through one of the biggest shopping platforms will go in vain. However, like Pinterest ads, Pinterest Shopping is also available to certain countries. However, Pinterest will expand this service to most parts of the world shortly. The following countries can see the Pinterest Shopping;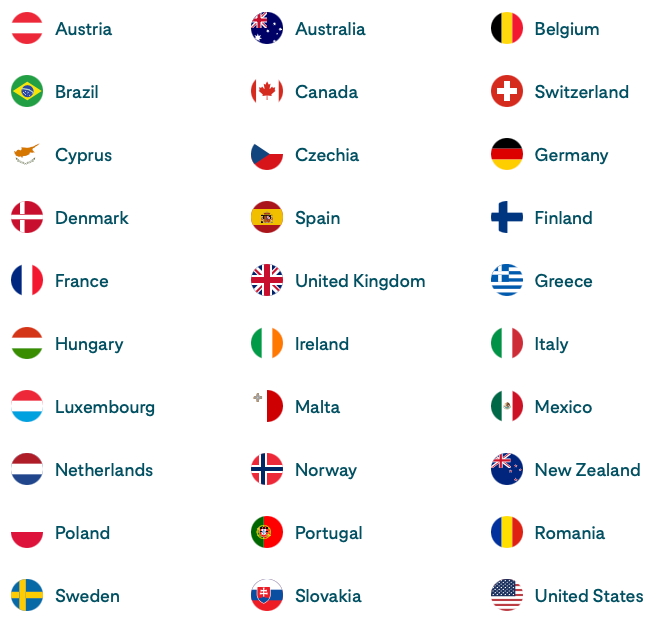 3. How Do I Create a Pin?

Ans: If you have a Pinterest login account, you, like anyone else, can create a pin. Follow the simple steps to create your own pins. It will also cover – how to create a board – where you can store your unique pins.

The steps are; On your homepage, click on Create and select the Create Pin from the drop-down menu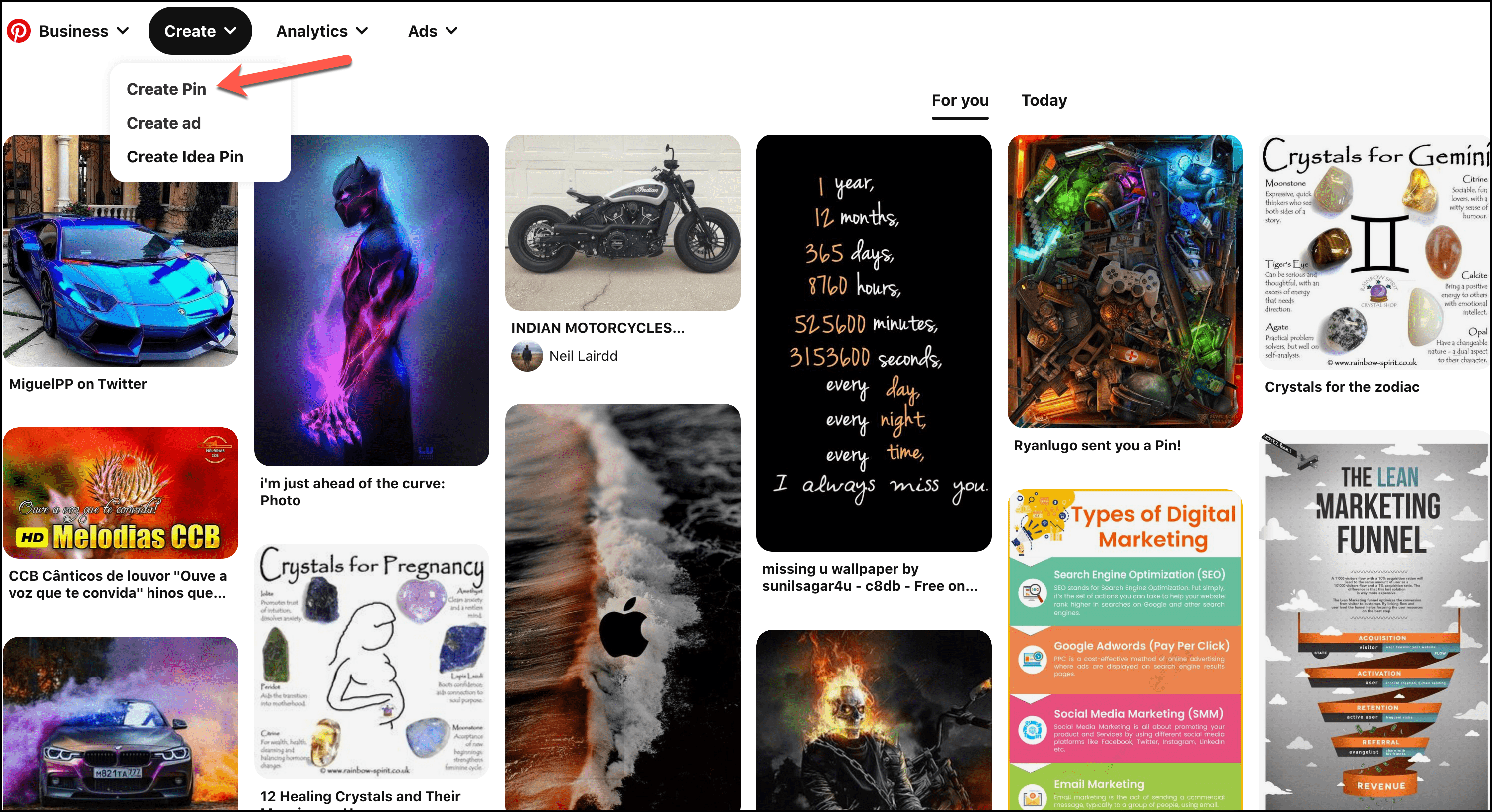 This next section is far and away the most crucial section of creating a pin. You need to insert the image here (the size of the image, as well as the type, is mentioned). You need to write a ravishing description, which pinners must fancy. Drop your store's website URL here to connect it with Pinterest directly. You can also write a short description in the Add alt text section for the people who are unable to see. That description will be read out aloud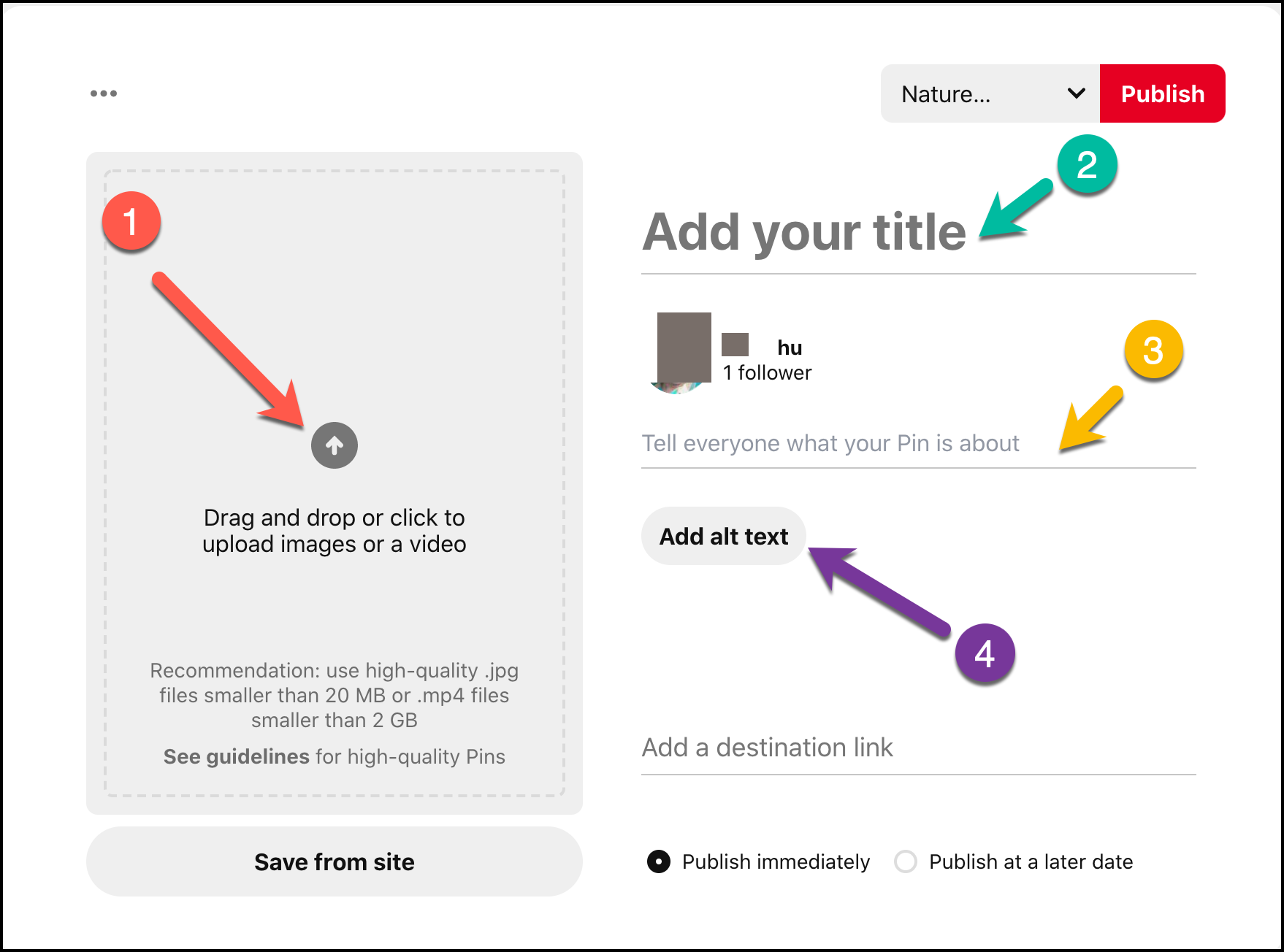 While creating the pin, you also have to create a board to store the pin. Next to Publish button, click on to see an option called Create board. Click over it



In the next section, name your board and choose whether or not you wish to keep your board secret. Finally, proceed by clicking on Create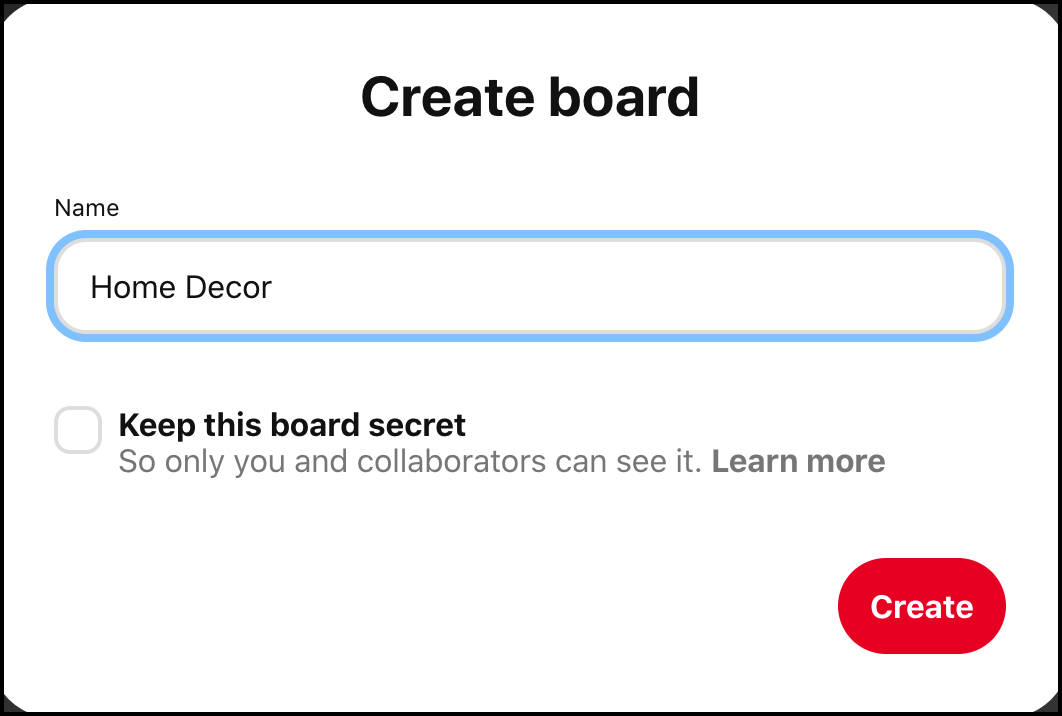 Once the board is created, you can either opt for immediate publish or publish at a later scheduled time. Lastly, click Publish to publish your pins on Pinterest. Your Pin will appear like the image below;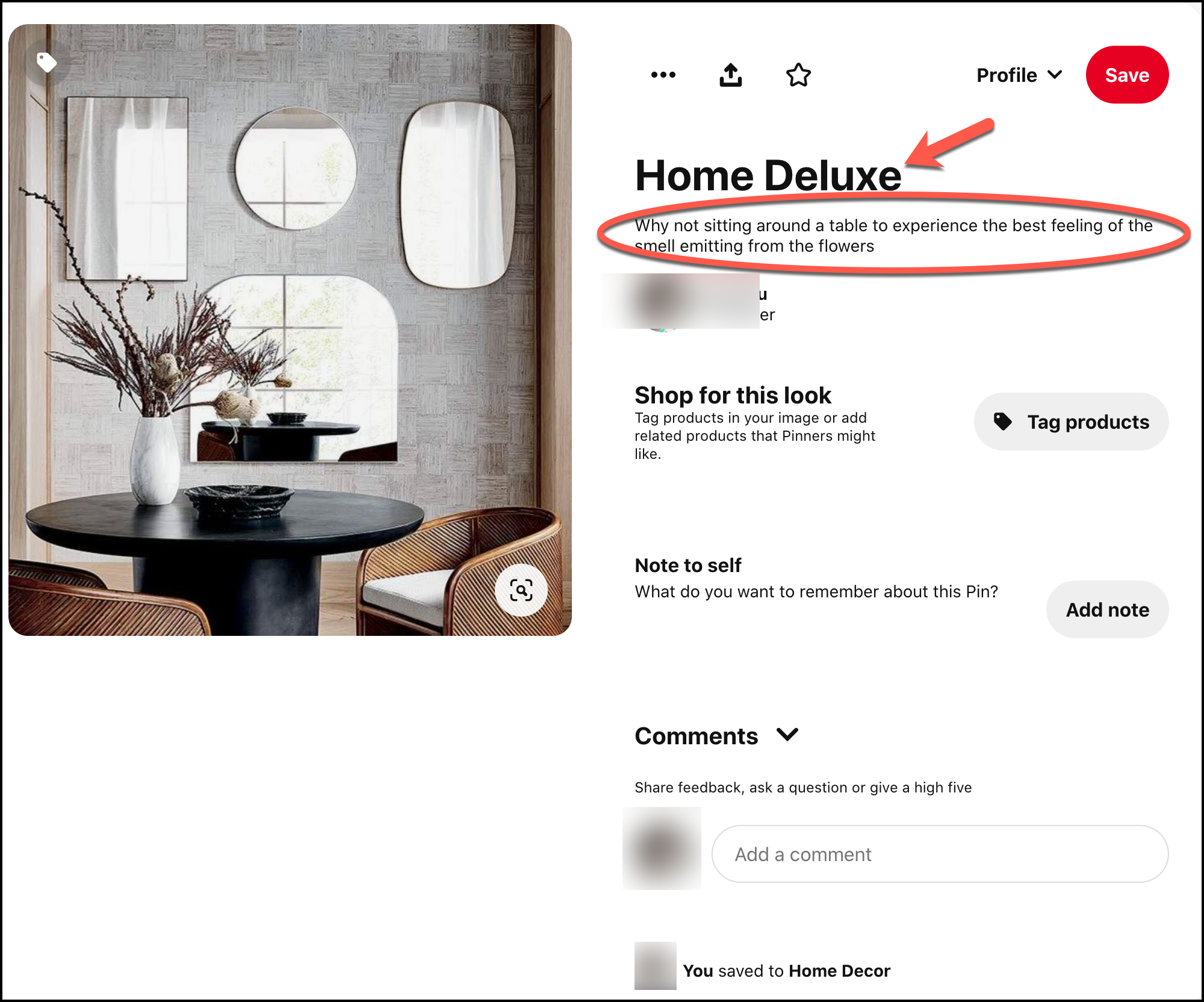 4. What is The Pinterest Lens?

Ans: Pinterest Lens was first introduced in 2020 with a creative sense of purpose to contextualize the ideas even better. You can use your phone camera with the help of the Pinterest app to capture the photographs to derive the inspiration to decorate your lifestyles with more exciting content, concepts, and goals.

On numerous occasions, you may have come by various ideas or objects you didn't know existed. Due to lack of information or the name, you can't embrace them into your visions.

Pinterest Lens captures them in images and brings the concept right in front of you online and offline. You can see all of its details along with the exploring and shopping options.

Most importantly, for Pinterest for WooCommerce – you need the Pinterest Lens "must." It gives you all the vital information, such as pricing, name, description, website address, and the Follow options.

Pinterest uses Visual search technology thanks to this incredible technology, which can trace up to 2.5 billion items amidst home and fashion pins


Just simply do the following;
1. Open your Pinterest app and click on  
2. Press the in the right side of the Search box, and your camera will be ready to snap
3. Just tap on the item you would like to focus on and snap the button
4. A new bar will pop up with both Explore and Shop options
5. When you switch to the Shop menu, it will show you the name of the objects, pricing, relevant images, and the name of your store
6. Click on any pins to see more detail of that pins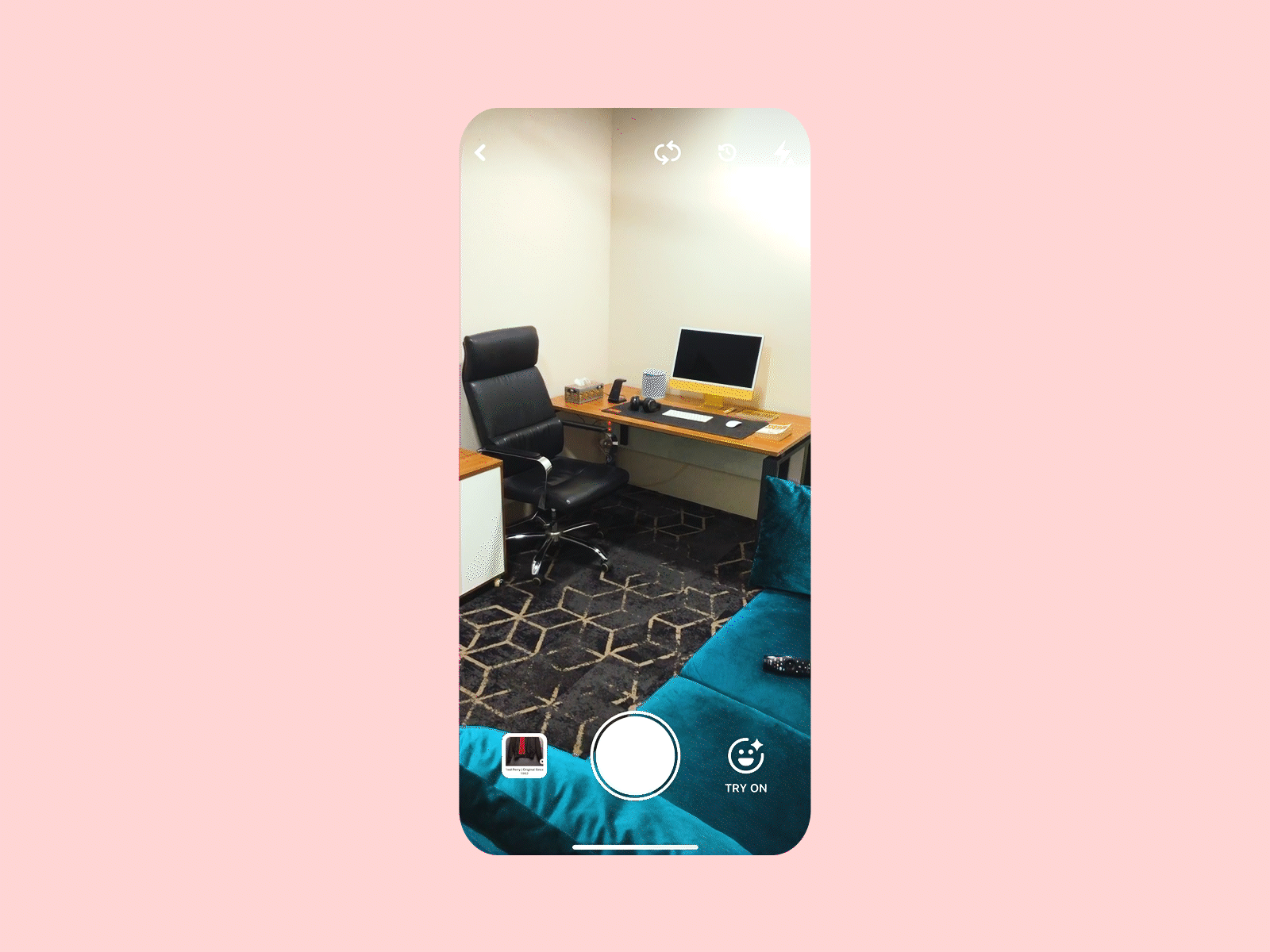 5. How Does Pinterest 'Shop the Look' Work?

Ans: When Pinterest users shop around the platform, they see various pins. In order to search for specific things within a pin, they discover a few more pins – objects that might interest them in purchasing. Sometimes, they know the objects straightway, or sometimes struggle to recall them even if they have come across them before. In fact, pinners are also keen to know their availability, their stores, and mostly their up-to-date pricing.

As a result, you can see lots of dots in a pin, and when you click on them, you will see similar items with all the essential information embedded, making it easier to search and shop. Remember, this strategy is a tool for the marketers to lure the customers into shopping from them as the marketers may have one or another product in stock as outlined in the image. 
Therefore, it is imperative to use the WooCommerce Pinterest feed plugin to have your title, description, and pricing altered to catch the shoppers' attention.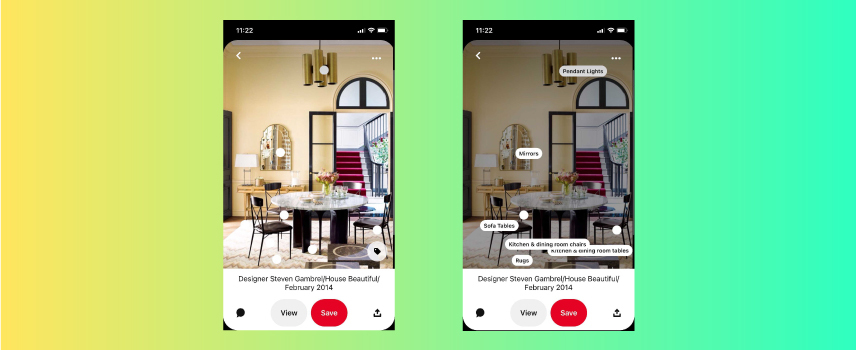 6. What are Pinterest Shopping Spotlights?

Ans: One of the most distinctive features inaugurated by Pinterest is its Shopping Spotlights. It brings out all the search results recommended by the experts or gurus of particular industries. This highly augmented trendy-shopping feature allows you to keep pace with the modernistic way of shopping from your preferred platform, helping you find the ideas and concepts shadowed and experimented with by your favorite influencers.

From the finest recipes to breath-taking home décor, gorgeous fashionable items to bespoke arts & crafts, Shopping Spotlights has a sheer influence on the shoppers. With the guidance of your personal influencer and the trendsetting elements of the editorial magazines, the shopping experience has become even more accessible and convenient like never before.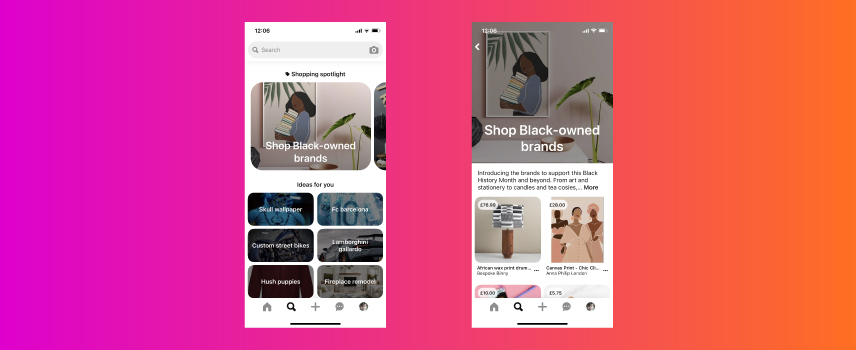 Shopping Spotlights has made Pinterest more formidable with the debriefs shared by all walks of renowned personalities, including former Teen Vogue EIC, Author Elaine Welteroth, fashion blogger Blair Eadie, interior designer Sarah Sherman Samuel, etc. Since users visit Pinterest to gather ideas, anything trendy referred to by the experts will pop up in your home feed the same way as the Editors' picks. Isn't it amazing?
7. What Is a Rich Pin?

Ans: Rich pins are the ones that give you insight into the product within the pins. All pins have their descriptions that you set at the time of creating the feed. However, that information is not enough if you incorporate your WooCommerce Pinterest feed into Pinterest pins for the sake of Pinterest for WooCommerce. The shoppers look for more information – the information that helps them connect to your shopping platform.

Therefore, they are looking for up-to-date information, such as pricing, availability, publishers' info, and last but not least, an in-depth description of the product that helps them decide to buy. Rich pins feed on the information taken from the metadata/meta description of the product from the product page of the publishers' websites. Therefore, anything you change, amend, or correct will result in a change in the rich pin. This is quite useful, especially when it comes to availability and pricing. 




The title appearing on the rich pin must be bold, and you can also discover a Follow button in the pin. However, rich pins don't require any catalogues uploading as it is done organically.

Thus, you can't create an ad campaign for the rich pins. However, the regular product pin with the catalogue uploading option can be promoted as ads. The URL link of the product page within the website is added to Pinterest so that anything changes or updates in the product metadata leads to the change or updates in the Pinterest Pins.
8. How Do I Put a Save Button on Pinterest?

Ans: The "Save" button on Pinterest has replaced the "Pin it" button. Users like to see the Save button in a variety of ways. Therefore, you need to keep them in your mind and act accordingly. It smoothens the user experience.

Some people like to see it hanging still on the image, whereas others want to see the Save button the moment they hover over their cursor on the image. If the image has many objects, your customers want to see the Save button smaller. Keeping all of it in mind, you can customize your Save button in the way you want.
 
1. At first, visit the Widget builder and click on Save Button

2. Click on the Button type to open the drop-down menu and select the type of button you want. Preview on the right side will show your selected Save button will look

3. You will get 3 options – 1) Any Image, 2) One image to save a single image only, 3) Image Hover (Save logo will appear at the time you move along your cursor on the pin image)

4. You can select the size and shape of the Save button by choosing either round or large or both




5. Copy the code from the first box just beneath the Preview option and paste it in the pages you want the Save Button to show up.

6. At the same time, copy the code from the second box below the Preview to paste it before the </body> tag in those pages in which you want the Save button to turn up.

9. What Is Pinterest RSS Feed?

Ans: Pinterest RSS feed is an exceptional product feed file of your claimed website connected to your Pinterest Business account to automatically add your website's content in the form of pins in your specific boards on Pinterest. Really Simple Syndication is abbreviated as the RSS.

As aforementioned, Catalogs are only available in certain countries, which may cause an obstacle to uploading your feed file no matter which WooCommerce Pinterest plugin, you use. Also, you can't deny how much Catalogs mean to Pinterest for WooCommerce shopping.
 
If your online shopping is based in a country – not found in the above list, you must be in big trouble; However, Pinterest RSS feed is the only viable option for you. If your website is claimed, only then can you use the RSS feed. If your website is created with WordPress, you can get the RSS feed file's URL link.

However, that might restrict the number of products you want to show as pins. Therefore, using the RSS URL link generated by the Pinterest WooCommerce plugin like CTX Feed, you can show as many pins as possible.

Whatever products your claimed website has, they all will be generated as pins on your Pinterest business account. When you update your website or any product within the website, they will be updated too.

Remember, the titles, descriptions, and images found in your pins will all be the same as the products' titles, descriptions, and images in your WordPress. As we said, this method is the only and absolute option if the Catalogs option is not available in your country.

10. How Do I Add an RSS Feed to Pinterest?

Ans: First, you need to claim your website for the RSS WooCommerce Pinterest feed, which we have already shown above. Once the website is claimed, follow the steps below;
1. Log in to your Pinterest Business hub and click at the top-right next to the profile image. From the drop-down menu, select Settings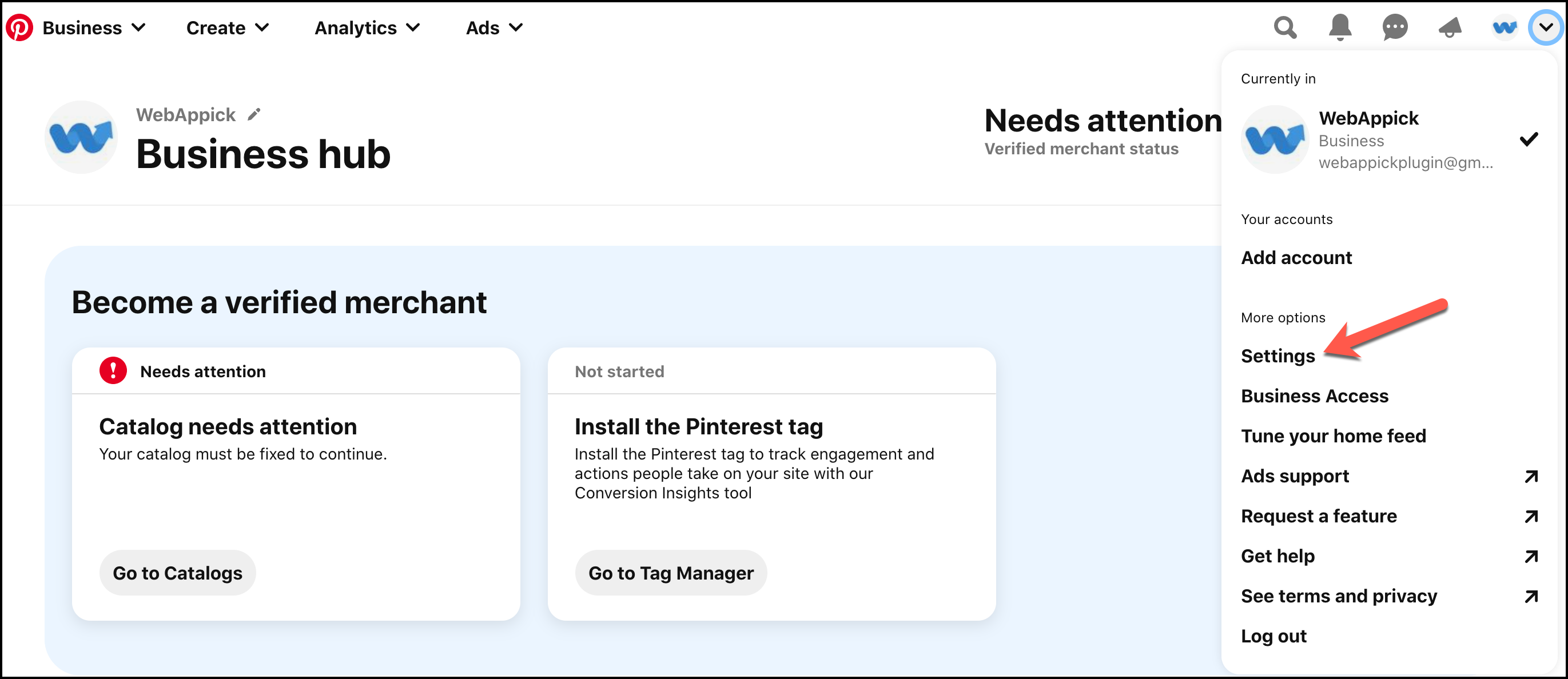 2. From the left-side, select Bulk create Pins just underneath the Claim option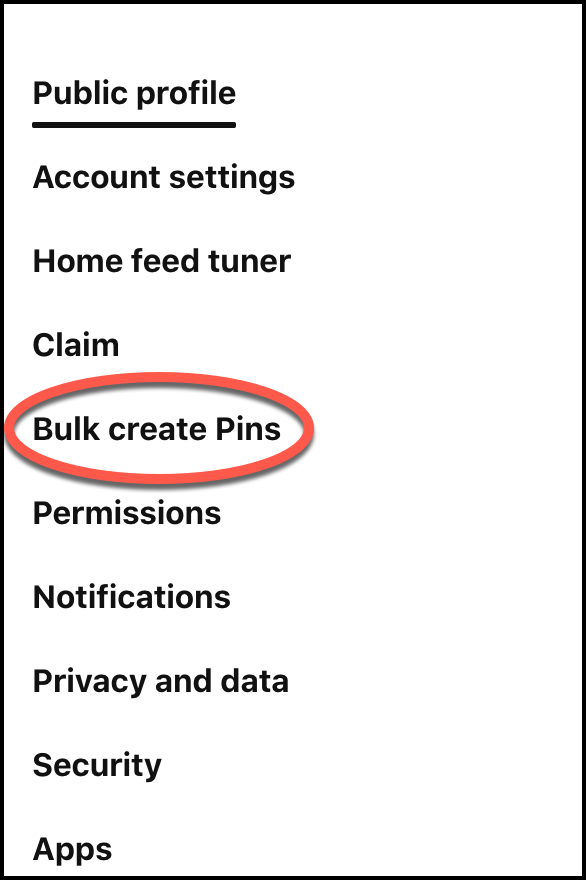 3. Here you will find two options; 1) Upload .csv file (you can create a Pinterest for WooCommerce feed file in .csv format using the CTX Feed and upload it here straightway), and 2) Connect RSS Feed below the Auto-publish. Since your website gets constantly updated, and you want to update your products as well, click on the Connect RSS Feed button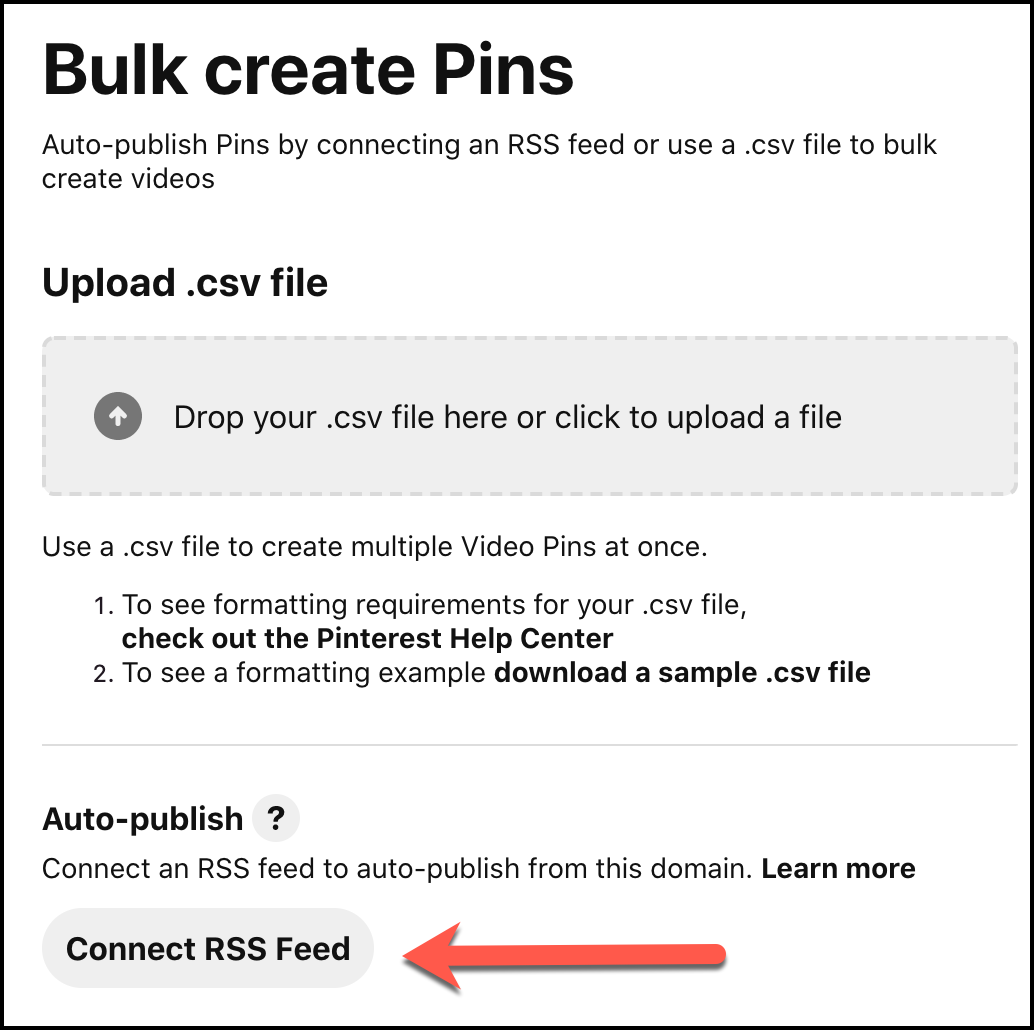 4. Remember, in the Manage Feeds section under CTX Feed, you created a Pinterest product feed file? Copy that one again and paste it here in the RSS Feed URL section. Beside the URL section, you have to click to create your board or select the board where you want to display your pins. Once you select the board, click on the Save button, and your RSS feed file is finally added. Finito!!!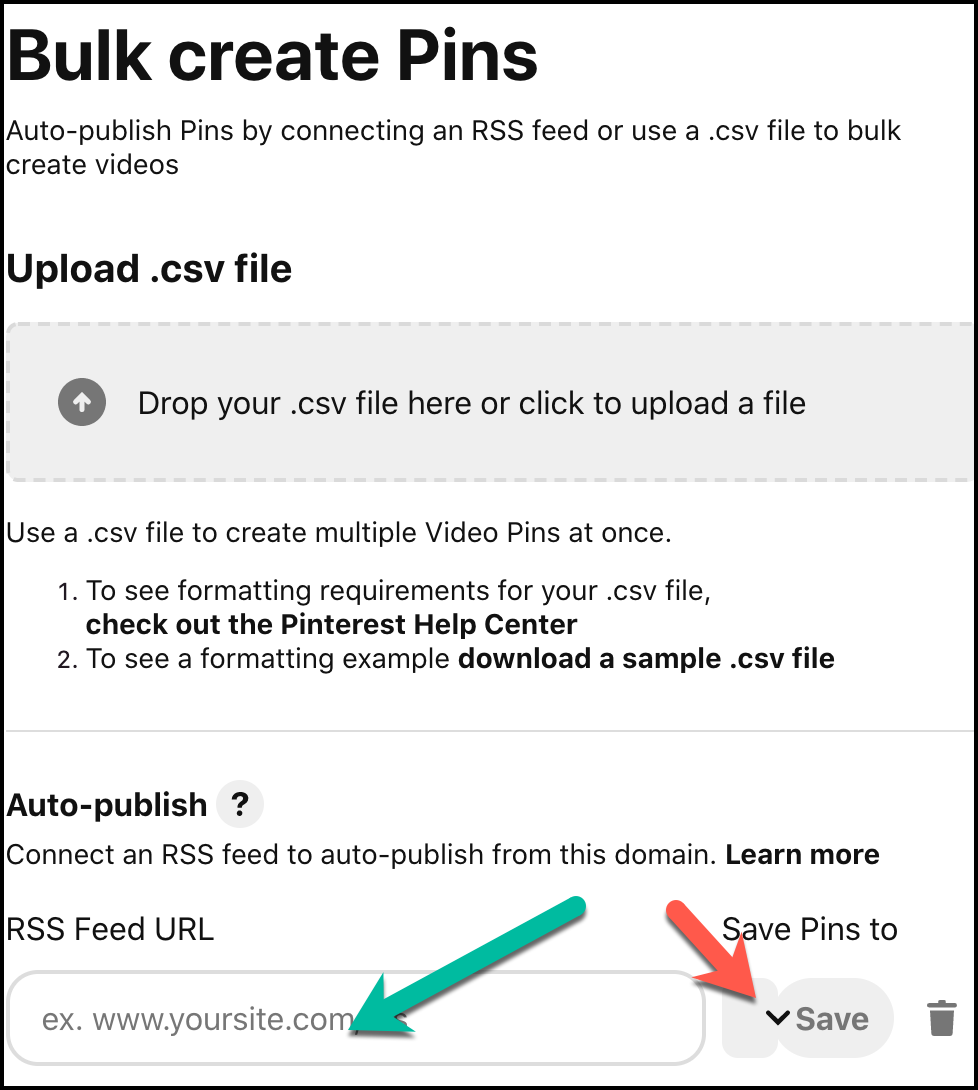 11. How to Remove a WooCommerce Pinterest Feed?

Ans: First, go to Ads > Catalogs, and you will see a list of Catalogs that are either created before or you have just created. Click on the Edit sign as arrowed in the image below and click on Delete data source.

12. Why Is My Pinterest Feed Not Working?

Ans: It can happen for three reasons, we presume. Firstly, while you create a WooCommerce Pinterest Product Feed using the WooCommerce Pinterest Feed Plugin like CTX Feed, you have an option to set your Cron settings. You need to select an interval time after which your feed file will update. If that file is not updated within that interval, your pins in Pinterest will not show the up-to-date information.

Secondly, your interval time setup in the Pinterest business account will have to operate properly; otherwise, your feed file will not update even if you had updated it using your plugin.

Lastly, when the feed file catalogs show the errors in inactive mode, you need to fix them. If the feed file is not fixed according to the errors outlined by Pinterest, it will not show the feed information in your pins indeed


13. Does CTX Feed Support Any Other Marketing Channels Other Than Pinterest?

Ans: Absolutely. CTX Feed supports over 100 channels, including Google, Facebook, Instagram, PriceSpy, Rakuten, PriceRunner, Bing ads, etc. You can check out our two blogs (WooCommerce Google Shopping Campaign and Facebook for WooCommerce) which demonstrate how you can generate the WooCommerce Product Feed using our top-notch Woocommerce Pinterest product feed plugin.
Final Encapsulation
Our Pinterest for WooCommerce blog clearly shows that setting up the catalogs to generate the WooCommerce Pinterest feed is not that easy; they are sensitive, changeable, and not supported across many countries due to their unforeseen restrictions. Even if you can upload your catalogs using WooCommerce, they will lack a lot of essential attributes.
As you have already noticed, images are the main counterpoint, which sparkles ideas and triggers the inspirations that drive colossal traffic toward your online shopping platform; converting traffic into fruitful conversions requires proper observations and monitoring.
A huge online store with ample shopping ideas is not capable of doing them alone – it demands a WooCommerce Pinterest Plugin to sophisticate the customers' experience by altering the attributes, such as title, description, images, and URL links.
A cutting-edge WooCommerce plugin, such as CTX Feed, is, by default, showing all the magnificent programming to make your feed fit for the WooCommerce Pinterest integration. Its interface is easy, user-friendly, and manageable, making it the perfect Woocommerce Pinterest product feed plugin.
We hope that you have got whatever you need. We won't be in denial that we have made this blog a bit lengthier, but you can't counteract me either by saying that all the information we shared beforehand won't make you ready to launch your pins.
If you think we have covered everything to make you feel comfortable to set off on your journey with Pinterest Shopping, we wish you good luck with that. However, if you have anything to know about any part of this blog or, more precisely, CTX Feed, in relation to its use as a Woocommerce Pinterest product feed plugin, reach out to us by commenting below. Promise – we will reply as soon as we can.
You May Also Read