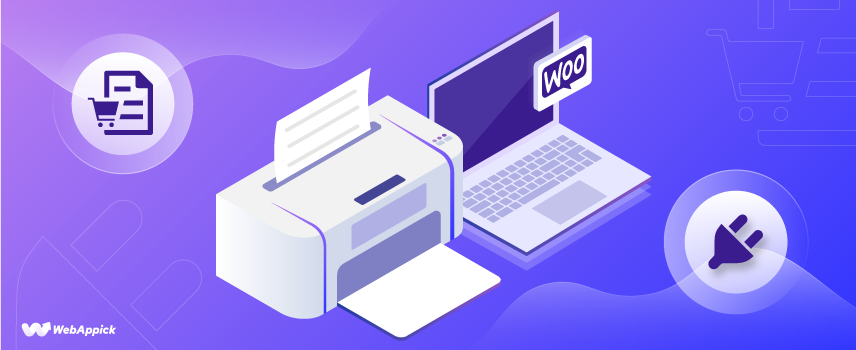 8 Free and Pro WooCommerce Print Order Plugins
Do you want to print the WooCommerce orders of your shop? If yes, this blog is a must-read for you.
In this article, we've handpicked 4 Free and 4 Premium WooCommerce Print Order plugins for any eCommerce store powered by WordPress.
At the end of reading this blog, you'll be able to select the right plugin to generate, download, email, and print shipping documents, PDF invoices, delivery notes, packing slips for the orders you receive from your customers.
Waiting no more, let's dive in.
WooCommerce Print Order Free Plugins
Below are 4 Print Order plugins that you can download free of cost from the WordPress plugin directory.
WooCommerce PDF Invoices & Packing Slips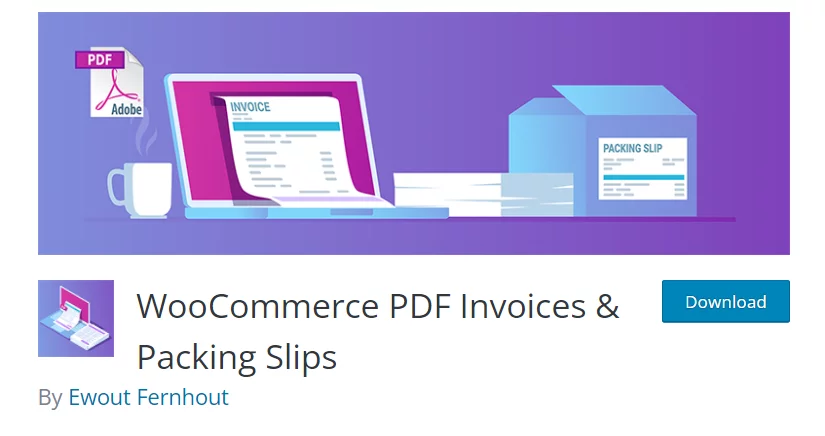 Developed by Ewout Fernhout, WooCommerce PDF Invoices & Packing Slips plugin works closely with WooCommerce as an extension.
This plugin attaches a PDF invoice automatically to the order confirmation emails that you send to your customers.
Though this free plugin offers a basic template, it lets you create and modify personalized templates as well.
On top of that, you can download or print the invoices and packing slips from the WooCommerce Order page whereas the users can download or print their invoices from their account page.

However, one problem with this plugin is that it is not currently compatible with WPML.
Key Features
Generate packing slips and PDF invoices in bulk.
Generate invoice numbers in sequence along with the custom formatting options.
Customizable invoice templates.
Custom header/logo and several layout fields along with customization feature for making your PDF output as you want.
Add PDF invoice to the order confirmation email.
Edit shop data, disclaimer, and footer on the packing slips and invoices.
Choose from Letter and A4 paper sizes for printing.
Let the customers download and print the PDF invoice from their account page.
Translation-ready.
Available in 18 languages including Italian, Swedish, Dutch, English, and Russian.
Challan – PDF Invoice & Packing Slip for WooCommerce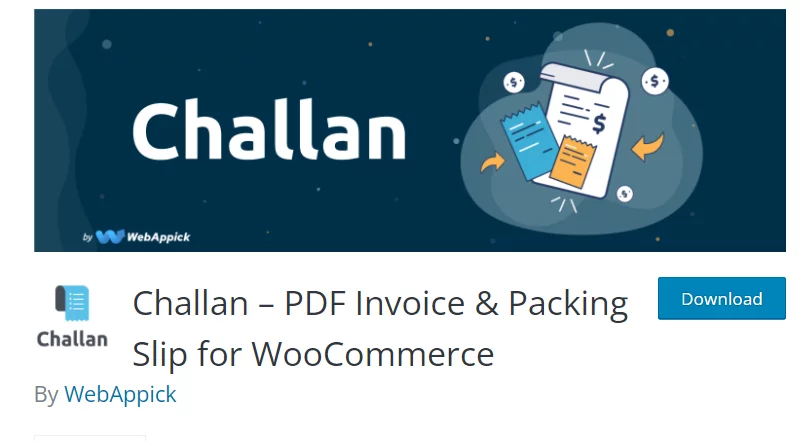 Challan – PDF Invoice & Packing Slip for WooCommerce is another amazing plugin for generating PDF invoices and sending them to your customers via a customized email.
You can generate the invoice at different phases of the ordering (from order placement to order completion) process. It offers two free templates for you to place the information in the right place.
When it comes to downloading the invoice and packing slips, you and the customers can easily download the invoice from the order section.
Be it a newly placed order, completed order, or refunded one, you always have the option to download the customer invoice and thus leverage the invoice offline.
Both you and your customers can bulk download and print the invoice within a few clicks.
Through Challan use the data from your customers' input while they make the purchase, you can also add or modify the shipping, billing, order data, refund note, tax information, VAT, shipping labels, and other information if required.
Key Features
View, download, and print the PDF invoice and packing slip anytime.
The invoice and packing slip get attached to the email on every order status change.
Send credit note with the order refund email.
Select your desired paper size (A4, A5, Letter) for WooCommerce order printing.
Put your company or brand logo on the invoice.
Add suffixes and prefixes to the order number and customize the order numbers as per your choice.
Display currency code in the total amount.
Show order total accurately including/excluding VAT, TAX, shipping cost, etc.
Preview before printing and translation-ready.
Customize the date format.
Display ID, SKU, payment method, customizable footer imprint section.
Translate invoice template.
Print Invoice & Delivery Notes for WooCommerce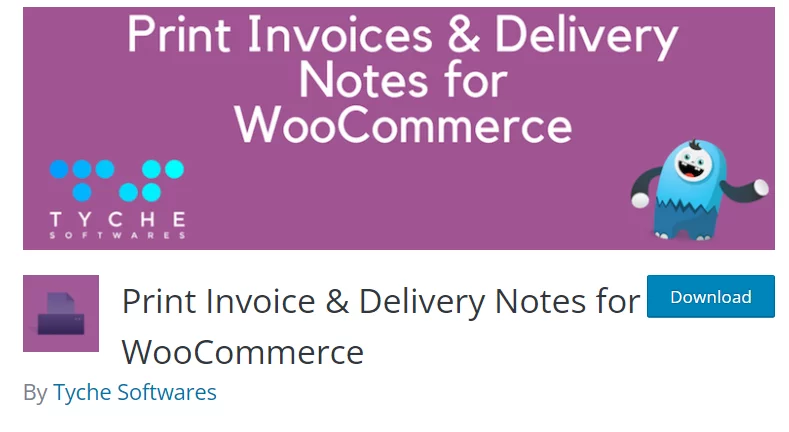 Print Invoice & Delivery Notes for WooCommerce lets you print the invoice and delivery notes for any WooCommerce orders.
With the help of this plugin, you also have the advantage of modifying the shop or company name and postal address.
This free WooCommerce order print plugin allows the users to add or edit the personal notes, terms and conditions, refund policy, and footer to the invoice and delivery notes.
On the WooCommerce order edit page, you will see a side panel from where you can easily print out the invoice and delivery note to send to your customers.
Apart from this, any registered customers can also print their order leveraging a button on the order screen.
Key Features
Print invoice and delivery notes quickly from the "Orders" and "Order Edit" pages.
Generate bulk print invoices and delivery notes.
Modify the template of the invoice and delivery note to meet your needs
Simple invoice numbering that supports sequential invoice numbers as well.
Add the brand logo, company address, and other related information to the invoice note as well as the delivery note.
Send the printing link to the customers via emails.
Allow all shoppers to print the order from their "My Account" page.
WooCommerce PDF Invoices, Packing Slips, Delivery Notes & Shipping Labels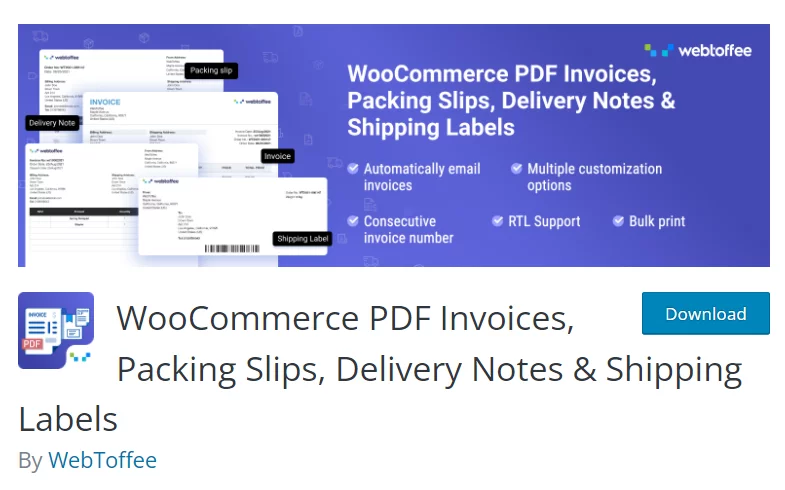 Developed by WebToffee, WooCommerce Print Invoice, Packing Slip, Delivery Note & Label plugin works to generate invoices in PDF, packing slips or packing lists in PDF, delivery notes, and shipping labels in PDF.
As you already know that WooCommerce does not facilitate users with any default order printing options, you have to use this extension or another to generate the invoice and shipping-related documents and print them.
Key Features
Automatically generate the invoice, shipping label, delivery note, dispatch level, packing list and print any of these documents.
Easily download the PDF invoices and packing slips from the admin order page.
Customize the invoice with your brand logo, business name, and more.
Customize the shipping labels with a tracking number, barcode, etc.
Print all labels in bulk.
Auto-generate invoice number with prefix, suffix, and padding.
RTL and Unicode language support.
Disable generating invoices for free orders.
Preview the printing label before printing.
Choose from two types of invoice templates: classic and standard.
Send the PDF invoice via email from the store.
Supports multiple languages.
Let the logged-in users print their invoices from their "My Account" page.
WooCommerce Print Order Premium Plugins
Now that you know about the free plugins available to print WooCommerce orders, let us introduce some premium plugins that have advanced options. The following plugins will let you have full control of the plugin with bulk actions to get your work done way more efficiently.
Here we go:
Challan Pro – PDF Invoice & Packing Slip for WooCommerce

Challan Pro is the premium version of the Challan plugin for WooCommerce.
This premium version of Challan features dozens of advanced features along with all the free features of the core plugin.
Challan Pro features advanced invoice templates that are easy to customize. You can pick an invoice template and then put whatever you want in it so that it meets your business's needs.
This plugin also lets you choose custom paper sizes of any dimension.
If you're looking to bulk download invoices, shipping labels, and packing slips, Challan Pro does it the best.
On top of that, Challan Pro enables its users to download the shipping label in multiple columns or rows.
As this plugin is compatible with multilingual plugins like WPML, Weglot, Polylang, and TranslatePress, you can generate invoices automatically for global users in their native language.
You can go a step ahead and add the product image to the invoice if you want to make the invoice more appealing and satisfying to the customers.
Being compatible with different booking plugins like YITH booking and appointment for WooCommerce and WooCommerce Booking plugin, Challan Pro is able to collect the booking information and display that in the invoice.
Key Features
Generate downloadable and printable invoice, shipping label, packing slip, and delivery slip in a few clicks.
Customize the invoice templates to make your very own invoice.
Generate shipping label list either by date or by order.
Compatible with ZATCA ( Zakat, Tax, and Customs Authority ) QR code rules according to Saudi Arabia govt law.
Attach the "PAID" stamp and signature to the invoice.
Add a background image/watermark and order meta to the invoice.
Attach static files like terms and conditions, user manual, and refund policy.
Add discount and coupon info about products to the invoice.
Include store's bank account details for easy payment to your bank account.
Attach the bank transfer receipt with the invoice if the customer pays via bank transfer.
Select your favorite font for the invoice.
Select custom paper size along with A3, A4, A5, and Letter.
Automatic upload of the invoice to Dropbox for easy backup.
WooCommerce Print Invoices & Packing lists
WooCommerce Print Invoices & Packing lists is another simple but worth-trying plugin for generating and printing invoices and packing lists.
Being developed by SkyVerge, this plugin lets you print the documents either individually or in bulk straight from the Orders page, while the customers can view the same documents from the "My Account" page.
It just requires you to go through two clicks to bulk print the important order documents.
As the invoice format is well-customizable, you have the complete authority to decide what information you will put in the invoice for your customers.
To make sure that the colors, font sizes, and other appearance settings are all right, you can live preview before finally going for the print.
This plugin offers you the pick lists feature so that you can easily gather all the products of several orders.
Key Features
Generate and print invoices and packing lists easily.
Email the invoices to your customers individually or in bulk. However, an email will be sent only when a customer pays for his orders via the payment gateway.
Use either WooCommerce order numbers or sequential invoice numbers for the invoice.
Email the picking lists to shop owners.
Display the invoice on the customers' "My Account" page.
Customize the document's appearance and information.
YITH WooCommerce PDF Invoice & Packing Slips
YITH WooCommerce PDF Invoice & Packing Slips is another feature-rich PDF invoice and packing slips plugin to generate and manage the invoices along with the packing slips.
With this plugin installed on your WooCommerce website, you can generate custom invoices for all orders (automatically) or specific ones (manually).
When it comes to invoicing numbering, you have the option to go for sequential numbering, ID, or order numbers to be used.
To let you manage all your invoices this plugin features a dedicated dashboard from where you can generate invoices in bulk, download invoices as PDFs, and delete them whenever you want.
Key Features
Choose dates and reset the invoice numbering independently.
Customize the invoice number by ID, invoice number, and sequentially.
Customize the invoice number with a suffix and prefix.
Manage credit notes from the dedicated table.
Use the brand logo and company info.
Customize the template colors.
Customize the folder name for saving invoices.
Overwrite document template from code.
Customize the packing slip document template.
Generate and customize the credit notes for refunded orders.
Customize the document format and backup them on Dropbox and Google Drive.
PDF Invoices

PDF Invoices is a minimalistic PDF invoice generator plugin. This plugin enables you to create and customize PDF invoices and send them to your customers via email when their orders are in process or completed.
The part of attaching the email to the customers is completely automatic.
As a store owner, you can send, resend, and download invoices of your customers, whereas your customers can download all the invoices sent to them by logging into their account.
Key Features
Get a customizable readymade invoice template.
Add tax number and other legal company info.
Attach PDF for admins in new order emails.
Customize the date format and invoice number format.
Invoice numbering in sequence.
Add a brand logo to the invoice.
Use invoice info meta box.
Use filters to add and delete columns from the invoice.

Frequently Asked Questions (FAQs)
Start Printing Your Orders
So, that's all from our end for now! We hope that you can now generate, download, email, and print all your WooCommerce orders by using the free and premium plugins discussed above.
Give them a try and let our visitors know which one is the best WooCommerce print order plugin for you in the comment section.
Also, don't forget to share this post with your near and dear ones who are looking for a suitable invoice or delivery note generator plugin for their WooCommerce store.
You May Also Read