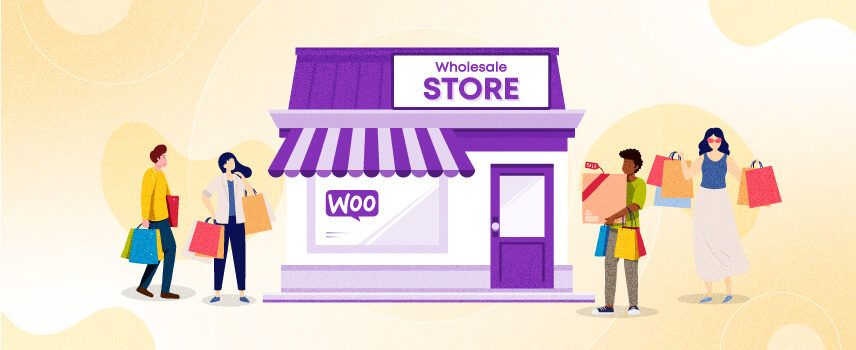 How to Create a WooCommerce Wholesale Store in 2023
Building a WooCommerce store is a dream project for many businesses. But, due to a lack of adequate knowledge regarding how to build a WooCommerce wholesale store — many people pull back.
If you share the same dream and want to know everything about building a WooCommerce wholesale store from scratch, we're gonna write this article for you.
At the end of reading this article, you'll have a working knowledge about what you need to create a WooCommerce wholesale store, and how you can leverage different plugins to manage your B2B business.
Also, we've added an owner's guide, followed by an FAQ section, so that you miss nothing to run a successful wholesale business along with the public shop.
As this is gonna be a long article, we suggest you get a cup of coffee and some snacks, especially if you get hangry often.
Are you ready? Let's dive in. 🏄
How Do WooCommerce Wholesale Stores Work?
You can easily understand from your common sense that wholesale stores are meant to process Business-to-Business (B2B) transactions.
If you're the owner of a WooCommerce wholesale store, your goal is to find wholesale buyers who will buy from your store.
But, it is not easy to fascinate wholesale buyers with captivating words or stunning images. They are more interested in adding their desired wholesale products to the cart and getting back to work as soon as possible.
That's why you need to focus more on serving them with relevant product data and a simple checkout process.
Is WooCommerce Ideal for a Wholesale Store?
Don't underestimate the power of WooCommerce because it all starts with a free WordPress plugin.
Statistically speaking, WooCommerce is one of the most sophisticated and popular eCommerce platforms out there. More than 5 million users are using WooCommerce to build their online store, and its market share is growing rapidly with the passage of time.
When it comes to making a wholesale store online, WooCommerce offers plenty of pre-built features you can leverage to make your wholesale store.
Besides, you'll always have tens of thousands of WooCommerce compatible plugins that'll help expand the core features of the WooCommerce plugin.
Let me show you 4 of the reasons why WooCommerce is not only good but also an ideal choice for setting up any wholesale store.
Free Set-up
One of the key reasons for using WooCommerce for your B2B store is that the core plugin of WooCommerce is free to install and configure from WordPress. More importantly, you don't have to share the percentage of your hard-earned revenue with anyone else. It makes you truly independent.
When it comes to cost, you'll just need the cost of buying a standard domain name and web hosting. You might also need to pay the payment provider's fees should you choose to receive payments online.
Thinking of buying premium themes or plugins? Well, it depends a lot on your preference. You'll find hundreds of free WooCommerce themes and plugins that work seamlessly with WooCommerce. However, if you need premium themes and plugins for your store, the options are endless.
Full-fledged and Easy-to-use
Apart from being open-source and free, WooCommerce is truly a customizable and user-friendly platform. There is no coding knowledge required to start building a wholesale store with WooCommerce. WooCommerce lets you manage everything right from the WordPress dashboard.
With WooCommerce for wholesale stores, you can:
Add and organize unlimited product categories and subcategories.
Receive payment online via cards (debit/credit), cheques, PayPal, and cash on delivery.
Set applicable shipping charges for different locations.
View sales reports to measure the store's performance.
Be it personalizing the product layout, header, checkout, or anything that pops into your mind, WooCommerce will help build your wholesale website to your heart's content.
Availability of WooCommerce Wholesale Plugins
It is true that the free version of the WooCommerce plugin does not offer everything you need to sell wholesale online. This is when the importance of WooCommerce wholesale plugins comes into play.
WooCommerce itself offers a bunch of premium extensions for its free version of the WooCommerce plugin. On top of that, there are hundreds of freemium third-party WooCommerce wholesale plugins that you can take advantage of to take your store to the next level.
For instance, to generate the WooCommerce product feed for 100+ marketing channels, you can rely on the CTX Feed. Similarly, to produce the PDF invoice, packing slip, and shipping slip, the Challan plugin for WooCommerce is there for you. The list goes on and on (we'll cover more in the latter part of this article).
The bottom line is that you can increase your B2B wholesale store's ROI using thousands of free and premium WooCommerce plugins.

Grows as Your Store Thrives
You're not who you were 10 years back, right? The same is for your wholesale business.
If you have a long-term plan to keep your business up and running, you have to be very wise in choosing a platform that can accommodate the changes and transformations of your business. Here's where WooCommerce does very well.
First off, WooCommerce lets you sell an unlimited number of products through your wholesale store.
Also, the flexibility of WooCommerce lets you update your website, rebrand, and reshape your store, alongside tweaking certain aspects with popular free and pro plugins.
Last but not least, you never have to go through the nightmare of migrating your store to another platform and starting everything from scratch once again. It boils down to our next section on why you should start a WooCommerce wholesale store.
Benefits of a WooCommerce Wholesale Store
Let me start off with statistics first.
According to Statista, global eCommerce B2B sales grew to $12.2 trillion U.S. dollars in 2019, which was 60% higher compared to 2017.
| Year | B2B Sales | Compared to B2C Sales |
| --- | --- | --- |
| 2017 | 7.6 trillion U.S. dollars | 3 times more |
| 2019 | 12.2 trillion U.S. dollars | 6 times more |
It is also seen that global B2B sales in 2019 were 6 times higher than global B2C sales.
Standing at the end of 2021, we can safely assume that B2B sales are going gangbusters in the coming years.
No, it's not only for increased sales and generating more revenue why you should go for setting up a WooCommerce wholesale store; there are more reasons too.
Add Wholesale Price to Products
WooCommerce will make you forget the bygone days when you would list your wholesale customers and then process their orders manually.

Thanks to WooCommerce wholesale plugins, you can easily determine and display the wholesale price of the products for the wholesale buyers. To get that done, neither do you need to switch websites nor do you have to waste your valuable time.
Increase Brand Awareness
Wholesale buyers place bulk orders for your store. The extensive exposure of your wholesale products translates into stronger brand awareness.
If you start selling your products to wholesalers, it will help elevate your brand reputation way faster.
Receive Both Public and Wholesale Orders
Yes, you've heard it right! Though many online stores keep separate websites for public and wholesale buyers, you don't have to if you use the right plugins to integrate the retail and wholesale features on the same website.
A good WooCommerce B2B plugin lets you set wholesale user roles along with the discount percentage. It will save you the cost of running multiple websites and help you manage everything from a single dashboard.
Streamline the Wholesale Purchase Experience
You should know that selling to the public and selling to businesses are not the same.
While cross-selling and offers might interest the public or retail buyers, established wholesale buyers don't like to be bombarded with tons of offers, coupons, or related products.
Wholesale buyers don't go for impulse buying. Before visiting a wholesale store, they already know what they want to buy, what price they will pay, and how many units they exactly need.
For all these reasons, you've got to make sure that you create a streamlined and personalized wholesale purchase experience in your store from where users can buy as many products as they need without spending much time. Plugins like WooCommerce Wholesale Pro can be of great help to speed up their buying journey.
Minimize Administrative Workload
Running a wholesale business store might seem to be a daunting task unless you know how to work smart, not hard.
You can save a great deal of time, as well as resources if you automate the online ordering system.
If you've got everything set, any buyers from any time zone can order from your store seamlessly resulting in a low administrative workload from your end.
Ensure Faster Inventory
If you set WooCommerce wholesale store online, it would be easier to move your inventory way faster. How? More customers mean an increase in the order size and more volume of products in the inventory. Leveraging the tiered pricing also helps in this respect.
Ensure Better Support
You can use the chatbot and live chat software on the wholesale store so that customers get quick support 24/7. Besides, adding a knowledge base to your website will help new buyers navigate the ordering process smoothly. 
More Promotional Opportunity
When you create a wholesale store online, sales are many times higher compared to other small shops. And when you get more sales, you can invest more in promotional activities that can further accelerate the growth of your B2B business.
Starting an eCommerce B2B store is a great business move to make no matter what your niche or business goal is.
By now, you know the reasons why building a WooCommerce wholesale store is a compelling idea, right? It's time to go ahead and set up a store.
Points to be Noted While Setting up a Wholesale WooCommerce Store
✅ Make sure you have enough product in stock to supply both the wholesale buyers and retail customers. If you fail to deliver the ordered products within the promised delivery time, you might lose the customers' trust.
✅Build your wholesale product page in a way so that the buyers can see everything they need to know at a glance.
✅ Do not use big images or product descriptions or anything else that does not attract wholesale buyers to order a product. Instead, put more emphasis on showing the discount percentage/amount for ordering a certain number of product units.
✅ Do not mess up the wholesale orders with retail orders. Separate the wholesale store from the retail store even if they are hosted on the same website.
✅ It's best to keep a private sign-up, login, and product browsing area for wholesale buyers that are not accessible to public buyers.
✅ Make sure that wholesale customers add any product to the cart with just a single click.
✅ Often run promotional activities to encourage wholesale buyers to buy more from your store and turn them into your 'permanent customers. Your goal should be acquiring and building a loyal customer base without losing the retail customers (in case you're running both simultaneously).
Prerequisites to Start a WooCommerce Wholesale Store: Learn What You Need ⛑️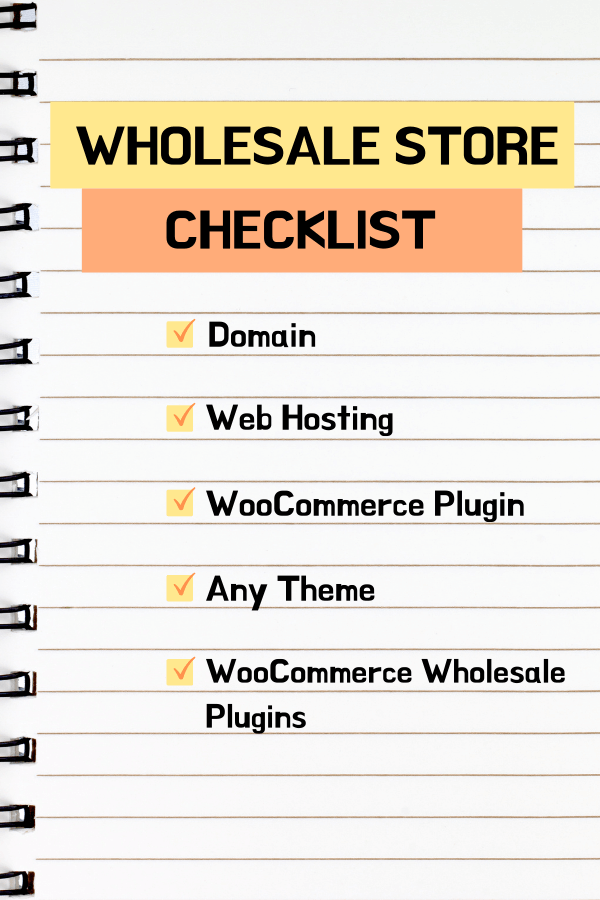 If you're just planning to launch a WooCommerce wholesale store from scratch, this section will help you know exactly what you need to get started.
We assume that you've already decided that you'll use the WooCommerce platform for your online B2B shop. However, to run a WooCommerce wholesale store you have to essentially use WordPress CMS for managing your website.
Below is a list of everything you need to build a WooCommerce wholesale store:
A domain name
Web hosting
WooCommerce plugin
Any WooCommerce supported theme.
WooCommerce supported plugins for wholesale stores.
Now, let us present a short overview of these essentials to help you a bit more:
Register a Domain Name
The first step of creating a website starts with purchasing a domain name for your store. Make sure that your domain name is brandable, concise, and easy to remember.
Here are 10 of the top-notch domain name registrars from where you can buy a domain address for your WooCommerce store:
Domain.com
Bluehost
Hostgator
SiteGround
GoDaddy
Namecheap
Google Domains
Dreamhost
Dynadot
NameSilo
Purchase a Web Hosting Package
Buying a domain name is not enough to start a website. To make sure you can upload content on the web for the world to see, you need to purchase a web hosting plan from any reputed web hosting provider.
Let us suggest 10 popular web hosting provider companies you can rely on to host your WooCommerce store:
Kinsta
Flywheel
Pantheon
Nexcess
Pagely
WPEngine
GreenGeeks
SiteGround, and
Hostinger
While going to purchase a web hosting plan, make sure that the hosting provider offers an SSL certificate, extra layers of security, regular backups, data centers near your audience's location, plus other standard hosting features.
Once you've bought a hosting plan, just contact the hosting provider to help you install WordPress CMS for your website. However, most of the hosting providers offer tools for a 1-click WordPress installation.
Install the WooCommerce Plugin
Now that your website is ready, it's time to install the basic WooCommerce plugin on your B2B store's website. WooCommerce is free to install and activate. Here's how to install and activate WooCommerce:
Go to Plugins >> Add New
Search "WooCommerce" in the plugin search box.
From the search result, install the WooCommerce plugin.
Activate the plugin.
Install a WooCommerce Compatible Theme
A theme for a website is like the interior of an elegant home. It facilitates the website's layout, color schemes, in-site search options, and more.
While choosing a theme for your WooCommerce wholesale store, the first thing you should look for is WooCommerce compatibility. The theme should be well compatible with the WooCommerce plugin.
Next, as nearly half of global internet users visit the web via mobile devices, the theme you choose must be responsive so that your B2B store's website looks good both on mobile and computer.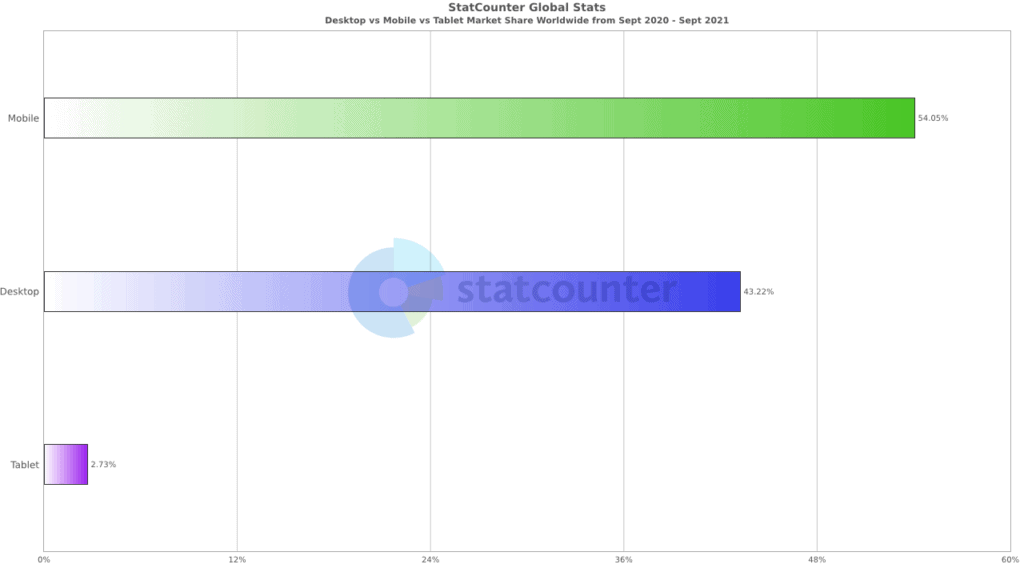 Quality performance, good customer support, extensive customization options, and regular updates – these are some of the must-haves your theme should essentially offer.
Let us now introduce some of the popular WooCommerce compatible themes you can choose from to use in your wholesale store.
EightStore Pro
Astra
Flatsome
WoodMart
Porto
Extra
Neve Shop
Woostify
Hestia Pro, and
Shoptimizer
Install WooCommerce Plugins for Wholesale Store
One downside of the WooCommerce plugin is that it offers all the core functionalities for retail store owners.
When it comes to building a complete wholesale store, the default or out of the box features are not just enough.
To extend the free WooCommerce plugin and add essential features for wholesale stores, you have to install some WooCommerce compatible plugins either sold by WooCommerce or third parties.
Below is a list of the 7 best WooCommerce wholesale plugins for building your B2B business.
7 Best WooCommerce Plugins for B2B Wholesale Store and How To Build Wholesale Store Using Them
1. WooCommerce Wholesale Pro
WooCommerce Wholesale Pro plugin by Barn2 helps you add a wholesale area to your store so that B2B customers can experience a tailored and easier ordering process. However, it does not interfere with your public WooCommerce store meant for end-users.
📣 Key Features of WooCommerce Wholesale Pro Plugin
With WooCommerce Wholesale Pro, you can:
Offer B2B wholesale discounts.
Create an unlimited number of wholesale user roles.
Set discounts for global or specific product categories.
Create wholesale-only product categories that can exclusively be seen by wholesale customers.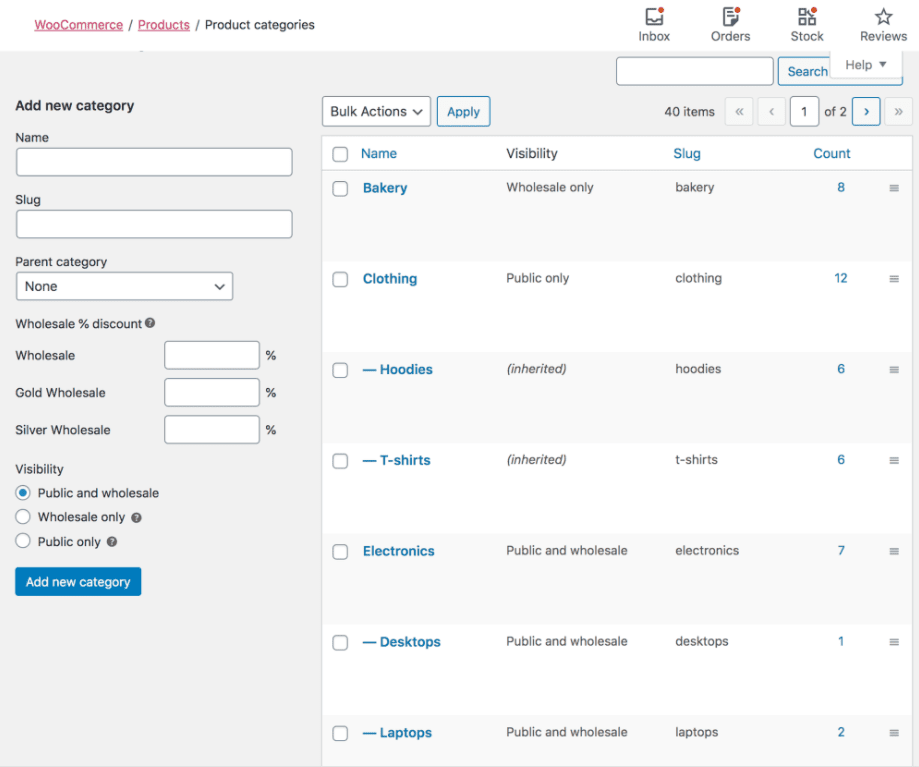 Add different pricing and discounts for different wholesale user roles (e.g., 10% for gold wholesale buyers, 15% for diamond wholesale buyers).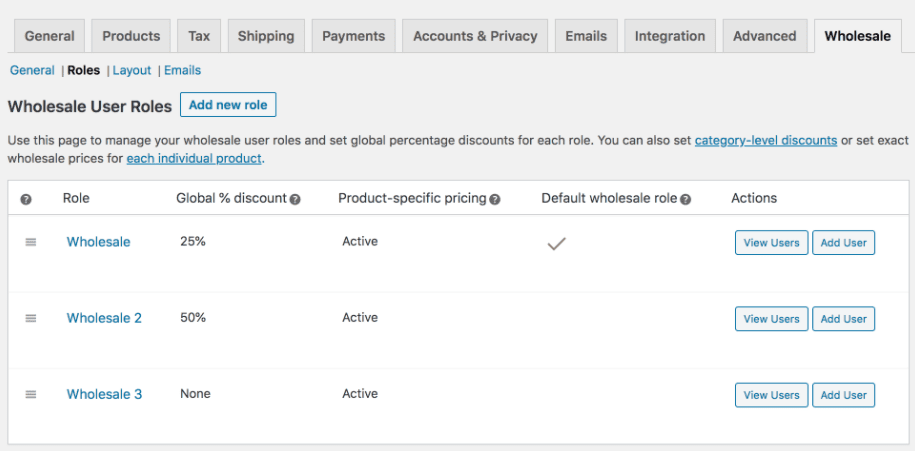 Hide wholesale prices for anonymous store visitors.
Integrate with the WooCommerce Product Table plugin for creating quick order forms.
Add wholesale pricing for all single products.
2. Wholesale for WooCommerce
Wholesale for WooCommerce developed by WPExperts is one of the most popular extensions for adding wholesale pricing to products and giving wholesale customers access to a dedicated wholesale area.
This plugin is perfect for those businesses that want to run and manage both wholesale and public stores from a single website.
📣 Key Features of Wholesale for WooCommerce Plugin
Create and manage multiple wholesale custom user roles and role-based pricing.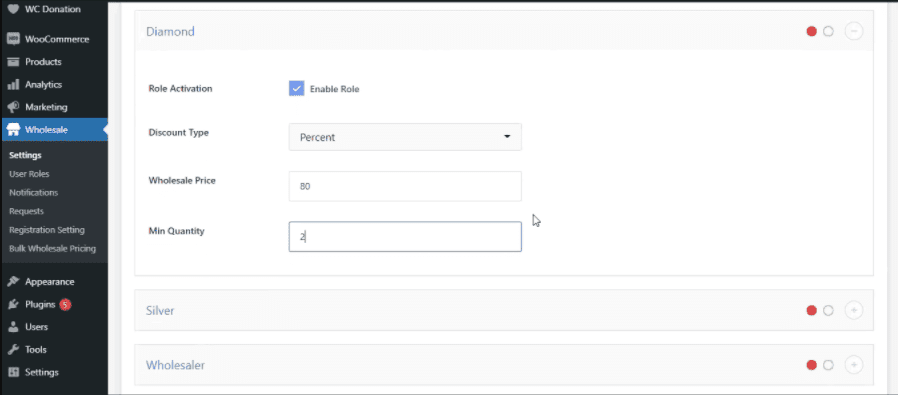 Set different kinds of discount rules.
Define global, product, and category-based discount.
Build a wholesale registration form.
Make wholesale store private and exclusive for only wholesale users and hide the price and products from guests and non-logged-in users.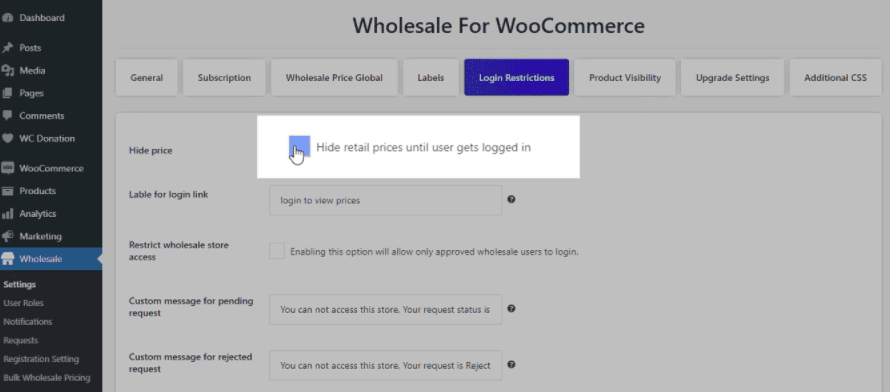 Create tiered pricing rules for simple and variable products or product categories.
Set pricing and discounts for multiple wholesale user roles, and more.
3. User Role Editor
User Role Editor is a fantastic freemium plugin to create and edit user roles on your WooCommerce store. With 700,000+ active installations on WordPress, this plugin is quite beginner-friendly.
📣 Key Features of User Role Editor Plugin
Let's see how you can leverage the User Role Editor plugin to set and customize different user roles for shoppers:
Select user roles and their capabilities.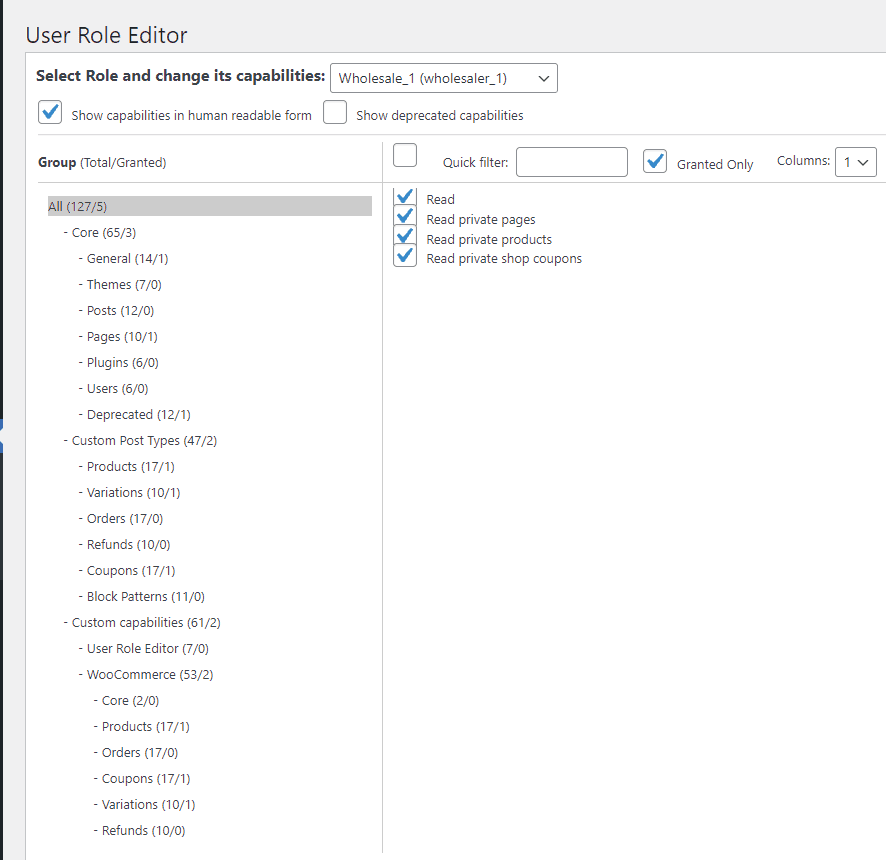 Edit user role capabilities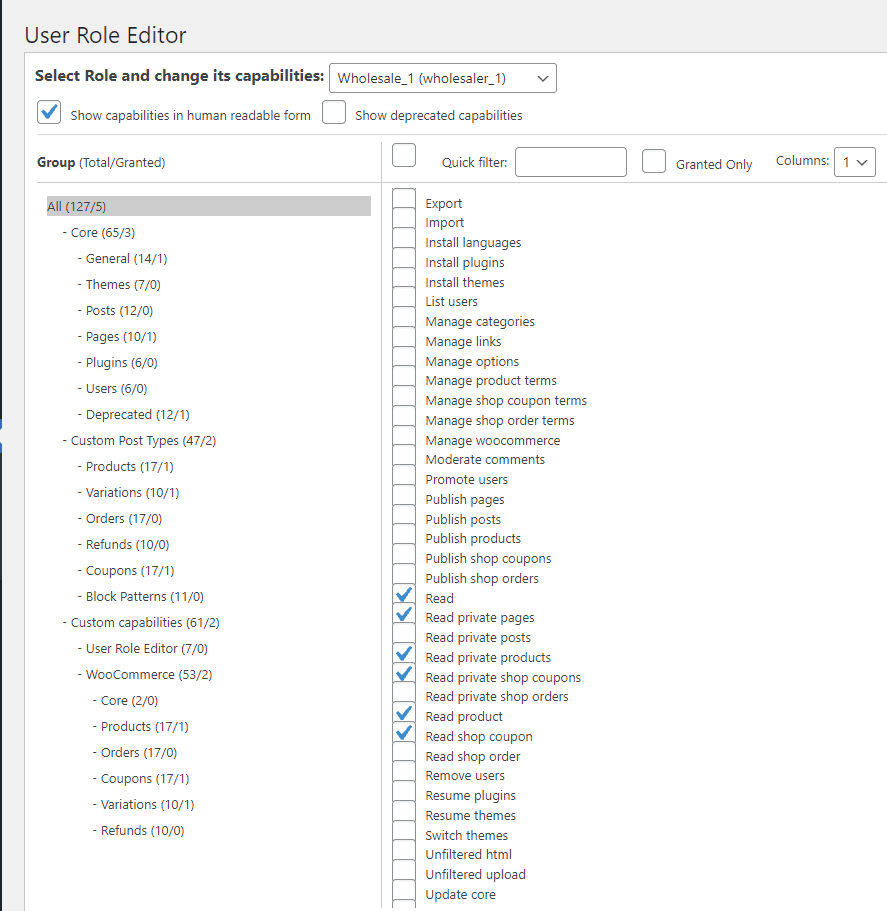 Add new role for your store

Add capability of the user roles



Delete capability of the user roles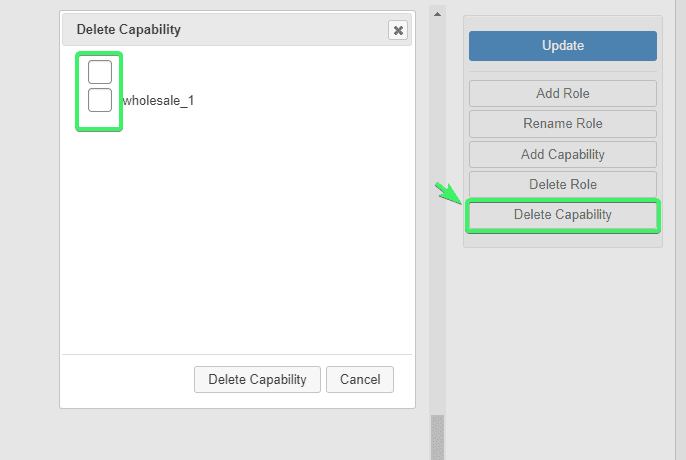 4. B2B for WooCommerce
B2B for WooCommerce is another WooCommerce wholesale plugin that you can use to create a wholesale-friendly environment for your B2C store.
Being translation-ready, it offers a wholesale registration form and customer-specific pricing.
📣 Key Features of B2B for WooCommerce Plugin
B2B for WooCommerce has integrated their 5 extensions to let you offer the complete package required for your store. Let's see how you can make use of its features to run a B2B store along with your existing B2C store.
Register your B2B customers with a register form.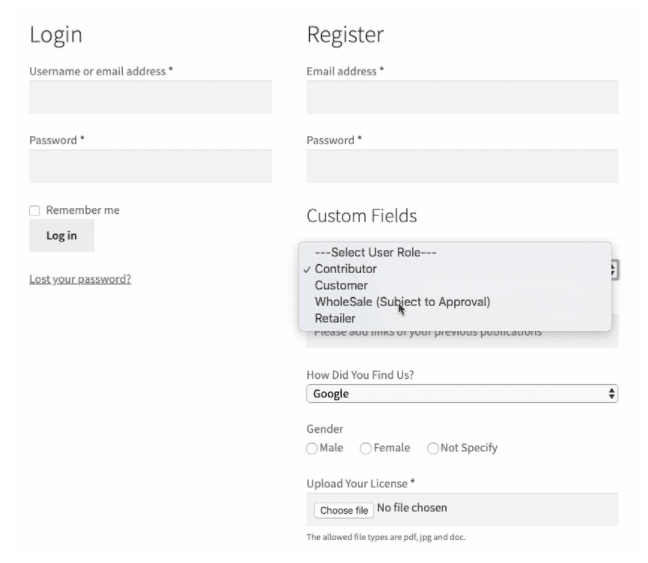 Make products visible or hidden based on user roles.
Use different prices for different user roles.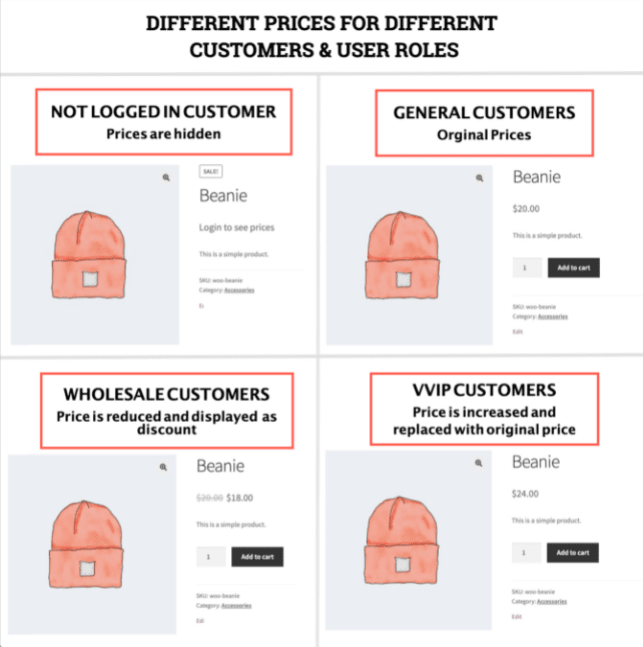 Fix bulk price based on rules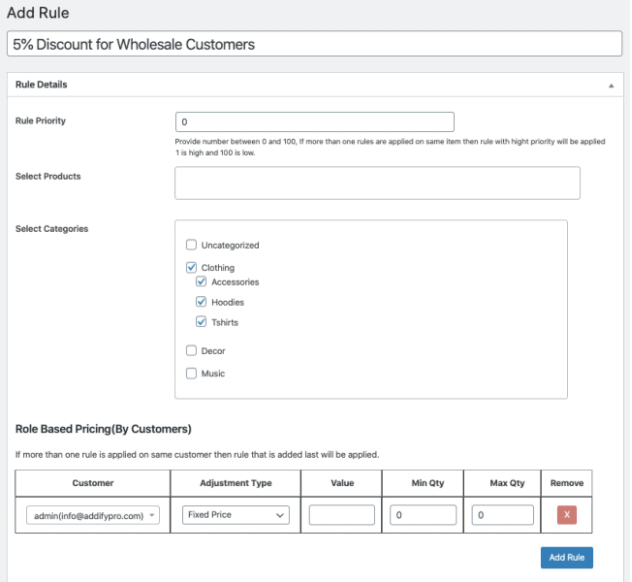 Fix tiered pricing for different user roles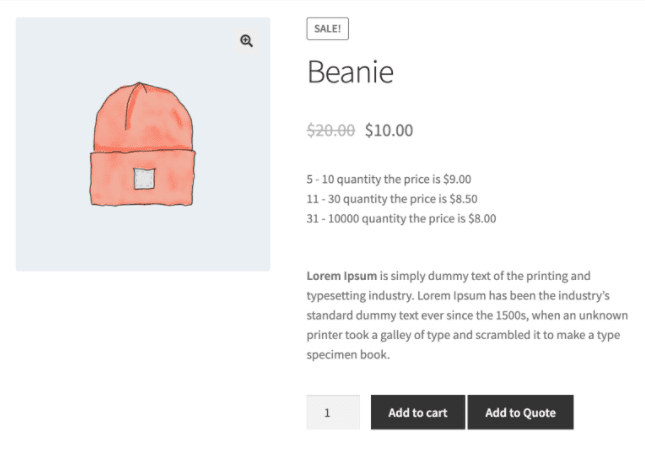 Add quote request option and hide pricing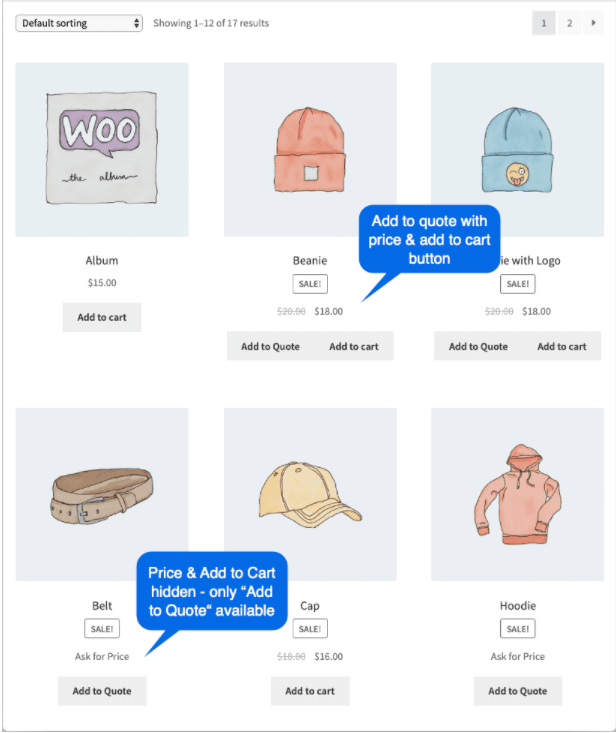 Restrict shipping methods based on user roles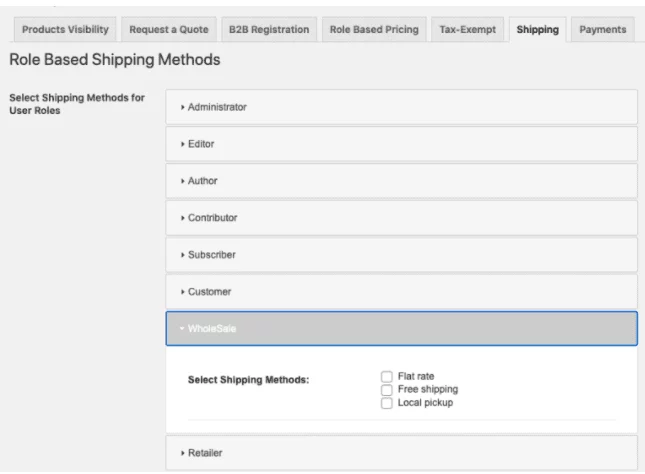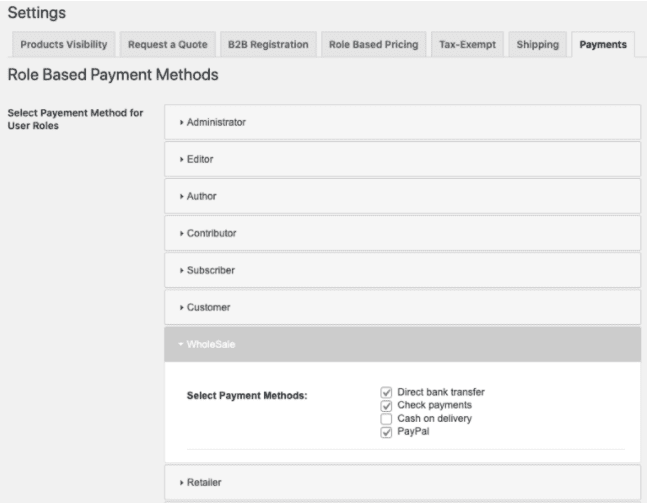 5. WooCommerce Product Table
WooCommerce Product Table plugin lets you show all the products of any category one after another, making it easy for wholesale buyers to add any products to the cart just with a single click.
The category layouts of the basic WooCommerce plugin with large images might seem great for public shops, but not up to the mark for handling wholesale stores.
With this WooCommerce Product addon, you just show the wholesale buyers what's important for them to know and hide what they don't want to see. It saves them time and streamlines the wholesale ordering process.
📣 Key Features of WooCommerce Product Table Plugin
Below is a list of features you can integrate into your wholesale store using the WooCommerce Product Table plugin:
Include the Add to cart button for all products presented in the table.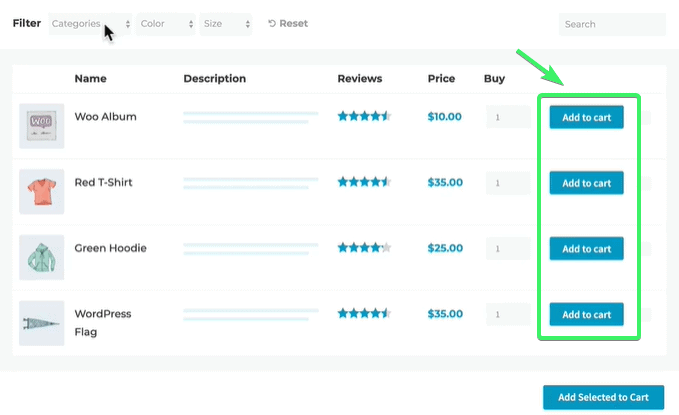 Let the wholesale clients choose products and then add them to the cart in one click.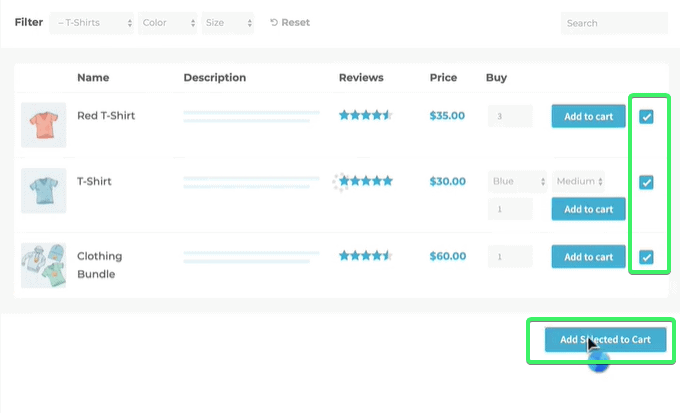 Set the number of columns and what columns appear on the table.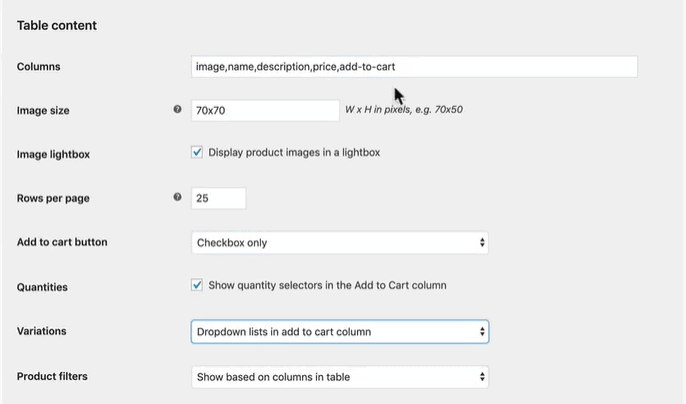 Let the wholesale buyers search for the product they're looking for using the search option.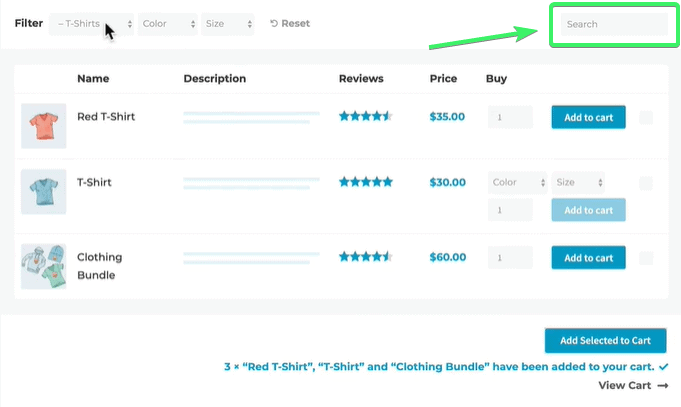 Set the product image size and rows per page for wholesale buyers.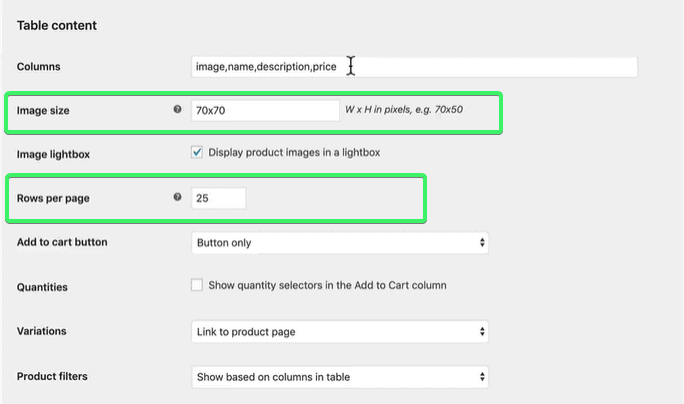 Allow users to filter products by categories, color, and size.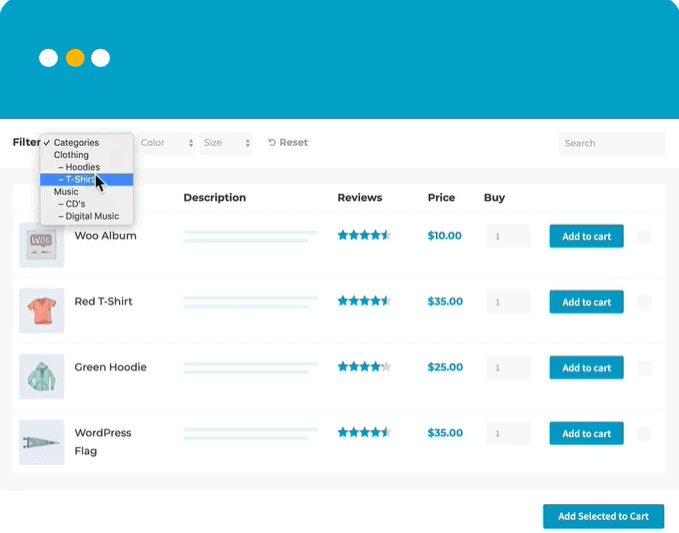 List all or specific products along with taxonomies, attributes, custom fields, SKU, and more.
6. WooCommerce Private Store
If you want to hide your WooCommerce store from the public and prefer to show the store and products only to wholesale customers, you can try the WooCommerce Private Store plugin.
📣 Key Features of WooCommerce Private Store Plugin
To be frank, this is a pretty simple plugin and does exactly what it says. Here's a list of how the WooCommerce Private Shop plugin by Barn2 helps you make your shop truly a private one:
Set a member-only login area to let your targeted users log in with their passwords.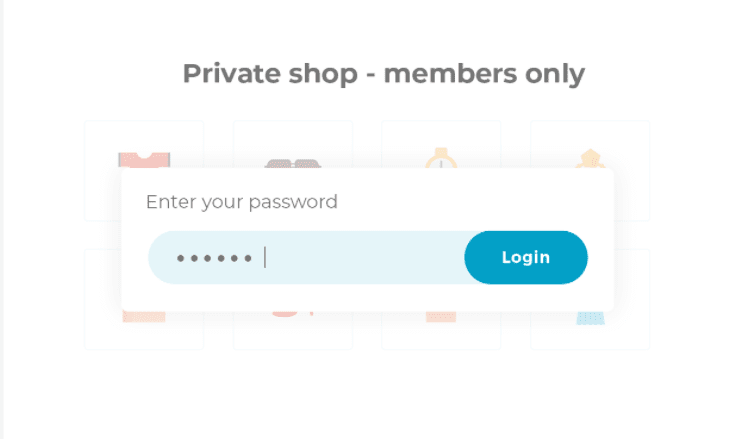 Automatically unlock the wholesale store for logged-in users.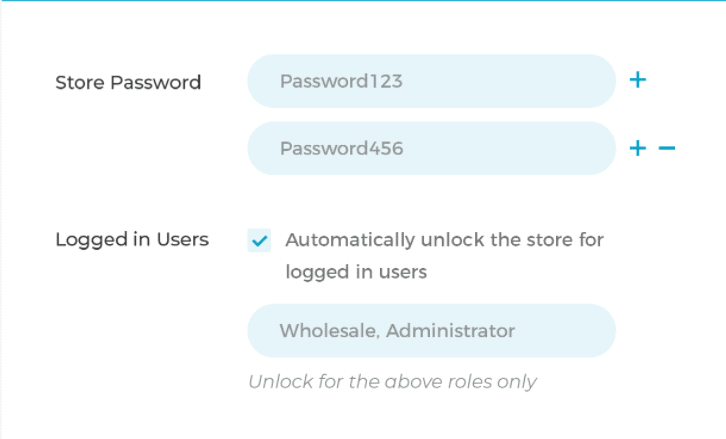 Make your store invisible on search engines.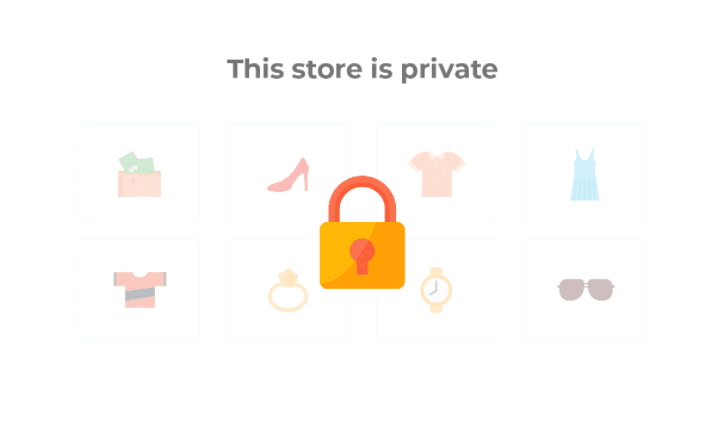 7. WooCommerce Protected Categories
If you want to create a private wholesale area for your WooCommerce store, this plugin is ideal for you.
This plugin will help create a wholesale area, visible only to allowed users. Besides, you can create private categories intended for registered users only.
However, as this plugin neither interferes with the public store nor makes the entire store private, you can continue selling to the public users as usual.
📣 Key Features of WooCommerce Protected Categories plugin
Let's see how you can leverage the possibilities of the WooCommerce Protected Categories plugin on your store.
Set password-protected categories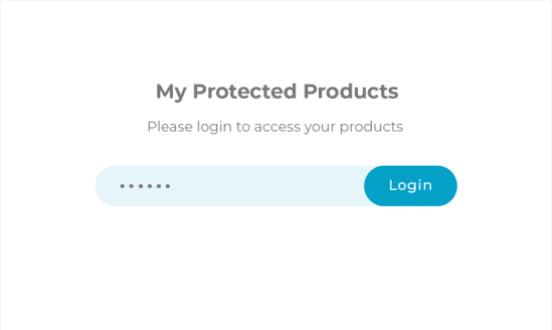 Use protected categories based on multiple wholesale user roles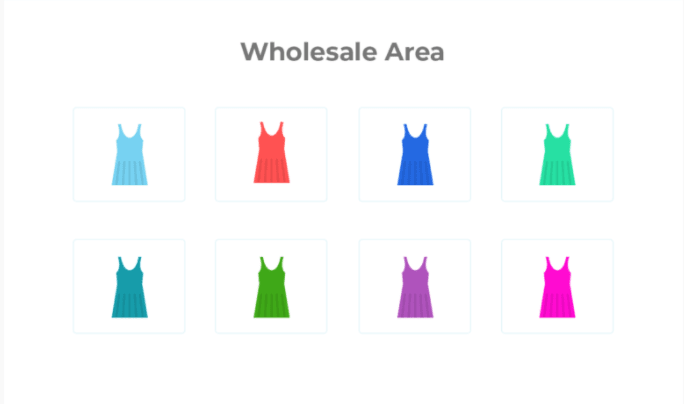 Edit protected categories based on certain users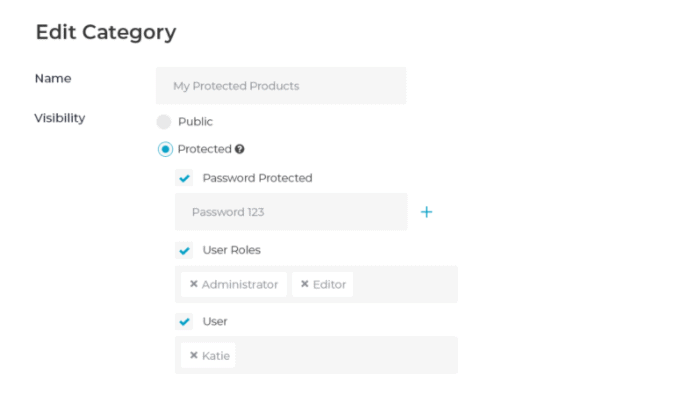 8. Whols
Take your wholesale store to the next level with the Whols Plugin – an effortless way of managing and streamlining your wholesale pricing structure. With this plugin, shop owners can effortlessly manage their wholesale prices as well as make their approval process smoother. The Whols plugin offers a variety of features, such as the ability to set wholesale prices on simple or variable products, specify a redirection page upon completion, assign WooCommerce wholesale roles for the customers, apply wholesale prices globally, and even hide prices for guest users.
You can set minimum product quantity requirements and customize a registration success message to ensure a seamless transaction with the Whols Plugin.
The plugin even allows for automatic approval if that's what you prefer! Plus, with the option to manage payment methods and free shipping based on roles, the Whols Plugin takes care of all of the backend work for you, without requiring any coding knowledge.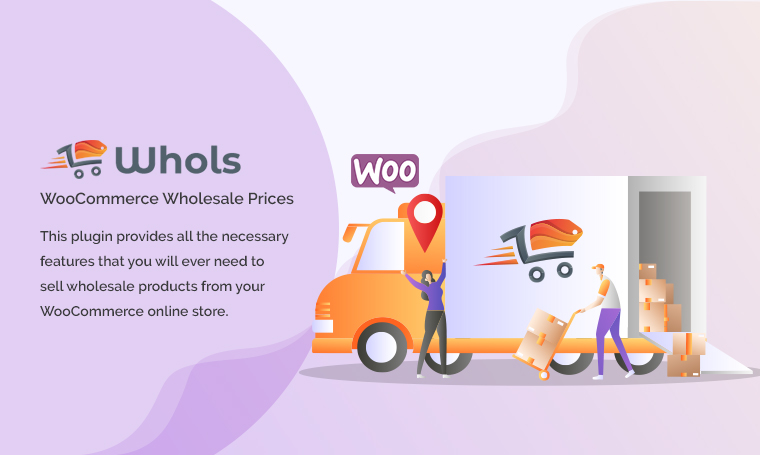 Key Features of WooCommerce Wholesale Pro Plugin
Simplify the registration for wholesalers to make it a quicker and more efficient process.
Offer wholesalers complimentary delivery services (free shipping)
Customers can apply for a wholesale membership
Designate wholesale roles for existing customers.
Create unique rates for both Simple and Variable products to drive revenue
Deny access to wholesale prices for guest users.
Offer the ability to restrict General Products from Wholesaler Accessibility.
Bonus: Promote Your Products to 100+ Marketing Channels
Do you want to display your WooCommerce store's products on over 100 marketing channels? If yes, you must make a product feed as per the requirement of channels.
Unless you can fulfill those requirements, you cannot promote your products to those channels, period.
Do you know that there is a simple but popular plugin that can help you make a product feed within a few minutes?
Meet CTX Feed, installed by thousands of WordPressians to make a seamless and error-free product feed.
Apart from providing you with a bunch of built-in templates, it helps you build custom templates, add suffixes and prefixes, enable auto-feed update, use dynamic attributes, smart filters, and more.
No matter whether you have a wholesale store or public store running on WooCommerce, you can use the CTX Feed plugin to generate a product feed for:
Google Shopping and Google Merchant
eBay Ads
Price Runner
Rakuten
Kelkoo
PriceSpy, and more.
With CTX Feed, you can produce unlimited feed for unlimited products in XML, TXT, CSV, XLS, and TSV file format.
Store Owner's Guide: How to Choose the Right WooCommerce Wholesale Plugin?
However, before installing the best WooCommerce wholesale plugins for your store, you should know what to look for in a WooCommerce wholesale plugin.
There are hundreds of WooCommerce compatible plugins out there. But it does not necessarily mean that you need them all. As more unoptimized plugins translate into the slow loading speed of your store, you need to be wise and choosy when it comes to picking the right WooCommerce wholesale plugins.
Though many wholesale WooCommerce plugin developers advertise and claim their plugin to be "the #1 wholesale plugin for WooCommerce", all of those are not.
To be frank, the minimum feature of any pro wholesale plugin for your store should be the option to set different prices based on user roles. However, there are other important things as well that you should not skip over.
To help you find the right plugin for you, below is a guide to let you know what to look for in the best WooCommerce wholesale plugins out there.
Displays Products Differently for Retail and Wholesale Customers
Like we mentioned before, your wholesale shop should offer a wholesale-friendly view of your products. So, the wholesale plugins you'll be using on your website should enable you to set a product table from where the users can see only what's necessary for them to know.
The product table should essentially feature the wholesale price along with the product name and discount amount for a certain number of orders.
As the discount percentage varies largely on the number of ordered products, make sure that the wholesale customers clearly know how much discount they're gonna get for buying 10/100/1000 products from your store.
Supports Custom Prices for Wholesale and Retail Customers
Your wholesale plugin should let you add different prices for both the retail and wholesale customers of your shop.
When you are running a B2B and B2C store from a single website, you should make sure that your wholesale plugin offers a simple way to add pricing for different types of customers.
Next, your customers should have a scope to switch between retail and wholesale pricing easily.
Lets You Create a Private WooCommerce Shop
In case you aren't interested in letting the retail buyers know about the wholesale price, you need a plugin that lets you run two different shops side by side – one for retail buyers (public and accessible by all), the other for wholesale buyers (private and accessible only to wholesale customers with password-protected login).
Of course, the private wholesale area should be hidden from retail customers and let only registered wholesale customers/distributor buyers shop with discounted prices and a streamlined ordering process.
Note that if you create a private wholesale store, your retail buyers can still browse the store, see the retail pricing with product images, reviews, and other things as before.
Allows the Wholesale Distributors to Get Registered
If you run both a B2C and B2B store together, it's beneficial to keep a sign-up and log-in process for the wholesale customers.
Though there are different individual plugins to help you create a sign-up and login area for wholesale customers, it's best if your main wholesale plugin offers seamless wholesale user registration and log-in process along with other features.
Lets You Create User Roles
You'll find some dedicated plugins to add, rename, and delete user roles (as a plugin is suggested in the plugin list above). On top of that, your plugin should have the option to customize the capabilities of the user roles.
Features a Wholesale Order Form
A product order form simplifies wholesale ordering. It saves the time of wholesale buyers and lets them order more products to the cart within a very short amount of time.
So, when you go for using the best WooCommerce wholesale plugins, you should see if they let you add a quick product order form with all the required fields for wholesale buyers.
Frequently Asked Questions (FAQs)
What is WooCommerce wholesale? 

WooCommerce Wholesale is a B2B business platform. A WooCommerce wholesale store serves wholesale buyers with wholesale prices and discounts. 

Most often, wholesale shoppers buy in bulk and hence a WooCommerce wholesale store differs a lot from a public WooCommerce retail store. 
Can I add a wholesale category to my WooCommerce store? 

Yes, it is extremely simple to add a wholesale category using the best WooCommerce wholesale plugins available on WordPress.org and other third-party plugin providers' websites. 
How can I build a WooCommerce wholesale store from scratch? 

There are two ways to build a wholesale store. Firstly, you can run it as a private shop alongside the public retail shop hosted on the same website. And secondly, you can start a wholesale store on a separate website (For instance, AliExpress.com is a retail store, and Alibaba.com is a wholesale store). 

To build a WooCommerce wholesale store alongside the existing retail store, you just need to install and configure one or more WooCommerce wholesale plugins on your website. 

However, if you want to start a WooCommerce wholesale store from scratch and host that on a separate website, you have to get a domain, buy hosting, install a theme, and get a dedicated Wholesale plugin for your store. Read the article from the beginning to know more about the entire process. 
What is WooCommerce pricing?

The core version of WooCommerce can be downloaded free from WordPress.org. However, WooCommerce also offers pro extensions that you can buy with WooCommerce fees. 
Why is WooCommerce so expensive?

The core version of WooCommerce is not expensive at all. You can download WooCommerce free of cost from WordPress. However, if you buy extensions to enjoy the full-fledged features of WooCommerce, you might need to buy paid WooCommerce extensions that might range from $49 to $199. 
How do I add wholesale prices to WooCommerce?

To add special wholesale prices to the products of your WooCommerce store, you can use any wholesale plugin either sold by WooCommerce or third parties. 

B2B for WooCommerce and Wholesale for WooCommerce are two of the popular wholesale suite plugins you can make use of. 
Can I make the wholesale pricing visible only to wholesale users? 

Yes, you can easily hide the wholesale pricing for the retail buyers and show the wholesale price only to the wholesale customers. Most of the comprehensive plugins allow you to make prices visible based on multiple user roles. 
How do I display a discount price in WooCommerce?

For a public WooCommerce shop you can add both the regular price and sale price. The sale price is the discounted price determined after omitting a certain percentage or a fixed amount. 

For example, you can set the regular price of a product as 15$ and the sale price as 12$. In this case, you're offering 3$ discount for the product. 

However, if you run a WooCommerce wholesale store and you want to set bulk discounts for wholesale buyers, using a dedicated wholesale plugin for WooCommerce will make the job of displaying discount prices easier.
What is the best theme and plugin for setting up my WooCommerce wholesale store? 

There are hundreds of WooCommerce-compatible themes and plugins on the web. When it comes to choosing the best theme for a WooCommerce wholesale store, you can choose a theme that's compatible with the WooCommerce plugin. 

Astra, Flatsome, WoodMart, and Storefront are some of the best themes for a WooCommerce wholesale store. 

When it comes to the best wholesale plugins, we recommend you use WooCommerce Wholesale Pro, Wholesale for WooCommerce, and B2B for WooCommerce plugins. 
Which plugin should I use to create a wholesale user role for my store? 

Almost any full-fledged WooCommerce wholesale plugin should allow you to create a wholesale user role for your store. However, if you need a dedicated plugin for setting and managing user roles, we recommend you use the User Role Editor (features are described above). 
How much does WooCommerce cost? 

The core version of the WooCommerce plugin is free to install and activate for your WordPress website. However, if you want to add advanced functionalities such as adding a wholesale section to manage the wholesale price, user roles, discounts, password-protected login, and more, you have to buy WooCommerce extensions and wholesale plugins that might cost you money. 

To be precise, how much money you need depends on how many premium plugins you buy for your store. To minimize the cost, you can buy some multi-functional wholesale suite plugins (with multiple advanced features) instead of dozens of separate plugins (with one/two simple features). 
Start Building…
Now that you've come so far reading it, you know everything you need for setting up a WooCommerce wholesale store, right? Now, it's your time to go and make a wholesale store with WooCommerce.
By the way, did we miss anything? Do you want us to add more to any part of the article? Feel free to let us know your opinion in the comment box. Good luck with your WooCommerce wholesale store.