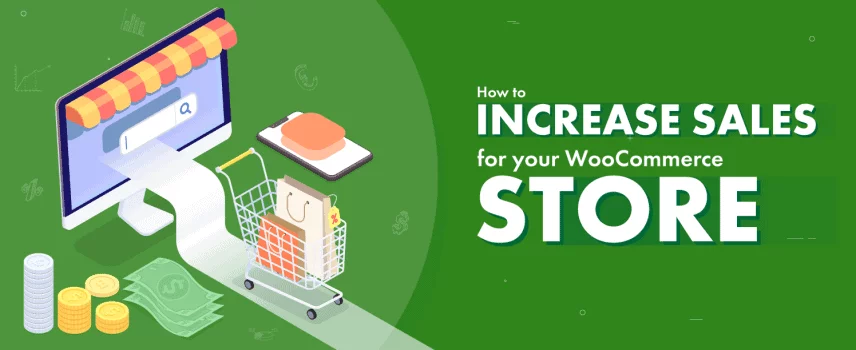 How To Increase Sales For Your WooCommerce Store In 2023
At this moment, WordPress powers 39% of the web. This is a considerable share and also an outstanding achievement for this open-source project. WordPress is a free and open-source CMS, but it has evolved into backing all kinds of web development projects. WooCommerce is a popular WordPress extension to turn your WordPress installation into a full-fledged eCommerce site.
WooCommerce is mainly developed and maintained by the WordPress core development team. As a WooCommerce store owner, you must desire to increase your store's sales. We will share useful tips to reach your goal.
WordPress is a CMS (Content Management System), and it emerged as a blogging solution. Due to the simplicity of WordPress, it did not take long to reach millions of people with its power and story. Today, it is not only used for blogging. People use this for all sorts of web projects.
Apart from personal blogs, large news sites, giant eCommerce solutions, sophisticated showcasing, and business portfolio sites are built with WordPress.
The success of WordPress is also powering WooCommerce. Many people are interested in selling products online, and they can get a quick start with WooCommerce. Behind the success of WordPress, the open-source philosophy is a valuable contributor.
This community-driven project has come a long way with the help of lots of amazing people worldwide. Even you can be a part of this brilliant project.

Why a WooCommerce Store
Like WordPress, developers all around the world love WooCommerce. It is also an open-source project and fully customizable. WordPress has lots of plugins in its directory. You will find that there are lots of plugins targeted for WooCommerce too.
The flexible customization option helps developers and store owners get their desired store with some simple steps. You will be able to control the outlook and functionality of your store with minimal effort.
In the WordPress plugin directory, you will find plugins (Extensions for WooCommerce) to deal with a custom task in WooCommerce. Moreover, you will even find multiple options for a single task. So, if you are still in a fix to decide whether you should choose WooCommerce or not, you can leave your worries aside.
Find below the top reasons to choose a WooCommerce store:
First of all, WooCommerce is open source and offers lots of customization options.
Secondly, it is both developer and user friendly at the same time.
Thirdly, there are lots of free and premium themes to give your store a custom look.
Moreover, you will be able to sell all sorts of products with WooCommerce.
On top of that, you can turn your site into a Booking or Membership site with WooCommerce.
Additionally, you can set dynamic pricing rules with other WooCommerce extensions.
The SEO friendly nature of WordPress also impacts WooCommerce to get a decent output.
WooCommerce is also very easy to set up with very little technical knowledge.
Furthermore, it has support for lots of payment methods and gateways all around the world.
Your marketing and shipping will also be under your full control with WooCommerce.
There are lots of action and filter hooks for developers to bend things as they wish.
Finally, there is a huge possibility that if you need a feature, there is already a plugin.
Now you must have a clear idea of why you should build your online shop with WooCommerce. This post aims to help existing WooCommerce store owners and future ones with a piece of great advice to make their desired revenue from their shop.
If you are struggling with your WooCommerce store to increase revenue, the next part will benefit you.
WooCommerce Product Feed
Right now, you must be putting a lot of effort into increasing your WooCommerce store's sales. WooCommerce product feed can be a fascinating addition to your existing marketing efforts. In general, product feeds are essential product information gathered into a file to share in different marketing channels.
Usually, the most common file types for a product feed are TXT, CSV, and XML. A product feed is a very streamlined way to group and distribute your products in various marketing channels.
Sharing your products in the leading marketing channels, price comparison sites, and affiliate networks will boost your products' visibility to thousands of potential customers.
It will significantly enhance your marketing efforts and increase your WooCommerce store's sales. Price comparison sites or comparison shopping engines are sites where marketers submit their products to reach their buyers.
When a buyer searches for a specific product, there are higher chances that their products will be shown to them if it matches the search terms.
Apart from increasing your WooCommerce store's sales, a product feed also has multiple benefits. It will help establish and increase your brand value as more people will know about your product and service.
Business is getting more competitive in the modern world. So, creating a substantial brand value can serve your business for many successful years to come.
What are the leading product marketing channels?
There are lots of product marketing channels. It is hard to give you a number because apart from the leading global channels, there are country-specific product marketing channels.
You will find that Google Shopping, Facebook Dynamic Ads, Bing Ads, Instagram Shopping, Pinterest, eBay, PriceRunner, Rakuten, and Amazon are some of the leading and most popular product marketing channels. Sharing your WooCommerce store products on those channels has a higher potential to increase your sales.
Google Shopping
You may only know Google as a search engine giant, but they have other services to help an individual and business. Google Shopping is a leading product marketing channel, and it can help your business to grow exceptionally. Let's say you are searching in Google, and in the search results, all you see are different products with rich product information.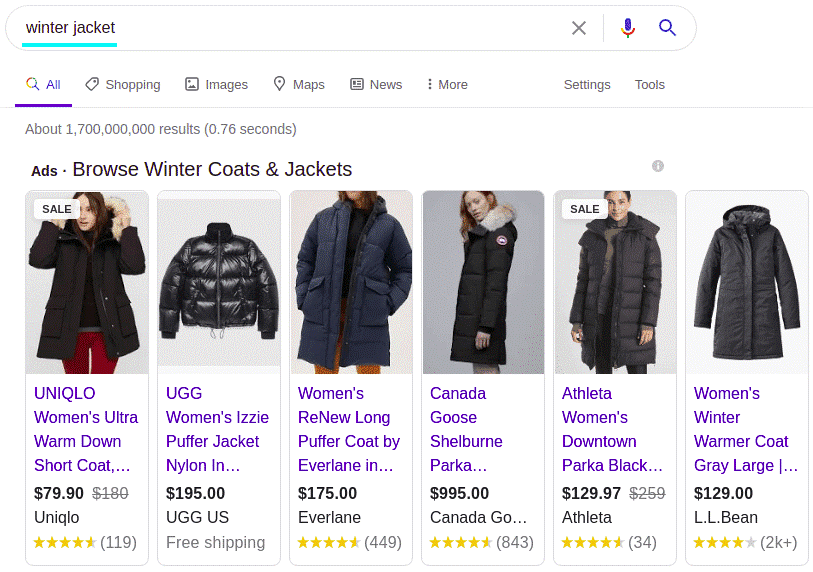 You can also share your products to be displayed on the search or particularly on Google Shopping. So whenever people's search term matches your product, Google will display your products to them. Finally, sharing your product feeds in the most optimized way on Google Shopping will increase your WooCommerce store's sales.
Facebook Dynamic Ads
Just like Google, running advertisement campaigns on Facebook can also enhance your WooCommerce store's position. First of all, Facebook is not limited to a social media site. They have included lots of features to aid businesses, and Dynamic Ads is part of the initiative. While browsing Facebook, you usually see lots of promotional posts.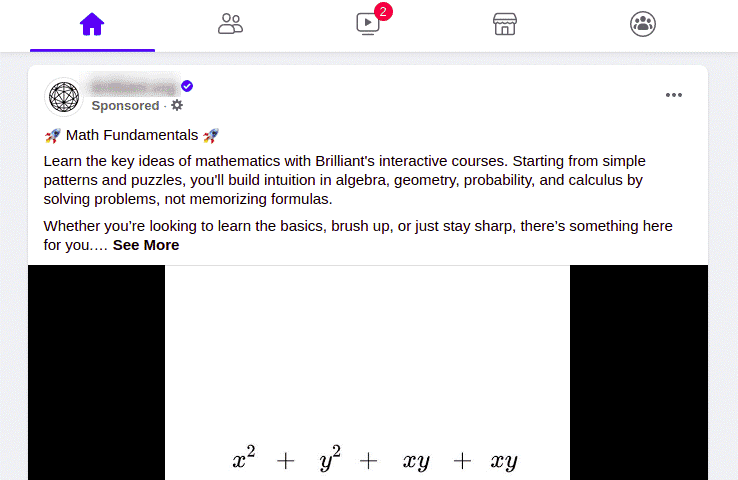 Facebook displays the promotional posts based on your interest, intent, and overall behavior. What if you could also reach your potential customers by using this feature. It is difficult for you to know everyone who might be interested in your products, but for Facebook, it is not difficult.
With the Dynamic Ads on Facebook, you can target many people who have shown interest in your product or service. Facebook will display your promoted products just like the promotions you get while visiting Facebook.
Instagram Shopping
Shopping on Instagram has also become a modern and powerful feature of Instagram. You can tag your WooCommerce store's products to the Instagram Catalogs, and those catalogs will have a shopping icon on them. When an Instagram user clicks on the shop now button, they will be redirected to your shop to know more about the product and purchase it.
Those were some examples of the leading product marketing channels that can help boost your WooCommerce store's sales. Like we said earlier, you will find lots of country or region based local channels too. With the local channels, you can also increase your sales.
So, how do you create and share your product feeds to the global and local product marketing channels should be the only thing running in your head now. WooCommerce Product Feed (CTX Feed) is all you need to help your business reach the next level.

WooCommerce Product Feed for Google, Bing, eBay, and Many More
Product feed management is a very challenging task if you don't have the right tool for it. WooCommerce Product Feed is the best product feed management tool for your WooCommerce store. If you can leverage this tool appropriately, there is a higher chance that your store revenue will boost significantly.
You will love the simplicity of feed creation and distribution to your desired channel with this brilliant WooCommerce feed generation extension. Moreover, this is the best available tool for creating product feeds for all your desired product marketing channels.
Let's learn about the best things about this brilliant tool.
First of all, you will find all your desired global and regional product marketing channels supported by this state of the art WooCommerce feed generation plugin. Currently, it has support for more than 100 (around 120) product marketing channels.
Secondly, the built-in templates to create feeds in a short time is another brilliant feature. You can find a built-in template for your desired channel from the templates section. So, with very little prior knowledge, you can get started with creating your product feeds.
Moreover, the plugin is regularly updated to keep your WooCommerce store on top. To ensure that you can increase your WooCommerce store's sales in 2021, the team works hard to add more exciting features and improve the existing ones. It also includes a lot of filtering options to ensure that you can create the most optimized product feed for your store.
Additionally, there are lots of features to automate the feed generation and uploading process. You can schedule the uploading of feed at specific intervals. Thus, you can ensure that the visitors of those promotional posts always get the latest information.
Finally, there is a premium version to give you more ease and take your WooCommerce product feed generation experience to the next level. Learn more about the free plugin from here.
CTX Feed PRO
The free version should suffice your need, but if you want to optimize your product feed even further, then it is worth getting the premium version. With the premium version, you will be able to multiply your WooCommerce store's sales even more.
Let's get to know some exceptional features of the premium version.
Advanced Filtering Options:
With the premium version, you will get more powerful filtering options. Including and excluding a product from your product feeds will be just a decision way. The advanced conditioning options are so cool and easy to follow that you will never feel like you lack technical knowledge. On the contrary, if you have the technical knowledge, it will feel like a fun ride.
Multilingual Support:
The premium version stands out with its support for multilingual sites. First of all, if you run a multilingual site powered by WPML or Polylang, you should also want to create your product feeds in a different language. Well, you should! And CTX Feed PRO will help you create the product feed in your desired language.
We, in fact, encourage store owners to create and target customers in their local language. As a result, you can expect a higher connection with the customer. In the end, this will increase your store's sales.
Multivendor Support:
It is very common to run a WooCommerce powered multi-vendor site. After seeing Amazon and eBay's success, lots of people got interested in creating their Amazon-like site. So, if you have a multi-vendor site, then creating product feeds can become a little tricky. Well, not if you have the CTX Feed PRO.
You can include or exclude a vendor while creating product feeds. So, you can either include the products of a single vendor or multiple vendors.
That was a very brief highlight of the premium plugin. We highly encourage you to visit this product page and learn more about it.
You may feel like you have already done a lot to increase your WooCommerce store's sale in 2021, but we argue that it is not enough. Following our suggestion should help your business grow more and secure a strong position for the future.
Learn more about the plugin and feed creation from this post. It will help you get a quick start. The more people you reach with your products, the more chances they will convert as customers.