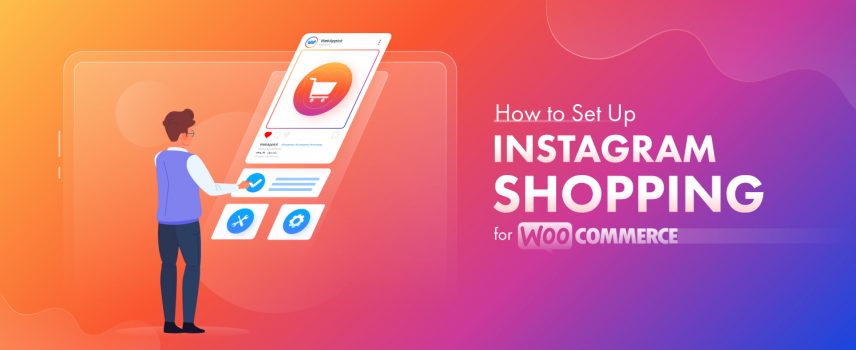 How To Set Up Instagram Shopping For WooCommerce
If you often wonder about the evolution of social media platforms and their impacts on our day-to-day life. Rest assured, you are not alone. There are lots of studies focused on how social media such as Facebook, Instagram, Pinterest, and Twitter influence our decisions.
You can't deny that Shopping Ads on Facebook and Instagram Shopping can help marketers and store owners to increase their sales. All you need to know is how you can do it right without wasting your valuable time.
You will love to know that our WooCommerce Instagram plugin will do all the hard work for you and generate outstanding product feeds for Instagram.
What will you learn from this post!
The importance of Instagram Shopping
The benefits of Instagram Shopping for your WooCommerce store
A brilliant tool WooCommerce Instagram plugin
Benefits of the CTX Feed management plugin
Guide to create a feed file for your Instagram Shopping Catalog
Why Instagram Shopping
Instagram is a social networking platform where users can share their images and short videos. It is one of the social networking giants. Facebook is the leading social media platform, and it also owns Instagram.
Instagram has more than one billion active users. You should know that Facebook has more than 2.7 billion active users. Both of these platforms can help your WooCommerce store get more customers and secure more revenue.
You must also be interested to learn how to set up a CTX Feed for Facebook Dynamic Ads; we have you covered! Let's learn about the mind-blowing power of Instagram Shoppable posts now.

People love the brilliant interface of Instagram and its other cool features. Showcasing images on Instagram is also very easy. You must enjoy showcasing your business and product images to Instagram and enjoy its awesome features like filtering. Instagram also offers extensive options to showcase your products and turn your posts into ad campaigns.
Lots of potential customers all around the world will be able to explore your products. If you do not know already, take note that currently, the Shopping on Instagram feature is only available for Physical Products only.
How can Instagram Shopping impact your business?
As a large social media platform, Instagram has the potential to be very powerful to show your products. It will increase the visibility of your products and enhance your brand value.
Instagram makes Shoppable Posts or shopping very easy for you. It allows you to link the images on your Instagram account to your WooCommerce store's products by adding tags. With our plugin, you can connect WooCommerce to Instagram very smoothly. Desire more customers for your business? They are just tags away with WooCommerce Instagram Shopping.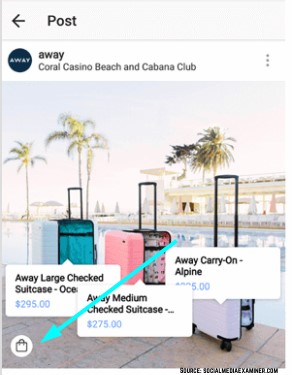 The highlight of the main benefits of WooCommerce Instagram Shopping
Instagram offers instant sales
Highlight your product details with style
Reach more customers and get more customers
Instagram offers instant sales:
You do not have to always share your products with your customers in the typical way. Without adding the price, and sales pitches, you can still win customers for your WooCommerce store.
Instagram can display your products in a very visually appealing way. It highlights the shoppable posts with a white shopping bag in the right corner. As a result, your customer will know that the post is shoppable.
Highlight your product details with style:
If a customer is convinced with your shopping post, then they can view product details too. Instagram makes it very convenient to increase your conversion. The product feed file includes all the necessary information about your product. When a customer taps on the image, it will bring all the necessary information about the product, including the price.
Reach more customer and get more purchases:
First of all, with Instagram shopping, you can reach people that would be very difficult to target on your own. Products are usually displayed in the search and explore section. Thus it increases the reach for your products significantly. Apart from that, if someone is interested in purchasing your product, they will be directed to your shop when they click on Shop Now.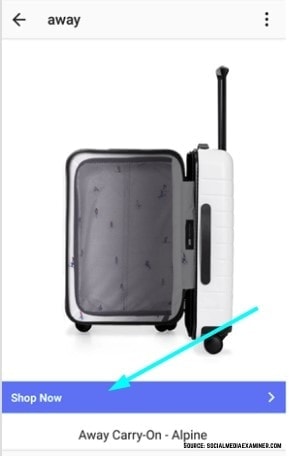 You cannot deny that everyone visiting Instagram is your potential customer. To unlock this new opportunity for your business, you need to have an Instagram Business Account. First of all, you will need approval from Instagram. BTW, some countries are not included in the Instagram Shopping feature.
Our WooCommerce Instagram plugin will help you get the most of Instagram Shopping. Selling products on Instagram is now very simple with the Instagram Shopping feature, and we are here to create extraordinary product catalogs for you.
You can easily create shoppable posts and stories by tagging your WooCommerce store products with those posts and stories. Thus your audience will find your store with just a single click.
Benefits of using our WooCommerce Instagram plugin
The precise results of selling or promoting products on social media platforms are drawing more businesses towards it. First of all, the main benefit of social media platforms is that you can reach millions of people worldwide in a very short time. Instagram prioritizes image sharing.
As a result, it has enormous popularity. Images are always more powerful than words.
Create Unlimited Product Catalog:
CTX Feed for Google, Bing, eBay, and Many More will allow you to create an unlimited number of product feeds or product catalogs for Instagram. With the available filtering options of this WooCommerce Instagram plugin, you can make each of those product catalogs unique.
The flexible filtering options include options like include/exclude products by categories, stock status, and more. Moreover, you can adjust different aspects of your product data that best suit your purpose.
Share Real-Time Product Information:
Most importantly, with our WooCommerce Instagram plugin, you can share the latest product information with your audience. It will automatically update product information at your preset intervals. So, if you are making a change in your store, it will be reflected on the Instagram shop too.
Multiple Feed Format
You can create and export the feed file in multiple formats too. Set the XML or CSV format while creating catalog files for Instagram. Afterward, you need to upload the file to Facebook Business Manager. Thus we make your Instagram WooCommerce shopping very easy for you.
The simplicity of Feed Creation
You will love the simplicity offered by this WooCommerce Instagram Plugin. CTX Feed for Google, Bing, eBay and, Many More will help you send your WooCommerce store products to the Instagram store. Create shoppable posts on Instagram with ease and take your business to the next level.
The premium version has lots of advanced features. Visit the product page to learn more about it.
Step by step guide of creating Shoppable Instagram Posts
First of all, you will need to create the feed file from your WooCommerce store. Include the desired products and their details to make them appealing to your targeted customers. We will first walk you through the feed creation.
Then we will share the steps to upload the feed file to your Facebook Business account. Let's learn about the steps to enjoy Instagram Shopping.
First of all, you have to create an account for your business at Facebook Business. You may already have an account. Then you do not have to bother about it.
Secondly, generate an outstanding product feed for the Instagram Shoppable posts using our WooCommerce Instagram plugin.
Thirdly, you need to login into your Facebook Commerce Manager account and upload the generated product feed file.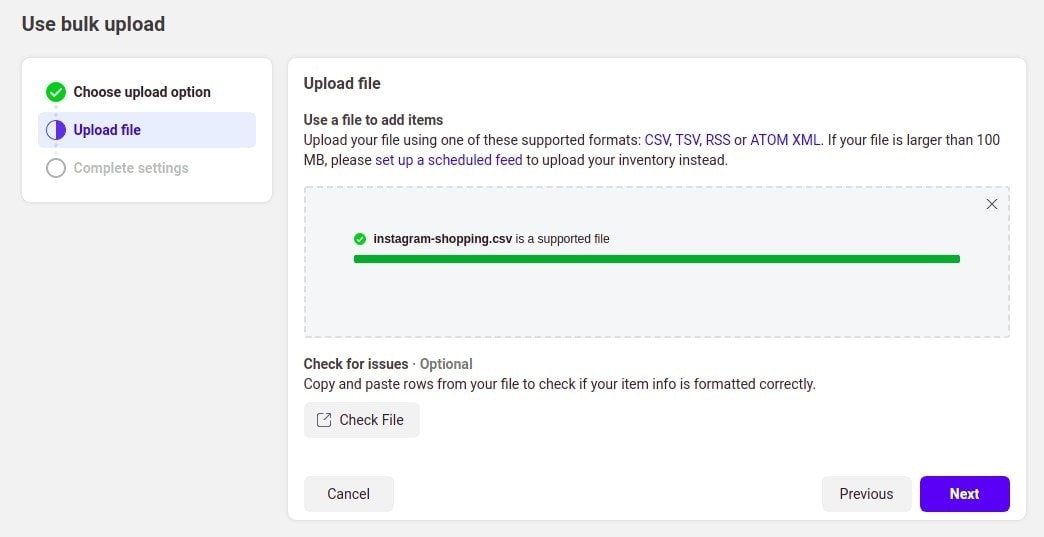 While uploading the product feed file to WooCommerce, you need to select the placement as Instagram. Moreover, you need to ensure that the shopping option under Business on your Instagram shopping is enabled.
How to create the WooCommerce Feed file for Instagram Shopping
At this point, we hope that you have already set your business account on Facebook and ready to start your adventure on Instagram Shopping. Connecting WooCommerce to Instagram may appear to be a difficult job if you lack knowledge and tools.
If you want to do this manually, then there is a lot of work, and after a certain period, you will not be able to handle it properly. Because with every change on your products, you will have to update the product information on Instagram too. With our WooCommerce Instagram plugin, you can smartly tackle this.
CTX Feed for Google, Bing, eBay, and Many More is the leading WooCommerce product feed generation and management plugin. It has the potential to empower your online shop or marketing career with awesome features and intuitive options. First of all, it has support for the leading product promotion and price comparison sites.
Moreover, you should find your desired global and local platform to generate feeds and distribute them to those channels. Apart from the wide range of support for price comparison, promotion, and affiliate networks, it has all the options that you can think of from a product feed management plugin.
Let's create your first WooCommerce product feed for Instagram Shopping
We hope that you have already installed and activated the plugin on your site. In case you do not have it yet, please follow this link to download and install the plugin on your site. We also have a detailed installation guide.
You are also welcome to take the help of it. After the installation, you will find a new menu option called Woo Feed on your site. There are several options to create, manage and control product feeds for your WooCommerce store under this menu. You need to click on the Make Feed button to create a new product feed.
Our intuitive interface and well-organized options are very easy to follow. As a result, you should not have any problem creating the product Feed for Instagram. We have also prepared a detailed guide on How to generate product feed using the right plugin.
We highly recommend you follow this guide to learn about feed generation and management tips and tricks. Additionally, you will also find lots of valuable information on the plugin settings and options on that blog.

You may get confused because there are no built-in templates for Instagram Shopping for WooCommerce! You actually need to select Facebook from the drop-down options under the Template. Everything else is, all the same, so you can enjoy boosting your business with a minimal learning curve and work.

In fact, we worked hard to ensure that feed generation does not daunt you in any way. We are still working hard to improve the experience even more for you. If you want to target Google Shopping, here is a step-by-step guide for you.

To set the WooCommerce Instagram Shopping, you need to create product feeds and upload them to Facebook. From your Facebook business account section, they will be then distributed to Instagram.
With this WooCommerce Instagram plugin, you can create product feeds, automatically upload them via FTP, update your product feeds after certain intervals, and sync the updated information to your desired channel. For this case, we are going to target Instagram.
The plugin offers straightforward options to create and distribute product feeds for every desired marketing and price comparison channel. You must have found creating a product feed for your Instagram catalog very easy. Connecting WooCommerce to Instagram should now be the simplest task for you.
Final Words
WooCommerce Instagram plugin is a full-fledged product feed management tool for WooCommerce. It can truly be your perfect companion for product data feed management on leading platforms like Facebook, Instagram, and Google.
We have helped lots of businesses to reach their desired goal with our plugin. It will be our pleasure to help you boost your journey too. Do you want to generate PDF Invoices, Packing Slips, and Shipping Labels for your WooCommerce store? You will love our Chalan Plugin.