How to Add Products to Instagram Shop to Increase Sales (A Quick Guide)
Do you want to add your WooCommerce products to Instagram for business?
Did you answer 'Yes'?
Then, continue reading.
At the end of reading this guide, you'll know:
This is not gonna be a big guide. So you can easily finish reading this guide in one sitting and learn how to add products to your Instagram shop.
Let's get started.

What is Instagram Shopping
Instagram Shopping is a feature that allows people to shop for products directly from Instagram.
When you see a product that you like, you can tap on it to learn more about it, and then you can buy it right there on Instagram.
Here's how it works:
Businesses create a catalog of their products on Instagram. (We will show you how you can do it)
When people see a product that they like, they can tap on it to learn more about it.
If they want to buy the product, they can tap on the "Shop Now" button and be taken to the business's website to complete the purchase.
Instagram Shopping is a great way for businesses like yours to reach new customers and sell more products.
A study by Statista found that there are about 2 billion active monthly users of Instagram (As of January 2023).
We encourage you to leverage Instagram for acquiring new customers and more profit. It's easy to create a shop on Instagram, and it's a great way to connect with your customers on a personal level.
How to Set Up an Instagram Shop
Setting up an Instagram shop is easier than you think. Below is the step-by-step process for you.
Step 1: Check Your Eligibility
There are certain requirements to be eligible to use Instagram Shopping for your business:
Step 2: Get a Business/Creator Account
In case you do not have a Business or Creator account on Instagram, your first step is to get one.
A Business account will qualify you to explore Instagram Shopping features and analytics.
Let us walk you through the processes of creating a business or creator account on Instagram
Click on the hamburger menu (on the top right) from your Instagram profile page.
Tap on Settings and then Account.
Tap on "Switch to professional account".
Now, tap on "Continue" and get through all the prompts that appear.
Choose a category that suits you.
From the "Creator" and "Business" categories, choose Business and then tap on "Next."
Decide if you want to display your contact info or not. Tap the toggle button to activate if you want to display the contact info. Once done, tap on "Next."
Now, you'll be asked to connect your Facebook page to your business profile. Choose your business page, and then tap on Next. If you do not have a Facebook page, you can either create a new Facebook page, or you can even go ahead by tapping on "Don't connect to a Facebook Page now."
Complete setting up your professional account. There are four steps in it. Go through them and configure them. Once done, tap on "Complete your profile" and fill in any missing information. Make sure to add your business website's URL so that people get you even when they don't use Instagram.
That's all.
Step 3: Set Up a Shop with Commerce Manager
To set up a shop on Instagram, you can use Commerce Manager or a supported platform.
Choose a checkout method. It's recommended to choose checkout on Instagram so that your buyers can buy directly from Instagram.
While choosing sales channels, opt for the Instagram business account that you would like to associate with your shop.
To enable shopping on both Instagram and Facebook, make sure to check the box next to your account.
That's all before you add your WooCommerce products to Instagram.
How to Add Your WooCommerce Products to Instagram
Though you can input each WooCommerce product feed on Instagram manually into Commerce Manager, that's not preferable due to the high amount of effort and time required.
If you have a WooCommerce store already, there is an easy way to create a product catalog feed with the CTX Feed plugin and then just upload the catalog feed to Instagram.
The process of creating the Instagram catalog feed is easy, and it will take you just a few minutes depending on your configuration.
Let us show you the step-by-step process of creating an Instagram Catalog Feed using CTX Feed so that you can add your WooCommerce products to Instagram easily.

Step 1: Install the Plugin
CTX Feed plugin has both free and pro versions, you can get them from here. Once you've downloaded the plugin, just upload, install, and then activate the plugin on your WordPress website.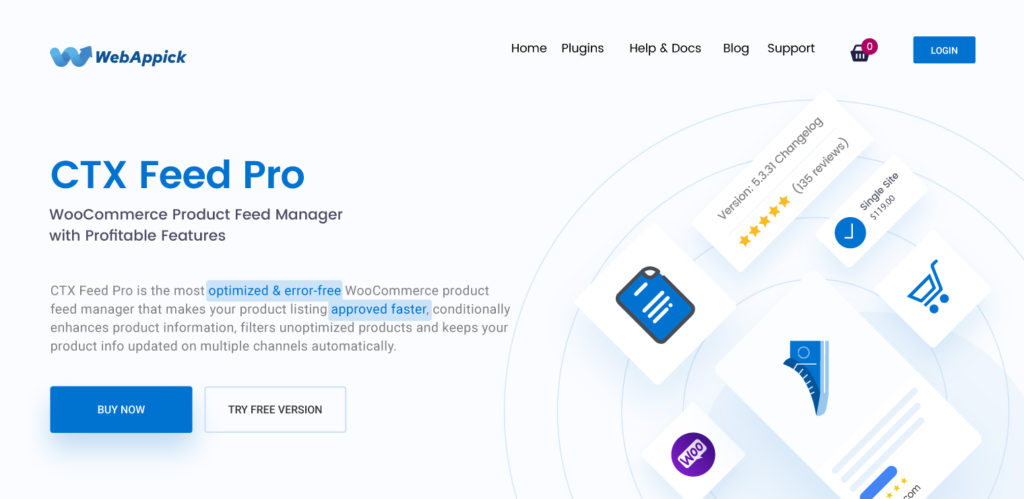 Step 2: Make the Instagram Product Catalog Feed
From your WordPress website, navigate to CTX Feed > Make Feed.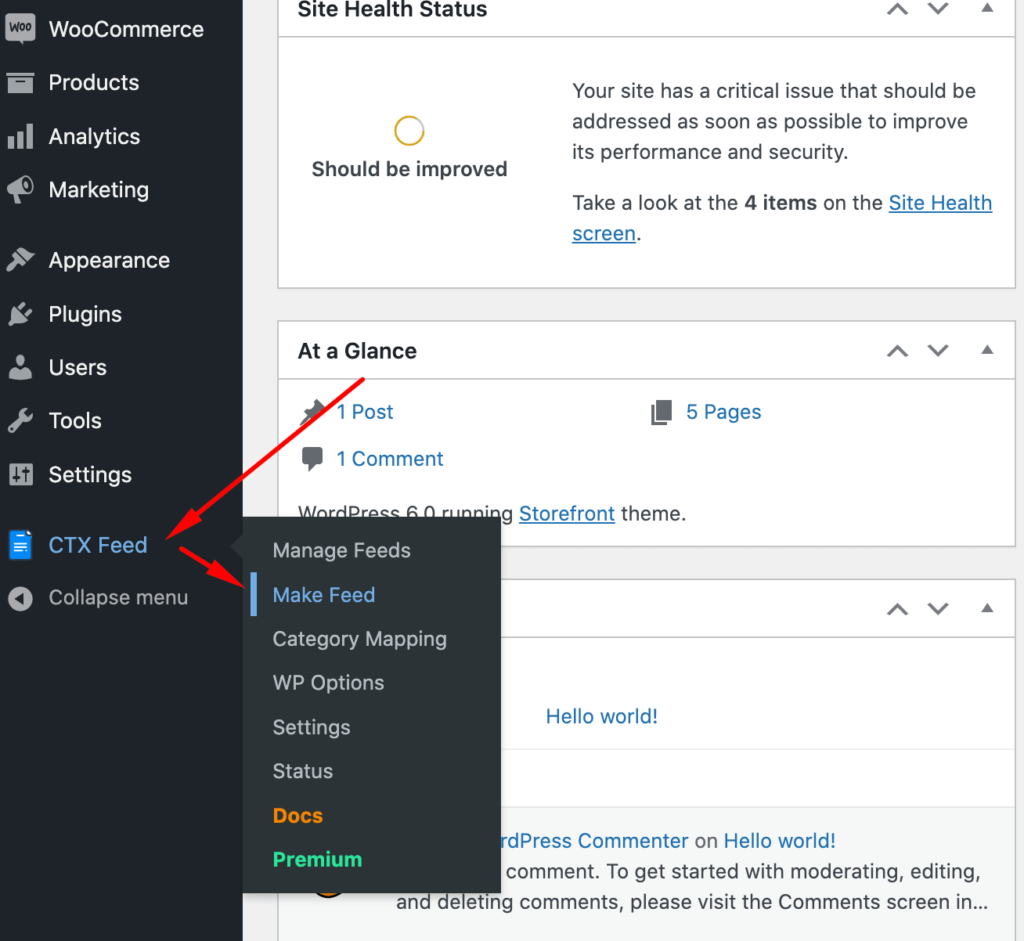 Configure the following Content Settings:
Country: The default is the US. You can configure it as per the location of your business.
Template: Choose Facebook Catalog/Instagram from the list of templates.
File Name: Give your Instagram product catalog a name.
File Type: Choose your preferred file type from XML Product Feed, CSV Product Feed, and TXT Product Feed.
Include Variations: Choose the type of product variations you want to include in your product page.

Step 3: Configure the Feed with Filter and Advanced Features
Now, you can add suffixes, prefixes, add/delete any attribute, and more from the FEED CONFIG tab.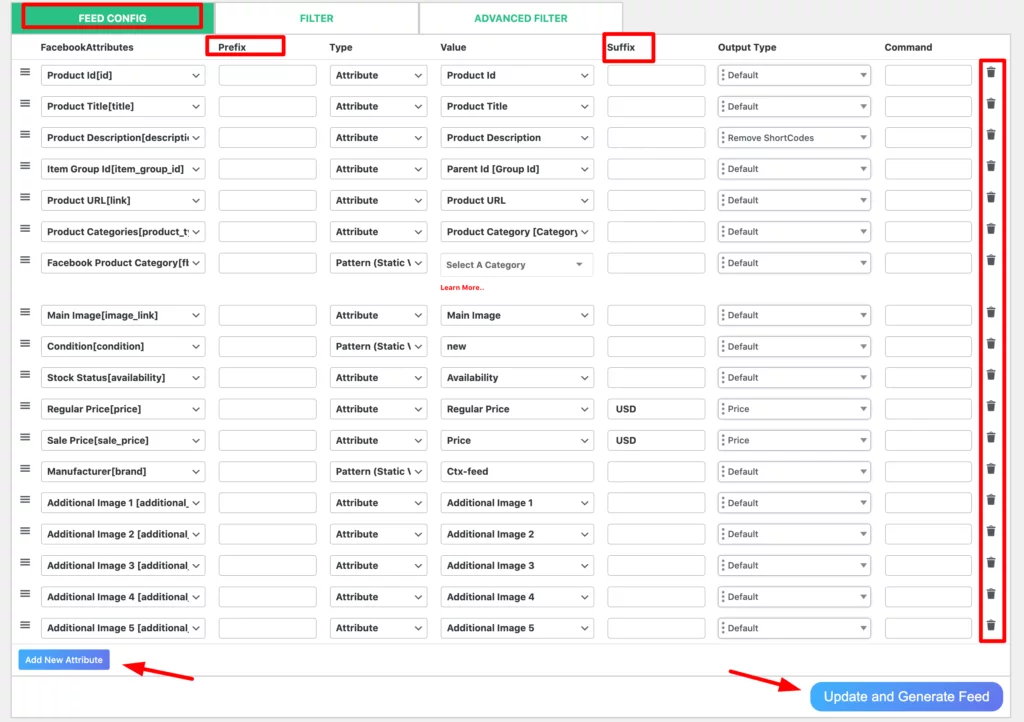 The filter tab will allow you to include or exclude products based on certain characteristics.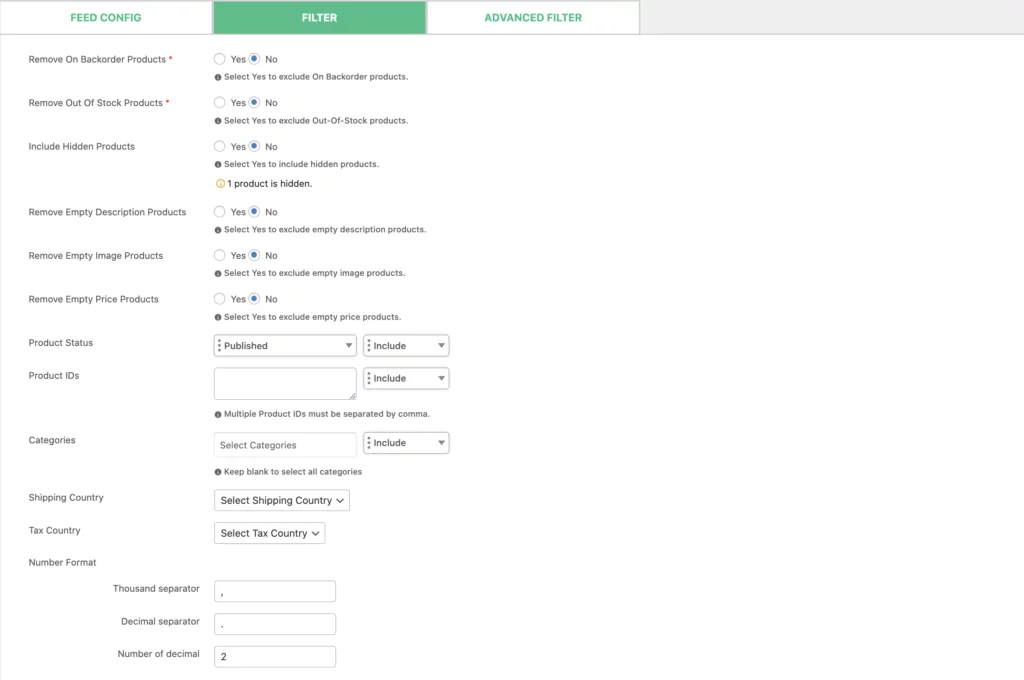 Advanced filters, Dynamic attributes, Attribute mapping, Category mapping, etc., are some of the key advanced features that you can use while creating your Instagram catalog to add products to your Instagram shop.

Once you're all done, click on Update and Generate Feed.
That's all, your product feed will now be generated. You can make any changes to your Instagram product feed or catalog feed from the CTX Feed > Manage Feed option.
Step 4: Upload Your Products to Instagram Shop
To upload your products to Instagram shop, go to Commerce Manager and then go to Data Sources opening the Catalog Tab.
Then, from the Add Items option, choose "Upload Product Info".
And then follow the next procedures to upload your WooCommerce products to Instagram.
That's all.
13 Reasons Why You Should Sell Your WooCommerce Products on Instagram Shop
Reach a Massive Audience: Instagram has over 1 billion active users worldwide, which means you have a huge potential customer base at your fingertips. By selling on Instagram, you can tap into this vast audience and increase your chances of reaching more customers.
Visual Appeal: Instagram is a highly visual platform that allows you to showcase your products through stunning images and videos. Studies have shown that people are more likely to engage with visual content. It makes Instagram the perfect platform to captivate your audience and drive sales.
Easy Product Tagging: Instagram's shopping feature allows you to tag your products directly in your posts and stories. This means that when users tap on the tagged products, they can instantly see the product details, pricing, and a direct link to purchase. It simplifies the buying process and reduces friction for potential customers.
Targeted Advertising: Instagram's advertising platform provides robust targeting options that enable you to reach specific demographics, interests, and behaviors. This precision targeting ensures that your products are shown to the right audience, increasing the likelihood of generating sales.
Shoppable Posts: With Instagram's shoppable posts, you can create a seamless shopping experience for your customers. By tagging your products in posts, users can explore and buy your products without ever leaving the app, making it convenient and effortless for them to make a purchase.
Influencer Marketing Opportunities: Instagram is the go-to platform for influencers who have significant influence over their followers' purchasing decisions. By collaborating with relevant influencers in your niche, you can leverage their reach and credibility to promote your products and drive sales.
Engage and Build a Community: Instagram fosters a sense of community and interaction. By regularly posting engaging content, responding to comments, and running contests or giveaways, you can build a loyal community around your brand. Engaged followers are more likely to become customers and advocate for your products.
As Instagram is social, people use Instagram to connect with friends, family, and brands. This means that you can build relationships with potential customers and encourage them to buy your products.
User-Generated Content: Instagram is a platform where users love to share their experiences and engage with brands. Encouraging your customers to share their photos and reviews of your products using a branded hashtag can provide you with valuable user-generated content. This content acts as social proof and helps build trust with potential customers.
Insights and Analytics: Instagram's business tools provide valuable insights into your audience, engagement metrics, and post-performance. By analyzing these metrics, you can gain a deeper understanding of what content resonates with your audience, optimize your marketing strategy, and drive better results.
Mobile Friendliness: Most people use Instagram on their phones. This means that your products will be seen by people who are already on their phones and ready to shop.
Affordability: You can set up an Instagram account and start selling your products for free. This makes it a great way to test the waters and see if selling on Instagram is right for you.
Ease of Use: Even if you're not a tech-savvy person, you can easily set up an Instagram account and start selling your products. The platform is very user-friendly, and there are plenty of resources available to help you get started.
Bright Future: More and more people are using Instagram every day. This means that if you're not selling on Instagram, you're missing out on a huge opportunity.
I hope these reasons convince you to start selling your WooCommerce products on Instagram. It's a great platform for reaching a large audience, showcasing your products, and building relationships with potential customers.
Frequently Asked Questions (FAQs)
Why aren't all my products showing up on Instagram?

There are different reasons why your products might not show up on Instagram. Some possible causes are:

1. Your account or products are not approved for Instagram Shopping.
2. Your products do not meet the commerce policies or merchant agreement.
3. Your product catalog is not synced or updated.
Which industries are relevant for selling on Instagram Shopping?

Instagram Shopping is a great way to sell products from a variety of industries. However, some industries are more relevant for selling on Instagram Shopping than others. Here are some of the industries that are most relevant for Instagram Shopping:

1. Fashion
2. Beauty
3. Home goods
4. Electronics
5. Toys
6. Food
7. Travel
8. Fitness
9. Wellness

These industries are all well-suited for Instagram Shopping because they sell products that people are interested in seeing and buying. If you're in one of these industries, you should consider selling your products on Instagram Shopping.
Final Thoughts
By now, you know exactly how to add WooCommercce products to Instagram Shop. However, if you can't add products to your Instagram shop after creating the Instagram product feed, you can take help from our support team.
So what are you waiting for? Start selling your WooCommerce products on Instagram today!

Read More