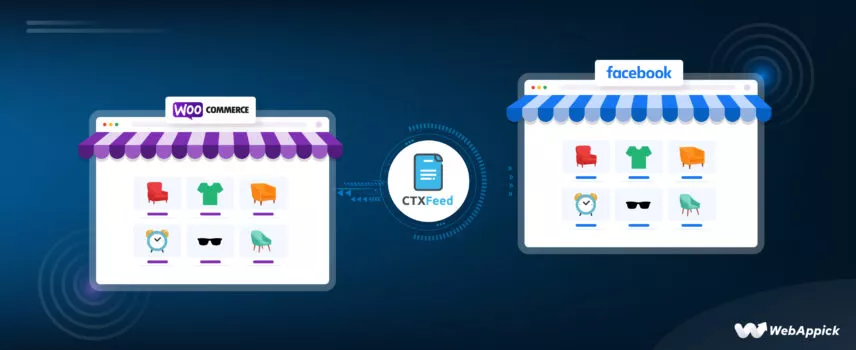 How to Add WooCommerce Products to Facebook Shop: A Step-by-Step Guide
There are about 8 billion people in the world, and 5.18 billion people use the Internet. And 4.9 billion of that 5.18 billion use social media platforms.
One single social platform grabs close to 3 billion users alone every month. We all can guess the name – Facebook.
Facebook is a goldmine for eCommerce businesses. If you have a WooCommerce store and not promoting your products on Facebook yet, check these statistics-
The majority of social media shopping takes place on Facebook.
Almost 55% of Facebook users are brand loyalists or shoppers who discover their favorite products on the social network.
In 2023, it is predicted that 37% of Facebook users will make a purchase while browsing the site.
71.64% of all social media referral traffic to websites comes from Facebook.
Each week, 1 billion people use the Facebook app family to contact a company via text message.
Facebook ads have an impressive conversion rate of 9.21% across industries.
As a result of its high conversion rate, Facebook has the highest return on investment.
There are multiple ways you can list and promote your WooCommerce products on Facebook. Moreover, Facebook now offers eCommerce businesses to create a fully-functioning storefront in the platform. They call it Shop.
However, you need to learn the processes to list and promote your products on the platform. The most important element for promoting your Woo products on Facebook is a product feed.
In this article, we will learn how to add WooCommerce products to Facebook Shop. We will also find out why it's important for you to export WooCommerce products to Facebook.
We will also review CTX Feed, the best plugin for creating Facebook product feeds.
Let's begin.

What is Facebook Shop?
A Facebook Shop is a virtual storefront accessible via Facebook and Instagram that lets consumers peruse products and make purchases within the social media platform or by following a link to the retailer's website.
There used to be a Shop tab on the main brand page, but its features weren't particularly useful. It was also less efficient because businesses had to enter product information manually.
The platform has recently been updated to include a fully functional online store. There is finally a home page and a product detail page for Facebook Shop products.
As a WooCommerce store owner, you can upload your product catalog to the Facebook/Meta catalog manager. Developing a WooCommerce Facebook product feed is the first step toward integrating your online store with Facebook.
We will talk more about product feeds and how to add WooCommerce products to Facebook Shop. But first, let's check out what a Shop page looks like.
Facebook Shop example
The Shop tab will give you a sneak peek at the older version.
However, if you click on view all products, click on any product, or click the View Shop button, it will take you to the new storefront.
Tags like "Best Seller," "Recently Viewed," "New Arrival," and so on can be used to organize your collections however you like. We are all aware of the profound effects these individualized tags have on consumers' purchasing decisions.
In addition to those, Facebook Shop actively displays a sliding header at the top, showcasing your most prized collections. By clicking on the name or image of a product, users can easily access more information about it.
The product detail page of each product contains the description, as well as shipping and return information. Additionally, the plugin includes an active "View on Website" button and a private messaging feature.
The bottom also features product recommendations. Overall, Facebook lets you set up a fully-functional storefront.
How to add your WooCommerce store to Facebook
We will explain the process in short here and then explain step-by-step details in the following sections.
If you have a WooCommerce store and want to import products from WooCommerce to Facebook, the first thing you will need is an official Facebook page for your brand.
After that, you need to log in to the Facebook Commerce Manager and create a Shop or a catalog. Then upload your WooCommerce product feed.
Facebook will fetch your WooCommerce product information from the feed and list your products on the platform. From there, you can display your Woo products on Facebook and Instagram Shop.
You can also run dynamic ads and list WooCommerce to Facebook Marketplace with this product feed.
Facebook also has an official plugin for WordPress. With this plugin, you can connect Facebook to WooCommerce.
However, that method has some drawbacks. You need to go through multiple steps and set multiple settings manually, which consumes more time.
Product feeds are by far the best way to list products on marketplaces and platforms. Let's find out what a product feed is.
What is a Facebook product feed?
A Facebook product feed is a structured file that contains information about your products or inventory. It serves as a data source that provides detailed product information to Facebook for use in various advertising and commerce-related features.
The feed typically includes attributes such as product titles, descriptions, prices, availability, images, and other relevant details.
The purpose of a Facebook product feed is to enable businesses like yours to showcase their products effectively on Facebook and its associated platforms, such as Instagram and Facebook Shop. By submitting a product feed, you can create dynamic ads, tag products in organic posts, set up shopping experiences, and participate in eCommerce initiatives facilitated by Facebook.
The product feed acts as a bridge between your Woo inventory and the Facebook advertising ecosystem. It provides Facebook with accurate and up-to-date information about the products you want to promote.
This allows for targeted and personalized advertising campaigns. With the feed in place, you can also automate the process of updating product information and inventory.
This ensures that customers see the most relevant and accurate details.
To set up a Facebook product feed, businesses typically need to format their product information in a specific way, adhering to Facebook's guidelines. Common formats for product feeds include CSV (Comma-Separated Values), XML (Extensible Markup Language), or JSON (JavaScript Object Notation).
You can either manually upload the feed or integrate it with their eCommerce platforms or content management systems to automate the process.
Once the product feed is uploaded, Facebook processes the data and maps the attributes to its own product catalog structure. This mapping allows advertisers to leverage the information effectively within Facebook's advertising tools.
Overall, a WooCommerce Facebook Product Feed Plugin is a powerful tool for businesses to add WooCommerce products to Facebook Shop, Facebook's advertising and commerce ecosystem.
Facebook product feed attributes
In a Facebook product feed, attributes are specific pieces of information that describe and define the products being listed. These attributes give Facebook information about the products, so it can understand them and show them correctly in different advertising and shopping features.
Different Facebook tool or platforms requires a different set of attributes. Here are the attributes for different features.
WooCommerce to Facebook shop product feed attributes
id
title
description
availability
condition
price
link
image_link
Brand, MPN, or GTIN (include at least one)
Marketplace (USA only) Facebook product feed attributes
id
title
description
availability
inventory
condition
price
link
image_link
Brand, MPN, or GTIN (include at least one)
google_product_category
Attributes for page shop, dynamic ads, Instagram shop
id
title
description
availability
condition
price
link
image_link
Brand, MPN, or GTIN (include at least one)
How to create a product feed to add WooCommerce products to Facebook Shop
Creating a product feed is fairly easy. As a store owner, you don't need special skills or fancy, expensive technical software to generate a feed.
You can simply use a spreadsheet tool like Notepad, Google Sheets, or Microsoft Excel to create a feed file. You can learn and copy-paste your attributes at the column headers and paste your product data under them.
However, this process is manual and prone to errors. Having a large number of products and a busy store will make creating a manual product feed an absolute pain.
When you have a busy store with a good number of sales, you would want to have different strategies running to attract your customers. For example, you will run different Sale campaigns, seasonal discounts, and occasional offers.
Also, you will have to regularly add new products and remove the ones from the previous season. As a result, specifications and costs shift rapidly.
This necessitates regular updates to your WooCommerce Facebook product feed. You must also remove sold-out items from your feed.
Users will lose faith in your brand if they discover that goods that are no longer available are still listed on Facebook. In addition to that, there is always the potential for mistakes when copying and pasting extensive amounts of data.
The solution is using a product feed plugin to add WooCommerce products to Facebook Shop that can automate the whole process. And the best plugin for the task is CTX Feed- Woocommerce product feed Manager.

How to create a Facebook product feed using CTX Feed
We will use the free version of CTX Feed for this demonstration. You can find the plugin in the WordPress repository.
First, you need to log in to your WordPress back panel. After that, go to Plugins and click Add New.
Search and find the plugin. Install and activate it once you find it.
CTX Feed will generate its dedicated menu at the left panel.
To create a new feed to add products WooCommerce to Facebook shop, click on Make Feed. It will take you to the new feed window.
The Template dropdown is where you select your desired channel. Immediately after you select a template, CTX Feed will generate all the necessary attributes at the bottom.
Name your file and select a file type.
Here's how the complete page may look.
Now you just have to click the generate button, and your job is done. CTX Feed will automatically gather all your Woo product data and generate the feed for you.
Additionally, you can edit, modify or add any attribute or attribute values. You can also apply different filters from the filter settings.
For instance, you may wish to filter out-of-stock items from the feed. This is crucial for any shop, as it ensures that products that are temporarily out of stock are no longer advertised.
Attempting to handle this manually would be extremely difficult. Applying this condition in a feed using CTX Feed's Filter panel takes just a single click.
Additionally, you can create specific feeds by setting different filters. You can filter your products by status, IDs, categories, etc.
Adding custom fields in the feed
One of the challenges when creating product feeds for different channels is the requirement for specific fields that are not available in the default WooCommerce product pages. For instance, platforms like Facebook may request additional fields such as Brand, MPN (Manufacturer Part Number), or GTIN (Global Trade Item Number).
Ordinarily, adding custom fields to WooCommerce would require technical skills involving either coding or installing a custom field plugin. However, the developers of CTX Feed understand this issue and have taken proactive measures.
CTX Feed integrates all the necessary custom fields directly into the plugin settings. This means you don't need to rely on coding or additional plugins to include the required fields for various channels. The custom field integration simplifies the process, enabling users to effortlessly include fields like Brand, MPN, GTIN, and more, ensuring compliance with the specific requirements of each channel.
With CTX Feed, you can efficiently manage and include these custom fields in your product feeds, ensuring that your products meet the criteria of different channels without requiring extensive technical expertise.
Let's check out how to enable and apply custom fields. Go to CTX Feed >> Settings.
Click on the Custom Fields tab.
As you can see, all the custom fields different channels may ask for are available there. You just need to toggle to enable them.
Additionally, there are some extra fields for you to add completely custom ones.
Go ahead and enable some.
Now, go to a product page and jump to Product Data >> Inventory.
As you can see, there's a dedicated section for CTX Feed custom fields. When you input the value here, the plugin will automatically add the value to the feed.
Overall, there's no better option than CTX Feed when you want to add WooCommerce products to Facebook Shop.
How to download/copy feed to add WooCommerce products to Facebook Shop
Go back to the CTX Feed menu and, this time, click on Manage Feeds. You will find all your feed files there.
Bet you have noticed the Update Interval setting.
This means that CTX Feed will automatically refresh all of your product feed files every half an hour. The plugin will check for updates and incorporate them into the feed if they have been made.
The plugin's settings allow you to make changes, regenerate feeds, delete feeds, create copies of feeds, view feeds, download feed files, export feed configurations, and copy product feed URLs.
Here's what a Facebook product feed CSV file may look like.
And here's what a Facebook XML Feed file may look like.
How to add WooCommerce products to Facebook Shop
You need to log in to your Facebook profile. Create an official page for your WooCommerce brand.
After that, log in to your Commerce Manager. To start the process, click on the Get Started button.
If you want to create a catalog and add products through feed files for multiple purposes, you can choose the second option below.
However, we want to add WooCommerce products to Facebook Shop. So select the first option and click on the Get Started button. This will take you to the following window.
You can also create a test shop if you want first to try out the features. Click Next to proceed.
You will have 3 checkout options.
Check out another website. This is our option because you want your users to visit and check out on your WooCommerce store.
Check out on Facebook or Instagram. Facebook now allows customers to pay directly inside the platform. You can also enable Shopify's Shop Pay option if you are from the US.
Check out messaging.
Select the first option and click next. In the next screen, you will need to select the brand page you created for your Woo store.
Next, you need to connect to your business account.
Create one if you don't have any.
Select the countries you can ship to. You can add multiple ones.
Finally, preview all your settings and finish the setup.
How you can add WooCommerce products to Facebook Shop
Right now, your Facebook Shop is empty because you don't have any products in your Facebook Catalog.
If you don't have a catalog, then create one.
Select eCommerce.
Select the Upload Product Info option.
Click the Create button to create your catalog. It will take you to your empty catalog. Let's add WooCommerce products to Facebook Shop now.
Select Data Sources from the left-hand catalog menu. Several choices for including items in your catalog will appear in this window.
Click and select the Data Feed option.
Select yes, as we are uploading a feed file.
Facebook will give you three options or methods to upload your feed file. We will select the URL option.
Here you can copy-paste the feed you created in CTX Feed. In the next window, you can set a schedule for the feed update.
For instance, let's say you have made some changes to your product pages in WooCommerce.
After the timeout period you specify in the CTX update interval settings, CTX Feed will gather the updates and resave the feed file. At the time you specify in the previous window, Facebook will retrieve the changes from the Facebook product feed URL and refresh its listings.
When you are finished making adjustments, click the Save Feed and Upload button.
Facebook will fetch your product details from the feed and add WooCommerce products to Facebook Shop.
Overall, when you use CTX Feed to create and link your Facebook feed, you won't have to give it another thought. From that point on, Facebook and CTX Feed will take care of everything mechanically for you.
We want to give a detailed review of the CTX Feed plugin so that you can understand why it is the best product feed plugin. Let's dive in.
CTX Feed – best plugin to add WooCommerce products to Facebook Shop
If you are planning to add WooCommerce products to Facebook Shop, then CTX Feed is your best bet. This plugin aims to simplify the process of creating and optimizing product feeds for various advertising platforms, comparison shopping engines, and social media platforms such as Facebook.
In addition to Facebook, CTX Feed supports 130+ other channels. You can list and promote your WooCommerce products across multiple marketplaces and channels.
For example, you can promote your products on Google Shopping, Amazon, Pinterest, eBay, Target, Walmart, PriceGrabber, Idealo, Bing smart shopping, Snapchat dynamic ads, etc.
With this plugin, you can update your Woo products' data at predetermined intervals and then sync automatically with the appropriate channels via URL, HTTP, or FTP/SFTP.
Key features of the CTX Feed plugin include:
Feed generation and channel compatibility
The plugin allows you to generate product feeds based on your WooCommerce product catalog easily.
One of the notable features of the CTX Feed plugin is its extensive collection of pre-configured templates. With over 130 built-in templates available, you can easily create product feeds within minutes.
This eliminates the need for extensive research on individual attribute requirements for different channels. As a result, this feature saves time and reduces the hassle of manually determining the specific fields required by each channel.
By using these pre-configured templates, you can ensure that your product feeds comply with the precise requirements of various marketplaces and advertising platforms. These templates are designed to align with the attribute specifications and field formats of popular channels.
This way, you can avoid potential errors or inconsistencies that may arise from manually researching and mapping attributes. Furthermore, the templates provide a level of assurance that the gleaned attributes will match the requirements of the respective channels accurately.
It accounts for potential changes in attribute requirements and ensures that the feeds generated using these templates meet the necessary guidelines. This feature allows users to play it safe and have confidence that their product feeds will be well-suited for the desired marketplaces.
Multiple feed formats
The plugin supports various feed file formats, including XML, CSV, TSV, XLS, TXT, and JSON. This extensive format support ensures that you can generate product feeds that meet the requirements of different marketing channels.
User-friendly interface
CTX Feed provides a user-friendly interface that simplifies the process of creating and customizing feeds. All necessary attributes and mandatory fields are conveniently available within the same window.
This eliminates the need to switch between multiple windows or screens. The intuitive design and layout of the interface make it accessible to users without requiring extensive technical knowledge.
Customizable feed templates
You can customize the feed templates according to the requirements of different channels. The plugin offers options to include or exclude specific product attributes, define attribute mappings, and format the feed file as needed.
Attribute mapping and transformation
The CTX Feed plugin offers powerful category and attribute mapping features that enhance the effectiveness of product feeds for various marketing channels.
With category mapping, users can assign the most relevant shopping engine categories to their WooCommerce store categories for each product. This ensures that products appear in search results and align them with the appropriate marketplace categories.
By mapping categories dynamically, the plugin makes it easier for buyers to find and discover products. This feature is particularly useful for Google Shopping feeds, Facebook/Instagram product feeds, and other channels.
With built-in attribute mapping, users can extend titles and other attributes to create compelling descriptions that entice customers and increase click-through rates. By including relevant information like brand names, product names, user gender, usage purposes, seasons, and more, the plugin helps differentiate products within Google Shopping and Facebook Shopping, ultimately driving conversions and sales.
In summary, the CTX Feed plugin's category and attribute mapping features enable users to optimize their product feeds for better visibility, relevance, and discoverability on various marketing channels.
Automated feed updates
The plugin offers automated feed updates to keep the product feeds synchronized with the WooCommerce product catalog. This feature can be based on a predefined schedule or triggered by changes in the catalog, ensuring that the product feed remains up-to-date with the latest information.
Integration with advertising platforms
The plugin supports integration with popular advertising platforms and comparison shopping engines. This allows users to easily submit their product feeds to these channels directly from their WooCommerce store.
This simplifies the process of reaching a broader audience and advertising products across multiple platforms.
Unlimited products
The plugin allows you to upload an unlimited number of products, regardless of the size of your inventory. From hundreds to thousands, you can effortlessly include all your products in the feeds, ensuring comprehensive coverage across various marketing channels.
Unlimited feeds
With CTX Feed, you can create an infinite number of feeds, each containing any number of products from your store. The plugin provides a convenient "Manage Feeds" option, allowing you easy access to all your product feed files.
You can identify feeds based on their unique names rather than relying on URLs, making it easier to organize and locate specific feeds.
Support for WooCommerce product types
CTX Feed seamlessly integrates with various WooCommerce product types, including Bundle Products, Composite Products, Mix and Match Products, and Subscription Products. It supports popular plugins like WooCommerce Composite Products, YITH Composite Products, WooCommerce Product Bundles, YITH WooCommerce Product Bundles, and WooCommerce Subscriptions.
This compatibility ensures that your unique product types are fully supported when creating product feeds.
Variable and variation features
The plugin provides comprehensive support for variable products and their variations. You can include multiple variable child products and decide whether to include all variations or specific ones.
With configurable options, such as including parent products only or all variations, you have complete control over how variables and variations are handled in your product feeds.
Custom Templates for Channels
CTX Feed allows you to create custom templates tailored to specific marketing channels. With the premium feature called Custom Template 2, developers can manipulate the coding system to include the necessary attributes required by different channels.
Additionally, you can communicate your feed requirements to the CTX Feed Support Team for possible inclusion of specific channel templates in the plugin.
Product Attributes
Product attributes play a crucial role in product feeds, and CTX Feed empowers users to create and customize attributes for different channels. The plugin offers a wide range of attributes, such as product ID, title, description, image link, brand, price, MPN, tax, shipping, gender, height, material, availability, stock availability, size, delivery cost, and more.
Users can select attributes from a dropdown menu or create bespoke ones to provide comprehensive product information in their feeds.
Output types for error-free feeds
The plugin offers over 20 output types that ensure error-free feeds. These output types help resolve issues such as removing HTML tags, special characters, or unwanted shortcodes from attributes.
They ensure proper formatting of pricing, handling parent-child relationships, and addressing specific requirements of different marketing channels. This feature guarantees that your product feeds are clean, compliant, and optimized for each channel.
Key features
Supports 130+ channels, including Facebook.
Unlimited product uploads without any restrictions
Ability to create an unlimited number of feeds with any number of products
Support for multiple feed file types, including XML, CSV, TSV, XLS, TXT, and JSON
User-friendly interface to add WooCommerce products to Facebook Shop easily
Support for various WooCommerce product types, including Bundle Products, Composite Products, Mix and Match Products, and Subscription Products
Seamless integration with popular WooCommerce plugins like WooCommerce Composite Products, WooCommerce Product Bundles, and WooCommerce Subscription
Comprehensive support for variable products and variations
Ability to create custom templates for personalized marketplaces
An extensive range of product attributes is available, with the option to create custom attributes.
Output types for precise control over attribute formatting and compliance with channel requirements
Reliable customer support and the option to request specific channel templates to be included in the plugin
Price
There's a very popular free version with more than 70,000 active users. The pro version has a lifetime license along with the following annual prices.
Single Site – $119.00
5 Sites – $199.00
10 Sites – $229.00

Benefits of selling WooCommerce products on Facebook Shop
Selling WooCommerce products on Facebook Shop offers numerous benefits:
Wider reach
Facebook has billions of active users, providing a massive potential customer base for your products.
Seamless integration
By integrating your WooCommerce store with Facebook Shop, you can sync your product catalog and inventory, making it easy to manage and update your listings.
Increased visibility
Your products are showcased directly on your Facebook Page, allowing users to discover and purchase them without leaving the platform.
Targeted advertising
Facebook's powerful advertising tools enable you to reach specific audiences based on demographics, interests, and behaviors, increasing the likelihood of attracting relevant customers.
Social proof and recommendations
Customers can engage with your products by leaving reviews, comments and sharing them with their friends, providing social proof and increasing brand credibility.
Mobile shopping
As many users access Facebook through mobile devices, having a Facebook Shop allows for a seamless mobile shopping experience, leading to higher conversion rates.
Shoppable posts
You can create shoppable posts that include product tags, allowing users to make purchases directly from the posts themselves, streamlining the buying process.
Insights and analytics
Facebook provides valuable data and analytics on customer behavior, allowing you to gain insights into your audience and optimize your marketing strategies.
Cross-platform promotion
Facebook's interconnected ecosystem enables you to promote your products across multiple platforms, including Instagram and WhatsApp, reaching even more potential customers.
Customer convenience
Facebook Shop offers a convenient shopping experience, with features like saved payment information, easy checkout, and personalized recommendations.
Frequently Asked Questions (FAQs)
How do I add items to my Facebook shop from WooCommerce?

You first need to create a Facebook product feed for your Woo products. You can use a plugin like CTX Feed to create a feed in two clicks. After that, log in to Facebook Commerce Manager and create a catalog and upload your feed file there to add products to Shop.
Why are my products not showing up on Facebook shop?

There could be several reasons why your products are not showing up on Facebook Shop. Some potential reasons include incomplete product information, discrepancies between product data and Facebook's requirements, synchronization issues between WooCommerce and Facebook Shop, or a violation of Facebook's commerce policies.
Wrap up
By leveraging the power of Facebook Shop and integrating it with your WooCommerce store, you can tap into a vast user base and increase brand exposure. This, in turn, helps drive more sales and ultimately leads to the growth of your business.
We hope this guide on how to add WooCommerce products to Facebook Shop was of help to you. Let us know if you have any questions about the topic.

You May Also Read