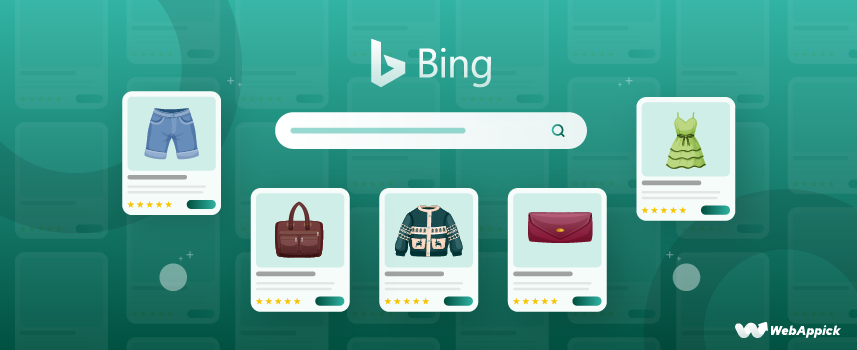 The Ultimate Guide to Bing Smart Shopping Campaigns in 2023
With Bing smart shopping campaigns, you can target customers with higher revenue potential automatically. This means you can target customers who are more likely to buy and spend more money at your WooCommerce store.
But what is Bing smart shopping, and how does it work?
That is our topic of discussion today. In this article, we will discuss Bing smart shopping campaigns in detail and walk you through the step-by-step process of creating smart shopping Bing ads campaigns.
Let's begin.
What is a smart shopping campaign?
With the help of a Smart Shopping campaign, you can create targeted Shopping ads that are tailored to the interests of your customers.
A Smart Shopping campaign automatically collects product information from a product data feed and uses it to generate Shopping ads. After that, the campaign uses your selected bidding strategies to intelligently distribute these ads across various search engine platforms.
Google launched its smart shopping campaign back in 2018, and Microsoft brought its Bing Smart Shopping campaign in the late 2020s.
With Bing ads smart shopping campaigns, you can target customers who are more likely to convert at higher revenue values with automatic bidding and targeting. Moreover, you can combine traditional shopping campaigns with automatic bidding.
Why use smart shopping campaigns?
There are dozens of advantages of using smart shopping campaigns. Let us discuss just three of them.
Reach customers who will spend more
By utilizing real-time bidding algorithms, Bing ads Microsoft advertising can optimize your conversions while still keeping costs under control.
Bing smart shopping campaigns use automated targeting and high conversion values to meet return on ad spend (ROAS) targets and maximize overall revenues.
In simple words, Microsoft will display your smart shopping Bing ads to the right customers at the right time who are more likely to buy more than a single product from you.
Effortless optimization
Bing smart shopping campaign decides and sets the bid and ad delivery automatically based on customer signals to facilitate a more personalized shopping experience.
Simple campaign creation and management
It is extremely easy to create a Bing smart shopping campaign. You just need a product feed file, a UET tag, and set your budget and targeting options to start your smart shopping Bing campaign.
How to set up a Bing smart shopping campaign?
To run a smart shopping Bing ads campaign, you will need the following things –
Microsoft Advertising account
A conversion tracking/goals
A UET tag
A product feed file
Microsoft Merchant Center store
Microsoft Advertising account
This is a no-brainer. Just go to ads.microsoft.com and sign up for a free account. If you already have a Hotmail or Outlook account, then you are halfway there. Click on Sign up and fill in the information required.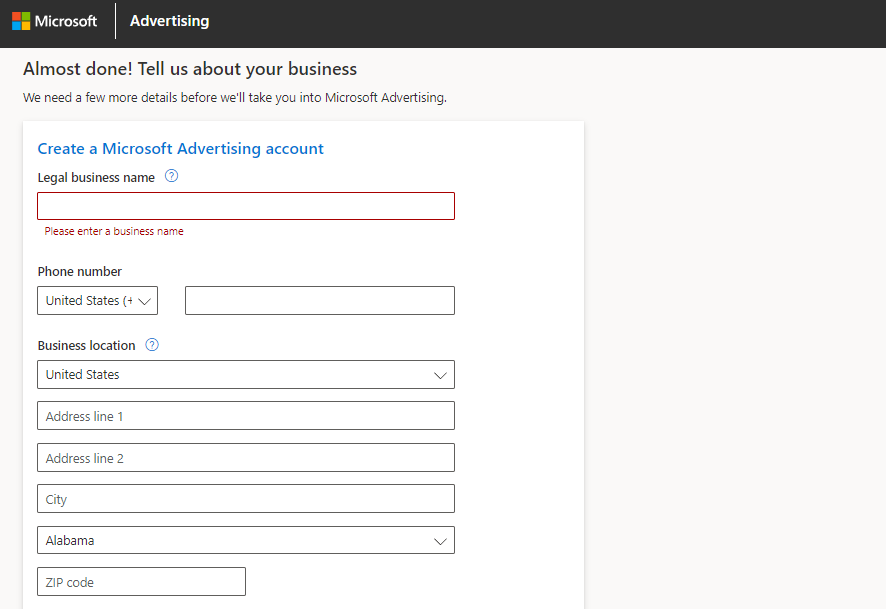 Set up a conversion goal
Microsoft advertising account doesn't allow you to create Bing smart shopping campaigns unless you create a conversion goal. Let's take a look at what Microsoft's advertising says if you don't have a conversion goal set.
From the main or campaign window, click on Create button to start creating your Microsoft smart shopping campaigns.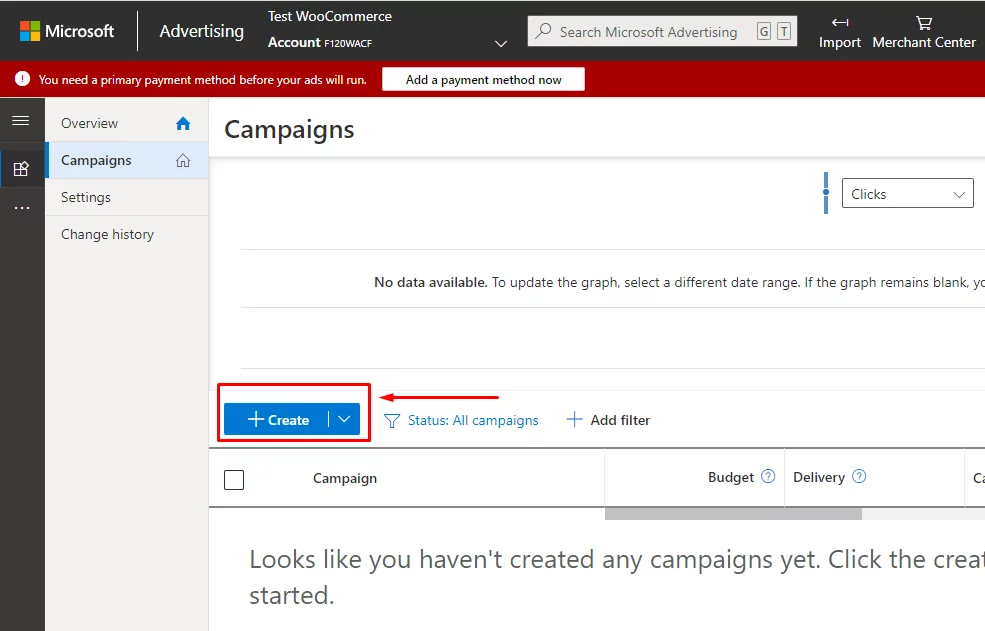 Next, select the option" Sell product from your catalog," and a window will pop up that shows you the campaign subtypes.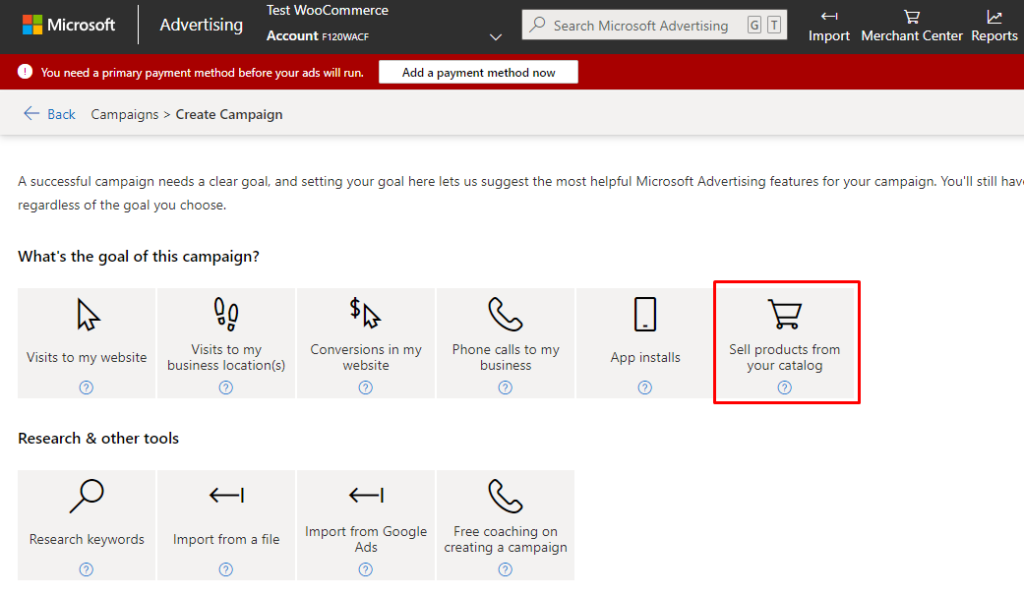 As you can see in the below image, if you haven't set your conversion goal, it will display the missing conversion tracking message and prompt you to create one.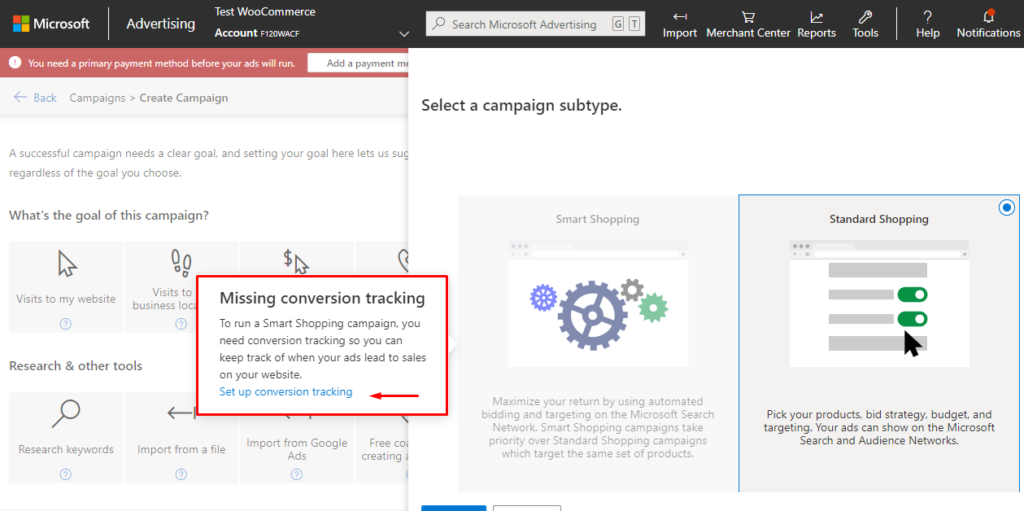 Let's click on that and proceed to create a conversion goal for your smart shopping Bing conversion tracking/goal.
This is the total process you need to follow.
Scroll down to the conversion goals page to find the Create button.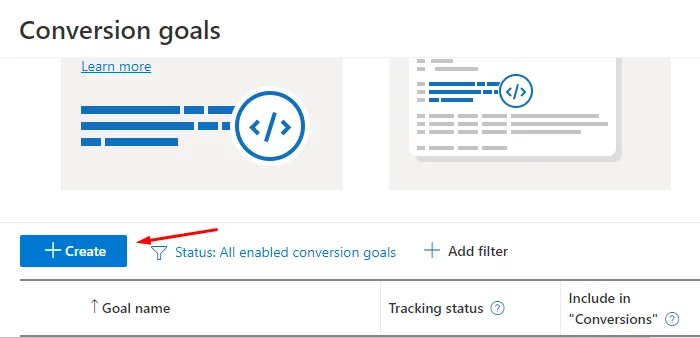 Clicking it will take you to the conversion tracking setup window. First up, select the type of conversions you want to track, which in our case is a website.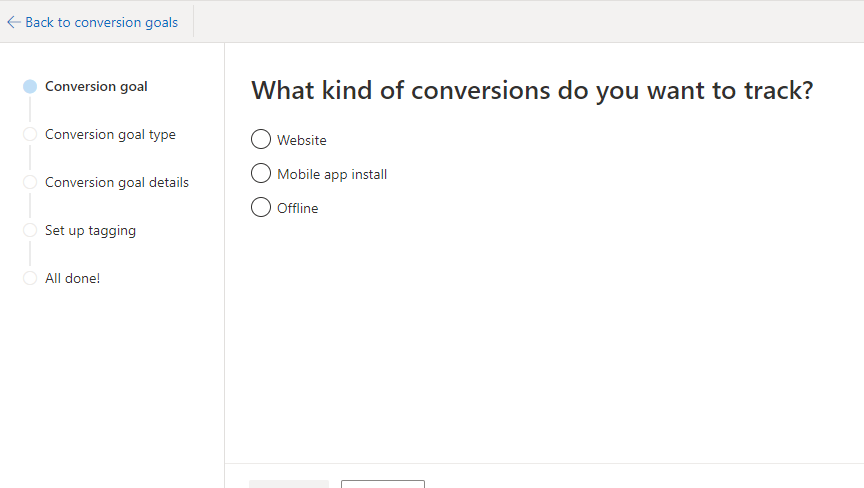 Next, select the type of goals you want to set. We have selected Purchase and Products so that we can track which product ads are bringing revenues and scale our budget according to that later.

It will also help Microsoft Bing smart shopping campaign to determine its bidding strategies.
After that, input your conversion goal details and click Next.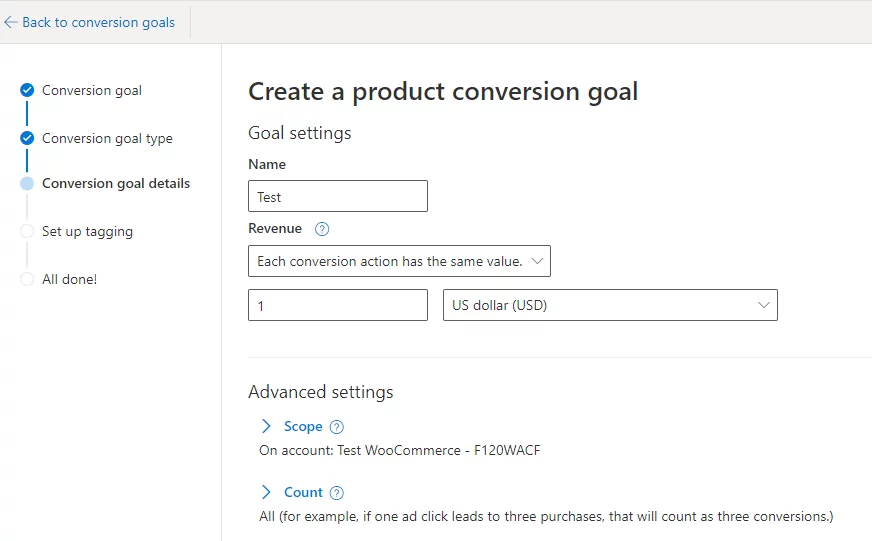 Now you need to select whether you have installed UET tags on your WooCommerce website or not. We haven't done that, so we have selected 'No.'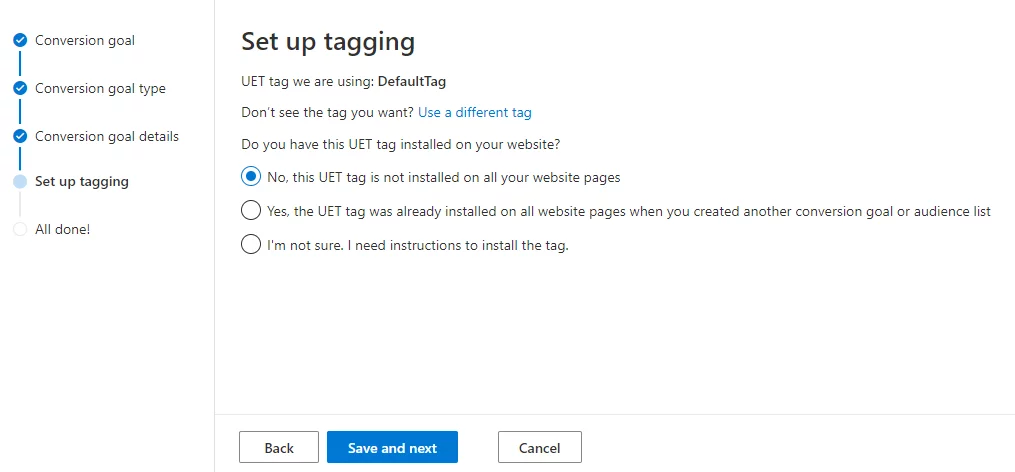 Click Save and next to proceed to the next step.
Setting up UET tags
You can find the UET tags in the Tools menu. However, Microsoft advertising will prompt you to create one anyway when setting your conversion goal.
It is similar to Google tag manager, where you add a tracking code to your WooCommerce website in order for Google to track your website activities.
There are a couple of ways available to add the tag code in your Woo store. You can also automatically add the tracking tag through Google Tag Manager.
We have selected "Install the tag yourself" to show you the manual process of adding the UET tags to your WordPress website.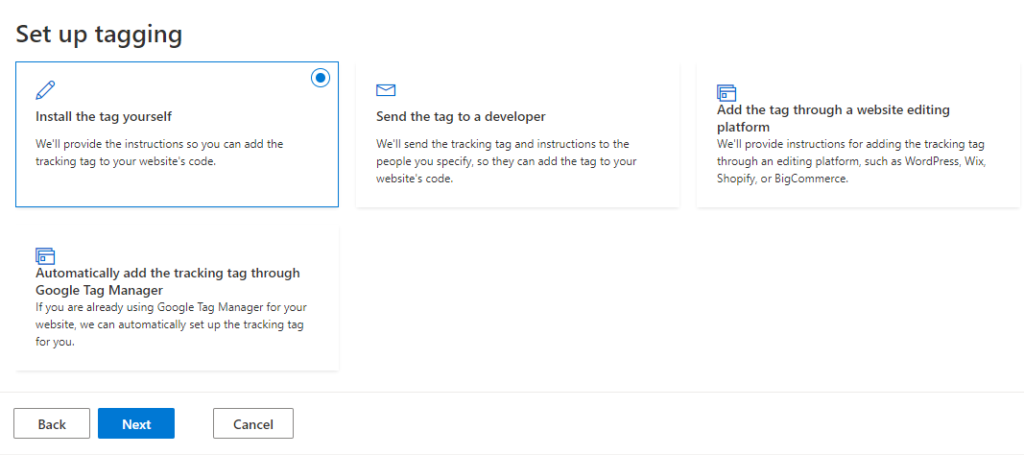 Copy the UET tag code from this window and go to your WordPress back panel.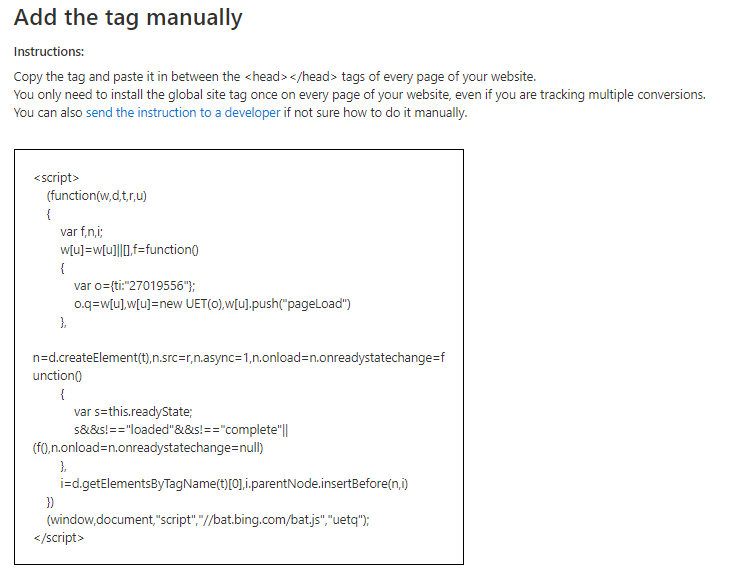 Go to Appearance>>Theme File Editor and select the header.php file. Paste the copied code somewhere between the <head></head> tags, as can be seen below.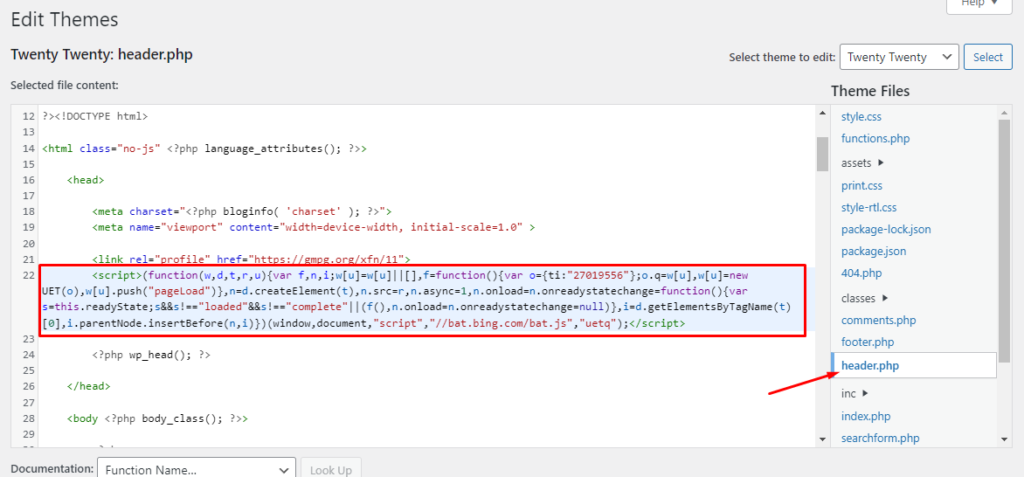 Update and go back to the Microsoft advertising account. Now we need to copy the event tag. We have selected "Track event on inline action" and copied the code.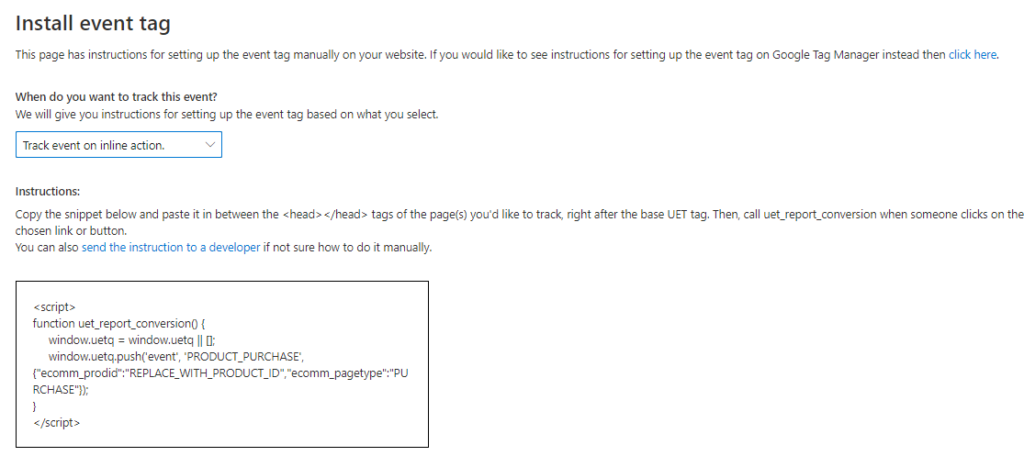 Paste the code below the script you pasted earlier in your WordPress theme editor and update the page again.
That's about it. You have installed the UET tracking code on your WooCommerce website and created a conversion goal. Now, if you go back to campaign creation, you will see Smart Shopping subtype is enabled.
Next up, you need to create a Microsoft Merchant Center store uploading your product data feed from your WooCommerce store. This process is quite similar to the process of creating product groups in Google.
First, you will need a product feed file.
Creating a product feed file
A product feed file contains all the information about your WooCommerce store's products. If you want to sell the same products in multi-channels, you can upload a product feed file instead of creating the products manually one by one.
You can create the product feed files inside your WooCommerce store and automatically update the information across all your channels.
That's awesome, right! But how do you do it?
Well, the standard WooCommerce doesn't give you that option. However, a freemium WooCommerce plugin called the CTX Feed can drive you home.
With CTX Feed, you can create product feed data for hundreds of channels and update all your information right from your WooCommerce backend.
Let's now create a product feed for our current channel, the Bing smart shopping campaigns.
The plugin is available for free in the WordPress repository. After installing the plugin, go to its dedicated menu and click on Make Feed.

Now, specify your country, give your file a name and choose your file format. From Template, select Bing Shopping.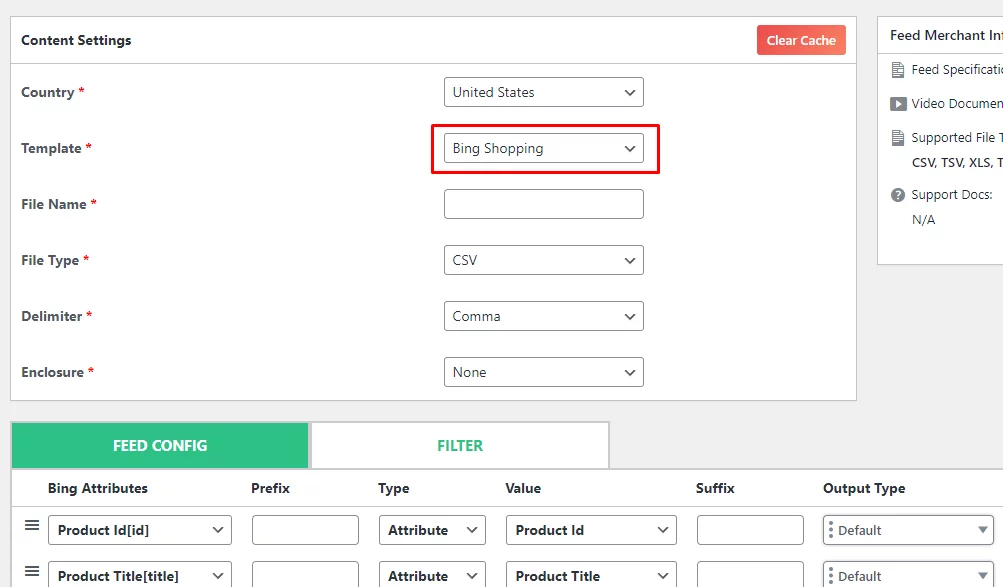 The plugin will automatically fetch all product information from your WooCommerce store and populate necessary Bing attributes.
However, you can customize or make changes as per your need. Once you are done, you can click on the Generate Feed button.
Now we need to go back to Microsoft Merchant Center and connect this feed.
Create a Microsoft Merchant Center store
Go to the Microsoft Advertising account and click on Merchant Center. You will see a screen that asks you to create a store. Click on that button.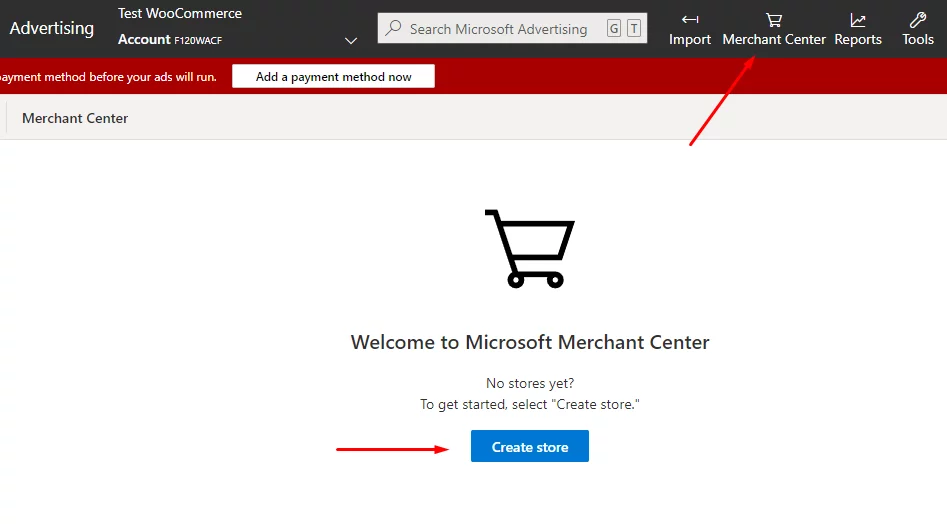 In the next screen, input your store name and select your domain validation method. As we have validated through the UET tag, we have selected that option. Select your URL from the dropdown.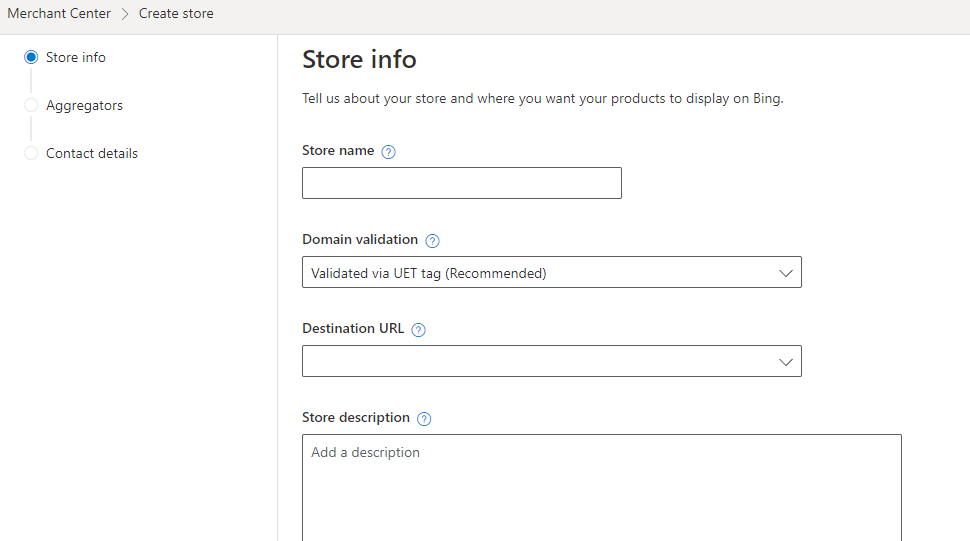 A very important point you should know is that your URL will only appear here when you have installed the UET tag in your WooCommerce store and after installing when you have at least 50 visitors in your store.
You cannot start any Bing smart shopping campaign or run any smart shopping Bing ads without this. It will take a minimum of 24 hours for Microsoft to verify that you have UET installed and have had at least 50 visitors after you have installed the UET tags.
Coming back to that window, make sure you enable SSL checkout and click next to proceed.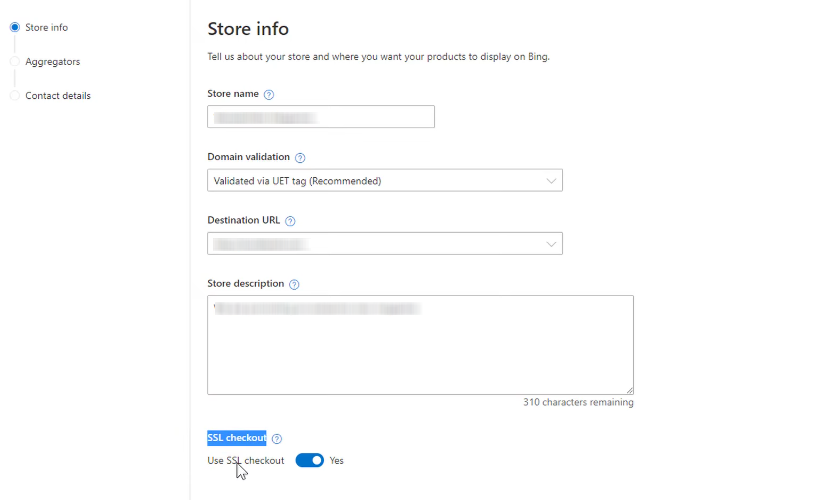 In this screen, you can block aggregators from displaying your Bing smart shopping ads.

Finally, enter your email address and language and click on Create store button.
After that, select your store from the store's list, go to Feeds, and click on Create feed.

It will pop up a right window which will offer you different options to create your product feed.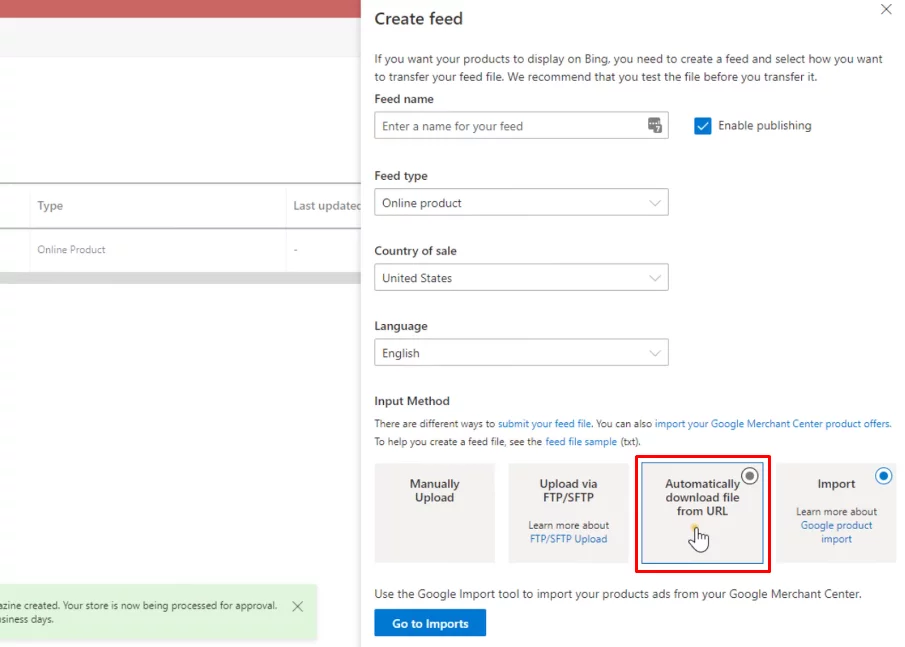 The option we need is the "Automatically download file from URL." After you select that, it will give you options to upload your product feed URL and set your update frequency for the feed.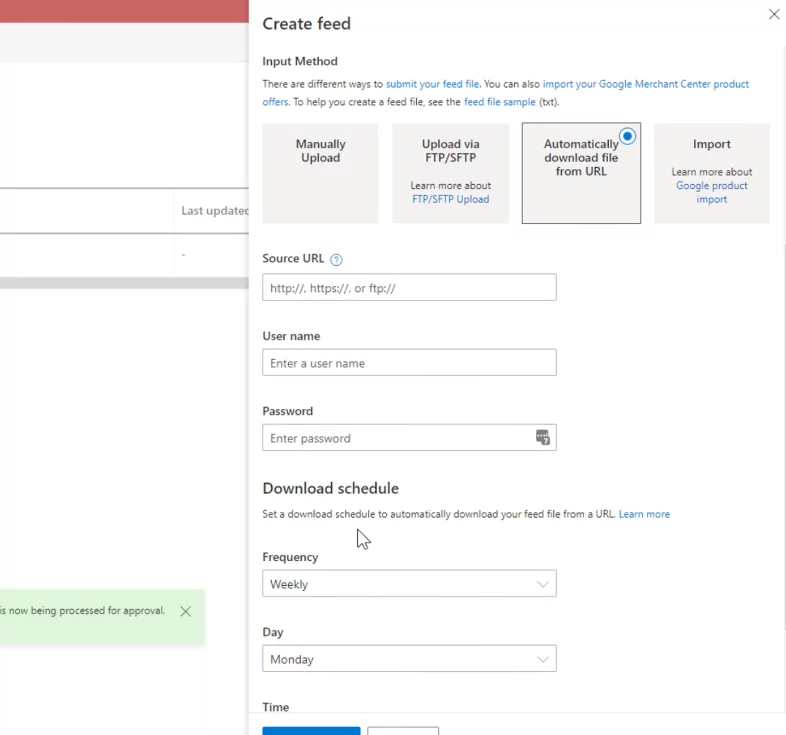 For example, if you select weekly and Monday, Microsoft Merchant Center will update your product feed every Monday. You can also set monthly or even hourly update frequency.
But how do you get the source URL of your WooCommerce product feed?
Upload product feed URL
We have already shown how to create a product feed file inside WooCommerce using the CTX Feed plugin. Now we need to get that file's URL in order to connect with Microsoft Merchant Center.
Go to your WooCommerce back panel again and browse to CTX Feed >> Manage Feeds. You will find your feed for Bing smart shopping listed there.

Copy the URL or click the small copy icon to copy. Jump back to the Merchant Center and paste the URL in the Source URL field and click on Create Feed button to complete the process.
Microsoft advertising Merchant Center will take some time to fetch your data. Once they are uploaded, you will be able to see all your product data listed in the Merchant Center store.
Creating Bing smart shopping campaign
Once you have installed UET tags in your WooCommerce store, got verified, created a conversion goal, and uploaded your feed to create the Merchant Center store, finally, it's time to create the Bing smart shopping campaign.
Again, go back to the main window and click on Create Campaign button. Then select "Sell products from your catalog" and choose "Smart Shopping."
Give your campaign a name, set your daily budget, and set your target ROAS goal.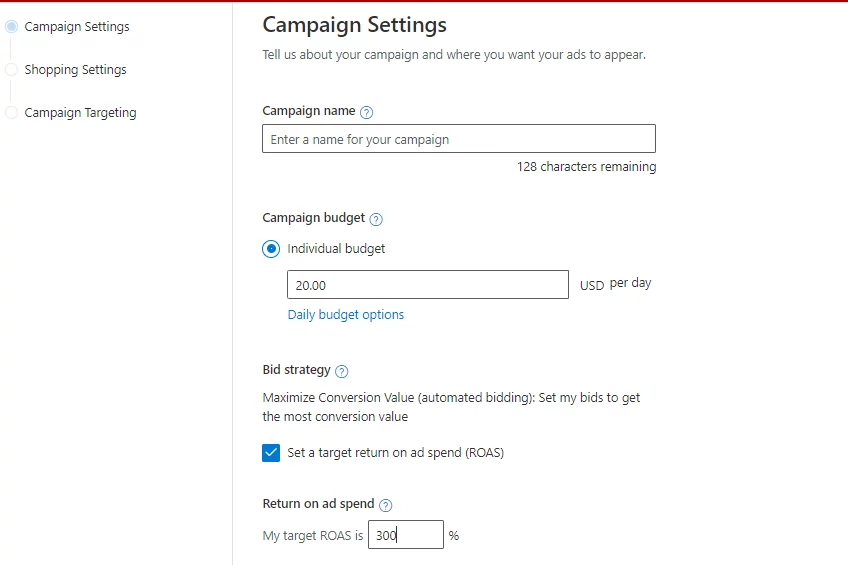 In the following windows, you need to select your country of sales and the locations where you want your ads to appear, such as search networks like Bing, AOL, Yahoo, etc. You can also set ad schedule when to start and end and what hours they should be displayed, etc.
Once you are done, your Bing smart shopping campaign will be created. However, your ads will not run yet. Microsoft will take some time to verify your details and eventually start running your Ads in their network when they find everything in the right place.
How does Bing display your shopping ads?
Microsoft advertising displays your shopping ads in various ways across their search networks and websites.
For example, they can display the ads in the right panel like the below image.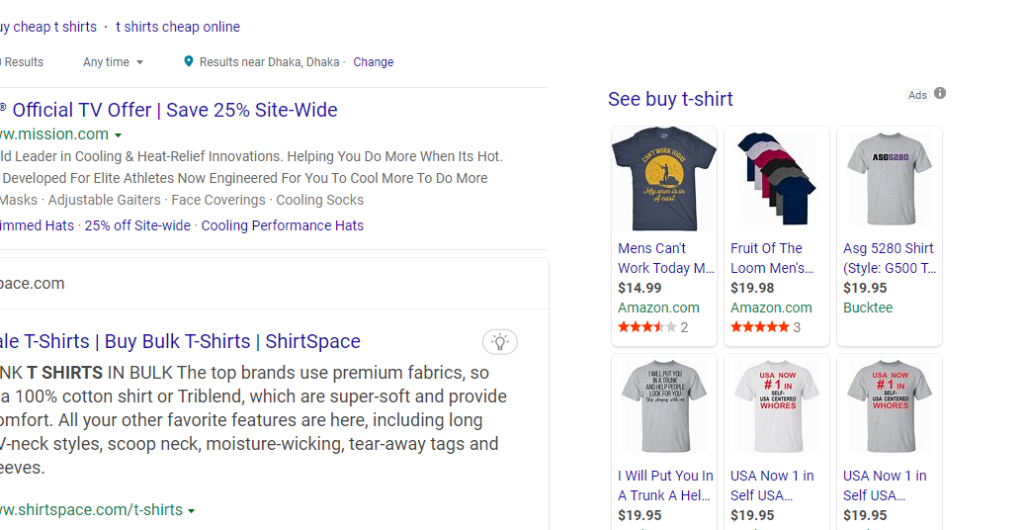 Or they can display the ads at the top of the search result like this –
In addition to that, Microsoft also has a dedicated price comparison shopping engine like Google shopping. Your ads can be displayed there as well.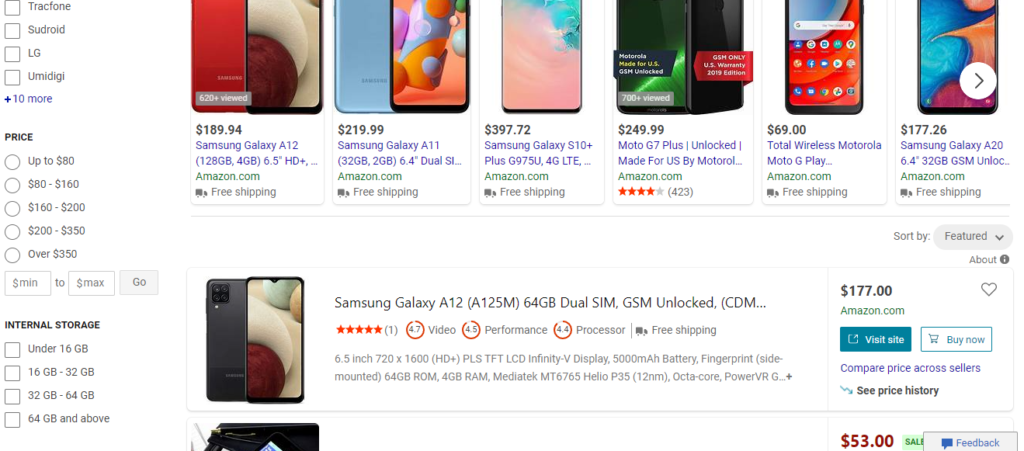 How to optimize Bing smart shopping ads?
Much like Google organic listing or Google shopping ads, you cannot create Bing shopping ads manually in the traditional way. You cannot input texts, images, and keywords manually as you do in standard shopping campaigns.
Microsoft Merchant Center fetches your product data from your given feed and creates ads based on those data.
So how do they rank your ads, or how can you do SEO for your ads?
Bing Microsoft shopping campaigns will rank your ad based on the data you provide. So you need to optimize the product feed data you provided in the Merchant Center.
You don't need to worry about SEO optimizing your product feed data when you use the CTX Feed plugin to create the product feed file.
CTX Feed will grab your WooCommerce store products' optimized data and upload them to the feed. So if your WooCommerce product pages are SEO optimized then your Bing smart shopping campaign will have the same optimized data.
You can also manually optimize your data from the Merchant Center Bing shopping feed. Now the next question is, what should you optimize?
Nothing different than the regular product SEO optimization. You need to optimize your product's title, description, image, etc.
Let's take a look at some key areas that matter the most when it comes to ad ranking.
Title
This is by far the most important part of any shopping ad, whether you are running on Bing or Google. You need to research and put your primary keyword in the title.
In addition to that, include different attributes such as product type, color, brands, gender, etc. This will help your ads to appear in your target audience's searches.
Image
High resolution, clear and attractive images will win your day with flying colors. If you don't have a clear image, no one will be interested in your products. Hence, Microsoft won't rank your ads at the top even if you run Bing smart shopping campaigns.
Price
93% of today's shoppers compare prices online before making a purchase. Research your competitors and come up with the best possible price for your products.
When you offer the best price, your ads will beat the competitors in no time.
Benefits of Bing smart shopping ads
Google is a search behemoth that presumably won't stop growing any sooner. Google's traditional PPC and shopping ads are undoubtedly the first choices for any WooCommerce store owner.
But what about Bing shopping ads? Much to your surprise, Bing actually has the upper hand in some cases. Let's take a look at some key benefits of Bing shopping ads.
There's less competition on Bing compared to Google. Therefore, Cost-Per-Click (CPC) is lower, and the conversion rate can be higher than it is on Google Ads.
Device targeting is better compared to Google's offering; with Microsoft, advertisers can select audiences to target based on the type of device they use and the operating system they employ. Advertisers also have the option of displaying ads exclusively to mobile users.
Better than Google for B2B marketing.

Frequently Asked Questions (FAQs):
What is a Bing smart shopping campaign?

Bing smart shopping campaign automatically creates product ads from your provided product data and displays them in their search network.

With Bing smart shopping campaigns, you can target customers who are more likely to convert at higher revenue values with automatic bidding and targeting.
How do Bing smart shopping ads work?

You need to upload your product feed data that contains all your product details to Microsoft Merchant Center. Bing smart shopping campaign uses those data to create shopping ads automatically and display them across their different channels such as Bing, AOL, Yahoo, etc.
How to optimize Bing smart shopping ads?

Bing shopping ads cannot be created manually, inserting keywords and images as you do in standard PPC campaigns. Optimizing your product feed data is your only option.

You can optimize the data from the Microsoft Merchant Center. Additionally, you can also SEO optimize your product data in your WooCommerce store, and Microsoft will fetch those details when uploading the feed.
Wrap up
With 126 million users in the US and 15 million in the UK, Bing has a significant search market share. Sure, it won't replace Google shopping anytime soon, but Bing's low CPC and high ROI can be the goldmine for your WooCommerce business.
We strongly suggest that you try out Bing smart shopping campaigns, particularly if you run a WooCommerce store and are looking for a way to increase your revenue at a rate that is higher than the return you get from Google.