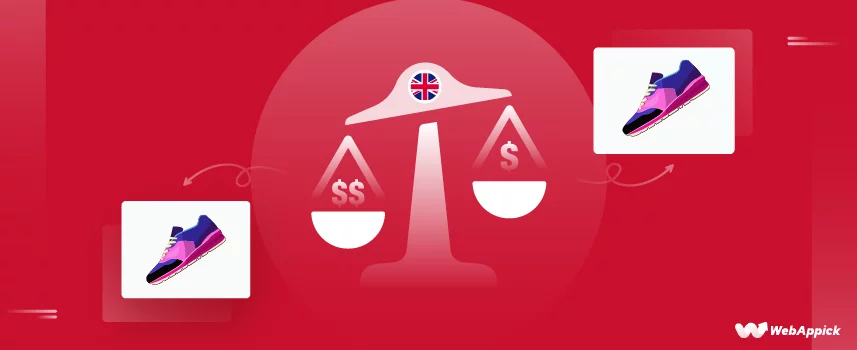 13 Best Price Comparison Websites in UK Reviewed
A penny saved is a penny earned, right!
We all believe in that, especially when it comes to shopping online. According to Acierto, 93% of today's online shoppers compare the prices before buying a product or service. And it's a great practice for both retailers and consumers.
As a WooCommerce retailer, you can determine how to price your products and beat your competition by analyzing how your competitors are pricing the same products. But how should you compare the prices?
Should you find out your competitors one by one, visit their website, and check the price? Well, that's one way of doing it but not the best way, though.
A price comparison website is your best choice to quickly find your competitors, analyze your product's popularity and effectively price your products. Moreover, you can list your own products on price comparison websites to reach millions of potential customers within the shortest amount of time.
In this article, we will review the top 5 and total 13 best price comparison site UK for WooCommerce retailers.
What is price comparison?
Price comparison is when the same product's price is compared from different sources. It is very rare that shoppers will rush to buy some products online without checking some other eCommerce stores or checking in some price comparison websites.
If a buyer is looking for a necessary product, they will most definitely look it up in price comparison shopping engines to get a better price. For example, when booking a flight or a hotel or buying some electronic gadget online, shoppers have this habit of checking at least 4 websites before making the final decision.
What are price comparison websites?
A price comparison website, also known as a shopbot, comparison shopping engine, or comparison shopping website, is a shopping search engine website that shows you the prices of the same product from different retailers.
The purpose of price comparison shopping engines is to gather product information from a variety of retailers and display it on a single results page in response to a shopper's search query. Shoppers use these sites to compare the price of the product they are looking for and ultimately buy from the retailer that offers the best overall value.
For example, let's say you are looking to buy an iPhone 13. On a price comparison website, if you put your search term, in this case – iPhone 13, it will show hundreds of results similar to this –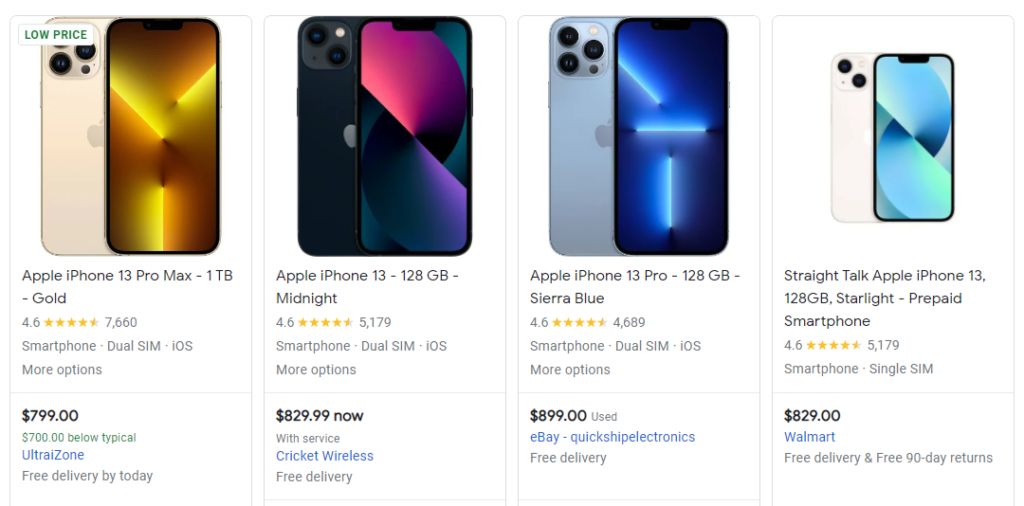 So as you can see, a price comparison shopping engine will fetch product details, including prices from different retailers, and display them on a single page.
In most cases, these price comparison websites don't sell those products directly. WooCommerce retailers like you list their products on these comparison sites, and when a consumer searches for that product, they display them.
For your information, one great plugin that can help place thousands of WooCommerce products on the price comparison sites is CTX Feed.

How do price comparison websites work?
For consumers, price comparison websites work pretty much the same way a search engine does.
However, price comparison sites display products side by side, primarily focusing on price and some other important features. On the other hand, regular search engines display products/sites by rank, not by product price or any other comparison.
On the retailer's side, WooCommerce store owners register on these price comparison websites for a fee and submit their product details, including price, features, photos, etc. The price comparison engine then lists your products and will show your product when someone searches for relevant products. They generally rank the products by price.
Advantages of price comparison websites for WooCommerce retailers
Directly reach buyers
We all know how much development and marketing effort it takes to reach potential customers and convert them into buyers.
The people who visit these price comparison websites are not there to just roam around. They already have made the decision to buy the product and visit these price comparison shopping engines to find the lowest price.
Therefore, listing your products on these websites will help you reach buying customers with less effort. As these comparison site visitors have high intent to purchase, this can be an ideal platform for WooCommerce retailers to promote their products.
Discover your competitors
There are over 5 million WooCommerce stores online. So finding your competitors can be a challenging and tedious task. To be honest, it isn't easy to find out which new stores are recently climbing the rank table in your particular niche.
However, you can quickly find and track your competitors from a price comparison website. Therefore, why not evaluate yourself against your competitors before your customers do?
Find popular products
Most price comparison engines highlight popular or top-of-the-line products on their landing or category page. You can discover market trends from this. It will also allow you to make sure that you have the right products in your stock and at the right prices.
Offer competitive price
WooCommerce retailers constantly adjust their prices in order to stay ahead of the competition. Price comparison websites are a great way to find out the pricing trends for a product or niche. By studying your competitor's prices, you can put up a competitive price for your products.
Additionally, you can determine how to price your new products. Also, if you have a new store, a price comparison engine can help you understand the pricing standards of your niche.
Find competitor's weaknesses
Customers don't only check low prices to make the purchase decision. They also check product details, including shipping cost, retailer's rating and reviews, service guarantee, etc., before buying the product.
Many price comparison shopping engines allow customers to give ratings and reviews. You can find the most popular products from these ratings.
Customers also share their bad experiences with retailers in these reviews. Therefore, you can understand your customers' expectations, find where your competitors are lacking, and improve your services in that area.
Overall, a price comparison search engine can give you an insight into your competitor's stores, find out gaps and help you improve your own product's presentation and pricing.
5 best price comparison sites in the UK for eCommerce products
The beauty of WooCommerce is that you can create any type of eCommerce store with it. You can sell regular products as well as services like booking, subscriptions, or even run membership sites with WooCommerce.
The good news is that there are comparison sites for almost any product or service. Therefore, you can check your competitor's products or services and prices from these websites along with listing your own products.
Below we have listed the top price comparison websites in the UK.
1. PriceSpy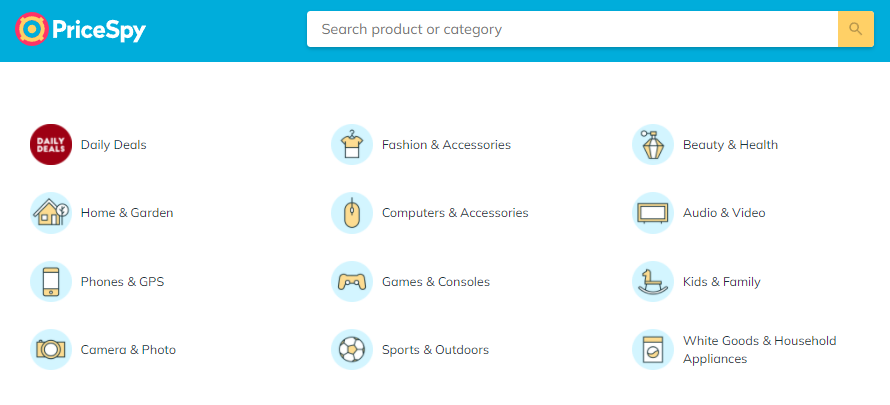 We have listed PriceSpy at the top of our best shopping comparison site UK list because of its unbiased price comparison and a number of valuable options for retailers to understand their competition.
PriceSpy has a monthly average of 1.3 million visitors, making it a potential cash cow for you as a WooCommerce retailer. You can add your products and reach already interested buyers through PriceSpy.
You can register your shop in PriceSpy for free. However, they will charge you on a per-click basis. Additionally, they have a paid plan called Featured Shop with added features. Some of the notable features of this plan are –
Allows you to display your logo.
Displays a 'Cheapest on PriceSpy' badge when you offer the lowest price.
Increases your visibility on the price lists.
Allows you to analyze the clicks in the PriceSpy analytics tool.
Drops customers on your shop directly with a single click.
Pay fixed cost per click.
Helpful analyzing features for retailers
As a WooCommerce retailer, you can save a list of your competitor's products that you sell as well in PriceSpy. PriceSpy will notify you when one of your competitors offers any discount or drops the product's price.
Therefore, you can keep track of the pricing standard in your niche with PriceSpy. This will also help you to determine how you should price your products.
Furthermore, the website will also notify you when a competitor releases a new product, which is indeed a great advantage for you as a retailer.
Another great feature of PriceSpy is the product's price history. The website shows a graph of price changes and price trends for a product.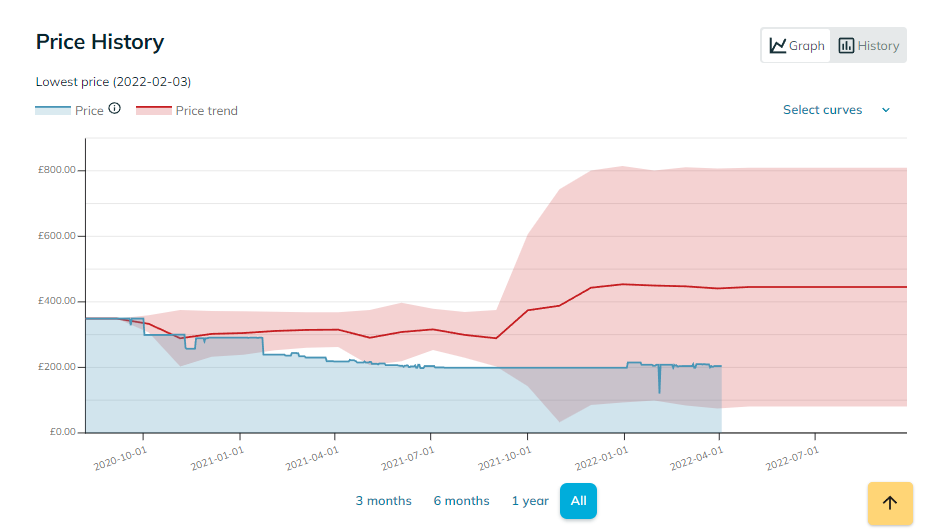 This is an excellent feature, especially for WooCommerce retailers like you, because this will give you a better understanding of the pricing trends.
Using PriceSpy is pretty straightforward. You can type in your product name or category. For example, if you type in "headphones," it will show you a list of headphones. From there, you can pick a specific model. After you select a particular model, it will show you prices in list order, as can be seen in the below image.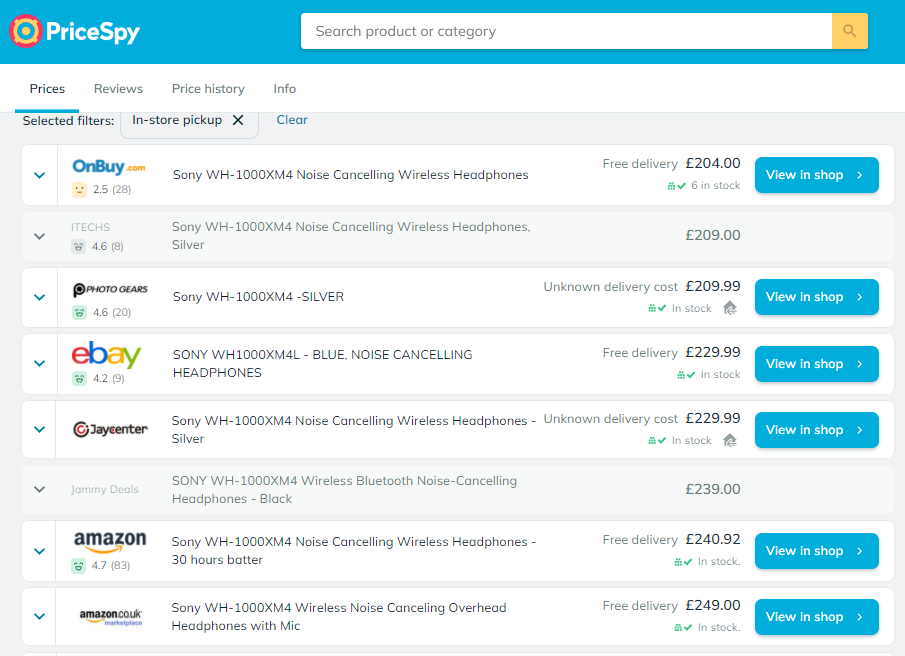 PriceSpy also allows consumers to give reviews and ratings. As a WooCommerce retailer, you can get practical insight into your customer's expectations from these reviews. PriceSpy also allows registered retailers like you to respond to the reviews.
Additionally, PriceSpy shows complete details and features of the product so that your customers don't have to go anywhere else to check those details.
This price comparison website also displays some key services of every retailer in the list, such as shipping duration, product guarantee, payment methods, etc. Therefore, you can attract your visitors by displaying special shipping offers or product guarantees.
Key features
Retailers can register and upload their products for free.
Impartial price comparison.
The Featured Shop plan offers advanced features for retailers.
Updates your prices several times per day when you give them your price file.
Allows you to save and sync competitors' product lists.
Notifies you of competitors' price updates.
Notifies you when a competitor releases a new product in your niche.
Shows you price history and price trends.
Displays consumer reviews and ratings on retailers.


2. PriceRunner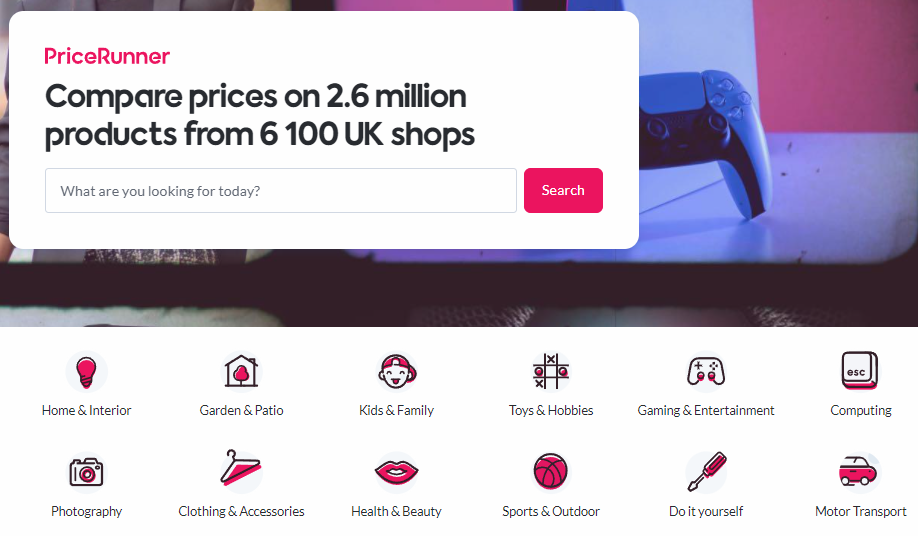 PriceRunner is one of the best price comparison UK sites with over 2.6 million products. They have 6,100 listed retailers, and they also accept international retailers. However, they only accept those international retailers who can deliver to the UK.
PriceRunner has an incredible 2.3 million visitors per month and 18.2 million worldwide on all its websites. As a retailer, this lets you promote your products to a gigantic audience that is looking to buy the products.
You can register and list your products in PriceRunner for free. They claim to have an industry-leading SEO team and over 100 thousand top ten positions on Google.
After you register you will get access to the PriceRunner Merchant Zone. Merchant zone gives you access to click reports, price statistics, and market analysis.
Additionally, you can buy banners and also promote your products in the category page's sponsored section to receive more attention from your customers.
Helpful analyzing features for retailers
As a retailer, the option you should be aware of is Statistics. PriceRunner has a Statistics section on every product's page which shows the price history and rank. Both of these are great features for you because you can track pricing trends for that product.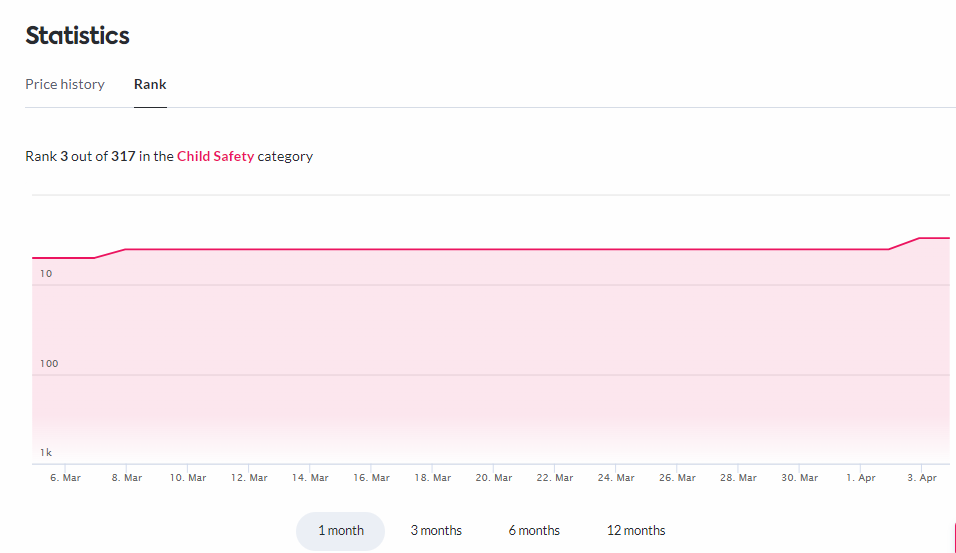 The price rank section shows how a product is ranking in that category. Therefore, as a retailer, you can understand the demand and popularity of the product. Additionally, you can set price alerts for specific products when you register for a free account.
One of the best features of PriceRunner is the Reviews and tests.
Unlike other comparison sites, PriceRunner lets members, guest consumers, and experts review products.
Along with the reviews, they also allow experts to test the products and submit their reviews in PriceRunner.
This opens a whole new door of opportunities for you as a retailer. You can get your products tested and reviewed by experts and displayed in PriceRunner as well as on your own WooCommerce site. This will earn the trust of your customers.
PriceRunner also has a question & answer section where members can answer consumers' questions about the product. This is also an opportunity for retailers to communicate with potential buyers.
Additionally, PriceRunner provides complete details and features of the products on the result page.
Key features
Allows you to reach a large number of potential customers.
Provides you with click reports, price statistics, and market analysis.
Displays price history and rank to analyze product's demand.
Displays both expert and consumer reviews.
Allows retailers to get their products tested and reviewed by experts.
Enables consumers to ask questions and retailer members to answer them.
Allows you to run paid promotions on the site.

3. Idealo

Idealo is one of the top comparison sites in the UK, with over 50,000 listed shops and 350 million offers. They have a staggering 1.5 million visitors per day and operate in six European countries besides the UK.
Idealo doesn't sell any product directly; it only shows product information and available retailers offering the product.
You can join the Idealo partner's program as a retailer and list your products to drive ready-to-buy traffic to your WooCommerce store.
There's no listing fee in Idealo. You only pay 0.24 £ per click (only for UK retailers).
Idealo provides a performance pixel to its registered retailers. You can monitor your customer's activities using this tool.
The website's price comparison listing is based on the lowest price, and it prides itself on being unbiased. Editorial team of Idealo screens all the participating retailers for integrity, legality, and creditworthiness.
The website has two price comparison platforms, Idealo Shopping and Idealo Flights.
Idealo Shopping
The eCommerce price comparison platform Idealo Shopping lets your shoppers compare the prices of a wide range of products. The website has a vast range of product categories, from electronics to pet supplies to beverages.
Therefore, it does not matter where your products fit in, you can always find the right categories to place your products
Customers can type in any category or specific product name to check to see the comparison result. The product search result page of Idealo shows a set of unique features. It displays different available variants of the products first before the price comparison results.
For example, if a customer searches for "iPhone 13 max pro," the result page will have a section called Variants, where it shows the list of variants available for iPhone 13 max pro. In this case, variants can be based on color, storage space, etc.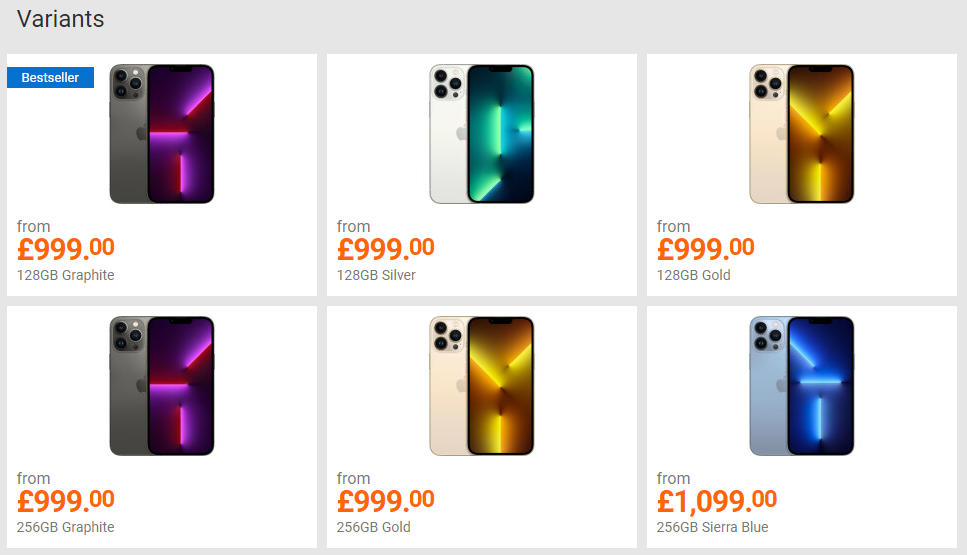 There is a scope for you as a retailer to place a product with different variations that the buyers can choose from.
One unique and helpful feature for retailers is the Top 10 Products. Besides price comparison results, Idealo displays the top 10 products in that category which is an excellent feature for you to find out the most popular and rated products in your niche.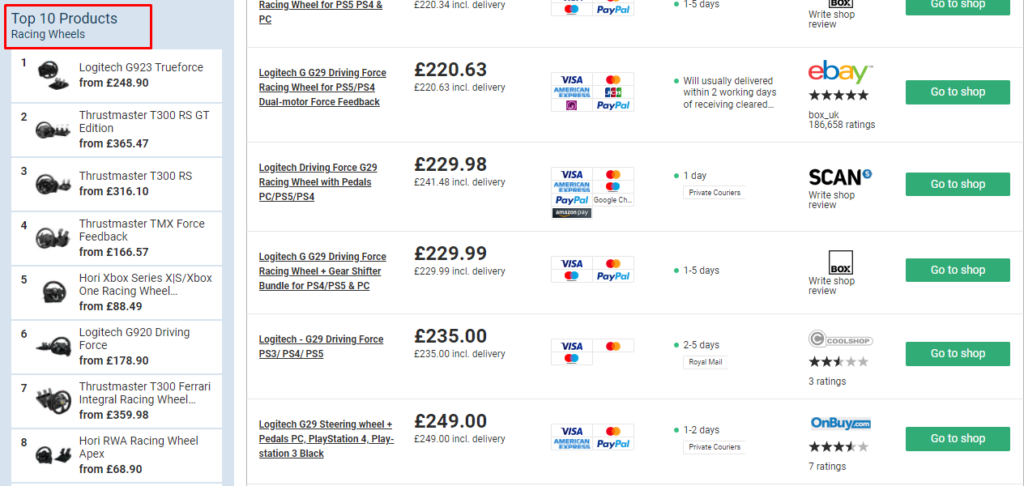 Like other best price search engine UK, Idealo displays all features of that particular product for your buyers to check. Along with that, they also have a product guide section where they put detailed information about the product.
Idealo allows users to review the products and also displays expert reviews. The expert review section features reviews from reputed reviewers such as Tom's guide, Trusted Reviews, etc.
As a retailer, you can study the reviews to understand your customers' expectations and expert reviews can help you immensely earn the trust of your audience.
Idealo Flights
Idealo Flights is a flight search engine that can find cheap flights within your desired destination. The website also allows users to find the best travel packages, cheapest deals, and low-cost flight tickets. Customers can choose from a wide range of options thanks to the site's daily offering of 50 million flights.
If you own a WooCommerce flight or travel booking store, Idealo Flights can be your ideal place to list your services and packages.
Key features
Enormous monthly traffic that can lead to sales.
Free to list your products and a fixed amount per click.
Great support for retailers.
Allows you to track customers' activity with performance pixels.
Unbiased price comparison that lets you rank quickly.
Accepts retailers selling eCommerce products and flight bookings.
A wide range of categories and products to choose from.
Displays the top 10 products in the category on every search result page.
Displays expert reviews from reputed reviewing sites.

4. Skinflint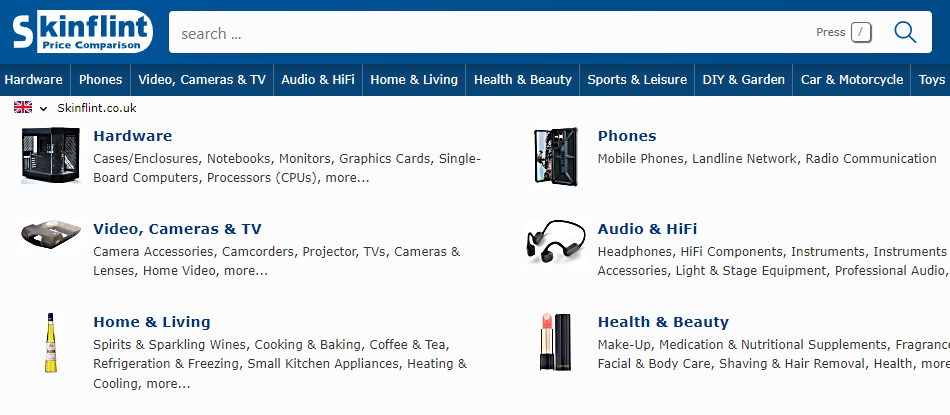 Although Skinflint was launched in 2009, its predecessor Geizhals Preisvergleich started its journey back in 1996. They have 2.2 million products and a whopping 5.9 million new customers every month.
Skinflint has a wide range of product categories, from hardware to software to even DIY and gardening tools. This site is particularly beneficial for dropshippers and WooCommerce retailers who are trying to sell to the UK audience.
The store owners can register for free and pay on a per-click basis. They have 2 plans,
0.32 cent per click with Geizhals logo.
0.35 cent per click without Geizhals logo.
When customers search for a product, the website will give them a list of products with prices.
Also, if your product has different variants, you can list all your variants in Skinflint. It will show your customers how many offers are available for that variant.

Helpful analyzing features for retailers
Additionally, Skinflint provides a number of useful options that can help you a great deal as a retailer. If you hover over the three dots, more options will pop up.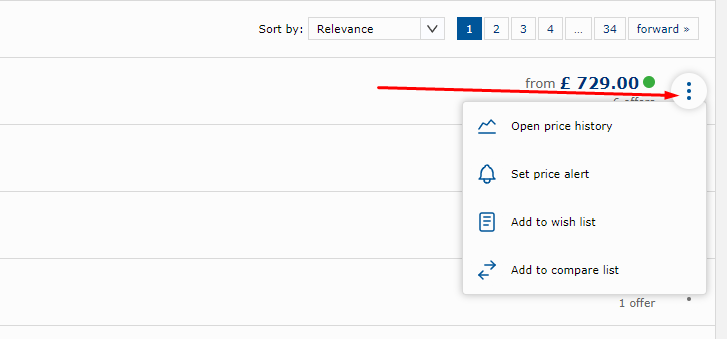 The first option will show you the product's price history, which is a great feature for the store owners to understand the price trend.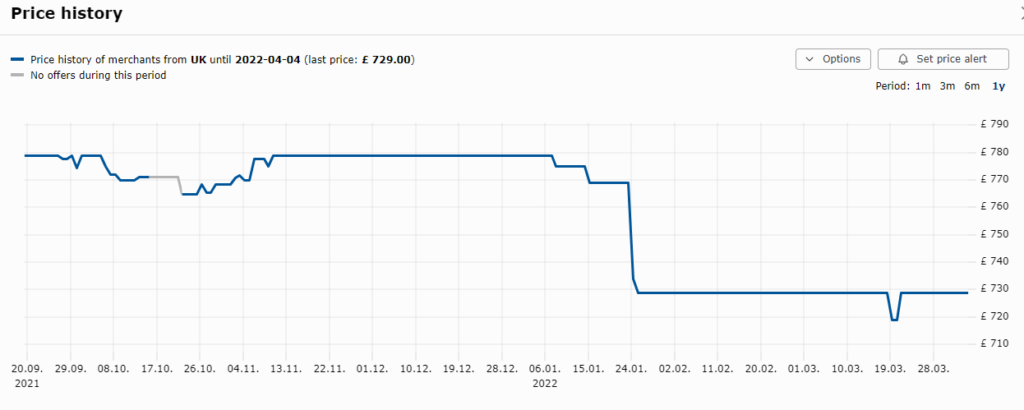 You can add products to your wish list and set price alerts so that when your competitors change or drop prices, you will get the notification in your email. This will help you stay updated on the pricing trends.
In addition to that, customers can also create their own compare list. They can add their chosen products and retailers and get a detailed comparison page like the below image.
It is comprehensible that the retailer with the best details and price will win the race. Therefore, this feature can be beneficial for you in two ways.
You can analyze your competitor's data with your own product's data to find and fill the gaps your product might have.
When you have the best price and details compared to others, you will have a higher chance of getting a sale.
Individual product variant pages will show product prices from different retailers as well as product details and features for your shoppers.
Skinflint also displays ratings & reviews and top 10 products in that category, which can help you find the current products' popularity and popular products in your niche.
Key features
Close to 6 million potential buyers per month.
Free to register and low cost per click.
Offers a number of features that can help WooCommerce retailers.
Offers a wide range of product categories for retailers.
Shows price history for you to analyze price trends.
Allows adding competitors' products to the wish list and setting price alerts.
Supports creating a custom compare list.
Displays popular products on each result page.

5. Google Shopping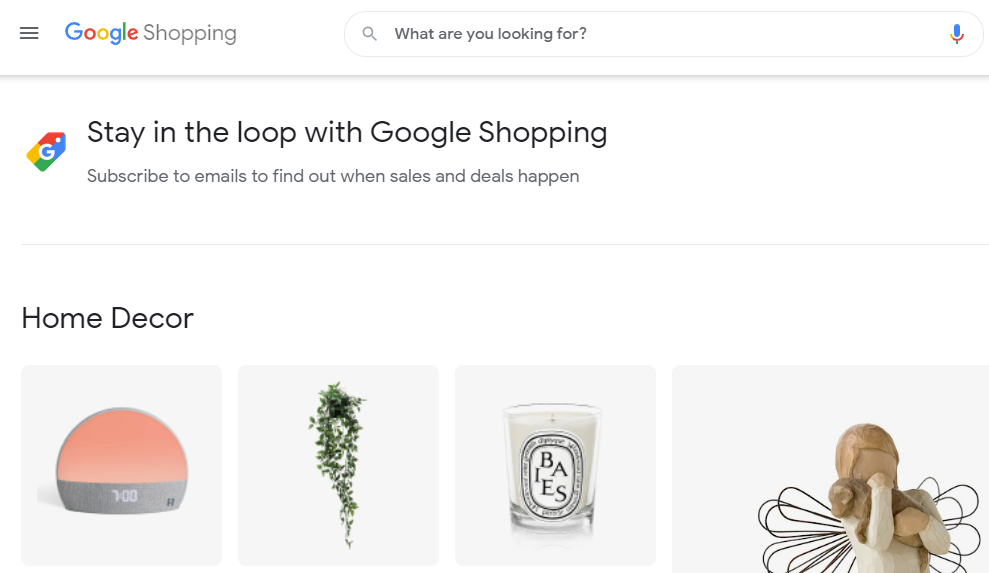 Wondering why we are mentioning the search giant at last? Well, they have a kinda good reputation when it comes to unbiased price comparisons.
However, store owners and even dropshippers can add their products to the Google Shopping engine and drive potential customers to their WooCommerce website.
As you expect from Google, the search speed is breakneck. Visitors can type in their product's name, and it will show the list of available stores offering the product in grid view.
Helpful features for retailers
Google shopping can be integrated with Google's ad platform, Google Adwords. On top of the search result page, this shopping engine displays paid Ads. As a retailer, you can run paid promotions in the Google shopping engine if you are willing to pay for Ads.
However, great news for you is that Google now accepts free listings from retailers in the UK. This means you can list your products on Google and drive traffic to your store for free.
You can display your products across different Google platforms such as the Shopping tab, YouTube, Google Search, Google Images, Google Lens, etc for free. In order to achieve this, you need to submit your "enhanced listings" to the Google merchant center.
Although this is a great advantage for you as a retailer, free listings do differ from the paid ones. Paid ones have more control over the listings including tools to optimize performance. Also, a paid listing will always appear above the free listing.
Coming back to the Google shopping engine, when shoppers click on a listing, it will open a popup window showing them the product's short description, rating, and gallery. This means, as a retailer, you get the chance to upload all your product images and keyword-implemented details.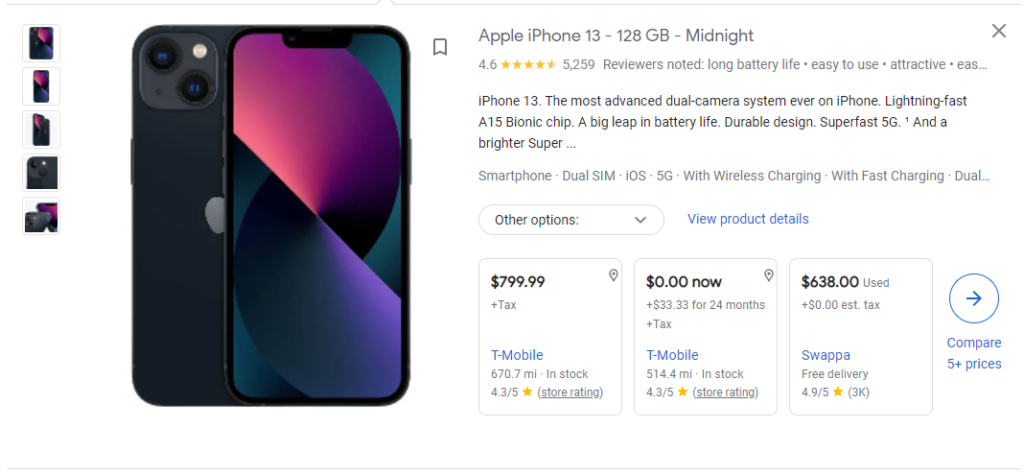 The product details page contains full product descriptions and features along with user reviews. As we all know, anything on Google will have loads of real user reviews. This can come in handy for you to analyze your product's popularity as a WooCommerce store owner.
Key features
Most popular search engine with a large number of visitors.
Allows you to run Ads and appear on the top of the page.
Supports free listing of your products.
Displays genuine user reviews.
Display your products across different platforms.

8 other top price comparison UK sites
Kelkoo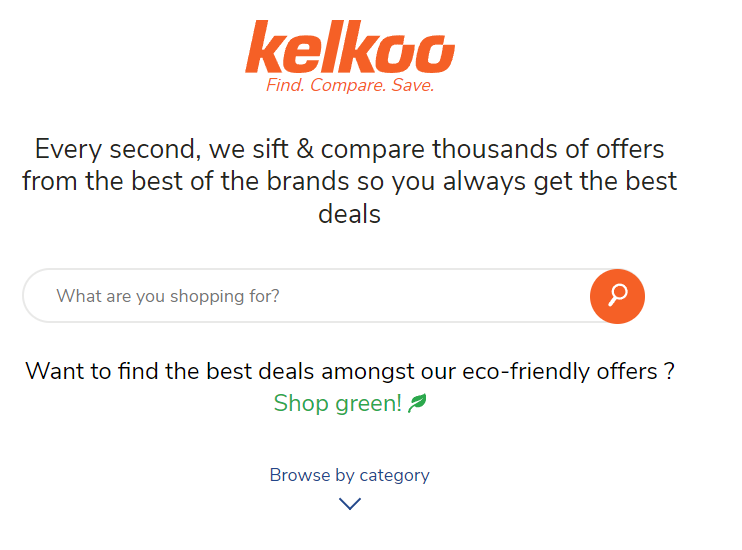 Kelkoo is one of the oldest comparison shopping sites UK. This platform has been serving the customers for 23 years and specializes in eCommerce product price comparison. It uses shopping intent data and cutting-edge technology to deliver quality traffic to your WooCommerce store.
Kelkoo is a Google Shopping Premium Partner. It can assist you with your Google Shopping Ads campaigns, whether by providing self-service access or by taking care of the entire campaign.
The site has 18 main categories and hundreds of subcategories under them. If you are selling eCommerce products, you will most likely find your category when adding your products to Kelkoo.
The search result is pretty straightforward. It shows product prices from different retailers in grid view. This means less effort for you to list your products. If you are offering the best price, you will presumably rank faster.
Additionally, if a product has different variants, then under every variant Kelkoo shows a Compare Prices link to compare the prices of that particular variant. Be sure to list all variants you offer in Kelkoo.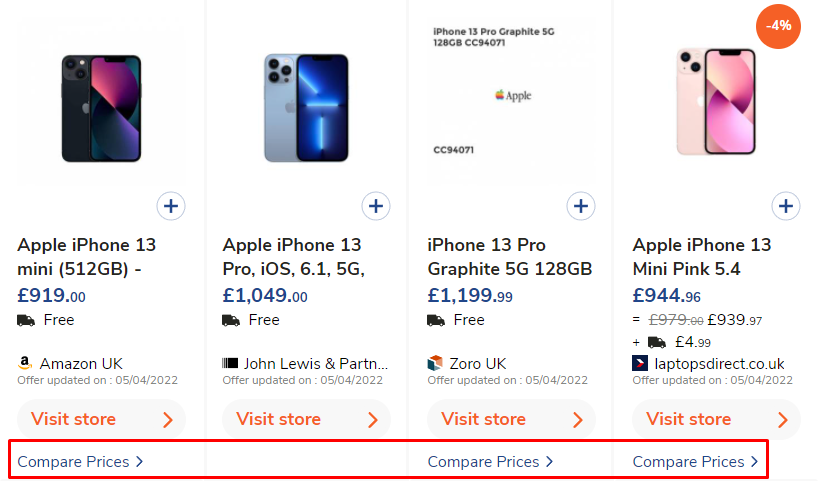 This link will take users to that particular variant's price comparison page.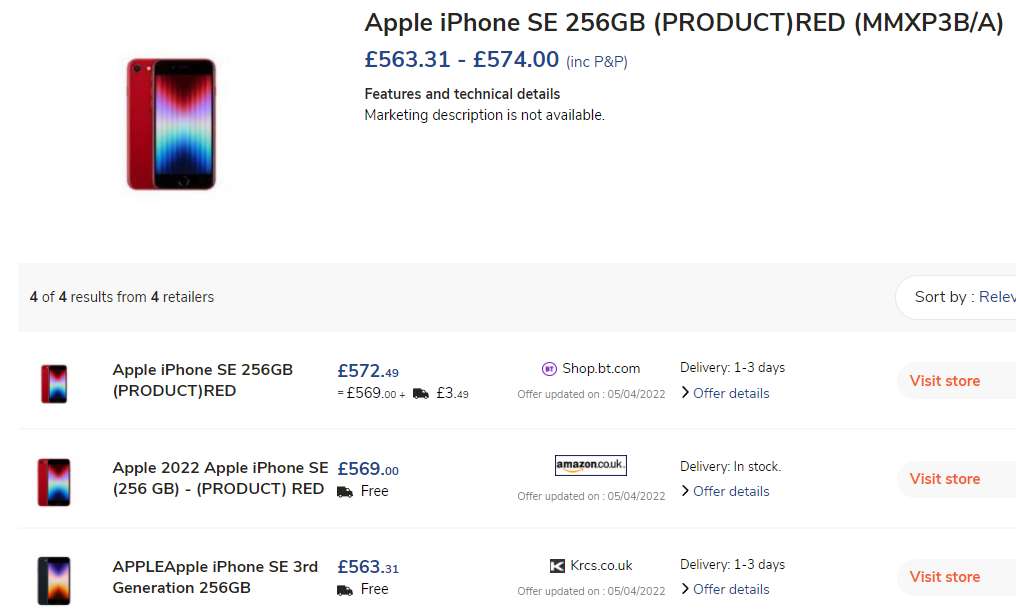 Shoppers can click on Offer Details to quickly check the basic deals and features that a particular retailer is offering. Make sure you list your most important features and services in this section to stand out.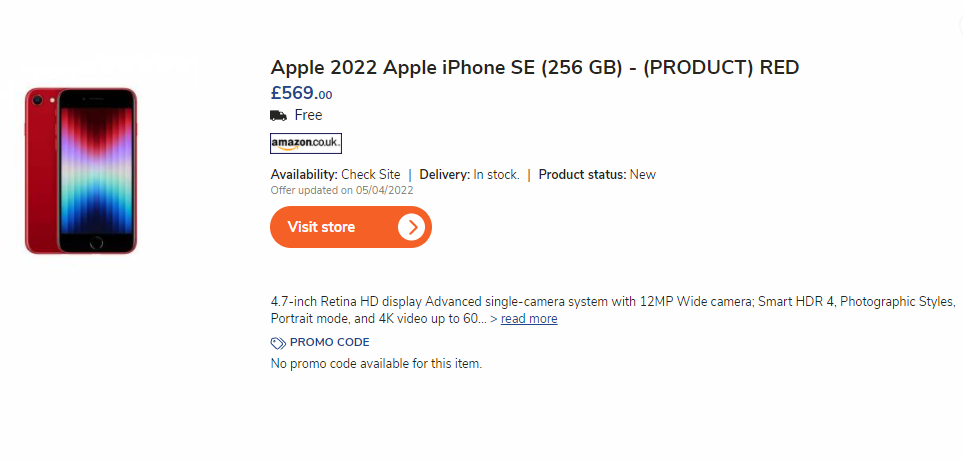 Additionally, visitors can filter their search by price range, brand, merchant, and some category-specific variants on the main search result page.

Bizrate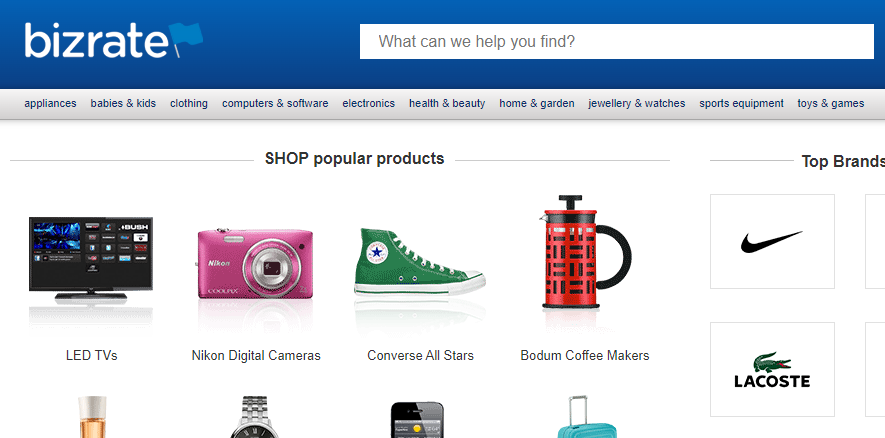 Bizrate is another eCommerce product comparison website that can help both shoppers and retailers. The website is a partner of Shopzilla, and we have noticed several other price comparison sites UK such as PriceGrabber, Shopzilla uses this shopping search engine for price comparison.
The website has its own customer feedback and rating platform called Bizrate Insights. This platform collects customers' feedback and ratings and provides tools and reports to over 6,000 retailers like you, enabling them to achieve their ultimate goal of increasing sales and customer retention.
Bizrate Insights enables retailers to quickly and accurately listen to their customers, resulting in insights, action, conversation, and increased customer loyalty.

Pricegrabber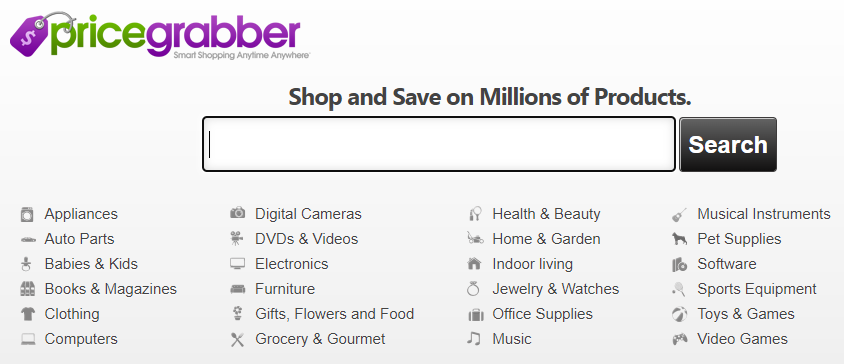 Pricegrabber has a storefront program that allows retailers without a website to list products. They don't have to pay any fee for the first 100 listings. However, they take a commission of $1.50 + 9% of the product fee on every purchase.
WooCommerce retailers have to pay an initial deposit of $50 and $0.25 to $1.05 on every click on their listing.
The website allows consumers to compare millions of products in different categories such as electronics, software, home appliances, grocery items, food, etc. Therefore, no matter what you sell, there's a high chance you will find your category on this price comparison site.
Searching and comparing products on this website is simple. Type a product name, and it will return a list of retailers available with prices.
If you are offering products with different variants such as color, weight, size, etc. you can add them in PriceGrabber. The website allows your customers to filter searches and find you easily.

Shopzilla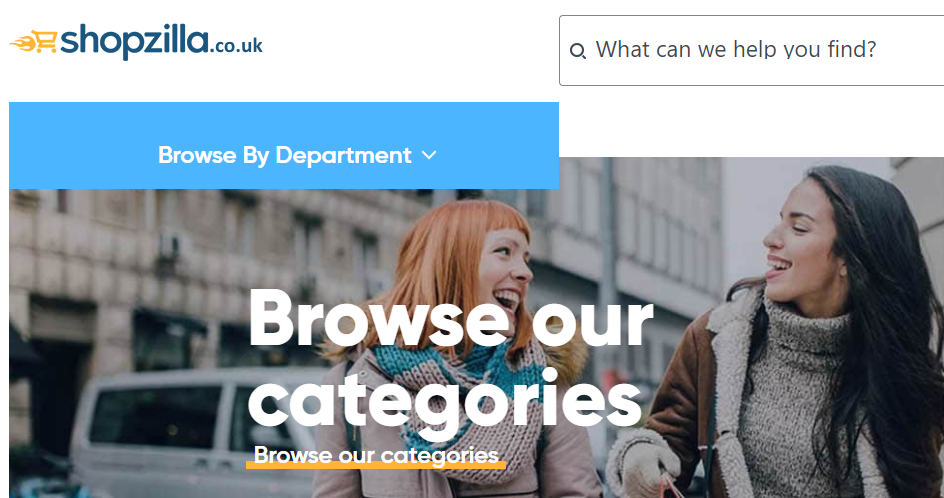 Shopzilla is an international price comparison website operating in the USA and Europe. They are one of the biggest price comparison sites with over 100 million products and over 10 thousand retailers.
Shopzilla, Inc. manages several reputed websites, including Bizrate, Beso, Shopzilla, PrixMoinsCher, SparDeinGeld, AisleA, and TaDa.
You can register and list your products in Shopzilla and drive a large amount of traffic to your site. Additionally, Shopzilla allows retailers to promote their products to customers through email.
Comparing prices in Shopzilla is pretty straightforward. Users just need to type in the product name or category, and it will show you the products with prices. Additionally, they can filter the search extensively by different variants from the left panel.

123PriceCheck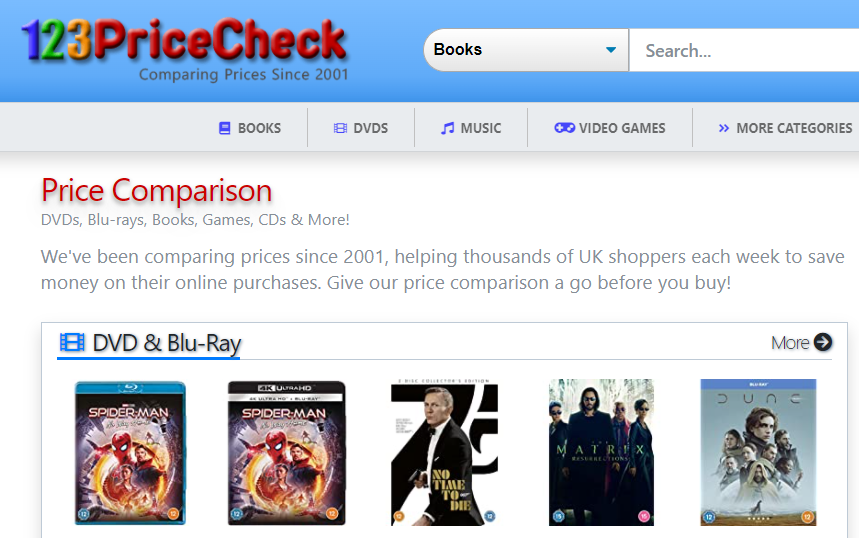 123PriceCheck was launched in 2001 and earned its popularity by comparing the DVDs, books, CDs & games. They have also added categories such as electronics, home & garden, computers, automotive, toys, etc.
The website has a best seller section for every category. WooCommerce retailers can find the most popular and best-selling products in their niche in this section.
When visitors type a product name, the website shows a list of retailers offering the product. At the top of the page, 123PriceCheck displays basic information about the product and features the retailer with the lowest price.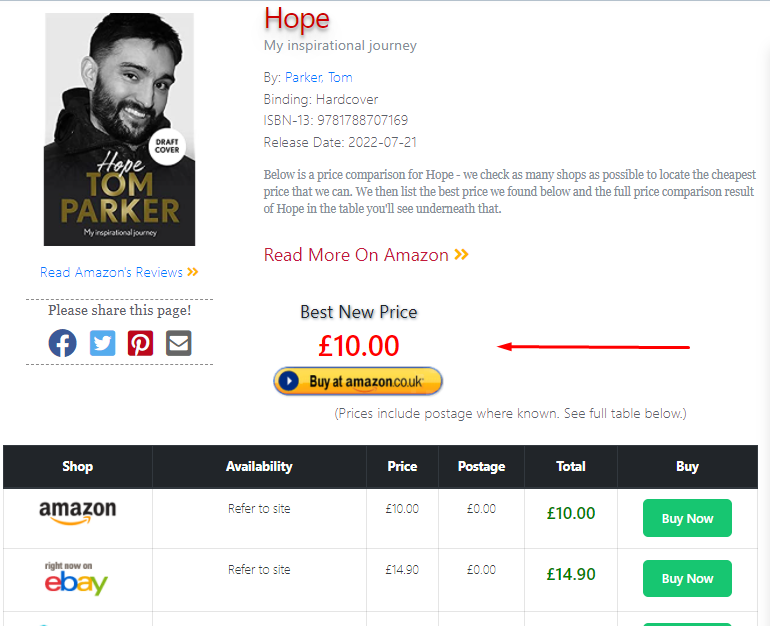 This can earn you buying customers if your product has the lowest price and is featured at the top.
Additionally, the website shows customer reviews and a long description of the product.

CamelCamelCamel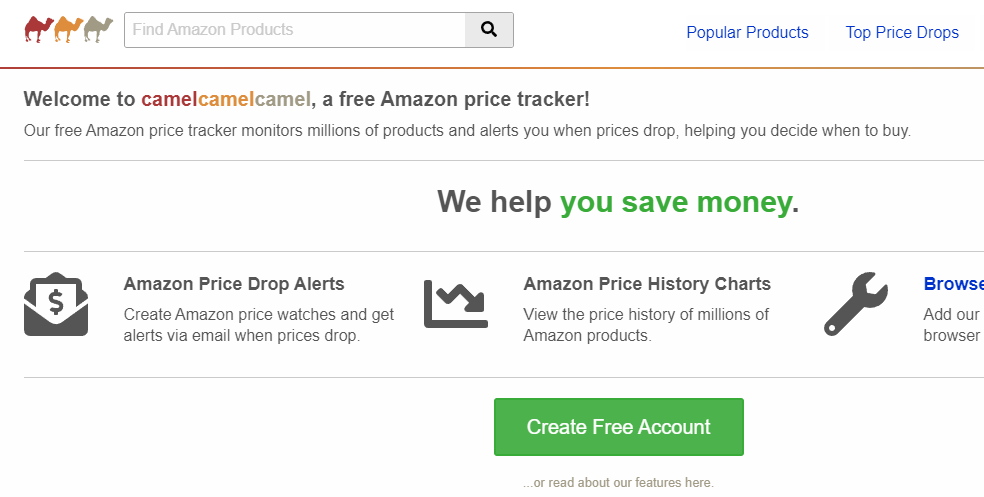 CamelCamelCamel is the best price comparison site UK for Amazon products. Amazon is, no doubt, the leader in eCommerce. Both consumers and retailers keep a close eye on Amazon-listed products.
Using the CamelCamelCamel website, you can keep track of the prices of various Amazon items and be notified by email if the price drops.
One great feature retailers can check is the Amazon Price History. Every individual product page shows a price history graph that shows price variations over time.
CamelCamel also has an extension called The Camelizer that you can use in your Google Chrome, Mozilla, or Safari browser. The Camelizer enables you to view price history charts without leaving retailer product pages and simplifies the process of creating price watches while browsing your competitor's websites.

PriceChecker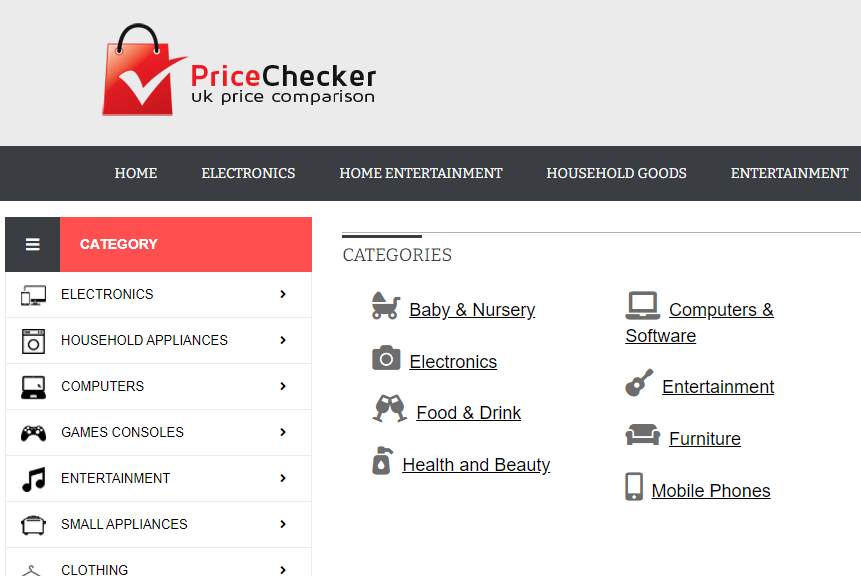 PriceChecker is another UK price comparison website that compares eCommerce products. They have a good number of product categories. You can also display special shopping deals in PriceChecker.
The website has a clean look and is easy to navigate. Your shoppers can type in the product name, and it will show the list of available retailers offering that product. PriceChecker also shows some important features and details about the product for your customers.

Confused.com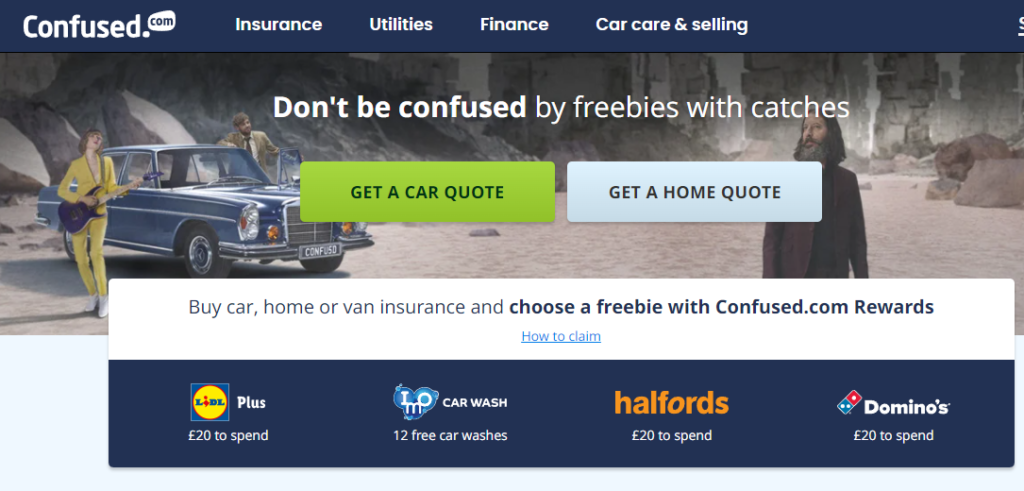 Confused.com claims to be the first-ever comparison site in the UK. They offer a wide range of insurance comparisons such as home insurance, car insurance, business insurance, life insurance, etc. Along with the insurance comparison, the website also offers financial service comparisons such as mortgages, loans, car finances, etc.
Confused.com also compares utilities such as TV, broadband, gas, mobile phones, etc.
Additionally, the website allows customers to compare car care services such as buying and selling cars, car garage comparisons, etc. They have partnered with motorway.co.uk to sell cars and motors.co.uk for new car comparisons.
Overall, if you provide financial services or electronic products in your WooCommerce store, you should list them on confused.com. To list your products or services, you need to join the site as a provider.
How to Add Your Products on Price Comparison Sites?
There are 12- 24 million online shops globally, and new stores are created every day. A new store is like a needle in a haystack. In order to keep up with your competition, you can't only depend on your website. You need to sell your products on multi-channels (e.g., Etsy, Walmart, Yahoo, etc.) and also list them on different price comparison websites to reach a broader audience.
However, adding your products to every channel and comparison site, one by one, will take ages and is not a viable option at all. This is where the CTX Feed Pro plugin can save your day.
CTX Feed Pro is a product feed creation and management plugin for WooCommerce. It has pre-built templates for 100+ channels, including all the above-mentioned price comparison websites.
You can create a product feed file containing all the product information you need in a matter of minutes and upload it to the channel of your choice.
For example, if you want to create a product feed file for PriceSpy, you can select the PriceSpy template from the dropdown. Then give your file a name and choose your export file type. The template will populate all attribute fields automatically. Additionally, you can also customize them.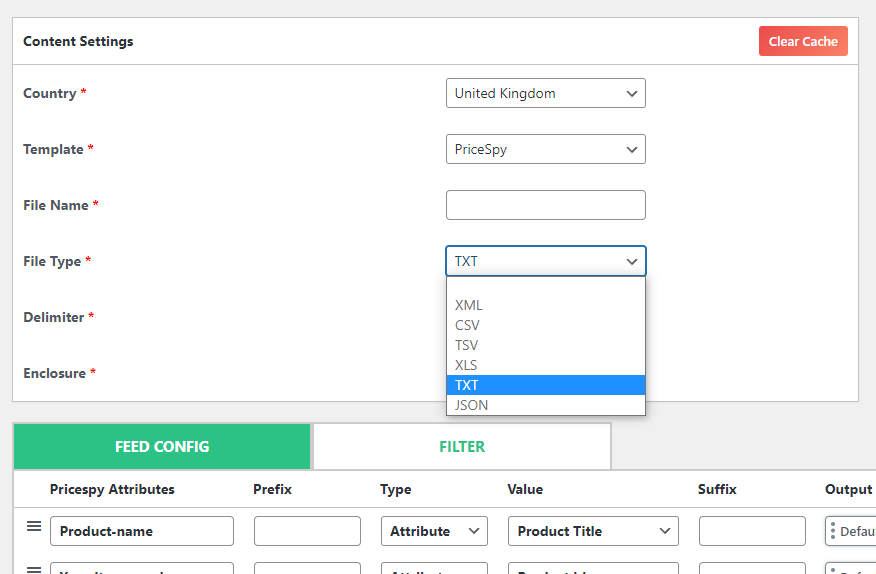 Once you are done, you can go to PriceSpy and upload the file to your retailer account. And that's about it. Your products will be listed in PriceSpy. That's how easy and time-saving CTX Feed Pro is.
For a detailed review of the plugin, read this article. Also, our official YouTube channel is a great resource containing tutorial videos to help you create a product feed for different channels and boost your sales within the quickest time.


Frequently Asked Questions (FAQs):
How can I compare my product prices online?

The easiest way to compare product prices online is by going to a price comparison website. A price comparison engine displays a large number of participating retailers offering the same product at different prices. As a retailer, you can compare what prices your competitors are offering.
Which website is best for price comparison in the UK?

There are several excellent price comparison websites in the UK with millions of products and thousands of retailers. Some mentionable names are PriceSPy, PriceRunner, Idealo, and Skinflint.
How do I find the best price for my product?

As a consumer, you can go to any popular price comparison shopping engine, such as PriceSpy, Idealo, etc., to find the lowest price offered by different retailers. As a retailer, you can check these price comparison websites to understand the pricing trends and determine how you should price your own products.
Wrap up
Comparison shopping sites UK can help you a great deal in promoting your products to an audience who already has the intent to buy. You can reach a larger audience and boost your WooCommerce store's sales.
Shopping comparison sites can also be very beneficial for a WooCommerce retailer for studying price trends as well as understanding the niche and product's popularity.
We hope this article on the best price comparison site UK helped you realize what opportunities these shopping engines hold and which price comparison website to choose for your store.

You May Also Like:
1. Best WooCommerce Product Feed Plugin for Google, Facebook, eBay, and more
2. How Easily You Can Generate Product Feed For Idealo With The Right Plugin
3. Complete Guide to Google Product Feed Optimization for WooCommerce In 2022