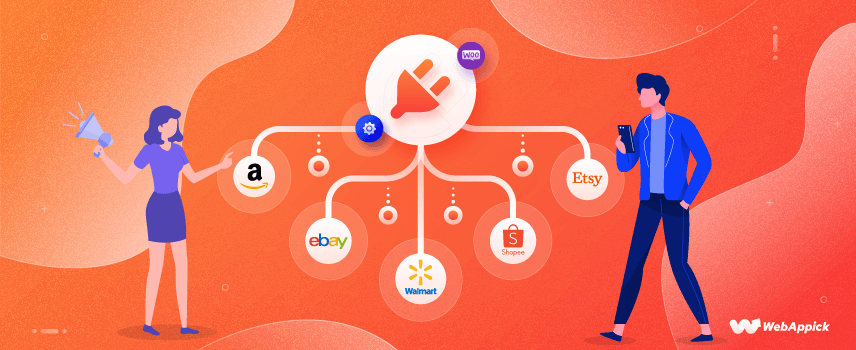 11 Best WooCommerce Multichannel Selling Plugins (Free and Pro)
Do you want to sell your products on your WooCommerce to multiple sales channels?
If yes, then you need a WooCommerce multichannel selling plugin.
With appropriate multichannel selling tools, you can sell your WooCommerce products to multiple channels such as Amazon, eBay, Walmart, Shopee, Facebook, Pinterest, and more.
In today's blog, we have chosen the 11 best WooCommerce multichannel selling plugins that you can leverage to maximize conversion, boost your revenue, and reach millions of new customers from different marketplaces around the globe.
And that's all just after a few simple setups!
If you're wondering about "What's in it for me?", you can read about the benefits of selling your products on multiple channels.
Note that you do not need to use all or just one of the plugins we're going to talk about.
First of all, choose the marketplace where you want to sell your products and then choose the appropriate plugin(s) that meets your needs the most.
Ready? Let's dive right in.
List of Best WooCommerce Multi-channel Selling Plugins (with Price and Features)
CTX Feed – WooCommerce Product Feed Generator plugin lets you sell and promote your WooCommerce store's products to 100+ selling and marketing channels.
You can use this plugin to generate hassle-free product feeds that you can customize for Google Shopping or Google Merchant Center, Facebook Dynamic Product Ads, Instagram Shopping Ads, Pinterest Shopping Ads, TikTok, eBay Ads, Bing Ads, PriceRunner, Rakuten, Wish.com, PriceSpy, Kelkoo, and whatnot.
Being a product feed generator plugin for WooCommerce stores, CTX Feed has both a free and pro version.
Leveraging this revolutionary plugin, you can make customized feeds with existing products and use them on your desired marketing channels, affiliate networks, or price comparison sites.
This way, you can easily promote your products to multiple channel channels quite effortlessly.
Don't worry if you make any changes to the product information on your WooCommerce site because this plugin features the flexibility of syncing all the updates to the appropriate channel via FTP or HTTP.
So, all your customers can see the latest product information automatically without any effort from your end.
CTX Feed – WooCommerce Product Feed Generator Price: Free + Premium Plans (Yearly and Lifetime) Available.
Key Features
Create a product feed for unlimited products
Create product feeds for Facebook catalog, Instagram Shopping, Bing Shopping, etc.
100+ pre-configured templates designed and formatted for different platforms to create feeds within a few minutes.
Create unlimited custom templates as your requirement
Get your products displayed on popular search engines such as Google
Easy user interface for the users
18 output formatting option
Add a prefix and suffix to any product attribute value
Create as many feeds as you want for multiple sales channels
Map your product categories to match the shopping engine categories (Category mapping)
Create and export the product feed in XML, TXT, CSV, XLS format
Keep/remove variable products from the feed
Support all default WooCommerce product types such as bundled products, variable products, composite products, subscription products, mix & match products.
Create Google product feed with given template with Brand, GTIN, MPN, etc
Auto/scheduled feed update, batch feed making, smart filter and condition, custom fields, and more.
WP Lister Pro for eBay
WP Lister Pro for eBay will help you integrate your WooCommerce website with the eBay store.
When adding products from WooCommerce, you can add as many products as you can to your eBay store from the WooCommerce products page. It will just take a few clicks to get your work done.
However, to manage your WooCommerce products on eBay, you'll need to provide a product feed for eBay.
With WP Lister Pro for eBay, you can easily sync inventory between eBay and WooCommerce.
On top of that, if you use the WP Lister for Amazon, you can sync the stock and sales across all three platforms.
WP Lister Pro for eBay Price: $149 / year
Key Features
Manage all the inventory from WordPress
Use a profile for multiple products
Sync inventory between WooCommerce and eBay
Create and manage eBay orders from WooCommerce
Leverage the national and international shipping services along with calculated shipping
Map the custom categories with that of eBay
Create product variations for eBay and split variations into a single product if required
Make custom listing templates and download or upload them as zip files
eBay Integration for WooCommerce
eBay Integration for WooCommerce is another trendy plugin to automate and connect your store to the eBay marketplace.
With this plugin on your WordPress website, you can bulk upload your store's product, sync the inventory in real-time, and manage the inventory centrally from WooCommerce.
No matter what type of products you sell, eBay is always one of the most suitable platforms to present your products to global customers, especially in Canada, the United States, and the UK.
eBay Integration for WooCommerce Price: $199/year
Key Features
Automatically sync the inventory, products, and product information across the platforms
Import all your existing eBay products to WooCommerce and control every aspect of the products from one single dashboard.
Upload 1000+ products, product price, features, deals, and variations in bulk
Check the bulk upload products' status
Bulk update all the product information with eBay Integration for WooCommerce
Remove the products you no longer sell on eBay from the listing
Sync the orders you receive on eBay
Manage and create product promotion campaigns
Handle all the eBay orders from within WooCommerce

Walmart Integration for WooCommerce
Walmart is a wise choice to serve millions of shoppers with your products. With your products on Walmart, you can boost your sales, conversions, and ROI.
Selling on this platform also lets you stay ahead of your competitors who are only using a single platform to sell their products.
When you sell on Walmart, you only pay the commission after a sale, and there's no monthly fee. Moreover, you can easily measure the performance with the seller scoreboard.
If you're looking to integrate your WooCommerce store with Walmart, Walmart Integration for WooCommerce plugin by CedCommerce can be an ideal tool for you.
This plugin will allow you to enjoy hassle-free and automated selling on Walmart along with centralized inventory management, real-time product syncing, and more.
Walmart Integration for WooCommerce Price: $249/year
Key Features
Bulk upload your WooCommerce product listing to Walmart
Set product details, pricing, and fulfillment rules for Walmart listings based on your WooCommerce inventory
Keep your WooCommerce store's and Walmart's inventories up-to-date with regular and real-time synchronization.
Manage product list, syncing, orders, and cancellations centrally with WooCommerce dashboard.
Review the status of the uploaded products on Walmart, resolve any uploading errors, and re-upload the products
Submit shipment details to Walmart to make sure shoppers can track the progress of their orders.
Upload your products to Walmart based on the product categories along with the attributes
Accept Walmart orders automatically
Shopee Integration for WooCommerce
Starting in 2015, Shopee is one of the leading and popular eCommerce startups in Southeast Asia. It serves customers in Thailand, Malaysia, Taiwan, Singapore, Indonesia, the Philippines, and Vietnam.
To be precise, Shopee is a multi-vendor platform with lots of sellers and shoppers. This marketplace is mobile-friendly and charges a low commission from sellers.
The COD payment option for buyers has contributed to its immense popularity.
Registering with Shopee is really easy and quick. You just need an e-mail ID and phone number to start selling on Shopee.
Connect your WooCommerce store with Shopee and start selling your WooCommerce products seamlessly to a wide range of customers using Shopee Integration for WooCommerce.
Once you complete integrating your WooCommerce store with Shopee, you can have the advantage of many automated functionalities such as centralized order management, inventory, price syncing, and automated inventories.
What's more important is that you don't need to waste your time and money on two different and disconnected shops.
Shopee Integration for WooCommerce Price: $199/year
Key Features
Bulk upload all of your products to Shopee
Set different pricing and fulfillment rules along with the product details for Shopee listing depending on your WooCommerce inventory
Manage all Shopee orders, cancellations, and updates centrally from your WooCommerce store.
Receive direct order updates from Shopee to your WooCommerce store
Preview products before making them live. Make any required changes to the product images, descriptions, and other details after previewing.
Regularly synchronize the product quantity and data in real-time across WooCommerce and Shopee
Bring all your Shopee products to WooCommerce seamlessly and match them as per their existing categories on WooCommerce.
Let the shoppers track their order shipment details and progress.
24/7 customer support
Etsy Integration for WooCommerce
Being a global marketplace, Etsy is popular for vintage, handmade, and craft supplies.
If you're running a shop with clothing, jewelry, art, health, and beauty products, Etsy is the best place for you to sell.
Etsy encourages individual sellers to sell on this platform and become professional sellers with a small investment.
Etsy charges $0.20 per listing to keep your products on this platform for four months or until the sale.
However, registering for Etsy is free of cost and it provides you the flexibility to set your own theme and layout, add your custom scripts, and edit the CSS.
If you want to sell your WooCommerce shop's products seamlessly to this popular shopping platform, Etsy Integration for WooCommerce is what you need to simply install on your WordPress website.
Etsy Integration for WooCommerce Price: $199/year
Key Features
Get quick access to your Etsy store with a one-click authorization process. Just enter your Etsy shop name and you're done.
Add the shipping profile on Etsy and use them during the product uploads.
Bulk upload your products on Etsy and set different pricing plans, inventory rules, shipping methods, and more.
Upload your WooCommerce products on Etsy with their individual categories and attributes.
Manage the orders you receive on Etsy from the WooCommerce order section.
Sync real-time product inventory and orders across the platforms.
Wish.com Integration for WooCommerce
Wish.com is a customer-oriented marketplace that helps customers find those products of which the customers were not even aware. Being a mobile-driven marketplace, this platform is widely popular among more than 200 million customers in North America and Europe.
Wish.com lets you register and list your products on this platform for free. Besides, it does not charge monthly or yearly fees from the sellers. Instead, it runs on revenue sharing from the sellers.
It means, if you register on Wish.com and get a sale (and money in your pocket), this is the time when you have to pay 15% of the sales price.
Developed by CedCommerce, Wish.com Integration for WooCommerce will help you list and sync your store's product to Wish.com and manage the sales from one place.
Wish.com Integration for WooCommerce: $199/ year
Key Features
Set customized pricing plans and product details for Wish.com
Upload all your WooCommerce products effortlessly
Sync product data, orders, and updates between Wish.com and WooCommerce regularly
Manage your eCommerce orders from the admin panel of the extension installed on your WordPress website
Enable or disable certain products to display on Wish.com
This extension is compatible with Wish.com's return program
Choose the interval period for updating the uploaded products after a certain period
Let the shoppers stay updated regarding the current status of their orders.
Pinterest for WooCommerce
Pinterest for WooCommerce is a free extension by WooCommerce itself to connect your store to Pinterest and make the entire catalog browsable for Pinterest users.

Though Pinterest is a social media channel, many Pinterest users leverage this platform for source inspiration and new products. Being a visual search engine, it can catch thousands of customers' attention to your store's products.
Pinterest for WooCommerce plugin will bring your store's product in front of those people who look for ideas and products to buy on Pinterest.
However, to make this happen, you have to connect your store to your Pinterest business account and just after a few clicks, your store's products get live for Pinterest users from around the globe.
Pinterest for WooCommerce Price: Free
Key Features
Set up the shop tab and Pinterest tag automatically
Publish product pins fast
Update the product catalog regularly
Track the store's conversion and performance with the help of the Pinterest tag for easy retargeting or campaigns.
Accommodate all your WooCommerce products into a catalog that users can browse as product pins
Capture time-taking shoppers with longer attribution windows.
Multichannel for WooCommerce: Google, Amazon, eBay & Walmart Integration
If you're a minimalist and want to get a pack of functionalities within one plugin, you should try Multichannel for WooCommerce: Google, Amazon, eBay & Walmart Integration plugin by Codisto.
This plugin will let you create, sync, and manage product listings on Google, Amazon, eBay, and Walmart from WooCommerce.
While this plugin is free to download with a 14-day free trial, you can choose from multiple pro plans as per the order quantity of your eCommerce business at the end of the trial period.
If you use this plugin, you will not require to export or migrate the entire product catalog of your store to certain platforms. Instead, you can connect your online stores directly to Amazon, Google, eBay, and Walmart and track everything you need from within WooCommerce.
Multichannel for WooCommerce: Google, Amazon, eBay & Walmart Integration offers three distinct listing modes; single, multi, and attribute mapping.
As you receive orders on WooCommerce, the updated product inventory gets synchronized to all four platforms at the same time so that you don't oversell. Besides, you don't have to update the product listing manually throughout the channels.
Multichannel for WooCommerce: Google, Amazon, eBay & Walmart Integration Price: Free Trial (14 Days)+ Premium Plans
At the time of writing this blog, the following premium plans are available for users:
Starter Plan: $29/ month (up to 50 orders)
Growth Plan: $99/ month (up to 250 orders)
Pro Plan: $99/ month (up to 500 orders)
Power Plan: $249/ month (up to 1,500 orders)
Elite Plan: $499/ month (up to 3,000 orders)
Key Features
In-built currency switcher feature for Google, Walmart, Amazon, and eBay platforms.
Create Google Product Listing Ads and set a budget.
Update the shipment tracking data automatically on sales channels.
Receive all the orders in WooCommerce.
Sync the pricing, orders, inventory, and product details in real-time.
Use channel-specific titles, descriptions, prices, or product details.
Create new listings or link existing listings on Google, Amazon, Walmart, and eBay in bulk.
Create an enhanced listing and categorize the products automatically.
WP Lister Pro for Amazon
WP Lister Pro for Amazon lets you sync and manage your WooCommerce inventory to Amazon automatically.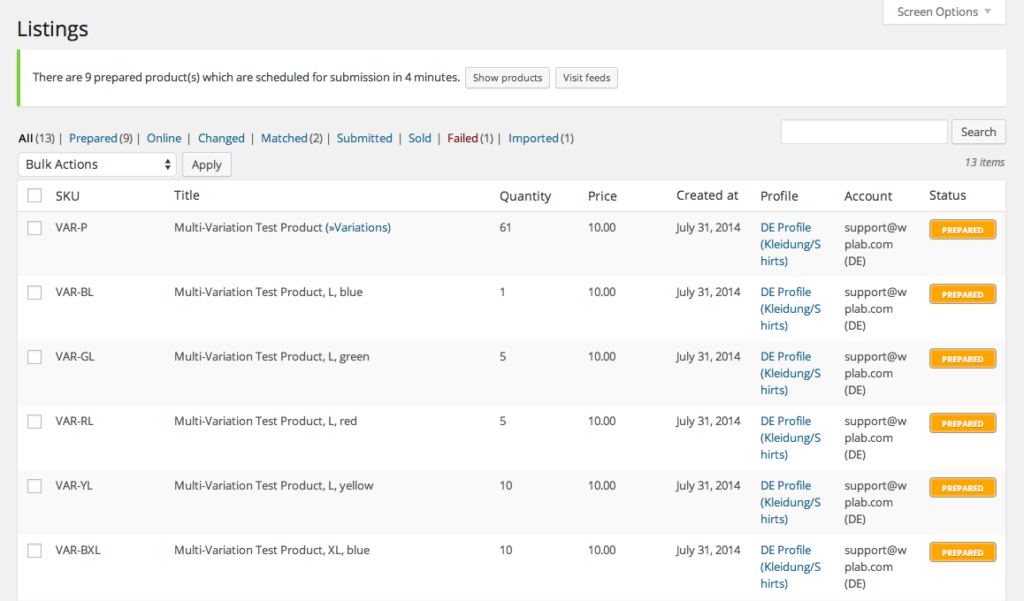 It is a premium plugin for WordPress websites that also helps to integrate the WooCommerce product catalog with Amazon inventory.
If you want to sell your WooCommerce products to Amazon with the least effort, this plugin is for you.
With Lister Pro on your WordPress website, you can save both the time and money that would otherwise get spent writing the product information twice on two completely different platforms.
You have the scope to use the WP Lister Pro in a number of ways.
How you'll leverage this plugin will depend on whether you already have products on Amazon or not.
First up, you can import all the current products of Amazon into WooCommerce.
Besides, you can also choose to link and then match the products of your WooCommerce store with the existing products on Amazon.
Alternatively, this plugin also allows you to create new products on Amazon based on your existing products on WooCommerce.
And, last and best of all, you have the authority to sync sales across Amazon and WooCommerce so that you stay informed on the latest inventory status.
So, when there is a sale on Amazon or WooCommerce store, your WooCommerce inventory automatically gets updated.
Apart from letting you use this Pro version of the plugin, WP Lab also offers a free version on the WordPress plugin repository.
We recommend you use the free version first to find out if this is the plugin that meets your needs.
WP-Lister Pro for Amazon Price: $149 / year
Key Features
Make use of the WooCommerce product details to create new product pages on Amazon
Match the products on two platforms by SKU, title, and custom attributes
Import product attributes, product images, and titles from Amazon
Sync sales data from both Amazon and WooCommerce
Create product variations for Amazon
Display alerts for listing quality
Update the minimum price info automatically
Lets you handle non-Amazon orders via FBA.
Facebook for WooCommerce
Leveraging Facebook to sell your WooCommerce store's product is one of the brainy ideas. Facebook is quite effective as a tool to grow your multichannel retail business.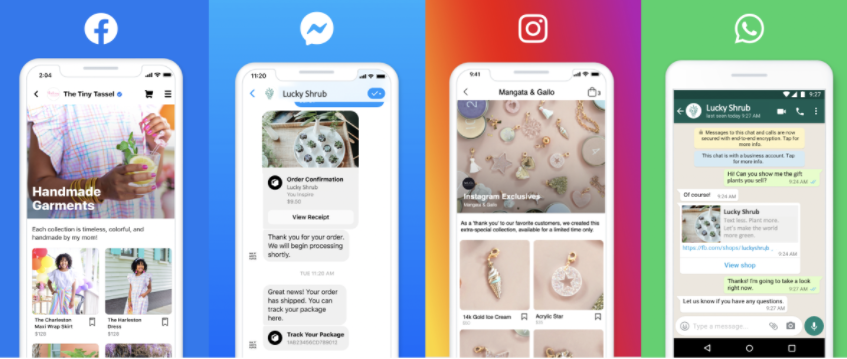 Facebook for WooCommerce is a free plugin offered by WooCommerce itself. With this plugin installed on your WordPress site, you'll be up and running within a short period. The guided setup wizard has made the connection process between WooCommerce and Facebook a breeze.
This plugin will help you create a mobile-friendly and customizable online store on Facebook. Besides, it syncs your WooCommerce product catalog seamlessly to Facebook from where your customers can browse, consider, and purchase.
Facebook for WooCommerce Price: Free
Key Features
List and link your store's products on your Facebook shop page
Integrate Facebook Messenger to provide support, track deliveries, and entertain customers' questions. So, you can communicate with your customers even after they leave your website
Get reliable information about customers' activities.
Explore a customer base that loves shopping on social media
Market your products in an organized manner via ads
Synchronize to update the Facebook shop as per the WooCommerce store's inventory or changes
Buy Facebook and Instagram ads on WooCommerce. You can design, target, and place your ad straight from WooCommerce. Moreover, you can also make the payment via PayPal or other gateways for an ad from the WooCommerce plugin
Access to the Facebook Pixel and Conversions API to receive valuable data to keep your business ahead.

Final Thoughts
Selling your WooCommerce products through multiple channels is an excellent idea. By dint of the plugins mentioned above, you can easily go for multichannel selling within a few hours.
Choose the plugins you need from the list above and start selling to millions of new customers. We wish you good luck with your new venture.
If you have any queries regarding the plugins we've featured or just wanna share your opinion, feel free to do so via the comment section below.
Also, don't forget to subscribe to our newsletters to get the latest offers and updates.
You May Also Read