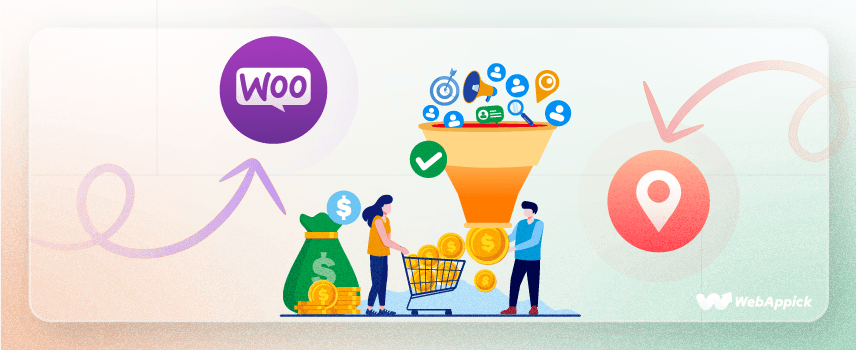 A Guide To WooCommerce Conversion Tracking
You have launched your WooCommerce site, customers love your products, and they visit your site to have a look at your products. Now what?
Is your eCommerce business making money for you? How can you gauge if your eCommerce store is getting the leads you want it to?
This is where WooCommerce conversion tracking helps. WooCommerce conversion tracking considers all the conversion data you collect and uses it to give you a holistic insight into your site's performance.
What is Conversion, and why is it important to track conversions?
Simply speaking, conversion is when a user performs a desired action after visiting your WooCommerce site.
Think for a moment about the types of actions you might want your prospective customer to take – like watching a video, downloading a guide, filling out a form, subscribing to a newsletter, or clicking a link. Each of those activities can be tracked as a conversion.
But why should a business owner pay attention to how visitors engage with their website and how WooCommerce conversion tracking helps?
A WooCommerce store owner cannot progress or sustain without gathering and analyzing his web traffic and conversions. Conversion data are the determining factor in the success of any eCommerce business.
So, what's the solution?
This is where conversion tracking comes into play. Conversion tracking is a tool that shows you what happens after a customer engages with your ads.
Do they buy your product? Have they signed up for your newsletter, called your business, or downloaded your app? Has he done anything that you have defined as valuable?
If he has, then these customer actions are called conversions.
Getting a tab on these conversions will help you in 2 ways:
Understand your customers/leads better, and
Run effective campaigns.
And you can do this simply when you set up Conversion Tracking for WooCommerce, free of cost!
WooCommerce Conversion Tracking Plugin
The WooCommerce Conversion Tracking for WordPress plugin transfers user-triggered events from your WooCommerce store to your chosen ads platforms. Your ads platform could be any or all of the following:
Google Adwords
Twitter Ads
Paid Ads
Facebook Ads
Bing Ads
This allows you to create better retargeting and other marketing campaigns through those channels.
This plugin inserts the Pixels you obtain from different advertising channels like Facebook, Google Ads, Twitter and allows you to send the data triggered by other user actions to these channels. These data enable you to perform better ad campaigns by targeting the right users.
When you integrate any advertising campaign, they provide something known as a JavaScript code that you then need to insert in various web pages of your WordPress site to track how the conversions are happening.
This plugin also inserts those JavaScript tracking scripts on the WooCommerce cart page, checkout success page, and after user registration so that you can track who is adding your products to their carts, who are making the purchases, and are registering to your site.
Requirements for running the plugin
WooCommerce 3.0 or greater
PHP version 5.2.4 or greater
MySQL version 5.0 or greater

Why do you need WooCommerce conversion tracking?
For starters, by using WooCommerce conversion tracking, you can get the following valuable information about your customers, which prepares you for the next important step of deciding what marketing campaigns you want to run for them:
Number of conversions
People who visit your website regularly
People who viewed a particular product page
The time a customer spends on your store
The people who searched for something in your store
The Cost Per Acquisition
The bounce rate of your website
The clicks on the destination page
Session duration, and more.
Marketing and Ad campaigns are critical for any eCommerce business. You can collect important user behavioral data and send it to different Ad platforms like Twitter, Facebook, Google Adwords, etc.
Using the collected data, you can design a good advertising strategy for these ad platforms and create better ad campaigns. Apart from this, you also get the following benefits from WooCommerce Conversion Tracking:
1. Reach the right people
WooCommerce conversion tracking can help you reach potential customers because you will only target people who have performed certain activities on your WooCommerce store, such as signing up on your store, visiting your products, adding them to the cart or wishlist, etc. Reaching new audiences opens new opportunities for your store.
For example, suppose you can input Facebook with parameters like email, phone, city, etc., of your site visitors who have performed specific actions on your store. In that case, you can create better ads targeting those particular people.
[According to Facebook, when you use their automatic advanced matching, you can accurately attribute conversions and increase your audience size to drive better results from Facebook ads. Facebook's Automatic Advanced Matching technology detects specific website text fields such as email addresses and automatically links them with corresponding events.]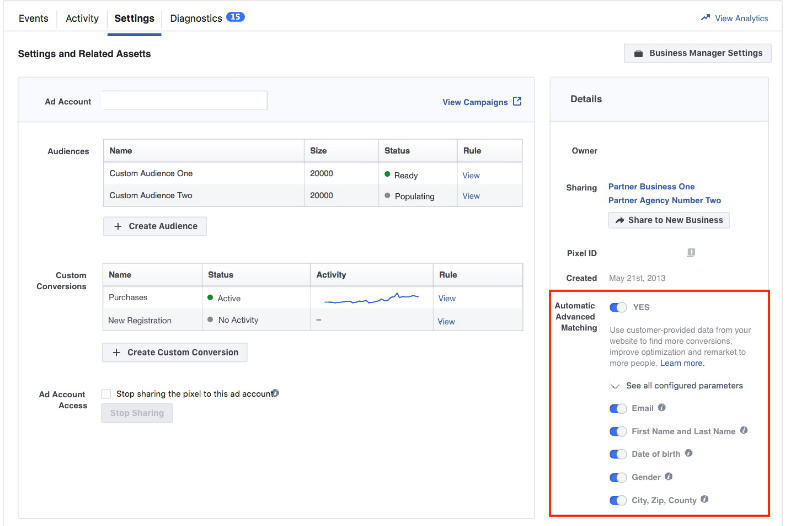 2. Increase sales
Since you can optimize your ads depending on actions triggered on your WooCommerce store with WooCommerce conversion tracking, it potentially drives more sales.
For example, if the following graph represents the data of specific events that have happened on your WooCommerce store, sending this information on platforms like Google Ads, Twitter Ads, Paid Ads, Facebook Ads, and Bing Ads will allow you to measure and prepare better ads resulting in increased sales.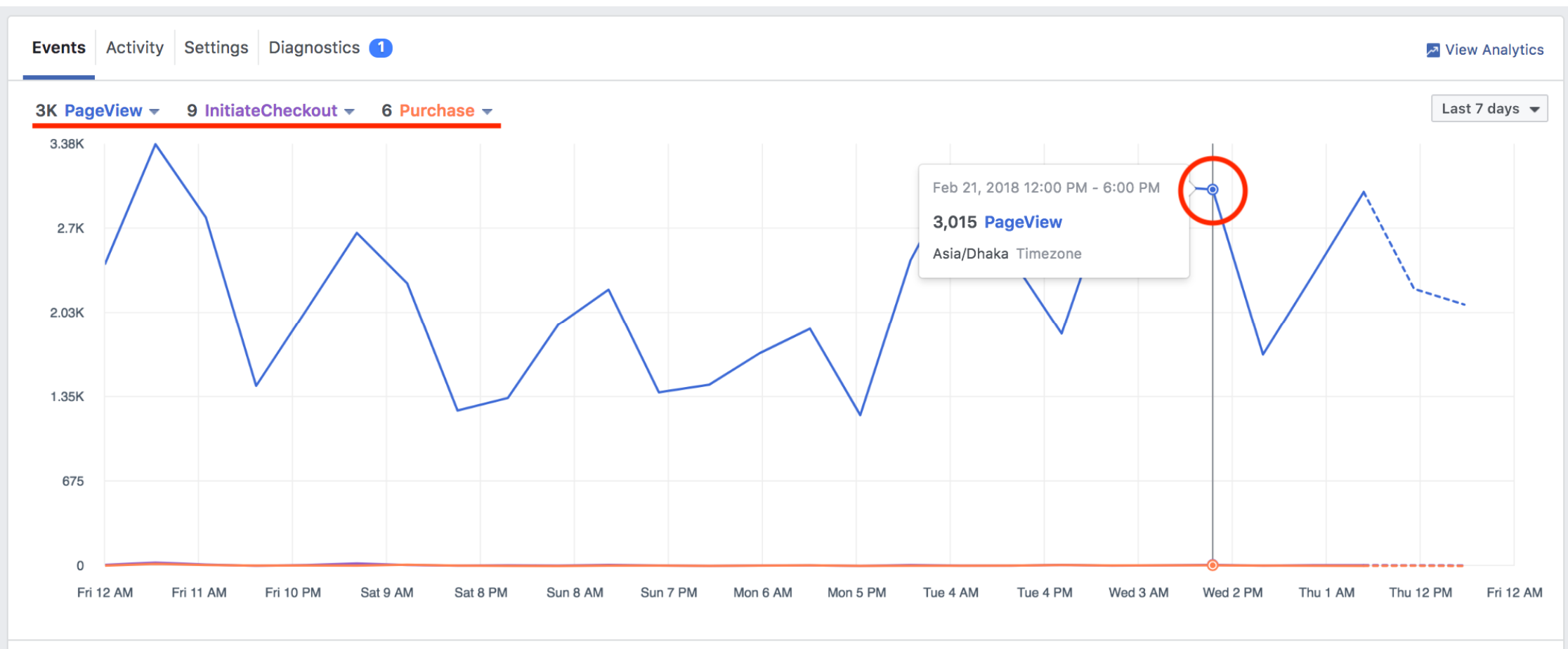 3. Better overview of business
By keeping track of conversions in your eCommerce store, you can get a snapshot of your overall business. For example, from the conversion tracking data, you can figure out your best-seller products, which products are viewed the most, the number of people placing orders in your store, etc.
4. Unlock key performance indicators
WooCommerce conversion tracking is also a valuable tool if you want to unlock the key performance indicators. Since you have a variety of crucial information, such as conversion rate, average order value, cart abandonment rate, cost per acquisition, and so on, you are in a better position to understand which of these impact your bottom line sales the most.
5. Ensure long-term development of the store
With the data from conversion tracking, you will have a solid base to make any kind of decision about your store's future and how you want to take it forward. The data provides you with insights about customer behavior, product performance, and your strong products, as well as the non-performing ones. Hence, they can help you generate suitable strategies for the store's development.
What makes this plugin different from the rest?
The best thing about the WooCommerce conversion tracking plugin is that it doesn't require any coding or coding knowledge. In other words, the plugin is simple plug-and-play.
Unlike some other analytics tools, you won't need to implement tags and codes to every website page to send customer data to the server.
WooCommerce Conversion Tracking needs you to choose the events you want to track and instantly send this data to different channels running paid ad campaigns – such as Facebook and Twitter. Using this data, the platforms can then retarget those users who have already visited the site and taken some actions.
How to set up WooCommerce Conversion Tracking – Free
The simplest way to track WooCommerce conversions is by installing the WooCommerce conversion tracking plugin.
Step 1: Install & activate the plugin
Log in to your WordPress account and go to the Admin panel. Navigate to Plugins and select Add New.
In the search box placed in the top right corner of the screen, search for WooCommerce conversion tracking. Click on Install to download the plugin to your WooCommerce store.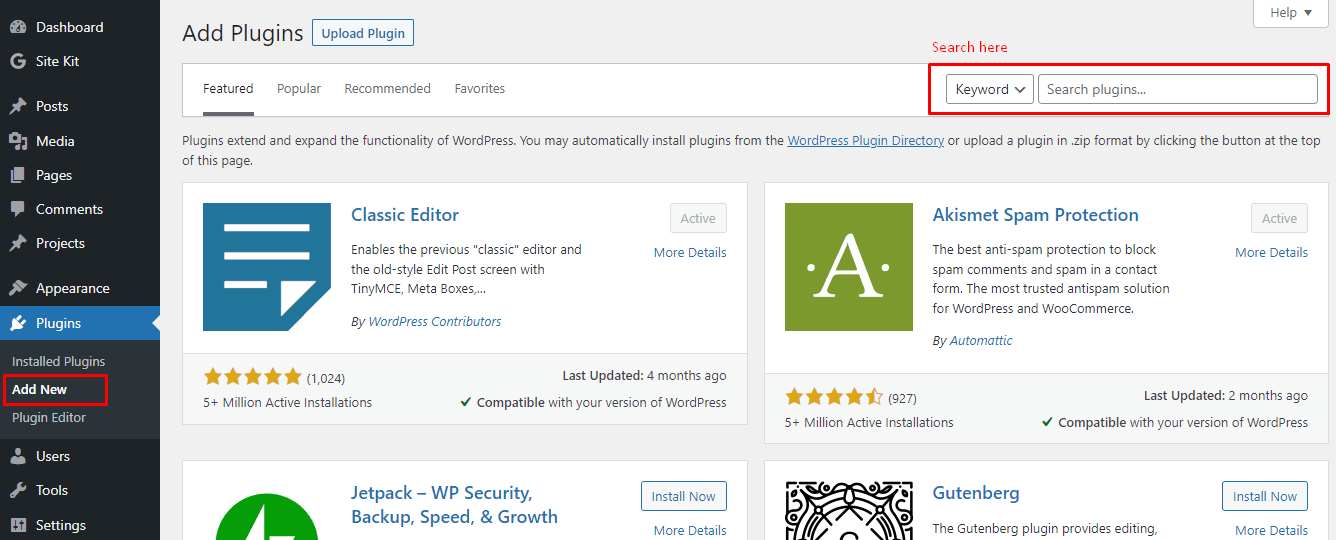 After installation, the Install button will change to Activate; click on it. You can now use the plugin.
Step 2: Open conversion tracking
In the WordPress dashboard, open WooCommerce and then select Conversion Tracking.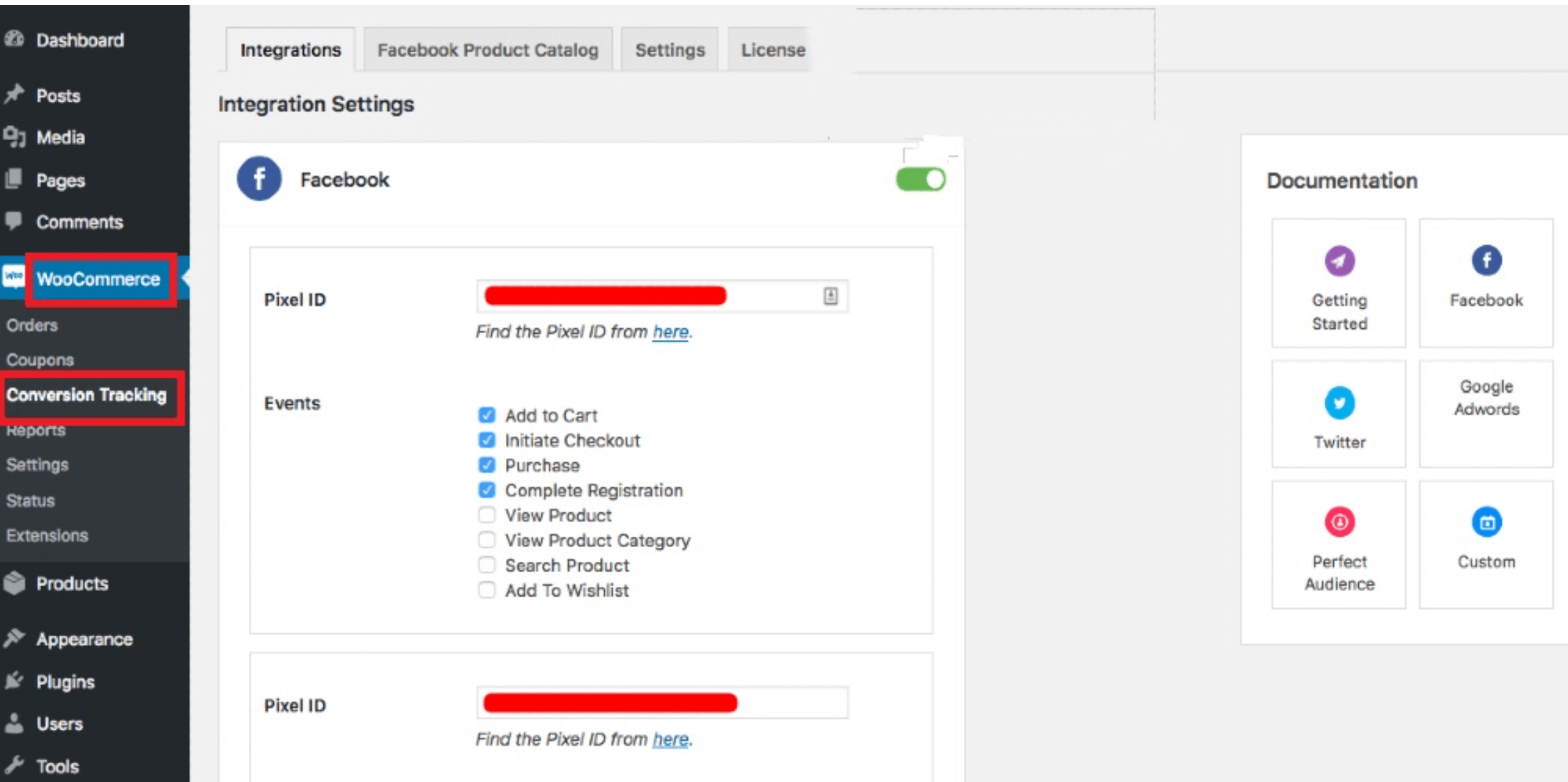 This plugin allows you to track conversions on different platforms like Facebook, Twitter, and Google Ads.
How to set up WooCommerce Conversion Tracking – PRO
Purchase and download the zip file of your plugin.
Upload the zip file of the plugin from wp-dashboard → Plugins → Add New
Click on Upload Plugin, select the zip file, and upload.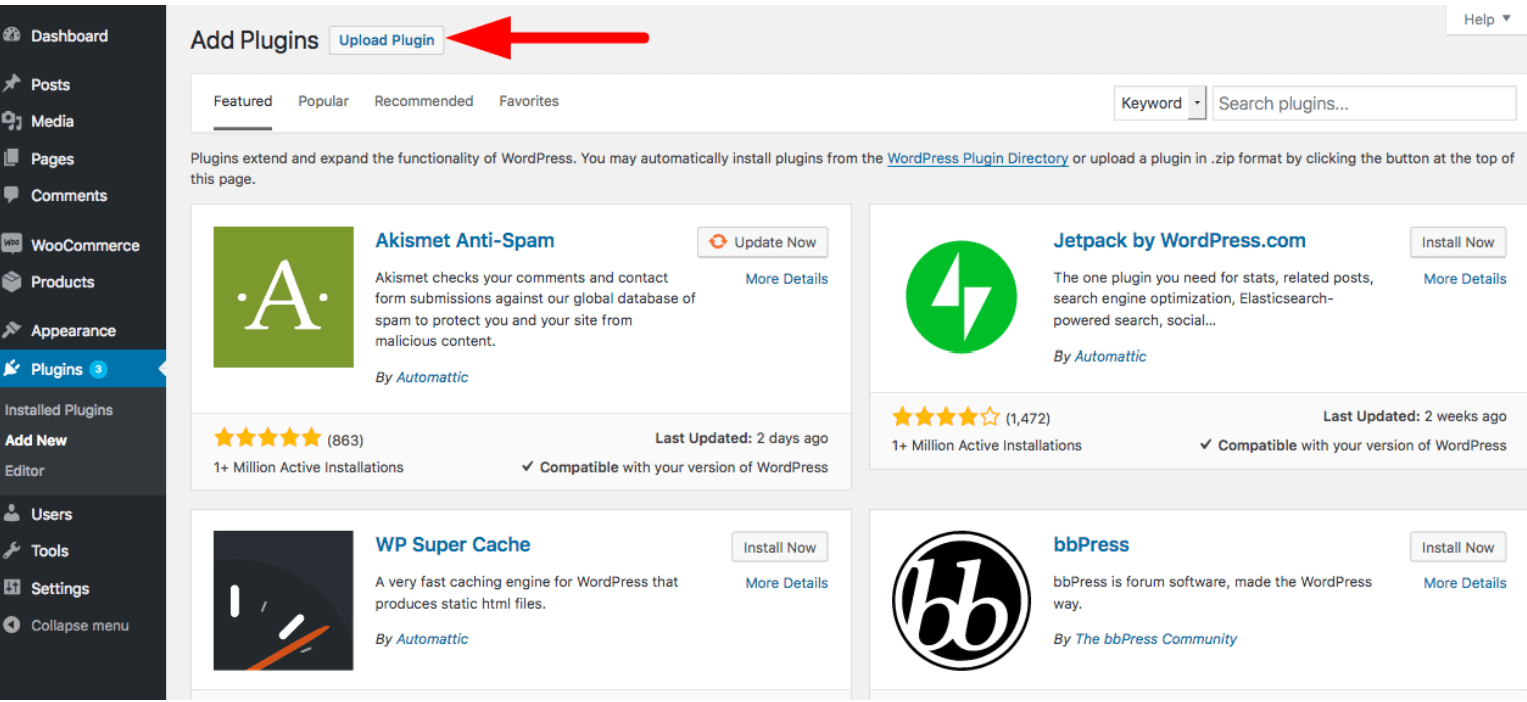 User Roles
You can either restrict or allow access to WooCommerce Conversion Tracking as per your preference or based on user roles. When you install the plugin, you get six types of user roles in the Settings tab. They are:
Editor
Author
Contributor
Subscriber
Customer &
Shop manager
Providing user role permissions
To give user role permissions,
Go to WP Admin Dashboard → WooCommerce → Conversion Tracking → Settings Tab.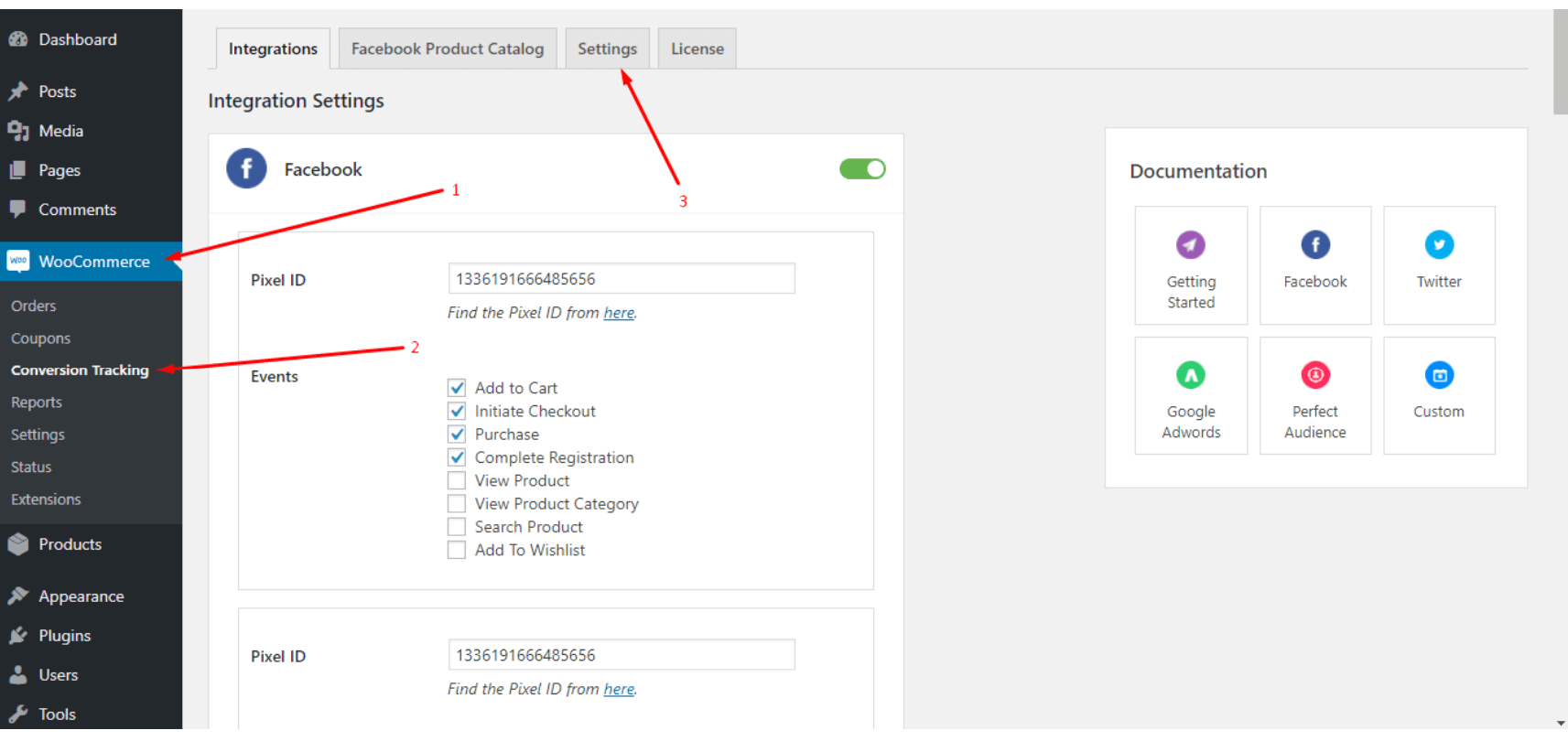 2. The following screen appears. From here, you can select user roles at your disposal by checking the boxes.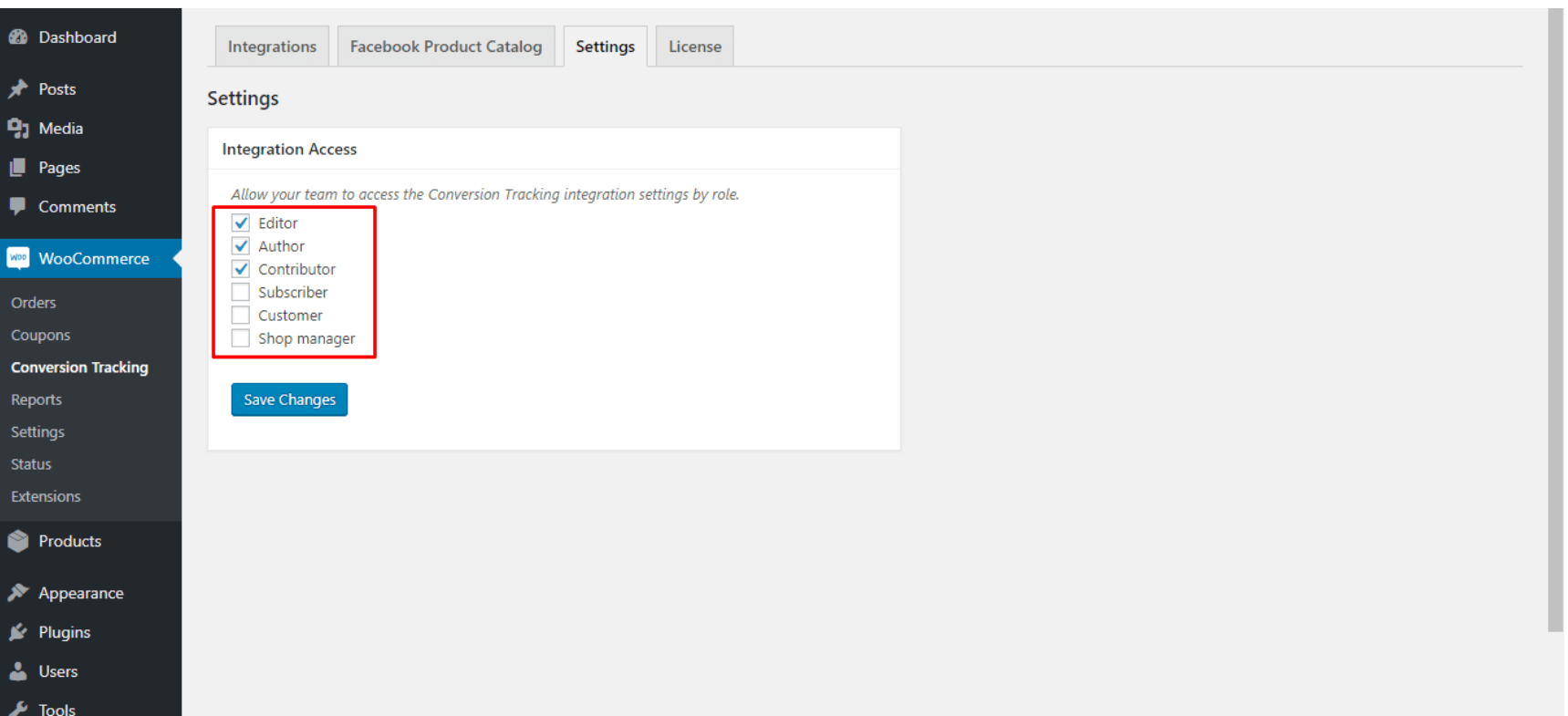 WooCommerce Conversion Tracking for Facebook
Before we talk about Facebook conversion tracking in detail, you need to know about the Facebook Pixel, the most significant enabler in conversion tracking.
The Facebook pixel is a snippet of HTML code that you put on your online store. It allows you to measure the effectiveness of your advertising by understanding the actions people take on your website.
Facebook Pixel can help you to:
Ensure that your ads are shown to the right people- It can also help you find new customers and identify those who have visited a specific page or taken a desired action on your website.
Drive more sales– It sets up automatic bidding to reach people who are more likely to take the desired action.
Measure the results of your ads- It enables you to understand the effect of your ads better by measuring what happens when people see them.
Some examples of actions include adding an item to a shopping cart or making a purchase. The Facebook Pixel receives these actions, or events, which you can subsequently view on your Facebook pixel page in Events Manager. You also have the option to reach those customers again through future Facebook ads.
In Conversion tracking, open Integration and select Facebook. Switch the toggle button to enable Facebook.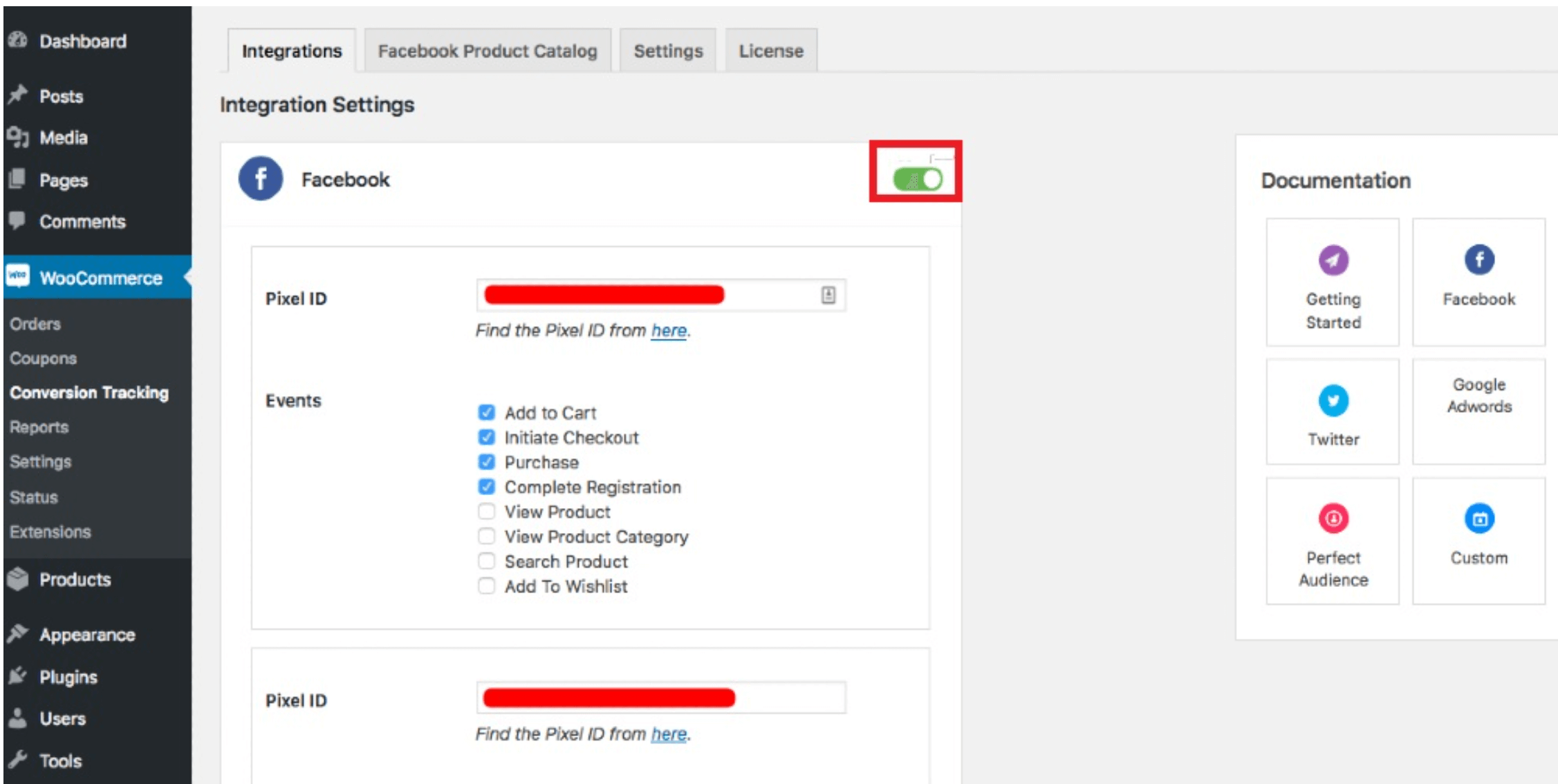 In the integration settings for Facebook, paste your Facebook Pixel ID/Facebook Pixel code and select the metrics you want to get. You will then be navigated to the Facebook Event Manager page, which displays the figures and statistics about your ad campaign on this platform.
What can you track?
With the FREE version, the following events/actions can be tracked for Facebook:
Add To Cart – A significant percentage of visitors abandon carts due to several factors. You can bring these prospective customers back to your site by using the Add To Cart event. You can reduce abandon rates by marketing to these users with attractive offers and discounts.
Initiate Checkout – People who initiate checkout go beyond add to cart to purchase your products. This event category allows you to target them on a later occasion.
Purchase – With this event, you can track those who have successfully purchased a product from your store and convert them into returning customers with the help of this plugin.
Complete Registration – Those who take the time and effort to create a profile on your store are very close to becoming your customers in recent future. This plugin will help you in targeting them effectively.

Twitter conversion tracking
You can also track Twitter conversions from your WooCommerce store. However, you must keep in mind that only a paid Twitter Ads account will allow you to track Conversion on Twitter.
In Conversion tracking, open Integration and select Twitter. With Twitter, you can track three events – Add to Cart, Purchase, and Complete Registration.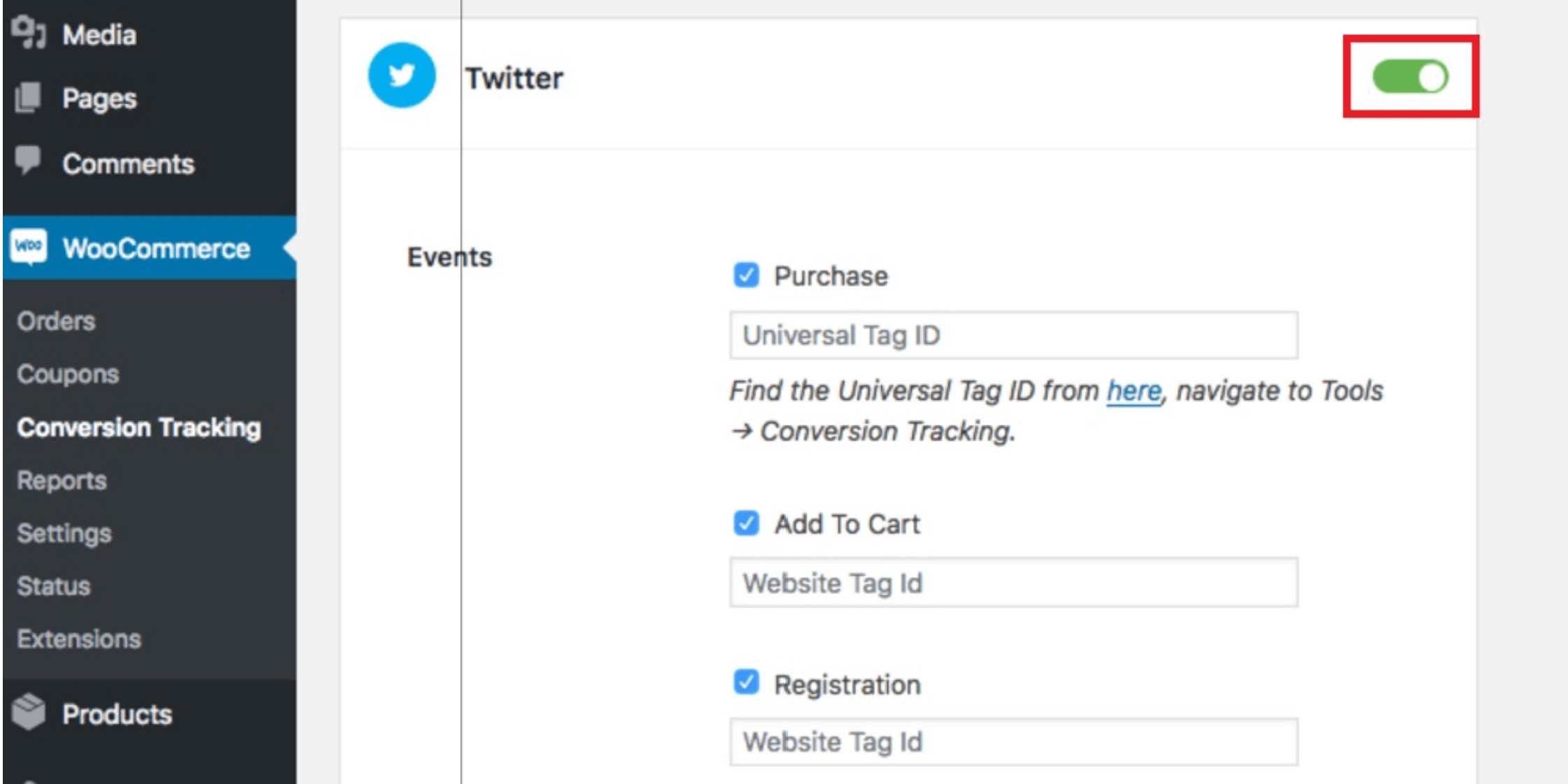 Google Ads conversion tracking
Your Google Adwords account may have been set up, and Google Adwords campaigns may be up and running. It also may be giving you the desired number of clicks. But unless you get conversion tracking installed, you will never know how many of those clicks are getting you sales.
Conversion tracking is a powerful tool in Google Adwords that allows you to identify how well your ad campaign generates sales, leads, email sign-ups, downloads, and other Google Adwords events for your eCommerce store.
The data recorded by conversion tracking helps you determine which areas of your campaign are working and which are not to optimize your keywords, bids, and ad text accordingly.
Setting up Google Adwords conversion tracking
First, you will need to have a Google Adwords account id by creating a Google Adwords account.
Setting up conversion tracking involves generating an HTML code in your Google Adwords account that you will then need to paste into the webpage on your site that customers visit immediately after completing the Conversion – such as an "Order Confirmation" page.
To get started, click on the Tools and Analysis tab in Google Adwords and select Conversions from the drop-down menu. This will bring up the All conversions page. Click on the Conversions tab, and then click the +Conversion button to create your first Conversion.
You'll be required to fill out a form that will help Google Adwords to generate the appropriate HTML code for you.
Here you can give the Conversion a name. For instance, you can call it "Form submissions" if you want to track how many times visitors fill out your store's Contact Us form.
The next step is to select the source of Conversion. You have the following choices:
1) Webpage: If you want customers to complete an action on your webpages – such as page visits, online purchases, or contact form submission.
2) Call on-site: If you want your customers to call the contact number on your website from a mobile phone.
3) App download: If you want customers to download your app.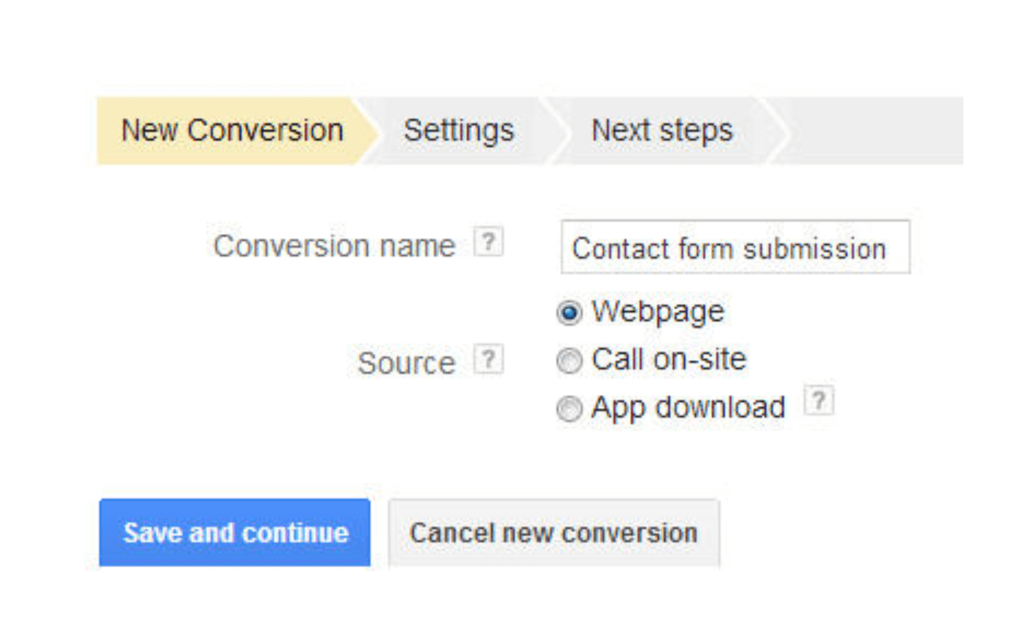 Google Analytics conversion tracking
For advanced Conversion tracking for different conversion events, you will need to use Google Analytics Pro.
How to Get Started
Buy, download, and install this plugin into your WooCommerce store.
Login to your Google Analytics account and connect it to this plugin.
Enable enhanced eCommerce tracking in your Google Analytics account.
**Read the plugin documentation to see a complete list of events that can be tracked.
This plugin speeds up the integration between your WooCommerce store and your free Google Analytics account. With this plugin, you can get detailed insights about your WooCommerce store in terms of traffic and eCommerce conversion events so that you can improve your sales funnel and drive more revenue.
With the plugin, you can use some advanced features to track a conversion event. The plugin automatically pushes these events into Google Analytics, allowing you to get valuable insights into important metrics like average order value, purchase events, conversion rate, sales by product or category, and other useful data.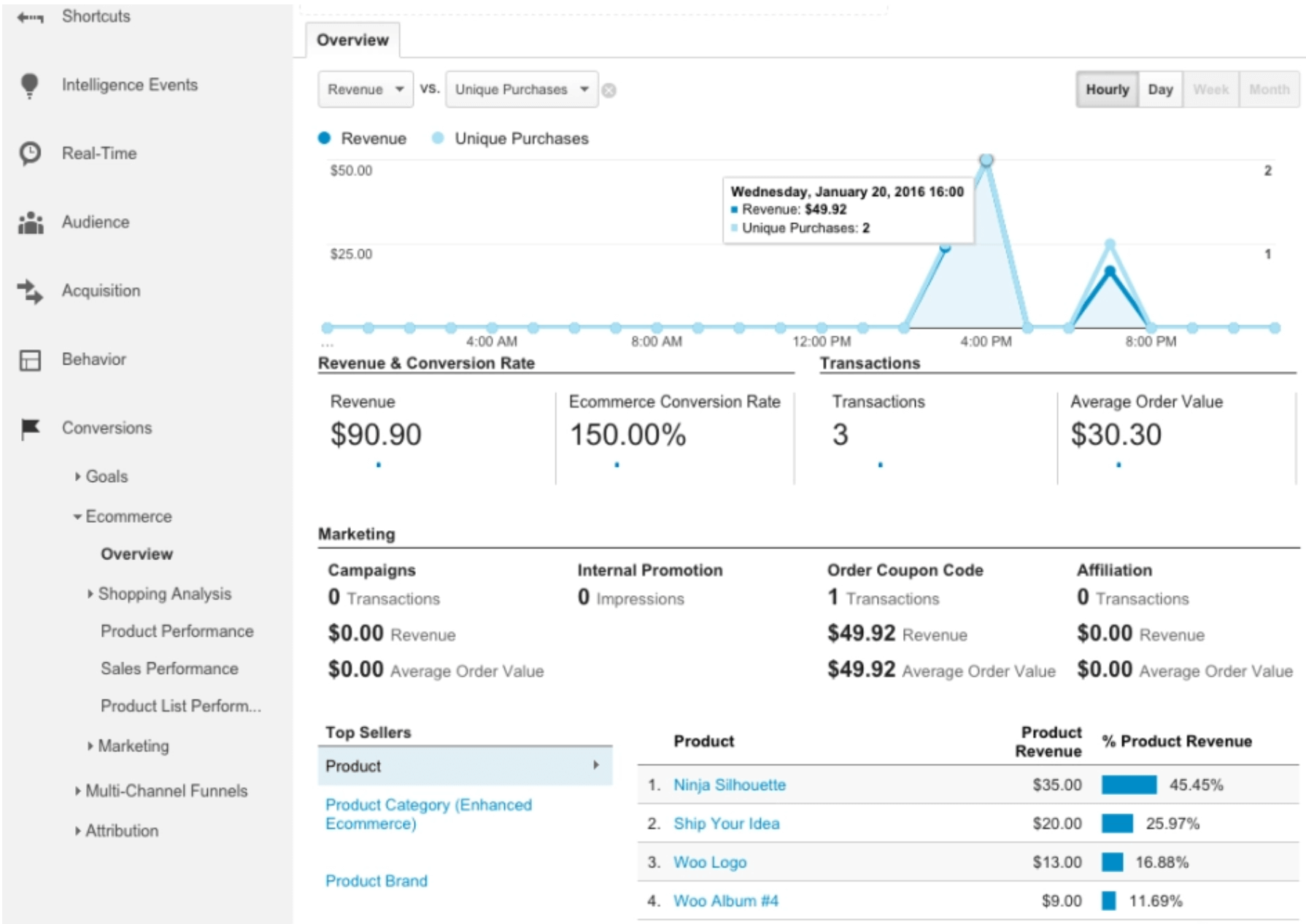 Once you've installed the plugin, you can choose your conversion event names if you want to replace the defaults. You also need to ensure that enhanced eCommerce tracking is enabled in your Google Analytics account.
The plugin handles tracking and sends the data about every conversion event to Google Analytics so you can easily access your sales, revenue data, and other valuable WooCommerce store metrics.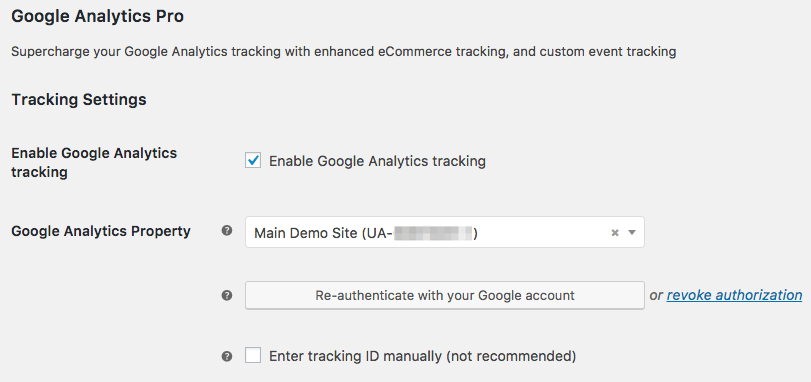 Benefits of Google Analytics Pro
Apart from providing analytics for basic site trackings like page views or customer sessions, this plugin includes others like Universal Analytics and enhanced eCommerce tracking, but with more advanced event tracking.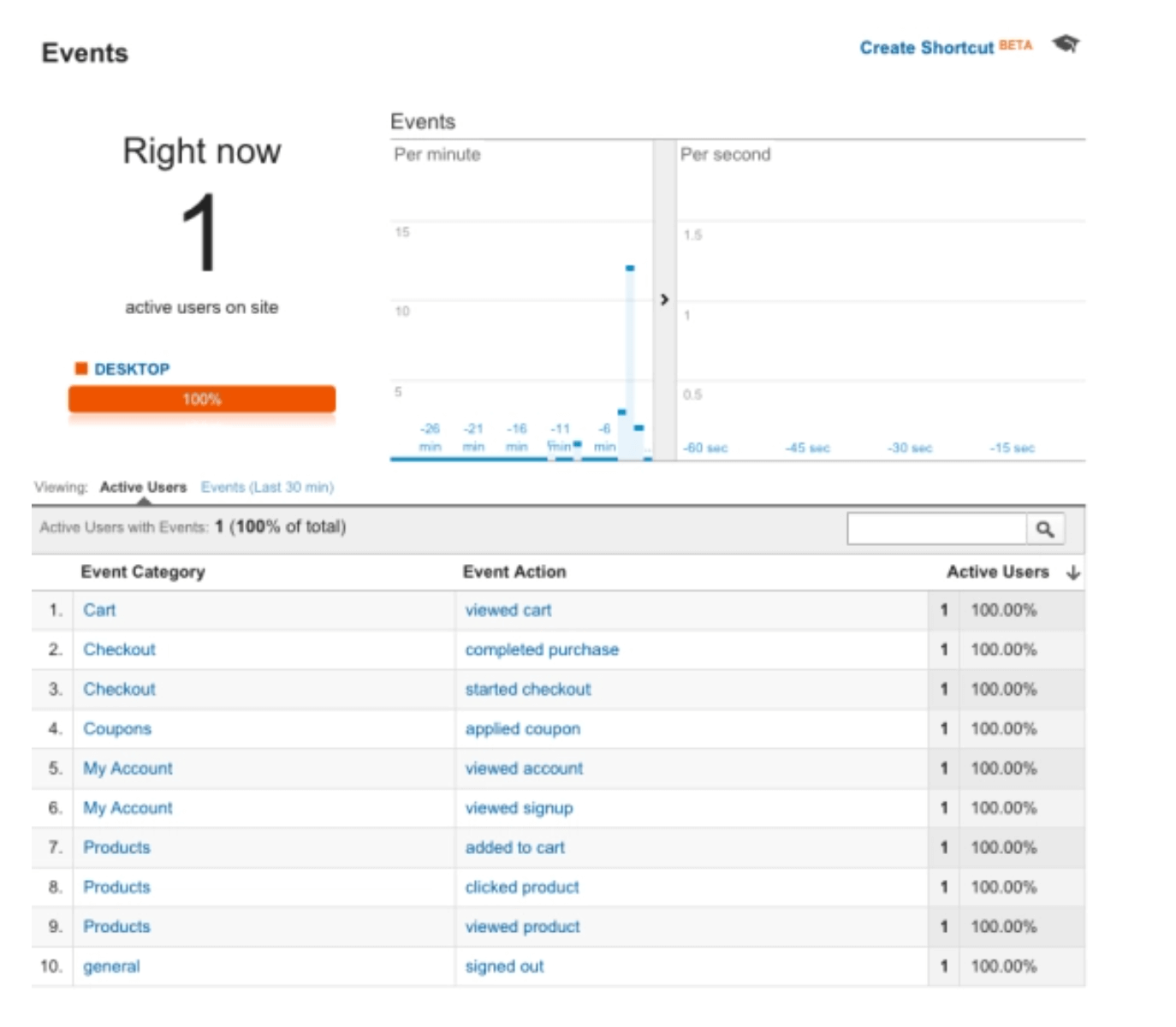 Tracks user IDs for an accurate user count.
It tracks some actual eCommerce events like "add to cart" or "checkout started," and for some customer events such as leaving a product review/comment, sign in and sign out, customer email opens, etc.
Tracks orders that have been added manually.
Adds order refund and cancellation tracking
Allows for advanced eCommerce event tracking, like "coupon addition/removal" and "cart quantity changed."
Includes full support for customer Behavior by providing advanced user behavioral data and Checkout Behavior analysis reports.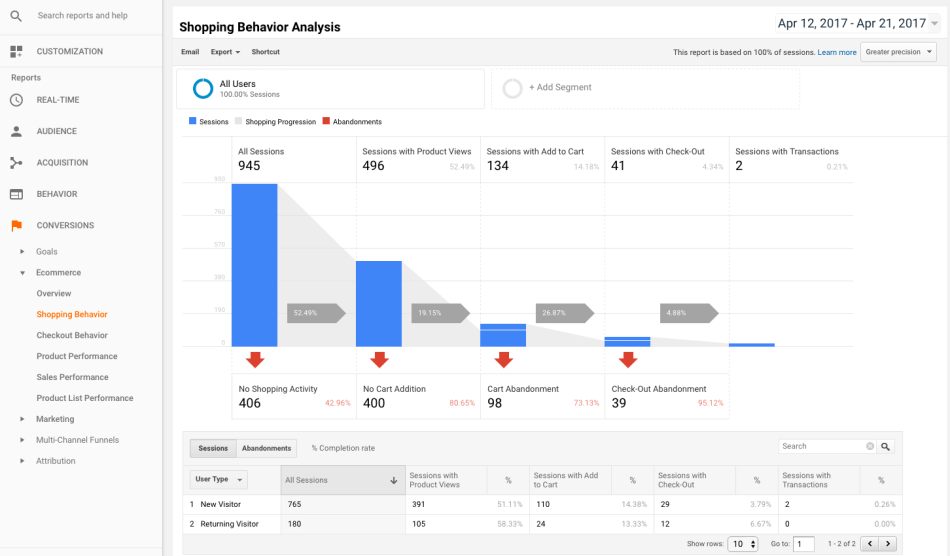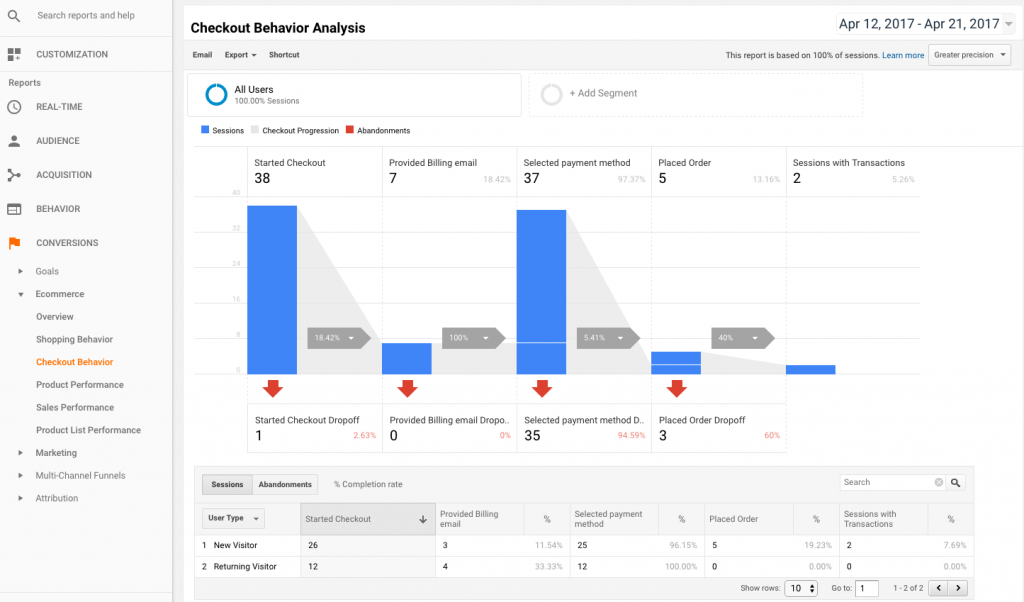 With this plugin, you can customize all the event names through the plugin settings. Custom events can be tracked by adding a snippet to your theme.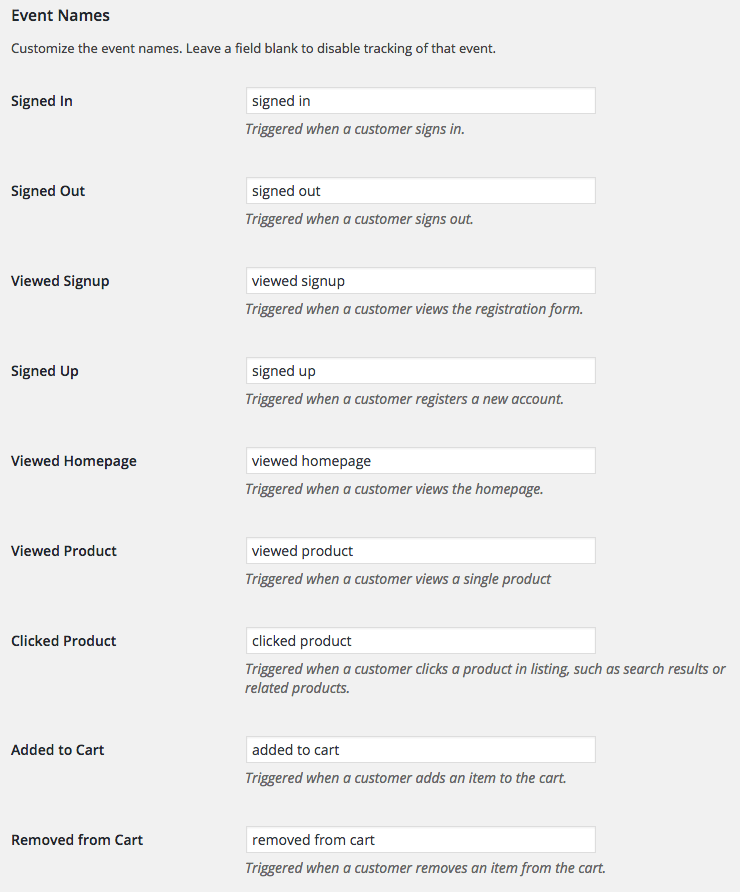 Top WooCommerce Conversion Tracking Plugins.
To help you decide faster, we have compiled 10 of the best WooCommerce conversion tracking plugins in this guide for you.
Owing to WooCommerce's excellent customizability and scalability capabilities, this eCommerce platform proudly hosts more than 2 million websites. But what makes WooCommerce both popular and powerful is its plugin integration capabilities that add some fantastic features to your online store and help you sell online successfully and seamlessly.
So, here are our picks of the top WooCommerce conversion tracking plugins.
1. WooCommerce Conversion Plugin
The WooCommerce Conversion plugin is free and is by far the best conversion tracking plugin for WooCommerce stores. By adding the conversion tracking codes on the cart page, checkout-success page, and after user registration, this plugin tracks the products that have been added to your cart, identifies people who have bought the products, and also the ones who have registered on your site.
Supported Integrations:
Twitter
Facebook
Custom Tracking
Top Features include:
Connects multiple ad platforms
Tracks trigger-based events
Enables Facebook multiple Pixel and product catalog
Easy installation
No custom coding required
Pricing:
The plugin also has a PRO version which has added capabilities for all of these platforms. The PRO comes for $59.40 for the first year.
2. PixelYourSite

This plugin almost allows you to track every user activity on your WooCommerce site. For instance, it sends automated information about events such as user comments, site registrations, shares from social media platforms, or form submissions on your online store.
You can track everything with this single WordPress plugin like Facebook Pixel, Google Adwords Remarketing, Pinterest, Bing ads, Google Analytics, and ANY other script.
Top Features include:
Google Analytics Conversion Tracking
Facebook Pixels
Microsoft Tag
Pinterest Tag
Easy Digital Downloads support
Google Adwords Integration
The installation process is simple, and you don't need to be an expert in coding to use this plugin.
Pricing:
It offers three different pricing types – Starter, Agency, and Advanced, which start from $150 to $500.
3. Enhanced Ecommerce Google Analytics for WooCommerce

This plugin is specifically focused on Google Analytics. With this plugin, you can track your WooCommerce store's user behavior with Google Analytics enhanced eCommerce support. It helps to make a data-driven decision.
Top Features:
It provides Four types of behavior reports – Shopping, Checkout, Product Performace, Sales Performance.
Guest checkout features
IP Anonymization
Google Analytics opt-out
Captures product impressions
Support your local currency
The installation process is not very easy as it's a multi-layered product.
Pricing:
The free version offers a few limited features. However, the premium plan can be purchased from as low as $135. Extended support for six months will cost an additional $48.
4. Sales Analysis for WooCommerce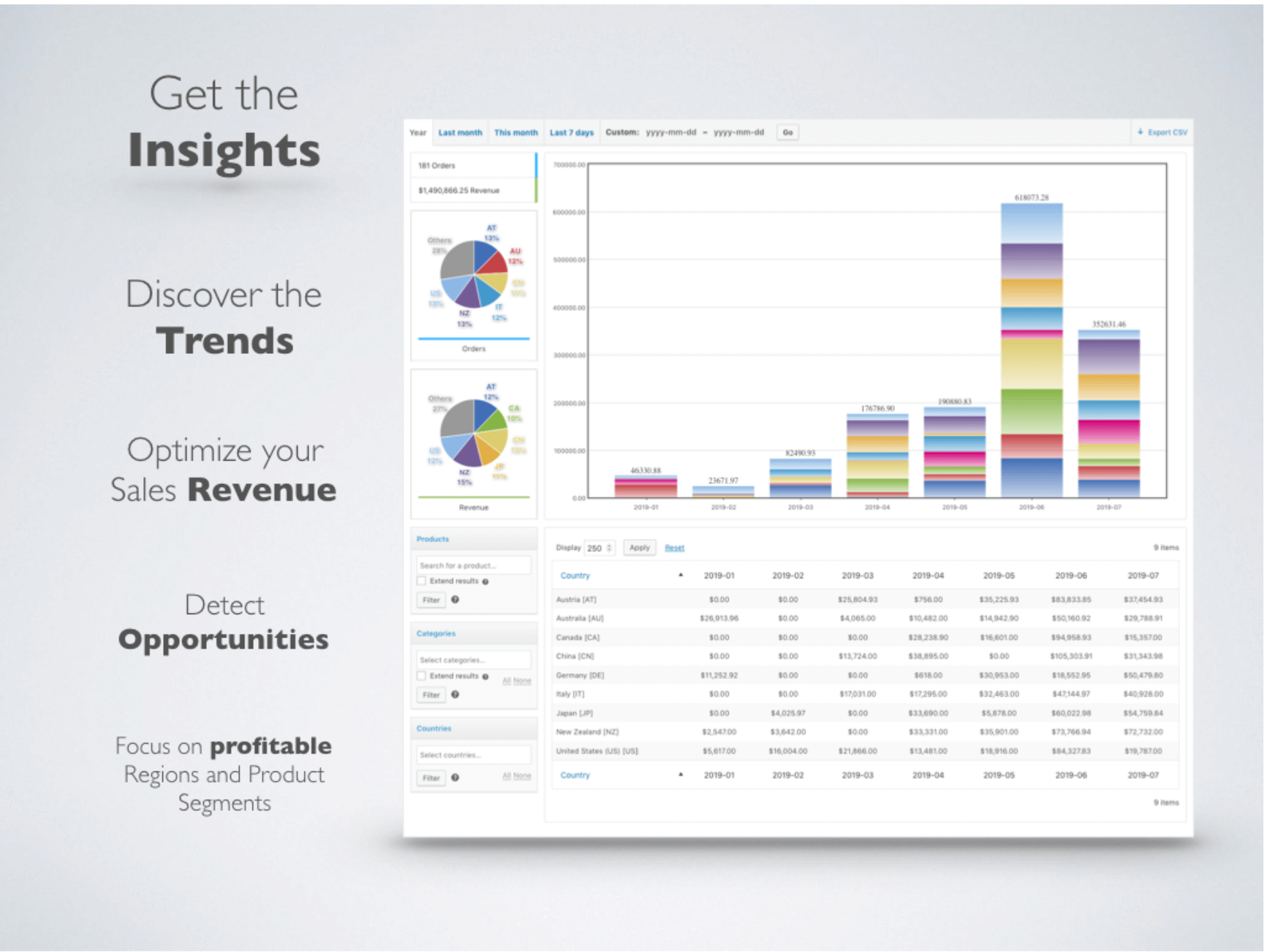 This WooCommerce conversion tracking plugin will equip you with valuable insights to help you analyze your business performance and accordingly create marketing strategies. The plugin provides you with accurate data almost instantly, allowing you to implement your changes right away.
You will quickly identify the areas where your store is performing the best and where it needs improvements.
Features:
Custom reports on different aspects of your WooCommerce store, particularly about products, categories, and locations.
Different visualization options such as tabular form, bar graphs, pie charts, and more.
Option to view data for different periods such as the last seven days, the current month, previous month, annual, and even a custom date range.
Order and revenue analysis reports for insightful trends on your business performance.
Customer, product, and country-related data for more accurate insights on your business prospects.
Pricing:
The single-site subscription of this plugin will cost you $129.
5. WooCommerce Customer History
This WooCommerce conversion tracking plugin focuses on customer behavior to provide you with insights to improve conversions. It monitors customer behavior and also saves their purchase details and lifetime value. You can also enable email notifications from the plugin settings so you can get these insights straight into your inbox.
Features:
Monitors customer behavior in your store by following them on the screens they visit.
It enables you to view the lifetime value of a customer to evaluate the total revenue from that customer.
It helps you understand how your website user interface is helping to increase sales on your store.
Provides specific insights into the customer journey that lead to conversions.
Pricing:
You get a single site subscription to this plugin for $49.
6. MonsterInsights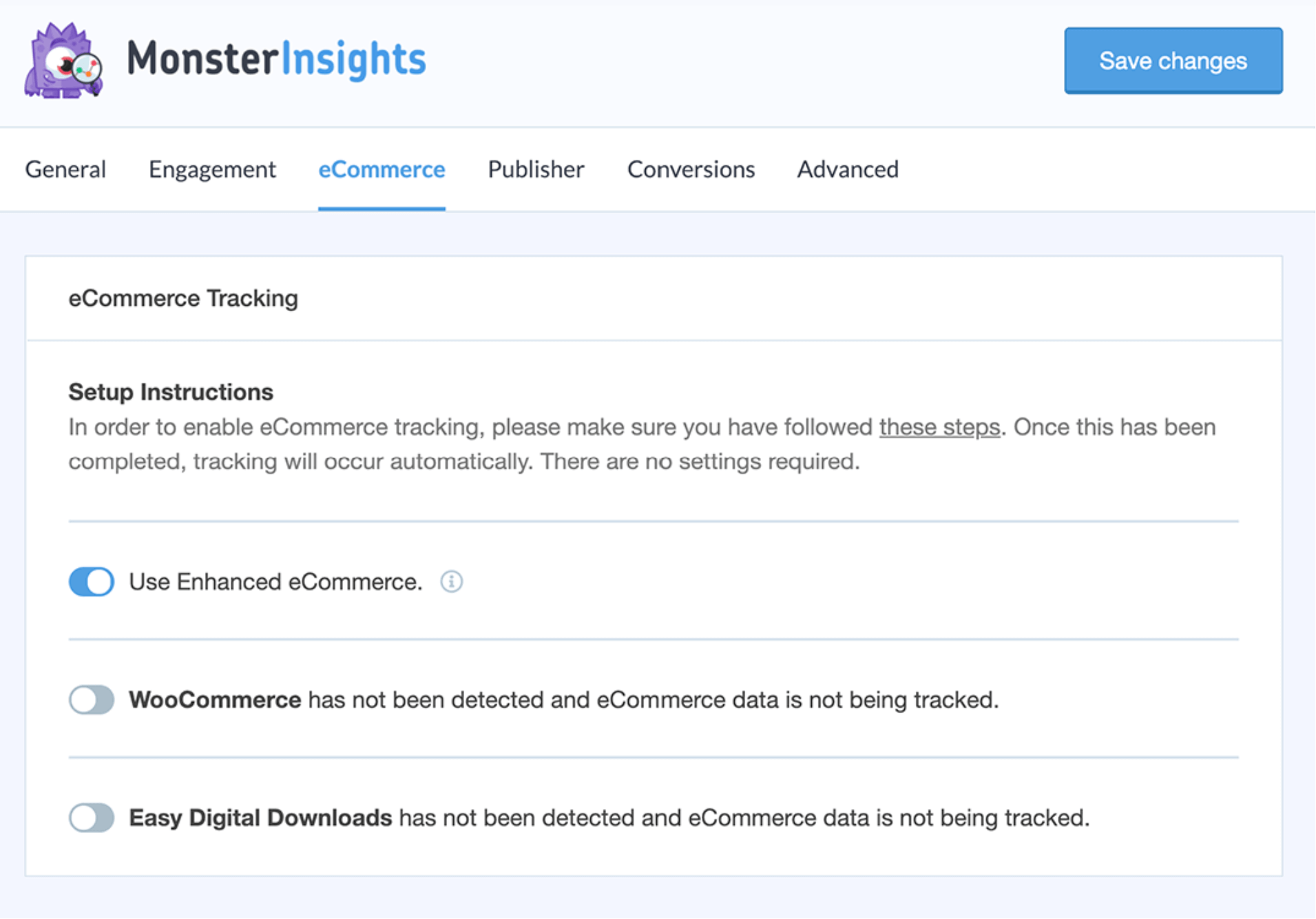 MosterInsights is one of the most popular WooCommerce Conversion tracking analytics plugins that you can install on your WooCommerce store. This plugin helps you configure the Google Analytics configuration in minutes without any coding requirement.
The interactive dashboard provides you with a lot of important insights about your business and customers. You will better understand how users are interacting with your content and site elements and make improvements wherever necessary.
Features:
Universal tracking with options across multiple devices and campaigns.
Google Analytics reports right from the WordPress admin dashboard.
Real-time data based on your users at any given time.
Enhanced eCommerce tracking metrics.
Page-level analytics to help you understand your content effectiveness.
Advertisements and affiliate link tracking capability.
Option for A/B testing and other features through Google Optimize.
Capability to set up custom parameters for tracking.
Pricing:
The starting price of the premium version is $199 per year. They offer a 14-day money-back guarantee.
7. 10Web WordPress Google Analytics
This is another very powerful conversion tracking plugin for WooCommerce that helps you to view the critical details of your store's overall performance from your WordPress admin dashboard itself.
You will find this plugin particularly helpful for setting up and tracking specific metrics relevant to your store's performance. Another benefit of choosing this plugin is the quick and responsible service, which is handy for any busy eCommerce store owner.
Features:
It helps you track a host of WooCommerce store-related metrics extensively and gather a range of actionable metrics.
Includes custom WordPress dimensions like post type, category, tag, publication date, etc.
Integrates Google Ads and AdSense metrics into your analytics reports.
It gives you the option to export reports with the help of a CSV file and trigger automatic email notifications.
Option to exclude specific users, IP address, location, or a user role with the help of a custom tracking code.
Pricing:
The pricing plan starts from the Basic Bundle, which is $85. This bundle supports three domains and offers six months of support and updates.

FAQs
1. What is conversion tracking?

Conversion Tracking helps you measure how clicks on your ads and free product listings lead to meaningful actions on your website.

It ensures that advertisers and ad networks know where an event such as an install or purchase originated from, which helps them determine the source's quality. It also offers a better understanding of the campaign performance for future optimization.

2. How do I track conversions in WooCommerce?

Go to WP-dashboard >Plugins >Add New. Then search & find WooCommerce Conversion Tracking from the search bar on the top right. You will see the plugin in the results. Click on Install Now. This free plugin can track your store's conversions.
3. How do I find conversion tracking in Adwords?

1. Sign in to your Google Ads account.
2. Click the tools icon in the upper right corner of your account.
3. Under "Measurement," click Conversions.
4. In the conversion actions table, find the conversion action you want to check in the "Name" column, then look at the "Status" column in that same row.
Wrap Up
WooCommerce Conversion tracking ensures that advertisers and ad networks know where a particular conversion event has occurred or originated from, which helps determine the source's quality. It helps to arrive at various evidence-based decisions based on campaign performances.
Which plugin do you use for your eCommerce store?
Does your plugin help you meet all your conversion tracking goals?
Let us know if you have any questions on WooCommerce conversion tracking.

You May Also Read