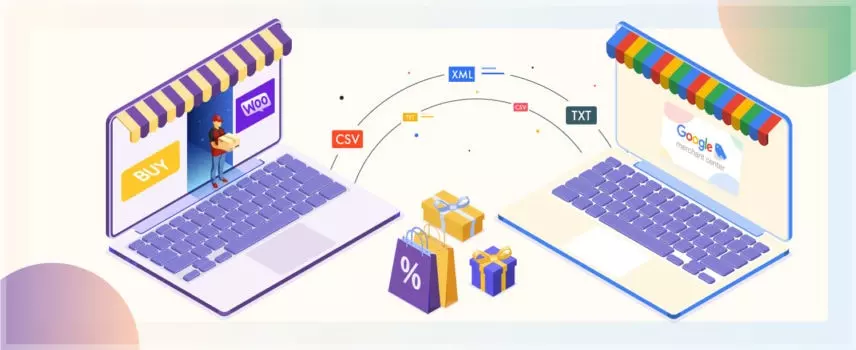 How Easy it is to Add WooCommerce Shop to Google Merchant Center
Google Merchant Center is one of the best marketing channels when it comes to promoting WooCommerce products. Millions of shoppers around the world are regularly searching on google for products. It is the best platform to utilize the WooCommerce google merchant feed and create Ads on Google.
Google represents the product information via search results and ads in the best possible way. It represents appealing and eye-catching search results based on users' search queries. The data are shown in a search result which is fetched from Google Merchant Center.
WooCommerce Store owners can effortlessly place and manage their product information on Merchant Center. By reading this article, you will learn the details on how easy it is to add a WooCommerce shop to Google Merchant Center.
About Google Merchant Center
Let's learn the basics of Google Merchant Center before heading to the main topic. In Google Merchant Center, you can transfer your WooCommerce store's product information. It's a simple dashboard or tool that accepts your product information via a product feed file or URL.
Google Merchant Center (GMC) mainly allows online businesses to upload and handle their product data. When your product data is available in GMC, it is displayed in relevant search results.
From GMC, you can create Ads that are displayed in search results and Google Shopping Tab. In addition, your product's visibility, conversion, and ultimately the sales increase. You will also get access to other Google Networks to display your product-related ads.

Advantages of Google Merchant Center
The WooCommerce Google Merchant Feed will bring you multiple benefits for your online business. You can simply promote your products via Google ads after transferring your product feed from WooCommerce to this platform.
Now, we will mention the advantages of this amazing platform:
Accurate Data Representation for google shopping Ads
You have to use the GMC platform to create Google Shopping Ads. The platform will collect your WooCommerce store's data via product feed. As a consequence, buyers searching for products in Google will see Ads in a lucrative catalog format.
The Ads represented in Google are eye-catching and full of crucial product information. As a result, customers are already aware of your product before visiting your website. Ultimately, your WooCommerce store's products are more visible to customers.
So, the first step is to create an accurate WooCommerce Google merchant Feed. For WooCommerce retailers, we highly recommend using CTX Feed to create the most effective product feed. We will discuss the product feed creation process of CTX feed later in this article.
Getting Access to Google AdWords and remarketing
You can easily link the products of the merchant center with specific Adwords Ads. With these Ads, WooCommerce store owners can deploy deals and offers to their customers. By utilizing Merchant Center Promotion, you can also display product-related discounts.
Users may visit your products but do not complete the purchase process. You can apply remarketing techniques via ads to remind them about previously clicked products.
Getting Support of Google Analytics
After adding your products to GMC, you will get access to the Google Analytics tool. In Google Analytics, you can separately measure the performance of your products.
With this tool, you will get a clear insight into your WooCommerce website and product performance. In Google Analytics, you can get specific reports on organic and paid traffic. The insights given by this tool will give you an idea of which products to focus on and how to improve your store's performance.
Linking Online Product Reviews
Reviews are essential to gain customers' trust in a product and convert a user into a customer. Nowadays, Customers rely on positive reviews to buy a product because it creates a buying intention. Therefore, adding product-related reviews on product information (Feed file) is important.
A great thing about WooCommerce Google merchant Feed is, you can attach customer reviews with it. As a result, GMC will receive your product information, including product reviews. When Google displays your shopping ads, it includes customer reviews as well.
Featuring Local products via Local Inventory Ads
If your WooCommerce store has a physical location, you can promote them via Local Inventory ads. Your product feed should match the format of Google's Local Inventory Ad format.
With Local Inventory Ads, you can promote your local inventory and generate revenue both offline and online. This type of advertisement allows you to include geographical tagging to lure local customers to your shop.
Transferring WooCommerce google merchant feed to Google Merchant Center
GMC platform is not a paid service that allows you to advertise your products. Integrating WooCommerce into this platform allows you to connect to many other Google Services.
You must adhere to Google requirements regarding the data on your product feed file. As a result, your WooCommerce product feed format will be understandable by Google. In fact, It is almost a free service that you can utilize for marketing purposes.
We will now disclose the integration process of the WooCommerce shop to Google Merchant Center.
Step 1- Setting Up a Google Account
First, you need to create a new Google account to set up your Google Merchant Center account. If you have a previous Gmail account or Google My Business account, you can also use it.
Step 2- Enter your Business Information
After signing in, You have to fill in some crucial Business and contact information on the next interface. Firstly, add the country location where your business is registered in. Secondly, Enter your business display name and website or store name.
Remember that the name you enter as a business name will be displayed to shoppers worldwide. The third step is to enter the time zone of the business area where you are located. Now, press "continue" to proceed to the next step of Merchant Center Account creation.
Step 3- Select your Business-oriented Program
You can also follow the guideline suggested by Google on Google Merchant Center to complete the process. After filling up your business information, choose the program that fits your business objective.
Our objective here is to set up a Google Merchant Center account and promote WooCommerce products. Therefore, select shopping ads to proceed to the next step by clicking "Continue."
Step 4- Add Details About Taxes and Shipping
Now, you will have to enter your business's tax and shipping information. Here, you may enter your WooCommerce store's tax and shipping information. Depending on your shipping location, you have to follow specific requirements for that location.
Tax and shipping information is really essential business information. Customers will see and understand the exact price that they have to pay for your products. Set up this information according to your business country's tax and shipping rules.
Step 5- Website Verification
Now, make sure that your Website URL belongs to you by going through Google's verification process. First of all, in the dashboard of GMC, click the Tooltip located on the top bar. Secondly, a menu will open up where you have to select "Business Information" on the "Tools Section."
In this section, select the "Website" option from the tab located below the top bar. Simply enter the website URL and verify your website.
You must complete this process to confirm that you are the authorized owner of your website URL. It also helps you associate your website with the GMC account.
Step 6- Creating Google Ads Account
Now, you have to create a Google Ads account and link it with your existing merchant center account. Click on the Tools > Linked Accounts, and on the "Google Ads tab" click the "Plus" sign. You will be prompted with "Create your Google Ads account," where you have to click "Create."
At this point, use your Gmail account to link the Google Ads account. You may need to log in to your Merchant Center account again and proceed to the next step.
Step 7- WooCommerce Google Merchant Feed Creation
Your Google Shopping Ads account is ready at the moment, and you have to focus on the Product Feed. We are highlighting one of the best WooCommerce product feed plugins to upload the feed.
On the left-hand menu, click the "Products" option. Now click on "Feed" and upload your WooCommerce store's product feed. The feed file needs to be generated by the CTX Feed plugin, and we will show you how you can do it.
You should know that the CTX Feed plugin can generate the feed file according to Google's requirements. The plugin includes pre-built templates for Google Shopping that is error-prone and optimized.
In the Google Shopping template, all the product attributes are available. Therefore, you don't need to create the feed file manually.
CTX Feed installation Process
Log in to your WordPress dashboard, click the "Plugin" option and click the "Add New" option. Write "CTX Feed" in the search box and click the "Install Now" button. When the installation process is completed, activate the plugin and move on to the next step.
Setup CTX Feed for Google Merchant Center
You will get the CTX Feed plugin on the WordPress dashboard, as mentioned in the image below. After clicking on "CTX Feed," select the "Create Feed" option. You will see a content settings area appear where you need to select and fill up some options.
Here, you need to select the country of your business location, which is similar to the Merchant Center. Now, click the "Template" option and select Google Shopping template.
After selecting the Google Shopping Template, you will see the feed configuration area will appear below. You can customize the product attributes according to your business requirements. To generate the product feed, click "Update and Generate Feed," and you are good to go.
Managing the Product Feed file
As you can see, the WooCommerce Google Merchant Feed creation process is relatively easy. In this step, you need to upload this feed file to GMC. Simply click the "Manage Feed" option on the CTX Feed to see your created Feed file.
We have named the feed file "My Feed" in this scenario which also includes a link to the product Feed. You can update this feed file anytime after updating your WooCommerce store's product information.
Step 8- Uploading WooCommerce google merchant feed
Now, head back to your Merchant Center account's dashboard and click the "Products" on the left menu. As you can see, there are two methods of providing product information on this platform. Choose the "Upload multiple products" option and click the "See all methods" option.
On the primary feed page, provide the necessary information such as Country of sales and language. After providing the necessary information, click "Continue" and move ahead to the next step.
Now, you have to fill in the Name and input methods of your product feed file. Provide your "Primary Feed Name" and select the "Scheduled fetch" option. The Scheduled Fetch option is essential because you can update your Google Merchant Center feed with it.
Update and generate the feed file after updating the product information of your WooCommerce website. As a result, the feed file on the Merchant Center account will update automatically as well.

Finalizing the WooCommerce google merchant Feed Setup
You are in the final step of integrating your WooCommerce shop to Google Merchant Center. Before providing the feed URL, you must provide some other necessary information.
First of all, provide your feed file name that should be similar to the feed file you've generated earlier. Secondly, select a fetch frequency to inform Google how many times you want to fetch your product data. Then select a specific time when you want your product data to be fetched.
Select your WooCommerce business's time zone, which you've provided earlier. Also, provide the feed URL that you have generated via the CTX Feed plugin. Finally, you have to click "Create feed." to complete the process.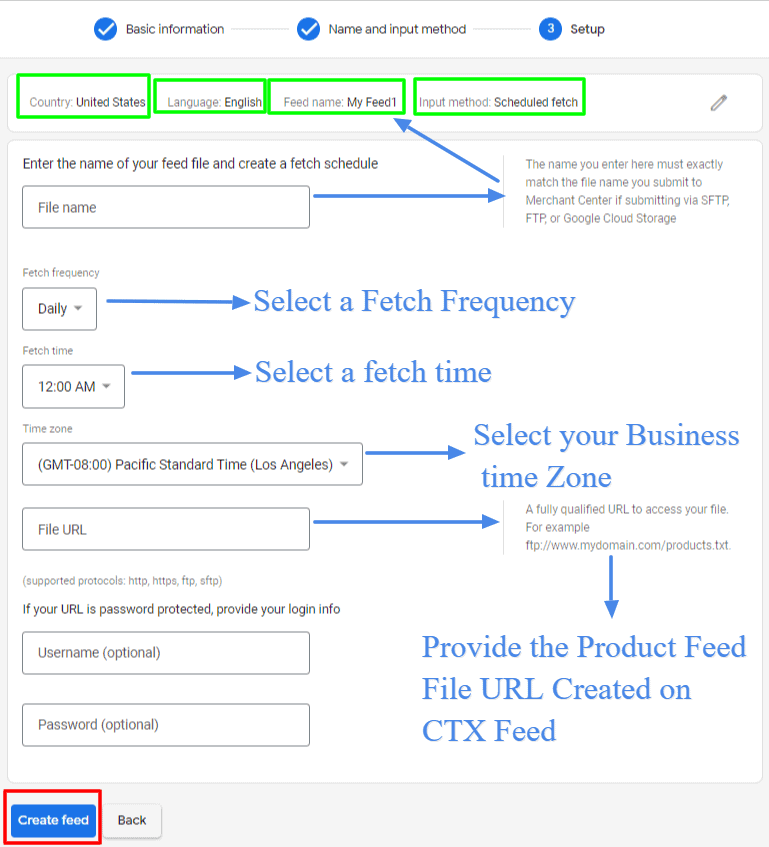 You have successfully transferred your WooCommerce Shops product data to Google Merchant Center. Now you can run a Google Shopping campaign and promote your products via Merchant Center. By utilizing the feed file, you can create Google Shopping Ads for advertisement purposes.
You can learn more about the CTX Feed plugin and optimize the product feed furthermore. This amazing feature-rich plugin will make your Google Shopping journey easier and more successful.
You can also learn How to Create a WooCommerce Product Feed for Google Shopping (Google Merchant Center) with CTX feed WooCommerce product feed generator plugin in the following video tutorial.
Final Words
Reading through this article, you will learn How easy it is to add a WooCommerce shop to Google Merchant Center. We highly recommend syncing your WooCommerce shop to this revenue-generating platform right away. It gives you a vast sales-boosting opportunity via product promotion.
By syncing your WooCommerce shop to Merchant Center, your business will outshine. However, the CTX Feed plugin plays a major role here by creating WooCommerce Google Merchant Feed perfectly. You may also get the Complete Guide of Google Shopping Ads to learn more about Google Shopping Ads.
You May Also Read