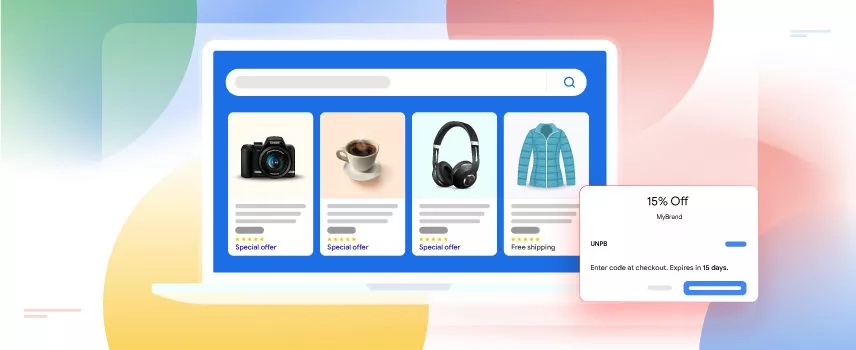 How To Set Up Google Merchant Promotions: A Quick Guide
Google Merchant Promotions are no longer a new method, especially amongst online marketers. When you, as a marketer, are tired of making and promoting the same cliché text-based ad, Google Shopping promotions come in great handy.
Buy one get one free type of offer has become mundane long ago; consumers need to see changes. Therefore, marketers should focus on how to divest the customers of the traditional ad and increase the conversions through immense CTAs. For that, you need a Google Merchant account, creating a Google shopping campaign, and the correct utilization of the Google Merchant Center Promotions feed.
What Are Google Merchant Promotions?
Google Merchant Promotions are a way of campaigning for your products on your store's behalf. If you are wondering what Google Shopping campaign is, you can check out the WooCommerce Google Shopping campaign blog. Still, let me brief you on Google Shopping.
Google Shopping allows you to showcase your products online when the relevant keywords are hit on Google. The SERP will show those relevant products based on the keywords. Not only that, but you can also see an attractive product title, sleeky image, actual original or sale price, elaborative description, and lastly, your store's URL.
This shopping method worked really well, and the conversion rate has increased to a greater extent. The people visiting your store straight from Google Shopping can or might become your loyal customers one day, and that's proven. However, customers still want more.
If you wish to take the utmost advantage of the campaign, you need to dive into its promotion method. According to Google's blog, one of their pilot merchants managed to witness a 9.4% spike in conversion rate along with a 9.5% rise in GMV (Gross Merchandise Volume) in 2018 as soon as the Merchant promotion had been applied.
So, what are Google Promotions?
Google Promotions aid your store products' discount to its SERP so that the customers know what your store is offering. When you are giving away any particular discount to any of your products – the customer who is not your traditional customer – may not keep abreast with it.
Therefore, setting up a promotion via Google Merchant will keep your consumers informed of any discount or offer. Alongside any title, price, store URL, and description, customers can easily see the promotions on the Google Shopping page. Isn't that phenomenal?

How Do Google Merchant Promotions Work?
When you type any product name on Google Search Engine, it will present you with a myriad of that product. For instance, in our case, it is a jacket. Look at the image below and see for yourself that some jackets have the Special offer annotations whilst others have Free shipping annotations.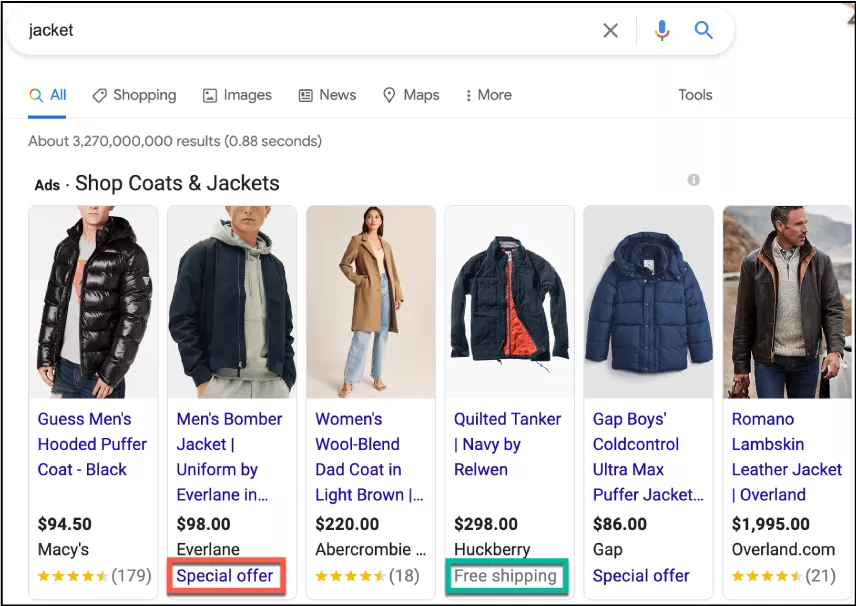 The offers can be of many types;
10% Off
3% Cash Back
Get a Maximum discount off up to 15%
15-20% Off
Get 15% Off when spent $100
Free Items (gift items must be mentioned)
Free Shipping
$5 Gift Card on $20 purchase, etc.
However, the promotions vary from store to store, but you need to comply with their guideline. Otherwise, your promotions will remain off-limits by Google, and the customers will no longer fancy buying from your stores due to trust issues. You can't put any type of discount on your promotion, but instead, they must make sense. Check out the Merchant Promotions Quick Guide to see how the promotions are set and followed.
When a customer clicks on a jacket promoted and sold by the GAP brand, a separate pop-up will sprout, showing the coupon code if there is any. In the following example, the coupon code is set to PERK, which means that the moment someone puts this code at the checkout section at the end of the buying process within your store, the code will redeem a 10% discount for you.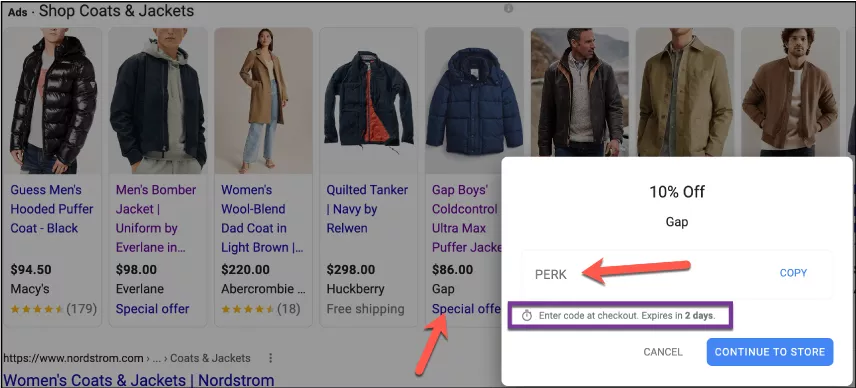 Sometimes, the code is not given in Google Shopping Promotions, yet a special offer like 10% will still apply. When you go to the checkout option, the discount will automatically add up to your purchase.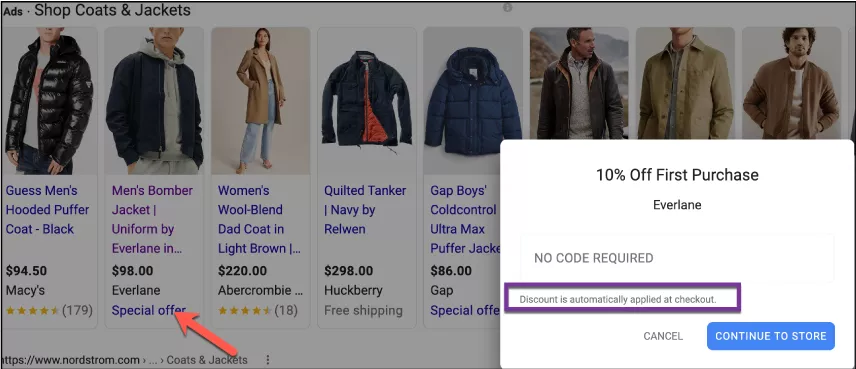 However, there is another type of Google Merchant Center Promotions called Free shipping. Even though it is not clickable like the Special offer, it helps the shoppers get their products free of shipping cost. Therefore, no delivery cost, more persuasions, yet more conversions.
Benefits of Merchant Promotions
It helps you stand out in a crowd while campaigning for the same products as other competitors
Google Merchant Promotions attracts the audiences to pay a visit to your online store to check if they can find more desirable products
It is totally free
Merchant Promotions are applicable to all kinds of online and offline businesses, not only for bricks-and-mortar (businesses that don't have internet access to campaign for the shopping)
Google Merchant Center Promotion trigger FOMO (fear of missing out) amongst customers who rush to online shopping to get their long-awaited products by hook or by crook
While craving for the products that are displayed as free shipping or special offers, the customers can discover many more by visiting your site, which also shares the similar Merchant promotions
Look, Google Shopping Promotions works pretty well when a festival is imminent. People are constantly in query for getting a special offer before any festivals arrive. The customers' lust for expensive products comes true when the promotion is aimed mainly at them. Yet, it is high time marketers should target these festivals and organize their promotions accordingly.
Bear in mind, all the merchants are well aware of these events, and they work their arse off to give as much discount as possible, but very likely they make a blunder by not including these promotions, which you can take advantage of and make the best use of the promotions to come to the limelight of Google Shopping.
Which Promotions Are Not Allowed by the Merchant?
Any ambiguous discounts, which are not clearly countable and do not specify the amount properly. For example, get an unlimited discount or get up to ??% off (as you can see, none of them gives any specific amount for better understanding)
Promotion shouldn't exist more than 6 months from the time of the promotion starting date
Promotions mustn't target specifically to any subset of shoppers, such as 5% off with Master card, 15% off for the Veterans or elderly or A-listed citizens, 20% off for any specific person's birthday or get 20% discounts when completing a survey or questionnaires, etc.
Ignore irrelevant capitalization or promotional quotes. For instance, GRAB IT TODAY or Black Friday Sale is waving at you, etc.
Refrain from using any confusing acronyms, such as BOGO Summer Jacket, or Have 10% off MSRP
Using any trade-in discount to barter with anything other than money
Anything other than the monetary discount
Goods or services that are linked up with the PLA (Product Listing Ads)
Promotions related to discounts interfering with the SKU price within your product landing page. Promotions should only be applied at the point of sale or checkout
It is always worth submitting your promotions 24 hours earlier, prior to the starting date of the Google Merchant Center Promotions. The reason is straightforward ­– if there is an error in the promotion after being reviewed by Google owing to not adhering to the Participation criteria and policies, you can still get a chance to amend it and thus resubmit it. Learn more about what could impinge upon your Google Merchant Promotions by Merchant Promotion Guideline.
Which Countries Are Listed For Google Merchant Promotions?
Sounds hurting, but it is true that Google Merchant Promotions are not available in all the countries for the time being. Only 7 countries are exempted for the Google Promotions;
The US
The UK
Australia
Canada
Germany
France &
India
Are Google Promotions Free?
Google Merchant Promotions, aka Google Merchant Center Promotions, are absolutely free. You just need to have a Gmail account, as well as a Merchant Center account with the same Gmail id. You can simply pop the Google Merchant Promotions feed file into the Google Merchant Center. Setting up the Promotions by filling in all the essential criteria will prepare your promotions instantly.
However, if you wish to divert your way of creating and uploading the shopping data feed file from the traditional way, you will need a Google Shopping Promotion plugin or extension. Either these plugins come free or freemium. We have one such dynamic plugin, which we will reveal in a bit. Using that plugin, you can customize your feed as per your needs that mostly suit your promotions' requirements.
However, to get the most of those plugins, especially our one, you may have to bankroll a bit, yet you can still use the free version if you think your feed file needs too many modifications.
How Can You Edit A Google Merchant Promotion?
It is feasible to re-edit your promotion once the promotion is submitted, approved, or goes live. You can use the promotion builder within the Google Merchant Center to do the necessary editing. However, there are four categories to follow to amend those promotions.
We will show you how to use a promotion builder to create the promotion once the promotion feed is uploaded in a while. For the time being, let's see what those categories are;
Editable with additional reviews: Any changes you make will instigate a response to Google to review your edited attributes. This is the default category.
Editable without additional reviews, but without restrictions: Any overhaul of the attributes must keep the promotion length below 6 months
Editable without additional reviews: When you edit any attributes, such as deleting the destination will not trigger Google to review them
Non-editable: These are the attributes that will not be changeable or editable once the promotion is approved. They are as follows;
Country
Language
Promotion ID
Destination (Not addable)
Merchant ID
Start Time
Currency
To your acknowledgment, you are not allowed to re-edit your existing approved promotion using the promotion feed; you need to create a new promotion using a new promption_id and end the existing promotion.
You need to navigate your promption_id to those products you were campaigning your promotions for if your promotion is SKU specific. To know more about the editing of Google Merchant Promotions, read the Change promotion status.
Which Way Is Better To Create Promotions?
There are essentially two ways to create the Google Merchant Center promotions;
1) Create promotions via a feed using the plugin, and
2) Via Merchant Center.
However, creating promotions using the Merchant Center is twice as easy as the plugin using. With the use of the plugin, you will have to submit the promotion feed followed by adding more attributes on Google Merchant Center, which is time-consuming and complicated.
However, working directly on Merchant Center for Google Merchant promotion using the product feed is effective and efficient. Still, you can check out, why we prefer creating Google Merchant Promotions using Merchant Center rather than taking the help of the promotion feed.
Method 1: Promotion Feed
Attributes To Consider
In order to create a single or multiple Merchant Center Promotions, you need the attributes. Some of the attributes are mandatory, whereas the others are optional, or you can call them additional attributes. These attributes have nothing to do with the Google Merchant Promotion feed.
In fact, you won't have to rely on the Google Shopping promotion plugin to get these attributes sorted. You can discover these attributes on Google Merchant Center.
Required Attributes
Promotion ID [promotion_id]
Example:
<g:promotion_id>
  <![CDATA[0124_Free_75-300mm_Lenses_With_Canon_250D_DSLR_Camera]]>
</g:promotion_id>
Product Applicability [product_applicability]
Example:
<g:product_applicability>
  <![CDATA[SPECIFIC_PRODUCTS]]>
</g:product_applicability>
Example:
<g:offer_type>
  <![CDATA[GENERIC_CODE]]>
</g:offer_type>
Example:
<g:long_title>
  <![CDATA[Free 75-300mm Lens With Canon 250D DSLR Camera]]>
</g:long_title>
Promotion Start Date [promotion_effective_dates]
Example:
<g:promotion_effective_dates>
  <![CDATA[2021-11-06T00:00:00+00:00/2021-11-12T23:59:59+00:00]]>
</g:promotion_effective_dates>
Redemption Channel [redemption_channel]
Example: It should always be online
<g:redemption_channel> 
  <![CDATA[ONLINE]]>
</g:redemption_channel>
Promotion Destination [promotion_destination]
Example:
Promotion_destination:
Shopping_ads,
promotion_destination:
Buy_on_Google_Listings,
Promotion_destination:
Free_listings
Optional Attributes
[promotion_display_dates]
[description]
[generic_redemption_code]
[image_link]
[fine_print]
[promotion_price]
[coupon_value_type]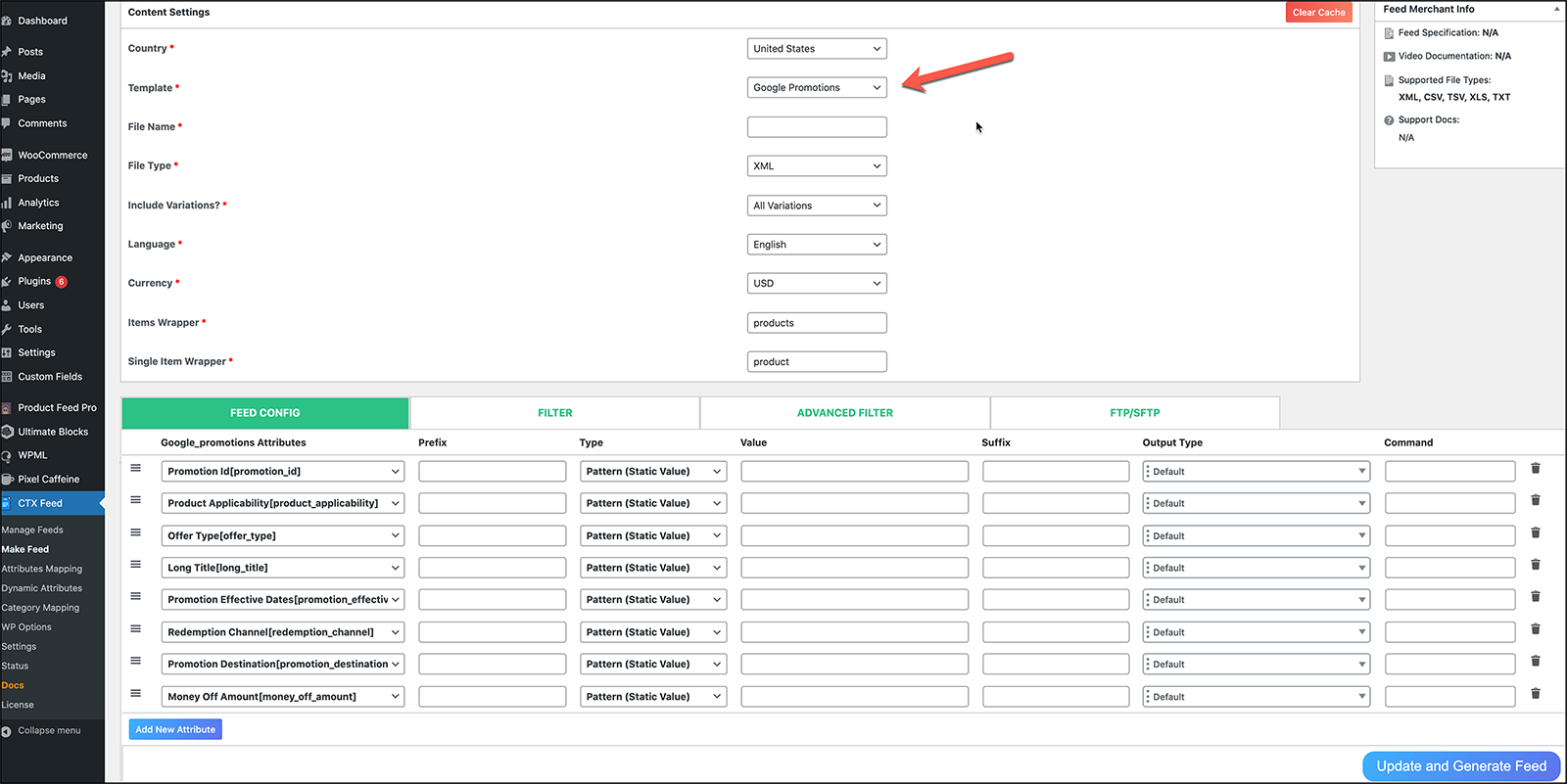 For more information, visit the Promotions feed specification page to learn how to apply these attributes to the Google Shopping promotions.
Method 2: Google Merchant Promotion (Our recommended method)
How Do You Set Up A Merchant Promotion?
Setting up Google Promotions is not an easy task, requiring a lot of processes to go through. One of them is a feed creation before making the promotion. You can either create a feed manually using a spreadsheet and upload it to add promotions into it or use a freemium Google Shopping promotion plugin like ours to make your process more user-friendly. Hence, you will face no trouble as you will get all the alteration methods in our plugin to create a dynamic promotion. So, the question is – what is that revolutionary plugin?
CTX Feed is a plugin that helps users create a feed for individual marketing channels, such as Google, Facebook, Instagram, Rakuten, PriceRunner, etc. We know you have been jaded by the use of all the obsolete extensions in the past. Or maybe someone palmed the worst plugins off on you that made your feed creation process harder.
But trust me, not only are we praising CTX Feed just because it is our product, you can check out all of its features and compatibilities to get assured that this is the perfect feed generator for you.

When you create a promotion, you keep in mind that it should correspond to the products and their feeds' attributes. If the attributes are not correctly sorted, it may result in a complete doom of your promotion.
With the help of this Google Shopping Promotion Plugin, you know which required fields Google expects of you to fill. It also maps your products to the correct category using Category Mapping. It follows the mapping in accordance with the Google Category mapping feature.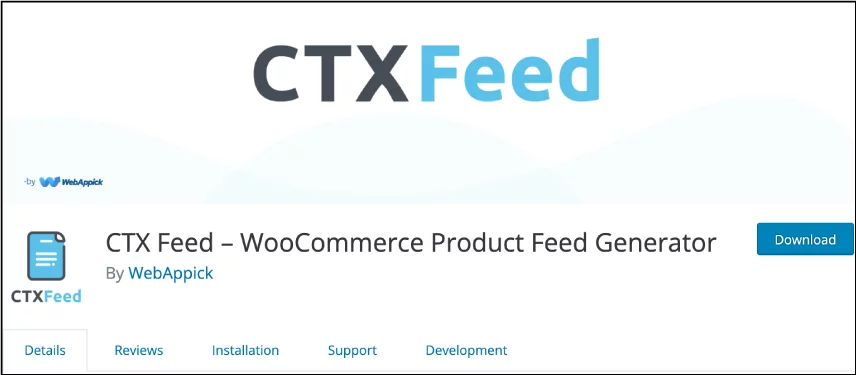 Also, while creating a promotion on Google Merchant Center, you will not find all the custom-based filters as much as you get using the CTX Feed. Therefore, it's worth a shot using this magnificent plugin.
Firstly, we will show you how to apply for Merchant Promotions, and secondly, we will get you to the process of creating the feed, followed by applying the promotions to your feed.
We are sure how much you will be glad to have applied most of the features using the free version of CTX Feed; could you just imagine what the pro version is capable of doing? Let's take a closer look at it one-by-one;
Whitelist Yourself For Merchant Promotions
Once you log in to your Google Merchant Center using your current Gmail account, you will not see the promotion option straightway under the Marketing section. You will have to make yourself worthy of it once you fill in the required details.
How?
Well, you must submit the Merchant Promotions Interest Form by answering five important questions. The questions include why you wish to contact the Merchant team, filling in the contact's name, email, Google Ads customer ID, Merchant Name, and Merchant Center Account ID.
Once you submit your form, it will take up to two weeks to review it and get back to you; that is to say, you have to remain patient. It can be done within a few days if you are fortunate enough, but that's not guaranteed. Once you get an email from them confirming your acceptance for the promotion – now it's time to create the feed using the plugin that we introduced a few moments earlier.
Create A Google Product Feed Using Plugin
As aforementioned, to create a Google Merchant Promotions, a perfect Google Merchant Promotions feed is a must. To shortcut the process, use the plugin instead of creating the feed manually. It will save your time, as well as speed up the process with great subtlety.
Once your CTX Feed is installed and activated from WordPress, you better be accessing your CTX Feed > Make Feed

Use your Country based on your store's location, and choose Google Shopping as your template. Keep your currency as consistent as your country. The moment you choose Google Shopping as your template, the following attributes under the FEED CONFIG will roll out;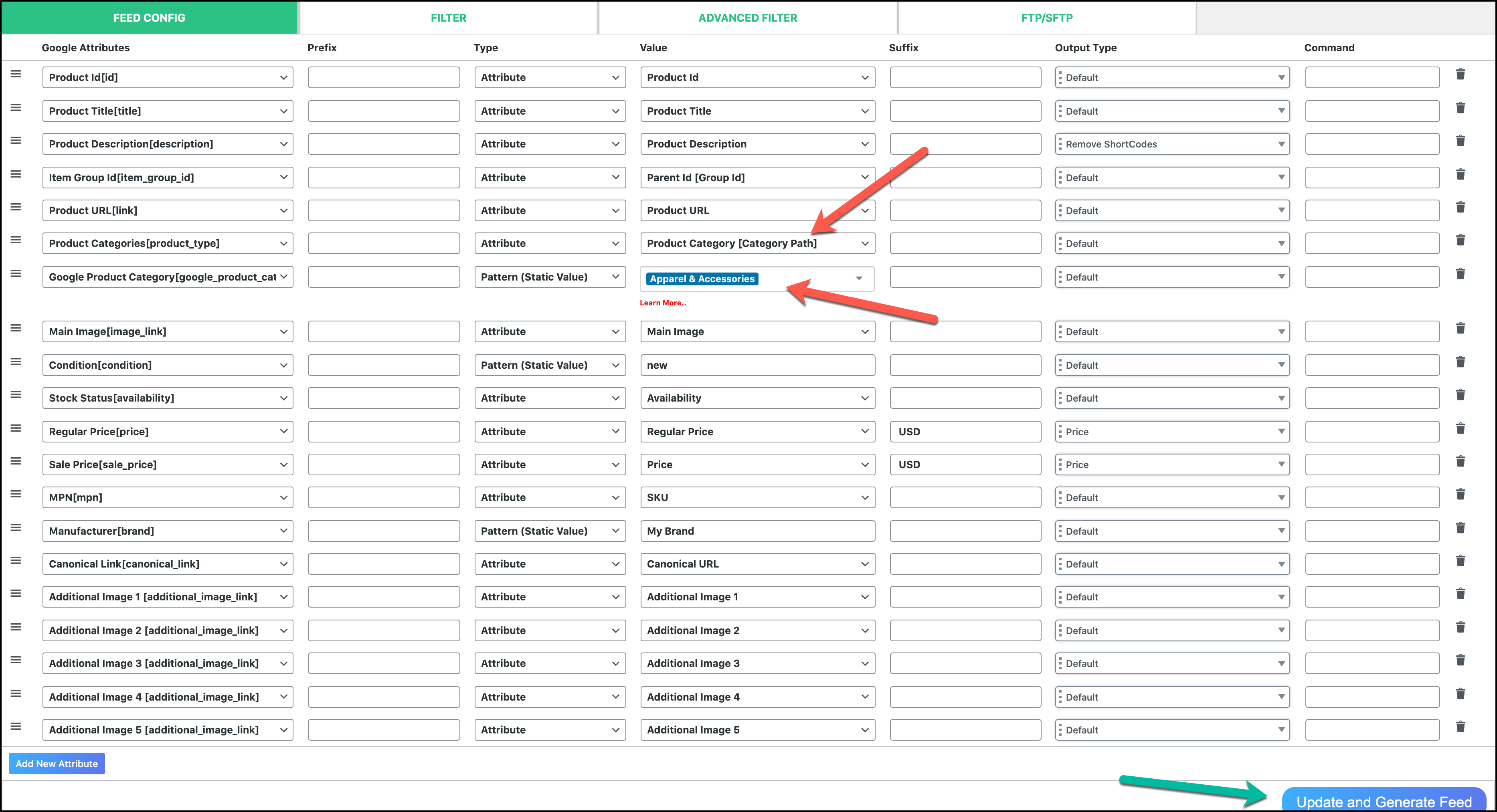 Make sure that your Product Category is set, and the Google Product Category is chosen based on your preferences. Make sure you know what each of them, such as Prefix, Suffix, Value, and Output Type, mean. You can read the WooCommerce product feed generation documentation to know more about them
Once everything deems right, click on the Update and Generate Feed button. You can then access your new feed file from the Manage Feeds section. Copy the link as you might need it later on Google Merchant Center

Feed Uploading on Google Merchant Center
If you don't know how to upload the feed on Google Merchant Center, you can follow one of our blogs catered to you only for Google Shopping feed uploading. You just simply log in to your Merchant Center, click on Feeds under Products, and press the + sign. And then follow everything as mentioned in the blog we have just referred to.
Once you succesfully upload your feed, you can see the number of products that you uploaded via your feed. In our case, the number of products is 45

If you wish to see if the category matches with the categories outlined on the landing page, click on All Products, and you will see the listing of all of your products

When you click on a specific product, you can scroll down to check its product type, which is apparently the product category. In our example, the V-Neck T-Shirt is under the T-shirt category

Create Google Shopping Promotions
Finally, it's time to get on with the promotion creation process. Earlier, we told you that you wouldn't get a promotion option until Google reviews you after submitting the Merchant form. Once you get approval for the promotions, you will discover it just right underneath Marketing. Click on + sign to create one

You will see four promotion categories, as shown in the image below

However, there are a few things to fill in before heading for any of the four categories. Take a glimpse at them, shall we?
Amount Off
First, go to Promotions under Marketing on Google Merchant Center, and click on the + icon. Do the following as we instruct;
Choose your Country, Language, and Currency. Out of the four categories, select the Amount off. Here you will see three options;
Amount off: You will get the standard monetary discount, such as 20% off on Blue Skirt
Buy quantity of product, get amount off: When you buy a specific number of products, you get monetary discounts. For example, 10% off when you buy 5 products
Buy quantity of products, get the same item at a discount: This is when you buy a certain number of the same products and get a discount for the next one of the same products. For instance, when you buy two pairs of socks, Get $5 off for the third pair
You can choose any of the three, but we have chosen the Amount off option for the simple demonstration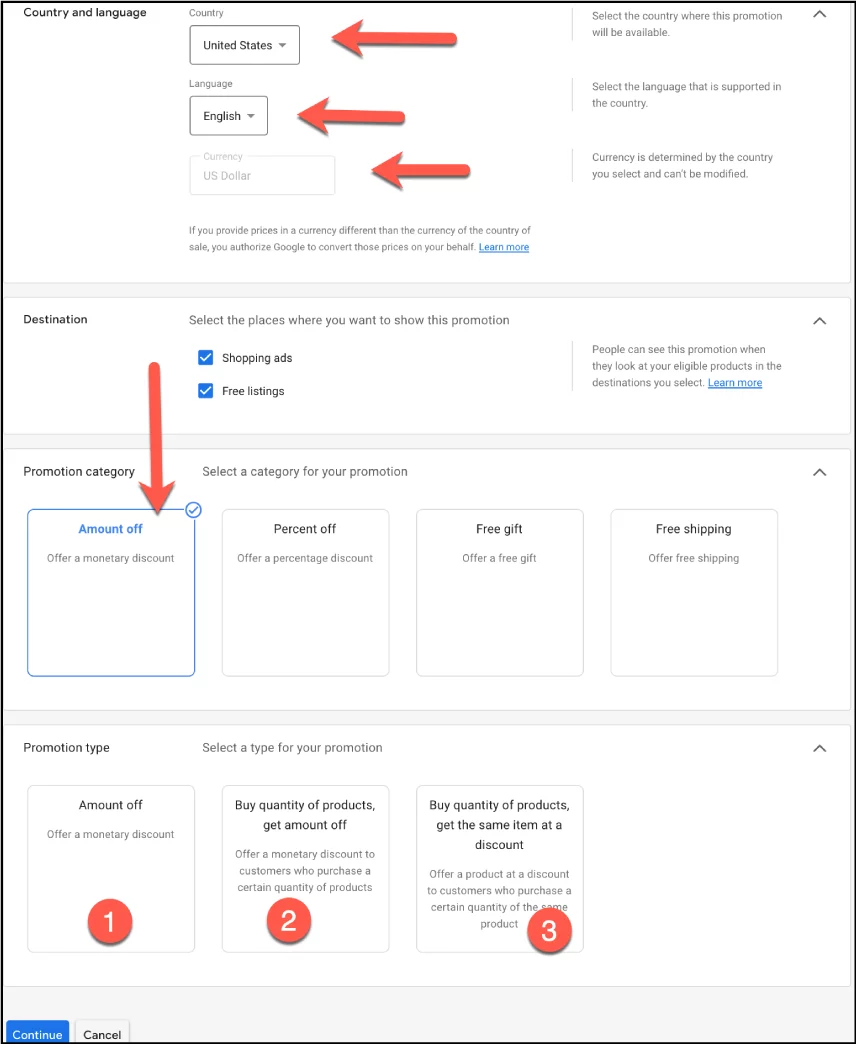 Now, enter the discounted amount that you want to offer. Although the Minimum purchase amount is optional, it is worth mentioning it. Otherwise, your promotion will be rejected later on. Click on the Continue button to proceed ahead

On the next page, write down your Google Merchant Promotions Title and ID. You will find three more options here,
Choose only products with the same promotion's ID as the ID you have just chosen: any product containing the unique ID that you have put in the Promotion ID box will be eligible for the promotion
Choose all products: It will include entire WooCommerce products in the promotions regardless of the promotion ID you have created
Create custom filters based on product attributes: This is where you must need the CTX Feed, which we will reveal later. Here, you will get four attributes, such as Item ID, Product type, Brand, and Item group ID.
For example, if you select product type here and choose shoes, only products relevant to shoes will be considered for discounts. You can also choose options like not including this particular product type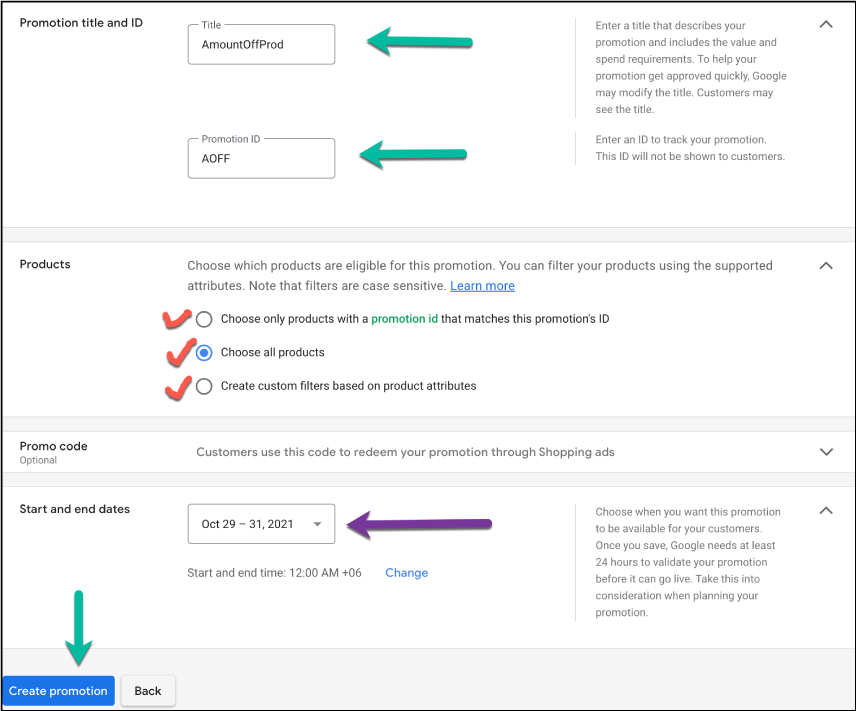 You can also write a Promo code so that anybody typing that particular promo code will get the discounts straightway. After that, you will select the starting and finishing date of the promotion followed by clicking on Create promotion
Soon after creating the promotion, Google will take 12 hours to 24 hours maximum to review your promotions. We earlier stated about Google Merchant policy. If your promotion abides by the policy, your feed will appear on the Merchant Center Promotions option. Don't expect your Google Merchant Center Promotions to appear before 24 hours. Till then, the page will turn up as empty.

Percent Off
Same as the amount off promotions, you click on Percent off after filling the Country, Language, and Currency section. It also has three types, but this time, we will go with the Buy quantity of products, get percent off type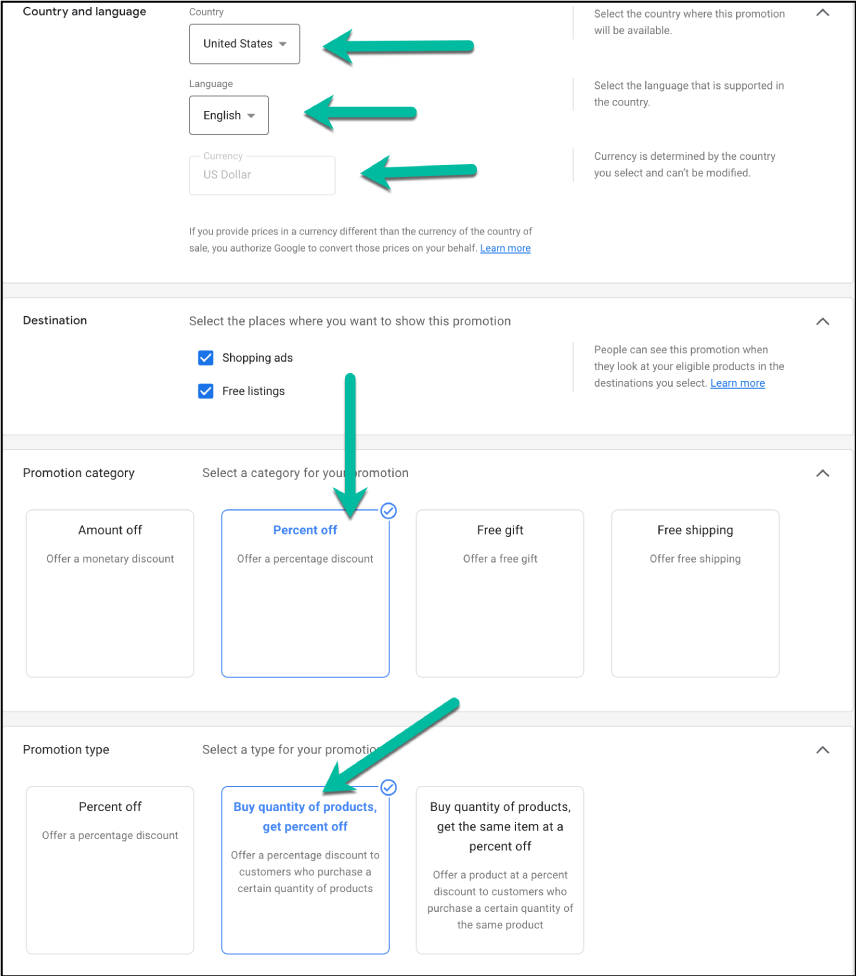 You put the number of products; your discount will depend on that certain number of products. In this case, we will give 25% off when the customers buy 7 products of any category. Select Continue to move on to the next page

Fill in the details like Promotion title and ID. This time, we will choose only products with a promotion id that matches this promotion's ID. It means you will select the products or categories which contains the POFF as promotion ID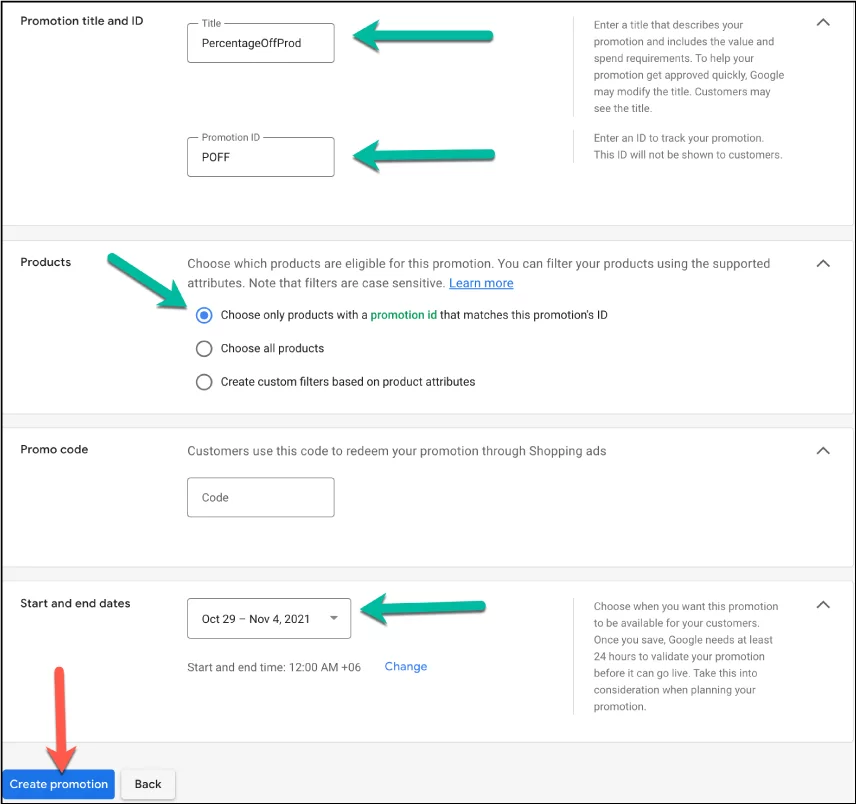 Before you go any further, we want to distract your concentration a bit. Now, it's time to use CTX Feed to incorporate the Promotion ID into your feed file's products.
For that, go to your previously created feed file. Scroll down to add a new attribute and choose [promotion_id]. Choose your Value as POFF and keep the type as Pattern or static, which will ensure that all the products in the feed file will have the Promo ID applied.

But we want to go deeper down that; we want to use one of the best features of our CTX Feed Pro to dynamically modify the Google Merchant Promotions. We will only care about the categories, not all the products. For that, go to Dynamic Attributes > Add New. Create a unique name for your attribute
We have put the conditions in such a way – whenever the parent categories will be Accessories and Underwear, anything falling in between them will have our Promotion ID applied.
Besides, we have also created USale as a Promotion ID only for the underwear category. We have kept the Output Type as Patten so that all the products under these two categories will have the promotions applied. Save it at the end

Let's return to the feed again, and this time, get your Value as Google Promotion as the type appears to be Attribute.

You need to head back to the Products > Feeds and choose the feed you uploaded last time. Now, you forcefully fetch the file again to reupload the updated feed.
Coming back to the Promotion page on Merchant Center, you have to fill in the coupon id, date range and finally create the promotion. Again, you have to wait for 24 hours to see your Merchant promotions live.
This promotion has been created using buy quantity of products, get percent off type. Now, if you wish to create another promotion with percent off, yet with buy quantity of products, get the same item at a percent off type, then follow the steps in creating the promotion just like before, but this time with the third option.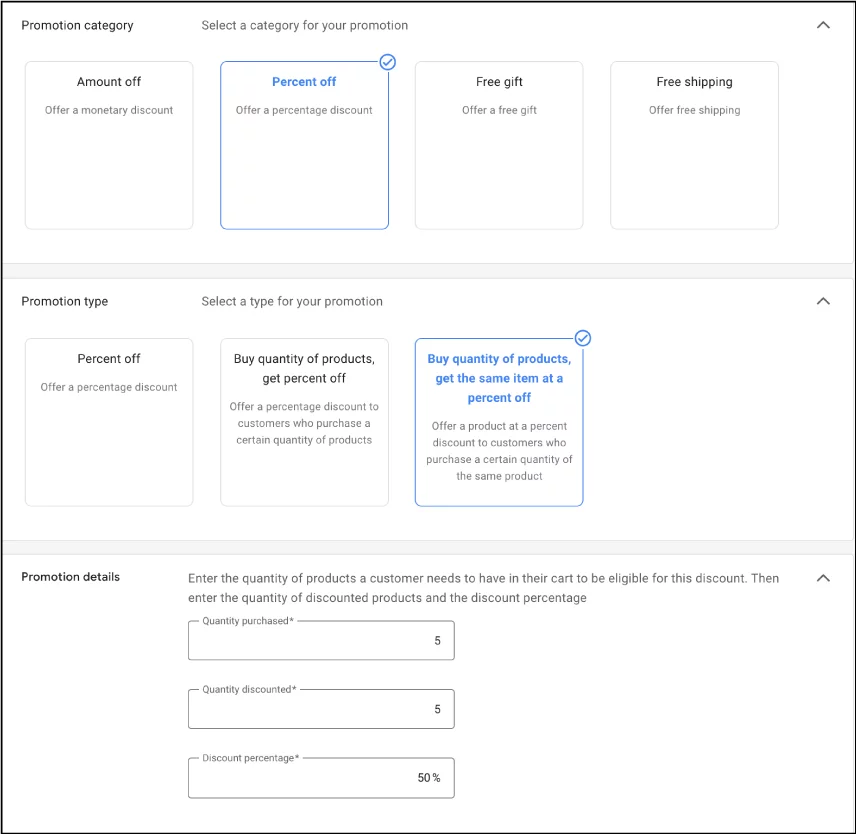 If you look at the above image, you can see the quantity purchased. All it means is that once you purchase 5 of any of the specific products, you will get a 50% discount for the following 5 quantities of the same products. Click on Continue to move along with the process
On the next page, choose the title and id carefully as the promotion id should correctly match the one within the feed file. In this instance, instead of using all products or promotion id-based products, we will choose custom filter-based products.
We have selected Underwear as the Product type attribute and My Brand as the Brand attribute. Any products falling under the Underwear category and My Brand attribute will have the promotion ID applied
Remember, we mentioned earlier that with the custom-based product option, you would get four attributes. Item ID, Product Type, Brand, and Item group ID are the ones you can use to set the conditions. Unlike this, CTX Feed Pro, with its Dynamic Attributes, gives you loads of attribute options.

With CTX Feed Pro, you can get attributes like Child Category ID, SKU, Availability, Price, Sale Price, Regular Price, Price with Tax, Width, Height, Weight, Shipping, Tags, Color, Gender, Size, and many more. See how amazing CTX Feed is as your perfect Google Shopping promotion plugin.
Select your promo code if you have any; otherwise, fix the date to determine the duration of your promotion. Click on the Create promotion button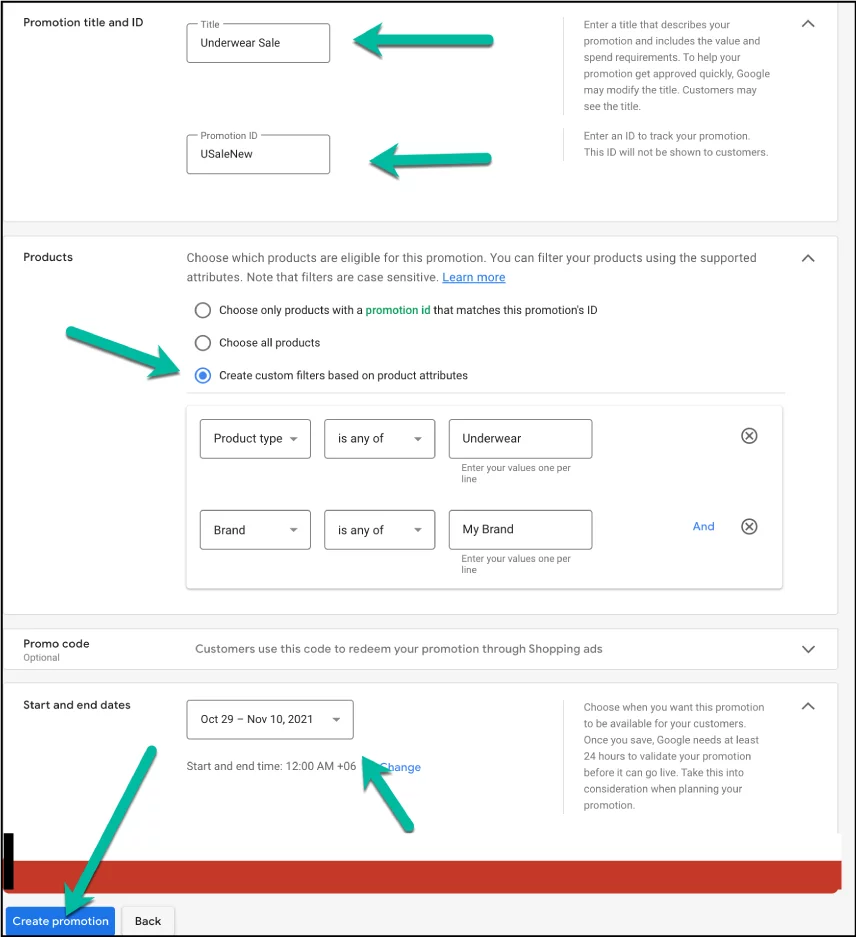 Free Gift
It is not a monetary discount, but rather you will offer the customers a gift when they purchase a certain amount. While creating the Google Merchant Promotions, click on the Free gift option. It will unfold three more options;
Get a free gift: you can offer any gift item, such as a free toy, sanitizer, hand wash or surgical mask, etc. Don't forget to include the minimum purchase amount and quantity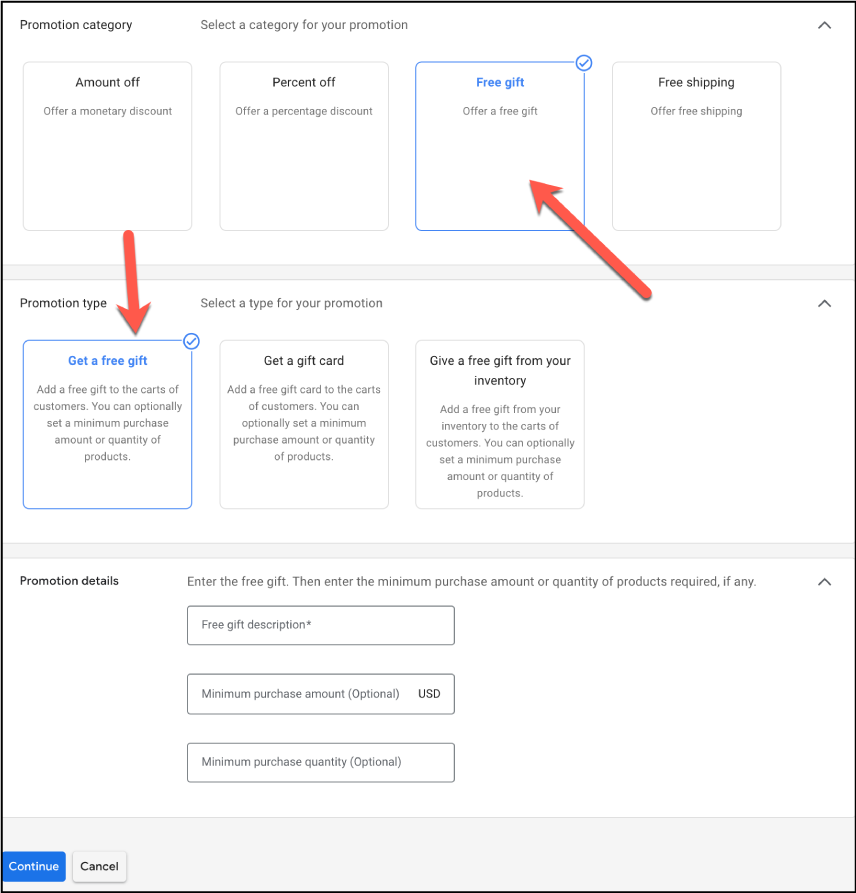 Get a gift card: Give a gift card worth $25 to the customers when they buy a certain quantity spending a certain amount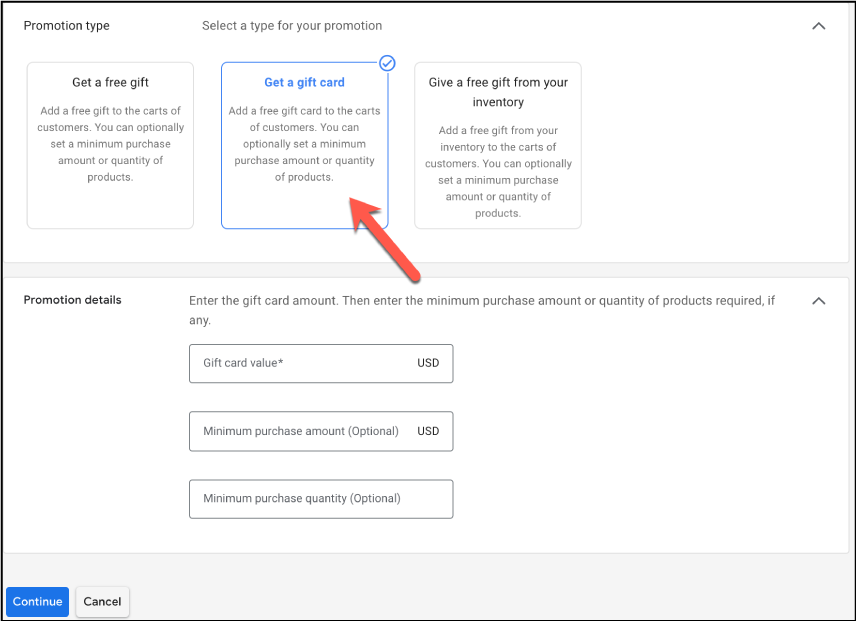 Get a free gift from your inventory: You can gift your customers a free gift from your own inventory
Free shipping
When you select Free shipping during the creation of the promotion, it implies that the shipping will not charge the customers. After choosing this option, the users will get three more options again;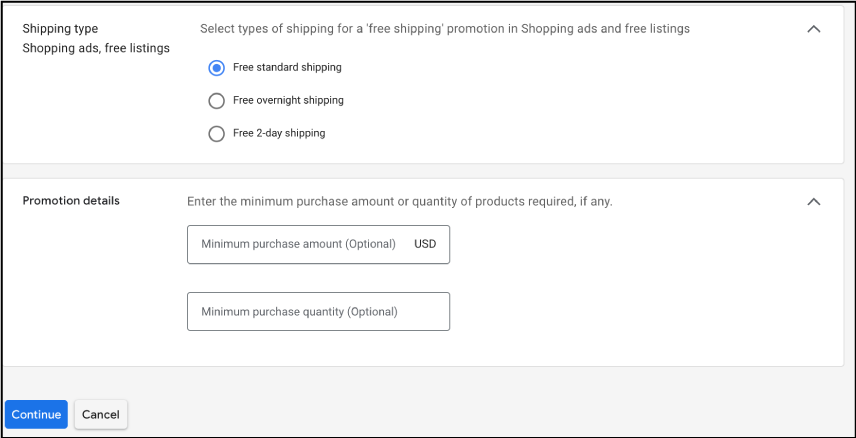 Free standard shipping: The customers will be able to get their orders delivered within specific days. It actually takes a bit of time to deliver the order
Free overnight shipping: It usually indicates the next-day delivery
Free 2-day shipping: The recipients will get the delivery within two business days (excluding Saturday and Sunday)
Once 24 hours have passed by, and Google approves all your promotions, you can see those promotions live. However, we are not gonna keep you waiting that long. Therefore, we have decided to show you the previously created Google Shopping Promotions. From the image, you can see how they appear as a list. As we have said, these are not the ones that we have created for this blog. So, don't get confused!!!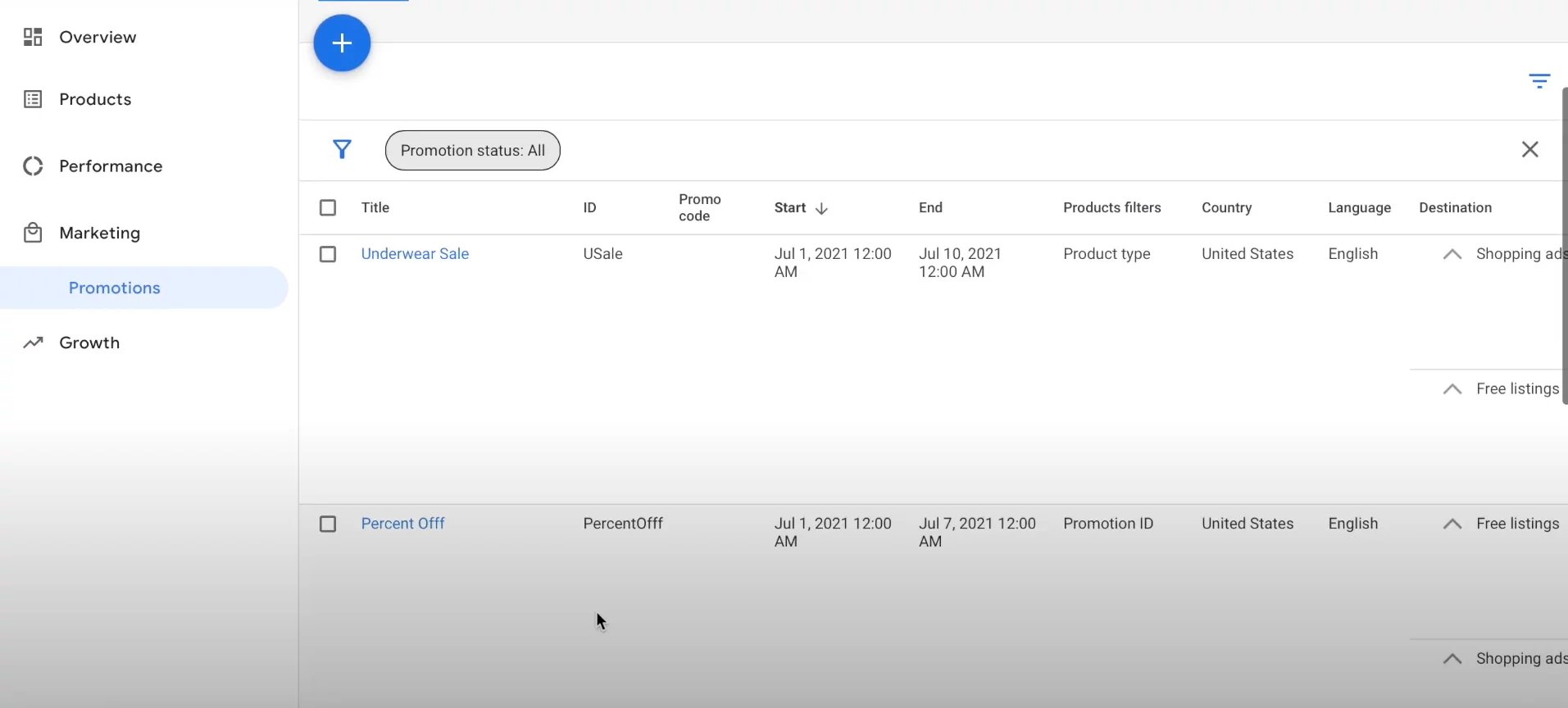 If you still wish to watch the whole process lively, that's possible too. Take a look at your video tutorial, especially made for you, so that you can grasp the whole thing at once.
How To End The Promotion?
Access the Merchant Center and go to Marketing > Promotions
Pick the promotion you wish to terminate and tick on the box next to the promotion/promotions
Select End Promotions from the top of the dashboard
Final Analysis
From the blog, it has become apparent that Google Merchant Promotions have no alternative. People tend to search online Google Shopping platforms just to see which deal may appeal to them. Your task as a marketer is to bring it back to life. The marketers have been fed up seeing or using the same extension or plugin over and over again. On top of that, some of these plugins may malfunction.
Therefore, CTX Feed has come to rescue you, particularly your business, with complete coverage of distinctive features as long as your businesses are operating with the internet. My advice to you is to get the CTX Feed Pro, incorporate it into your inventory, and give an unlimited promotional offer to retrieve the lost customers, as well as to attain the highest conversions with new customers with your best possible Google Merchant Center promotions.
We know you may have many questions to pose to us, and we are eager to answer them. Feel free to jot them down in the comment section, and God swear, we will not disappoint you.
You May Also Read