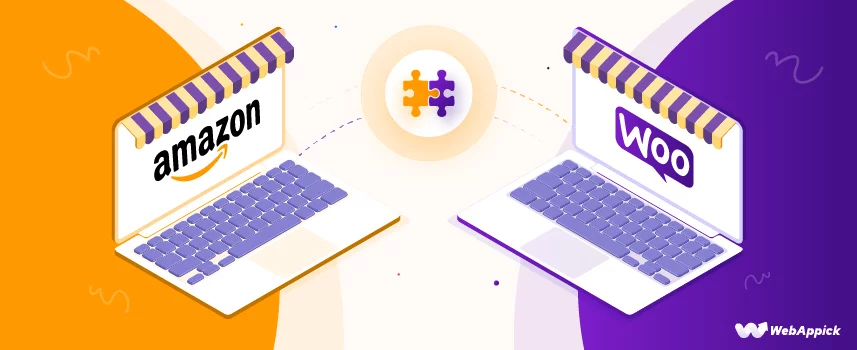 A Guide to WooCommerce Amazon Integration (with Plugins)
Do you have a WooCommerce store?
Do you wanna go beyond WooCommerce and explore the Amazon marketplace now?
If you answered, "yes, you are right", then this is the post you must read.
Why should you read this post?
Well, in this post, you will know:
9 top reasons why you should sell on Amazon along with WooCommerce.
3 key ways to connect WooCommerce with Amazon.
5 popular free and premium plugins (with features and price) you should use to integrate WooCommerce with Amazon, and
The answers of some frequently asked questions (FAQs) on WooCommerce Amazon Integration.
Are you with us? Let's dive right in.
9 Reasons Why You Should Sell on Amazon
There are many reasons to sell on Amazon. Here are just a few:
1. Amazon is a trusted brand with a large customer base.
2. It follows a simplified selling process that makes it easy to get started.
3. This shopping platform offers a wide range of marketing and selling tools to help you sell your products.
4. Amazon pays incredibly fast, and you can access your earnings anytime.
5. It provides extensive customer service and support.
6. By far, Amazon is the largest online retailer in the world, with over 300 million active users.
7. Surprisingly, Amazon has a massive catalog of products, with over 500 million items for sale.
8. Amazon owns a world-class fulfillment network that can handle shipping, tracking, and delivery for your products.

9. Last but not least, Amazon is also a very easy platform to use, so you don't need to have any prior experience with it to start selling on Amazon.
How to Connect WooCommerce to Amazon?
There are a bunch of ways to build a profitable connection between WooCommerce and Amazon. Let us just tell you about three of the methods you can leverage to connect WooCommerce to Amazon.
1. Adding Amazon Affiliate Links to your WooCommerce Site.
Adding Amazon affiliate links to your WooCommerce site and selling products with affiliate links from Amazon is the easiest way to integrate Amazon with WooCommerce.
You might be wondering why we're saying that this option is the easiest, right?
Well, if you choose this option, you will not require much effort and any programming expertise to make your WordPress website ready for it.
On top of that, you will get rid of the hassle of creating product listings on Amazon or shipping the products to the customers.
What you will all need is to sign up for an Amazon Affiliate account. Opening an account with Amazon Affiliate is free.
Here are 3 simple steps to start integrating your WooCommerce store for the Amazon affiliate program:
Sign up to the Amazon Associates program offered by Amazon
Log into your Amazon Associates account and find the item you want to share on your WooCommerce store to earn a referral fee.
Get your preferred product link by clicking on the "Get link" button. You can choose text and image, text-only, and image-only links to use.
Embed the product link you copied to your website. And that's it.
However, there are certain rules and conditions you have to abide by to earn money from Amazon's affiliate business.
Also remember, Amazon will pay you money only when someone clicks through one of the product affiliate links on your website and then makes a transaction on Amazon.com.
This option is a great choice for those websites that focus more on tutorials and product reviews.
Tip: If you want to do affiliate marketing for many products, you can automate the product linking process with plugins like Auto Amazon Links.
2. Using Amazon's Logistics
If you own a WooCommerce store and sell products on Amazon simultaneously, this option is a great pick for you.
Amazon has a service called FBA (Fulfillment by Amazon) that lets you use Amazon's delivery and logistics system for your WooCommerce store's products.
FBA is a highly polished delivery system and an immensely popular service worldwide.
So, if you choose to use FBA for logistics for your online store, it is almost certain that you can ensure better delivery service to your customers.
However, you don't need to stress out about inventory syncing between Amazon and WooCommerce.
Because there are a couple of plugins that will help your WooCommerce store to sync with Amazon's inventory in real-time. And that will take place automatically.
Using this process will enable you to take orders from your WooCommerce website and ship the ordered items using the Amazon fulfillment network.
3. Listing Your Products on Amazon
This is the most intensive form of WooCommerce Amazon integration.
In this way, you can list your WooCommerce products on the Amazon marketplace with an Amazon seller account.
It means that you will be selling your WooCommerce products separately on Amazon.
The result?
More sales and customers.
However, you have to use any WooCommerce plugin to make sure you enlist either all or selected products on the Amazon platform.
There are plugins like CTX Feed that you can use to create WooCommerce product feed and upload on Amazon.
Plugins will help you get rid of the complex process of manually adding all your WooCommerce products to Amazon one by one and thus you can save a great deal of time and effort.
A plugin will add/upload your entire WooCommerce catalog to the Amazon marketplace and then let you manage that directly from the WooCommerce interface.

5 Plugins to Integrate WooCommerce with Amazon
Now that you know all the main ways to integrate WooCommerce with Amazon, it's time to talk about 5 plugins that will come to your help while integrating WooCommerce with Amazon.
However, remember that all the 5 plugins listed below will help you integrate your online store with Amazon in any of the 3 main ways mentioned above.
So, first of all, you have to determine the way/s you are going to choose for integrating your WooCommerce store with Amazon.
And then you should install the right WooCommerce plugin from the list given below.
Are you ready? Let's dive in.
WP-Lister for Amazon (Free/Premium)

WP-Lister for Amazon integrates your WooCommerce product catalog with your Amazon inventory.
This plugin will save you a lot of time, money, and effort.
How?
Well, if you use this plugin, you don't have to enter all your product details twice; once on WooCommerce, and next on Amazon.
One of the most important things this plugin does is that it syncs your inventory on Amazon and WooCommerce simultaneously. It means that, if you sell in one platform, the stock quantity automatically gets reduced in the other.
While this plugin allows you to import all your existing products from Amazon to WooCommerce, you can match and link your WooCommerce products to the existing products on Amazon.
On top of that, this plugin will help you create new products on Amazon from your WooCommerce products.
Key Features
Amazon product page creation from WooCommerce product details
WooCommerce product matching with Amazon products by SKU, title, and other attributes
Syncing stock quantity between Amazon and WooCommerce
Creating variable products in WooCommerce from Amazon variations
Importing Product attributes like title and image from Amazon to WooCommerce
Creating order in WooCommerce when products are sold on Amazon
Mapping WooCommerce product attributes to the corresponding columns in the Amazon feed
Fetching and displaying quality alerts for your Amazon listings
Automatically update the lowest price information for your products on Amazon
Repricing tools to adjust your price with the lowest price on Amazon
Use FBA (Fulfillment by Amazon) to fulfill non-Amazon orders.
Price
WP-Lister for Amazon has both free (lite) and premium (pro) versions.
You can download the free version from WordPress.org. To buy the pro version of WP-Lister for Amazon, you have to visit their official website.
WP-Lister Pro for Amazon costs $149/year.
However, one key difference between the free and pro version of WP-Lister for Amazon is that the free version does not have the feature of syncing sales across the platforms (WooCommerce and Amazon).
Also, you will miss the automatic repricing tool in WP-Lister Lite (free) for Amazon.
CTX Feed – WooCommerce Product Feed (Free/Premium)
CTX Feed – WooCommerce Product Feed Generator plugin will help you create an optimized and error-free product feed for Amazon marketplace and 100+ other marketing channels such as Google Shopping, Facebook, Bing, Pinterest, Etsy, NexTag, Kelkoo, Idealo,eBay, etc.
Uploading all of your WooCommerce products on Amazon manually might take days after days. Moreover, there is always a chance to go wrong with the entire process.
Conversely, if you use a product feed generator and automate the whole process of uploading your WooCommerce products to Amazon, you will get your work done in just within a few minutes.
A product feed generator plugin like CTX Feed lets you work smart, not hard to integrate WooCommerce with Amazon.
No matter how big your entire WooCommerce catalog is, CTX feed can create product feed for unlimited WooCommerce products. If you have 10 products, CTX feed will help, if you have 1000 products, CTX feed will still help. Clear?
It's not just about unlimited products, CTX feed can create unlimited product feeds for you as well. You can manage all the product feed files you create by simply going to the "Manage Feeds" option.
To make the product feed creation as smooth as butter, there are 100+ pre-configured templates that you just need to fill up to go up and running. If you need more, there is always the scope to create custom templates for any channels you want.
If you get stuck at creating custom templates for any marketplace in the world, CTX feed offers support for you.
This product feed generator plugin for WooCommerce supports any WooCommerce product types product feed file types.
Key Features
Create and manage feed for the entire product catalog of WooCommerce.
Create unlimited feeds with selected products
100+ readymade feed templates
Easy feed setup
Create product feed in xml, csv tsv, xls, txt, and json file format type
Supports feed creation for any WooCommerce product types
Custom templates for any marketplaces in the world
Category mapping and attribute mapping
Dynamic attribute
Table rate shipping
Custom attribute
Smart filter and condition
Make product data feed in batches
Auto-feed update on the given interval time
Create multilingual product feeds
Create feeds that support multi-currency
Multi-vendor feed creation, and more.
Price
CTX Feed – WooCommerce Product Feed Generator plugin has both free and premium versions. You can download the free version on WordPress.org and buy the pro version from the official website.
CTX feed offers yearly and lifetime pro licenses with 30-days money-back guarantee. The yearly pricing starts at $119, while the lifetime license starts at $676.
Multichannel for WooCommerce: Google, Amazon, eBay & Walmart Integration (Trial/Premium)
Brought to you by Codisto, Multichannel for WooCommerce: Google, Amazon, eBay & Walmart Integration is another WooCommerce Amazon plugin. This plugin is sold on the official WooCommerce store and is open for a 14-days trial.
Leveraging the advanced functionality of this plugin, you can easily create, sync, and manage your products on Amazon from WooCommerce.
This plugin will help you create plus optimize the Amazon listings from WooCommerce. You will be able to sync the inventory, orders, price, and product details between WooCommerce and Amazon in real-time.
However, as this is one of the multichannel selling tools, it does not only integrate Amazon to WooCommerce, it offers Google, eBay, and Walmart integration to WooCommerce as well.
Therefore, if you are looking for an ideal multichannel plugin for WooCommerce, this is the plugin you need.
Read More: 10+ Free and Pro Multichannel Selling Plugins
Key Features
In-built currency control for Amazon and other sales channels like Walmart and eBay
Create new Amazon and other sales channels listings in bulk
Link existing Amazon and other sales channels listings in bulk
All WooCommerce store currencies support
Supports channel-specific titles, descriptions, product details, and price.
Price
Multichannel for WooCommerce: Google, Amazon, eBay & Walmart Integration is free to download with a 14-days trial period. Once the trial period ends, you have to go for paid subscription.
The starter pack of this Amazon WooCommerce plugin covers up to 50 orders for $29/month, growth pack up to 250 orders for $59/month, pro pack up to 500 orders for $99/month, power pack up to 1500 orders for $249/month, and elite pack up to 3000 orders for $499/month.
WooCommerce Amazon Fulfillment (Premium)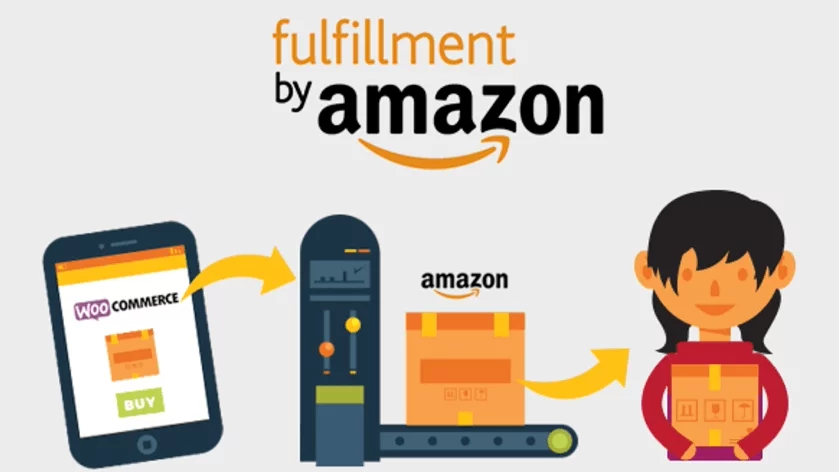 WooCommerce Amazon Fulfillment is a WooCommerce extension by Never Settle.
This extension will help you connect your WooCommerce store to Amazon's Fulfillment by Amazon (FBA) service.
With this extension installed and configured properly on your WordPress website, you can remain hassle-free for Amazon will do the picking, packing, shipping, and package tracking of all your orders on your behalf.
And you know what?
This fulfillment functionality will enable you to budget more of your time on product marketing and selling.
The integration this plugin offers between a WooCommerce store and Amazon is pretty fast and simple. You will find a variety of options to auto-pilot things to save as much time as you can.
To keep track of the order shipping, you will receive email notifications when a shipment is created and an order is shipped. On top of that, you'll also get notified of failed shipping.
When it comes to setting the product fulfillment mode, you can either turn the FBA mode on/off from the products list or the individual product settings.
This plugin also will let you check the FBA order statuses from within WooCommerce.
Furthermore, you can ensure the Amazon shipping speed modes (standard, priority, and expedited) to your customers.
To prevent overselling, automatic sync will be there.
One big benefit of this plugin is that it is compatible with all Amazon regions (North America, Europe, Far East, China) worldwide.
So, it will not be much of a difference if you sell domestically or internationally. This plugin will get connected swiftly to any single region and marketplace in Amazon.
Key Features
Track FBA order statuses directly from WooCommerce
Advanced notifications via Email
Offer mixed orders (FBA and non-FBA) and still partially fulfilled by Amazon
Send orders to FBA manually
Track shipping and tracking info from customers' View Order page
Sync stock levels automatically across platforms
Map the WooCommerce shipping options to the shipping speed categories of Amazon
Price
WooCommerce Amazon Fulfillment does not have any free version. You can buy this plugin from the official WooCommerce store. This plugin will cost you $129/year in which you'll get 1-year of extension updates and support.
Amazon Product Importer & Affiliate (Premium)
Amazon Product Importer & Affiliate plugin lets you instantly import any product to your WooCommerce store from the Amazon marketplace.
If you don't want to go through all the hassles of product import-export between Amazon and WooCommerce, this one-click plugin is all you need to have.
After importing your Amazon products to WooCommerce, you have all the liberty to decide whether you will sell the imported product as yours or as an affiliate seller with Amazon affiliate links.
This extension will help you update or add new product information from Amazon products using product IDs.
When it comes to importing data, there is a wide range of options available for you. You can import data by name, SKU, price, brand, categories, features, customer reviews, variations, images, and more.
No matter which country version of Amazon you're using, this extension works seamlessly with all of the Amazon country variations including Amazon.com, Amazon.sg, Amazon.co.uk, Amazon.pl, Amazon.se, Amazon.nl, Amazon.com.mx, Amazon.com.au, Amazon.ca, Amazon.fr, Amazon.cn, etc.
However, this plugin requires you to install this Chrome extension.
Key Features
Easy to use and import products from Amazon
Manage imported products at the time of importing with additional advanced options
A lot of available data options to import
Offers Chrome extension for free
Secure import by credentials
Import products as simple, variable, and affiliate.
Price
Amazon Product Importer & Affiliate by Nxtal costs $79/year. Once you buy this plugin, you'll get 1-year updates and support.

Frequently Asked Questions (FAQs)
Why should I integrate my WooCommerce site with the Amazon marketplace?

There are a few reasons why you might want to integrate your WooCommerce site with Amazon Marketplace.

First, Amazon is a hugely popular eCommerce platform with a massive customer base. Integrating your WooCommerce store with Amazon can give you access to millions of potential new customers.

Second, Amazon is a trusted brand with a reputation for reliability and quality. Integrating your store with Amazon can help boost your brand's reputation and increase trust among potential customers.

Finally, Amazon offers a wide range of features and services that can help you run your eCommerce business more effectively. Integrating your store with Amazon can give you access to these features and allow you to take advantage of Amazon's powerful eCommerce platform.

How do I integrate WooCommerce with Amazon?

There are a few different ways to integrate WooCommerce with Amazon. The top three of them are: i) Using Amazon's logistics, ii) Enlisting your products on Amazon, and iii) Doing affiliate with your Amazon seller account from seller central. You can use plugins to automate the process of integrating WooCommerce with Amazon.
Can WooCommerce connect to Amazon?

Yes, WooCommerce can connect to Amazon. There is no direct connection between WooCommerce and Amazon, but there are a few ways to connect the two.

One way is to use the Amazon Associates program, which allows you to create links to Amazon products and earn a commission on sales.

There are also plugins available that allow you to connect WooCommerce to Amazon.

What are the benefits of integrating WooCommerce with Amazon?

Integrating WooCommerce with Amazon can provide several benefits, including:

Increased exposure for your products – When someone searches for a product on Amazon, they may see your product listed as a result.

Increased sales – Amazon is a popular shopping destination, and integrating WooCommerce with Amazon can help you reach more customers.

Easier order management – Amazon provides order management tools that can help you track orders and fulfill them quickly.

Improved customer service – Amazon offers customer service features that can help you provide better service to your customers.
How do I import Amazon products into WooCommerce?

The easiest way to import your Amazon products into WooCommerce is to use a plugin available on the WooCommerce official store. The name of the plugin is Amazon Product Importer & Affiliate.

Amazon Product Importer & Affiliate plugin will let you import any or all of your Amazon products into your WooCommerce store reportedly in just one click.

Does Amazon integrate with WordPress?

There is no Amazon integration with WordPress that is officially supported by Amazon. However, many third-party plugins and services offer this functionality.
How do I link WordPress to Amazon?

There is no one-size-fits-all answer to this question, as the way you link WordPress to Amazon will depend on the specific plugins and tools you use. Still, here are a few tips on how to get started:

1. Look for plugins that allow you to create product links and add affiliate codes.
2. Connect your Amazon account to your WordPress site.
3. Use the plugins to create product links and add Amazon affiliate links or codes to your posts and pages.
4. Monitor your sales and earnings reports to see how your links are performing.

Start Connecting your WooCommerce Store to Amazon
Congratulations! You are just 1-step away from connecting your WooCommerce store to Amazon.
Yes, it's time to get started. We hope that this guide was immensely helpful for you to have a crystal clear idea about exactly why and how you can extend your WooCommerce shop into the Amazon marketplace.
All that's left now is to follow the guide and get to work expecting something remarkable.
Good wishes for your future endeavors.
Stay connected to the WebAppick blog to get more WooCommerce guides and tutorials.

You May Also Read