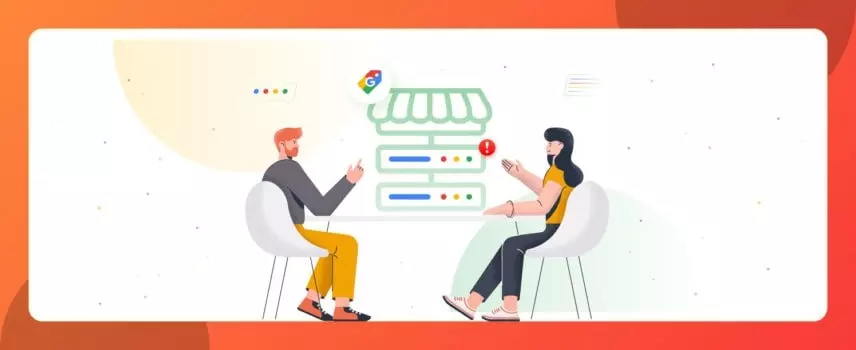 The Importance of Google Shopping Data Feed You Must Know
Google Shopping Ads boosted eCommerce marketing to a whole new level. People execute over 3.5 billion searches in Google, where 46% of the queries are products. Google Shopping Ads promote products at the top of the search result pages.
eCommerce store owners must learn how to create Google Shopping Ads in order to be successful. The core of Google Shopping and Shopping Ads is the Google Shopping Data Feed.
Google shopping data feed contains all the product information of your online store. It is the pillar of every Google shopping campaign that generates sales. So, optimizing your shopping campaign ultimately leads to improving your data feed.
This article will let you know the Importance of the Google Shopping data feed that you must know. The learning outcome will enhance your eCommerce business journey to success.
What is Google Shopping Data Feed
You may be wondering, "What is Google Shopping Data Feed?" before continuing. According to Google's functionality, the Google Shopping Data feed contains product information.
You can transfer your store's product information to the Google Merchant Center. First, create a feed file with all of your product information that complies with Google's standards. Then, to create ads, upload the data feed file to Google Merchant Center.
You must manage and optimize the data feed in order to execute a successful Google Shopping campaign.
It enables you to run shopping advertising as well as promote your products across Google's various platforms. The Google Shopping data feed is crucial to the success of your Google shopping campaigns.
You must understand the Google Data feed requirements in order to function with Google Shopping Ads. Each product in a Google shopping ad must have several essential data properties –
ID: Unique identifier of your products
Title: Your product's name
Description: Your product details
Link: Redirects to your product's landing page
Image Link: Your product's main image link
Availability: Indicates your product's availability.
Price: Product's price according to your landing page
These are the mandatory product information, but there are more product attributes. Using other product attribute depends on your product type, variation, and other aspects. You can upload this information via XML, .txt, or Google Spreadsheets file.
Benefits of Google Shopping Data Feed
As we've mentioned earlier, Google uses the data feed to create and show google shopping ads. The benefits of data feed (product feed) are countless for eCommerce business owners. So let's learn the importance of the Google Shopping data feed that retailers should know.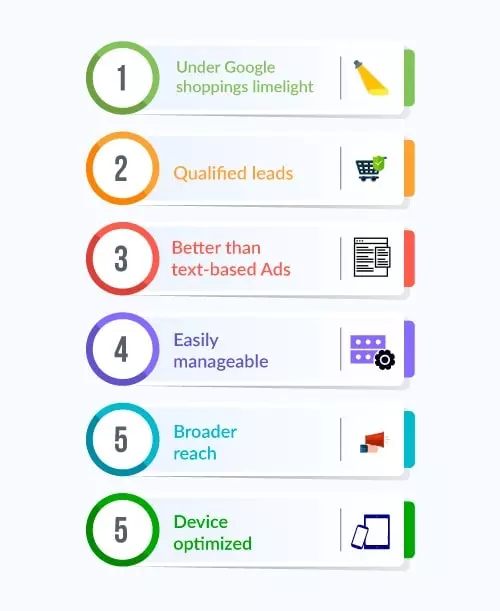 Putting products under google shoppings limelight
You may be running a small business or already a renowned brand in the market. But your priority is always keeping your products on the top of search engine result pages (SERP). It helps you bring more consumers to your online store who purchases your products.
Your products will appear on Google search results and in Google shopping Ads format. Google matches the information on the google shopping data feed and the user's search query.
Google Shopping Ads can display your products above the organic search results. As a result, it expands your product and brand's online appearance.
Shopping Ads perfectly match prospective customers based on the shopper's keywords. This means Google displays your products to the users who are interested in what you offer. As a result, your store, products, and brands are always under Google's spotlight.
Getting better-qualified leads
Shopping ads increase the quality of your leads with google shopping data feed. A shopper's buying intention increases when served with relevant product information.
Google shopping ads are visually appealing and full of product information. As a result, visitors land on your product page to finalize the purchase process. The click-through rate of Google shopping ads is always higher than text-based ads.
Shopping Ads display a product's name, image, brand name, reviews, etc. If a shopper is not familiar with your brand, there is other information to rely on.
Customers get enough information about your product via Google Shopping Ads. As a result, they are already familiar with your product before even entering your web store.
The customer gets redirected to your product page by clicking the ads. Since they are already familiar with your products, they won't bounce.
Since the user is going throw the purchase process, you can engage them in exploring your store. To get repeat customers, include attractive design, forms, offer boxes, and attractive methods.
Google Shopping Ads Outsmarts the Text-based Ads
Retailers are investing more in Google Shopping Ads compared to text-based ads. This is because attractive Google shopping ads crate increased purchase intent. As a result, the conversion rate of these ads is higher compared to text-based ads.
Statistics show, ad spending has increased by 38% on google shopping ads and decreased by 12% on search ads. Even for non-branded keywords, shopping ads are generating 12% increased revenue per click.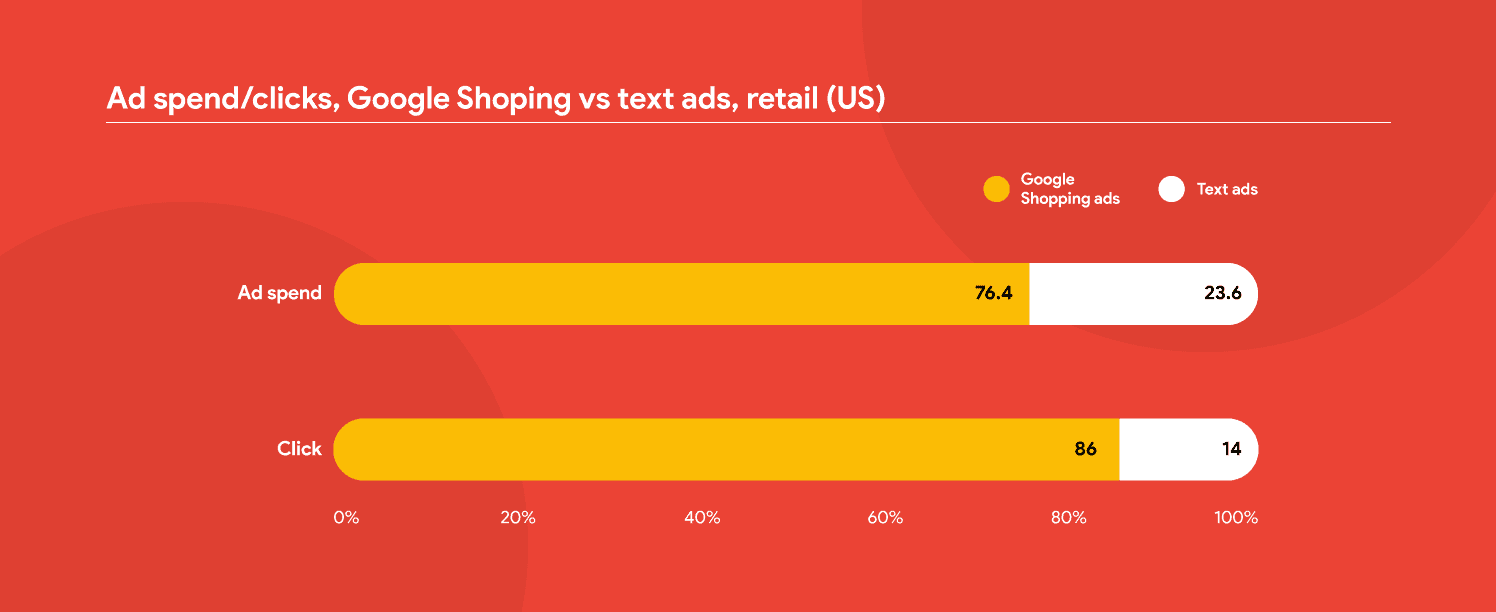 Google Shopping Ads generate 76.4% of retail search ad spend in the USA. It also receives 86% of all clicks, which brings a massive opportunity for the retailers.
The picture is even bigger in the UK, where 82% of ad spend drives 87% of clicks from shopping Ads.
Every retailer expects better ROI, especially in the case of marketing and advertising. The result of the return on investment (ROI) is uncertain.
Google Shopping Ads always comes up with a higher return on investment. The reason is simple; every advertising cost focuses on the right customer. If a shopper is not searching for a product on Google, your ads won't show up.
You might be thinking, why do shopping ads perform better? The reason is –
Google displays enough product information at the beginning of a customer's journey. Shoppers are getting enough product information even before navigating to your store. This is why potential customers are buying right after clicking the ads.
For higher conversion rates and targeting, Google Shopping ads outsmart text-based Ads. The format of the shopping ads relies on Google's shopping data feed. Thus product feed carries huge importance while creating effective shopping ads.
Google shopping is easily manageable
While running text ads, advertisers have to choose and bid on keywords for targeting. But, Google Shopping Ads are easier to manage and do not focus on keywords. Instead, Google focuses on the keywords based on your google shopping data feed.
CTX Feed – Manage your Google Shopping Ads with Comfort
You simply need to transfer and set up your Google Shopping data feed in the Google Merchant Center. Pulling product data to Google Merchant center is easier when you are using a tool. For example, the CTX Feed plugin can transfer your product data to Google Merchant Center.

CTX Feed plugin collects all your WooCommerce product data in a structured way. From the template section, users can select Google Shopping and generate a data feed file. Later, you can transfer the feed file to the Google Merchant center to create Google Shopping Ads.
The plugin automatically updates the product information according to your website. As a result, your google shopping ads are always updated with accurate information.
Create an optimized, and error-prone google shopping data feed with CTX Feed. The plugin includes amazing features to manage your product feed for multiple channels.
You can craft your data feed strategically to get better output from Google shopping ads. Google does the whole process of matching related search queries to your products.
Google shopping campaign
Setting up a google shopping campaign is relatively easy for the retailers. You don't need to invest your time in finding keywords or texts for your ads. Your Google Shopping data feed is the key to shopping ads.

First of all, you need an account in Google Merchant Center. Secondly, you need to transfer your product data to the Merchant Center. You don't need to transfer all your product data manually if using a tool like CTX Feed.
In google merchant center, you can categorize your campaign based on priority. Google can show prioritized outputs such as most searched products.
Broader reach with google shopping ads
Google Shopping Ads may appear multiple times for a single search query. For example, the following search query represents the same product with different variations.

Researching keywords and comparing them to Adwords is essential for shopping ads. Though it is not mandatory, you need to find the best keywords for google shopping by yourself.
Google selects the keywords to show your products according to a search query. Products show up even if you haven't guessed the keyword.
Google's search algorithm has become smarter about selecting and applying synonyms. It does not require an exact match with a given search term. The search criteria and the process has become simple.
If you search for "Goggles," the search result will show different products with the "Goggles." You will also get "Protection Glass" and "Sunglass" as a suggestion.
You need to bid on the keywords separately in text-based ads. In google shopping, you don't need to bid on keywords. All you need is a google product data feed with optimized and accurate product info.
As we've mentioned before, with CTX Feed, you can customize your product information easily. You can make some crucial changes in all your product information at once. It will make your data search specific and user-friendly.
Device optimized product representation
Mobile device user has taken over the desktop users, and the number is still increasing. More than 60% of Google searches are done via mobile devices.
Having well-performing google shopping ads is not an easy task. But, Google shopping has made this task easier. Well-optimized google shopping data feed always gets more priority from Google.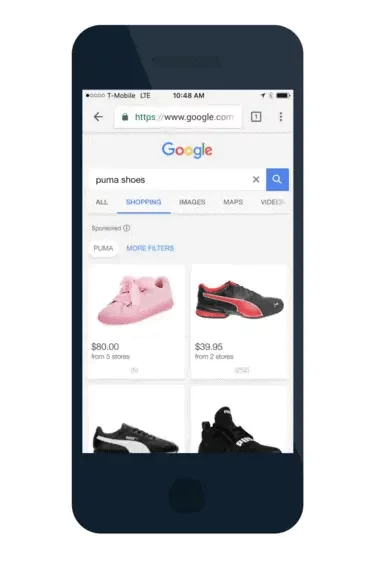 On mobile devices, google displays only two text-based search results. So, getting a place in the top two positions is quite complex. Shoppers may overlook the search result shown in a lower position.
However, Google Shopping ads appear in a carousel within the first 15 Ads. Your products always have a better chance of placement. Furthermore, Google always displays shopping ads on mobile devices to the users of the shopping tab.
Conclusion
Small businesses, as well as business giants, are investing more in Google Shopping Ads. Thus, the importance of google shopping data feed is increasing massively.
To compete in the marketplace, you should revamp your efforts in marketing via product feed. It is the most prominent way to represent your product information on Google. Once you are ready with your optimized data feed, Google will do the rest of the promotional activities.
We hope that you have learned enough about the importance of the Google Shopping Data feed. Now it's your turn to run a successful google shopping campaign by utilizing the data feed.