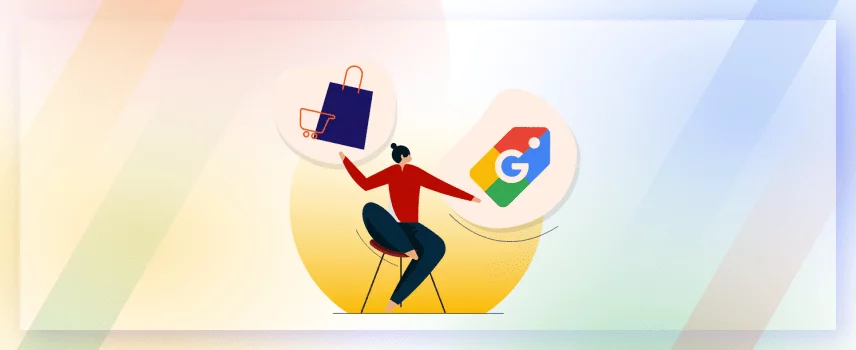 How to export WooCommerce Product Feed To Google Shopping
WooCommerce store owners are always looking for different conventions to market their products. Currently, One of the most preferred and popular channels for marketing is Google Shopping ads. Google comes with proper product representation with vital details of a product and relevant search queries.
The search result comes with appealing and adequate information about a product. These Google shopping ads enhance and convert users effectively. An ideal product feed is an essential aspect of marketing through Google shopping.
In this article, we will guide you on how to export WooCommerce product feed to Google Shopping.
What is Google Merchant Center?
Google Merchant center is the hub of google shopping, where all the product information and the shop are managed. In this platform, WooCommerce store owners can maintain, optimize and nurture their product information.
Google allows its user to link the product data on Google Merchant Center to create Ads. With Google Merchant Center, WooCommerce store owners have better control over their marketing effort.
Google merchant center account is required to provide WooCommerce product information to Google. Google uses the provided product information to show ads and represent search results. So, there are countless benefits for WooCommerce store owners via Google Shopping.
Benefits of Google Merchant Center
With a Google Merchant center account, WooCommerce store owners can attain several benefits. You must know about these benefits to utilize the full potential of Google Shopping.
Show WooCommerce Products on Google Shopping ads
First and foremost, you need to create ads to promote your products on Google. With Google Merchant Center, you will be able to make your products available on Google Shopping Ads. These ads are not similar to the text ads of Google.
To showcase WooCommerce products on Google Ads, you have to create a feed of your WooCommerce products. The product feed should be created in a specific file format and uploaded to the Google Merchant Center. Then you just have to link the Google Merchant Center account with Google ads and place bids.
Google represents the search result and the ads based on the relevance of your product feed. Ultimately, your products and store get more visibility via Google shopping by getting more customers.
Google service Integrations
Google Merchant Center is one of the best marketing platforms out there. It makes your product information readily available for services like Google Ads. Google Analytics will provide you precise insights about your business to make proper marketing approaches.
Product Review linking
Product reviews are also included in a product feed that you provide on Google Merchant Center. Users will be able to get a better idea about your products via google ads with reviews.
Product reviews are essential to convert a user into a customer by creating buying intention. Make the review process automated to get regular feedback from the customers.
Featuring local products
WooCommerce store owners with a physical location of the store can also create a product feed. Obviously, the feed for Google Local inventory Ads will include all the local product information. Products available at your local store location can also be promoted with this option.
Shopping actions
Users from the US and France can make a purchase directly from Google Shopping by using specific devices. WooCommerce store owners can submit the Merchant Center Feed on Shopping Actions. Information provided by the WooCommerce store owners should be relevant to their store.
Remarketing and Promotions
WooCommerce store owners can quickly increase their conversion rate by displaying deals and offers. There is an option called Merchant Center Promotion that helps to display the discounts related to the products.
The remarketing strategies of Google are beneficial because it increases the conversion rate. Customer loyalty also increases for WooCommerce business that is vital for business growth.
Linking WooCommerce store products to Google Merchant Center
Google Shopping ads do not depend on the keywords targeted by a store owner. It displays the products based on relevant search queries. This is why you need to make sure that your product feed is relevant and updated as well.
Google has its requirements about product information organization in a product feed. The strict guideline of Google ensures that it understands your product information.
The first step is to create a product feed to promote your products through Google Merchant Center. You can create a product feed manually by utilizing Google Sheets. Well, the Google sheets template is available in the Google Merchant Center.
You can also use WooCommerce plugins to upload a product feed on Google Merchant Center. We will discuss the second method of creating a product feed using the second option. Using a plugin to create a product feed is much easier and time-saving.
Linking Google Merchant Centre with Google Ads
Sign Up
Creating an account on Google Merchant center is simple. You just have to go to Google Merchant center and sign up to create your account. You can sign up using your previous google account or open a new account.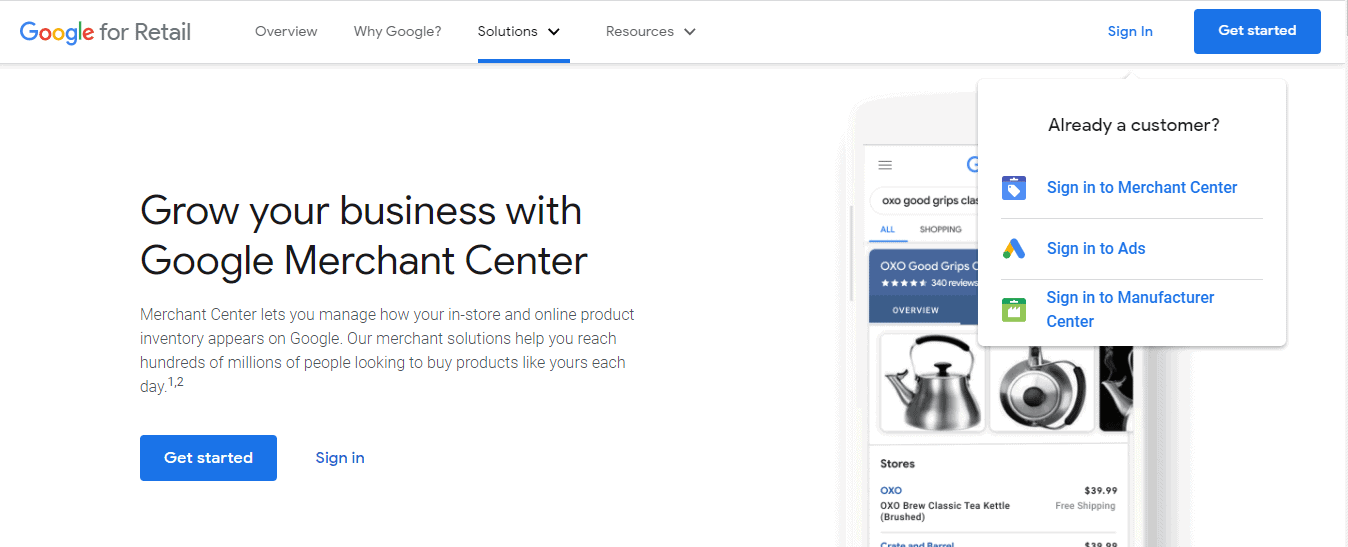 Google provides an automated tutorial on Google Merchant center, which you can follow to proceed further. Follow the guide provided by google and proceed with the steps.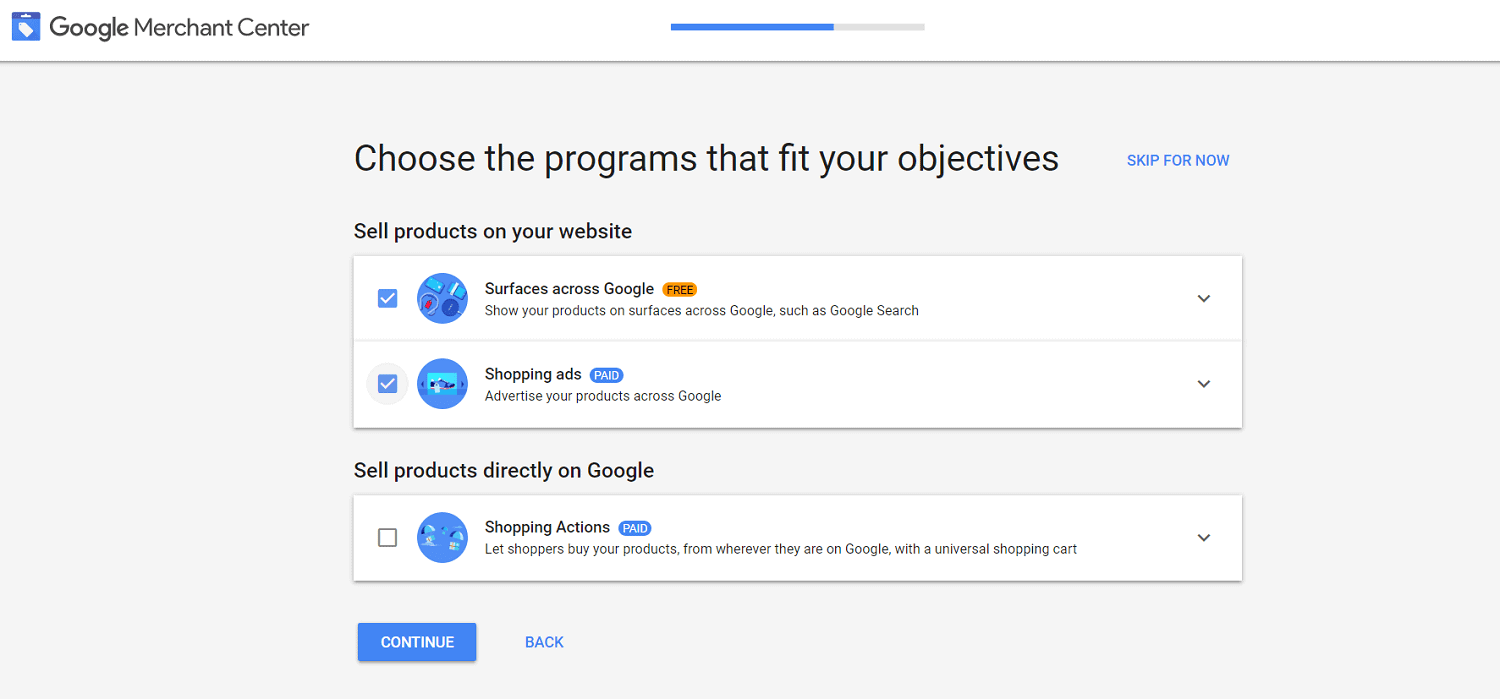 Tax and Shipping Info
In the next step, you have to fill in the tax and shipping information. Enter your WooCommerce store's tax and shipping information as you are linking.
Read More: Automate your Sales Tax Calculations with these 5 WooCommerce Tax Plugins
Adding tax and shipping information is crucial but do not be overwhelmed. This information should be set up according to your country of sales.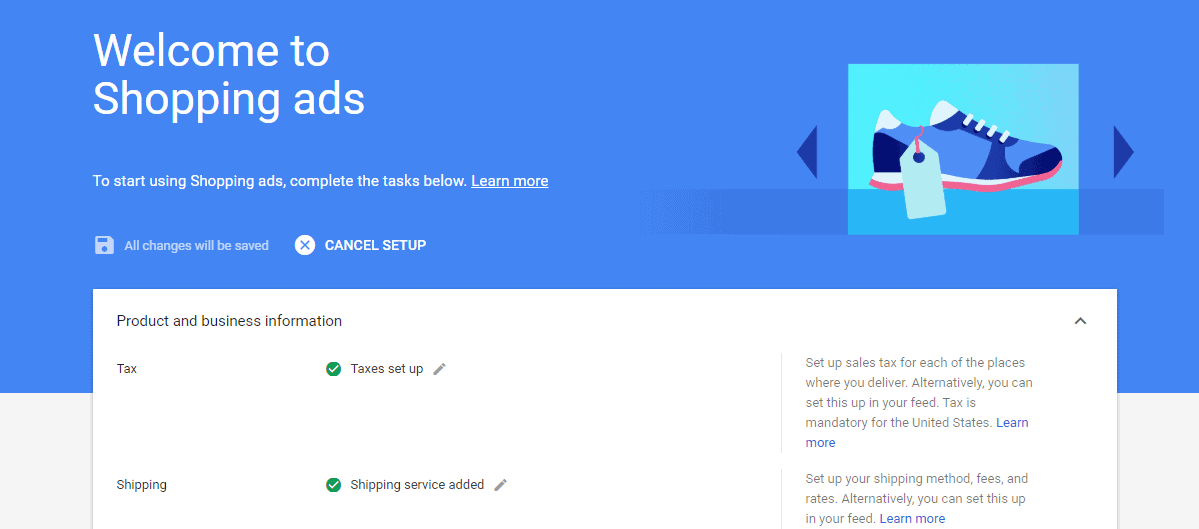 Link Google Ads Account
To proceed further, you have to link the Google ads account, which is a simple step. Scroll down to get the "Link Your Account" option and click it.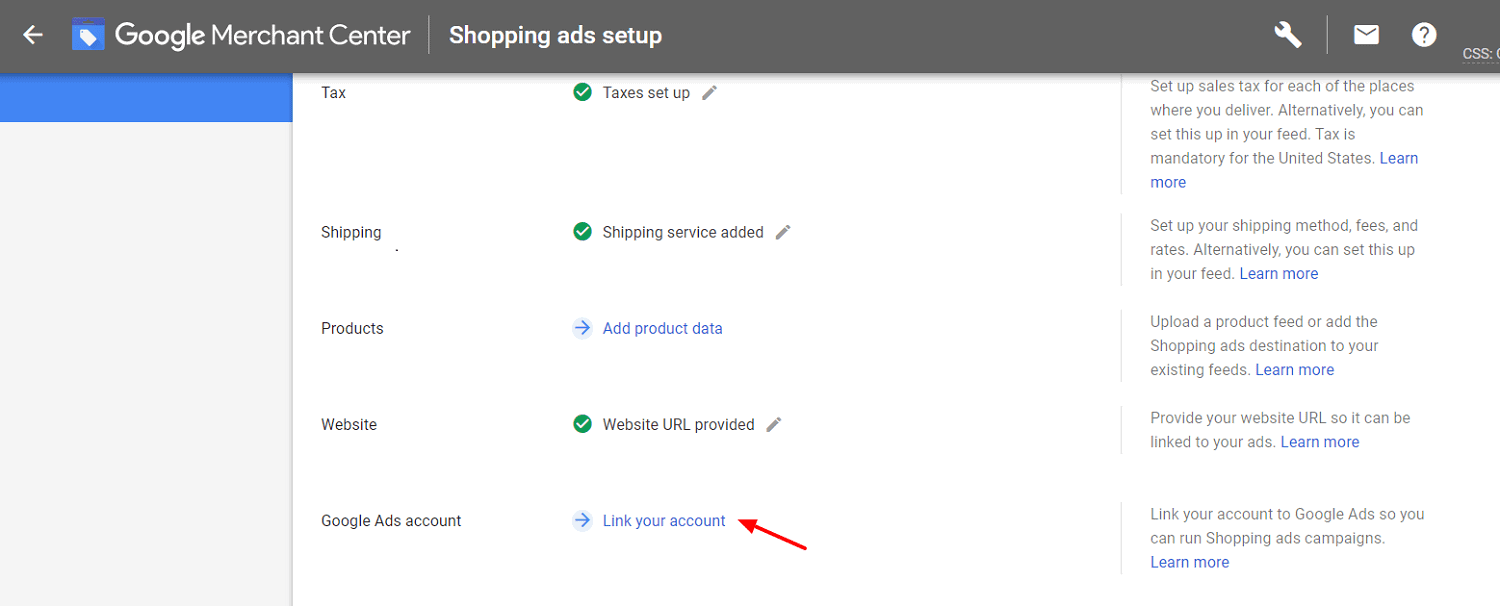 Now use the email address which you used earlier to link your Google Ads account. Followed by, confirm the link that will be prompted. It may require you to log in to your Google Merchant Center account again and proceed further.

Connecting the Feed
Awesome! Now you have to connect the product feed to Google Merchant Center. There are several methods of uploading a product feed. We are focusing on the upload method via the CTX Feed plugin from WooCommerce to Google Merchant Center.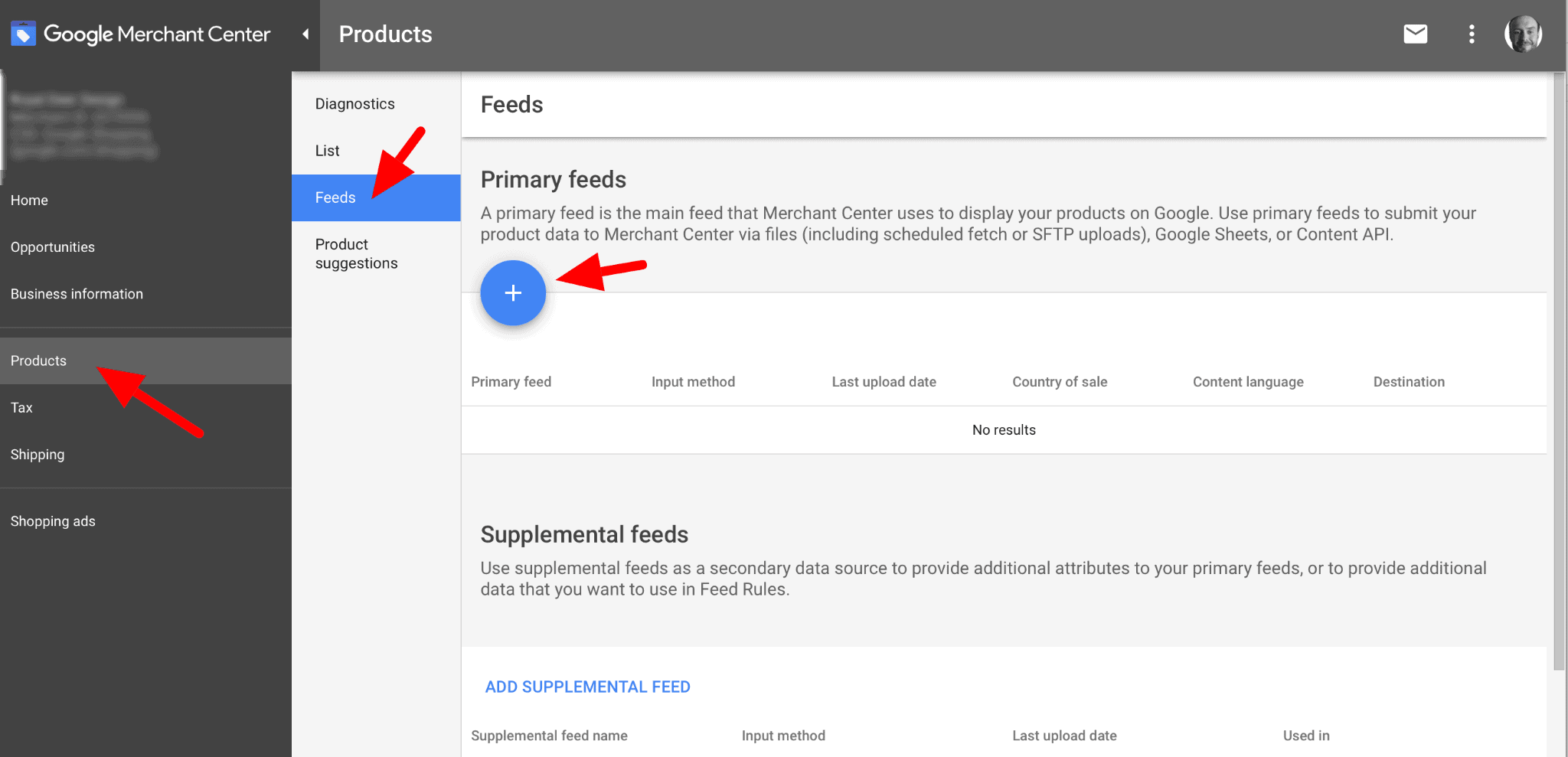 First of all, click on the "Products" option on the left menu of the Google Merchant Center. Now click the "Feed" option and upload the feed file generated by the CTX Feed plugin.
CTX Feed plugin can generate a feed file in a format that Google Understands. It is the recommended option for WooCommerce store owners. Why? Well, it is the easiest way of uploading product feed on Google Merchant Center.
CTX Feed – Export WooCommerce product feed to Google Shopping easily.

CTX Feed is one of the best WooCommerce Product Feed Generation plugins out there. This fantastic plugin is capable of creating a product feed fully optimized for Google Shopping. There is a built-in template for Google Shopping readily available in this plugin.
The Google Shopping template of this plugin includes the product attributes that meet Google's requirements. Your effort gets minimized because there is no need to create a product feed manually. Moreover, the product feed file comes with the file format of the Google Merchant platform.
Installing CTX Feed
After logging in to your WordPress dashboard, go to the "Plugin" section and then click "Add New." In the search box, write "CTX Feed." Now click the "Install Now" button as mentioned in the above image. After installing the plugin, activate the plugin to proceed to the next step.

Navigating CTX Feed
Now, on the WordPress dashboard, you will see the CTX Feed on the left-hand menu. Click on "CTX Feed" and select the "Create Feed" option. In the "Content Settings" area, you will have to select some options to create the feed.
Select the country from where you are running your WooCommerce business. From the dropdown menu, select Google Shopping template. Name your feed by selecting the "File Name" option. Select a file format of your feed from the "Feed Type" option.

Selecting Template to Create a Product Feed
Right after selecting the Google Shopping template, the necessary product attribute will be created below. Now, you can customize the product attributes according to your preference. Finally, click the "Update and generate Feed" to create a feed file for Google Merchant Center.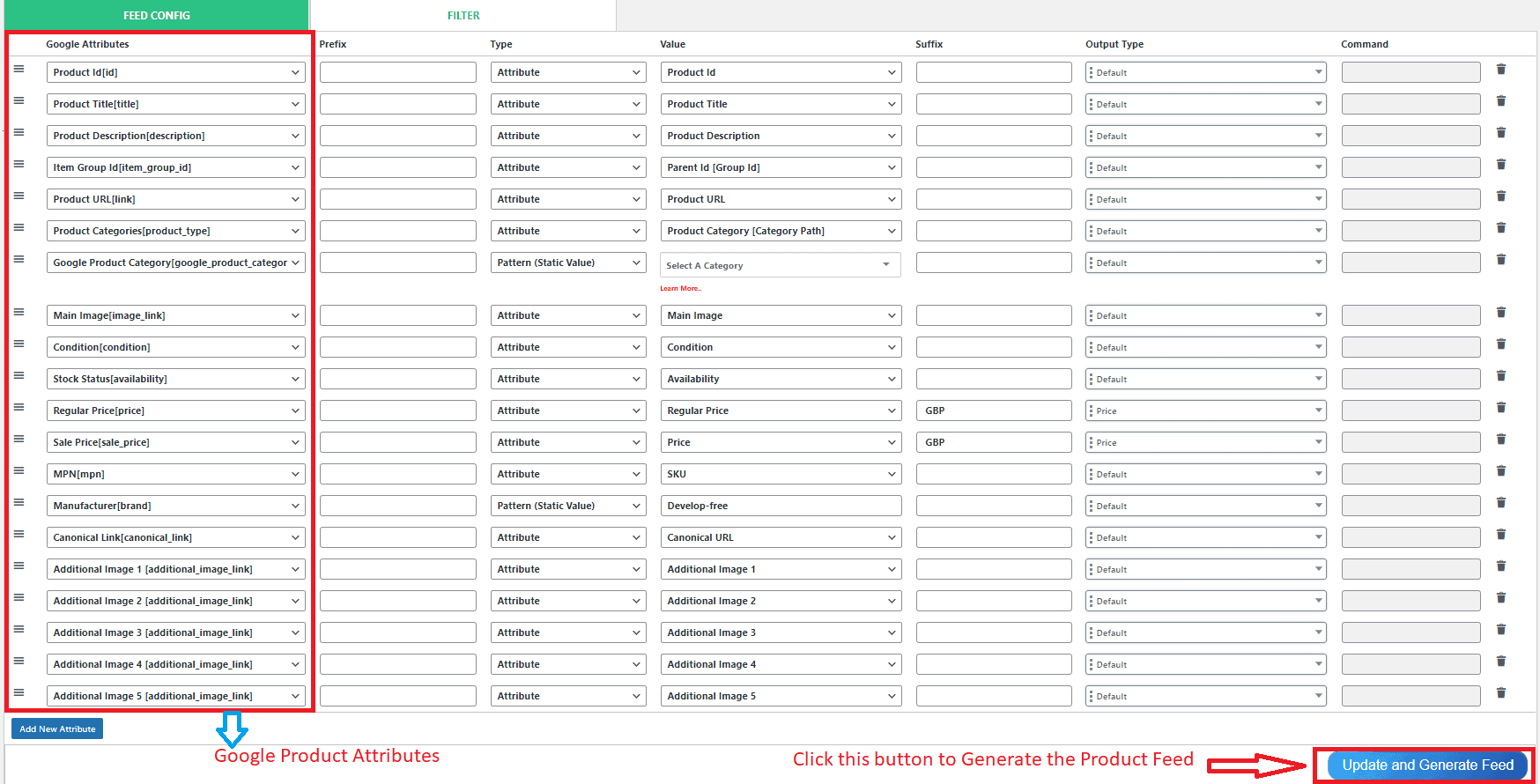 Managing The Product Feed
Now get back to the WordPress dashboard and click the "Manage Feed" option. In this section, you will get the feed you have created earlier for Google Merchant Center. You will see there is a link to your created product feed.
You can update the product information on your WooCommerce website and simply update the feed file. It will update the product feed file and the feed information on Google Merchant Center as well.

Uploading The Feed
Now go back to Google Merchant Center and click the "Products" section. There are two methods of adding products to Google Merchant Center. Focus on the Upload multiple products methods and click "See all methods."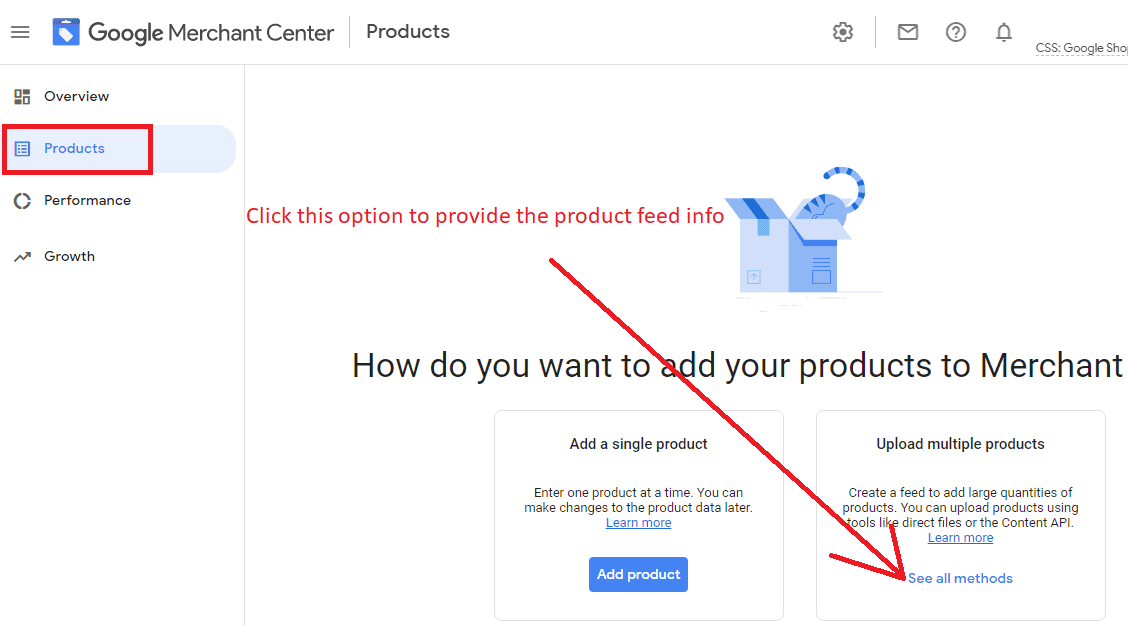 After clicking "See all methods," you will be redirected to the New Primary Feed page. On this page, you will have to provide information such as the country of sales and language. After filling in the information, click "Continue" to proceed to the next step.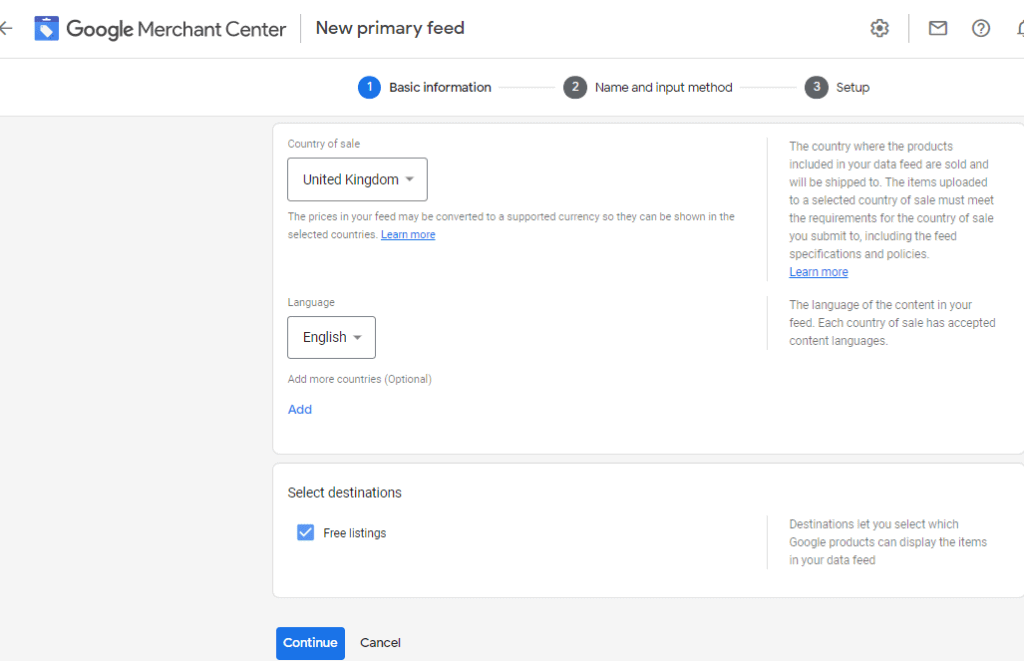 In this step, you have to provide a feed name and then select the scheduled feed option. Click "Continue" to proceed further. The scheduled feed option has the privilege to update the feed automatically. All you need to do is update your product information and then update the feed on the plugin.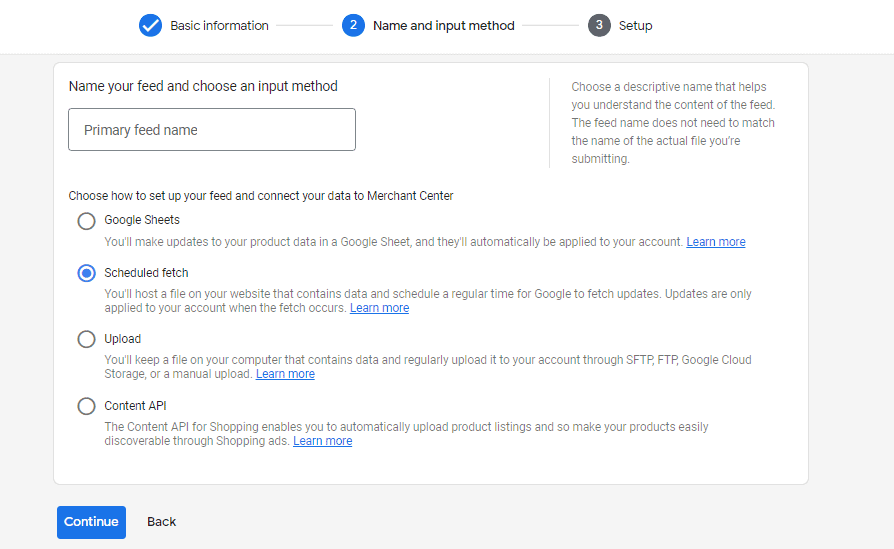 Providing More info
In this step, you have to provide several crucial pieces of information before providing the feed URL. First of all, you have to provide the feed file name that was created earlier. Select the fetch frequency according to your preference.
Select the time zone of your WooCommerce business and provide the feed URL. If your Feed URL is password-protected, you have to provide the username and password. Click "Continue" to create the feed for Google Merchant Center.
Easy right? You have successfully exported your WooCommerce Product Feed to Google Merchant. Now you can create Google Ads from the provided product information. You can also create Google Shop via product information given in the Merchant Center.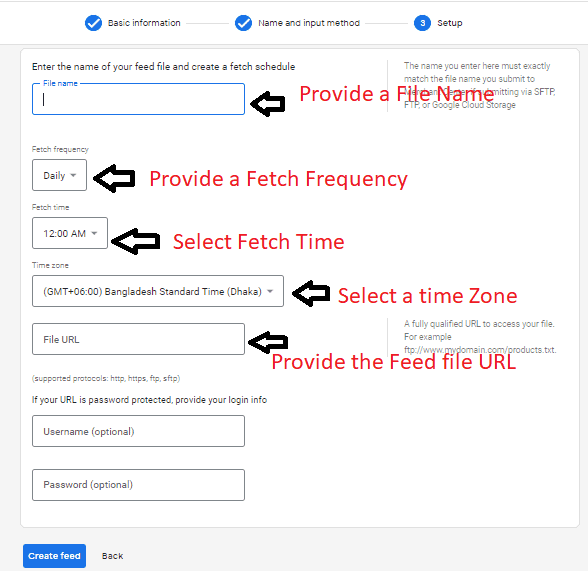 You can learn more about the plugin and create product feeds optimized for Google Merchant Center. Install this amazing WooCommerce product Feed plugin and enjoy your Google Shopping journey right away.
Conclusion
WooCommerce is a popular platform to enhance your eCommerce business to a new level. Connecting the WooCommerce store with Google Merchant opens a colossal doorway for your business to flourish. Google Shopping makes it easier for the customers to get your WooCommerce products.
A product feed is a key to unlock the necessary option to market your products via Google Shopping. Follow this exclusive guide to easily link your WooCommerce product feed to Google Shopping. Your product visibility and sales will increase by adding the WooCommerce product Feed on Google Merchant Center.