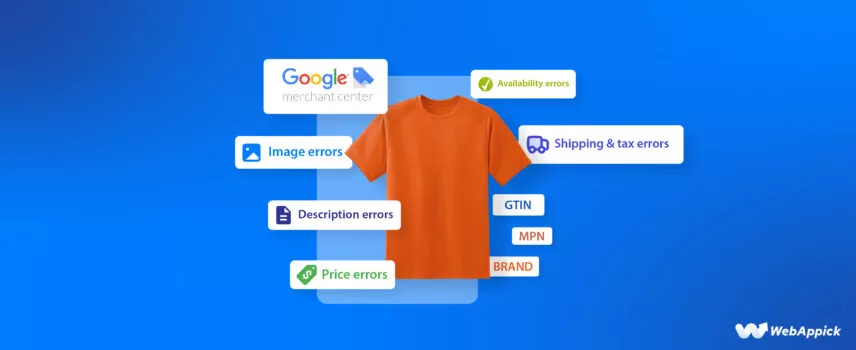 How To Fix Common Google Merchant Center Errors?
Who wouldn't want to appear at the top of Google platforms, particularly on their flagship search engine result pages (SERP)?
And Google is the number one place when you are an eCommerce store or promoting products online.
Google Shopping product ads are the number one product advertisement medium, driving over 76% of search ad spend for the eCommerce industry. Overall, Google platforms are the best places to promote your eCommerce/WooCommerce products for a long-lasting impact.
When you list and promote your products on Google, the search engine displays your products across its display networks and partnered sites. This means you are reaching out to an enormous audience.
The greatest news is that Google even lets you display your products across its multiple platforms for absolutely free. All you need to do is upload your product data feed, and Google will take care of the rest.
Let's take a look at where Google displays your product's free listings and paid ads.
Google search results (SERP)
Google Popular products on SERP
Google Rich results on SERP
Knowledge panel on SERP
Google Shopping
Google Images
Google Maps
Gmail ads
YouTube
Google Lens
Google News
Google Finance
Blogger
Mobile apps
Millions of Google partner sites
Basically, Google will display your products all over the internet on relevant searches.
But how do you list your products on Google?
There's one platform that handles the entire product management process – Google Merchant Center. However, if you don't follow the guidelines and don't submit your product data correctly, Google may reject your entry.
In this article, we will discuss the most common Google Merchant Center errors and mistakes. But before that, let's discuss Google Merchant Center and the product listing process.
What is Google Merchant Center?
Google Merchant Center is a free platform that allows you to upload product information and manage product listings across Google Shopping, Google Search, and other Google properties. It's a crucial tool for eCommerce businesses that want to increase their visibility and reach a wider audience of potential customers.
Key features of Google Merchant Center
Product feed management: Upload and maintain product data, including titles, descriptions, images, prices, and inventory levels.
Product listing optimization: Enhance product listings with rich snippets, promotions, and category assignments to improve visibility.
Performance tracking: Analyze product performance metrics, such as clicks, impressions, and conversion rates, to optimize your campaigns.
Google Shopping integration: Seamlessly connect your product feed to Google Shopping for targeted product listings.
Google search integration: Enrich product listings in Google Search with product information and images.
Google Maps integration: Display product information and store locations on Google Maps.
Partner platforms: Distribute product information to other partner websites and apps that participate in Google's Shopping program.
Benefits of using Google Merchant Center
Increased Visibility: Reach a wider audience of potential customers across Google's vast network of properties.
Improved Search Rankings: Enhance your product listings' relevance and search engine rankings.
Targeted Advertising: Create more effective Google Shopping ads based on accurate product data.
Performance Insights: Gain valuable insights into product performance and customer behavior.
Effortless Management: Manage product listings from a centralized platform.
Who should use Google Merchant Center
eCommerce businesses of all sizes, from small startups to established enterprises, can benefit from using Google Merchant Center. It's essential for businesses that want to:
Sell products online through Google Shopping and other channels.
Increase product visibility and organic traffic to their website.
Drive targeted traffic and sales through Google Shopping ads.
Gain valuable insights into product performance and customer behavior.
Manage product listings across multiple platforms from a single dashboard.
Let's have a look at the three types of flags in Google Merchant:
Errors: The most severe merchant center flags are errors. They usually indicate account suspension or item disapproval. Products will be prevented from appearing in Google Shopping searches due to mistakes.
Warnings: Due to warnings, there won't be issues like item disapproval or account suspension. However, it could do in the future. On the other hand, warnings may hurt the performance of your product listing ads.
Notifications: Notification is the suggestion to optimize your product information to take your products to the next level. It won't affect your products from showing, but Google lets you know that product data can be improved. Notifications are not required but recommended.
When you log in to your Google Merchant Center and notice the red line of disapproved products, you realize how much effort it needs to get started with Google Shopping.
You may feel like Google randomly disapproved products, but if you know where to look for the issues, it's not difficult to fix.
Merchant Center's built-in tools are the best way to monitor disapproved products. The right place to start is the home page with its visual graph of approved and disapproved products. On the home page, you will get an idea of the products that get rejected.
For a complete breakdown of the number of ProductIDs and types of errors, use the Diagnostic tab, as it will provide the most accurate information. Google breaks down issues into separate categories from the diagnostic tab, such as errors, warnings, and notifications.
To help you avoid common errors, a list of common Google Merchant Center errors and how you can fix them are listed below:

Incorrect price
The prices that you submit in your feed should match the amount given on your website. Google crawls your site to make sure it matches. If any variance is found, those products will not be approved. This error occurs for several reasons. Not submitted a fresh feed for a period could be the reason.
How to fix
The best thing is to submit a fresh feed daily. It will help Google to receive your most updated and accurate data. Double-check your price and sale price fields.
WooCommerce CTX Feed plugin supports automatic feed generation at a scheduled time. The plugin generates a data feed or product feed to Sync your products with your merchant center, including Google shopping.
If a specific product is no longer going on, but still you are sending the sale price, then it may be the reason where the problem is occurring. To get rid of this error in the future, you can use the "sale price date" in the feed, indicating when the sale is going on.
If you use the WooCommerce CTX Feed plugin, you can create your own rules to make sure you are sending the sales price when the product is on sale and the original price when the product is not on sale.
Item requires a GTIN
It's essential to get your feed up to speed, with Google cracking down on GTIN values. Before, it was just a warning, but after May 2016, it is supposed to be upgraded to an error.
How to fix
Please make sure to provide an accurate GTIN for all products that require them. Are you confused about whether your products need a GTIN or not? You can check Google's UPC guidelines. Also, you can look at the barcode to find your product's GTIN. Reaching out to the product's manufacturer is another option.
Read More: WooCommerce GTIN Guide for Store Owners
Invalid shipping and tax
Within Google Merchant Center, we often notice that merchants forget to set up their tax and shipping information. You can either set up this at the account level or with item level overrides. I suggest setting up the account itself.
How to fix
To set up tax, go to tax information in your merchant center, and go to shipping rule to set up shipping from your settings. If you need help setting up these rules, you can check guidelines from Google's help center.
Invalid images
An image is a requirement of Google for all products in your data feed. If your pictures result in a 404 error, you may receive this error. Accepted formats are PNG, JPEG, non-animated GIF, BMP, etc. Don't forget to note that apparel items require at least 250 x 250 pixels for an image.
How to fix
Double-check your image URLs before sending them in a feed to make sure they take you to the product's image and check that if they follow Google's requirements or not.
Policy violation
Every merchant must pay attention to Google, as it has some content restrictions. For example, Google may consider any products as dangerous, such as ammunition, switchblades, firecrackers, etc. Many merchants fail to notice these restrictions because they are used to selling similar items on their website or to other channels.
How to fix
All restricted products should be removed from your data feed. This tedious process can be much hassle-free if you use a feed plugin like WooCommerce CTX feed. You can create a rule to submit products where the name does not contain "firecrackers."
Moreover, WooCommerce CTX Feed is highly customizable, has access to more than 100 merchant sites, and is very responsive to user commands.
I hope this article will help you to avoid all the mentioned errors. You may have to miss out on more sales and impressions if you take more time fixing Google Merchant Center errors. So, it's up to you how you can handle it.

You May Also Read