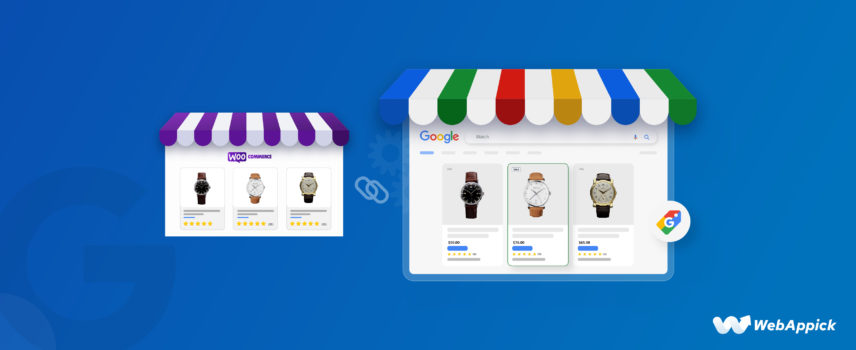 WooCommerce Google Shopping Integration: Everything You Need to Know
If you are not already aware of it, then you must know Google Shopping is the best marketing channel for any eCommerce/WooCommerce brand.
Have any doubts? Let's check out some statistics that will back our claim.
Did you know that a significant 81% of consumers nowadays do their homework online before making a purchase decision?
Nearly half, which is about 49%, of shoppers turn to Google for their pre-purchase research.
Google Shopping, in particular, takes the lead, constituting a whopping 36% of all product searches.
The popularity of Google Shopping is evident as it records an astonishing 1.2 billion searches each month.
When it comes to promoting products, most online retailers prefer Google Shopping ads.
These ads show their prowess by being 30% more effective than standard text ads.
Impressively, Google Shopping ads manage to secure 85% of all clicks on Google's advertising platforms.
It's no surprise that a substantial 76 out of every 100 dollars spent on Google ads are devoted to shopping ads.
The impact is real as Google Shopping ads lead to conversion rates ranging from 1.91% to an impressive 9% after potential customers view a product detail page.
This is the only platform where you list your products in one place, and it displays your products all over the internet. Overall, Google Shopping is a monster of a marketing channel for WooCommerce stores that want to grow quickly.
However, you need to familiarize yourself with the processes to list your products on this platform. Google Shopping doesn't directly let you upload products on the platform.
Not to worry, in this article, we will discuss what Google Shopping is, how the platform works, and walk you through the steps to WooCommerce Google shopping integration.
Let's get started.

What is Google Shopping?
Google Shopping is a search engine for finding and buying online/offline products. This type of product search engine is called a price comparison engine.
When you search for a product in this type of search engine, it will return relevant results from different retailers. However, it displays only those retailers who listed their products on the platform.
Google Shopping is unique and more effective compared to other price comparison engines in many ways. Let's check out some points.
Google Shopping is completely free to use
There's no fee for listing and displaying your products on Google Shopping. You can list as many products as possible on this platform as you want.
Any other price comparison engine will charge you monthly, yearly, or per-click basis fees. But Google Shopping doesn't charge you a penny for any of the actions customers take.
Google Shopping is integrated with Google Search
We all know the mothership of Google – Google.com. This is their search domain and the center of Google's search engine operations.
When someone searches for anything on Google.com, it returns the top-ranked 10 websites, excluding ads that contain the answer for the search term. This result page is known as SERP (Search Engine Result Page).
Google Shopping is integrated with SERP. When a user searches for a product, Google activates Google Shopping features and includes the comparison engine's listings in the results.
Moreover, Google prioritizes Google Shopping features by including organic and paid listings on top of the results. Google displays product ads at the top of any other content.
Google displays WooCommerce Google listings and ads across the web
When you do WooCommerce Google shopping integration, Google will display your products on multiple Google platforms and across its vast network and partnered sites.
Google will display your Google Shopping listings and ads on SERP, Google Images, Google Maps, YouTube, Discovery, Gmail, and Google Lens. The search giant also displays your shopping ads across its partner sites.
Overall, people can find your products literally anywhere they visit online. This creates an enormous opportunity for you to increase traffic and sales.
You can sell directly on Google Shopping
Generally, Google Shopping allows you to redirect your visitors from the Google Shopping platform to your product pages to complete the purchase. However, you can let your customers directly buy from Google Shopping through the Google Buy Now experience.
The greatest advantage of this feature is Google doesn't charge a dime for it. No commission or no fixed charge at all.
Moreover, you can choose your own third-party payment provider to accept payments. Now, isn't that great!
However, this feature is limited to US-based stores only.
Google Shopping offers a variety of filters and sorting options
This allows shoppers to easily narrow down their search results and find the products that they are most interested in. For example, shoppers can filter by price, brand, product category, and more. They can also sort the results by price, relevance, or rating.
Google Shopping provides more information about products than others
Google Shopping provides more information about products than other price comparison engines. This includes product descriptions, images, and reviews. This can help shoppers to make more informed purchase decisions.
Google Shopping is more mobile-friendly than other price comparison engines
This means that it is easy to use on smartphones and tablets. This is important as more and more people are shopping on their mobile devices.
Google Shopping ads always take the top spot on any page
Google prioritizes Google Shopping paid listings or product ads over all other content. Along with SERP and Google Shopping platform, Google displays these ads on Google's display network and millions of partner sites and apps.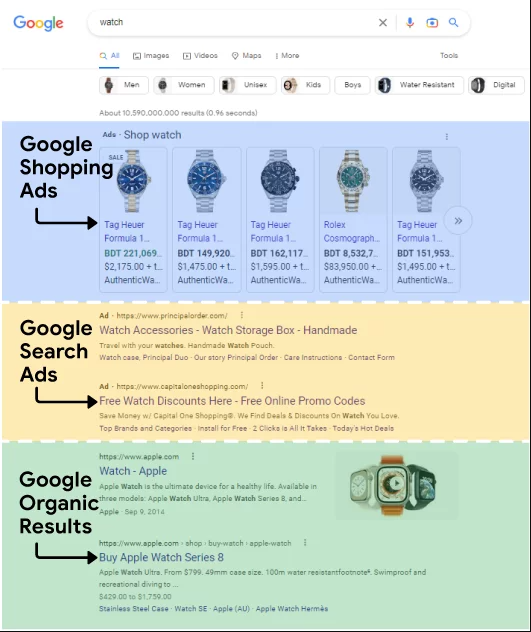 Only a price comparison search engine
When you upload and list your products on Google Shopping, the platform will display them only on relevant searches. The platform doesn't let you create dedicated storefronts you can share with your audience.
Google Shopping doesn't have a dedicated back panel like all other price comparison engines where you can register and directly upload your products. The platform fetches your listings from another platform called Google Merchant Center.
Additionally, for product ads, you need to connect your Google Merchant Center to your Google Ads account.
WooCommerce Google shopping integration product display
Let's find out how Google Shopping works with an example. For example, you or a customer is looking for a tracksuit.
Let's check how Google SERP returns results for this search.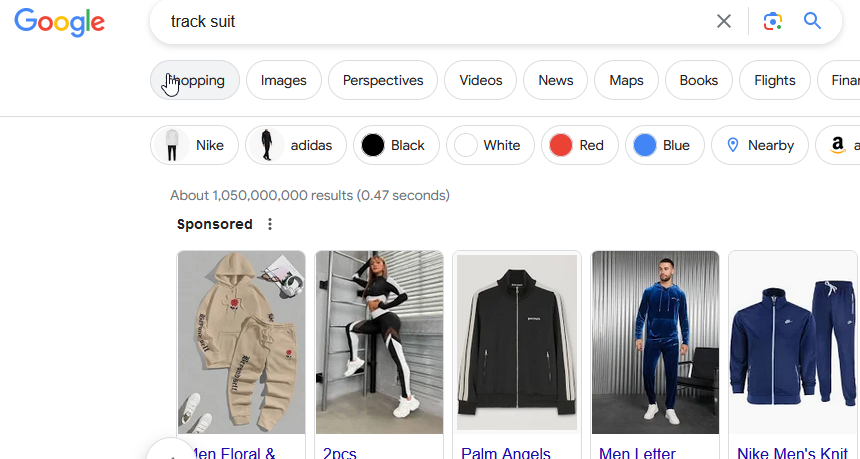 As it's a product-specific search, Google activated Google Shopping features. You can access the Google Shopping domain for this specific search through the Shopping tab.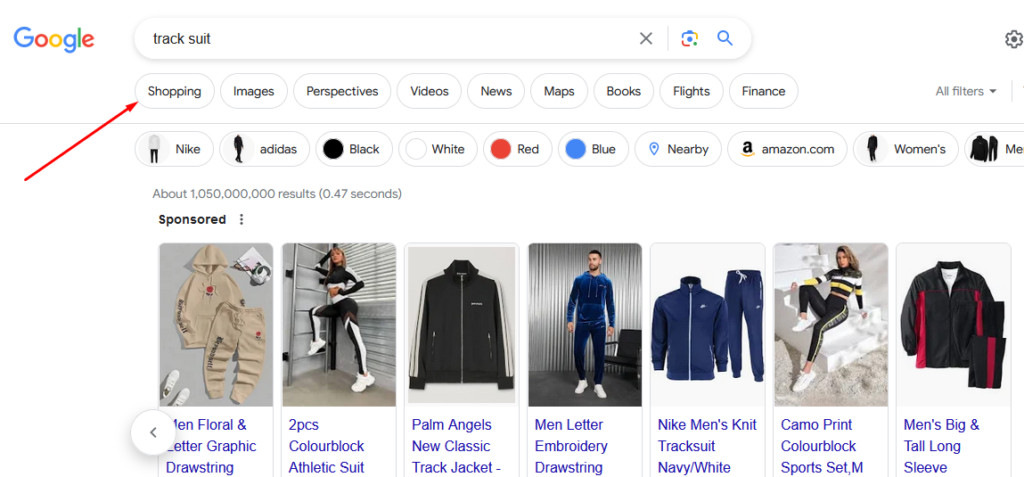 This Google Shopping tab only appears when someone searches for a product.
If you go to Google Shopping's official domain or click the Shopping tab from SERP, you will see the Google Shopping platform results.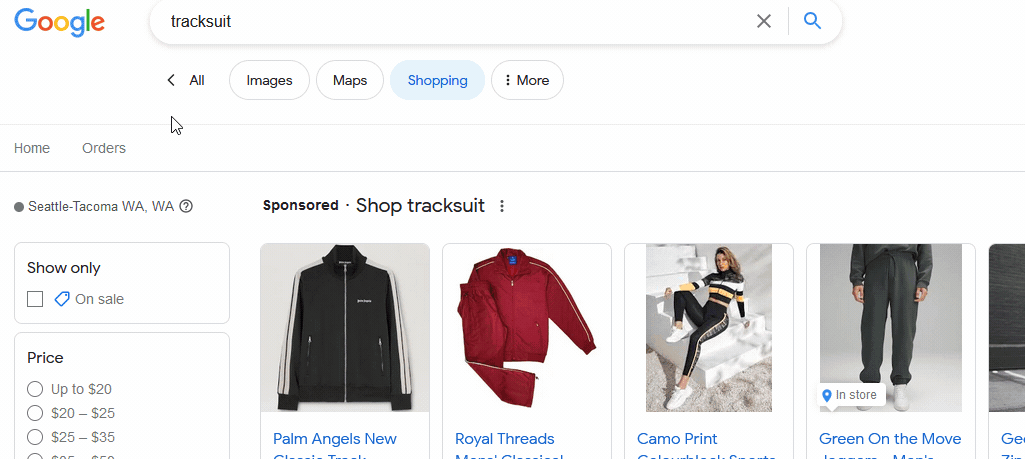 You can find the filters we talked about earlier on the left. Here's a single product listing after you click on any entry.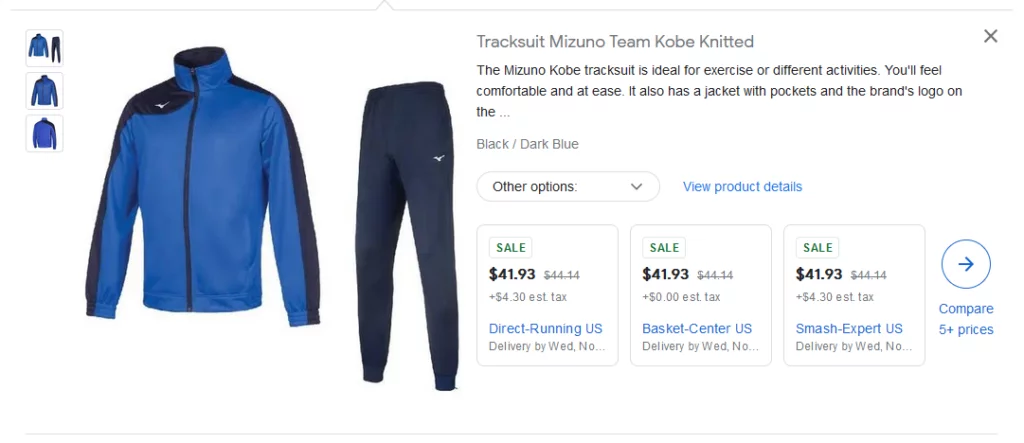 It shows some of the most important details about your products for customers to decide. Clicking the title will take them to your WooCommerce product page.
The paid listings or Google Shopping ads are always displayed at the top of any results, whether in SERP or inside Google Shopping.
SERP Google Shopping ads –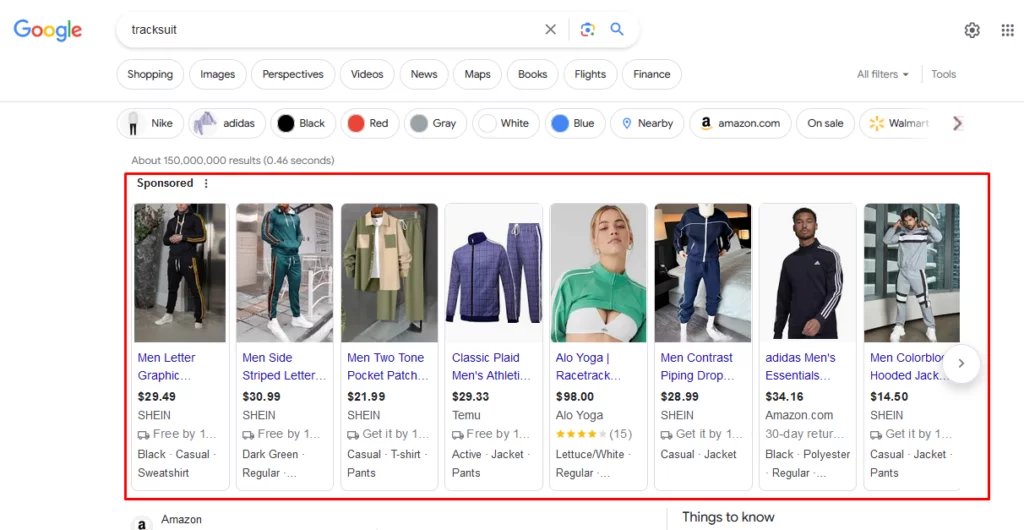 Google Shopping ads on the platform –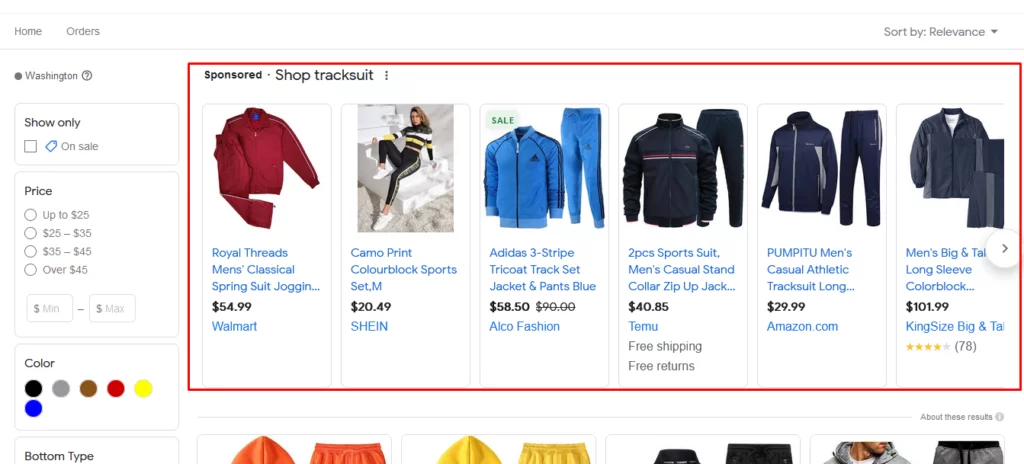 WooCommerce Google shopping integration
We have already discussed how Google Shopping displays your WooCommerce products on websites across the internet and the unique features of this platform.
To display your products in all possible places, Google uses a separate stand-alone platform where you need to upload your products. This platform is called Google Merchant Center.
Google Merchant Center (GMC) is your Google Shopping integration WooCommerce back panel to upload and manage your products on Google Shopping.
Basically, there are two steps to WooCommerce Google shopping integration –
Creating a WooCommerce Google product feed
Uploading the feed to Google Merchant Center
The product feed is the heart and soul of WooCommerce Google merchant center integration. Let's discuss it in detail.
What is a WooCommerce Google Shopping product feed?
For Google Merchant Center integration for your Woo store, you will need to upload your product information. For a professional store like yours, uploading product data individually is impractical.
You need to export your product data in bulk to make the process quick and easy. That's what a product feed can do for you.
A product feed or data feed is an Excel-type spreadsheet file. It contains your product data under different columns.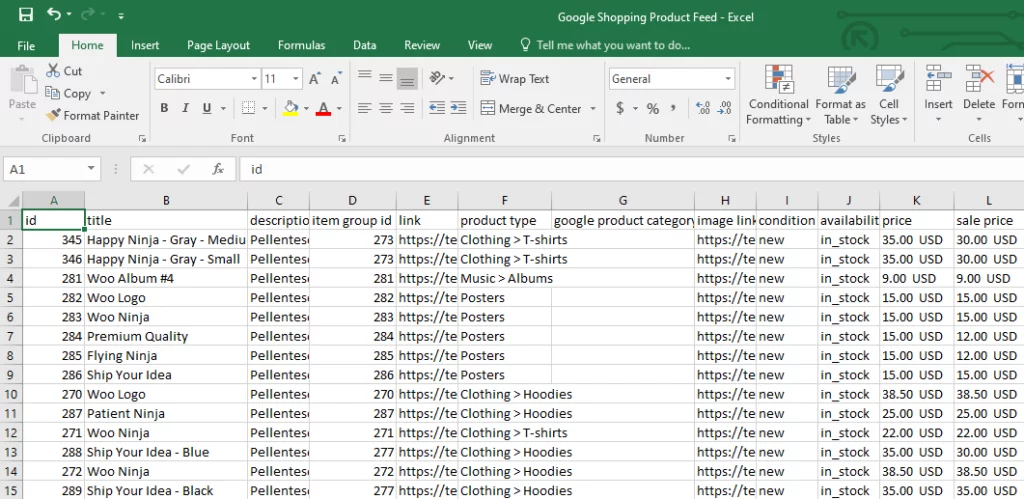 Each column header is dedicated to product characteristics such as price, title, description, brand, etc. And you need to insert your product information underneath them.
Hundreds of channels online, including marketplaces, affiliate sites, price comparison engines and social media sites, support product feed files to efficiently upload and manage product information.
Did you know you can reach millions of potential customers through a product feed?
Yes, you can promote your WooCommerce products on giants like Amazon, eBay, Target, Facebook, Snapchat, Instagram, PriceGrabber, Idealo, Pinterest, etc., and reach potential customers.
And with price comparison engines such as Google Shopping, you can reach your customers for free with a product feed. A product feed is also compulsory to run product ads and dynamic ads on different platforms.
What are the Google Merchant Center data feed attributes?
The column header characteristics we discussed are called attributes in a data feed. Google Shopping has its own set of attribute lists.
They divided attributes into 10 categories, which you can find here. Here are the most common ones.
ID or Product SKU
Title
Product Description
URL / Product Link
Product Category
Image URL
Stock Availability
Regular Price
GTIN/MPN
Product Condition
Brand
How to generate a WooCommerce Google shopping integration feed
You can create a data feed on tools like Google Sheets or Microsoft Excel. You learn the attributes, insert them as column headers, and insert your product info underneath; simple, right?
However, for an eCommerce store, this manual method is almost similar to adding products one by one on GMC (Google Merchant Center). According to statistics and practical sense, there's a high chance Google will reject your manual WooCommerce product feed.
Let's find out why.
Why you should never create a Google Shopping product feed manually
You should not create a Google Shopping product feed manually because it is time-consuming, error-prone, and difficult to maintain. Here are some of the reasons why:
Time-consuming: Creating a Google Shopping product feed manually requires entering the relevant product information for each product in your catalog. This can be a time-consuming process, especially if you have many products.
Error-prone: It is easy to make mistakes when manually entering product information. A single mistake can cause your product feed to be rejected by Google Merchant Center, or it can cause your products to be displayed incorrectly in Google Shopping results.
Difficult to maintain: If you make changes to your product catalog, you will need to update your Google Shopping product feed accordingly. This can be difficult and time-consuming, especially if your product catalog changes frequently.
Now, let's check out some Google Shopping product feed statistics.
In 2022, Google Shopping Feeds encountered a 7% rejection rate because of notable data errors.
Google can decline product listings if they lack accurate GTIN values, affecting approximately 5.53% of products with provided GTINs in 2022.
Regarding reasons for product feed rejections, shipping discrepancies take the lead, making up a significant 23.49% of all rejections.
Instead of creating a Google Shopping product feed manually, it is recommended to use a feed management tool. A feed management tool can automate the creation and maintenance of your product feed.
This can save you time and effort, and it can help you to ensure that your product feed is accurate and up-to-date. One such tool or WooCommerce plugin is CTX Feed.
CTX Feed – WooCommerce product feed plugin

CTX Feed is your one-stop solution for all your product feed management needs. It can help you effortlessly generate product feed files for 130+ channels, including Google Shopping.
This WooCommerce Google shopping plugin has fantastic features like automatic feed updates, product filtering and conditions, attribute mapping, Google and Facebook category mapping, URL connections, etc. This Google Shopping WooCommerce plugin can automate almost the entire process of product feed generation and management.
Let's discuss this in more detail.
Unlimited products, unlimited possibilities
No need to worry about the size of your inventory. CTX Feed allows you to upload an unlimited number of products with ease. Whether you have hundreds or thousands of items, you can effortlessly reach your customers through various marketing channels.
130+ pre-configured templates
Creating product feeds for different channels can be a daunting task, but not with CTX Feed. This plugin offers over 100 pre-configured templates designed for various marketplaces. Say goodbye to the time-consuming research of individual attributes and field requirements for different channels.
Support for various product feed file types
CTX Feed ensures that your products are presented in the best way possible for different marketing channels. It creates WooCommerce product feeds in five different file formats, including XML, CSV, TSV, XLS, TXT, and JSON. You won't have to worry about compatibility issues anymore.
User-friendly interface
Creating the perfect product feed is a breeze with CTX Feed. Everything you need to customize your product feed is in one place, eliminating the need to switch between windows. You don't need a technical expert to create a flawless product feed.
Support for all WooCommerce product types
CTX Feed understands the importance of accommodating all types of products, including bundle products, composite products, mix-and-match products, and subscription products. It seamlessly supports popular plugins to ensure that all your products are included.
Variable and variation features
Dealing with multiple variable child products? No problem. CTX Feed lets you include all variations or only specific ones, depending on your preferences. This flexibility ensures that you have full control over your product listings.
Dynamic attribute feature
Take your product feeds to the next level by setting conditions for each attribute based on your selected attributes. Whether you want certain products to appear differently or have specific attributes, the dynamic attribute feature makes it possible.
Smart filter & condition
You can include or remove products based on your criteria. Whether it's products with specific conditions like backorder, out-of-stock items, or those with empty descriptions, CTX Feed's smart filtering option allows you to fine-tune your product feed.
Category mapping
Categories are crucial for making your products discoverable. CTX Feed enables you to create and map categories to your products, making them more relevant and accessible to buyers.
Batch feed making
Processing thousands of products can be challenging due to server limitations. CTX Feed lets you create product feeds in batches, preventing errors or rejections due to excessive data. This feature is compatible with all WordPress hosting providers.
WP options integration
CTX Feed goes the extra mile by allowing you to include wp-options values in your feed files. You can add these values for any attribute, even those generated by other essential plugins you use.
Auto feed update
Save time by automating your product feed updates. CTX Feed automatically updates your products at intervals you set, ensuring that your customers always have the latest information.
How to generate a feed using CTX Feed
As mentioned, generating a product feed using CTX Feed is as easy as possible. Upload the plugin if you have the pro version, or install the plugin from the repository.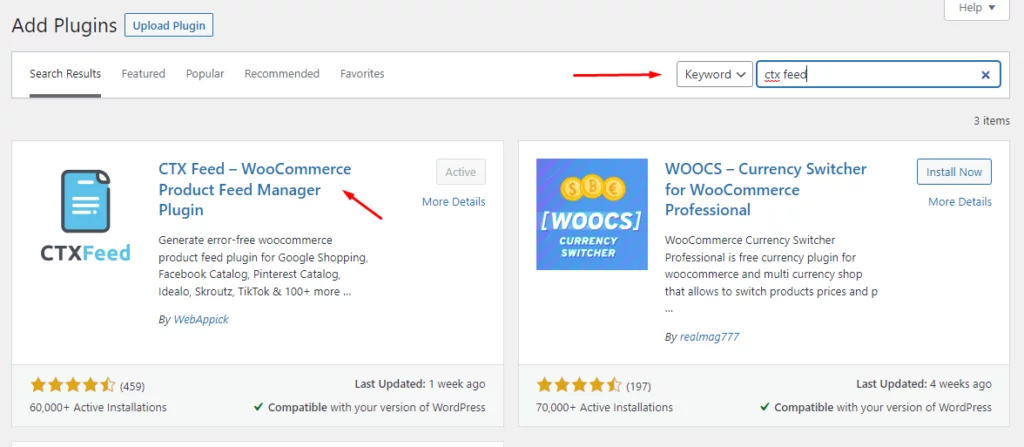 Click the following menu link.

This is how you will see things at first.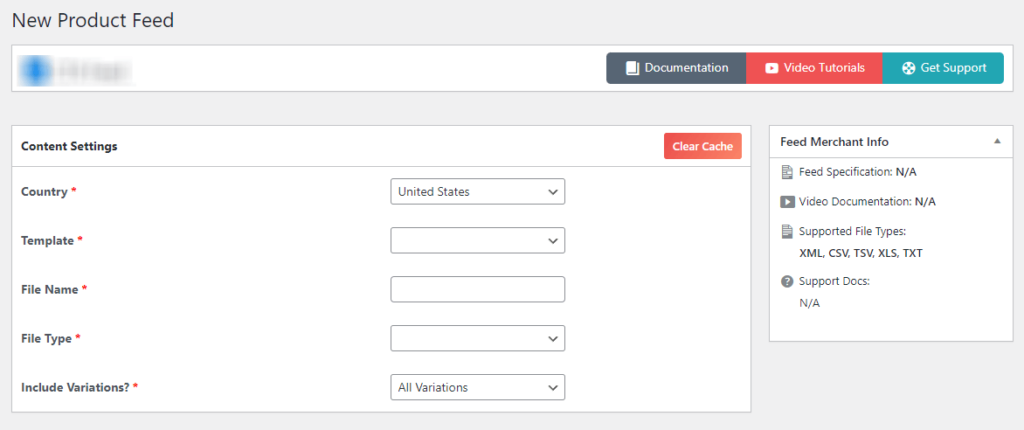 Select the Google Shopping template.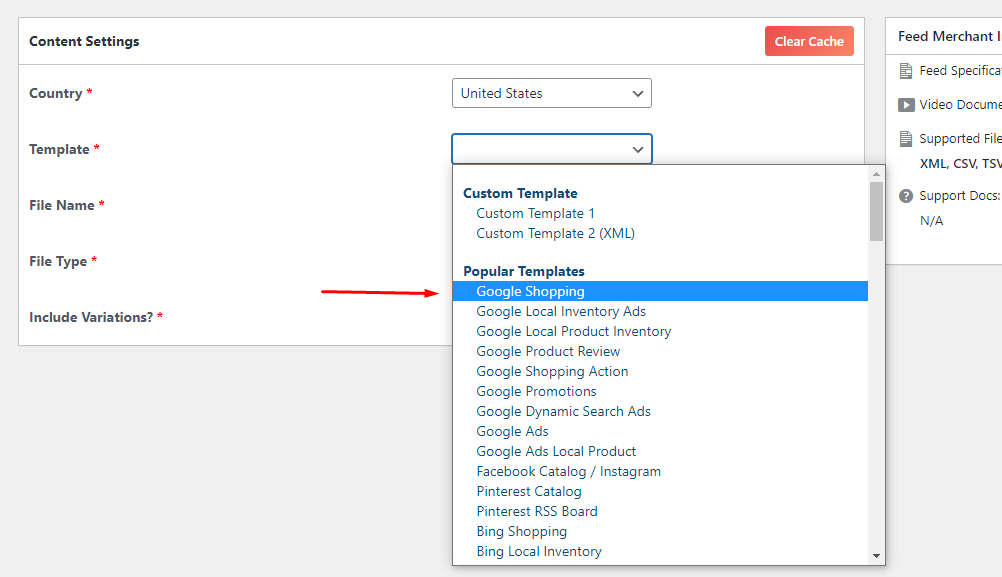 Select the file type, and you are pretty much done. CTX Feed will bring in/populate all the necessary attributes at the bottom.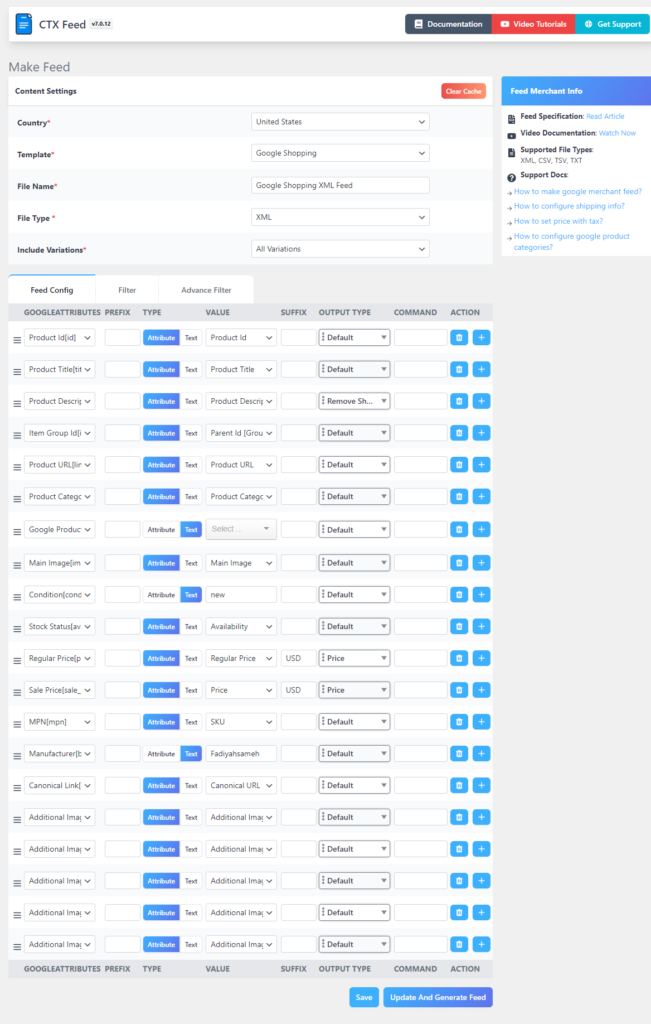 The plugin will automatically copy-paste your product information into a feed and generate the file for you. You can copy the feed URL, set automatic updates, and use other settings from the Manage Feeds page.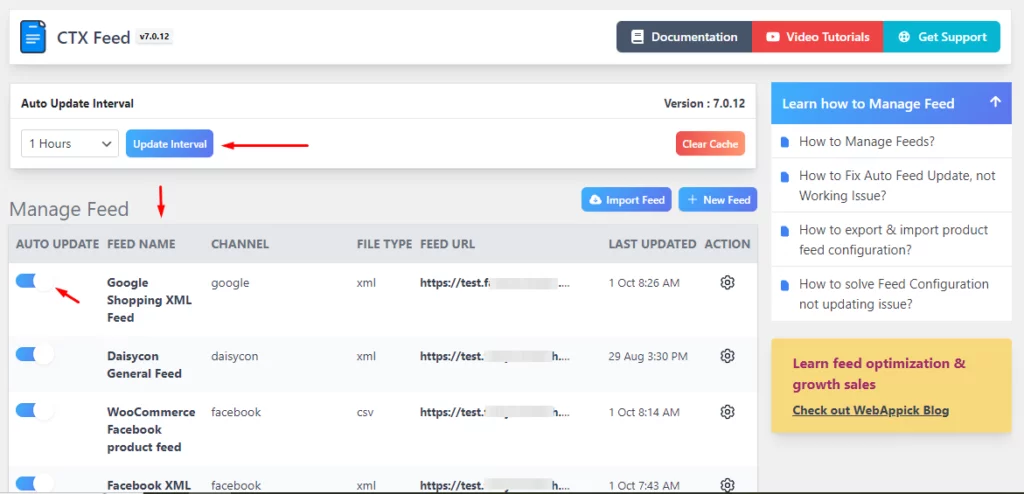 Creating a Google Merchant Center account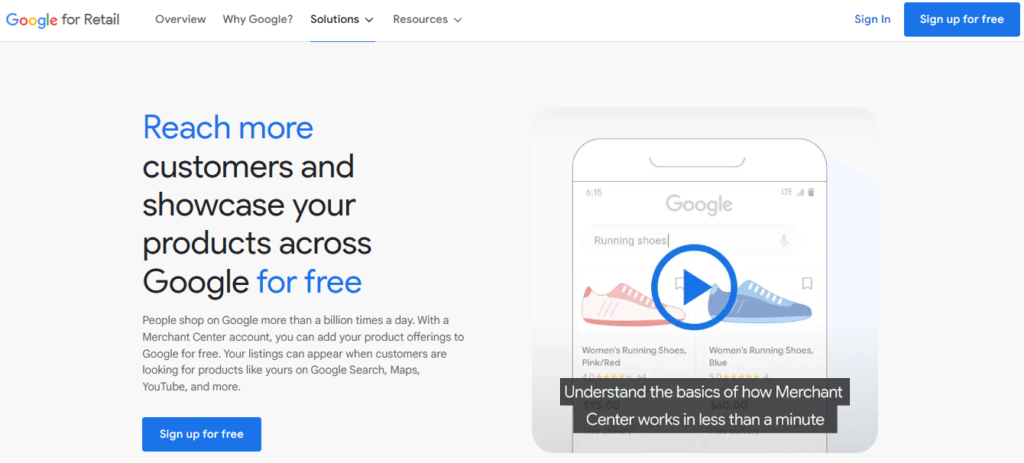 Before you can do WooCommerce Google shopping integration, you need to create a GMC account. Use your preferred Gmail address to create a username and password.
After that, the platform will ask you for some basic details. First, input your business name, country, and time zone.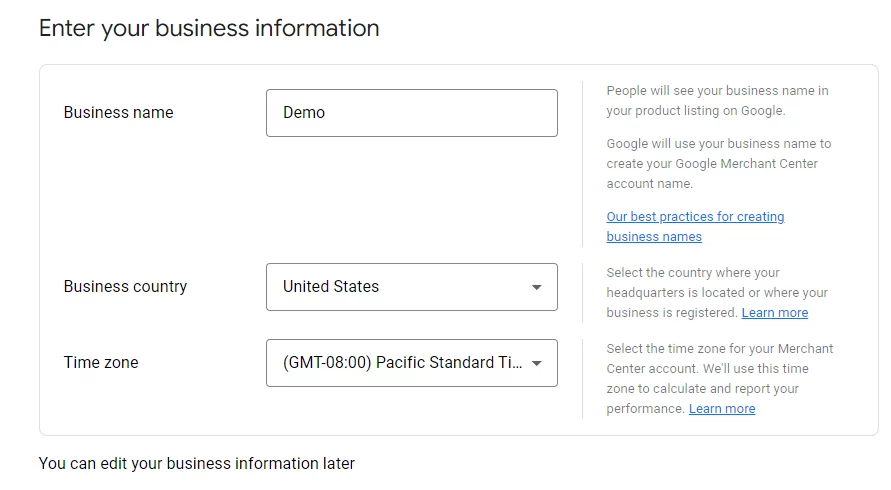 Next, you must select where you want Google to take your customers. As a WooCommerce store owner, the first option is your best choice. However, if you want your customer to complete the purchase on Google Shopping, as we discussed earlier, you can select the second option.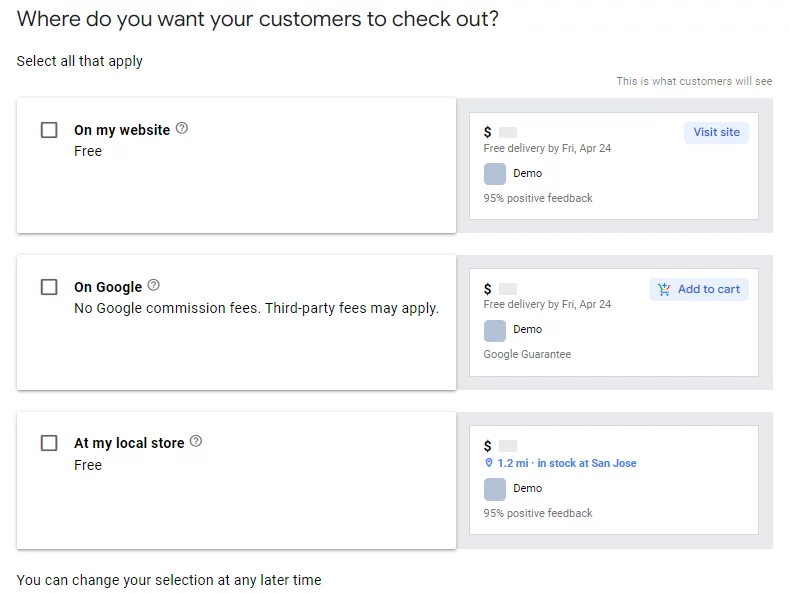 Offline brick-and-mortar stores can also list and promote their products on Google Shopping. Google will show the map of their store location when customers click on the title.
Next, you need to select your platform. In our case, it's WooCommerce. Signing up for newsletters isn't a bad idea either.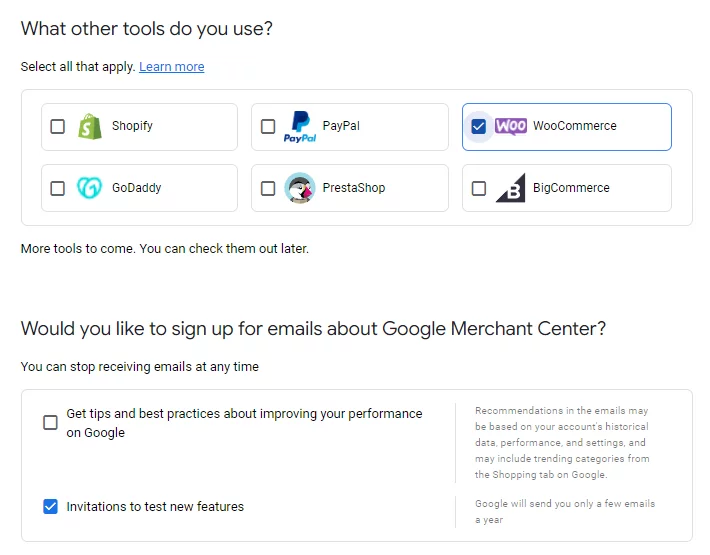 This is the initial registration process of GMC. After this, you will receive a verification email, and then you can continue to the steps to upload your products.
WooCommerce Google shopping integration – Completing necessary GMC steps
GMC will ask you to complete the following steps.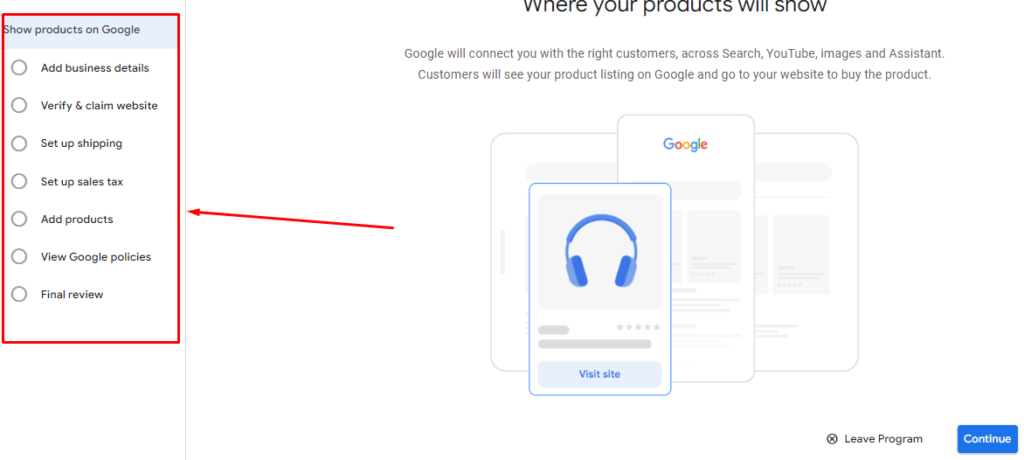 In the first step, insert your business address and phone number.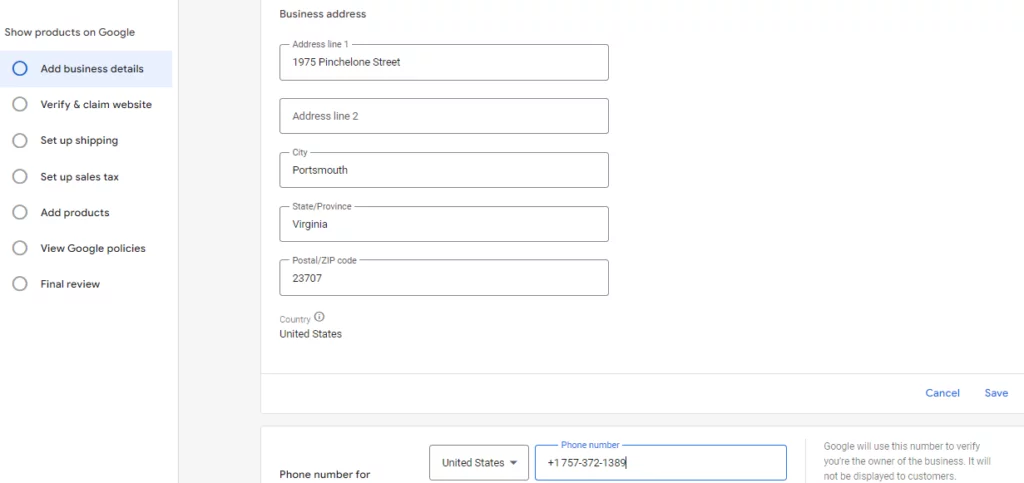 The second step is verifying your website with GMC. This is also a part of GMC and Google Shopping's eligibility requirements.

You can verify you have a valid eCommerce store in two ways – Adding an HTML tag or uploading an HTML file.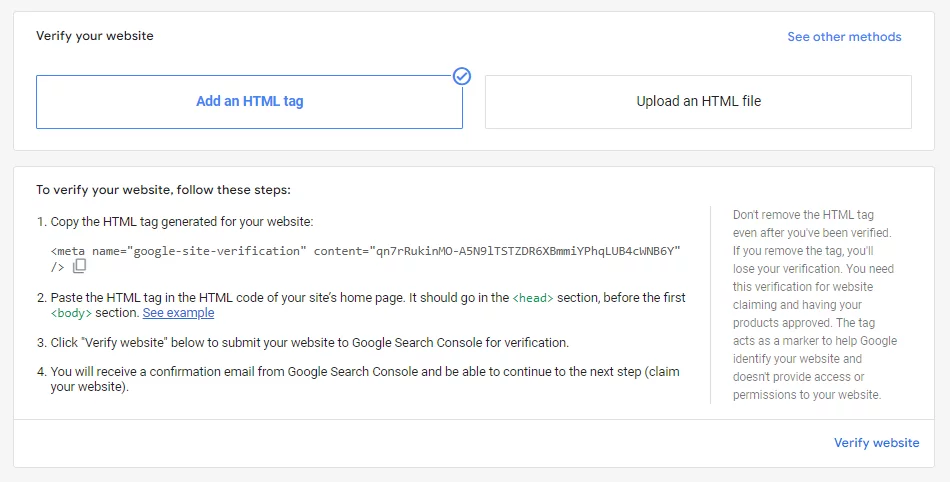 Adding an HTML tag to your WordPress site header can be tricky if you're unfamiliar with programming languages or codes. However, most popular theme builders, like Divi, Hello, and Astra, have built-in settings for adding header tags without having to edit theme files manually. If your theme doesn't have this feature, you can use a plugin to add the tag instead.
Another way to add a header tag is to upload an HTML file through your web hosting provider's control panel (CPanel). Once you've uploaded the file, GMC will return this screen.
In the next steps, Google Merchant Center will ask for your shipping and sales tax details. Once you have provided this information, you can publish your products by uploading the product feed file.
WooCommerce Google shopping integration – Uploading products
GMC allows you to either add your products one by one or in bulk. As we have a product bulk feed, we will use the pointed option below.

Be sure to checkmark the Free Listing option.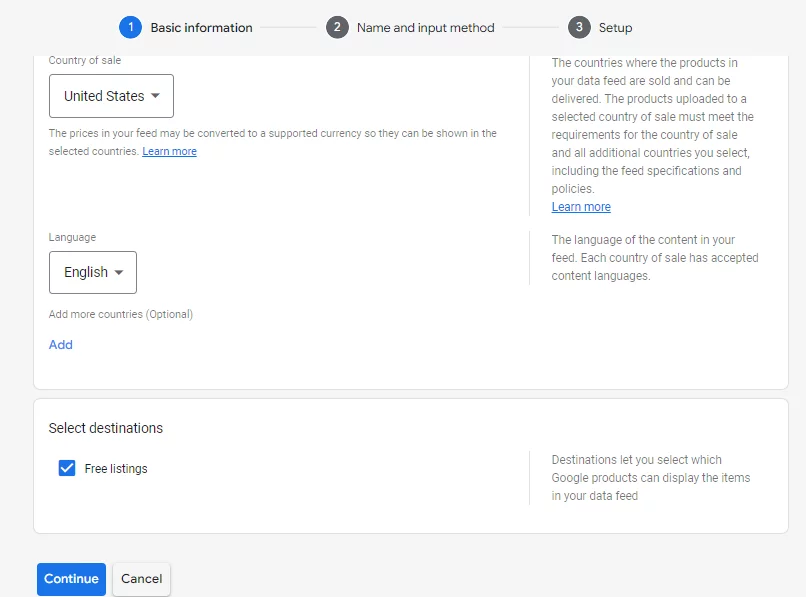 Google Merchant Center allows you to add your products through the following options.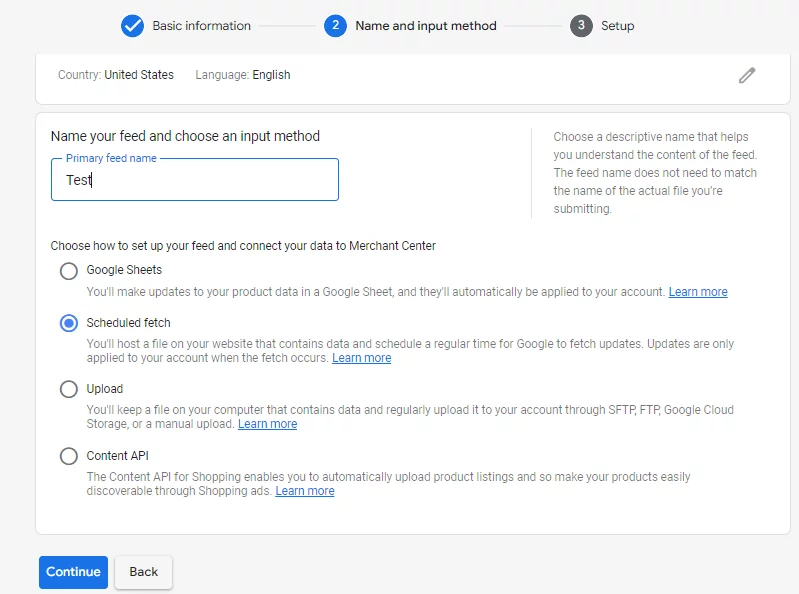 Google Sheets: You can upload your product feed directly from Google Sheets. This option is a good choice if you have a small to medium-sized product catalog and you are comfortable using Google Sheets.
Scheduled fetch: Google Merchant Center can fetch your product feed from a publicly accessible URL on your website. This option is the best choice if you have a large product catalog or if you need to update your product feed frequently.
Upload: You can upload your product feed file directly to Google Merchant Center. This option is a good choice if you have a custom product feed file or if you need to upload a large product feed file.
Content API: You can use the Google Merchant Center Content API to upload your product feed programmatically. This option is a good choice if you need to automate the process of uploading your product feed or if you need to upload a very large product feed file.
We will select the Scheduled Fetch option as we have a feed URL. Let's go back to CTX Feed >> Manage Feeds and copy the feed URL.

Set your fetch frequency (update frequency) and paste your feed link.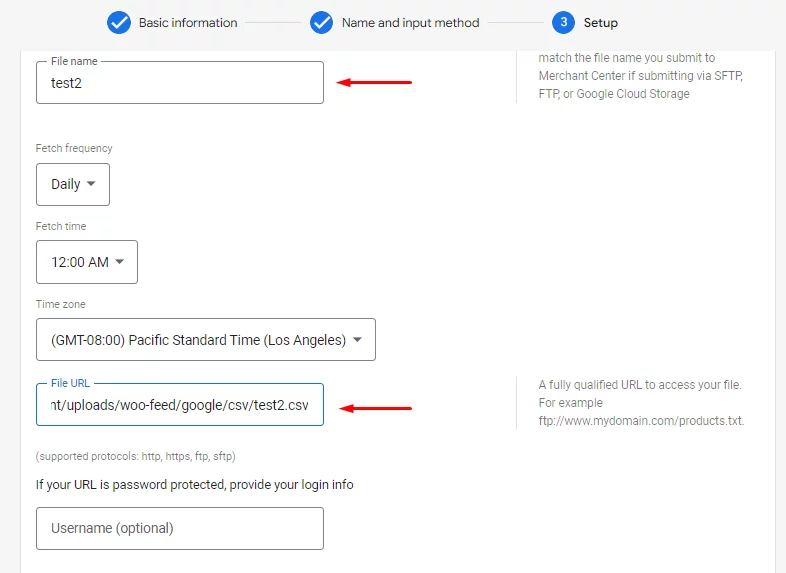 GMC and CTX Feed connection process
Here's how the WooCommerce Google shopping integration process works between GMC and CTX Feed.
Google Merchant Center (GMC) fetches your product data from the WooCommerce feed URL on your WordPress site.
If you change your WooCommerce product pages, the CTX Feed plugin automatically updates the feed file.
GMC regularly retrieves these updates from the feed URL based on your chosen frequency.
Once you've connected WooCommerce to Google Shopping using the plugin and Google's Scheduled Fetch, your product listings are managed effortlessly.
Therefore, GMC and the plugin ensure that your product information on Google Shopping is always accurate and current.
Creating Google Shopping ads
Google product ads, or shopping ads, differ from traditional text ads. These ads are automatically generated from your product feed, and you can't design them individually as you would with text ads.
Here's how to run Google Shopping Ads:
Create a free Google Ads account using the Gmail address you used to sign up for the Merchant Center account.
Connect your Google Merchant Center with your Google Ads account by going to the "Linked Accounts" in the Tools and Settings menu.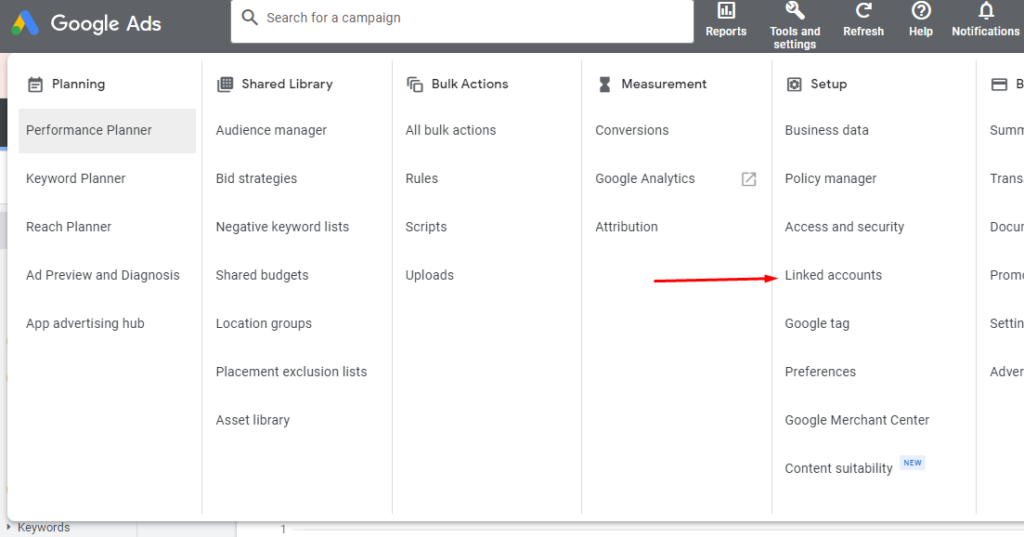 Find Google Merchant Center and link the account.

Click the "New Campaign" button to create your WooCommerce Google Shopping ads campaign.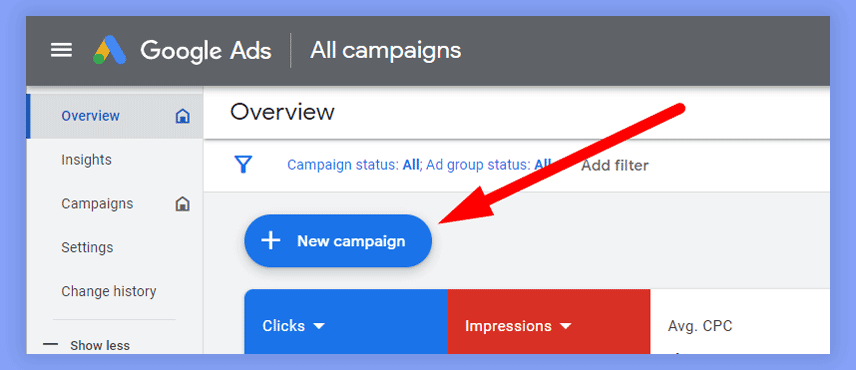 Select "Sales" as your campaign objective.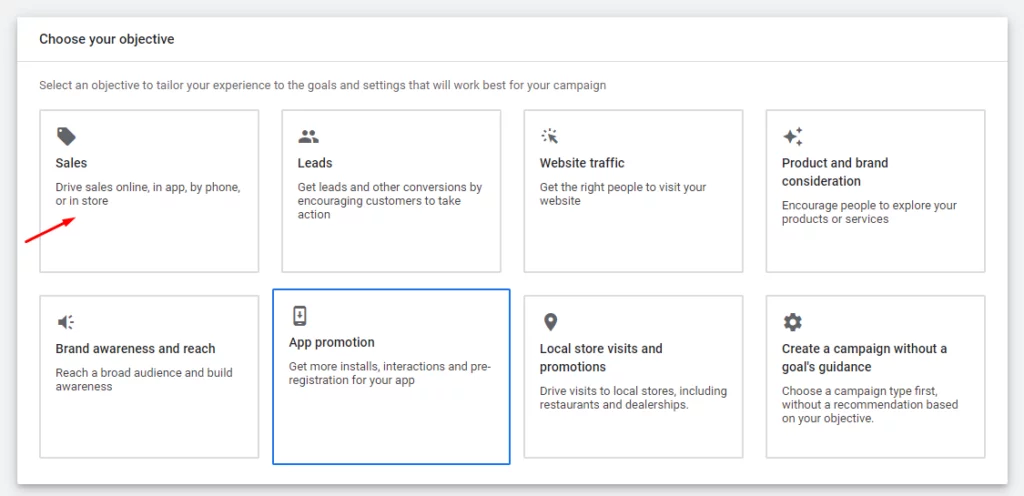 "Shopping" as your campaign type.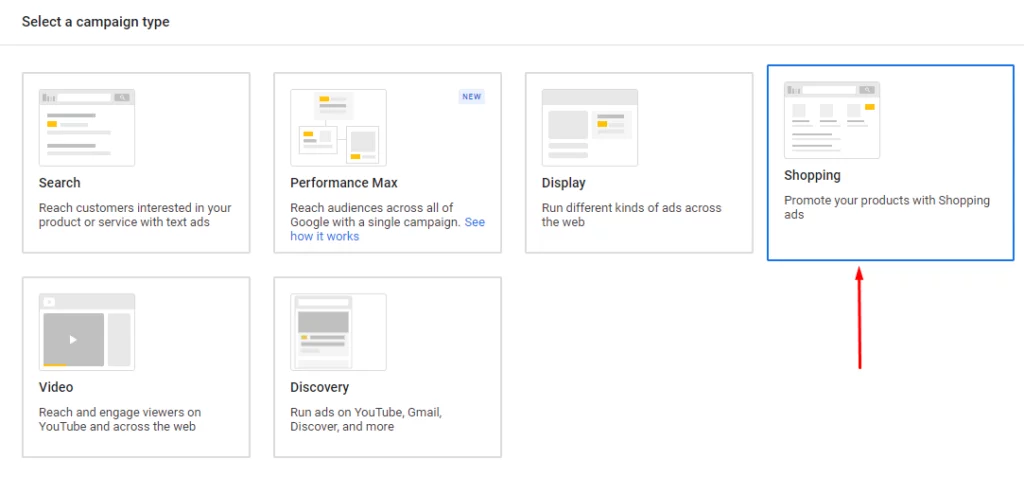 If you have multiple product feeds in your Google Merchant Center account, choose the relevant one from the dropdown.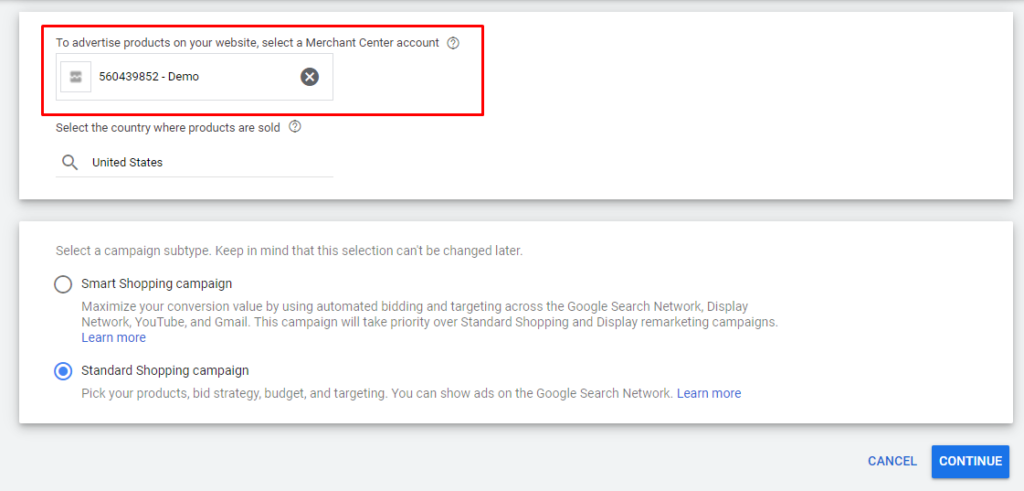 Follow the prompts to set your bid strategy, ad groups, and other campaign details, and then start your ad campaign. Google will automatically create product ads using data from your product feed and display them in relevant search results.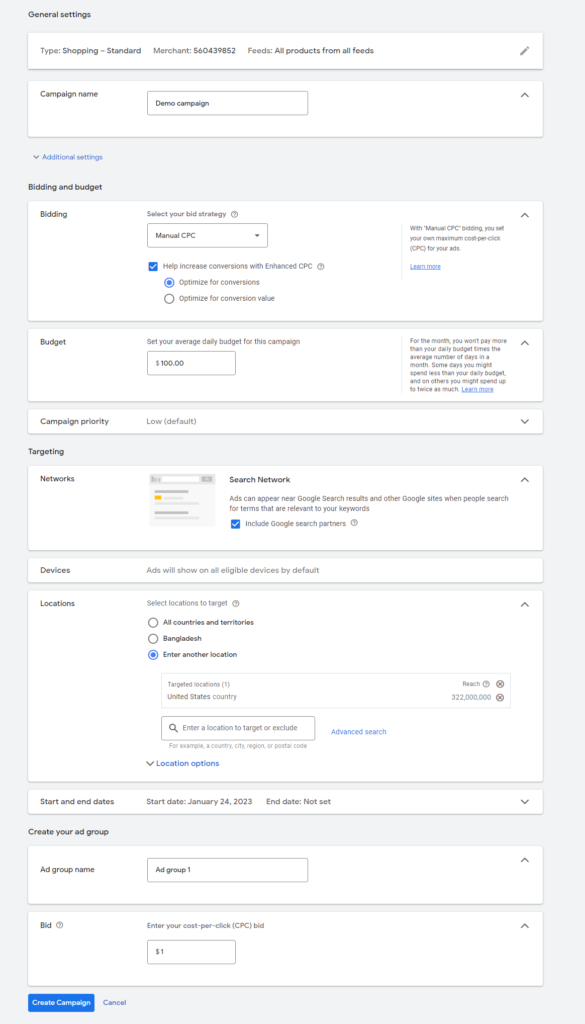 To ensure that Google accurately displays your product offerings, ensure your product feed is accurate. Additionally, further subdivide your product groups to create relevant and efficient bid strategies for your product ads.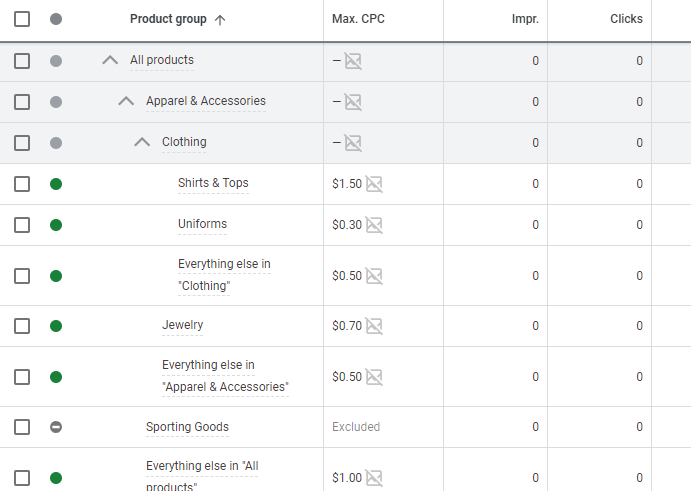 Using Google Shopping ads is an effective strategy for reaching a broad audience and increasing sales. However, it's crucial to set up your campaign correctly and employ effective product advertising strategies for optimal results.
Wrap up
Google Shopping can increase your reach and grow your brand reputation and revenue. However, you will need a well-optimized product feed for your products to be displayed at the top of the search results.
In addition to that, you can use the Google Merchant Center analytics data to see how well your products are doing on Google Shopping. This data helps you monitor your performance and make any changes to your campaigns as needed.
We hope this guide on WooCommerce Google shopping integration will help you promote your products on this giant platform.