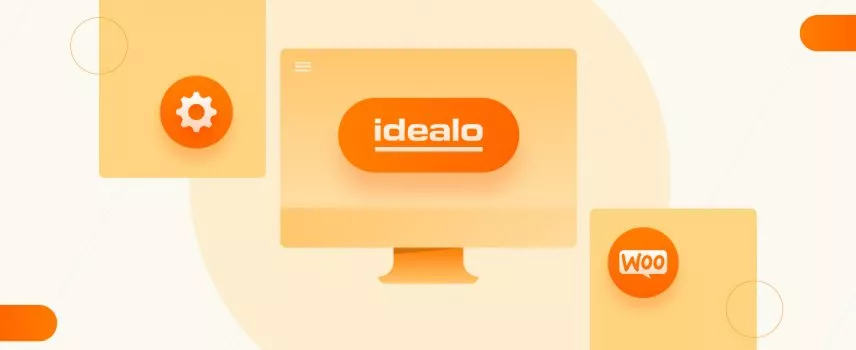 How to Generate Idealo Product Feed for WooCommerce With The Right Plugin
Idealo is a German-based online shopping product and price comparison platform that makes your online shopping journey easier. Thousands of people visit Idealo every day which generates a 42% increase in your online shop sales. It includes a variety of stores where consumers are redirected to make a purchase. With WooCommerce Product Feed, you can redefine your store's output via Idealo.
With the growing stats of e-commerce, consumers are mostly crawling online to search for products. Displaying products at the right time to the right customer has become the key to online retailers' success. Therefore, multichannel selling has become very important for retailers to reach customers across the globe.

In this article, we will guide you on How To Generate WooCommerce Product Feed for idealo using CTX Feed.

How Idealo works
Idealo is ranking fourth as an e-commerce website in Germany. The platform has more than 18 million active users per month. It offers an excellent opportunity for online shop owners to showcase their products to deal-hunting customers in Germany and the UK. In addition, Customers can also compare product images, ratings, and more to get their best deal.
Customer's Shopping Journey in Idealo process (step-by-step)

Step 1
A customer can go to the official website of idealo and use the search bar to get their desired product.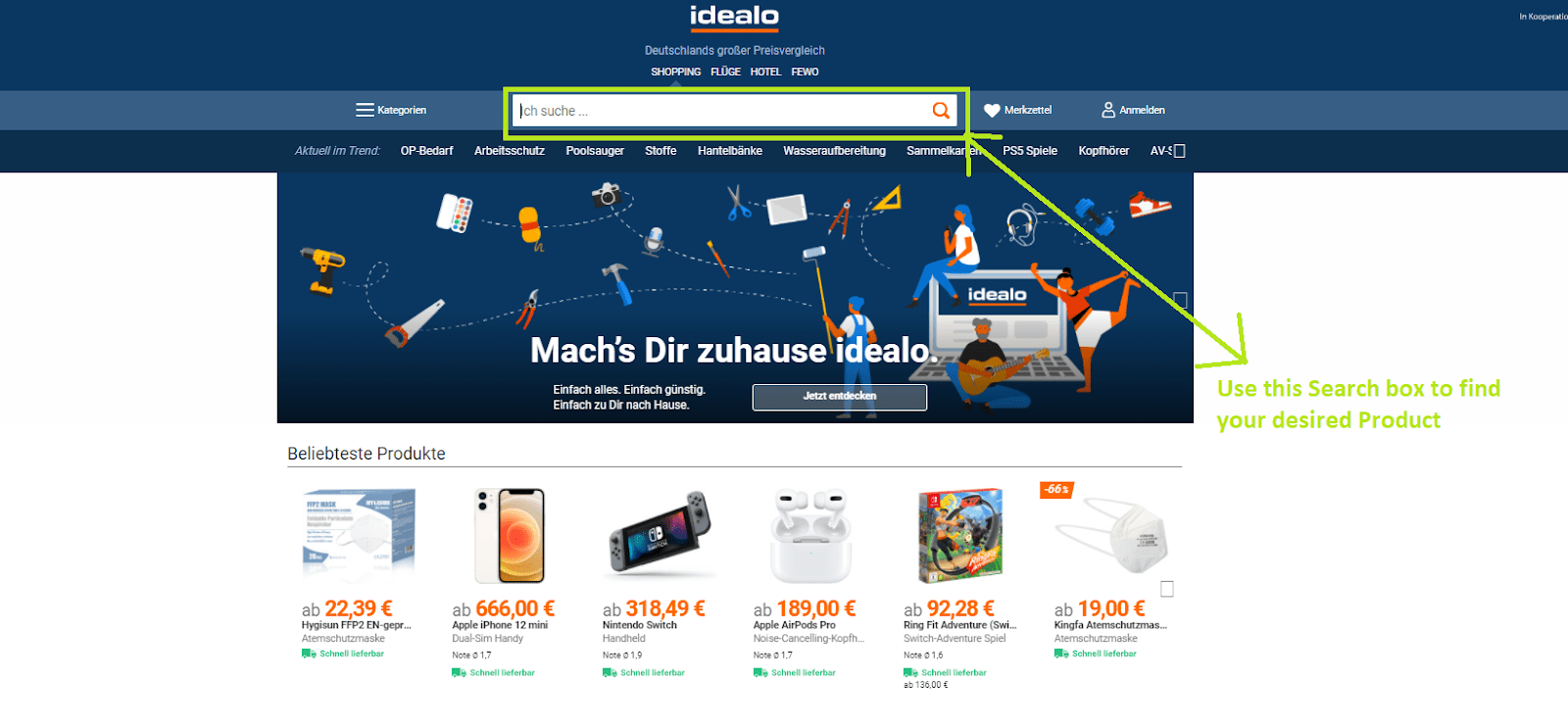 Step 2
By entering the desired product info in the search bar, the customer gets redirected to the search result page. Now, they can start comparing it with different products or prices.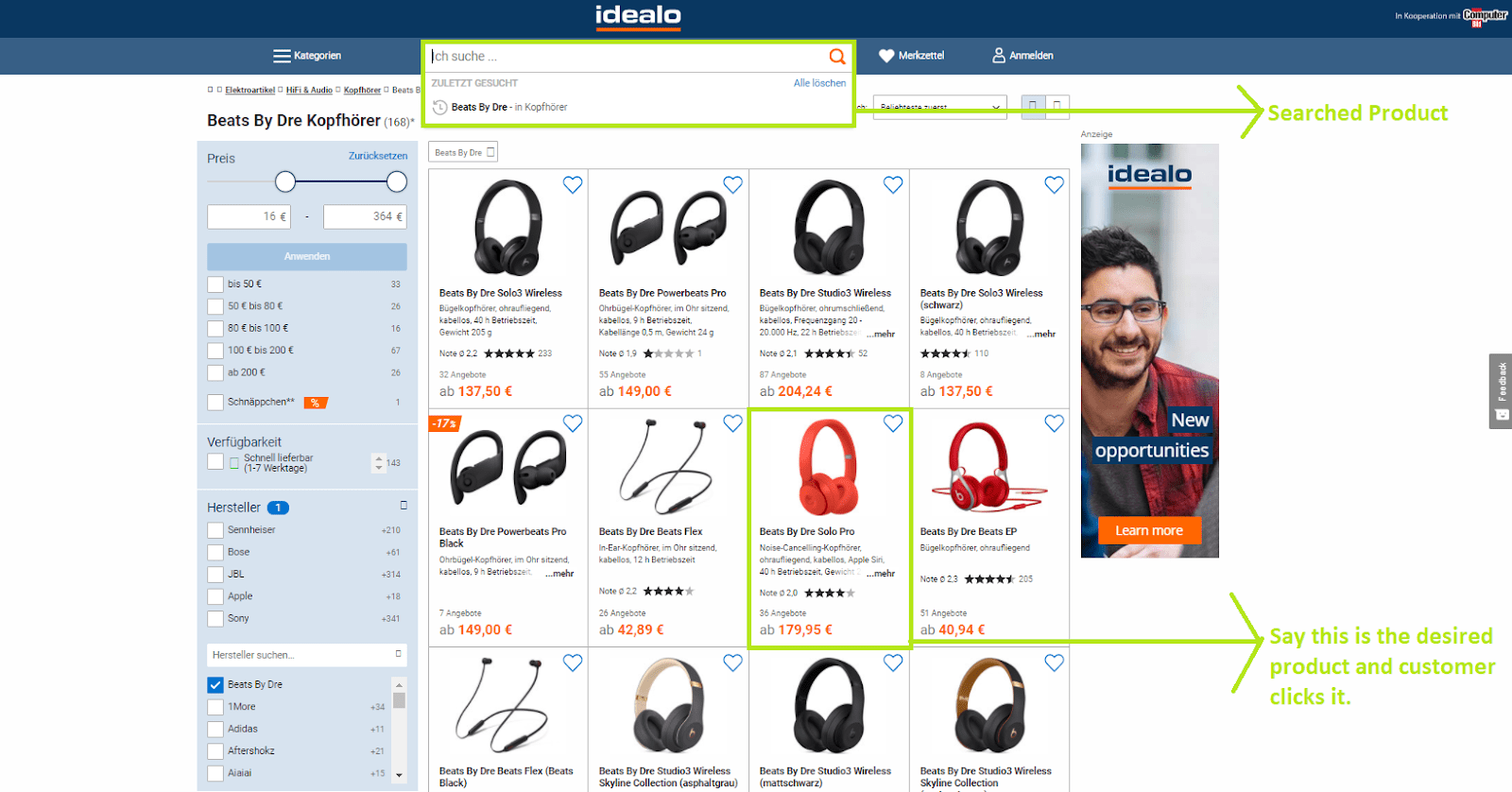 Step 3
By clicking on the desired product, the customer gets redirected to another page. On this page, different prices related to that exact product are displayed.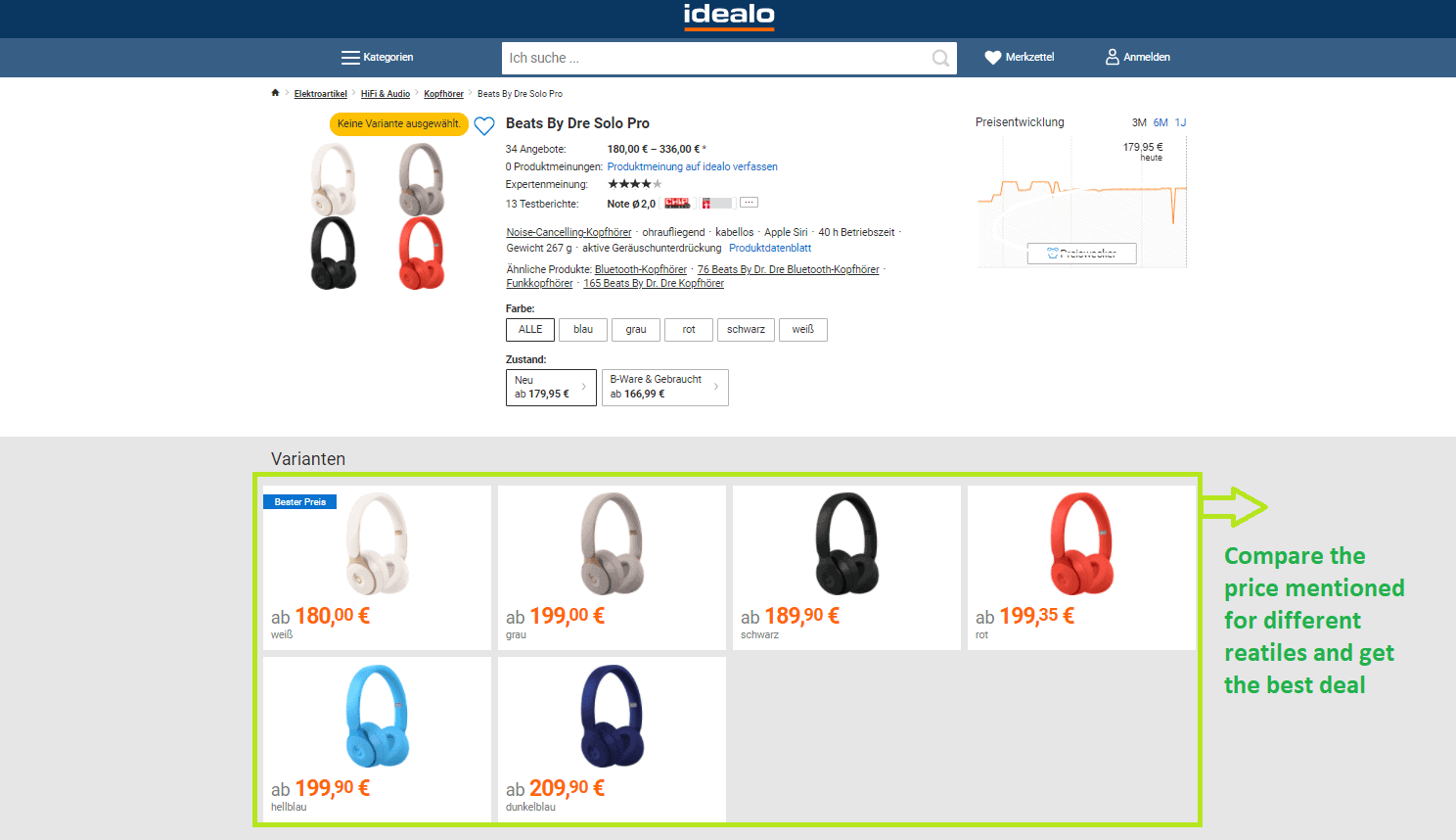 By clicking the preferred product, the customer gets redirected to a page that contains offers, price comparisons, shipping information, and payment option. The consumer finally gets redirected to the relevant by clicking their preferred product.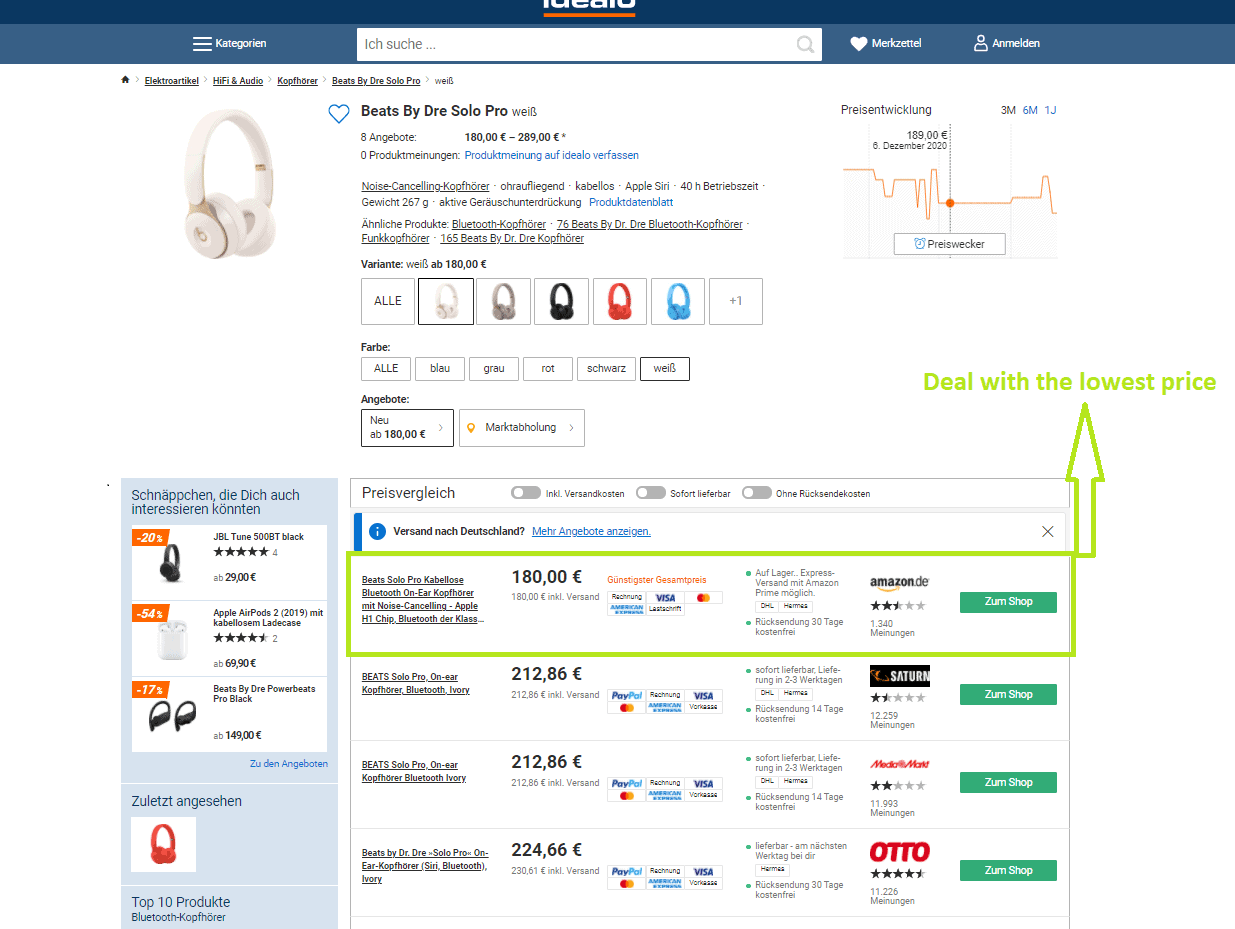 Step 4
Customers can complete the purchase process from the retailer's website. In this case, the retailer is Amazon which is mentioned in the above image.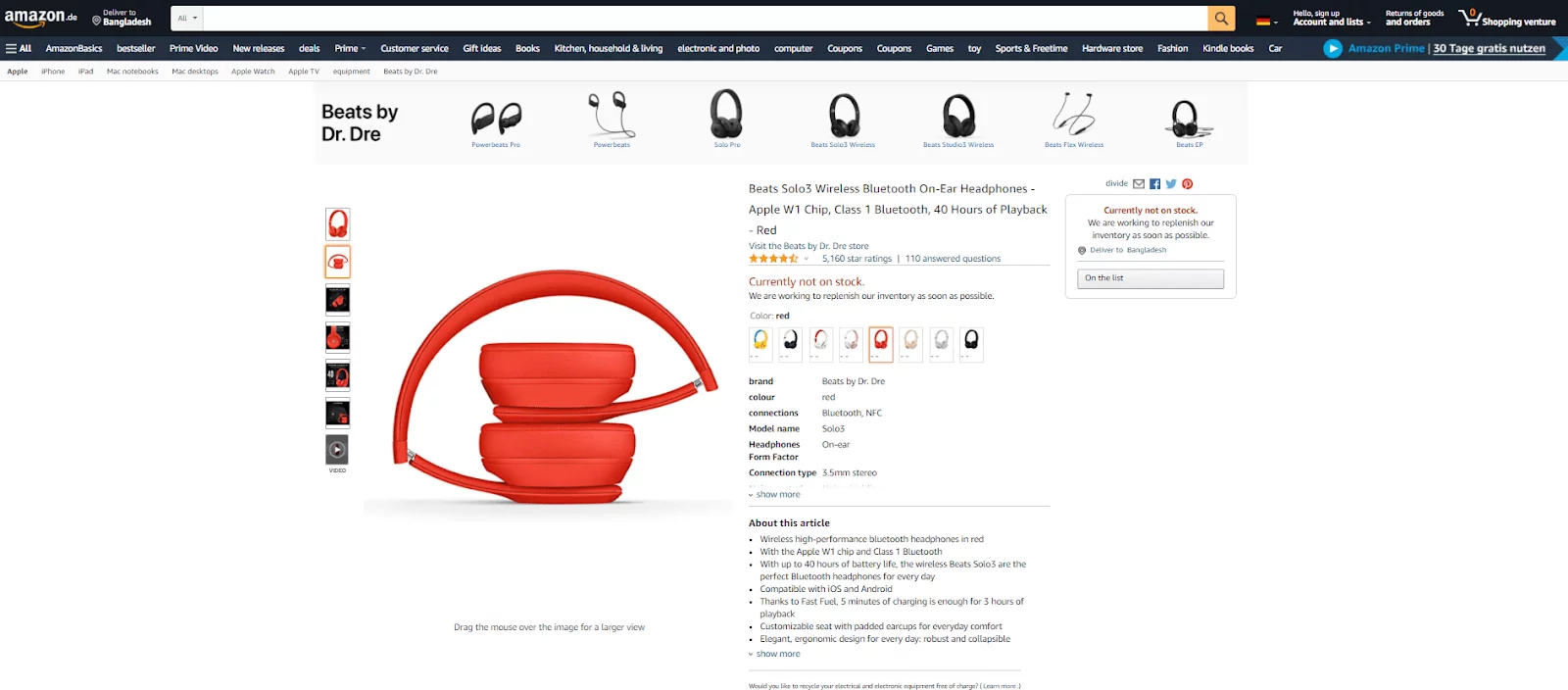 Features of Idealo
Customers can conduct the following actions in the idealo platform:
Conduct a product search according to the product name through Text or EAN.
The platform includes an integrated barcode scanner that can be used to identify product details.
Get a piece of detailed product information that includes product images, videos, reviews, and ratings, and more.
Be able to compare products and prices as well.
Can deep filter and sort products from a vast variety.
Get detailed shipping info.
Be notified when your favorite product reaches the target price range.
Can get their previous product search history.
Can share offers via email, Facebook, Whatsapp, and other platforms.
Via the price comparison option, customers can save a lot of money by making a purchase.
This platform has made the shopping journey more straightforward and easygoing.
Merchant Benefits of selling on Idealo
There are several authentic reasons for retailers to promote their products using the idealo platform. Therefore, we are representing some crucial merchant benefits of idealo:
High Conversion Ratio
Idealo users are primarily interested in purchasing by searching and comparing products. However, These consumers are constantly seeking the best deal to confirm a purchase.
Organized product information easily matches shoppers' requirements and converts users into customers. As a result, converted customers make the final purchase by navigating through your products.
Idealo Checkout
The German counterpart of Idealo offers retailers the to sell their products directly via the Idealo Checkout option. This increases the selling opportunity of your products with instant payout and advanced invoicing options. Retailers gained a 42% increased conversion ratio by using this platform.
Cross-border Access
Idealo is the best platform If you want to access the vast market and increase your selling opportunity. It has gained a trustworthy reputation in Germany and other countries around the UK.
With the straightforward checkout functionality of Idealo, customers can wrap up the transaction without leaving the platform. Moreover, retailers won't need to translate the website's contents and benefit from consumers' reliance.
Optimized for Different Devices
Millions of customers visit the idealo platform every month, and indeed, the number is increasing rapidly. In addition, It is optimized for different devices. Idealo has developed an app for mobile and tab users that has increased its growth opportunity.
Customers using different devices are getting a great shopping experience through this platform. Therefore, utilizing this channel can increase the conversion rate substantially.
Mastering the idealo Product Feed
Idealo works as a gateway to a huge customer base for retailers. Therefore, Users rely on this platform due to its simplicity and straightforward functionalities. As a retailer, you don't have to bid on keywords, which means your rank depends on your product information quality.
The product data requirement of idealo is more flexible compared to other merchants. Hence, the chance of your product visibility increases if you provide detailed product information. Now, we will discuss the basic idealo product feed requirements with some optimization techniques.
Required Product Attributes for Idealo Product Feed
Idealo recommends you upload your WooCommerce product feed in CSV file format though XML format is accepted. Product attribute requirements may vary depending on the type of your product and the market you target. So, Your feed must include the following major product attributes:
Article number in the shop
For this attribute value, enter a unique and shop-specific Id for each of your products. Besides, Idealo indicates products as an article.
Example - 1234.
EAN / GTIN/ Barcode/ UPC
Enter an EAN or GTIN (Barcode or UPC) as an attribute value. This value is essential for automatic product recognition and the product catalog. You can collect this product info from the manufacturer or the distributor of the product.
Example - 797315022582.
Read More: GTIN Guide for WooCommerce and Barcode Guide for WooCommerce.
Original Manufacturer's code (MPN or HAN)
For this attribute, enter a valid manufacturer's code or MPN value. This value is essential for both automatic product recognition and find out articles via the search option.
This value is crucial for creating new products for the product catalog. It helps you get better traffic to your site.
Example - SG#32145.50.
Manufacturer/ Brand Name
This attribute requires the manufacturer or brand name as a value. You can enter your shop name if you are the producer of the product. This field is vital for searching, allocating, and filtering a product.
Example - Beats By Dr.Dre.
Product Name
Provide your article (product) name without any promotional text to allocate your product. The ideal format for product name: is manufacturer + model name/number.
Example - Beats By Dre Solo Pro.
Price
Enter the price, including VAT and decimal point, as an attribute value. Idealo can work with numerous price formats.
Example - 49.99
Delivery Time
Enter a precise delivery time in this field, including the days where possible. Idealo recommends you provide the delivery time and mention it by "days."
Example - Delivery within 2-4 working days.
Product Group in Shop
Provide a category of the product as an attribute value. The provided category information should match the product catalog of your shop. Idealo allocates the product to the corresponding idealo merchant category.
Example - Electrical items > HiFi Audio > headphones> Beats By Dre Solo Pro > White
Product Description
In this attribute value, you should enter your product description precisely and informatively. The description should not exceed 1000 characters. Mention age restrictions for certain products as per the policy.
Example - A customizable seat with padded earcups for everyday comfort. 
Product Characteristics
Use 'name: value pairs as a value for this attribute when a particular category features specific characteristics.
Example - Top note: flowery | Intensity: fresh/ intensive.
Product URL
Provide a link to the value field of this attribute. The URL should redirect users to your website's product details page.
The link below redirects you to Amazon's product details page, where users will get detailed info about the product.
Example- https://www.amazon.de/dp/B07YVY25XD/ref=de_a_beats_1/261-0216815-7945144?th=1
Image URL
Provide a link in this field that redirects to the article (product) image of your shop. The quality of the image should be in the highest possible resolution.
Example: http:// www.shopname.co.uk/images/ image1.jpg
Color
Provide the article-specific color name as a value of this attribute. You are allowed to provide several color values if the product comes in multiple colors.
Example: blue, red, black. 
Size
Enter a product-related and meaningful value in this field that indicates an accurate size of the product. You can enter several size values if the product comes in different sizes.
Example: 28,36,40. 
Shipping Costs (Cash in advance / Credit card )
Enter the shipping costs in this value field that are to be incurred, including extra charges. The idealo recommends the following payment methods:
Cash on delivery
Credit card
PayPal
Invoice
Sofort banking
Amazon Payments
Google Checkout
Click & Buy
Moneybookers/Skrill
Giropay, or direct debit
If the cost across several payments is the same, you have to enter 0.00 in this field.
Example: 5.99 
Unit Price
In this attribute value, enter the unit price of an article (product) related to different units such as 2 Kilograms, 2 meters, 2 liters, etc.
Example: 70.99 GBP / 300ml ; £5.99/kg ; £25 per unit
Energy Efficiency Rating
This value is essential for the attribute that indicates the energy level of a product.
Example: A++
Additional Information About Shipping Cost
Enter payment or shipping types-related information. The length of this comment's character should not exceed 150 characters, and it should not include promotional or advertising text.
Example: 5% off if you pay cash in advance. Free collection at Brooklyn branch. 
How to Create an idealo Product Feed (step-by-step)
You can easily generate a WooCommerce product feed of your store for idealo using the CTX Feed plugin. The plugin includes a pre-built template for idealo that you can use to create the feed in a few clicks.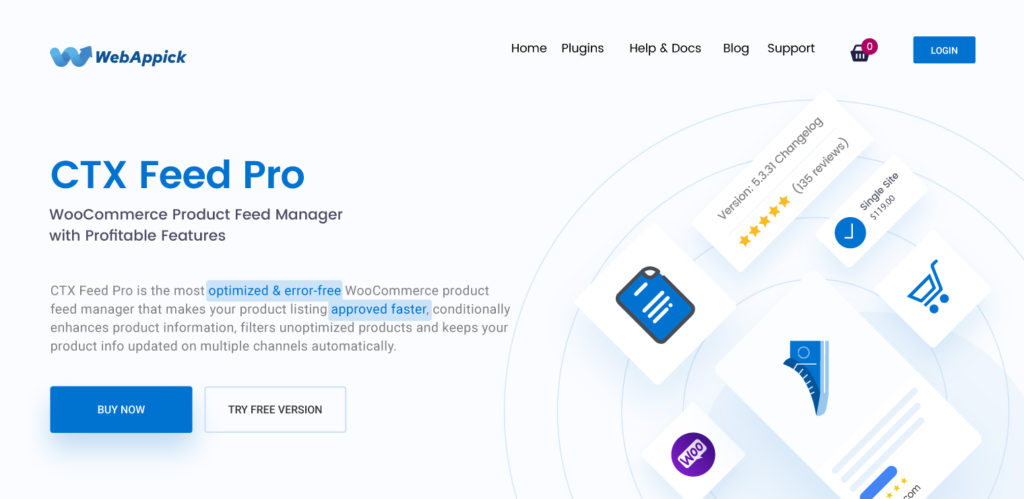 WooCommerce store owners can utilize this plugin to share, advertise and promote their products on idealo. The pre-defined template for idealo generates an idealo product feed without any hassle.
The Idealo template of the plugin includes all product attributes defined by idealo. All you have to do is integrate the feed file on the idealo platform.
Now we will take you through the step-by-step process of the plugin installation and idealo product feed generation:
Step 1 – Searching for WooCommerce product Feed plugin
Firstly, you have to go to the WordPress Dashboard and click the plugin option.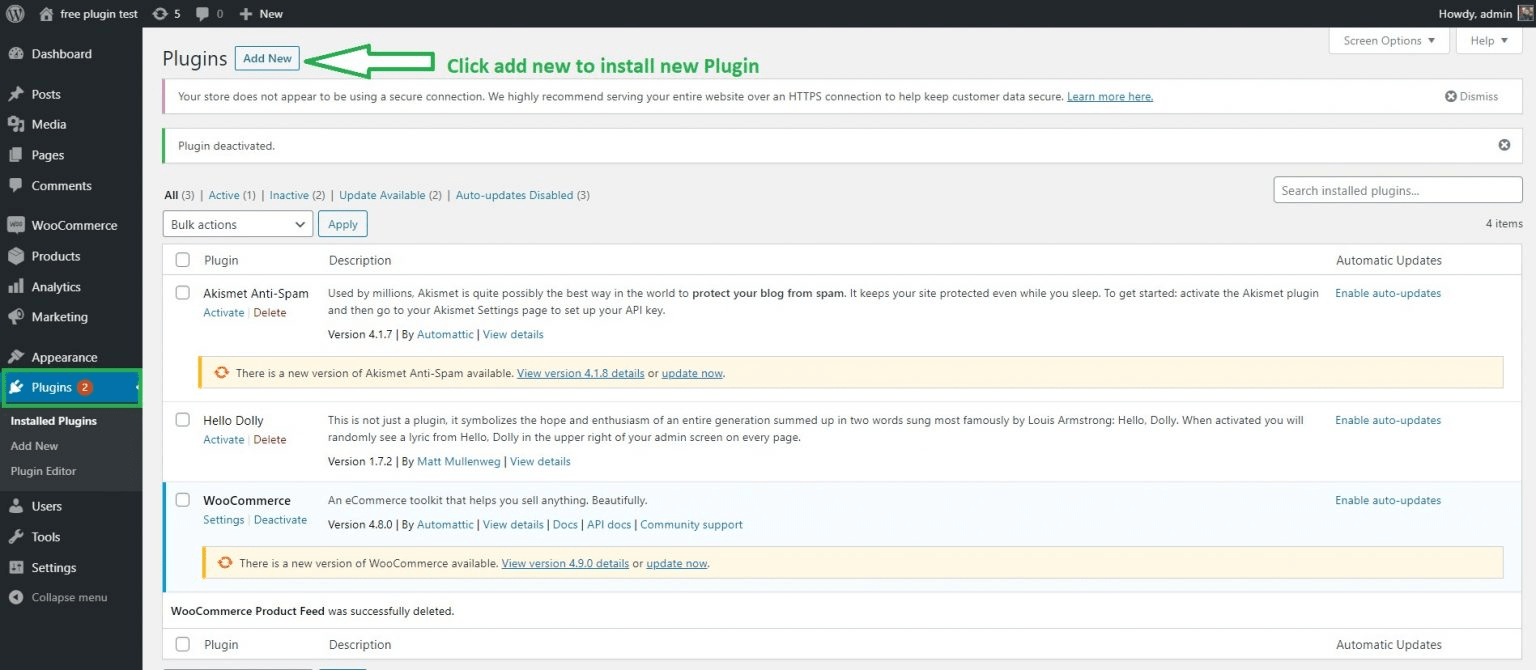 Step 2 – Installing the WooCommerce product Feed plugin
Secondly, use the search box, type "CTX Feed," and hit enter. Click the install button to start the installation process. Right after the installation process, activate the plugin to use it. 

Step 3
Now, click the CTX Feed plugin and click the "Make Feed" option to create the product feed.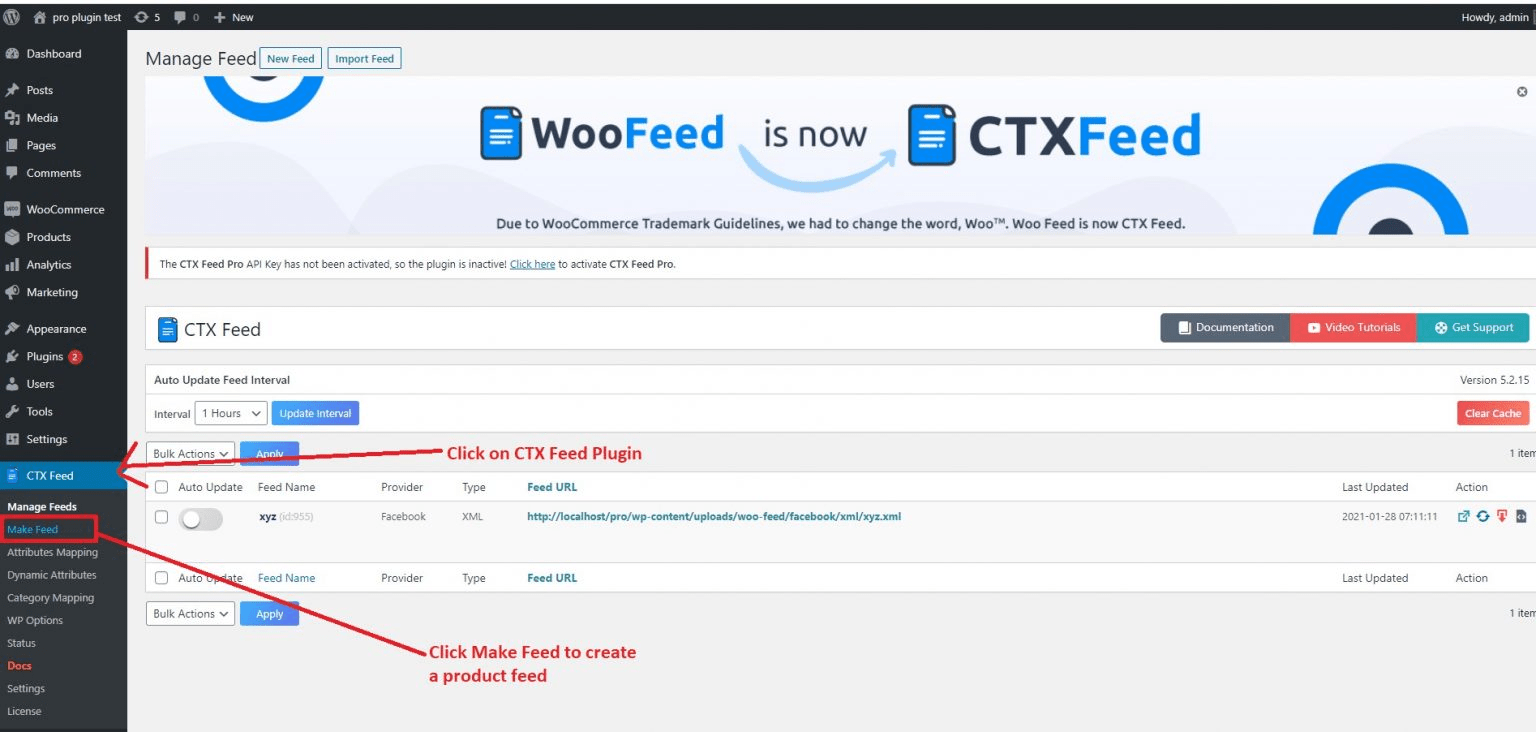 Step 4
In this step, select the targeted country where you want to run your business campaign. Next, select the idealo template from the template option. Now, provide a file name, and then select a file format from the feed type option.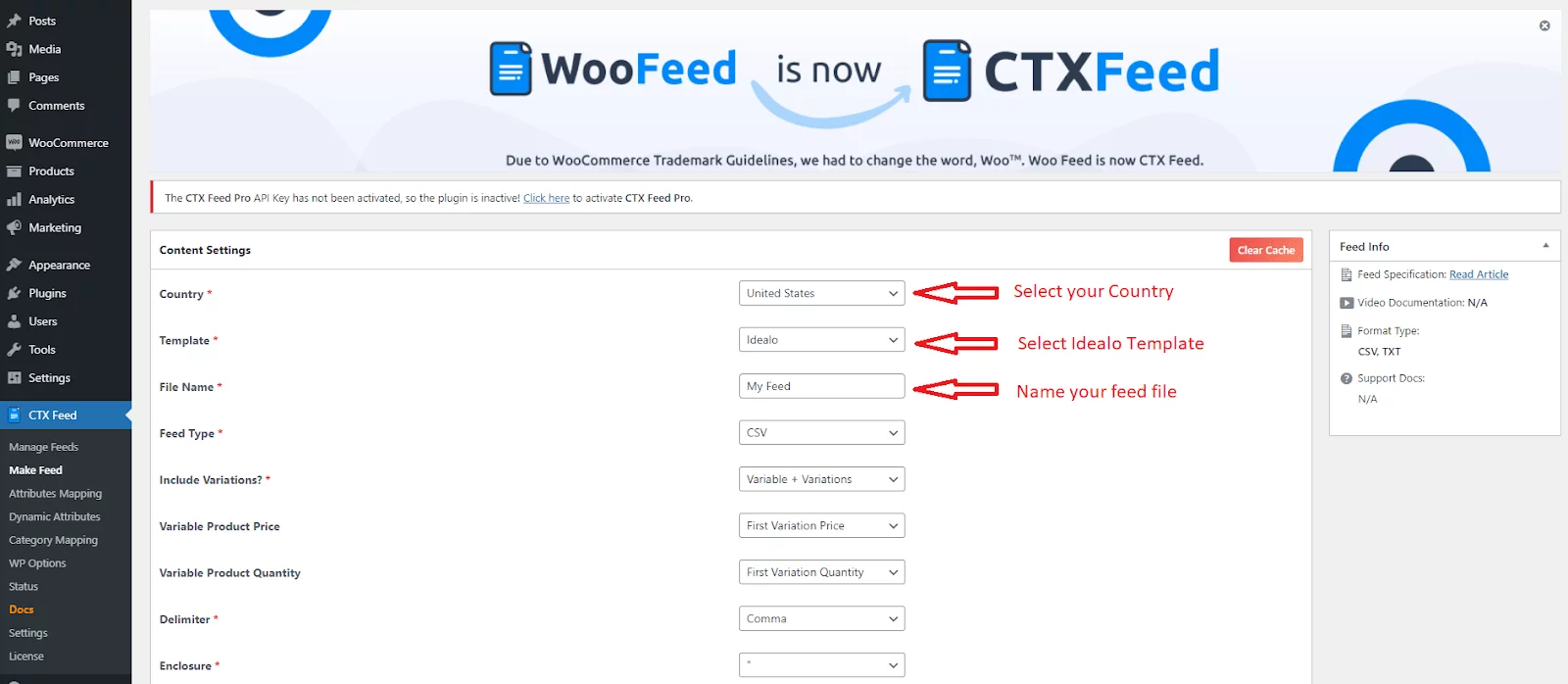 After selecting the idealo template, the plugin automatically creates idealo product feed attributes and attribute values. You can now make necessary changes to these feed data according to your preference.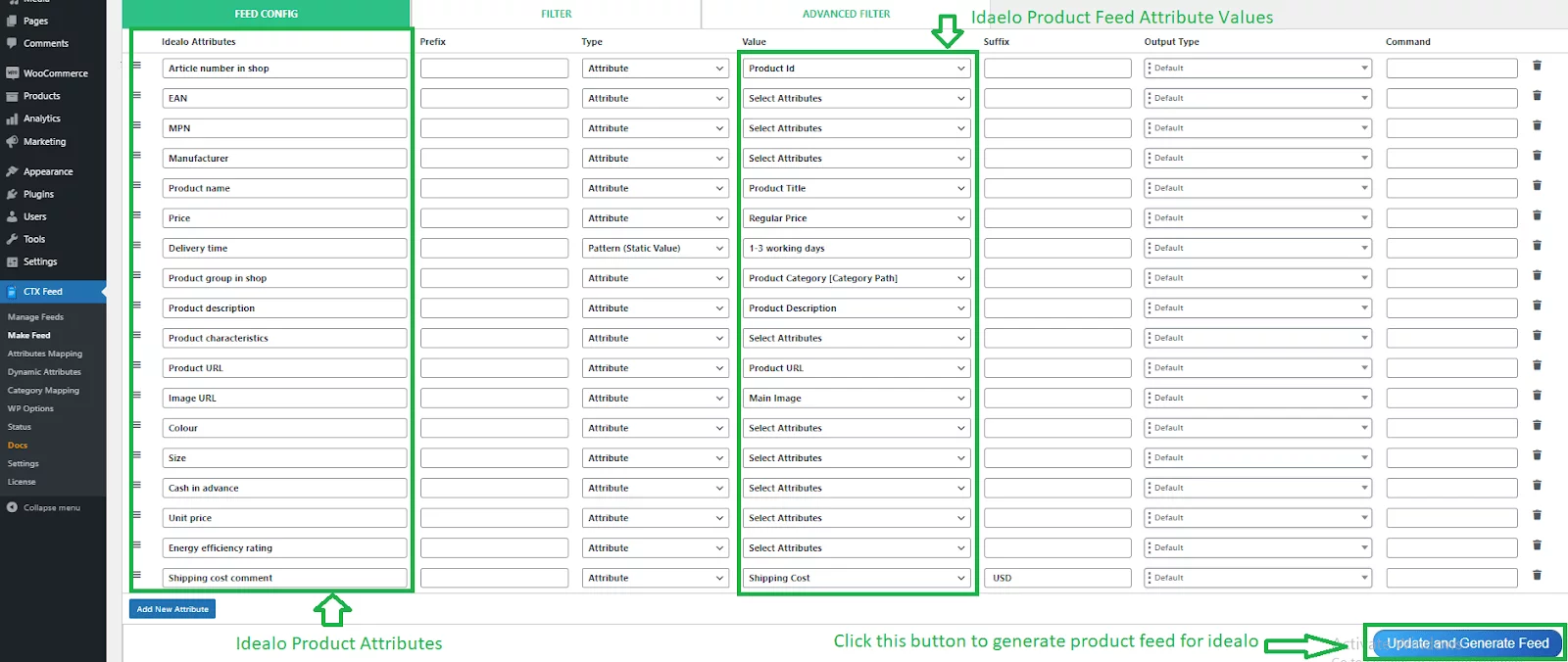 You have to click the "Update and Generate Feed" button to turn your WooCommerce product feed file into an idealo product feed file.
How to Generate Idealo Product Feed with CTX Feed – Video Tutorial
Some Optimization Tips for your idealo Product Feed
Localize the product content
You can increase your conversion significantly by localizing your product content. Change price format locally, currencies, and translate titles and descriptions. This will convert consumers from locations where they do not understand your native language.
Separate the Prices (Product Price and Shipping price)
Separate the product price and shipping price so that users can easily compare the prices with other retailers. This option is helpful for shoppers who are not converted due to unexpected shipping costs.
Separate Product Variant
Create individual columns for each product variant in the product feed. For example, products of different sizes should be treated individually rather than differently. Each size is recognized by idealo as a separate product. These items frequently appear in a search outcome.
Rich Product Description
You can enter 1000 characters in the product description field for idealo. Utilize these character spaces to make your product feed more meaningful and informative. The more information you provide, the more the possibility of conversion increases.
Provide the Latest Data
You should always provide the latest and accurate product data on the product feed. Leverage the auto-update option to update your WooCommerce feed data. It will help you update the idealo product feed data automatically.
You must ensure that the data represented to the shoppers are always updated according to your website. To maintain the consistency of your store. you should regularly update the data feed.

Final Words
Now you know better about the amazing platform named idealo. You should integrate your WooCommerce product feed in it and witness a significant increase in your store's online presence.
A window for a vast marketplace with a massive number of customers will be open for you. Follow our step-by-step guide on how to generate a WooCommerce Product Feed for idealo and notice a significant increase in your sales. In Conclusion, we can say that you will surely get successful as a retailer by following this article.
You May Also Read