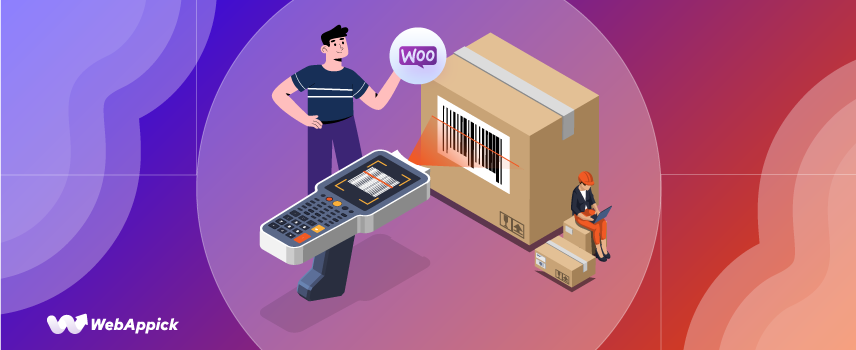 WooCommerce Barcode: The Ultimate Guide for WooCommerce Store Owners
Are you a WooCommerce store owner? Do you want to integrate a barcode system for inventory management?
Adding barcodes for orders and products might seem a daunting task for you at the beginning.
But, that should not prevent you from making the decision of integrating barcodes as the benefits will surely help you save money, time, and resources in the long run.
In this article, we are going to tell you why you need barcode plugins, how they can help your business grow, and the best practices of using barcodes. Last but not least, we will recommend 5 trending WooCommerce barcode plugins from which you can choose the best WooCommerce barcode plugin for your WooCommerce store. 
Are you ready for this all-you-need-to-know-about WooCommerce barcode guide?
We assume that you respond with "Yep!" 🤩
Okay. Let's dive right in.
Why Do You Need WooCommerce Barcode Plugins?
Every barcode comes with information stored on it. With the help of WooCommerce barcode plugins, you and your team can easily scan and decode that very information within a few seconds.
It does not matter whether a barcode is placed on your equipment or items, it helps you to store and trace your information easily along the supply chain.
Leveraging a WooCommerce barcode system, you can get tons of benefits for you, your company, and your employees as well.
However, let us tell you about the four most remarkable advantages that you can reap by introducing a barcode system for your products:
Reduce the likelihood of errors within your business.
Get more accurate data to track and monitor your inventory movements.
Perform audits quickly but precisely.
Make data-driven business decisions.
Apart from the four reasons mentioned above, using the WooCommerce barcode inventory system often becomes a legal requirement in many industries.
Businesses that handle perishable inventory, especially related to food production, need to follow strict regulations in many regions. If those regulations are violated, it might end up in lawsuits, fines, or even worse.
No matter what, if you can use barcodes combined with the right tools, you will be able to keep better track of batches and execute product recalls easily.
And undoubtedly, one of those tools is a WooCommerce barcode plugin.
WooCommerce Barcodes: Five Key Benefits
Are you still on the fence about using a barcode system for your WooCommerce store? In that case, let us tell you about 5 benefits you can expect once you take the plunge.
Get quality data for analytics
WooCommerce barcode inventory systems help you collect data on merchandise and workflows.
Once you start implementing the barcode system, you'll expect to have a finer understanding of the following aspects related to your business:
The speed of order processing in your business.
Inventory levels at different production stages.
A real-time overview of all orders and sold items.
Note that at the time of setting WooCommerce barcodes, you must use unique barcodes for different items.
Using duplicate barcodes will result in inconsistent and inaccurate data from the system.
Minimize human errors and maximize the accuracy
Though humans are great at thousands of jobs, they might often make small yet costly mistakes.
Mistakes happen more often when a task is either boring or repetitive. Inefficient Excel spreadsheets take hours after hours for you to manually update the inventory.
When you choose to use any WooCommerce inventory management plugin, it's gonna save a lot of time for you. Furthermore, it will deliver you more accurate and updated data.
Take full control of your inventory
Real-time inventory tracking with WooCommerce barcodes shows you the inventory turnover rates more clearly.
This also can help adjust the amount of inventory you hold to reduce the inventory carrying cost.
A WooCommerce barcode inventory management plugin can be handy to track assets.
Get a budget-friendly solution
One of the reasons why using barcodes is worth-trying is its low implementation cost. To get things started, you just need to install a WooCommerce barcode plugin and a barcode generator. And that makes you all set to start using barcodes.
When it comes to expenses, you need some money to get a working system in place. Alongside, you might want your employees trained so that they can handle the system properly.
However, at the end of the day, you'll discover that switching to a barcode system is relatively cheaper compared to the manual inventory checking method.
Make Data-Driven Business Decisions
A WooCommerce barcode system helps you take better decisions for your business.
How?
It's all about the data.
The data you receive through using the barcode system allows you to improve your business with the following:
Adopting better demand-planning strategies
Taking better procurement decisions at the time of buying items
Analyzing the products' life cycle
Improving the budgeting policies

WooCommerce Barcodes Best Practices
Now that you know why using barcodes is so important, you might be wondering whether or not barcodes matter for your particular business, right?
The best answer to that question lies in how and why you are going to use a WooCommerce barcode system. Do you want to:
Track raw materials in factories, warehouses, and your store?
Track the expired date of the products or items you sell?
Use barcodes at a physical POS location?
Once you determine the reason why you would go for a WooCommerce barcode generator, it becomes easy for you to choose a solution.
But, before jumping straight to the solutions, you need to know a few simple yet important tips so that you can get the best out of your barcode system.
Does it sound fascinating?
If yes, here are the best practices you can apply to maximize the efficiency of the WooCommerce barcode solution.
Place barcode carefully
Barcodes reduce the amount of time when it comes to performing almost any action related to your inventory management.
But, if you and your employees require a couple of minutes to rotate items to locate the barcodes, then there is absolutely no point in using the barcode at all.
Because, instead of saving time with inventory, it will exactly do the opposite.
To avoid wasting your valuable time, it would be wise to follow a consistent process for labeling items and tools.
For example, you can consider placing all barcodes in a specific area on the surface of your products or materials.
Even better, you can place the barcodes on the product shelves.
Standardize the barcodes from the beginning
In case you choose to use 1D or 2D barcodes, processes and workflows should go hand in hand with your industry and other departments of the company.
Also, to maintain a similar data structure in your barcodes. It will help you avoid confusion, especially when you're dealing with hundreds or thousands of products.
Keep the teams united and synced
Once you start using a WooCommerce barcode plugin for your WooCommerce business, it is important to see if every one of your team can cope with the change.
You should spend a fair amount of time educating and training your team members about the new procedure of inventory management with barcodes.
If you fail to do so and any of your employees do not use barcodes within your business, you'll surely notice inconsistencies in the inventory reports. Moreover, you may miss valuable business data. That you never want, right?
5 Popular WooCommerce Barcode Plugins
To use the barcode for your products and orders, you have to generate and print the barcodes first.
There are dozens of plugins for generating and printing barcodes. Let us recommend 5 of the popular barcode plugins out of them that work smoothly for WooCommerce. Go through the descriptions and choose one or two for your WordPress website.
1. WooCommerce Order Barcodes

WooCommerce Order Barcodes plugin allows you to generate barcodes for all the orders placed on your WooCommerce store by the customers. Unlike other third-party WooCommerce barcode plugins, this is a premium plugin developed by WooCommerce itself.
The barcode generated by this plugin is attached to the order email sent to the customers.
On top of that, the barcode is also placed on the order details page of the customer's account area. This helps the customers print the barcode out effortlessly in case they need it.
The barcodes you generate with this plugin can be used for a variety of purposes including e-reservations, packing slips, e-tickets, and more.
Key Features of WooCommerce Order Barcodes Plugin
It generates five types of barcodes: Code 39, Code 93, Code 128, Data Matrix, and QR Code
You can create unique barcodes for all the orders
Both store owners and shoppers can view and print out barcodes
It supports tablets and smartphones
Scan and process all types of barcodes directly on your website
It offers a built-in barcode scanner for completing orders easily
Scan the barcodes with the available shortcodes
It is fully compatible with WooCommerce Bookings to make booking seamless
Barcode scanner for iOS and Barcode scanner keyboard for Android
It can also generate barcodes for the existing orders.
Related Post: The Ultimate WooCommerce QR Code Guide for Store Owners
2. YITH WooCommerce Barcodes and QR Codes
YITH WooCommerce Barcodes and QR Codes is one of the well-rated WooCommerce barcode plugins that enable WooCommerce store owners like you to generate and use barcodes and QR codes for all the products.
The barcode or QR code you generate with this plugin is displayed on the products page and order details page.
This plugin will help you manage the order statuses, and product stock faster but more accurately.
To help create stickers for physical products, this plugin also offers you a printable list of all the barcodes. Also, you can integrate it with Point of Sale (POS) for quick checkout purposes.
Using this plugin on your WooCommerce website, you can also facilitate the users to search for products by barcodes.
Key Features of YITH WooCommerce Barcodes and QR Codes Plugin
Assign barcodes and QR codes for products and orders
Generate barcodes for variable products
Scan and search products and orders by barcodes
Generate barcode using any of the 10 barcode protocols or formats: EAN-13, EAN-8, UPC-A, STD 25, INT 25, CODE 39, CODE 93, CODE 128, Codabar, and QR Code.
Generate product barcode using product ID, SKU, or any custom field
Show the barcodes on the edit order page and on the product page
You can choose to insert pre-printed codes manually or auto generated ones automatically
Generate QR code using the product URL
Include the order and product barcode in the order emails and product detail page
Generate order barcodes based on order ID, number, or any custom field
Print all the product barcodes into a PDF file based on variations and stock units.

3. Order Barcodes for WooCommerce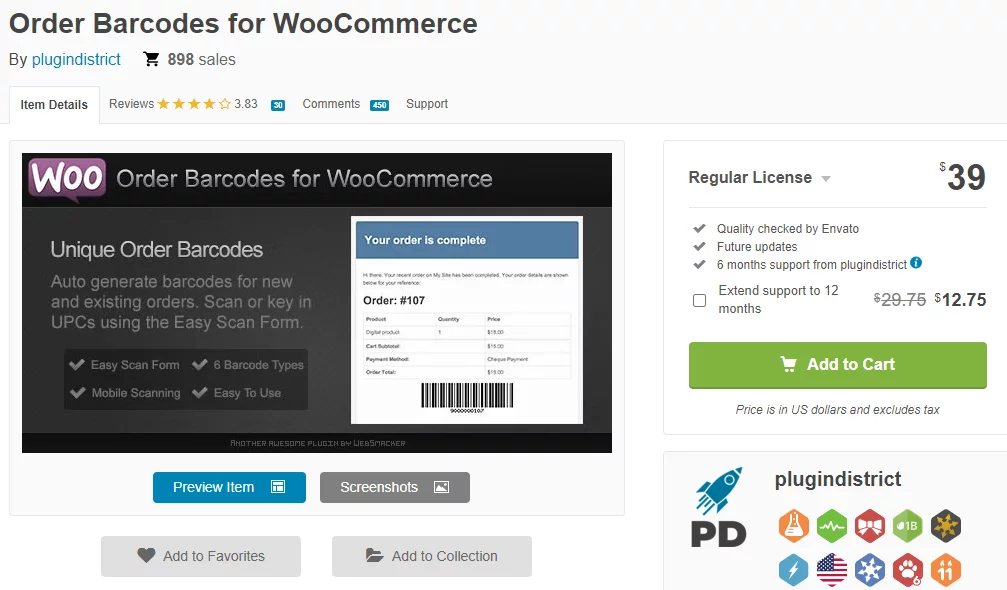 Developed by plugindistrict, Order Barcodes for WooCommerce is another premium plugin available on Envato Market for generating barcodes.
You can leverage this WooCommerce barcode plugin for generating different types of barcodes including QR codes for each order on your WooCommerce store. The customers can view the barcode or QR code for their ordered products on the order details page, for both email forms and web.
Apart from using this plugin for new or future orders, you can use it for existing WooCommerce orders as well.
Key Features of Order Barcodes for WooCommerce Plugin
It generates barcodes automatically for all the orders
The generated barcodes are included in order emails and store
It features an easy scan form for store owners to check customers in and complete orders
Supports 6 types of barcodes: Code 39, Code 128a, Code 128b, Code 128c, 4 of 5 Interleaved, and QR Code
Scan and set order status automatically with the QR code scanner
You can place the form anywhere with the help of available shortcodes
It works seamlessly with smartphones, tablets, and PCs
Offers mobile QR code checking with QR mobile friendly form.
4. Print Barcode Labels for your WooCommerce products/orders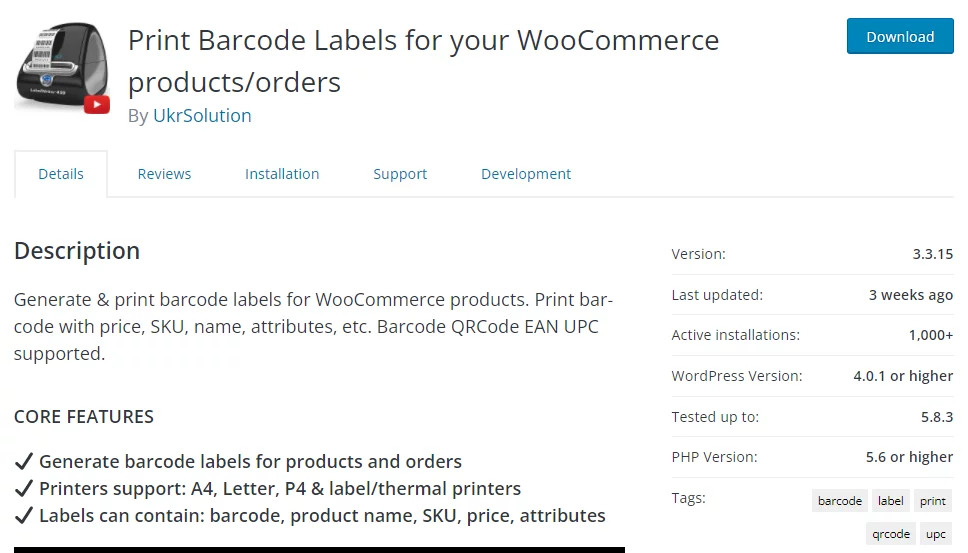 Developed by ukrSolution, Print Barcode Labels for your WooCommerce products/orders is a freemium WordPress plugin (QRCode EAN UPC supported) to let you generate and print barcode labels for WooCommerce products.
With this plugin installed on your WooCommerce website, you can generate unique barcode labels for orders, categories, and products.
You can include the product name, price, SKU, attributes, etc. on the labels depending on your preference. The barcode labels can easily be read both by barcode reader scanners and apps on iPhone and Android smartphones.
To make sure things fit with your brand, this plugin also lets you print barcode labels with customized designs. You can use your personalized logo, attributes, texts, custom fields, and other design elements as required.
This plugin works seamlessly with a variety of printer types and printing formats.
Key Features of Print Barcode Labels for your WooCommerce products/orders
Add personalized and customized product data and texts to the barcode labels
Read the barcodes with a barcode scanner or iOS and Android barcode and QR code applications.
Create unlimited copies of barcodes in manual mode
It supports WooCommerce variation products
Create barcodes manually only for selected products and categories
It supports a wide range of barcode types and formats: CODE128, CODE39, QRCode, DataMatrix, GTIN, GS1 family (UPC-A, UPC-E, EAN-13, EAN-8)
It works perfectly with Contact Form 7 and Flamingo form fields.
5. Woolabel – QR Code & Barcode Generator Label Printing

Woolabel – QR & Barcode Generator Label Printing is a premium WooCommerce barcode plugin made specifically for the internal use of the WooCommerce stores. That's why you cannot use it for e-tickets or send it to your customers on customers' order page in web and email forms.
However, it's still a good choice if you want a barcode generator and print barcode assistance for product scanning and inventory management.
After installation of the Woolabel plugin on your WordPress website, you'll notice that a Woolabel menu item is added to the admin sidebar.
The printable barcodes are well-formated for label printers of different brands. What you all have to do is to print the barcodes and then stick them to the product surface or packaging.
As the barcodes include the price of the products, you can also use them on the stocked inventory. Furthermore, you can always customize the font size and layout of the barcode labels as per your preference.
Key Features of Woolabel – QR & Barcode Generator Label Printing
Generate and print physical barcodes/QR codes and product labels for your WooCommerce products
Works seamlessly with online POS
Add price, SKU, product title, and any custom text or data along with a scannable barcode on the label
Bulk print barcodes via ATUM inventory management
It features most of the popular barcode types and formats such as Codabar, EAN8, EAN13, Standard 2 of 5, Interleaved 2 of 5, Code 39, Code 93, Code 128, MSI, Datamatrix, and QR code
Print with product variations.

You Now Know It All…
Congratulations! 🎉
You've successfully completed a learning session on:
Why do you need WooCommerce barcodes
Five ways barcodes can help your WooCommerce business
Best practices for using barcodes, and
Popular barcode plugins for WooCommerce stores to choose the best barcode plugin for your WooCommerce website.
We hope that this WooCommerce barcode guide was immensely helpful to you.
If you have any queries or thoughts regarding this post, feel free to let us know in the comment section below.
You May Also Read