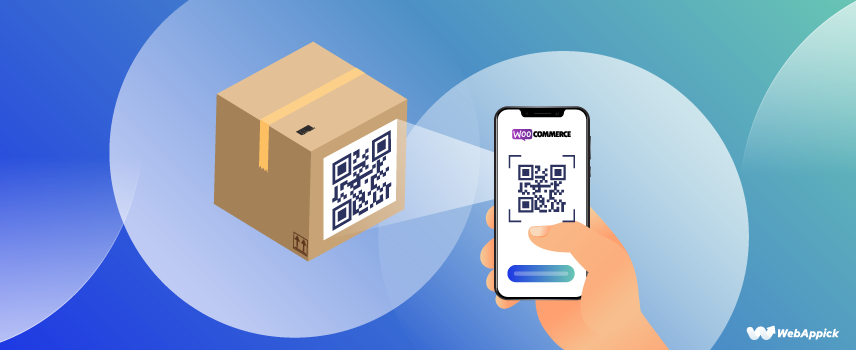 The Ultimate Guide to WooCommerce QR Code for Store Owners
QR code is one of the popular barcode formats that you see anywhere nowadays.
Do you know that you can also make use of QR codes to take your WooCommerce business to the next level?
If you need to know how, this blog is for you.
In this blog, we're going to tell you what QR code is, how it can help WooCommerce businesses, and exactly what WooCommerce QR code plugins you should use for your online store. 
Without spending more words on the intro, let's dive into the main content.
What is a QR Code?
It is quite impossible that you have never seen a QR code before. A QR code is a square-shaped object that you often see on product surfaces, in advertisements, videos, and almost everywhere.
Simply put, a QR code is a shortcut way to reach information.
A QR code might look funny and bizarre at first sight (due to its apparently meaningless black and white pieces), but it has a tremendous capacity to store valuable information.
Below is an example of a QR code. You can scan the QR code with a physical QR code scanner or a QR code scanner app available for smartphones.
No matter what QR code scanner you use to decode the data in the following QR code, you'll always see the same information (i.e. a URL of CTX Feed Pro landing page).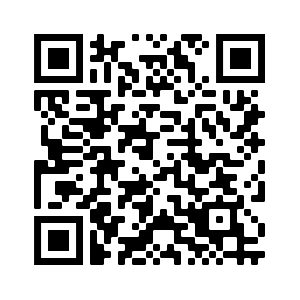 As QR codes are truly straightforward, a website owner can leverage them to perform a myriad of tasks that range from offering coupons to providing contact information.
5 Interesting Facts About QR Codes You Might Not Know
Let us tell you some quick yet interesting facts about QR codes.
What Do "QR" codes mean: QR codes stand for Quick Response codes.
Are barcodes and QR codes similar: QR codes can be compared with barcodes in the sense that you will find QR codes on the packaging of the products as you do see the barcodes.
QR Codes vs Barcodes: While traditional barcodes can hold a small amount of data, QR codes are reliable for storing a massive amount of data.
How massive?
For your information, QR codes can hold up to 4296 characters, aka 7089 digits, including special characters plus punctuation marks.
Be it words, phrases, or URLs, you can encode any of these into scannable QR codes.
The size and the structure of the QR codes depend on how much data you're adding to them.
More data translates into a more complex structure and greater size.
How to Decode QR codes: To decode the encoded data in QR codes, you need to scan the QR codes with a compatible device such as a smartphone with a camera and QR scanner application.
You can also choose to use a handheld QR/Barcode scanner to scan the QR codes swiftly.
QR codes work even if 30% are damaged: It is truly an interesting and unique thing about QR codes. The data keys of a QR code structure include duplications that allow any QR code to be scanned and decoded even if 30% of the code structure is damaged.
Types of QR Codes
QR codes are of two kinds:
Static QR codes
Dynamic QR codes
Static QR codes are fixed and non-editable. On the other hand, dynamic QR codes can be edited and updated from time to time as per your requirement.
While static QR codes are good for personal use, dynamic ones are best suited for sales, ads, coupons, and anything commercial.
How to Leverage QR Codes for Your WooCommerce Business
There are different ways to leverage QR codes for your WooCommerce business. Let us explain some of them to you.
Make a Better Contact Us Page
It's quite a traditional approach to add a contact form to let clients contact you through the "contact us" page.
However, you can simplify the process for your clients by adding a QR code on your 'contact/contact us' page containing your email or phone number.
When a client scans the QR code with their phone, they can easily get your email or contact number automatically on their device. This will enable them to get in touch with you quickly and effortlessly via email or phone.
Also, this saves them a hella lot of time and energy they would have to spend manually typing the contact details from your website to their smartphones.
Below is an example of how a professional writer has used QR code in his about page: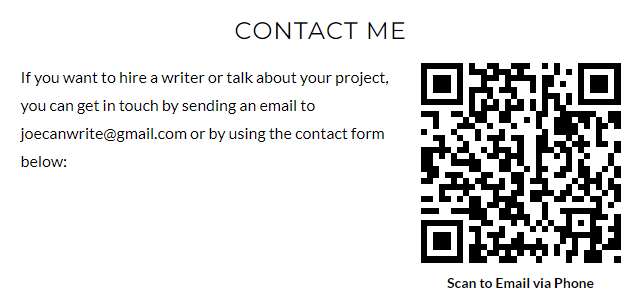 Share File Download Links
Who doesn't like anything valuable?
If you have anything to share with your clients such as podcasts, PDF ebooks, or anything easily consumable, you can wrap these up with QR codes. This allows the users to go through your content on the go from their mobile devices.
Let Shoppers Know Your Business' Location on Map
If you have physical stores along with an online store, it's a good idea to let your customers know where your stores are exactly situated.
Make a QR code with the marked location of your business on the map so that your customers can stop by and do some shopping from there whenever they want.
And it all begins just by scanning the QR code with their smartphones.
Share Contact Details with vCard
If you want to let your customers save your contact details such as your business name, phone number, email, website address on their Contacts list, vCard is the easiest way for them.
If you encode the contact information in vCard format to a QR code, your customers can contact you or browse your website whenever they need it.
Shopping App Download
Do you have a shopping app for users of Android and iOS? If yes, you can use a QR code with the link that redirects the shoppers to the installation page of your app. The QR code will redirect the shoppers to the appropriate app store based on the device they use.
See how Daraz, an eCommerce company has used it in the footer of their website: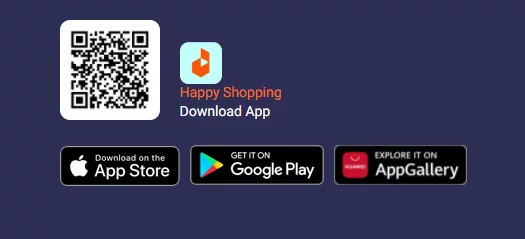 Make and Offer QR Code Coupons
If you're promoting your WooCommerce business by both online and offline medium, you should leverage QR code to embed coupons inside.
If you place the QR code on newspaper, brochures, magazines, and flyers, people can easily scan them via their device and then redeem the coupon you offer.

As the customers can redeem your coupons pretty quickly without manually inputting the written coupon code themselves, it reduces the cart abandonment rate.
QR code coupons can also help you with location-based marketing strategies.
When you're offering a flash sale or year-end sale, you can easily grab the attention of the customers who live near your physical store by sending them the QR code coupon.
And More…
The ways of leveraging the QR codes mentioned above are just like the tip of the iceberg.
A QR code can help your WooCommerce business and customers more if you generate and use the QR code to:
Let the customers know more about their order by assigning a QR code for each order
Invite both the potential and existing customers to any event you're organizing
Inspire the customers to rate your business on Facebook, Google, and other review websites
Let the customers scan and pay for their orders
Invite the customers to like and follow you on Facebook
Offer the customers to stay with your YouTube channel, Twitter, and Instagram by following your page or subscribing to your channel.
6 WooCommerce QR Code Plugins You Should Use
You already know about dozens of ways on what QR code can do to your business.
But, knowing about what you can do with the WooCommerece QR code is not enough, right?
Yes, you also do need to have a clear idea of how to get the job done.
Here comes the use of WooCommerce QR code plugins.
To make sure you can generate and use QR codes for orders, posts, pages, emails, and even for offline promotion purposes, we've handpicked 6 QR code plugins for your WooCommerce store.
We can confidently say that If you can untap the power of the WooCommerce plugins we're going to suggest below, you'll be able to make the best use of the QR codes for your business.
So, are you ready?
Let's get the ball rolling.
1. QR Code WooCommerce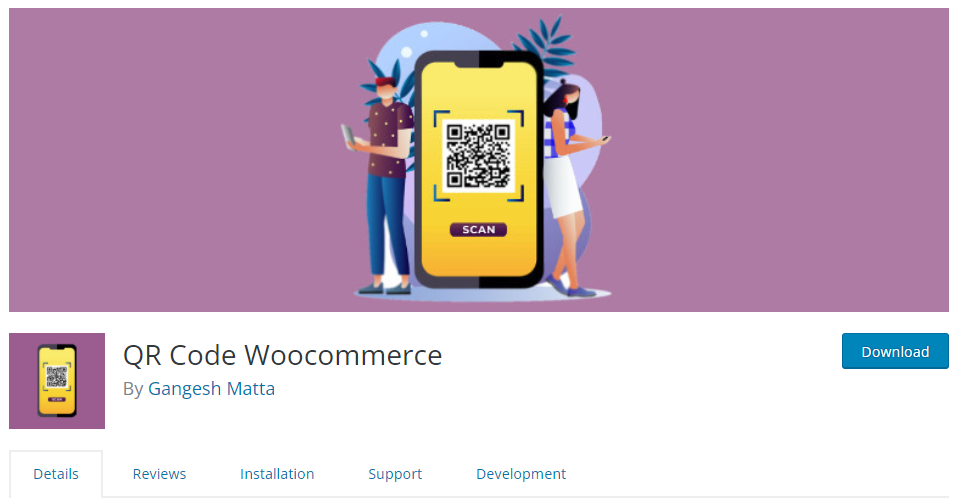 Developed by Gangesh Matta, QR Code WooCommerce plugin stands first on our list.
At the time of writing this blog, this is a five-star rated WordPress plugin for generating QR codes for WooCommerce shops.
Leveraging this simple yet powerful plugin on your website, you can make your webshop better accessible for the customers.
Apart from letting you generate QR codes, the QR Code WooCommerce plugin supports the print of the QR codes for both single and variable product types.
What's nice about this plugin is that it also supports Coupon QR code.
As it has an easy print option to print the PDF QR code, it helps you reach the offline users who choose to shop from your physical stores.
Plus, you can use the QR codes on your marketing banners for better offline promotions of your products or shop.
Key Features
Generate simple and variable product QR code
Delete simple product QR code
Delete variable product QR code
Download Coupon PDF
Download Coupon QR
Bulk QR code generator
Download or print PDF for simple and variable products
QR design option with image overlay, color, and text.
2. YITH WooCommerce Barcodes and QR Codes

This plugin will let you generate QR codes and barcodes on WordPress and use them on your WooCommerce products.
Apart from letting you use QR codes on WooCommerce product pages, this plugin can also help you attach QR codes on every order you receive.
When it comes to generating QR codes, you can either generate QR code for all the products or for those products that do not have any QR code.
Key Features
Generate barcodes or QR codes and different types of barcodes on the product and order page
Display QR codes in the order emails
Manage order status through scan
Generate QR code using the product URL.
3. Kaya QR Code Generator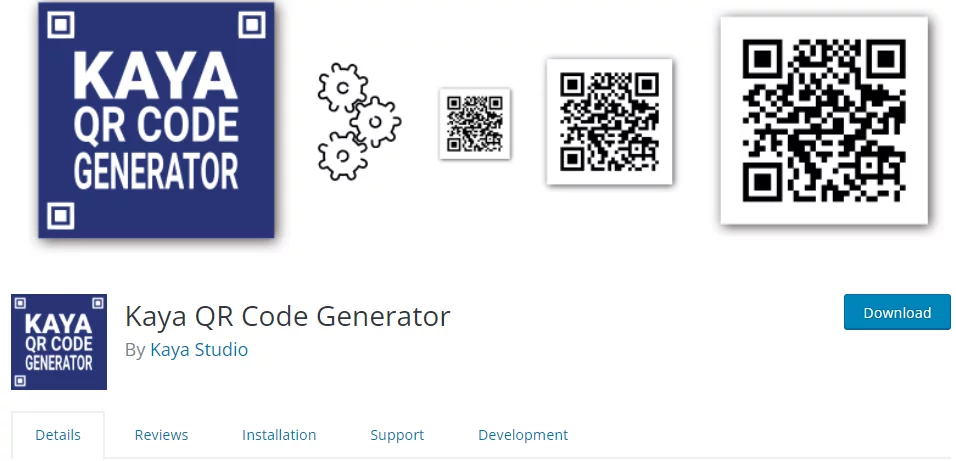 Kaya QR Code Generator plugin for WordPress is one of the most appropriate plugins for generating QR codes for WooCommerce products. This plugin lets you generate both static and dynamic QR codes.
For adding a QR code to your site with this plugin, you have to either use a widget or shortcode.
This plugin will help you add the QR code to your posts, pages, sidebar, and WooCommerce products.
As you can easily customize the settings of this plugin, it is more than possible to send the shoppers to any page, URL, or text you want.
Also, you can easily customize the size, color, alignment, and background color to meet your needs.
This plugin comes in English and French language.
Key Features
Generate QR codes for posts, pages, and sidebars
Use Dynamic content for the QR code
Easily customize the size, alignment, and color of the QR code
Preview and Download the QR code
Works fine with WordPress multisite.
4. WooCommerce QR Code Generator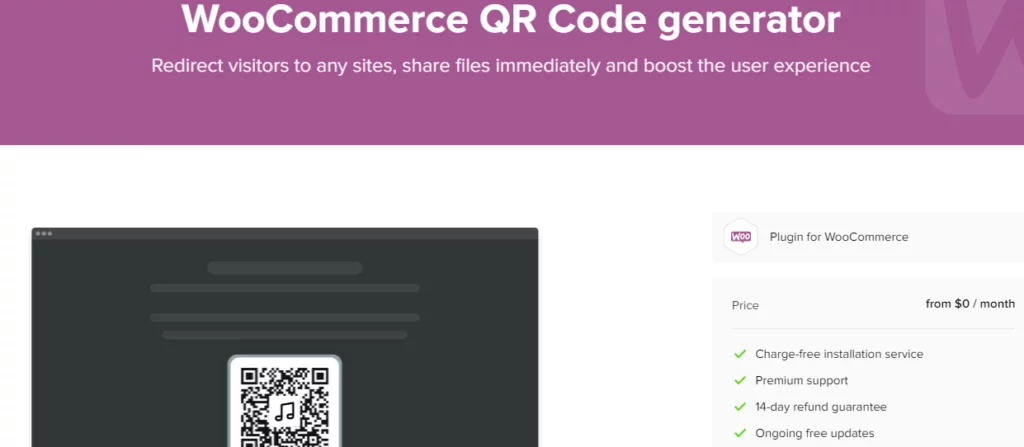 WooCommerce QR Code Generator by Elfsight is one of the notable WooCommerce plugins for generating QR codes. This plugin allows you to redirect your visitors to any web page instantly.
You can also embed a link, your location details, email address, phone number, and more to the QR code for your customers.
Due to the great customizable capacity of this plugin, you can easily adjoin a title, caption, choose your favorite icon and logo type from their library or yours.
Moreover, you can also choose to change the color of the text, background, and frame.
To make sure a QR fits properly to your preferred place on your website, you can also fix the size of the QR code.
Key Features
Eight easily swappable logo
Attaching any text or URL
Customize the widget's parts
15 Switchable icons
Personalize the WooCommerce QR code with templates
5. WooCommerce Order Barcodes

As you know that QR code is a type of barcode, WooCommerce Order Barcodes plugin offered by WooCommerce can also be an ideal plugin to generate QR codes along with other types of barcodes for your WooCommerce store.
So, if you get this plugin, you can create both QR codes and other barcode types simultaneously as per your preference.
As per your settings, a barcode or QR code is generated for each order you receive on your WooCommerce store and then the code is emailed to the customer. Also, the barcode or QR code is shown on the order details page of the customer.
Key Features
Generate a QR code or barcode for each order you receive
Attach the QR code or barcode in the order email
Display the QR code or barcode on the order details page
Choose your preferred barcode type from the five available types
Read More: WooCommerce Barcode Guide with Plugin Recommendation
6. URL Coupon for WooCommerce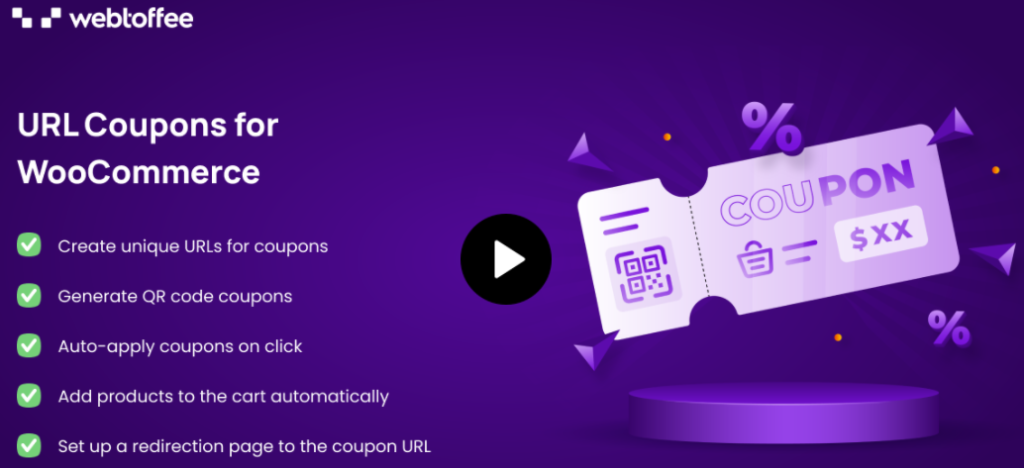 URL Coupon for WooCommerce plugin by webtoffee will help you unique QR code coupons to offer discounts to your WooCommerce store's customers.
You can easily share the QR code generated by this plugin online and offline to your customers who can avail the discount by scanning the QR code.
Key Features
Generate QR code coupons effortlessly
Generate Coupon URLs
Assign products to URL coupons, and more.
Ad Break!
You're almost near the conclusion! Just an ad break (of two WooCommerce products :p) away!
It'll just take a few of your seconds!
Do YOU need to generate PDF invoice and packing slips effortlessly for all your orders? You Need Challan PDF Invoice and Packing Slip Generator.
Do YOU want to promote your WooCommerce products to 100+ marketing channels and shopping comparison sites within a few minutes? You Need CTX Feed!
Don't worry about your money! Both plugins have free versions for you on WordPress.
And if you buy pro, we offer a 30-Days Money-Back Guarantee if you think our products don't do their job as they should!
Either way, it's a foolproof offer from us as we believe in the quality of our products.
You're Ready to Act NOW
Congratulations on coming so far in learning! You're now an expert WooCommerce QR code user for your business.
We believe that this guide was immensely helpful to let you know how to leverage the QR code to take your WooCommerce business to the next level and what QR code plugins you should use to get there.
You now know dozens of fields where you can unleash the power of QR code to draw more customers, get more sales, introduce and promote your business to new customers, reduce the cart abandon rate and get a better conversion rate.
You May Also Read