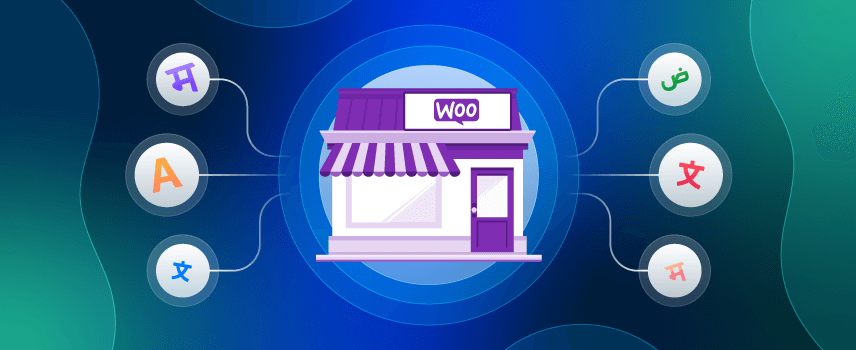 How to Create a WooCommerce Multilingual Store (for Beginners)
Do you want to reach global customers to sell your e-Commerce products? But, at the same time, do you think that creating a WooCommerce multilingual store is a herculean task? If yes, then you are at the right place. We recommend that you should go through this blog till the end.
In this blog, we're going to talk about the reasons to create a WooCommerce multilingual store along with the step-by-step processes of how you can create your international store on WooCommerce.
At the end of reading this guide, you'll learn to use multilingual plugins for translating your website into multiple languages and some crucial factors to consider before setting up a multilingual global store.
So, are you ready? Let's begin.
Self Assessment: Do You Need a Multilingual WooCommerce Store?
To assess whether you should go for a WooCommerce multilingual or not, ask yourself the following questions:
Is my WooCommerce store getting clicks from international visitors? (Track with Google Analytics)
Am I getting buyers from around the globe?
Do I receive frequent support tickets from different language users?
Am I capable of serving global customers?
Can I deal with shipping, taxation, and other related issues that come with global buyers??
Can I ensure a good experience for my global customers without affecting my present customers?
If your answer to all or at least most of these questions is 'yes' or 'maybe', you can go ahead and take a chance to get global.
Why Should You Create a WooCommerce Multilingual Store?
We believe that you're here because you already know why creating a multilingual store with WooCommerce is worth trying!
However, in case you're not 100% convinced of how a WooCommerce multilingual store can benefit your business, this section is just for you.
Have a look at a few plain reasons why it's high time to create a WooCommerce multilingual store.
Reach a Larger Audience
Did you know that native English speakers consist of 25.9% (only!) of the internet users?
What does it mean to you?
The bitter truth is; 74.1% remains beyond coverage as you're catering content for English users only.
Let's see the issue from another dimension.
CSA Research surveyed 8709 customers in 29 countries and found that 76% of shoppers prefer to buy products that offer product information in their native language.
Wait, hold on a second — we are yet to tell you something startling!
40% of shoppers reported that they Will Not buy anything from websites made in other languages.
Therefore, if your eCommerce website is limited to a language (English, for instance), you're losing thousands, or who knows, probably millions of potential customers worldwide.
No matter how great your product or service is and how catchy the product description you write, it is all Greek to those who do not know or understand your language, right?
Here comes the importance of adding WooCommerce multilingual options to any website.
If you want to reach prospects and buyers from around the globe, there is no alternative to getting a multilingual website.
Stay Ahead of Competitors
Offering a multilingual WooCommerce store keeps you miles ahead of your competitors.
If you go global and reach at least 1000 (out of billions) more customers who do not speak English and beyond your competitors' coverage, isn't that a big achievement?
Going multilingual will help you get more exposure to the international market and hence you're supposed to achieve more sales and company growth if you can play the game well.
To talk with real-time statistics, Ron Dorff, a sportswear brand, translated 150 products into 3 languages on their online shop. And here's how their business boomed:

And now, they've added one more language option and currency to allow the users of different countries to buy swiftly from their online store using several currencies.

So, it's all about your strong will and the smart decision that can give your business the momentum, while your competitors will strive to follow you.
Minimize Bounce Rate and Maximize Conversions
Being a user of the English language, did you ever land on an eCommerce store made entirely in the traditional Chinese language or any language you did not know?
Let us assume that your answer is, "Yes, maybe I did once or more".
Your positive answer leads to our second question: Did you enjoy scrolling through the products for hours and adding them to the cart?
We suppose that you'll provide a negative review now.
Now, ask yourself the whys.
Your answer can be one or multiple of the following:
I didn't know Chinese/the language at all.
I entered the website and found myself in the midst of a labyrinth.
I entered the website and went back immediately.
I went back to Google and searched differently.
I manually translated the website to understand what's on it.
Well, you're not alone. It's the story of millions of shoppers.
Just reverse the point of view and look from the perspective of a Chinese shopper who has no knowledge of English but wants to buy from your store that is entirely created in the English language.
As you've gone with the same experience, you can feel the pain of the shopper, right?
As a business owner, you must not want people to bounce off your online store without buying anything. Again, your ultimate business goal is to maximize the conversions rate and get loyal as well as repetitive customers, right?
To make sure you can cater to people from countries with different languages and currencies, making your WooCommerce store multilingual is the key.
And More…
The three reasons mentioned above are like the tip of an iceberg. Let's explore a few more benefits a multilingual WooCommerce can help you reap:
Get a traffic boost from around the world with international SEO
Give your visitors the best user experience
Improve your website ranking and get more online visibility
Build an international and recognized brand users can trust
Localize your store, and
Run cost-effective marketing campaigns.
How to Build a WooCommerce Multilingual Store
Before going to make a WooCommerce multilingual store, make sure that you've installed WordPress and WooCommerce on your website.
If you have both of them, you've got to create a multisite network. Here's how to create a WordPress multisite network.
There are different free and premium WooCommerce multilingual plugins. We will talk about two popular plugins with a step-by-step guide on making a WooCommerce multilingual store with them.
Ready? Let's go ahead, then.
WPML
WPML is a popular WooCommerce multilingual plugin for creating multilingual websites on the WordPress platform. This plugin will help you run your e-Commerce businesses and serve customers who're using different languages and currencies.
With WPML WooCommerce multilingual solution, you can translate all of your products, variations, and emails effortlessly. Besides, it is capable of translating the text of the checkout page.
Most importantly, it lets you collect payments in different currencies.
When it comes to SEO, you're in control to manage the SEO stuff effectively in different languages. Plus, this plugin works hand-in-hand with popular WordPress themes and plugins.
Feature Highlights
Run and manage a multilingual WordPress site
Compatible with page builders like Elemetnor
Translate your website into more than 40 languages
Add language variants with the language editor
Translate pages, posts, custom fields, menus, media, and more
Automatically translate the entire site
Translate page titles, SEO meta, and slugs
Optimize your website for different languages.
A step-by-step guide to making a WooCommerce multilingual store with WPML
Step-1: Install required plugins
First of all, download the core WPML plugin from WordPress.
By the way, if you want to use all the features of WPML, the core plugin is not enough. You'll also require the Multilingual CMS version and WPML String Translation.
Depending on the plugins and themes you use on your website, you might also require to install other WPML components.
However, you don't have to worry too much at the beginning because WPML features automatic installation and updates.
Just install the core plugin and then register it.
Now, from the WordPress Dashboard, go to Plugins > Add New.
Click on the Commercial tab.
Here you'll see find a list of WPML components that you can easily install on your website. Get the ones you need and proceed to the next step.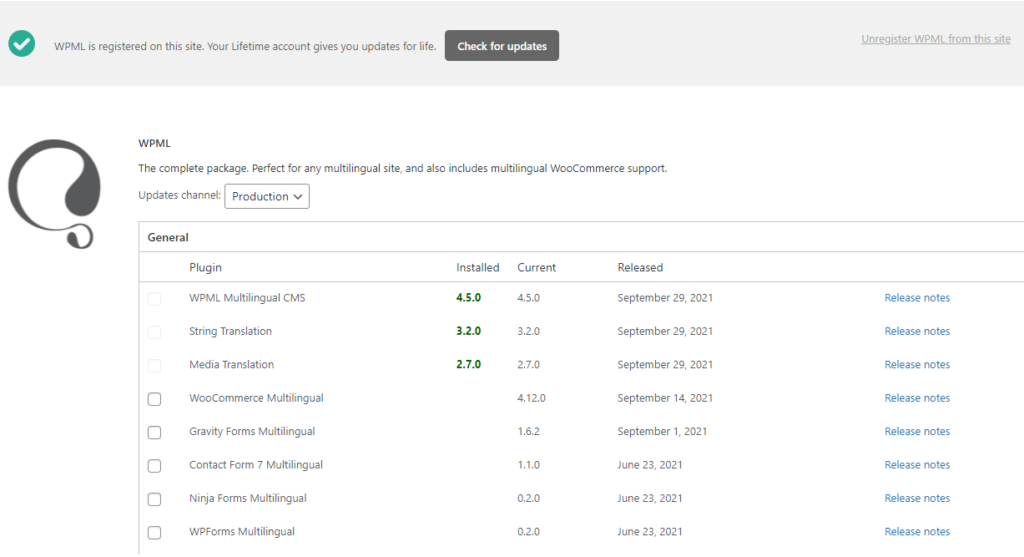 Step-2: Add languages to WordPress
WordPress, by default, lets you select only one language for your website. However, a multilingual plugin allows you to add more languages as per your requirement.
If you use WPML, you can add a variety of languages to your website.
The first step of the WPML Setup starts with Language settings.
Choose the default or current language of your website and then select the translation languages into which you want to translate your website. Once done, click on "Continue".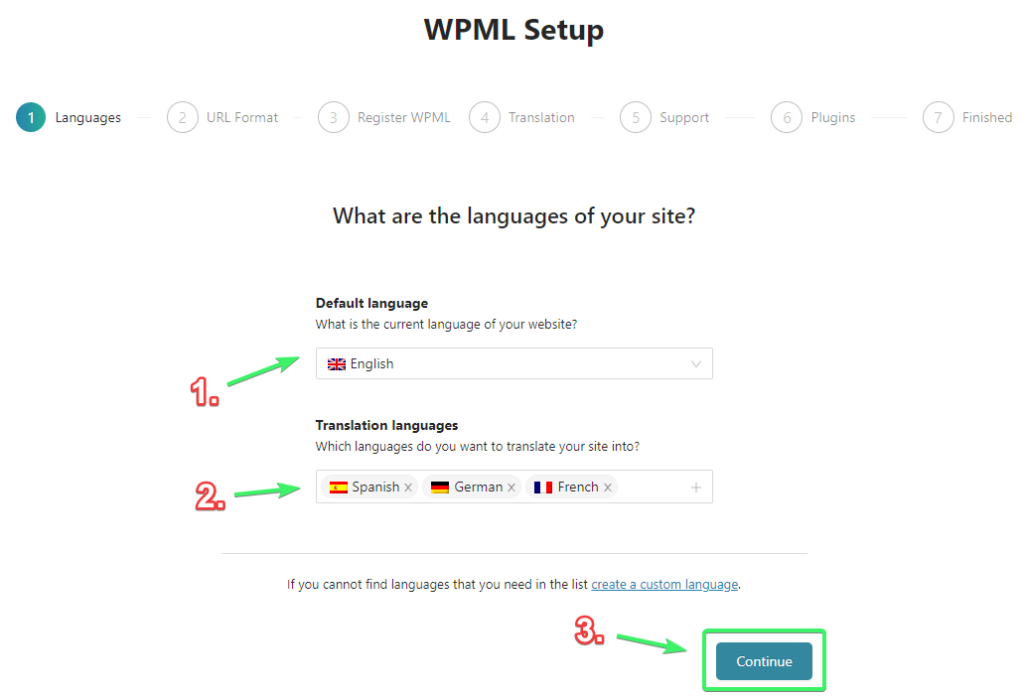 Apart from the WPML setup page, you can also add, edit, or remove any language simply from WPML > Languages menu.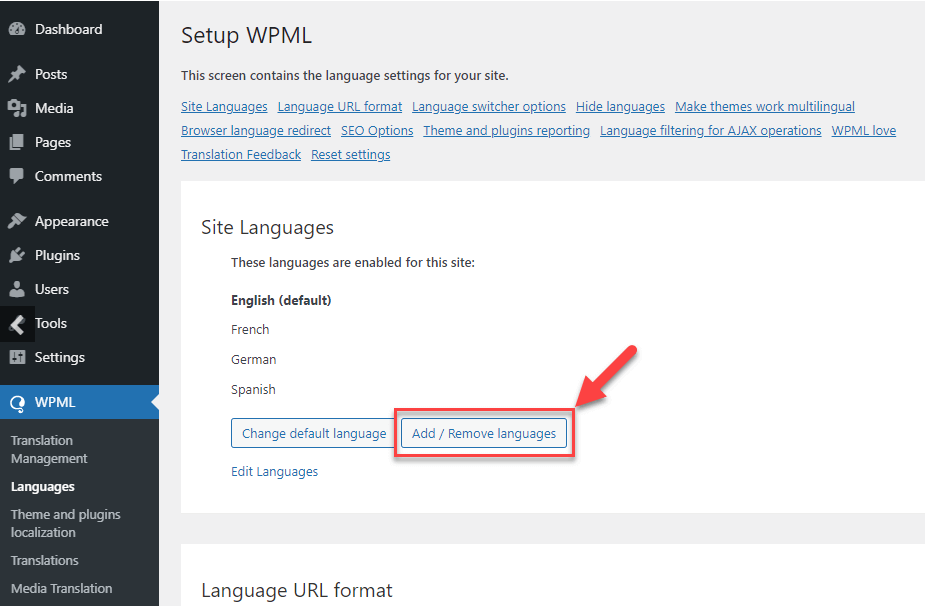 Though WPML lets you translate your WooCommerce website to more than 65 languages, you can always extend the list by adding your own custom languages. This feature is most helpful if you want to use country-specific languages such as Swiss German, Indian English, and Canadian French.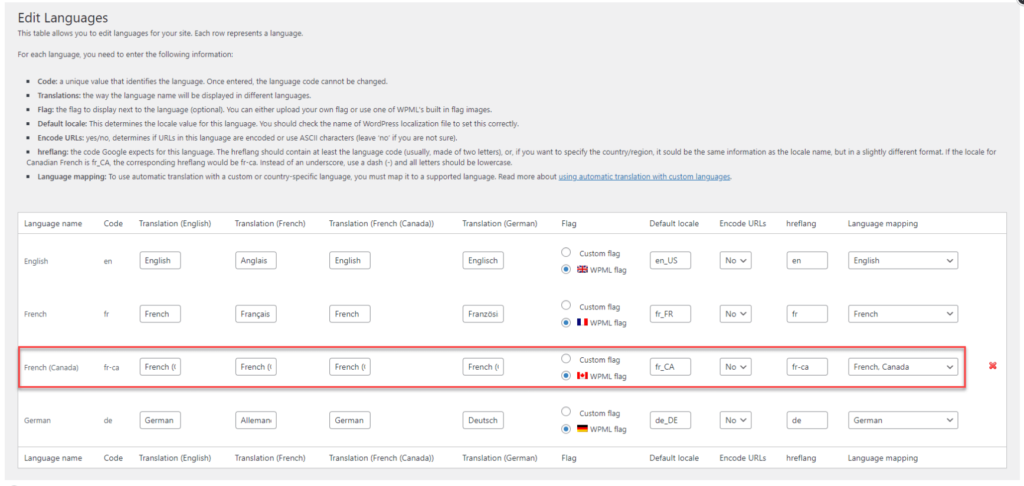 Step-3: Choose the way how languages will appear on URLs
WPML usually inputs the language information in all the URLs of your WooCommerce store. That's why all the URLs become unique and make it easy for the users to understand the translation language in use.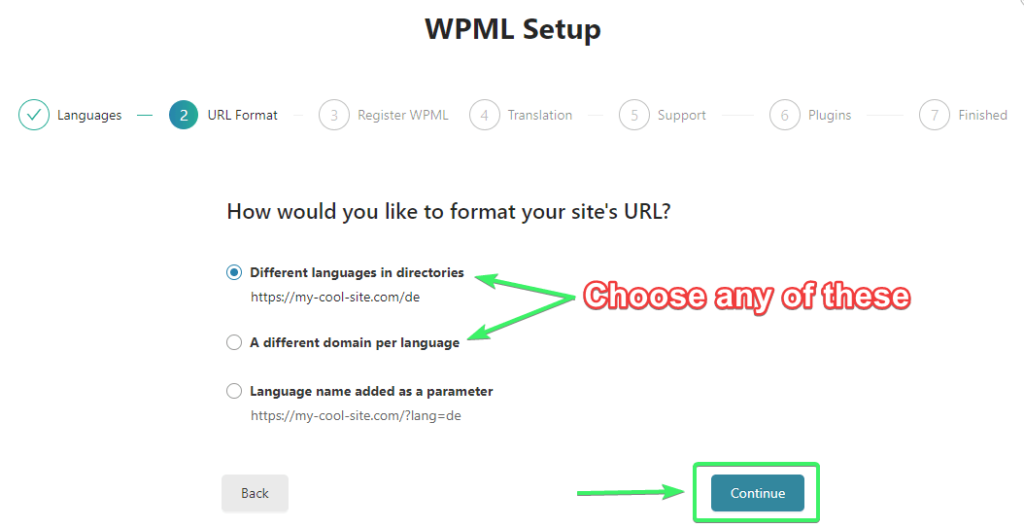 When it comes to choosing the format for your site's URL, the best options are either to select "Different languages in directories" or "A different domain per language".
Why?
First off, any of these options will make your URL user-friendly. And secondly, these two formats are also good for SEO.
After selecting an option, click on Continue.
Step-4: Add language switchers
Language switchers enable the users to choose the language they want to read your site in.
With WPML, you can add different kinds of language switchers to your WooCommerce store without interfering with your website's design.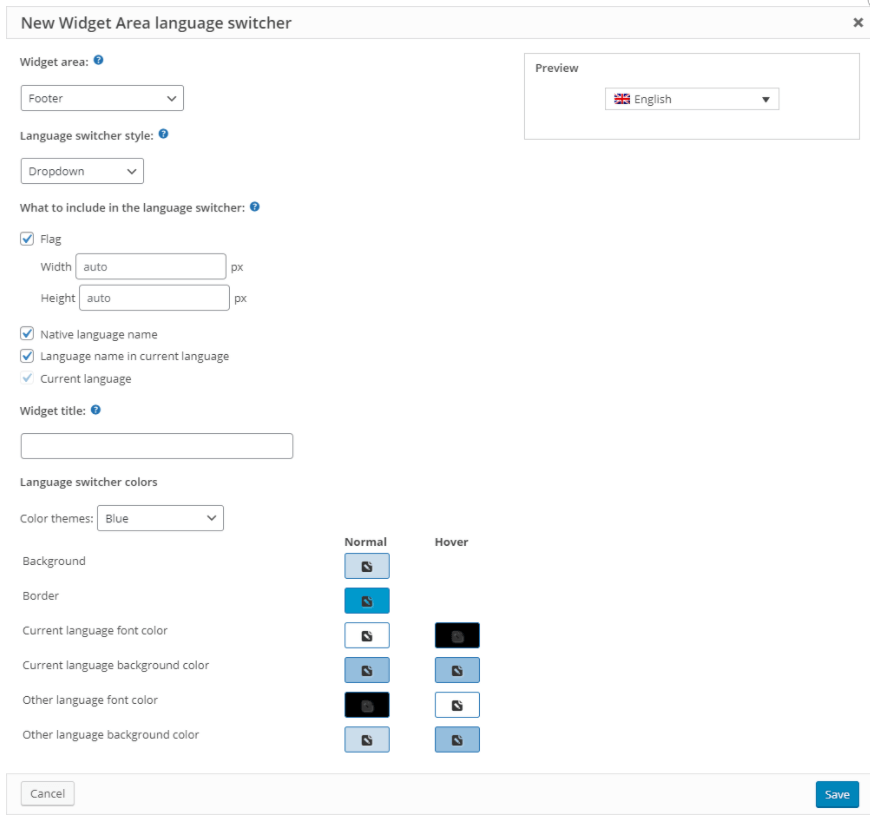 Be it a menu, page, or post — language switchers can be added anywhere you want. Furthermore, you can also add language switchers as widgets.
It is also possible to create customized language switchers and add them to any PHP template.
Step-5: Translate your WooCommerce Store's Content
Once you've configured your website to get displayed in different languages and you have a working language switcher, the next step is to translate your WooCommerce website.
There are a bunch of ways open for you to translate the content of your website. At first, you have to choose who will translate your website. It can be—
Yourself
Hired translators, or
A professional translation service agency
If you choose individual translators or a translation service agency, it would be better to appoint a translation manager who can co-ordinate and supervise the whole process.
When it comes to translation, you can either choose to translate the whole website leveraging automatic translation and human efforts or you can choose to translate certain posts and pages only.
Note that, you can also translate taxonomy with WPML's Taxonomy Translation.
That's all the steps you have to go through to translate your WooCommerce website into multiple languages with WPML.
Want to create a multilingual product feed with WPML? Read How to create a Multi-language product feed using WPML.
Let's now get to know another WooCommerce multilingual plugin, and how you can use the plugin to make your website global-friendly.
MultilingualPress
MultilingualPress plugin lets you create a bunch of websites where you can employ different languages for each one of them. As this plugin leverages the multisite environment of the WordPress site, you don't have to undergo any loading or permanence issues while using it.
After getting this plugin installed, you can easily control the complex network of websites from a single location along with creating multilingual websites adding top-notch features and design.
On top of that, you can easily translate or create content for a variety of languages.
When it comes to SEO, you'll certainly get added advantages as you can set, apply, and measure your SEO activities differently for multiple websites.
Feature Highlights
Create a bunch of multilingual websites connected within a network
Translate your websites into up to 18 languages (if you choose an agency plan)
Translate website content seamlessly
SEO-friendly
Create your language switcher
Create duplicate websites within a short time using another website as a template
Simple admin settings that let you choose the preferred language
Customers can easily switch the product page to their preferred language.
A step-by-step guide to making a WooCommerce Multilingual store with MultilingualPress
To proceed with making your WooCommerce website multilingual with MultilingualPress, make sure that you have created a new site for each desired language.
You can easily add new sites by going to Sites > Add New.
Step-1: Install MultilingualPress
Once you're ready to make your WooCommerce website a multilingual one, the first step is to install MultilingualPress from here.
After the installation, your Sites menu item is supposed to look like this: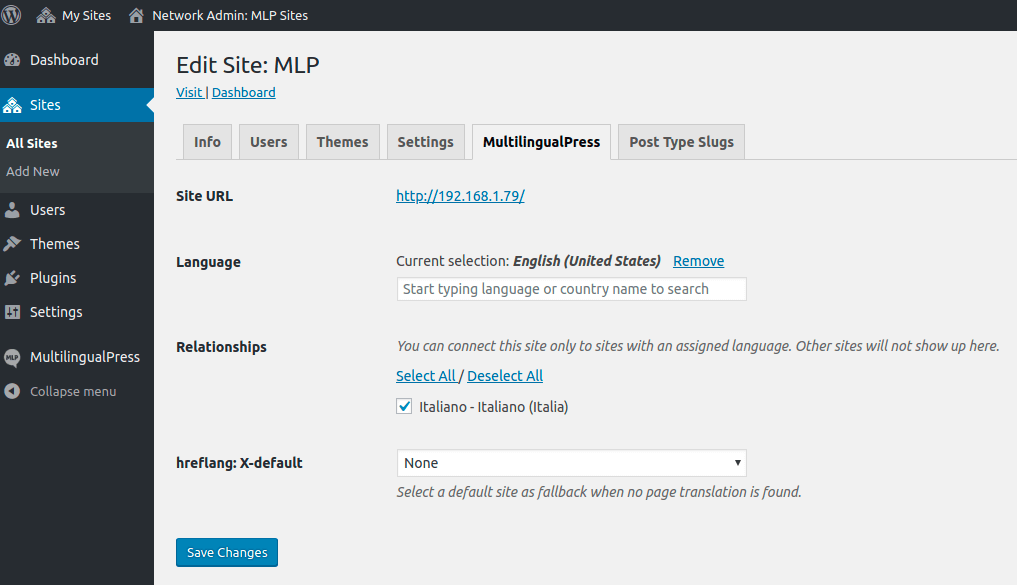 Here you can set the language of the website.
Linking different sites within your multisite network is one of the most important things you have to do now.
You can follow this documentation for detailed instructions.
Step-2: Enable Automatic Redirection
Though this is not compulsory, it is best to enable automatic redirection.
To make sure automatic language redirection works, you have to configure it by going to My Sites > Network Admin > Settings. Now, check the Redirect checkbox from the Modules tab.
You might want to do the same for each of your websites.
This is also the time when you have to decide the process your visitors should go through for switching between languages. Do you want to list the languages in a header menu or show the available options in the sidebar?
Step-3: Create a separate language menu or add the language menu to a sidebar
Firstly, you have to create a separate language menu.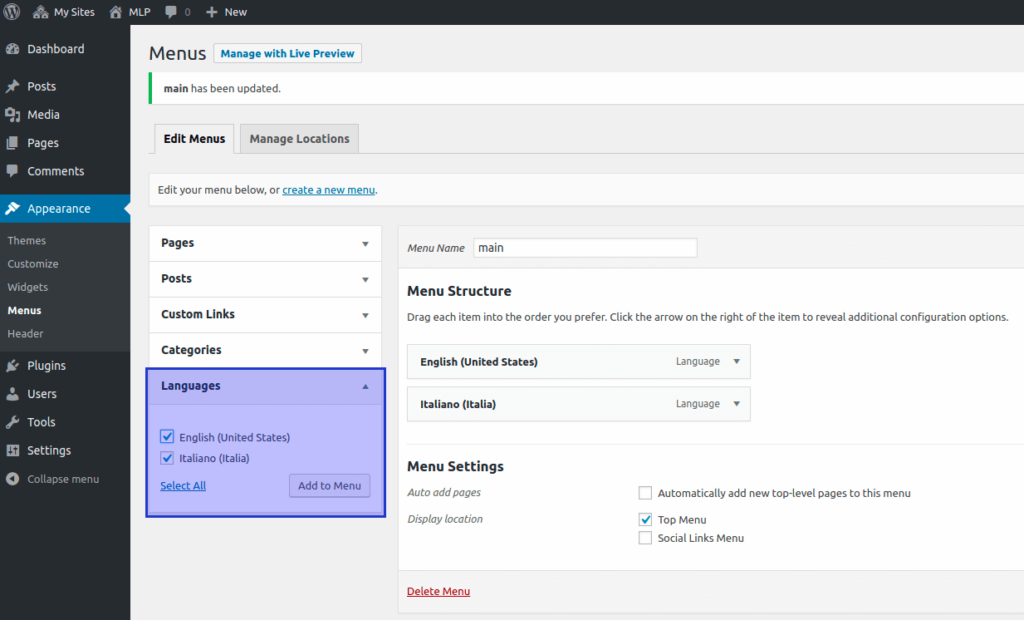 To make a language menu shown in the navigation, you have to enable the language meta-box from Screen Options. You'll see this in the top-right corner of your website. Just make sure to check the relevant box.
Alternatively, it is also possible to use the WordPress site Navigation menu widget to add the language menu to your preferred sidebar position.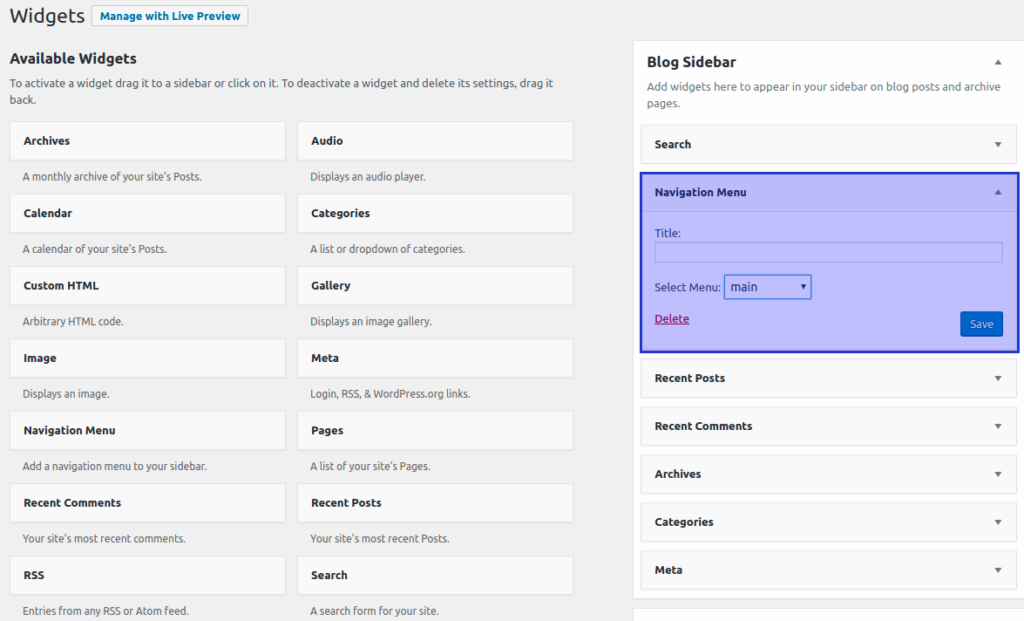 Step-4: Link the pages and posts to each other
Finally, it's time to link the posts and pages to each other. It will help visitors switch seamlessly from one language to another, no matter where they are on your WooCommerce store.
To link the pages and posts to each other, go to the back-end part of a post or page. Scroll down and find additional editors. Note that each language of your multisite network features its own editor.
The screenshot above shows the German and French editors with several tabs of their own. From the Relationship tab, you can easily define the relationship of one post to other posts. Similarly, you can also define the relationship of one page to other pages.
Other tabs in the editor will give you the chance to make better links among the content of the websites. For instance, you can easily copy the post title and content to paste those to the remote post. And then you have all the authority to edit the content on the other language's website without any issues.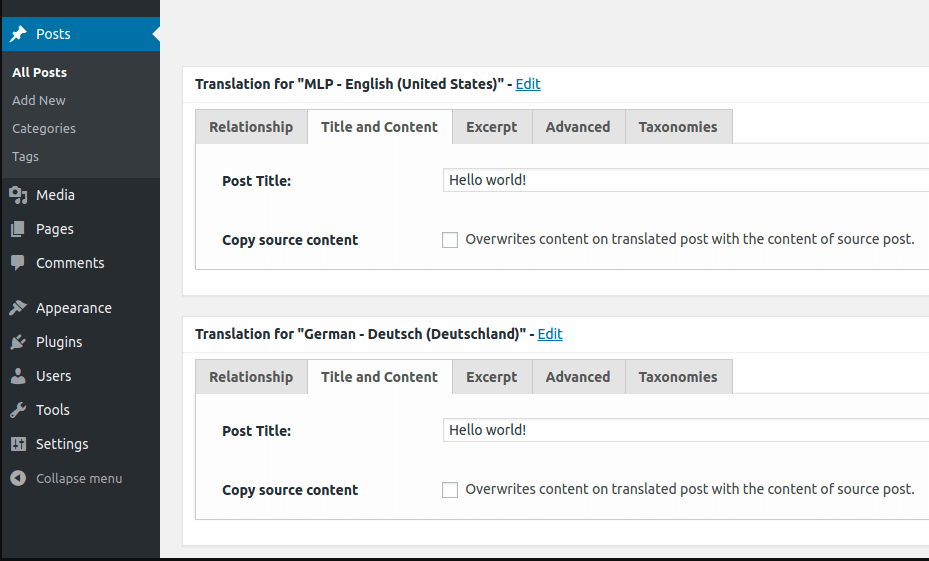 Essential Factors for Setting Up a Global WooCommerce Multilingual Store
To step into the global market, installing and activating your translation plugin is not enough. There are three crucial factors you can't just ignore —
Setting up international shipping rules
Adding payment options
Let's tell you how you can set up international shipping, currency rules, and payment options for your WooCommerce multilingual store.
How to set up international shipping rules?
If your business sells physical products online, shipping products to the customers is one of the day-to-day tasks you perform. However, when it comes to shipping out to another country, you need to adjust the shipping zones. Although you can handle it with the WooCommerce core plugin, we recommend you add another dedicated WooCommerce shipping and tax plugin or extension.
Why?
Well, though the WooCommerce core plugin helps you with the basic shipping and tax settings, adding another shipping and tax plugin like "WooCommerce Shipping & Tax" offers more customization options and flexibility.
Let's move ahead.
Step-1: Create your shipping zone
In WooCommerce, you are in control to decide how many shipping zones you want to create. Besides, you can tailor your shipping zones to countries and certain postcodes/zip.
Step-2: Assign shipping methods to shipping zones
Once you complete creating the new shipping zones for your global buyers, you have to assign shipping methods to those shipping zones.
WooCommerce offers a bunch of shipping methods that you can assign to any of your shipping zones.
Below are some common shipping methods you can set for your global customers who live in different shipping zones:
Free shipping: Customers will get the shopping free of charge from their end. You will pay all the charges related to shipping product(s) to the customers.
Local pickup: You let the customers pick up their ordered products from a local pickup point.
Flat rate shipping: Set fixed shopping costs for any item, order, or shipping class.
Dynamic rates: Depending on the live rates from the logistics provider.
Step-3: Set pricing for shipping methods
After setting the shipping methods for different products and locations, it's time to set pricing for the shipping methods.
Take help from the WooCommerce shopping calculator to determine the pricing for all the shipping methods.
Things to consider when shipping internationally
When it comes to shipping abroad, you must take into account the shipping methods and shipping cost. You should also decide how much you will charge for shipping from the customers. If it is not possible to offer free shipping to your customers, you have to choose from flat rate shipping, dynamic rates, and local pickup options.
To determine the shipping cost you have to consider the following factors:
Product size and weight: Shipping cost depends a lot on the product dimension and weight. A heavy and large product always requires more shipping fees.
Packaging type: If you ship perishable and fragile items abroad, you must wrap them with protective packaging so that they remain intact till they reach the customers. This will also contribute to higher shipping costs.
Logistics: Logistics includes the shipping cost for packing, labeling, dropping off the package to the courier, scheduling package pickups, and other subtle but important tasks associated with shipping. All of these require time and resource and eventually becomes a part of the shipping cost.
How to set up currency conversion rules
People not only prioritize websites that use their language but also want to buy from a store that shows the product price in their currency.
Nobody from Japan wants to see the pricing in dollars instead of Japanese Yen, right? Moreover, it's discouraging for prospects to find out the currency exchange rate for the product price.
So, what's the solution?
What you all need to do is to add a currency switcher plugin to your WooCommerce store.
If you add a currency switcher to your store, your users can easily see the product price in their own currency. As a result, the user-friendliness of your store will go up and you can avoid losing potential global customers.
How to set up payment options
To cope with the infrastructure of different countries your buyers come from, you also have to update the payment methods.
Countries of the world have different preferred payment methods. Now that you've decided to sell on the global market, you have to accommodate some new payment methods that you don't offer now.
You should know that two neighboring countries using the same currency do not necessarily mean that they prefer the same payment methods.
For instance, let's talk about France and the Netherlands.
Most French customers prefer to pay with their debit cards. But, when it comes to the customers of the Netherland, they prefer to use the direct bank transfer method — iDeal.
So, it's clear from the above example that even neighboring countries might prefer completely different types of payment methods.
Yes, adding a variety of payment methods for different countries might indeed cost you a good sum of money. However, if your customers don't find their preferred payment methods during the checkout, they might not make the purchase they wanted to.
Bonus Tip: How to Market Your WooCommerce Products on 100+ Channels like Facebook, Google Shopping, Instagram.
Now that you've created a WooCommerce multilingual store of your own, the next thing is to reach the global market to sell your products and services.
Do you want to find one of the easiest and effortless ways to advertise what you're offering to Facebook, Google Shopping, Instagram, and to 90+ other marketing channels?
Meet CTX Feed.
CTX Feed will help you generate seamless product feed ready to use on marketing channels.
Be it displaying your products free on Google Shopping page or other premium channels such as setting up Facebook Dynamic Product Ads, Instagram Shopping Ads, Pinterest Shopping Ads, eBay Ads, Bing Ads, PriceRunner, Rakuten, and PriceSpy, CTX feed will help generate the product feed within a very time that will take hours if done manually.
Want to know more about CTX Feed? Here You Go.
Get CTX Feed now and it's okay if you thank me later
Frequently Asked Questions (FAQs)
Is WordPress Multilingual? 

No, WordPress is not multilingual by default. However, WordPress has a long-term roadmap to add multilingual features to any WordPress site natively.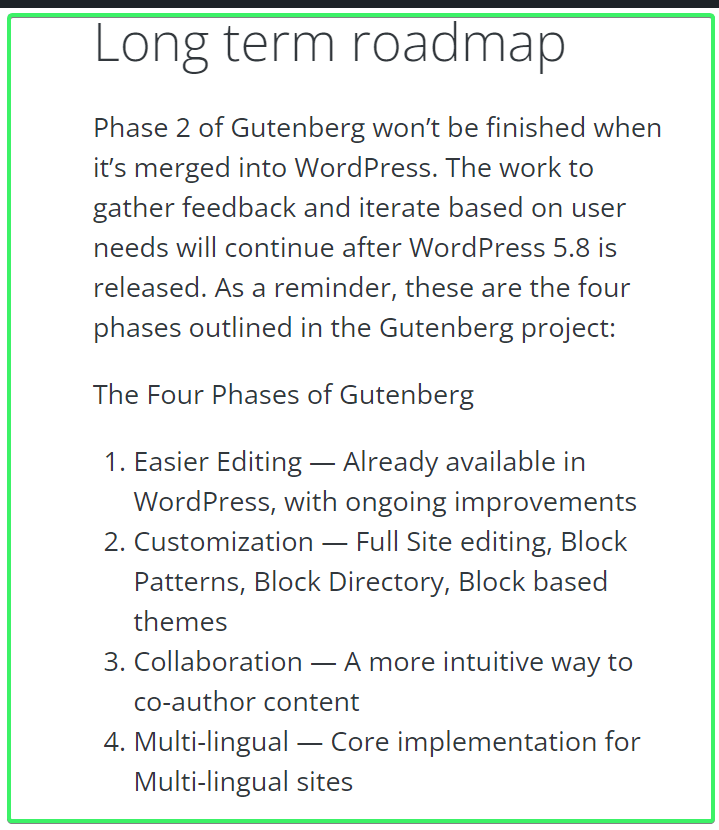 By the way, we don't yet know when this roadmap will come into reality. 

It means we have to either create multiple websites to cover different languages or choose WooCommerce translation plugins to get a WooCommerce multilingual experience.
Is a multilingual site allowed in WordPress?

Yes, you can always create, run and manage a multilingual website smoothly on WordPress. 

Though WordPress does not have a multilingual feature inherently, it is possible to make a multilingual WordPress site using the WordPress CMS. A translation plugin can help you make any of your WordPress websites a multilingual one. 
How should I pick a WooCommerce translation plugin? 

While choosing a multilingual translation plugin, the first thing you should see is whether the plugin you're choosing is compatible with WordPress and WooCommerce. Secondly, your plugin's interface should be simple and easy to use. 

When it comes to supported languages, the more coverage a translation plugin offers, the better it is to make your WooCommerce store truly a global one. 

The speed and accuracy of translation are also inter-twined. 

You should also look for a plugin that offers thorough documentation and prompt support.
How to use WooCommerce Multilingual? 

The user interface of different WooComerce multilingual plugins is not the same. How you can use them depends on which multilingual plugins you're using. 

To understand how to use certain plugins you have to go through the documentation of the individual plugins and video tutorials (if available). That's why make sure that you choose a multilingual translation plugin that features a user-friendly and easy-to-use interface. 
How do you make a multilingual in WooCommerce?

There are different multilingual plugins that you can leverage to make your a multilingual WooCommerce store. WPML, MultilingualPress, Weglot, and TranslatePress are some of the popular plugins for translating a website with default language into multiple languages. 
Is WooCommerce multilingual free? 

No, WooCommerce multilingual is not free as it is not a default feature of WooCommerce. You have to buy multilingual plugins suggested by WooCommerce or sold by many third-party vendors. 
How do I change the language on WooCommerce?

You can use multilingual translation plugins to translate your website into different languages. A multilingual plugin offers a language switcher either in the menubar as a menu or in the sidebar as a widget for the users to switch from the default language to another. 
Start Building a WooCommerce Multilingual Store
Now that you know the why's and how's of making a WooCommerce multilingual store, it's time to act on the real ground. We hope that our guide will help you start a multilingual store.
However, to make sure you can market your products to global customers, creating a quick and multilingual product feed really keeps you ahead of your competitors. And to help your business up and running, the CTX Product Feed generator is there for you.