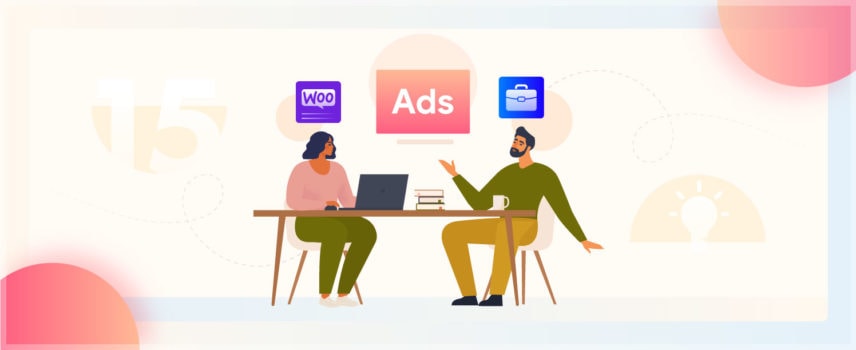 Why Need Local Inventory Ads for eCommerce Business – know Our 15 Amazing Secrets
Local inventory Ads are one of Google Ads' most successful strategies for converting people into store visitors. This ad format is displayed to the users looking for specific products available in your stock locally. It facilitates their purchase from your stock or pick-up from a nearby place.
According to statistics, over 70% of consumers use online shopping, in-store pickup, or equivalent services. So, if customers can find your product online and locally, your business will flourish. Therefore, local inventory and product availability are essential factors that affect purchase intention.
Local businesses must be able to reach out to their clients even before they make a buying decision. The current market condition is ideal for utilizing advertising, particularly during pandemics.
This guide will represent why you need local inventory Ads for an eCommerce business.
About Local Inventory Ads
Local Inventory Ads is a perfect way to blend product listings and local search results in one place. It's a different type of Google Shopping Ads that presents local products based on search queries.
Let's learn what Google has to say about LIA's –
Nearby shoppers searching on Google for local products will be able to see local inventory Ads. Shoppers can see your free product listing by clicking your Ads. These free product listings can grab customers' attention by offering available local products.
Upon clicking, these Ads redirect customers to your Google-hosted local storefront. Customers may utilize the local shop front to look at in-store goods, get directions, and more.
Businesses That Should Apply Local Inventory Ads
We hope that by now you understand what Local Inventory Ads (LIAs) are. In short, these Ads can bring an actual footprint to the physical location of your business. Another great thing is that they create a strong link-up between online-offline differences.
So users can find products in their local area via Ads. On the other hand, local businesses are getting the opportunity to sell locally even without an online store.
If your business meets the following criteria, you can apply inventory Ads right away:
You have a store or business that has public-access
You sell products physically at your store's location
Google Local Inventory Ads do not require eCommerce functionality on the website. As long as you are selling products physically, these Ads are applicable.
Local Inventory Ads Creation Process
If you don't know about Local inventory Ads, you will get all the help from the Google Merchant Center Help page. Though a few steps may have changed due to updates, we will take you through the basics. We are pointing out the primary and updated steps to create these Ads –
Go to your Google Merchant Center account and sign in.
On the left navigation menu, find and click on Growth.
Click on the Manage Programs option.
Then, click Get Started on the Local Inventory Ads Program Card.
Next, Click Continue after confirming your location.
Complete your Business information and accounts section
Click the plus button marked on the blue circle
Step 1 – Signing in to Google Merchant Center
First of all, you have to sign in to your Google Merchant Center Account. Secondly, navigate the left-side menu, then find and click on the Growth option.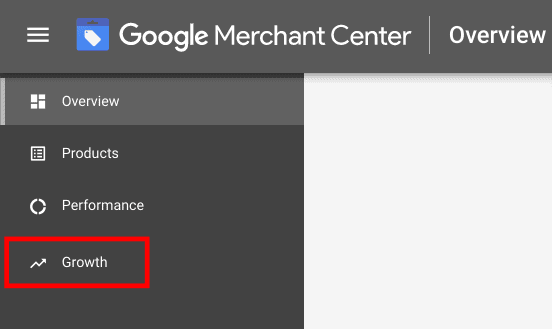 Step 2 – Select Manage Program Option
Under the Growth Option, you will get the Opportunities and Manage programs option. Click on the Manage Programs option to proceed ahead.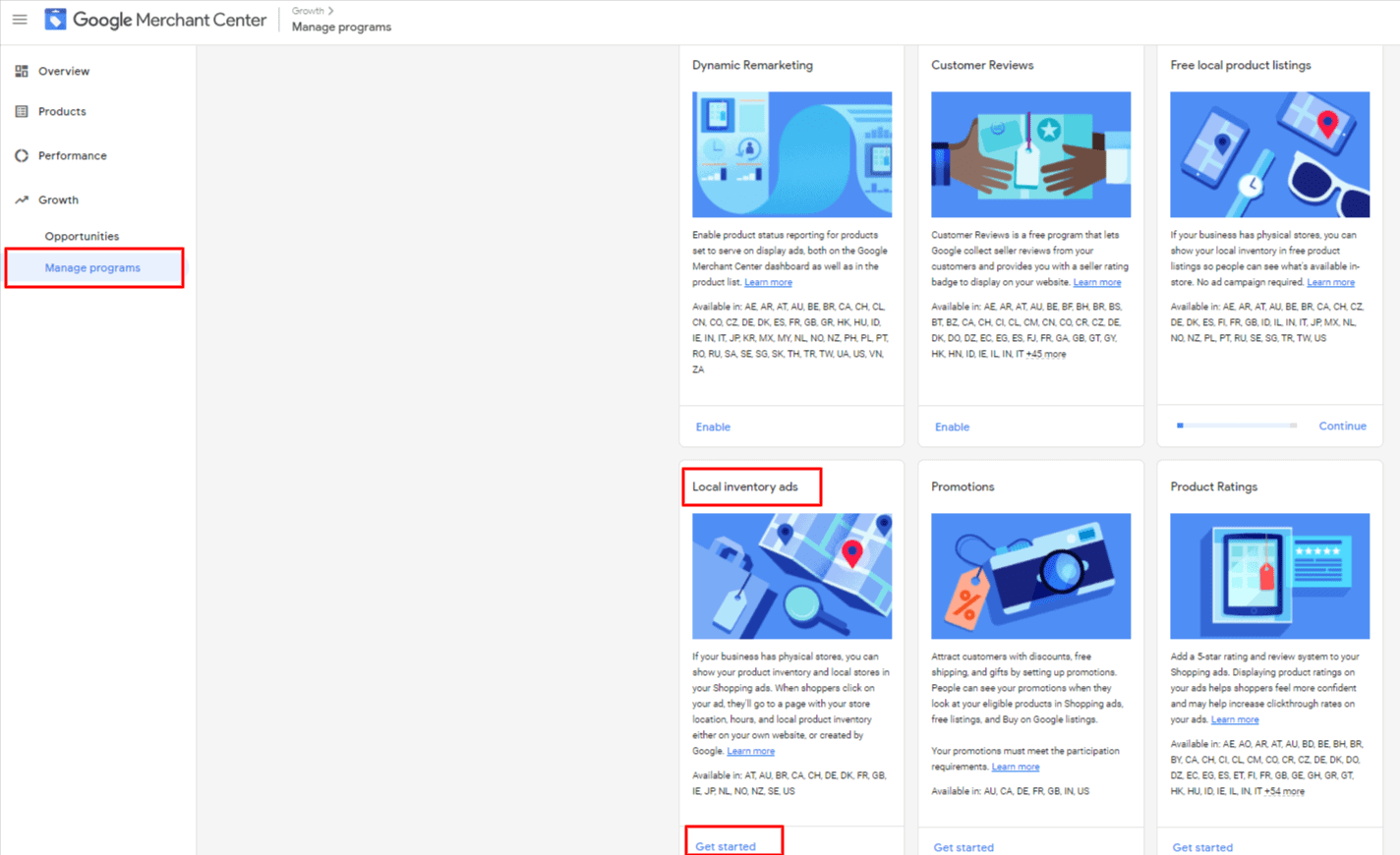 Step 3 – Getting Started with Local Inventory Ads
Now, find the Local Inventory Ads card on this section and click "Get Started." You have to select the region where you want to sell your products. If your sales region is in the USA, select the US, which is already a default region.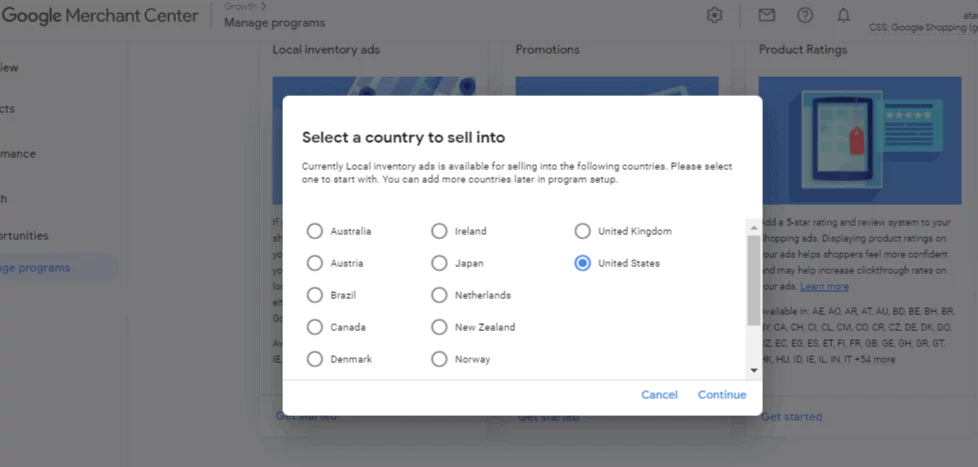 Step 4 – Setting Up Local Inventory Ads
On the next page, you have to provide your essential Business and account information. You will have to add your Business information to this step. You can also add a business logo of your preference.
Your Google Ads account should already be connected to your Google Merchant Center account. Now, you may have to link your Google My Business account with Google Merchant Center.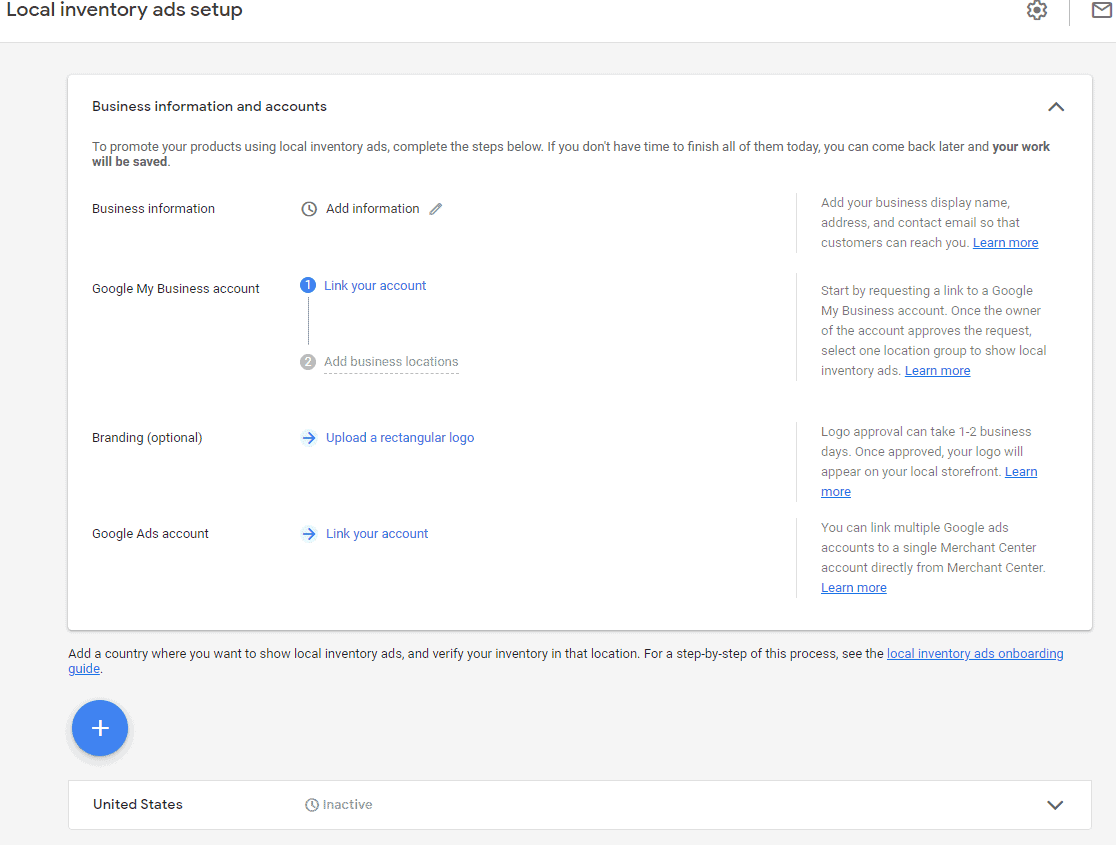 Step 5 – Uploading Local product Inventory Feed
If you look at the plus button below, you will see the location of your preference. However, on the right side, you will see an inactive label with a grey color.
If you click on the tab, it will expand, and you can set up your inventory Ads. You can see there are two options for uploading the product feed. You have to upload a primary feed and a local product inventory feed.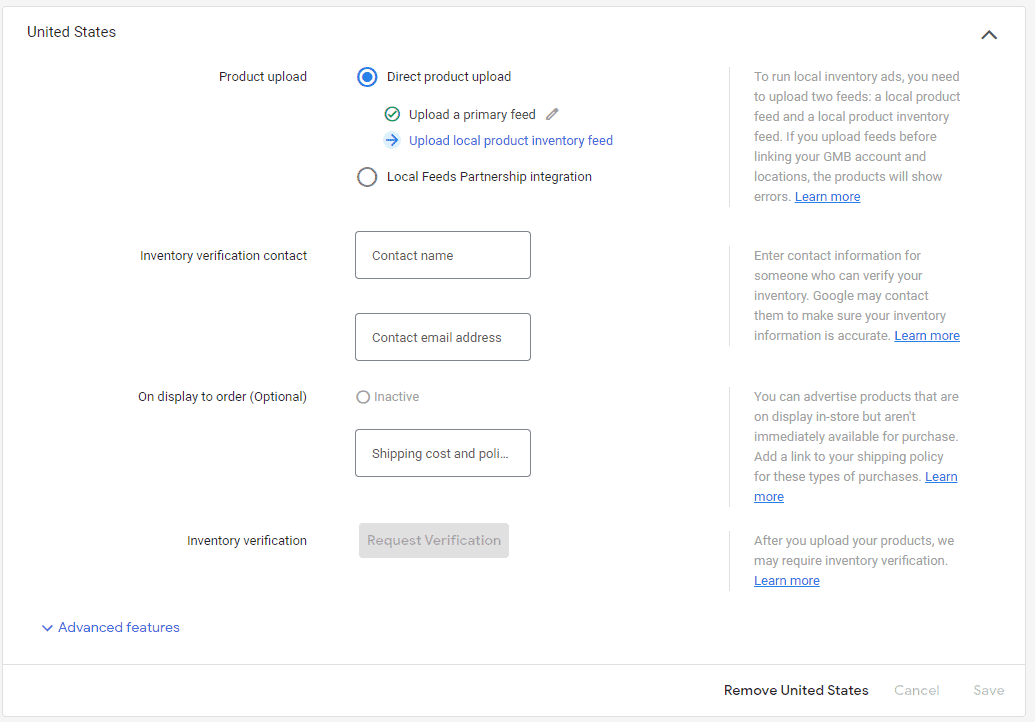 Final Step – Adding More Details
Add your product feed after linking Google My Business account and location information. Otherwise, your products will render errors.
While going through this step, you can learn about the Importance of Google Shopping Data Feed. Especially if you are running a WooCommerce store, learn about the best Product Feed Plugin for multichannel promotion.
Add your contact details and URL to the refund policy to Google. It helps Google to verify your products and the delivery policy.
Finally, you can promote goods that are not yet ready for sales but are on display in the store. Now, click on the Request Verification button and then click on Save. You can verify your inventory by adding new locations.
Importance of Local Inventory Ads
Local inventory ads are ideal for targeting local, high-intent customers who are ready to make a purchase. These customers are willing to buy from any local or online business that is available around.
To create these Ads effectively, you must provide all the product information accurately. We are mentioning the key benefits of LIAs according to Google and our findings.

In-store Inventory Promotion
To inform the local shoppers about your products, LIAs are the best option indeed. It allows the customers to find out your shop that includes the product that they are searching for. Customers will get on-time search output about the local products of their preferences.
You have two choices for using Inventory Ads to market your products. It can be hosted by Google or by Merchant to a landing page.
After clicking the LIA's hosted by Google, shoppers are redirected to Google's network, such as google express. So, your products are getting exposed to the biggest search engine and other networks related to it. Shoppers can also go to the retailer's website by clicking these Ads.
Merchant hosted Local Inventory Ads are similar website's product page. As a result, the customers won't even understand that they have clicked an ad. Ultimately, these Ads boost up sales by providing customers what they are seeking out.
Make Your Physical Store Available Online
Google hosted shops are readily optimized for search engine results. So, this robust digital storefront can enhance customer's shopping experience easily. If you don't have a storefront on Google, you're not providing optimal customer support.
With Local Inventory Ads, you can advertise products that are actually available at any local store. You're only promoting products that are currently available, so specify which stores you have them.
As a retailer, you can leverage the whole inventory and encourage shoppers to visit the store offline. As a result, the shoppers will be able to learn about other products and make a purchase.
Analyzing Performance with Local Inventory Ads
You should change your advertising approaches with the changing preferences of customers. It means you should monitor the performance of your ongoing Ads to measure their effectiveness.
You may get useful insights about your items by monitoring the performance of your Ads. You can pick which product to concentrate on after assessing the performance.
More Exposure Opportunity with Local Inventory Ads
While running the Local Inventory Ads, you have a double exposure opportunity. You are transferring the product information on Google Merchant Center to create Ads. As a result, you can run both Product Listing Ads and Google LIAs parallelly.
If you are running Ads in multiple ways, your products have a better chance of exposure in search results.
Increase Your ROAS with Local Inventory Ads
While running LIA, you'll notice that it's easy to measure the effectiveness of your Ads performance. Measuring the Return of Ad Spend (ROAS) and LIA's budget efficiency is difficult to track.
However, Google's Store Visits function is a fantastic method to boost your ROAS. It offers you a clear picture of how and when sales are made. Therefore, you will know when to adjust your bids properly.
The Store Visit feature allows merchants to see which Ads, keywords, and devices drive shop visits. Using the location extension, you can monitor a consumer's activity while viewing the Ads and entering your store.
Click and Collect Option
Click and collect is currently an essential part of the multi-channel shopping journey of a consumer. The service allows customers to buy a product online and then pick it up from an offline store. But before picking up the products, you should get the owner's approval.
If a product is available at the store, customers can pick up the product right away or any other day. With this process, customers are having an explicit notification about the product's availability. They are also assured that they aren't missing the delivery and can return the product.
Google permits retailers to include click and collect annotation on Local Inventory Ads. Click and collect annotations can make your Ads more effective.
Grab your nearest Shoppers
With Location Extension, you can set a specific zone around each store. Adjust your bid according to the zone and the customers who are closer to your stores.
This approach is useful, especially when you are implementing it during holidays. It also helps to track when the shipping dates have passed, and the consumers are under pressure to buy.
Bidding on Competitor's Location
You can utilize the location targeting option to bid on your competitor's locations. Choose your target location, including City, State, etc., and a specific zone for targeting purposes. If you want to compete in a specific location, simply set higher bids on that location.
Showing Ads When Available
You can apply your customization on Shopping Ads and Local Inventory Ads in the same way. Showing your Ads when you are available only is another tactic that you can apply in LIA's.
You can apply dayparting on LIA's and display your Ads only while your business is open. It will help you adjust your budget during the pick hours when your investment can transform.
Showing Ads 24/7 with Bids Adjustment
In terms of dayparting, some retailers have a different approach. They try to maintain their brand awareness 24/7 by bidding higher when stores are open and lower when closed. They also place higher bids when traffic is higher and reduces when the traffic is lower.
Winning Back Old Customers
Many retailers are eager to get back to their previous customers for good reasons. Getting a new customer costs more than keeping an old or existing customer.
Customer relevance comes in handy for this scenario because it allows you to create audiences inside LIA's and shopping Campaigns. It utilizes the email addresses from your site's database, where you can place your bids to those audiences.
You can build an excellent list of prior consumers if you capture email addresses while selling your items. Categorize your customers and group them in a few baskets, then send them emails accordingly.
Separate customers have purchased one time, two to five times, and five or more times. Now, adjust your bids for each customer group or bucket. Emphasize more on the group that shows interest to make a purchase.
Focus on a group that has purchased items from your store during a certain season. You can retarget that group during that specific season.
Connect with Store Visitors via RLSA
Remarketing Lists for Search Ads, or RLSA, is another effective Google service. With this tool, you'll obtain a list of shoppers in Google Ads based on their behaviors on your website.
Website visits, checkouts, cart abandonment, and so on are examples of customers' actions. You can separate the customers differently for bid adjustment.
With RLSA feature on LIAs, you can –
Track cart abandoners who may have faced issues in shipping costs
Segment out your previous customers. You can customize your biddings based on new or old customers.
Target shoppers who searched your site and have the intention to buy high-priced products.
Mobile Consumer Segmentation
According to Google, smartphone searches for "near me now " have increased by 150% over the last two years. During holidays, 41% of customers wanted merchants to share inventory information more effectively.
For Local Inventory Ads, your mobile approach should be different, and you should bid higher. There are two spots for LIA's on the carousel of Google Shopping Ads for mobile. You should utilize the opportunity to display your LIAs on mobile.
More to User Experience with Local Inventory Ads
71% of shoppers agreed that it is important to get product inventory information for in-store products. If you can keep your stock status updated and then publish your LIA's, shoppers will be pleased to get the product as they see it online.
Applying Cohesive Online-Offline Approach
With cohesiveness, local advertising becomes more potent and effective. With combined online and offline promotions, you can improve customer experience. For example, customers will rely on your store if you allow them to redeem coupons via an online and offline app.
You can always match your offline promotional approach online via Local Inventory Ads. Learn your customer preference via these Ads and then customize your inventory offline. The same goes for the online approach, as the ad format has to change according to customer preference.
With these Ads, your approach should always be cohesive and experimental. The combination of online and offline approaches should align due to changing trends of customers.
Conclusion
Local Inventory Ads can benefit local businesses to boost their sales to a considerable extent. With this promotional approach, the store owners can present their local inventory online. However, the promotional option is available both online and offline.
You can run both LIA's and Google Shopping Ads as you create Ads with your product feed. As a result, your doorway to a vast marketplace is opening up with local promotional activities.
We hope that our guide encouraged you enough to create LIA's and get the best out of your Local Business.