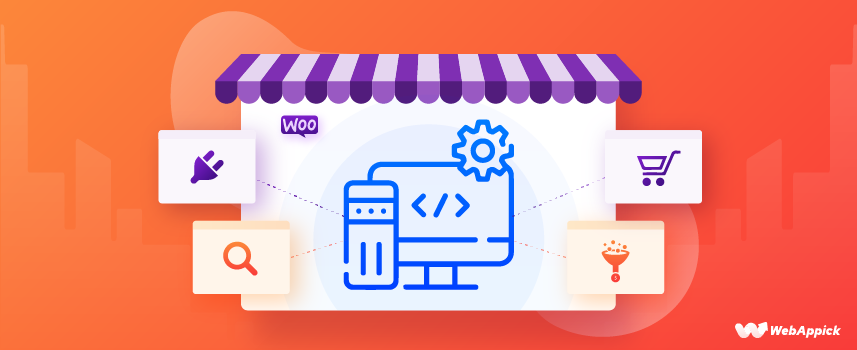 Store Manager for WooCommerce: A Complete Guide and Review
Do you find it challenging to manage your WooCommerce store when you have a lot of products? Despite how great of a platform WooCommerce is to manage your eCommerce store, the core plugin can feel a bit scrambled when managing large stores. Not to worry, extensions like the Store Manager for WooCommerce can simplify everything for you.
In this article, we will review the Store Manager for WooCommerce application and mention some other WooCommerce extensions that allow you to manage your store quickly, smoothly, and effectively.
If you are struggling to manage your WooCommerce store due to a large number of products/orders/users, then this article can help you get your ducks in a row. So hop on and find out how.
What is the Store Manager for WooCommerce?
Store Manager for WooCommerce is a desktop application you can install and connect your WooCommerce website to manage your store from your computer. Store Manager for WooCommerce allows you to modify your store's products, categories, orders, and users, a lot more easily and effortlessly. Moreover, you can connect and manage multiple WooCommerce stores with this application.
With 24% of the total market share, WooCommerce is undoubtedly one of the most trusted and popular eCommerce platforms. However, it can get a bit challenging to manage stores with a large number of products and orders with the core WooCommerce plugin. Especially when you want to edit several product details at once. WooCommerce doesn't support bulk edit of product details. So you need to edit one by one, which is time-consuming.
Store Manager for WooCommerce by eMagicOne lets you bulk edit a large number of products at once, saving you time and effort. This software's primary goal is to make it easy to access and manipulate store data in a way that is both efficient and graphical.
It also allows for the automation of repetitive, routine tasks and significantly simplifies operational restructuring and maintenance.
You can also import-export WooCommerce products, create custom WooCommerce reports, and integrate with other marketplaces such as Amazon, eBay, etc. Moreover, you can give your employees restricted access to this software to manage your store.
Overall, eMagicOne Store Manager can make your life easy by allowing you to manage your store's activities effortlessly.
Benefits of using Store Manager for WooCommerce
Let's take a quick look at the best features and benefits the Store Manager for WooCommerce software offers.
Suggestion for listings
Manage products and categories without logging into your WooCommerce website's back panel.
Alllows you to manage product attributes.
Basic media managemen.
Create custom reports.
Manage multiple stores with the Switch Connection.
Update product's data in bulk.
Allows you to rearrange products by category easily.
Assign multiple categories to a product or products at a time.
Export multiple items/products to separate files in different formats using Export Grid.
Allows you to export orders to files in different formats using the Export Grid.
Export Users to a file in various formats using the Export Grid.
Use Export Grid to export users to a variety of file formats.
Export Grid allows you to export attributes data to a separate file in a variety of different formats.
Import-export products, tags, categories, and users.
Allows you to upload WooCommerce products from CSV / XML / XLS / XLSX file.
Import product data from different file sources (local file, HTTP or FTP URL to file, Google Sheets).
Import & export orders from CSV file.
Brick and mortar stores can create orders with POS.
Offers addons that enable you to integrate QuickBooks, Amazon, and eBay.
Allows you to automate product import-export with addon.
It has customizable backup and restore options.
Advanced users can directly edit the database using the raw table editor.
Total 42 theme skins are available to customize the look of the application.
Compatible with all old and new Windows operating systems.
You can troubleshoot store content problems as well.
Allows you to work offline.
Price
All licenses of the Store Manager for WooCommerce are lifetime licenses. No need to worry about monthly or yearly charges. They offer three packages,
$249 for single website
$379 for multiple websites
$1499 Business package
The highest package, called the Business plan, offers three additional licenses and four team member seats.
Along with the packages, you can also buy more licenses which starts from $149. There's a free trial version available for you to download and test the software before making a buying decision.
Getting started with the Store Manager for WooCommerce
In this section, we will install the application and review some notable features. Let's start by installing and connecting the store manager application.
Installing & Connecting
First, download the setup file from their official website. After downloading the "wooCommerceManagerSetup" file, click to install. It will ask for the license key in the first step.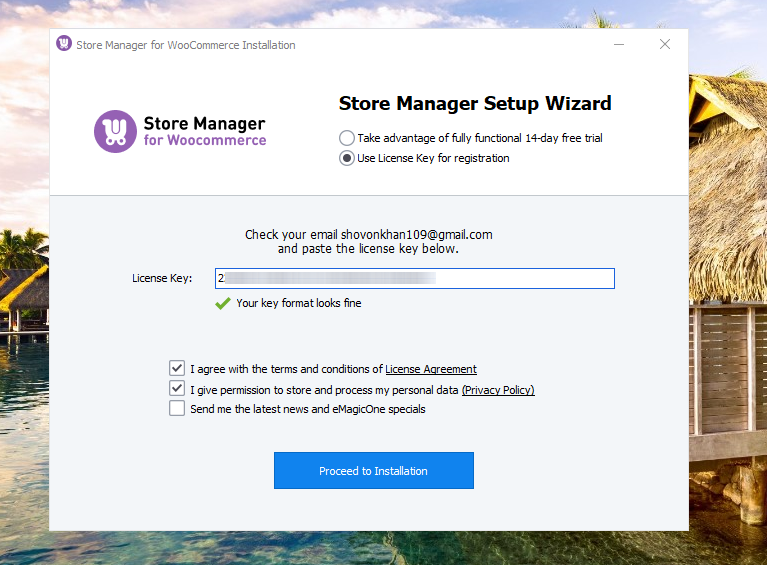 It will take some time to download the full software. Once it finishes, you will need to enter your WooCommerce store URL.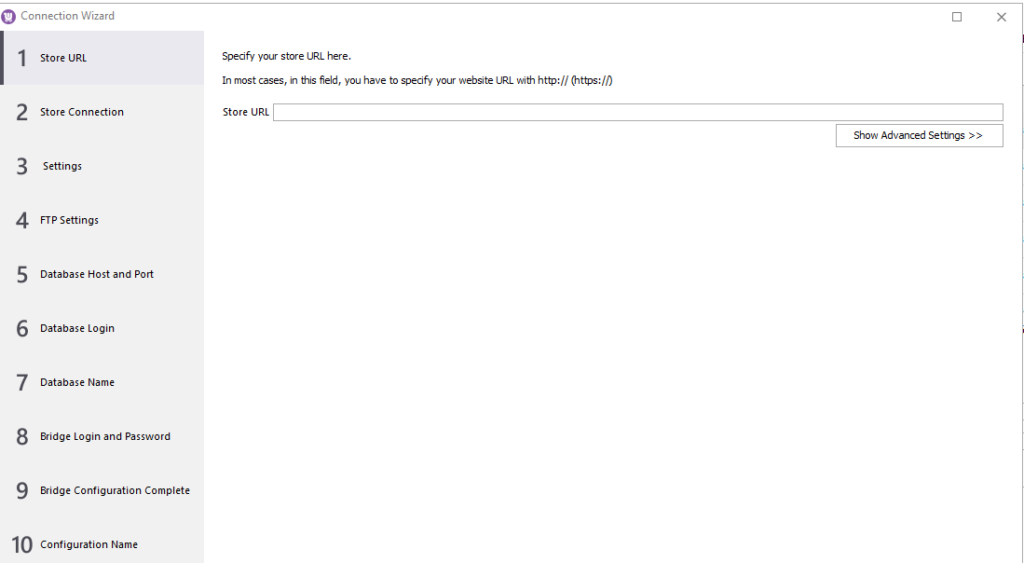 In the next screen, you will find three options to choose from. You can directly connect to your store's database or connect through a WooCommerce plugin installed in your WordPress or connect via PHP Bridge. Select your option and click next. I am connecting through the PHP Bridge.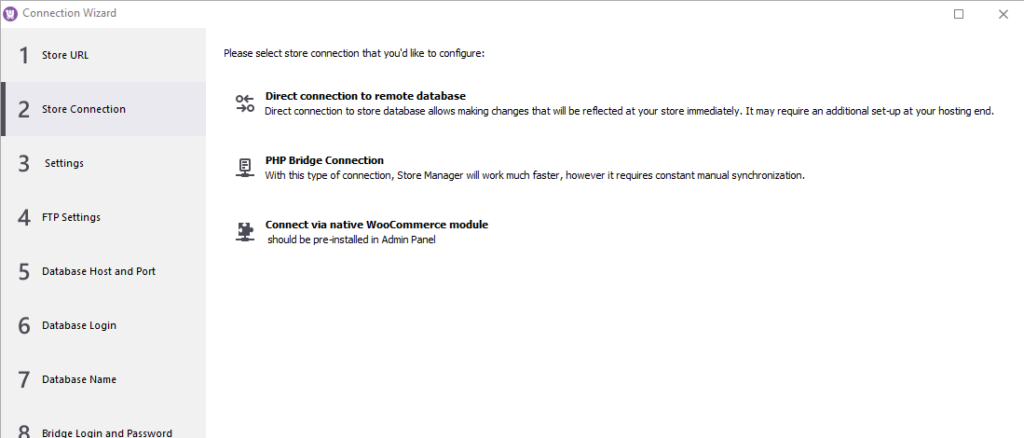 The next screen will ask you to input your FTP login details. If you don't know the details, you can ask your hosting provider or create one from your hosting Cpanel. You can test your connection by clicking the "Check FTP Connection" button.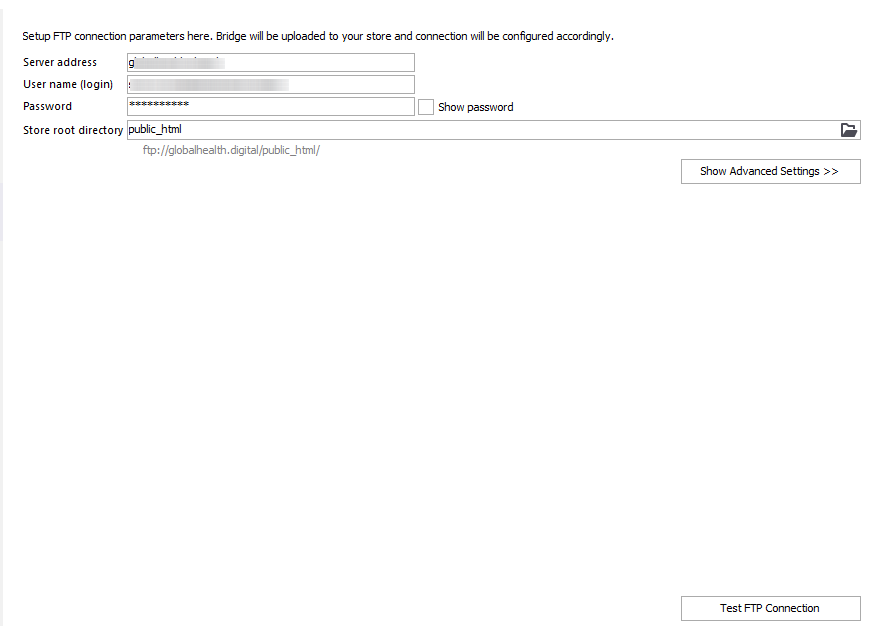 Now create a user name and password for the PHP-MySQL bridge connection.

The application will auto-detect the following parameters. However, you need to test your connection using the "Test PHP Bridge Connection" button.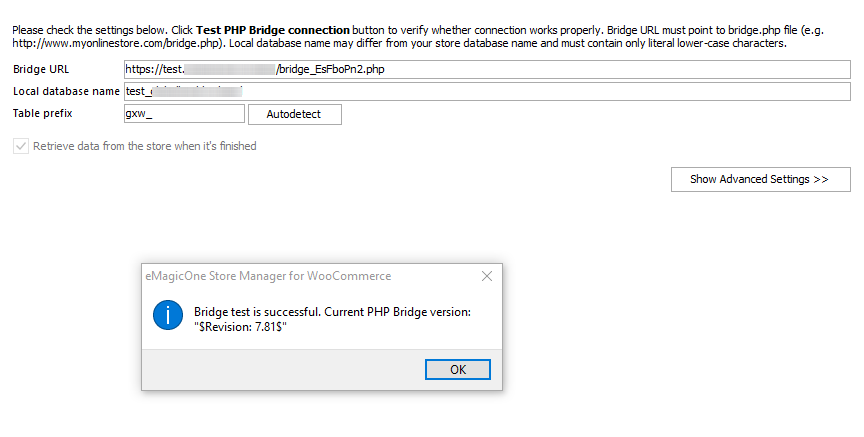 The final screen will show you your connection details.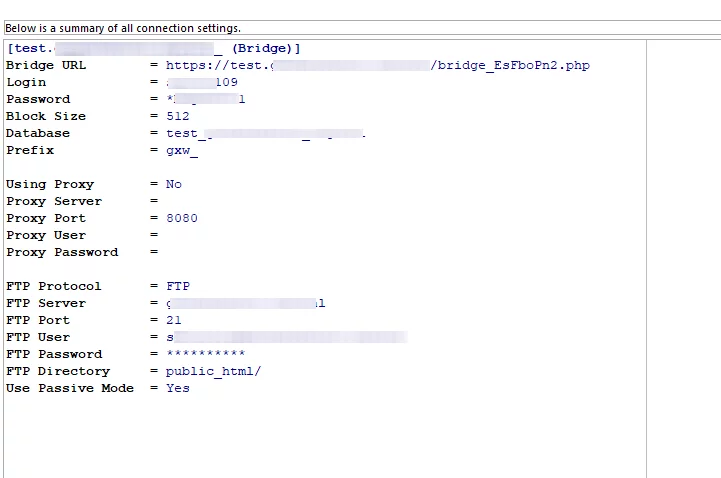 Once you are done connecting your WooCommerce store to the Store Manager for WooCommerce app, the main window will appear.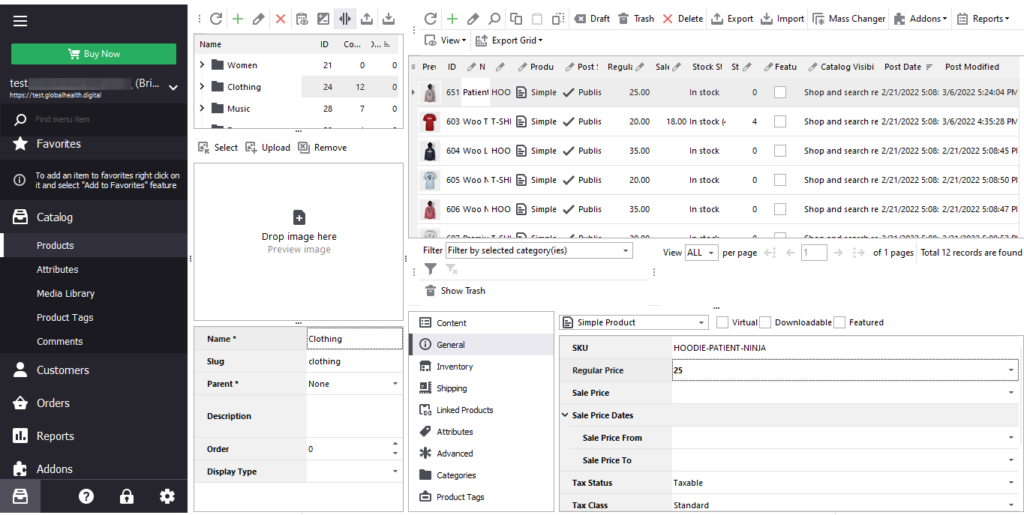 Store Manager for WooCommerce hands-on overview
Let's begin our overview with the categories and products section of the Store Manager for WooCommerce. As you can see, both categories and products are displayed within one screen.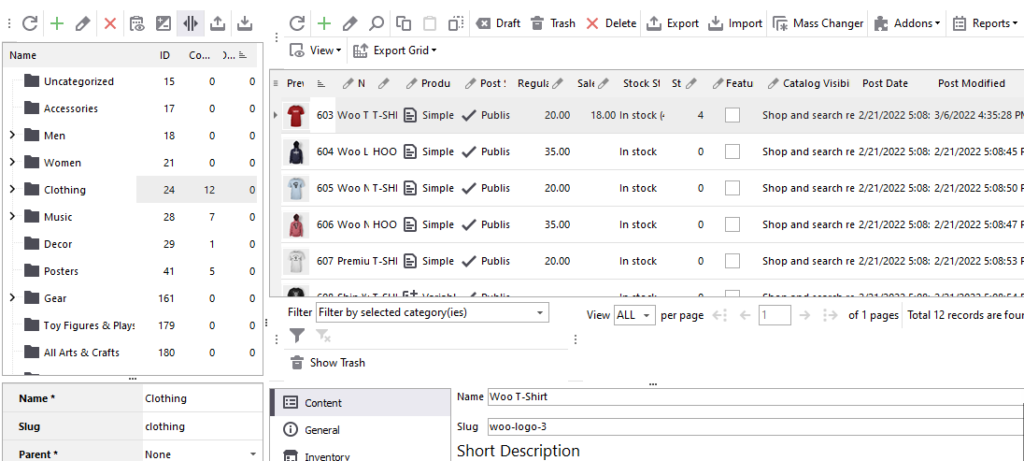 You can assign products to a category quickly. Select the products at the right pane and drop them over the category you want to assign.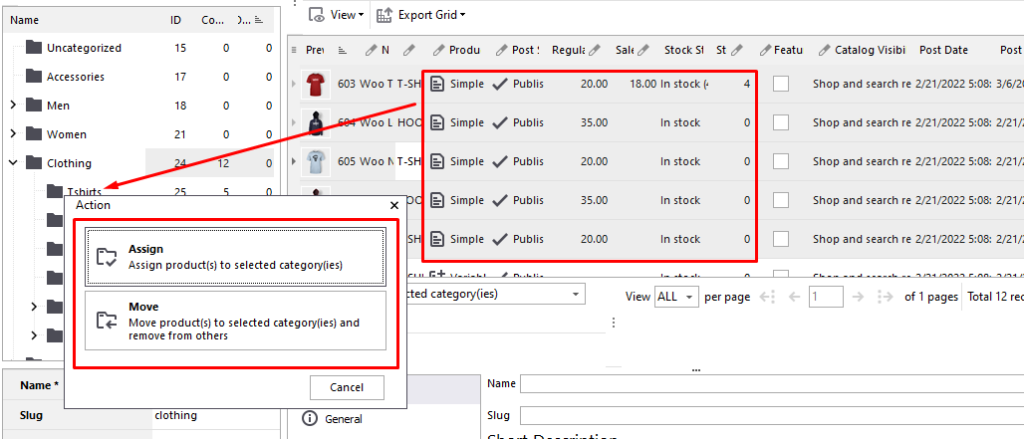 This way, you can move products from one category to another or assign products to the additional categories.
Product management features
Store Manager for WooCommerce has a built-in option to edit products as an excel. Click on the product cell you want to edit, and you'll be able to edit this field right in the grid.

However, if you need to edit any other data that is not available in the grid, you can select any product in the list and edit details at the bottom of the products section. Here you can modify all types of product information without reloading the page.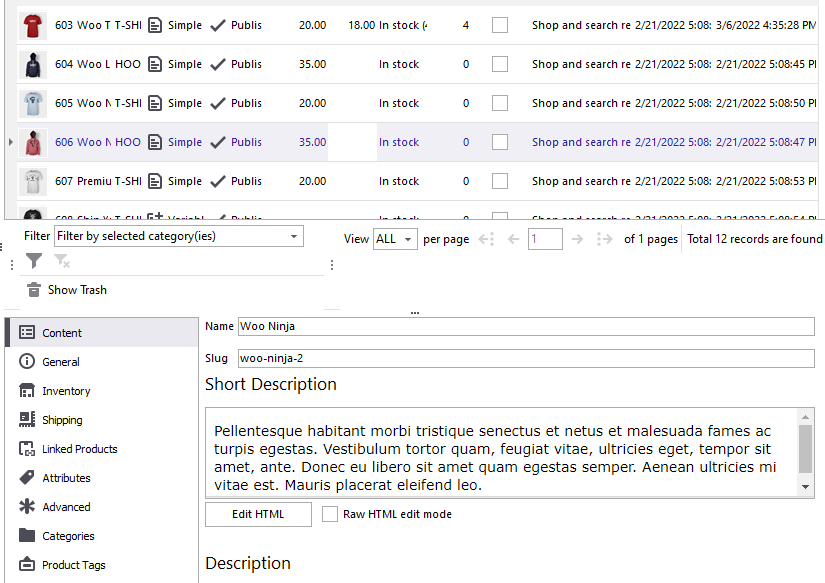 Let's update the short description of this product. Click the Apply button when you are done. Once applied, you can move to the next product and edit it the same way.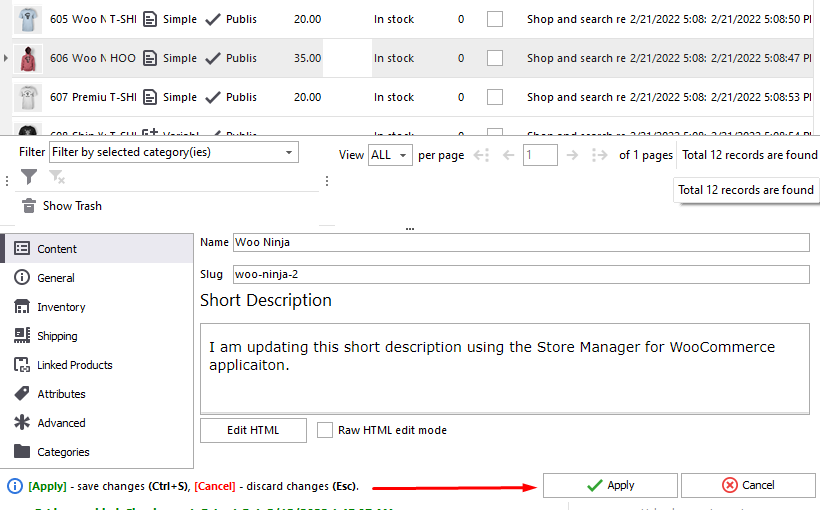 In case you're adding products manually, and you need to clone products, use the clone button at the main menu. Select options you would like to clone and hit OK.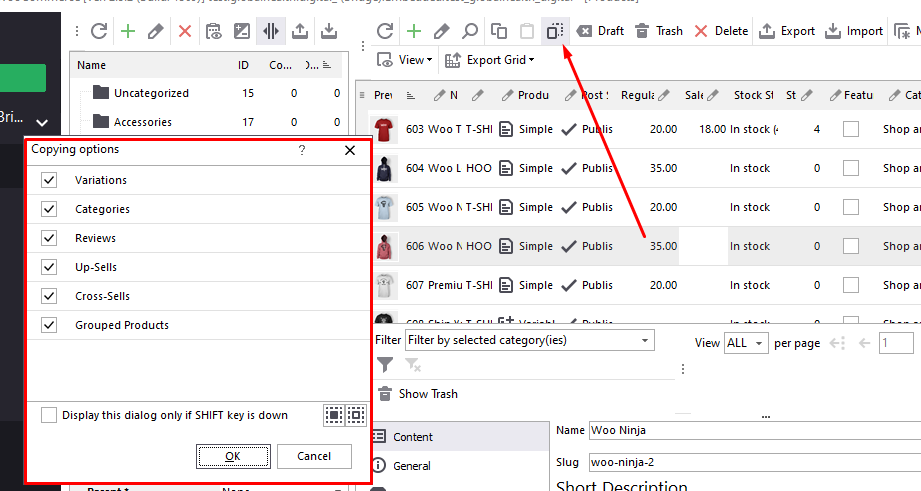 Your newly created product will be placed at the bottom of the row. You can edit from there—no need to wait while the page is loaded. It speeds up the process significantly.
Furthermore, the edit products section allows you to change products in bulk. For example, let's select a few products we want to update and set some tags.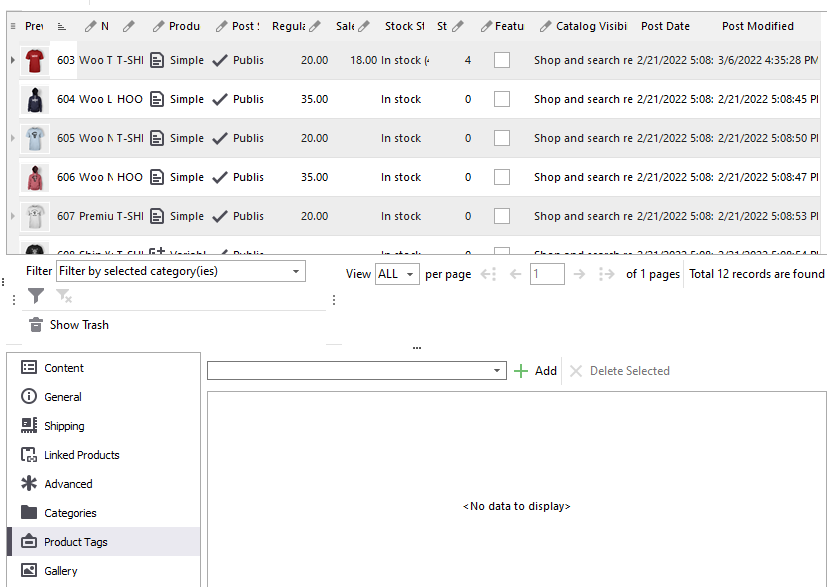 As you can see, there are no existing tags. So we will add a new one. After we input the name and hit Apply, all selected products will be assigned the newly created tag.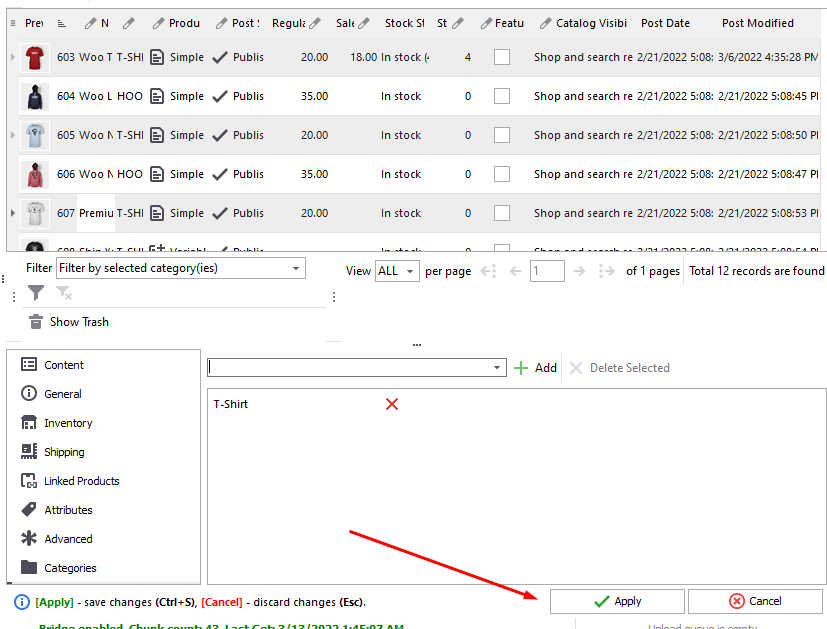 The same is true for categories. Bulk edit for categories is also a huge time saver. The application allows you to assign multiple categories or unassign them by checking the appropriate checkboxes.
You can also upload and assign one or multiple images to your products. It lets you upload images from your gallery, your computer, from a browser, or even from the search results.
Mass changer
Basically, almost every section is a mass updater in the Store Manager for WooCommerce app. However, if you need more advanced rules to be applied massively, you can use the Mass Changer from the main menu.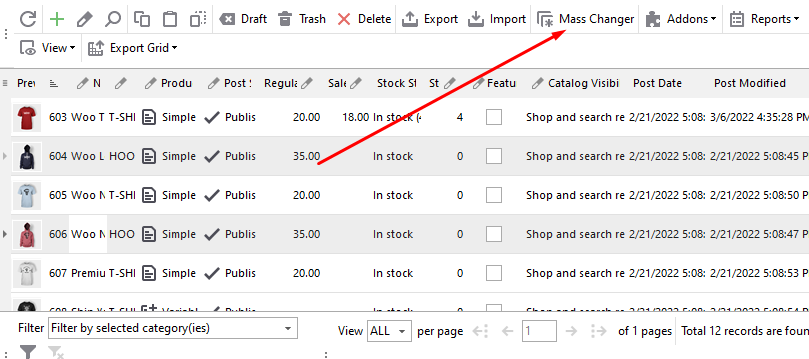 It enables you with smart rules like update price by value or percentage append or prepend values to the description or replace values with any custom rule.
For example, let's increase prices by 10%. Here are my prices before the update.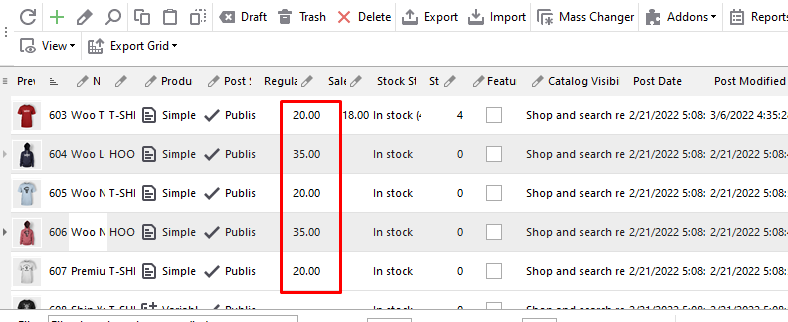 Let's use the Mass Changer. Select the field – Regular Price and set the rule to increase the price by 10 percent. You can preview changes before applying them to your data.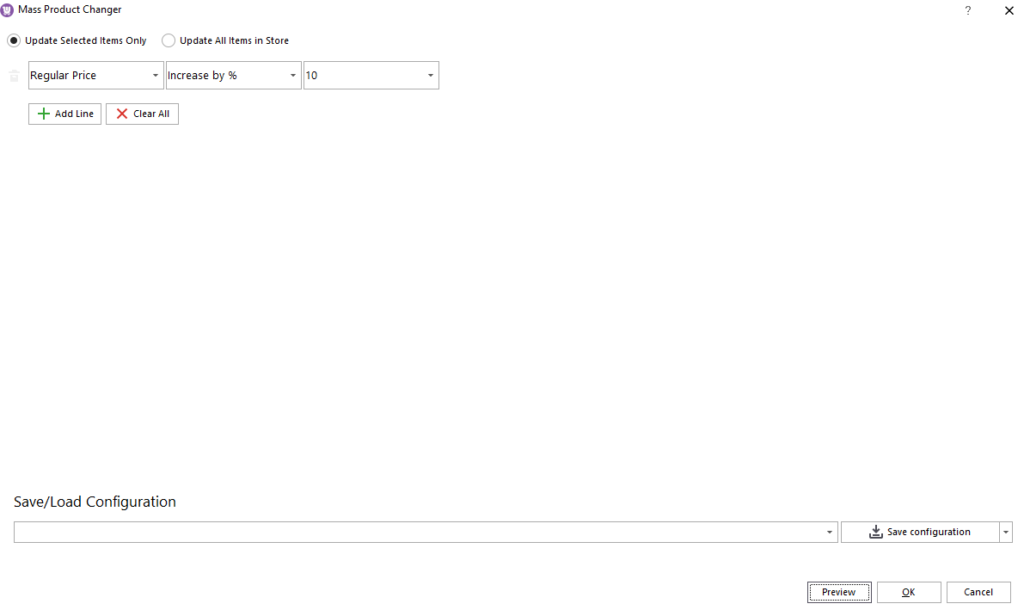 Here are my prices after the update.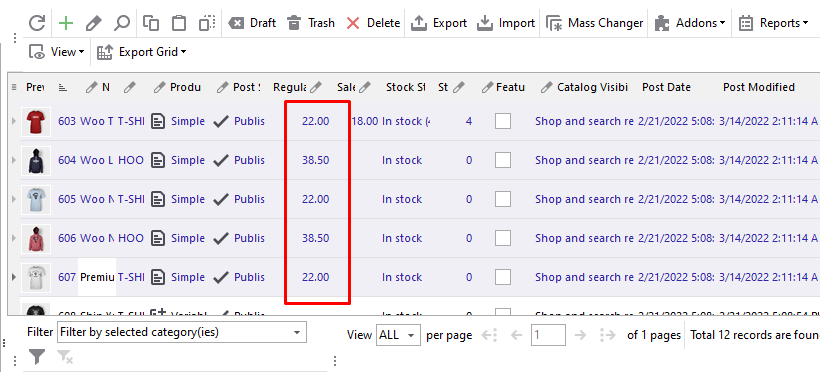 Variation generator
The store manager app supports all product types, so you will see an additional Variations tab when you select a variable product. In that tab, you can see all attributes and variations. Also, there you can generate variants for your product massively.

I am going to select a product without variants and generate them in bulk. Before generating variations, you need to set attributes you want to apply to your product. If you have none selected, you will see a hint helping you to proceed to the attributes tab and select some.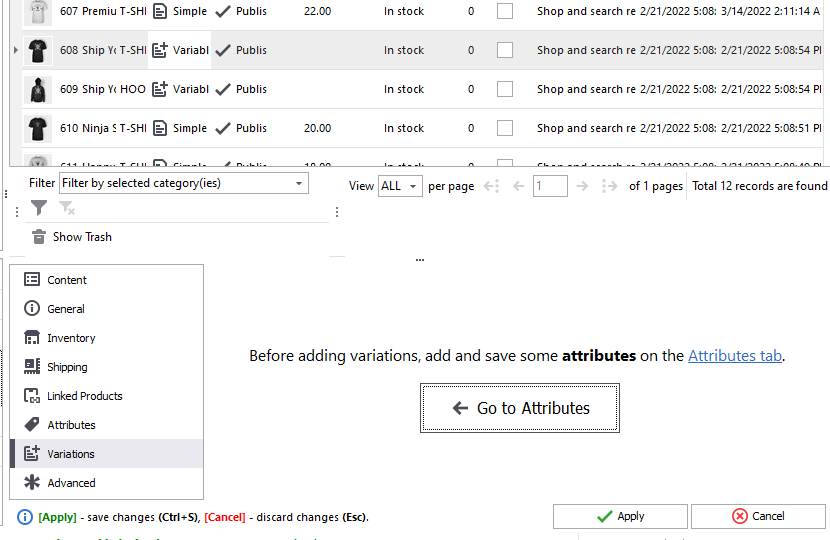 For example, let's select color and size in the attributes section. I'll select all options for the color and size. Also, do not forget to enable the "Used for variations" checkbox and apply changes.

After that, go to the WooCommerce variations tab and use the generator to create all available variants.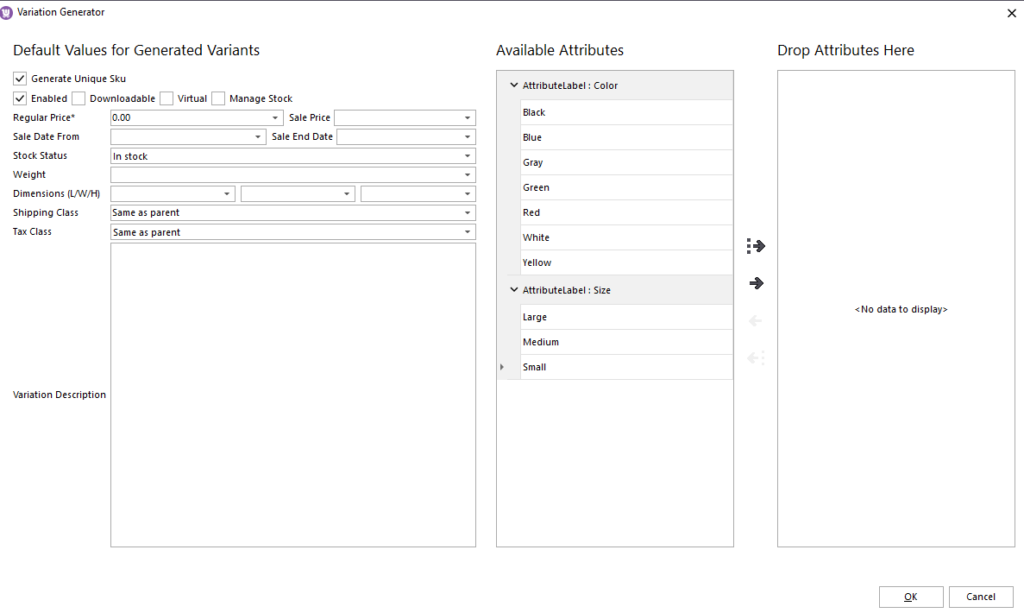 Pay attention to the settings available in the left pane. Here you can set all settings of the newly generated variations. At the right pane, you can see the list of attributes available for this product and attributes that are used to create variations. Move necessary attributes from the left to the right if you want to generate product variations from them. Other attributes can be left in the available attributes list.
I have added all the terms configured for color and size attributes.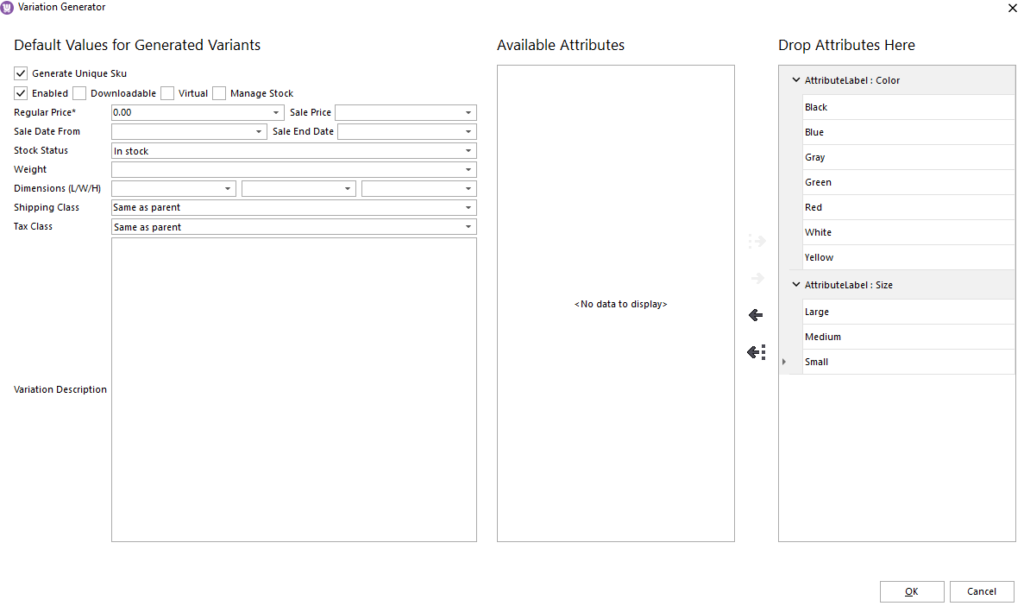 Let's generate variants now. Hit OK, and you'll see your variations generated instantly.
Moreover, you can apply changes to the variations massively. You can enable or disable variants, make it downloadable or virtual, and set the regular price additionally.
Orders
Let's move to the section your online store is ultimately made for, the orders. You can filter created orders, generate invoices and receipts in one click.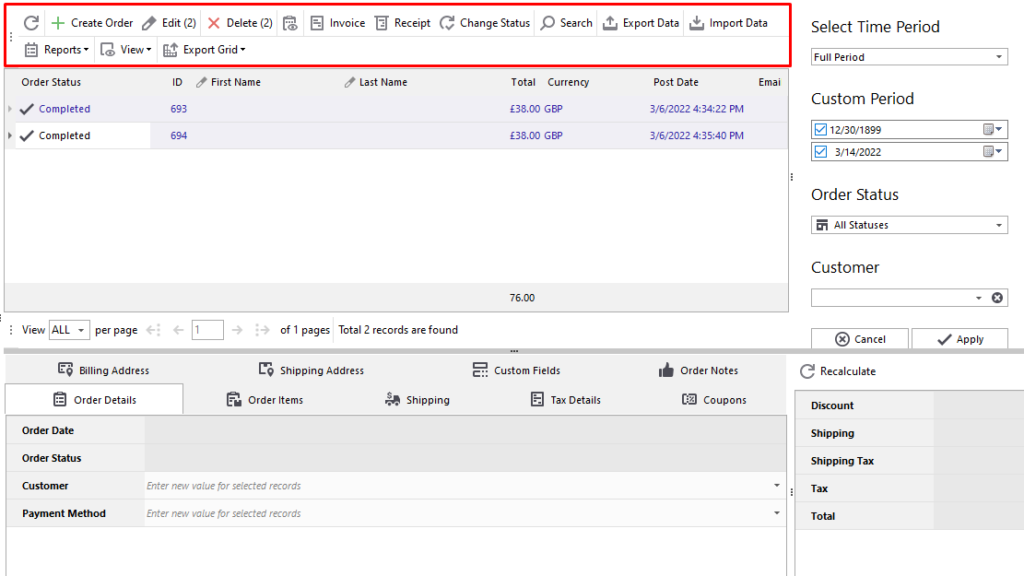 Let's see how you can massively update them.For instance, let's generate receipts for multiple orders at once. Select all orders you need, then use the Receipts option. Check the result and print all receipts. That's how easy it is done.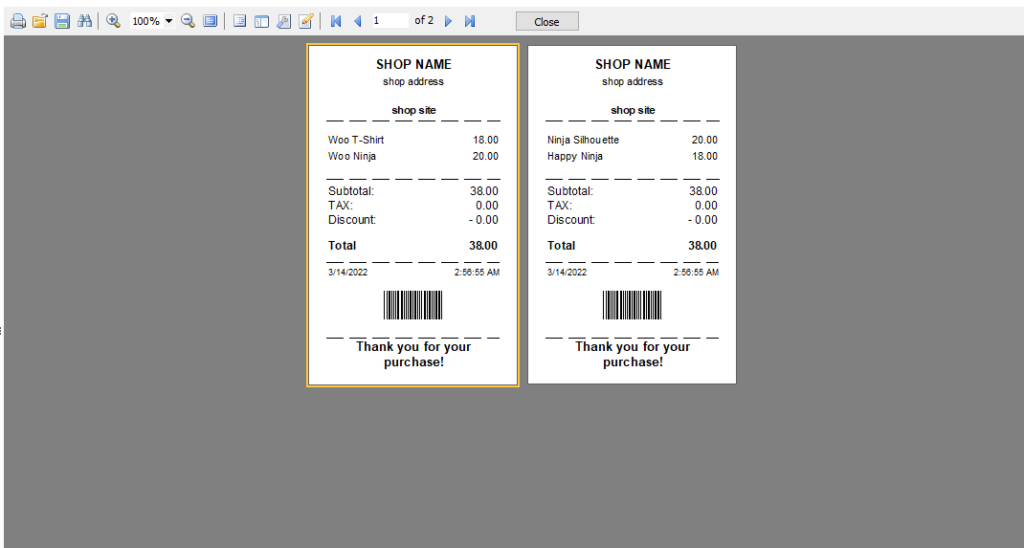 You can also change order status in bulk. Another worth mentioning feature is the order import-export option.

If you run brick-and-mortar stores, use Point of Sale to quickly create orders, calculate change, and print receipts. In addition to that, it also supports barcode scanners.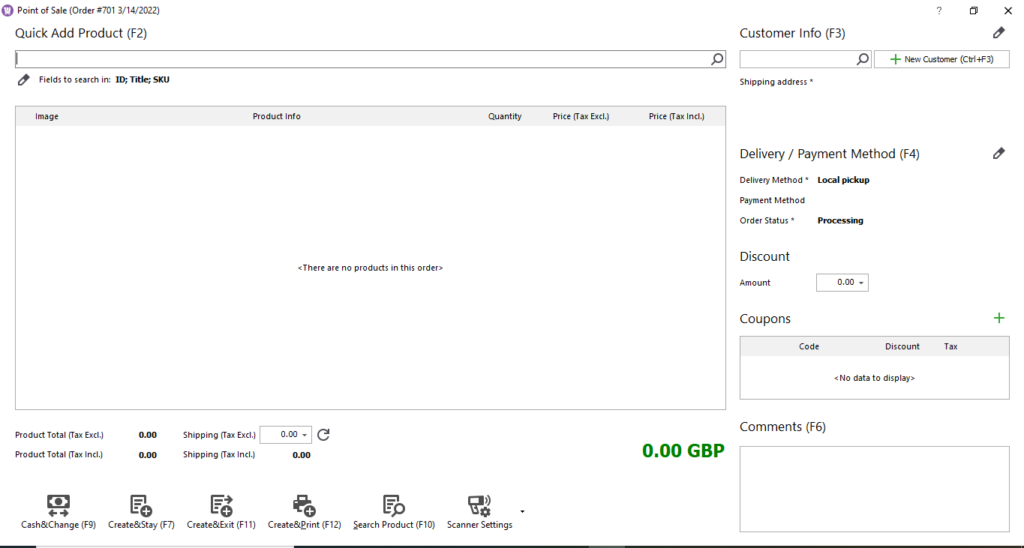 Plugins to simplify store management
In this section, we will talk about some great WooCommerce WordPress plugins that can ease up your store management tasks.
WooCommerce Smart Manager
The Smart Manager plugin is similar to the Store Manager for WooCommerce software. But it's a WooCommerce extension that must be installed in your WordPress admin panel.

The Smart Manager plugin adds an inline editor to view, edit, and update product attributes. You don't need to navigate to individual product pages.

Also, this WooCommerce store manager plugin has a "smart search" feature, which makes it easy to find a product based on its price, categories, product type, tags, etc.
WISDM Scheduler for WooCommerce

Nothing works better than the sense of urgency when it comes to convincing a potential customer to make a purchase. This is where the WISDM Scheduler for WooCommerce plugin comes into play.
I am sure you have seen the countdown timer on product pages warning you to buy the product before the discount offer runs out. WISDM Scheduler works in a similar way.
This plugin displays a timer for product availability on the product page. Store owners can make the product seem more unique and special by only having it for sale for a short period of time using the plugin.

Challan – PDF Invoice & Packing Slip for WooCommerce helps you create free PDF invoices, packing slips, and shipping labels. This plugin has both free and pro versions. And the real difference lies in the features of both these versions.
The Pro version extends the capabilities of the free version manifold, making your invoices look more visually appealing and professional at the same time. From bulk downloads to enabling multi-lingual & multi-currency mode, you can take your business invoicing to a whole new dimension and use features such as paid stamp customized signature, watermarking multiple templates, and much more.
AutomateWoo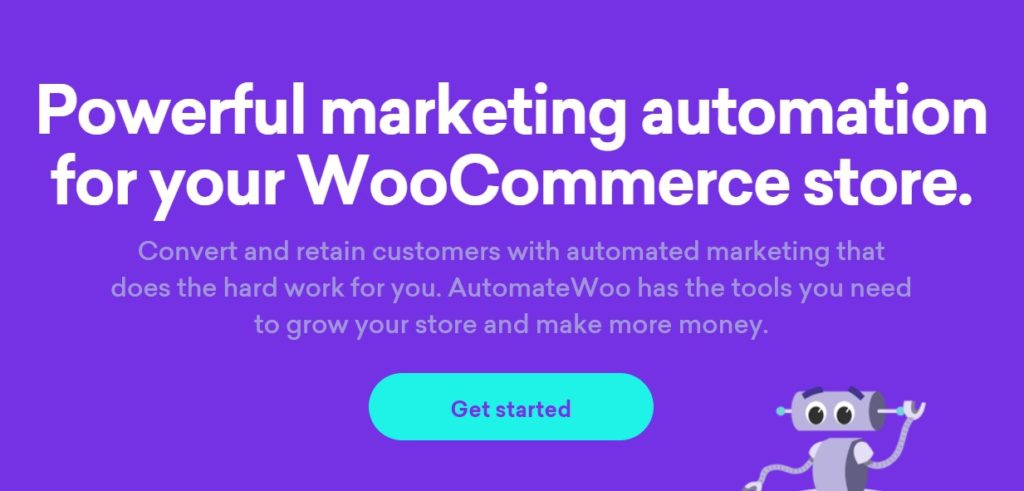 This plugin is packed with multiple features. It has an email automation feature based on product purchases. AutomateWoo also offers an SMS notification option, reward on reviews, personalized coupons, follow-up email options, and many more.
The plugin integrates with both WooCommerce subscriptions and WooCommerce memberships to provide an additional layer of functionality to the store owners. One of the best features of this plugin is to create email marketing campaigns for targeting inactive customers.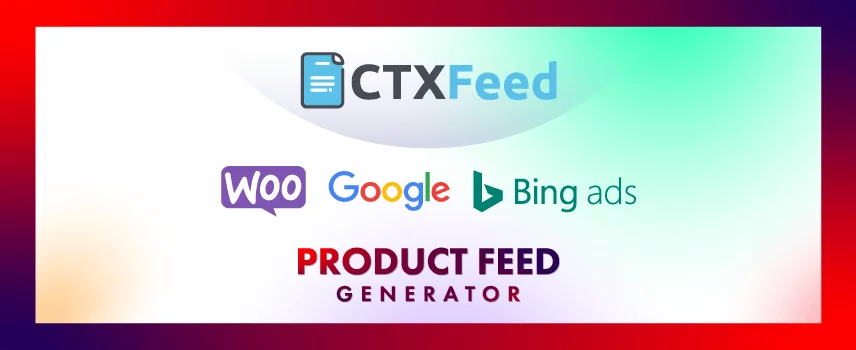 Scaling a business through multichannel selling puts your brand in front of as many people as possible, connects with shoppers at various points in the buyer's journey, and reduces risk.
Approaching a large audience to represent your store's products is not an easy task. And to do this effectively, you can use the WooCommerce product feed plugin to achieve a competitive advantage.
The plugin is a great tool to move your product data across multiple marketing channels. These channels can be search engine giants, price comparison websites, and affiliate networks as well. Promoting your products across multiple platforms will dramatically boost their visibility and sales.
CTX Feed Pro is the most optimized & error-free WooCommerce product feed manager that makes your product listing approved faster, conditionally enhances product information, filters unoptimized products, and keeps your product info updated on multiple channels automatically.
Perzonalization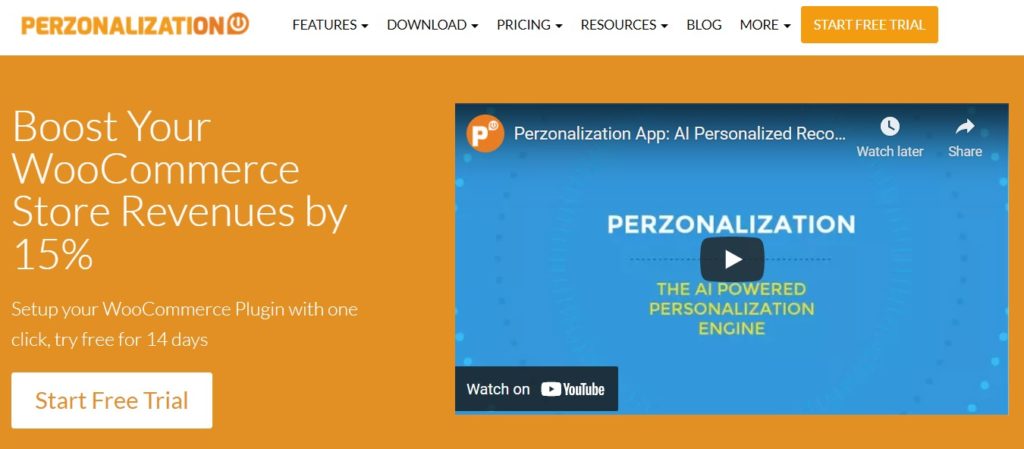 It is an AI-powered personalization plugin that recommends shoppers the most relevant products based on their unique user behaviors and intent. With this plugin installed, you can add and arrange recommendation widgets in your selected/all pages.

In addition to recommendations in product pages, you can also create and send personalized emails. The plugin also has automated email features. It can send abandoned cart reminders, product/category reminders, no purchase reminders, etc.
FAQ
Can WooCommerce handle 50000 products?

WooCommerce stores can handle an infinite number of products as long as they don't cause your website to slow down.
What is the Store Manager for WooCommerce?

Store Manager for WooCommerce is a Windows desktop software that can connect and modify WooCommerce store data.
How to bulk edit WooCommerce product data?

The core WooCommerce plugin doesn't allow you to bulk edit product data. However, you can use the Smart Manager for WooCommerce plugin or Store Manager for WooCommerce desktop application to bulk edit your store's data.
Wrap up
As your business grows from small to large, managing your WooCommerce store can become challenging. But thankfully, there are applications such as the Store Manager for WooCommerce that can make your life easier.
It can save you valuable time and effort and let you focus more on growing your business. My thought after using the software is it is an excellent tool for managing your store efficiently. Yes, it can load slow at times, but overall it has great features to speed up your store management.
That's all for today. I will catch you in the next one!
You May Also Read