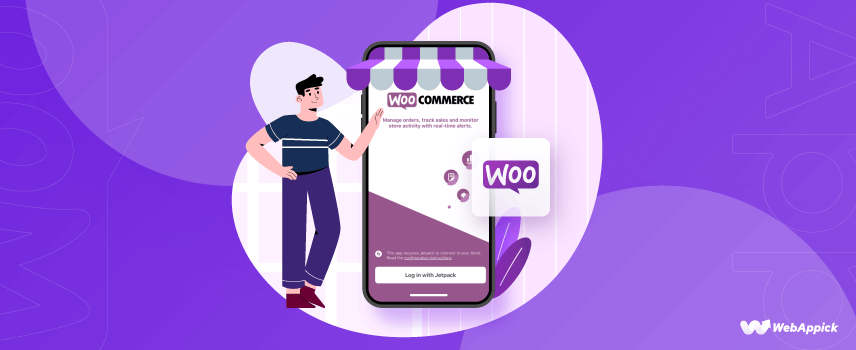 WooCommerce App – The Best Way to Manage Your Online Store
The WooCommerce app is a brilliant way to enhance your reach to numerous customers from your smartphone, especially if you are a new user. This is because there are a lot of free apps available on the app store for both iOS and Android users that simplify the process of store management – right from setting up shop to monitoring and managing inventory, among other activities.
Although an eCommerce website is easy to build with WooCommerce, building a mobile application is a big task, especially for small businesses. So, choosing a mobile-ready app may be the right option for you.
What can WooCommerce mobile app do for you?
Managing an online store is often complex, especially at the early stages. You need complete access to oversee and control your online store, even on the move. The WooCommerce app is one of the best ways to manage your online store effectively from your smartphone anytime, anywhere.
Available on iOS and Android devices, the WooCommerce mobile app has a dashboard that outlines all-important business data, providing an overview of the business process and any milestone(s) status.
Benefits of the WooCommerce mobile app
'Pocket-friendly' business
With the WooCommerce Mobile App meant for Android and iOS, you can carry your business in your pocket.
All you need is a smartphone, and you can be connected to your store at all times and control all business decisions at your fingertips. No more bulky computers or laptops; you can be in business even when you are on the move!
No cost! FREE!
When you add WooCommerce to the mobile app, there is no need to pay any extra charge for this addon. It's a free plan; you need to install this from the app store, and you are good to go!
Real-time business monitoring
Evaluation of performance metrics and timely analysis of changing market conditions often help store owners to control their business trajectory towards success. Therefore, the WooCommerce app is the best app to help you provide real-time shop monitoring with various plugins that can enable prompt business actions from your phone without logging in to a PC. How cool is that!
Multiple store management with different admins
With the WooCommerce app at your fingertips, you can easily manage more than one shop and enable the best decisions depending upon the various changes a particular store might require. Switch between shops easily and manage business snags with prompt push notifications. Additionally, the WooCommerce mobile app can easily divide your workload between two or more users with permission for access.
The 'My Store Layout'
The WooCommerce app has an easy-to-navigate with the 'My Store' home page. This home page is where you can overview all the details of increased sales summary, pending orders, overall revenue details, visitors, and a lot more.
With filtering options, you can view your business's details according to different categories, including past days, weeks, months, and years, through an interactive bar graph. Tapping on an individual bar can provide a specific period of data with order filtering options. The 'Search' option also enables one to look at specific featured products by entering the product's name.
For accessible communication, the WooCommerce mobile app allows store owners to communicate with customers via SMS or email. The app for WooCommerce also provides prompt push notifications on new orders and allows the owner to prioritize shipping as per order requirements.
Another feature of the WooCommerce app is the 'Approve' or 'Unapproved' reviews. Shop owners can approve or disapprove any review and even delete any Spam reviews.
Build your mobile app with WooCommerce app builder
Building a WooCommerce app becomes easy with SaaS products, known explicitly as App builders for iOS and Android app users. WooCommerce app builders enable WooCommerce websites into mobile apps and help you control your online shop effectively from anywhere.
These WooCommerce app builders use APIs and jetpack plugins to enhance the look, features, and usability of your WooCommerce app store by enabling a premium user experience, order retention, customer engagement, and solving complex logistics issues.
Although there are many third-party app builders for WooCommerce mobile apps, AppMySite and Appmaker are some developers that enable building your WooCommerce apps.
Here is a simplified overview of the app building process
Create an app project
For starters, you will require an SSL certificate for secure payment gateways and an HTTPS-enabled eCommerce website. Using a mobile app builder, create an account and start by clicking on the Build App button.
Choose your app style
Mobile App builders allow you to customize the look and feel of your app, including the layout, color, app icons, etc. Include the look for app maker dashboard, variable products, images, add banners, and other features for a comprehensive look.
Using APIs from the mobile app builder, you can connect your WooCommerce app to your website.
Publish
Next, 'Publish' your app, and you are good to go.
Top WooCommerce mobile apps
Nearly a third of the online shops worldwide are run on WooCommerce. Here are six apps that can help you stay connected to your WooCommerce Store at all times-
The official WooCommerce app
This app allows you to be connected to 4 WooCommerce stores and manage them without any hassles at all times. The WooCommerce app builder's new API feature helps you see your dashboard data, new arrivals, top product launches, order statuses, visitor data, etc., between different shops and enables 'connectivity' at all times. With push notifications enabled by the WooThemes plugin, owners can manage orders, inventory, edit product launch details, and other business decisions from the smartphone app for WooCommerce.
WooView
Another vital app from a third-party developer, the BCSL, is the WooView. As the name suggests, this WooCommerce iOS app gives a clear overview of your shop and helps you manage from your iPhone; all you need is the WooView WordPress plugin to get started!
WooMobile App
WooMobile from Bowdie Mercieca is a unique app that enables iPhone users to check their last order details with all the perks of staying connected to your store at all times. The plugin can support up to 20 shops with unique passcode credentials.
WooSales App
Want a simplified way to monitor your orders? Then choose the WooSales plugin to have a neatly categorized order data overview from your WooCommerce Store.
WooCommerce iOS
For iPhone users, WooCommerce provides plugins to build an iOS app with real-time access to your shop at all times. Install the WooCommerce iOS app to access your product details, performance insights, shop's revenue, orders, best-selling products, customer info, shipping details, and other relevant KPIs from your iPhone itself without having to log on to a computer every time and take swift, immediate actions. The app can connect with multiple shops on a single device, and the app's user-friendly UI design enables you to switch between different shops instantly. Enter your shop info and use the WooCommerce API to import shop details instantly.
WooCommerce mobile assistant
As for Android app users, WooCommerce offers a mobile assistant to manage your shop from your Android mobile apps at all times. Monitoring your shop becomes easy, but the Android WooCommerce mobile app sends unlimited push notifications regarding all business operations like new customers, orders, changes in an order or shipping status, and a lot more. For easy understanding, the app also provides the option of filtering customer data with an intuitive interface to categorically represent all business info along with shop statistics and performance reports at your fingertips at all times.
StorePep
Another essential WordPress plugin for seamless connectivity is StorePep. Like its name, the WooCommerce plugin is unique, has a new interface, employs notifications, and helps you stay in touch with your shop at all times. With any changes, big or small, this WooCommerce plugin sends unlimited push notifications, including new orders, and helps you make immediate decisions like initiating delivery processes even on the move. Additionally, maintaining new customers, inventory, updating prices, product catalogs, order notifications, etc., become extremely simple with this app for WooCommerce. StorePep also helps in shipping by providing locations on Google Maps for quick navigation. This adds some serious punch in keeping notifications of logistics issues at bay, especially in high-pressure seasons like the holidays, making your shop stand out for obvious reasons.
External service apps for WooCommerce
WooCommerce is not just about shop management, inventory, delivery date, customer info, push notifications for logistics; it also has an impressive arsenal of apps that can help with external service issues and add high value for WooCommerce owners. Here's a list –
Dropbox
The first on the list is an obvious one – Dropbox.
Simple, clean, and direct, Dropbox helps you keep your shop's documents and files organized under a single roof. With options of syncing multiple devices, you can have access to your shop at all times. With features like the Dropbox Paper, the app makes it easy for the support team to collaborate, share and present ideas providing transparency, connectivity, and real-time sync and feedback in work interactions.
Google Drive
How can anyone miss Google's Drive! A safe storehouse for all your files – Google Drive is all you need.
Be it drawings, designs, presentations, product images, videos, etc. Google Drive can be helpful to your WooCommerce shop. Multiple store owners can save and share files related to a particular product globally in real-time. It also gives security options for access and permissions wherever necessary. All you need is your Gmail id, and you are good to go.
Trello
Next on the list is Trello. With linear aligned cards, this fantastic app provides 'visuals' as a way of organizing your work. Imagine a clean slate where you can write your to-do list, assign work, and list all other essential tasks for a day – you can understand what Trello gives you. Not only you, but you can interact with your team and share ideas, designs, mark out finished tasks, and do a lot more. Think of project management on the go – that's Trello for your online shop, that too, free!
Evernote
Evernote is another widely used app that helps manage your WooCommerce shops' information. Collect diverse information from different sources and keep them in one place with Evernote! Add links, attachments, checklists, audio notes, etc., to your notes and keep track of an entire project from its inception to close with progress metrics.
HootSuite
HootSuite is where your WooCommerce shop meets social media marketing. Improve the reach of your products with this WooCommerce store app by automatically scheduling media posts across multiple social media channels. This saves a ton of manual work, time and allows you to plan and create content ahead of time. This WooCommerce mobile app allows sharing among team members for approval and brainstorming purposes and is an excellent tool for developing social media marketing strategies.
Buffer
Buffer is another social media app that helps WooCommerce shop owners to organize social media activities in one place, schedule posts, track ROI, etc. This app is explicitly designed for WooCommerce activities and provides analytical data for all your social media posts. This feedback helps you create a social media marketing strategy that helps maintain your shop's online presence across all social media platforms. Image Creator, Social Media Calendar, Video, Gif Uploader, etc., are some of the tools that come with Buffer that make your SSM activities easy can be downloaded from Google Play Store.
Mobile app builder for WooCommerce app
Now that we have looked into the features and ease that WooCommerce mobile apps provide for app users, we will look at building a WooCommerce shop using a mobile app builder.
One of the fastest ways to build your WooCommerce App store is using the Webkul Marketplace Plugin, which is fully compatible. One of the best mobile apps, this excellent WooCommerce mobile app builder allows you to use the inbuilt new features of their device, build payment gateways, have a clean UI/UX, quick loading, retain customers, avoid cart abandonment, ensure faster mobility, and a lot more.
Be it your WooCommerce Android and iOS app, the WooCommerce plugin supports all types of products, enables multiple online-payment gateways, including COD, one-page checkout process, account management, wallets, etc. Apart from these, the WooCommerce plugin also offers real-time sync options and offline entry mode when internet connectivity is not available and prevents loss of customers.
Another app for WooCommerce is the React Native App from Mobikul that uses Javascript and supports both Android and iOS apps. Since they are built for dedicated native apps' platforms, the overall cost of building the WooCommerce iOS and Android App goes down significantly. Moreover, the pre-built components and reusable code, simple interface, and device-based features like mic, GPS, camera, etc., enable a faster TAT when it comes to operations. Start today by downloading the WooCommerce app builder from the app store or Google play store and building your iOS or WooCommerce android apps today.
Building the right customer experience for your online shop
With all the above things out of the way, let's now focus on the critical aspect of customer experience. A clean user experience enables your WooCommerce website and app to become one of the preferred eCommerce portals by regular customers. Here are a few ways in which you can enhance the overall customer experience –
Mobile-friendly
Approximately 45% of today's online purchases happen on a mobile device. So, it is of utmost importance to make your WooCommerce site mobile-friendly. Use the Reactor WooCommerce plugin to enjoy a seamless user experience on a smartphone.
Enable error-free upselling search
Using upselling search options lets you retain your customer base without deliberate upselling. Provide a search bar and let the search result instantly take the customer to their desired page without providing alternatives by using a WooCommerce plugin like InstantSearch+.
Create a loyalty program
The WooCommerce app store has a lot of apps and a WooCommerce plugin that enable automated reward programs, emails and SMS, social media sharing options, contests, etc., to enhance customers' involvement. Create a loyalty program with the WooCommerce plugin like Antavo to engage customers and analytics to keep track of the program's success.
WooCommerce app recommendation engine
The Recommendation Engine subtly displays external products and suggestions to customers along with new product launches, just like Amazon or Netflix. This improves the chances of getting new orders and at the same time enables a good customer involvement and pleasant shopping experience.
Chat
Enabling chat options for customers can be another way to offer product assistance and create customer involvement. LiveChat! is a plugin that accomplishes your WooCommerce store and helps answer all customer questions.
One-page checkout
Lastly, one of the ways for customer engagement and retention is an easy checkout from your webpage. Using the WooCommerce checkout manager plugin enables achieving this and helps the customer save time and enhance their overall experience.

FAQs
What does the WooCommerce app do?

WooCommerce app is an eCommerce plugin for WordPress that enables online WooCommerce website owners to create and publish products and allows managing their online store from their smartphones by using plugins and third-party apps. WooCommerce app is designed for Android and iOS users and integrates easily with the native apps' platforms to provide a seamless service and a good reach for store owners.
Can I use WooCommerce on the mobile?

YES! Since most online shopping is done online on intelligent devices, the WooCommerce app is designed to convert WooCommerce websites using an app builder and be used on a mobile providing easy flexibility, control, and management options for store owners. Designed to be used on Android and iOS native apps' platforms, the WooCommerce app is an easy-to-use plugin for your online store.
Is WooCommerce mobile app free?

Yes, the WooCommerce app is free and downloaded from the Android App store. Although downloading the app is free, there may be a nominal fee on the app builder, WooCommerce plugins, and app makers, depending on developers. However, the increase in productivity and management outweigh the fee, if any, and provides a secure way to operate your store with appropriate WooCommerce payment gateways with ease.
What are the benefits of the WooCommerce app?

The WooCommerce app enables store owners to control and manage multiple online shops from a single mobile device. Also, the WooCommerce app provides a search option for precisely what people are searching online, better reach, branding, marketing, WooCommerce payment gateways, and customer engagement, along with a parallel revenue channel.
How do I make a WooCommerce app?

WooCommerce can be built by mobile App Builders online. Not only are a few of them available for free, but they also help to plan, organize and run an online business in a brief period.
How do I convert WooCommerce to a mobile app?

Different plugins and app makers can convert your WooCommerce into a mobile app. To know more, reach out to us today.
Summing it up
This article provides you with a clear insight into the uses of a WooCommerce app and how it can benefit your business tremendously. Going mobile not only allows better control and management but allows you to be in touch with numerous stores from a single device.
The plugins and app makers mentioned here will help you transform your business into an agile app for Android and iOS platforms providing far-reaching services to customers worldwide with improved digital infrastructure and reliable security.
You May Also Read